If you're looking for simple front yard landscaping ideas and ways to improve your home's curb appeal, you're in luck. I've rounded up some of the best easy ways to do just that!
There are so many reasons why you would want to improve the curb appeal of your home. Not only will you fall in love with your home all over again every time you get home, but curb appeal is very important if you are thinking about selling your home. In fact, 99% of Realtors will tell you that curb appeal is very important when attracting a buyer, according to this study.
Now that the weather is warming up, it's a great time to get outside and do some simple front yard landscaping to improve your curb appeal. There are so many ways you can do this. I've rounded up some of the best ways to improve your curb appeal on a budget!
Related – Other Posts About Outdoors and Simple Front Yard Landscaping:
This simple front yard landscaping post contains affiliate links, but nothing that I wouldn't wholeheartedly recommend anyway! Read my full disclosure here.
Are you ready to see these simple front yard landscaping and curb appeal ideas?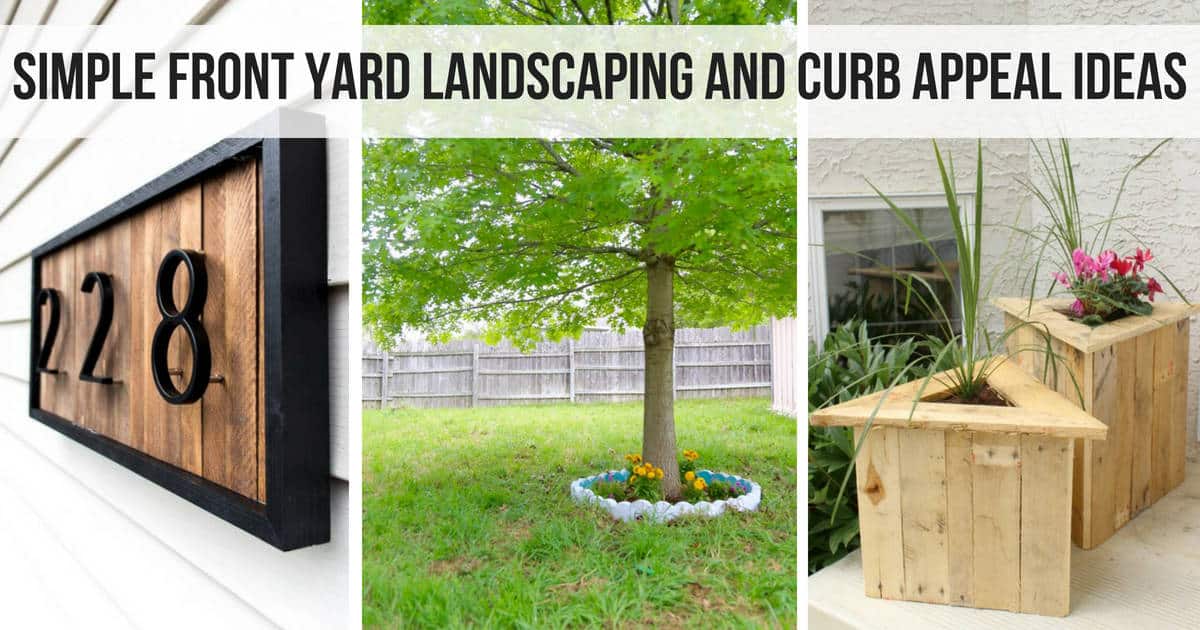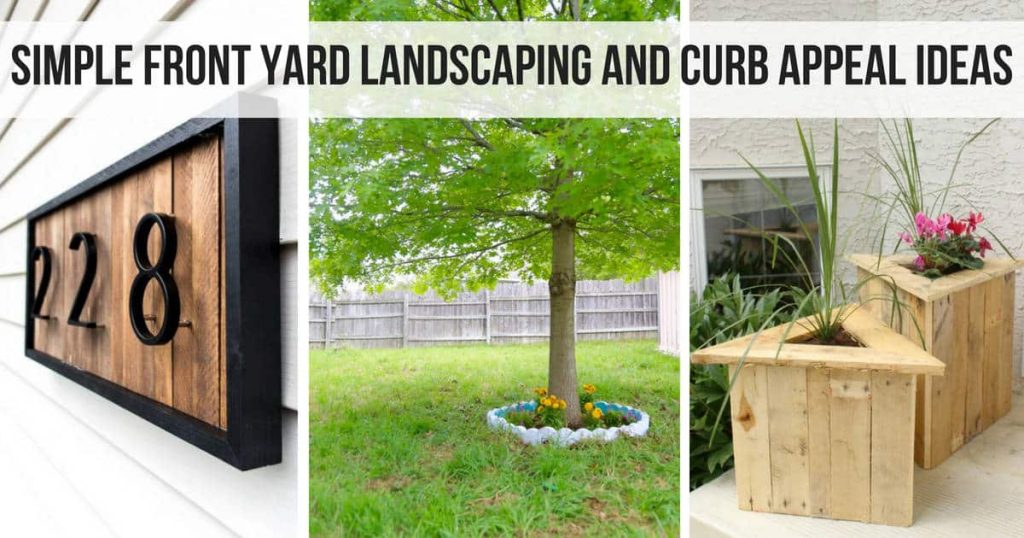 The most extensive update you can make to improve your curb appeal is to paint your exterior. If you've been around here awhile, you know that we saved tons of money by painting our exterior ourselves.
Although it's not the most budget-friendly update you can make, it makes a world of difference! Getting rid of ugly chipped or faded paint will definitely add to your curb appeal. (FYI this is the main color of the exterior if you're wondering).
Painting our garage door made a huge difference as well!
If you're not going to paint the entire exterior of your home, you can still make a dramatic transformation by painting your front door.
I talked all about choosing front door paint colors here and then showed you how to paint a door. (FYI this is the color of our front door if you're wondering).
Looking for more color ideas? Check out these front door paint colors!
First impressions are everything. If you're looking for a simple way to add curb appeal to your home, gable decorations are the way to go.
Our tutorial details the step-by-step tutorial for how to install gable decorations like this decorative louver.
Looking to add curb appeal to your house? Give your skinny porch posts a makeover! This tutorial will show you how to beef up your boring porch posts and add column covers for some major curb appeal!
Want to add some life to your front porch? Download these easy DIY planter box plans and learn how to build these modern farmhouse planters.
Even if your home doesn't need a new paint job, simply getting it washed off will certainly improve your curb appeal. Emily from Small Stuff Counts shares how to clean the outside of a house without a pressure washer in this post.
Making clear borders to your flower beds is a great way to improve your simple front yard landscaping.
I love how Amanda from Love & Renovations added this flower bed under a tree and gave it a clear (and colorful) boundary with concrete borders.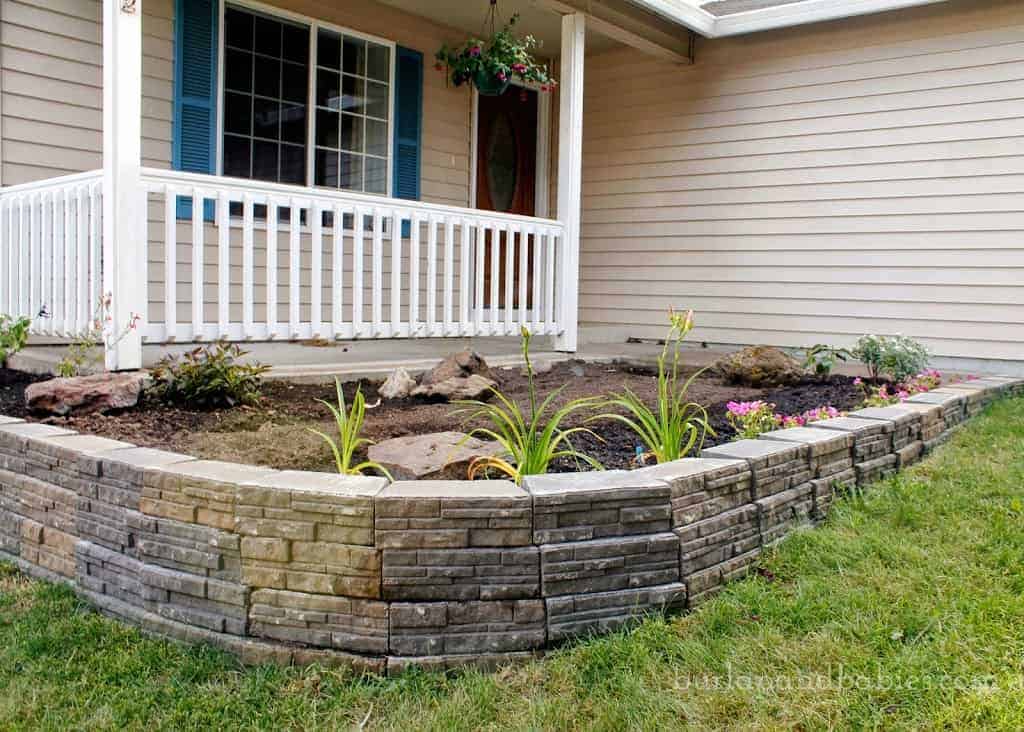 Speaking of sprucing up flower beds, how about a retaining wall?! Amanda from A Crafted Passion added a ton of curb appeal to their front yard by adding a DIY retaining wall to the flower bed in front of their porch (and for less than $200).
Instead of a flat and boring flower bed with no dimension, they created interest in the front elevation of their home by leveling out the flower bed and adding the wall. I love how it turned out! Amanda also reports that after three years the wall is holding strong!
Another easy way to improve your front yard landscaping is by adding dark mulch to your flower beds. We call this our dark mulch miracle! I was shocked at the transformation.
The flowers really seemed to "pop" a lot more with the darker mulch and it looked more modern. (FYI this is the mulch we used if you're wondering).
Keeping the trees in your front yard is not only great for your curb appeal but essential for safety. Dead branches can become dangerous hazards that can fall on your house (or you) when a storm comes.
If you're going to be trimming trees yourself, you definitely want to read this post from Sarah at Ugly Duckling House about how to trim and prune trees.
Ann Marie from White House Black Shutters gives us a great example of what can happen if you neglect shrubs in your front yard for too long. Sometimes in these cases, it's best to remove all the overgrown landscaping and start fresh.
You've gotta check out her dramatic transformation when they decided to give their front yard landscaping the lumberjack treatment AKA get rid of it all!
Related Reading – Check out our fall clean up checklist for other things that you need to do regularly to maintain your landscaping!
Once you get all your overgrown landscaping out of the way, it's time to start adding some serious curb appeal to your home with fun DIY projects like this modern house number sign from Amanda at A Crafted Passion.
Love the texture that the wood shims create on this, just like this DIY wood shim wall art that we created!
Giving your front porch a little decor makeover is a great way to improve your curb appeal and you can definitely do that on a budget!
Just check out this adorable porch makeover from 3 Little Greenwoods.
Pick up an old mailbox and give it a little makeover to make it pretty and VOILA…it instantly becomes a great place to store your tools in your garden.
For this DIY, I used floral napkins on the top applied with Mod Podge, and lined the inside with colorful fabric. Click here to read the old mailbox turned garden tool storage tutorial.
Related – Check out these other painted mailbox makeovers for more ideas!
Grab an old worn-out welcome mat and give it new life with paint. I love this colorful makeover that Emily did to this welcome mat.
Speaking of doormats, I'm loving the beachy feel of this wooden door mat from the DIY Huntress. The tutorial is super simple for how to make the wooden doormat part and then you can paint it to customize your own color scheme!
Another great idea for an easy doormat is this modern painted doormat. Amanda from A Crafted Passion vinyl and spray paint to give this doormat a fun and quirky update. I love the character it adds to the front door!
Related – Check out our tips for spray painting here!
Adding shutters to the windows of your home makes a huge difference in your curb appeal! You can make your own shutters, like these DIY board and batten shutters from Kenarry. I love the rustic charm they add.
Paver pathways can make a huge difference to the front of your home. Although they are fairly labor-intensive, the hard work really does pay off with the dramatic transformation. I love the rustic look of this one by The DIY Village.
Landscape lights can really add a lot of curb appeal to your home and they provide some light for walking on a pathway in the dark. They also light up your pretty plants, which makes them a great simple front yard landscaping idea.
This is a great tutorial from Pretty Handy Girl that walks you through all of the electrical aspects of installing these low voltage landscape lights.
This is a great way to add some lights to your outdoors without having to mess with electrical. Just grab an old chandelier at a thrift store or yard sale and turn it into a solar light chandelier.
There's not much that looks worse in a front entry than concrete steps that crumble beneath you. You may think that concrete work is too big of a project for a DIY, but Emily does a great job of explaining how to patch concrete steps so you can tackle this yourself.
You guys know how much I love pallets…and these triangle pallet planters are just perfect! They will add so much character to your simple front yard landscaping.
---
Whether you're just wanting to make your house a home you love a little more or you're thinking about selling your home soon, there's always a good reason to give your exterior a little love… specifically your curb appeal in your front yard.
By implementing some of these simple front yard landscaping and curb appeal ideas you can get a great return on your investment while you add tons of value to your home!
Which of these simple front yard landscaping and curb appeal ideas was your fave?
Let me know in the comments below!!