If you love the boho decor style, you're definitely going to want to see these budget-friendly macrame finds! Macrame is a staple in the bohemian style and this list has a little bit of everything…
The boho style has definitely made a comeback! It's so popular right now and I'm loving it. Inspired by the '70s, the bohemian home decor style is eclectic in nature and is all about color, fun patterns, layers, natural elements, and….yep, you guessed it!… Macrame!
Since macrame is such a staple of this boho decor style I decided to feature some of my favorite budget-friendly macrame finds from Etsy.
Do you love Etsy too?? Here are some other posts you should probably check out:
This macrame decor post contains affiliate links, but nothing that I wouldn't wholeheartedly recommend anyway! Read my full disclosure here.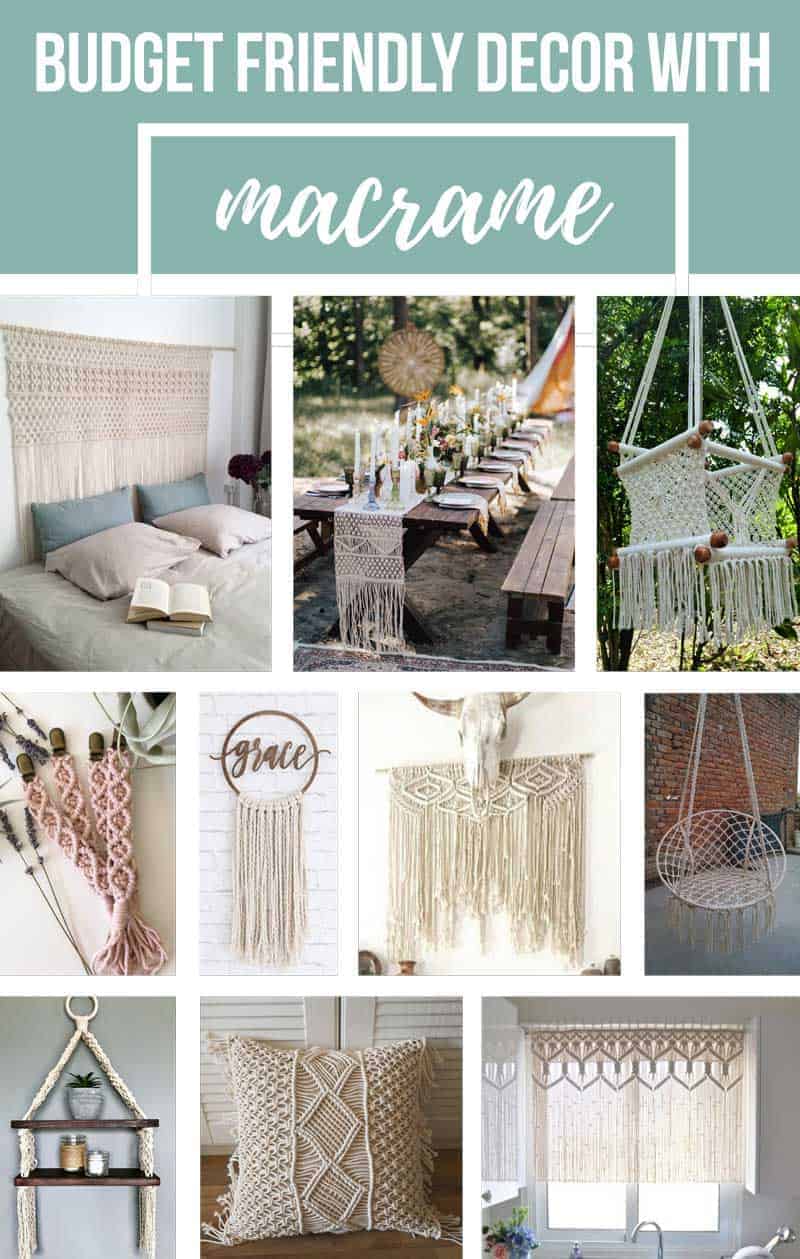 This large boho wall hanging from WallKnot looks awesome hanging above the bed as shown in the pictures, but it would also make some great boho curtains, photo backdrop…you name it. I love how intricate the design is.
Oh my goodness, will you just look at that beautiful tablescape featuring the boho style table runner?! I love how much character it adds. This could be perfect to give your dining room a little boho decor vibe and would also be awesome for a dinner party or boho wedding!
How fun is this baby swing made out of macrame!? I know how much fun swings can be for little ones and this one couldn't be any cuter. It will fit right in with your boho decor indoors or would add some charm to your porch or backyard!
Ok, so maybe this doesn't fit in allllll the way with the whole theme of boho decor. But I would imagine that if you had this baby pacifier clip it would probably wind up laying around your house somewhere and then BOOM….it's automatically home decor! I love the designs that are available for this super cute pacifier clip. She also has lots of other fun macrame decor items in her shop!
I love this personalized macrame wall hanging made of wood and cotton rope. You can get any word you want in the center of the circle and you have the option of staining the wood or leaving it unfinished. This macrame wall hanging would look awesome worked into a boho gallery wall, don't you think?!
I can't get over how amazing this show stopping large bohemian wall hanging looks! I love how it is styled above the fireplace here. It would also look awesome above the bed in a bohemian bedroom.
This macrame hanging chair is perfect for relaxing on your porch or patio, in the backyard from a tree, and could even be used indoors. Couldn't be more perfect for those warm summer evenings!
This macrame double hanging shelf is perfect for succulents, air plants, knick-knacks, spices & more! It works great to add some dimension and texture to your wall decor.
Loving the look of this pillow cover that would add so much to any room going for a boho look! It comes in lots of different size options so it can work with whatever size pillows you already have on hand. They have lots of other pillow designs (and other fun things) in the shop too!
If you're looking for a fun way to add some boho charm to your room, you're going to love these boho curtains! You can customize them to fit your window and they can be made longer. You could also use them as a backdrop for a boho wedding or a room divider.
Layer up that Moroccan patterned rug, and grab your house plants and floor pillows…boho decor is back! Macrame is a necessity if you're wanting to get that boho vibe in your home. This list of budget-friendly macrame finds is bound to have one or two items that catch your eye. But now I'm dying to know…
Which of these macrame finds for boho decor was your fave??
Let me know in the comments below!!