Gray paint colors with green undertones are making waves in the interior design space. These shades add a little something extra to the classic gray neutral paint colors we all know and love. If you're looking for grayish-green paint options, this guide is for you!
If you take a look around this site, richly colored greens and grays are clearly my thing.
So, you can imagine how thrilled I was to learn that my two favorite colors are now all the rage for interior design color schemes. Gray green paint colors are totally IN!
This green gray paint color guide contains affiliate links, but nothing that I wouldn't recommend wholeheartedly. Read my full disclosure here.
My love for grayish paint colors began when we moved into our fixer-upper. I was determined to get rid of all of the horrible tan and baby blue colors that were everywhere.
Basically, Behr Chic Gray saved the day for that challenge.
Gray plays a big role in our whole house color scheme. In most of the rooms, we've used some kind of gray paint color. You can check out all of our paint color overviews as well as our whole house color scheme here.
Gray vs. Grey
First of all, why is grey spelled two ways? Every time I go to write a blog post with gray, I never know whether to spell it gray or grey. So, I officially Googled it and figure out that gray is the American English spelling and grey is the British English spelling. That makes sense, right?
So for the purposes of this round-up with gray-green paint colors (since our audience is primarily American), I'm going to spell it gray-green paint colors instead of grey-green color ideas, but for all intents and purposes, I mean the same thing as grey green paint colors when I write gray-green colors, ok?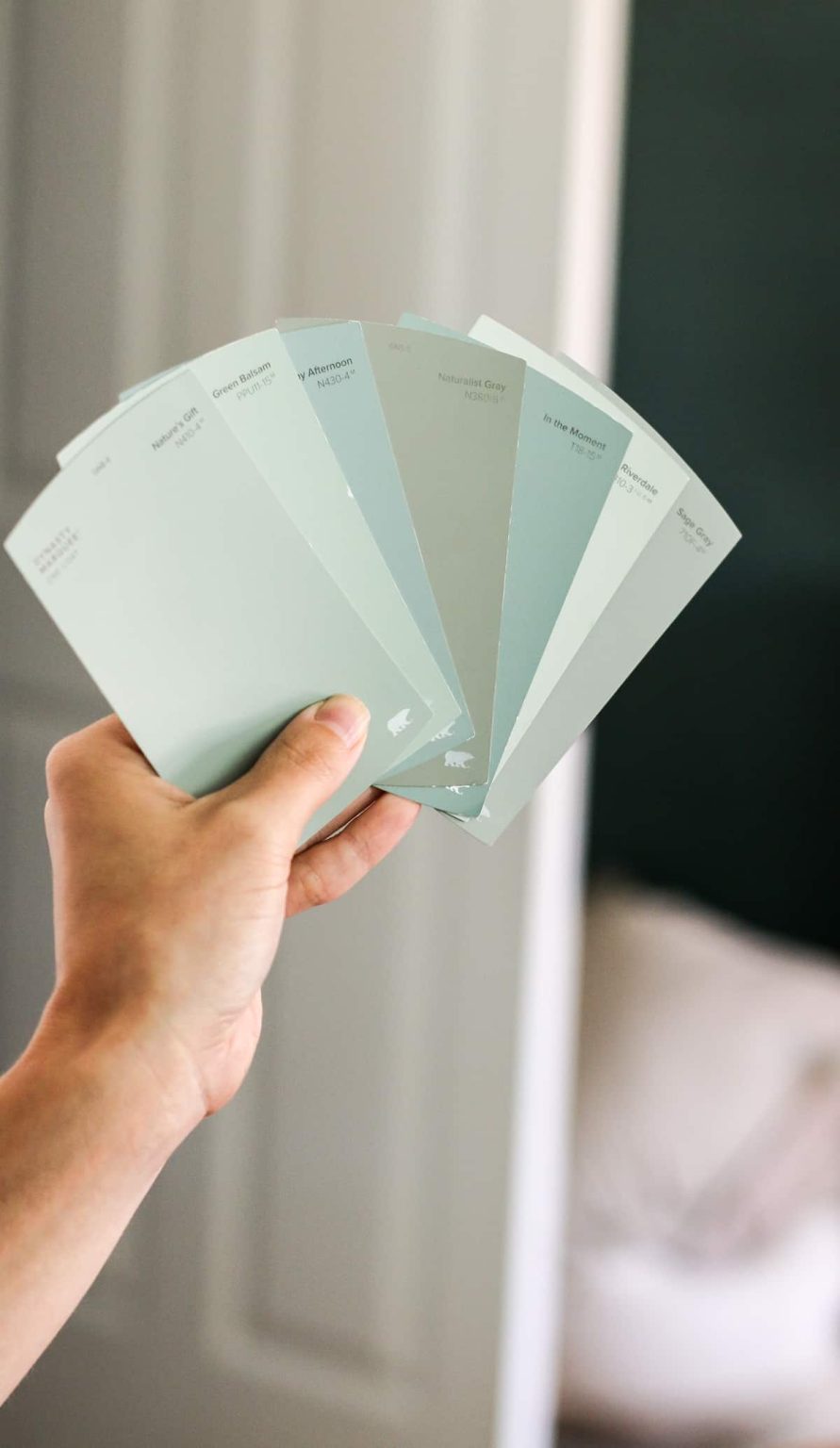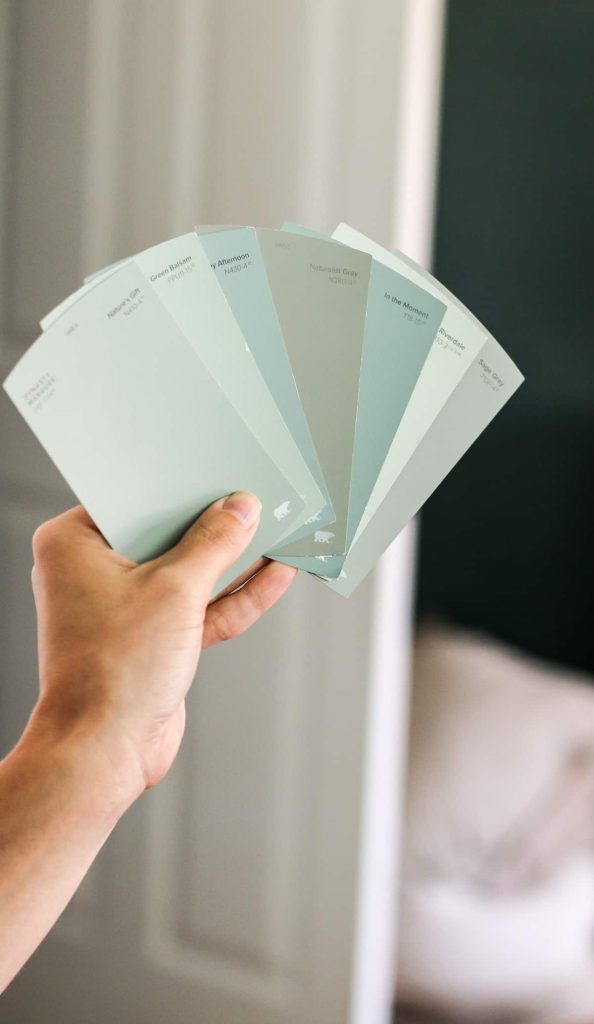 Gray Green Paint Colors
I love this new trend of grayish-green paint. It's like our ole trusty gray neutral got an upgrade. It's not too green, too gray, or too blue. It's just right.
These paint color tones give off cozy, warm-hug kind of vibes that will mesh with just about any style of home decor. Largely depending on the other colors in the room and natural lighting, this color combo creates a cooler, relaxed shade.
The undertones of these colors will affect how the paint color will look once dried and on the walls. It could be gray with green undertones, gray with blue undertones, or even appear as more of a blue-green paint color.
It all depends on the natural and artificial lighting, other colors, decor, and even the type of stain you are using on the floors. All of this greatly influences the final result, so keep this in mind as you consider different paint colors.
I never thought greenish gray paint would be the next hot thing as a neutral paint color. But, hey! It works well in just about any home and decor style, and I'm all here for that!
Whether you are into the modern boho, traditional, farmhouse, or purely modern, definitely check out these hot gray-green paint colors for your next project.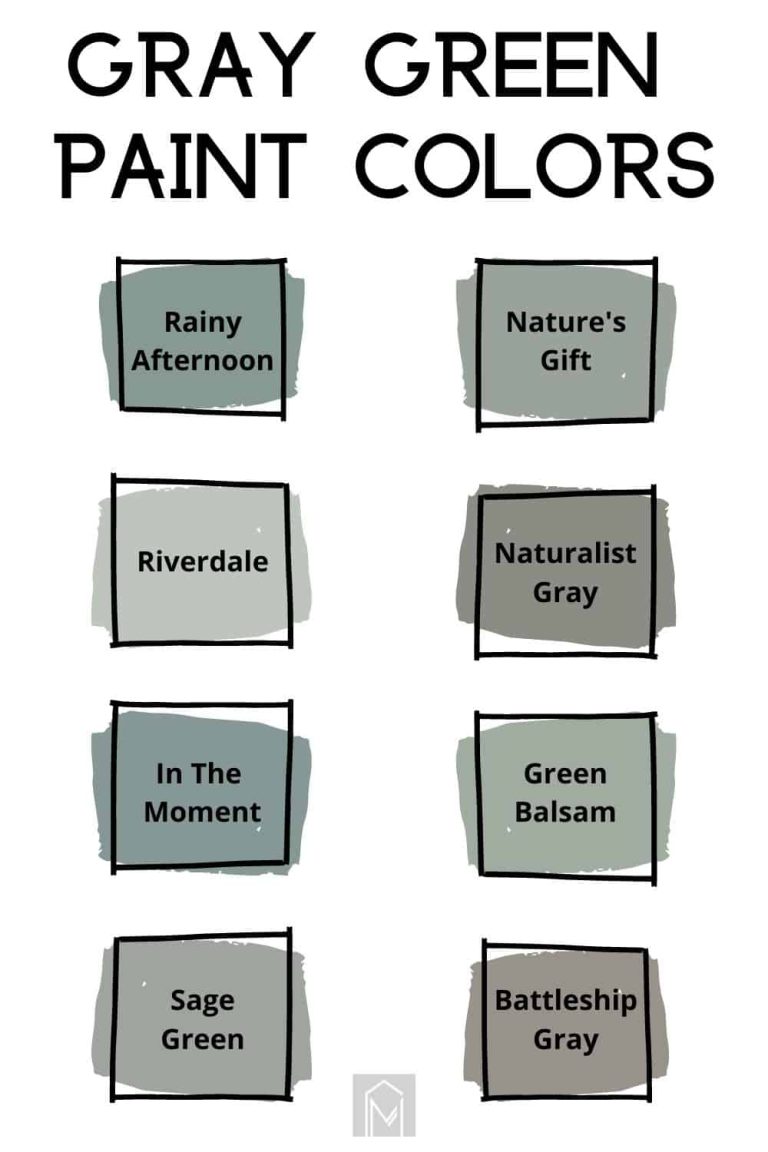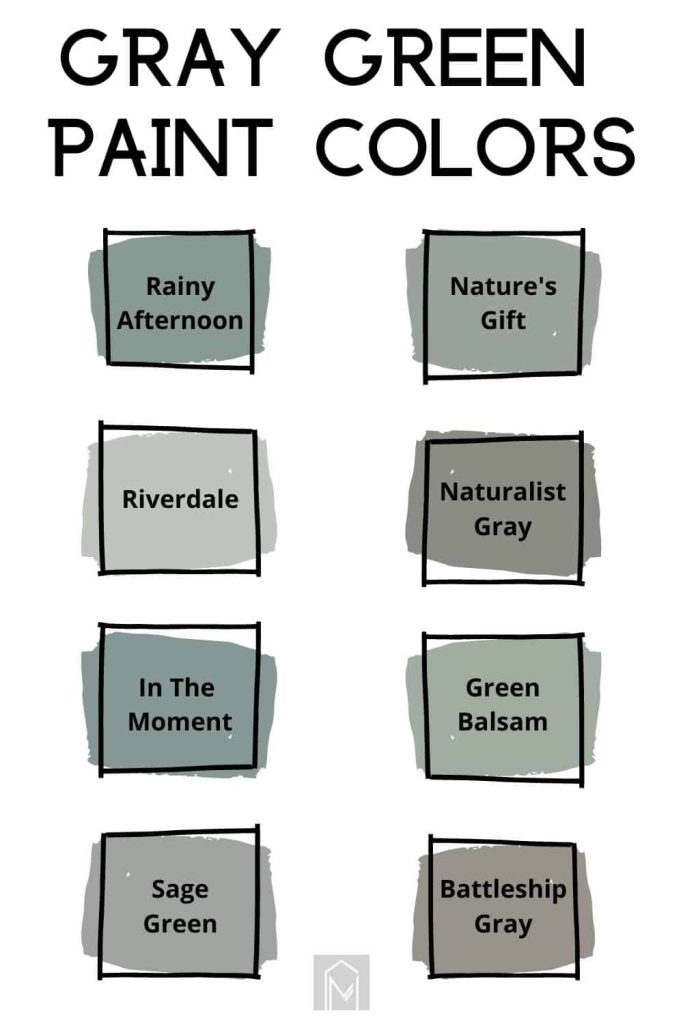 Rainy Afternoon by Behr
Rainy Afternoon by Behr Paint is a beautiful option if you're looking for a gray-green paint color with blue undertones. The mixture of blue, green, and gray together make this paint color interesting and complex.
It is one of the bolder options on our list and very similar to Behr's In The Moment, but with a slightly more blue-green tint. With a light reflectance value (LRV) of 30, this will be a deeper kind of neutral.
Depending on the vibes you are going for, you can make this as moody or as fun as you want. Pair this with pastel pink, coral, or bright yellow for a lot of contrast and a lot of personality!
Alternatively, this shade would evoke soothing coastal vibes when paired with soft, muted linen fabric and gently-toned complementary colors.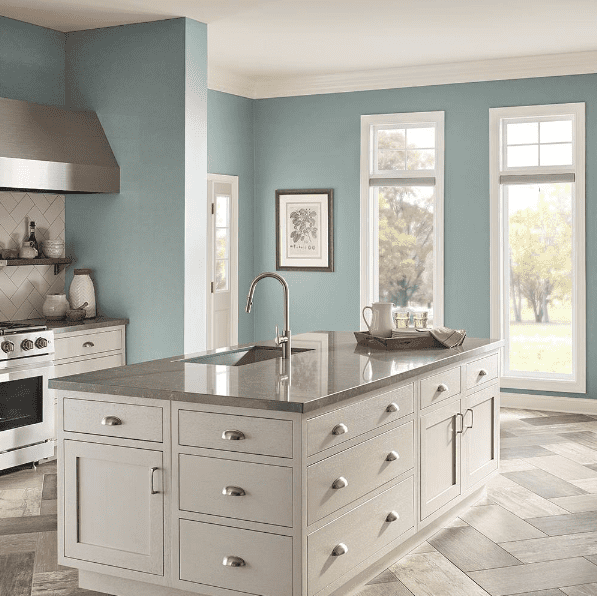 Rainy Afternoon Paint Color Stats
Behr Color Code: N430-4
LRV: 30
RGB Values: R 136, G 154, B 149
Hex Code: #879994
Closest colors in other brands:
Brewster Gray by Benjamin Moore
Oval Room Blue by Farrow & Ball
Silver Laurel by PPG
Jasper Stone by Sherwin Williams
Sea Sage by Valspar
---
Nature's Gift by Behr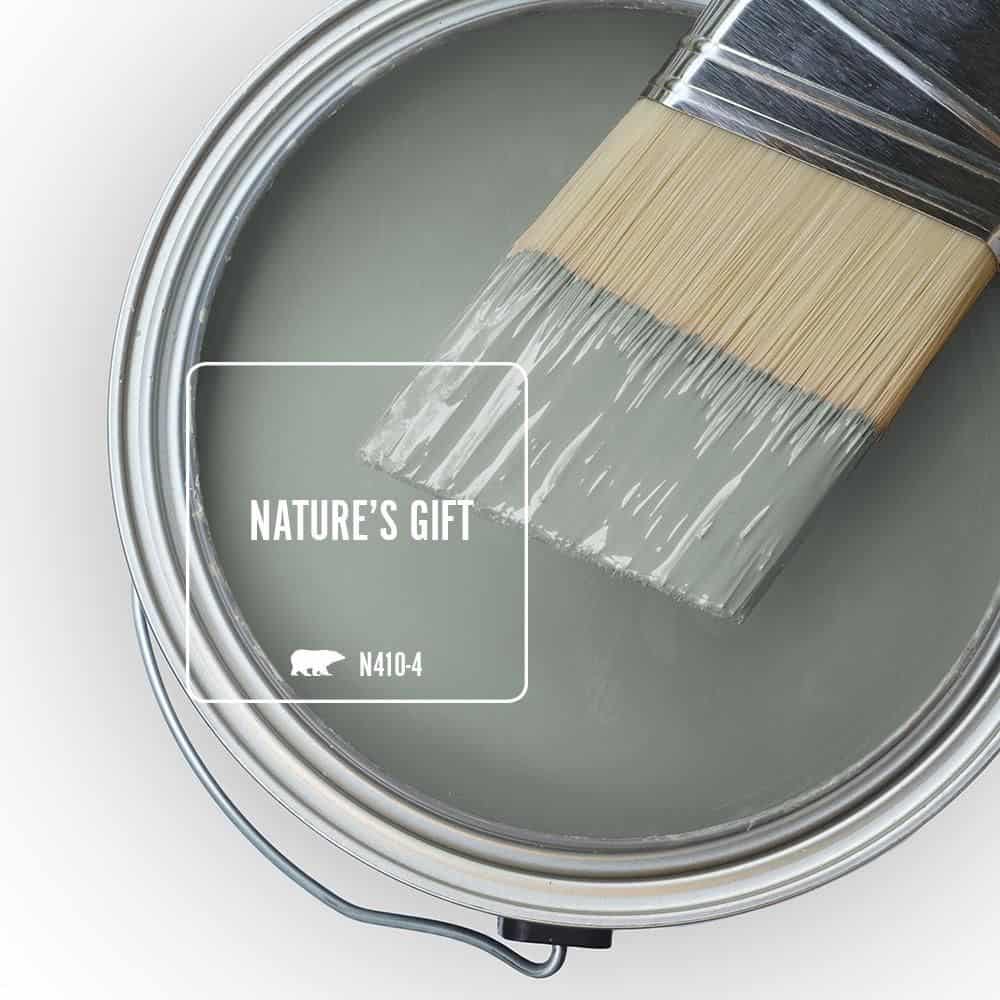 Nature's Gift by Behr is a gorgeous muted gray-green color that you're sure to love.
It has plenty of gray undertones that keep this paint color soothing and underplayed. While it does have a tint of blue to it, it doesn't feel at all like a teal or cyan color.
You could easily use this as a whole house paint color. It's neutral and soft, and the versatility of the color makes it so easy to work with.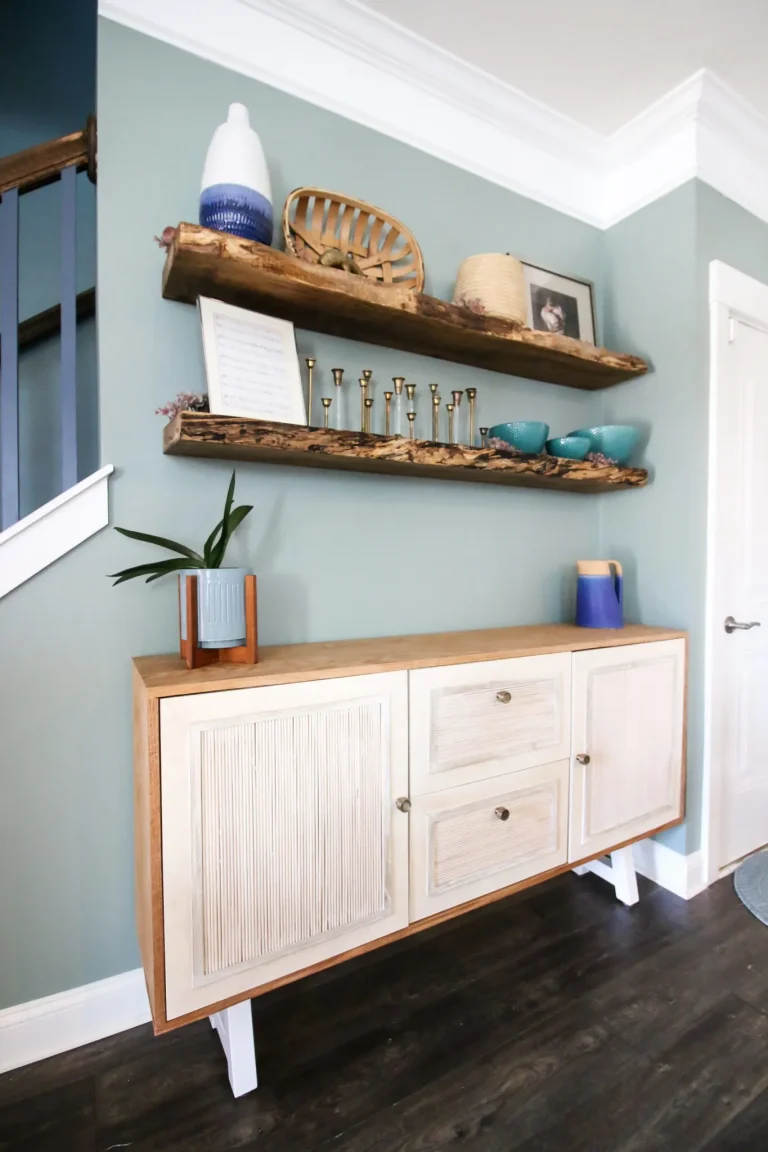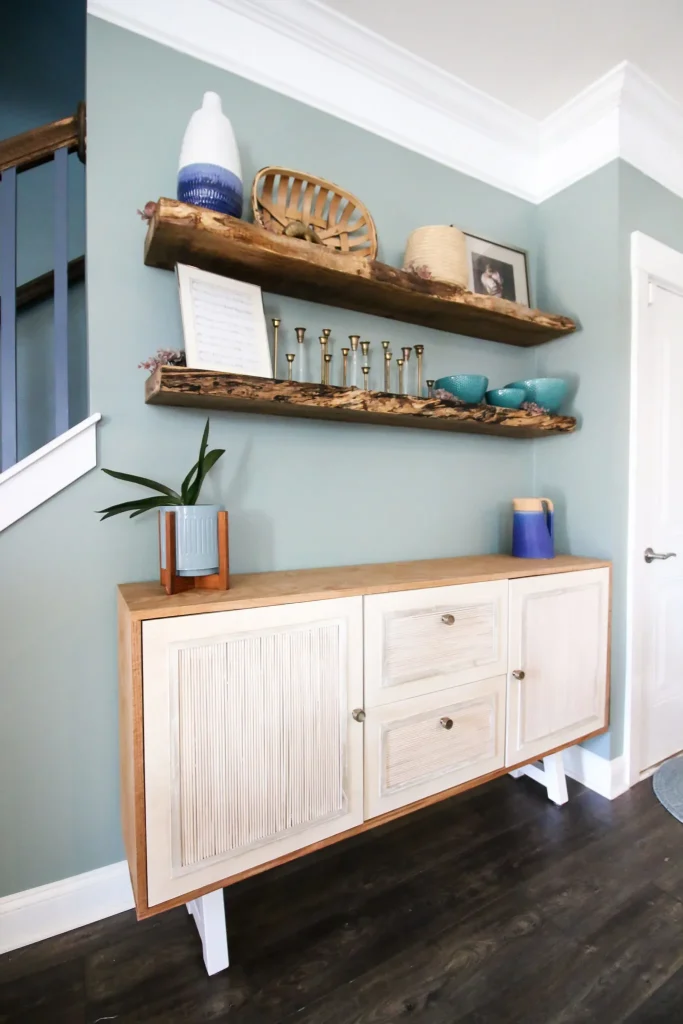 This would pair beautifully with classic white paint colors, like Falling Snow or Snowy Pine. You could also introduce bold gray, navy, or another grayish blue paint shade. It's also beautiful with natural wood tones for a modern boho decor style.
Nature's Gift Paint Color Stats
Behr Color Code: N410-4
LRV: 35
RGB Values: R 153, G 163, B 153
Hex Code: #99a39a
Closest colors in other brands:
Heather Gray by Benjamin Moore
Manor House Gray by Farrow & Ball
Steel Curtain by PPG
Marine by Sherwin Williams
Spring Spirits by Valspar
---
Riverdale by Behr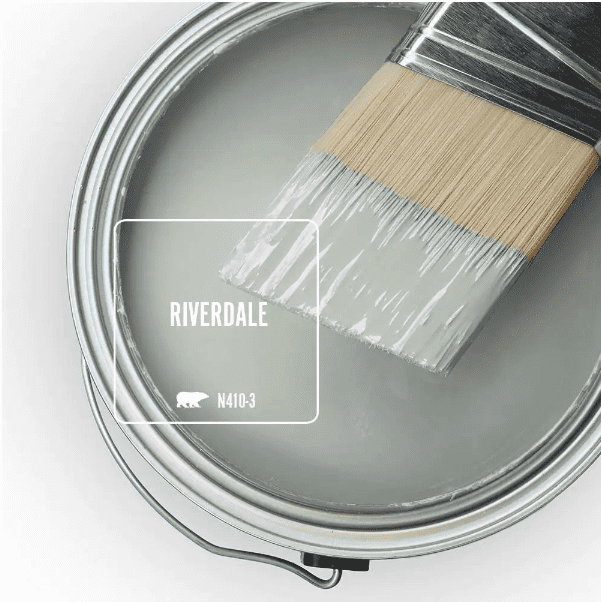 Behr Riverdale is a light green paint color with gray undertones. It has a spa-like feel and gives any room a light, bright feeling. This would be beautiful in a small space, like a powder room, for a more expansive feel.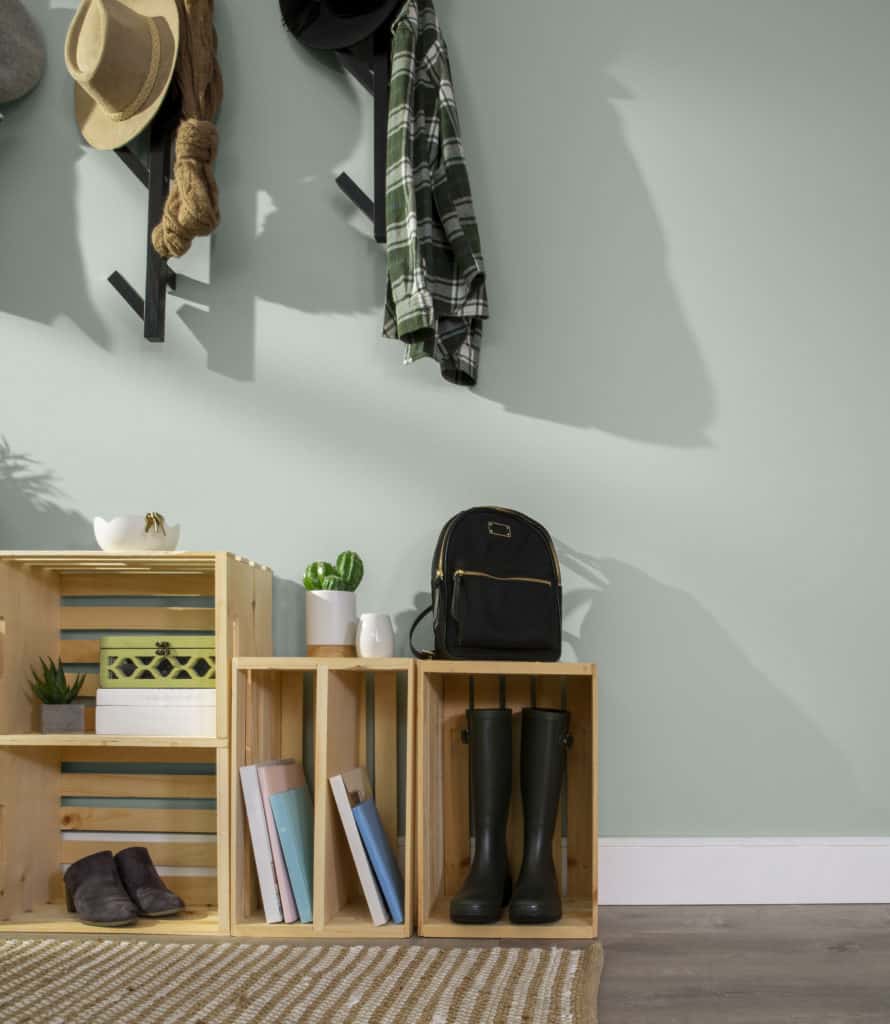 The LRV of this particular color is higher than the others, which means it's the lightest gray-green paint color on the list.
Stick with the airy vibes and pair this with white, light gray, or tan colors. To add some moodiness, incorporate dark gray, black, or rich jewel-toned colors for a high-contrast look.
Riverdale Paint Color Stats
Behr Color Code: N410-3
LRV: 55
RGB Values: R 190, G 197, B 186
Hex Code: #bec5bc
Closest colors in other brands:
Gray Wisp by Benjamin Moore
Mizzle by Farrow & Ball
Balsam by PPG
Comfort Gray by Sherwin Williams
Irish Moor by Valspar
---
Naturalist Gray by Behr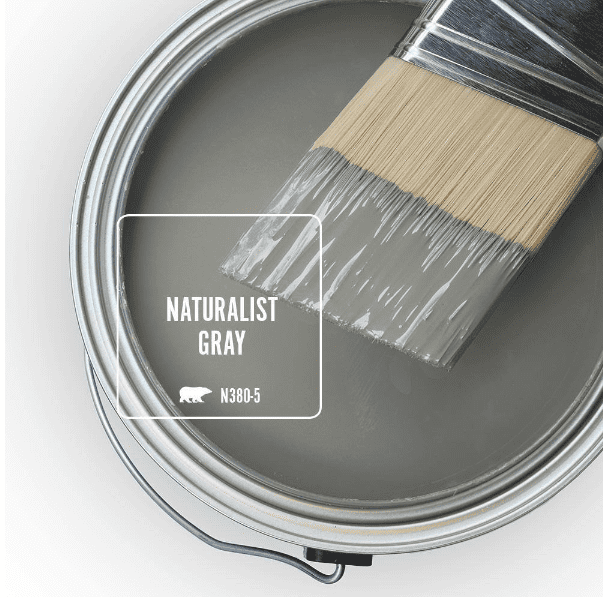 Behr Naturalist Gray is a rich, gray paint color with green undertones. It's a bold statement with an element of softness.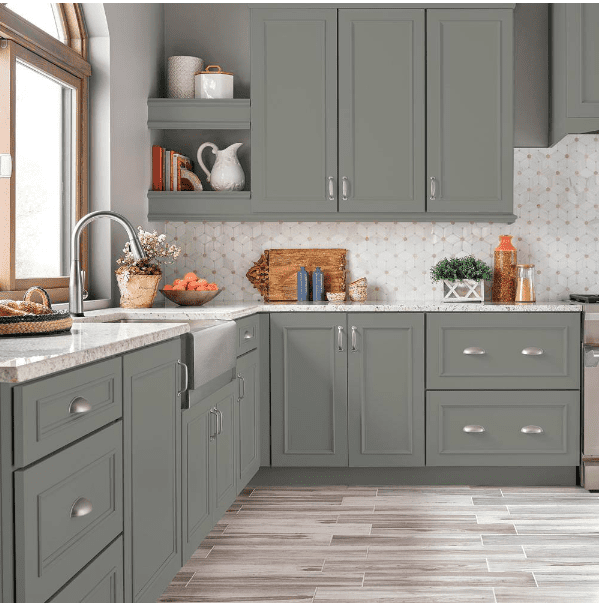 When compared to the other grayish green colors in this article, this one reads more gray. The undertones are a little more subtle and more neutral.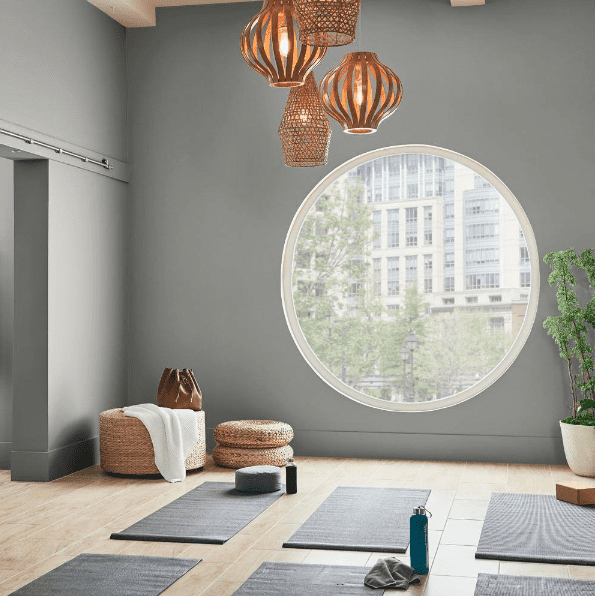 Similar to Behr Midnight in NY, it's definitely a darker shade. It would be beautifully paired with a bright white trim color around a front door, like the below photo.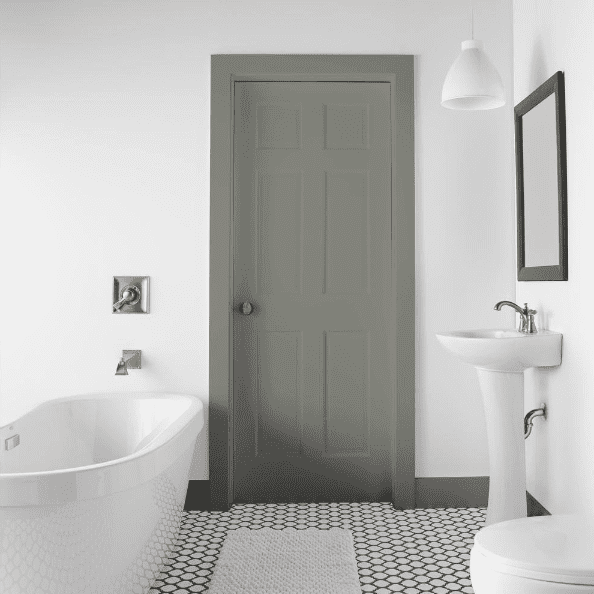 For something a bit more daring, use this rich greenish-gray color as the trim in a bright white room. This would also be a great choice for painting a home's exterior or the front door, like in the below photo.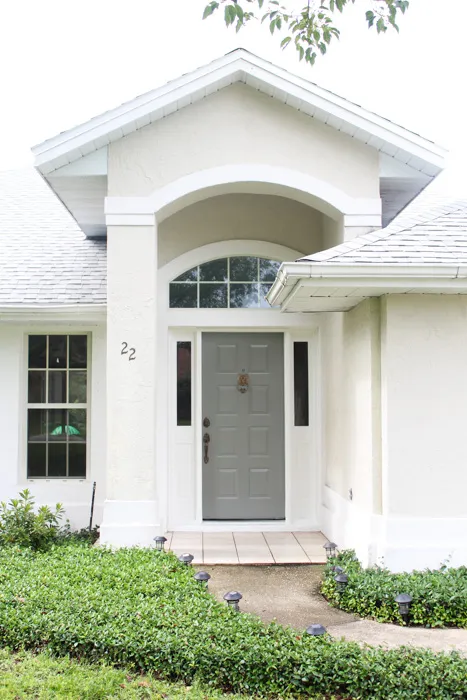 Naturalist Gray Paint Color Stats
Behr Color Code: N380-5
LRV: 26
RGB Values: R 139, G 140, B 131
Hex Code: #8b8c84
Closest colors in other brands:
Cos Cob by Benjamin Moore
Card Room Green by Farrow & Ball
Downpour by PPG
Alloy by Sherwin Williams
Pond Leaves by Valspar
---
In The Moment by Behr
Behr In The Moment is a gray paint color with light green undertones. It was Behr's 2018 Color of the Year and October 2017's Color of the Month. The LRV for this shade is 30, which is a medium value.
It's a deeper shade than a light neutral gray, but not as dark as Behr Graphic Charcoal or Behr Meteorological.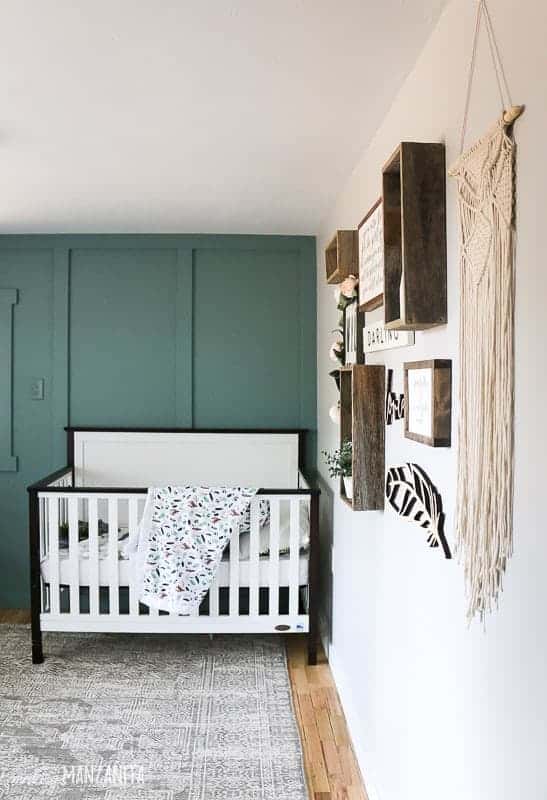 It's a soothing blue-green-gray paint color that works well indoors and out. It plays well with so many different décor styles, textures, and other colors.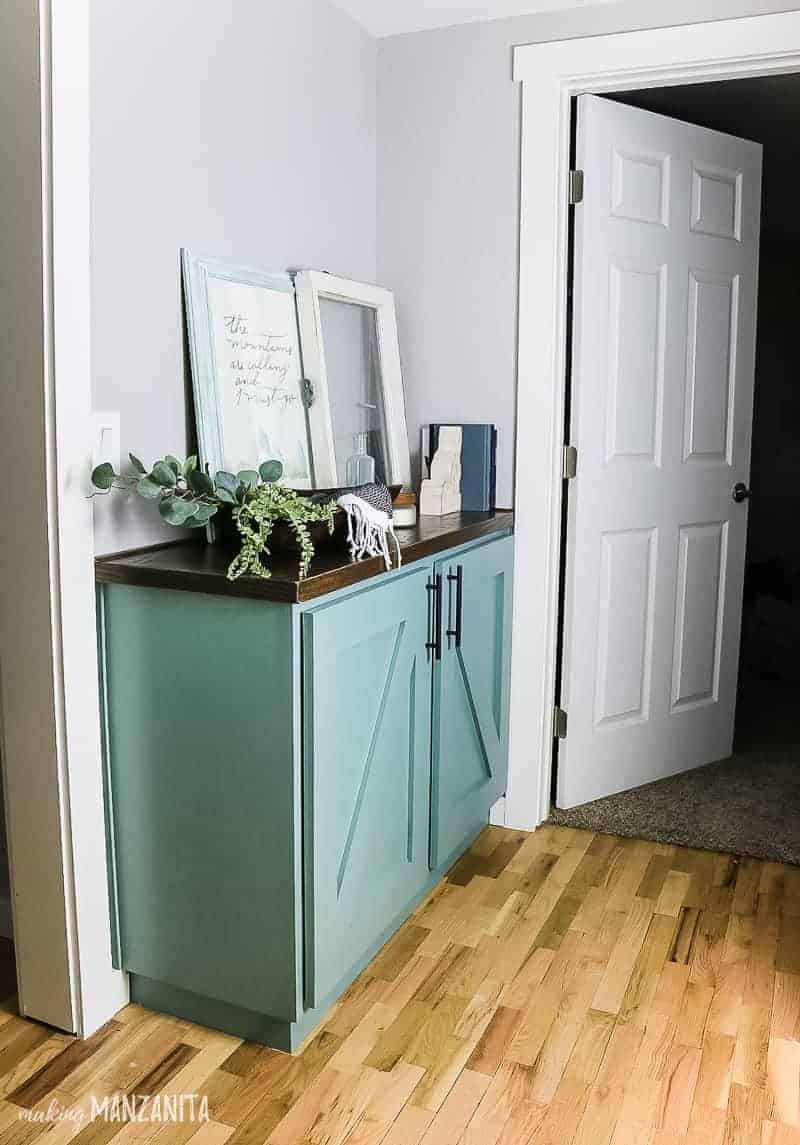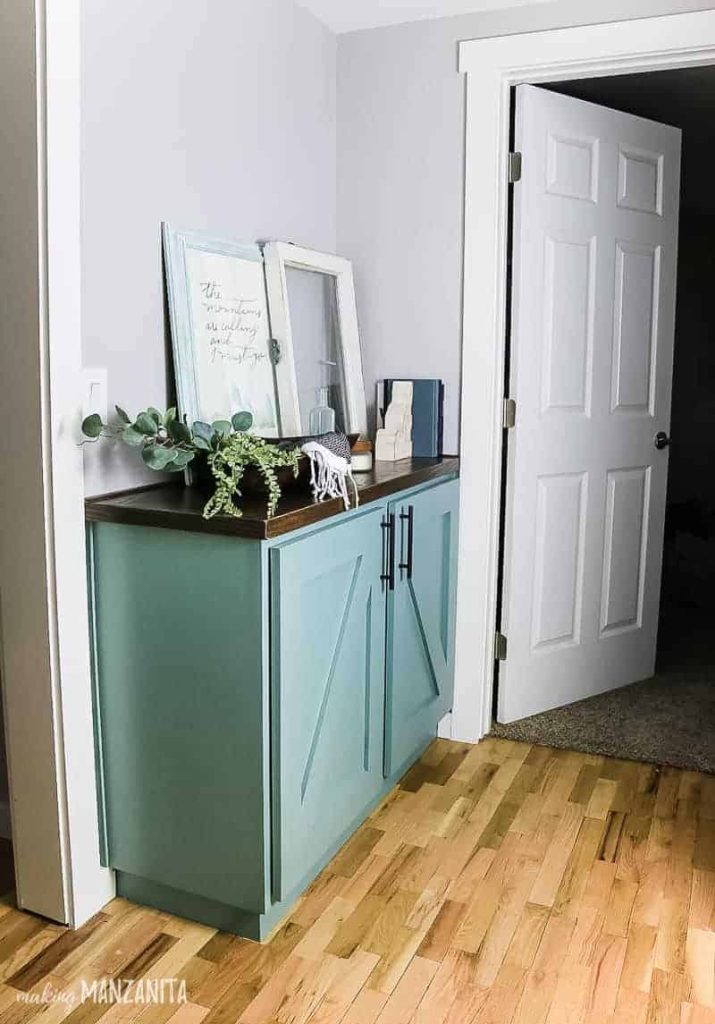 This shade would be great for a cozy outdoor seating area, exteriors, living room, bathroom, kitchen, or even as a painted accent piece – like the painted laundry cabinet in the photo below.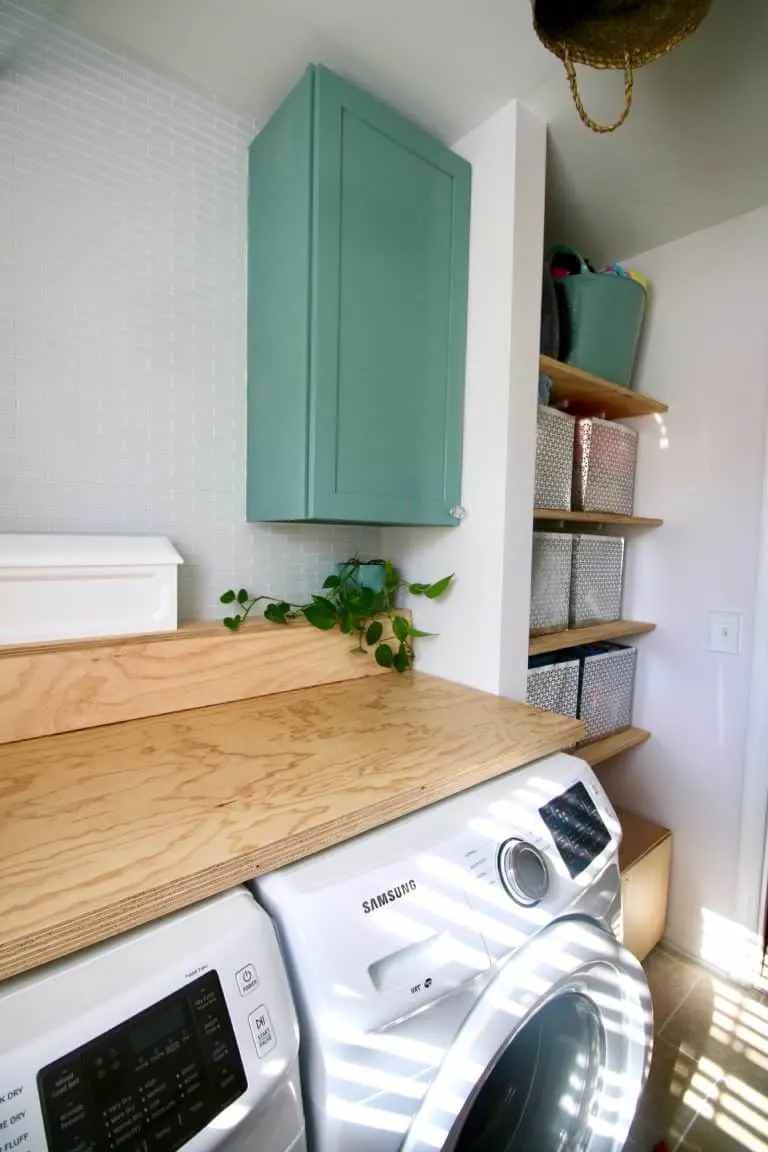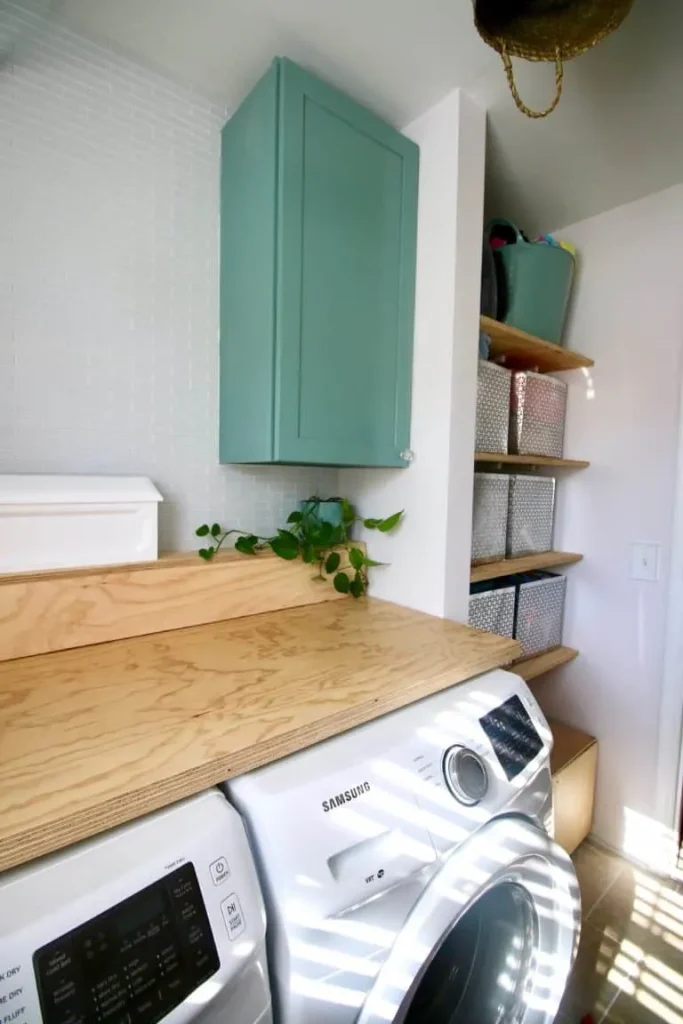 We've used this color in a few different areas of our home, including on the board and batten wall in Quinn's boho nursery (which is one of my favorite green accent walls ever!), and our hallway cabinet.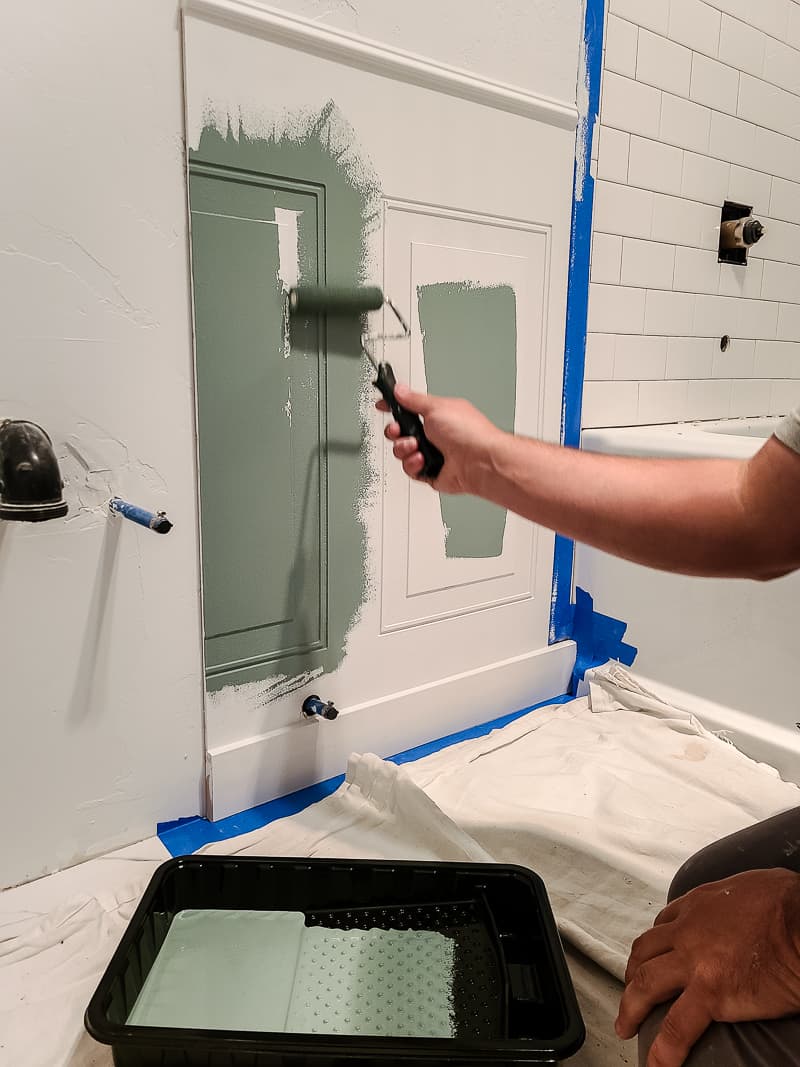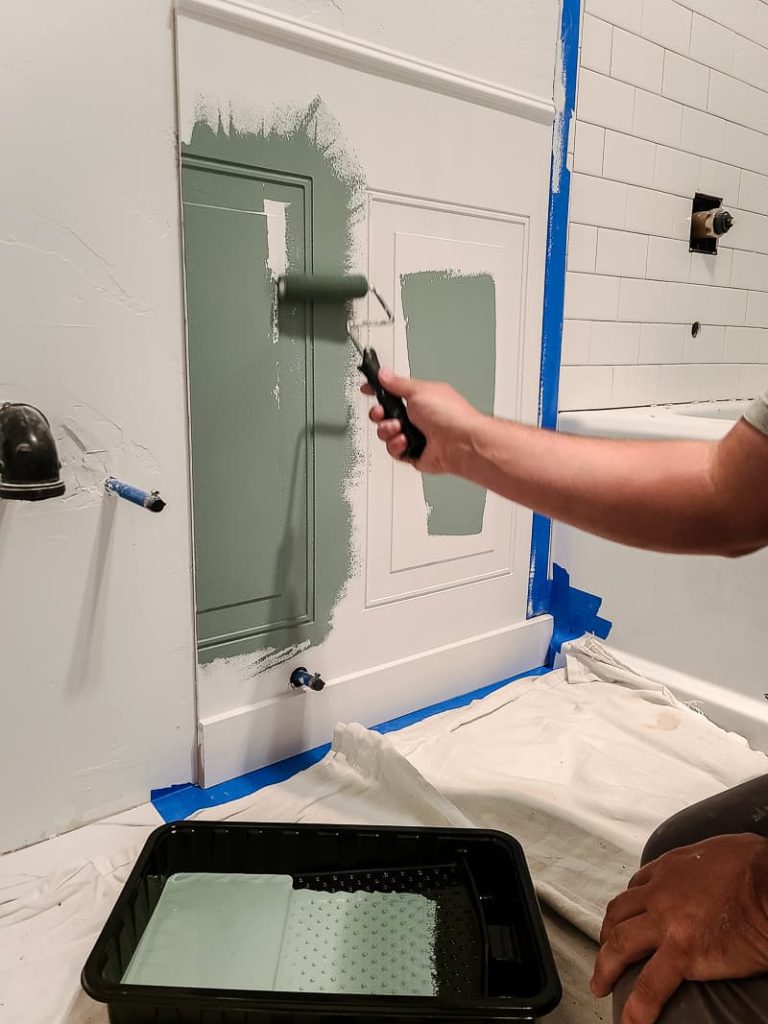 Want to learn more about this pretty gray-green paint color? Check out our In The Moment Behr paint color overview here!
In the Moment Paint Color Stats
Behr Color Code: T18-15
LRV: 30
RGB Values: R 133, G 152, B 147
Hex Code: #859895
Closest colors in other brands:
Brewster Gray by Benjamin Moore
Oval Room Blue by Farrow & Ball
Paradise Found by PPG
Morning At Sea by Sherwin Williams
Sea Sage by Valspar
---
Green Balsam by Behr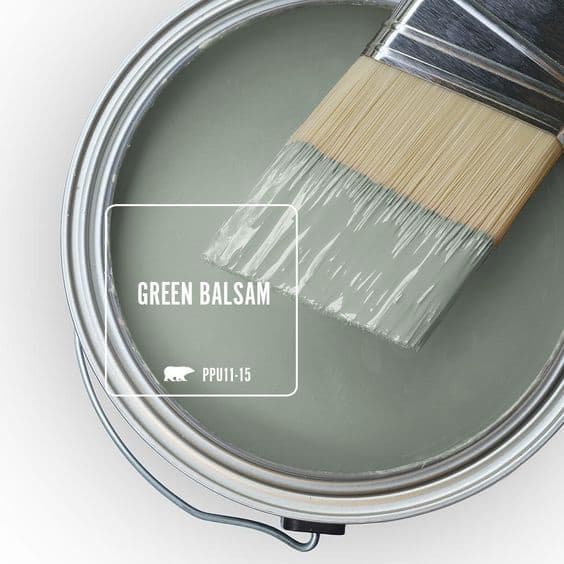 For sunny, warm, SoCal vibes, choose Behr's Green Balsam. This airy hue is such a natural, cool shade with a relaxed feel. It's welcoming, light, and perfect for outdoor spaces.
It's beautiful with dark wood-stained trim, light whites, and rusty hues as accent colors. It looks great as a front door color, on cabinets, and in bathrooms.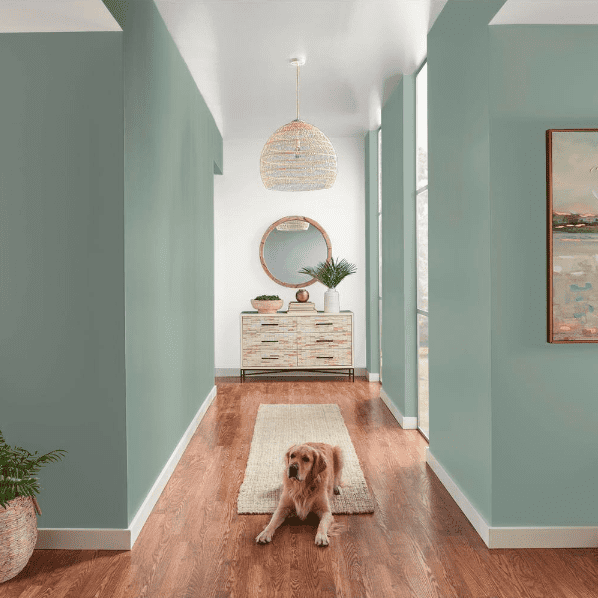 Because of its light gray-green hue, it really livens up smaller spaces and gives the illusion of a larger room.
For a natural look, pair this with lighter tan and brown shades. When paired with darker colors, like Behr Meteorological, you can achieve a monochromatic vibe across the whole room. Behr's Snowy Pine or Falling Snow would be a brilliant trim color pairing.
Green Balsam Paint Color Stats
Behr Color Code: PPU11-15
LRV: 39
RGB Values: R 160, G 172, B 158
Hex Code: #9fac9f
Closest colors in other brands:
Flora by Benjamin Moore
Manor House Gray by Farrow & Ball
Stepping Stone by PPG
Unusual Gray by Sherwin Williams
Sigh Of Relief by Valspar
---
Sage Gray by Behr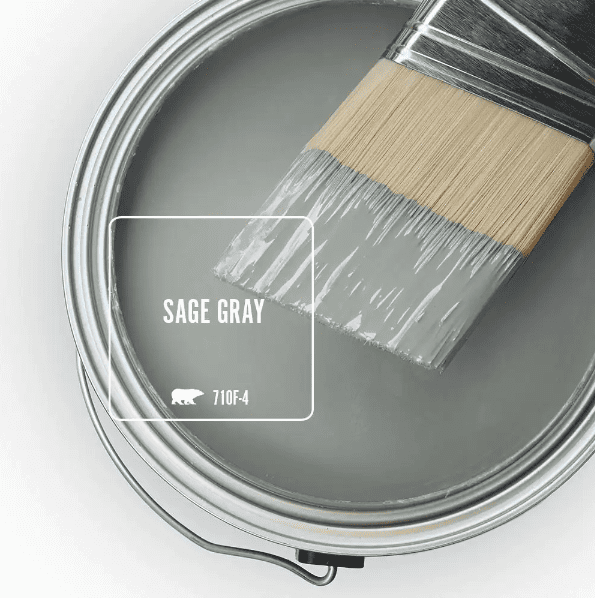 Behr Sage Gray is the chameleon of paint colors. Leaning more toward the grayer hues, this would be the perfect paint color for those who aren't ready to fully release the gray paints, as well as those who aren't ready to fully embrace the greenish-gray paint color trend.
This paint color is serene, soothing, and refreshing! It's also trendy and timeless. While it could easily fall under the pastel category, this color also adds a significant amount of depth to any room.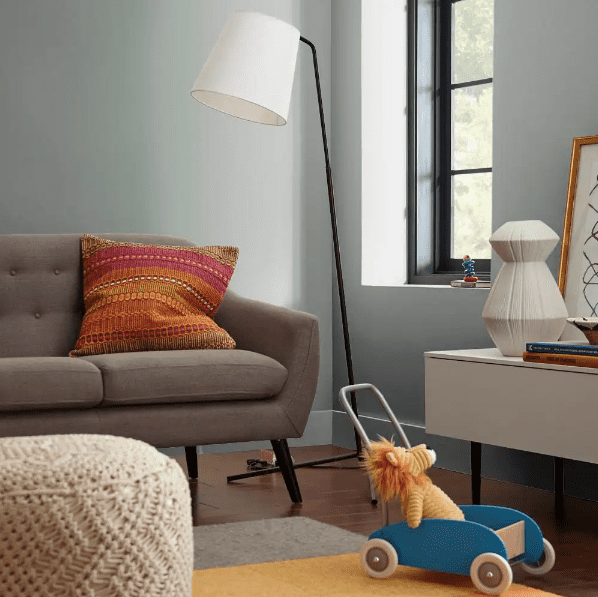 Pair this hue with heavier textures like dark leather, heavy-colored metals, rusty hues, and dark wood-stained floors for a luxurious and classic look.
Or, add complementary bright white trim, with other cream-colored decor pieces. It would also look stunning in a kitchen or bathroom with bright white cabinetry.
Sage Gray Paint Color Stats
Behr Color Code: 710F-4
LRV: 36
RGB Values: R 158, G 164, B 157
Hex Code: #9fa49f
Closest colors in other brands:
Storm by Benjamin Moore
Manor House Gray by Farrow & Ball
Burnished Blade by PPG
Stamped Concrete by Sherwin Williams
Eucalyptus Leaf by Valspar
---
Battleship Gray by Behr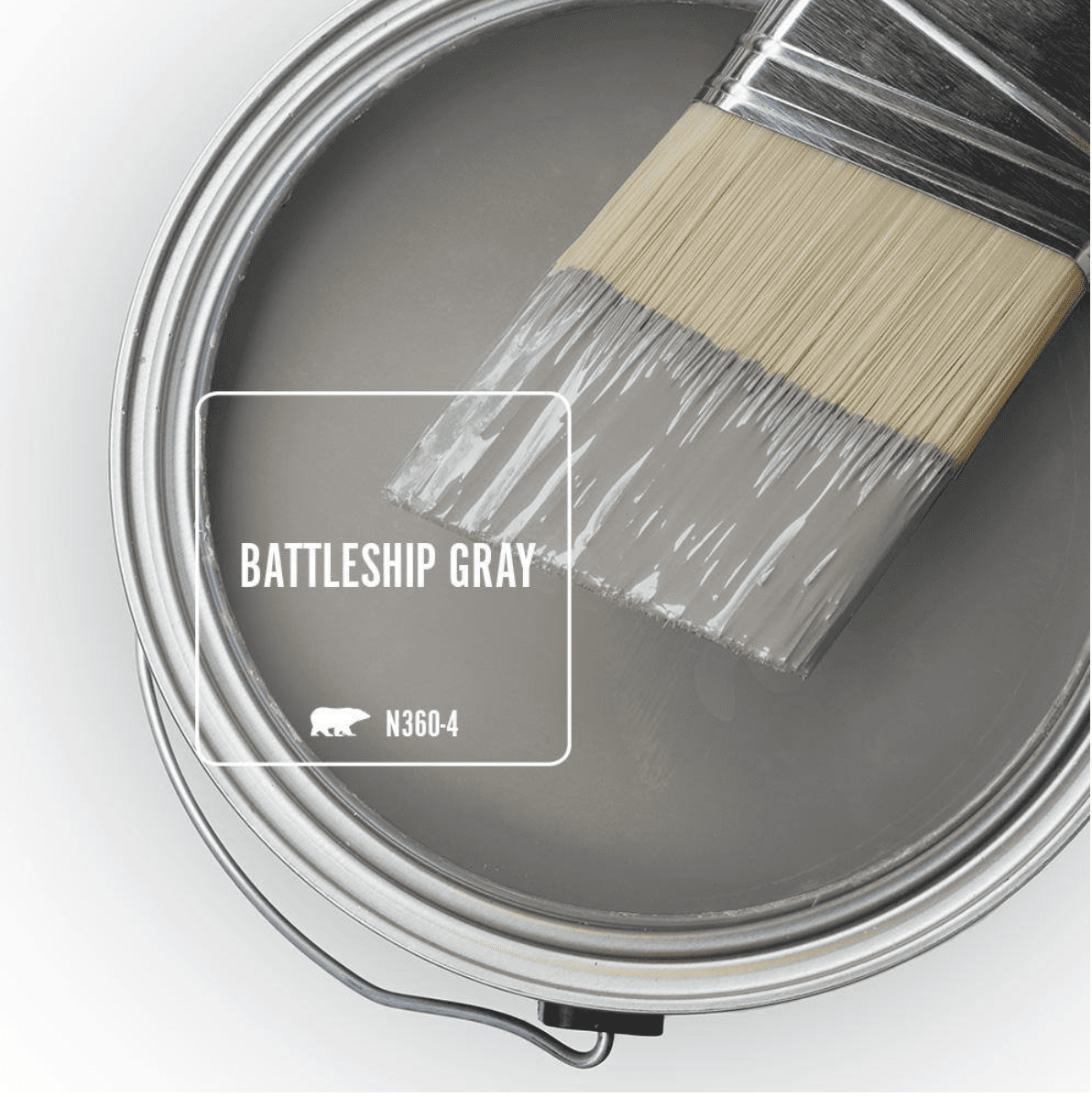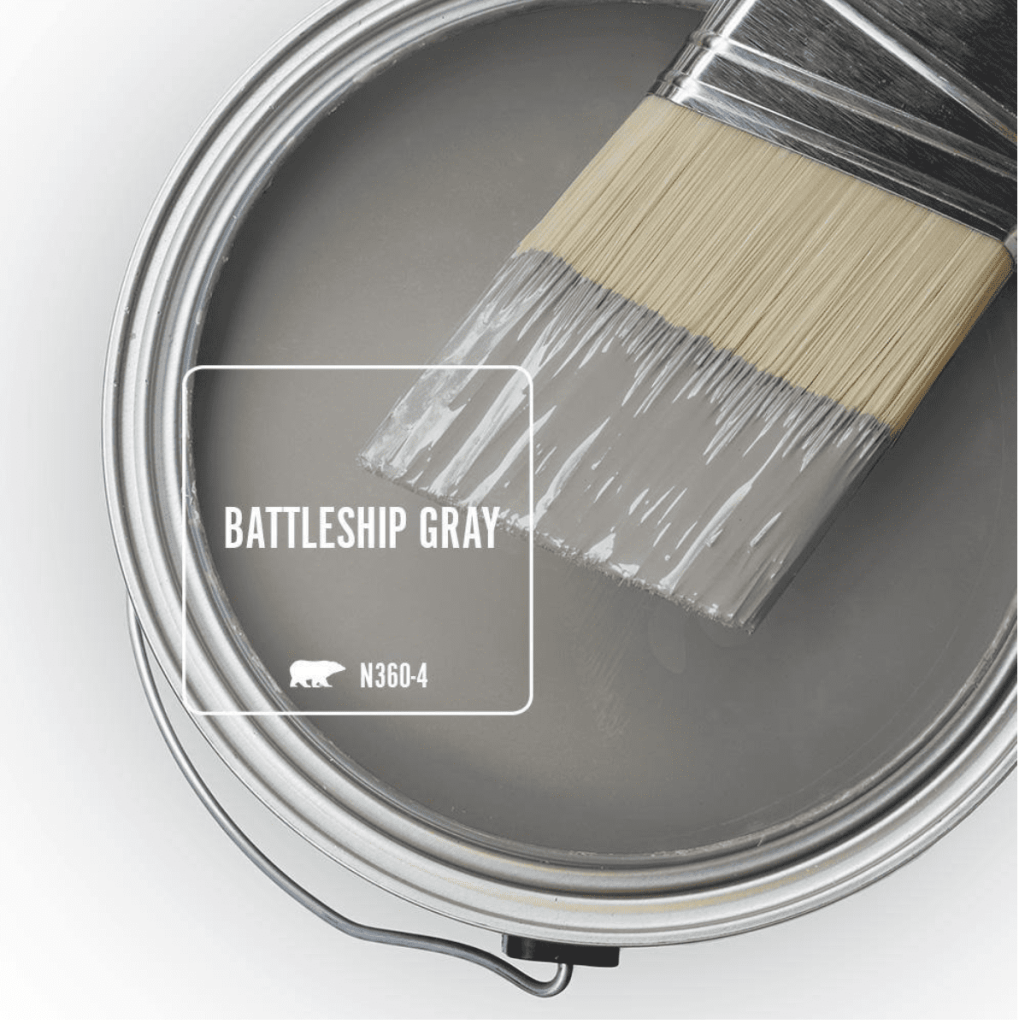 Battleship Gray by Behr Paint is definitely grayer than the other paint colors on this list, but it has definite green undertones so I thought I would include it.
It is a great option for those that are a little more nervous to go with a bold green gray and are looking for something more subdued.
It reminds me a bit of Fashion Gray, which is the color we had painted in the living spaces and bedrooms in our 1st fixer upper.
Battleship Gray is a grayed green with a green undertone that looks gorgeous and calming when painted in a bedroom. It pairs nicely with white painted trim and darker contrasting furniture, like the photo below.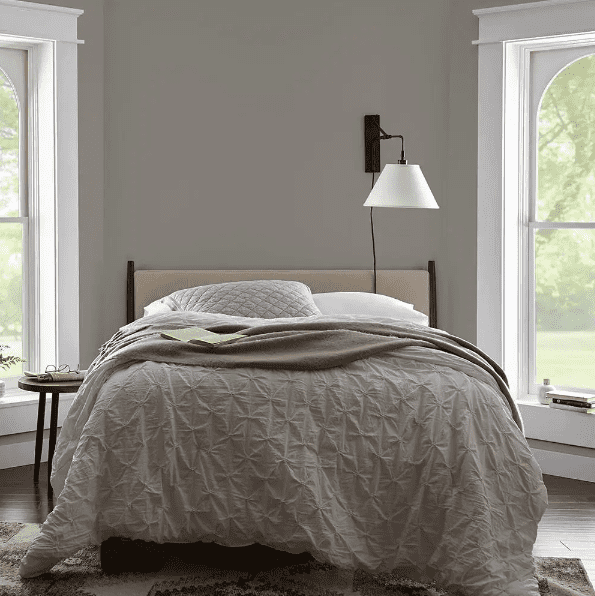 I love it so much that I decided to incorporate it into our son's mountain mural accent wall. As seen below, it is the gray color in the middle of the mountains. Gorgeous right?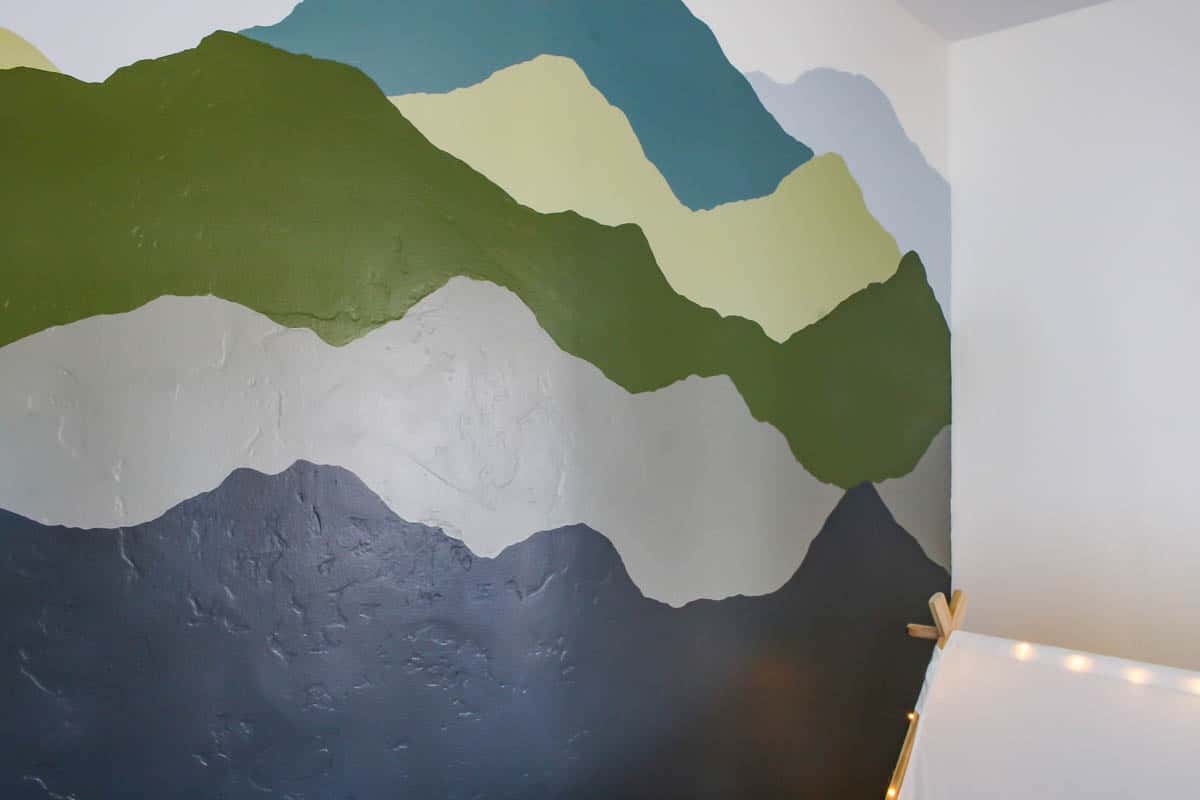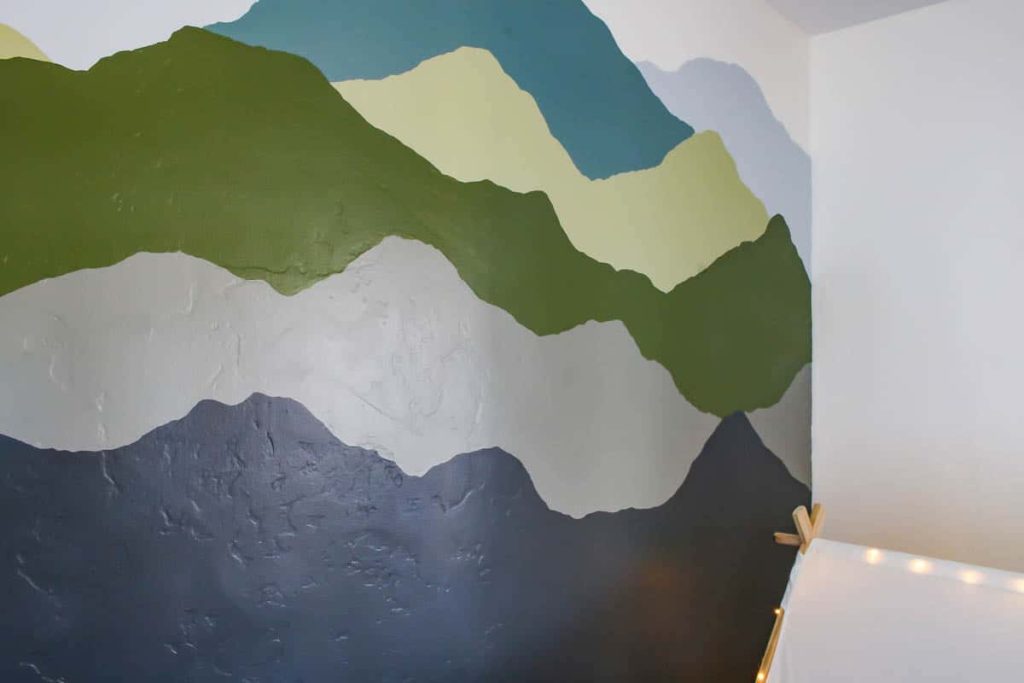 Battleship Gray Paint Color Stats
Behr Color Code: N360-4
LRV: 30
RGB Values: R 152, G 150, B 141
Hex Code: #97928a
Closest Colors in Other Brands
Graystone by Benjamin Moore
Stoke by Farrow & Ball
Lazy Afternoon by PPG
Evergreen Fog by Sherwin Williams
Cathedral Stone by Valspar
---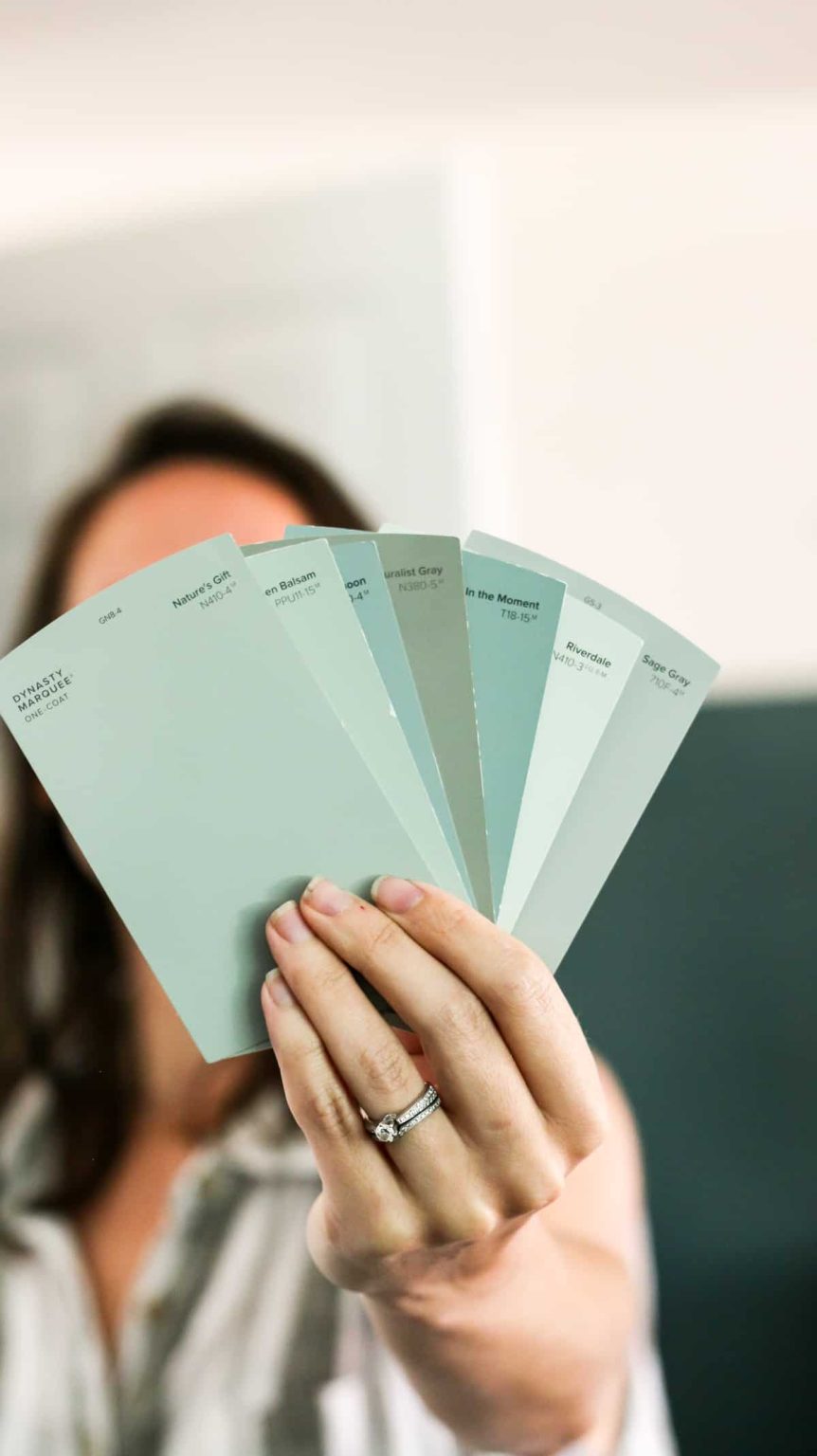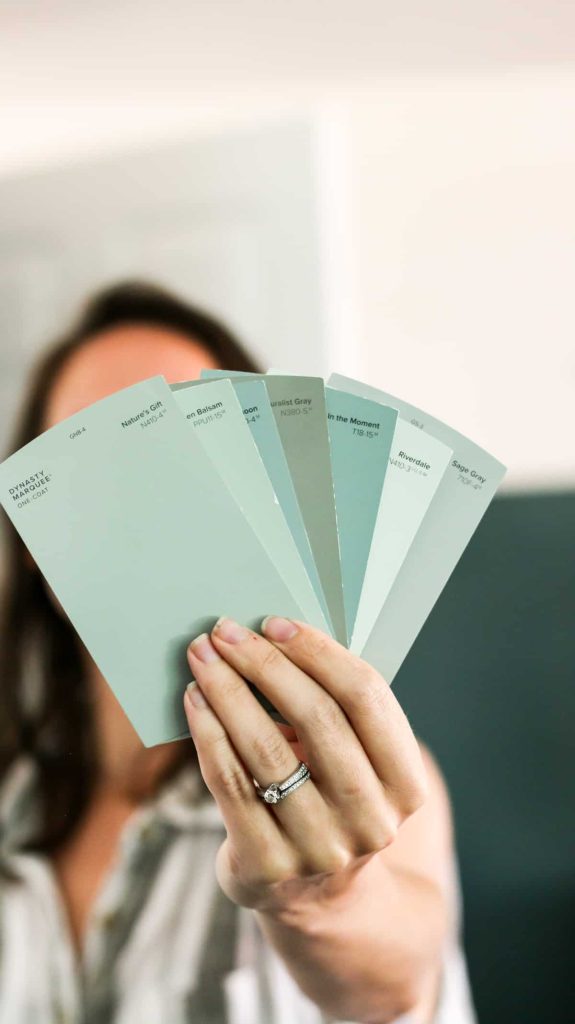 So, which gray-green paint color is your favorite? It's important to remember that the way the colors look on your screen isn't necessarily how they will look in your home.
Before fully committing to a paint color, test it in swatches, and observe how the light and other elements in the room reflect the color.
So which of these gray paint colors with green undertones will you try next?