If you know that your front door needs some paint love, you may be lost as to choosing front door paint colors or completely confused about how to paint a door. Here are some tips for how to pick a front door color and some tips for painting your front door.
This post is brought to you by Behr Paint and contains affiliate links, but nothing that I wouldn't wholeheartedly recommend anyway! Read my full disclosure here.
The front door of your house is the first impression for visitors. It is the first thing you see when you come home from a long day. Your front door welcomes you home.
Painting your front door is an easy way to add instant character to this important piece of your exterior. Not to mention, painting your front door adds instant curb appeal.
If you know that your front door needs some paint love, you may be lost as to how to pick a front door color or completely confused about how to paint a door. Don't worry! You're in a great place because we're going to cover all of that in today's article.
Today I'm going to share some tips with you on choosing your front door paint color and give you some tips for painting doors.
This fall we took on the big task of painting our exterior…which was long overdue.
I shared a "before" picture of the hideous paint color in this post of exterior paint prep. I also rounded up house painting supplies so you'd be all set with your tools of the trade.
Today you get a sneak peek at the big reveal with a look at our exterior paint color, trim color, and more importantly, the BEAUTIFUL front door paint color!
Related – Other Exterior Painting Posts:
Before Picture: Front Door
First, let's take a look at what we started with…. ugh…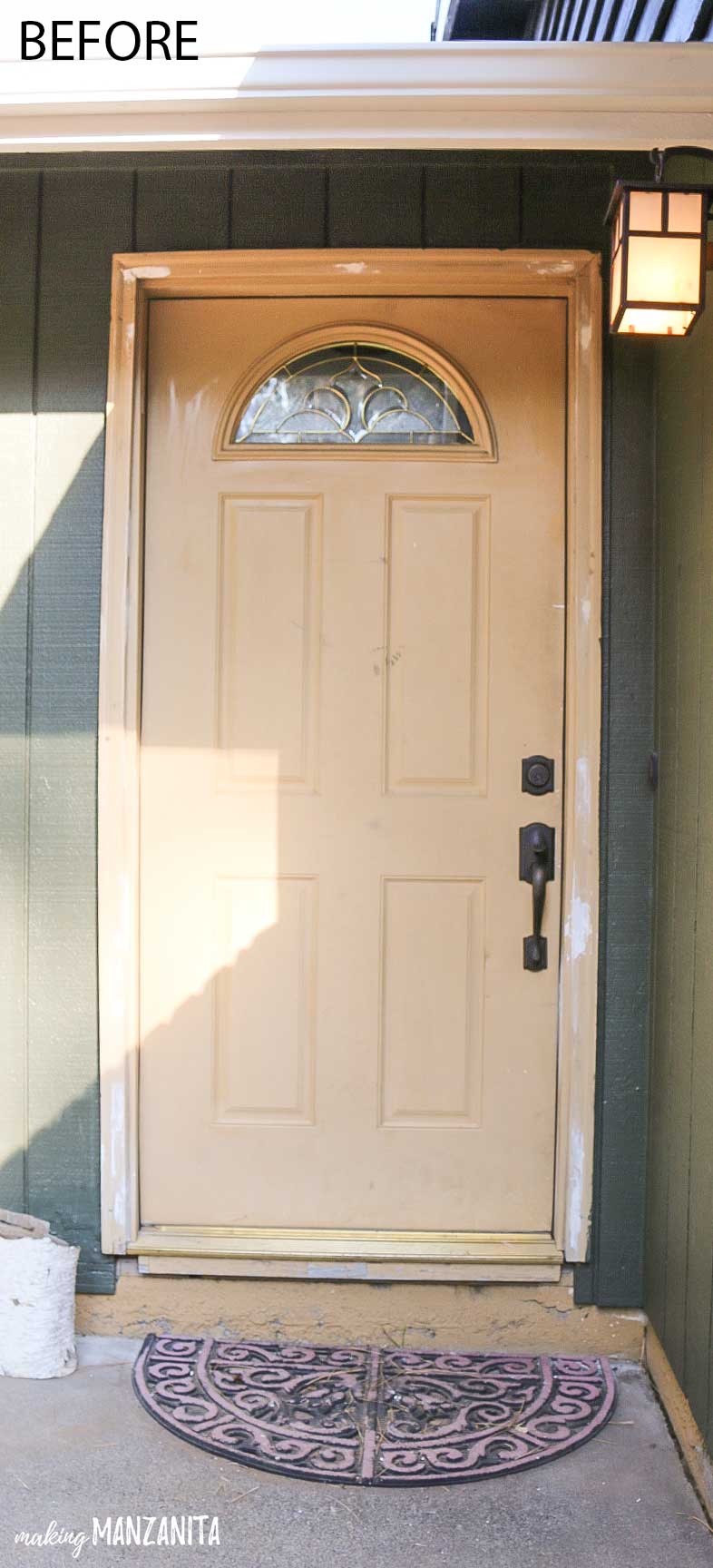 I'm so glad all of that yucky tan/brown color is gone now!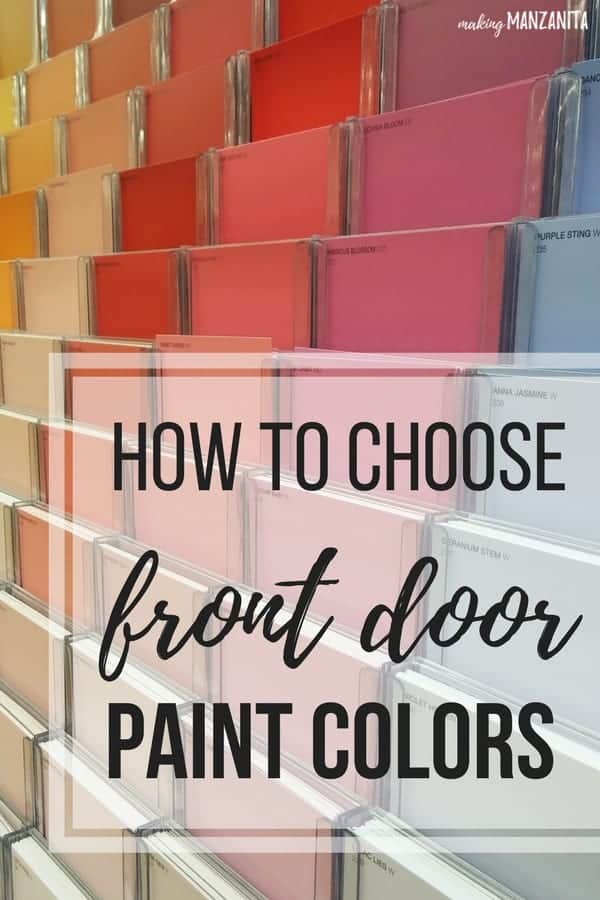 How To Pick A Front Door Color: 7 Expert Tips
#1: Look for inspiration
I love using Pinterest for home decor inspiration, especially when it comes to colors. I even wrote a whole post about how you can use Pinterest to discover your home decor style.
Since Pinterest is incredibly visual, you're able to quickly scroll through inspirational photos and save any that stand out to you.
Give it a try… hop on over to Pinterest and search "front door paint colors" and see what you find!
But don't let it stop there. Take a walk or drive around your neighborhood to see what sort of front door colors others have. This is a great way to make sure that your home's color palette fits in with your neighborhood.
#2: Use color theory
If you're stuck on how to pick a front door color, your first stop should be a color wheel.
This post does a great job of explaining the basic concept of the color wheel, color schemes and combinations.
Keep in mind what other exterior paint colors you have on your home, like the siding color and trim colors.
For us, we were painting the exterior at the same time that we painted the front door so we were able to develop a color palette that was cohesive.
The body color of the rest of your home makes a huge difference in how to color of your front door looks, so don't forget to paint samples to make sure they look good together before making a final decision. 
#3: Keep in mind color psychology for your front door
I'm a big believer in the psychology of color, which I mentioned in my article about master bedroom paint colors and nursery colors.
As we cover how to pick a front door color like a pro, I thought it would be helpful to give you a brief understanding of color psychology.
Here's a short description of the psychology of color for various hues that you can consider when choosing front-door paint colors for gray houses:
Black: Symbolizes elegance, power, and sophistication. A black front door adds a touch of drama and can create a striking contrast against a gray house. Check out some of my favorite black paint colors here!
White (Neutrals): Symbolizes purity, tradition & freshness. Painting your front door with neutral colors, like white/gray/tan, will fit in well with all sorts of color schemes. Great for someone that doesn't want to take the risk of using bright colors on the exterior of your home.
Brown (Wood Tones): Represents stability, warmth, and a connection with nature. It can create a welcoming and earthy vibe for your front door.
Yellow: Radiates happiness, optimism, and energy. A yellow door can bring a cheerful and vibrant feel to your entire house.
Red: Evokes passion, boldness, and excitement. A red front door can make a strong statement and create a focal point for your home's entrance.
Orange: Symbolizes creativity, enthusiasm, and warmth. It can add a playful and energetic touch to your gray house's front door.
Purple: Represents luxury, creativity, and spirituality. A purple front door can add a sense of opulence and uniqueness to your home's exterior.
Pink: Signifies gentleness, romance, and sweetness. A pink front door can bring a soft and charming look to your gray house.
Green: Symbolizes harmony, growth, and renewal. A green door can create a calming and refreshing atmosphere for your front door.
Blue: Evokes serenity, tranquility, and stability. A blue door (from navy blue to light blue) can give your home a cool and peaceful vibe.
Remember, these descriptions are based on the general psychology of color, but personal preferences and the specific context of your home should also be considered when choosing the perfect front door color.
#4: Think outside of the box
Don't get stuck inside the box of what you think your front door paint color should be. Be bold and try something unique!
#5: Go with your gut
I love evaluating lots of options when it comes to paint colors through either paint swatches, paint samples, or even Behr's Color Smart, where you can try out different color combinations. 
But when it comes down to decision time, I usually have a feeling in my gut…even if my mind doesn't know it quite yet. Go with your gut when it comes to front door paint colors.
#6: Remember it's only paint
If you have major commitment issues, painting your front door can be a scary project. Maybe you're thinking…"but…what if I hate it?!" and you know what…I'm going to be honest with you here…there's a chance you could.
But remember, it's only paint. It can always be fixed with more paint! Painting your front door only requires a small amount of paint, so it's not a major investment one way or the other.
#7: Don't forget to check the rules of your HOA or CRR
Before busting out the paint to change the color of your front door, don't forget to check with your HOA (Home Owners Association) or CRR (Convenents, Rules and Restrictions).
A lot of times they have either specific paint colors that you are able to use or they will want you to stick with a more traditional color, like neutral shades. Even though your personal style may be to have a bold color choice, like a lime green front door, you've gotta follow the rules of your neighborhood (if you have them).
Otherwise, you could be fined or asked to change the color of your front door a second time, which would be a big pain. 
For more tips and tricks about choosing paint colors, check out this article which walks you through my entire 4-step process for how to choose paint colors!
Are you ready to see what front door paint color we chose?!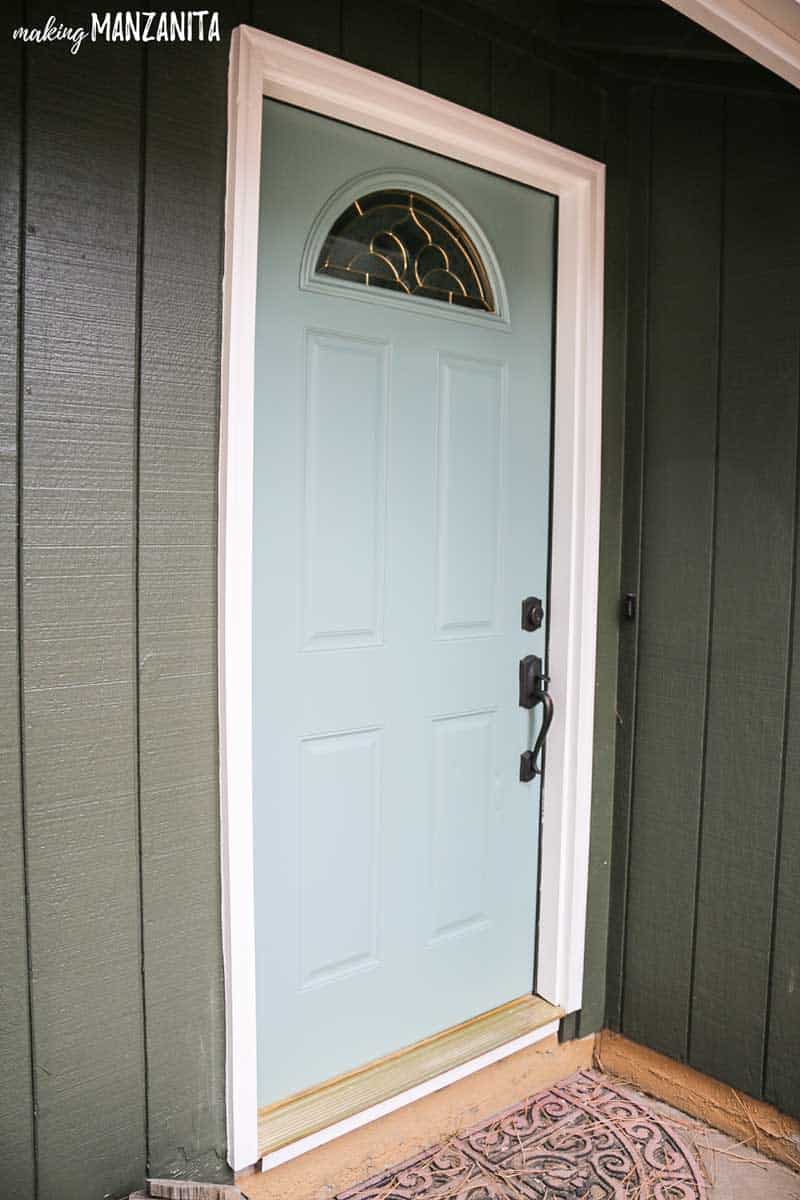 Ta DA!!!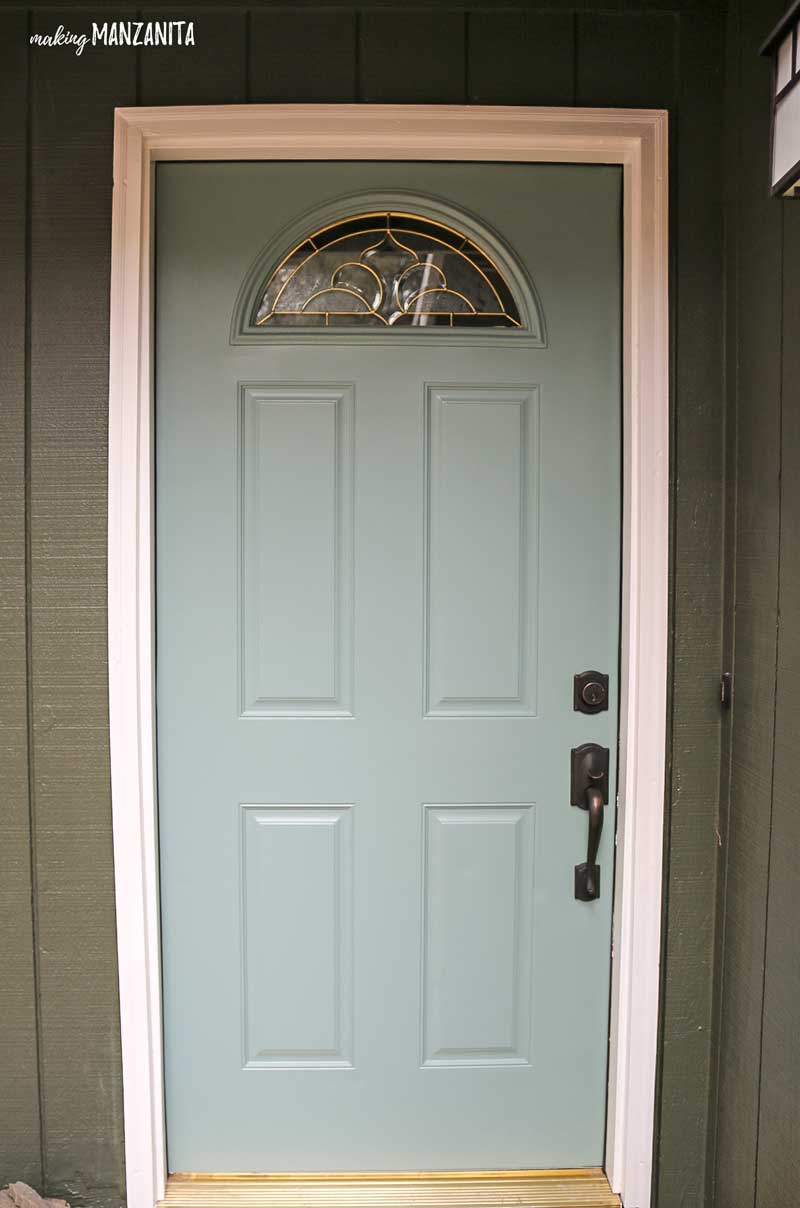 Do you love it as much as I do??
I had been majorly stumped on a color that would both contrast with our exterior paint color (which by the way is Black Bamboo by Behr – an olive shade of forest green) and is a good complement.
Then one day I was looking at Behr's color trends for 2018 and I saw it…..the perfect color!
This shade of green is called In The Moment. Ironically it is the Behr Color of the Year for 2018. I guess I'm jumping on the bandwagon and never looking back because I LOVE IT.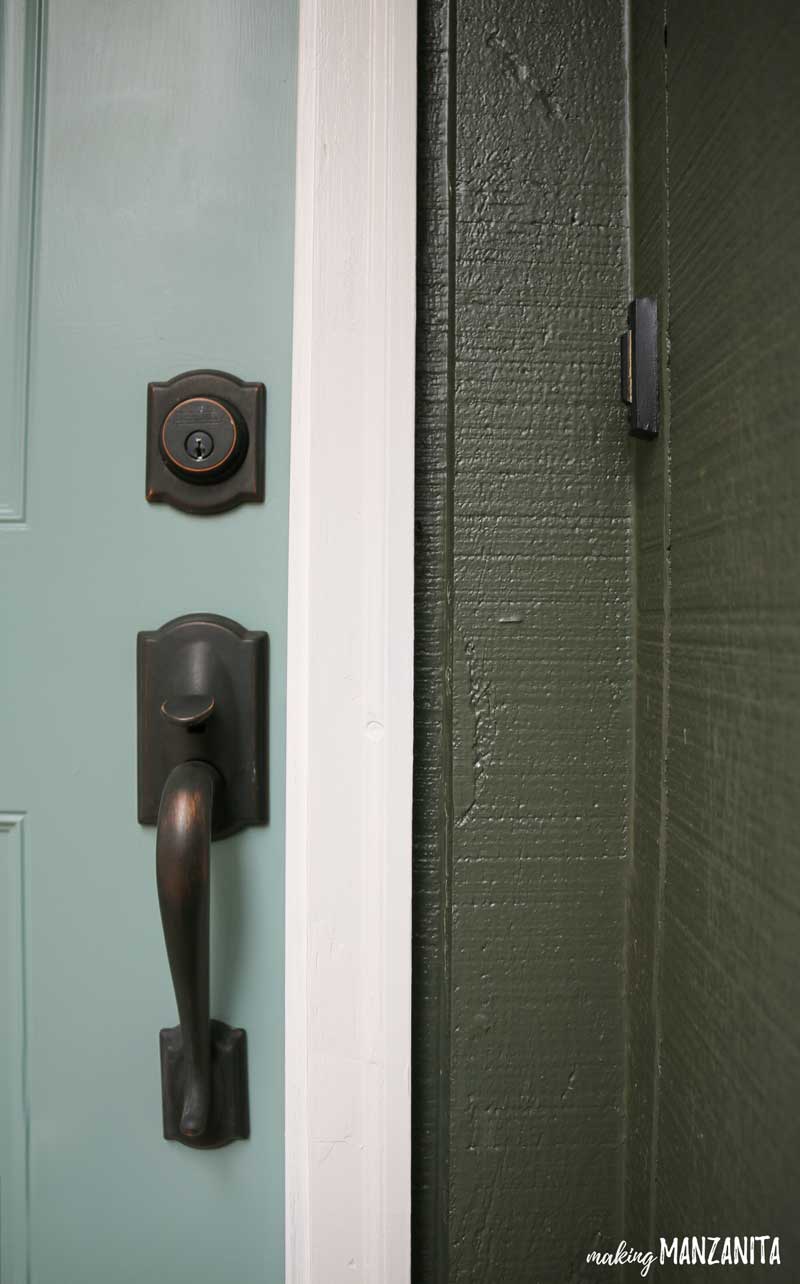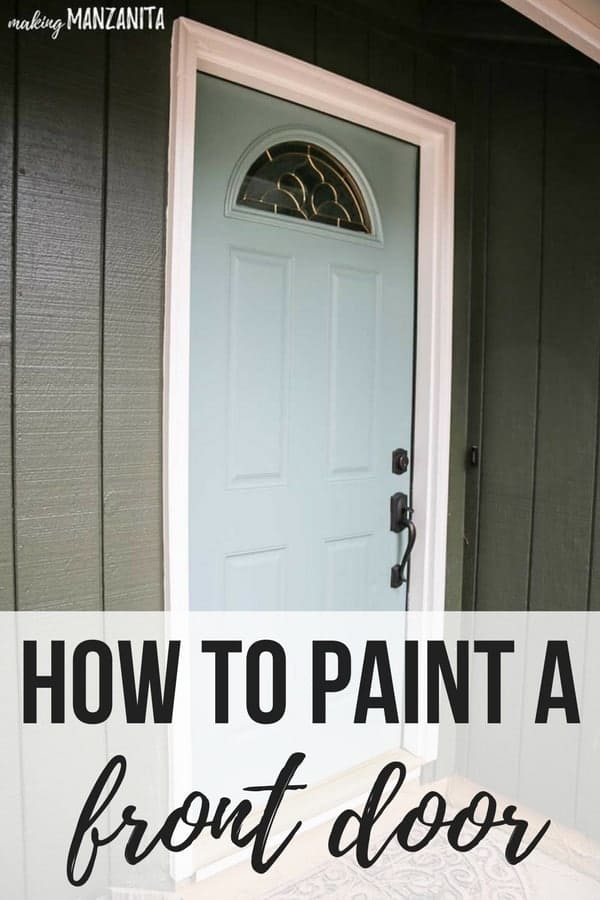 4 Tips For How To Paint A Door
Front Door Paint Color Source List & Supplies:
#1: Clean your door before starting
Ours had recently been pressure washed as one a part of our exterior paint preparation, so we just gave it a quick wipe with some disinfecting wipes to make sure the dirt and dust were gone.
If yours needs a more thorough washing before painting, TSP is a great cleaner to use before painting.
#2: Follow this general order for painting a door
This is the order we used to paint our front door. The most important part is that you do the ridges of the panels first, then the panels, then the horizontal pieces, and lastly the vertical.
*Yes, I know there is no #7, haha. Just move onto #8 after #6.*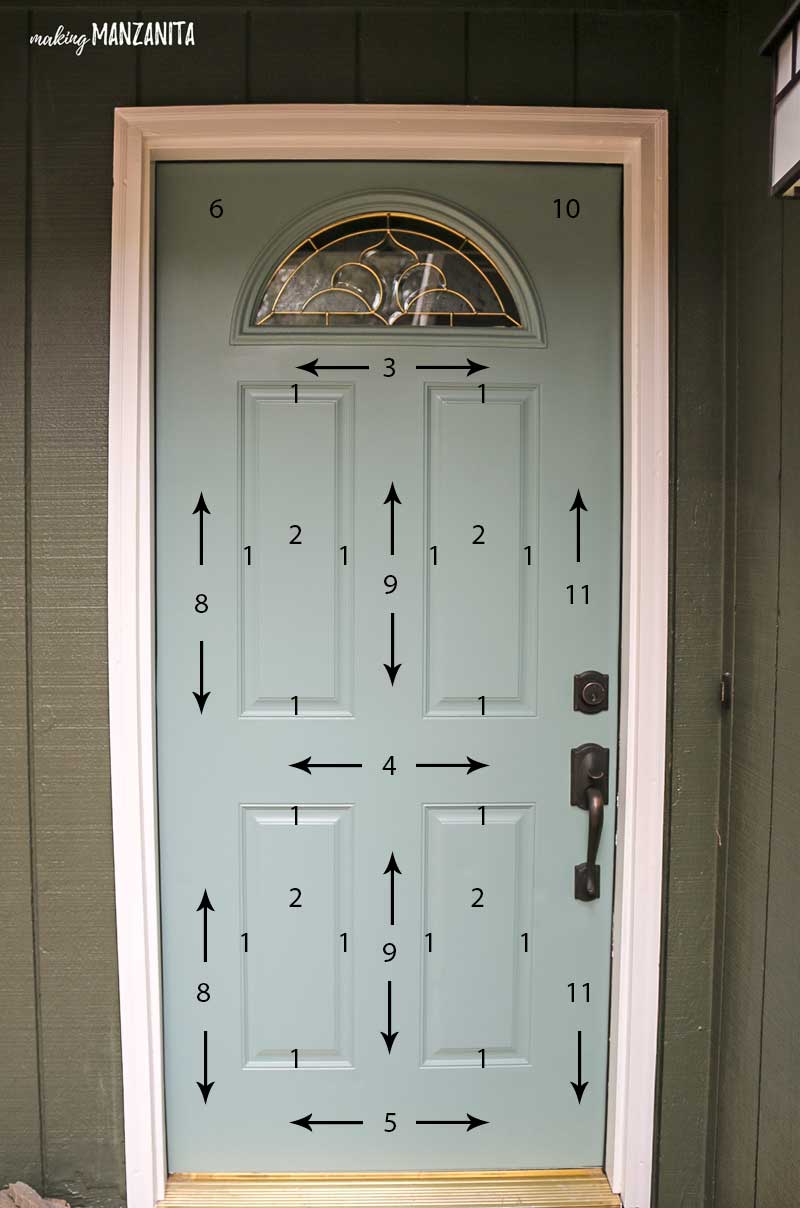 #3: Use a paint & primer to save time
The paint we use is Behr's Marquee line and it already has a primer in it. Pay close attention to see if your front door paint has primer added. If not, you'll need to prime the door before painting.
We highly recommend the Marquee line by Behr, which we used on our whole exterior. It was well worth the extra money because we only had to do one coat, which saved us a TON of time and money.
#4: Work quickly
Get all your supplies ready because once you start painting the door, you don't want to stop. Stopping (even for a couple of minutes) allows the paint a chance to dry up a tad and get sticky, which will lead to noticeable strokes.
It is best if you could work quickly to get the paint on the door while everything is wet.
We love how our front door paint color turned out! It makes such a difference having a fun-colored front door.
We instantly added a ton of curb appeal to our home. We couldn't be happier with Behr's Color of the Year – In the Moment – and the Marquee line.
One more look at that dramatic before and after, shall we?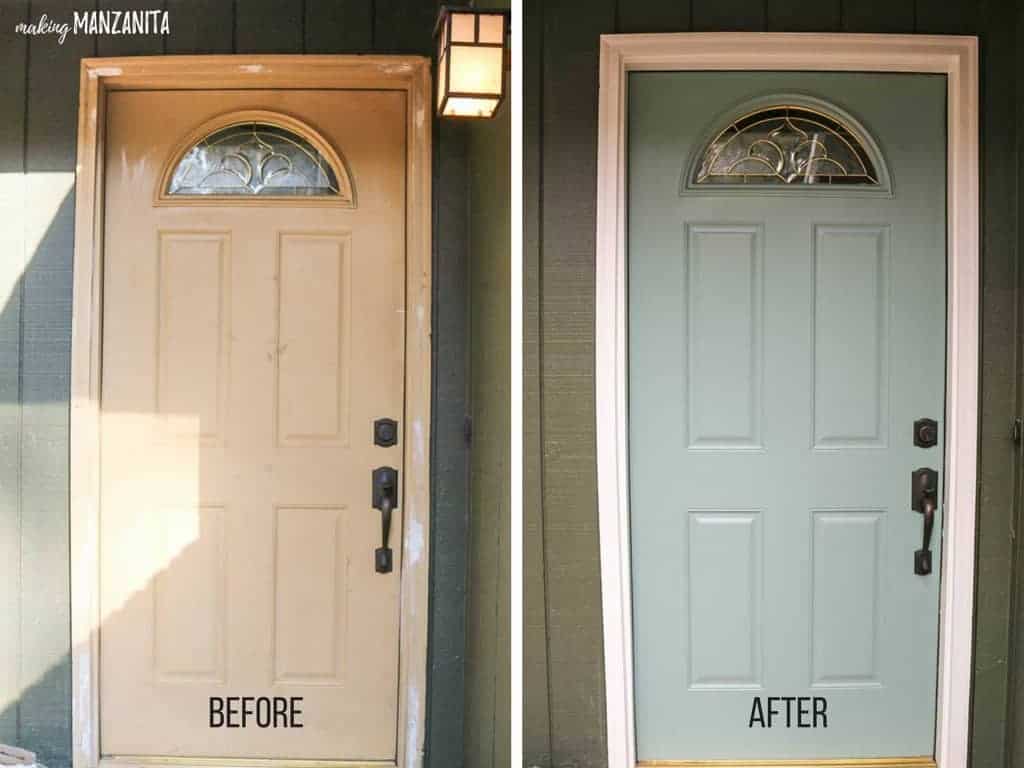 Once you get your front door painted, it's time to decorate that front porch! Check out these front porch ideas for tons of inspiration!
I'm obsessed with how the newly painted front door looks! The light green color works well with the main color of our exterior and I'm just so happy with how it turned out. It really makes a great first impression, don't you think?
What would you choose for a front door paint color?
Let me know in the comment below!!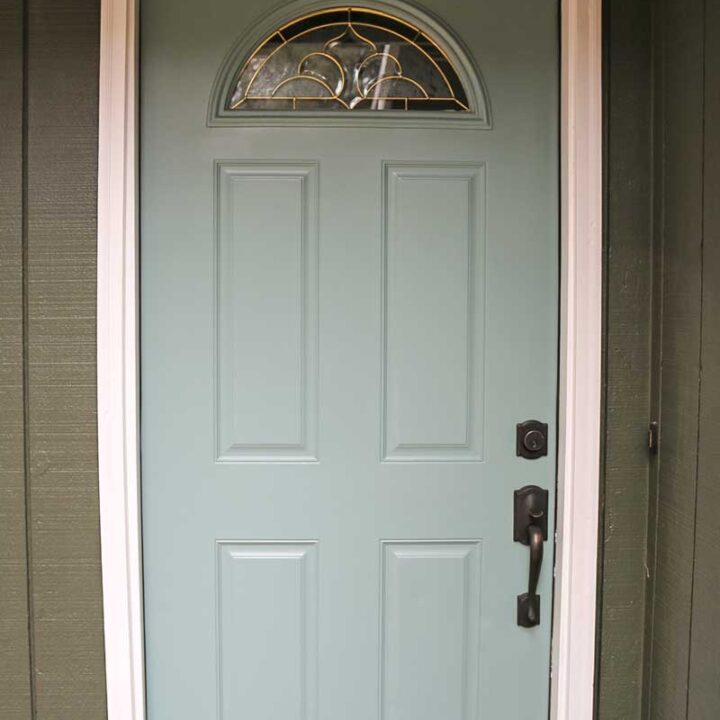 How To Paint Front Door
Want to switch up the color of your front door? Here's how to choose the perfect front door paint color, plus tips on how to easily paint your front door.
Materials
Tools
Instructions
Clean your door before starting.
Follow the general order of painting the door.
Use a paint & primer to save time.
Work quickly.