Behr Black Bamboo is a fierce shade of green that brings sophistication, style, and a modern vibe wherever it goes. It's the perfect hue for an accent wall, wainscotting, and even the exterior of your home.
Green walls have slowly crept onto the design scene in their own unique way. If you can tell by looking at our whole house color scheme, I love the color green! The darker, deeper, and richer – the better! In fact, we used a few different shades of green throughout our entire home.
This hue gives off a serious mood. On top of that, it's also a soothing color that's calming and relaxing. It also gives a welcoming feeling as an exterior paint color.
When we used this color to paint the outside of our home in our last home, it was a dramatic change! But, I loved how our home looked with a modern color scheme and fit in with the rest of the neighborhood.
If you're selecting a new paint color, you're likely overwhelmed with all the different options, shades, hues, and trends. There are so many different options and ways to implement a different paint color into your home: accent walls, shiplap, wainscotting, two-toned, murals…the list goes on.
This Behr Black Bamboo paint color review contains affiliate links, but nothing that I wouldn't recommend wholeheartedly. Read my full disclosure here.
Related: Do you love moody paint colors too? You may also love Behr Fashion Gray, Behr Chic Gray, Behr Graphic Charcoal, and Behr Meteorological.
Behr Black Bamboo paint color overview
Today, I'm sharing this amazing, bold paint option with you that I love – Behr Black Bamboo. It's very similar to Behr Meteorological, which is an equally moody-toned paint color. But this one is a little more olive-toned.
Despite what the name suggests, Black Bamboo is not a black or grayish color. It's a rich shade of green (almost an olive green) that adds serious moodiness to painted walls, furniture, trim, shiplap, and a home's exterior.
It's calming and soothing with an element of sophistication. This shade is a great color to use alongside light and dark wood grains, contrasting colors, velvet or knit textures, leather, linen, and more.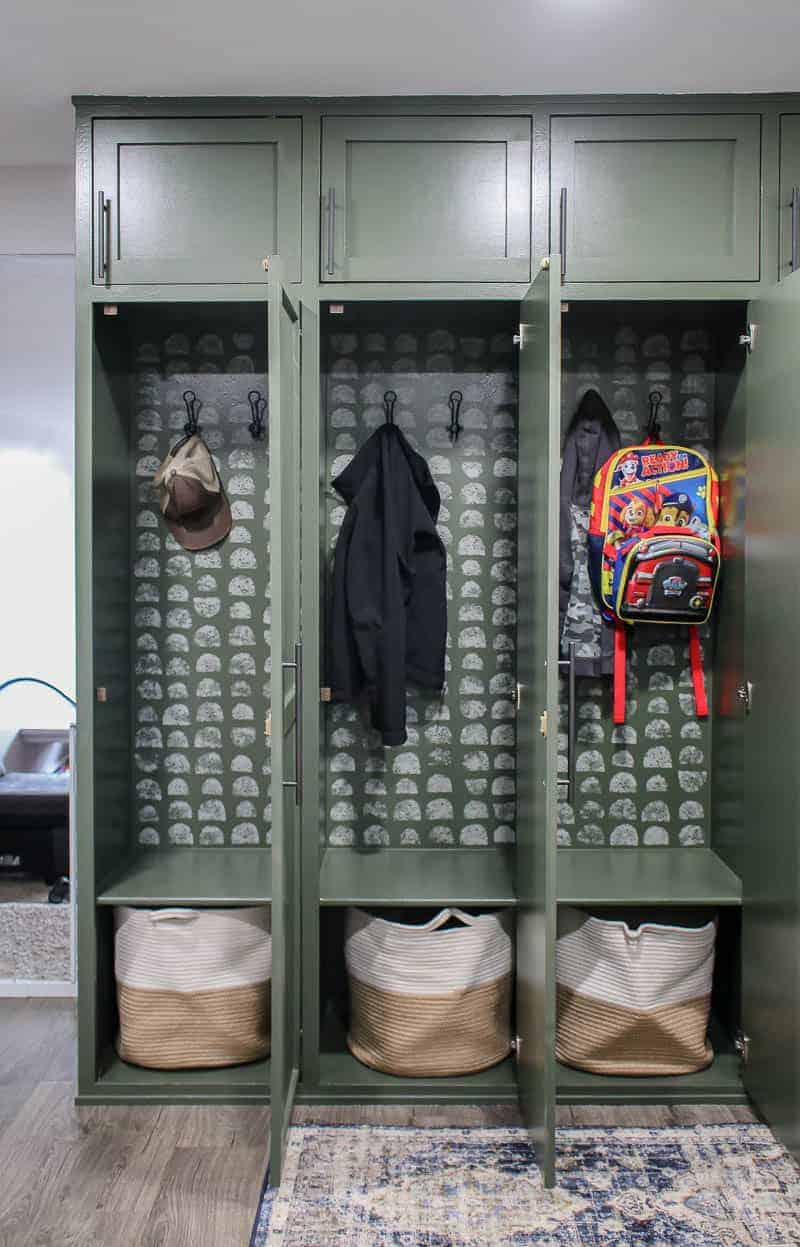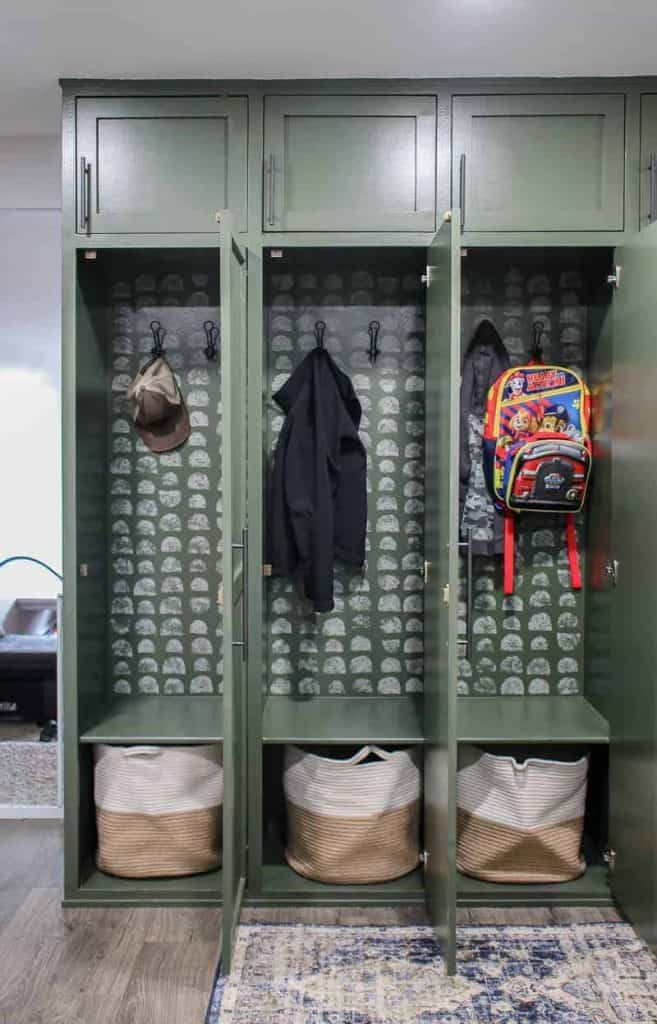 It's almost like your neutral wild card – it can go just about anywhere! It works well in bathrooms, hallways, bedrooms, entryways, and exteriors. Plus, it even works well on furniture, like these lockers we built for our mudroom.
While shades of green have a bad rap for being temperamental to design around, I found this color to flow really well with the inside of our home, as well as the outside.
In fact, this color would work well with many different decor styles, including boho, modern, traditional, mid-century, farmhouse, and minimalistic.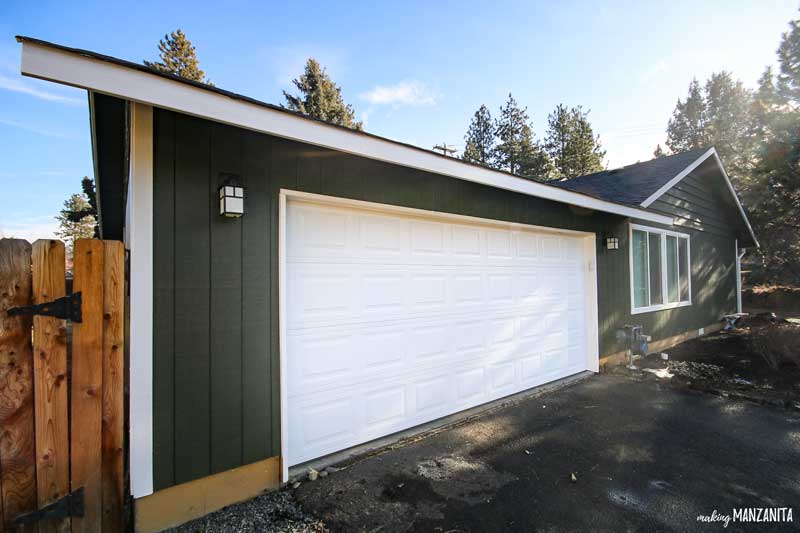 Is Behr Black Bamboo a warm or cool color?
Black Bamboo is a cool green shade, that will darken a room significantly. The color will alter slightly depending on the other colors and textures within the room.
You should always test a few paint samples on all the walls of the room before committing to painting the room. Take a peek throughout the day to observe how the light hits each wall and how the other colors reflect in the room.
Behr Black Bamboo Undertones
Behr Black Bamboo has slight gray undertones, which means it plays well with just about any other color and texture. This gray undertone also gives the color an olive green vibe.
Even though this is a bold color, this shade works with a variety of different textures and styles.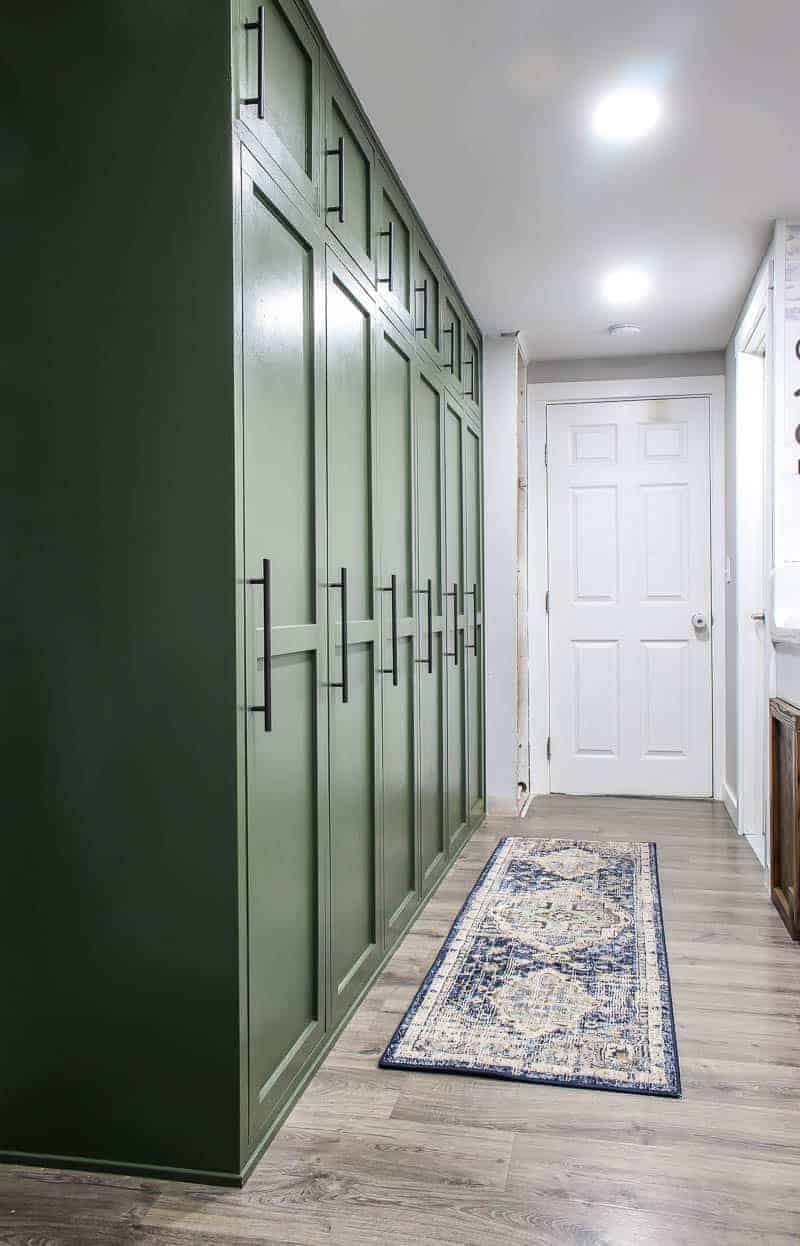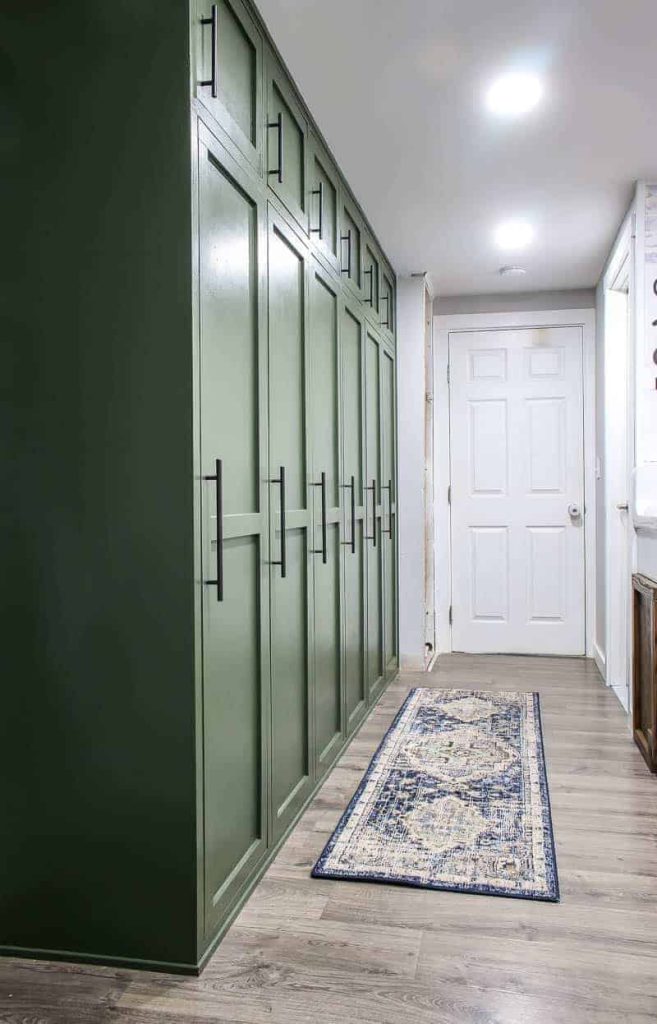 What is the light reflectance value (LRV) of Behr Black Bamboo?
Black Bamboo paint has an LRV of 11.
Light reflectance value is the amount of light that is reflected off of the paint color surface. The lighter (or more white) and color the higher the LRV – meaning that pure white has an LRV of 100 and pure black has an LRV of 0.
This means that Black Bamboo paint color won't necessarily brighten up a room, but will instead make it feel darker and cozy!
What trim color goes with Behr Black Bamboo?
This bold dark green paint color goes well with white or wood-grained trim and baseboards.
Also, this color looks great alongside bright white countertops, brass fixtures and hardware, and soft textures.
Coordinating colors for Behr Black Bamboo
Because this is such a "friendly" paint color, incorporating other colors should be relatively easy.
Because it's adaptable across many decor styles, pair this deep green with lighter greens, pale pinks or blues, rich browns, lighter grays, and other neutral colors.
If you wanted to amp up the luxe vibe, I would recommend pairing this wall color with rich textures like velvet or leather, with soft colors and dark wood grains.
Colors similar to Behr Black Bamboo
According to Behr Paint, here are other similar colors to Black Bamboo that you might want to try out: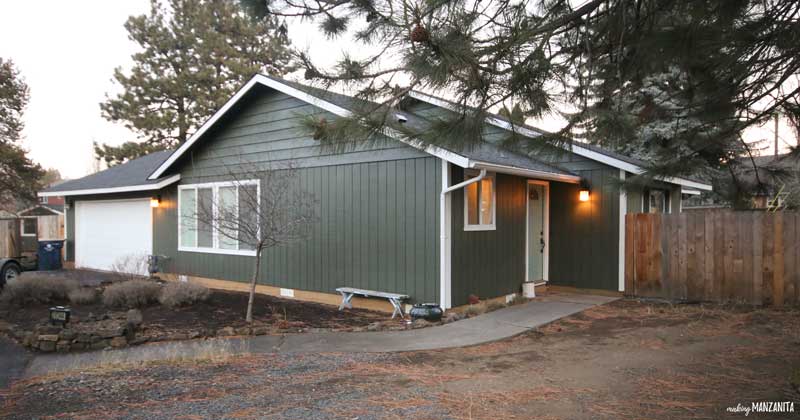 Paint color review
I loved the way this color transformed the exterior of our home and really boosted the curb appeal. We went from kinda drab to totally "in" with the rest of our neighborhood. Plus, choosing the lighter shade for the front door pulled everything together in a modern color scheme.
As we began incorporating this color into our whole house color scheme, everything came together with a more modern vibe.
This rich shade of green is an excellent choice for a color that will stand out but also play well with other elements and styles in your home.
Do you have any other questions about this paint color?
Let me know in the comments below!