Going green? If you are looking for the best green paint colors for your home, you will love these options by BEHR Paint. These shades run the gamut from soft and tranquil to bright and bold!
When you are choosing a paint color, there's a lot to consider. Are you adding an accent wall? Incorporating the shade into your whole house color scheme? There's a lot to think about before you make your final decision.
If you know me, you know that I LOVE the color green! If you've been around a while you've probably caught on after I wrote about things like gray green paint colors or green kitchen ideas. Just like choosing any other paint color, there are so many green paint color options that the process can quickly become overwhelming.
Today we're sharing the top picks for green paint colors from BEHR Paint, which is the paint brand that we usually always use in our homes. If you wondering where you can buy BEHR Paint, it is sold exclusively at The Home Depot.
This BEHR green paint color guide contains affiliate links, but nothing that I wouldn't recommend wholeheartedly. Read my full disclosure here.
What to consider before choosing a paint color?
Lighting: Before choosing a paint color or really any part of your color palette, consider how much natural light enters the room through windows and also what other artificial lighting you will use. Depending on the LRV (light reflectance value) of the paint color, light green and dark green hues will reflect light differently.
Undertones: Every paint color has different undertones, which are subtle hues that can be present in a color. Gray, blue, and purple are common undertones in green paint colors. Undertones are also impacted by the artificial and natural lighting in a room. It can be difficult to see a paint's undertones at first glance, but it can be helpful to hold the paint cards next to each other to see the subtle differences. Holding the paint color card next to plain white may also help the undertones stand out.
Room Size: Darker shades of green will work better in larger rooms or those with lots of natural light. Lighter shades of green will make a smaller room feel larger. However, adding a dark paint color to the walls in an already large and spacious room, like a living room, can make it feel cozy and intimate – that's what we did in our living room.
Contrast: Since shades of green run the gamut of different styles, think about the overall aesthetic you wish to achieve in the room. Incorporating other bold colors with a bright green makes a room feel energized and happy. Or, keeping the other colors soft and neutral will create a cozy space with a soft green.
Maintenance: If you have kids or pets, you may want to think twice before using a dark green paint color in a high-traffic area. We highly recommend BEHR's Scuff Defense line when using a dark color. We used it when we painted Midnight by NY in our home office. It has worked great to prevent scuffs and is easy to clean without leaving marks!
Paint Samples: As always, whatever you do, PLEASE get a sample of the paint color and try it in a few different spaces in your room before committing to your paint color. Observe the paint samples at different times of the day and in different lighting to see how the colors change.
What is LRV?
LRV is noted below under each of the green paint color overviews in the "paint color stats" section. LRV stands for light reflectance value, which is the amount of light that is reflected off of the paint color surface. The lower the LRV, the darker the shade will be.
For example, pure white has an LRV of 100 and pure black has an LRV of 0.
These Behr green paint colors have various LRV ratings, meaning some are bright and some are softer.
13 BEHR Green Paint Colors Loved by Interior Designers and Bloggers
Alright, are you ready to see the best BEHR Paint green paint colors? I've included a bunch of inspiration photos so you can also see what the colors look like in real homes with different light. We included a range of different colors, from light sage greens to darker hunter greens and everything in between.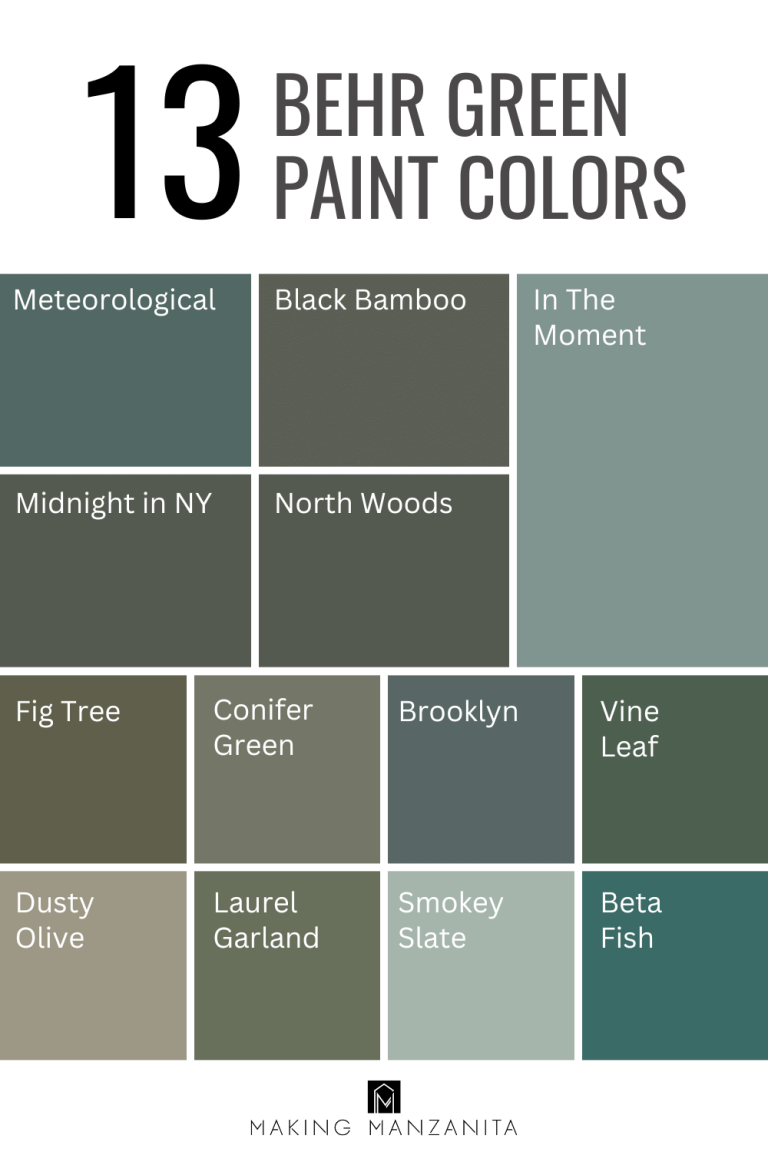 Meteorological
This beautiful dark teal color is soothing, moody, and calming with green undertones. We've used this color in several rooms of our home, including our home office. I love how this color adds depth to a space without making it too dark.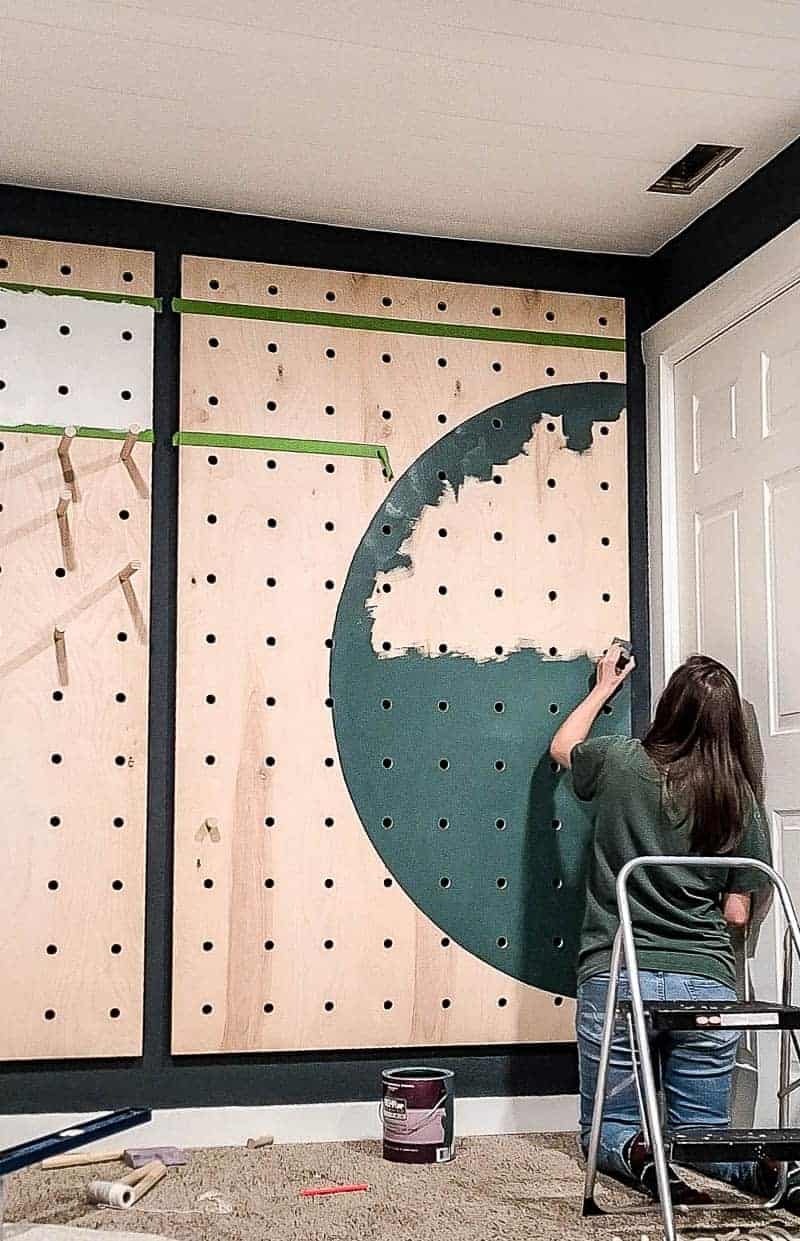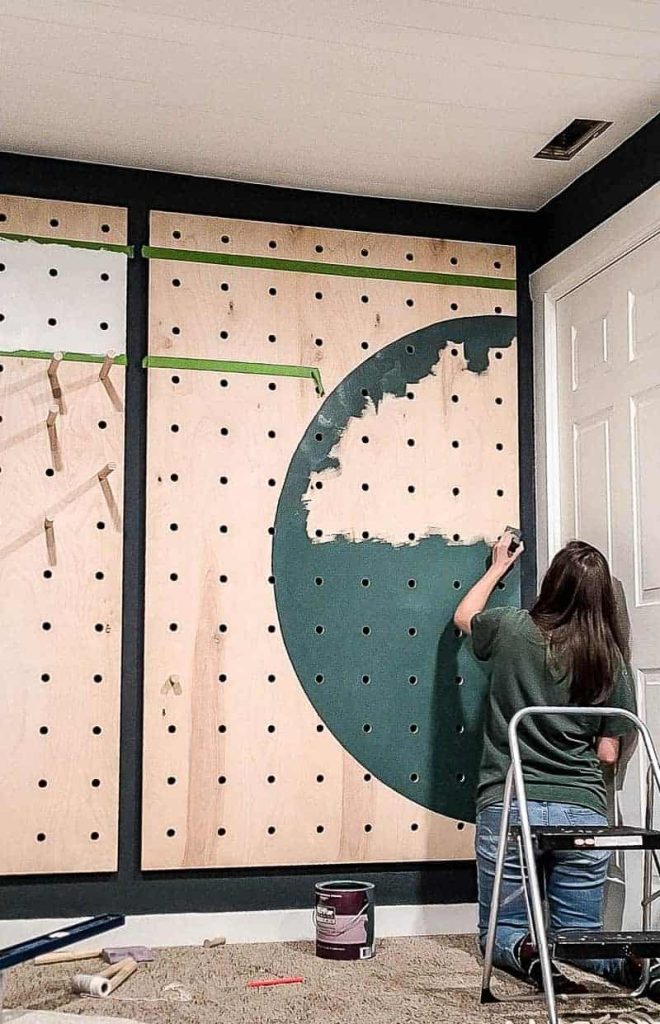 I think my favorite application of this color is in our master bedroom and bathroom. It added an element of sophistication with cocoon-like vibes.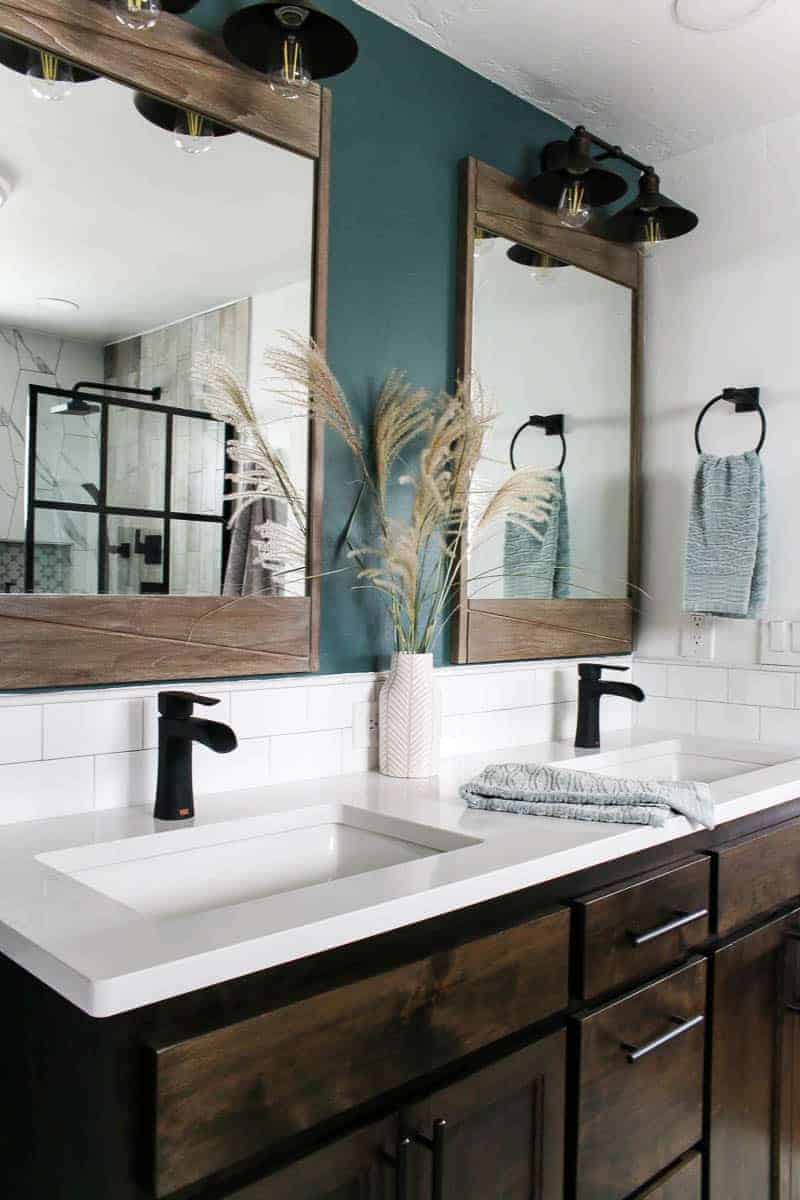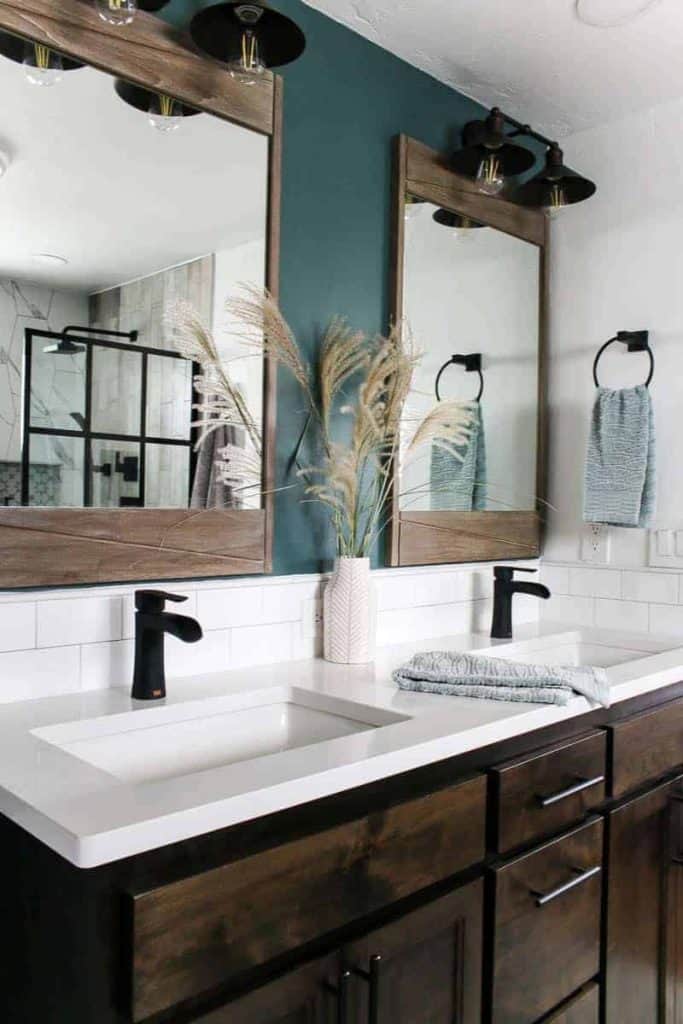 Meteorological Paint Color Stats
Behr Paint Code: N430-6
RGB: 89 109 105
LRV: 14
Hex Code: #526864
Similar Paint Colors In Other Brands
Jack Pine by Benjamin Moore
Inchyra Blue by Farrow & Ball
Juniper Berry by PPG
Mountain Pass by Sherwin Williams
September Sea by Valspar
Black Bamboo
Talk about a mood! Black Bamboo is a rich shade of olive green that is beautiful alongside light and dark wood grains, velvet or knit textures, leather, linen, and more. As bold as this paint color is, it plays well with so many different styles.
We used this color to paint the exterior of our home. From a dated, sun-bleached exterior to a log cabin-esque welcoming, the change was epic! This is totally one of my favorite colors.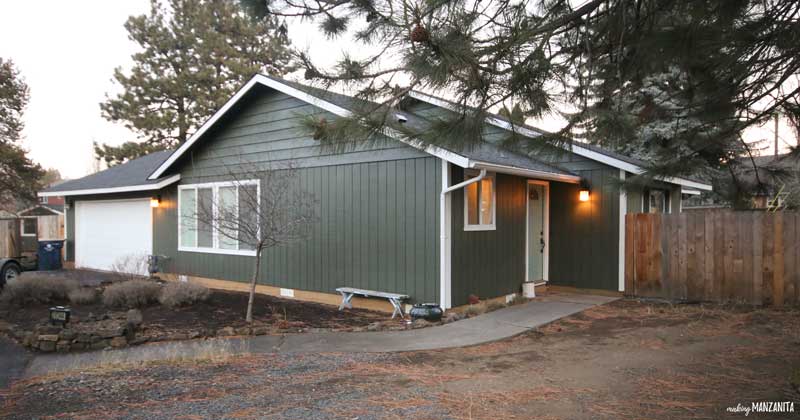 This color is also a great option for interior and furniture, like these mudroom lockers. I love how this color looks on these green cabinets.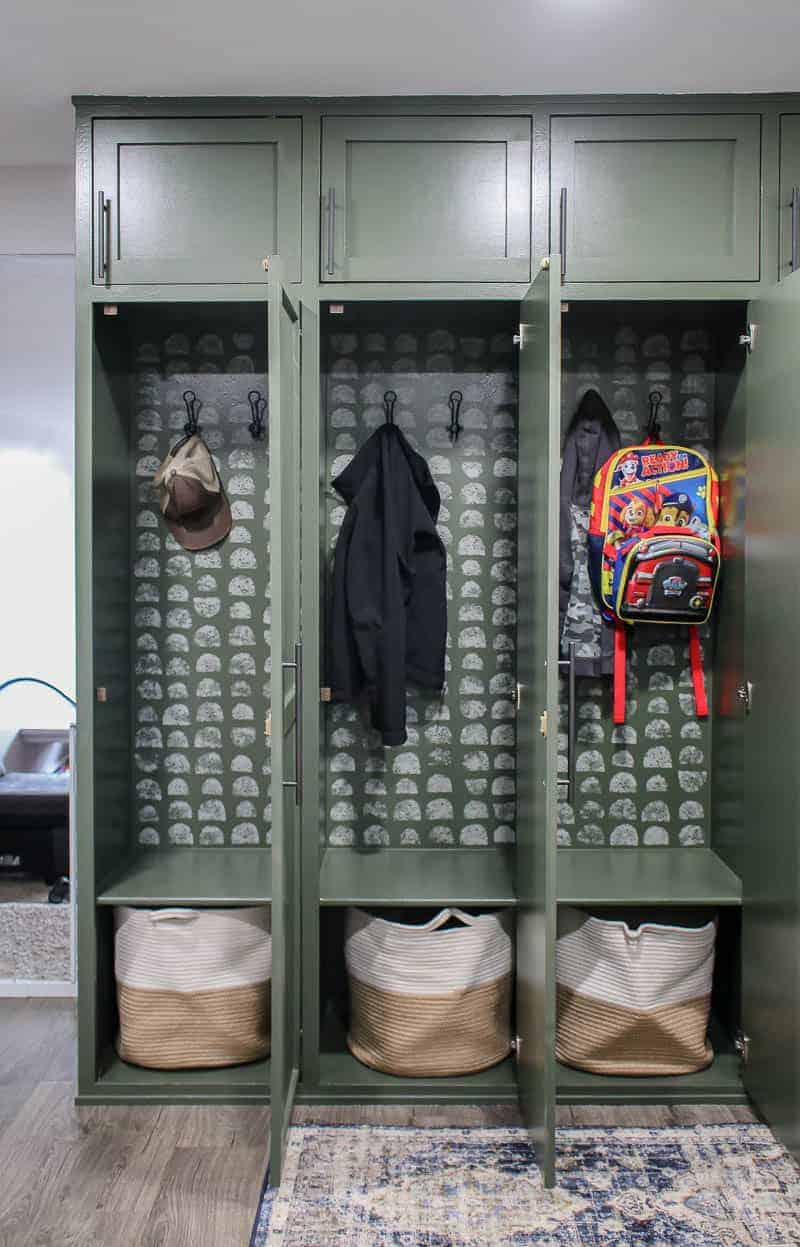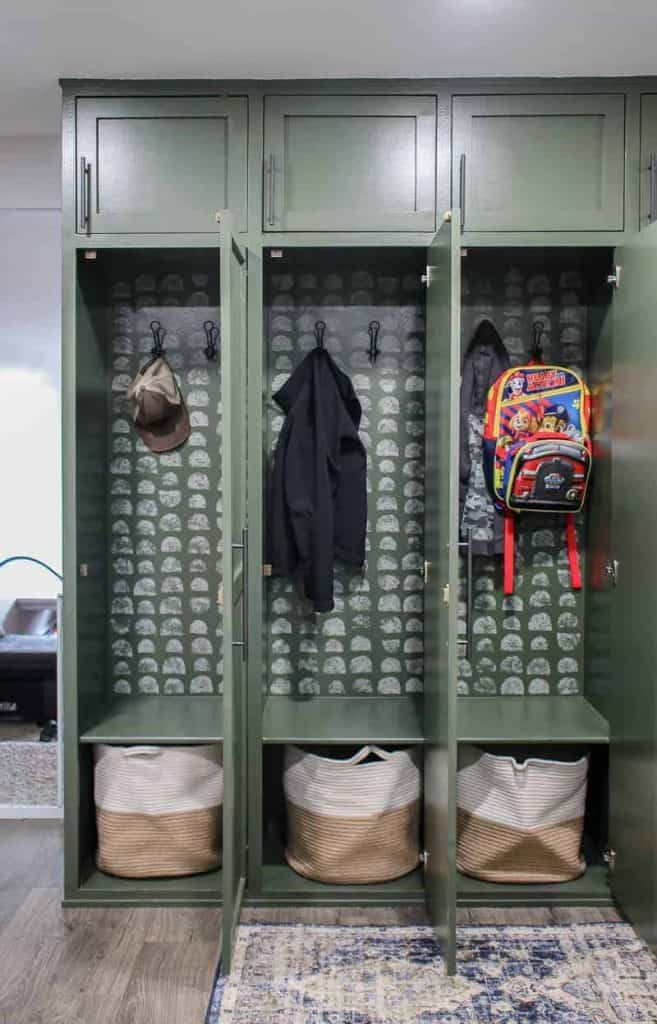 Ashley from Handmade Haven used this color on all four walls and the ceiling for a guestroom makeover. It is such a beautiful hue and is a great choice for a bedroom like that if you're going for a dark and moody feel.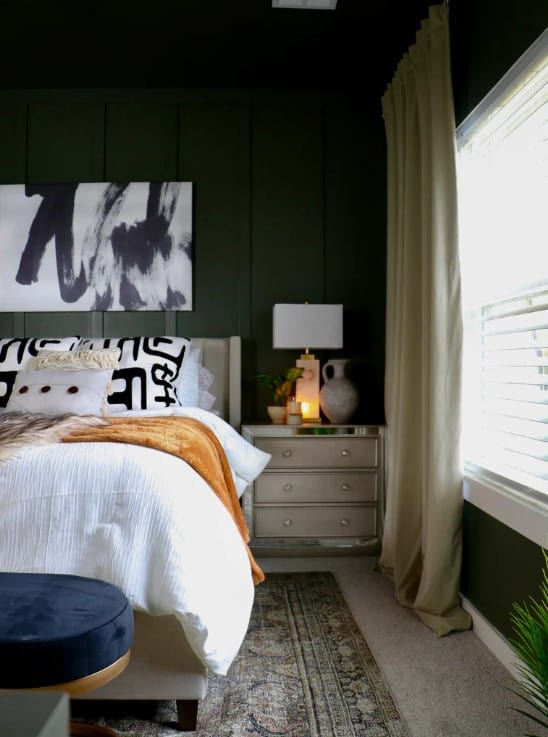 Black Bamboo Paint Color Stats
Behr Color Code: N380-7
LRV: 11
RGB Values: 91 93 83
Hex Code: #5B5D53
Similar Paint Colors In Other Brands
Mohegan Sage by Benjamin Moore
Tar by Farrow & Ball
Undercover by PPG
Forged Steel by Sherwin Williams
English Tea Party by Valspar
In The Moment
Instant sanctuary vibes! This peaceful sage green creates a relaxing and tranquil atmosphere in any room. This just may be my favorite of BEHR green paint colors! There is definitely a reason why it was chosen for BEHR's Color of the Year a few years ago!
Our love for this color began in our 1st fixer-upper. We painted our front door with this gorgeous color and instantly fell in love! It was definitely a good choice!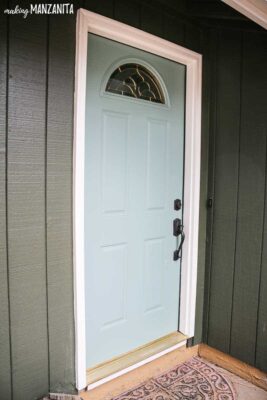 We also used this color on our board and batten wall in Quinn's boho nursery for my all-time favorite green accent walls! You could even use this color for wainscoting or creating a two-toned wall effect.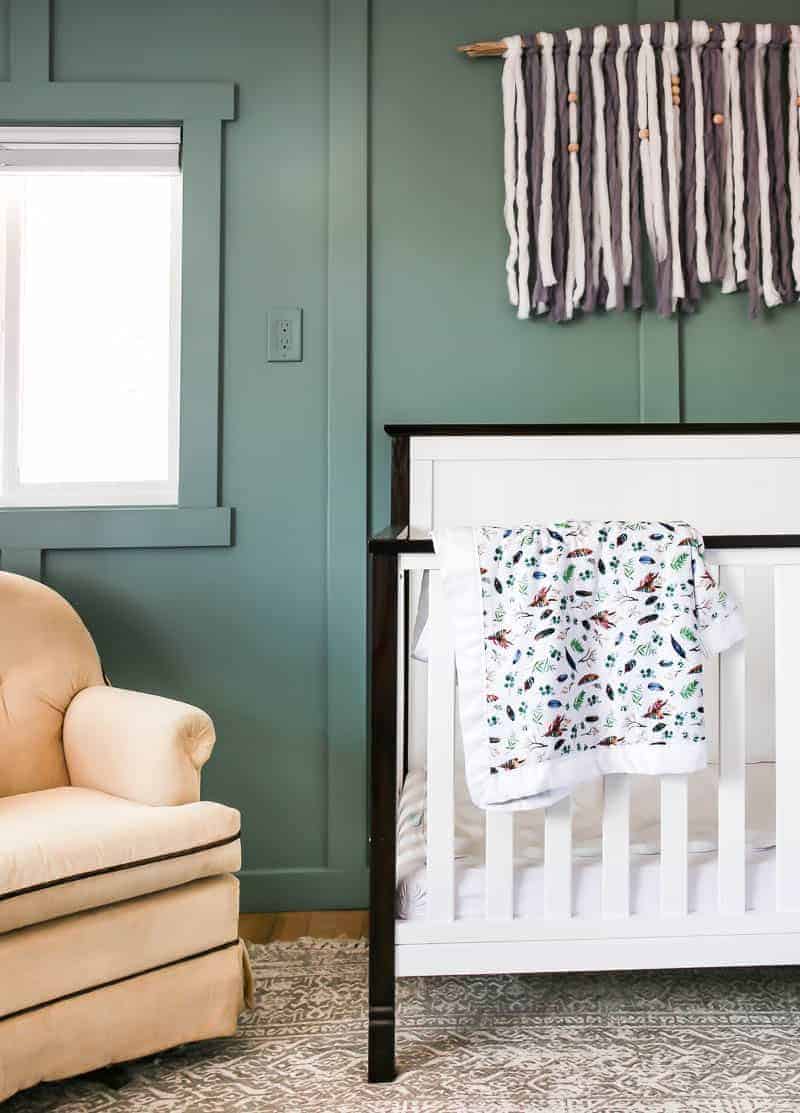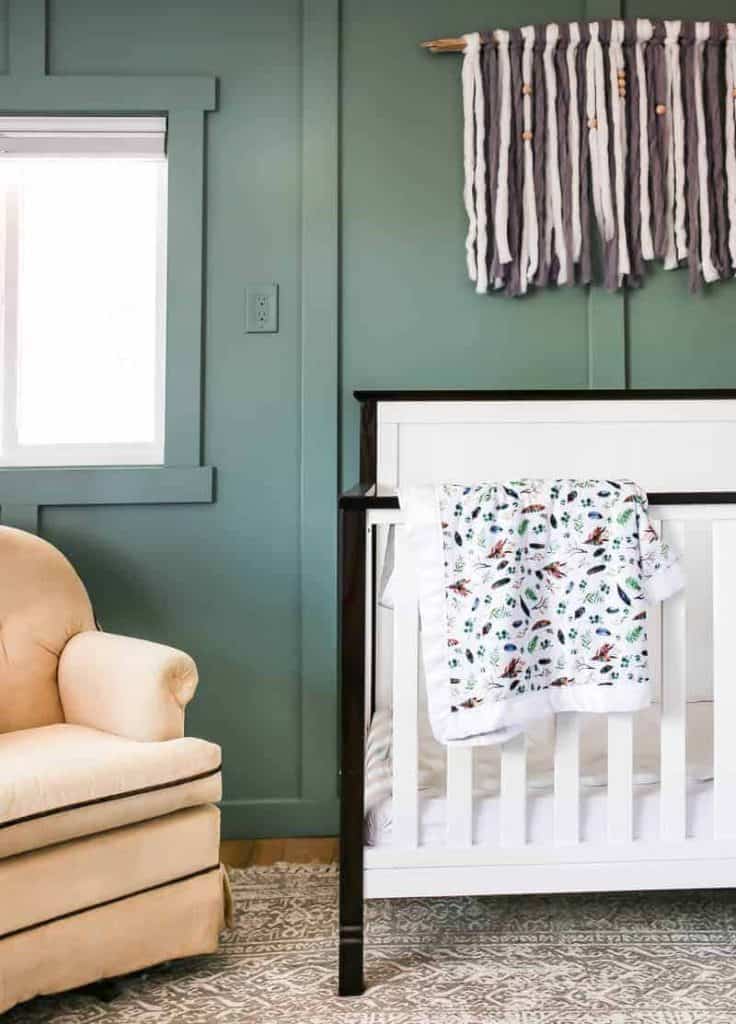 We also used it when we built this hallway cabinet, which stores our printer and provides storage for extra linens. Here you can also see how this green paint color looks next to walls that are painted a gray color called Chic Gray.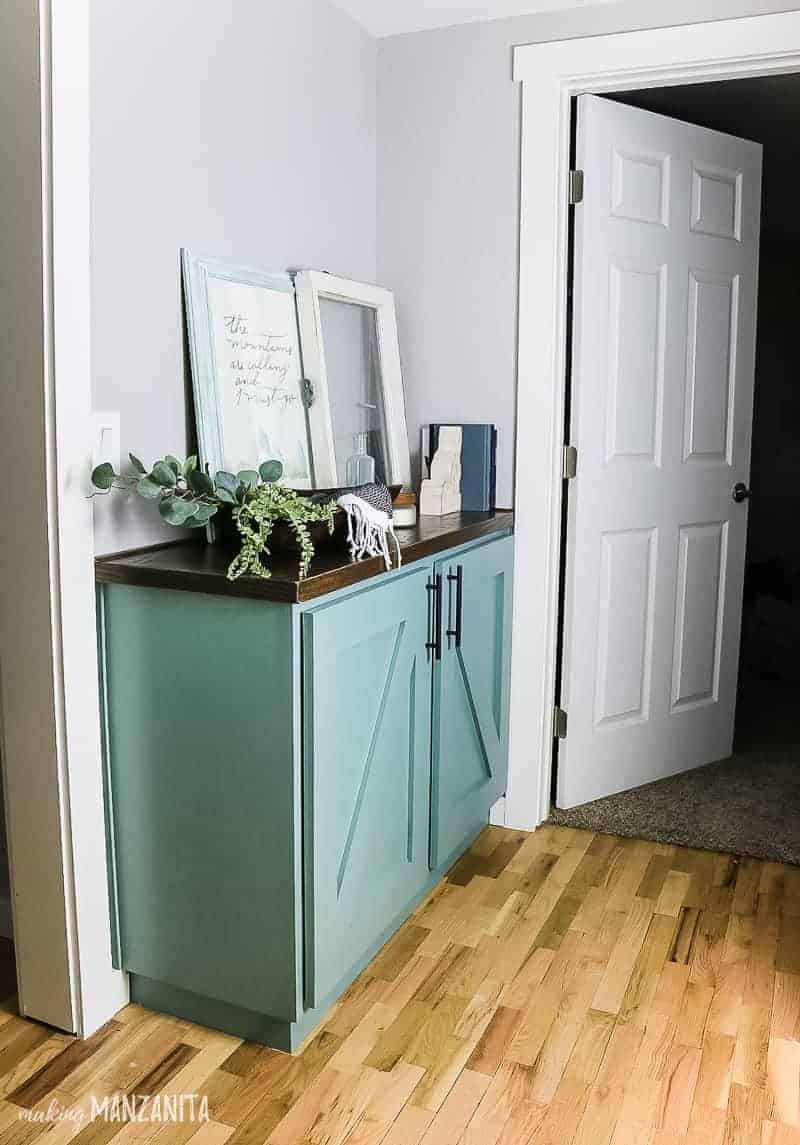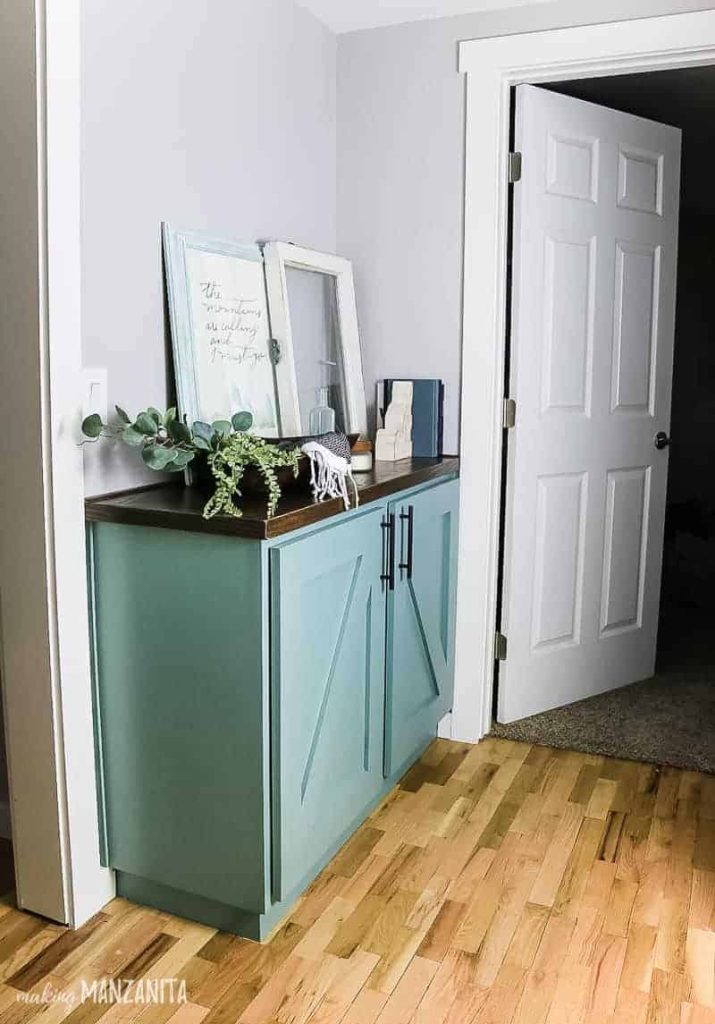 In The Moment Paint Color Stats
Behr Color Code: T18-15
LRV: 30
RGB Values: 133 152 147
Hex Code: #819590
Similar Paint Colors In Other Brands
Brewster Gray by Benjamin Moore
Oval Room Blue by Farrow & Ball
Paradise Found by PPG
Morning at Sea by Sherwin Williams
Sea Sage by Valspar
Midnight in NY
This deep navy-green paint color is the perfect option for adding a little drama to a room! It is such a great color!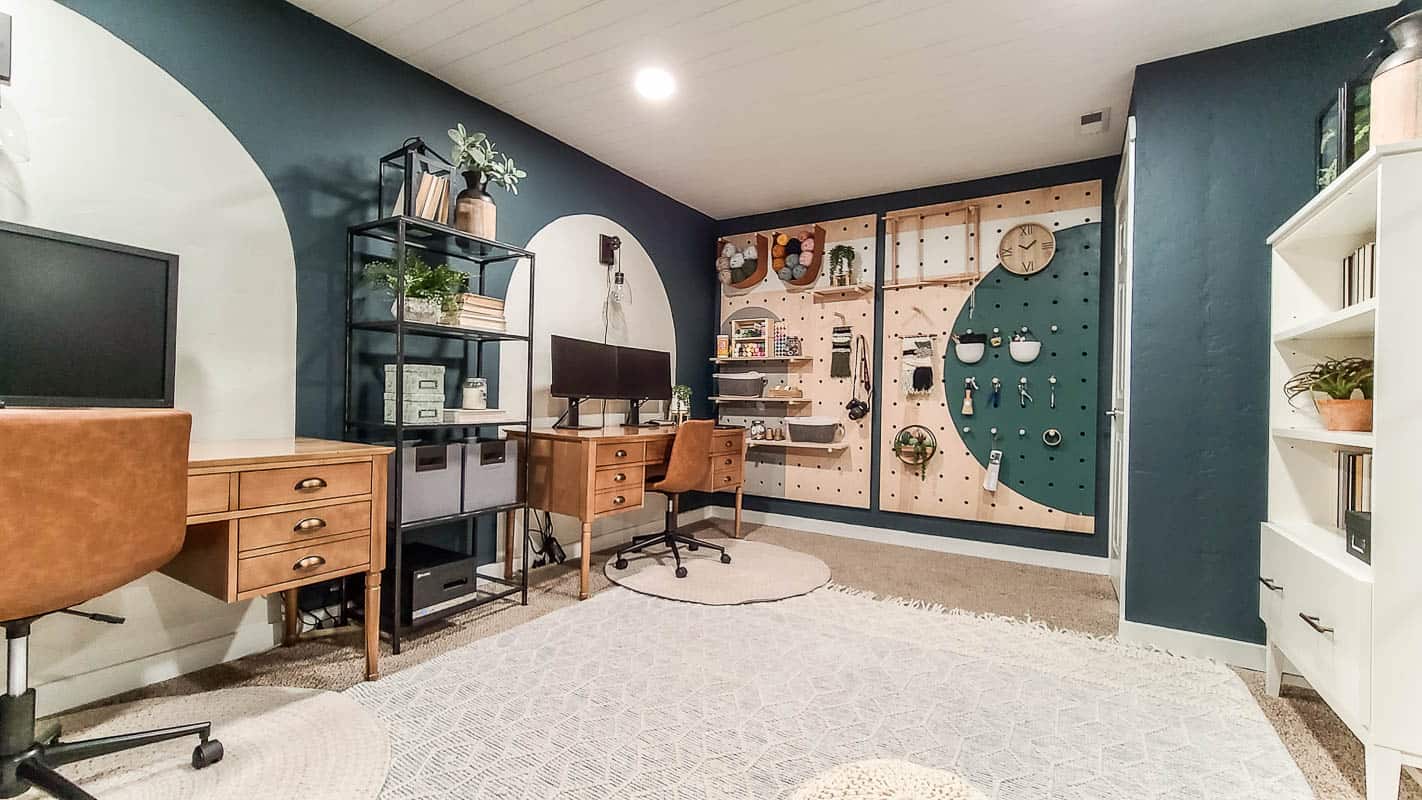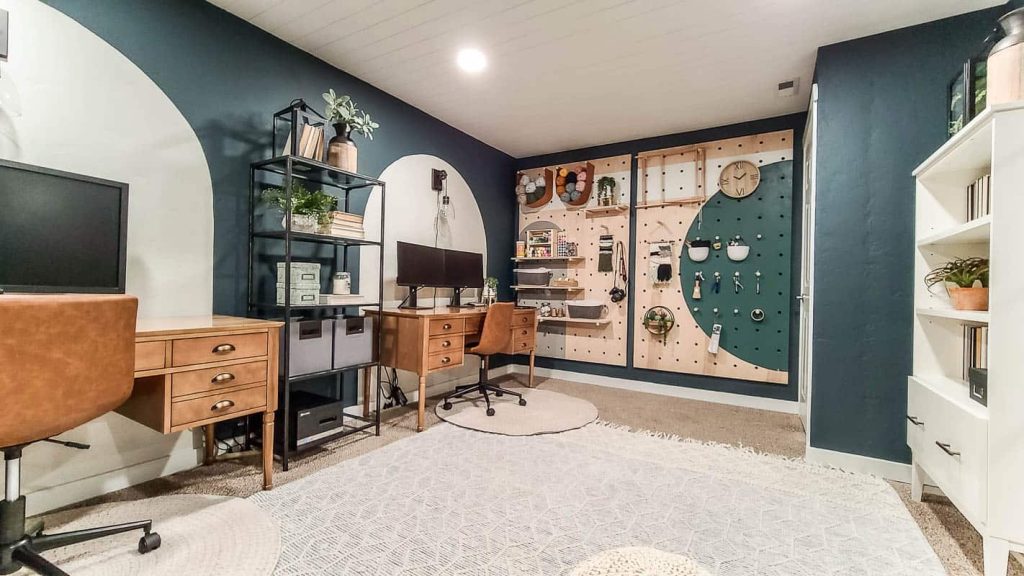 We used this color in our home office which doesn't have any windows. Surprisingly, this darker shade worked well without a lot of natural light. We paired it with a light-colored pegboard, a bright white trim color, and other modern boho accents to pull it all together. Every time I share a picture or video of this room, I inevitably get questions about this green color.
Midnight in NY Paint Color Stats
Behr Color Code: N440-7
LRV: 10
RGB Values: 78 90 89
Hex Code: #4E5A5A
Similar Paint Colors In Other Brands
Dark Pewter by Benjamin Moore
Tar by Farrow & Ball
Dark Green Velvet by PPG
Still Water by Sherwin Williams
Slate Court by Valspar
North Woods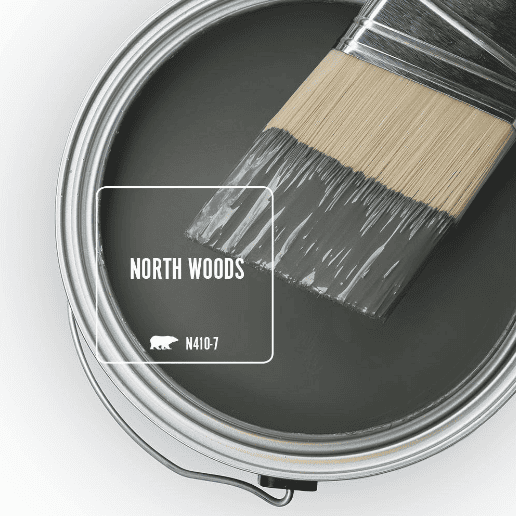 North Woods is a muted, beautiful dark green paint color that will transform a room. It has gray undertones which make any space feel cozy and inviting.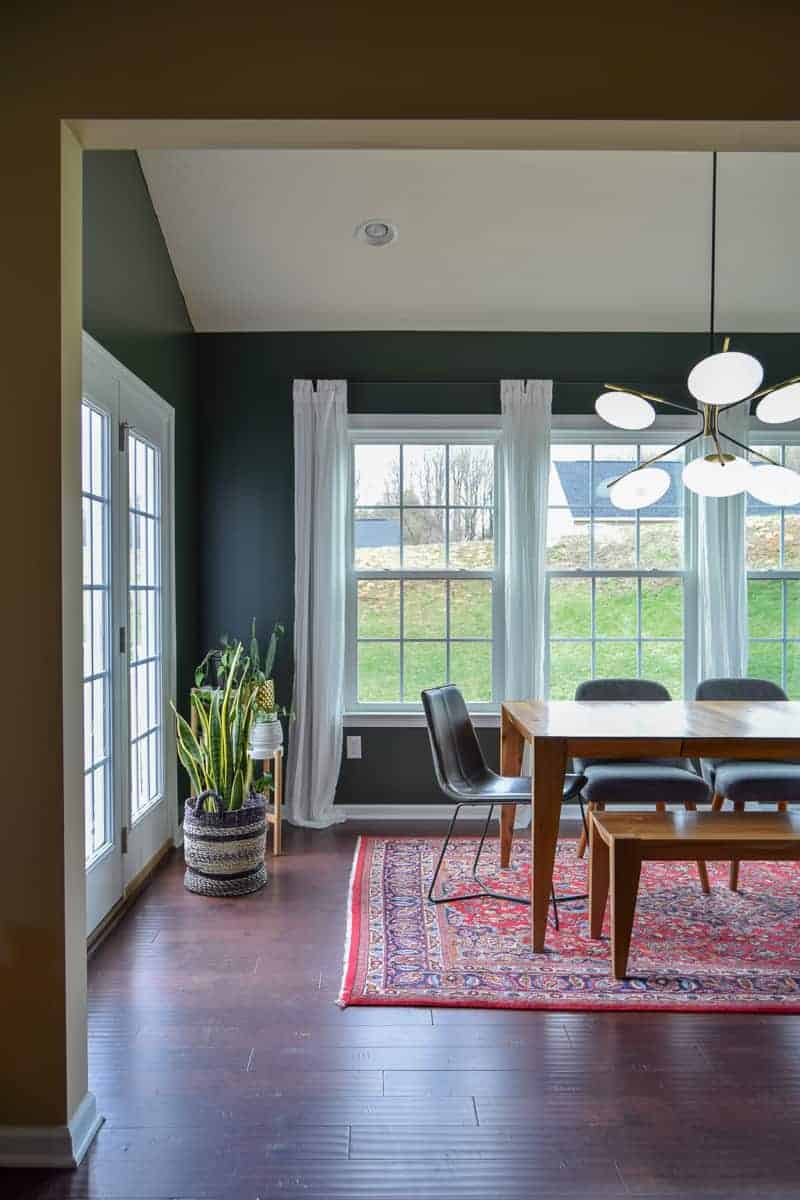 I love how this color transformed this dining room from outdated to a modern, mid-century space with plenty of light!
North Woods Paint Color Stats
Behr Color Code: N410-7
LRV: 10
RGB Values: 85 90 81
Hex Code: #555a51
Similar Paint Colors In Other Brands
Ashwood Moss by Benjamin Moore
Tar by Farrow & Ball
Evergreen Boughs by PPG
Rookwood Dark Green by Sherwin Williams
Blackened Pine by Valspar
Fig Tree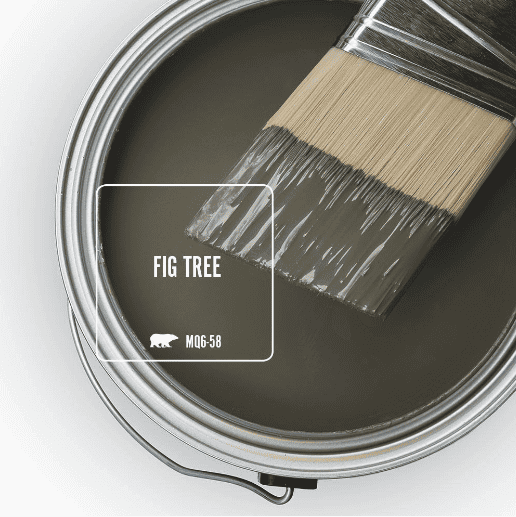 This modified paint color formula of Fig Tree is a stunning forest green shade.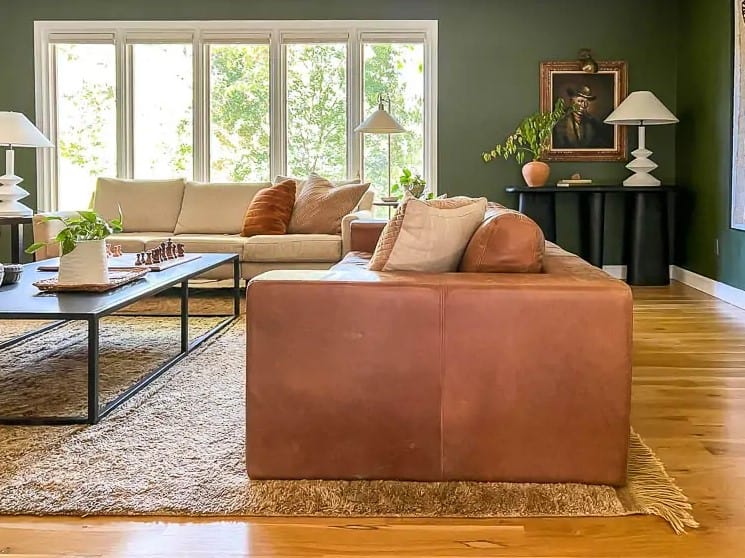 Ashley, from This House Might Be Bigger Than The Three of Us, shows off the transformation of her plain white dining room into a modern, inviting space. This color does have its unique color code which you can read all about in her post.
Fig Tree Paint Color Stats
Behr Color Code: MQ6-58
LRV: 11
RGB Values: 96 95 75
Hex Code: #605f4b
Similar Paint Colors In Other Brands
Mohegan Sage by Benjamin Moore
Bancha by Farrow & Ball
Fresh Basil by PPG
Hidden Trail by Sherwin Williams
Amazon Silt by Valspar
Conifer Green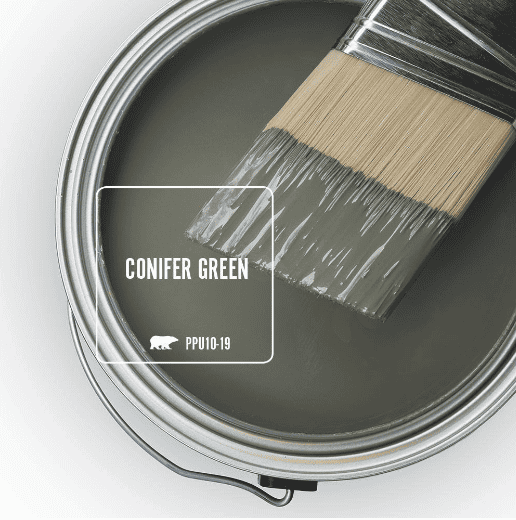 Conifer Green is a soft, true green paint color that adds tranquil vibes to any space.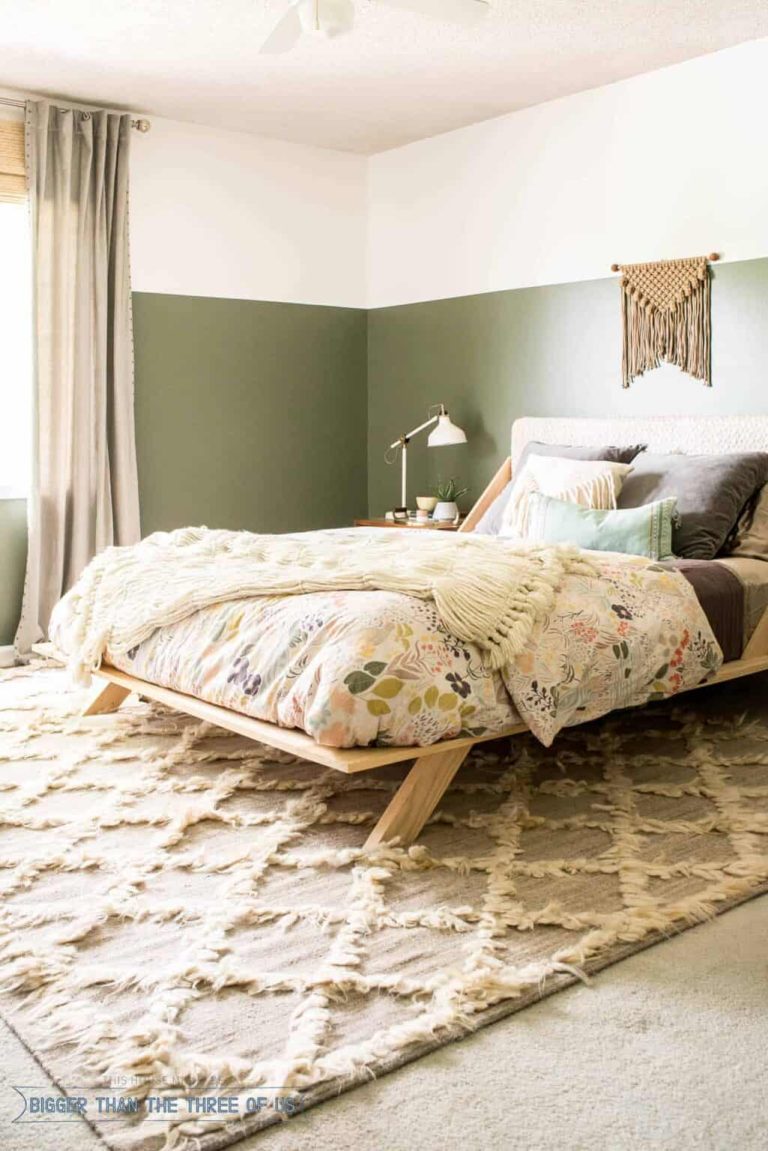 Ashley used this color to brighten up a guest bedroom. She painted only about ¾ up the wall for a two-toned effect.
Conifer Green Paint Color Stats
Behr Color Code: PPU10-19
LRV: 18
RGB Values: 116 119 103
Hex Code: #747767
Similar Paint Colors In Other Brands
Rooftop Garden by Benjamin Moore
Green Smoke by Farrow & Ball
Thyme Green by PPG
Crooked River by Sherwin Williams
Greenwich Green by Valspar
Brooklyn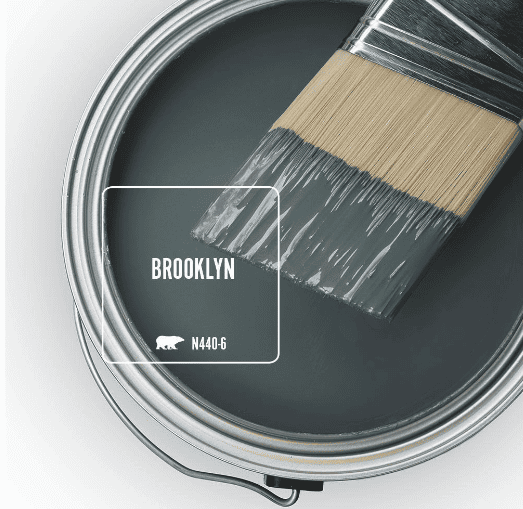 This beautiful shade of dark teal is stunning for an accent wall or on all four walls for a moodier vibe.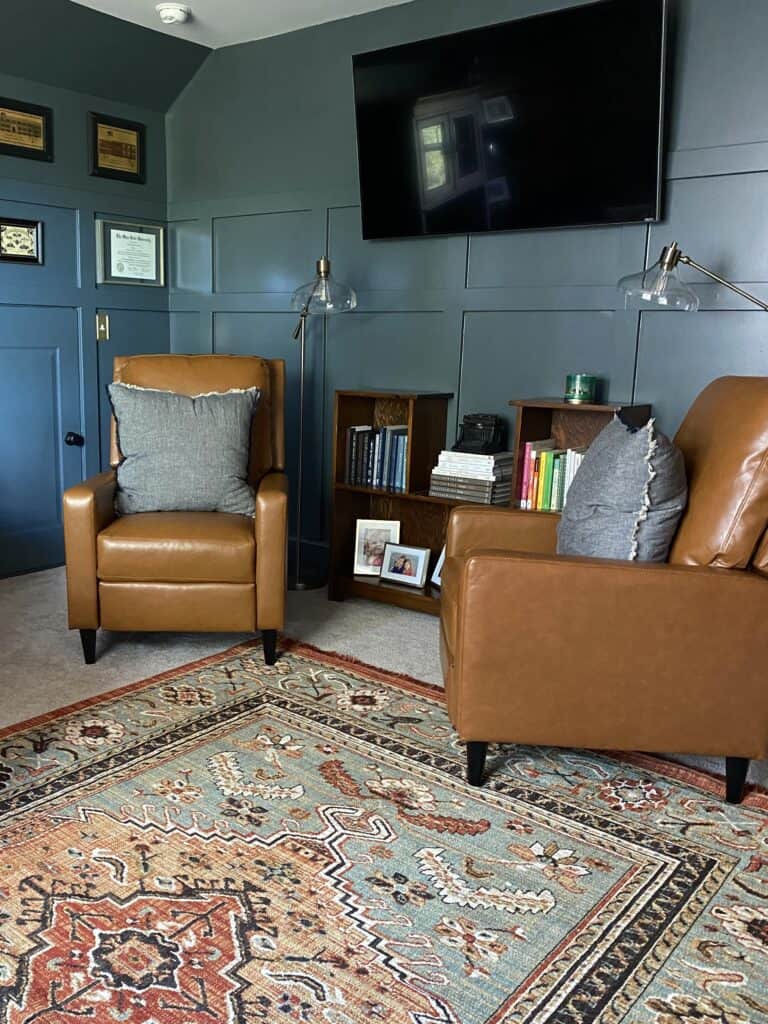 Giving major old-fashioned library vibes! Brooke's home office transformation was stunning! Not only did she coat all four walls in this gorgeous color, but she also painted the baseboards, back of the door, and closet doors for even more of a dramatic vibe.
Brooklyn Paint Color Stats
Behr Color Code: N440-6
LRV: 13
RGB Values: 88 103 102
Hex Code: #586766
Similar Paint Colors In Other Brands
Nocturnal Gray by Benjamin Moore
Inchyra Blue by Farrow & Ball
Juniper Berry by PPG
Grays Harbor by Sherwin Williams
Cobalt Cannon by Valspar
Vine Leaf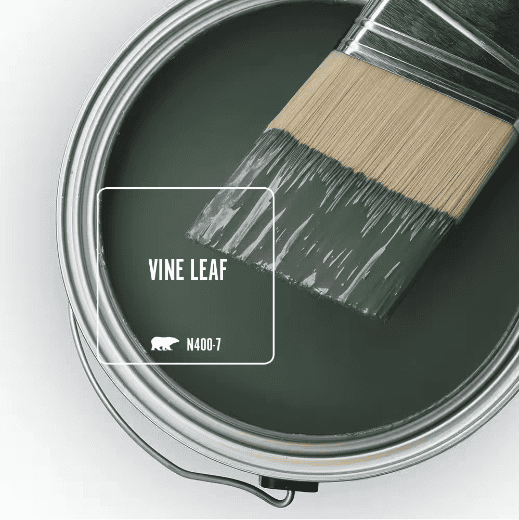 As the color says, Vine Leaf is a bold green paint color. I am in love with this shade. It's fresh, modern, and adds character.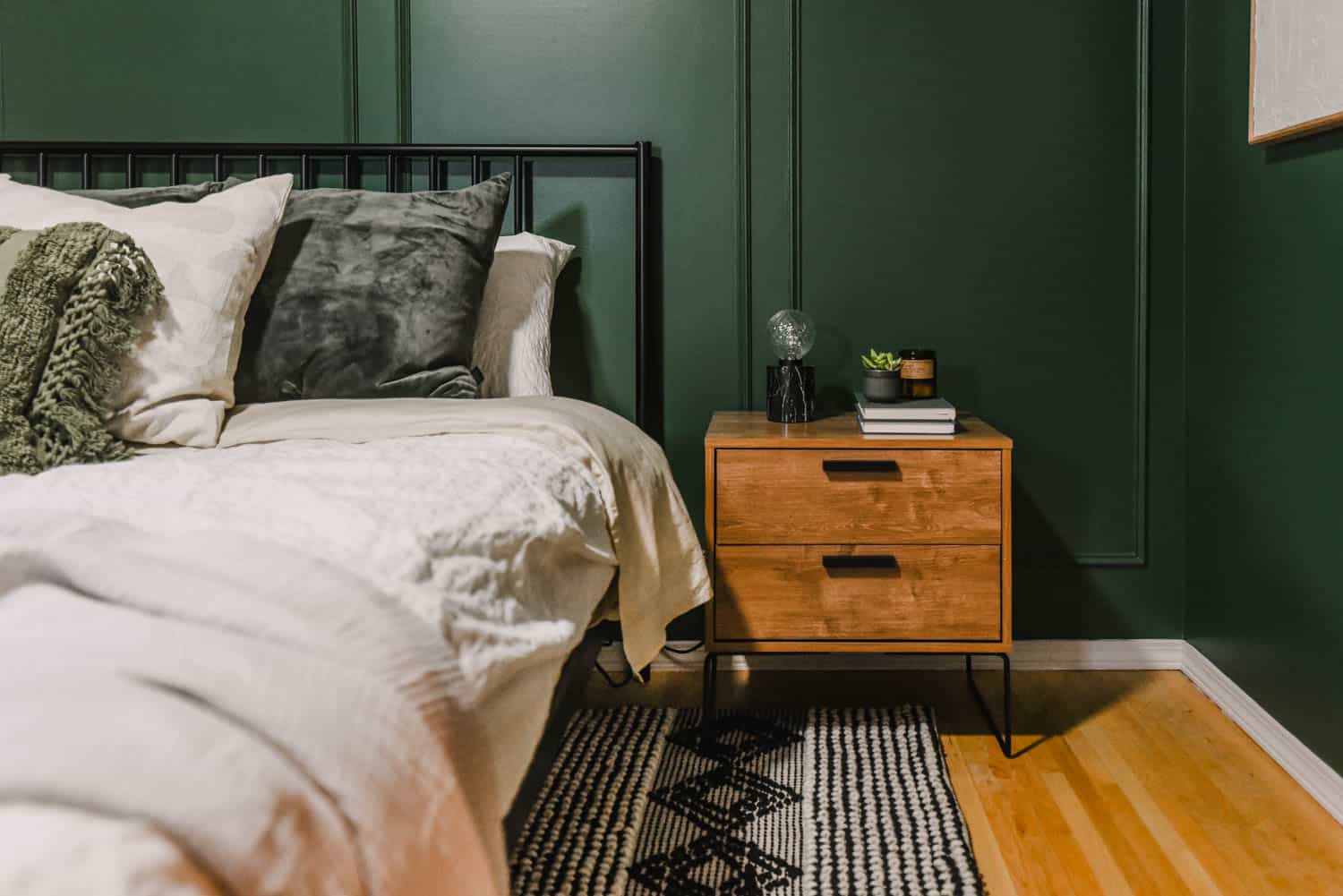 Colleen used this beautiful color to transform a bedroom and the results are beautiful! It plays well with modern aesthetics and vintage character.
Vine Leaf Paint Color Stats
Behr Color Code: N400-7
LRV: 10
RGB Values: 77 95 79
Hex Code: #4d5f4f
Similar Paint Colors In Other Brands
Martha's Vineyard by Benjamin Moore
Tar by Farrow & Ball
Dark Green Velvet by PPG
Rookwood Dark Green by Sherwin Williams
Wilderness by Valspar
Dusty Olive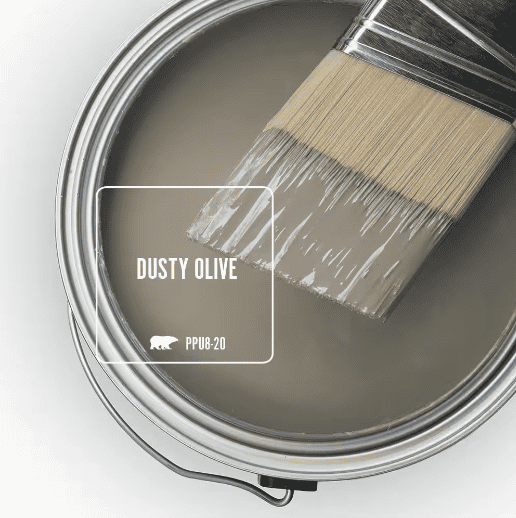 This soft olive green really warms up a space. This soft shade of green plays well with lots of other colors and textures for a great neutral shade with a bit of color.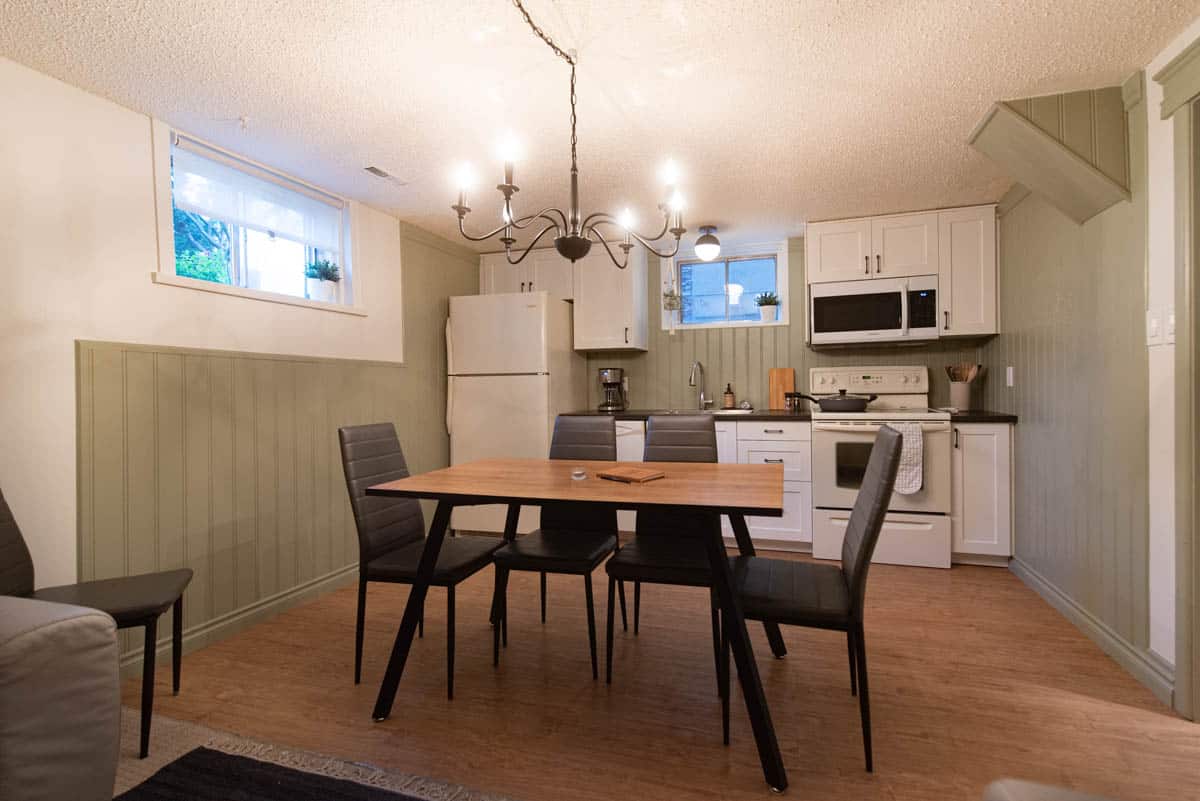 Colleen used this color throughout her rental basement suite renovation, taking this space from drab and cold to warm, inviting, and the perfect space for a short-term renter!
Dusty Olive Paint Color Stats
Behr Color Code: PPU8-20
LRV: 31
RGB Values: 157 152 133
Hex Code: #9d9885
Similar Paint Colors In Other Brands
Creekside Green by Benjamin Moore
Charleston Gray by Farrow & Ball
Stone Gray by PPG
At Ease Soldier by Sherwin Williams
Grandma's Linen by Valspar
Laurel Garland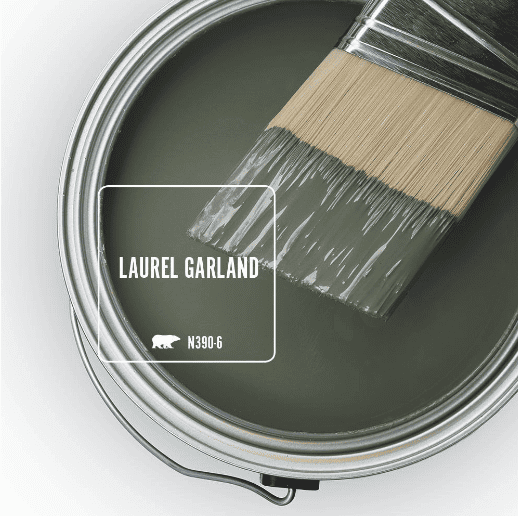 Bright, bold, and green! This is a super happy color that will lighten any room. Pair this with white or neutral accents or have fun with other bright hues.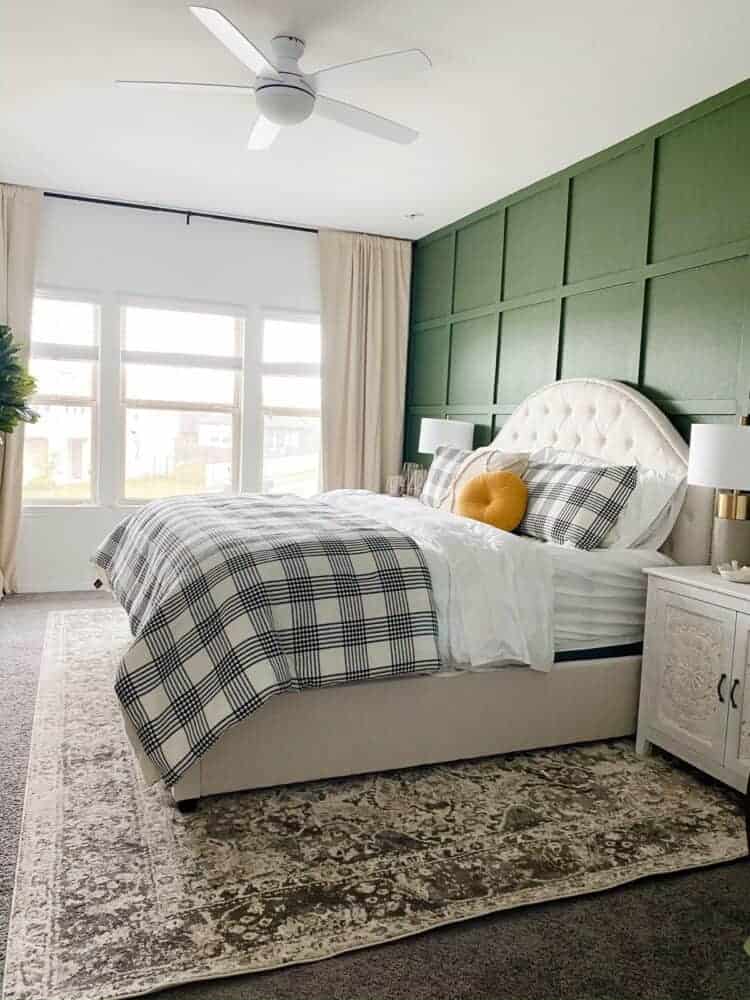 Amanda transformed her friend's bedroom into a spa-like oasis, creating an accent wall with Laurel Garland. She kept the rest of the room neutral, using bright whites with pops of other colors.
Laurel Garland Paint Color Stats
Behr Color Code: N390-6
LRV: 15
RGB Values: 104 112 92
Hex Code: #68705c
Similar Paint Colors In Other Brands
Sharkskin by Benjamin Moore
Down Pipe by Farrow & Ball
All About Olive by PPG
Basil by Sherwin Williams
Nature Lover by Valspar
Smokey Slate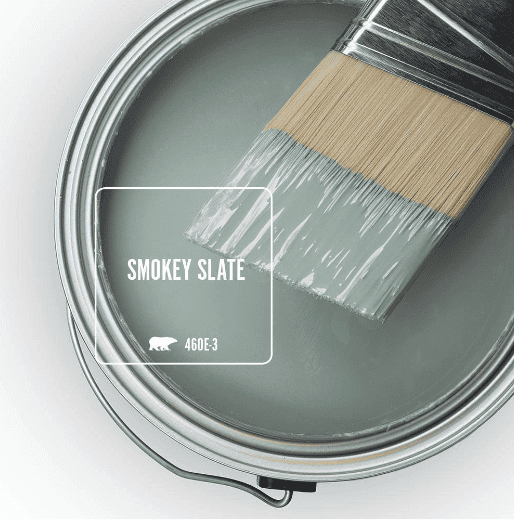 Smokey Slate is a soft green with coastal vibes. It has gray undertones which would make it another easy neutral color to work with.
Michelle had this beautiful paint color painted in her master bedroom, giving it a relaxing coastal feel.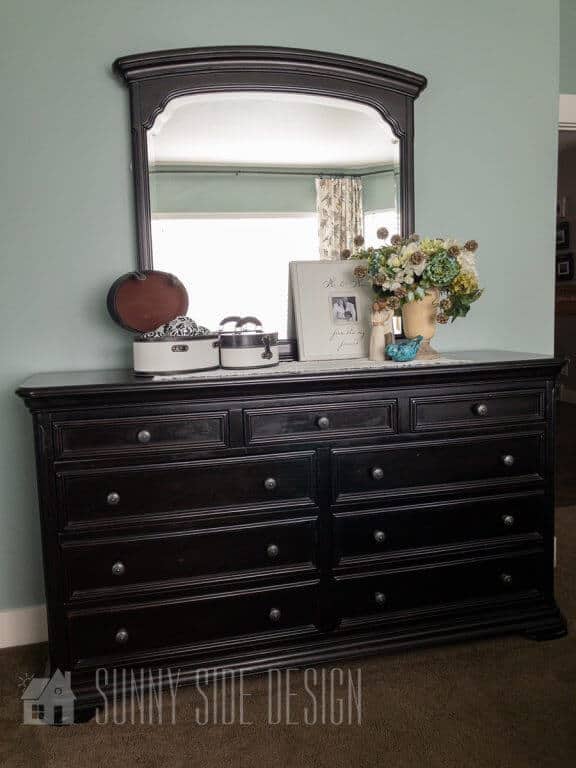 Smokey Slate Paint Color Stats
Behr Color Code: 460E-3
LRV: 44
RGB Values: 165 181 172
Hex Code: #a5b5ac
Similar Paint Colors In Other Brands
Raindance by Benjamin Moore
Green Blue by Farrow & Ball
Dusty Aqua by PPG
Eventide by Sherwin Williams
Gray Embrace by Valspar
Beta Fish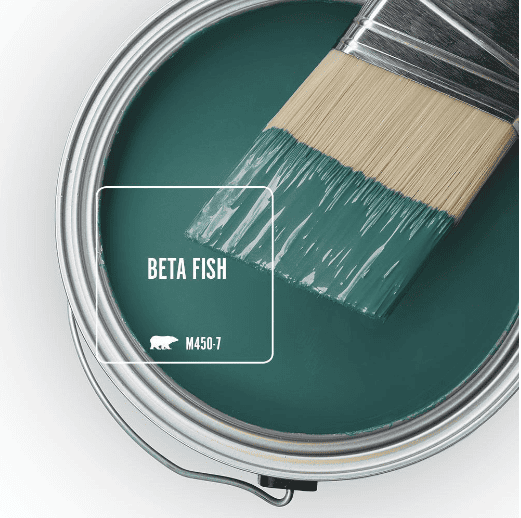 The name of this color rings true! Beta Fish is a bright, bold hue that will add a pop of cheer to an accent wall or a fun thrift store project.
Jessica used this color in her homeschool room. It's so uplifting and bright…maybe the kids will actually want to do their homework!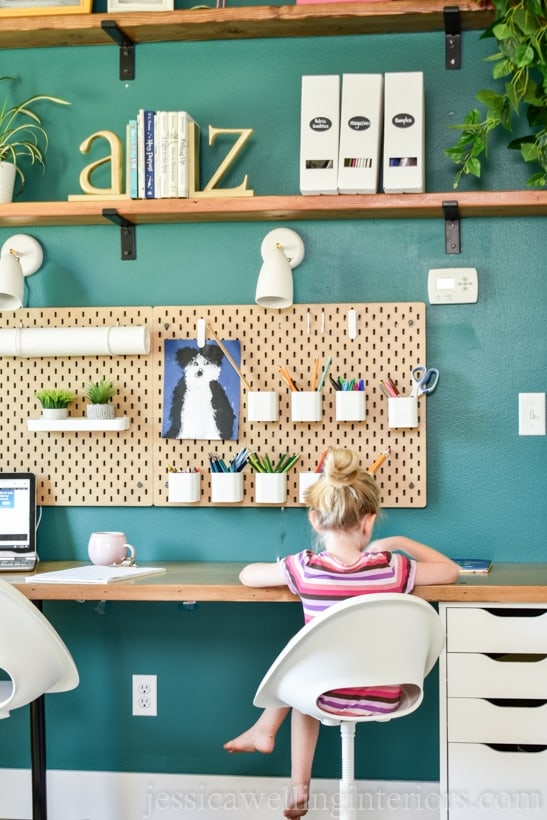 Beta Fish Paint Color Stats
Behr Color Code: M450-7
LRV: 12
RGB Values: 58 107 102
Hex Code: #3a6b66
Similar Paint Colors In Other Brands
Deep Sea by Benjamin Moore
Stiffkey Blue by Farrow & Ball
Christmas Ivy by PPG
Deep Sea Dive by Sherwin Williams
Pine Forest by Valspar
Well, there you have it! Hope you are feeling inspired for your painting project.
Which of these popular BEHR green paint colors was your favorite? Let us know in the comments below!