This simple DIY has so much farmhouse style. Here's how you can create your own Farmer's Market farmhouse crate centerpiece with painted mason jars and white hydrangeas, which is perfect for Spring home decor.
I've been having so much fun participating in the monthly thrift store upcycle challenges! I've always loved thrifting, but now I have a whole new mindset when I'm out and about. Today's thrift store upcycle is all about bringing in the bright colors of spring and mixing in with farmhouse style for a farmer's market farmhouse crate centerpiece 🙂 . 
My other thrift store decor upcycle challenge posts: 
The Rules:
Upcycle an item(s) from a thrift store, resale store, or garage sale into a new piece of decor.
There's no monthly theme.
There's no budget to stick to.
Meet the Hosts
Amanda | The Kolb Corner    Erlene | My Pinterventures    Kim | Made in a Day
Dru | Polka Dot Poplars    Maureen | Red Cottage Chronicles    Pili | Sweet Things
Shirley | Intelligent Domestications    Debra | Shoppe No. 5    Marie | DIY Adulation
Chelsea | Making Manzanita    Jes | My DIY Envy    Ann | Duct Tape and Denim
Molly | Just a Little Creativity    Ashley | 3 Little Greenwoods    Kimm | Reinvented
Kim | Farmhouse Made    Victoria | Dazzle While Frazzled    Sara | Twelve on Main
Chelc | Inside the Fox Den    Sue | A Purdy Little House    Michelle | Our Crafty Mom
Sherry | Savvy Apron    Jennifer and Vicki | 2 Bees in a Pod    Lora | Craftivity Designs
Ali | Home Crafts By Ali    Denise | My Thrifty House    Colleen | Life on Kaydeross Creek
Toni | Small Home Soul    Michelle | Michelle James Designs     Medina | Grillo Designs    Karen | Dragonfly & Lily Pads
Make sure you follow our board on Pinterest for more upcycled decor inspiration!
This farmer's market farmhouse crate centerpiece contains affiliate links, but nothing that I wouldn't wholeheartedly recommend anyway! Read my full disclosure here.
---
Farmer's Market Farmhouse Crate Centerpiece
The sun is spilling in through the windows. The heater is finally off. The cold ground is starting to thaw and flowers are thinking about making an appearance. You don't have to bundle up on 17 layers before you leave the house….ah Spring! It's such a lovely time of year, isn't it?
It's this time of year that really makes me want to add little touches of flowers all over our house to bring the Springtime alive. Decorating your home for the seasons may seem like a hassle, but it doesn't have to be with simple DIYs like this. Today's DIY tutorial will show you how to make a versatile farmhouse crate centerpiece to put some pretty Spring flowers on display in your home in some fun painted mason jars (learn how to paint mason jars in this tutorial)!
This wooden crate tutorial is part a fun little month challenge where we take a thrift store find and upcycle it! I always get so many great ideas from the other ladies. Be sure to check them all out at the bottom of this post.
I found the inspiration for my project in this unfinished wooden crate at Goodwill for $2 (but don't worry because you can grab the same one at Michael's for only $5). The crate had an sticker on the side that easily peeled off. I let it sit around for a few weeks before deciding to turn it until a farmhouse crate centerpiece and bring in some fun colors and flowers for Spring!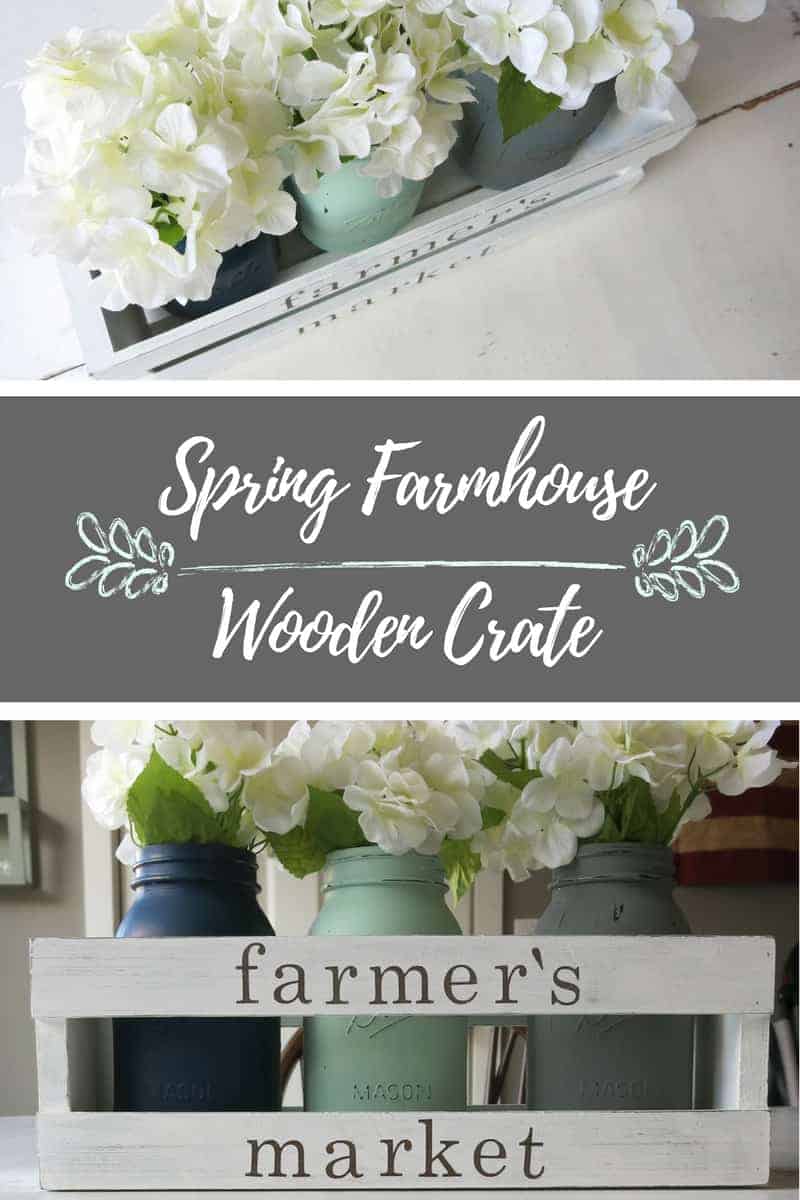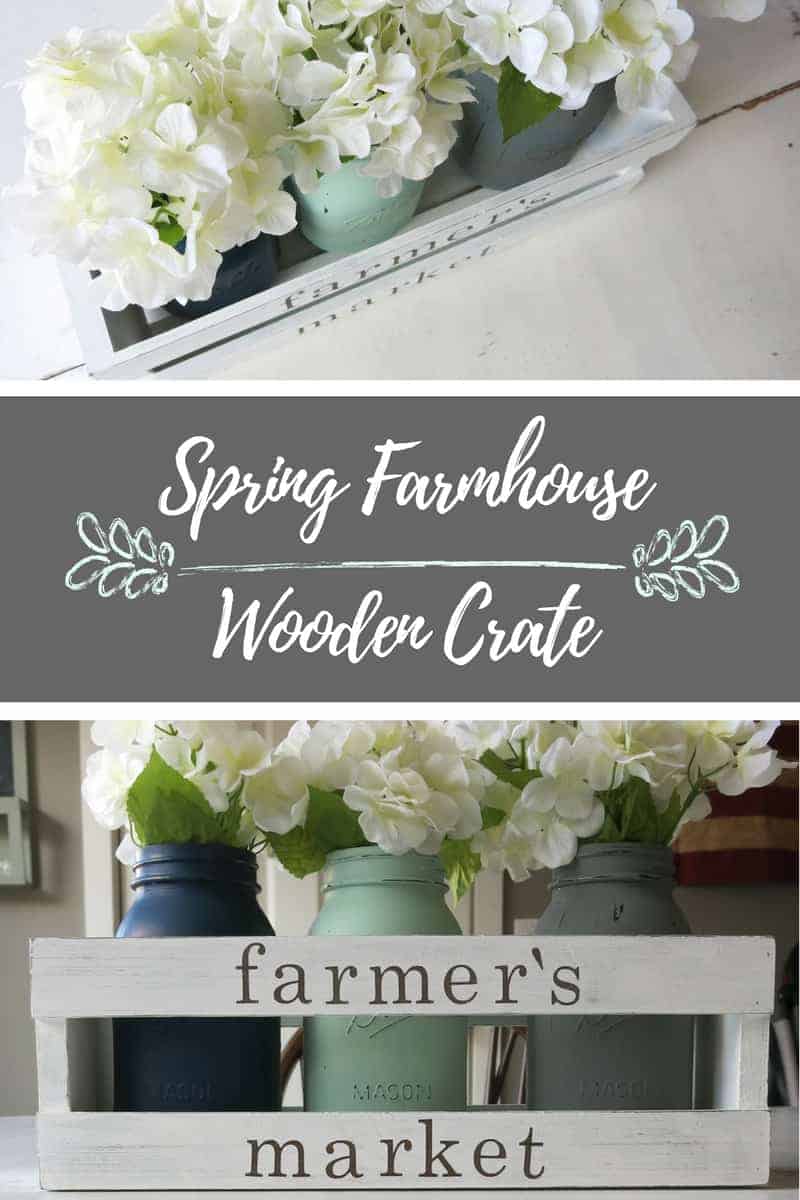 Supplies for farmhouse crate centerpiece: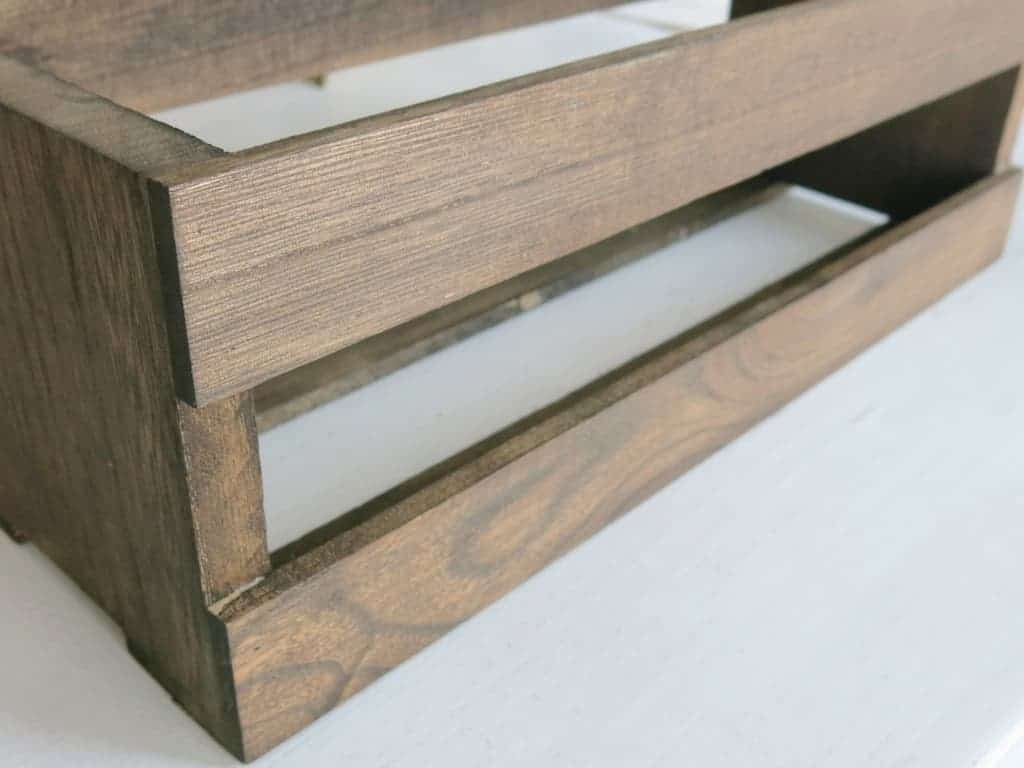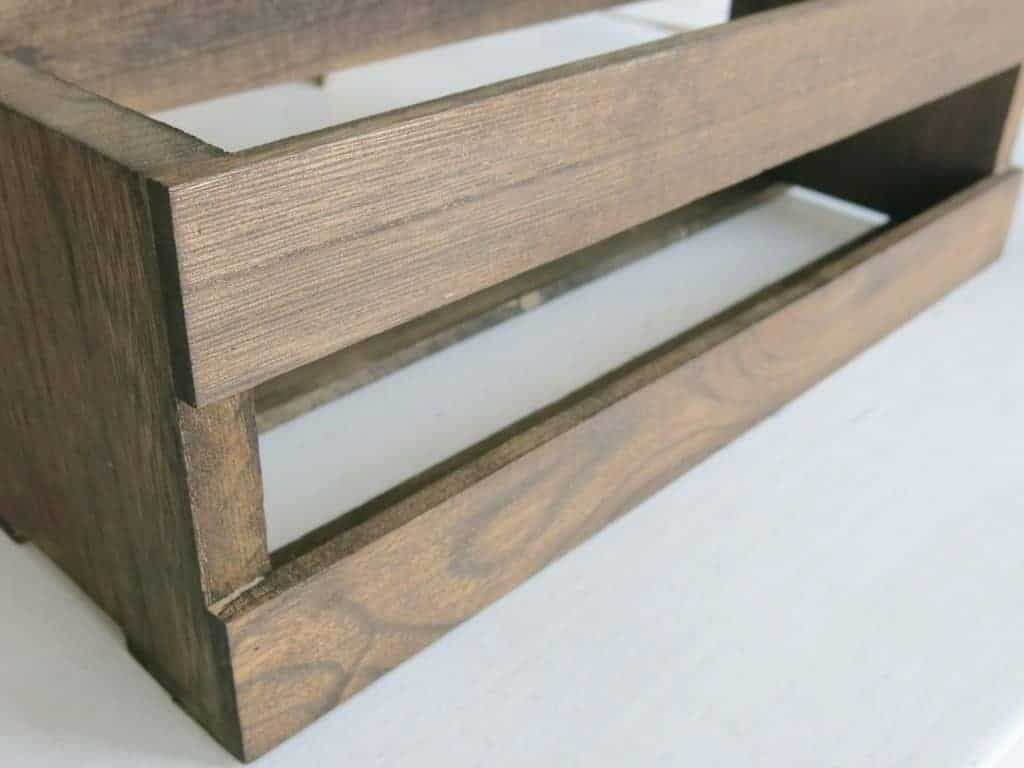 Step 1. Stain your wooden crate.
You just need a light coat of stain all over your crate. Don't worry about getting it perfect because you are going paint over it. …. I know, I know. I sound crazy, but just trust me!
Step 2. Cut your letter stickers using your cutting machine.
I chose the words "farmer's market". The Cameo makes it so simple to create quick stencils using adhesive shelf liner for painting projects like this.
Like I mentioned above, if you don't have a cutting machine – no worries! You can head to the craft store and find some stickers that fit on your crate.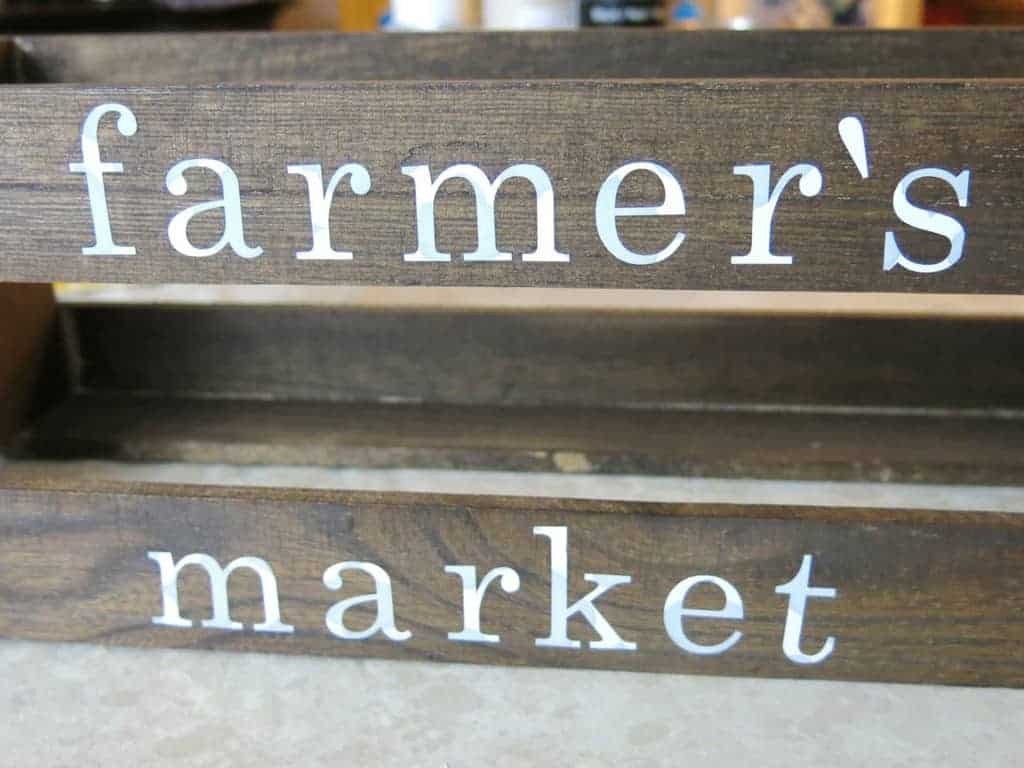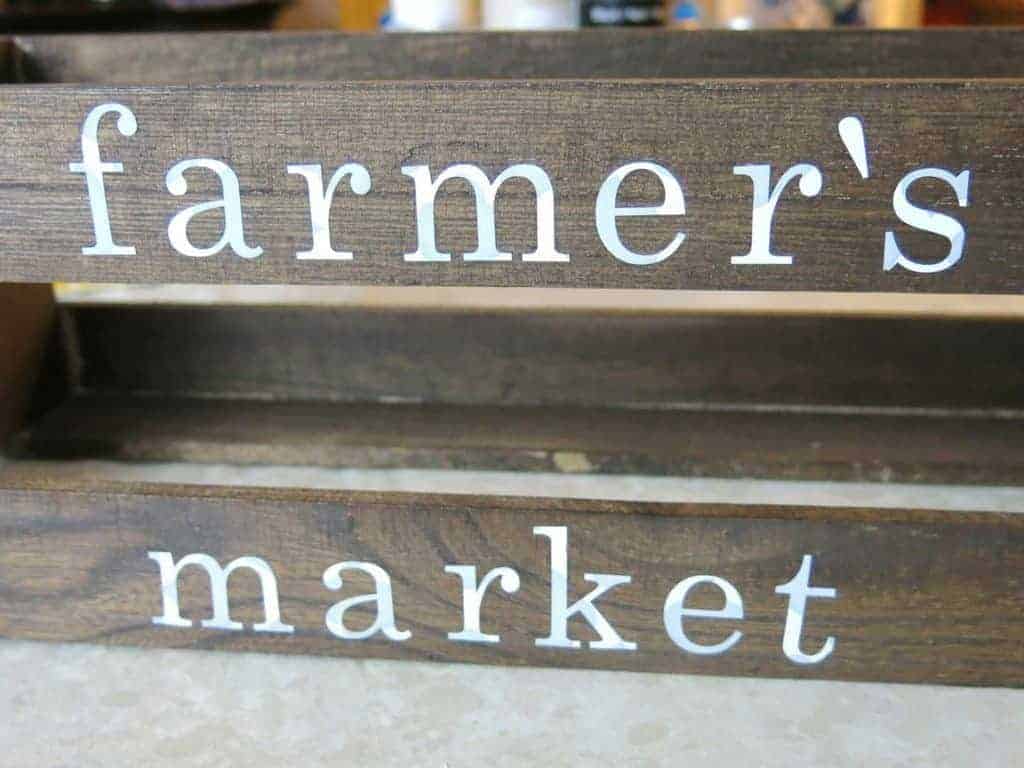 Step 3. Apply your stickers.
Be sure press them on well because we're going to be painting over them. (UPDATE: Since I made this crate, I've now figured out a way the prevent paint from bleeding under stencils – check it out here!)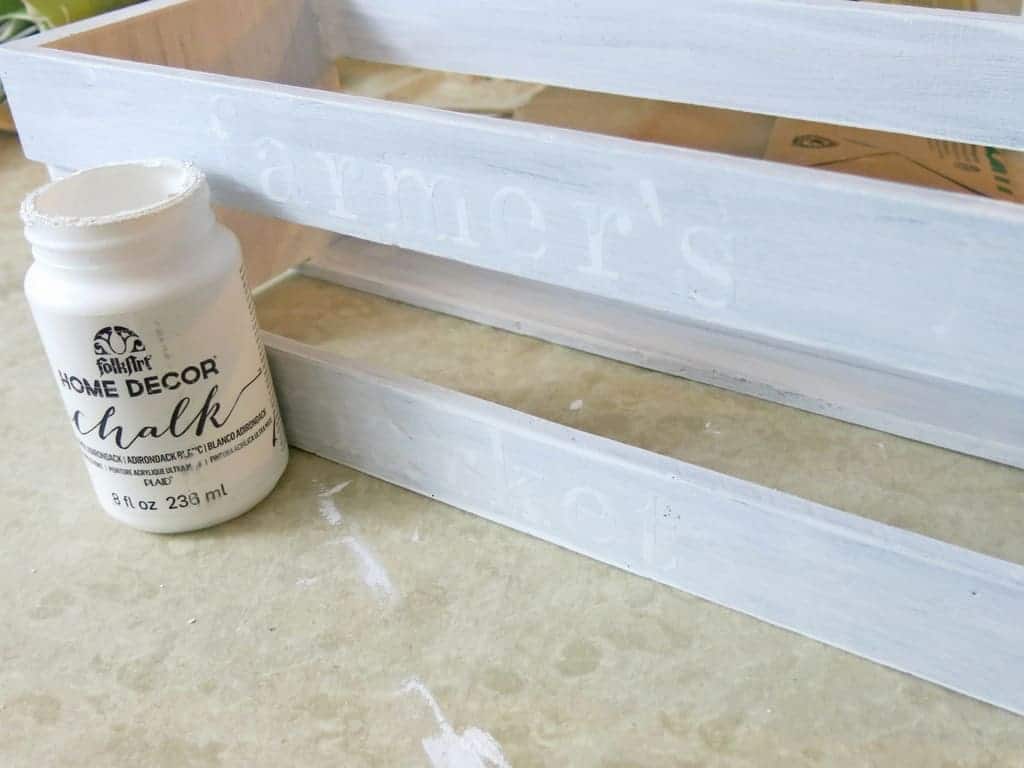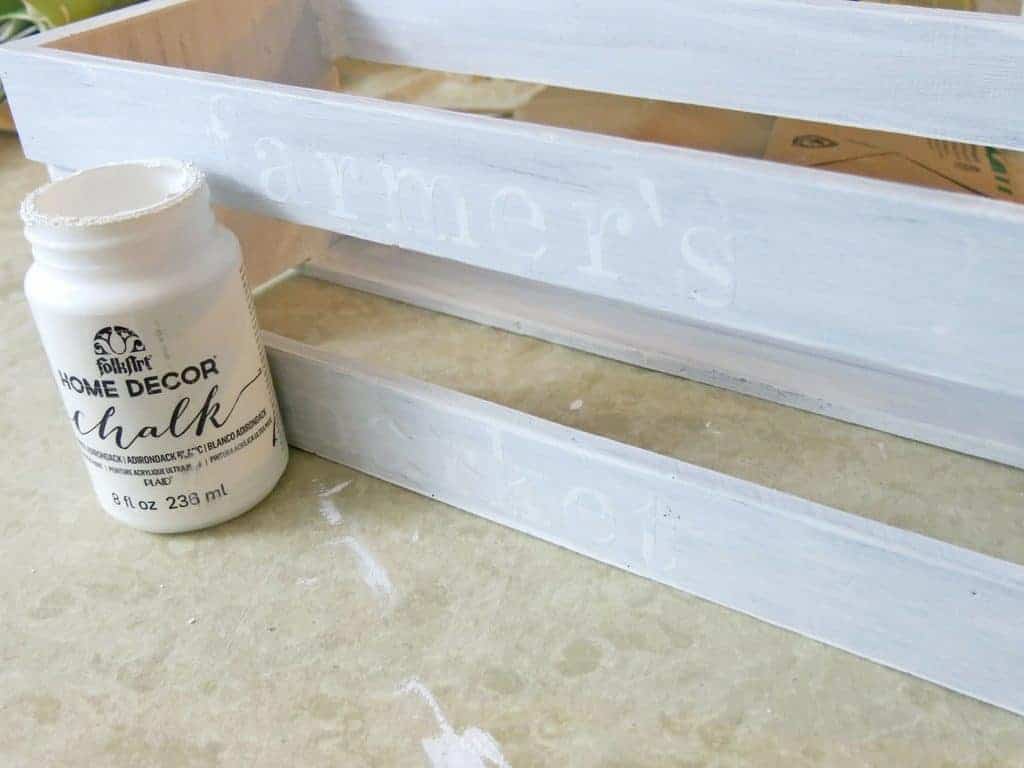 Step 4. Paint the entire crate.
I did three coats of chalk paint. Take extra care around the sticker letters and don't glop (is that even a real word? I totally use glop) lots of paint on the section because it will likely bleed under the stickers. (UPDATE: Since I made this crate, I've now figured out a way the prevent paint from bleeding under stencils – check it out here!)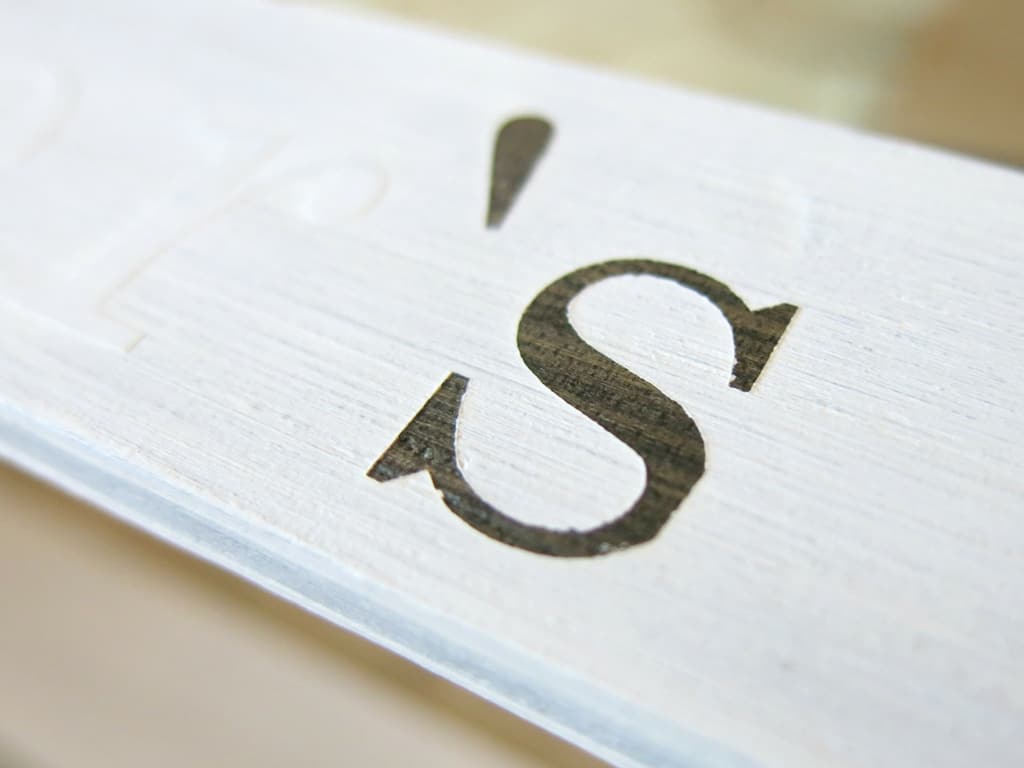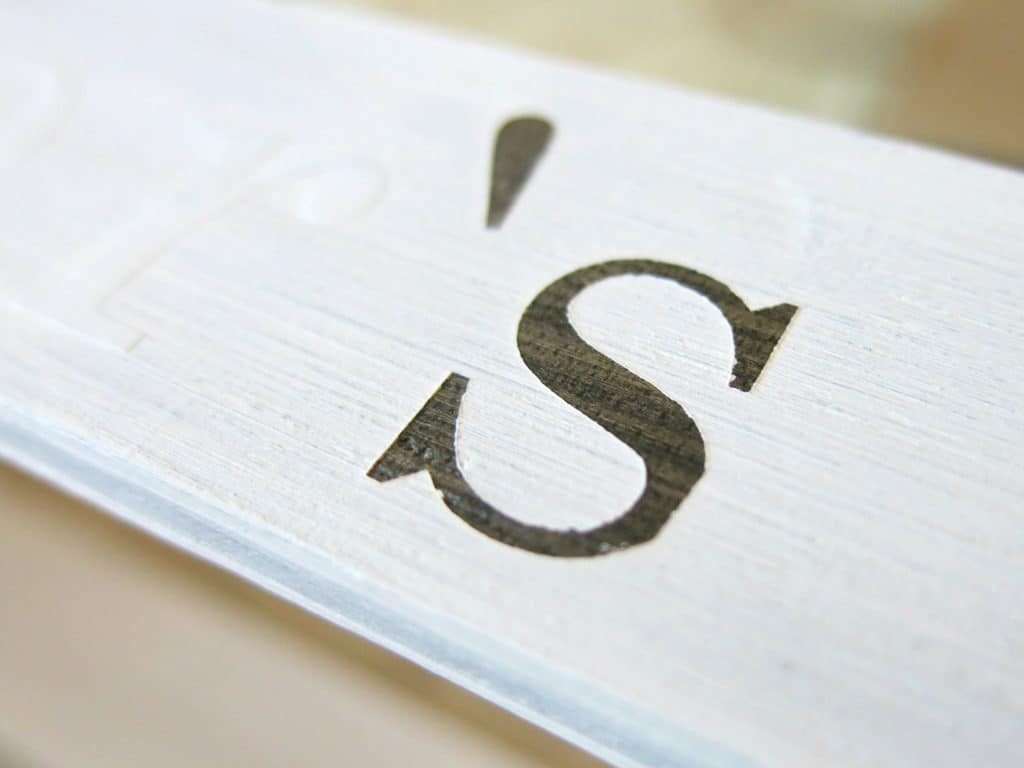 Step 5. Remove stickers once dry.
You're safe to remove the stickers once it is dry to the touch. If you're having a hard time pulling the stickers up, try using tweezers to grab them!
Step 6. Distress your wooden crate.
I used 220 grit sandpaper for a light sanding everywhere. With the wood stain underneath the paint, it's a really fun result when you start sanding and that dark stain pops through. When distressing with sandpaper, I usually focus more on the edges to make it look vintage and worn.
Step 7. Seal with a finishing wax.
I use Minwax finishing wax, which is clear. If you want to make the crate look even more vintage, you can try a dark wax which will slightly tan everything a bit as you seal. I wanted to keep mine bright and white to go with the colorful Spring decor!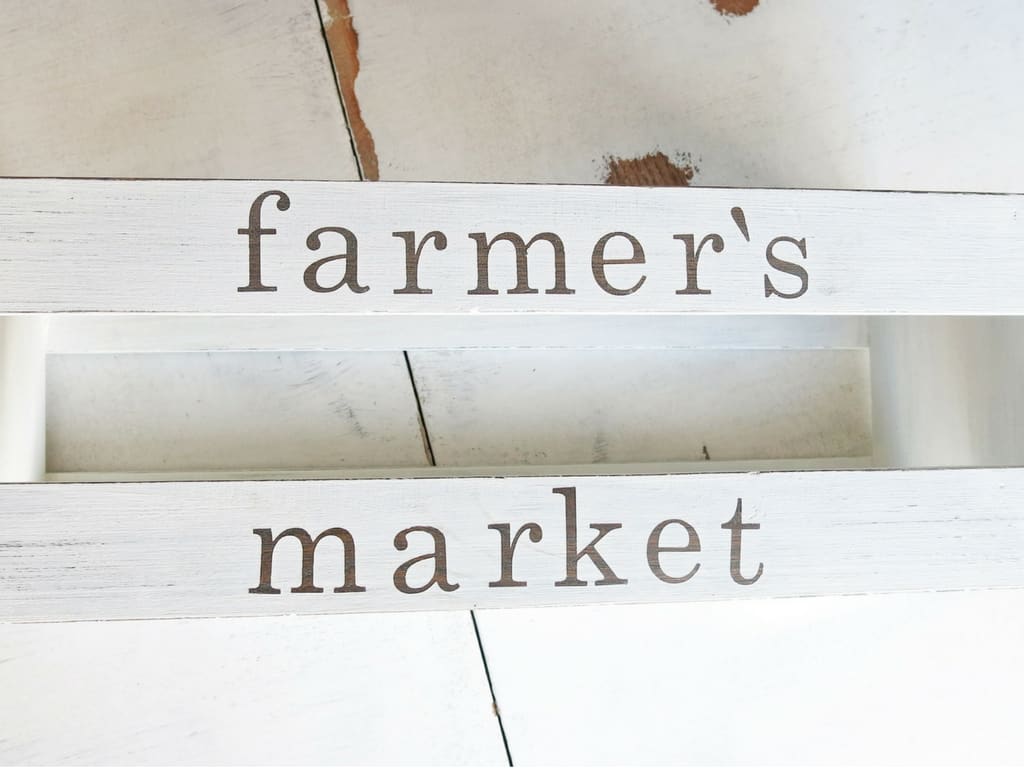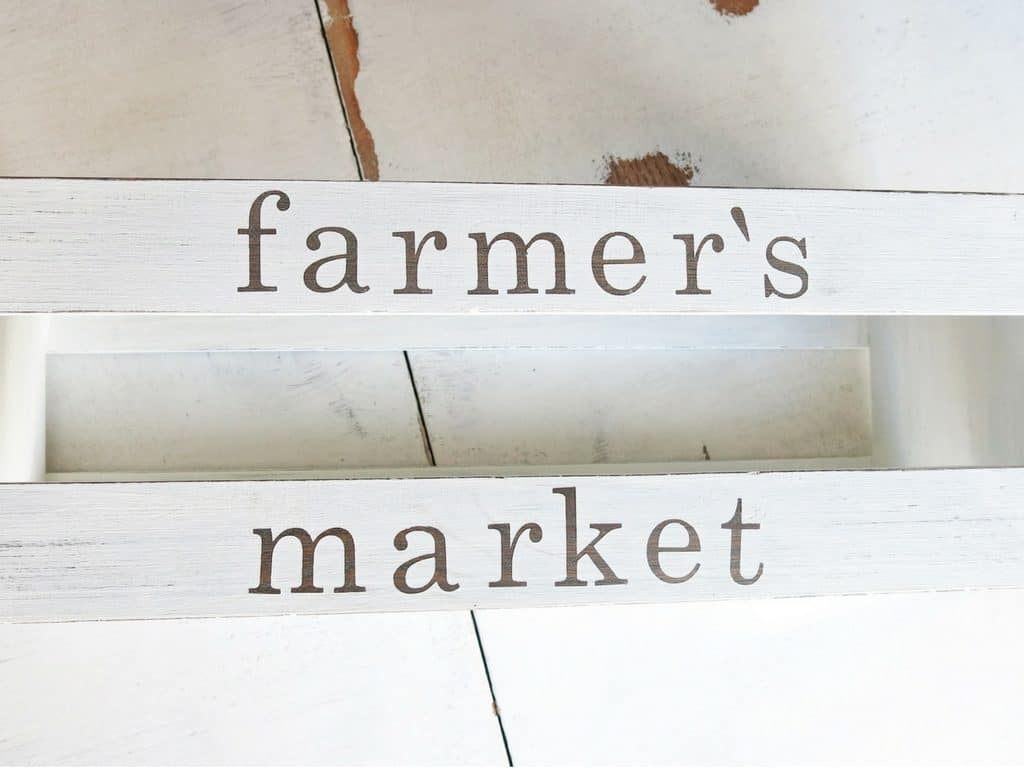 Step 8. Fill your crate.
I chose to fill mine with with the painted mason jars we made earlier this week (check out this tutorial for how to paint mason jars) and faux flowers.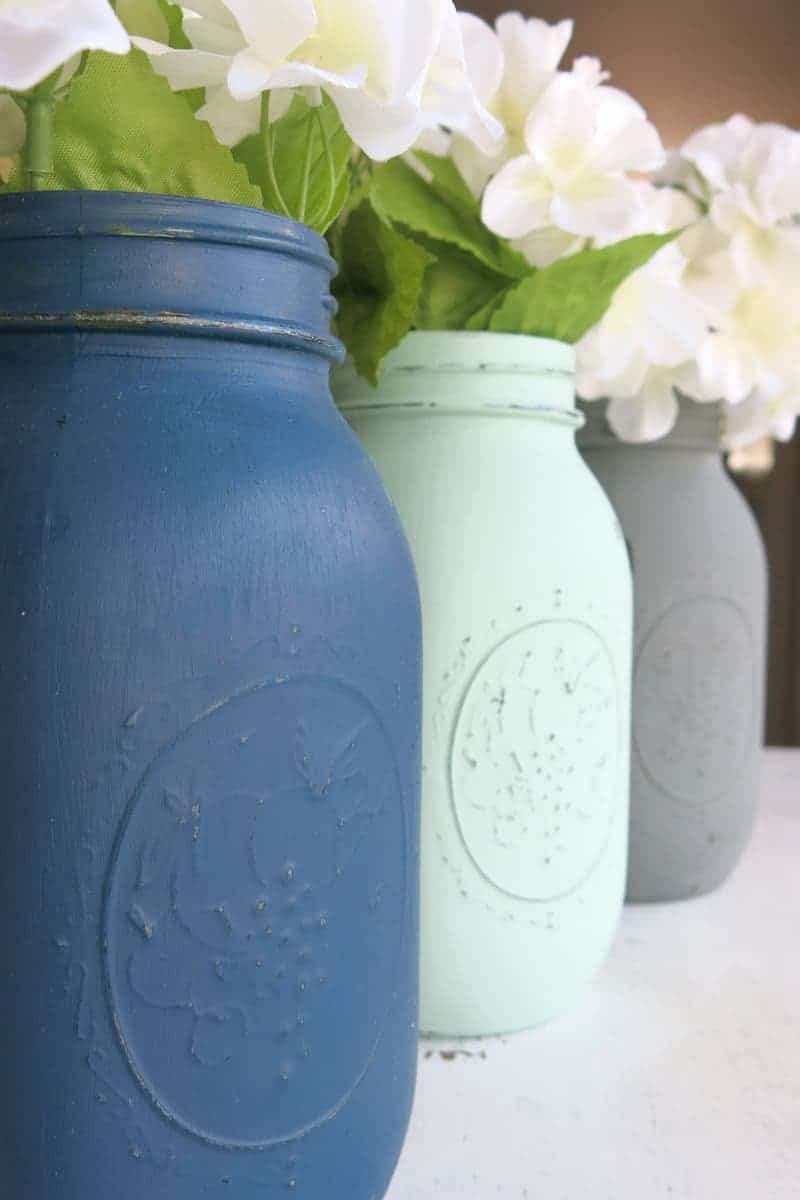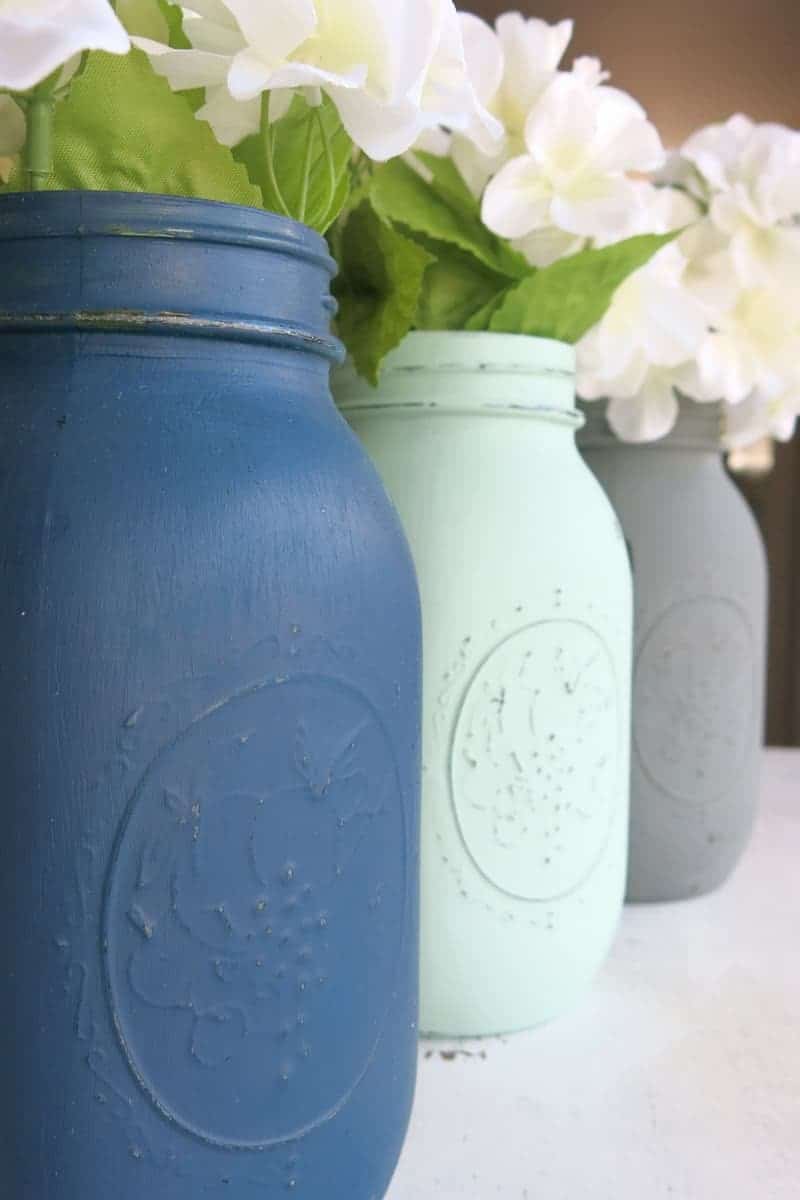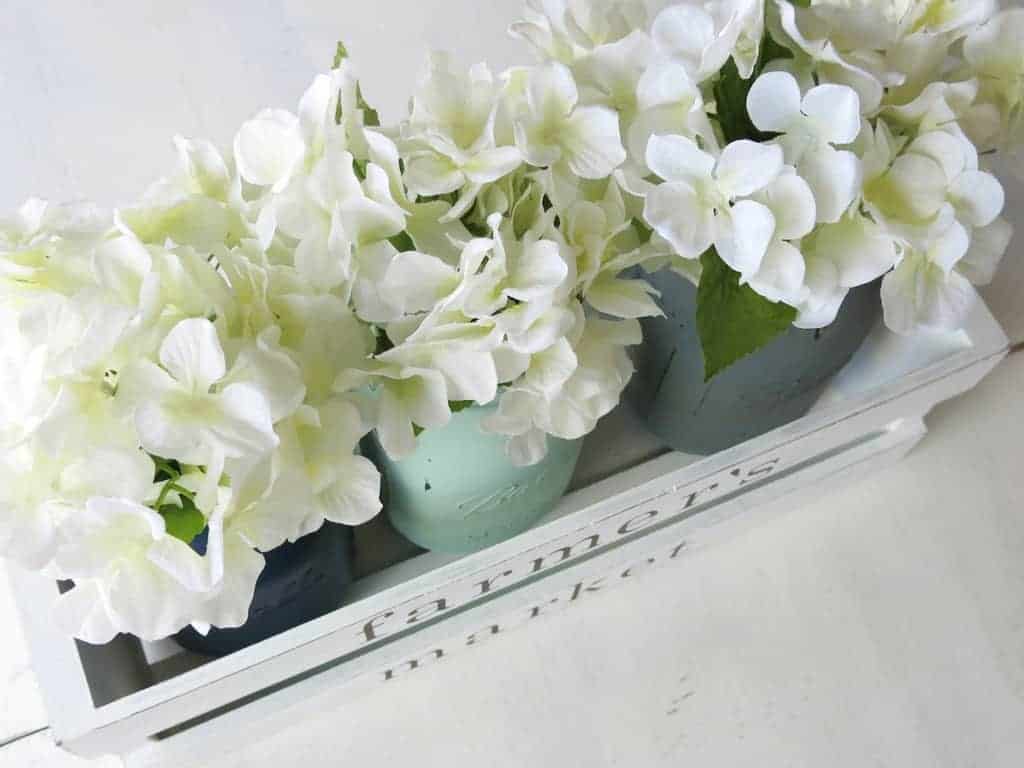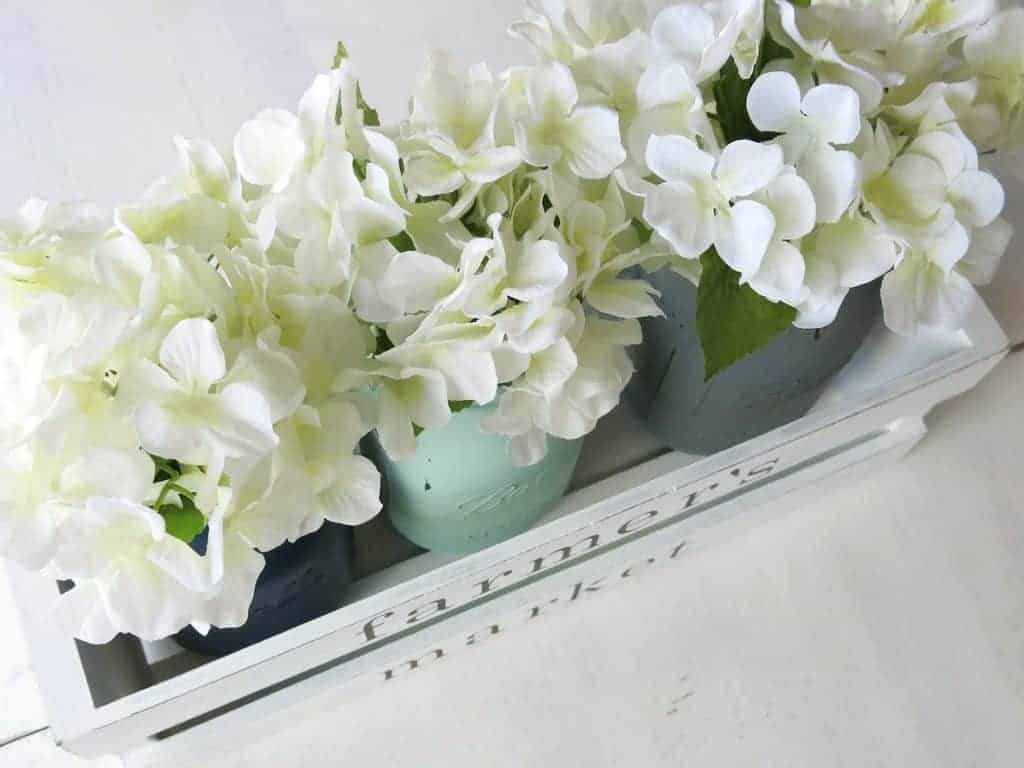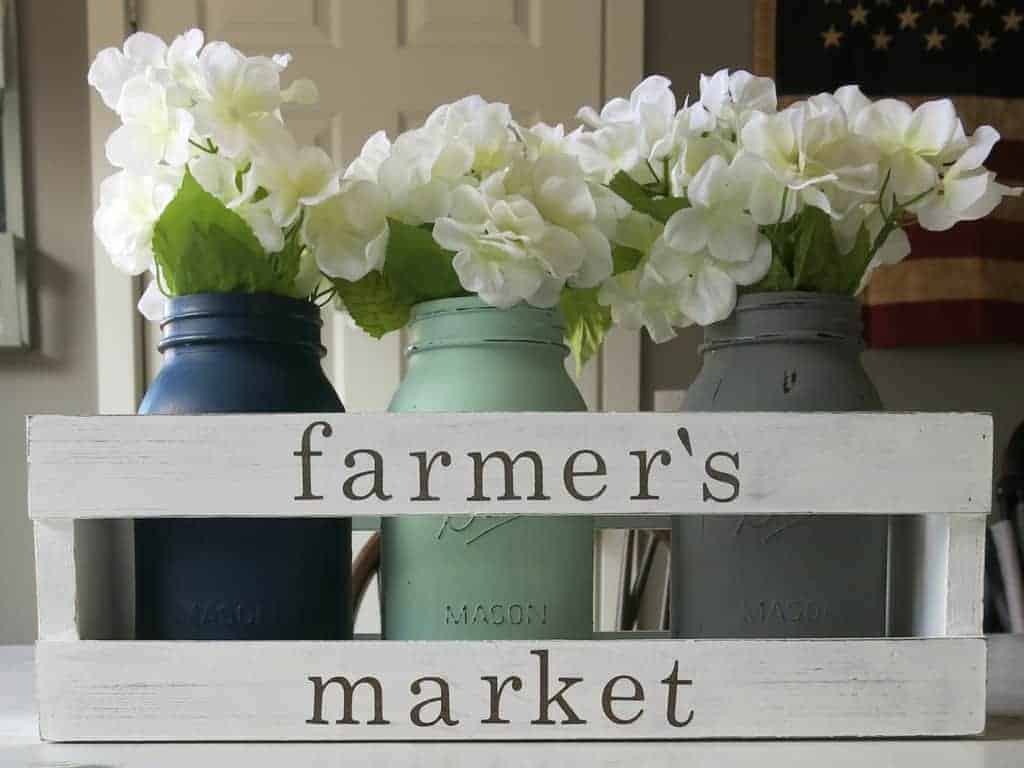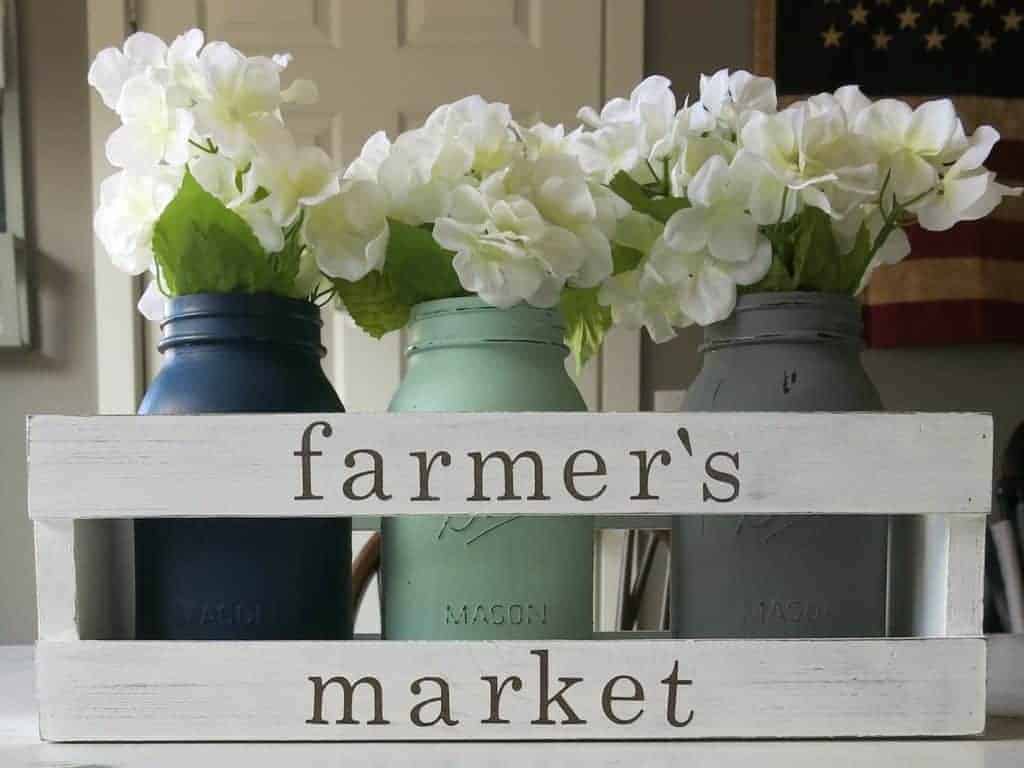 See! I told you that decorating your home for the seasons didn't have to be a hassle. Adding the vibrant Spring colors and flowers will really help brighten your home as we move into the Spring season. What other ways are you preparing for Spring?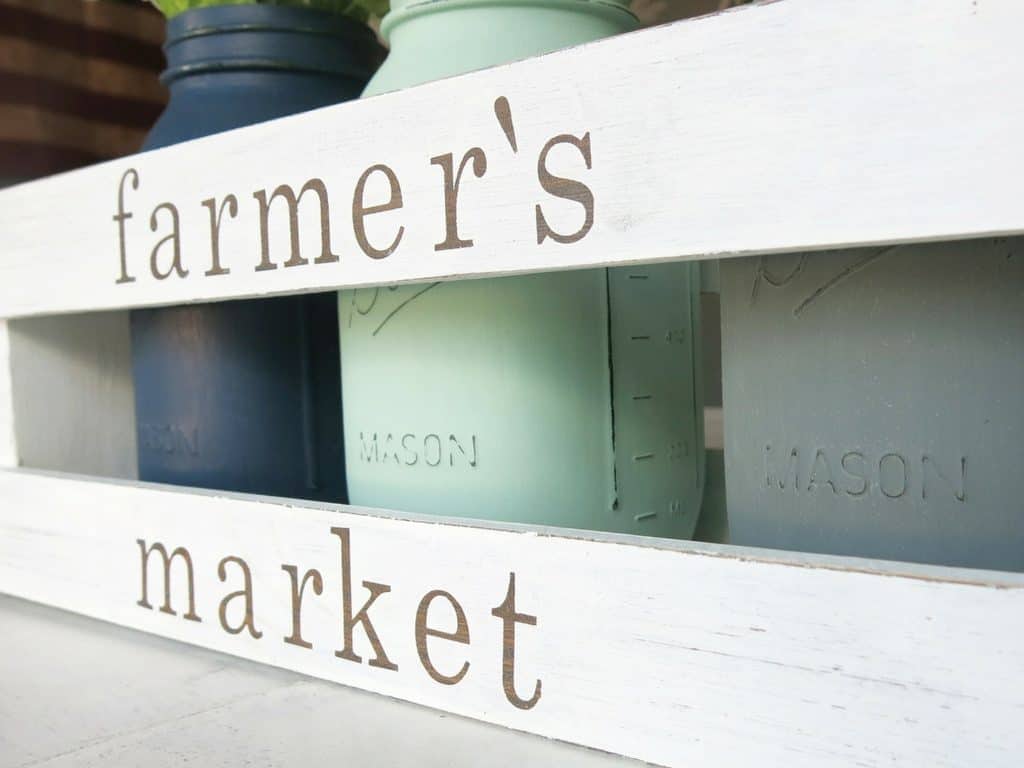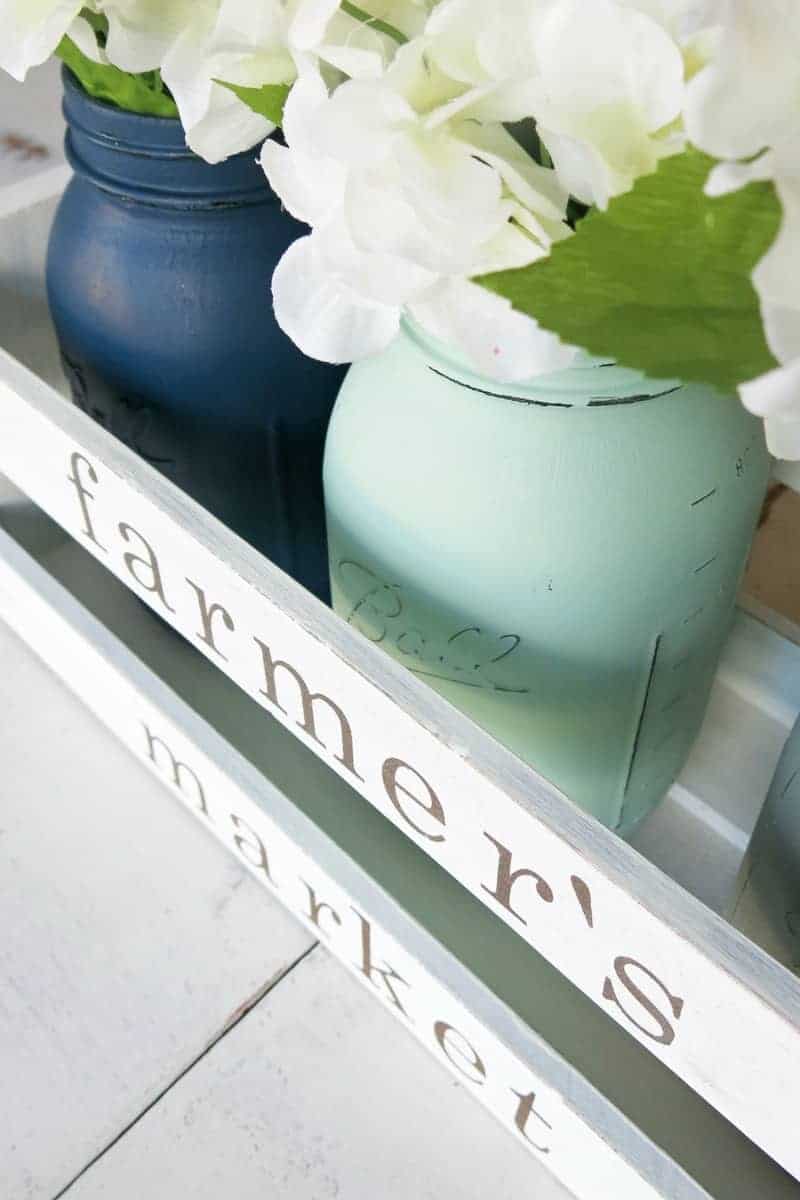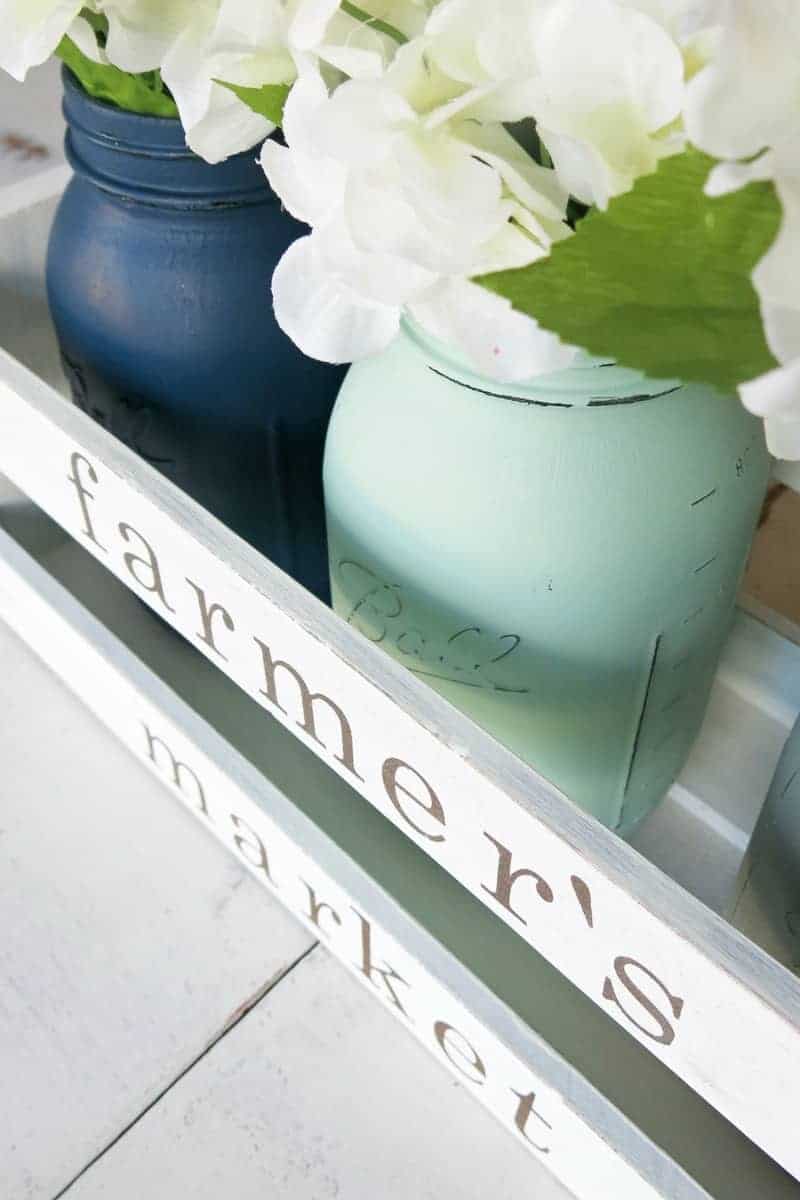 This simple farmhouse crate centerpiece can really be used for any season though! I'm sure it will be one of the traveling pieces of decor in our home. Do you have home decor items in your house that are constantly getting moved around too?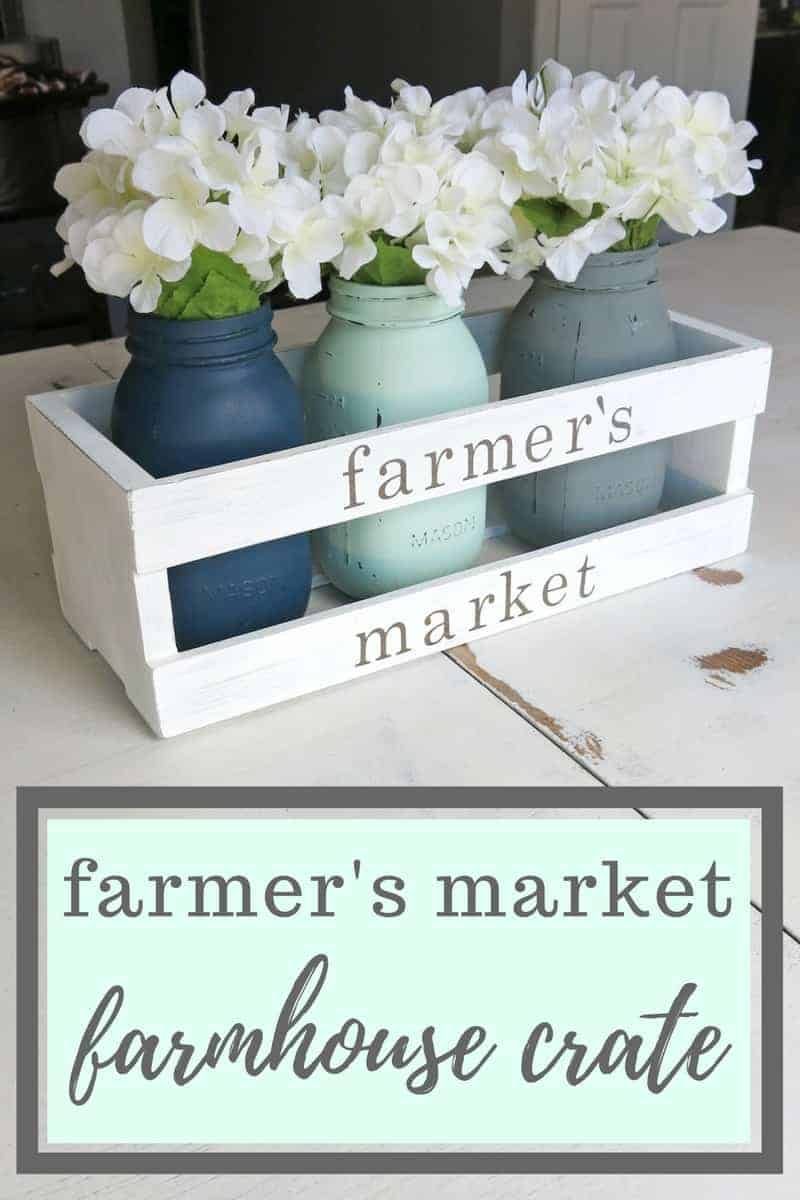 ---
Check out this video to see how to paint mason jars and make this adorable farmhouse crate centerpiece:
---
And now for more thrifty goodness!
Check out what my fellow upcyclers created below!