This sign making hack will change the way you DIY wood signs forever! Here's how to prevent stencil bleeding when making wood signs, which is such an annoying problem. If you're wondering how to stencil on wood, this trick will save you from the frustration of paint bleeding under the stencils.
Do you have trouble with your stencils for wood bleeding when you are making DIY wood signs? You try your darnest to do multiple light coats of paint brushing away from the stencil edges, but there is still paint bleeding underneath your stencils, right?! It's even worse when you are a using a rough, reclaimed wood – like pallet boards.
Sign making was turning into frustration rather than a fun hobby…but then I heard about this game changin' sign making hack. This hack on how to prevent stencil bleeding when you are making wood signs will seriously change the way you DIY signs.
This how to stencil on wood post contains affiliate links, but nothing that I wouldn't wholeheartedly recommend anyway! Read my full disclosure here.
So…just so you can get the full effect of how amazing this sign making hack really is, here's a look at how normal sign making goes.
You cut the stencil out with your Cameo. I always use the adhesive shelf liner (aka contact paper) from the Dollar Tree. Then you put it on the wood….you push real hard to make sure it's adhered and you go to town painting. You can try light coats. You can try letting the brush pounce on top of the stencil. You can try brushing away from the stencil edge. But I bet that you'll still have bleeding under your stencils. Will you just look at how bad this one was!?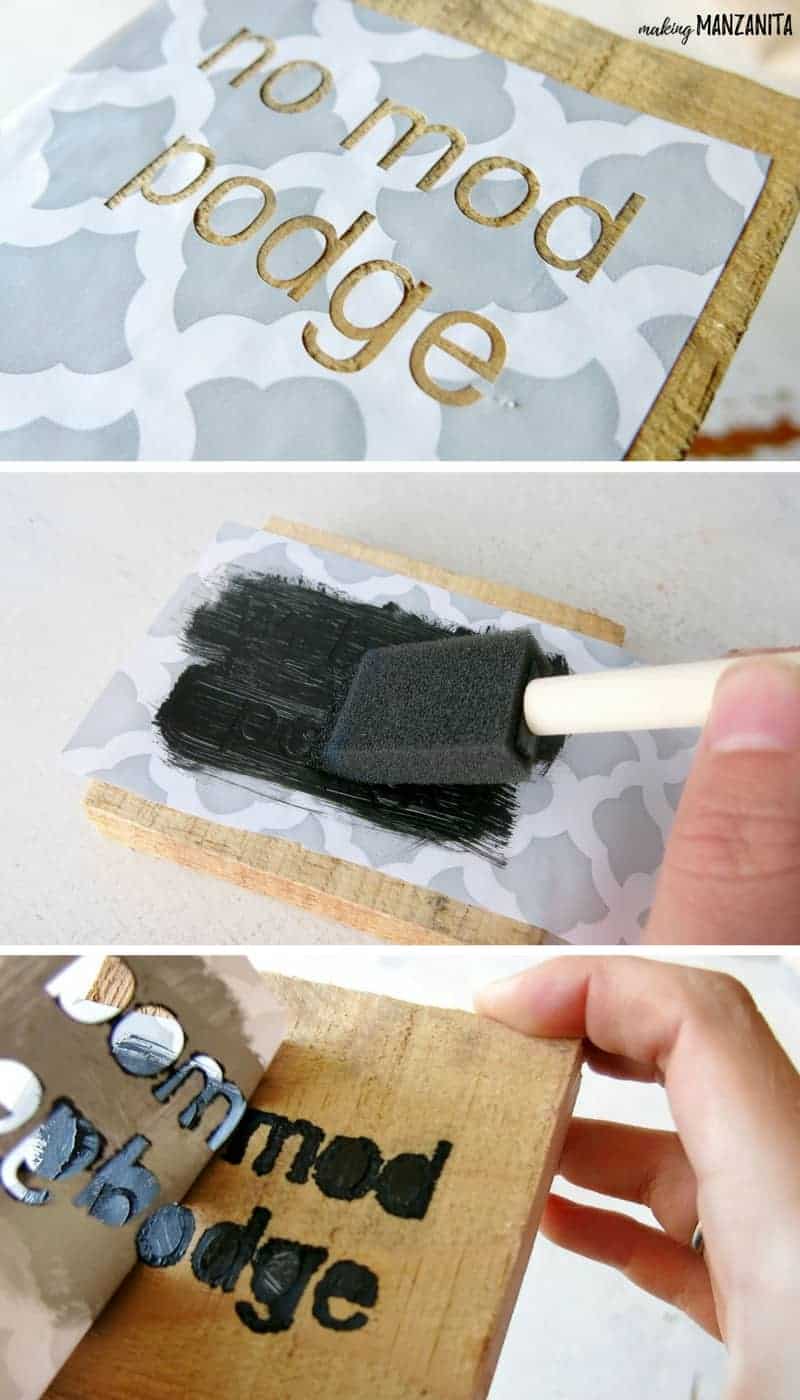 This was on a piece unsanded scrap pallet wood. I used the exact same type of wood for the 2nd sign when I use the sign making hack.
It's just hideous. Keep in mind this is a tiny piece of wood and very small letters. Something's gotta change though… this just ain't working. I had to figure out how to prevent stencil bleeding.
A few months ago during one of my Hometalk Live Videos, I was making this reclaimed wood sign. I was sharing my typical sign making tips to prevent bleeding…like using a foam brush and doing light coats of paint..always brushing away from the edge of the stencil, rather than towards it….and if all else fails, give it a light sanding after you're done and call it "rustic".
That's when one of the Hometalk viewers mentioned how she uses Mod Podge to seal her stencils before painting. I saw the comment later that night when I was scrolling through the thousands of comments and answering questions. I was intrigued. How have I never heard of this? So I followed up with her to make sure I understood it right…and then I gave it a try.
It was when I was making these reclaimed wood bottle openers that I first tried this method. I was shocked. Like literally…jaw to the floor flabbergasted.
Since I know you ain't got time to scroll through all of the many comments in my Hometalk videos…I decided to dedicate an entire post just to this sign making hack. This is just too good not to share.
Everyone needs to know how to prevent stencil bleeding. Because if you know how to prevent bleeding on your wood sign stencils, you'll probably DIY more wood signs. And we all know the world needs more wood signs.
Related Posts : Wood Sign & Stencils for Wood Tutorials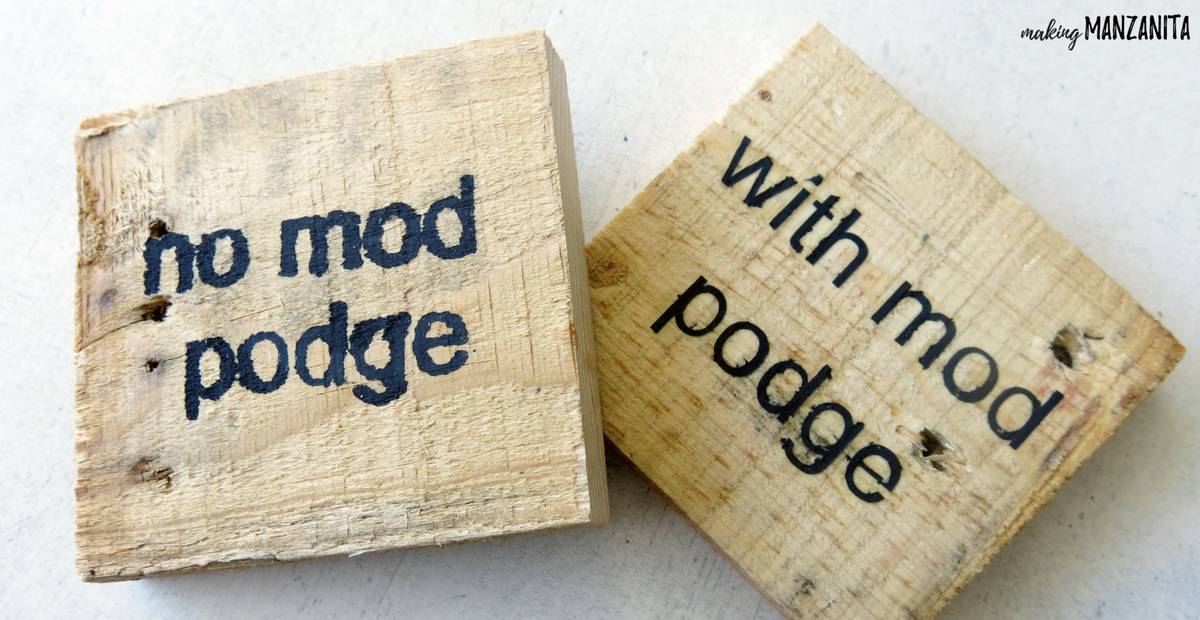 Ready for this sign making hack?
How to Prevent Stencil Bleeding
Be sure to subscribe to my YouTube channel for more DIY videos.
Step 1. Cut stencil.
Using a Silhouette Cameo cutter (or another type of paper cutter), cut out your stencil. I always use adhesive shelf liner from the Dollar Tree to create my stencils for wood. It works great and it's so cheap!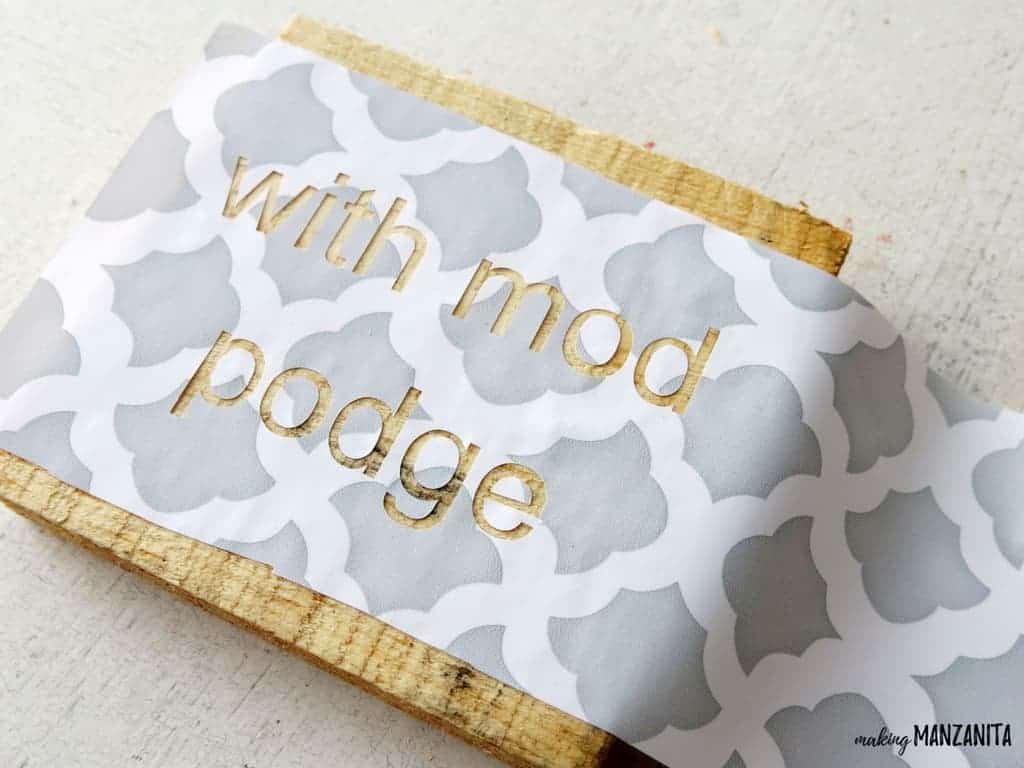 Step 2. Peel & attach stencil.
After it is cut, peel off your stencil and press onto the wood. Press hard to make sure it sticks.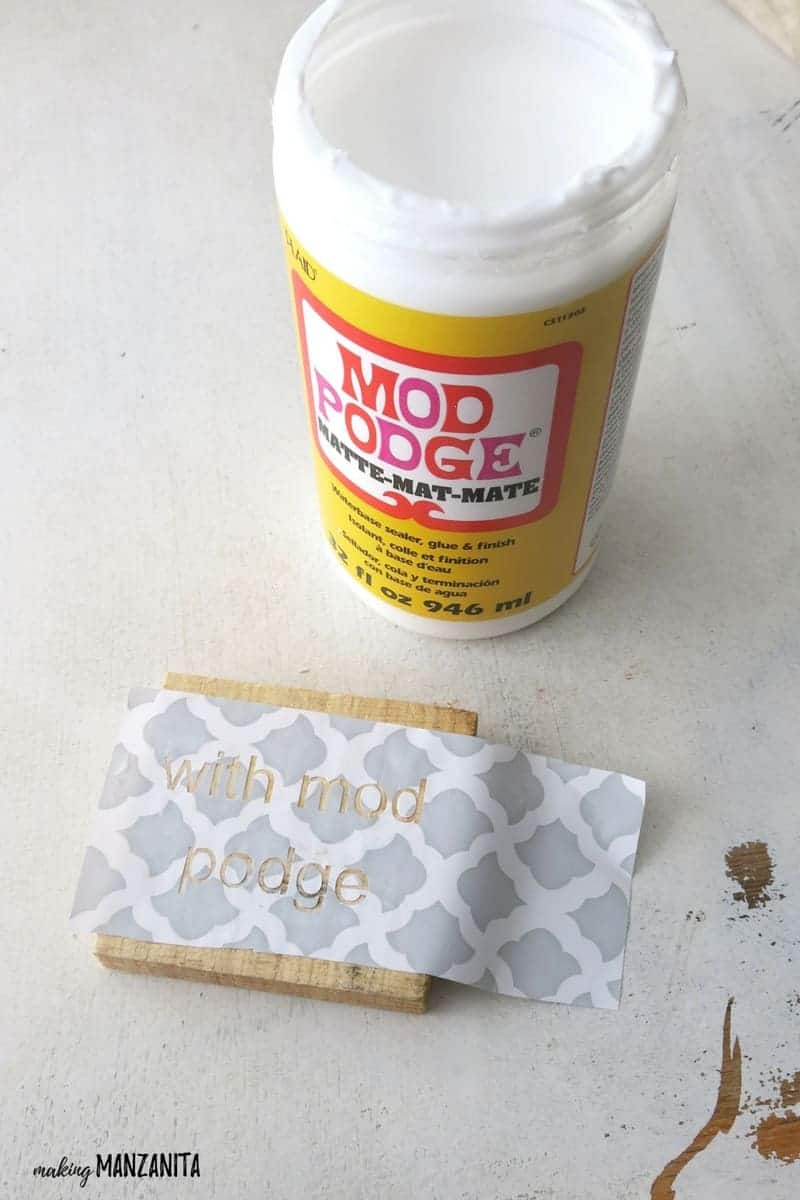 Step 3. Seal stencil. *** THIS IS THE MAGIC STEP ***
Now…this, my friends, is where the magic happens. Take your Mod Podge and just rub is over the stencil in a light coat. I just use my finger for this, but you can use a foam brush if you'd like.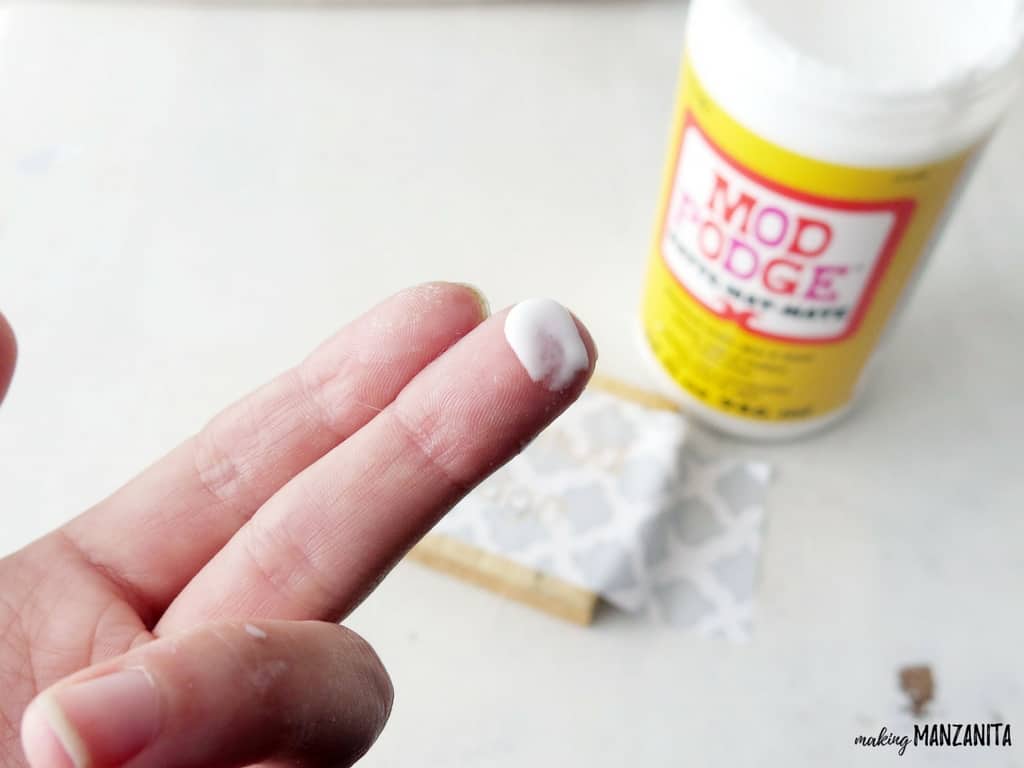 This seals the edges of the stencil so that the paint won't bleed under it.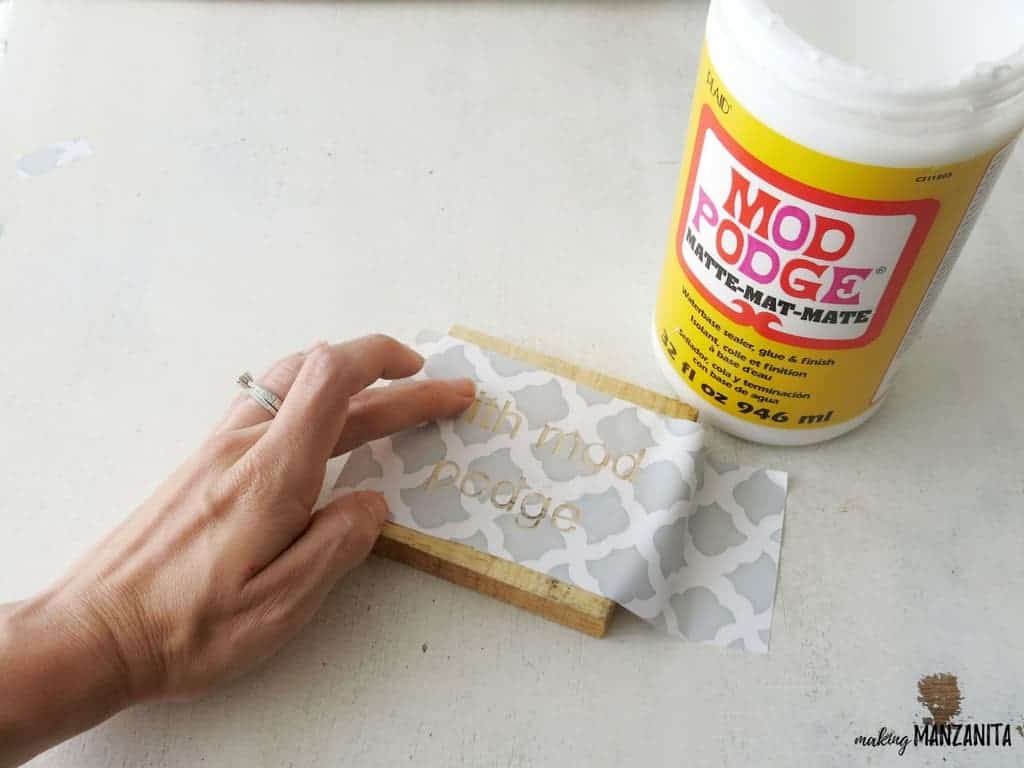 You only need to do one coat of the Mod Podge. Wait for it to dry completely before moving on to the next step (15 minutes or so).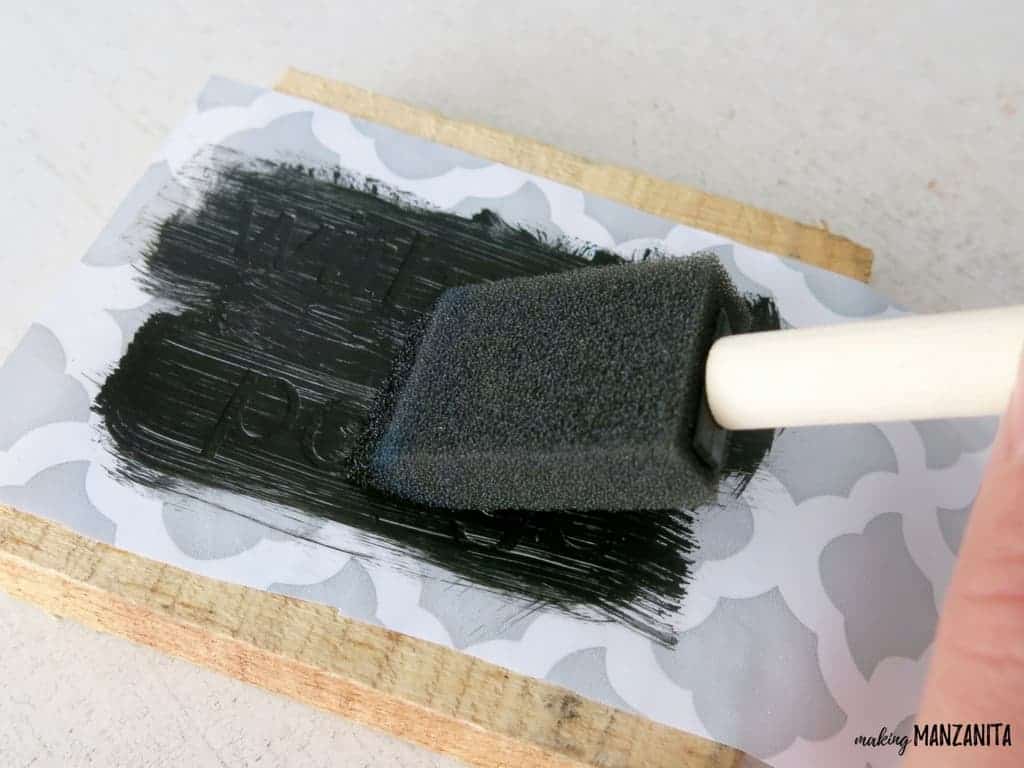 Step 4. Paint over stencil.
Next you just paint over the sealed stencil. I typically use acrylic craft paint and do 2-3 of lights coats of paint.
Step 5. Peel off stencil and be amazed at the crisp lines.
After your paint is dry to the touch, you can remove the stencil by peeling at one of the edges.
Will you just look at those crisp lines?! Are you as shocked as I am?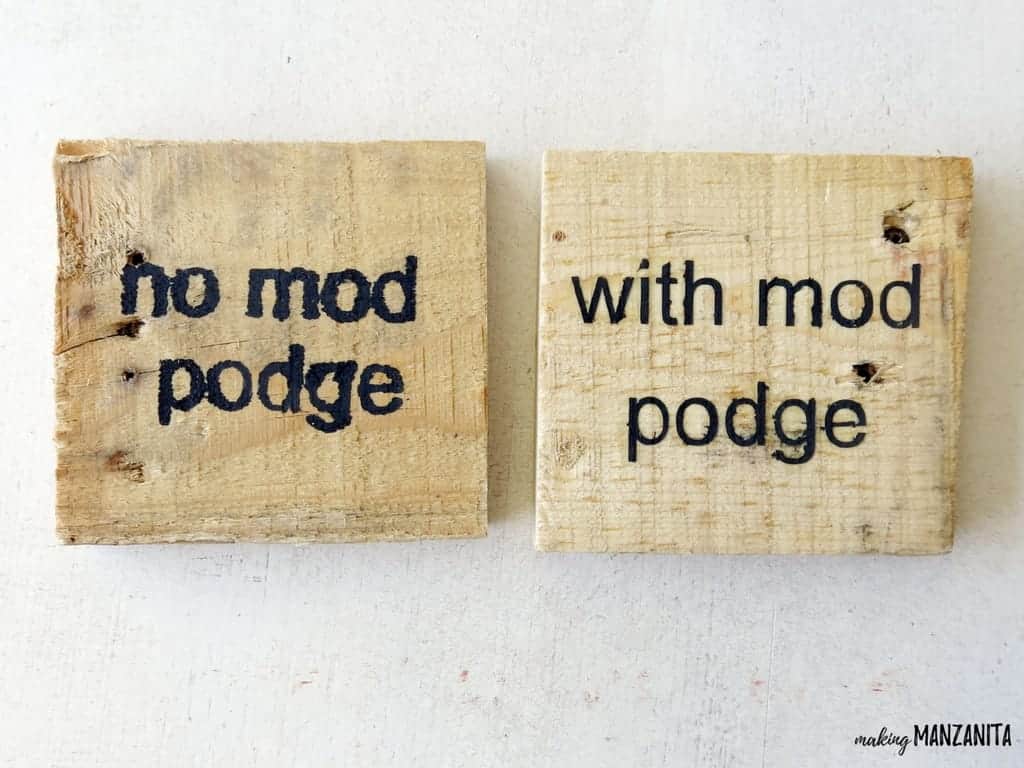 See…I told ya so! Making professional looking wood signs doesn't have to be frustrating!
You can get crisp stencil lines using this easy sign making hack with Mod Podge. All you have to do is put a thin layer of Mod Podge over your stencils for wood before you paint! This hack on how to prevent stencil bleeding when you are making wood signs is going to change the way you make signs, am I right?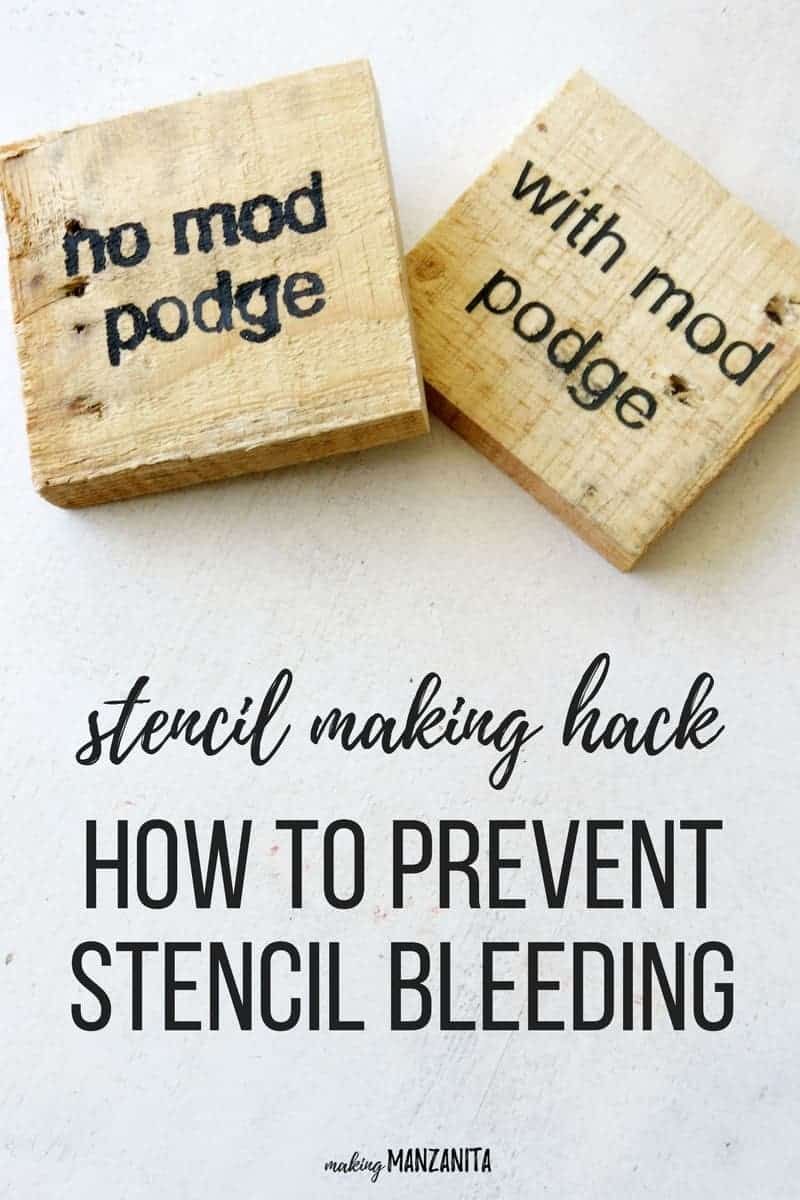 This whole sign making hack is shown way better in a video format, so don't forget to watch this short video to see how it's done! If you love videos, check out my video page for more.
---
If you love making your own wood signs, be sure to check out these DIY sign tutorials using stencils for wood: