This shop has been compensated by Persil. #PersilDeepClean #sponsored
Are you planning a laundry room remodel? Then, you've gotta read this post with 8 things to consider when planning laundry renovations!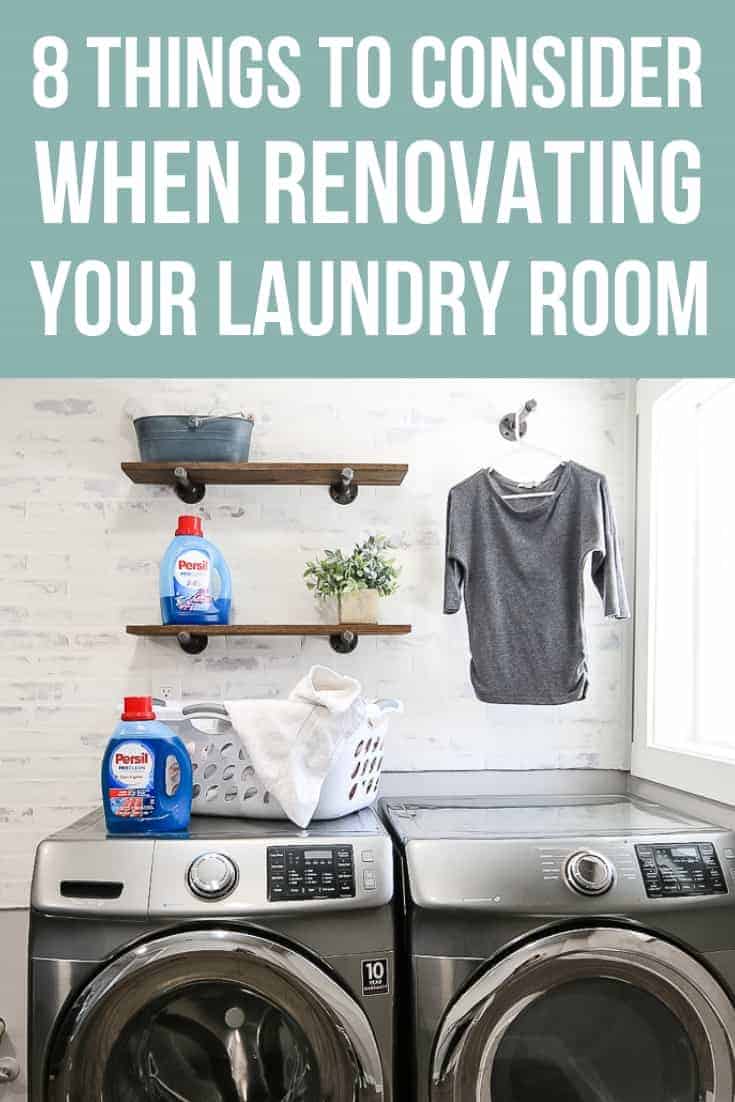 If you follow along on Instagram, you may have seen some progress on our latest renovation project that we're tackling next…the laundry room! Next week, I've got the full design board for you to see all of our plans. But today you're getting some MAJOR sneak peeks of our progress so far!
The day we started working on the laundry room, Logan looked at me and said, "This is awesome, this project is really fun!" and I agreed. When we started it, we had about 3 feet of snow outside and were starting to feel a little stir crazy, but nothing that a little renovation project couldn't fix! It seems like every time we start a new project over here, there's new excitement in the air. Are you guys the same way?
If you know anything about the way Logan and I renovate (or really do anything in life), you know that we're "serial over-thinkers". We're not very spontaneous when it comes to renovating, which I guess is a good thing.
This means that every project that we take on has been planned out well in advance. To be honest, before we jump into anything, we've already been talking about it for months. We've already collected inspiration, determined the design choices, and talked through how we will tackle the DIY projects together. Most importantly, talked about what things we need to consider during this specific renovation process.
Today, we're bringing you in behind the scenes to talk about some of the things that we considered when planning these laundry renovations. You'll see how these things helped guide our design choices for our current laundry room remodel. If you guys remember back to the first time I showed you our laundry room, you may recognize a familiar face again. I'm teaming up with Persil® ProClean® laundry detergent again and I couldn't be happier. In the last post that we partnered together, I was teaching you how to clean your washing machine. And that was super fun, right? ​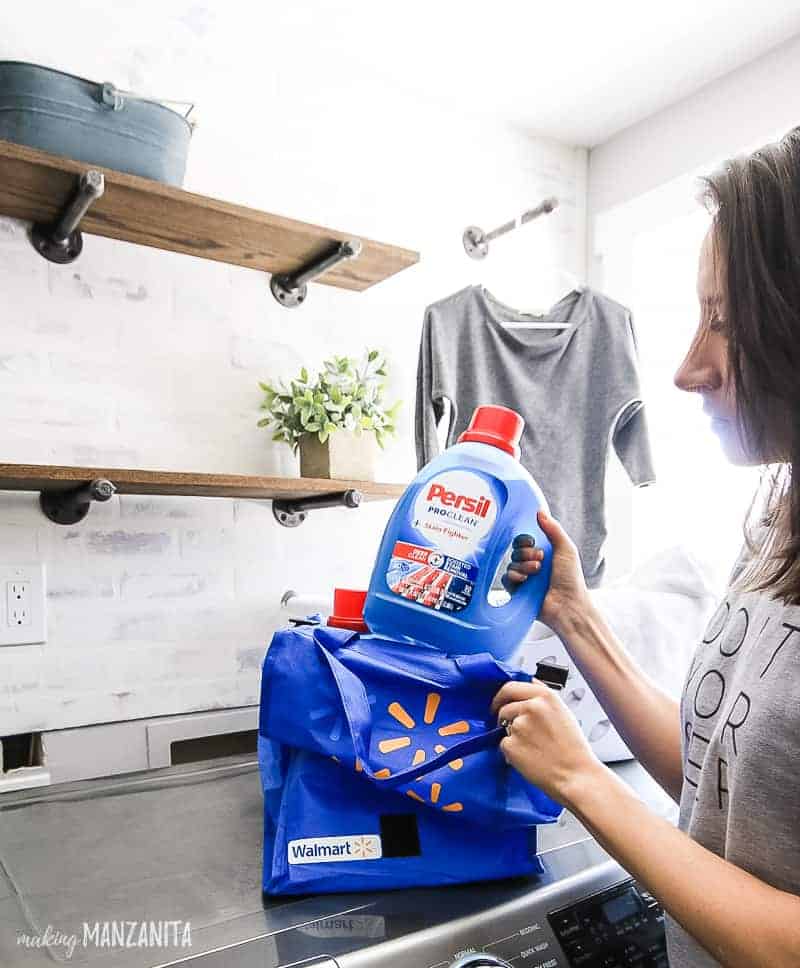 Since we started using Persil laundry detergent, I can honestly say that I'm not bummed out when I have to do laundry (that's really sayin' something coming from someone who really doesn't like to do the laundry!). This stuff smells AH-MAZING.
When you pull the warm clothes fresh out of the dryer, there's just something marvelous about the fresh scent. We headed off to Walmart and grabbed Persil® ProClean® laundry detergent, because of #toddlers and #pottytraining. I won't get into details, but we've been doing a lot of laundry loads lately.​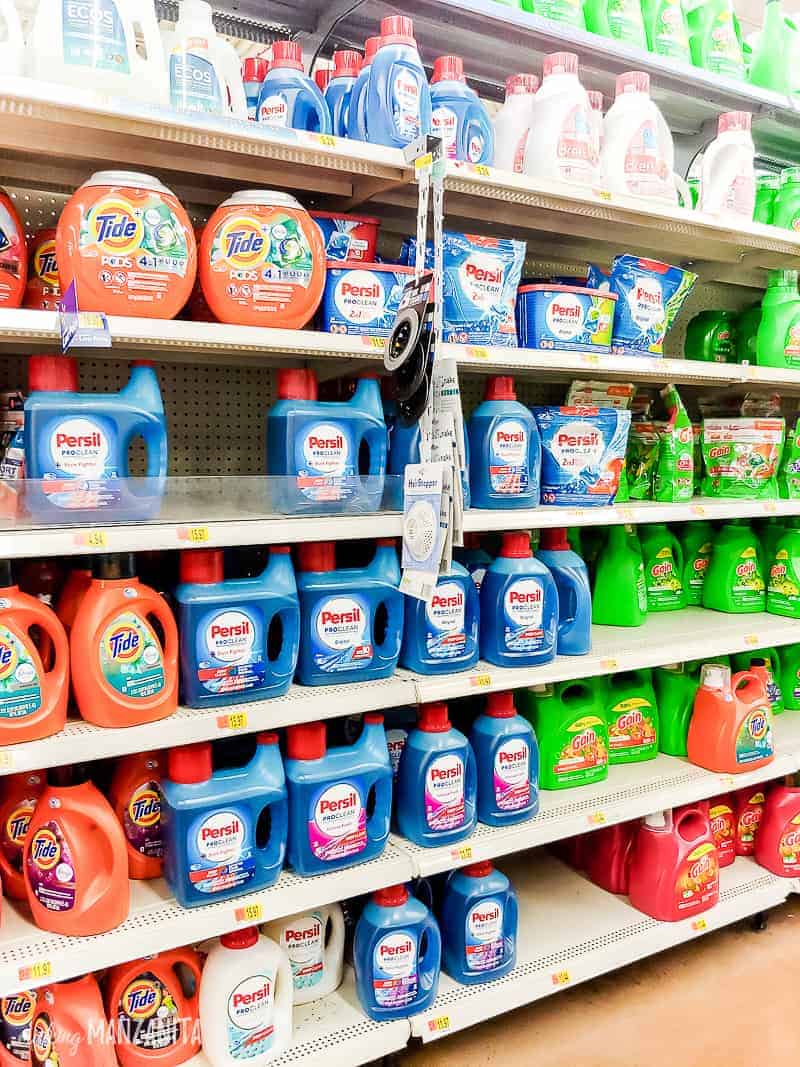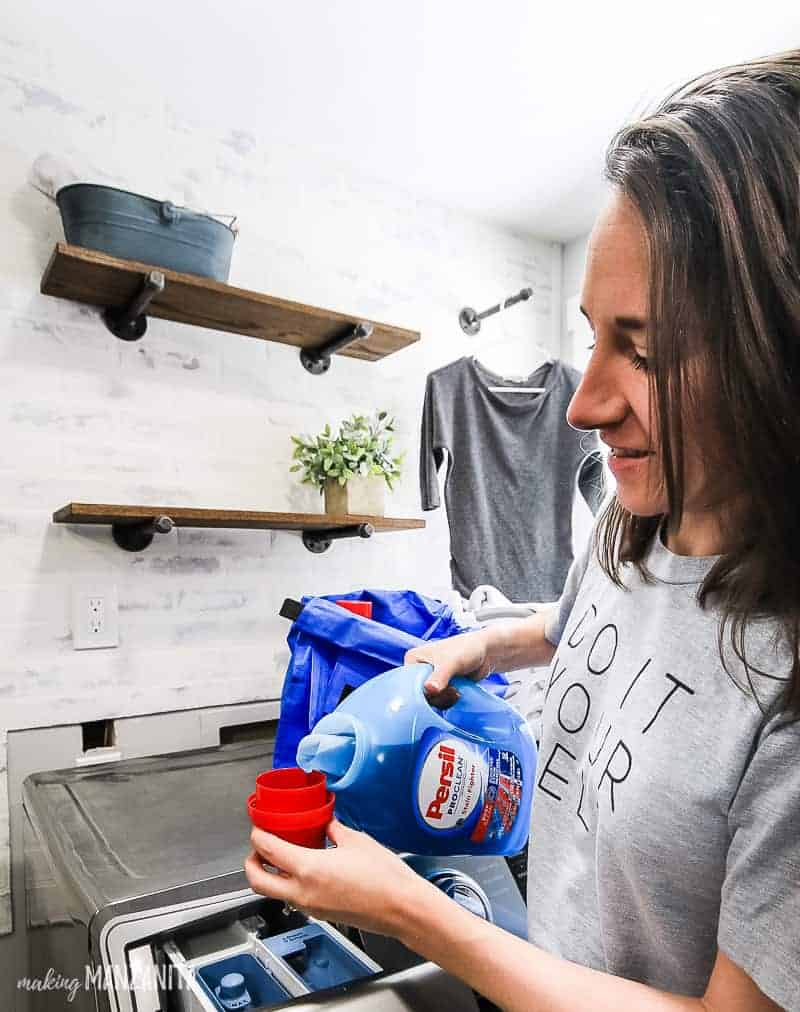 Persil laundry detergent is kicking off a Deep Clean Challenge (Spring Cleaning, anyone?) and there's a chance to win some seriously great prizes, including your own laundry room makeover! Score! Sign up for the Deep Clean Challenge Sweepstakes here. They are also hosting Experience Deep Clean Day with Persil® ProClean® laundry detergent events at some Walmart locations. You can check to see if there is one happening near you here.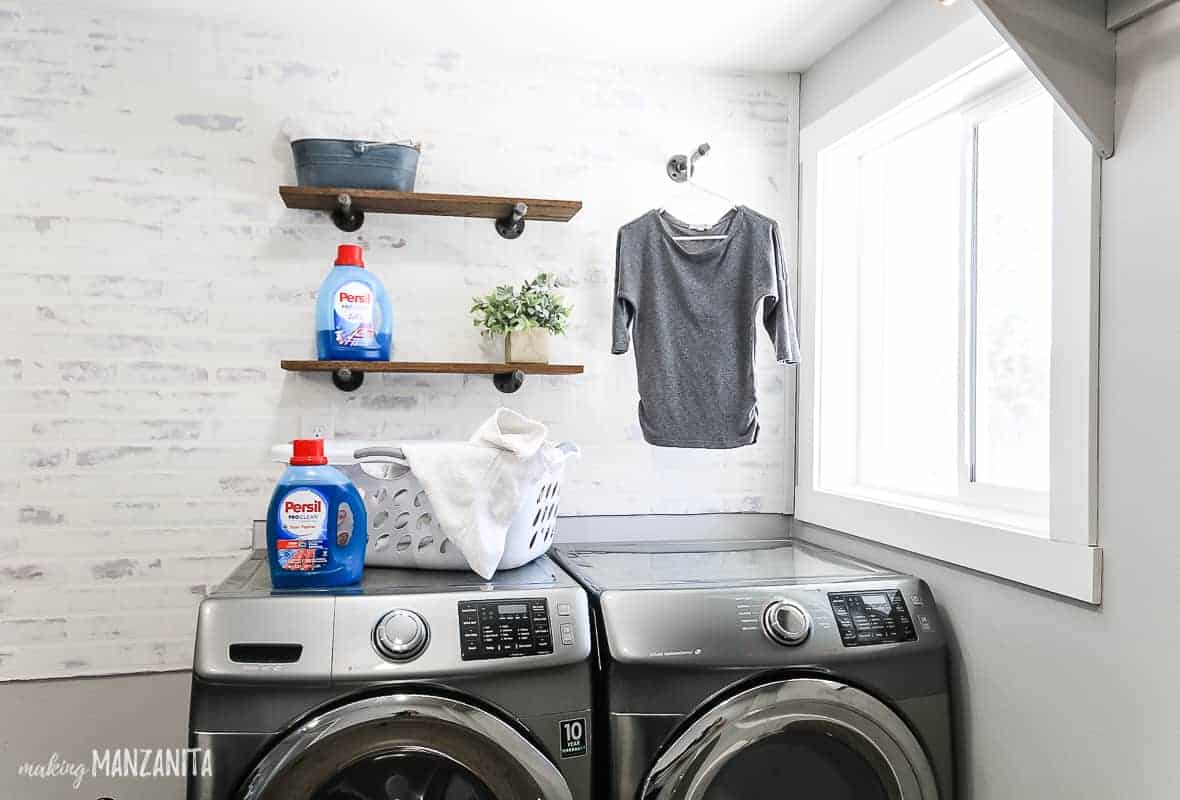 Now, while you are crossing all of your fingers and toes hoping you win a laundry room makeover (my fingers are crossed for you too, by the way), let's dive into those things you need to consider when planning laundry renovations – sound good?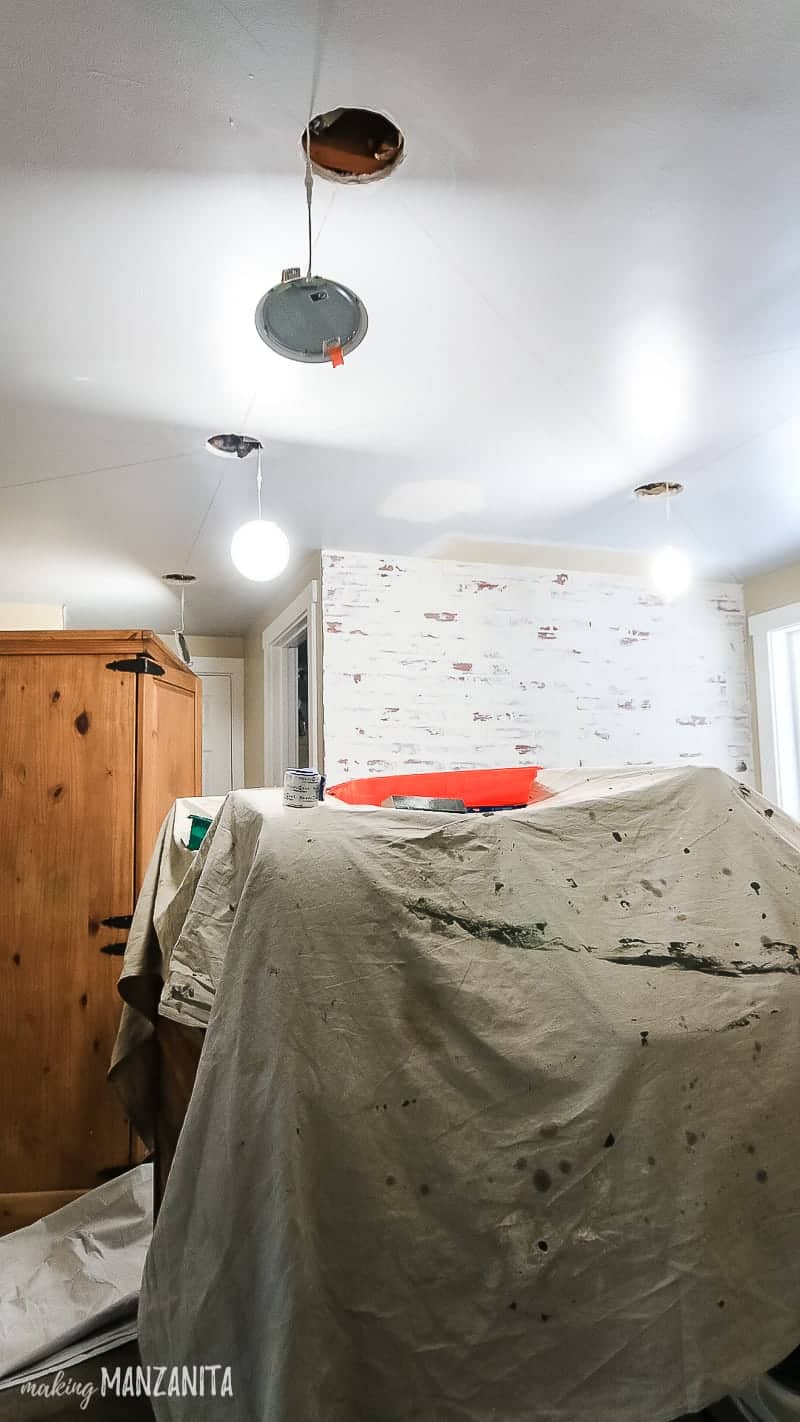 Figure out how long you'll be without laundry
If your laundry renovations are pretty intensive, there is a good chance that you may be without your washer and dryer for a while. It is helpful to know approximately how long that is going to be before you "pull the plug". If it's going to be a while, you should also make a plan for where and how you will do laundry in the meantime.
Luckily for us, we only needed to have our washer and dryer pulled back for a few days while we worked on the faux brick wall, shelves, and painted the walls. We got all of our laundry hampers emptied out before we started, so it wasn't that bad. We weren't redoing the flooring so that definitely make these an easier. I could see if you were redoing the flooring during your laundry renovations, the time without your washer and dryer would definitely be a lot longer.​
Decide what to hire out vs DIY
This really just comes down to what type of projects you'll be doing as part of your laundry room remodel. Once you start talking about moving your washer and dryer…things could get a little more complicated. We're talking plumbing, electrical and gas lines here! Most of our plans for the laundry room involve just cosmetic changes, so we DIYed everything.​​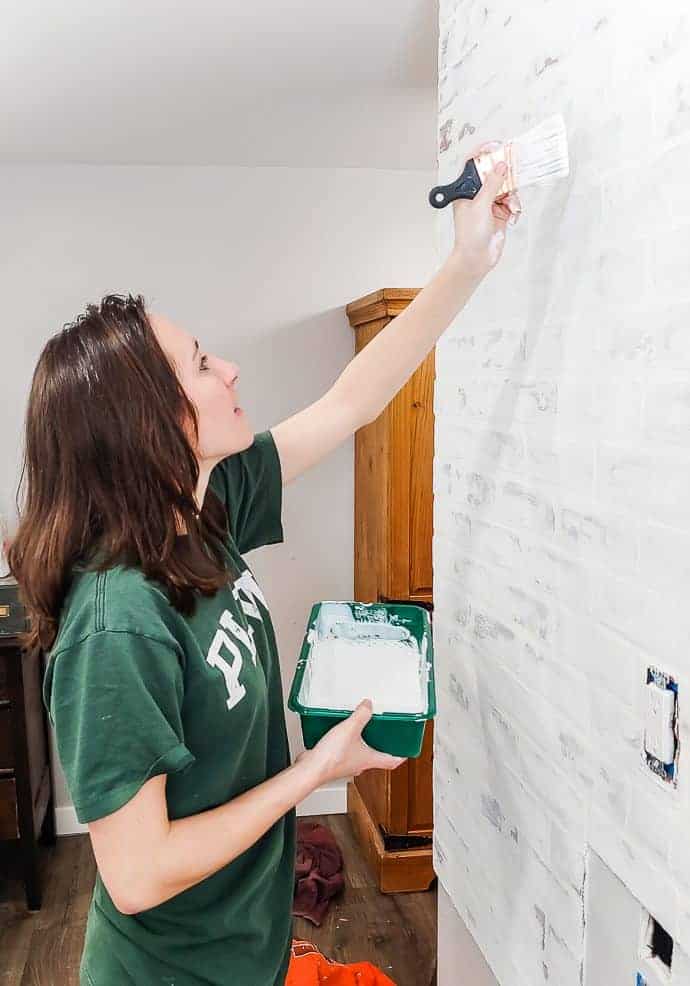 Consider adding a sink with pull-down spout
If you have the space for it, there is nothing better than having a sink in your laundry room. We were so stoked when we saw that the plumbing for a utility sink was all ready to go in the wall. The next step in our laundry room remodel is to build a cabinet to hold a beautiful farmhouse sink and add a faucet that has a pull-down spout. The convenience of having a sink right there is going to make a world of difference!
Do you have a place to fold clothes?
You'll probably end up enjoying your newly renovated laundry room a little more if you have a place to fold clothes. You'll see in our laundry room design plan that next to the sink cabinet, we're building a folding counter that goes on top of the washer and dryer. This will be such a nice surface to fold clothes on without having to worry about socks falling behind or in between the washer and dryer. ​

Make sure you have a handy place to store laundry detergent
Having easy access to your most used laundry supplies is KEY for an efficient laundry room. We added these floating shelves for storage which will serve as storage for some cleaning supplies in baskets and a good place to put the laundry detergent. Let's be honest – I'm also going to have fun decorating these shelves.
Update outdated plumbing connections
While you have the washer and dryer pulled back for laundry renovations, it is a GREAT time to update the "guts" of your laundry room. Consider updating your valves if they are older because the older they are, the more likely they will develop leaks later. Also, it is a good time to replace your hoses to the washer and dryer.​
Don't be afraid to be bold or try something new
If you like to play it safe with neutral colors or…dare I say it…boring designs, the laundry room is a great place to flex your design muscles. And, I get it, it can be nerve-wracking trying something new like a bold printed wallpaper. But here's the truth, chances are slim that your guests are EVER going to see your laundry room, unlike your kitchen. So if you have an idea of your laundry room, give it a go during your laundry renovations! ​​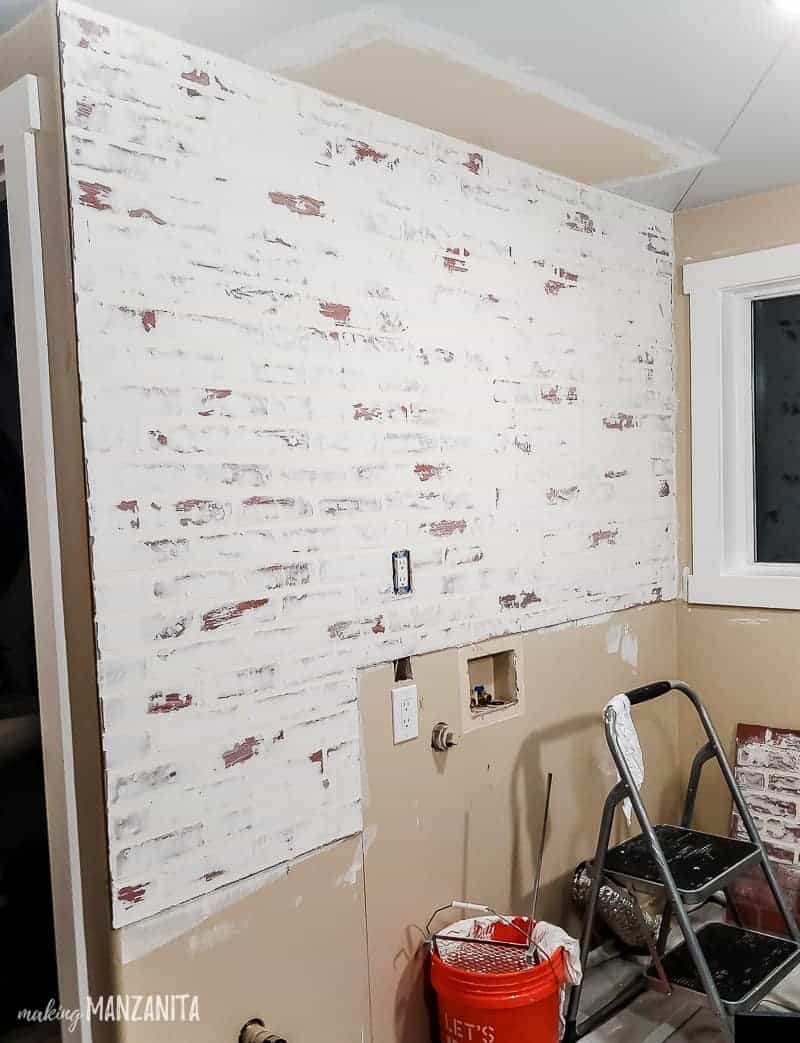 Make it beautiful
No one loves to do laundry (ok…well, no one I KNOW). But laundry can be less annoying if you have a beautiful place to do it. If you're going to be doing a laundry renovation, don't forget about incorporating some fun design elements for no other reason than it makes it look pretty. Was there anything wrong with the wall before? Nope, it was just fine. But that faux brick wall makes the room beautiful and I smile every time I walk into the room now.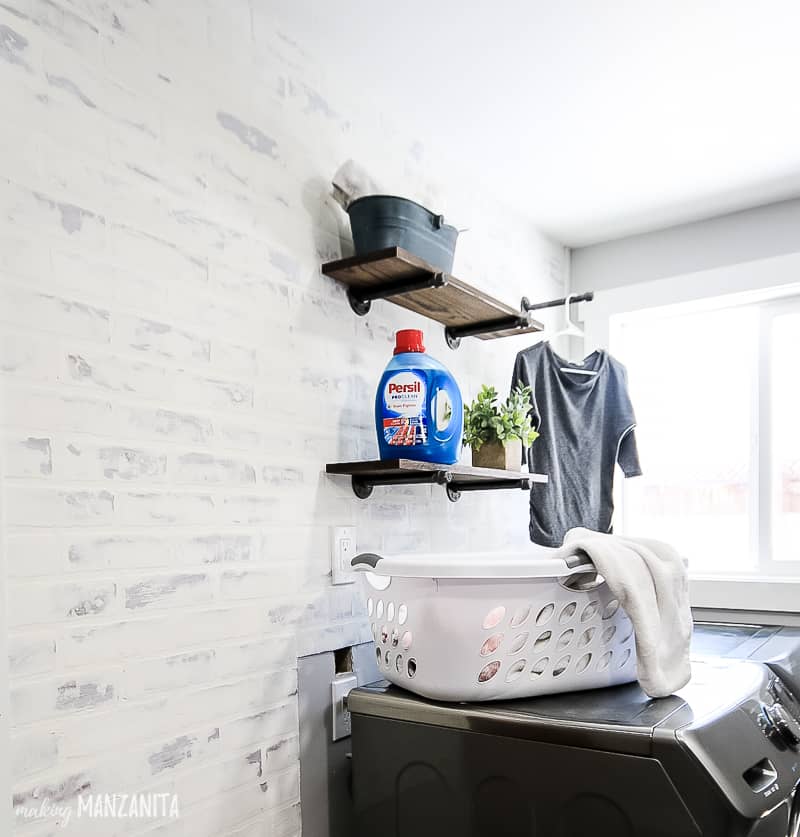 If you're planning a laundry room remodel, these 8 things should be considered before you dive right into laundry renovations. It is important to plan a few things out, like where you will do laundry while yours is out of commission and what you will hire out versus DIY. If you can swing it, try to incorporate a sink with a pull-down spout/faucet, an area to fold clothes and a place to store laundry supplies.
While you're renovating, it could be a great time to consider updating outdated connections and replacing hoses. Last, but not least, don't be afraid to be bold in your design choices and, of course, make it beautiful!​​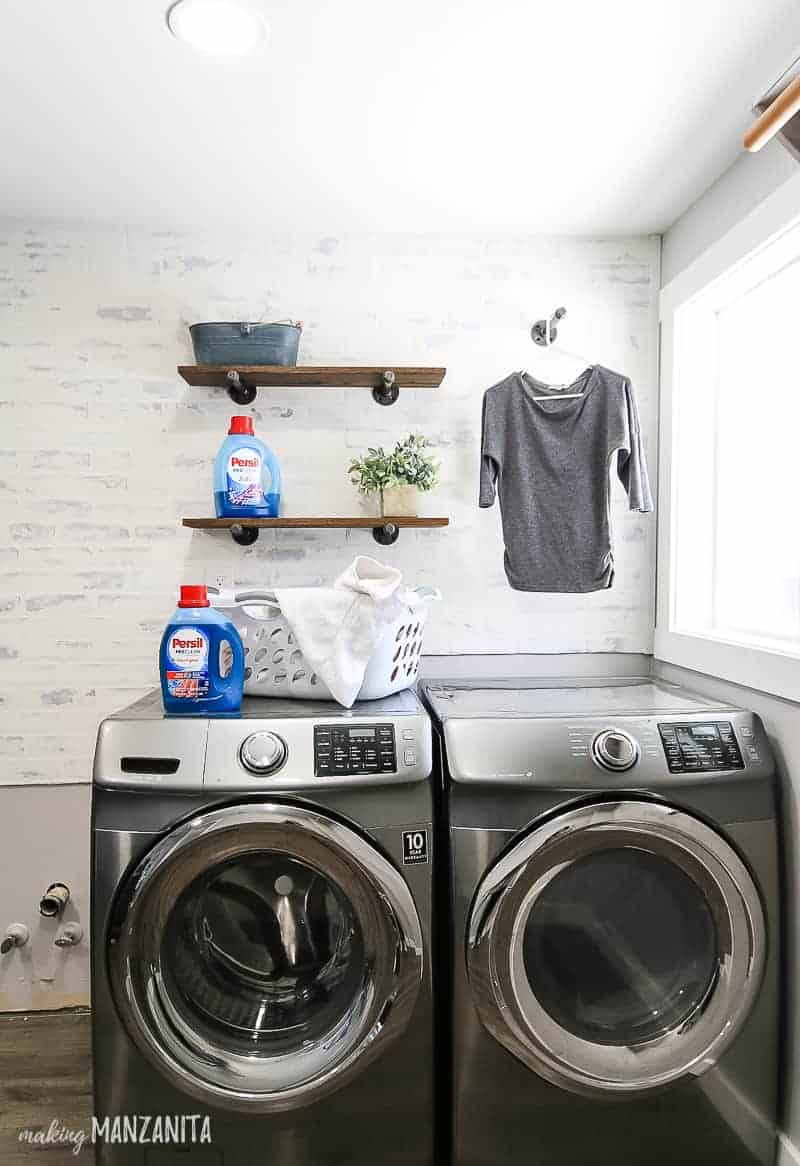 Now that we're well into these laundry renovations, I'm so excited to get it finished and share it all with you! Don't worry the tutorials for the faux brick wall & floating shelves shown here are coming up later this month!
Have you ever done a laundry room remodel?
Tell us how it went below in the comments!