Want to get your spices out of the kitchen drawer or cabinet? This DIY spice rack is the perfect solution! Download our free woodworking plans to build it yourself!
Thank you to Kreg for sponsoring this DIY spice rack! All opinions are entirely my own. This post also contains affiliate links, but nothing that I wouldn't recommend wholeheartedly. Read my full disclosure here.
The first mini project that we did in this house after moving in several years ago was getting our spices organized in our kitchen cabinet. We added in new spice containers and labels and it worked great. Until it didn't.
As we've added more and more spices to our repertoire, the small spice cabinet has gotten very cluttered and messy.
Every time I needed to get a spice, I had to move 5-10 things just to reach what I needed. It was driving me crazy and it was definitely time to do something about it.
We built this wooden spice rack to go on the wall over our DIY trash can in the corner of our kitchen. I love that there is only one layer of spices so I have easy access to everything I need while I'm cooking.
Getting your spices out of the cabinet, drawer, or pantry is a great way to free up a lot of space in your kitchen for storing other things. We all need more storage space in our kitchen, right?
Table of Contents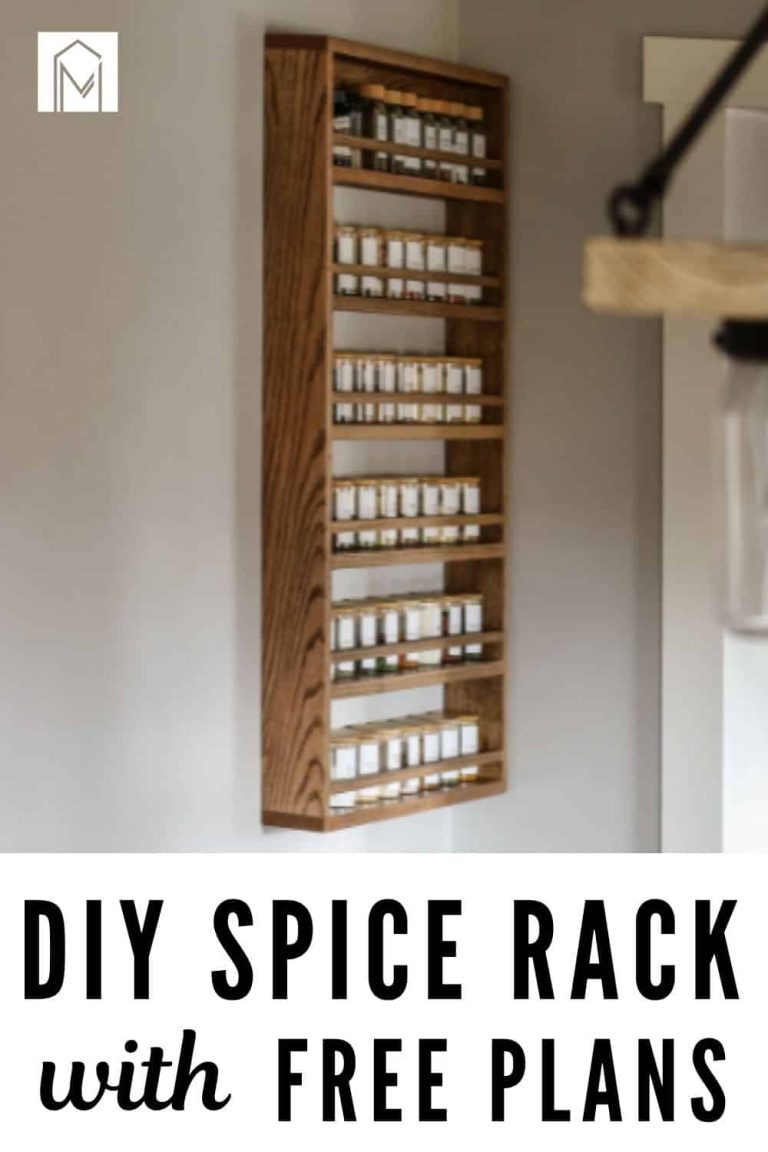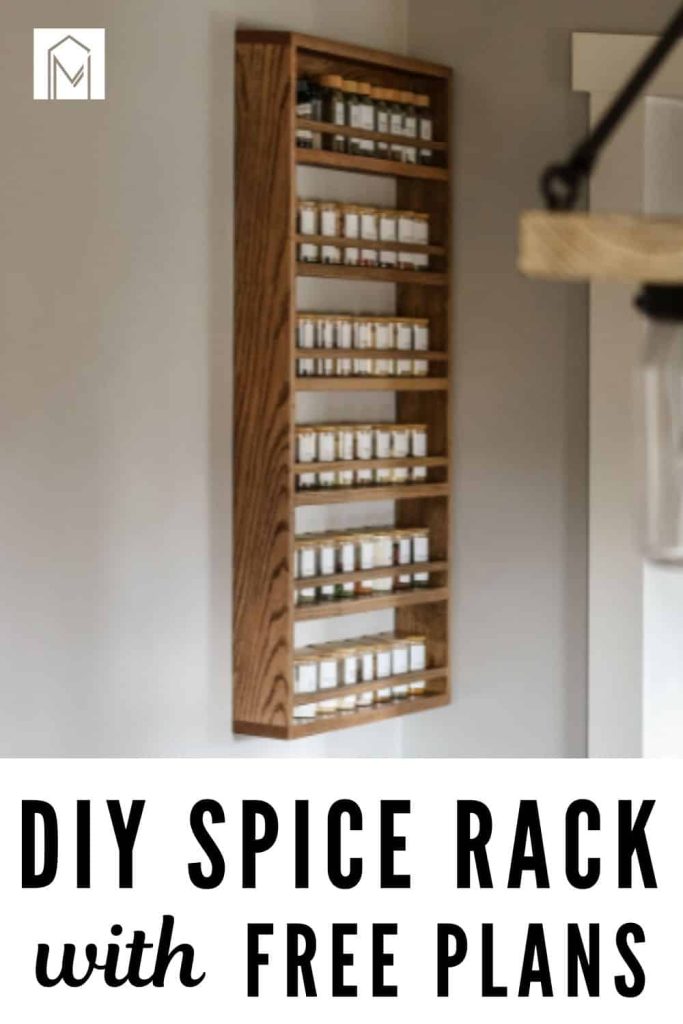 When we were designing this wall-mounted spice rack, we took extra care to make sure this would be an easy DIY project that is good for beginning woodworkers and incorporated easy joinery with pocket holes.
Kreg 720PRO Pocket Hole Jig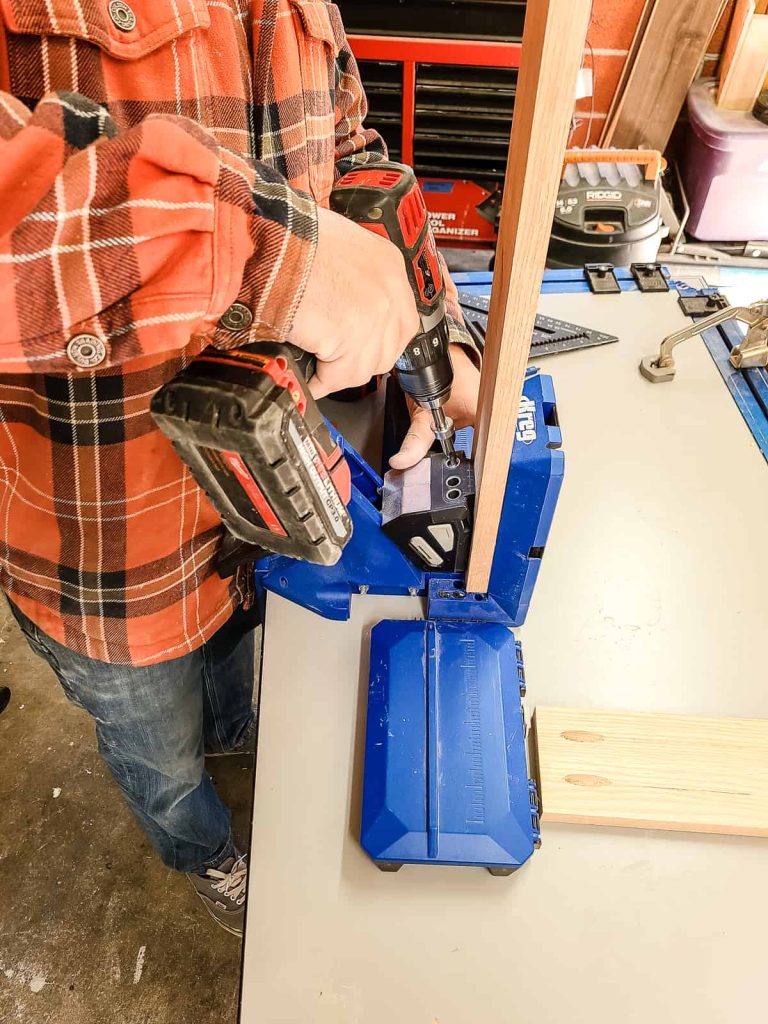 If you've been following Making Manzanita for a bit, you know that we are big fans of the Kreg pocket hole system.
We built a lot of projects using our original K5 Pocket Hole Jig, we even have a super detailed guide and video about how to use it that you can check out here.
In 2021, Kreg released brand new pocket hole systems that replaced the K4 and K5, and the upgrades are pretty awesome.
The new 720PRO (which we were using for this DIY spice rack) and the 520PRO (which replaced the smaller K4 system) were improved a ton, the most noticeable change being that they are easier to set up and use – score.
My favorite new feature of 720PRO is the clamp that you don't have to adjust anymore. You should clamp it down and it automatically adjusts to match the thickness of your wood, so cool, right?
Pocket hole joinery is definitely one of the easiest ways to join wood in woodworking projects. It's our favorite hidden weapon for beginning woodworkers!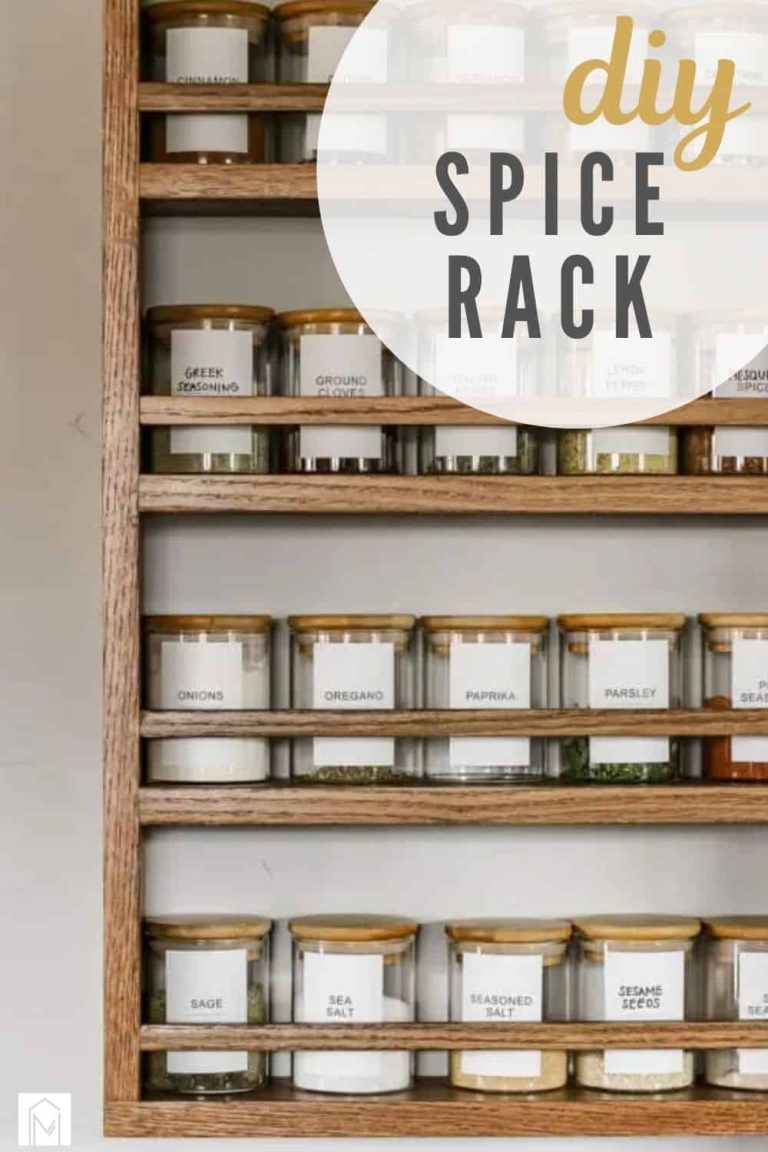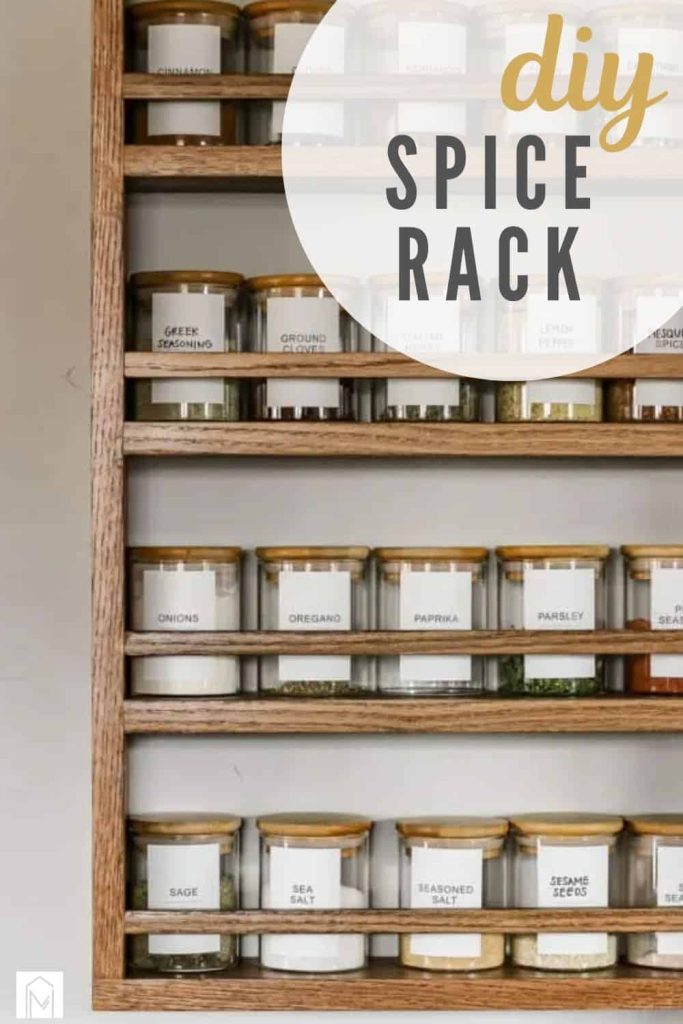 Want to learn more? I wrote a super detailed guide & created a video all about how to set up your Kreg 720PRO Pocket Hole and use it, so be sure to check that out too!
We teamed up with our friends Kreg again for these wall spice rack plans and are sharing them online for free, now available on KregTool.com!
Kreg's website is chocked full of so many easy-to-follow FREE woodworking plans! I promise that you are going to find so much inspiration while you're there! It is a goldmine!
Related – Projects that use a pocket hole jig
DIY Spice Rack: Video Tutorial
If you love DIY videos, don't forget to subscribe to our YouTube channel!
Ready to see the end result of the DIY spice rack?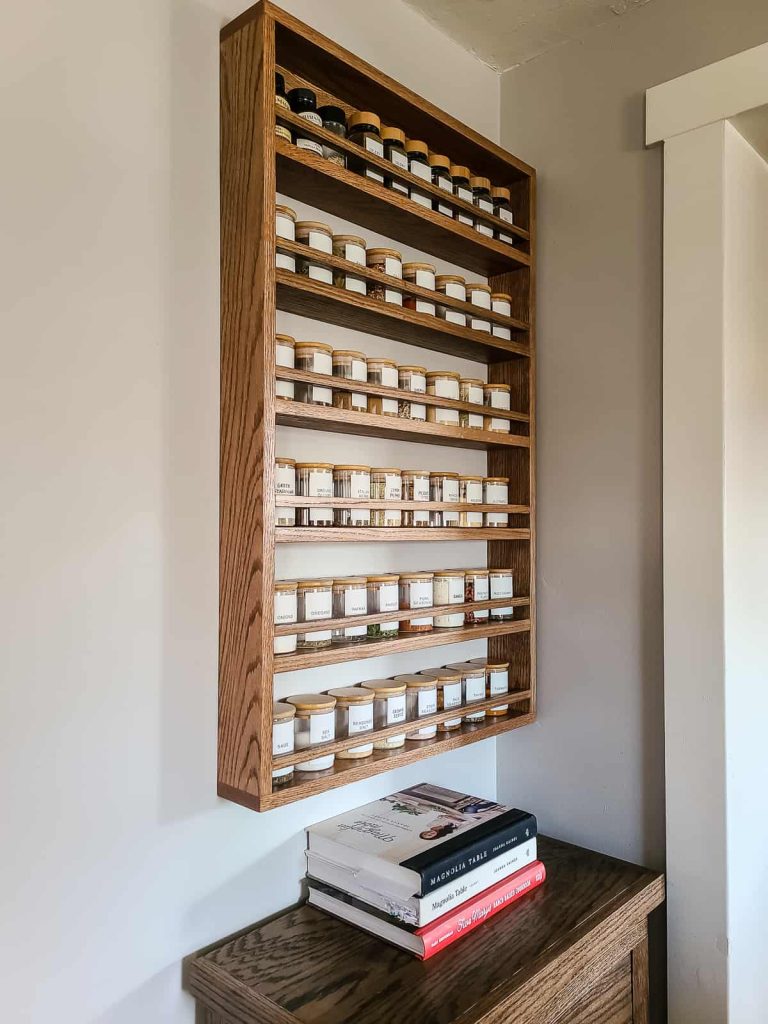 Pretty gorgeous, right? I'm ob-freakin'-sessed!
I'm so glad that we made the change to storing our spices on the kitchen wall and got them out of the upper cabinet. Now I'm planning to use that cabinet space to organize my food storage containers better, which is another pain point in our small kitchen. More on that later!
Even though we've only had the DIY spice rack for a few days now, I'm already feeling the benefits. It is an easy reach to grab the spices I needed while I'm busy cooking dinner. Quickly and easily finding what I need is one of the many benefits of an organized kitchen!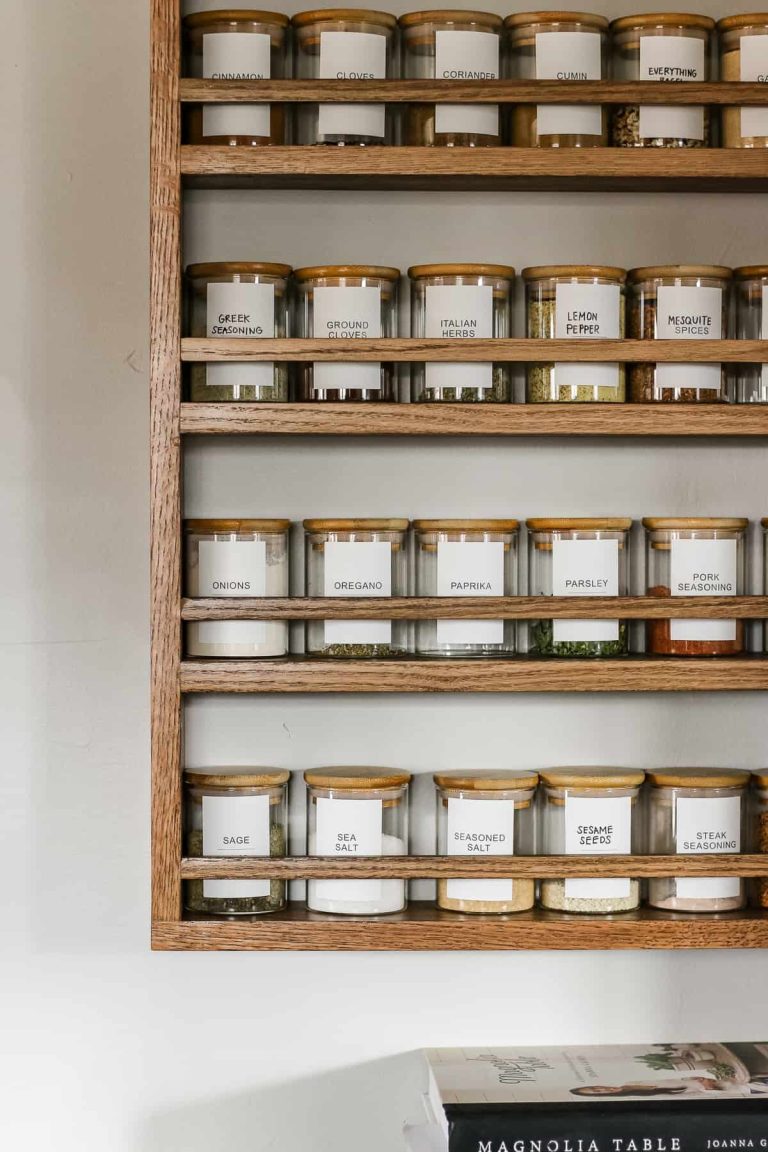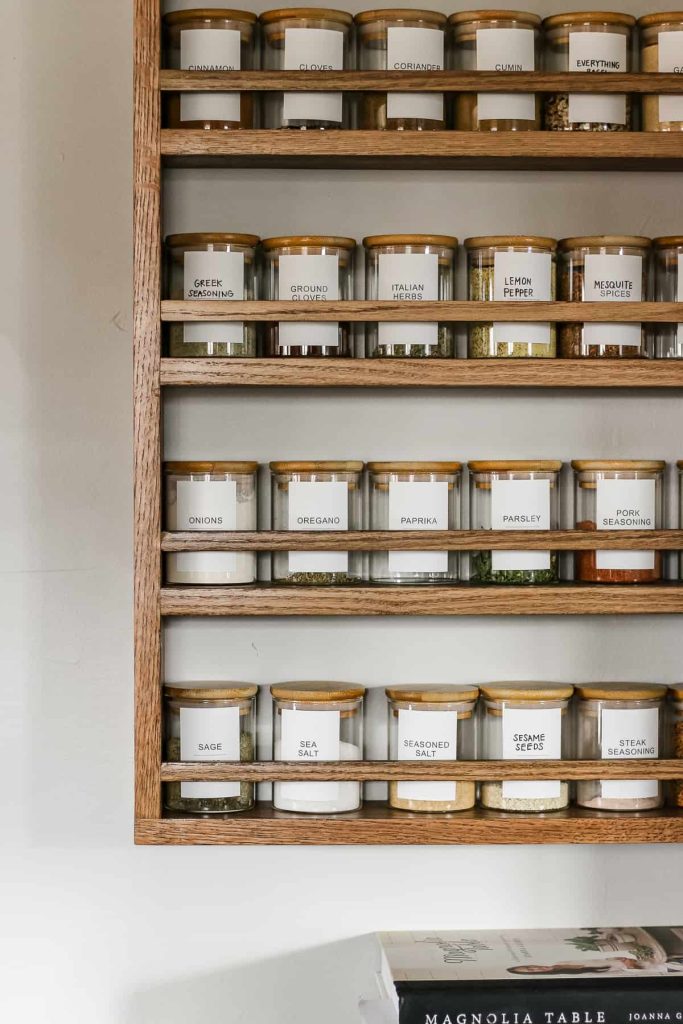 One of the other things that we did when we switched to this new DIY spice rack is swapping out the containers for these glass spice jars, which are a slightly large size so I can fit more in each jar.
The smaller spice jars we were using before definitely didn't have enough space and I was constantly having to refill them. I knew there had to be a better way!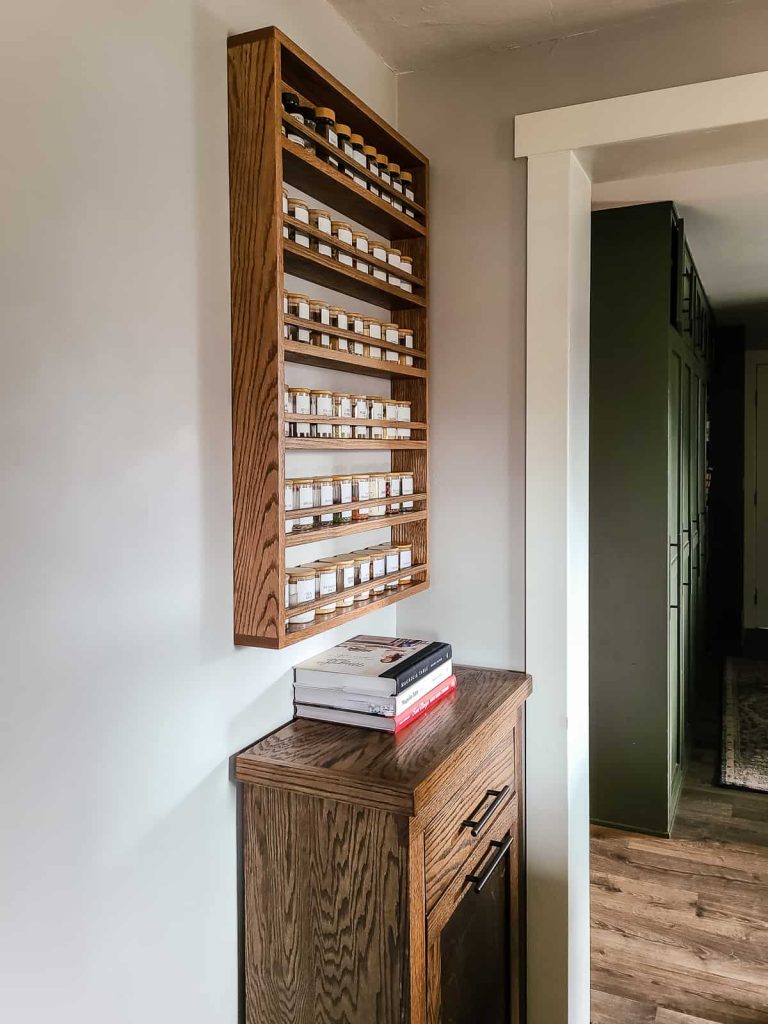 However, something we DIDN'T plan for is the hanger board on the top shelf that we used to mount it to the wall. That made it so that we couldn't use the larger spice jars on the top shelf because they couldn't fit. No biggie, we just found some smaller square jars that fit great. I'm keeping the less-frequently used spices up there.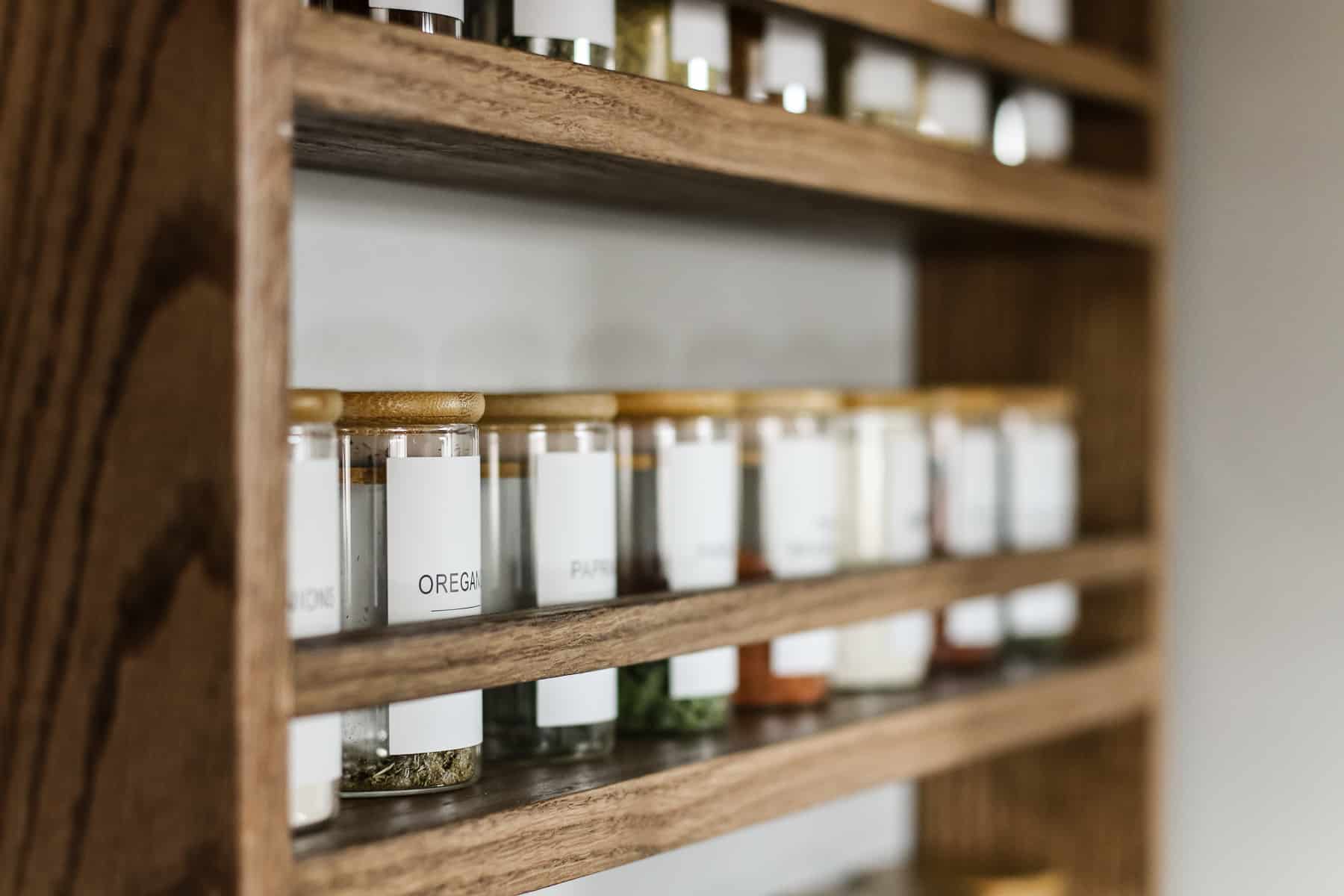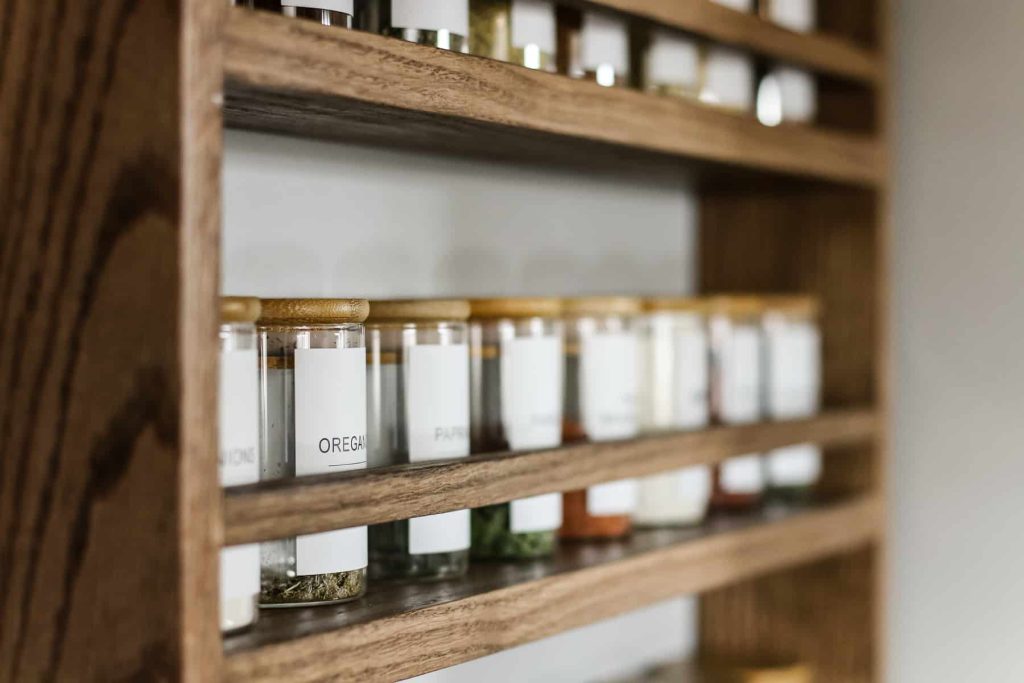 We also added the new gorgeous spice labels. If you're wanting to get new spice labels for your kitchen, I have a roundup coming for you next week with tons of ideas, so stay tuned.
I'm now a firm believer that if you have spare wall space in your kitchen, it is definitely the best place for your spices! Free up the cabinet and drawer space and get those spices out onto the wall.
Want to build this spice rack? Here's what you'll need!
Tools Needed
Materials Needed
¾" x 4" x 10' Oak (Qty 2)
¾" x 4" x 4' Oak (Qty 1)
½" x 6" x 3' Oak (Qty 1)
¾" x 2" x 2' Oak (Qty 1)
80 – 150 grit sandpaper
1 ½" finish nails (use brad nails if you use a brad nailer, of course)
Wood glue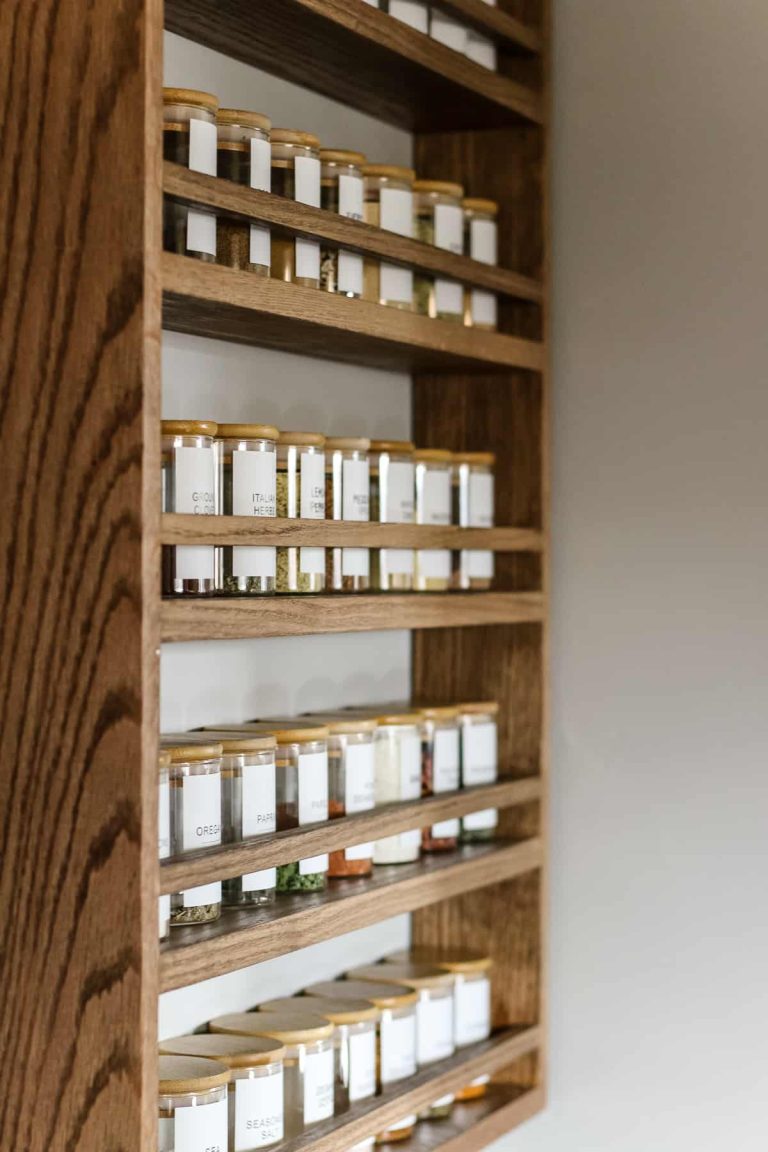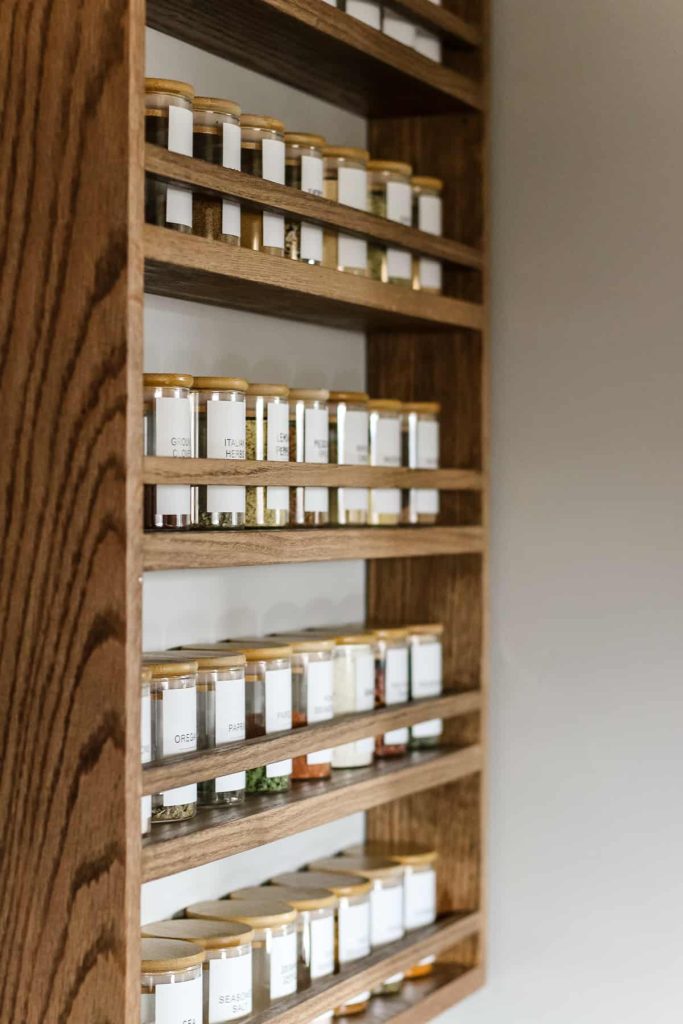 FAQs about spice racks
What kind of wood do you use for a spice rack?
You can use any type of wood for your spice rack. We used oak because it's a beautiful hardwood that stains nicely.

If you want to use a cheaper type of wood, like pine, birch, or poplar, keep in mind that they can be harder to stain and may appear blotchy. In that case, you may want to paint the spice rack instead. Using a pre-stain conditioner can help though.
How deep should a spice rack be?
An average-sized spice jar is approximately 2″ – 2.5″, so you'll need the spice rack to be at least that deep. If you are purchasing new spice jars, look at the measurements on those before designing your own spice rack.
How tall should a spice rack be?
For an average store-bought spice jar, you'll need at least 3.5″ – 5″ of height on your spice rack.
How much space should be between spice rack shelves?
Even though the spice jars may need 3.5″ – 5″ tall, if you are going to have multiple shelves to your spice rack, you'll want more space so you can easily pull the spice jar out from the shelf.

We spaced our spice shelves out 5 1/2″ inches.
Is it better to store spices in glass or plastic?
Glass is recommended over plastic for spice jar storage because, unlike plastic, glass is non-porous. Spices will stay fresh for longer in glass jars.
Should spices be kept airtight?
Yes, your spices definitely need to be kept in airtight containers. Exposing the spices to air causes them to lose flavor faster.
Do spices expire?
Well, they don't "technically" expire…meaning that they won't go back and become unsafe to eat. However, spices and herbs will lose their flavor over time.

The expiration dates or Best By dates on the spice containers will indicate how long the spices will retain their flavor. Most ground spices are best when used within 6 to 12 months, but whole spices will last longer.

You can check to see if spices are past their prime by smelling them or looking to see if they've lost their color. If they don't smell or their color has gone away, it's best to replenish them.
What is the best size for a spice jar?
Well, this is a bit of personal preference. You'll see spice jars in sizes from 2 oz up to 8 oz.

I went with 7.5 oz for our new glass spice jars, which are on the larger size. This allows me to buy certain spices in larger quantities and refill the spice jars less often.
How many spices do you really need?
Our spice rack has room for 48 spice jars (6 shelves with room for 8 jars on each shelf), which is probably overkill but that is how many spices we use regularly.

You could probably get away with only needing 20 or so spices if you're trying to get creative with small kitchens. You will just not have as much flexibility in the type of recipes you can make or will need to use different spices than what the recipe calls for sometimes.

Here are the spices we're including:
Kosher Salt
Black Peppercorn
Chopped Onions
Mesquite Seasoning
Garlic Powder
Garlic Salt
Red Pepper Flakes
Lemon Pepper
Greek Seasoning
Celery Salt
Cinnamon and Sugar Mix
Sea Salt
Parsley
Seasoning Salt
Ground Cloves
Whole Cloves
Cayenne Pepper
Ginger
Bay Leaves
Cinnamon
All Spice
Cilantro
Italian Seasoning
Thyme
Chili Powder
Onion Powder
Cumin
Nutmeg
Basil
Dill Weed
Caraway Seed
Cajun Seasoning
Sesame Seeds
Ground Pepper
Celery Seed
Oregano
Taco Seasoning
Cinnamon Sticks
Rosemary
Salt
Chipotle Blend
Gooba Dust
Cream of Tartar
Everything Bagel Seasoning
Coriander
Ground Mustard
Sage
Beef Seasoning Blend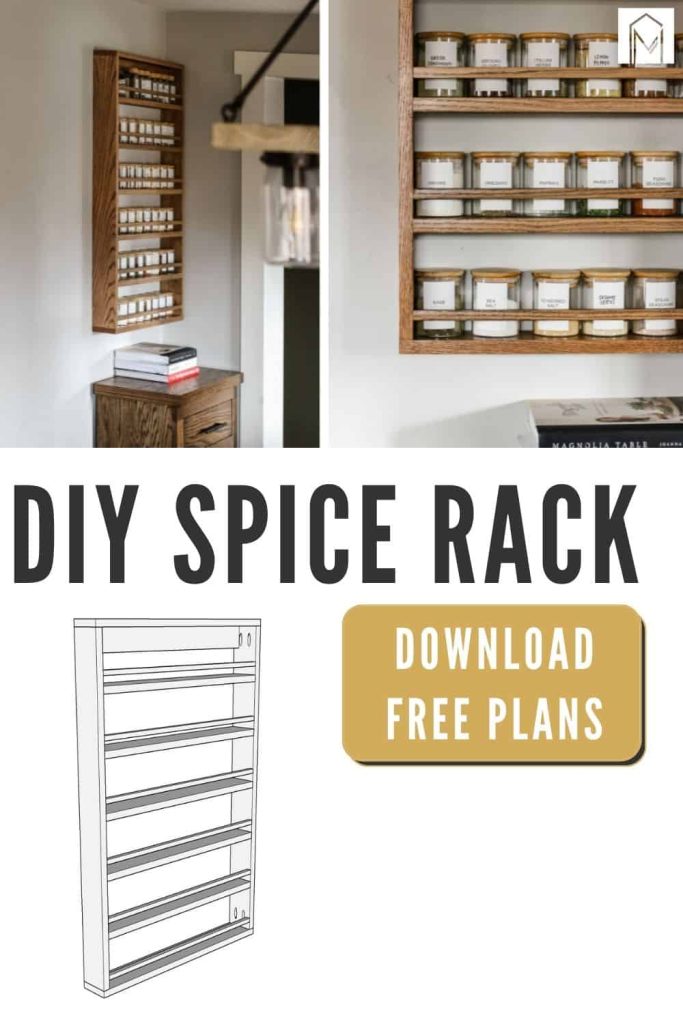 If you want to build your own DIY spice rack? We've done all the hard work for you! All you need to do is hop over to Kreg's website and check out the full tutorial.
At the bottom of the tutorial on Kreg's website, you'll also see a link to download the free plan to get all of the detailed measurements and a cut list!
Do you have any other questions about how to make a spice rack?
Let us know in the comments!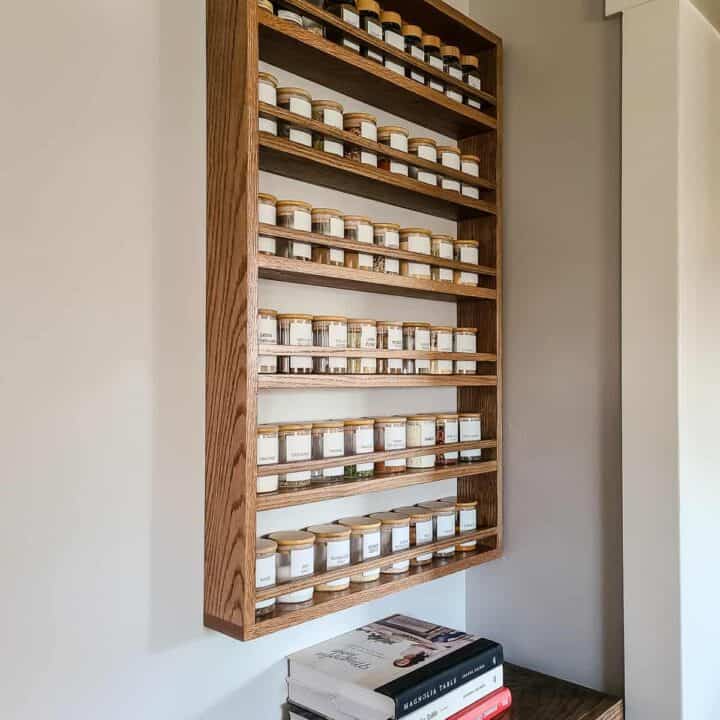 How to make a DIY spice rack
Want to get your spices out of the kitchen drawer or cabinet? This DIY spice rack is the perfect solution! Download our free woodworking plans to build it yourself!
Materials
¾" x 4" x 10' Oak (Qty 2)
¾" x 4" x 4' Oak (Qty 1)
½" x 6" x 3' Oak (Qty 1)
¾" x 2" x 2' Oak (Qty 1)
80 - 150 grit sandpaper
1 ½" finish nails (use brad nails if you use a brad nailer, of course)
Wood glue
Tools
Miter saw
Table saw (or circular saw)
Tape measure 
Drill
Impact driver
Orbital sander
Level
Finish Nail Gun
Clamps
Router
Router Table
Instructions
Cut wood to dimensions in the plans
Drill the pocket holes
Make the Keyholes
Lightly sand and shape the wood pieces
Assemble the box
Attach the shelves
Attach the square dowels
Attach the Hanger Board
Fill Pocket Holes
Fill and light sand the entire spice rakc
Stain and seal the entire spice rack
Hang up your DIY spice rack
Fill with jars and spices