Looking for a way to organize your busy life? Here's how to create a command center on fridge, which is your solution to your crazy schedule.
Life gets crazy. It just does. To do lists, renovations, DIY projects, work schedules, juggling children between working parents, organizing child care, keeping up with the household chores…not to mention, you will probably be asked what's for dinner 1,427 times today. It literally makes my head spin. With back-to-school right around the corner, I'm sure you're feeling the pressure to get your life a little more organized too! This guide on how to create a command center on fridge to organize your life will help turn your overwhelming schedule into an organized "at-a-glance" view of what's going on with your family. Also…it's cute.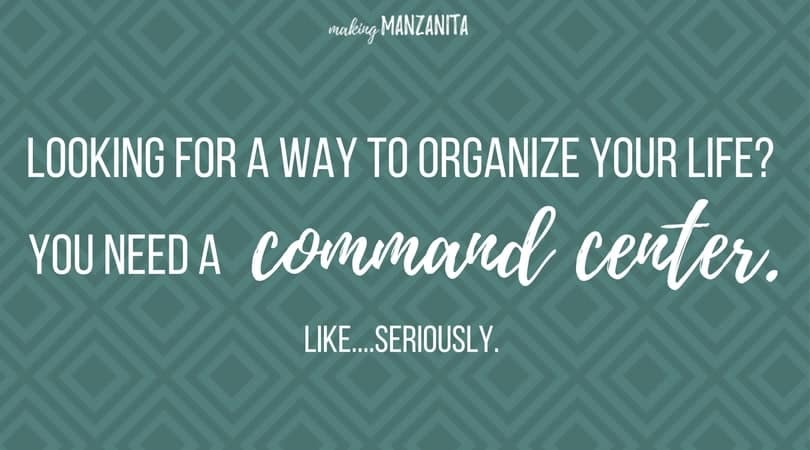 I work from home (both in the Commercial Real Estate world and, of course, this blog and my Etsy store). For the last 6 months or so, my hubby has also been home full time and has started his own business doing residential real estate ( Manzanita Realty for all you local Central Oregon readers 🙂 ). Needless to say, our lives have changed dramatically since then. We now have to work out alternating work schedules to make sure one of us is available to watch our little guy. Since we're now running 4 businesses out of our house, if you count my day job….things can get a little hectic. We were desperately in need of a system to organize our life and keep up with all of our to-do's.
Enter the command center on fridge. We chose to create the command center on our fridge because, frankly, we didn't have space for it anywhere else. We have an open concept in our main living area. So, you can see the fridge from almost everywhere in the main living area, which comes in handy when it's 4pm and you're sitting in the living room wondering what you were planning on making for dinner. Now, I literally get giddy when I fill out our weekly calendar. It's fun and it helps keep our family organized, which is crucial in this very busy season of life.
Before you hop right in to create your own command center, it's important to take a step back and really think about why you want a command center and what you want it to feature. For instance, do you need to organize mail, control paper clutter and round up the kiddo's homework or do you want to plan your meals and create a family calendar? Here's what we were looking for when we created our command center on fridge:
Weekly calendar to plan out work schedules and meetings
Weekly meal plan
Visual to-do list for major projects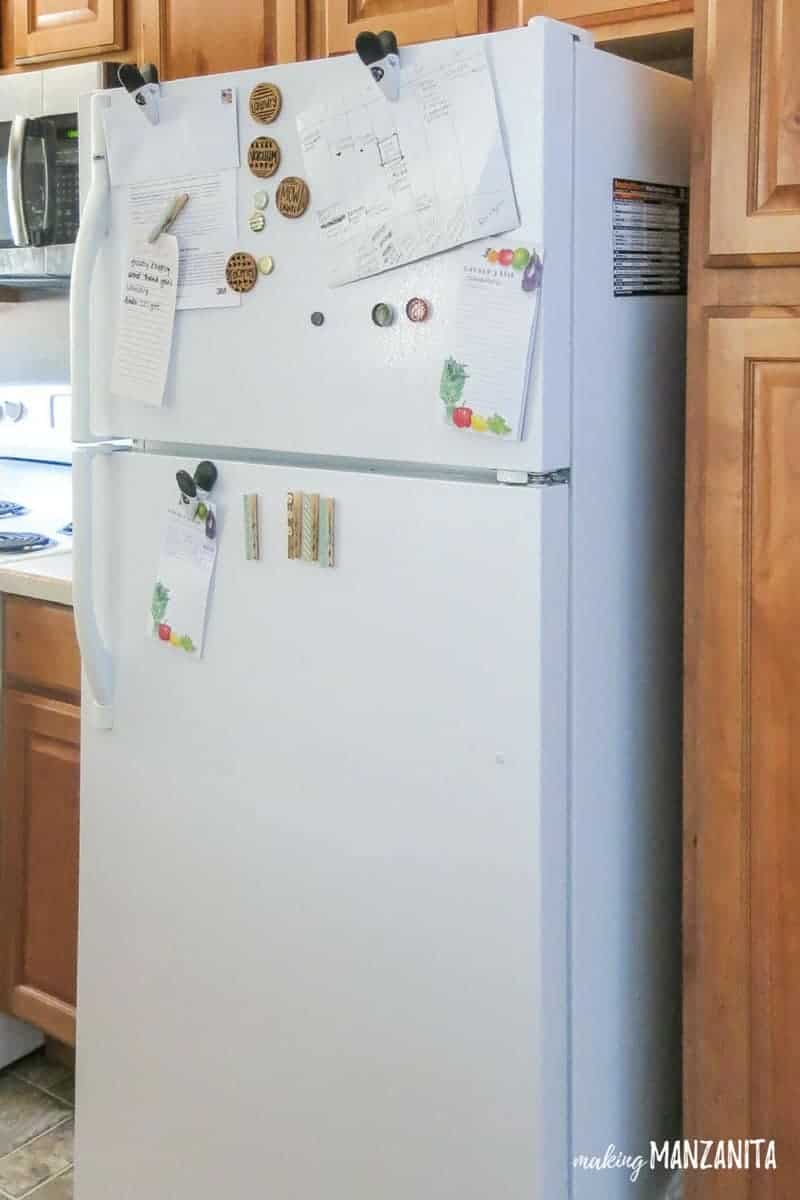 This is what our fridge looked like before we added our command center. Messy… cluttered… and a little bit boring.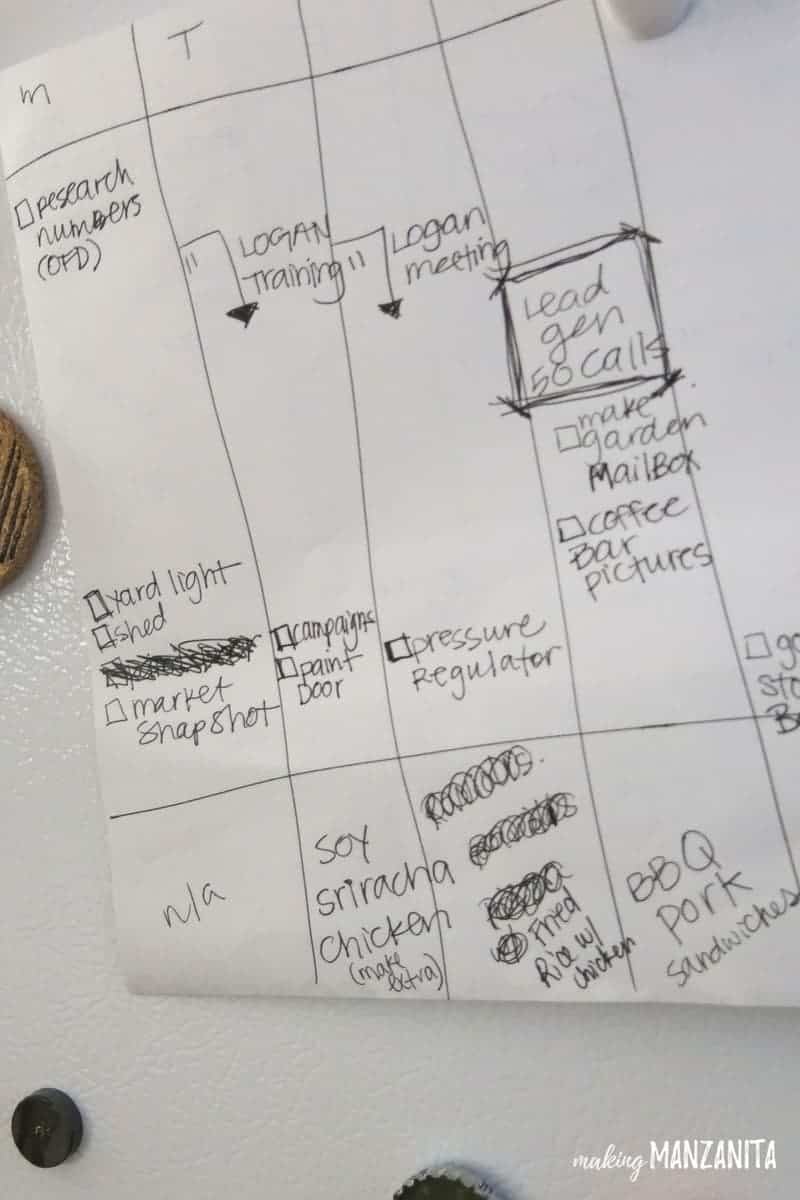 We had already started planning out our weeks together, but we were just drawing it on to a blank sheet of paper every day and putting it on the fridge. Nothing about this made me what to cross anything off the to-do list.
This post contains affiliate links, but nothing that I wouldn't wholeheartedly recommend anyway! Read my full disclosure here.
Supplies for command center on fridge to organize your life:
I'm going to break the command center on fridge tutorial here up into two parts, the weekly calendar and meal plan on the top of the command center on fridge & the to-do list on the bottom. 
---
Weekly Chalkboard Calendar and Meal Plan

Step 1. Measure & plan your command center.
We wanted to create a large, chalkboard weekly calendar on the top of the command center. I measured the area on the freezer door and determined the size of my calendar.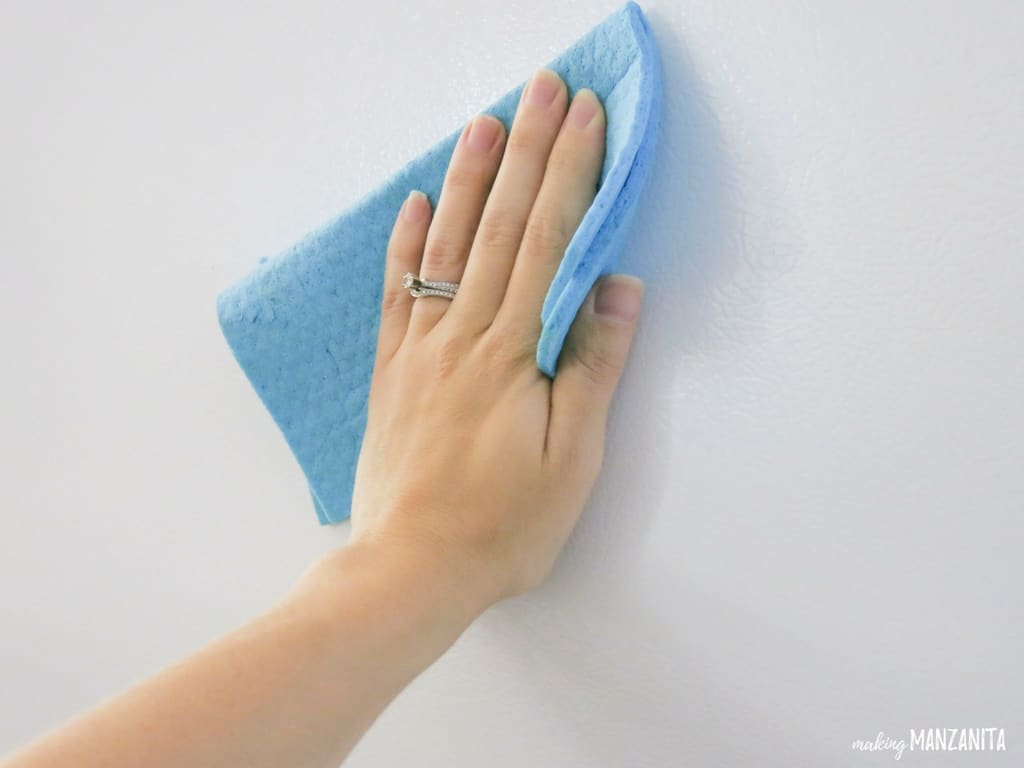 Step 2. Clean fridge door
Before applying the vinyl to the door, you definitely want to have a nice clean surface. Remove all magnets and wipe it down with a multi purpose cleaner.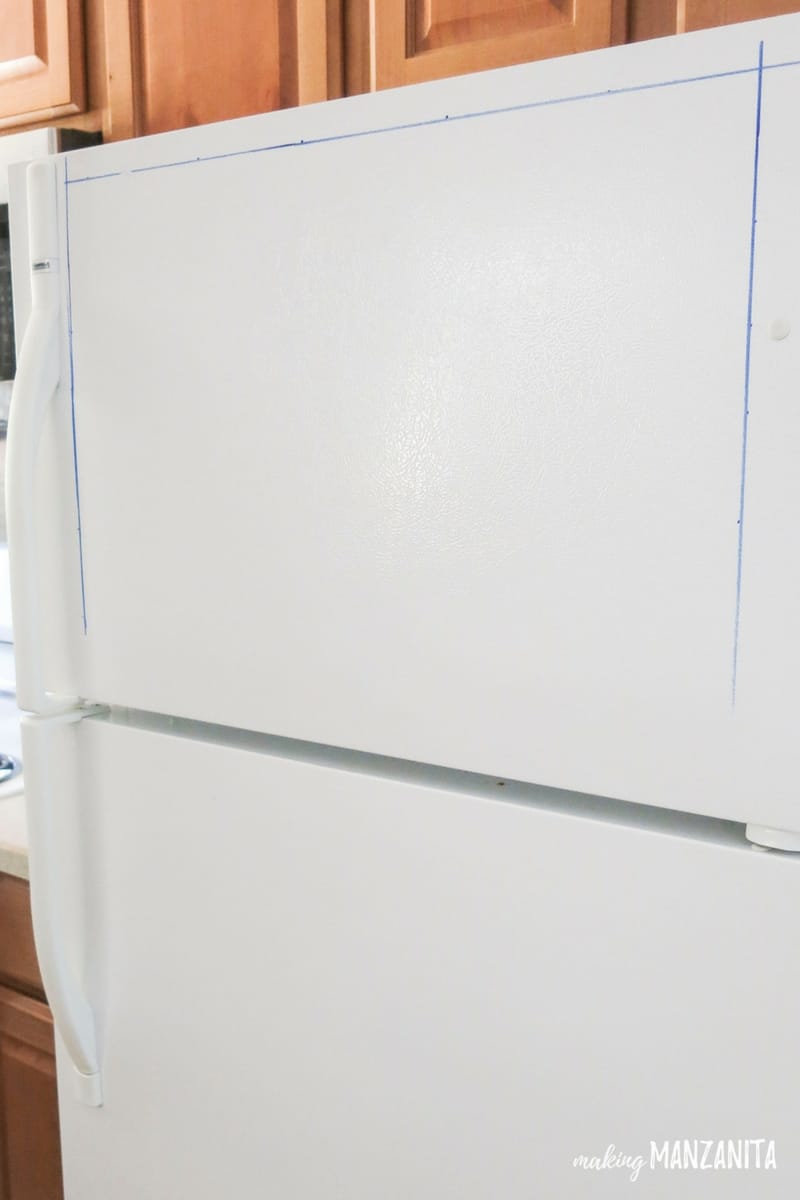 Step 3. Mark guide lines on fridge door.
Using a dry erase marker, draw in some guide lines where you will put the vinyl. Be sure to use a level to make sure they are straight.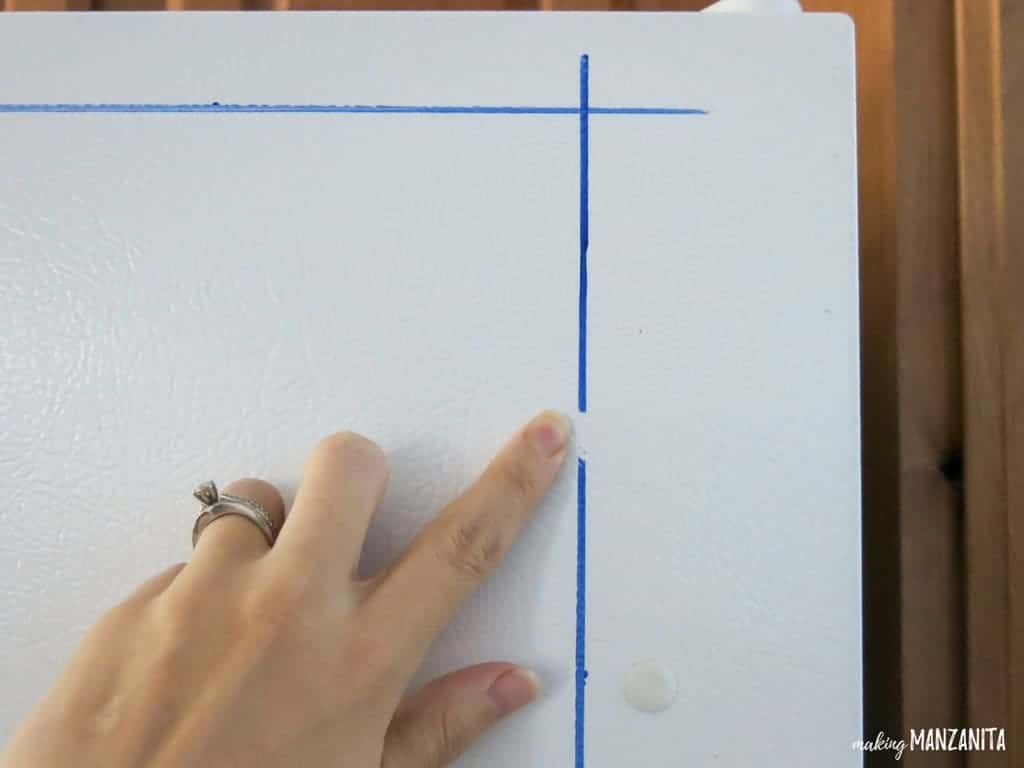 The dry erase marker is perfect because you can easily erase it if you mess up and when you're finished.
Step 4. Cut vinyl chalkboard.
I used my rotary cutter for this and it was so simple to keep the line nice and straight.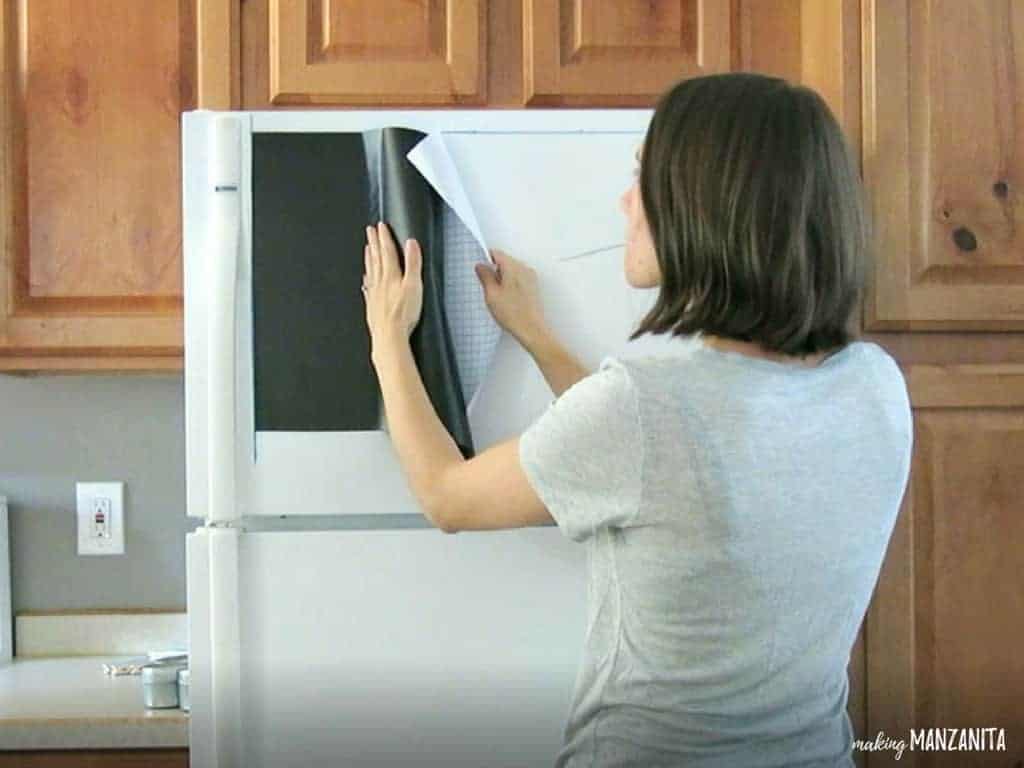 Step 5. Apply vinyl to fridge.
Applying the vinyl to fridge can be tricky, but the key here is that you definitely want to purchase the REPOSITIONABLE vinyl. Not only because someday you may want to be able to remove the command center from the fridge, but it helps being able to pick it back if you get a large bubble or it's not straight (both of which happened to me when I applied the vinyl 🙂 ).
Start on one side of the calendar and peel off a small sliver of the backing (about 1 inch or so).
Slowly continue pressing the vinyl onto the fridge and pushing out all air bubbles as you go with your hand or a credit card.
GO SLOW! Rushing will definitely create air bubbles under the vinyl, so take your time.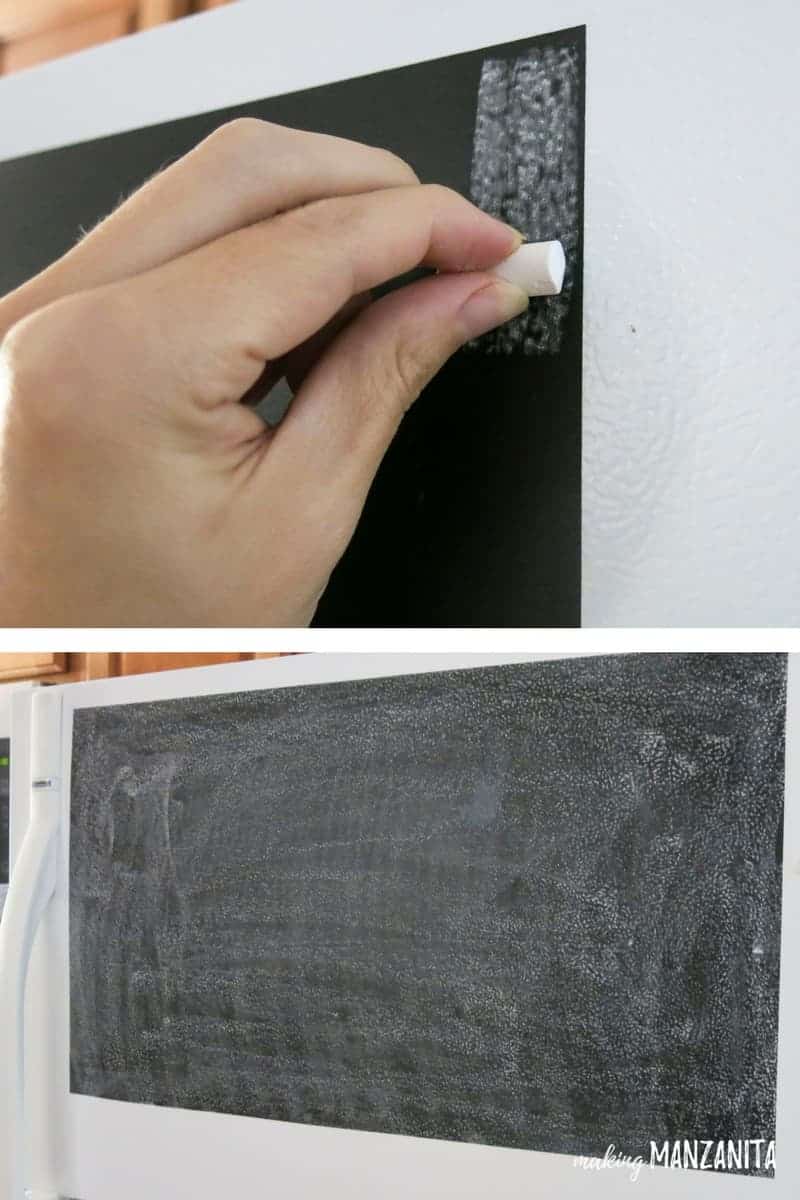 Step 6. Season your chalkboard.
This step is very important the life of your chalkboard. Seasoning your chalkboard helps the letters to erase better and not leave the faint lines in the background after they get erased.
I actually continued seasoning our chalkboard for the first few weeks every time I erased our board.
Seasoning a chalkboard is simple. All you do is take some chalk, turn it on its side and rub the chalk all over the chalkboard and then erase.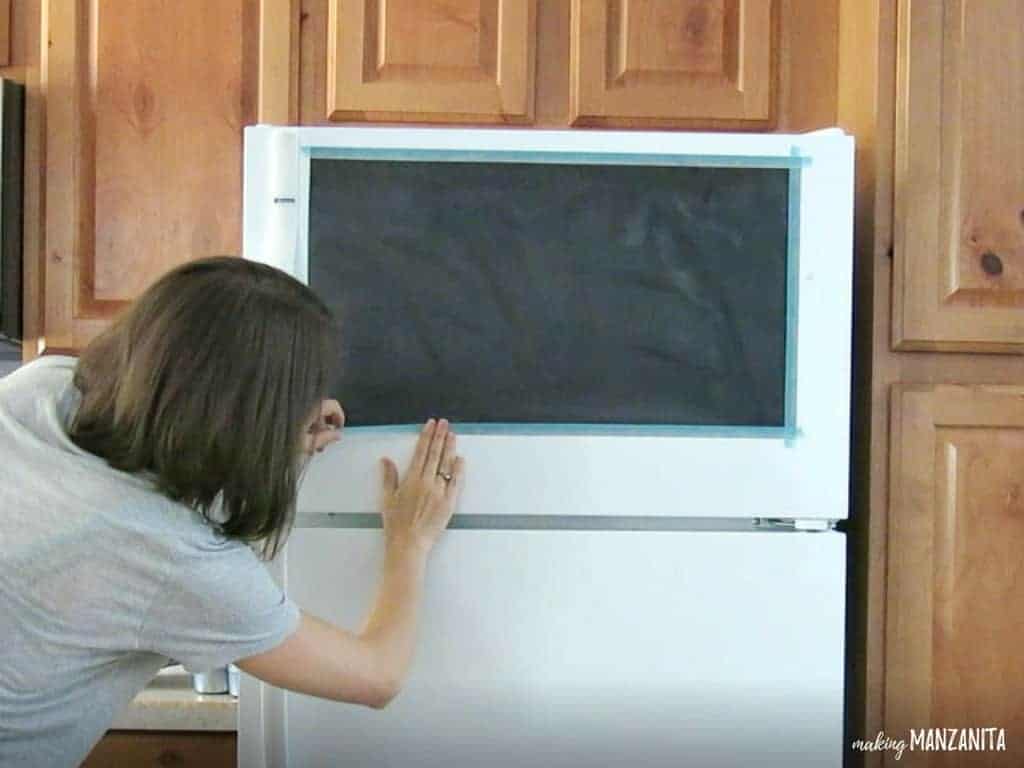 Step 7. Frame out the vinyl with washi tape.
This part is optional, but I think it added some cute character to the command center. I just ran washi tape over all of the edges of the vinyl to create a frame.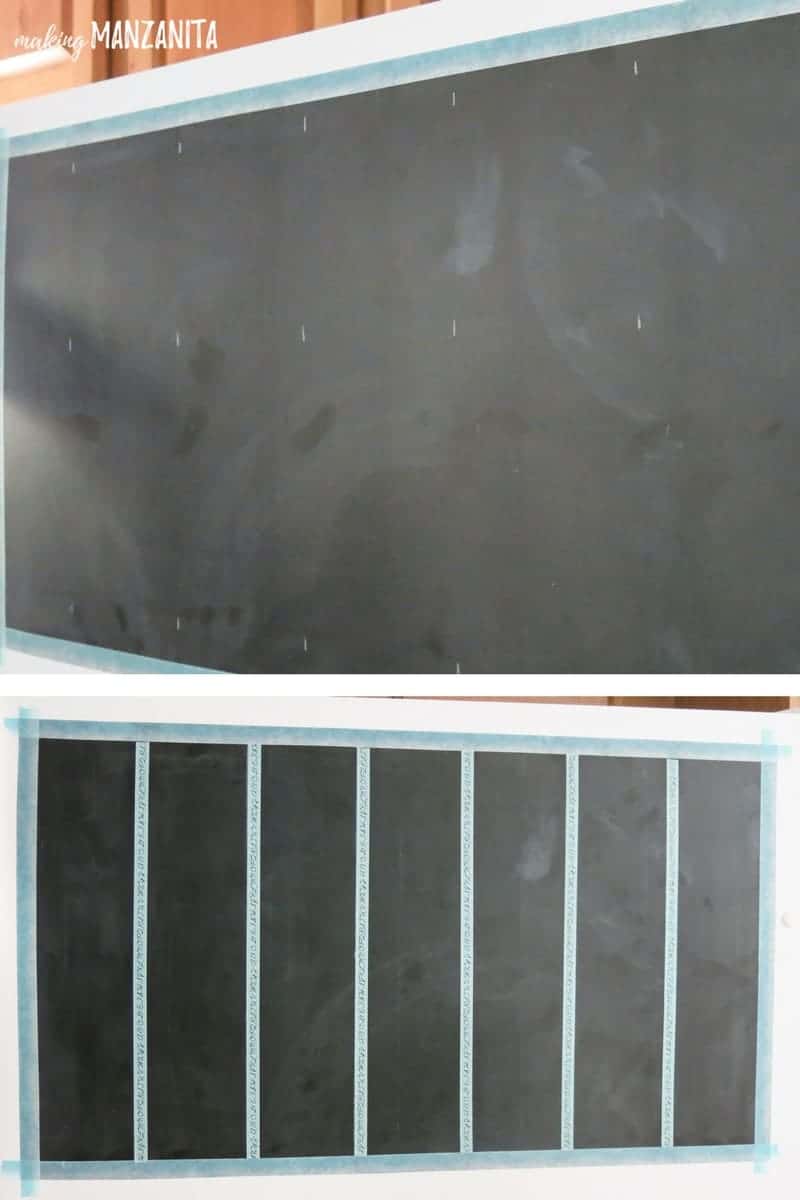 Step 8. Add washi tape lines.
For some reason, this part was realllllly hard for me. Haha. Maybe I needed another cup of coffee or something, but I just couldn't get the math right here or the lines straight. So, if you have to do this part a couple times…. you're in good company, friend.
True story: I was so proud when I finally got all the washi tape on and it was straight….and then Logan looked at me and quietly said there was only 6 days on the calendar. Haha!
At that point, I stepped away and picked it up again later when I wasn't so frustrated!
Here's the quick math: the entire width of the vinyl INSIDE of the washi tape frame + the width of your washi tape, for instance 5/8 inch ÷ 7 = this is how far apart your lines should be.
Use your tape measure and level to make light lines on the vinyl chalkboard with chalk.
Before putting down your washi tape, take a step back and look to make sure the lines are straight, the math looks great and count to make sure there are 7 days of the week.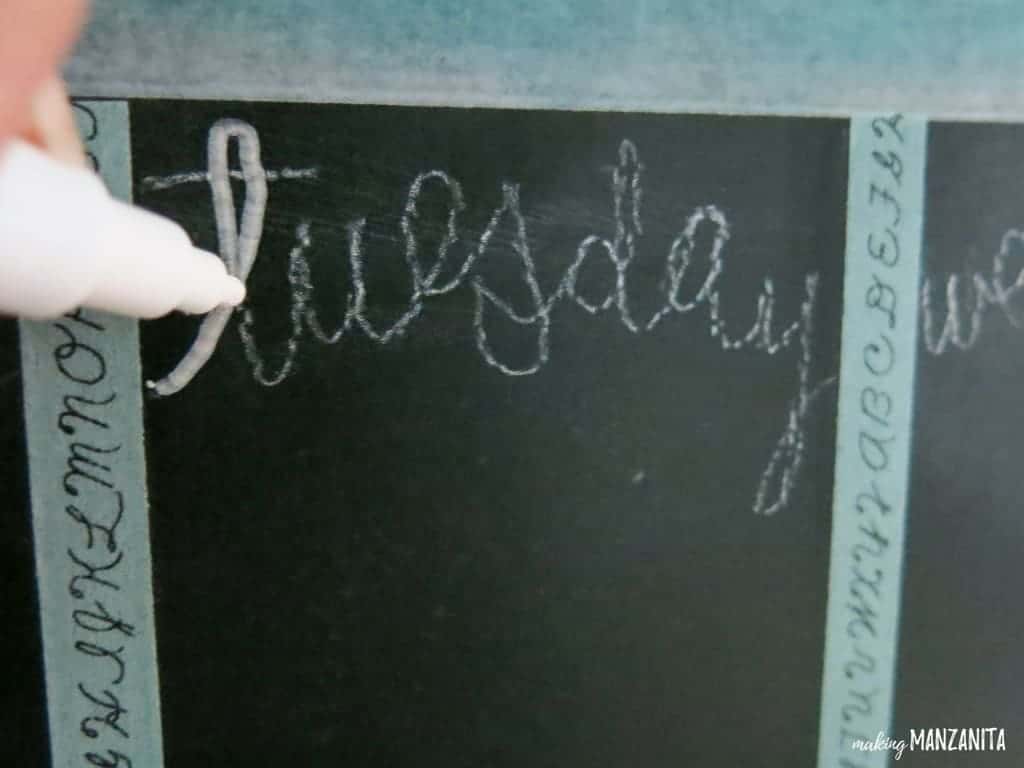 Step 9. Write in your days of the week.
I totally freehanded this part. To start, I wrote out the words with regular chalk so I could make sure it all fit and looked good.
Then I went back and traced the letters with chalk marker. I did this because I didn't want to have to worry about the days getting erased all the time. The chalk marker can be erased with water if I wanted to.
The rest of the calendar that we fill in weekly is done with regular chalk so it's easy to erase.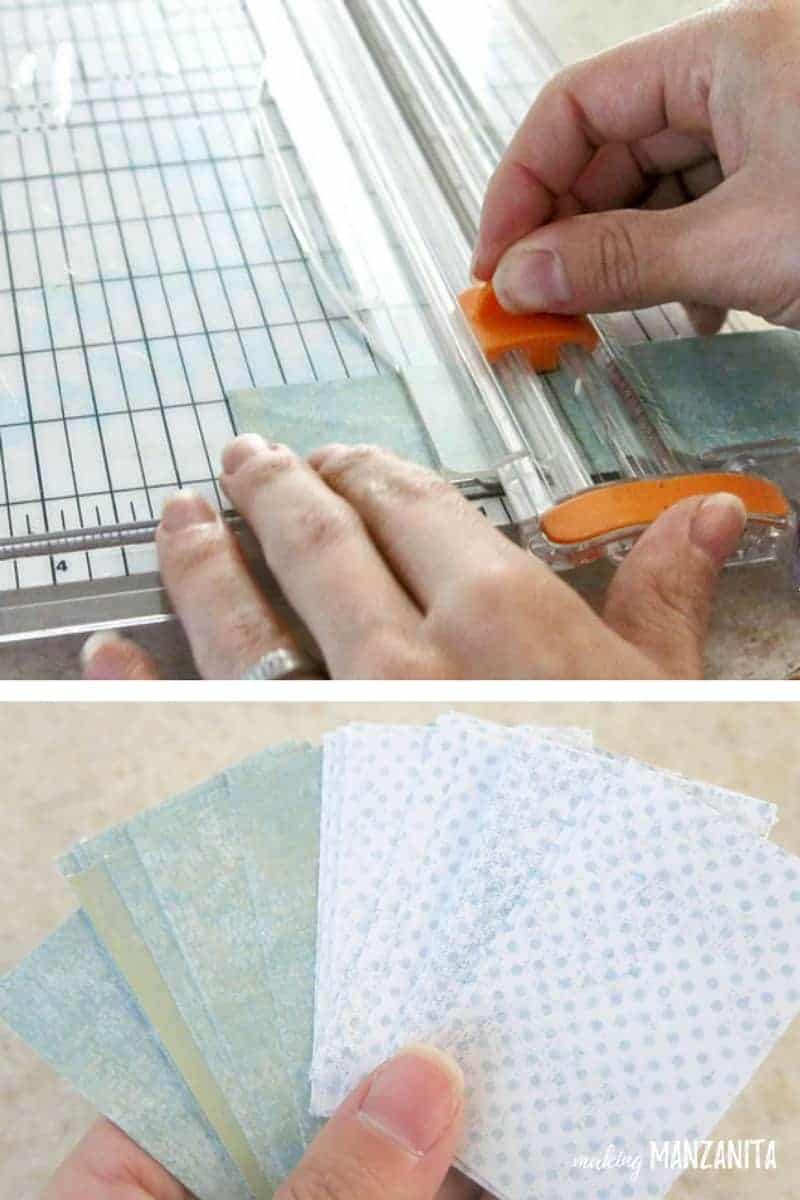 Step 10. Make your meal cards.
We have tons of "regular" meals that we eat in our house that are pretty much on rotation. We definitely like to try new meals, but most of the time we make something that we know and love.
Cut out cute and color coordinated scrapbook paper into small rectangles. Then ink the edges of the paper by simply running an ink pad on the edge. This makes it look a little rustic and also makes them stand out from the background of the fridge a bit.
Next write in all of the regular meals that your family eats. Don't forget about cards for eating out and leftovers.
Be sure to keep lots of extra pieces of paper for new meals you want to try, so can continually be adding to the meals in rotation.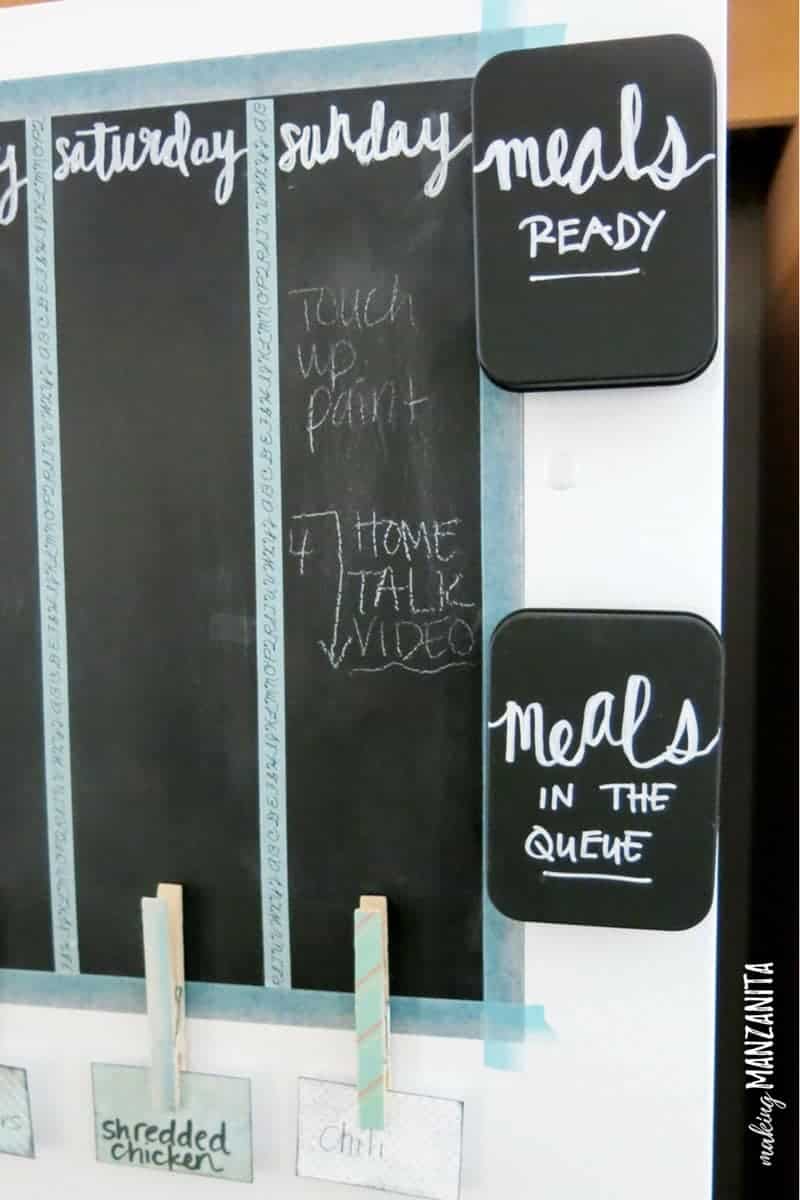 Step 11. Make two metal boxes for your meal cards.
I had one heck of a time trying to come up with what to use to hold the meal cards. I wanted something that attached to the fridge with a magnet, was small and could be customized to fit in with the style of command center on fridge to organize your life.
I wanted two different places for the meal cards – one for the meals we have ready to go on hand in the house and one for all the other meals that we like (and extra blank meal cards for new recipes).
I ended up finding these cute little metal boxes at the Dollar Tree in the kid's section. They were obviously puzzle boxes, but they were perfect for what I needed. You could also use Altoids tins, but I think these were even cheaper at $1 each.
I spray painted them with chalkboard spray paint and glued magnet tape pieces to the back. Then I just used my chalk marker to label the front.  One box is for meals that we have ready…meaning we have all the ingredients for and one is for other regular meals aka "meals in the queue". Ta da!
How we meal plan for the entire month
I probably need to do a whole other post on how I plan out of meals for the entire month….so I'll definitely work on putting that together, but here's the quick gist:
Once a month, I take a look at the food we have on hand, look at my Pinterest recipe board and talk to my hubby about anything that he wants to have. Then I put together a shopping list and quick recipe list for ALL of the meals for the entire month. Most of our meals have leftovers, so they typically count for two meals. I use tally marks when putting together the list to make sure I have 30 meals. I also try to work in lunches (usually leftovers or something easy like a quesadilla) since we both work from home.
Most of our the items on our shopping list can be purchased at once (usually in bulk from Costco) and put in the freezer if necessary. There are some items here and there that I have to go out and buy before making the meal (like dairy products or fresh produce that won't stay good), but this great reduces the times I have to run out to the grocery store.
This also allows us to stick to a pretty strict food budget every month. Usually I try to write in prices on my shopping list so I can keep a running tally of what I think we'll be spending at the store.
So, when I'm done meal planning for the month…I have a list of all of the recipes I have on hand and ready to go.  I keep those in the box called "meals ready" on the command center on fridge.
This makes putting my weekly meal plan together a breeze. I just open up my box of the meals I have on hand and chose a few for the week. Instead of choosing from a big list of meals that we like, I'm only looking at the meals we have the ingredients for right now.
---
To-Do and Done Board
For the bottom portion of our command center on fridge, I wanted to create a "To-Do" and "Done" board for weekly chores and bigger household projects we're working on.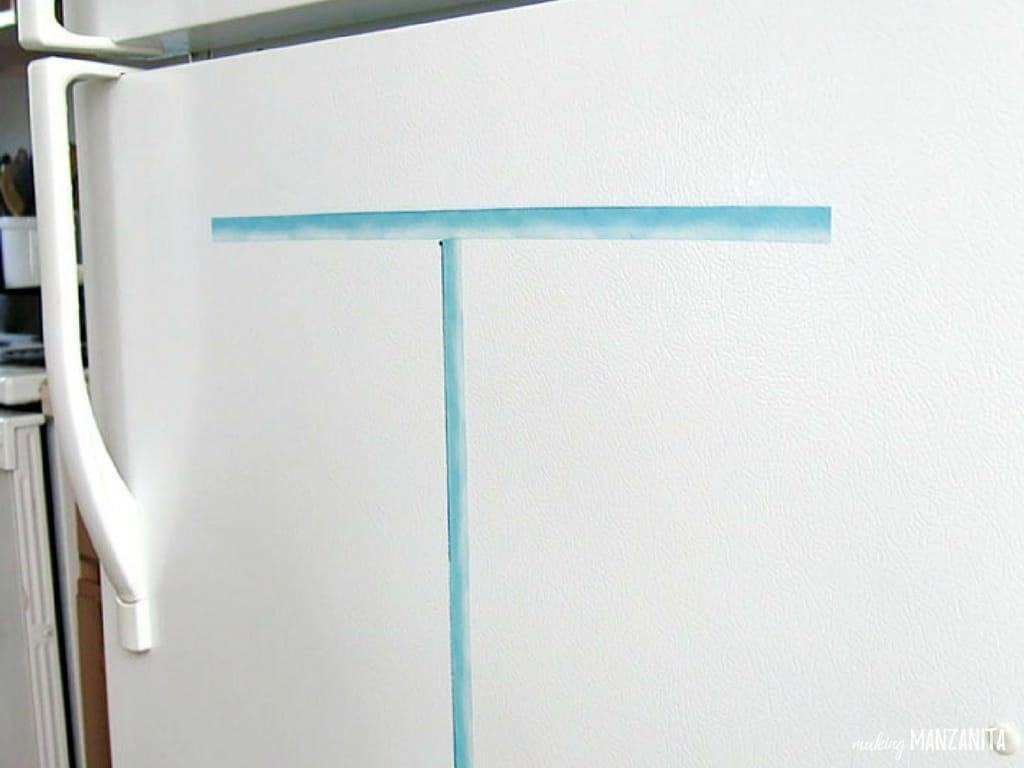 Step 12. Add washi tape "T"
This part was really easy. I marked the lines first with the dry erase marker using a level so I knew it was straight and then just added in the washi tape in the shape of a "T"
Step 13. Cut letters with Cameo.
I used my Silhouette Cameo to cut the letters out from the same chalkboard vinyl that I used on the calendar up top. If you don't have Cameo, you could also get letter stickers for this part.
Then, just peel and stick the "to-do" and "done" letters above the washi tape "T".
Step 14. Make chore magnets.
I used some cork rounds that I had on hand in my craft supplies and just decorated them up using a sharpie with the chores that we have to do weekly around here….like laundry, grocery shopping, mow the law, etc. I used my 3-in-1 glue to add magnets to the back of the cork rounds.
Step 15. Incorporate project to do's.
For some projects that we're working, I just created small pieces of paper similar to the meal cards and wrote in the project.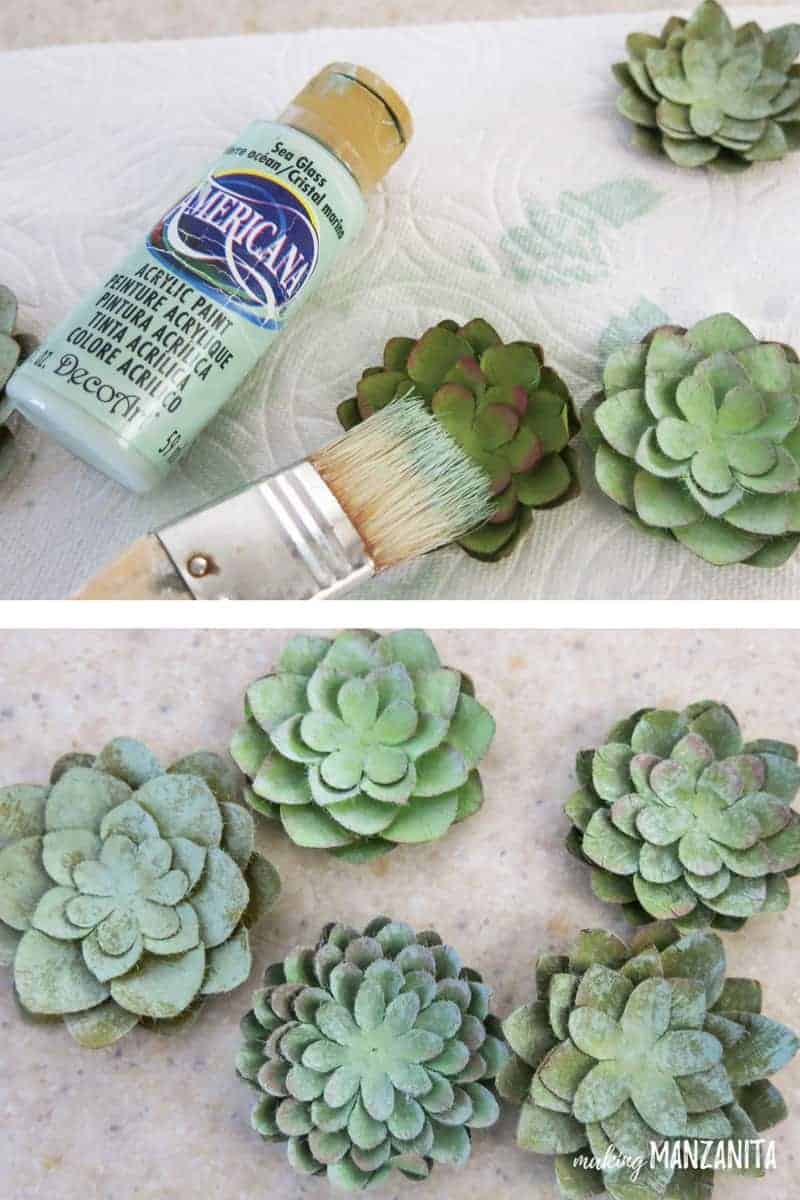 Step 16. Make some cute flower magnets while you're at it.
These cute flower magnets are pretty adorable, but they were so simple they probably don't require their own post.
They are just paper flowers from Michaels (that look like succulents!). They were a little to "green" to match the rest of the command center, so I dry brushed some of my favorite Sea Glass color over the top. I just added a little piece of magnet to the back using 3-in-1 glue.
---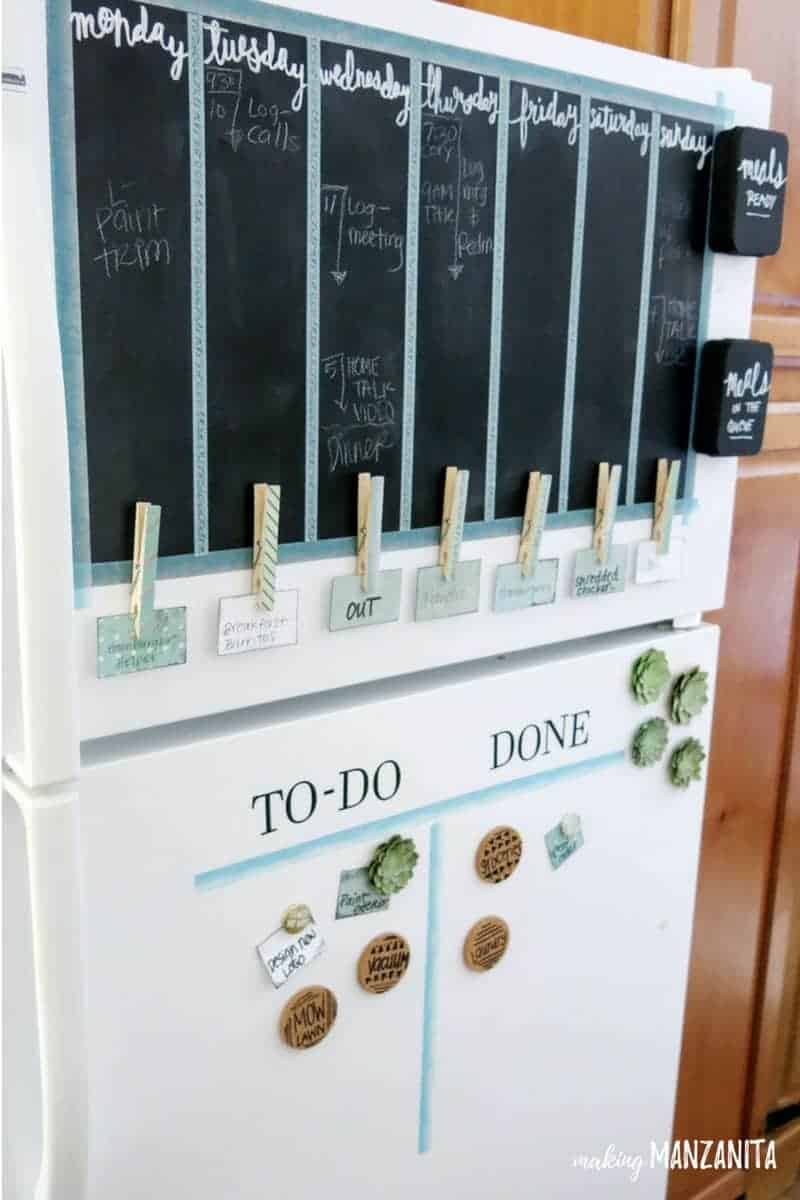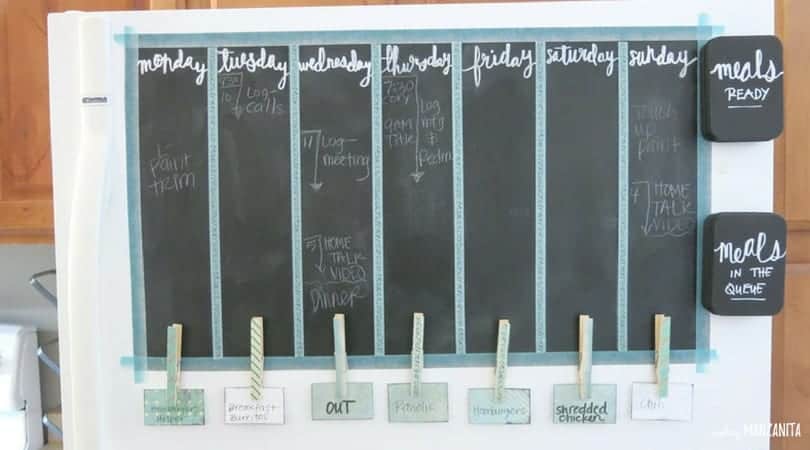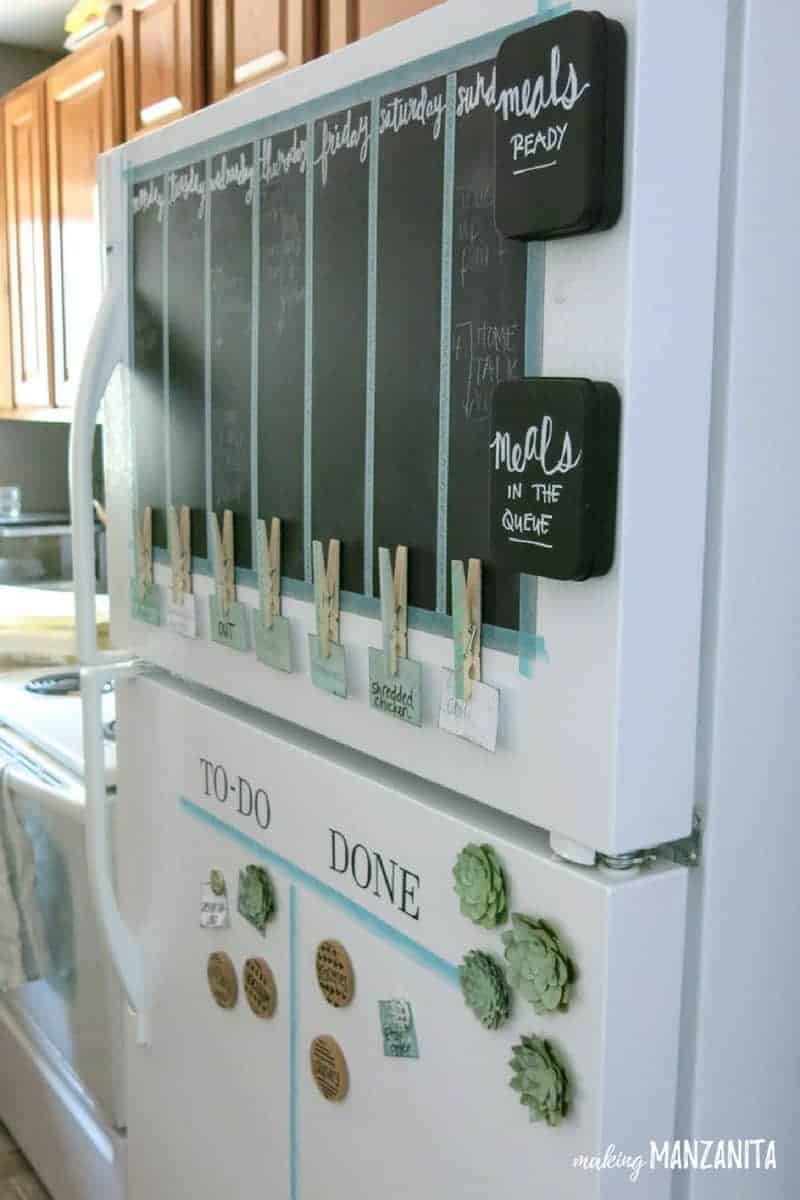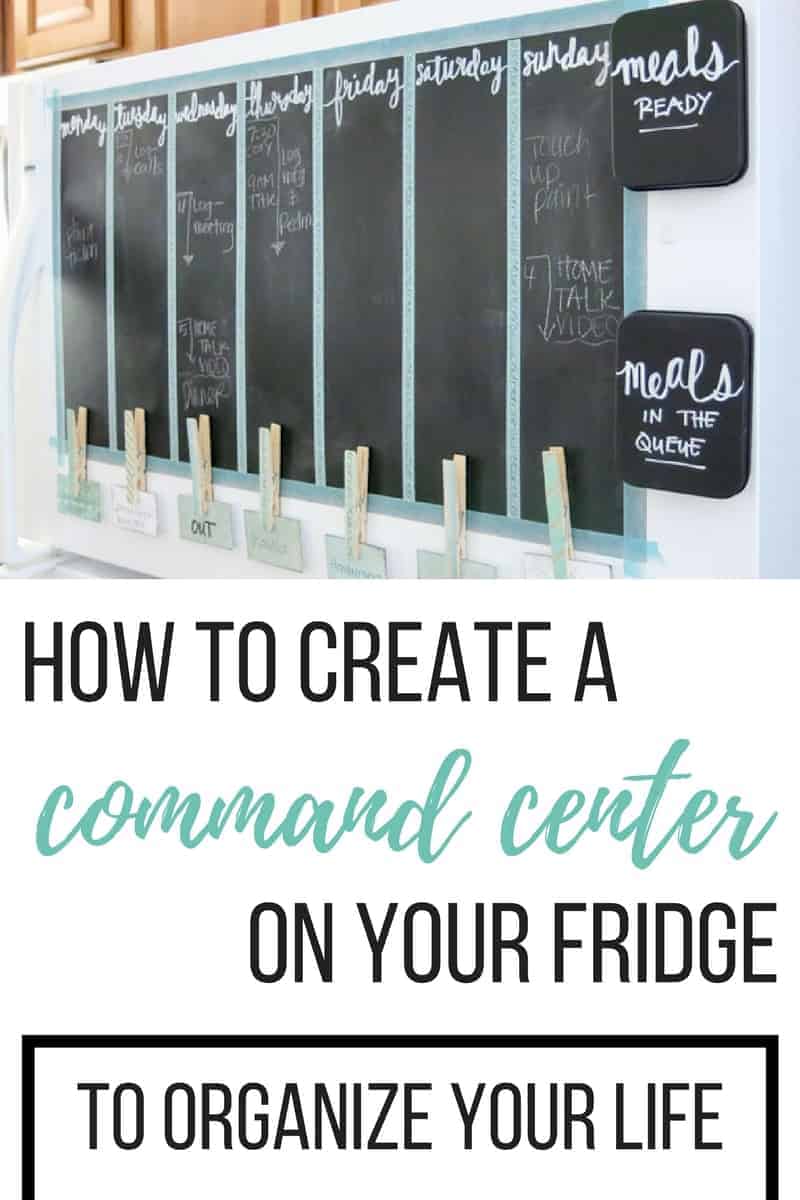 Life is crazy. It needs organizing. By following this guide on how to create a command center on fridge to organize your life, you'll be shocked at how much more efficient you can be in your home.
Your week will not be so chaotic because your schedule is right there at a glance. You will not have to answer the age old question of "what's for dinner" because it is right on the fridge.
You'll get some satisfaction out of moving your weekly chores will from "to-do" and into "done". I'm telling you, this command center on fridge to organize your life is a game changer.
What would you put on your command center on fridge?
Let me know in the comments below!!