This DIY will only take a couple minutes! Make these clothespin magnets with washi tape to display notes and photos on your fridge.
You guys know that I feel strongly that you should definitely make time in your busy life to craft. In fact, I'm convinced that crafting will make you a better mom. Here's how. But some weeks are so busy that you just don't have the time. Am I right? Well, today's DIY is for you today, busy lady. I promise that these clothespin magnets with washi tape will only take a few minutes of your time.
You don't have to spend time driving around buying the supplies for the magnets either, you probably have them all in your crafts supplies (I did!). You may not have that magnet tape laying around, but I got mine at Walmart, so just put it on your grocery shopping list and grab it while you're out.
Creating time in your life doesn't have to cost a lot of money or take up hours of your time. A few bucks and a few minutes and you'll be able to step away from this project and say "I made that"….trust me, that feeling is totes worth it.
Related – Other Quick Craft Projects: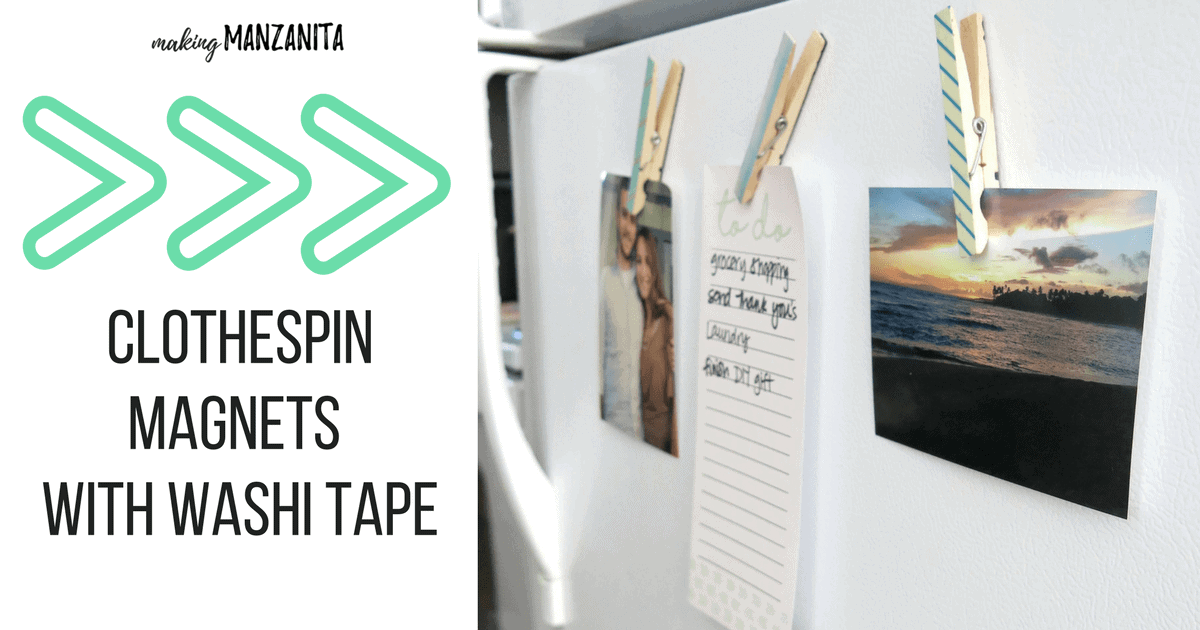 This post contains affiliate links, but nothing that I wouldn't wholeheartedly recommend anyway! Read my full disclosure here.
---

Supplies for clothespin magnets with washi tape:

Step 1. Cover front of clothespin with washi tape.
Roll the washi tape over the front of the clothespin and cut down to size.
On thing that I find helpful is to put the excess washi tape on the side of the clothespin WITHOUT the metal overhang. This way you will have a clean edge to cut the edges of the washi tape without that metal piece getting in the way.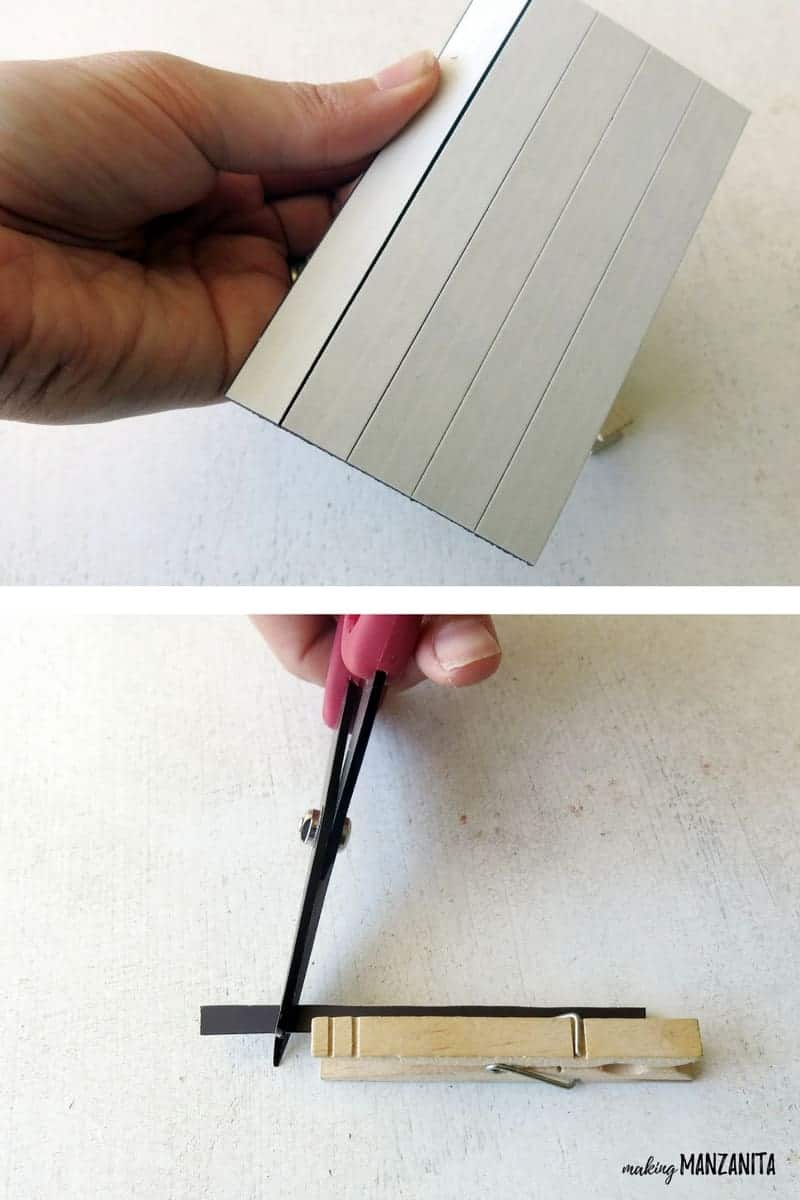 Step 2. Cut & attach magnet tape.
Depending on the size of your magnet tape, you'll need to cut the magnet tape in half down the middle so it's not too wide for the clothespin.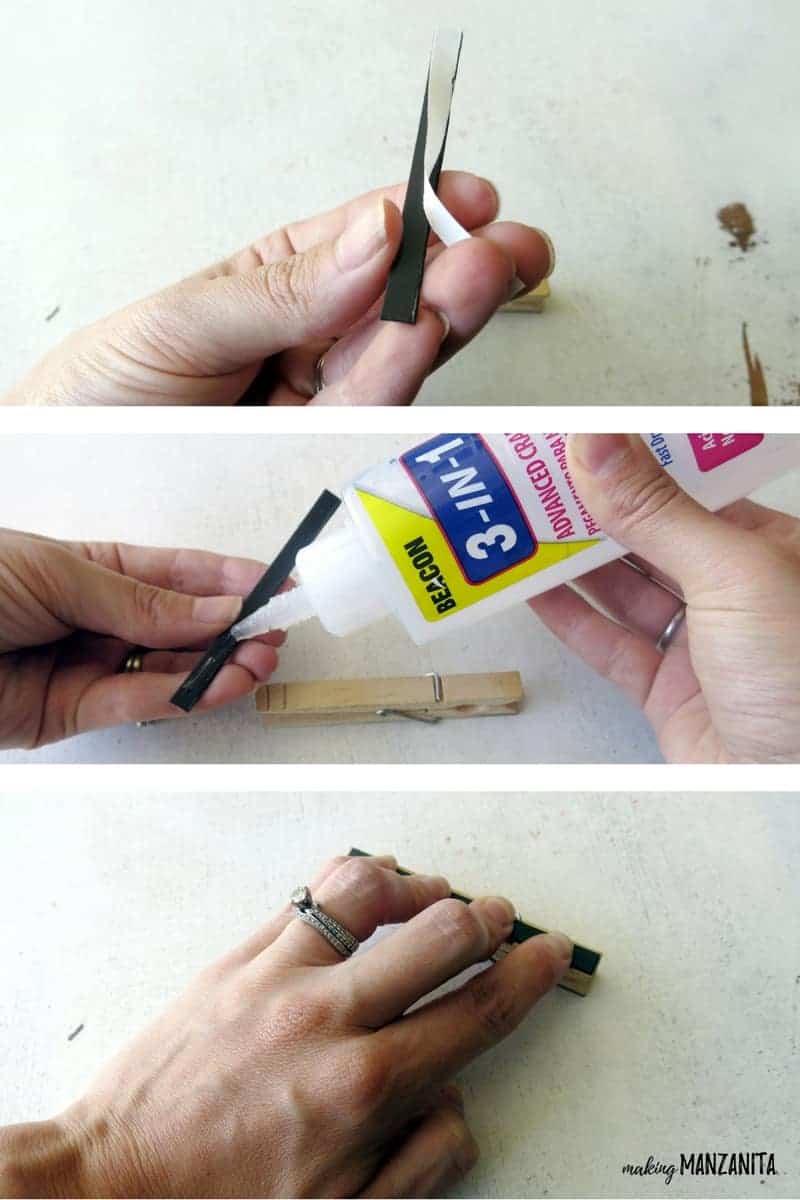 To attach magnet remove the paper from the back of the magnet tape to reveal the adhesive backing. Instead of relying on the sticky side to hold to the clothes pin (because it doesn't hold overtime…I've tried), you definitely want to add a small bead of 3-in-1 glue to the magnet before attaching it to the clothes pin. Press and hold for about 15 seconds for the glue to set.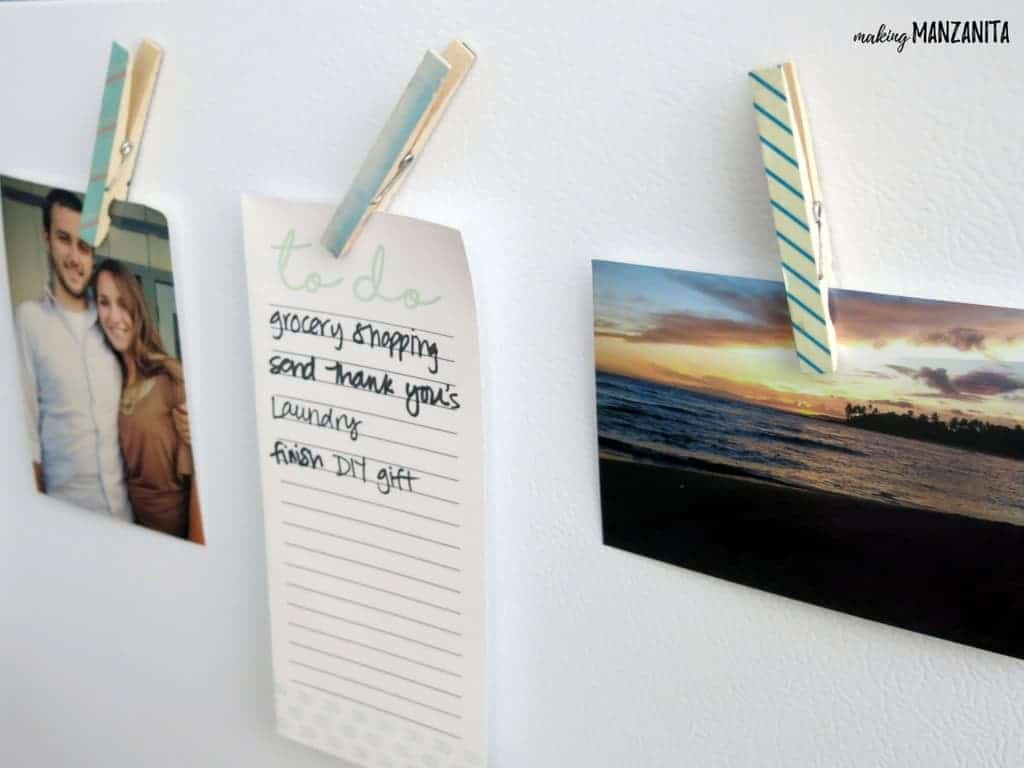 Step 3. Display notes and pictures on your fridge with cute clothespin magnets with washi tape.
Lastly, all you do is clip your pictures and notes onto the clothespin magnets with washi tape and enjoy!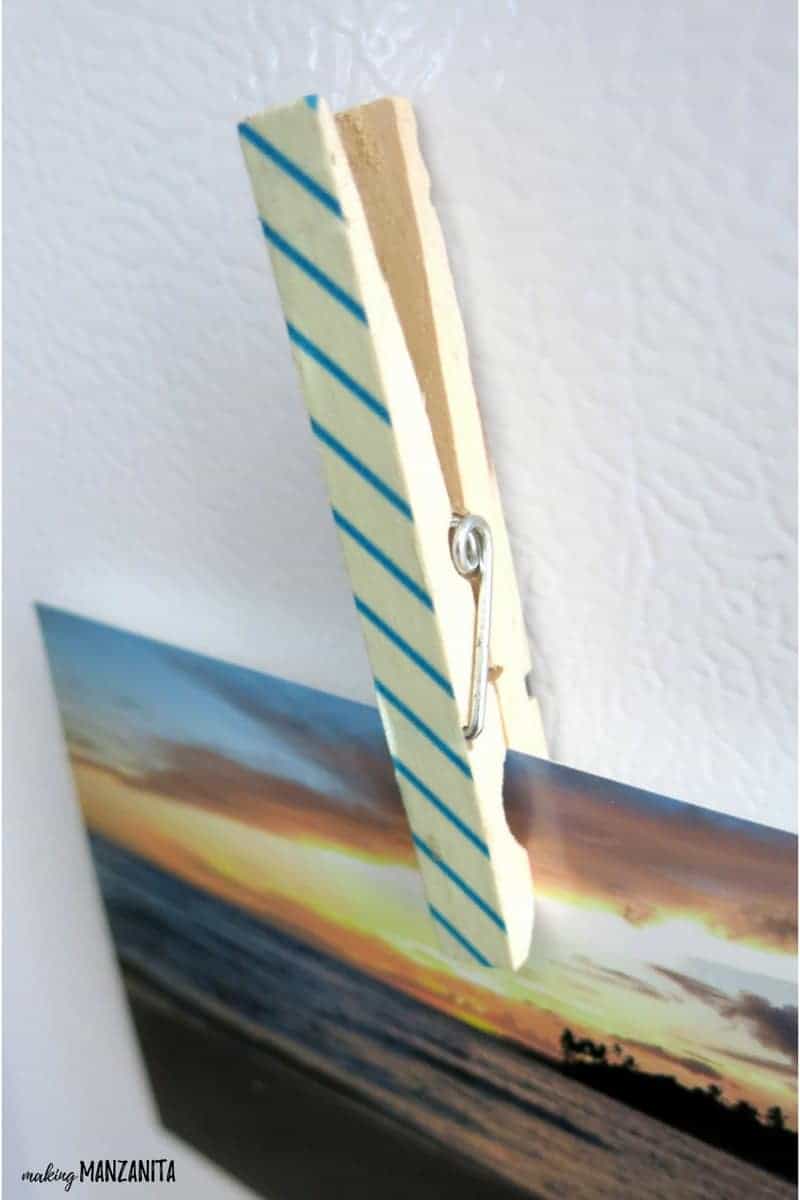 Seriously guys, it was THAT easy!
If you want to jazz the magnets made with clothespins up a bit, feel free to add more! I kept these ones pretty simple because they are going to be incorporated into my fridge command center (which I'm revealing on the blog verrrrry soon…be sure to subscribe below so you don't miss it).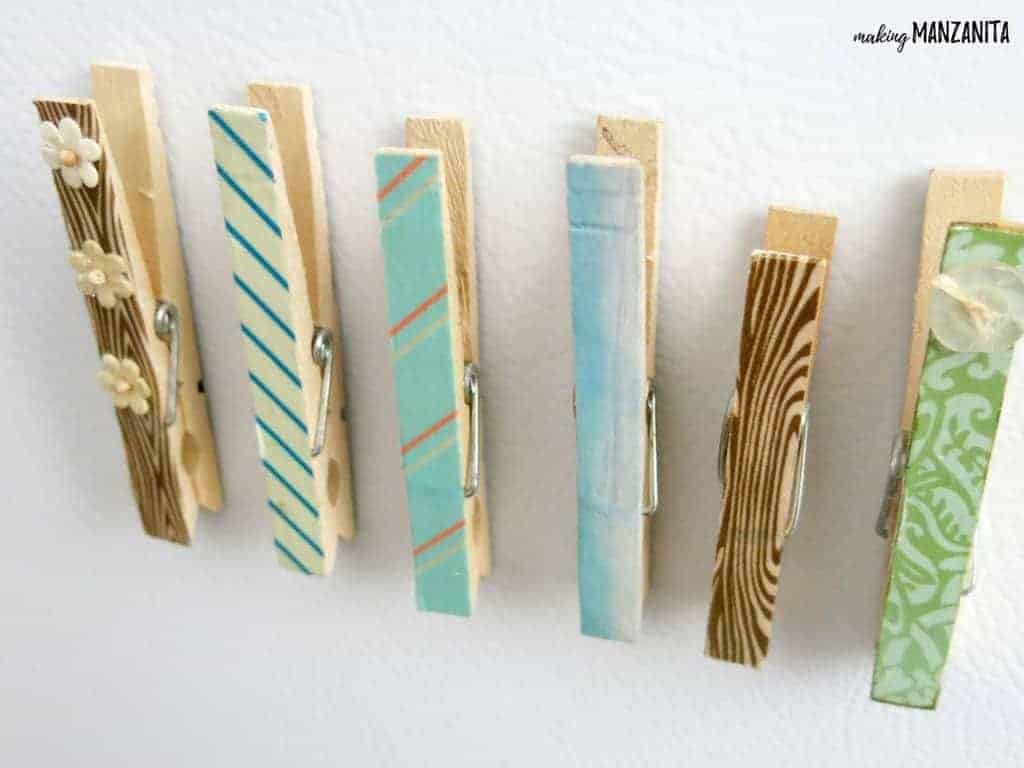 In the past, I've added buttons, laminated stickers, glitter paint, etc. As an another alternative to washi tape, you can also attach scrapbook paper with Mod Podge. Here's a couple other designs I've made.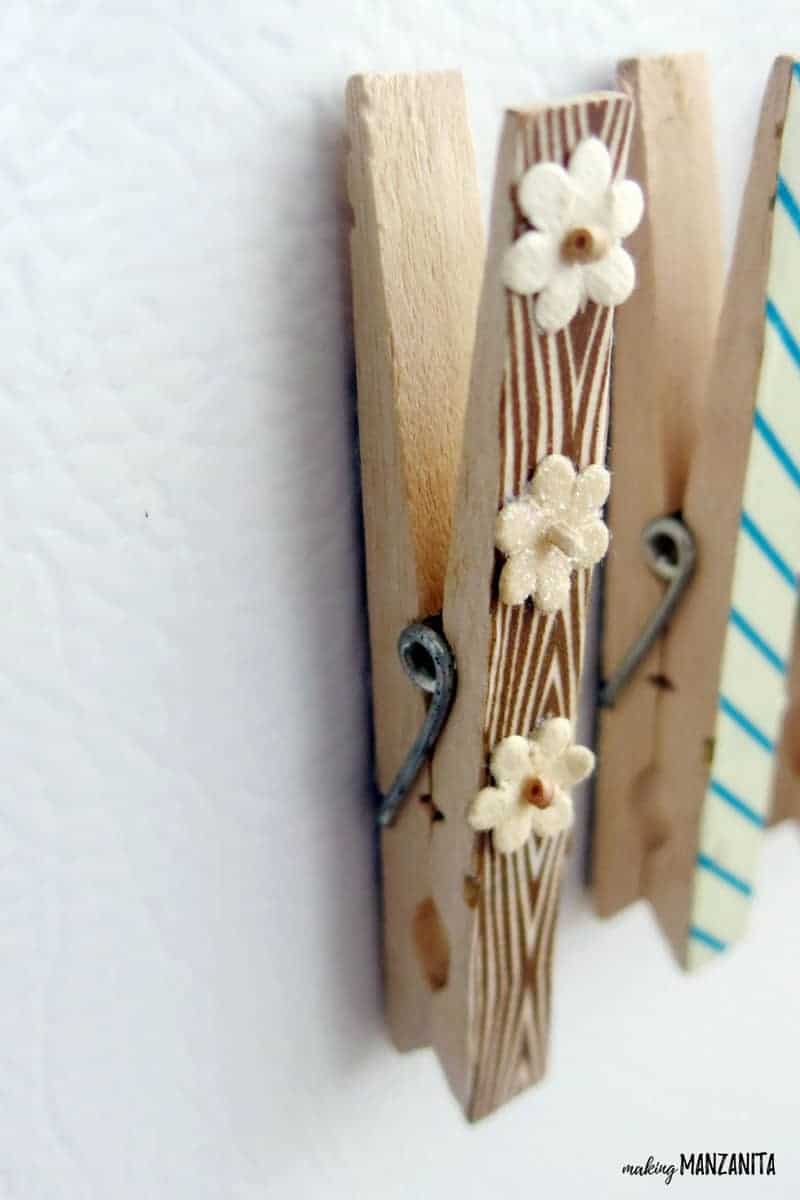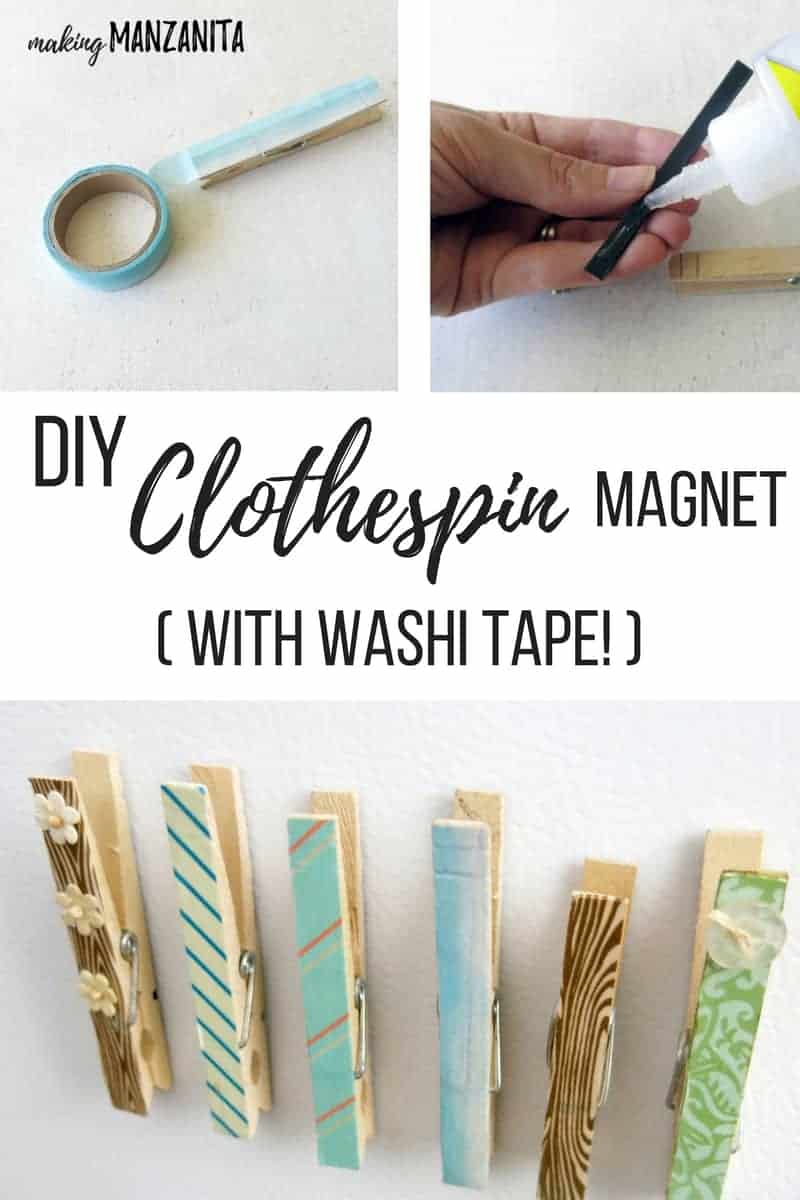 Creating clothespin magnets with washi tape is a simple craft that can be done in a matter of minutes. It's really that simple..lay on washi tape and glue the magnet tape on the back. You'll be able to display your notes and photos on your fridge in a style that is yours.  You can customize these anyway you'd like.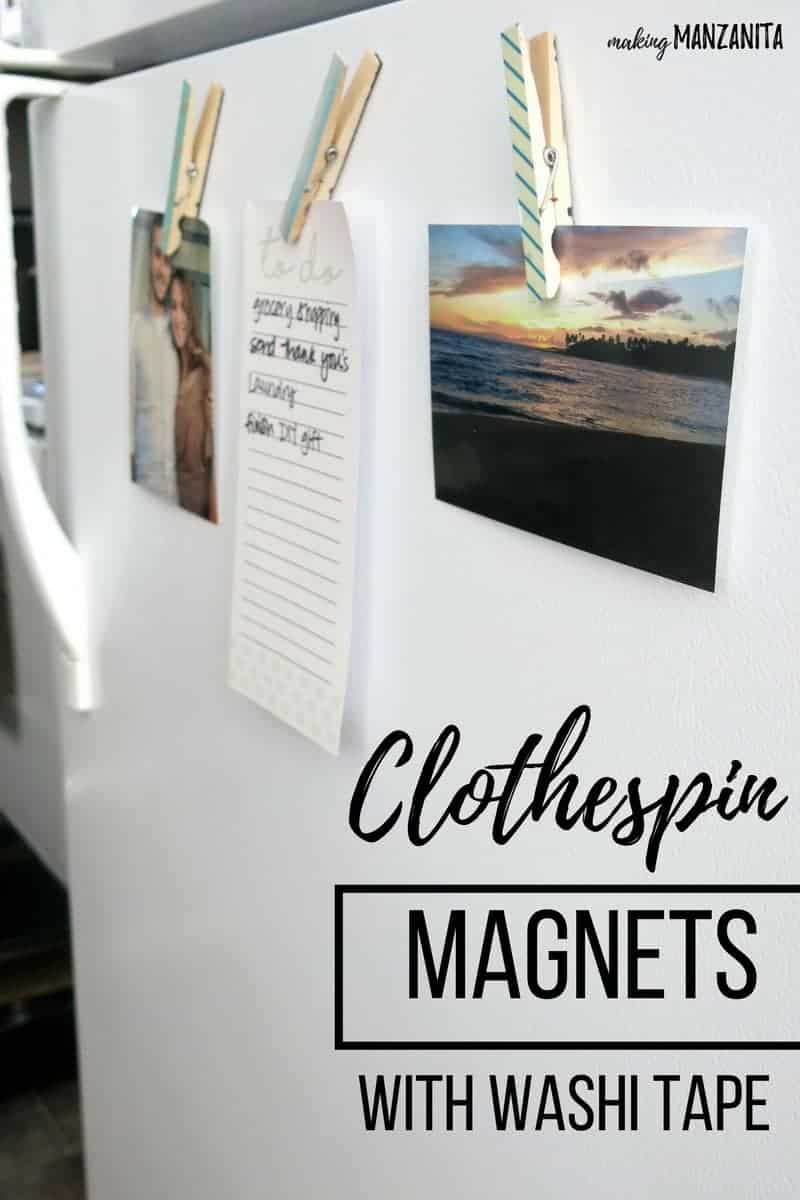 Do you have a few minutes to spare? Creating these clothespin magnets with washi tape only takes a few minutes! Grab a cup of coffee and your supplies and let's craft!
---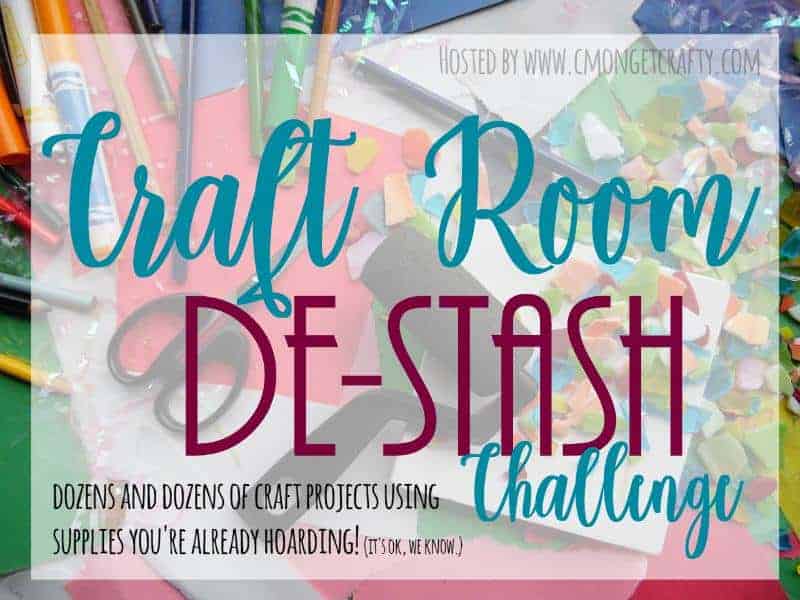 Every month, a group of bloggers challenge each other to create a new craft or project from their own stash of goodies! Check out some awesome creations you might be able to make from your own stash! #CraftRoomDestashChallenge
[clickToTweet tweet="What crafty creations could you make today from YOUR craft stash?! #CraftRoomDestashChallenge" quote="What crafty creations could you make today from YOUR craft stash?! #CraftRoomDestashChallenge"]