Mom will love this DIY Lavender Vanilla Lip Scrub. It only takes a few minutes to make, so it's a perfect quick Mother's Day gift idea.
Mother's Day is just 24 days away. Obviously this week has been all about getting ready for this fun holiday! We started on Tuesday with the Moms are like buttons printable and button flower tutorial. Today it is all about pampering Mom with this DIY Lavender Vanilla Lip Scrub. Moms totally deserve all the pampering, don't they!?!
After being a mama for almost a year now, I totally understand when people say that motherhood is a thankless job. Not to say I don't have a wonderful hubby that is so incredibly present and helpful in our home. But being a mom is a no-break, "just keep swimming" type of gig. Mother's Day is such a special holiday because unlike every other day, moms everywhere are told "thank you" and are able to put their feet up for the day and relax. Doesn't that sound nice? I was in labor all day last Mother's Day, so I plan on taking full advantage of this year's day!
This DIY Lavender Vanilla Lip Scrub will give you that feeling of just-sit-down-and-relax anytime you want! The relaxing scent of lavender combined with the sweet aroma of vanilla make this lip scrub capable of taking you away for just a moment as you scrub your lips! 🙂 Trust me, mom will LOVE this gift for Mother's Day. It only takes a few minutes and supplies that you probably have on hand anyway!
If you want to see all of my Mother's Day craft ideas live in action, I'll be over on Hometalk's Facebook page this Sunday, April 23rd at 4pm Pacific Time with a LIVE video tutorial! Hope you'll join us!
I was not financially compensated for this post. I received a sample of the mini hexagon jars for review purposes. The opinions are completely my own based on my experience. Also, this post contains affiliate links, but nothing that I wouldn't wholeheartedly recommend anyway! Read my full disclosure here.

Supplies for Lavender Vanilla Lip Scrub:
Sugar
Small bowl to mix in
Spoon
1 tbsp measuring spoon
Scrap paper and baker's twine (for label) – not shown in photo above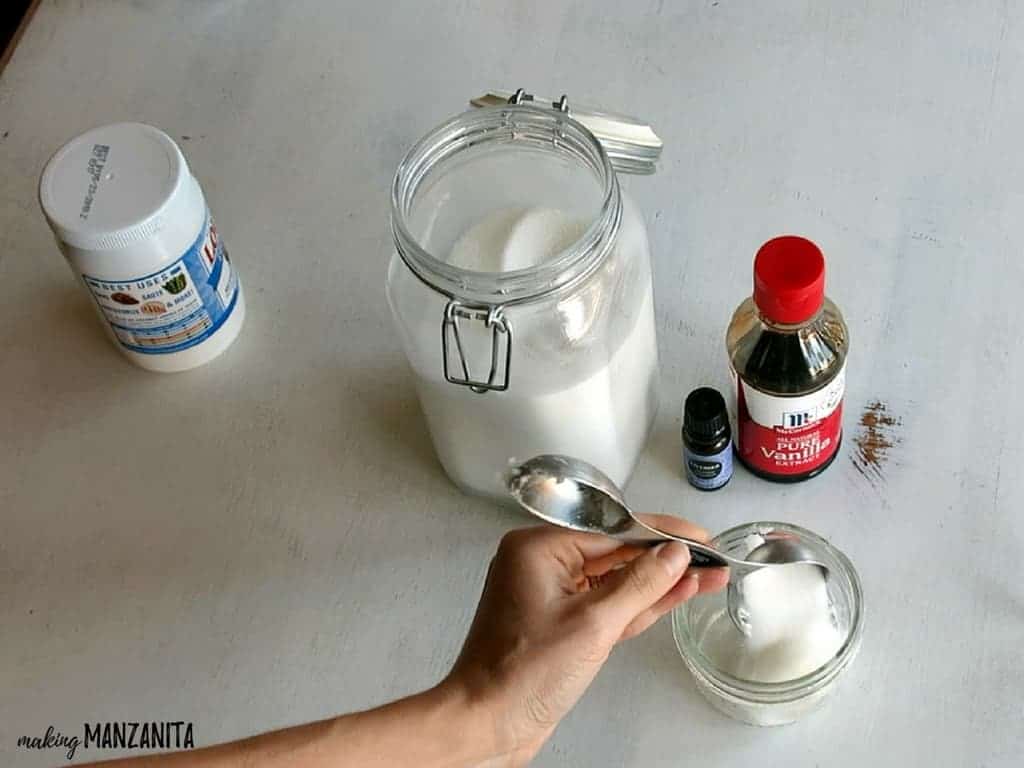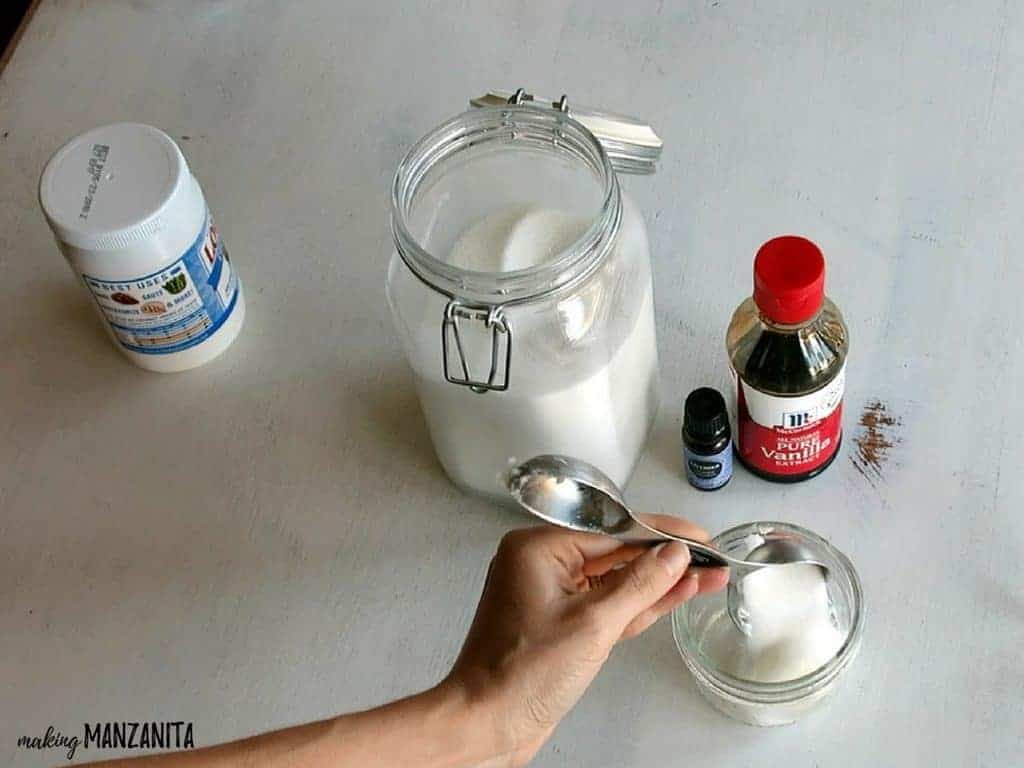 Step 1. Mix coconut oil & sugar.
First things first, you want to start with mixing your base for the lip scrub together with equal parts coconut oil & sugar. For my adorable little mini 1.5 oz hexagon glass jars, I needed about 2 tbsp coconut oil and 2 tbsp sugar. Once the ingredients are poured in a small bowl, just start mixing and pressing with your spoon. Since the coconut oil is rather solid, it will take about a minute of mixing for the sugar and oil to come together. Just keep mixing…just keep mixing…just keep mixing.
Be sure that you are using normal coconut oil (aka the solid stuff) and not the fractionated coconut oil, which is the consistency of olive oil.
I used just normal pure granulated white cane sugar, but I've seen other recipes using a finer grain Baker's sugar, which could work too. You definitely don't want to use something like Sugar in the Raw for a lip scrub because it's too rough (although, it does work well for a body scrub)!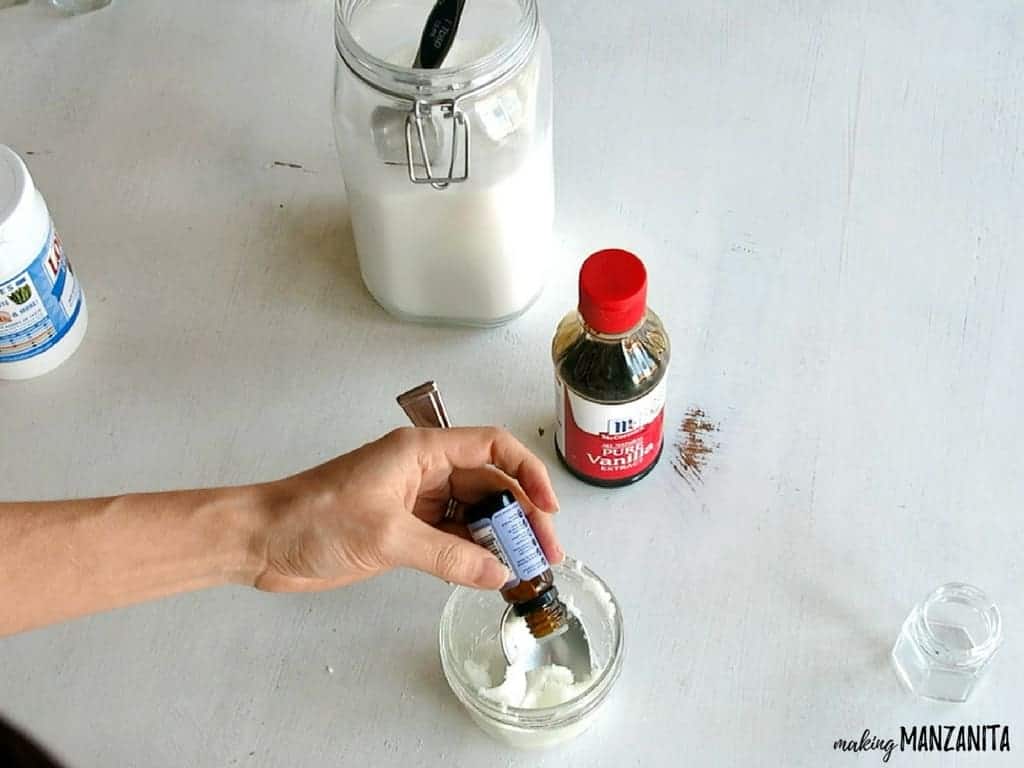 Step 2. Add lavender essential oil.
Be careful, you only need 2-3 drops of lavender essential oil for every tbsp of sugar you added. I love the Eden's Garden essential oils brand available on Amazon!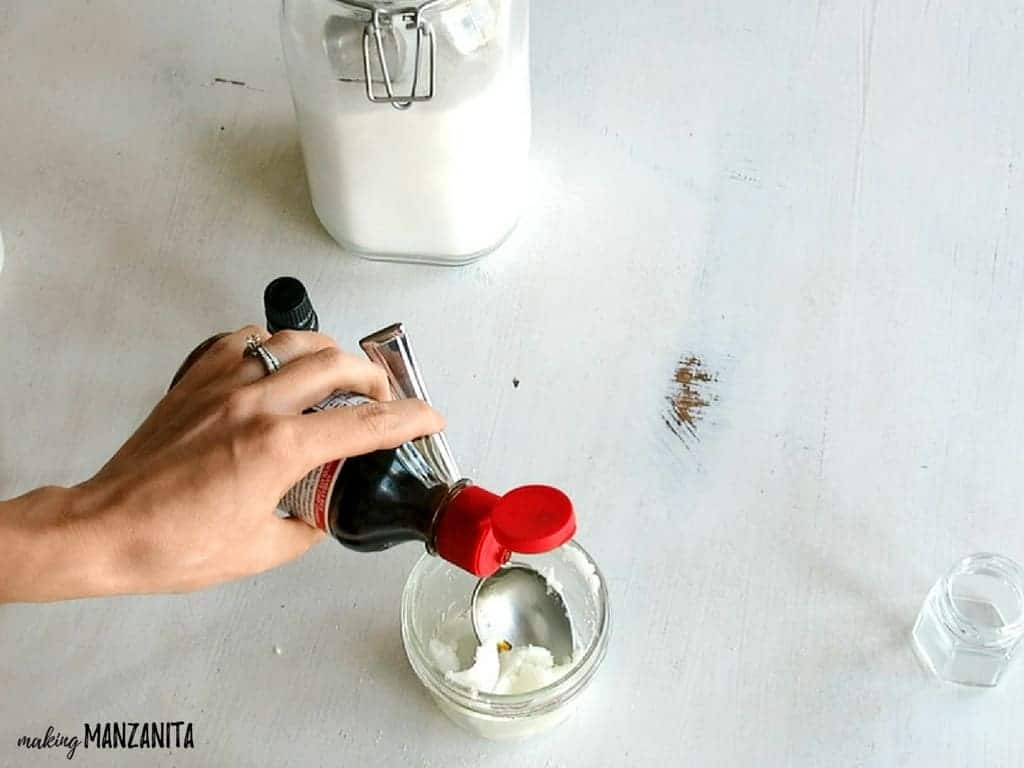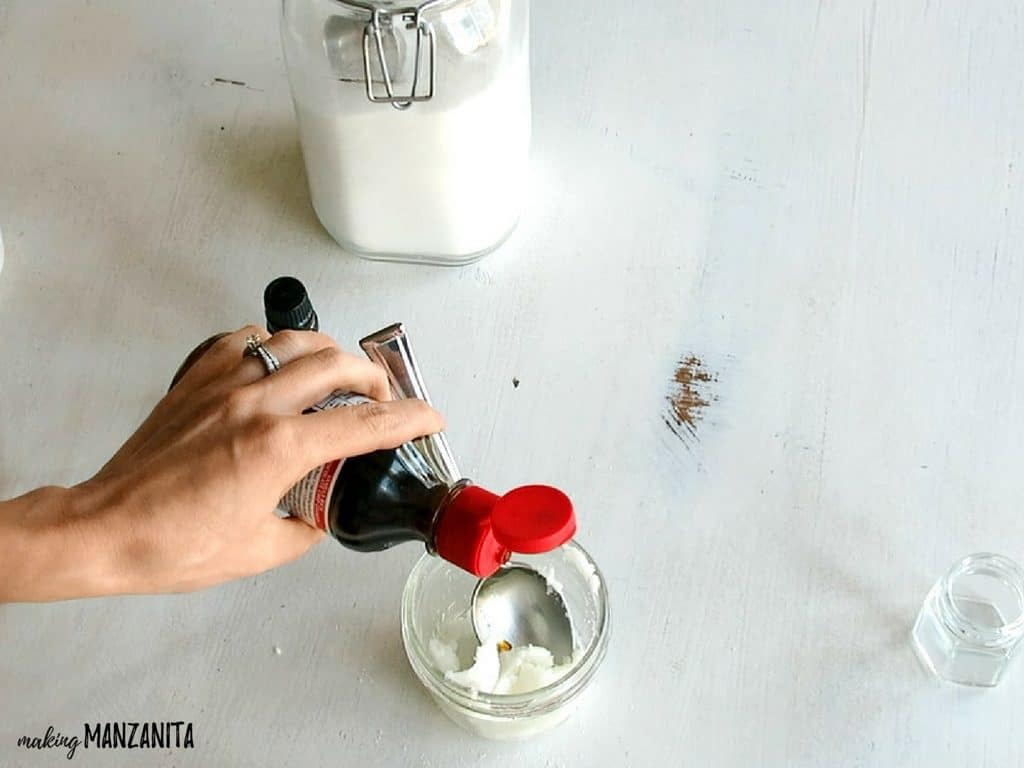 Step 3. Add vanilla extract.
Since I obviously buy the mondo size vanilla (we do a lot of baking in the house), the drops that come out of this are pretty big. I added 2 large drops for every tablespoon of sugar that I added to the mixture.
Step 4. Mix thoroughly.
After you get the lavender and the vanilla in, you want to be sure you mix it well.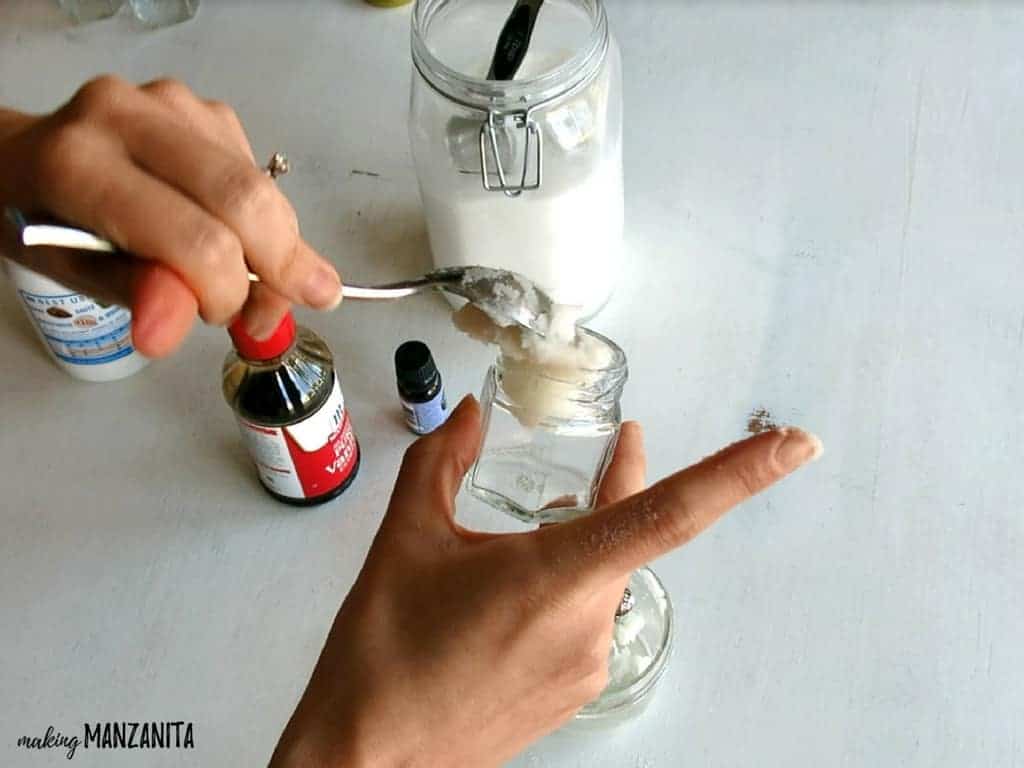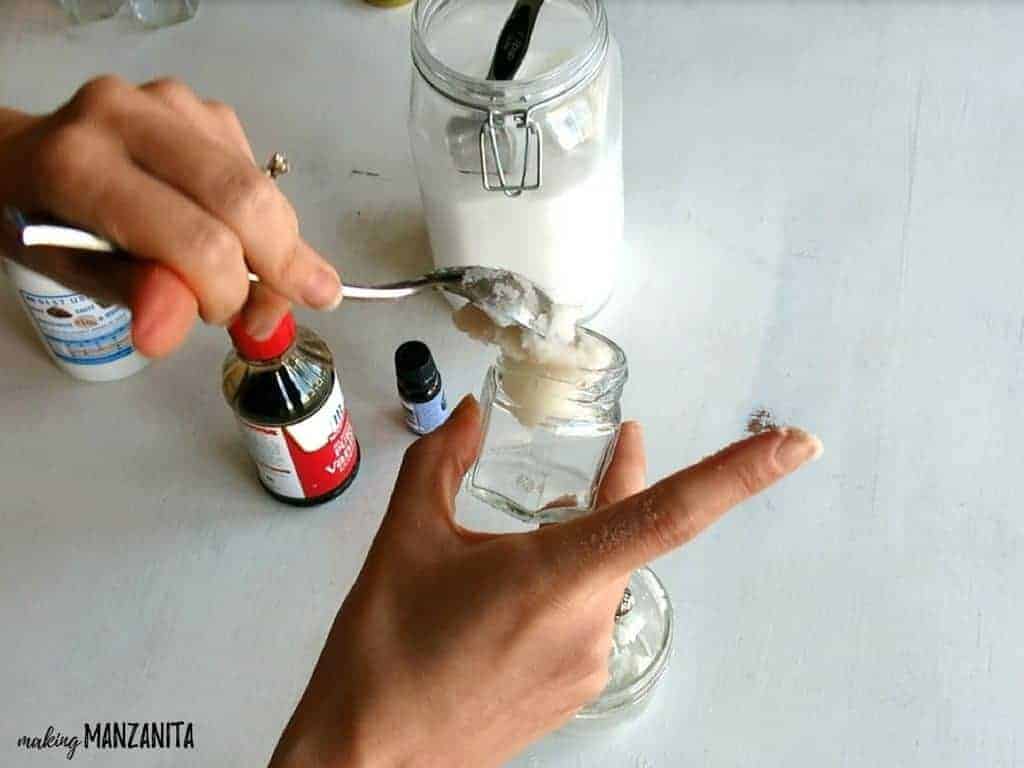 Step 5. Spoon into jars.
I think these mini hexagon glass jars were the perfect size for my lavender vanilla lip scrub. As I mentioned earlier, this 1.5 oz size held 2 tablespoons of sugar and 2 tablespoons of coconut oil (4 tablespoons altogether).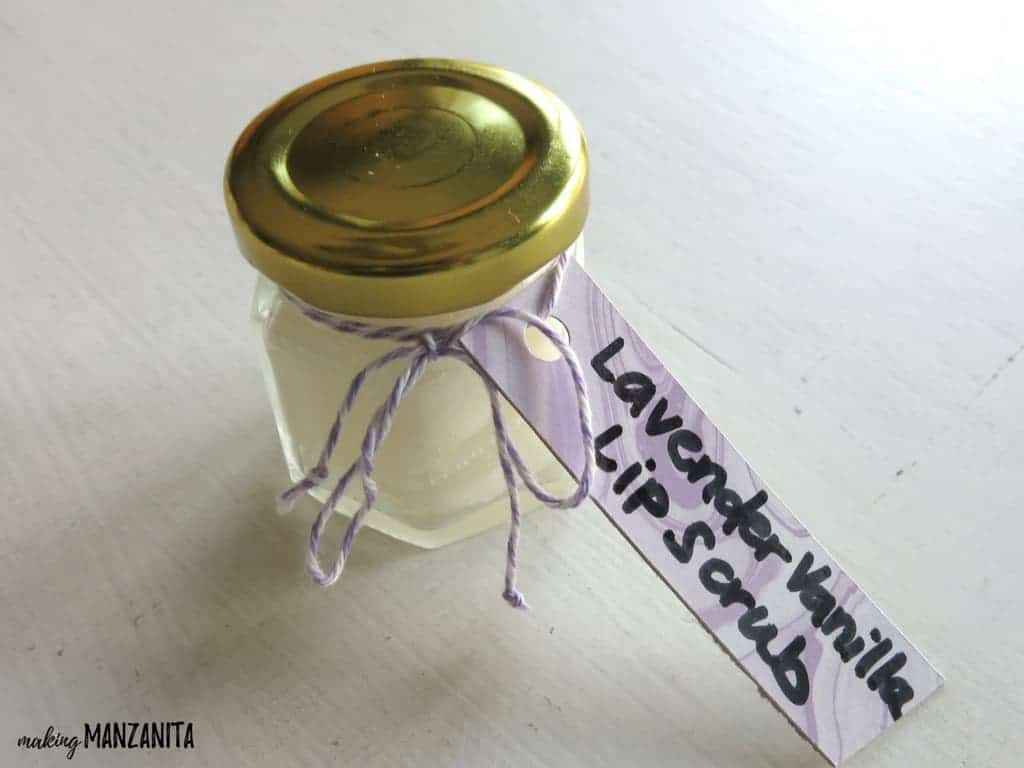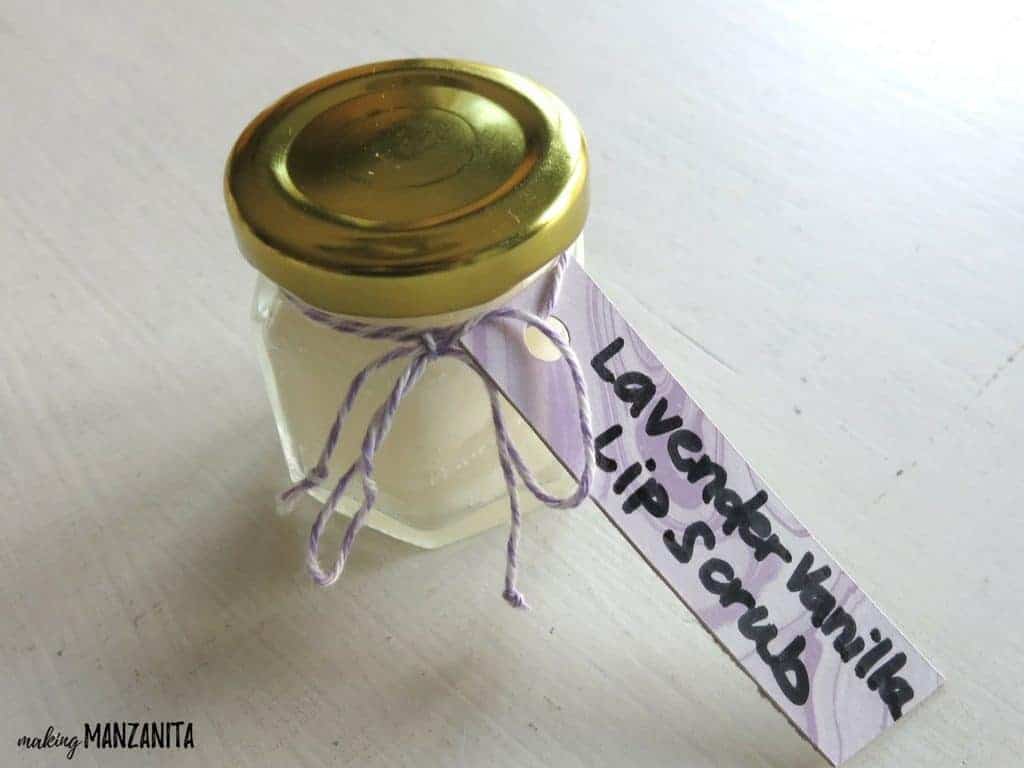 Step 6. Create label.
I kept it classic with a simple label made from lavender colored marble card stock (SIDE NOTE: This rad paper is actually packaging from a post-it note pad that I picked up in the Dollar Spot section at Target! I feel like I'm always saving random cool packaging to reuse. Is anyone else this cheap inventive?!)
I tied the label on with some purple and white baker's twine from the Dollar Tree.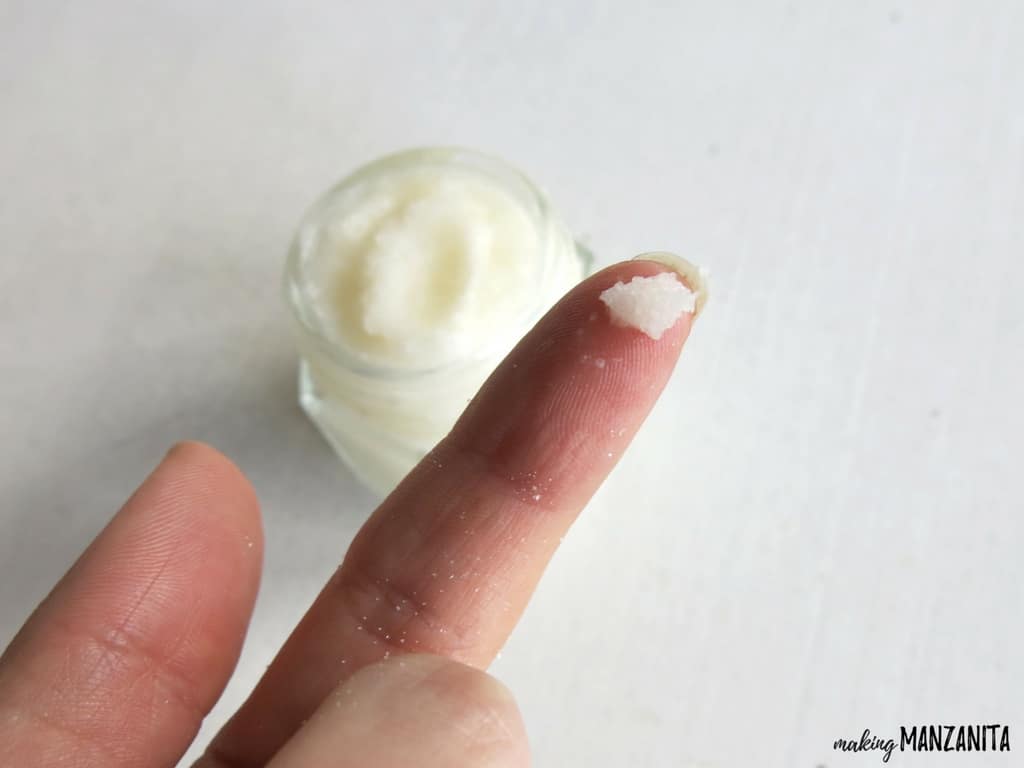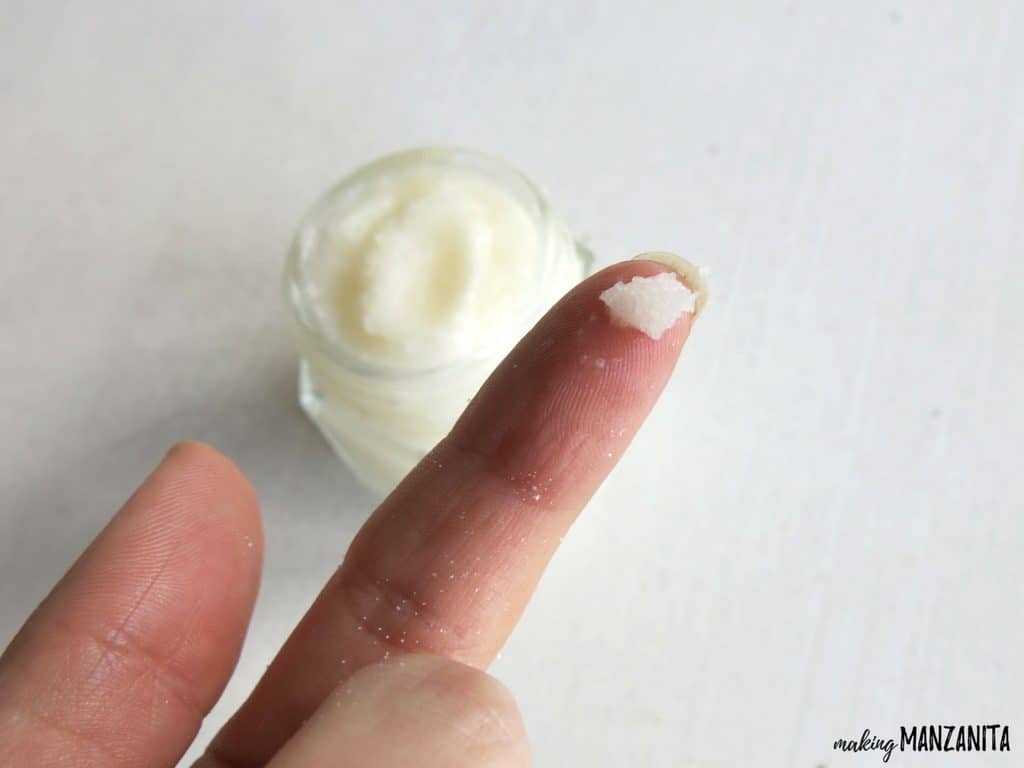 The consistency of the DIY lavender vanilla lip scrub is perfection and the aroma is hard to beat. Mom is going to be shocked that you make this yourself and she'll be loving you for it!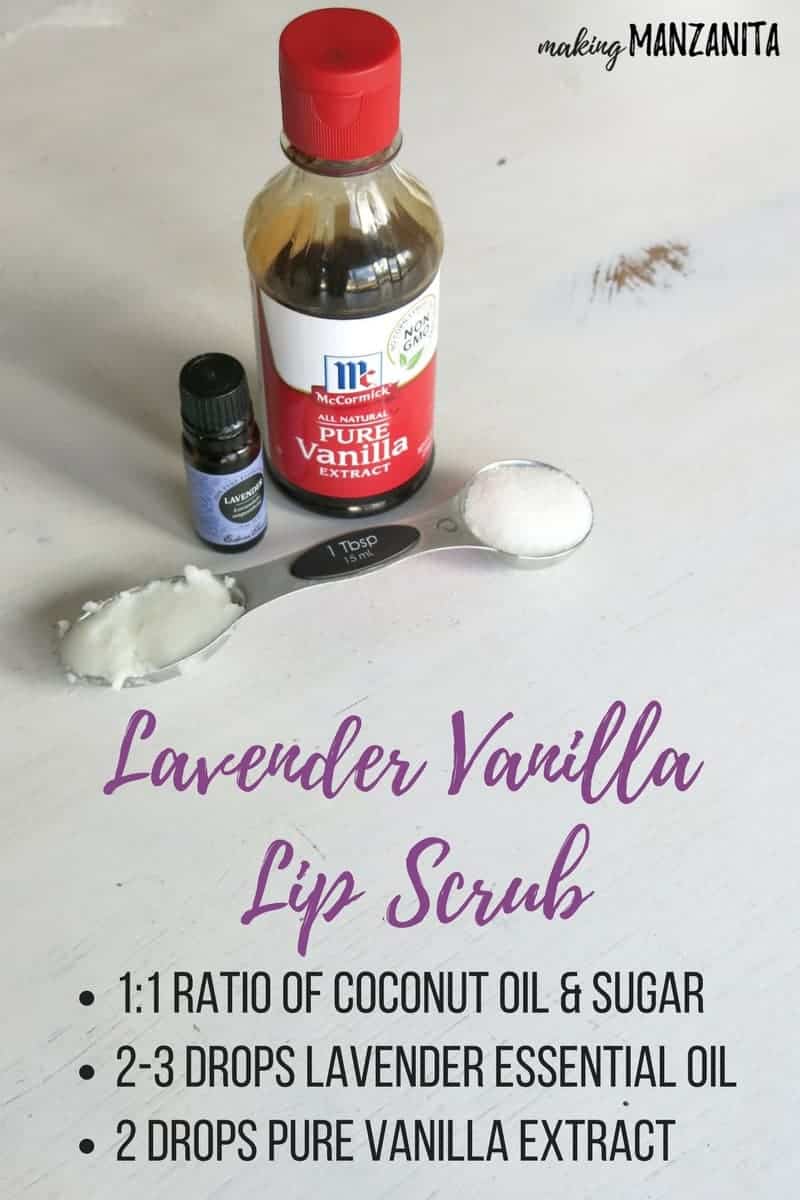 How to use DIY Lavender Vanilla Lip Scrub:
Gently rub a small dab all over your lips.
Wipe off with a warm damp towel (or lick it off – it's all natural!)
Only use lip scrub once a week (maybe twice a week during winter), it's too harsh for the gentle skin on your lips to use daily.
Regularly using a lip scrub, you will be able to keep a smooth surface on your lips so they will stay soft, smooth and hydrated. Better yet, they say that by using lip scrub, your lipstick, liner and glass will be more long lasting.
Looking for other DIYs to pamper Mom on Mother's Day?
So take a few minutes and whip up this DIY Lavender Vanilla Lip Scrub to pamper Mom this Mother's Day. On Mom's Day, tell her to sit back, put her feet up and relax and most of all, tell her thank you!
---
What about your other handmade Mother's Day gift ideas?
DIYs are, of course, my favorite gifts to give…especially for Mother's Day. If you're ready to jump right in for a DIY Mother's Day gift, you can check out my Mother's Day DIY gifts on a Hometalk Facebook video tutorial here:
On this video, I show you how to make: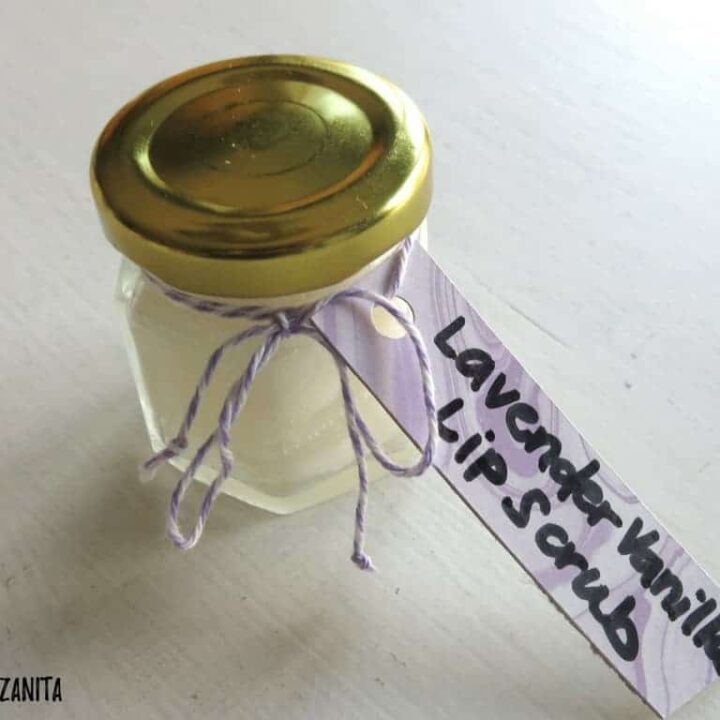 How to Make DIY Lavender Vanilla Lip Scrub
Mom will love this DIY Lavender Vanilla Lip Scrub. It only takes a few minutes to make, so it's a perfect quick Mother's Day gift idea.
Materials
Tools
Spoon
1 tbsp measuring spoon
Small Bowl to mix in
Instructions
Mix coconut oil & sugar.
Add lavender essential oil.
Add vanilla extract.
Mix thoroughly.
Spoon into jars.
Create label.