If you're looking for a really easy DIY yarn wall hanging that is perfect for a beginner, this project is for you! You can make this yarn wall art for under $25 in less than one hour. Customize the size, color and design of this wall hanging to really make it your own. I love the way ours turned out for our boho nursery!
If you love videos, be sure to subscribe to my YouTube channel so you don't miss the next one!
I still remember when I stumbled upon this adorable DIY yarn wall hanging from Project Nursery (made by Trendy Peas) on Pinterest. I remember pinning it immediately and then mentally categorizing it in my mind under "projects I must make for my house". I've just been waiting for the day when I had a good spot for a DIY yarn wall hanging like this.
When I was thinking about what to put above my little one's nursery in her boho nursery, this wall hanging instantly came to mind! I knew it would be the perfect simple contrast on the backdrop of our newly completed board and batten wall.
Today I'm joining up with a super fun group of bloggers for Pinterest Challenge where we all take something that we found on Pinterest and give it a try! The focus of the challenge is to stop pinning and start doing, which is motto that I can definitely get behind.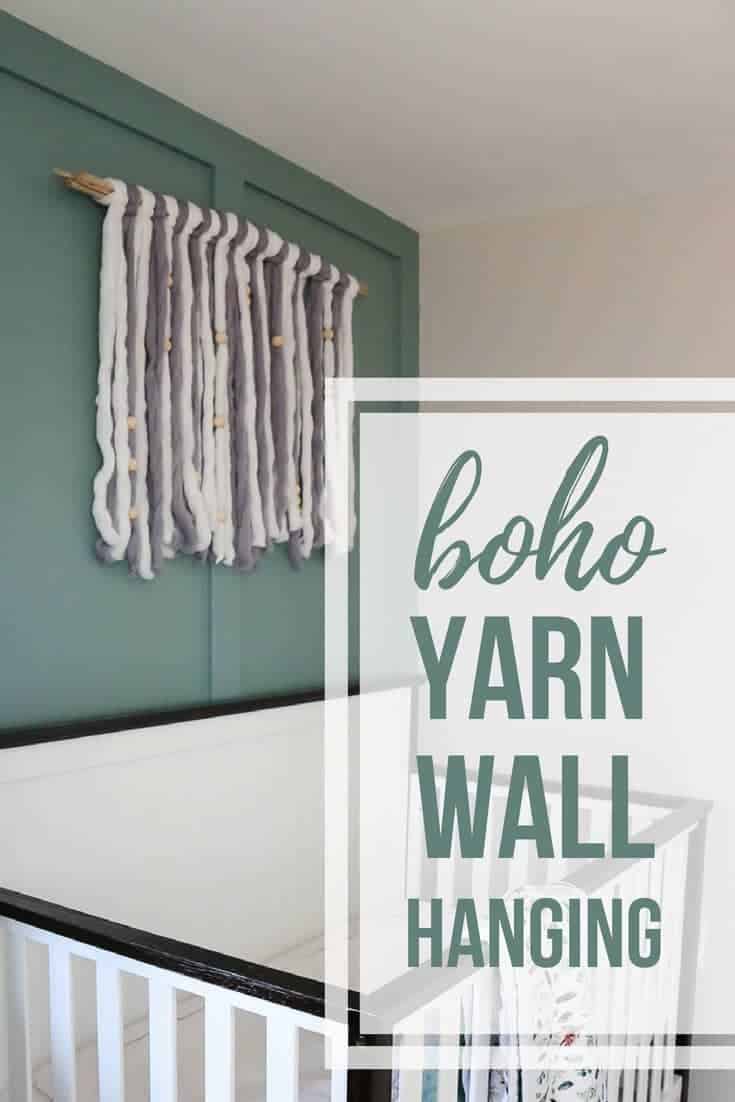 Are you ready to see how to make this DIY yarn wall hanging??

Supplies for DIY yarn wall hanging:
Driftwood about 3 feet wide (or you could use a wooden dowel)
Chunky yarn in two colors – I got a bag of both the white and gray and had plenty left over. (I actually ordered mine from this listing on Amazon, but it looks like the only colors the are currently selling are red and light blue, so I've linked similar yarn).
Hammer
Scissors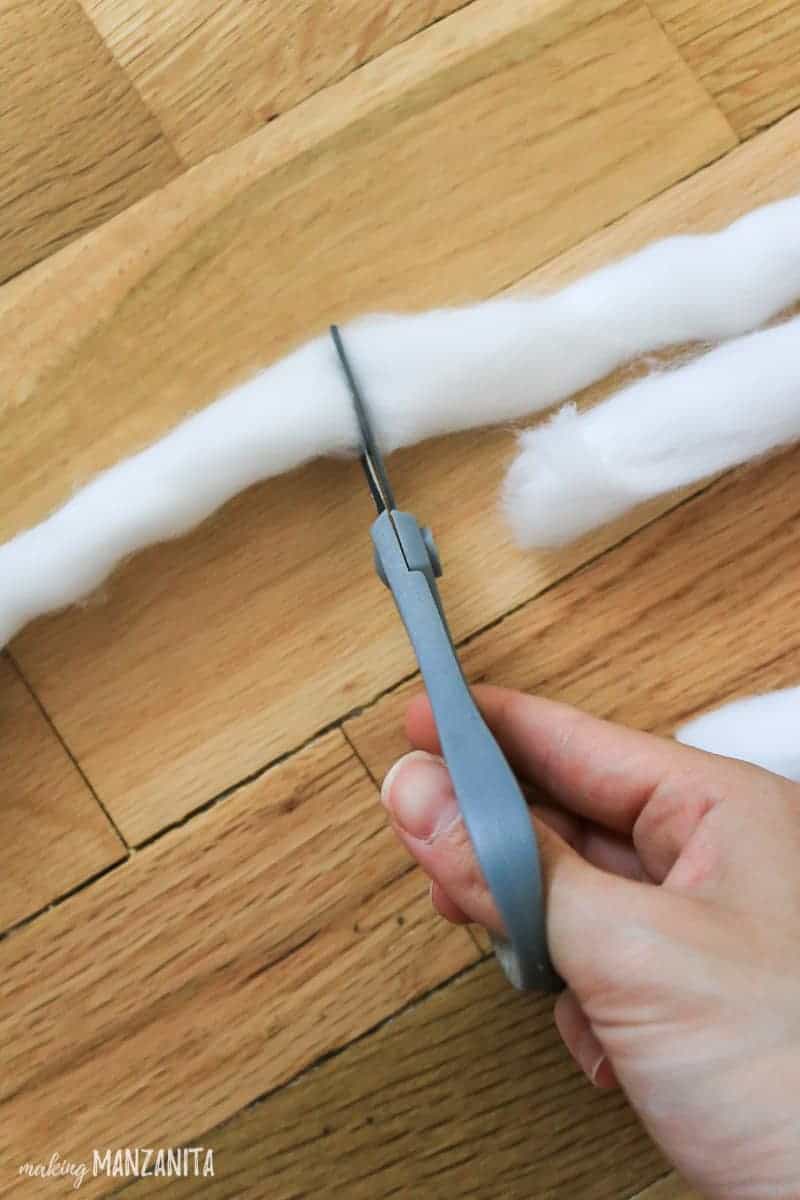 Step One: Cut yarn.
The length of the yarn really just depends on how big you want your yarn wall art to be. Take the approximate height that you want, double it and then add a couple inches to account for the looping around the wood. This will be the length that you cut each piece of yarn. You can save time by cutting a bunch of pieces at once rather than one at a time.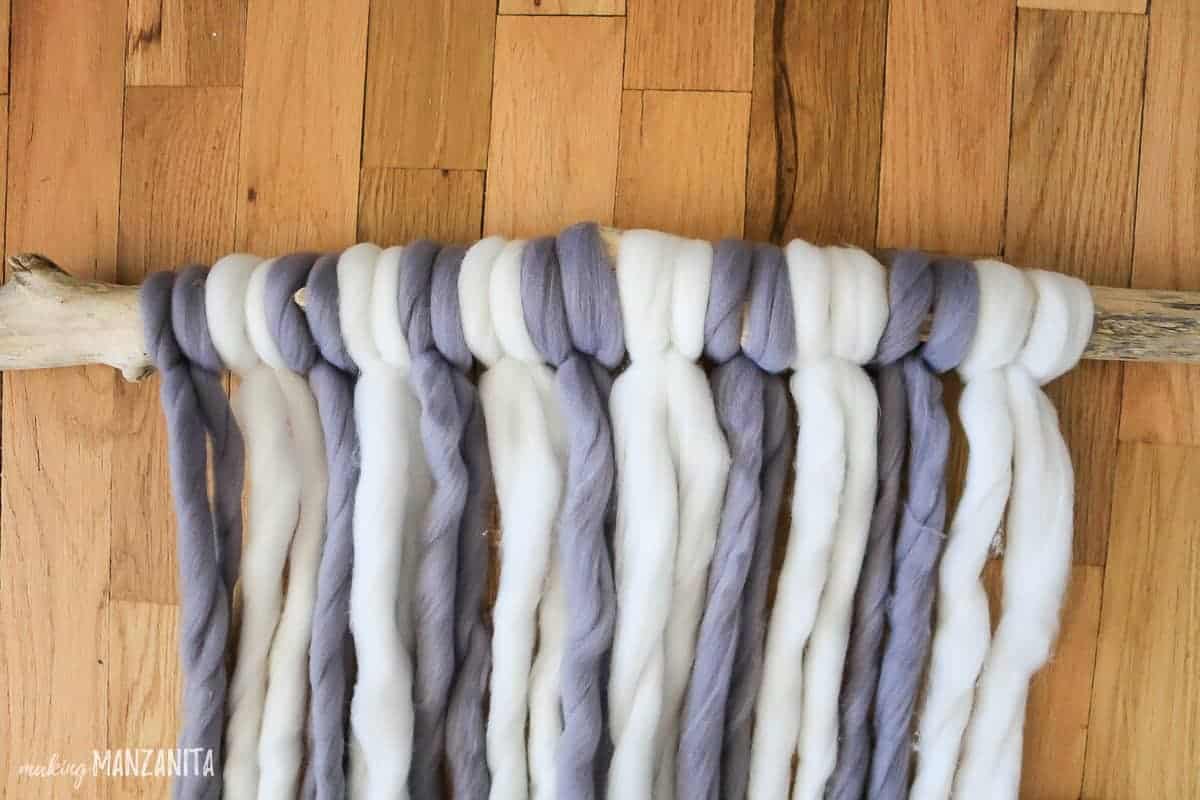 Step Two: Loop on yarn to driftwood.
It's just a really simple loop around the driftwood to attach the chunk yarn. Since I was using two colors, I alternated them.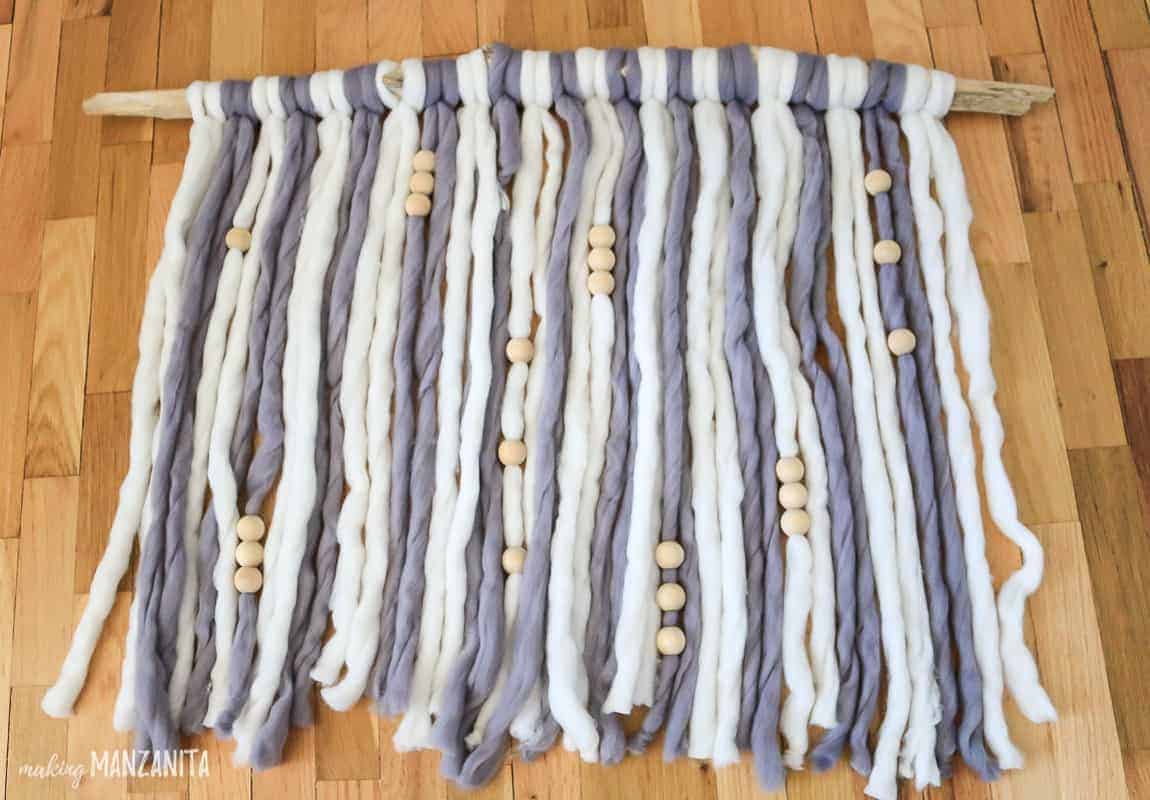 Step Three: Add wood beads.
My inspiration used copper pieces on the yarn, which is so cute! But I thought that wood beads would go better with the general design of the nursery, so I found some that were large enough to string on to the yarn.
The wood beads were just large enough, but not so large that they were "easy" to put on. I found it was easiest to twist up the bottom of the pieces of yarn and then twist the wood bead onto the yarn (kind of like you would twist and push on the top to a jar) until the yarn was all the way through the bead.
I added the beads in a really random fashion. At first I tried to replicate the V shape that my inspiration used, but it wasn't looking good with the wood beads.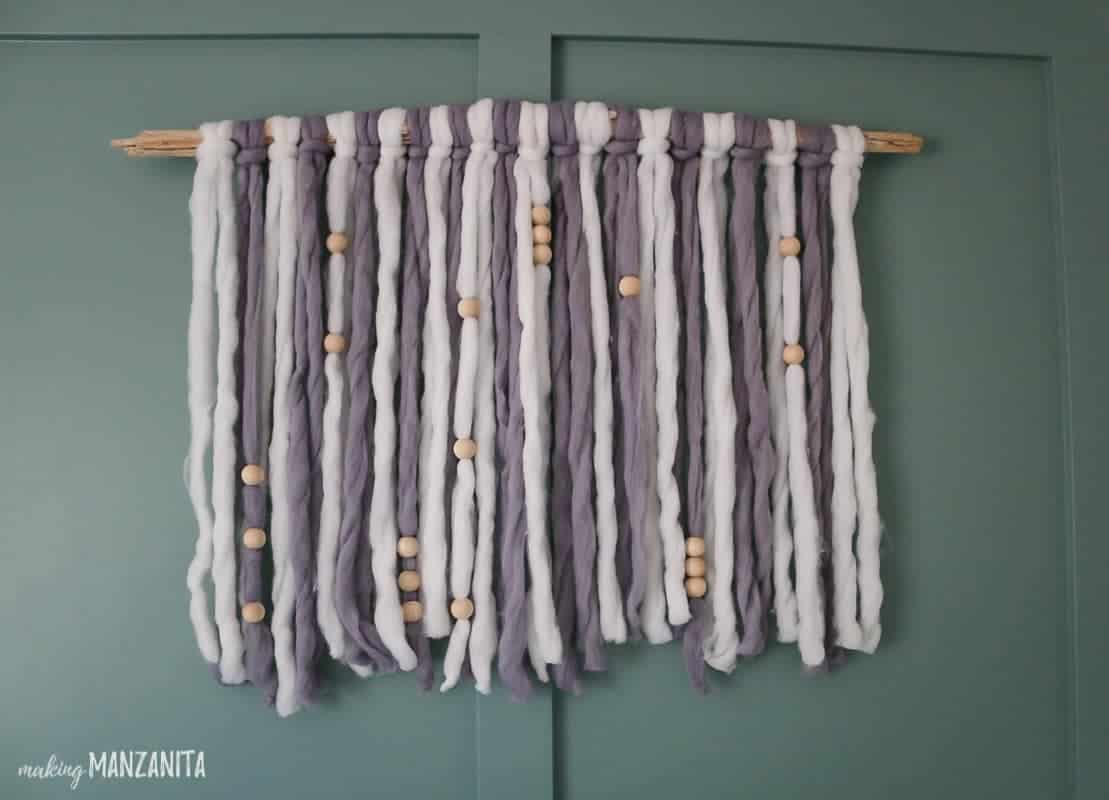 Step Four: Hang up on wall in boho nursery.
You'll need to get some long nails so there is enough to go into wall and hang out to set the wood on top of. We used 2.5″ nails.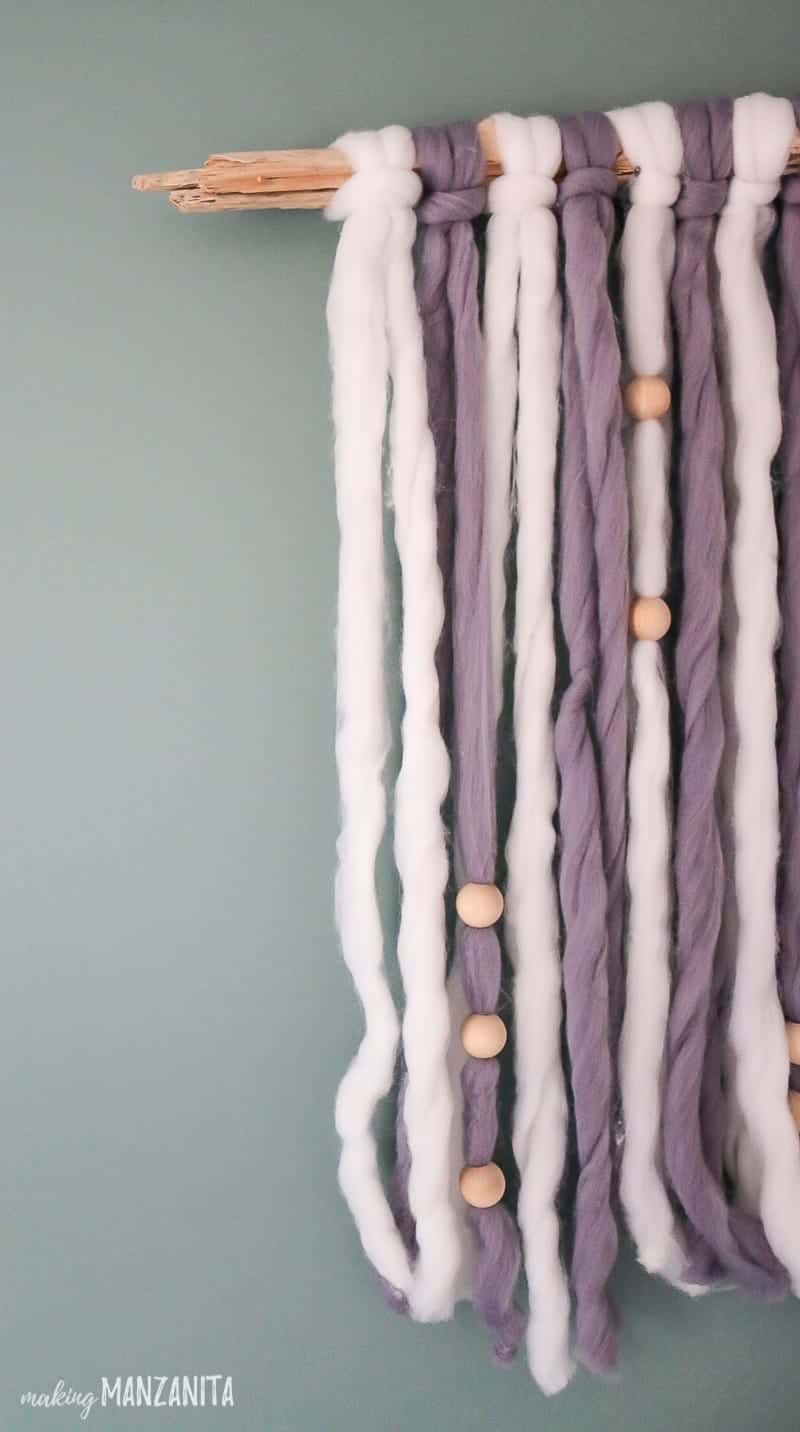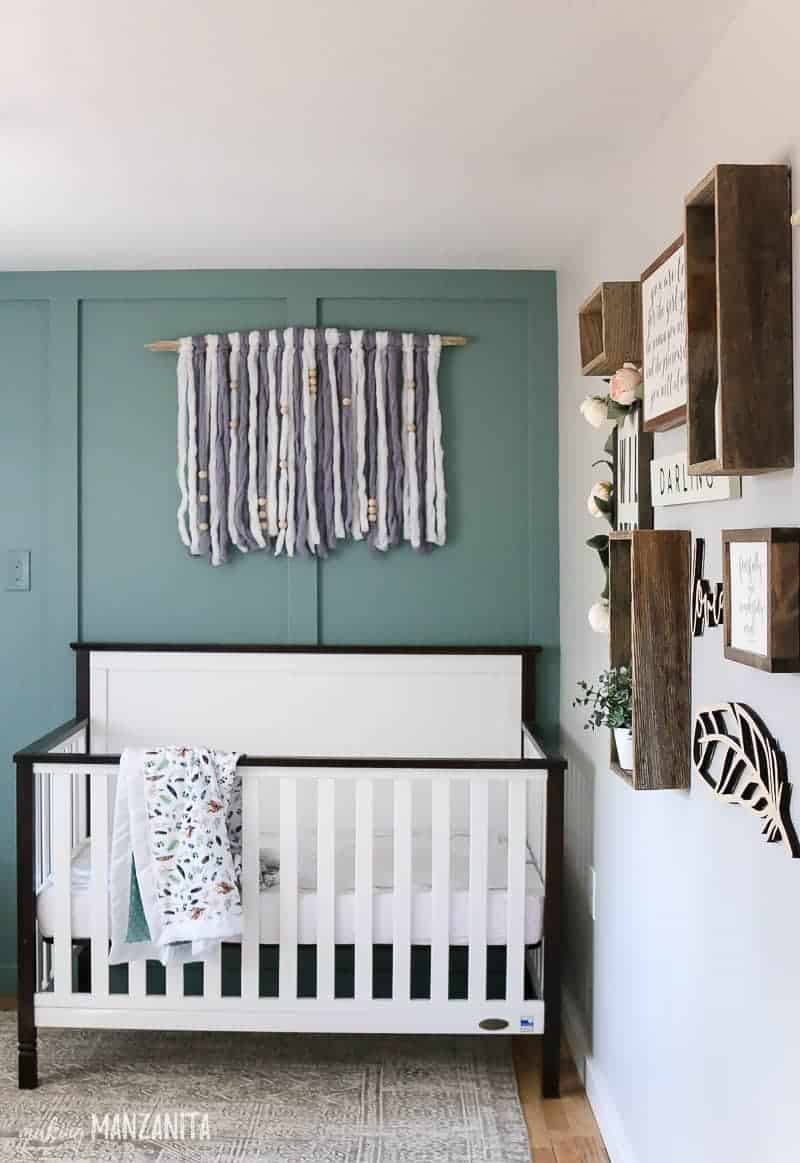 Also, I've gotta mention this safety warning for nursery installations….Since it is over the crib in our boho nursery, we are going to further attach it to the nails by wrapping some floral wire around the wood and then around the nail. This isn't necessary if you're just hanging it on a random wall! I'm also going add some knots under the beads to make sure they stay put (they would have to be pulled off, they wouldn't just fall). But wouldn't want those to get in the crib as a choking hazard. I also was sure to hang this high enough so that a little one couldn't reach up and grab anything.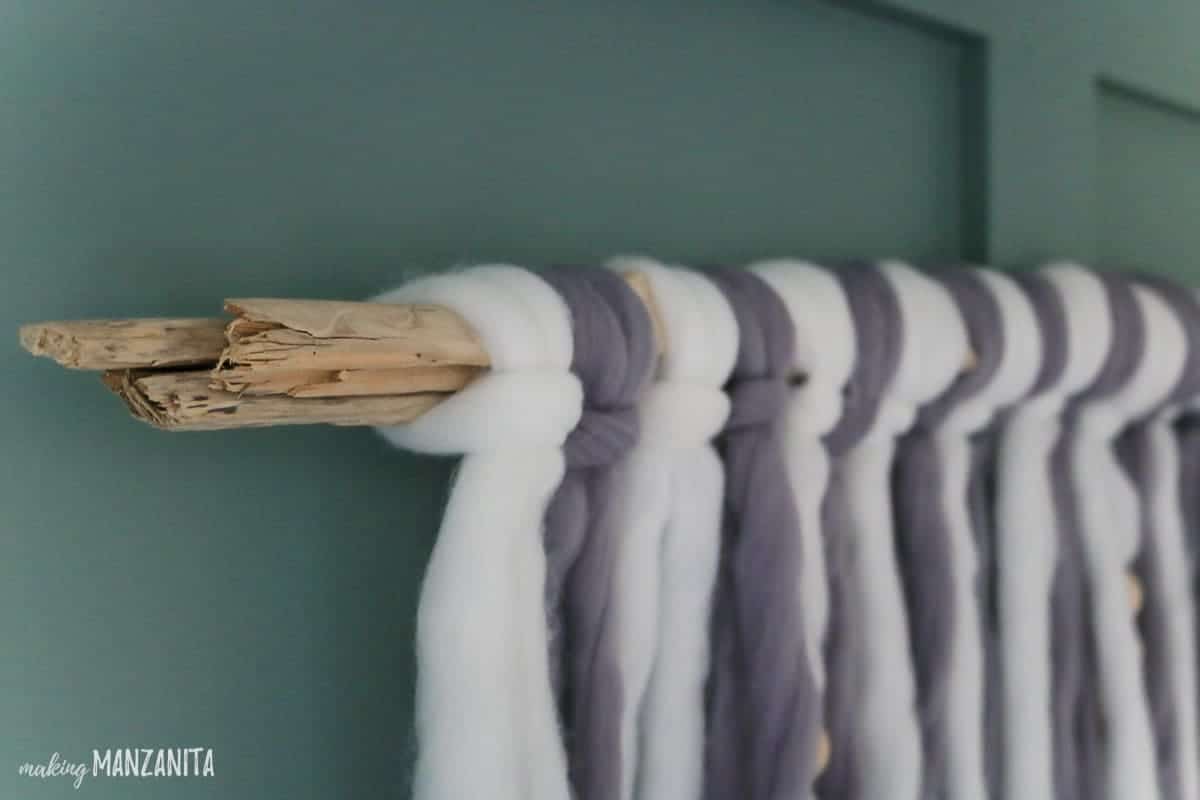 My favorite part about this adorable yarn wall art is the piece of driftwood we used. When our little one was just 2 months old, we took a trip as a family to the Oregon Coast. I looked high and low while walking on the beaches for the perfect pieces of driftwood for this project that I knew I wanted to make. Now that it is incorporated into this wall hanging, it's a fun reminder of that first vacation of a family of four.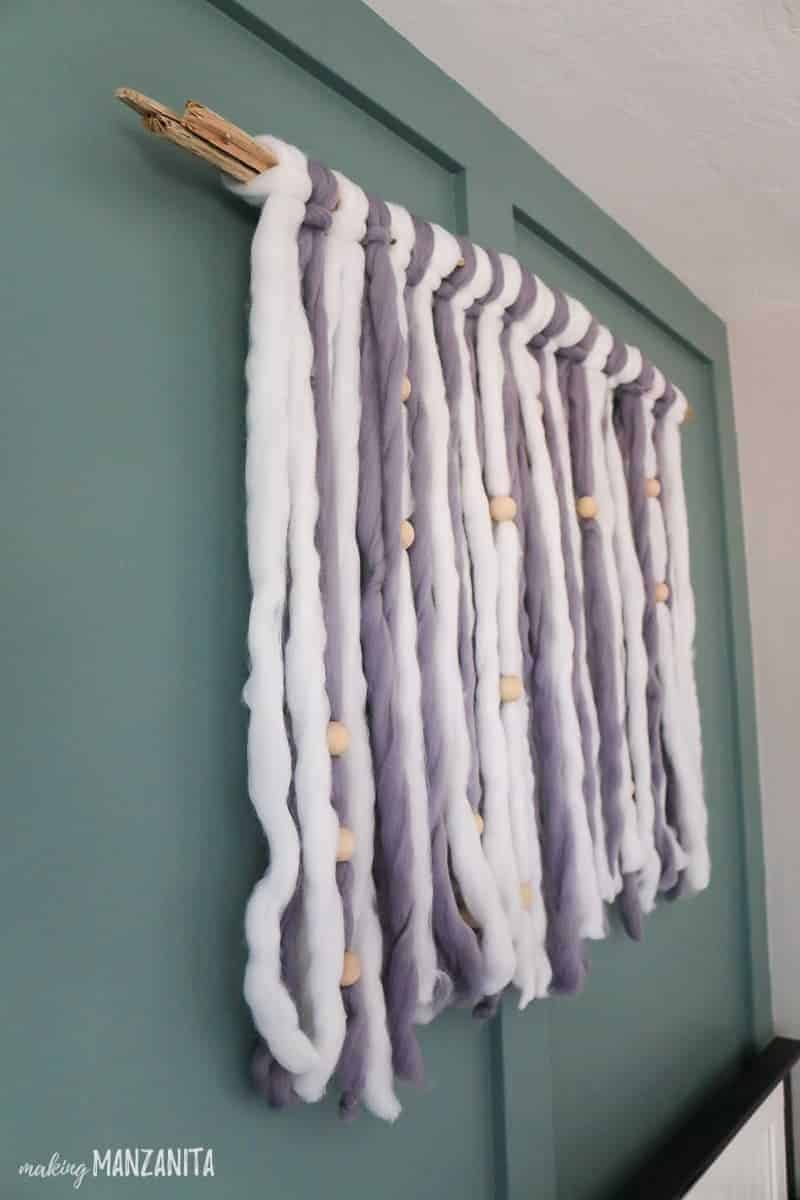 Also, if you are wondering – you can take driftwood from beaches as a souvenir (at least here in Oregon), but not for commercial purposes or in large quantities. I was a nervous Nelly so I looked it up. Haha.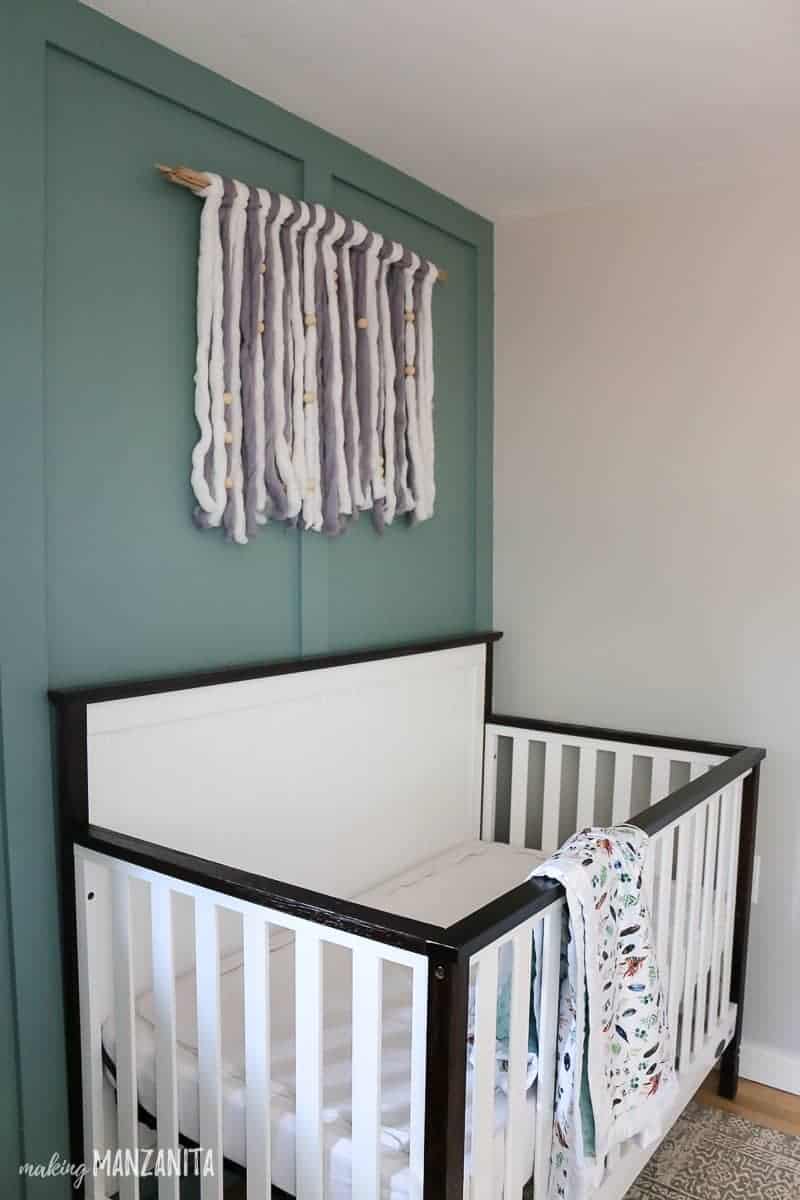 If you're not lucky to vacation at the beach and find some driftwood, you may be able to find some at your local thrift stores. You may also be able to find some for sale on Etsy.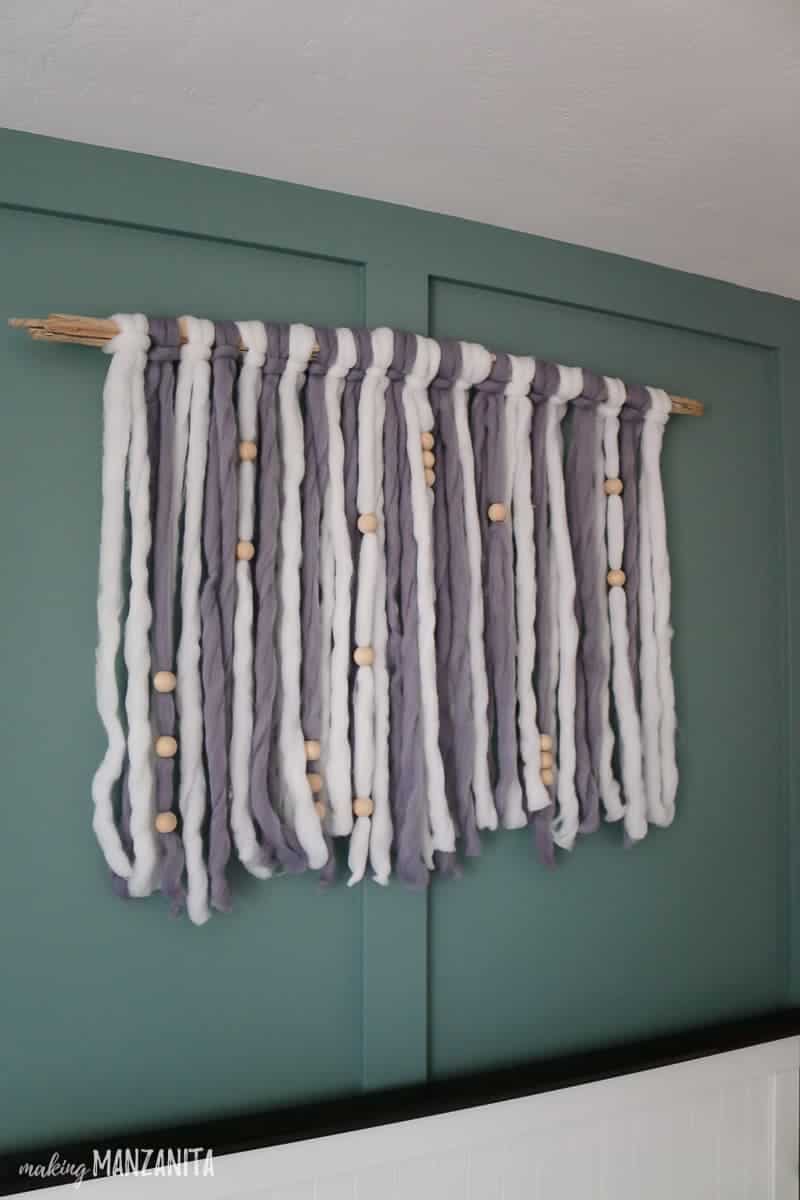 This DIY yarn wall hanging was seriously SO easy to make and only cost me $23 in supplies. I think from start to finish, this yarn wall art for our boho nursery took me about 30-40 minutes. And that was while I was taking pictures, adding it to Instagram stories….and trying to keep my toddler away from chucking the wood beads across the room, haha.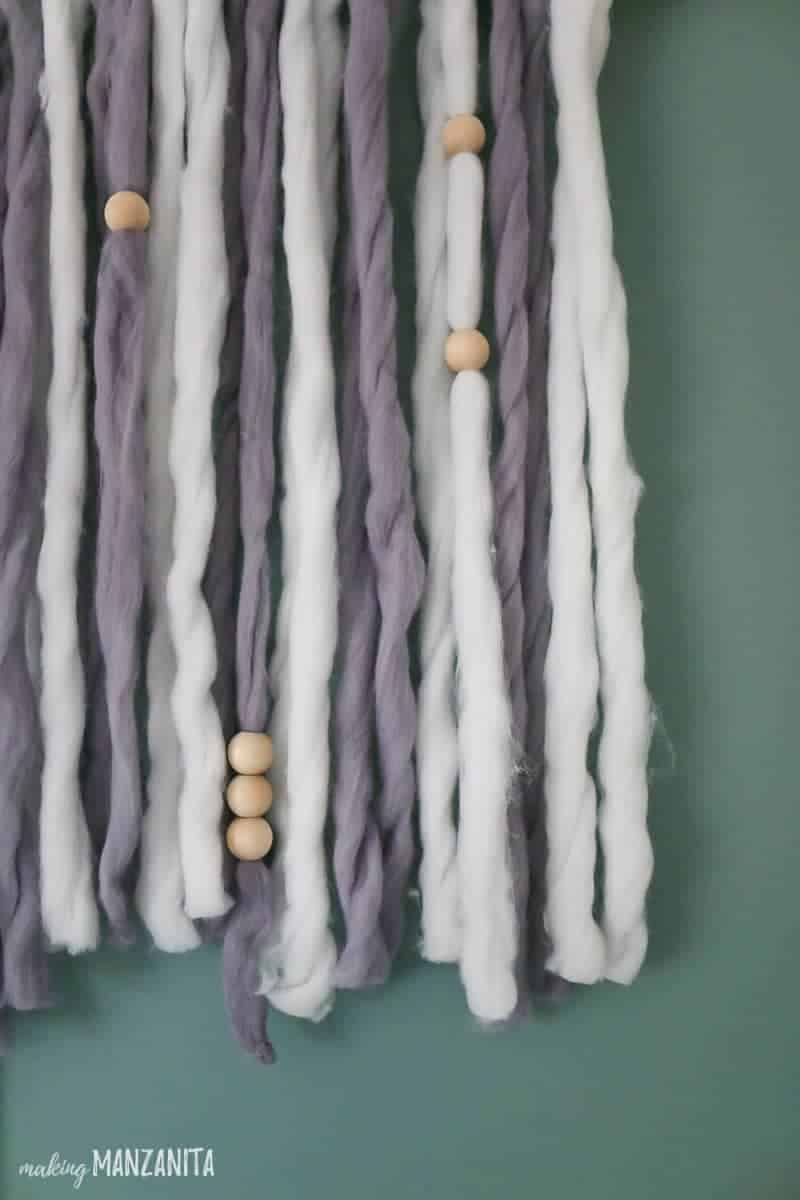 If you're looking for a really easy DIY yarn wall hanging that is perfect for a beginner, this project is for you! You can make this yarn wall art for under $25 in less than one hour. Customize the size, color and design of this wall hanging to really make it your own. I love the way ours turned out for our boho nursery!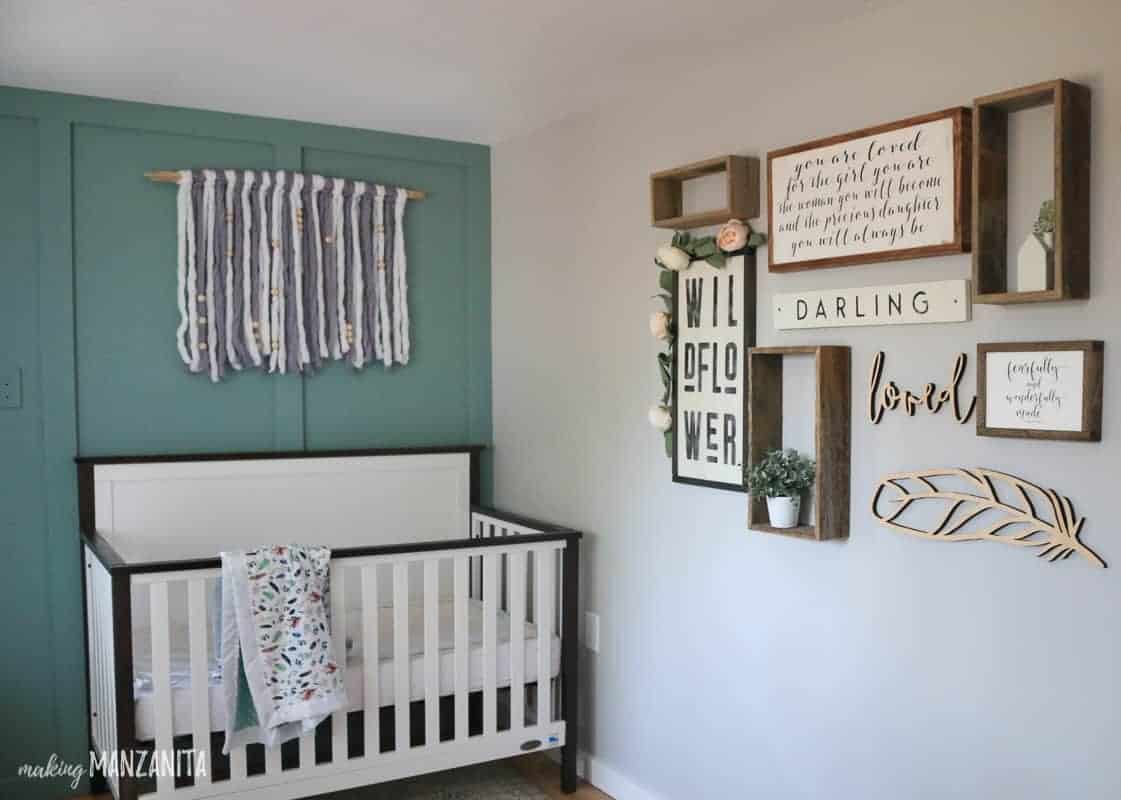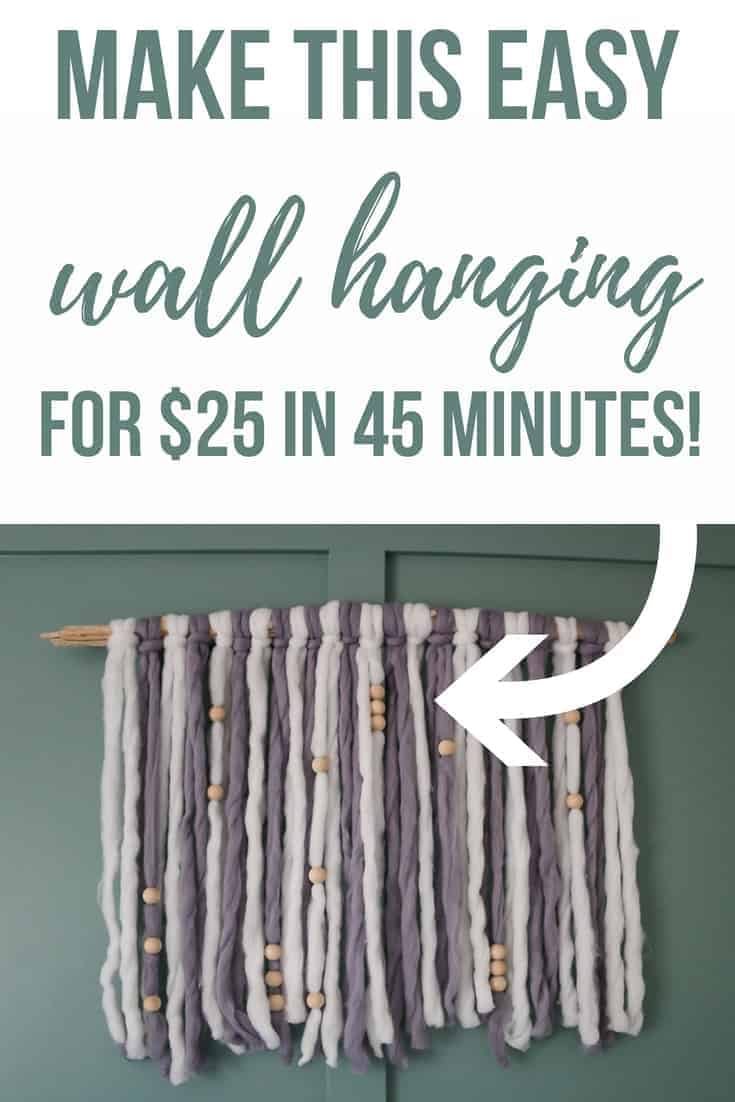 What is the last thing you've tried after finding it Pinterest??
Let me know in the comments below!
---
Now let's see what other things Pinterest inspired! Head over and visit the other hosts to see what they crafted, cooked, built, or tried!
Erlene – My Pinterventures • Alexandra – Eye Love Knots
Joanne – Our Unschooling Journey • Laurie – My Husband Has Too Many Hobbies
Jenny – Cookies Coffee and Crafts • Kristie – Teadoodles
Cherryl – Farm Girl Reformed • Beverly – Across the Boulevard
Debra – Shoppe No. 5 • Gail – Purple Hues and Me
Lynne – My Family Thyme  Chelsea – Making Manzanita
Julie – Sum of their Stories • T'onna – Sew Crafty Crochet
Michelle – Our Crafty Mom • Lisa – Blogghetti
Marie – The Inspiration Vault • Kelley – Simply Inspired Meals
Debbee – Debbee's Buzz • Habiba – Craftify My Love • Marci – Stone Cottage Adventures
Kenyatta – My Design Rules • Kelli – The Olympic Nest
Katrin – Kreativ K  •  Roseann – This Autoimmune Life • Terri – Our Good Life
Leslie – Once Upon a Time & Happily Ever After
Lydia – Lydia's Flexitarian Kitchen • Marie Claire – Undemisieclederecettes
 April – Stampin Fool  • Shirley –Intelligent Domestications  • Emily – Domestic Deadline

---
Want to see more of our modern farmhouse nursery??