If you are looking for some inspiration for your baby girl room decor, you're going to love this nursery wall art. I walk you through some tips for designing your gallery wall layout and buying unique pieces online. Here's our boho farmhouse nursery wall art reveal.
Thank you to Etsy for sponsoring this post! All opinions are entirely my own. This post also contains affiliate links, but nothing that I wouldn't recommend wholeheartedly. Read my full disclosure here.

If you love videos, be sure to subscribe to my YouTube channel!
Staring at a big blank wall in your home can be intimating! If you want to create a gallery wall layout, it can be even more intimidating! Choosing your gallery wall artwork while making it look cohesive and put together, but also varied enough to create interest…then there's spacing and hanging the gallery wall. Whew!
I have totally been right there with you..completely overwhelmed when it comes to creating a gallery wall layout that like something you are proud of. Along the way, I've figured out some really helpful things that really make the whole planning and gallery wall design process a lot easier and today I'm spilling it all!
Further Reading – Read my 5 favorite gallery wall styling tips here!
Our modern farmhouse nursery has been really coming together!! I can't wait to keep sharing the space with you. If you're just joining us, be sure get caught up by checking out the farmhouse baby nursery inspiration, great ideas for farmhouse cribs, farmhouse floor lamp ideas and modern farmhouse rugs. We actually had to build the some of the walls of the nursery from scratch, which is phase one of our renovation in our new fixer upper. If you're interested in learning more about the construction of the room, be sure to read this guide on how to build a wall and all about framing a door in an interior wall and then how to install a prehung door. Then we gave one of the walls a big makeover with a board and batten wall treatment, which I am in love with!
How to plan your gallery wall layout the easy way
If you're anything like me, you do A LOT of shopping online! With two little ones around now, it would be a freakin' miracle if I were able to get out of the house with both of them and be able to be out long enough to get enough decor to put together an entire gallery wall.
Yes, the entire gallery wall. I've found that unless you want to make a lot of returns you're going to want to be able to see all of your gallery wall art together before you purchase. It helps to be able to hold your pieces next to each other to make sure they all look cohesive.
So that brings us to the next option….online shopping.
If you've been around my blog for a while now, you know that I am a huge Etsy fan. In fact, every month I round-up awesome Etsy products within a theme (click here to see all of my posts of Etsy round ups). When I'm looking for unique home decor, one of the first places I figuratively run to is Etsy. So naturally I couldn't think of a better partner for our nursery wall art.
Side note: Speaking of Etsy…have you guys been watching Making It on NBC?? Etsy's trend expert, Dayna Isom Johnson is a judge on this amazing DIY/crafting competition show. You've gotta check it out! Ok..back to the gallery wall…
Now if you are shopping for any home decor online, you know that one of the hardest things to judge is scale. It is even more important when you are buying wall art for a gallery wall. If your wall decor is not scaled right it's going to mess up your entire gallery wall layout. You don't want to be unpacking your shipments and find that one piece is massive and another piece is way too small.
I've figured out an awesome hack for how to plan your gallery wall layout the easy way that is PERFECT for online shopping. And let me tell you ladies, it's going to change the way you shop!
Save photos for everything you are planning on buying for your gallery wall layout.
Open Excel on your computer (or use Google Sheets).
Make all of the cells on the spreadsheet squares (so the columns and rows are the same). This will be your "scale" like drawing on graph paper.
Establish the measurement that each cell will represent. I used one cell = one foot.
If it helps you visualize, you can draw a box around the cells that represent the entire wall space that you want to work within so you can plan your spacing.
Open the photos in your spreadsheet. Crop edges as necessary.
Resize your photos to scale.
Design your gallery wall layout to your heart's content without having to worry about not scaling your wall decor correctly!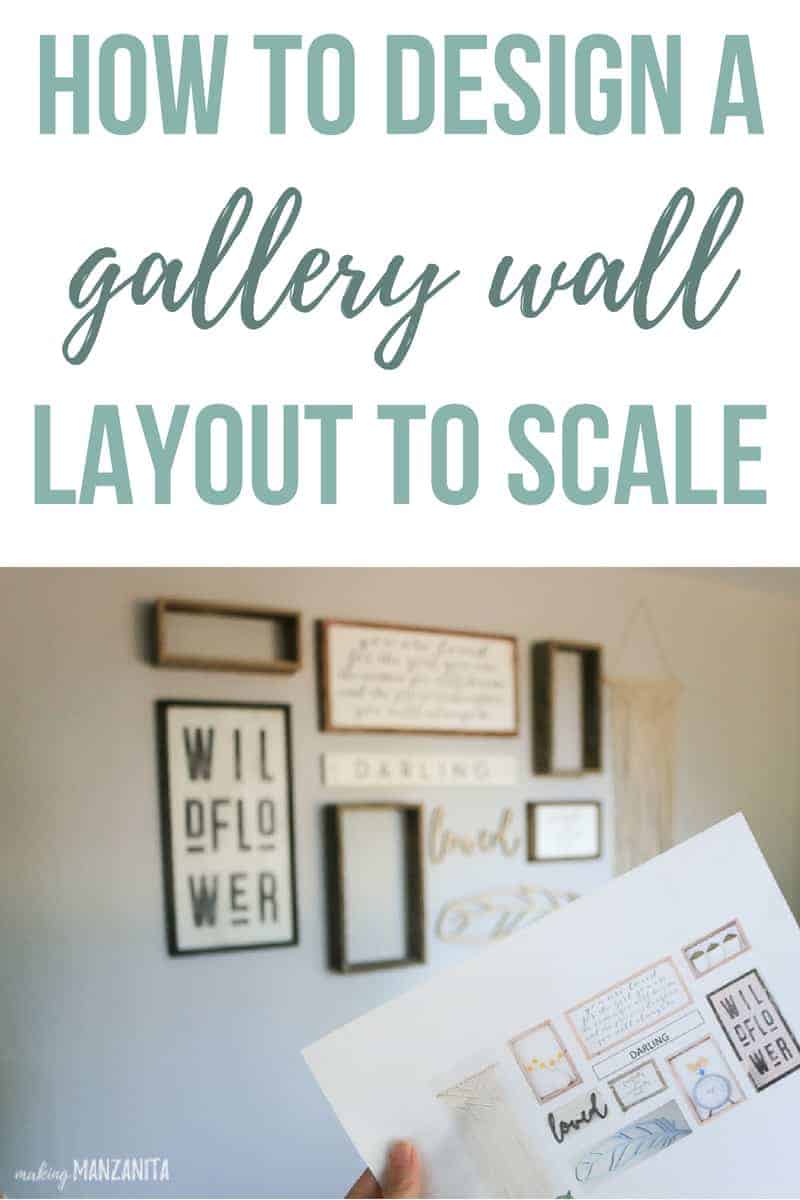 Pretty awesome, am I right?!
Then when you get your happy mail shipments, all you have to do is print out your design and get to hanging! Speaking of hanging, I usually a combination of Command picture hanging strips and nails when necessary. If I do need to bust out the nails and hammer, I've got a great way to hang pictures the easy way (so you don't end up with a million holes in the wall trying to get the picture level!)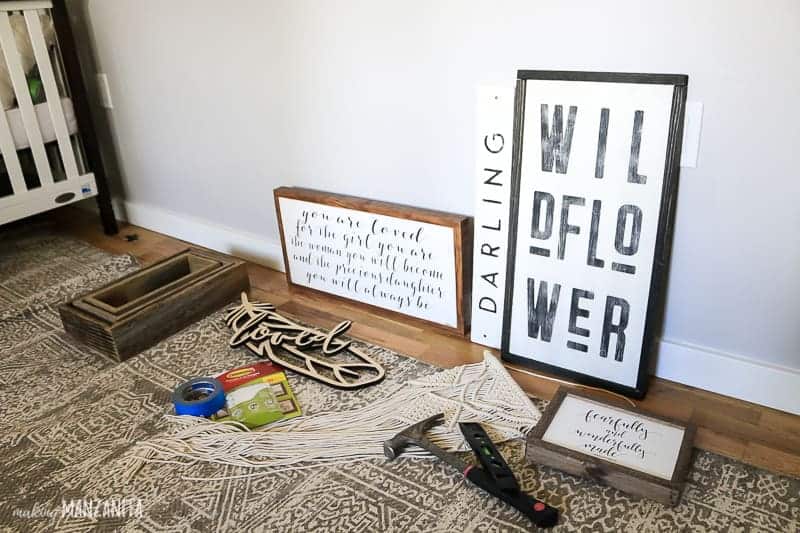 Now are you ready to see how our modern farmhouse nursery wall art turned out??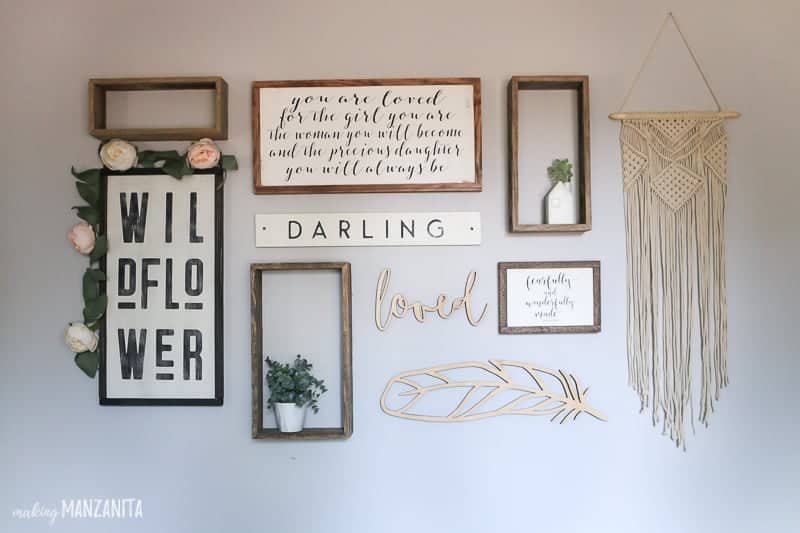 Gah….I am so in love!!
Everything you see on this nursery gallery wall is from handmade with love from some amazing shops on Etsy! (Sources are all detailed at the end for your convenience).
Once you do get everything delivered and unpacked, the best plan to start when hanging your nursery wall art is to lay it all out on the floor in front of your wall. Even though you previously designed the gallery wall layout, you may want to shift things around a bit once you get the pieces in your space. I ended up actually flipping my design entirely because I ended up wanting the macrame hanging on the right, not the left like originally planned.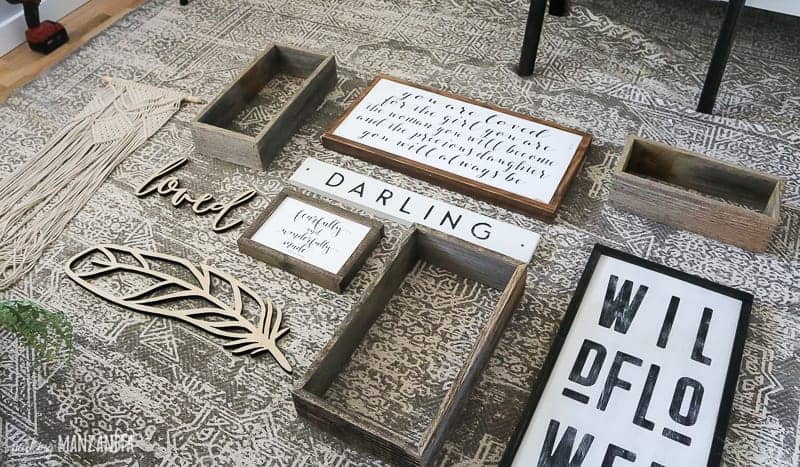 When everything is laid out and spaced out appropriately, measure the whole gallery wall to get your approximate borders to stay within. This should be pretty close to what you had designed on the computer too. I like to mark the area that I'm working within on the wall with painters tape (I do make sure this tape is nice and level too). This gives me a good starting point when I start hanging and lets me get a little bit of a visual before I make any holes.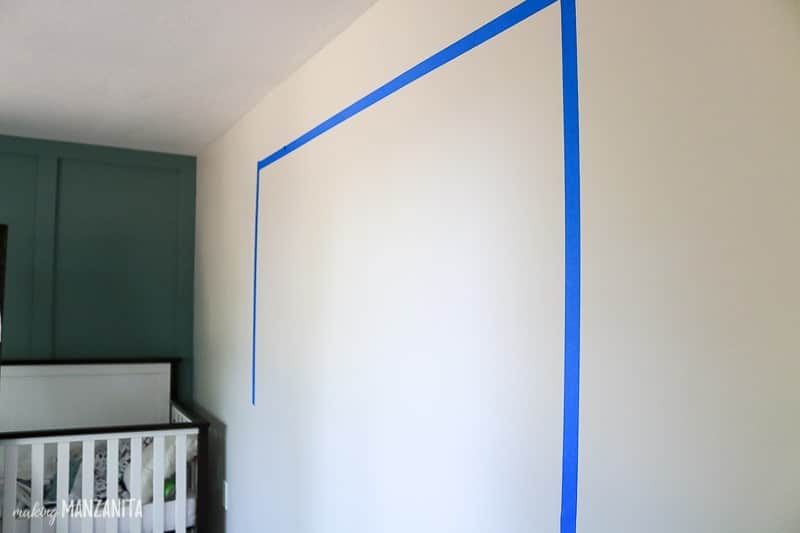 Then starting from one side of your gallery wall design, you can start hanging things up!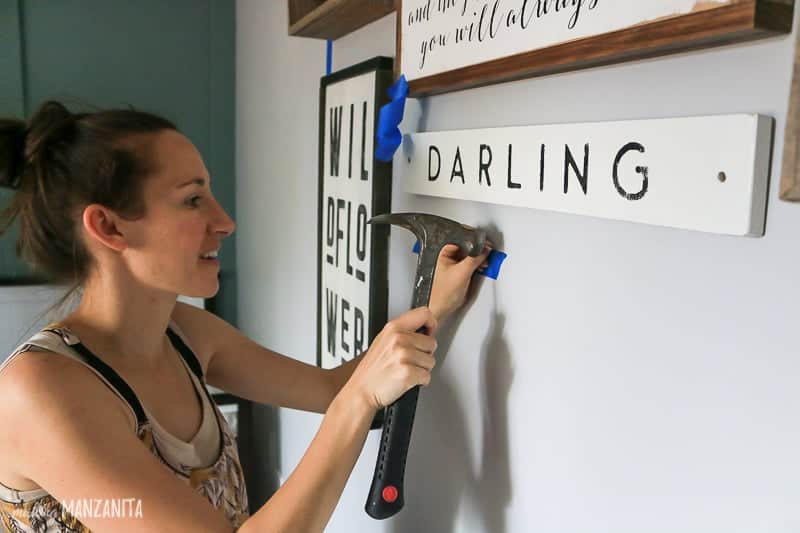 My absolute favorite thing about our nursery wall art is that everything is handmade from small business owners on Etsy. I know that each piece was made with the hands of hardworking people. Everything is unique and unlike things that everyone else has from the big box stores.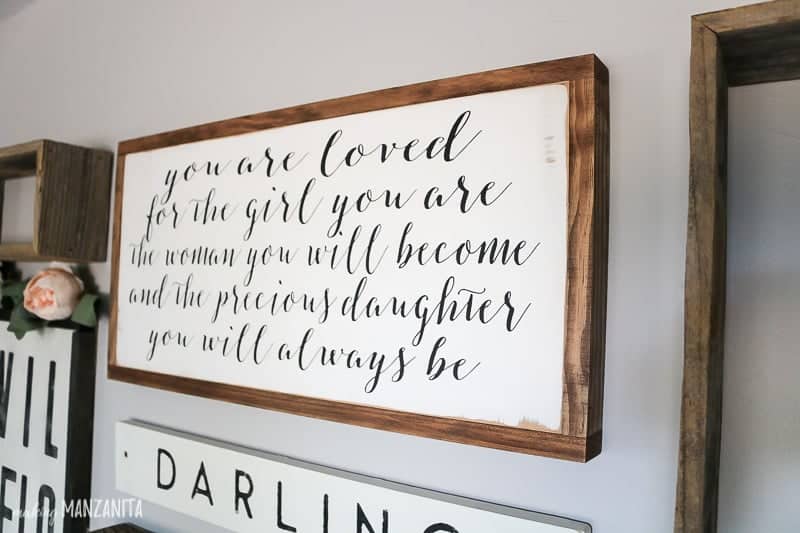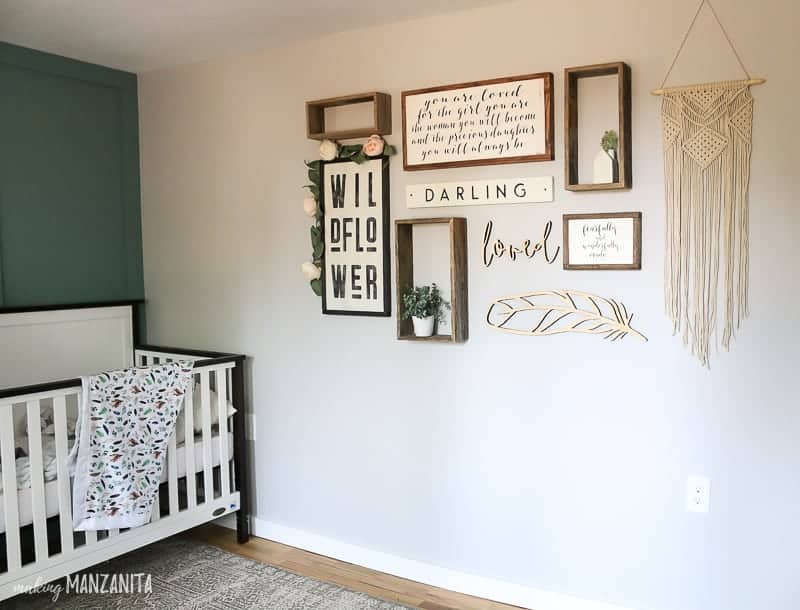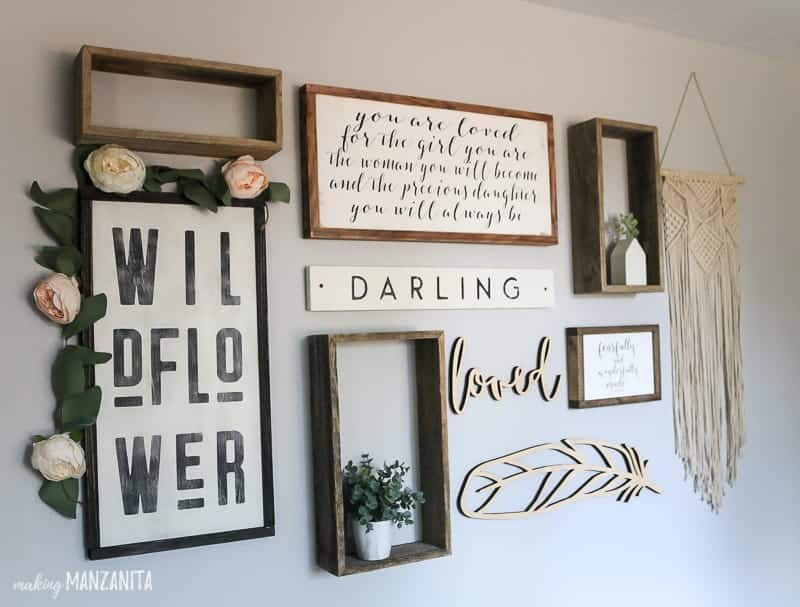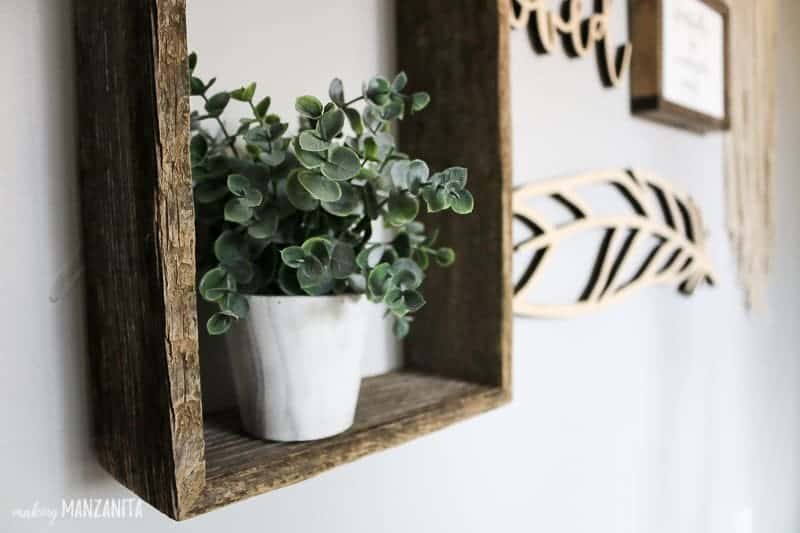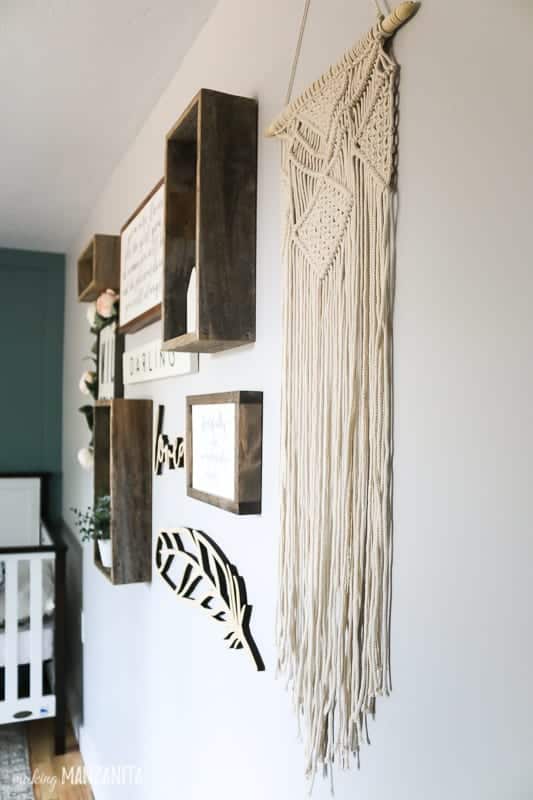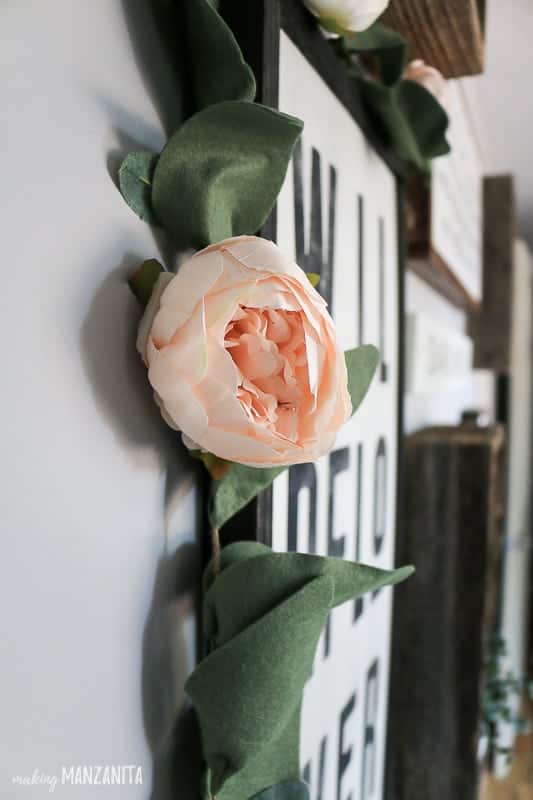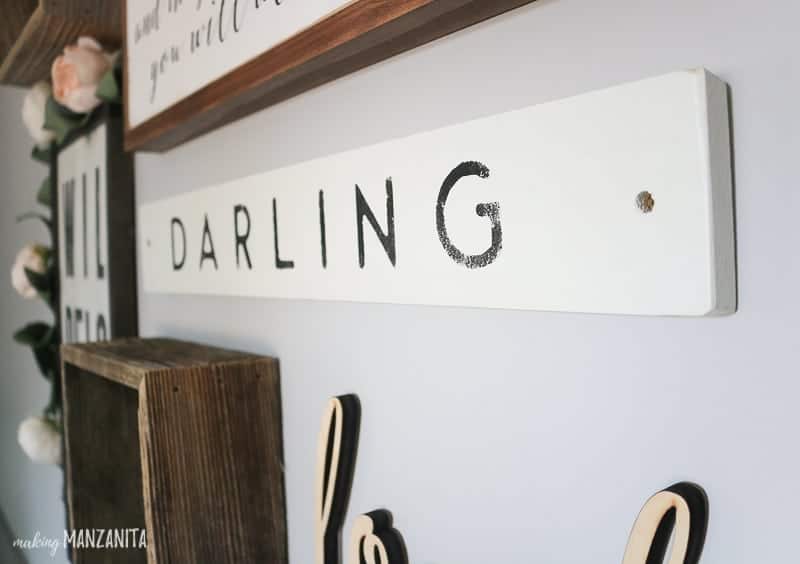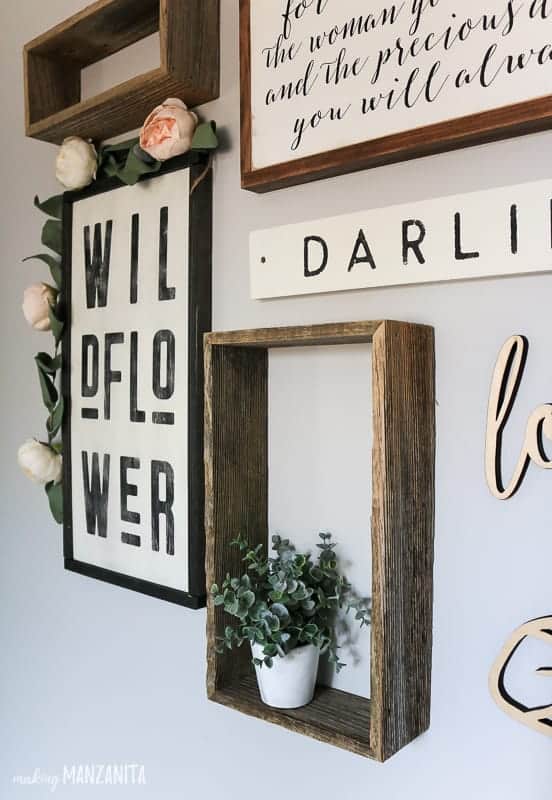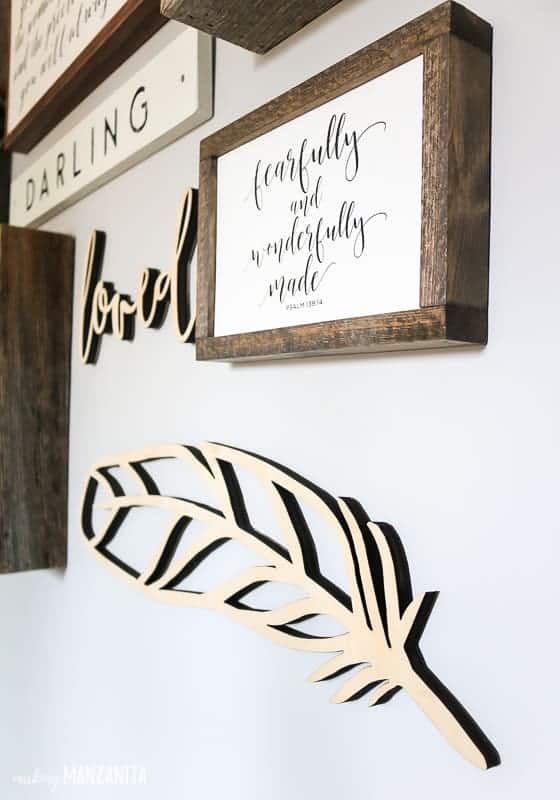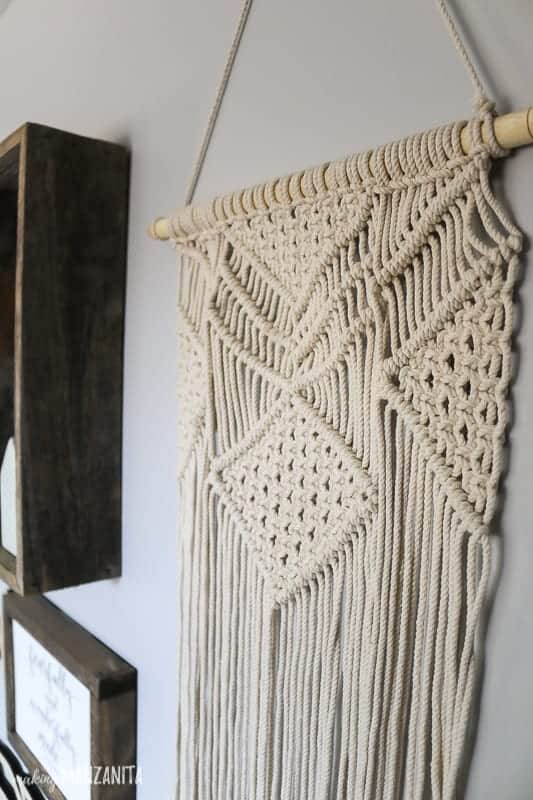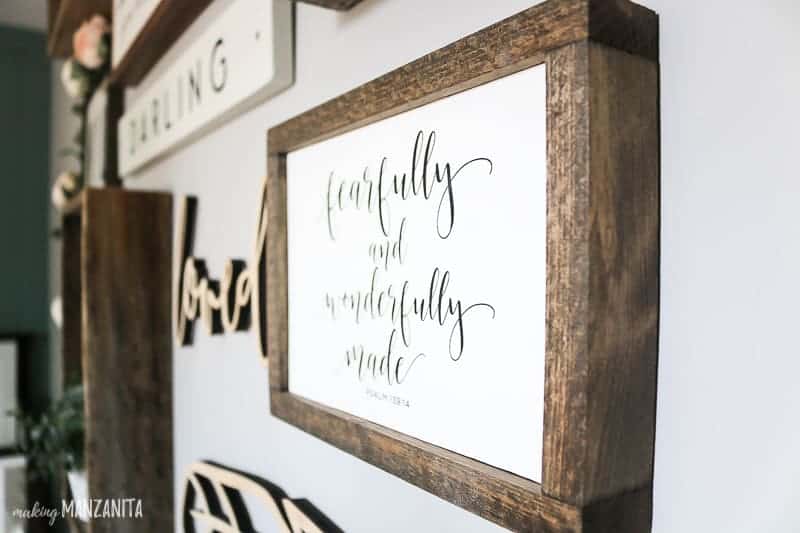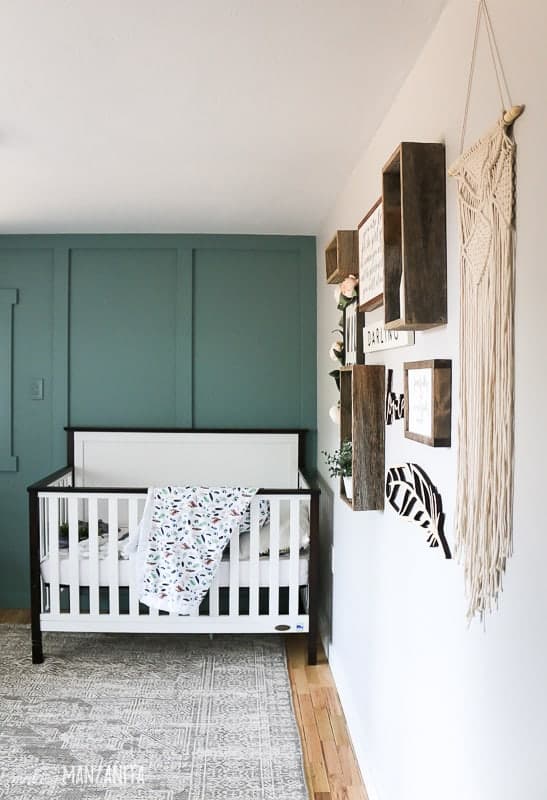 I'm completely loving the nursery wall art and it's really giving me that extra boost I need to finish up things in the rest of the nursery!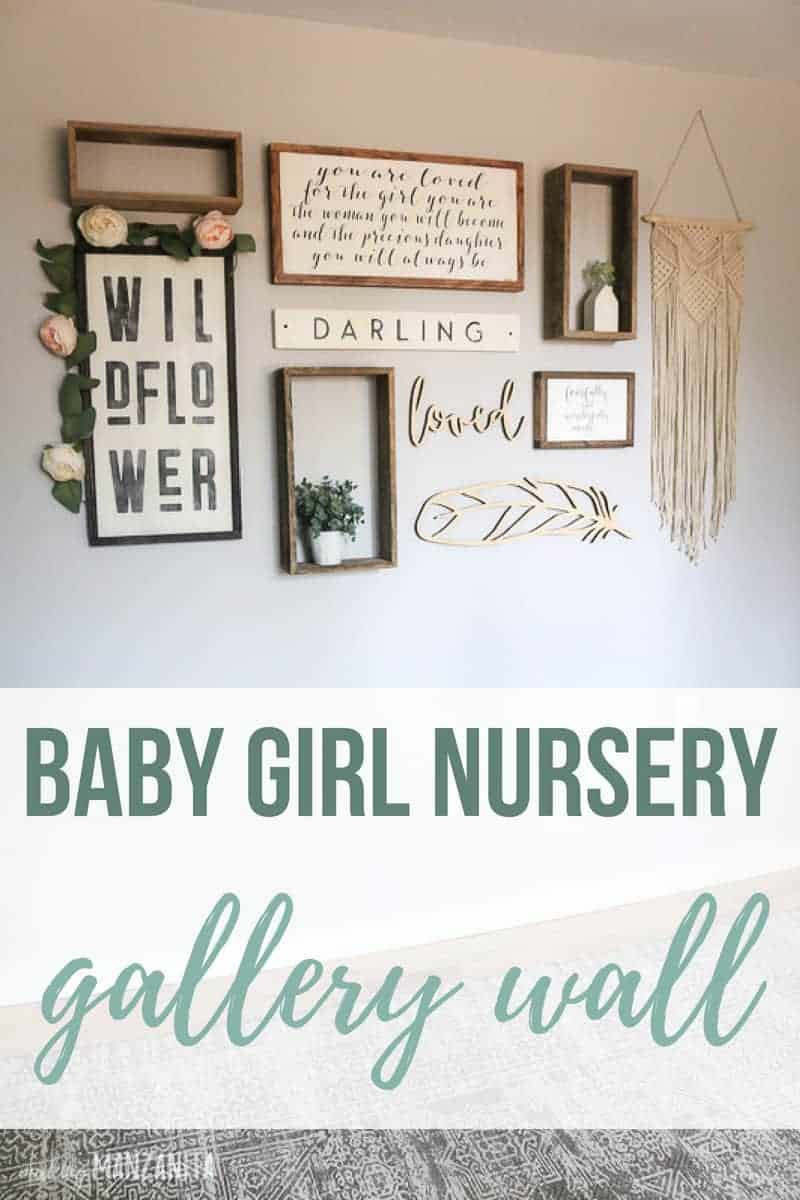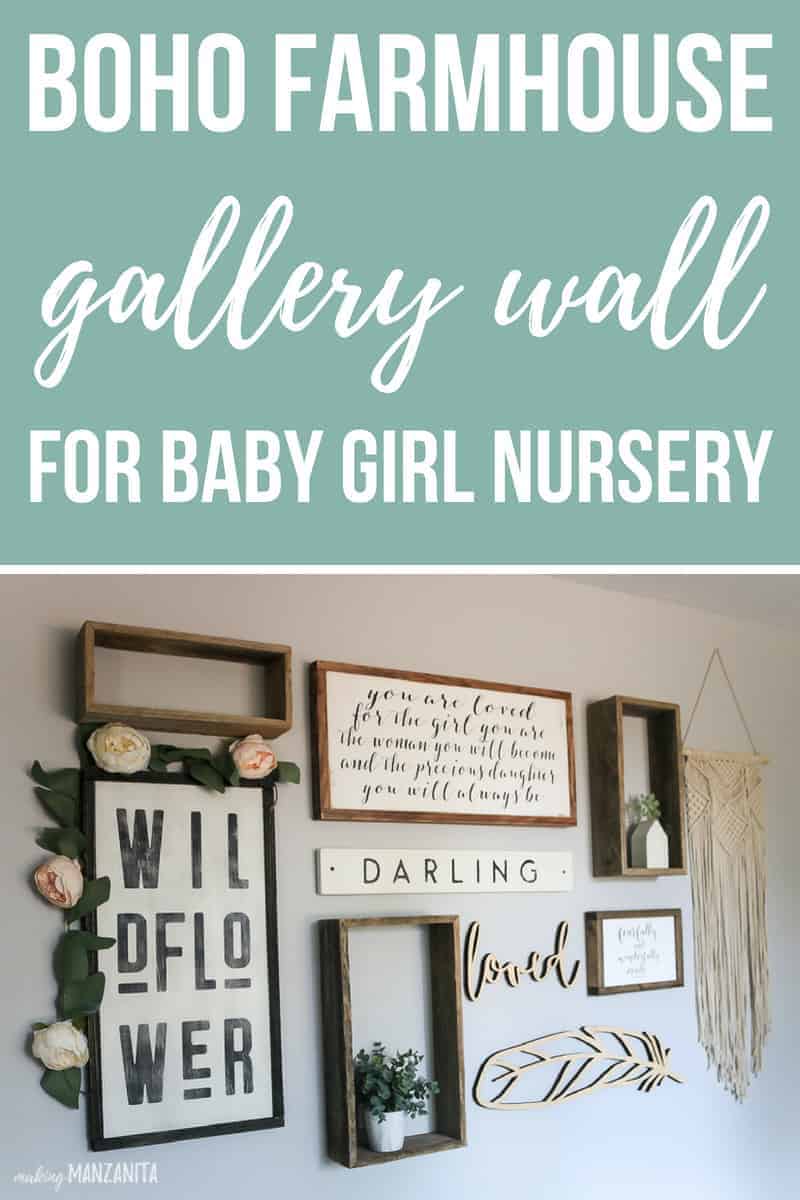 Source List for Modern Farmhouse Nursery Wall Art:
What is your favorite part of our nursery wall art?
Let me know in the comments below!!
---
Want to see more of our modern farmhouse nursery??
Hanging Flower Box
Room Reveal