Looking for some bar stools which are affordable and also full of that industrial character? The search is over! I've rounded up 9 industrial bar stools! You'll love these industrial counter height stools under $100 each.
We can blame Joanna, but kitchen islands are SO popular and bar stools have become a kitchen essential. Well, actually it is hard to imagine a kitchen without a bar stool, right?
If you have a standard-height counter or kitchen island that is 35 to 37 inches tall, you'll need counter height stools. Counter height stools range from 23 to 28 inches tall.
There are a lot of great choices on the market, so it can be a tad overwhelming when you go to purchase one. To narrow the search, it helps to choose a style first.
For this roundup, I focused on bar stools with industrial style. Make sure that it will easily complement your kitchen and your overall home style and decor. Then don't forget the function and comfort!
This whole month we've been focusing on sharing all about the kitchen! We started the month off by sharing our tile removal tips and shared the full tutorial for our white subway tile installation.
Recently I was on the market for some new industrial counter height stools to really be the finishing touch to the beautiful new island. I looked high and low for counter height stools and decided to share some of my favorites with you today. 
A Quick Note About the Cost of These Counter Height Bar Stools
When this post was originally published in March 2019. At that time, every bar stool featured was under $100. Since then, some of the prices have risen slightly over $100. #inflation
This industrial counter height stools post contains affiliate links, but nothing that I wouldn't wholeheartedly recommend anyway! Read my full disclosure here.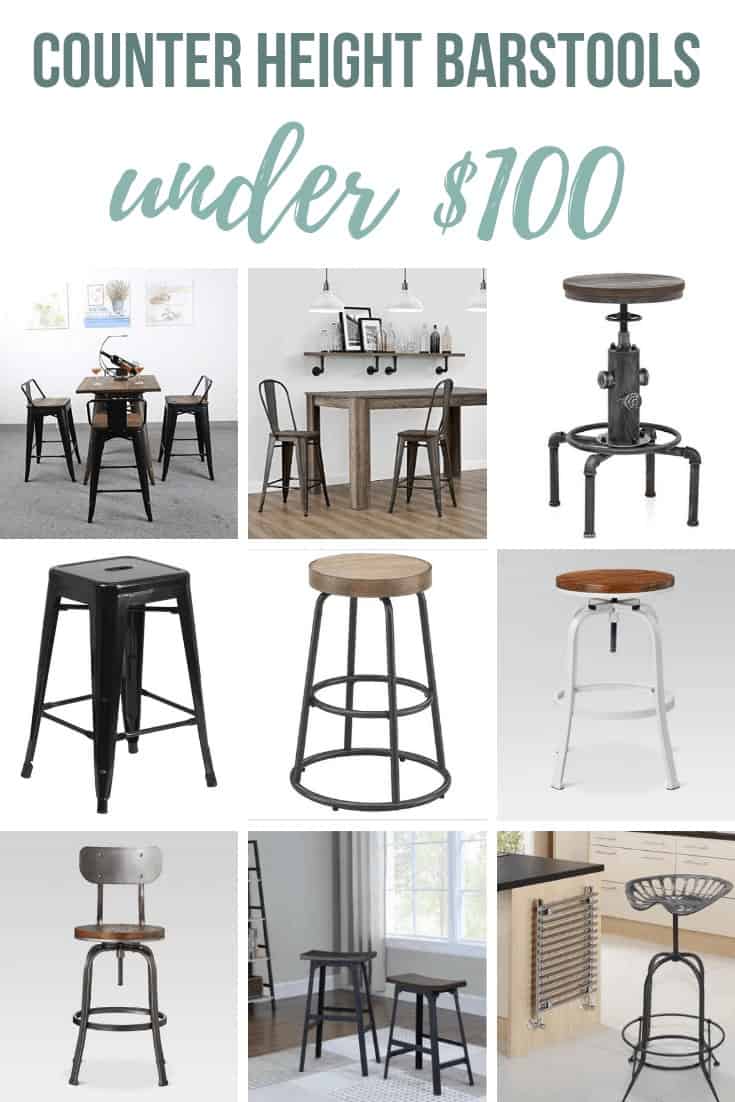 These stylish modern metal chairs are ideal for someone that wants the industrial style with the sleek look of a low back. They are 24" tall, so fall under the counter height category.
Love these industrial bar stools because of their wood seats with a distressed finish and antique metal design.
I was, specifically, looking for something with a wood seat so they wouldn't be cold to sit on – as metal might be. These are perfect to pair with a farmhouse kitchen.
I love that this bar stool has a more authentic and ornate vintage industrial vibe. And the seat height is fully adjustable, score!
I love how simple and sleek these counter stools are. It comes in 9 fun color options so you can add a little splash of color to your kitchen! I love that it is super durable and that you can throw it outside on the patio.
This industrial bar stool has rustic industrial-style vibe seats for your kitchen and dining area.
Love this sleek-looking adjustable height barstool that has so much industrial style.
I love the fact that this one has a back, which is something that we were looking for with our bar stools.
It is made with a sturdy black metal frame and a solid wood seat with a small backrest. The industrial style with this one would look amazing in your kitchen combining style and functionality.
This one is a little different than the others because it has a rectangular seat. The seat is a rich wood finish and has a metal matte black frame. This bar stool has that rustic industrial look that I love.
When I think of a vintage industrial style, tractor seats definitely come to mind! This one is SO fun!
With all the affordable industrial counter height stools available, it is too hard to decide…right? I had a hard time narrowing it down when we were choosing stools.
Ultimately, we ended up choosing something that didn't swivel (because Cal has already taken a few tumbles on our old swivel bar stools) and had a back because we thought that would be more sturdy for kiddos. One last hint…we got something with a wooden seat – not metal… because I ain't having a cold seat!
Which ones do you think we purchased??
Which of these industrial bar stools is your favorite?
Let me know in the comments below!
Related: If you love the industrial style, you'll probably love these too: