This is a sponsored post written by me on behalf of VELUX Skylights. All opinions are 100% mine.
Would you love to have a kitchen with skylight? Me too! In today's post, I'm giving you 7 good reasons why adding a skylight in kitchen (or really any room) is a good idea and we're taking a look at 6 kitchens with skylights for major inspiration!
The longer I live on this earth and the more I take pictures of homes, I understand just how important natural light is for a space. Not only is natural light key for interior photography, but it has proven that natural light can boost your spirit, reduce stress levels, lead to higher productivity, help you sleep and benefit your vision (source).
There are a few tough spots to photograph in our house due to lack of natural light. The toughest is probably our kitchen!
With the dark cabinets and small window by the sink along with the windows in the corner by the table, that room just doesn't get a lot of natural light. Even with three windows in the room, the backyard is almost a full canopy of shade during the summer with the large trees full of leaves.
We've done a few things that have helped brighten up the kitchen like add the subway tile backsplash and even swapping out the kitchen sink with something white.
Usually when I take pictures of our kitchen, I have pull out big bulky lights and do ALOT of editing on the computer afterward.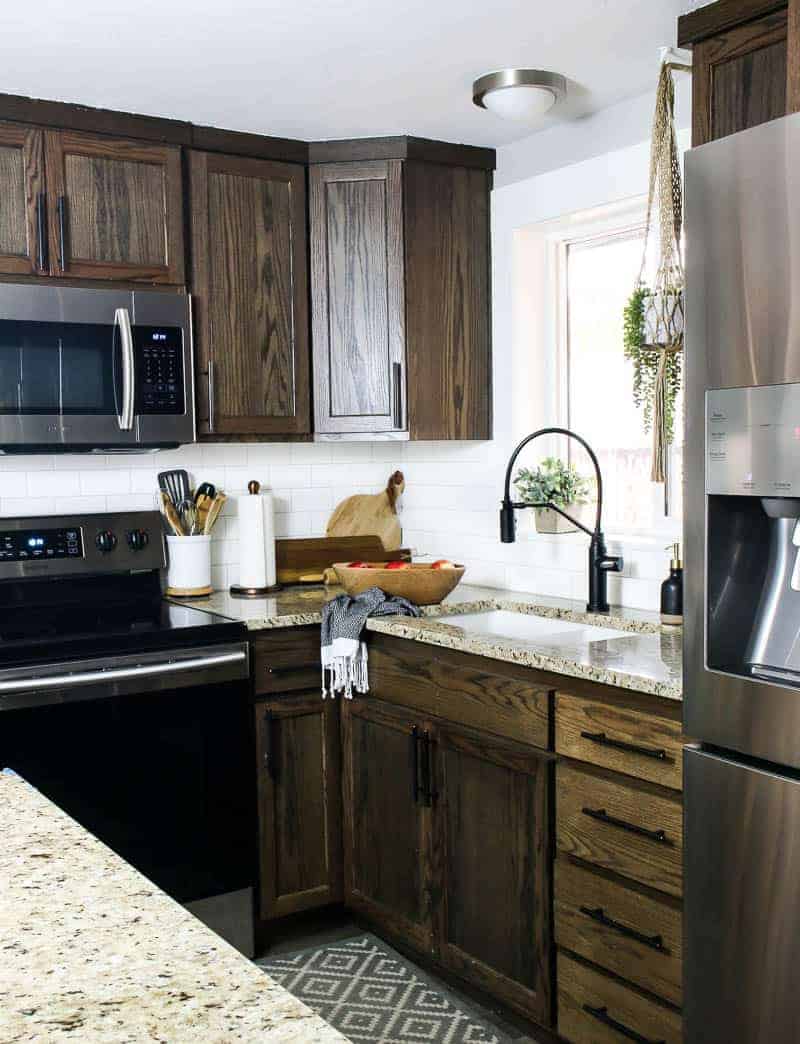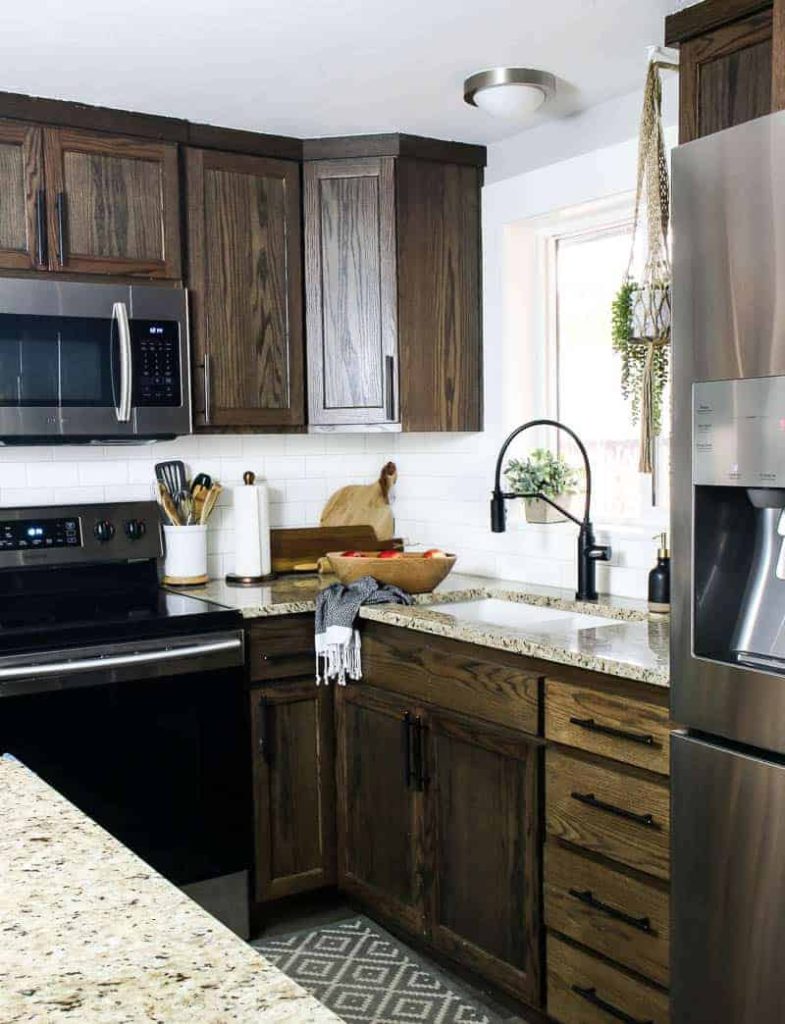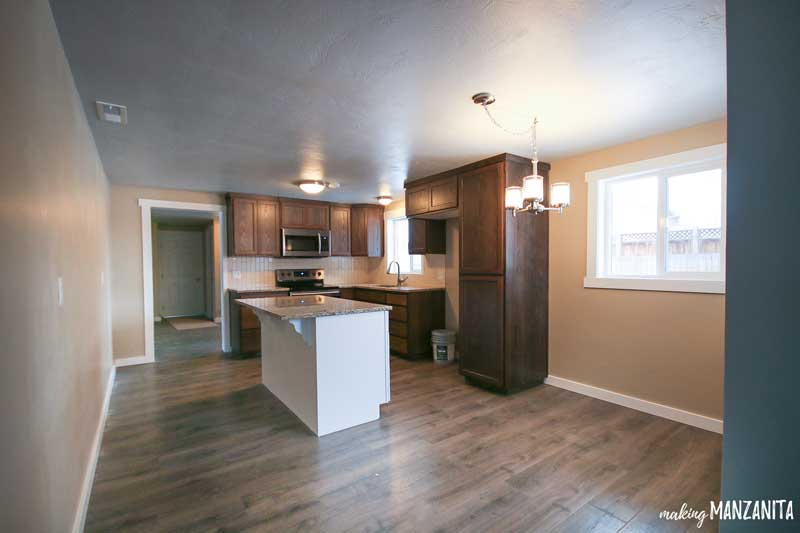 One of the best ways to brighten a dark space is to add skylights! There are so so many benefits and reasons to add skylights, here are just a few.
7 Reasons to Add VELUX Skylights In Your Next Room Makeover Project
They make small spaces feel larger. Adding more light to a space will ALWAYS help make it feel larger, which is a win win for those tiny spaces.
You can still stay private. This is pretty important for windows in spaces like a bathroom, learn what we did to instantly add some privacy to our bathroom window here.
Want some shade? With older skylights, it was always all light….all the time – which can be a downside for some. With the VELUX No Leak Solar Powered "Fresh Air" Skylights, there are solar powered blinds to help you control the amount of light coming in through the skylights with a remote control. You can get light-filtering to moderate the light or even room darkening to block the light.
You can still have fresh air. "Old school" skylights didn't open, like traditional wall windows, but VELUX No Leak Solar Powered "Fresh Air" Skylights use solar power to open and actually bring in fresh air. Get rid of odors in the kitchen and stuffy humidity in your bathrooms! Sounds like a dream, right?
There are tons of options. Worried about the VELUX Skylights & solar powered blinds not fitting in with your style?? They have more than 75 color and pattern options for the solar powered blinds, so you're bound to find something you love.
They are smart. Smart home products are definitely the way the future. The VELUX Skylights can be automated with the VELUX ACTIVE with NETATMO smartphone app, which is compatible with Apple HomeKit and Google Home.
No leaks. Yep, that's right. They all come with a 10-year no leak warranty for your peace of mind.
There are so many more benefits too! You can learn more about skylights here, find an installer near you here and enter to win two skylights with blinds & installation in the Daylight Renovation Sweepstakes. Enter through 11:59 pm on Tuesday, February 4, 2020.
6 Kitchens With Skylights For Inspiration
We would love to someday add skylights our hard-to-photograph kitchen. I've been collecting inspiration of kitchens with skylights! Just look at these beautiful kitchens with skylights.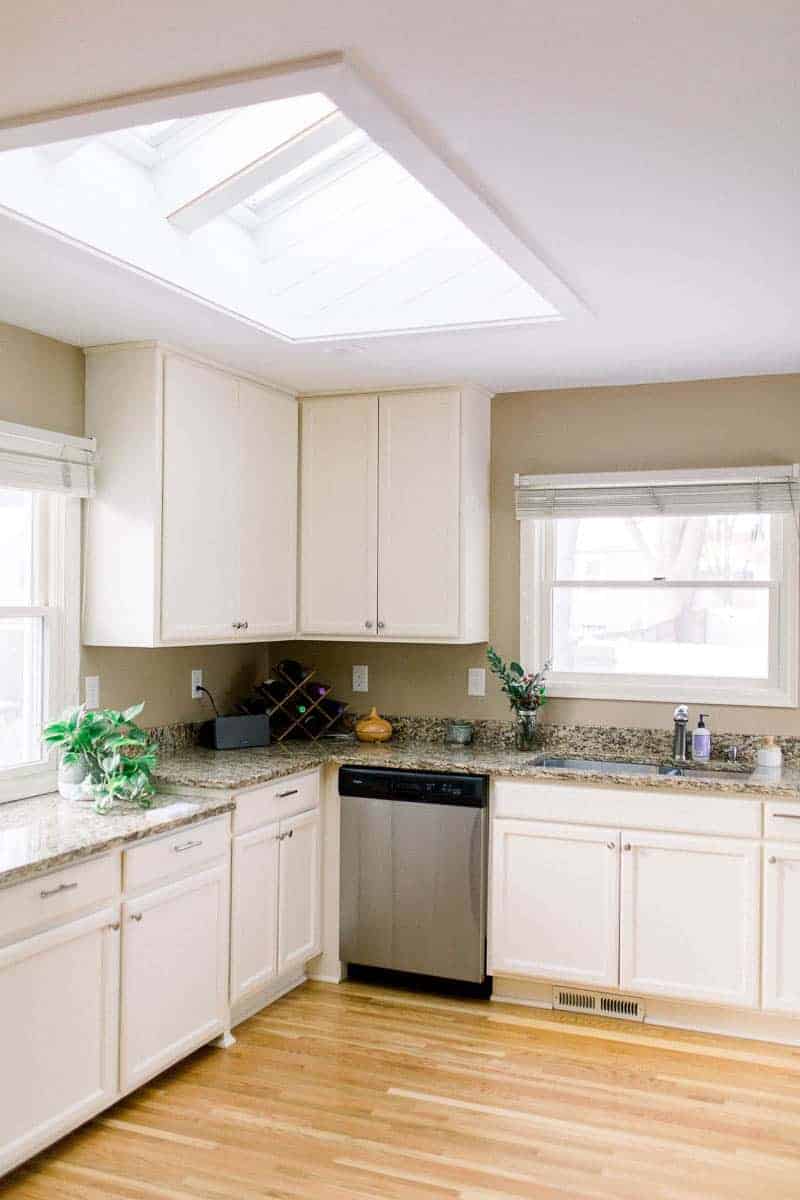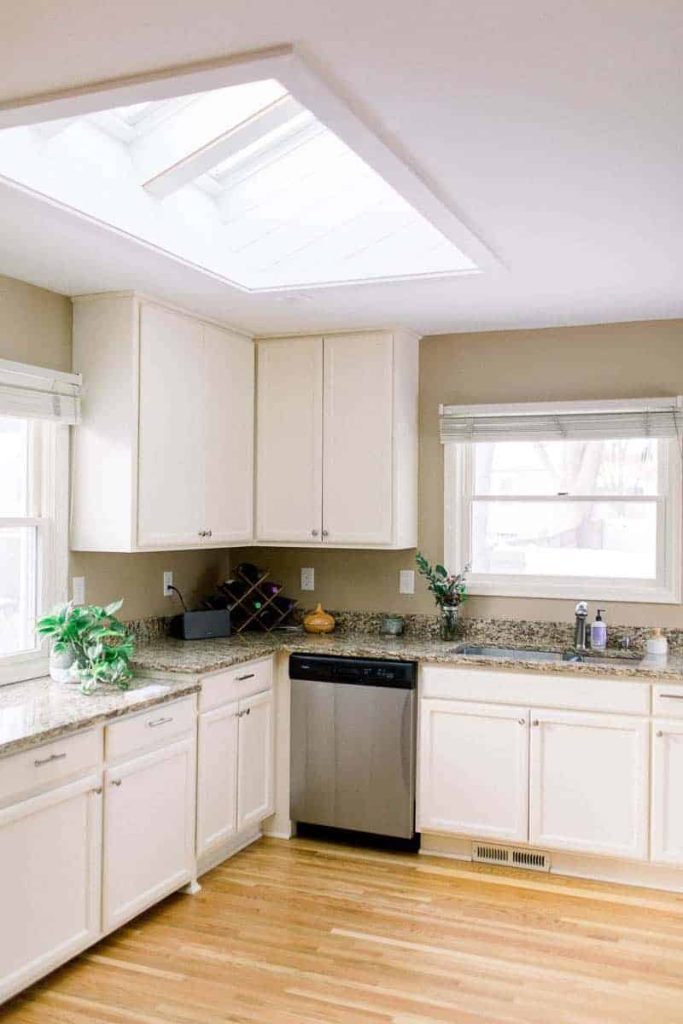 This kitchen belongs to Lee Funke of FitFoodieFinds.com. She wanted to add skylights because her home is shaded by trees (just like us!) and she needs to photograph her food creations in the kitchen. They are VELUX No Leak Solar Powered Fresh Air Skylights, so she can also open them to release cooking odors and moisture. Love them!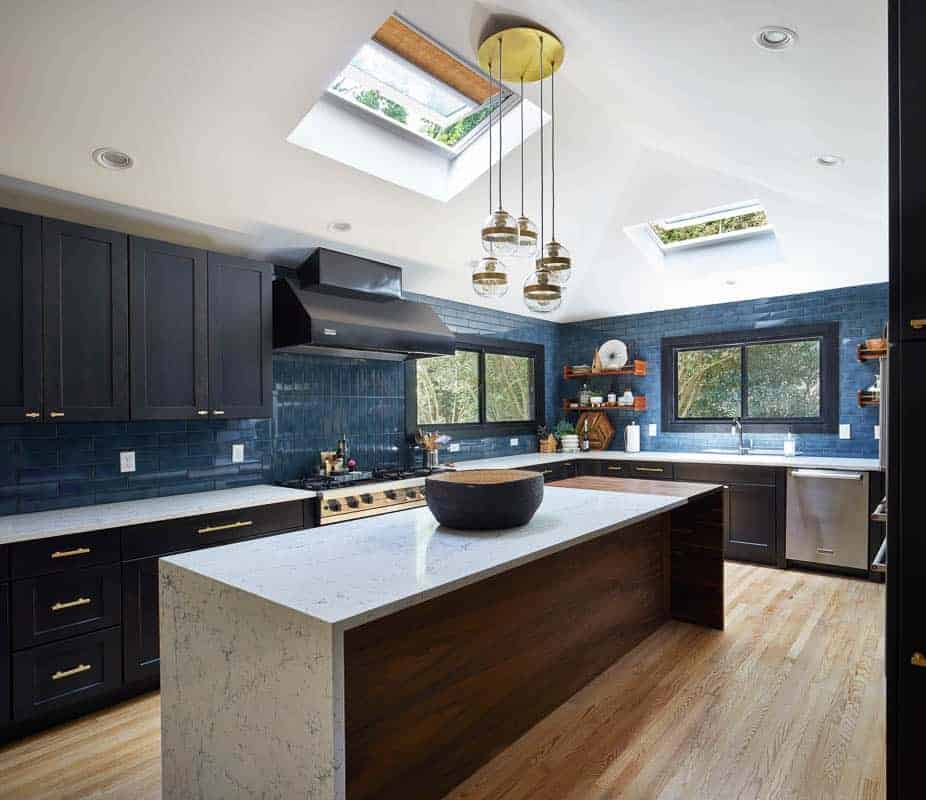 This homeowner wanted to create a dark blue and black kitchen, but still have it feel light and airy. To make this possible, she used two VELUX No Leak Solar Powered "Fresh Air" Skylights, so the kitchen feels both cozy and open and airy. Such an amazing kitchen!!
I love this open plan kitchen, living room and dining room concept. Adding just 2 skylights made such a big difference and brought light into the entire living space. So pretty!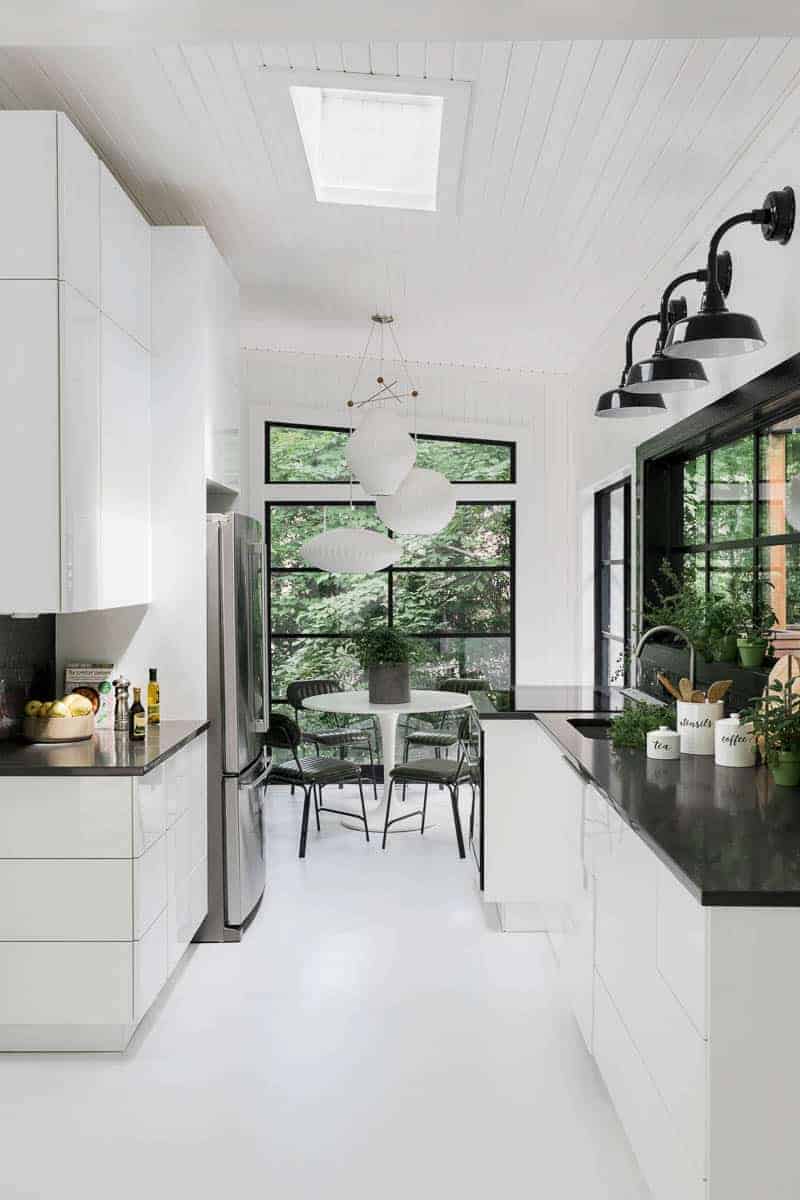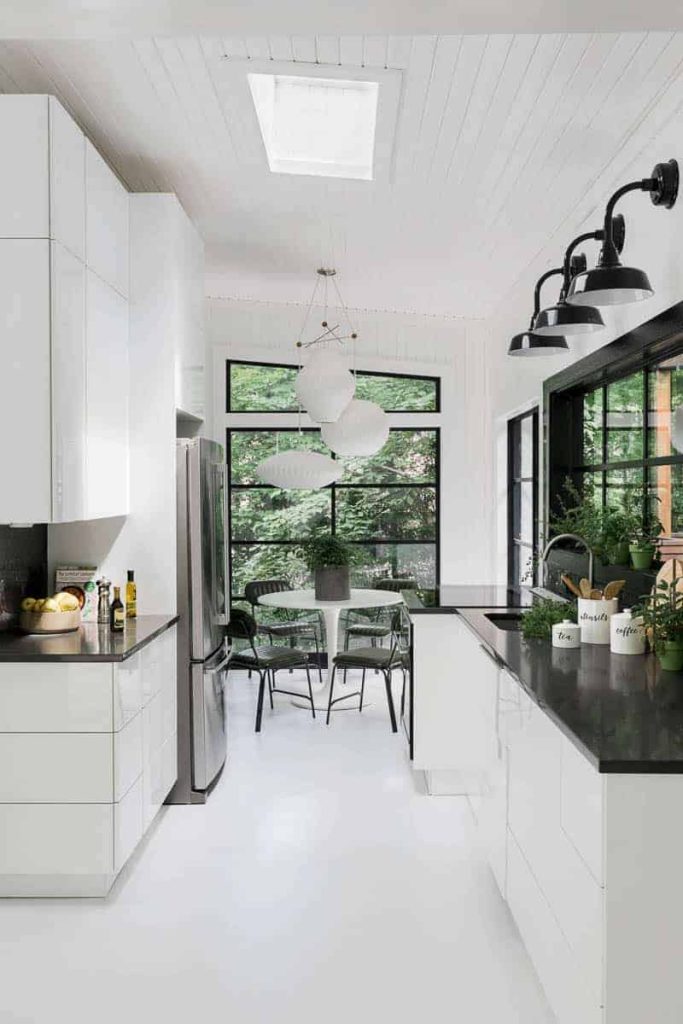 This black and white modern kitchen is one for the books! Brian Patrick Flynn created an all-white kitchen with black accents. But because his home is surrounded by trees, it was still dark. By adding a VELUX No Leak Solar Powered "Fresh Air" Skylight, he brought in natural light to brighten the space. Love this one!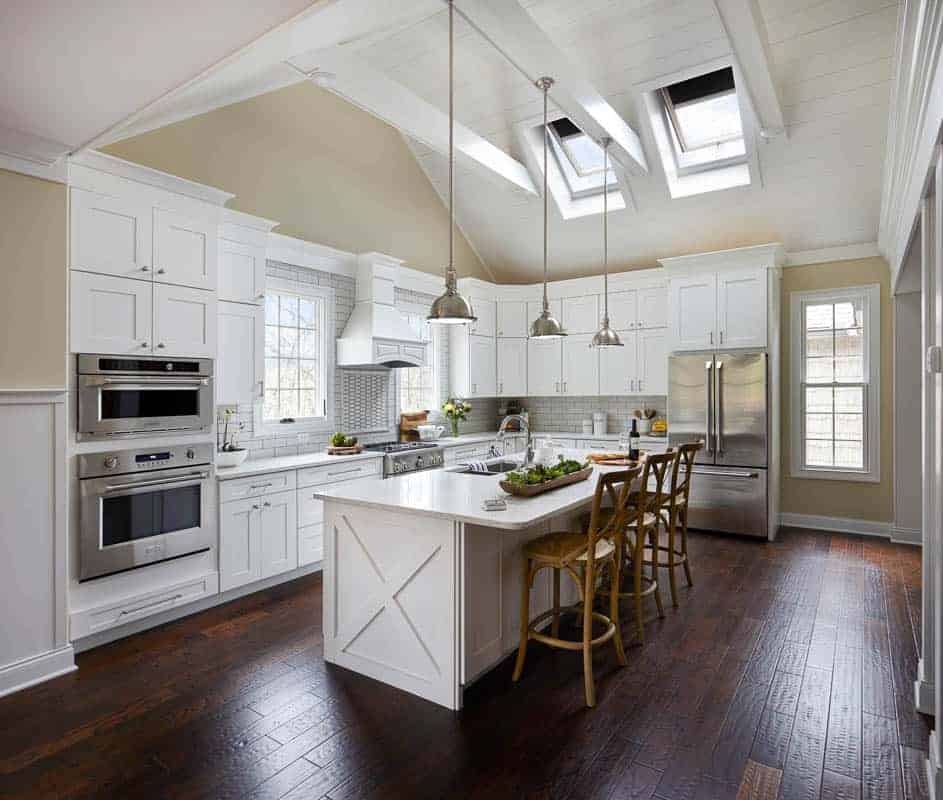 I know you guys will love this one because it's pure farmhouse style! Look at all that light that the skylights on the vaulted ceiling add to the space. The dark wood floors provide a great contrast too!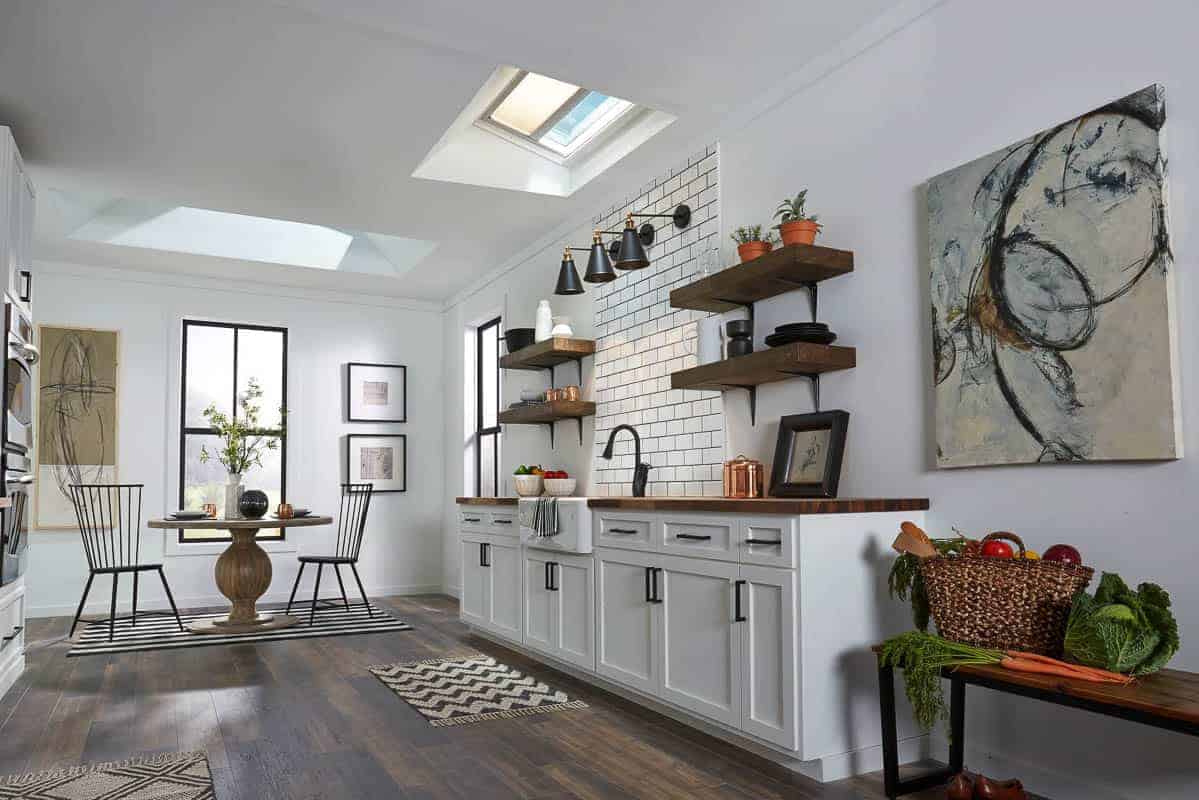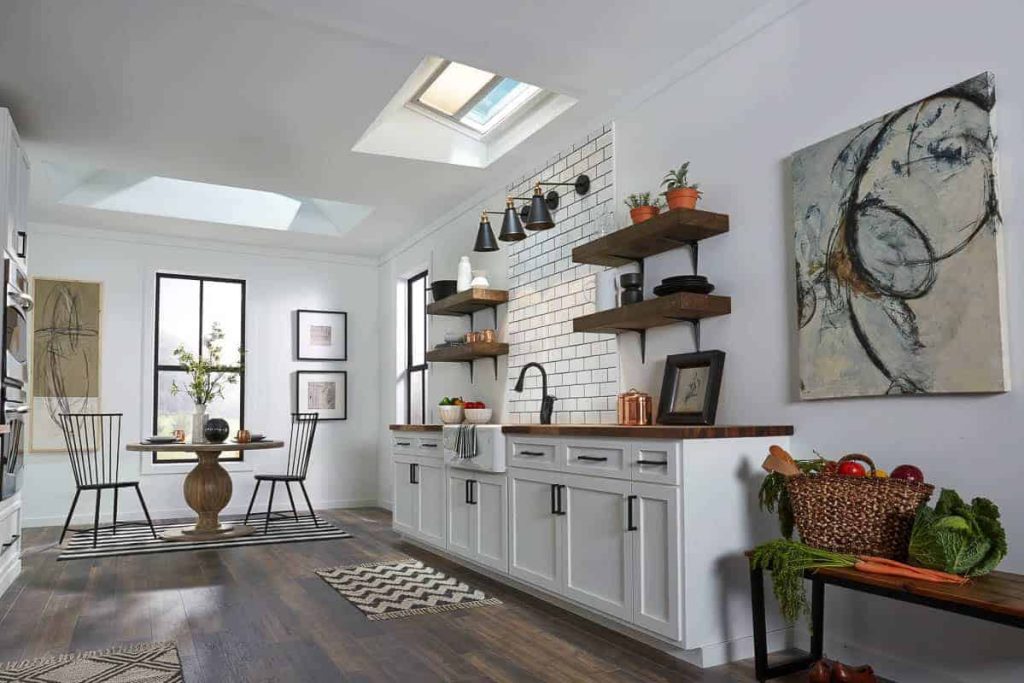 Last, but not least, is this gorgeous kitchen with open shelving and boho vibes. There's a great skylight over the sink and another one over the dining area. Love it!
That's a whole lotta inspiration, right? If you're thinking about adding a skylight in your kitchen – hopefully this article gives you some food for thought.
There are so many great reasons to add a skylight in your next makeover. Don't forget that you can learn more about the awesome features of the VELUX Skylights here and follow them on social media at the links below:
Facebook | Instagram | Pinterest | Twitter
What room would you love to add a skylight to?
Let us know in the comments below!