This is a sponsored post written by me on behalf of DishFish. All opinions are 100% mine. This post also contains affiliate links, but nothing that I wouldn't recommend wholeheartedly. Read my full disclosure here.
Wondering how to clean refrigerator? You're in luck! Today we're showing you how we tackle refrigerator cleaning with the DishFish Scrubber Sponge and taking you along for the ride as we do a fridge clean out.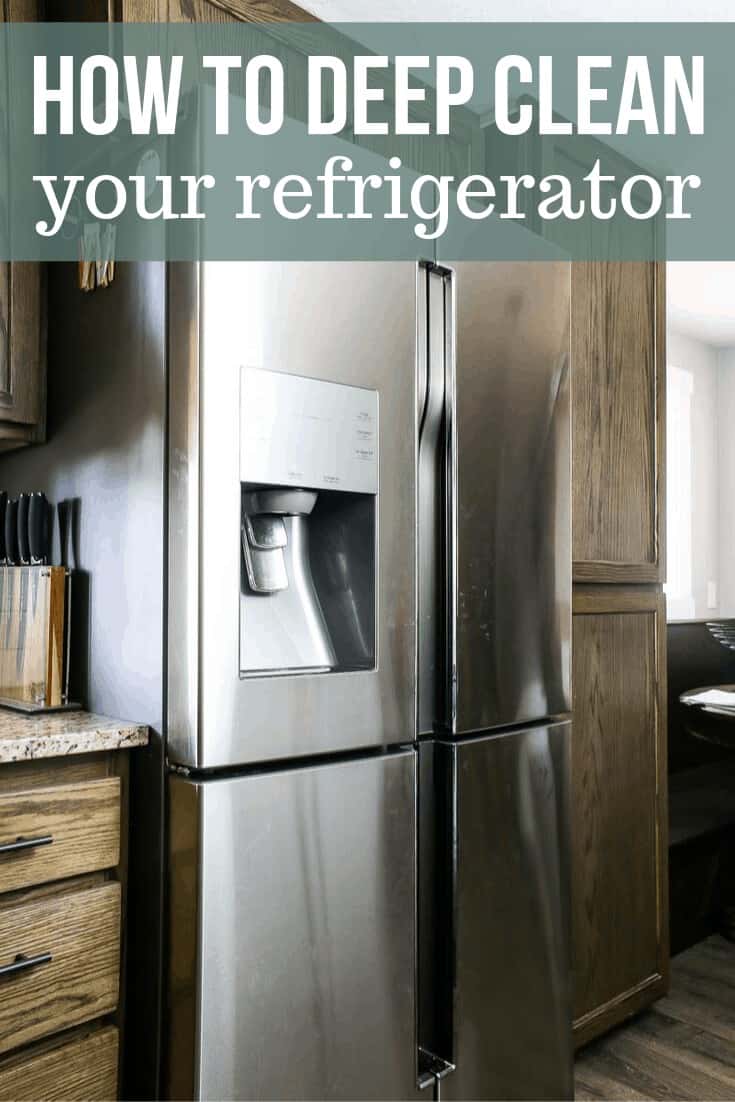 There comes a time in everyone's home when the refrigerator needs a good ol' fashion deep cleaning. We try to tackle this housekeeping task before we go on a big grocery trip, that way the fridge is pretty empty when it comes time to do a fridge clean out.
Also, it's a great idea to go through everything in your fridge before you add more food in. Out with the bad, in with the good. Today we're introducing you to a new product that was made this pretty mundane task of refrigerator cleaning easier – DishFish.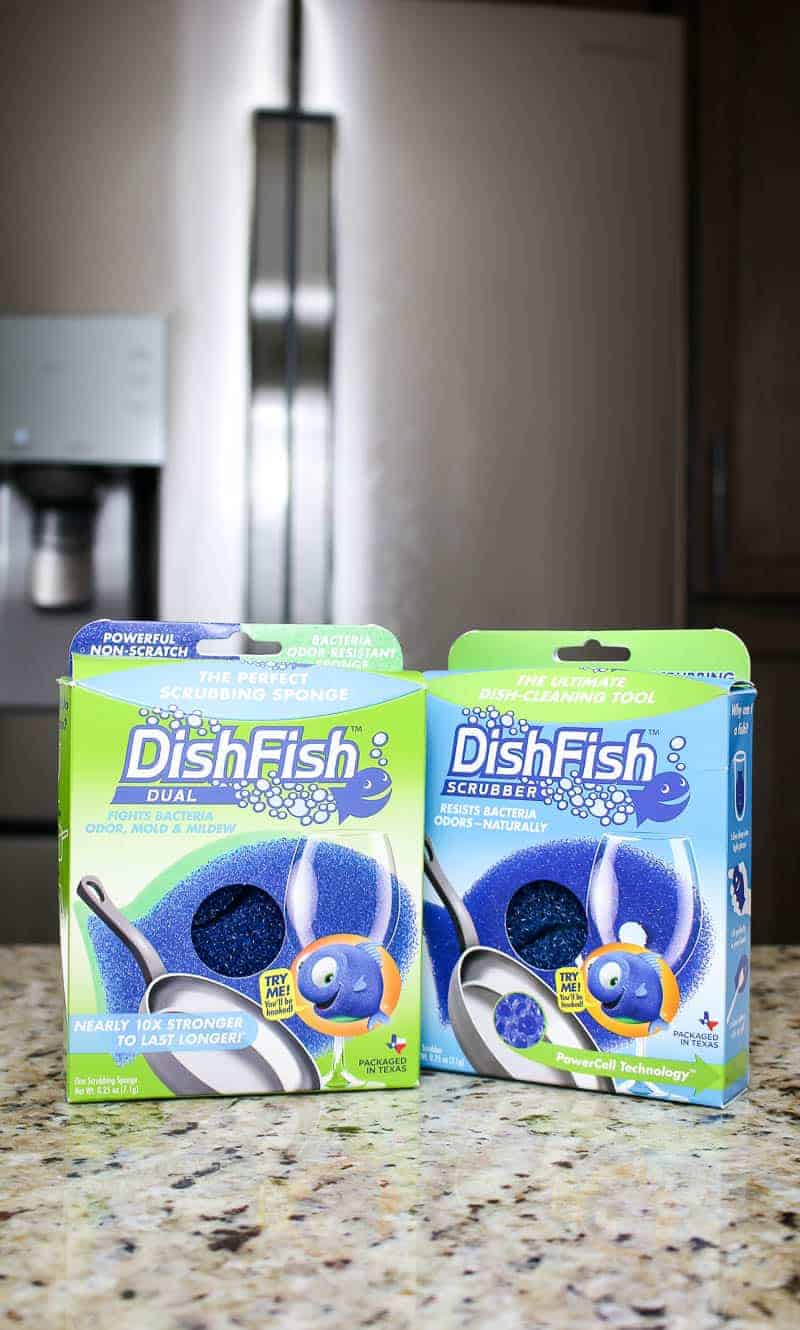 What is DishFish?
We've been using the DishFish Dual and DishFish Scrubber at home for a while now and we love them! Here's how they are different than normal sponges:
Flow-through cells that gets rid of food, grease and other gross things quickly — which helps it not get smelly like other sponges
"Tail of fish" helps the sponge stand up to dry, so the water drains out and it dries quick
Non scratching surface (even on the scrubber side)
Easy to get into tight spaces (like sippy cups we've found)
Long lasting – doesn't crumble or break down
To be honest, before DishFish we were using a wand filled with soap and I was getting REALLY fed up with it leaking soap all over the sink when it wasn't being used. Now, we just put a small dot of dish soap on the sponge before doing dishes and it usually lasts us the whole time.
As soon as I got my hands on the DishFish sponges, I knew they would be great for deep cleaning things around the house too….not just dishes. Since our fridge was in desperate need of a fridge clean out, I gave it a shot with the DishFish Scrubber Sponge and it worked great!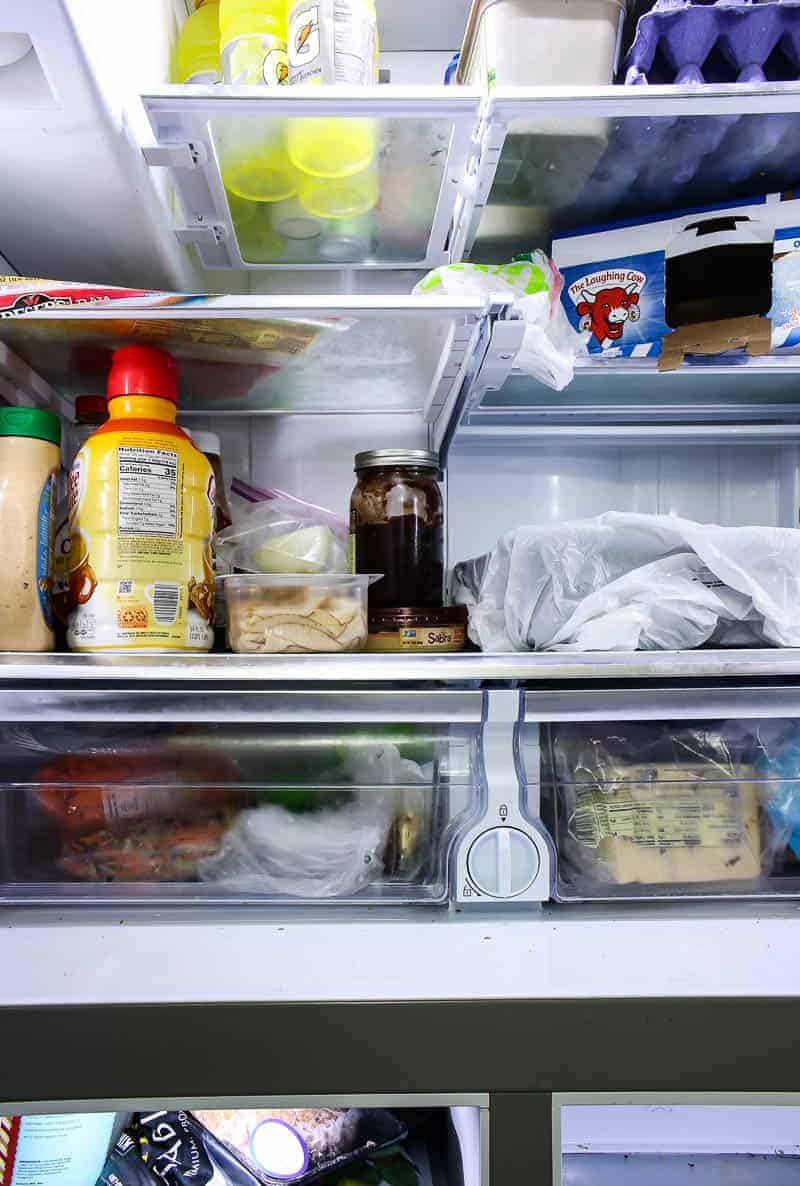 Gross, right? It definitely need a deep cleaning and there was FOR SURE some questionable food in there.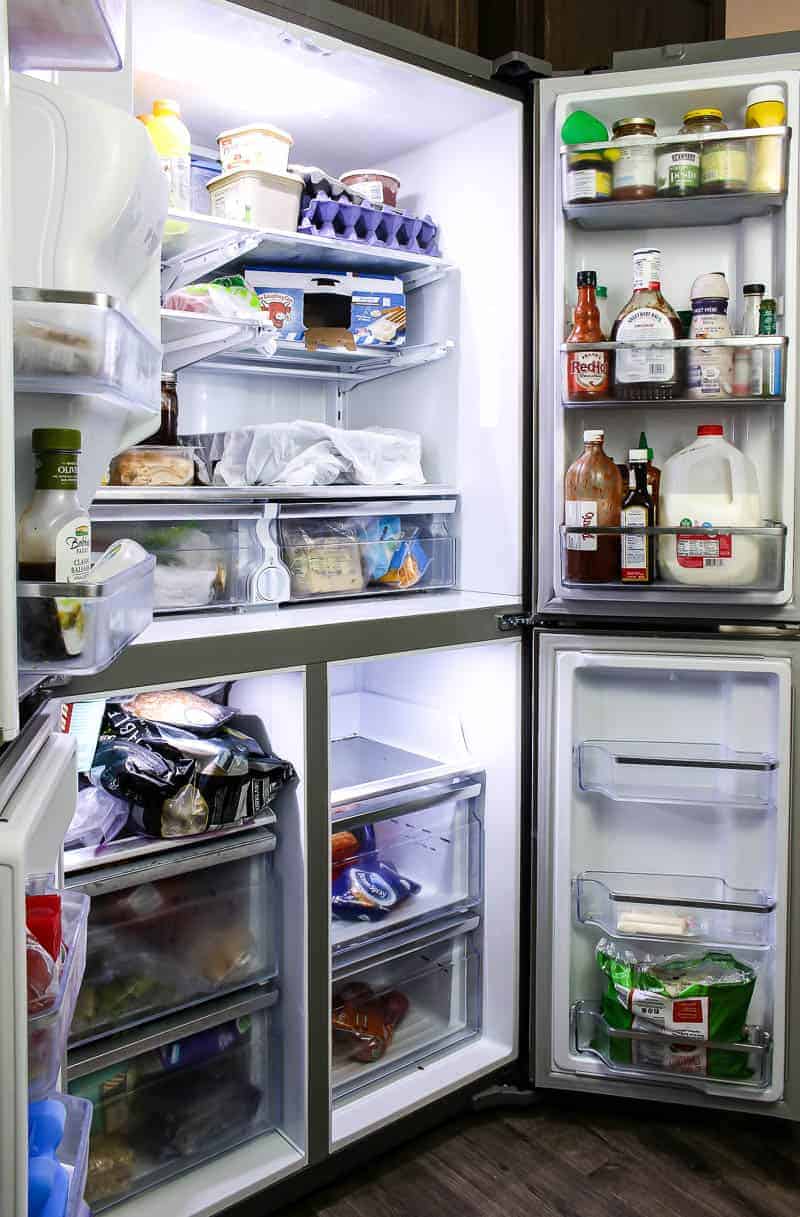 Supplies for refrigerator cleaning:
A dirty fridge
Multi-purpose Cleaner
2-3 Dry Cloth Towels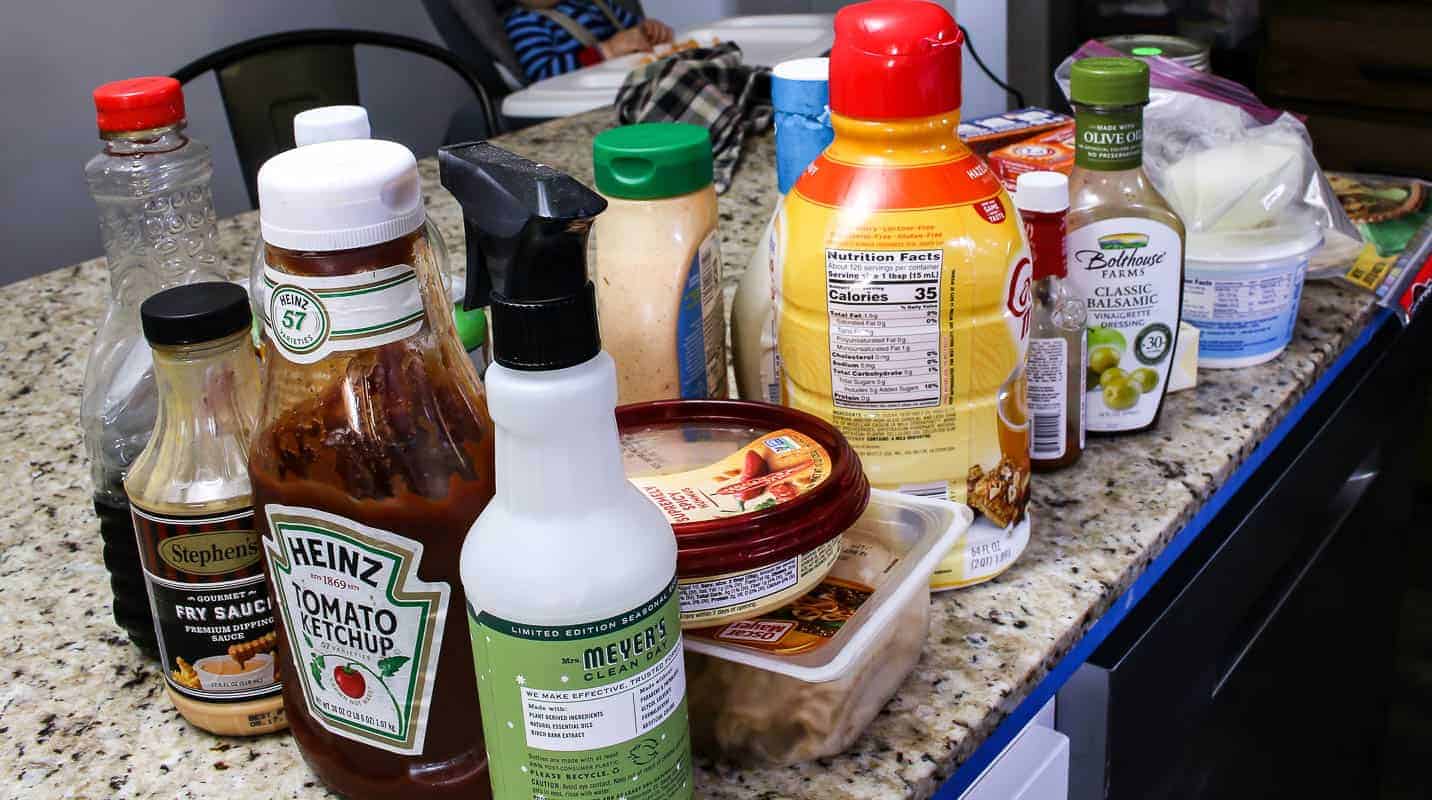 Do one section at a time
To avoid leaving the refrigerator doors open the whole time you are cleaning, I like to just focus on one section at a time (ie: inside of the left door, inside left shelves, inside right shelves, drawers, inside of right drawer, etc.). I start by taking ALL of the contents out of the section I am working on and placing them on the kitchen counter.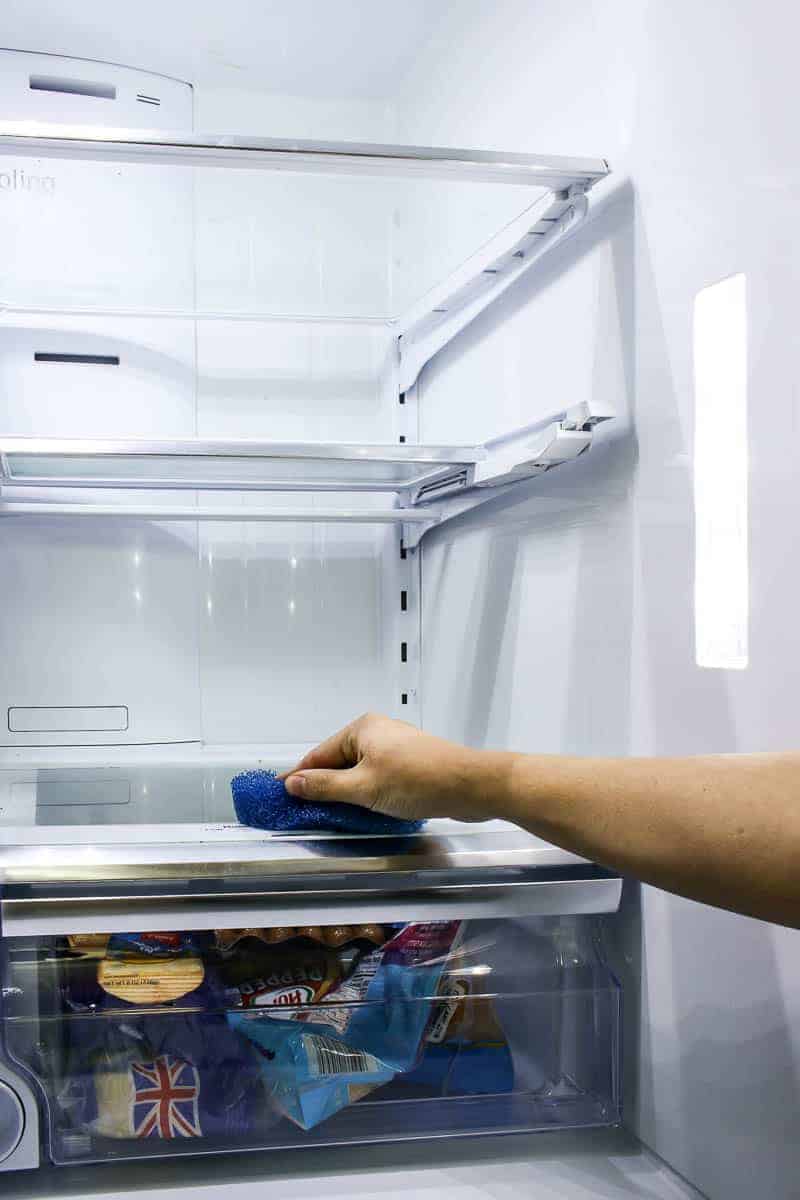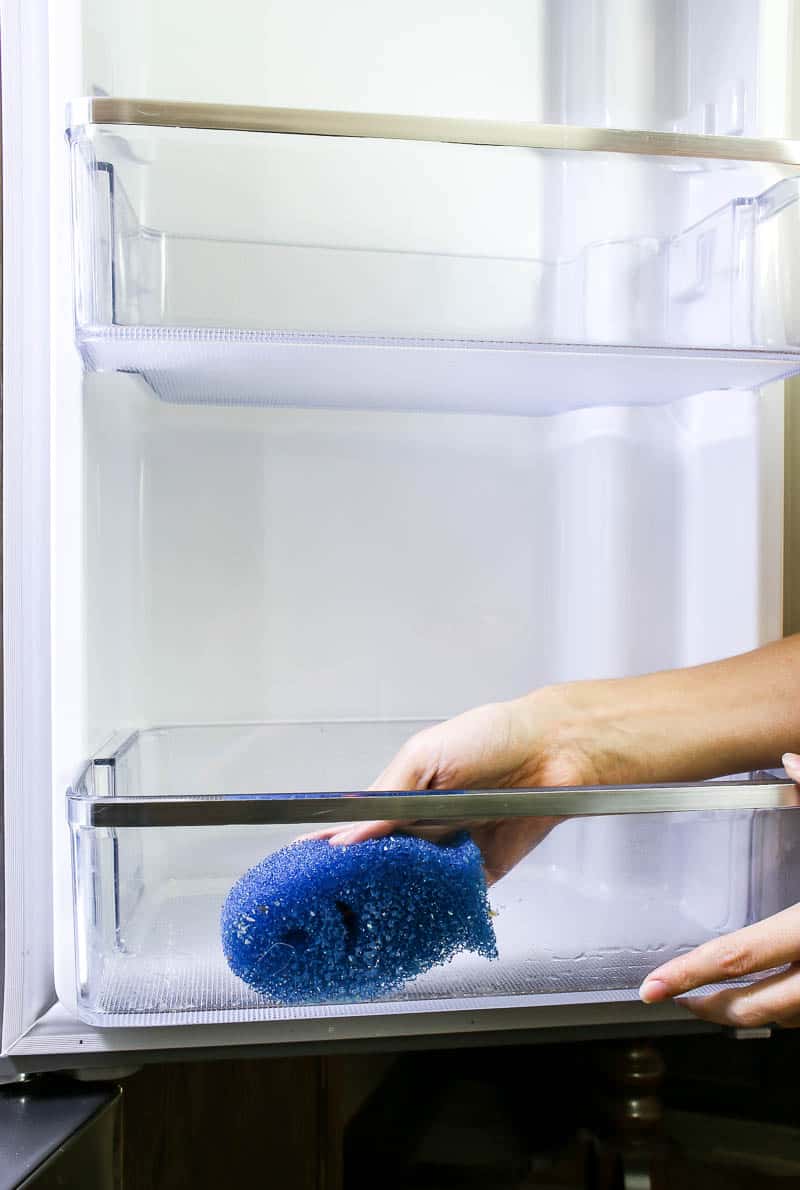 Wipe all surfaces with DishFish Scrubber sponge
This part is super simple….Take some warm water on your DishFish Scrubber and ring it out so it's not dripping wet and simply scrub the surfaces of the refrigerator. The Scrubber picks up the crumbs and helps cut through any messes. If there are any tough spills or messes where the water and sponge aren't working, you can spray a little multi-surface cleaner on the spot and scrub again. Honestly, I only needed to do this once or twice. Otherwise the DishFish Scrubber and water worked to clean up everything else.
Dry surfaces with dry cloth towel
Keeping a couple of dry, cleaning towels nearby and simply wipe off the surfaces to dry and finish cleaning.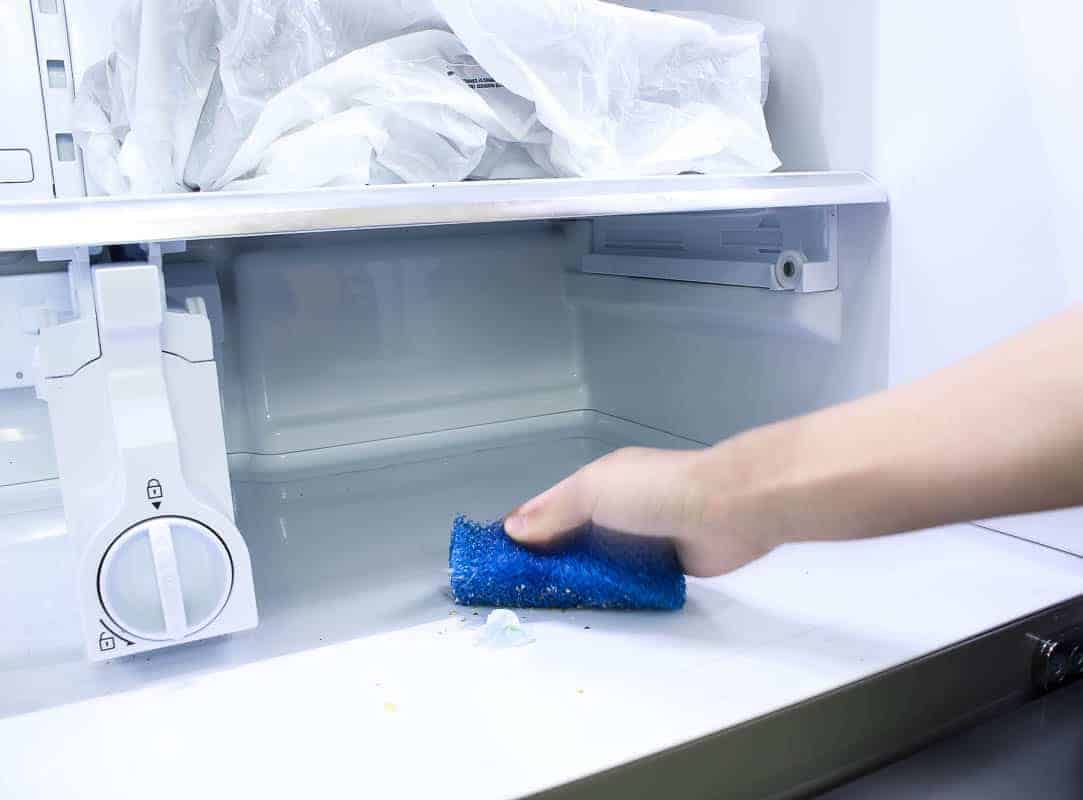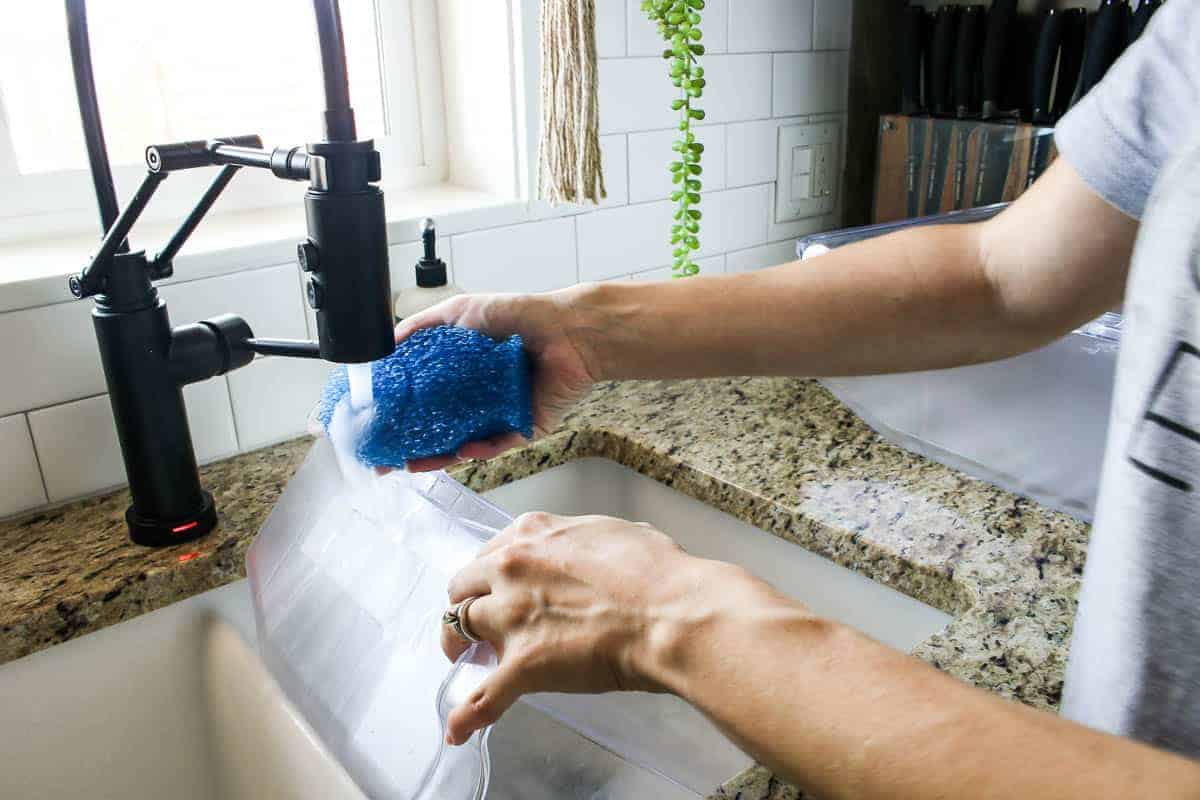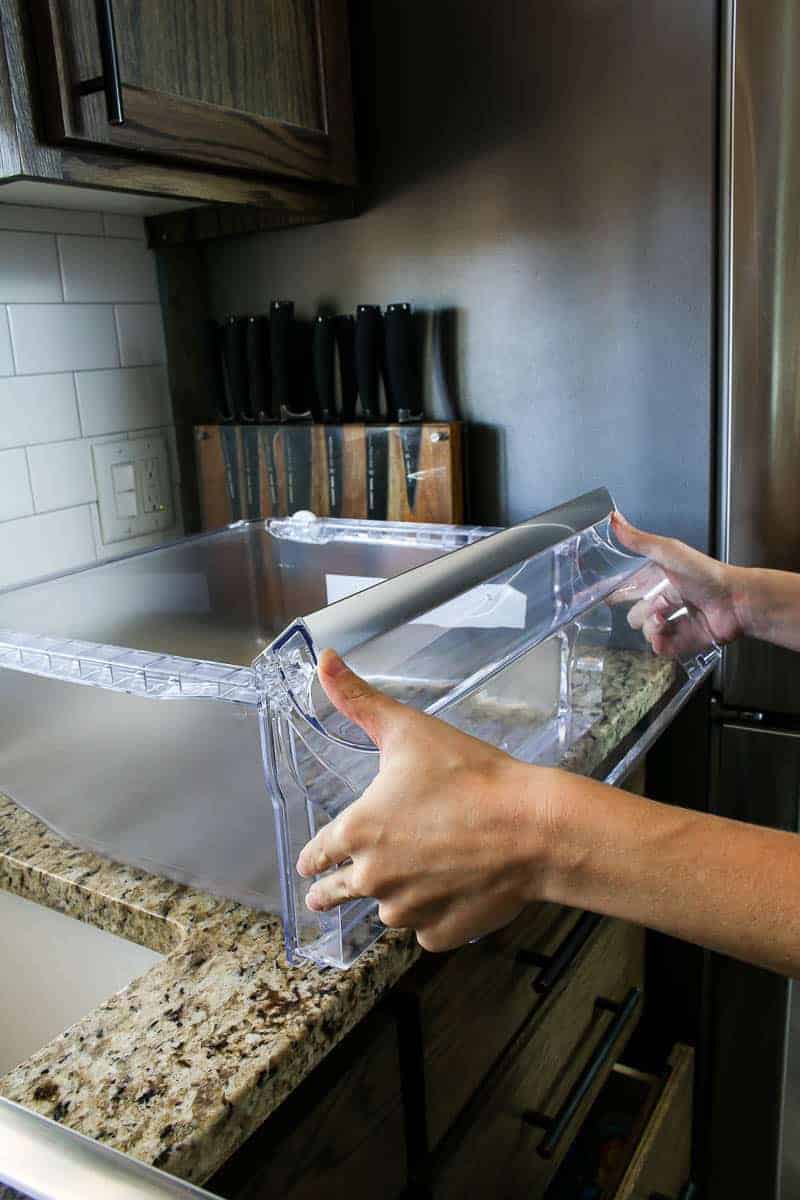 Take out any removable drawers and clean in sink
If you have any drawers or shelves that can be removed, it may be easier to rinse them out in the sink. Our Samsung fridge has a few nooks and crannies that are hard to get to, so I disassembled the drawers to clean them throughly.
Go through food and check for expirations
I, honestly, haven't taken the time to do this for a while so I took the chance to go through everything one by one and check the expiration date before placing it back into the fridge.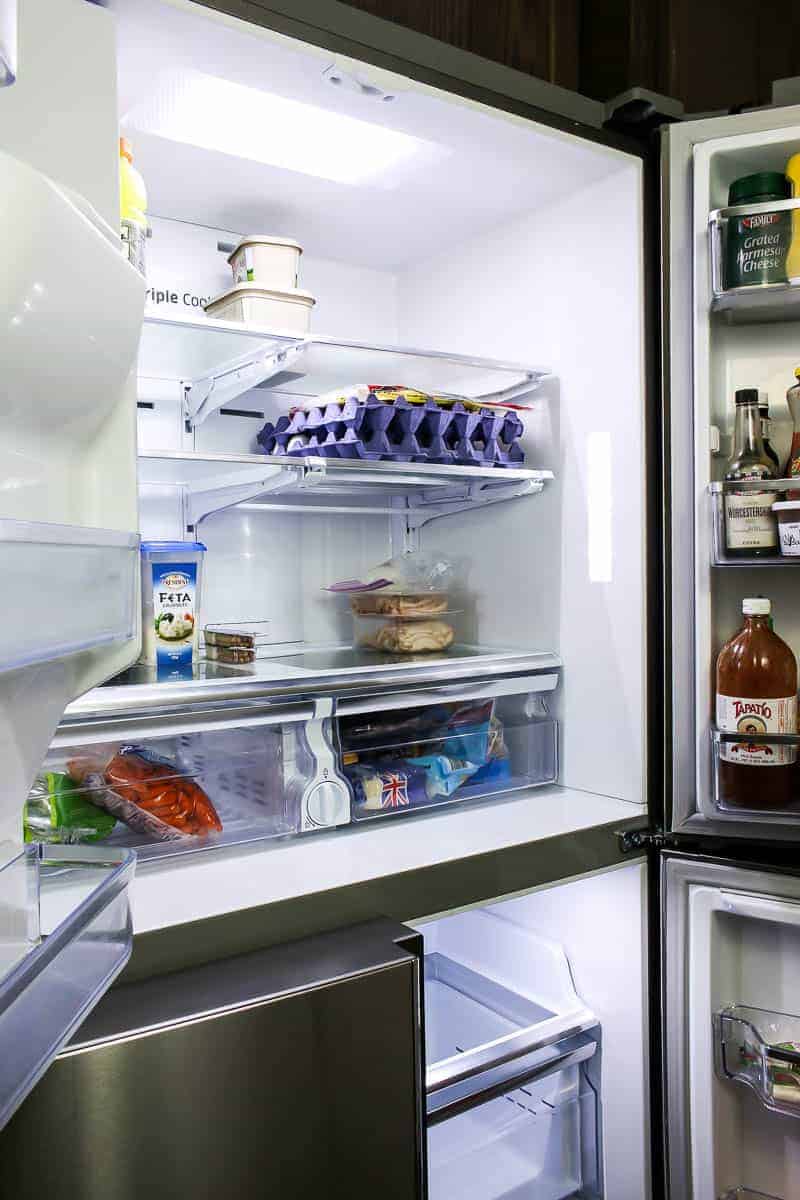 Add back in food and organize
Once your fridge is nice and clean, you should be able to add the food back in and get things a little more organized. Ya know, instead of things thrown in wherever there is room – you can actually put the meat and cheese in the meat and cheese drawer etc.

Clean front of fridge
The DishFish Scrubber also worked perfect on the front of our fridge, which is stainless steel. I, again, just used warm water and the sponge. Then I followed up with a dry towel and lastly used a stainless steel polish to finish. Our fridge is looking oh so pretty after a nice deep cleaning!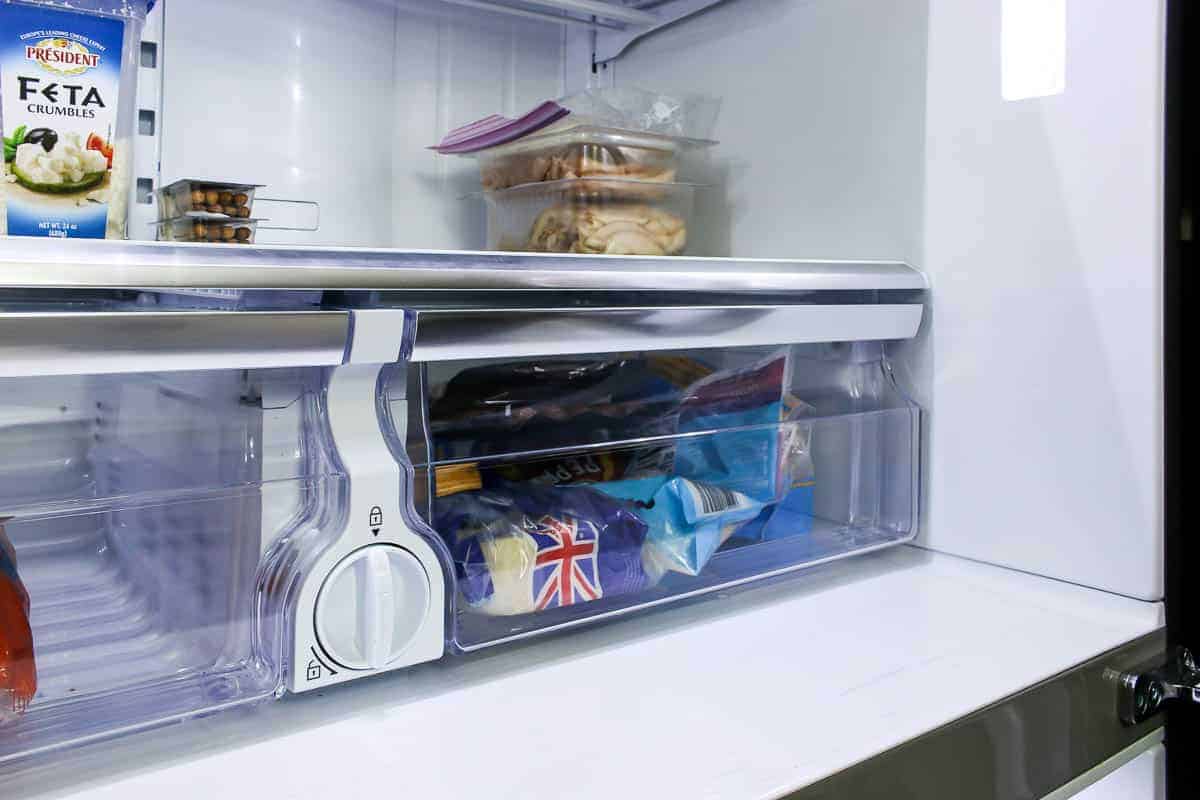 Can't believe how easy it was to deep clean our fridge with just a sponge, water and towel. Ready to head to the grocery store to fill her up again!
If you're going to be tackling a fridge clean out anytime soon, the DishFish Scrubber and Scrubber Sponge is a helpful tool, you can purchase on Amazon today.
When is the last time you did a fridge clean out?
Let us know in the comments below!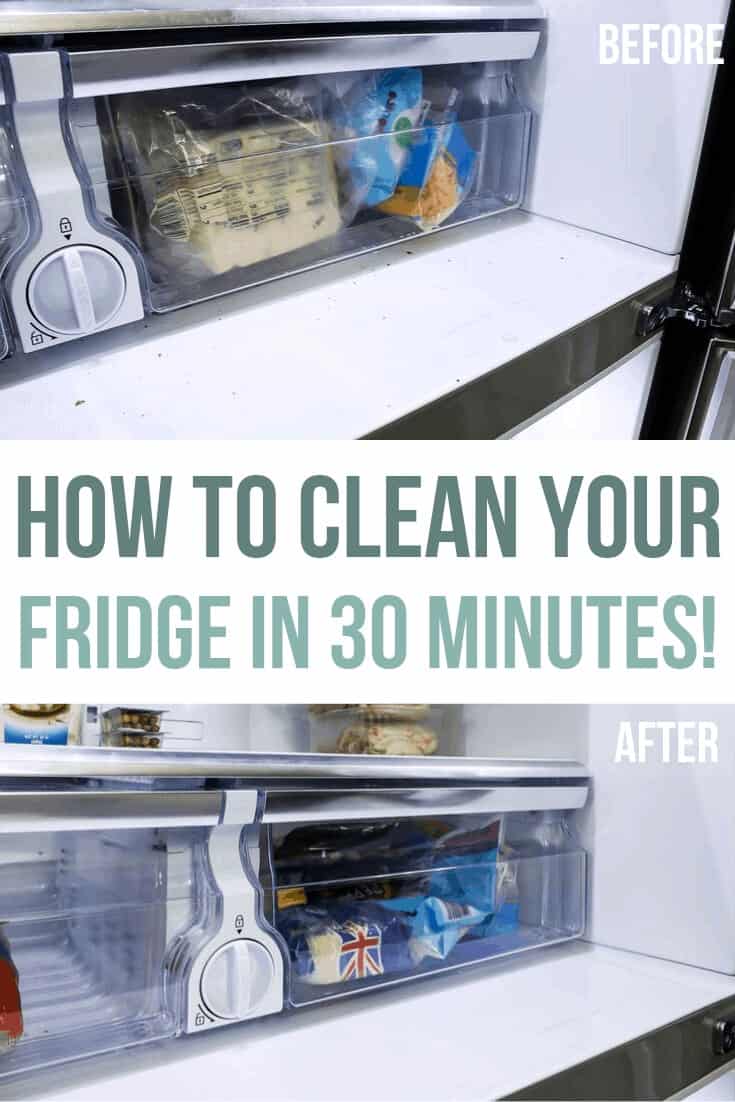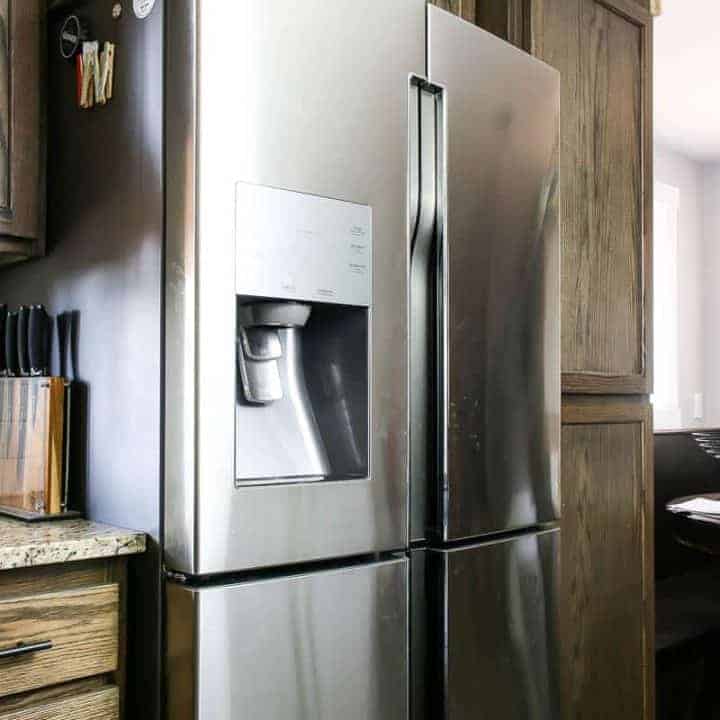 How To Clean Refrigerator
Wondering how to clean refrigerator? You're in luck! Today we're showing you how we tackle refrigerator cleaning with the DishFish Scrubber Sponge and taking you along for the ride as we do a fridge clean out.
Materials
A dirty fridge
Multi-purpose Cleaner
Instructions
Do one section at a time
Wipe all surfaces with DishFish scrubber sponge and warm water
Dry surfaces with dry cloth
Take out any removable drawers and clean in sink
Go through food and check for expirations
Add back in food and organize
Clean front of fridge