Want to learn some undermount sink installation tips and tricks? This one is for you!! We are also answering tons of frequently asked questions about kitchen sinks and faucets like what types of sinks are there, and what should be considered when choosing a faucet?
This post contains affiliate links, but nothing that I wouldn't recommend wholeheartedly. Read my full disclosure here.
Guys….we have a new kitchen sink and faucet! And I am thrilled about it!
Just wait until you see the new digs and you'll see what I mean!
Before we get started, let's take a look back at what we started with.
Here's what the sink and faucet looked like before: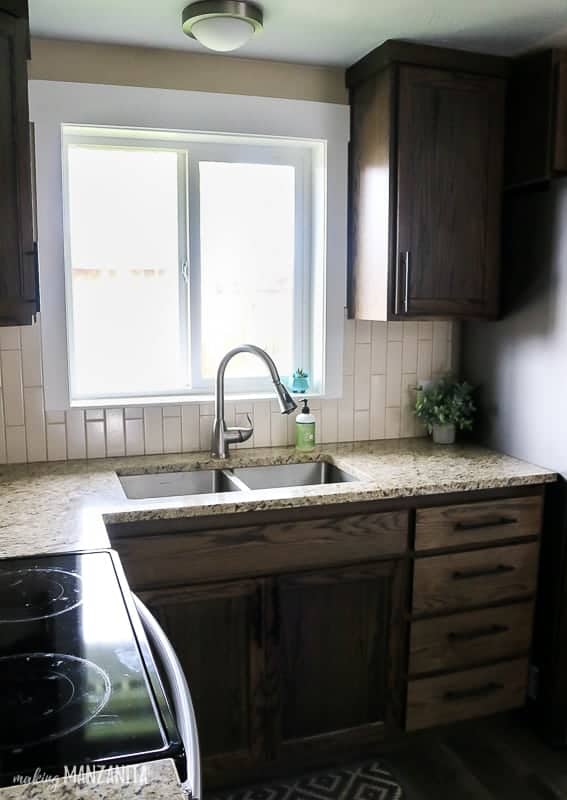 These pictures are pretty old…before we had our new white subway tile backsplash!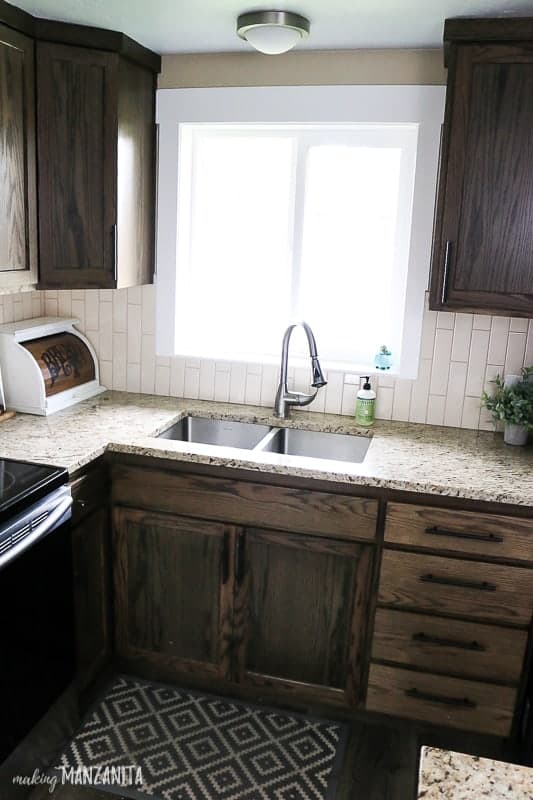 Now, before we jump into the undermount sink installation process, let's go over some frequently asked questions when it comes to sinks and faucets.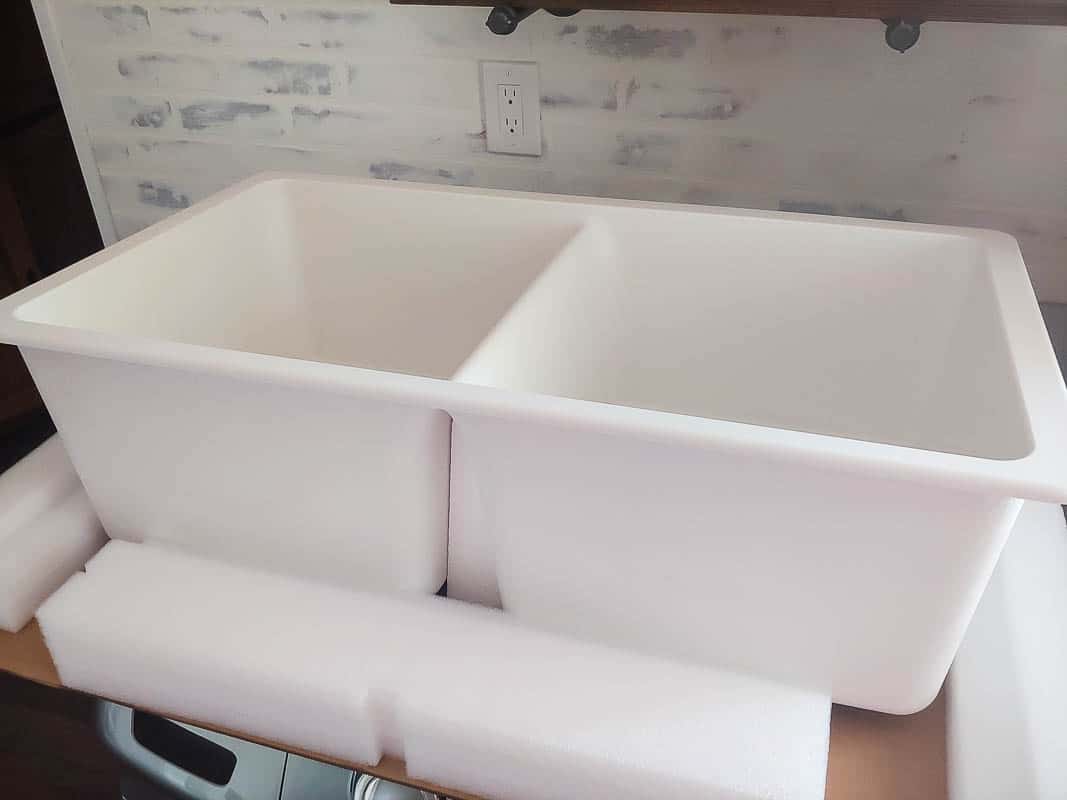 What types of sinks are there?
Well, there are really two parts to this answer. There is the type of sink to consider in terms of design and function and then there is the sink material as well.
Types of sinks (design & function)
Double basin or single basin – It really comes down to personal preference and how you use your sink
Double basin

More flexible
Lots of options for size configurations of the basins (50/50 means basins are the same size, 70/30, 60/40 offer different basin sizes)
Can use one side for drying large dishes and one for cleaning, etc.

Single basin

Can hold large pots and pans and a lot of dishes
Is great for small spaces
Usually cheaper than double basin sinks
Can't multi-task (ie: use one side to dry dishes, clean or thaw meats)
Undermount or overmount
Undermount sinks

Undermount sinks are installed and attached underneath the countertops
Easier to clean
Nice, clean lines for more modern look
More expensive
Harder to install
Need a lighter sink due to the weight (usually can't install fireclay or cast iron as undermount)

Overmount sinks (also called drop in or top mount)

Overmount sinks drop into place on top of countertops
Very easy to install
Most common type of sink
Usually cheapest sink
Can use virtually any material
Harder to clean (rim/lip is exposed)
Can look dated
Farmhouse sink (also called apron sink)
Front of the sink is visible and cabinets and counters are designed around it
Can be single or double basin
Usually undermount
Comes in various materials, but most often fireclay or cast iron
Pretty trendy right now
Can be expensive and difficult to install (especially with cabinets that aren't made for farmhouse sink, however it is possible – check out this tutorial for how to install a farmhouse sink)
Types of sinks (material)
Stainless steel sinks
Cast iron sinks
Glossy enamel finish
Long lasting
Easy to clean, but can't use abrasive cleaners due to the enamel coating on cast iron sinks
Comes in several color options
Heavy
More expensive
If enamel chips, it will rust
Fireclay sinks
Very similar to cast iron, but a little more durable
Stain resistant
Can use abrasive cleaners (unlike cast iron)
More expensive
Often seen in a farmhouse style
Copper sinks
Unique
Durable
More expensive
Sensitive to acid, heat and harsh cleaners
Overtime will develop natural patina
Composite sinks (Granite composite or quartz sinks)
Made from manmade material, mixture of stone and resin
Very durable
Quiet to use
Stain, heat, chip resistant
Comes in various color options
Heavy
Further reading – be sure to check out our ultimate guide to quartz sinks if you're interested in this sink material
Is an undermount sink better than overmount?
It really comes down to personal preference and budget. As mentioned earlier, overmount sinks are generally easier to install and less expensive. However, many prefer the clean look of the undermount sink (myself included).
What kind of countertops are best for undermount sink installation?
Whether you choose an undermount or drop-in sink may come down to what type of countertops you have. Not all countertops will work with undermount sinks because of the weight and adhesion required. Laminate or tile countertops are not suitable for undermount sinks.

Can you install an undermount sink without removing countertops?
Yes, it is possible to install an undermount sink without removing counters. In fact, that is exactly how we handled our undermount sink installation! Watch the video below to see how it is done!
What adhesive is used for an undermount sink?
In addition to clamps, rails, or brackets – undermount sinks should be glued when installed to the underside of countertops. This is usually done with a 2-part epoxy or 100% silicone. This is what we used.
How do you hold up the undermount sink while installing?
Supporting the undermount sink while installing is one of the trickiest parts of the process!
As seen in the video, we used two 2x4s with holes drilled (one laying on top of the countertop above the sink and one underneath the sink under the drainage holes).
We then used steel bars with washers and nuts to lower and higher the sink during the undermount sink installation process. This worked great!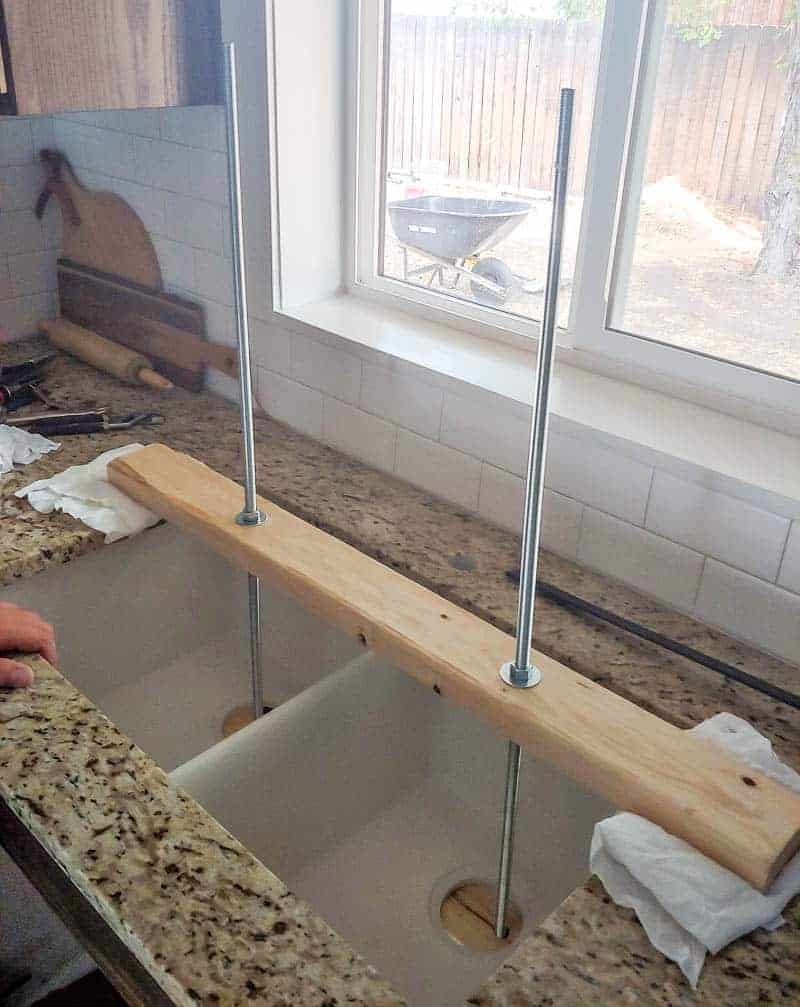 What should be considered when choosing a faucet for your sink?
Design – A lot of it really comes down to personal preference. There are so many different styles to choose from, it can be pretty overwhelming. For us, we narrowed it down by choosing a modern style (which matched our kitchen cabinet hardware) and a black matte finish.
Features – The new faucets come with so many bells and whistles now!! I was amazed when we started looking at all the options! When I learned about the touchless feature, I was hooked and knew we needed this for our faucet!
Finish and materials – It's really what is on the inside that counts when it comes your faucet. The more metal, the better, which brings me to the next things you should consider when choosing a faucet.
Budget – Usually the cheaper faucets are made from cheaper materials, like rubber and plastic. We like to say that you should get a best faucet that your budget can afford.
Are kitchen sink faucets universal (aka will any kitchen faucet fit my sink?)
No, not necessarily. It depends on a few things.
How thick your countertop or sink is. Some faucets will only fit a certain deck (countertop or sink) thickness, so definitely check that before ordering. However, keep in mind that many faucet brands will carry adapters for thicker counters.
Placement / number of existing holes in countertop. If you are keeping your kitchen countertops, like we did, there will already be holes drilled in the counter for the faucet. The size of the holes and the placement of the holes is "universal", but there's a few different types of holes:

Widespread
Single hole
Accessories – if you have additional holes in your countertop, you can add accessories like pull out spray, soap pump or even hot water.
Deck plates can be purchased to cover holes if you get your heart set on a kitchen sink faucet that requires fewer holes than you have drilled.
Now, are you ready to see the undermount sink installation process?
There were a lot of steps to the whole undermount sink installation process, so we made a video to walk you through everything. Watch how our kitchen transforms with this new sink and faucet!
<div class="mv-video-target mv-video-id-rmippwq7mif0djc9afyc" data-video-id="rmippwq7mif0djc9afyc" data-volume="70″ data-ratio="16:9″ ></div>
If you love DIY videos, be sure to subscribe to our YouTube channel!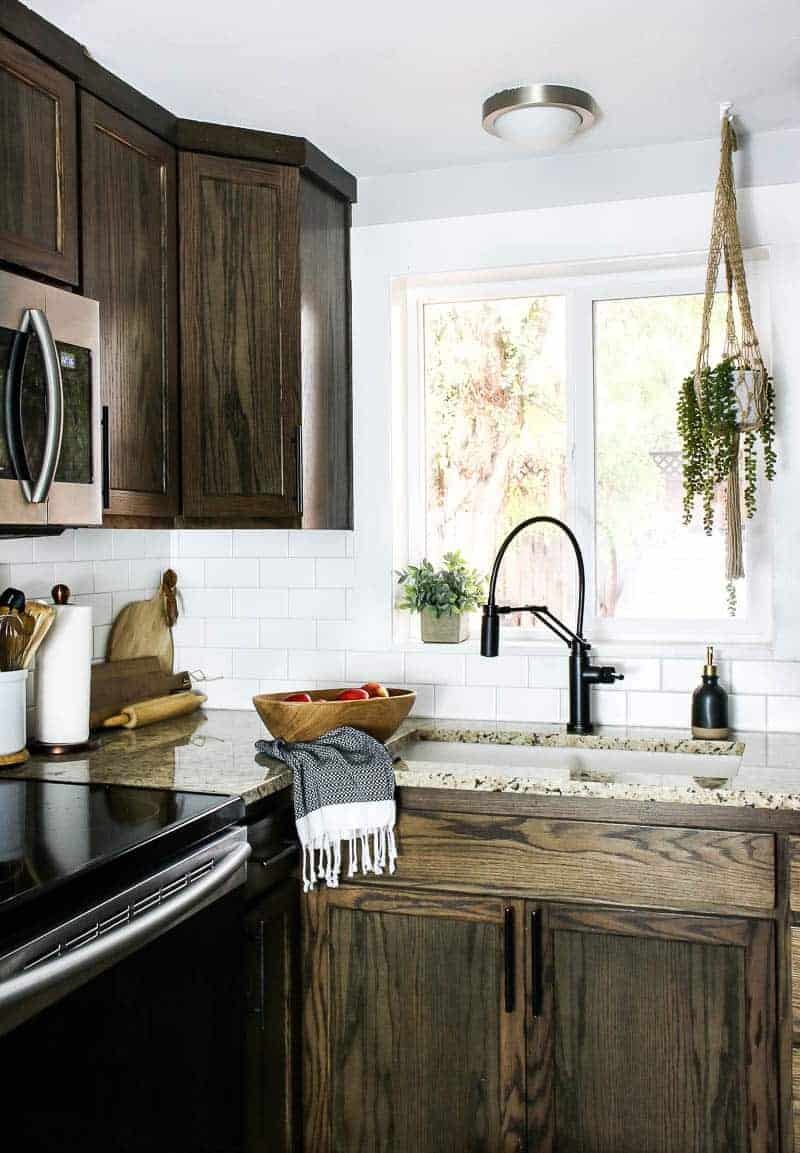 Pretty amazing, right?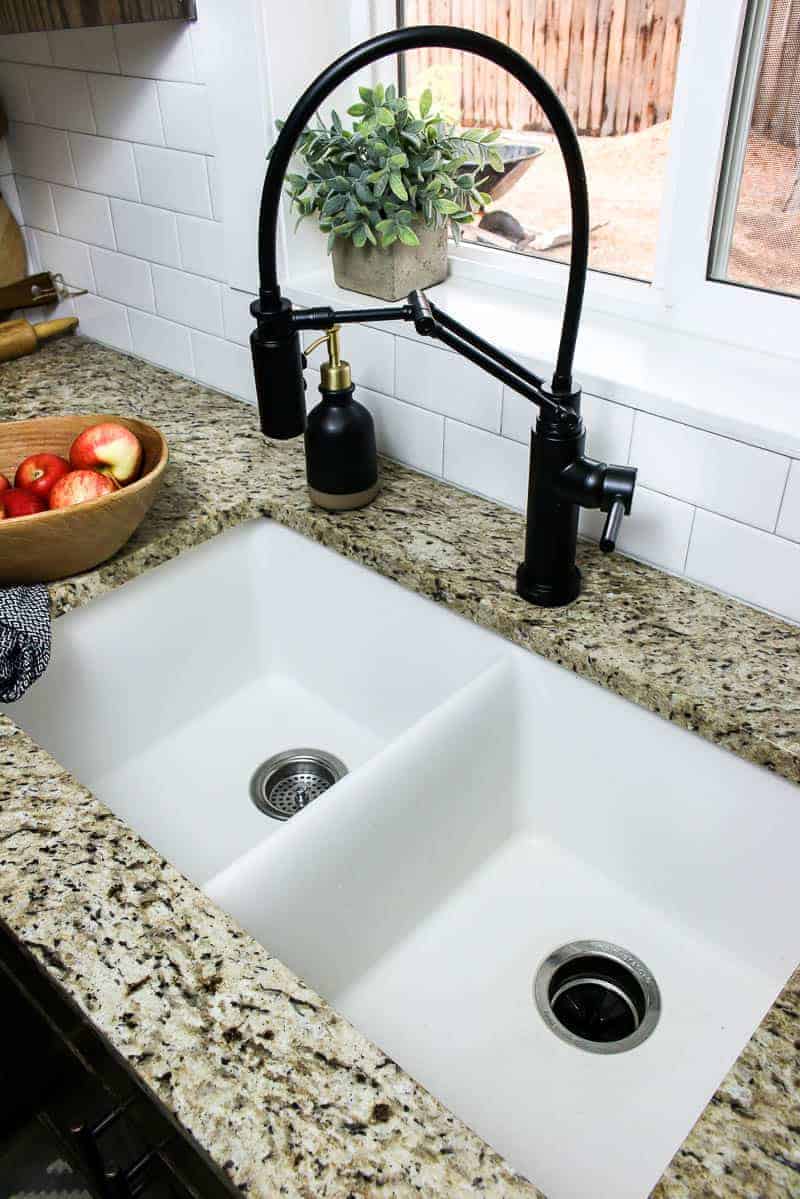 I absolutely love the bright, white Elkay sink with the quartz finish. Logan and I actually disagreed about the sink color. He wanted a black sink and I disagreed.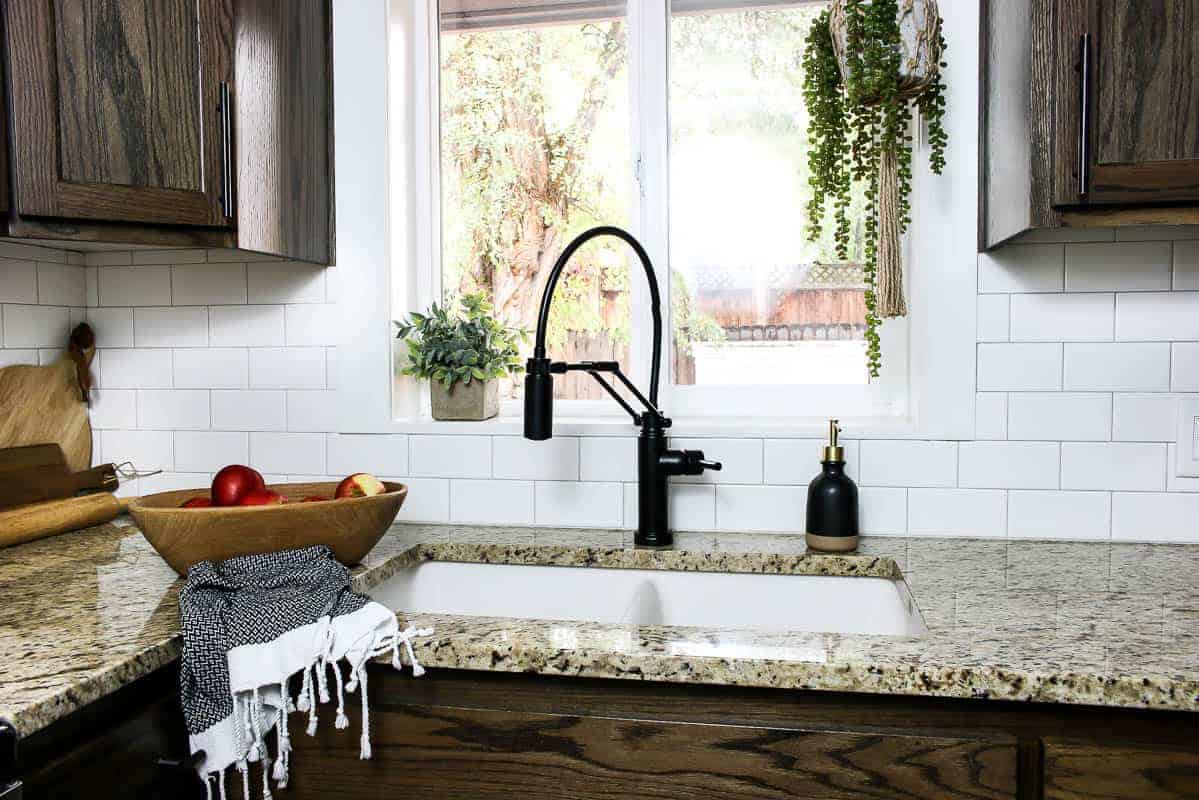 I wanted something bright and white to lighten up the kitchen, which always feels so dark. So glad that he was willing to compromise for me. 😉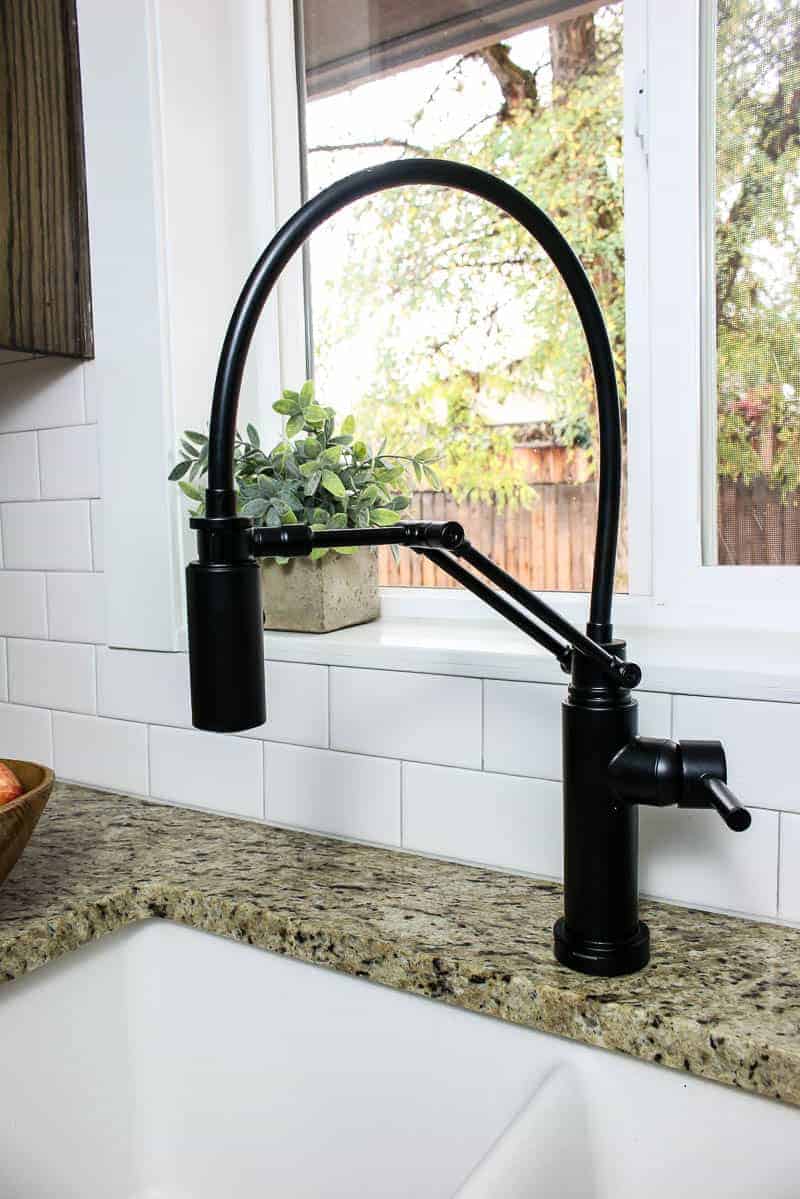 And the Brizo black faucet is like all of my dreams came true.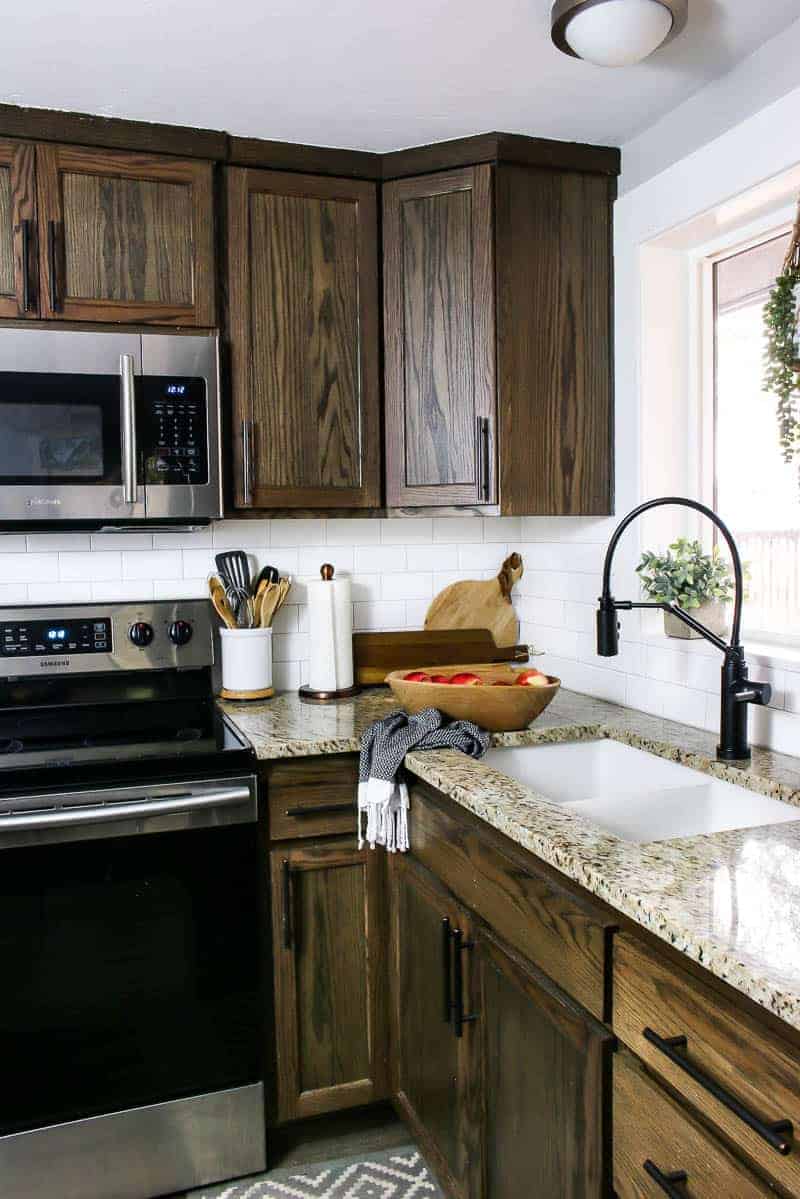 First of all, it's drop-dead gorgeous.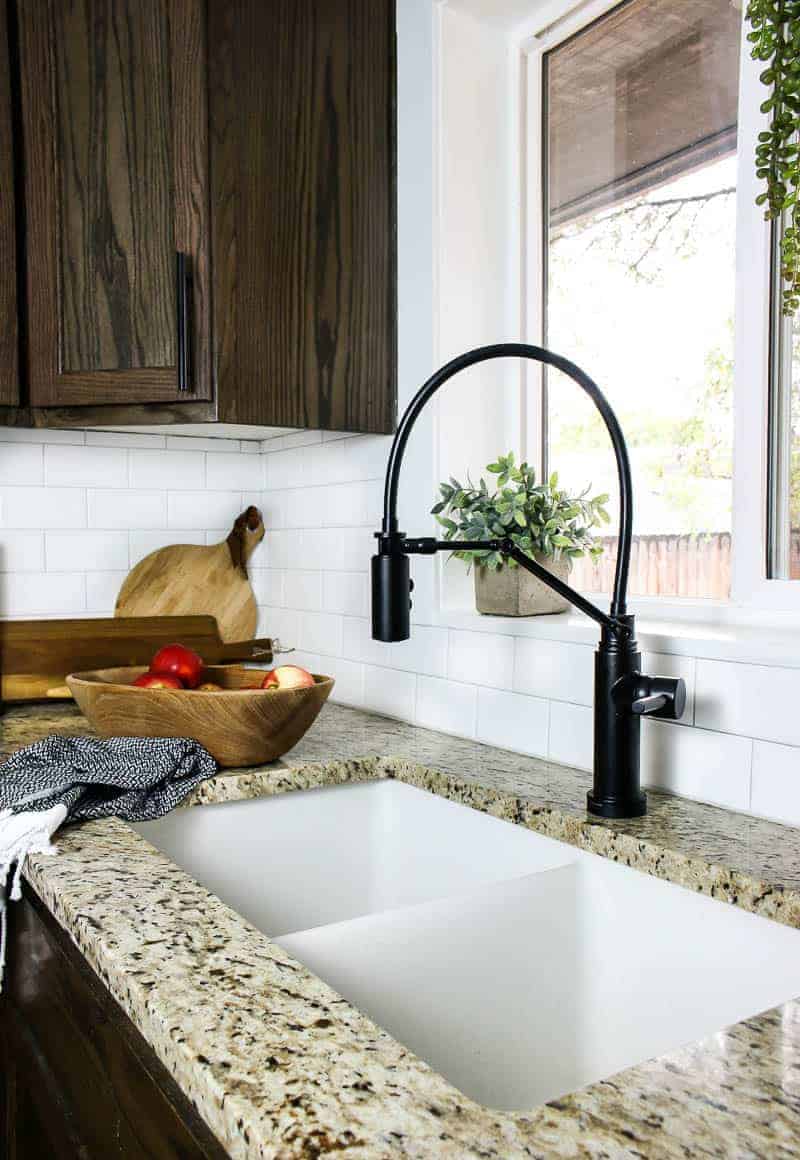 Secondly….I can't get ENOUGH of the touch on / off feature. I knew I would like it, but I didn't know just how much I would like it.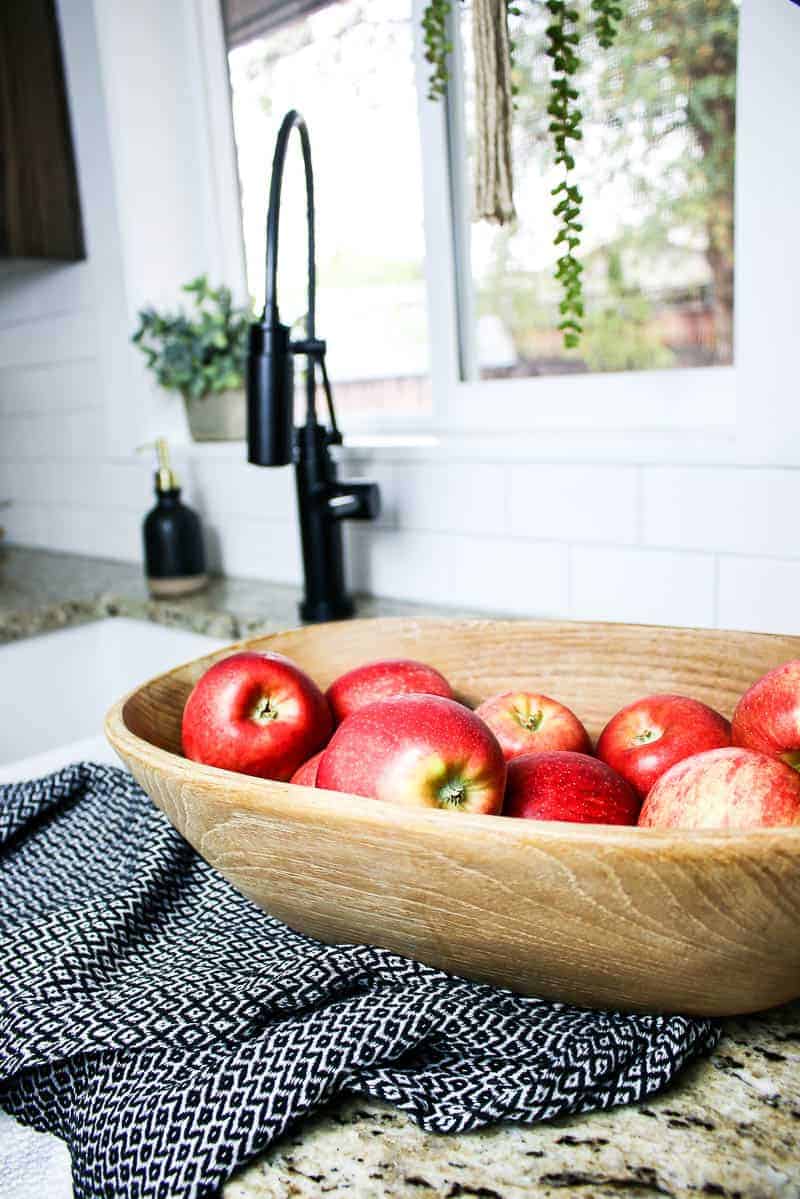 It is SO convenient! I don't know if I will ever be able to go back to a "normal" kitchen sink faucet.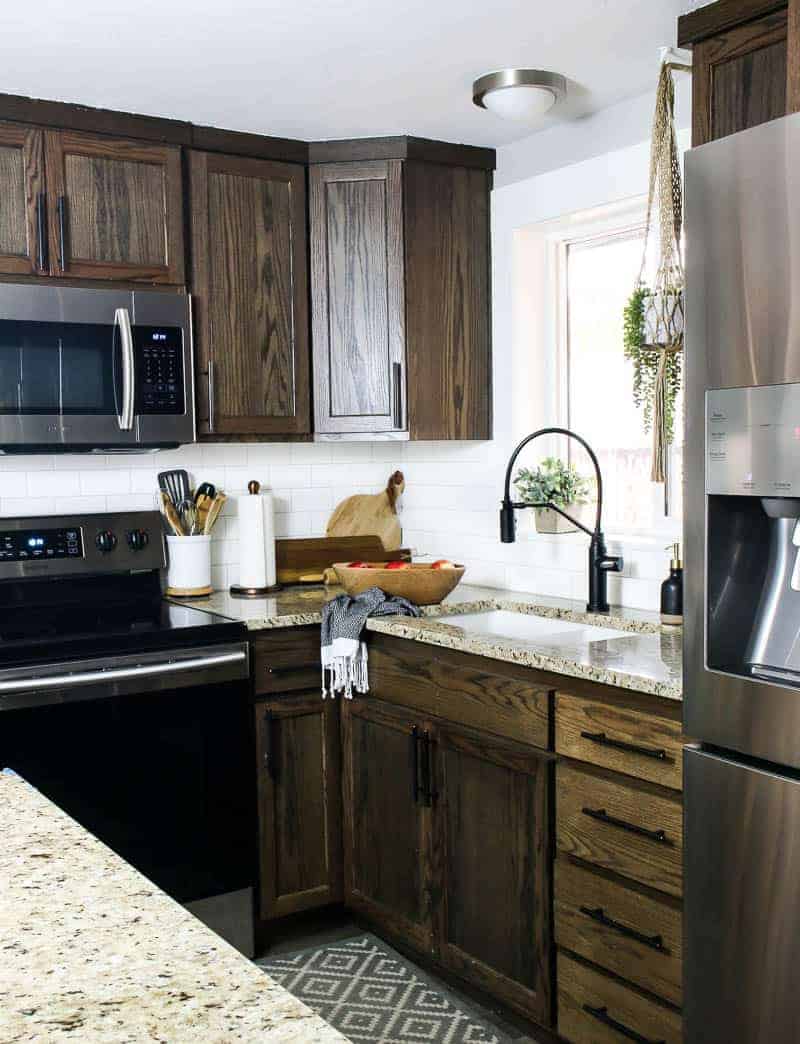 Our kitchen is starting to feel a lot more like "us" with the new cabinet hardware, subway tile backsplash, and now a pretty new faucet and sink.
Hopefully, you learned a thing or two in this undermount sink installation guide and realized that installing your own sink is totally a possible DIY project!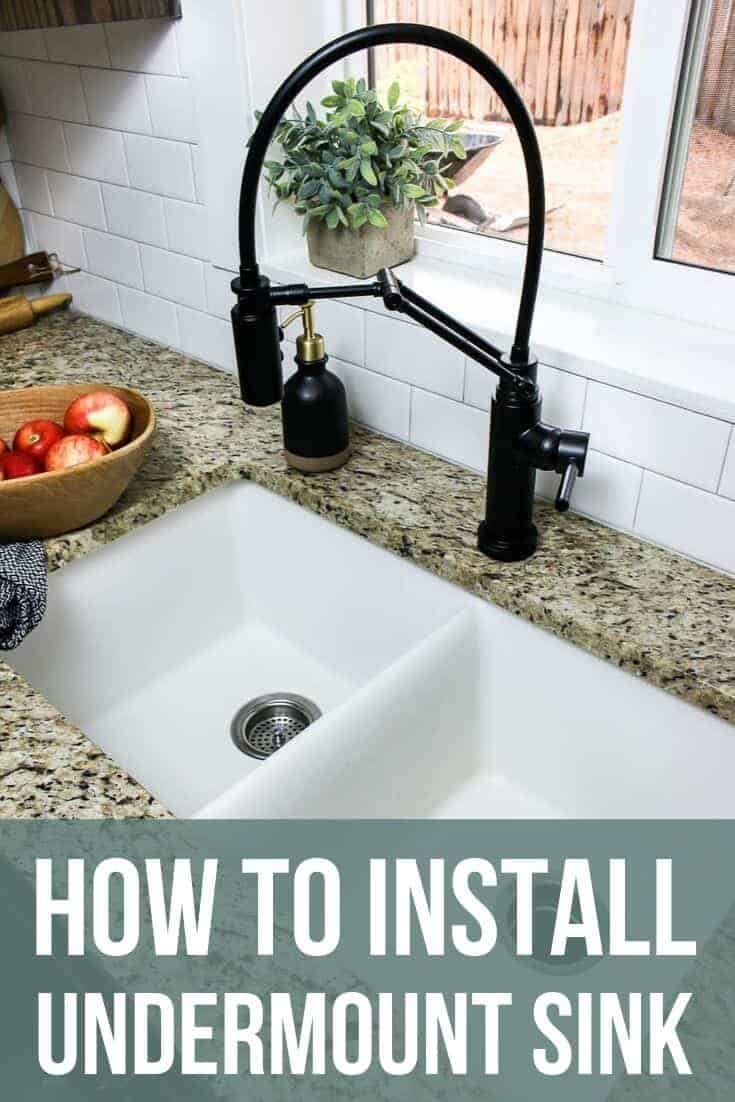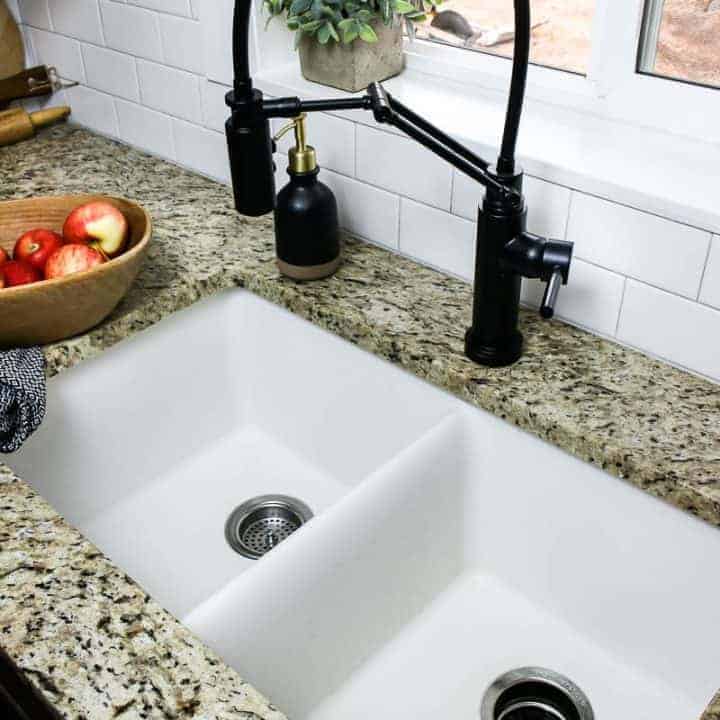 How To Install An Undermount Sink
If you are curious how to install an undermount sink, you'll love this step by step tutorial. We show you how to install a sink without removing your countertops. Don't forget to watch the video to see the installation in action!
Materials
3 ft threaded rod
2 1/2" nuts
Plumber's putty
Sink strainer
Sink
Sink drain kit
2x4
Kitchen faucet
100% silicone
Sink mounting kit
Tools
Channel locks
Crescent wrench
Drill
Screwdriver
Tape measure
Utility knife
Caulking gun
Paint scraper
Towel
Bucket
Vice grips
Instructions
Remove all plumbing and garbage disposal under your sink.
Remove old drain assemblies from old sink
Remove any brackets or clamps supporting old sink.
Cut silicone or epoxy with a razor blade around edge of sink and push down to remove old sink.
Remove old faucet.
Create sink support system to help with installation with 2x4s and steel bars. See video for more details.
Using 2x4 sink support system to hold sink, make sure the sink is centered within the hole in your countertop.
Mark edges of sink underneath on the countertop.
Remove sink from area.
Drill any holes needed for clamps or brackets provided with your sink under the bottomside of the countertop.
Raise sink back up into the correct position.
Apply 100% silicone to top rim of the sink and raise up sink into place with the sink support system.
Wipe any excess silicone.
Reattach drain assemblies by applying plumber's putty on the bottom side of rim on the drain assembly and push into place. Reattach all drain assembly pieces underneath sink.
Install new faucet.
Notes
When installing the new faucet, be sure to test the water before drains. That way if you need to make any final plumbing adjustments, you have more room to move around underneath the sink.