Are you working on outdoor DIY projects that need to be painted? Check out these outdoor wood painting tips and learn how to use a paint sprayer.
Thank you to Wagner for sponsoring this post with outdoor wood painting tips! All opinions are entirely my own. This post also contains affiliate links, but nothing that I wouldn't recommend wholeheartedly. Read my full disclosure here.
Did you see our plant wall that we revealed last week? Didn't it turn out great?! I love it!
You may have noticed that we mentioned that we used a paint sprayer, so today we're going to dive a little deeper into that process and give you some outdoor wood painting tips with a paint sprayer.
These tips are really applicable to any outdoor wood painting – like if you're going to be painting outdoor wood furniture or DIY projects.
Let's kick things off by answering some FAQs about outdoor wood painting.
Step 1. Clean outdoor wood (if needed).
If you're painting outdoor wood, there's a good chance that you may be working on old outdoor wood furniture. If that's the case, you definitely want to start by cleaning the furniture thoroughly.
Scrub wood with a brush and soap (just dish soap works fine!)
Finish with a pressure washer if you have one or a hose with a nozzle.
Let the wood dry thoroughly before moving on to painting. This is very important because you don't want to trap moisture in the wood once it is primed and painted.
I didn't need to clean the wood because I was working with new wood on our plant wall project.
Step 2. Lightly sand wood.
Depending on the state of your wood (whether it's new or old), you may need to sand more or less. But all wood should be, at the very least, lightly sanded before painting.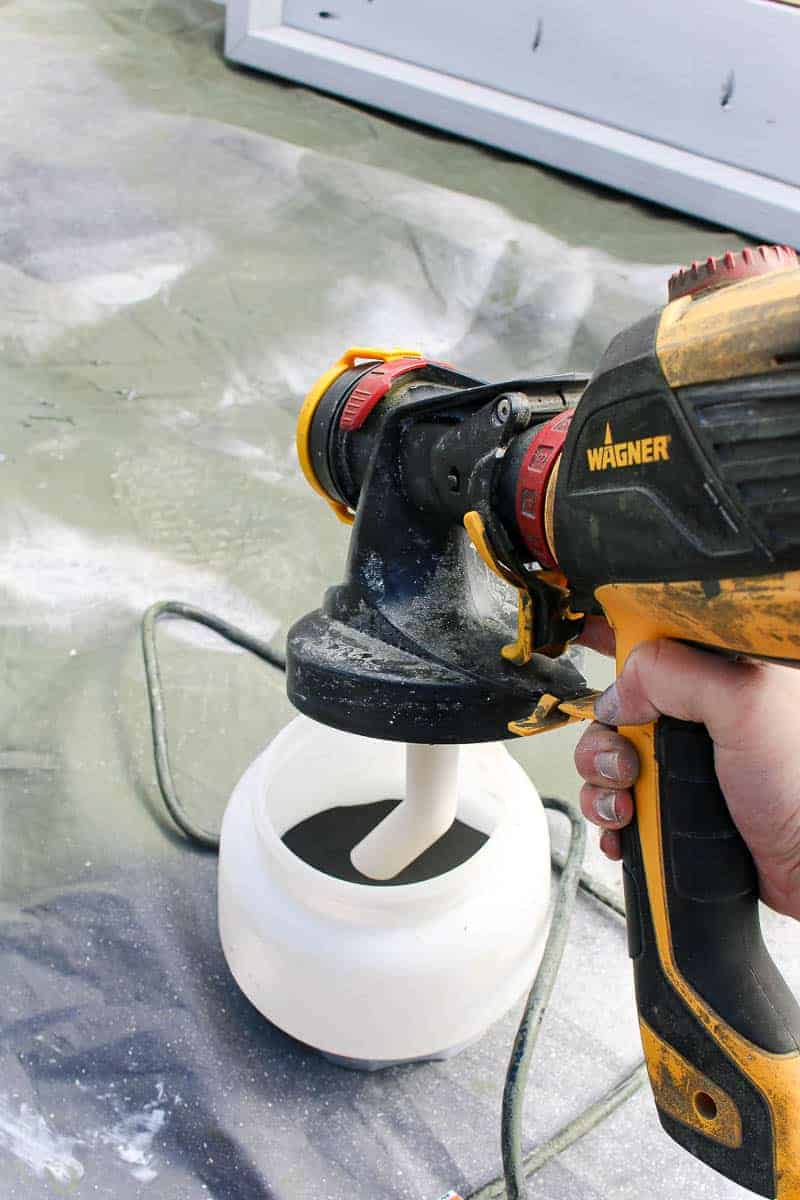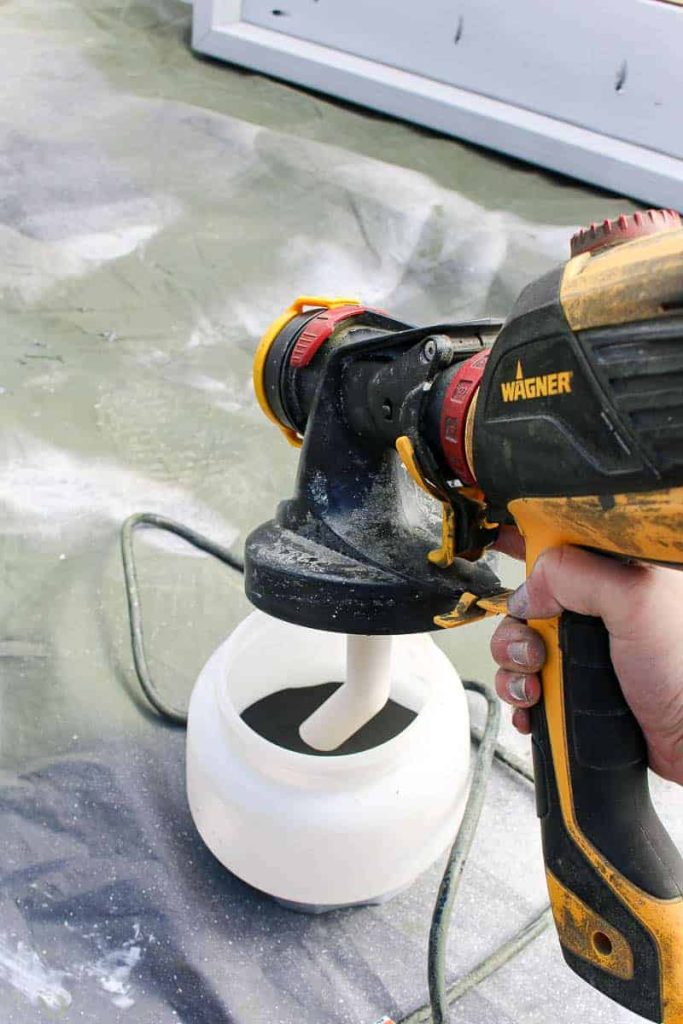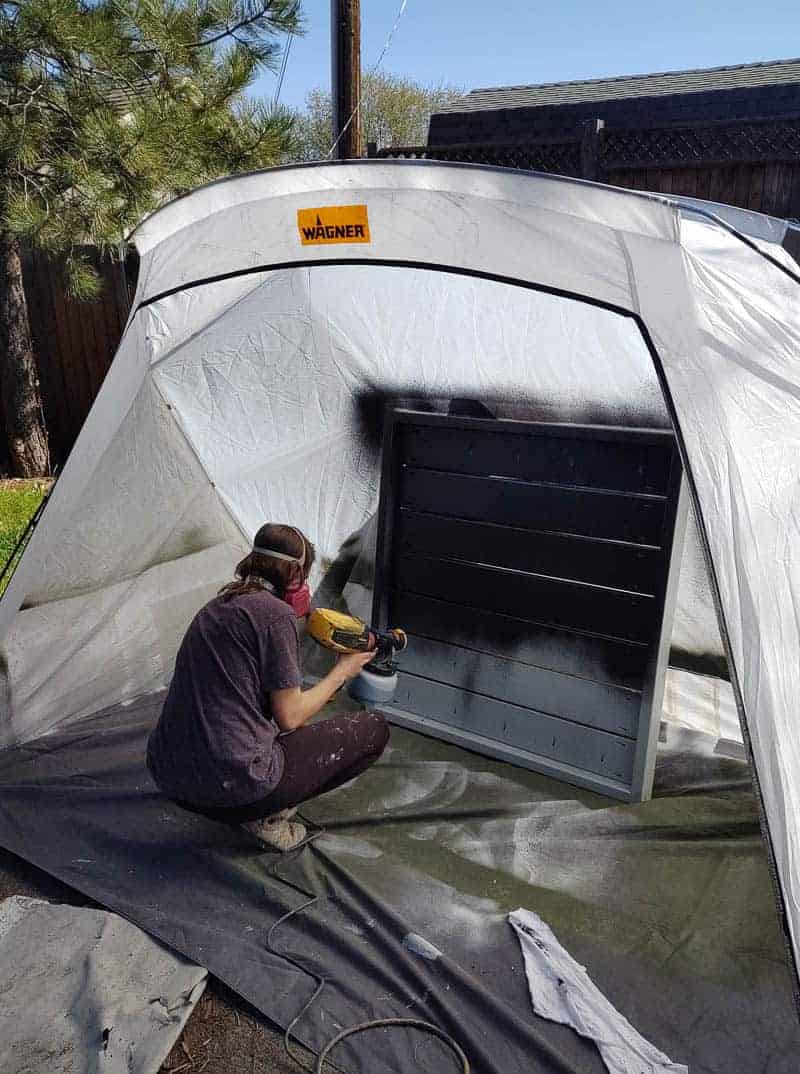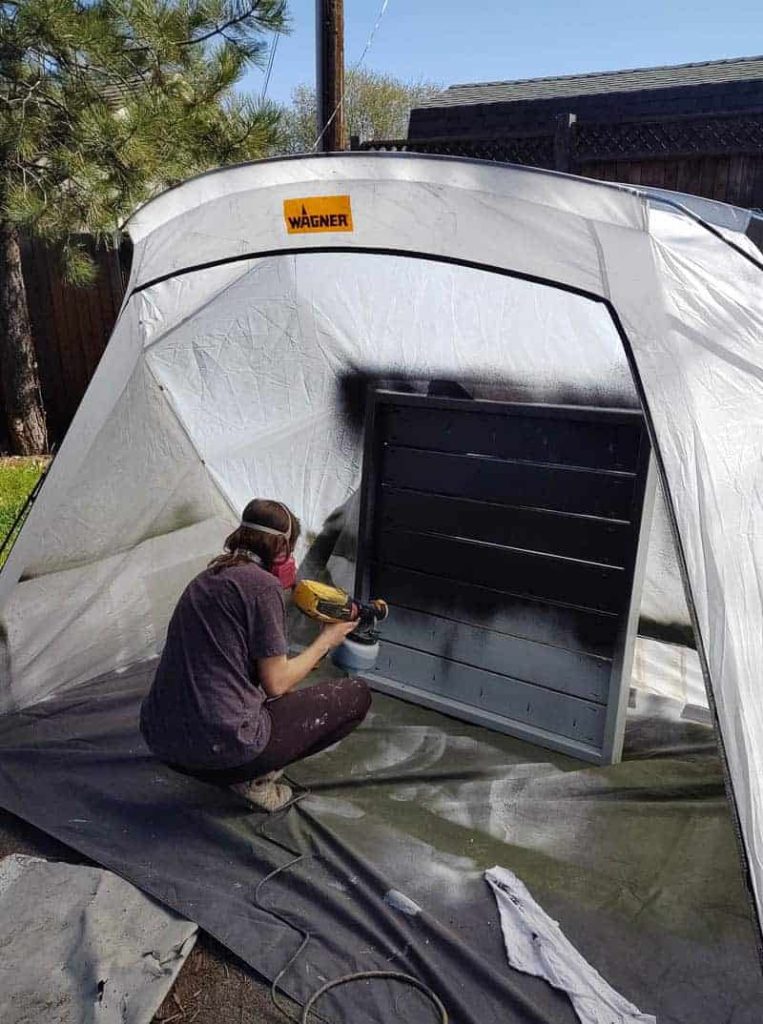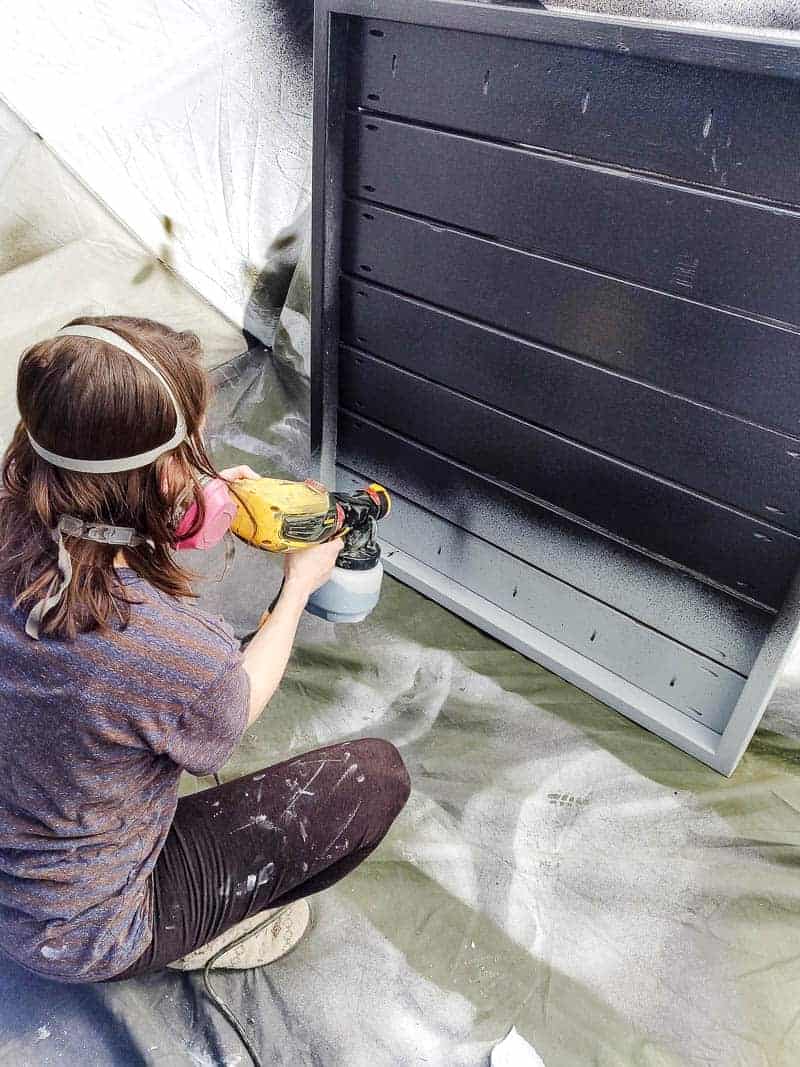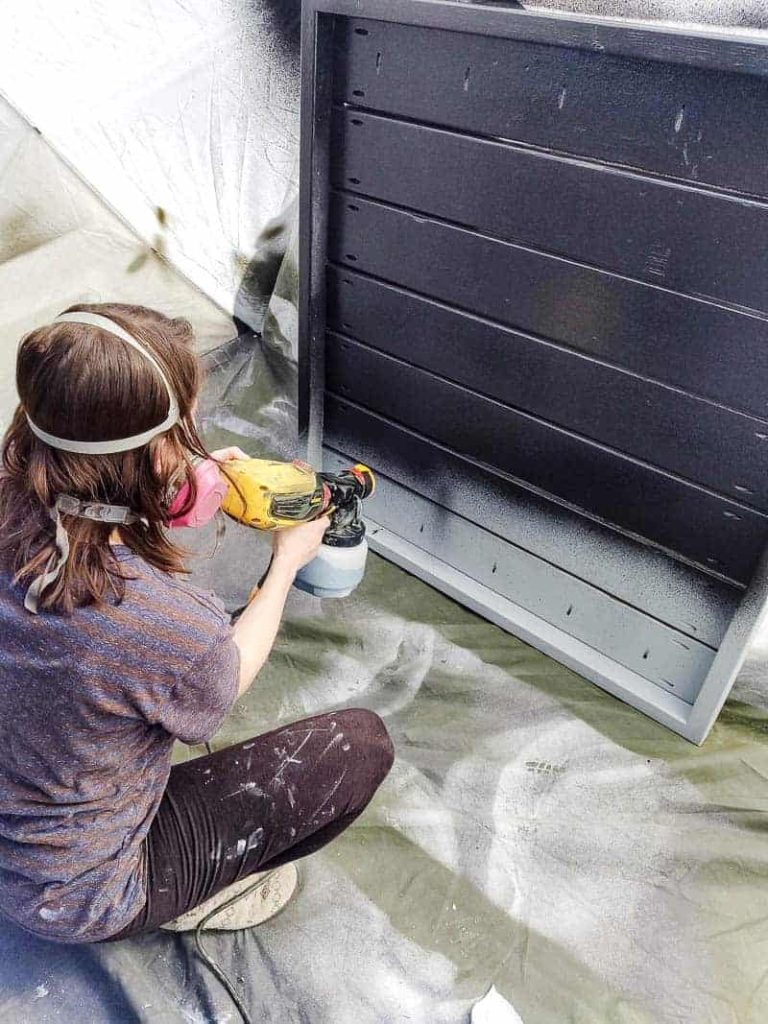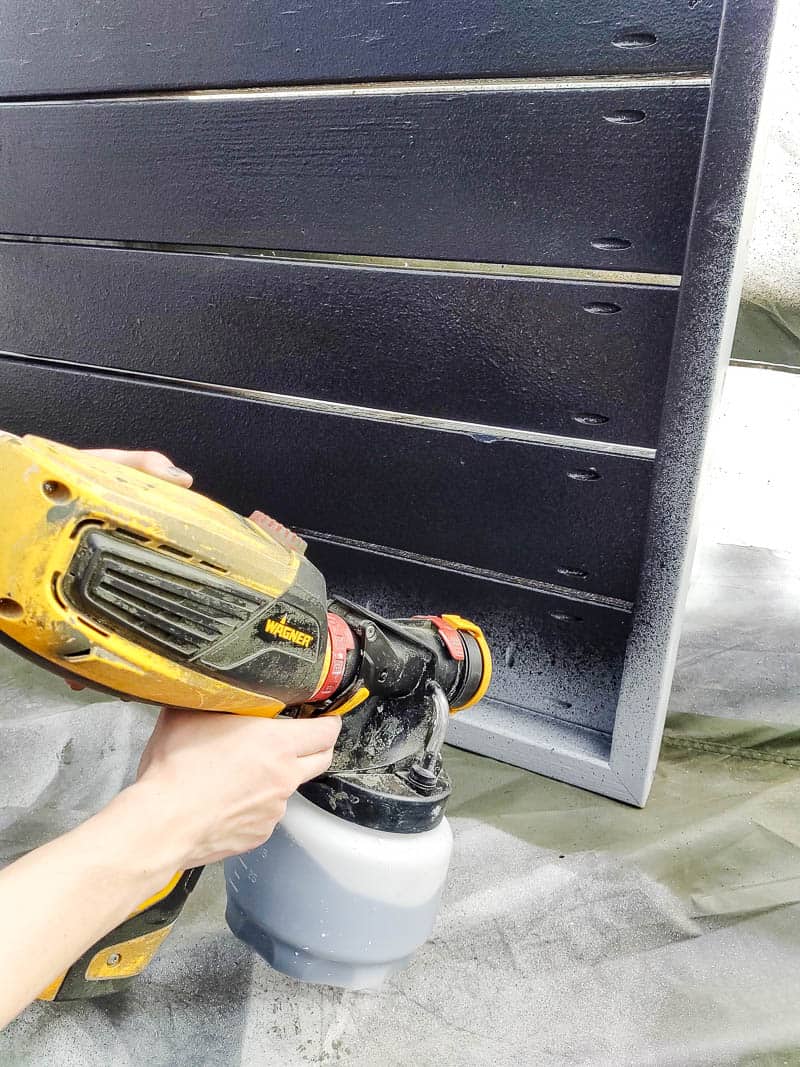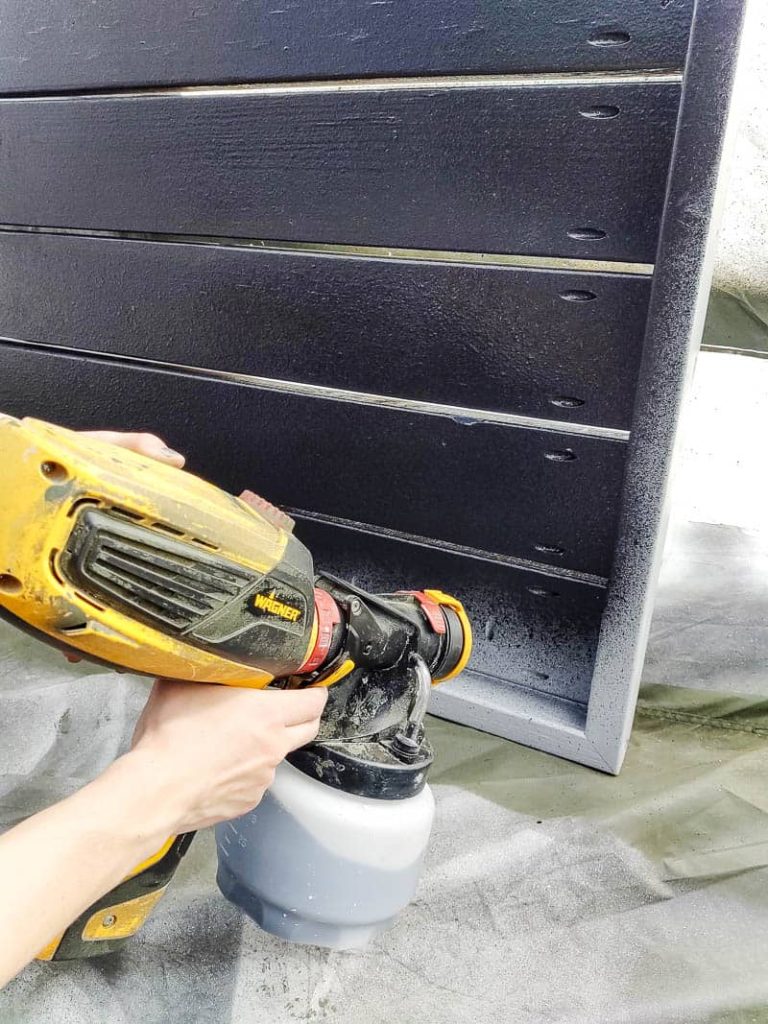 Step 4. Paint outdoor wood with a paint sprayer.
Read manual. If you've never used a paint sprayer before, be sure to take a read (or three) through the detailed manual. You can also download the manual online on Wagner's website if you want to read it before you purchase the sprayer.
Set up an area. Set up your painting area with the Wagner Spray Tent to prevent overspray and wind if you're painting outdoors.
Set up paint sprayer. Open paint and stir well. Fill the cup with your paint. Before screwing the container onto the sprayer, be sure your pickup tube is aligned based on the direction that you'll be spraying. If spraying downward, the angled end of the tube should be pointing towards the front of the nozzle (as you see I've done). If spraying upward, the angled end of the tube should be pointing towards the rear of the nozzle. Screw the container onto the sprayer and tighten.
Determine paint sprayer settings and test. Take a look at the manual to determine what settings you should start with and how to adjust them based on your paint type. You can test it out on some scrap wood or the practice poster that comes with the sprayer prior to starting on your projects.
Use the proper paint sprayer technique. Keep the sprayer 6-8 inches from the project and positioned squarely (works best to move with the sprayer and don't flick your wrist) at all times and try to keep a consistent speed to get an even coat. Pull the trigger before the sprayer When spraying, always trigger the spray gun after the spray pass has begun and release the trigger before stopping the pass. Overlap each pass to get good coverage. Wipe the nozzle every few passes with a damp rag to remove any built-up or dried paint from the tip.
Clean paint sprayer. Assuming you're using water-based paint, you can simply run a half-full container of warm soapy water through the sprayer. Next, disassemble and wash with warm water. Allow it dry before putting back together.
Ta DA!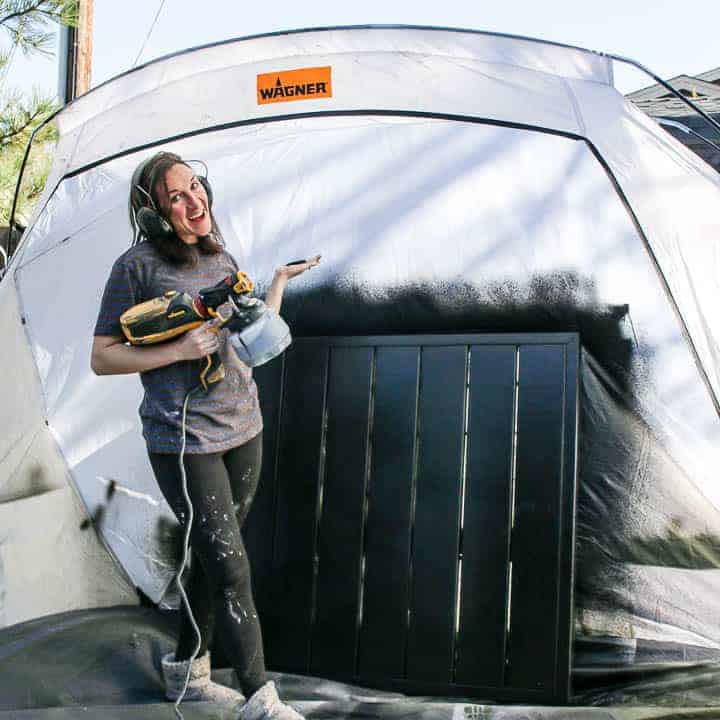 The paint sprayer worked like a charm on this project. I love that it easily gets into the nooks and crannies as well as the corners and even the pocket holes on the back of the plant wall.
If you have more questions about using the FLEXiO 3000, just let me know and I'd be happy to try to either help or point you in the right direction.
The best place to start is Wagner's manual, which is super detailed and I found very helpful. Wagner also has great customer service so you can always give them a call if you're stuck!
I'd still consider myself a beginner with the sprayer, but I've used it for three different projects now. I would say that practice makes perfect.
Every time I use the sprayer I seem like I get better and more comfortable with adjusting the settings on my project.
If you're planning to use a sprayer to tackle a big and important project, start with a few simple projects like this plant wall or furniture makeovers (like this DIY kitchen table) to get the hang of things first.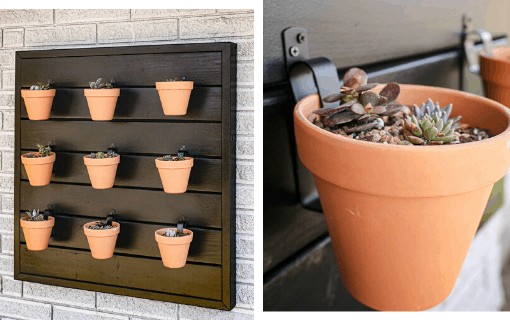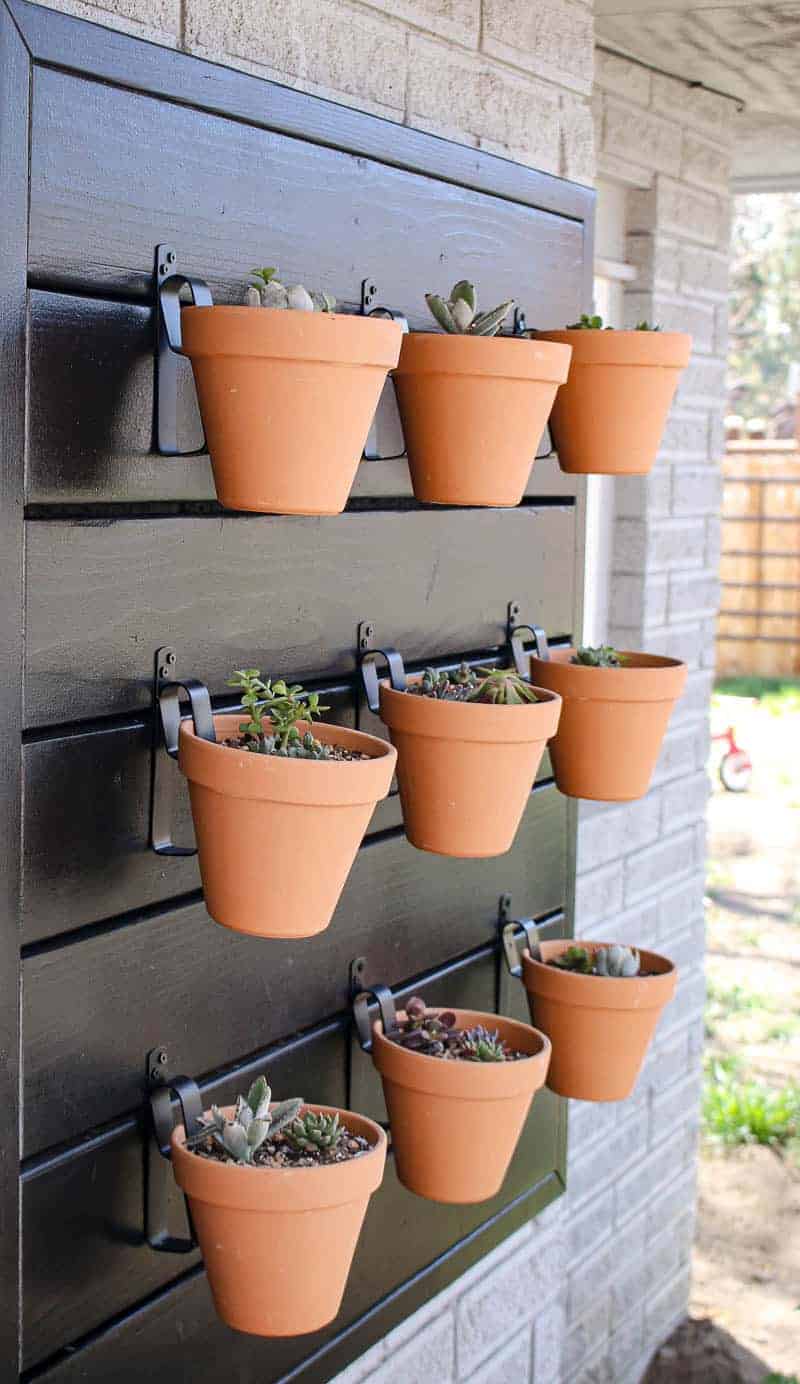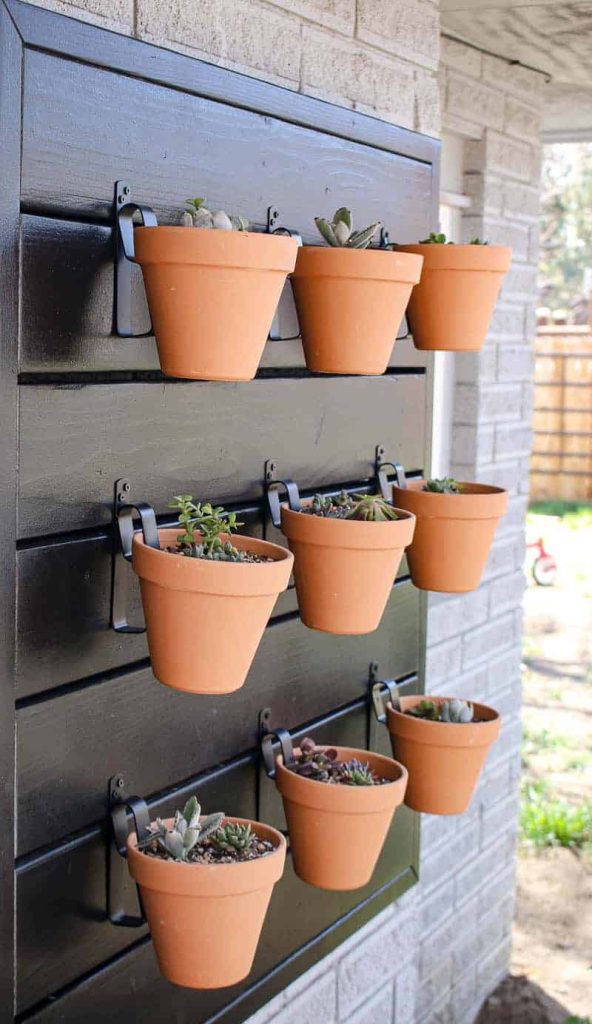 I love how our plant wall turned out! I can't wait to keep working on giving our backyard a makeover this summer so that this cute planter wall fits right in.
What outdoor DIY projects are you working on this spring and summer?
Let us know in the comments below!