Are you looking to build a new DIY table top for your kitchen table? This one is super simple to build (even for beginners) and we're giving you the free woodworking plans too!
Thank you to Kreg and Build Something for sponsoring this DIY table top build! All opinions are entirely my own. This post also contains affiliate links, but nothing that I wouldn't recommend wholeheartedly. Read my full disclosure here.
Last year we built this gorgeous custom built in banquette in our breakfast nook. After we were done, we needed a table for the space so we could actually use it and I was at a loss! I couldn't find ANYTHING that would fit the space.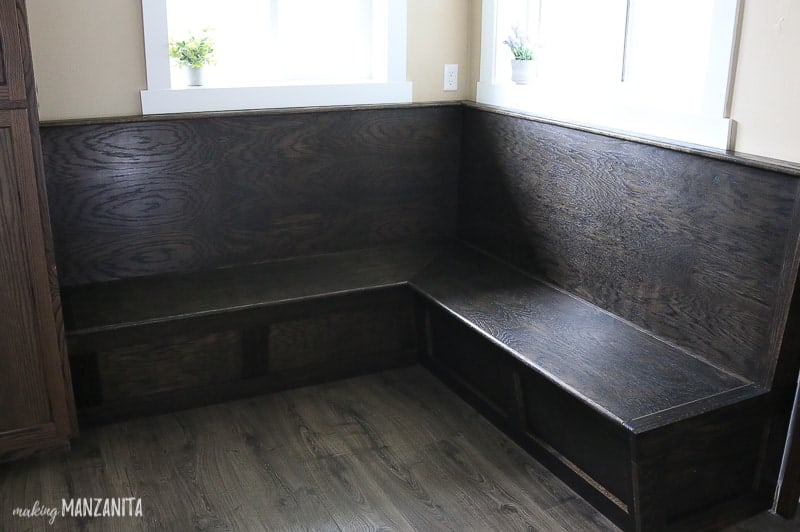 The round tables were awkward for anyone sitting in the corner. We couldn't find a square table that fit right and the rectangular tables were all too narrow.
So, what do we do when we can't find something that works perfect? We DIY it!
And don't worry guys, even if you're a beginner when it comes to woodworking (like you've never built anything in your life before)…this is TOTALLY manageable. I promise.
But, here's the thing. I had envisioned a farmhouse style chippy paint table base with curves and details. Which is not impossible to DIY yourself, but it's pretty darn tricky.
So to really make this project super simple and achievable in just one weekend, we took an existing table base from something I found on Facebook Marketplace for $25 and built a new DIY table top for it that fits perfectly with our banquette.
We actually got this table on Facebook Marketplace with the round top that doesn't work "perfect", but it works ok and we've been using it now for almost 2 years! I'd say it was DEFINITELY time to make this new DIY table top happen. In fact, it was long overdue!
Want to see our new DIY table top with the white farmhouse table base?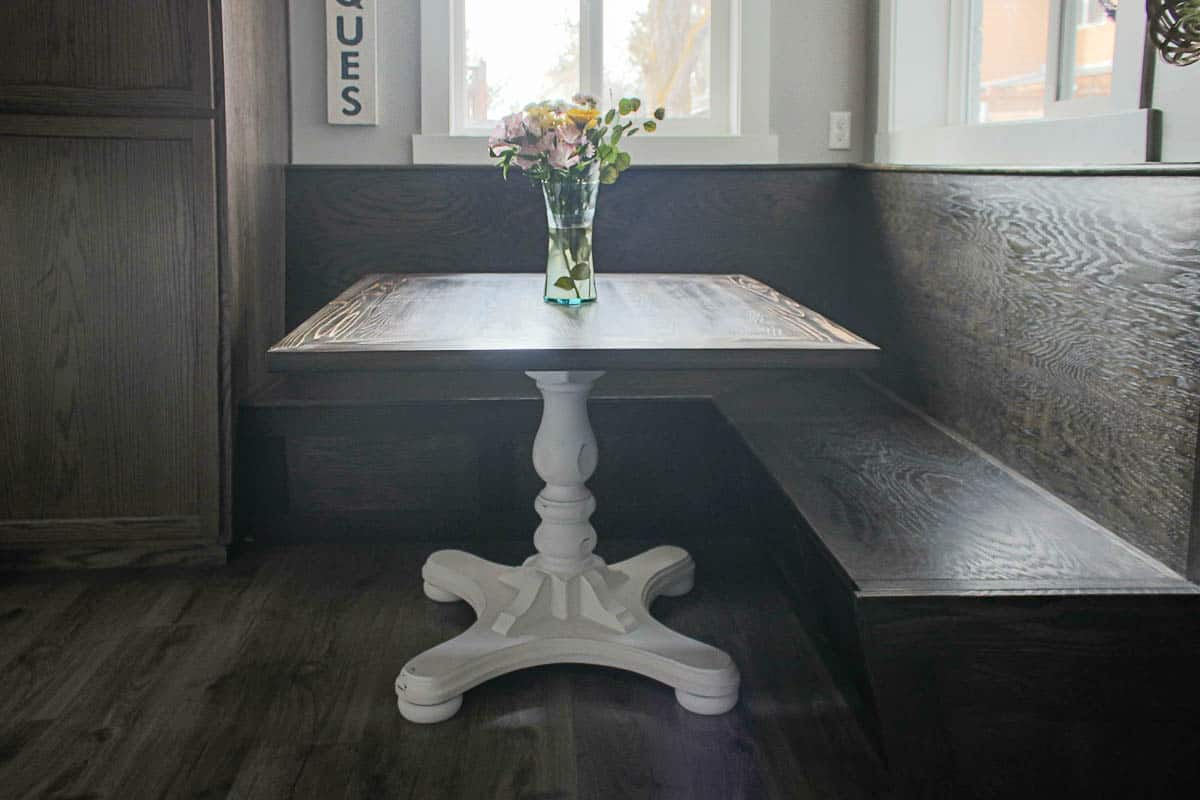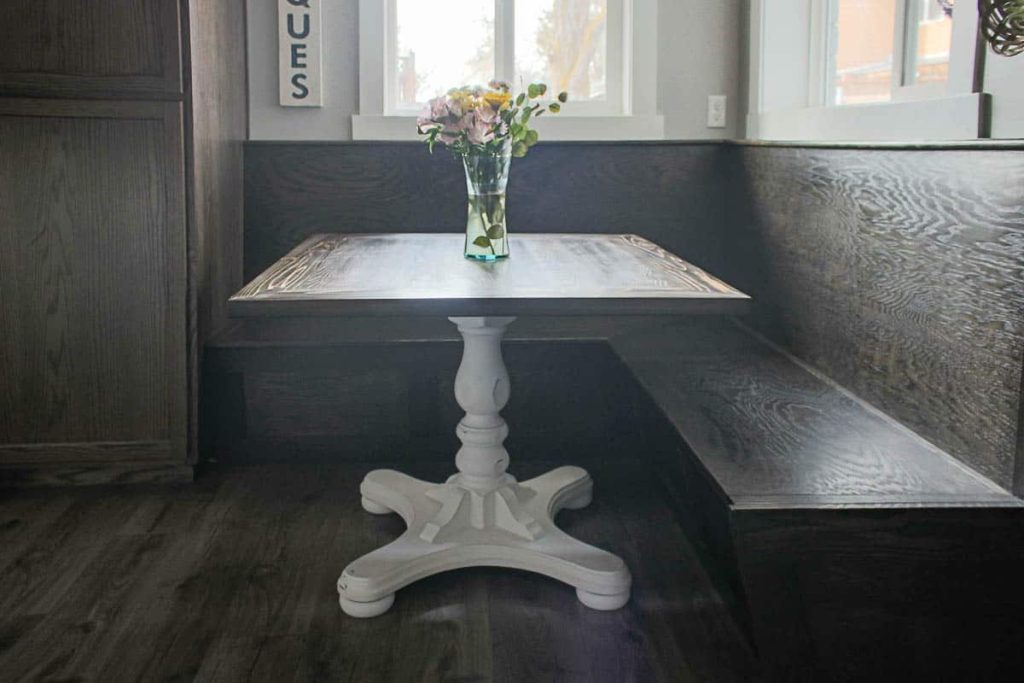 For this fun DIY (and SUPER EASY) woodworking project we teamed up with our friends Kreg and BuildSomething.com again to create the plans and share them online for free, which are now available on BuildSomething.com!
If you're wondering, Build Something is a website ran by Kreg Tools that is full of easy to follow woodworking plans that are all available for free! I promise that you are going to find so much inspiration while you are there!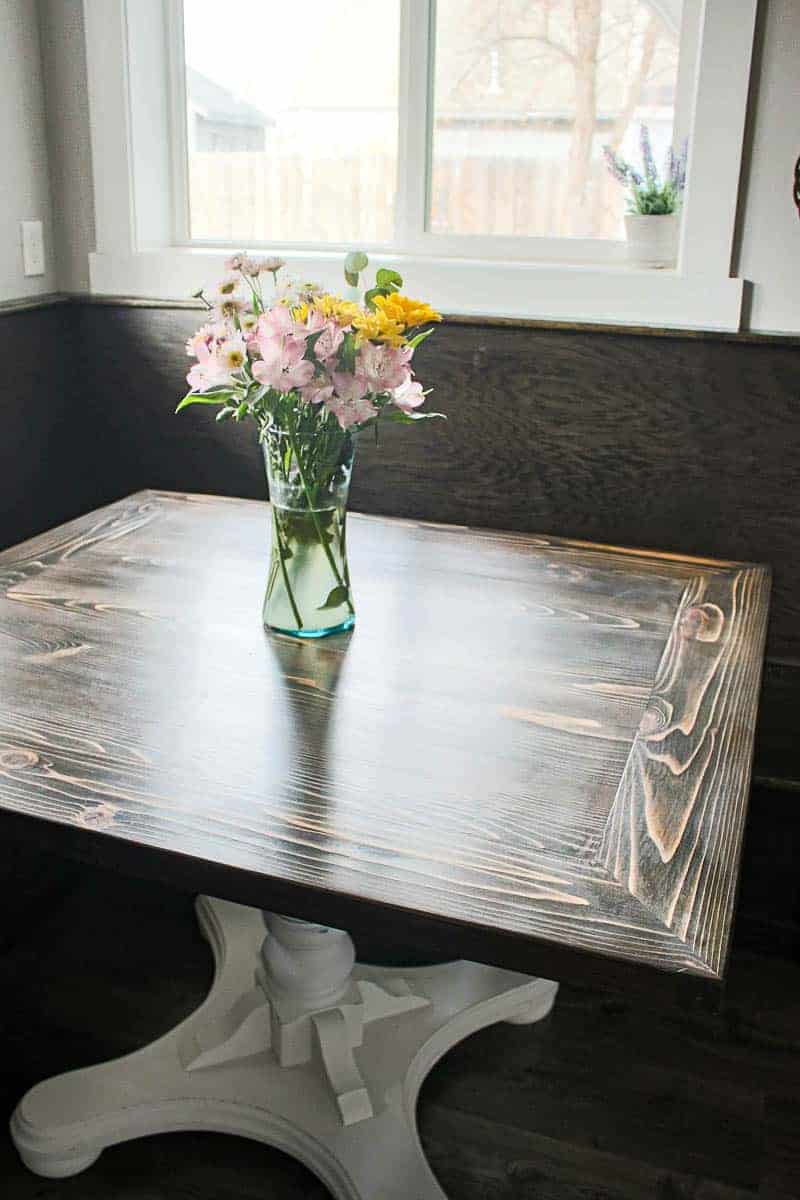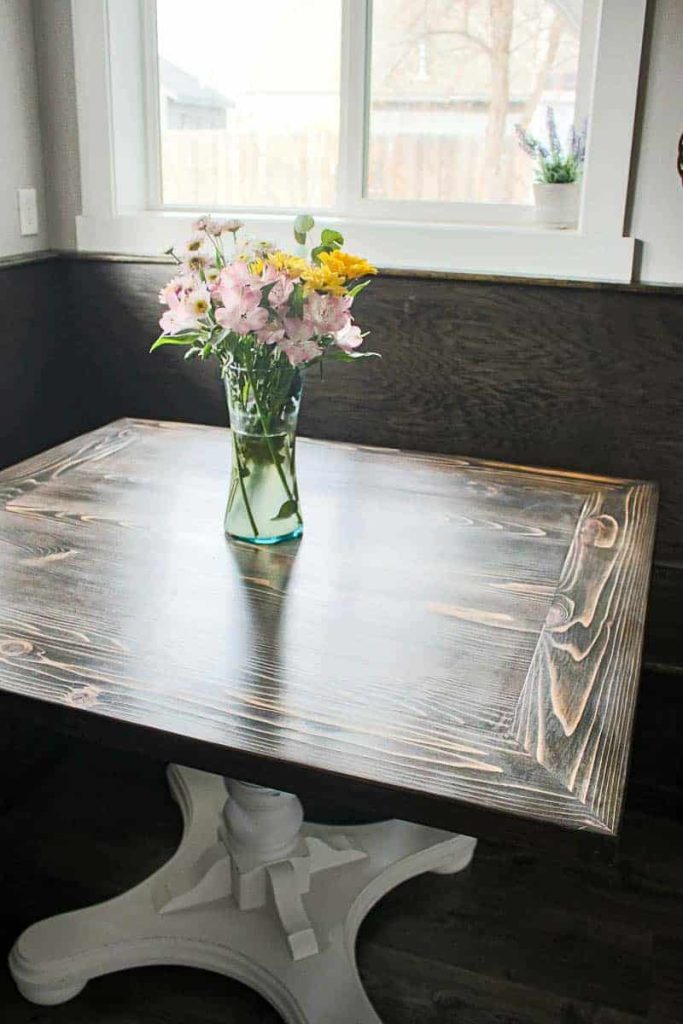 Now the thing that makes this DIY table top an incredibly easy woodworking project that is PERFECT for beginners is the incorporation of Kreg's pocket hole jig, which is the easiest way to join pieces of wood.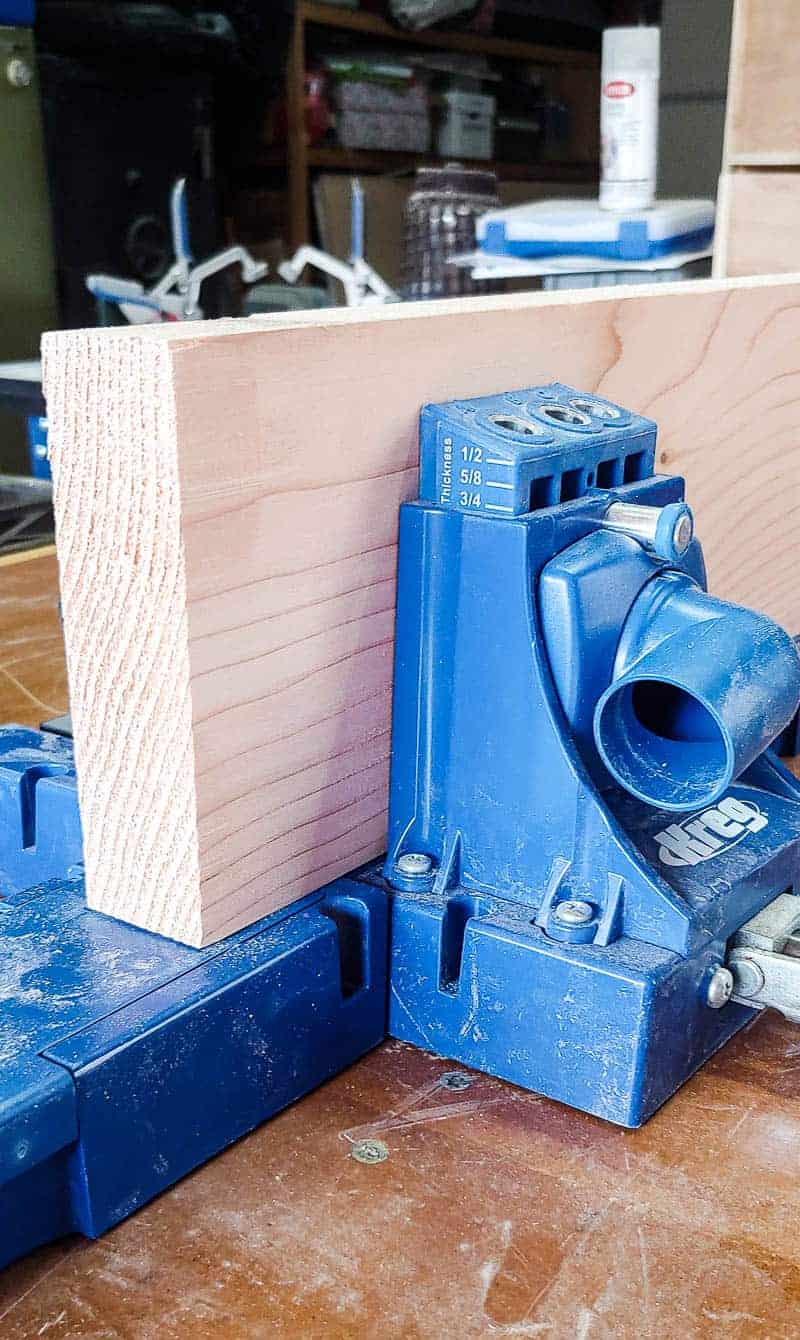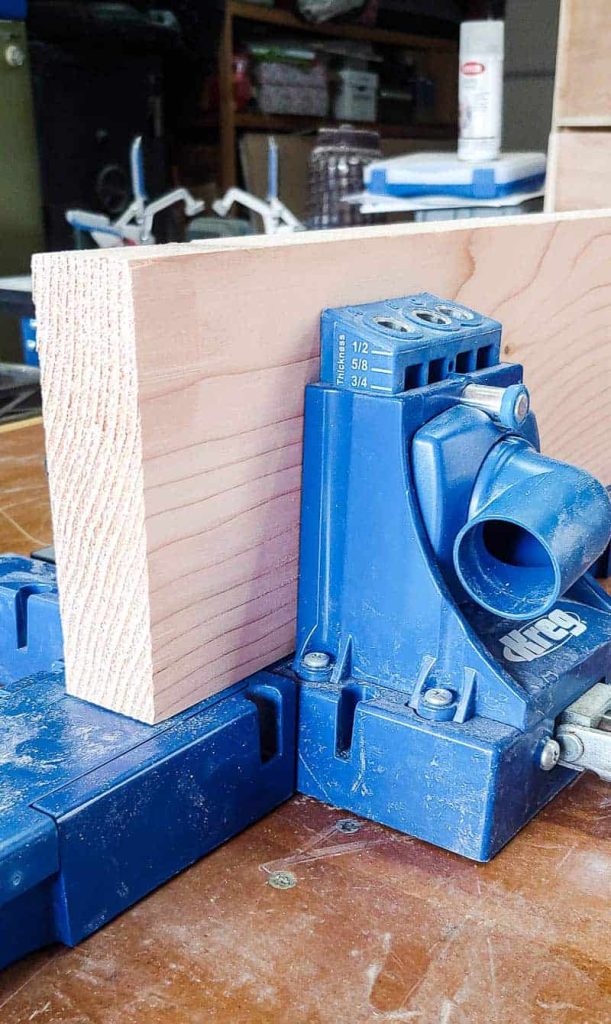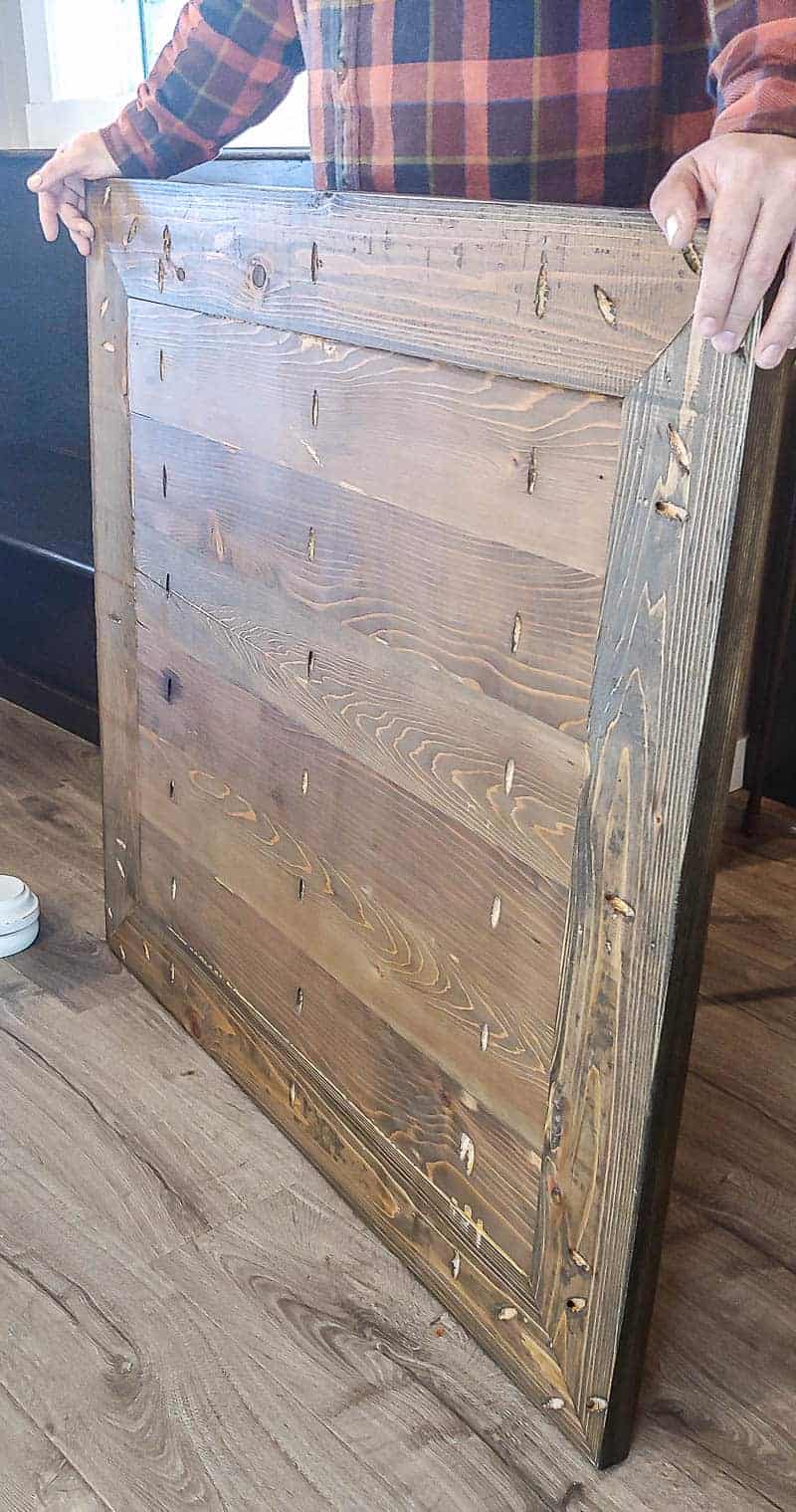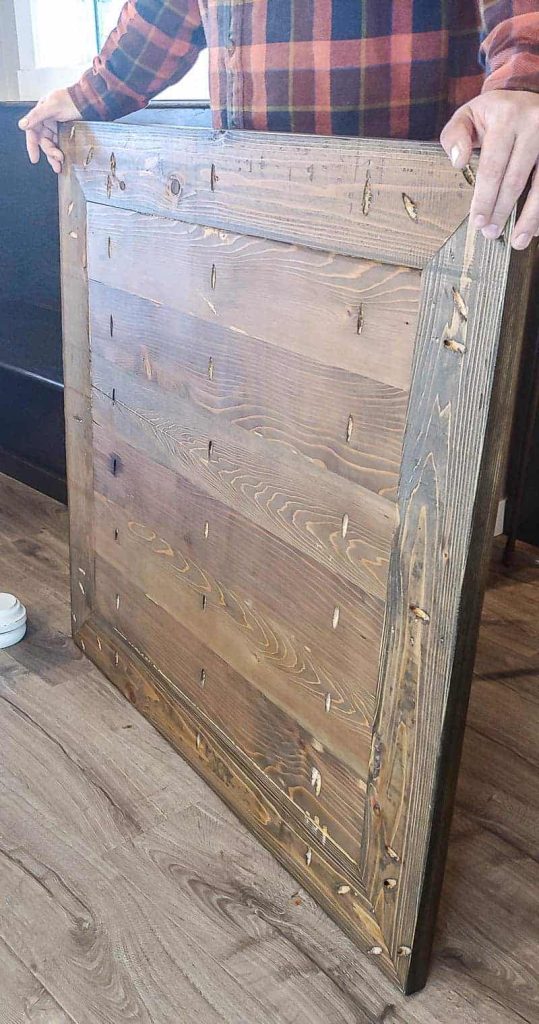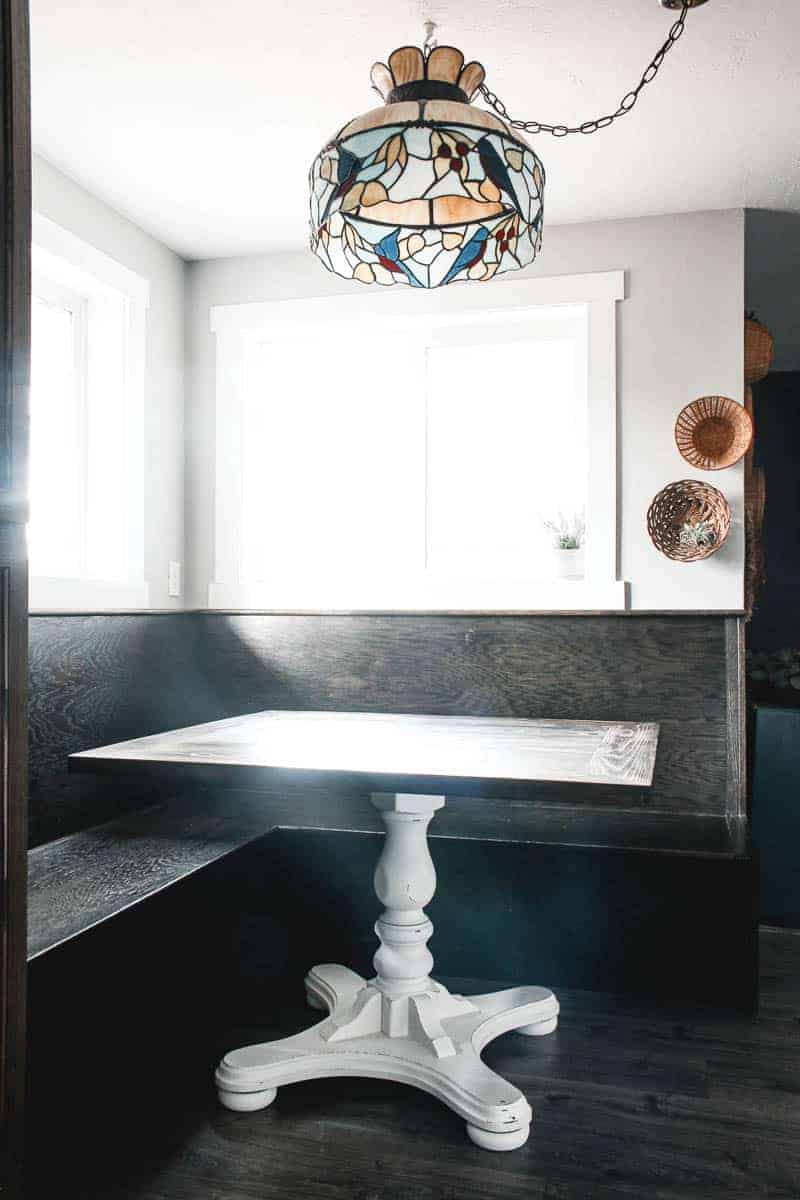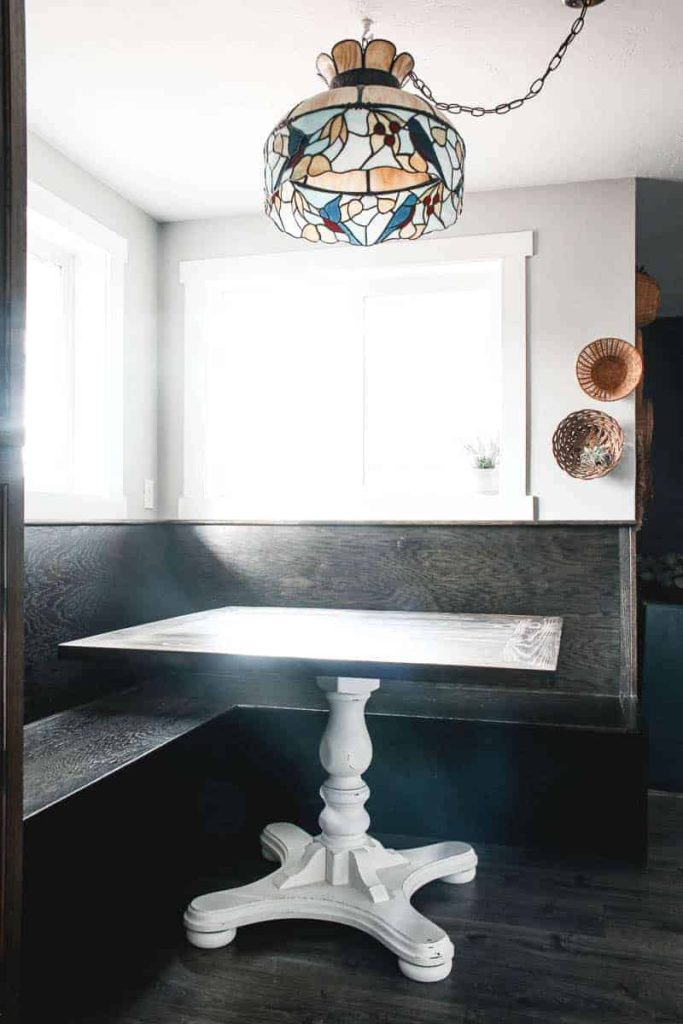 Other methods of building a kitchen table top without pocket holes involve complicated table top construction techniques like dowel joinery or biscuit joinery. Both of these methods require jigs and extra tools to make holes in the edge of the wood for dowels or biscuits.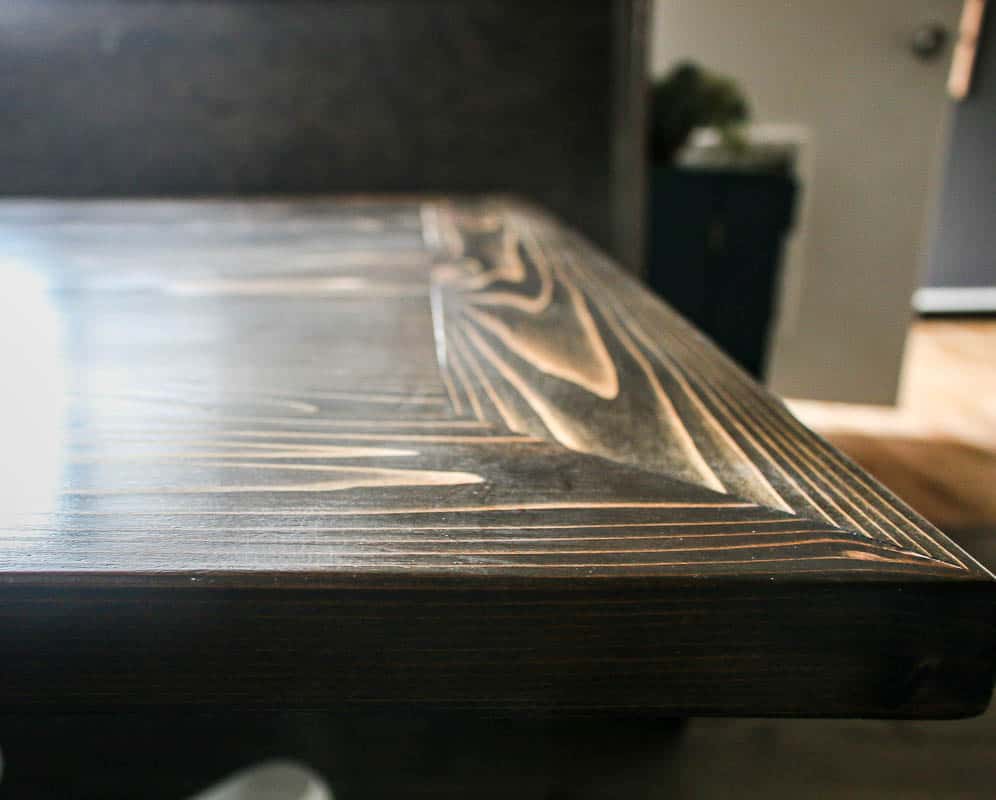 How much did it cost to build this tabletop?
Not only is this DIY table top super easy to build (even for beginners), it was pretty inexpensive.
Here's a cost breakdown for you:
If you wanted to find ways to cut costs even more, you could choose a different type of wood that was more affordable. Alternatively, you could also use a thinner wood and attach a border on the edge to hide the thinner wood.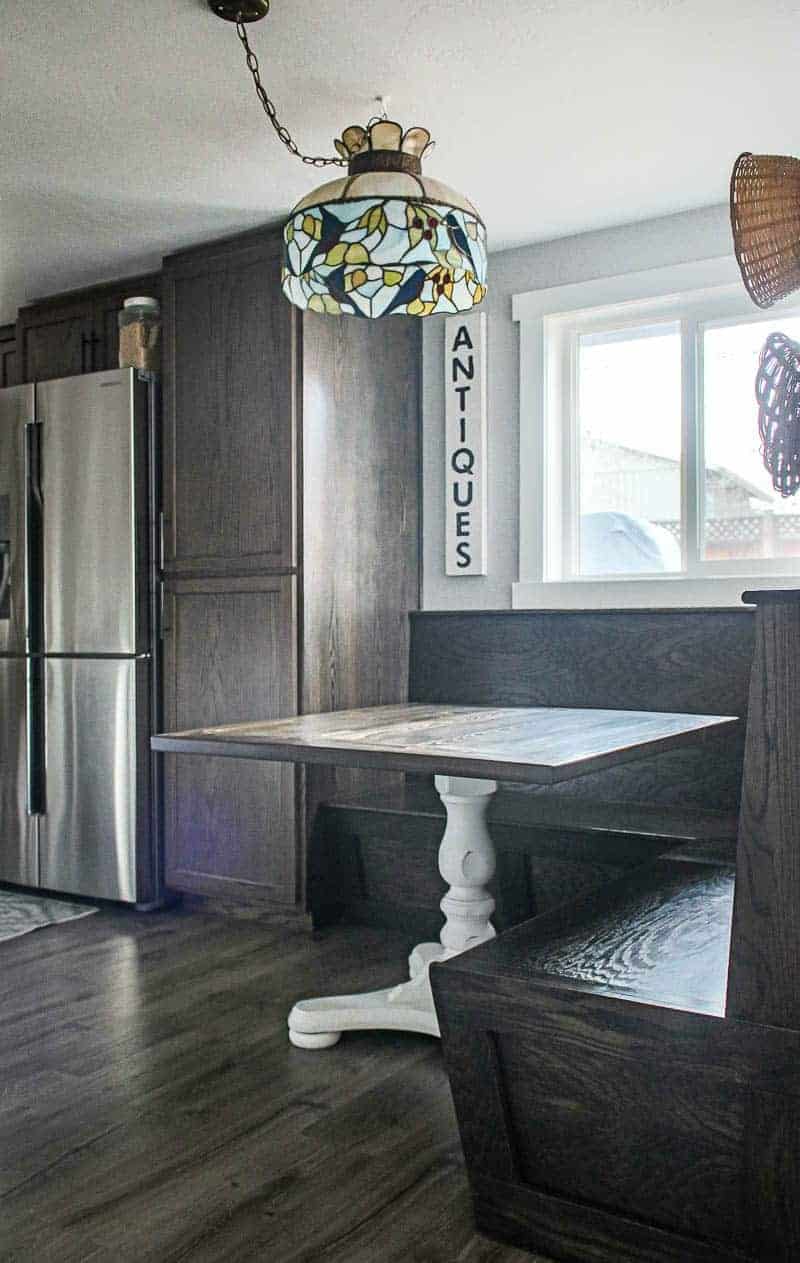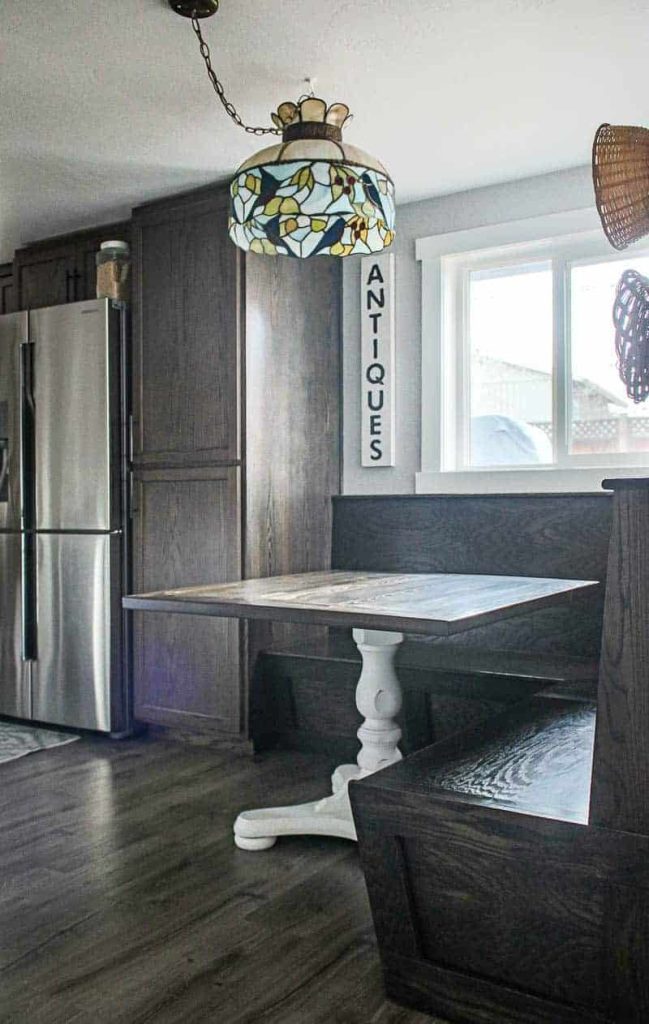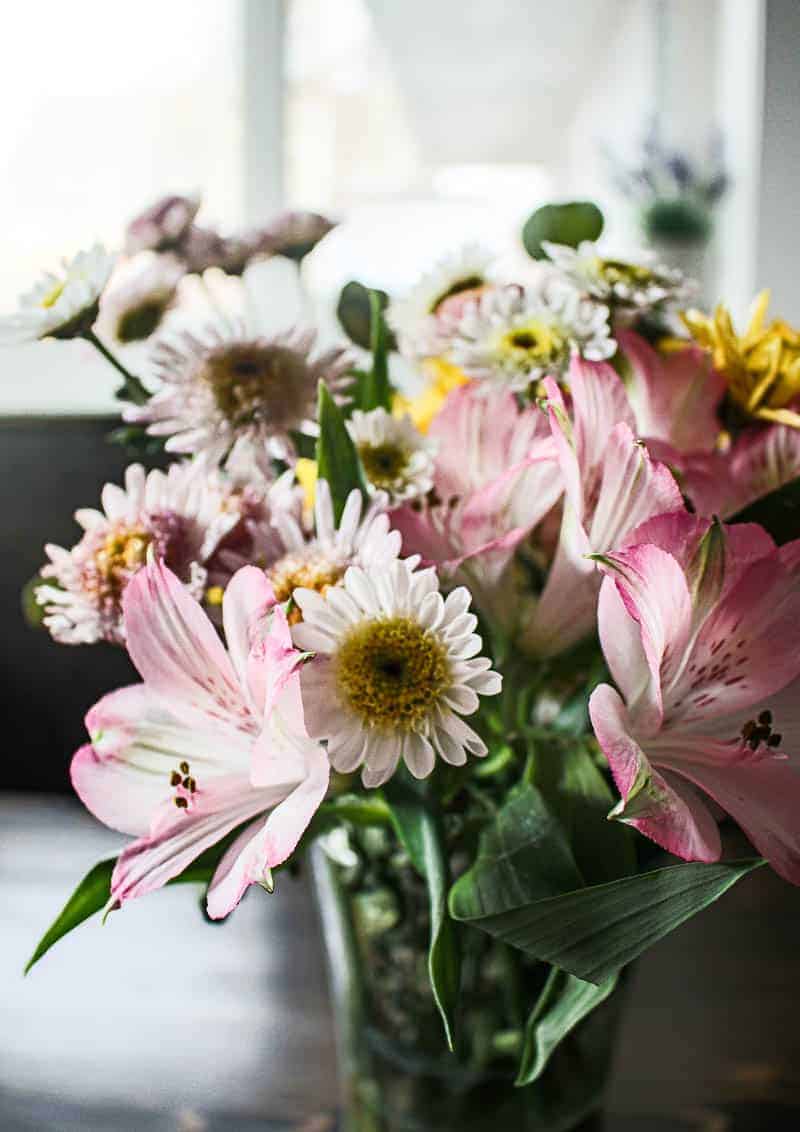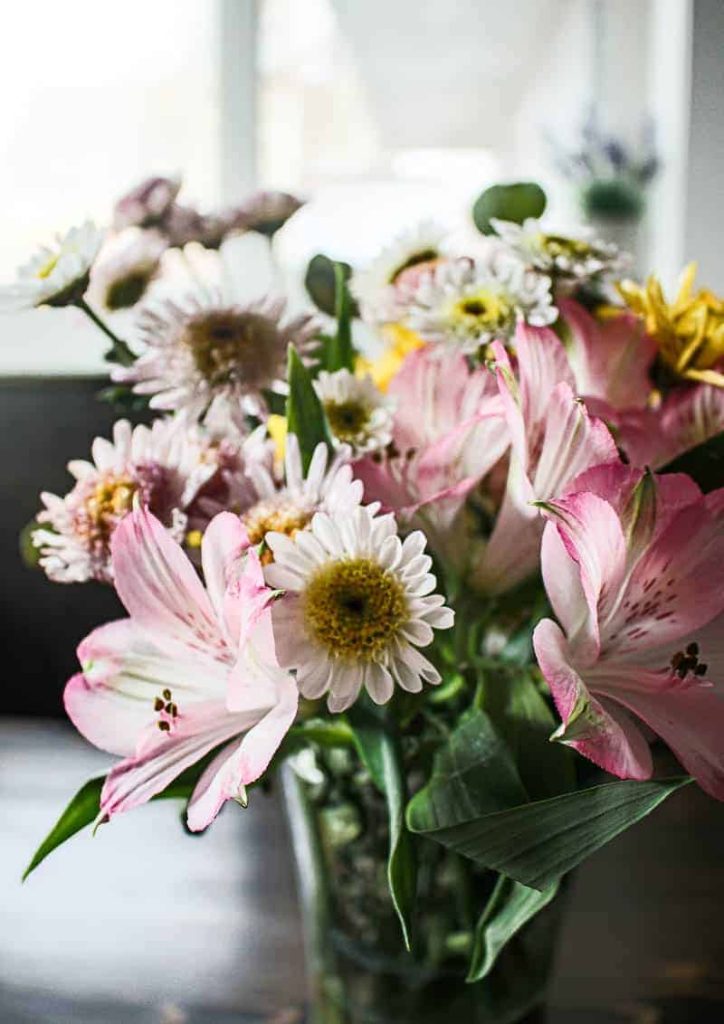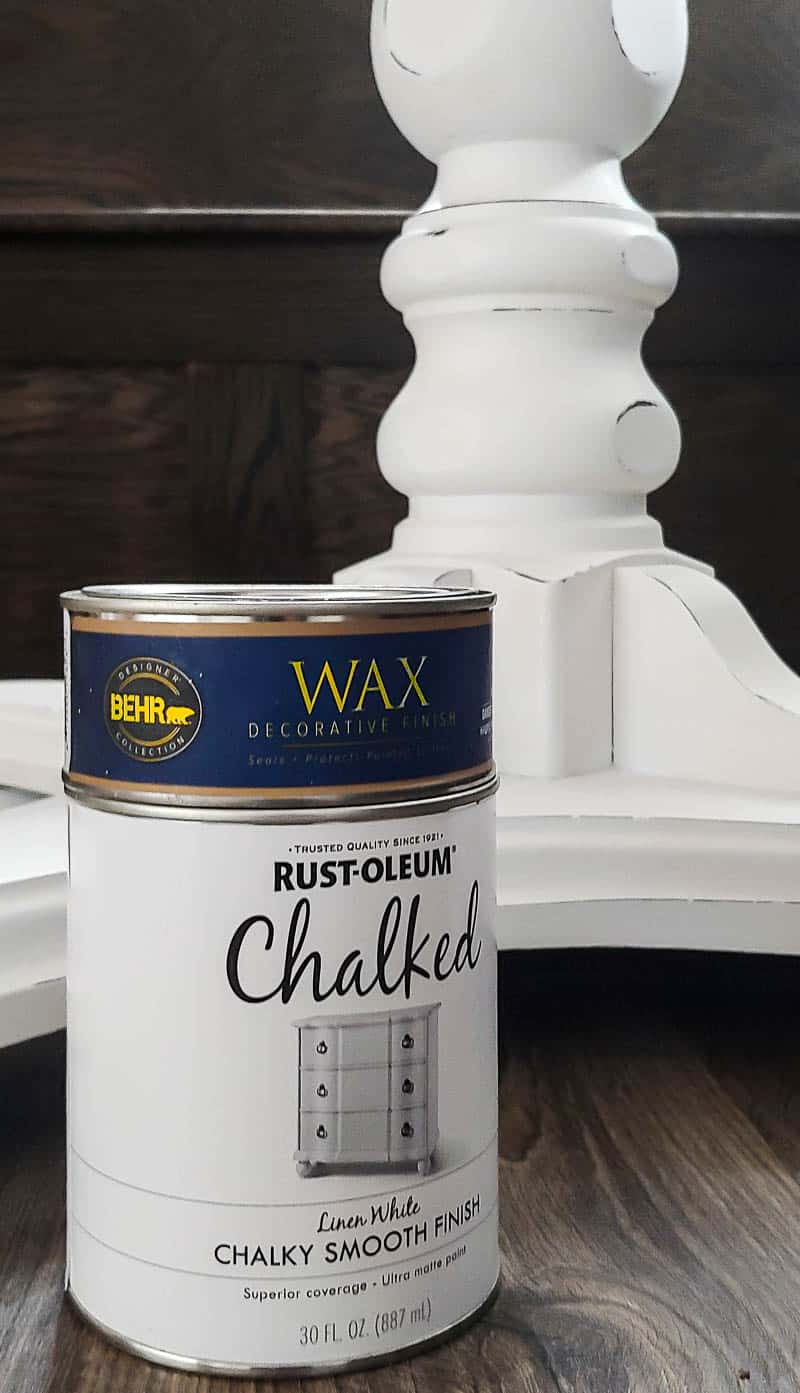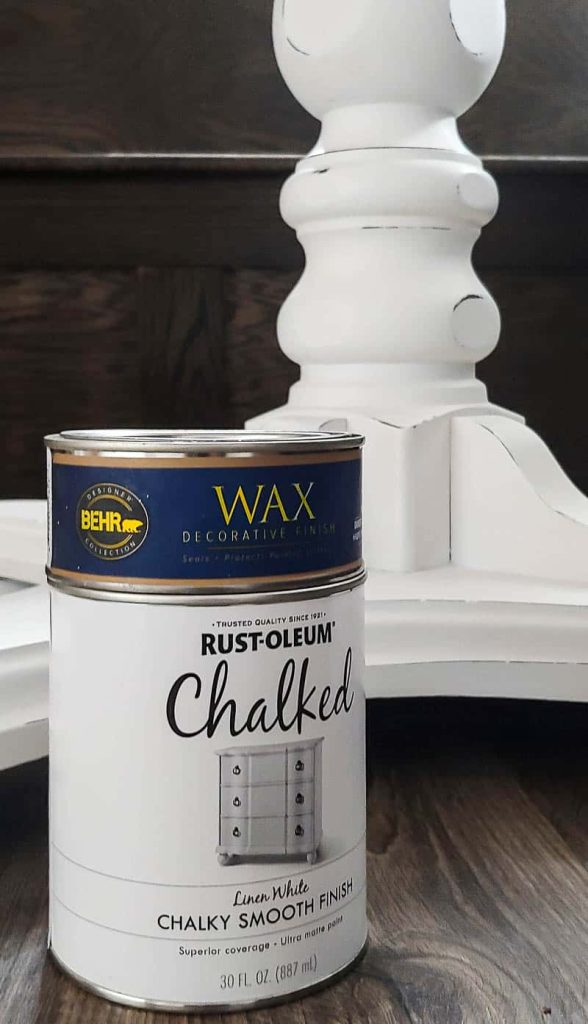 What about the cost to paint the table base?
The table base was also pretty cheap to makeover. Here's the cost breakdown for the painted table base:
TOTAL COST OF PAINTED TABLE BASE – $59.96
So that means we're into this table for approximately $170 – which is pretty good. Definitely A LOT of cheaper than buying a real wood table and the best part is that it fits perfect in our space.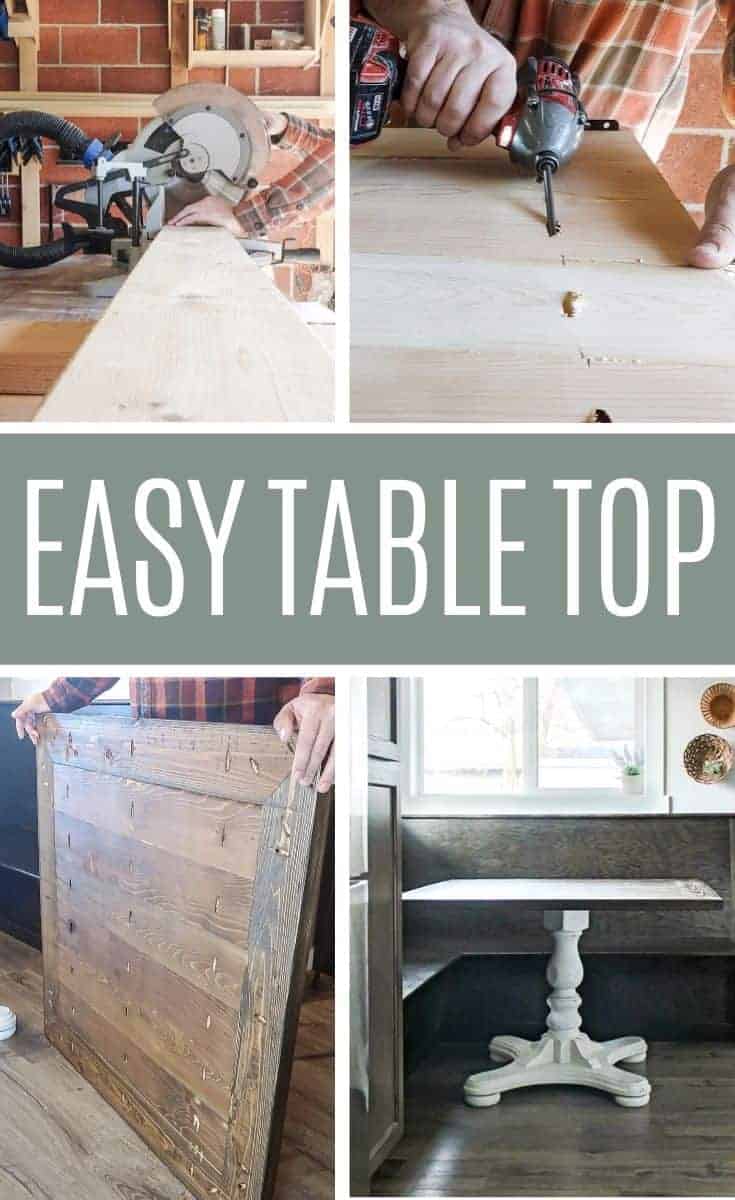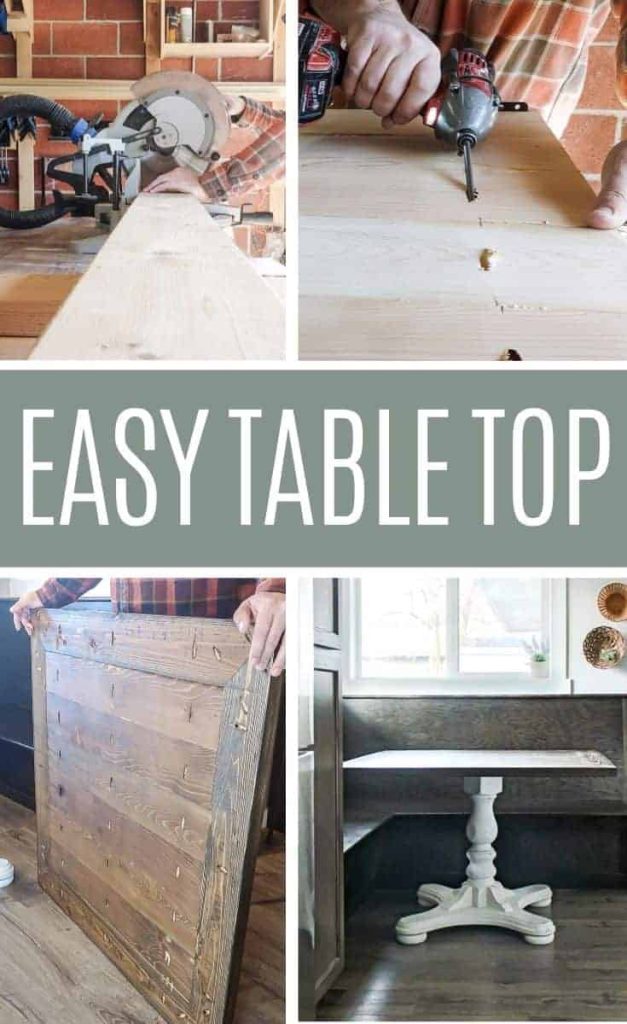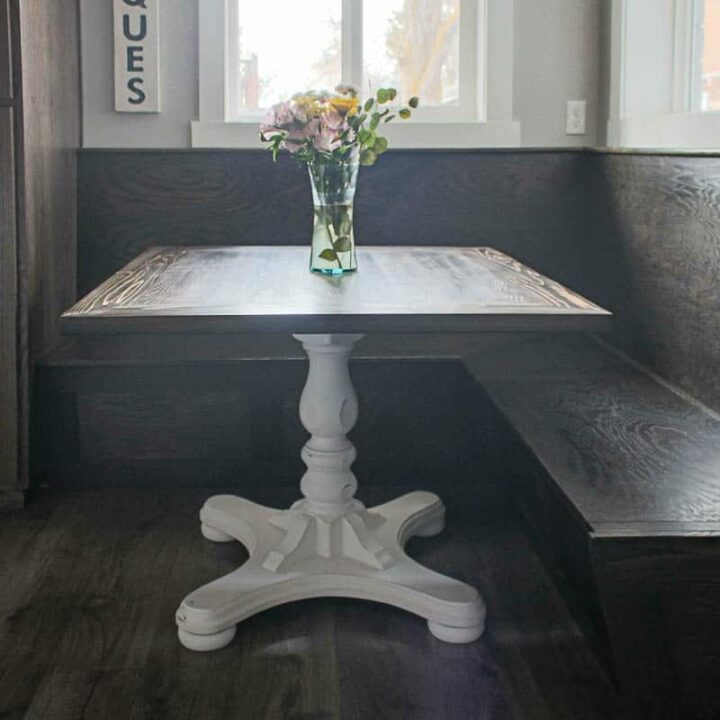 How To Build A DIY Table Top
This kitchen tabletop is so easy to build, even for beginners. We incorporated pocket hole joinery to join the table slats together and used an old table base from something we already had and repainted it
Materials
(46) 1 1/2" Pocket Hole Screws (Zinc)
Wood Stain
Wood Putty
Tools
Air Compressor
Clamps
Drill
Hammer
Impact Driver
Jointer
Miter Saw
Orbital Sander
Square
Table Saw
Tape Measure
Instructions
Cut wood.
Run wood through jointer.
Drill pocket holes.
Assemble table slats.
Sand sand square table interior.
Add border slats.
Sand table top flat.
Fill gaps and sand.
Stain and finish.
Assemble table.