Need a good spot to store your favorite magazines and books? Build this DIY magazine rack to hang on the wall!
Thank you to Kreg for sponsoring this DIY magazine shelf! All opinions are entirely my own. This post also contains affiliate links, but nothing that I wouldn't recommend wholeheartedly. Read my full disclosure here.
If you like to keep magazines around for browsing or want to display books, having a DIY magazine rack like this can be a great idea!
We built ours over 2 feet wide, but you could also make it more narrow to hold just one column of magazines.
This woodworking project is very easy so it is perfect if you are a beginner! We are even sharing the free woodworking plans. Keep reading to see how to download them for your build.
Table of Contents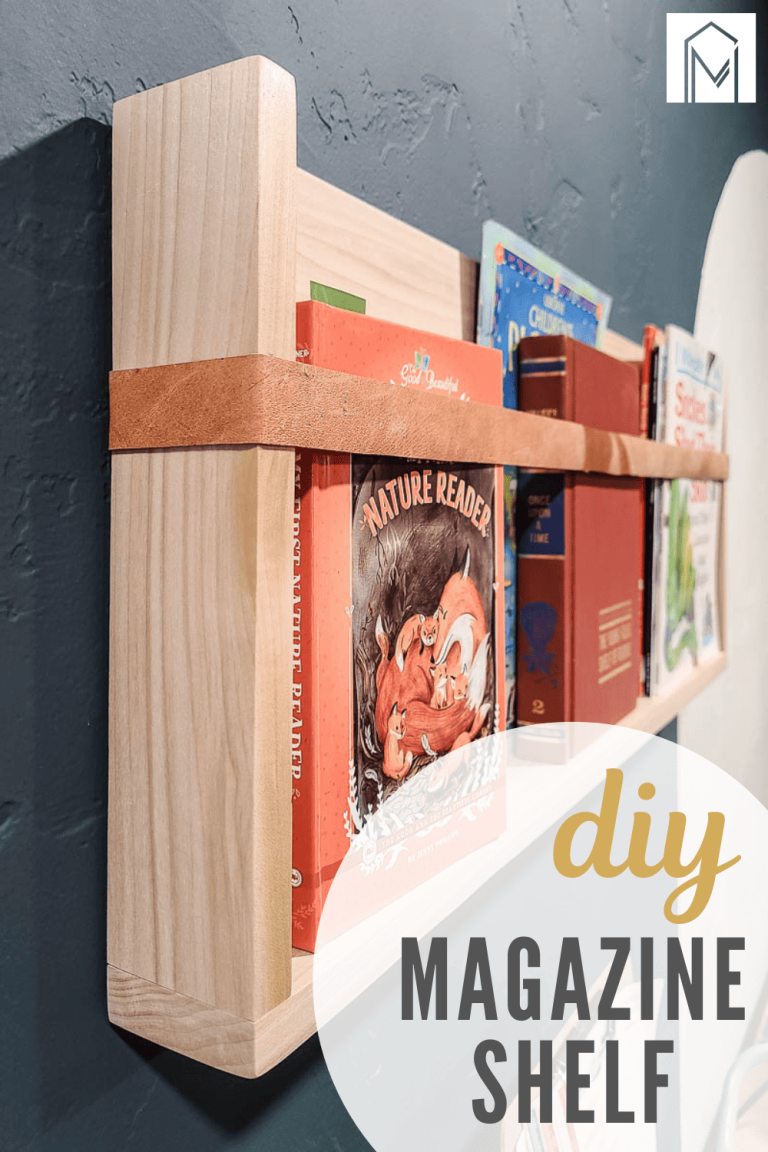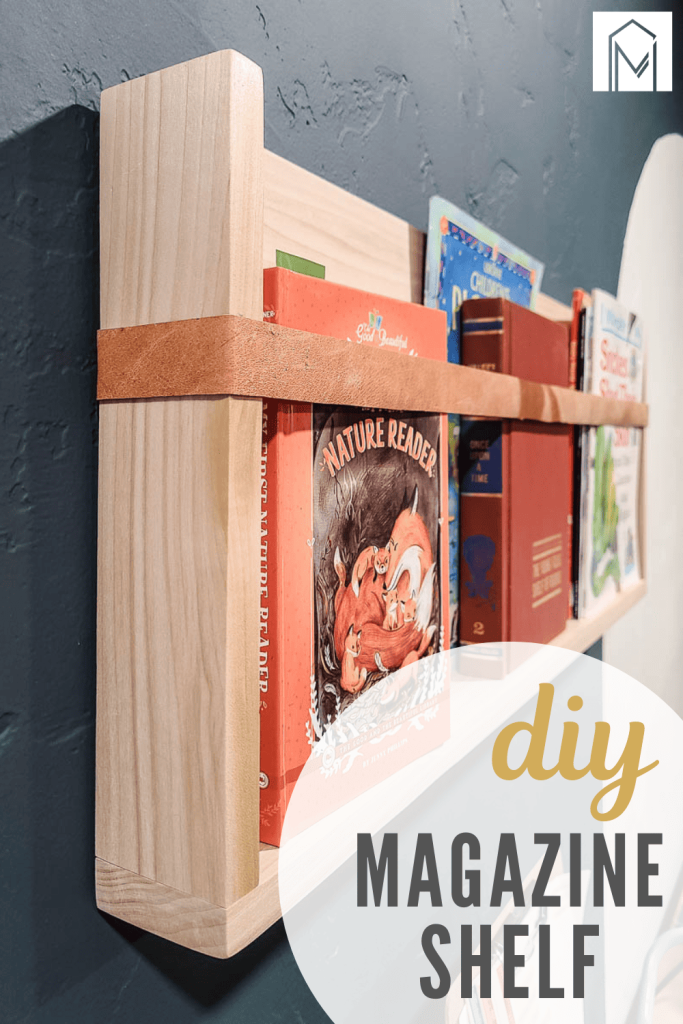 When we dreamed up this wall-mounted magazine rack, we wanted to make sure this would be an easy DIY project that is good for beginning woodworkers, so we incorporated easy joinery with pocket holes.
Kreg 720PRO Pocket Hole Jig
If you've been following Making Manzanita for a bit, you know that we are big fans of the Kreg pocket hole system.
We built a lot of projects using our original K5 Pocket Hole Jig, we even have a super detailed guide and video about how to use it that you can check out here.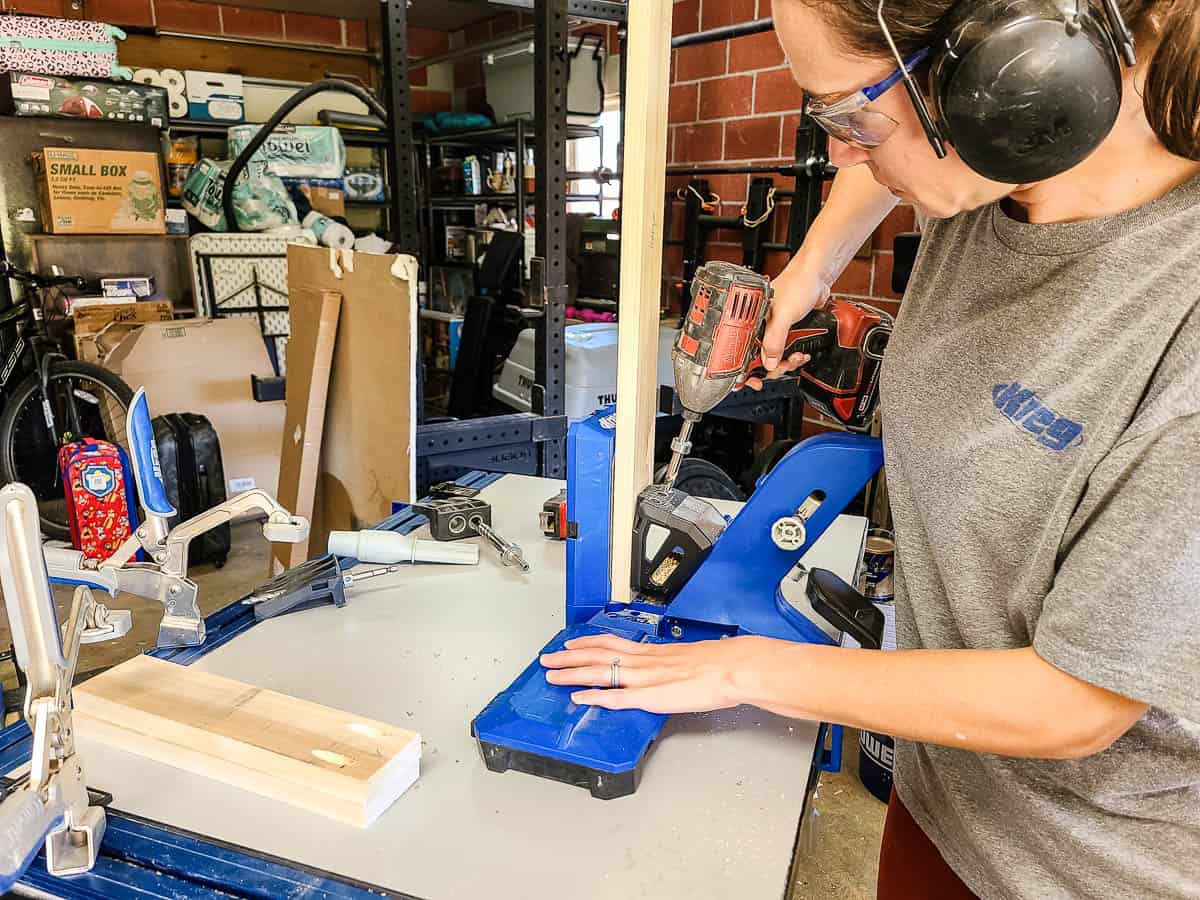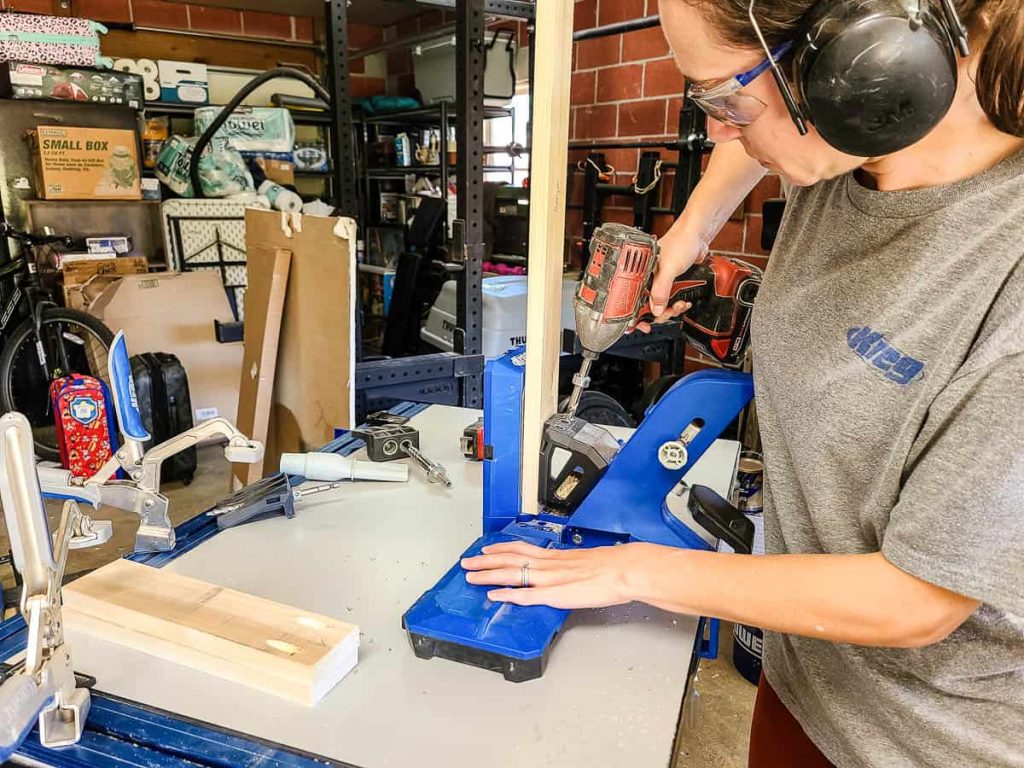 In 2021, Kreg released brand new pocket hole systems that replaced the K4 and K5, and the upgrades are pretty awesome.
The new 720PRO (which we were using for this DIY magazine shelf) and the 520PRO (which replaced the smaller K4 system) were improved a ton, the most noticeable change being that they are easier to set up and use, which is always a bonus, right?
My favorite new feature of 720PRO is the clamp that you don't have to adjust anymore. You should clamp it down and it automatically adjusts to match the thickness of your wood, so cool, right?
Pocket hole joinery is definitely one of the easiest ways to join wood in woodworking projects. It's our favorite hidden weapon for beginning woodworkers!
Want to learn more? I wrote a super detailed guide & created a video all about how to set up your Kreg 720PRO Pocket Hole and use it, so be sure to check that out too!
We teamed up with our friends Kreg again for these wall magazine rack plans and are sharing them online for free, now available on KregTool.com!
Kreg's website is chocked full of so many easy-to-follow FREE woodworking plans! I promise that you are going to find so much inspiration while you're there! It is a goldmine!
Related – Projects that use a pocket hole jig
DIY Magazine Shelf: Video Tutorial
If you love DIY videos, don't forget to subscribe to our YouTube channel!
Ready to see the end result of the DIY magazine shelf?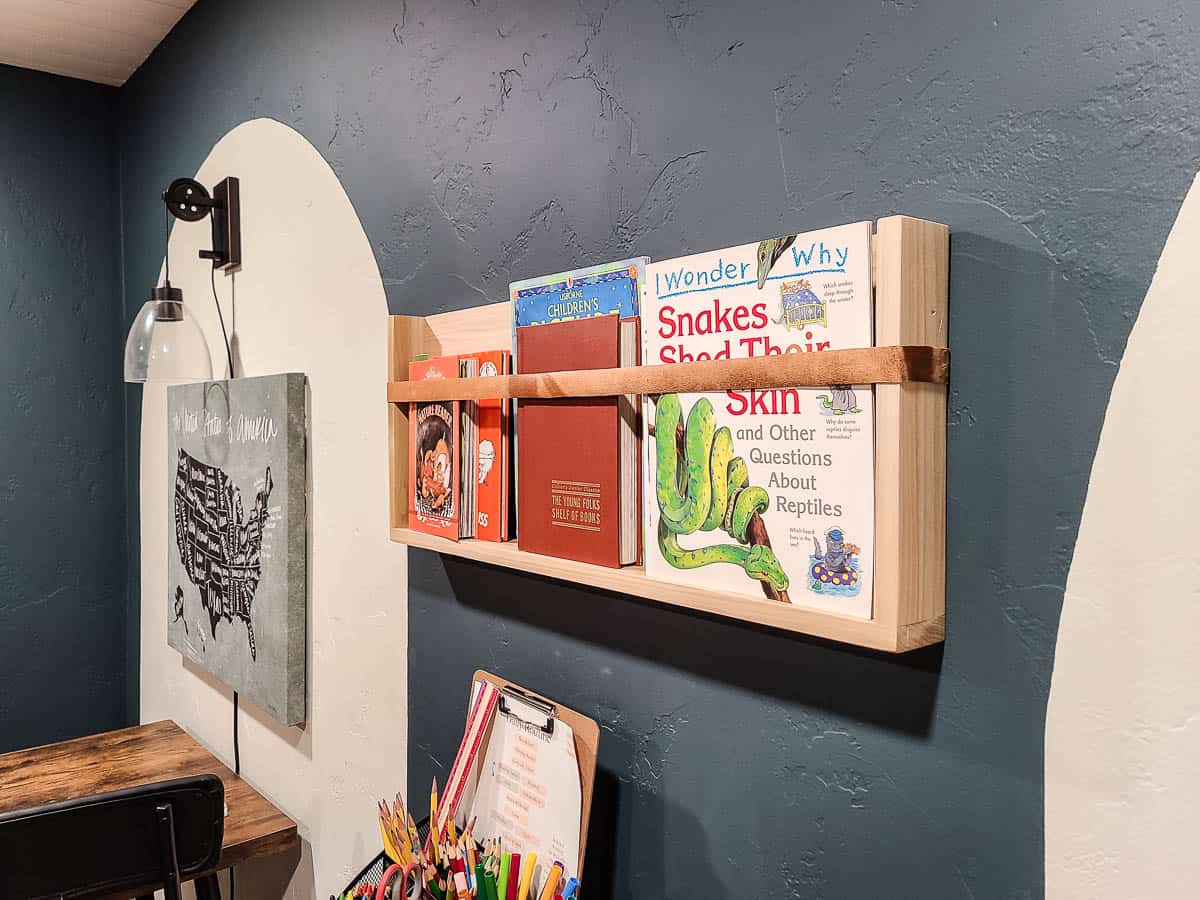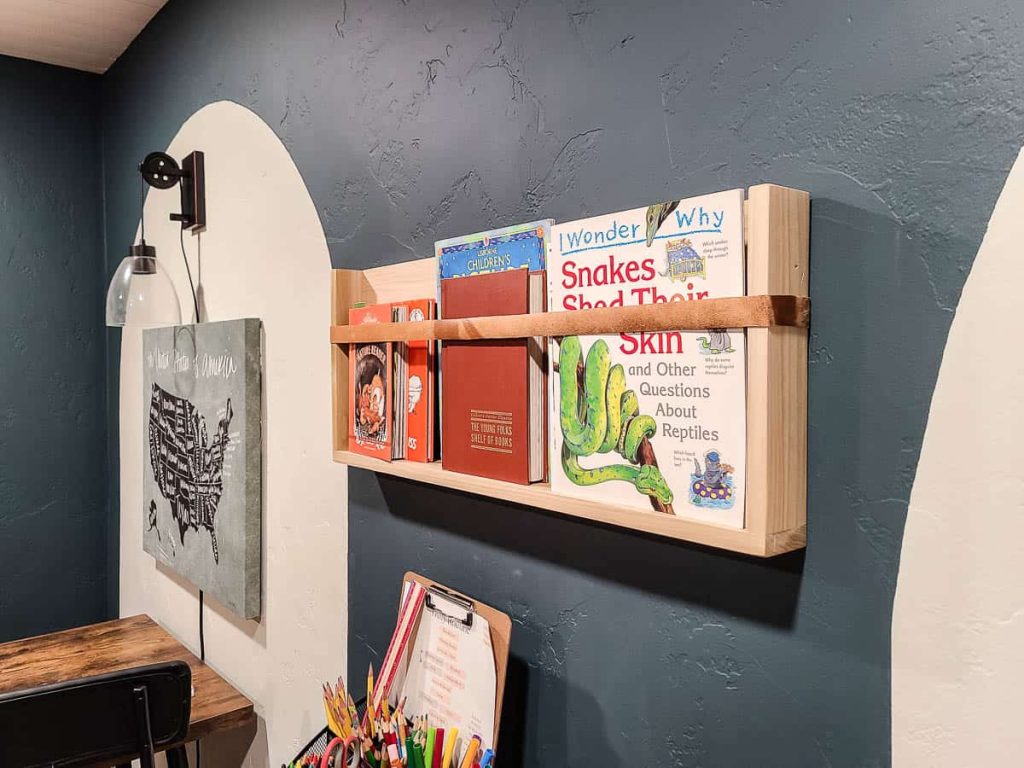 So I'm totally obsessed with how our wooden magazine rack turned out! I can't believe we made the whole thing with just one piece of wood!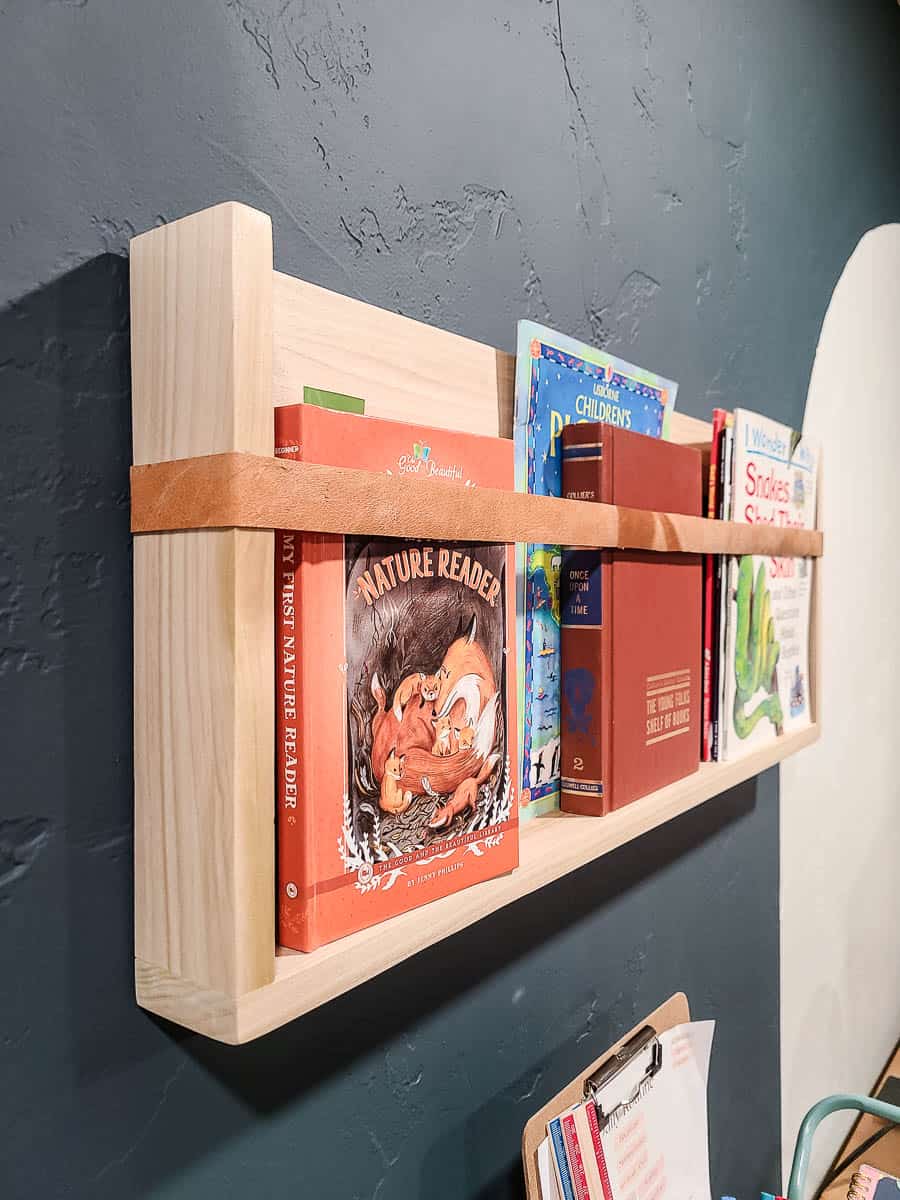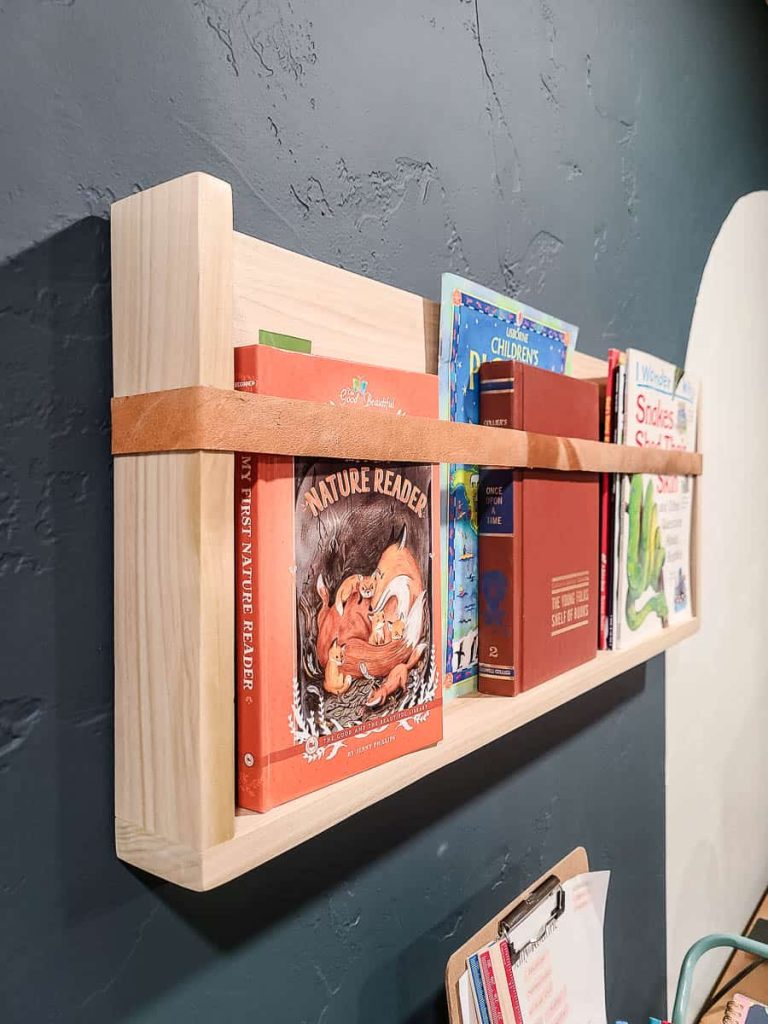 The leather is a lovely addition to the front that gives it a bit of a modern look, do you agree? If you don't have a lot of extra scrap leather lying around to make leather straps, you could also try using old leather belts from the thrift store or even an aluminum bar across the front.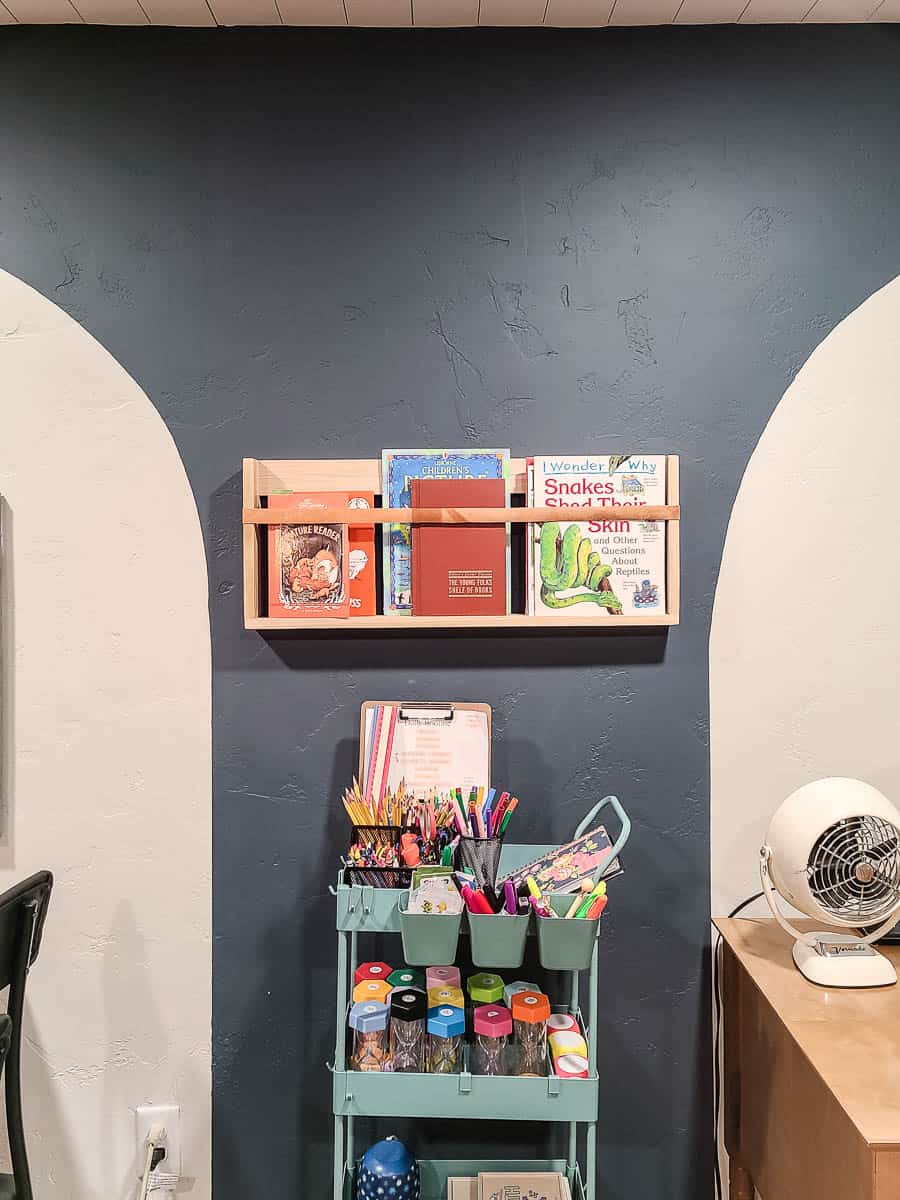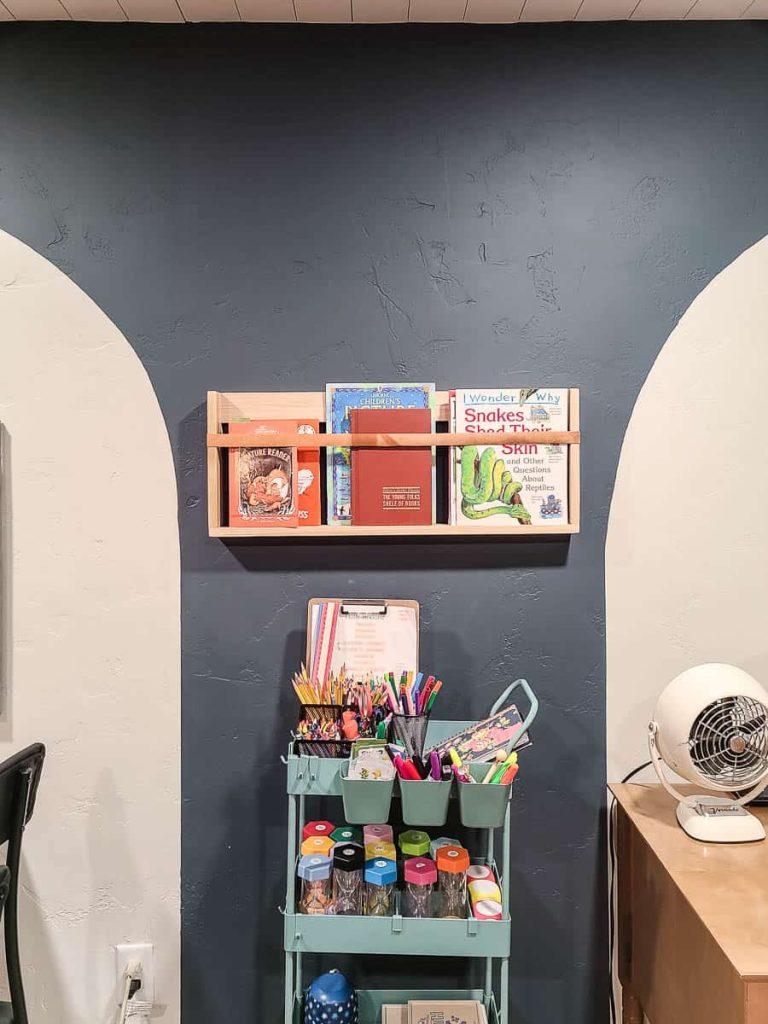 To hang it on the wall, we added keyhole slots in the backside of the back piece (hanger board), but if you don't have that, you could also hang it with a French cleat or probably even heavy-duty Command picture hanging strips (depending on how many books and magazines you plan on putting in it)!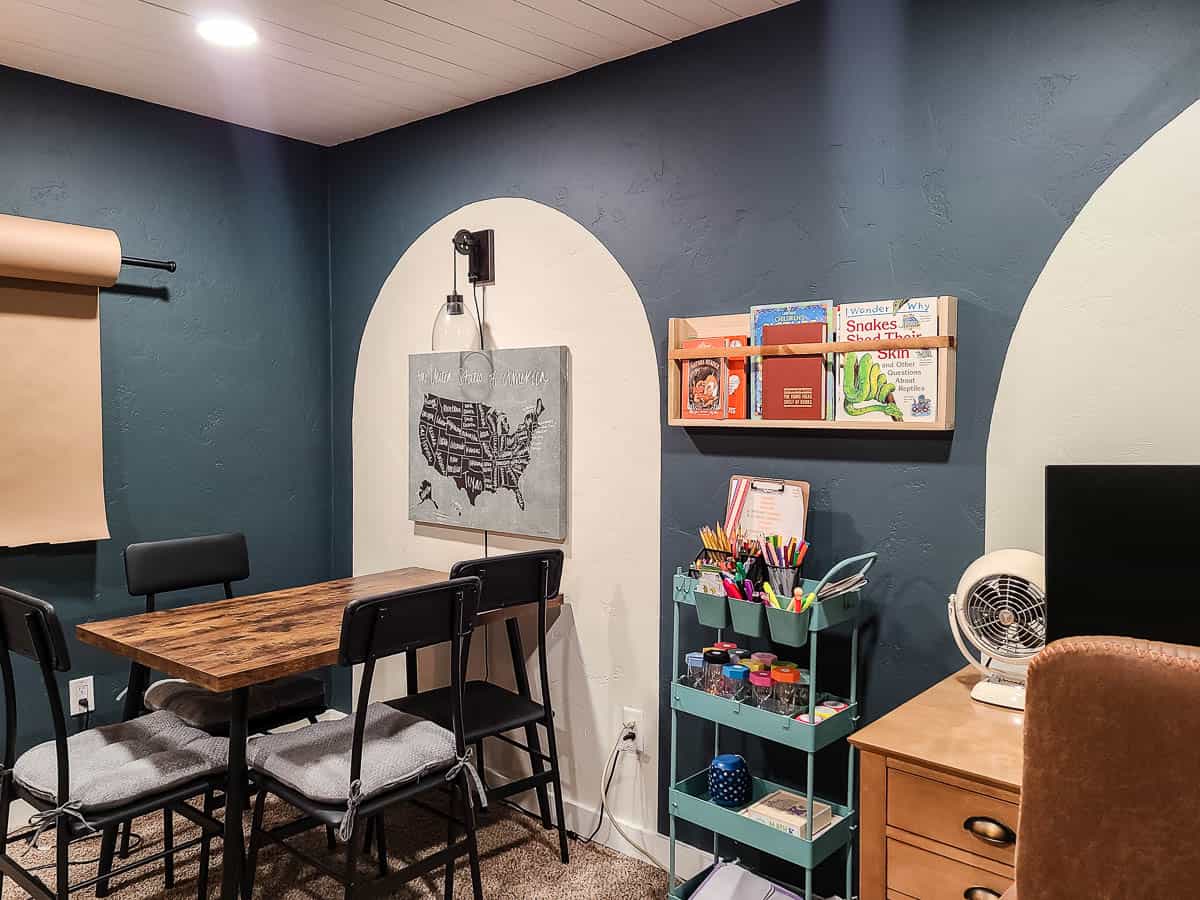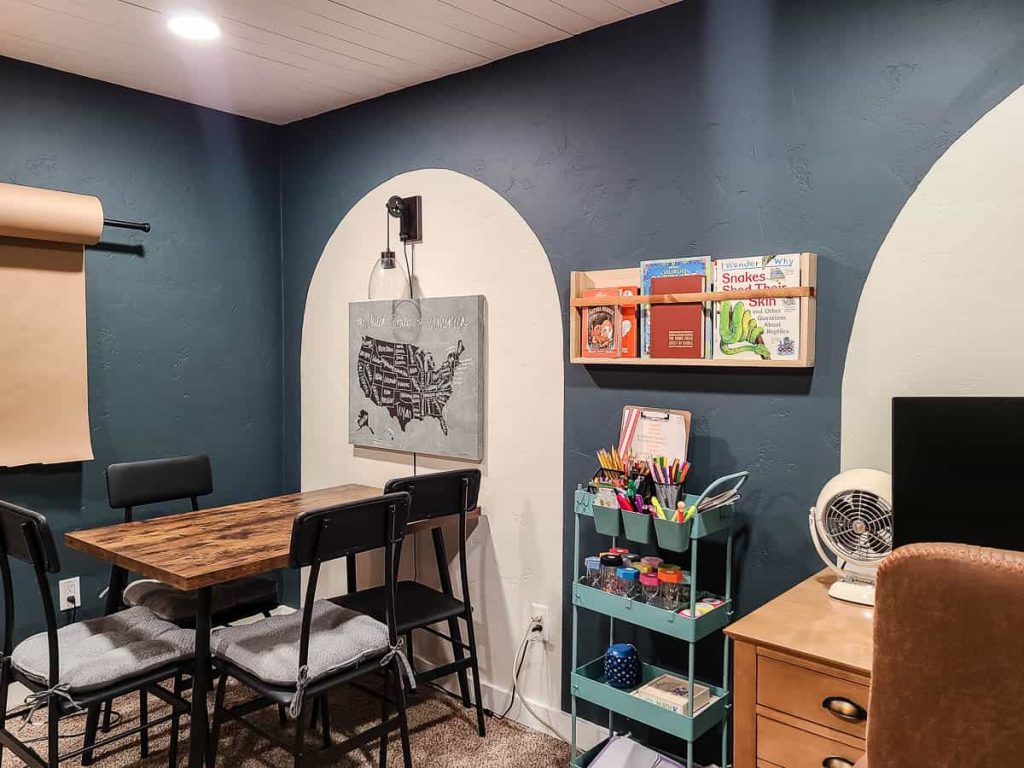 I wasn't quite sure where I was going to put the DIY magazine shelf in our house, but I found the perfect spot in our newly refreshed office – which is now our homeschool room! It works great for displaying some of the books that we're reading and holding magazines.
We decided to leave the wood natural by just sealing it, but you could also use stain or a few coats of paint if you wanted to change the color. I love that it is a great contrast against the dark walls in the office and that you can see the lines of the wood grain.
Want to build this magazine rack? Here's what you'll need!
Tools Needed
Miter saw
Tape measure
Drill
Impact driver
Orbital sander
Router, router table, and keyhole slot bit (Could also use a french cleat to wall-mount it)
Staple gun
Hot glue gun
Materials Needed
1" x 3" x 8' Poplar (Qty 1)
Kreg pocket hole screws (1 ¼") – coarse-thread, zinc
80 and 150 grit sandpaper
Wood glue
Aerosol clear spray lacquer
0000 steel wool
Leather strap approximately 1″ by 3′ 2″
1/2″ staples
Hot glue gun sticks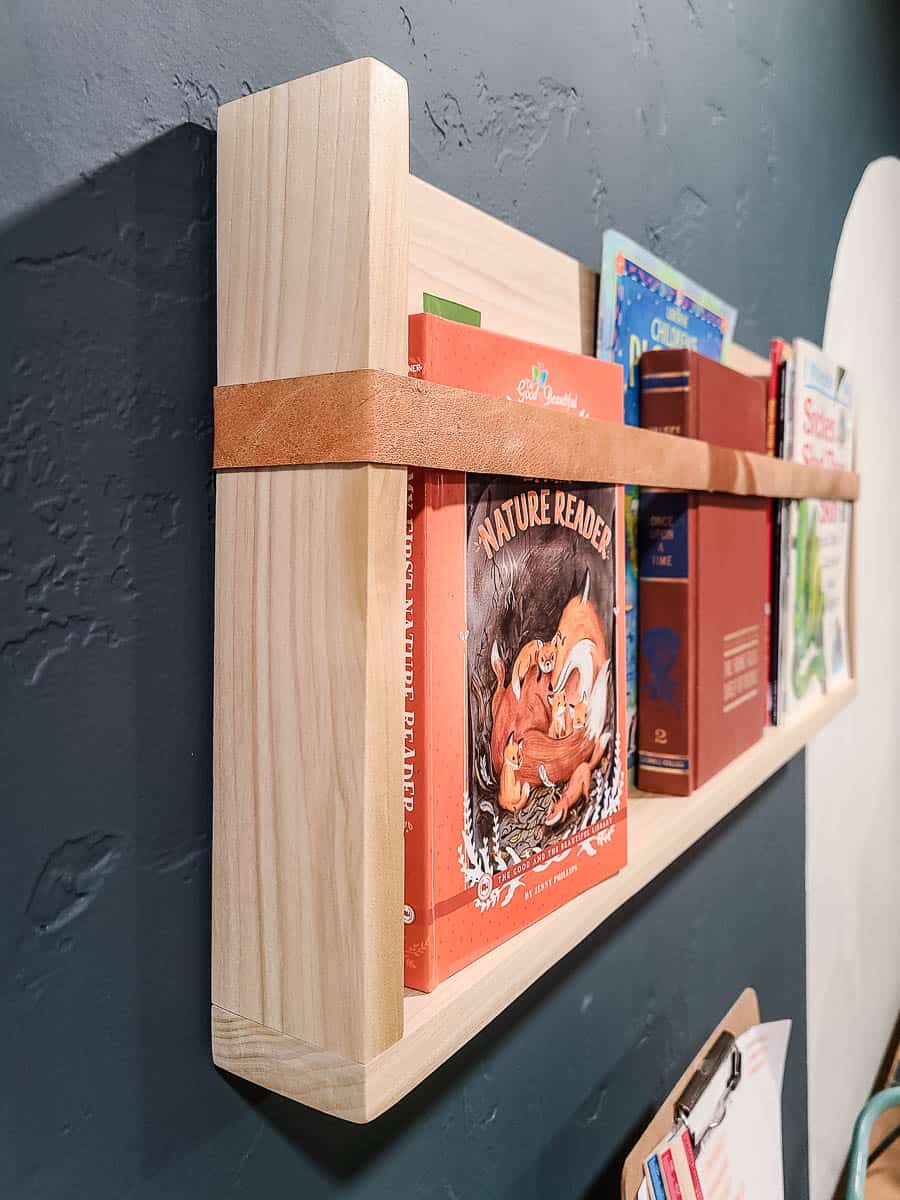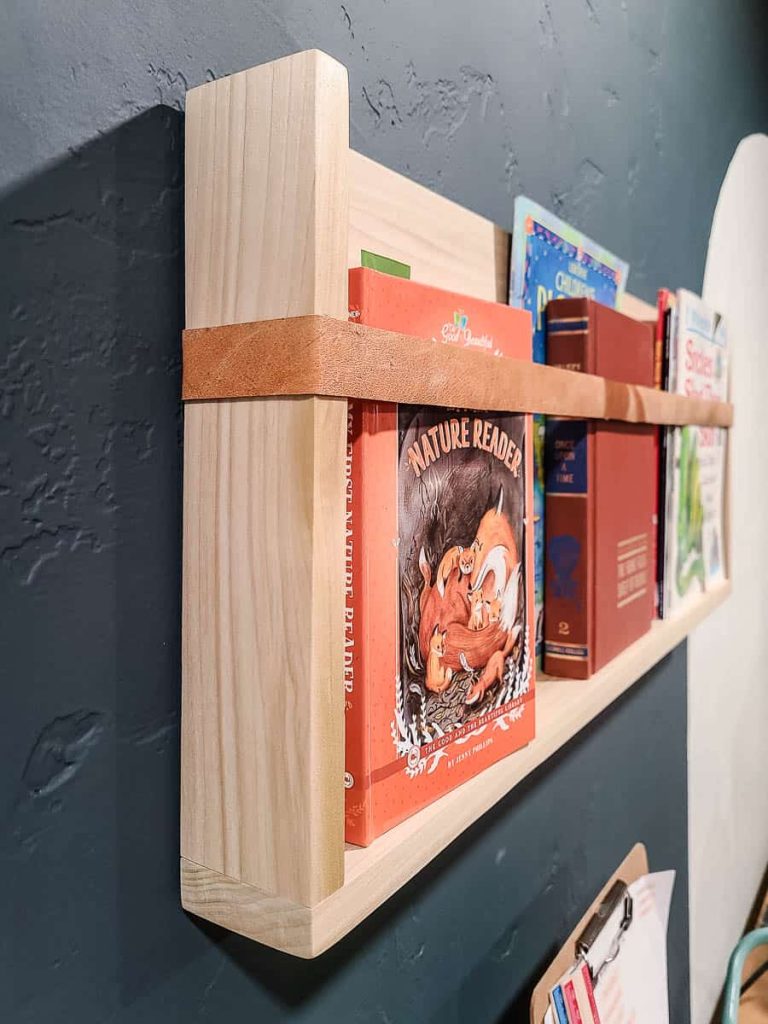 If you want to build your own DIY magazine shelf? We've done all the hard work for you! All you need to do is hop over to Kreg's website and check out the full tutorial.
At the bottom of the tutorial on Kreg's website, you'll also see a link to download the free plan to get all of the detailed measurements and a cut list!
Do you have any other questions about how to make a DIY magazine shelf?
Let us know in the comments!