Wondering how to use a pocket hole jig? This is a must-read for beginners that are interested in pocket hole joinery. In this article we walk you through several pocket hole jig FAQs, provide an easy step by step picture & video tutorial for how to use a pocket hole jig with the Kreg Jig K5 System.
A pocket hole jig is a great tool that every woodworker (beginner or advanced) should have on hand! Pocket hole joinery is perfect for beginners because it is one of the simplest ways to join two pieces of wood.
If you just took your pocket hole jig out of the box or you're thinking about making an investment in a Kreg Jig, you're going to love this pocket hole guide.
Related – Projects that use a pocket hole jig
This post also contains affiliate links, but nothing that I wouldn't recommend wholeheartedly. Read my full disclosure here.
Pocket Hole Jig FAQs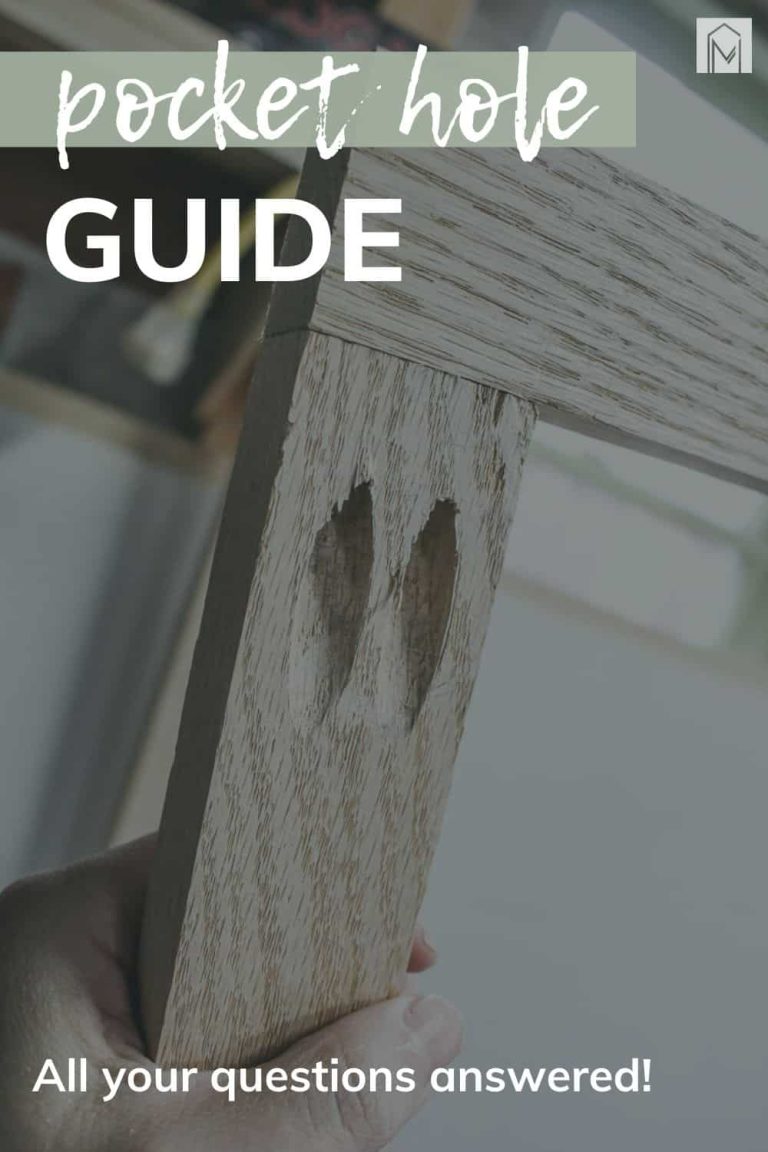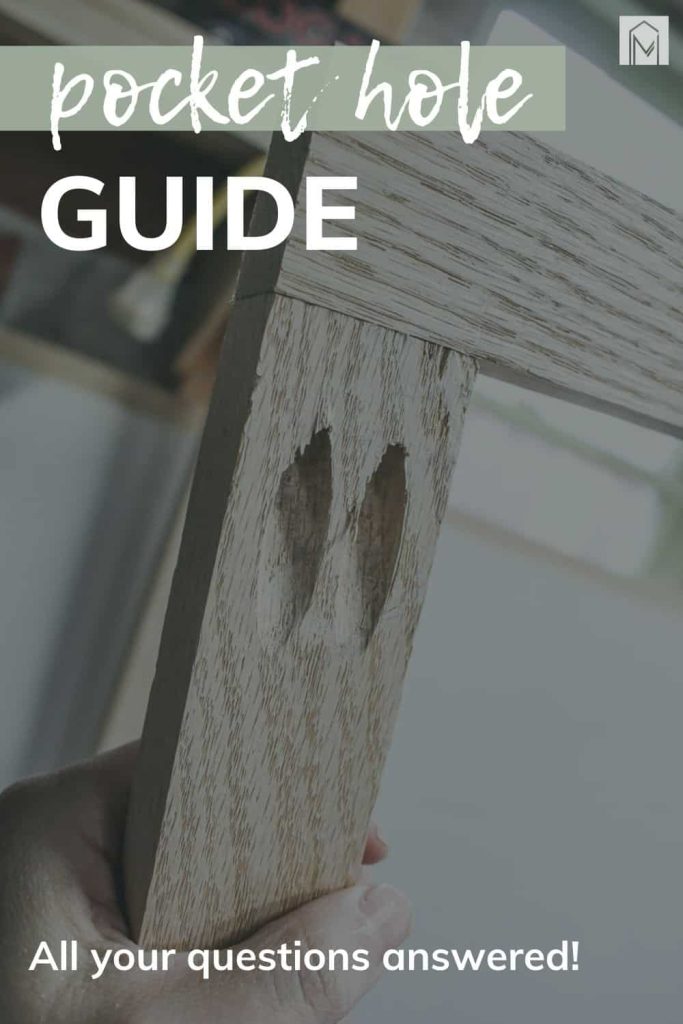 What is a pocket hole?
A pocket hole is an angled hole for a screw to join together two pieces of wood.
How do pocket holes work?
Pocket holes are created by drilling an angled hole into one piece of wood and then screwing a self-tapping screw into the angled hole to join with a 2nd piece of wood.

Pocket holes are great for beginners because it is one of the simplest ways to join wood and they save time because you don't need to use glue and wait.
What screws do you use with pocket holes? Can you use regular screws with pocket holes?
One of the most common questions I get when I show our pocket hole jig is what type of screws do you use with pocket holes. It's important to note that you should NOT use regular screws with pocket holes.

One biggest difference between regular screws and pocket hole screws is that the threads only go halfway up the screw. This ensures that the threads are primarily in the 2nd piece of wood and prevents the threads from pushing the joint of the pocket hole apart as the screw is driven in. We always use Kreg's pocket hole screws that come in lots of different size options!

For more information about choosing the right screw for the job, check out Step 1 below.
How far should you space pocket holes?
You should always at least 2 pocket holes on every board. You can fit 2 pocket holes even on 1×2 pieces of wood. For longer panel joints, space out the pocket holes approximately 6-8 inches, with the first one roughly 2 inches away from the edge.

There are three holes (called drill guides) on the pocket hole jig labeled A B and C. For more information on which drill guides to use, see below.
What angle are pocket holes?
15 degrees.
Can pocket holes be covered or hidden?
When you're planning your woodworking projects, you can plan to put the pocket holes on the inside or back of your projects to hide them.

If you want to cover the pocket holes, they do make plugs that fit right in to fill the hole.
Do you need to drill a pilot hole in the 2nd piece of wood when use a pocket hole?
No, a pilot hole is not necessary for pocket holes. The self-tapping point of the pocket hole screws eliminates the need for pilot holes.
---
Which Kreg pocket hole jig is right for you?
If you are thinking about buying a pocket hole jig and you're wondering what Kreg Jig is right for you, here's a great chart with a side by side comparison of all of the pocket hole jigs available.
I can really only speak for the two that we own, which are….
Kreg Jig K5 System – all the bells and whistles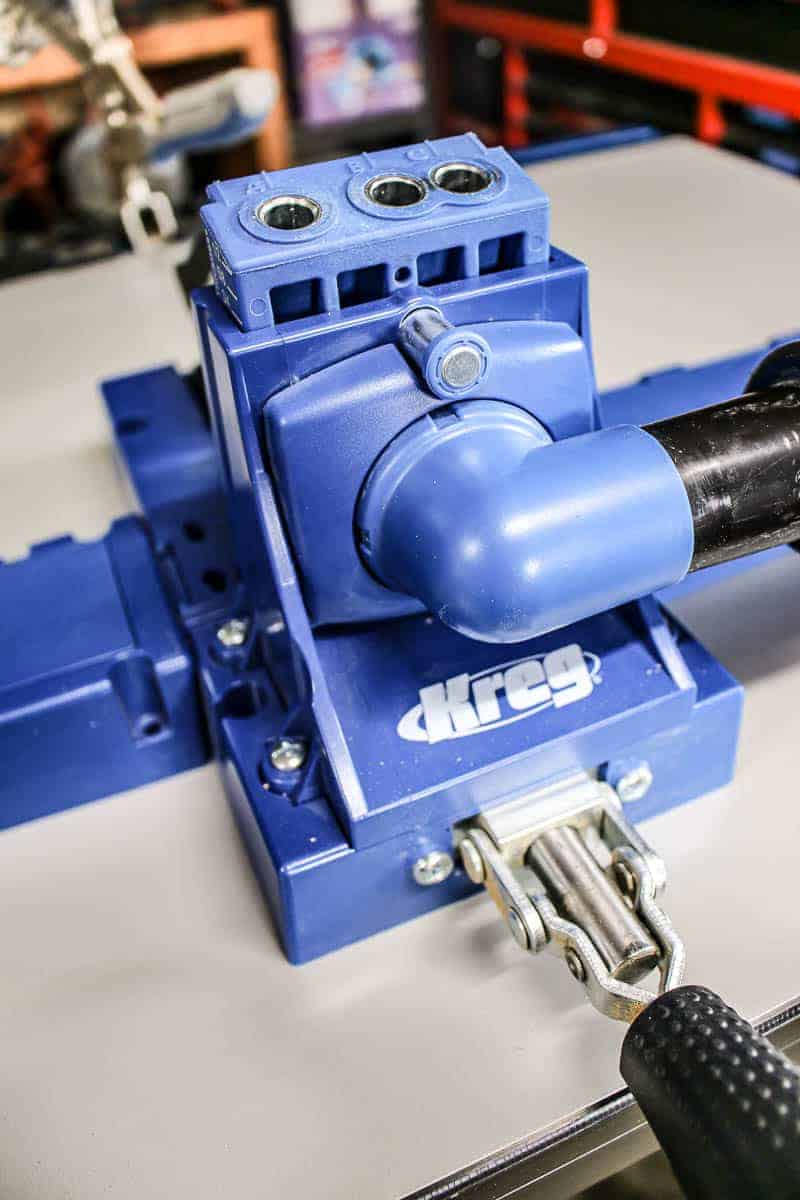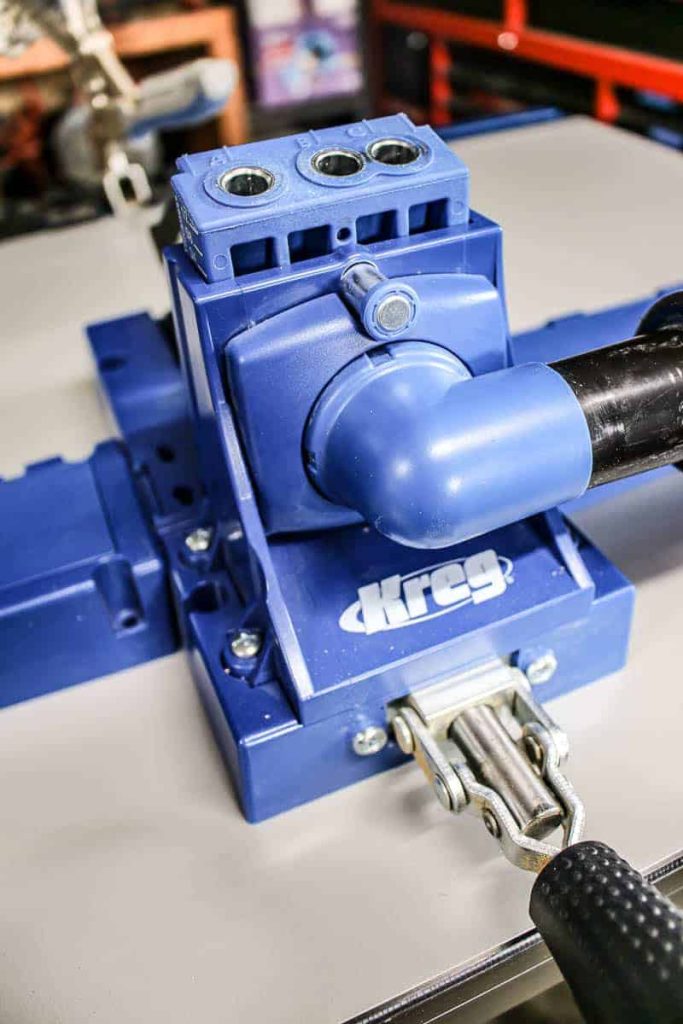 Now if you've been around a while, you know that we have the Kreg Jig K5 System and it's no secret that we love it. Kreg is a brand that we know & love and partner with them here on the blog from time to time!
Here's a great video that Kreg put together that shows off some of the Kreg Jig K5 features a little closer!
Kreg 320 Jig – a budget friendly option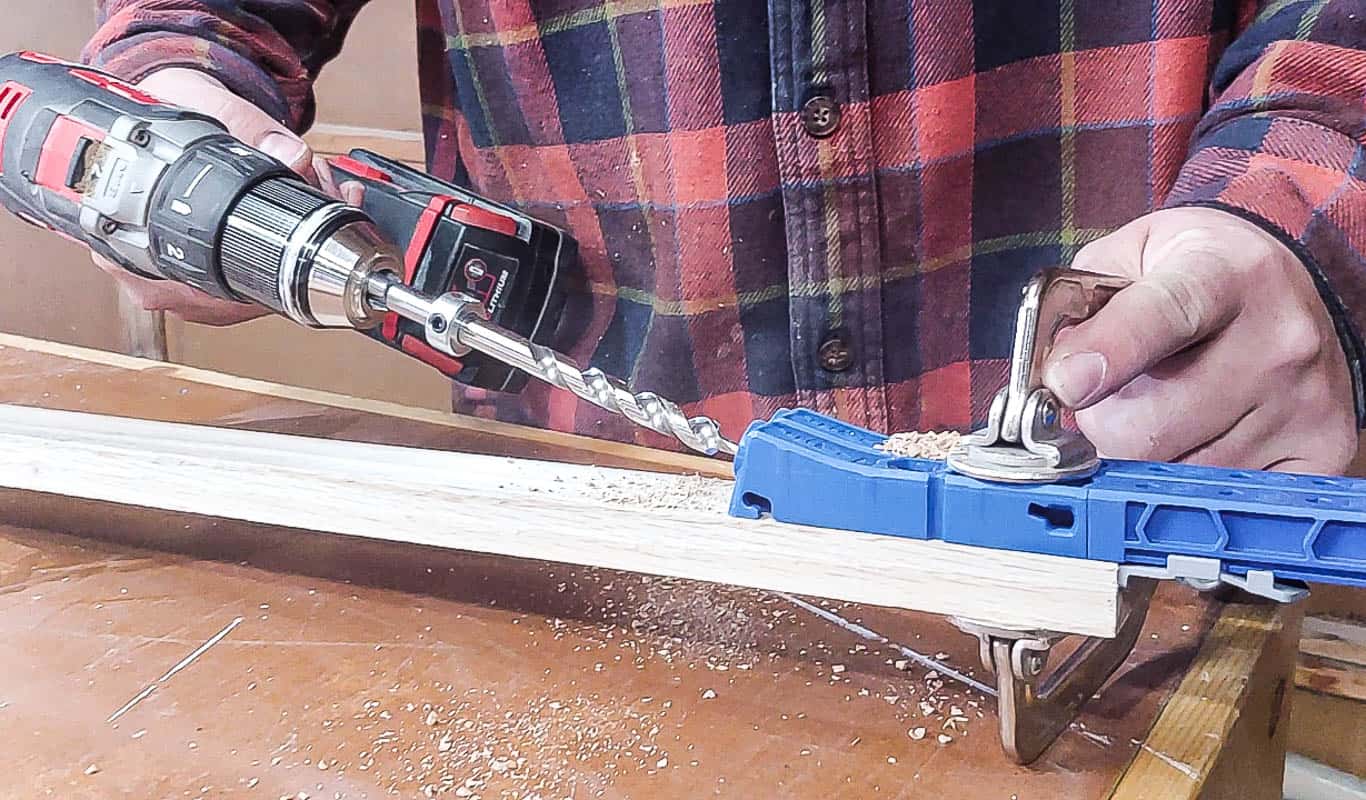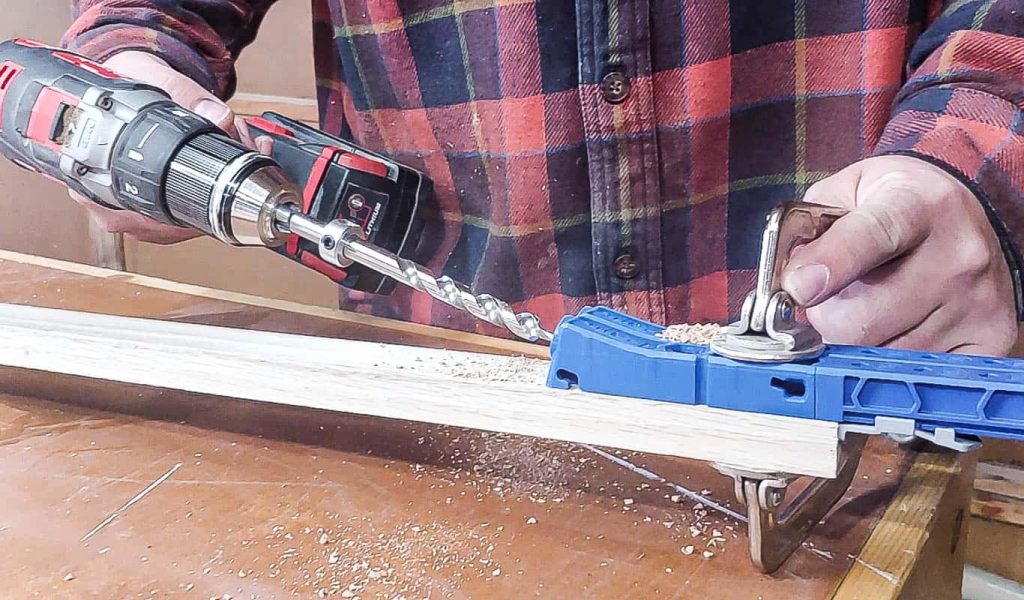 We also have the Kreg 320, which we love too! It's a more budget friendly option if you're not ready for an investment, like the K5. I also love how portable and lightweight the 320 is.
We also use the 320 when we're working with really long pieces of wood that we'd have trouble standing up on the K5 (like the large face frame we built for these mudroom lockers).
---
How do I use a pocket hole jig?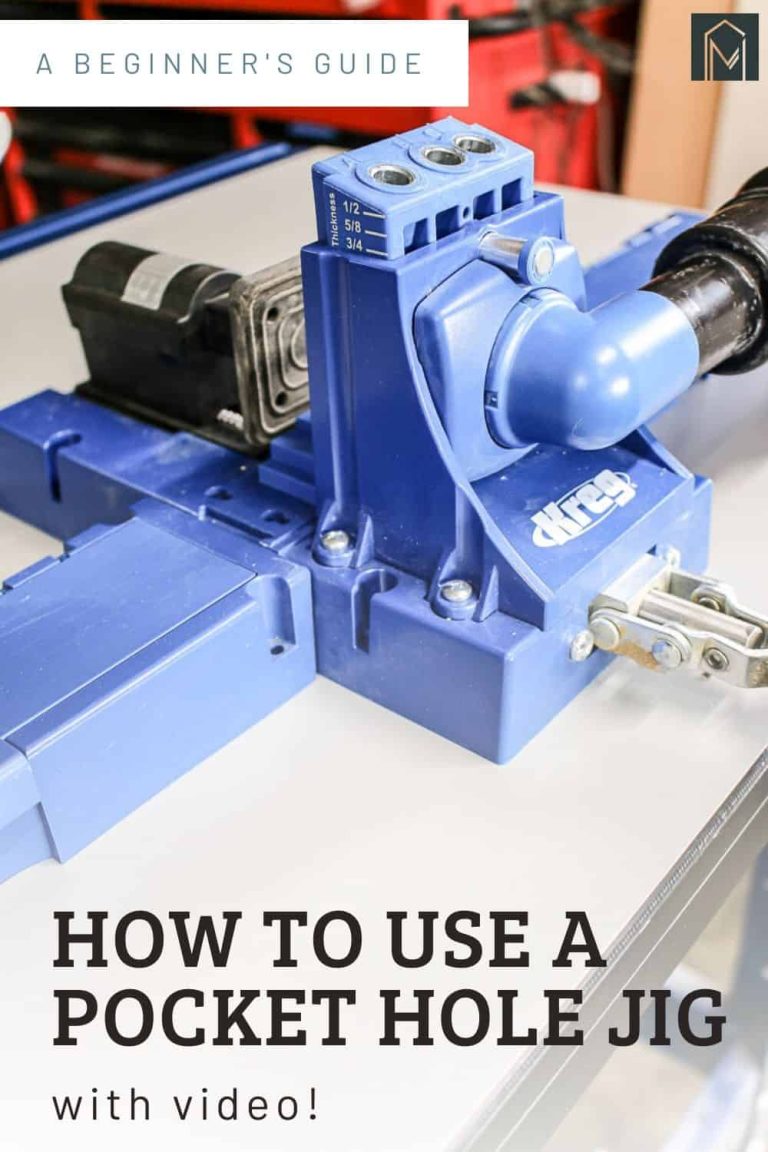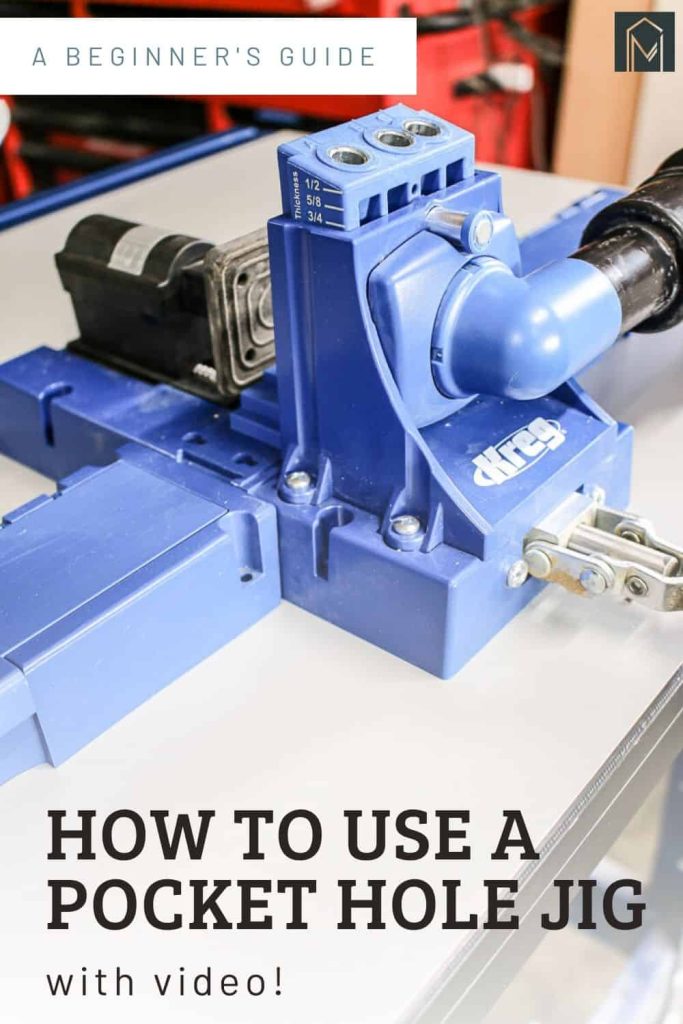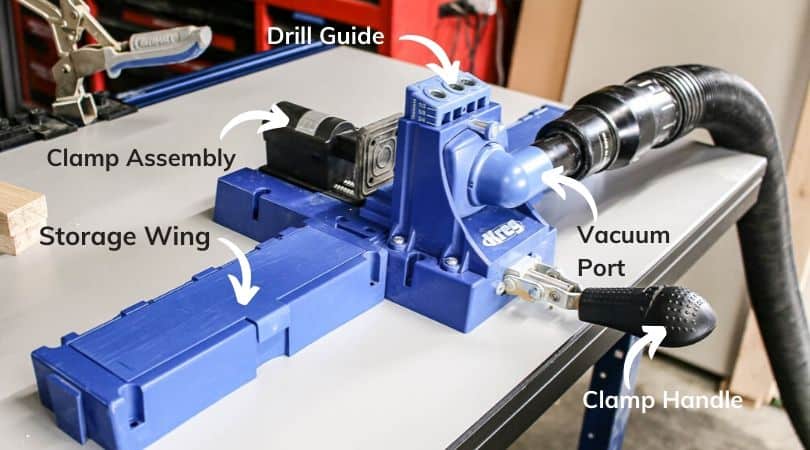 In this step by step tutorial for how to use a pocket hole jig, I'm going to be demonstrating on the Kreg Jig K5 System.
Video Tutorial – How To Set Up Your Pocket Hole Jig
We also created a YouTube video demonstrating how to use the pocket hole jig, which maybe a little easier to see some of the steps in video format.
If you love DIY videos, be sure to subscribe to our YouTube Channel!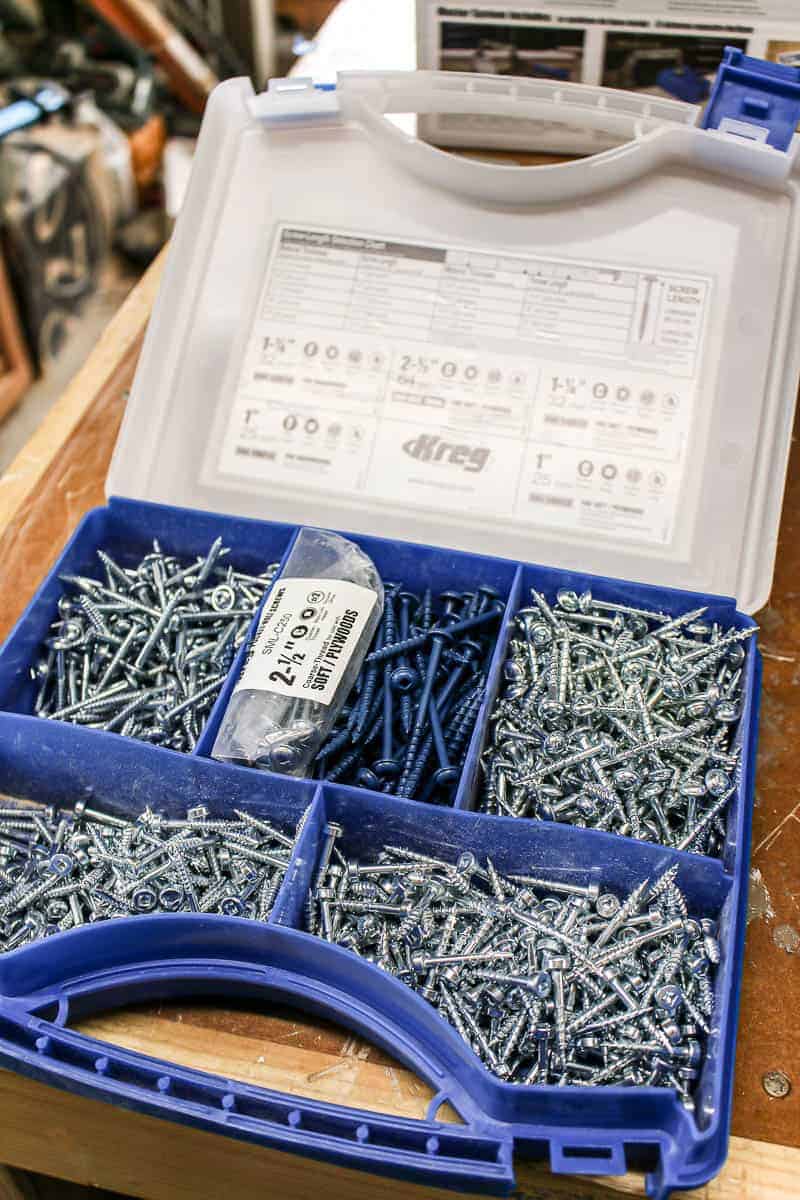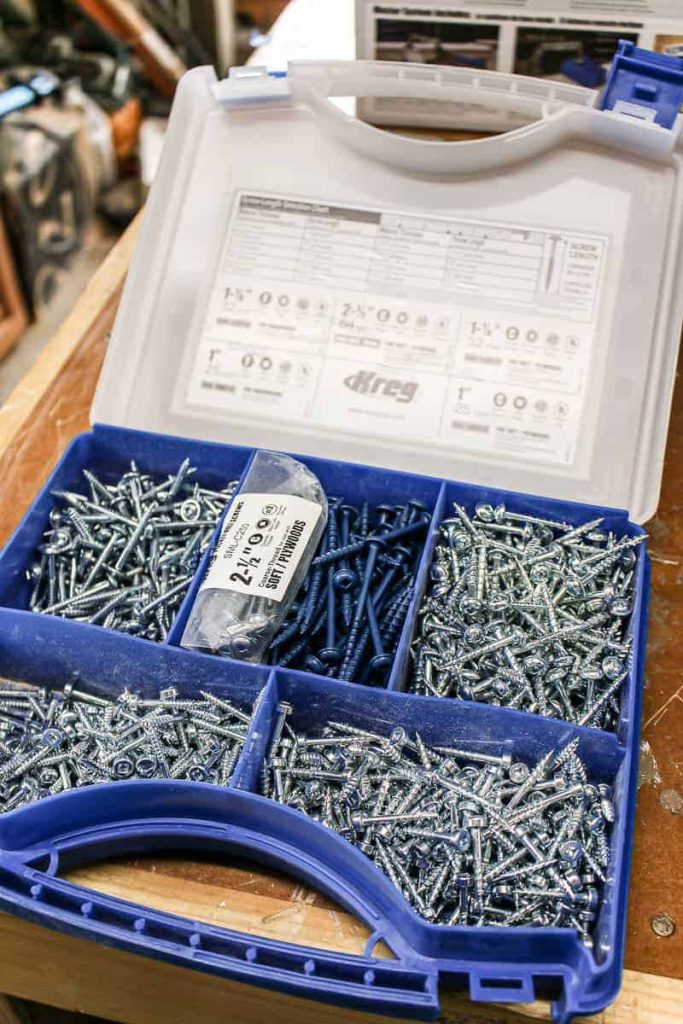 Step 1. Select the right screw.
Selecting the right screw to use for your project with the pocket hole jig is important to ensure you have a strong joint. I already mentioned earlier in the FAQs section above that you definitely want to use a specially designed pocket hole screw rather than a regular wood screw when working with the pocket hole.
However, beyond that, there are a lot of different options (thread, length and composition) that you'll need to choose from to choose the right screw for your job.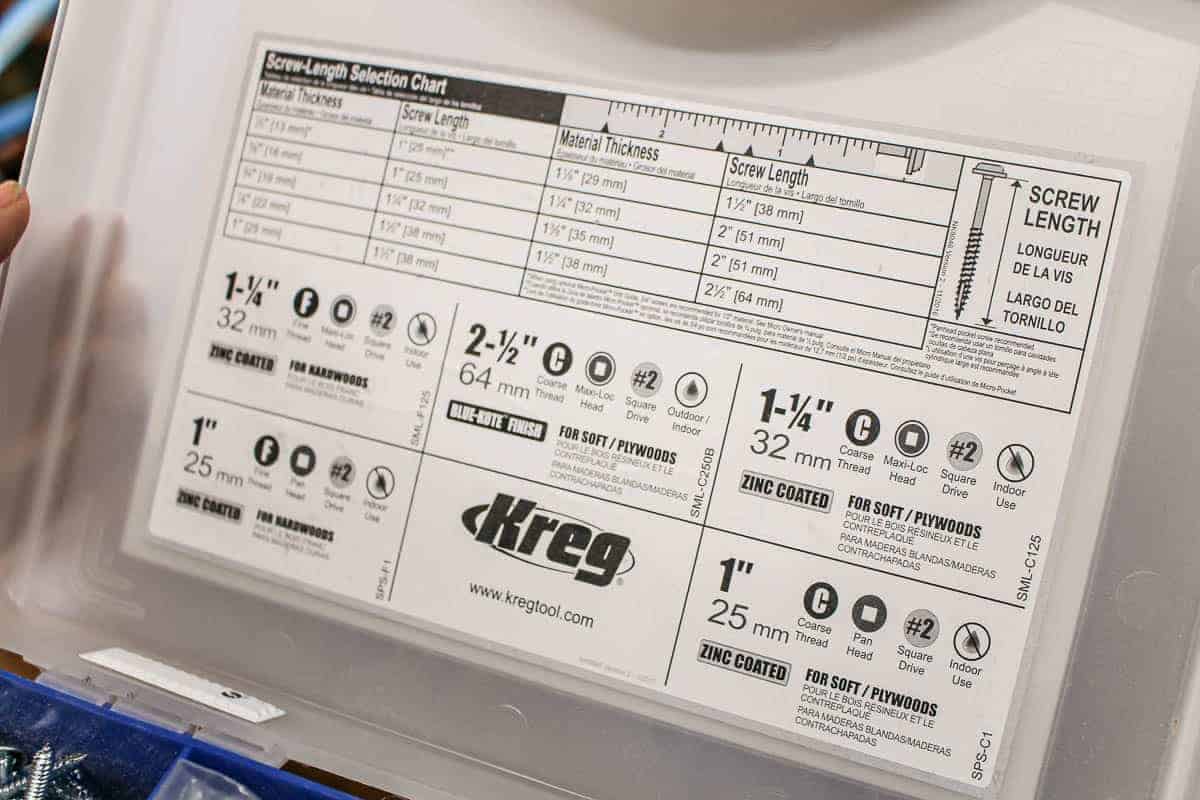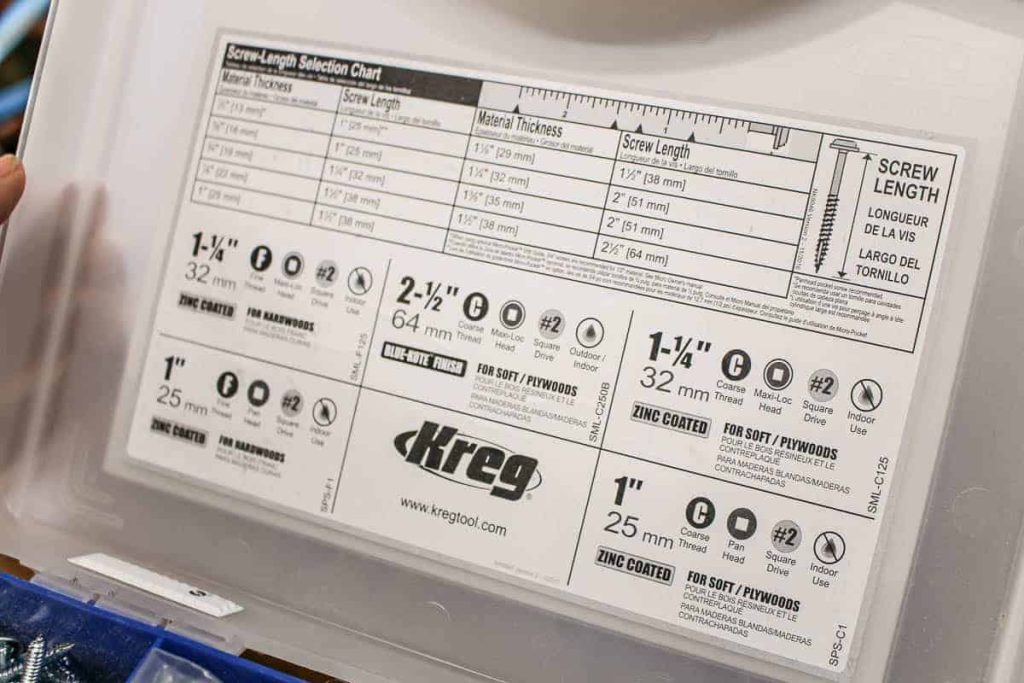 Coarse vs fine thread
Use COARSE thread for soft woods (cedar, pine, fir, etc.), plywood and MDF
Use FINE thread for hard woods (cherry, maple, oak)
Screw composition (zinc, stainless steel or Blue-Kote)
Use ZINC COATED for indoor projects where moisture is not a concern
Use STAINLESS STEEL for "extreme applications" where there will be excessive exposure to salt water or other corrosive environments
Use BLUE-KOTE FINISH for damp or wet applications, like outdoor DIY projects or something that will go in a high moisture environment
Screw length
One thing I LOVE about the Kreg Jig K5 system is the handy screw chart located in the inside of the lid on the small storage compartment on the side of the jig. The screw length chart breaks all down and shows you the correct screw length based on your material thickness.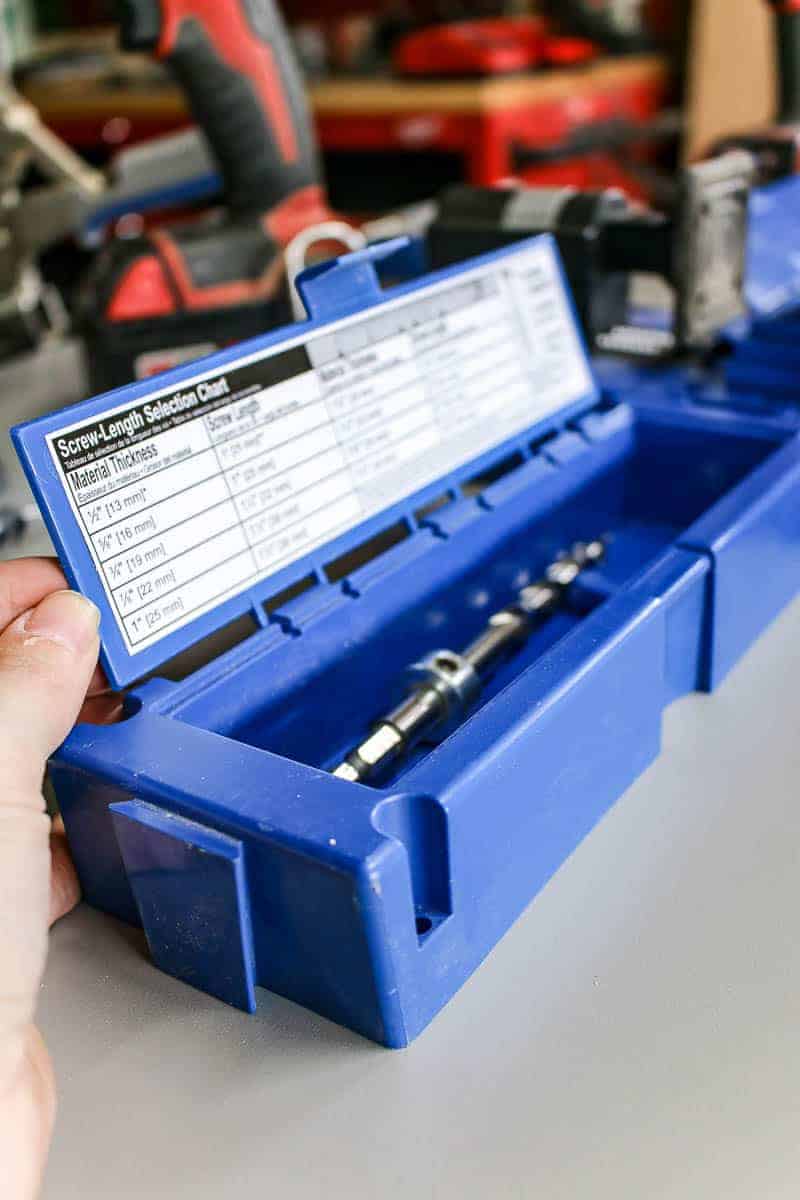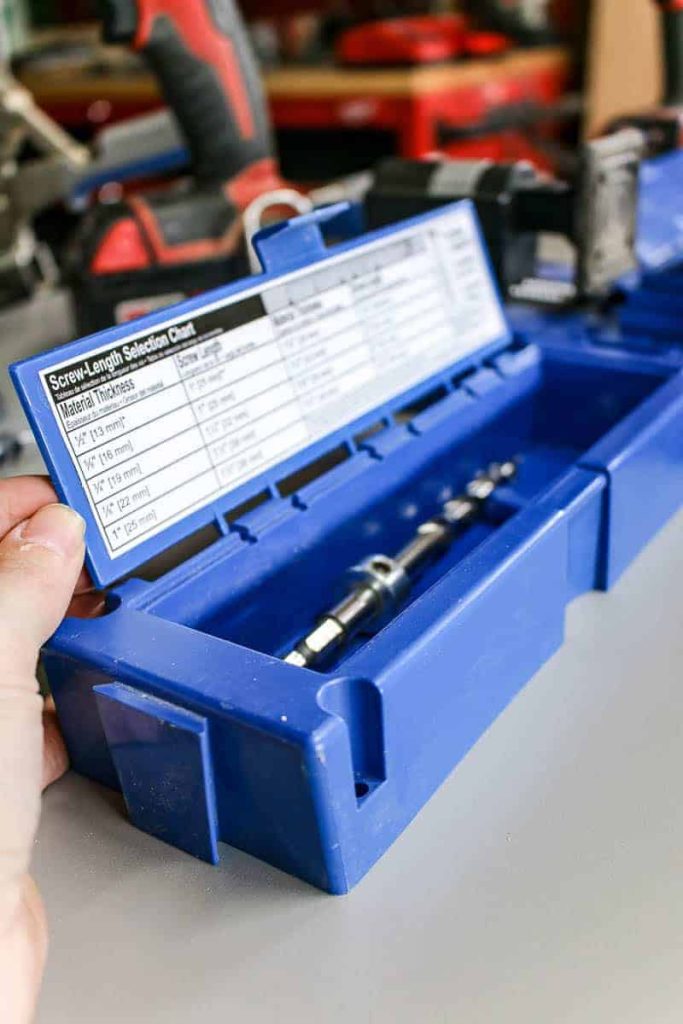 Your screw length should always be based on your material thickness. Here's the chart to refer to. Note: this is to use when you are joining materials of the same thickness.
| | | | | | | | | | |
| --- | --- | --- | --- | --- | --- | --- | --- | --- | --- |
| Thickness | 1/2″* | 5/8″ | 3/4″ | 7/8″ | 1″ | 1 1/8″ | 1 1/4″ | 1 3/8″ | 1 1/2″ |
| Screw | 3/4″-1″ | 1″ | 1 1/4″ | 1 1/2″ | 1 1/2″ | 1 1/2″ | 2″ | 2″ | 2 1/2″ |
When joining two pieces that are different thicknesses, a general rule of thumb use the thinner one. However, something that is a handy tool for this is the Screw Selector Wheel.
*For materials 1/2″ thick, it's recommended to use the pan-head screws. For all other projects, you'll use the normal Maxi-Loc head screws.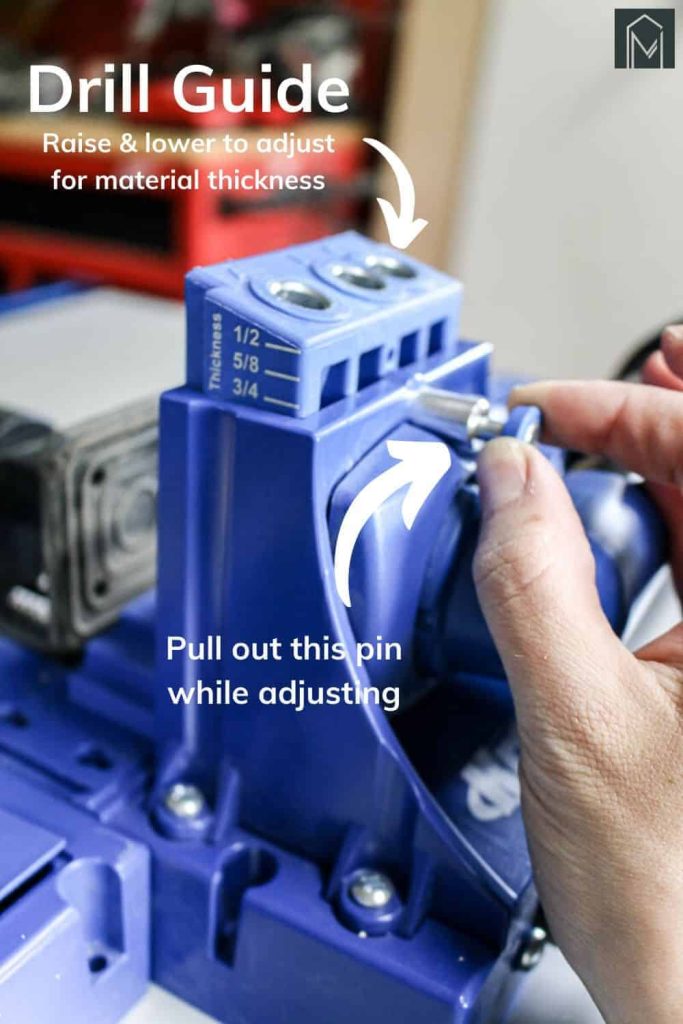 Step 2. Set up pocket hole jig height on drill guide.
Adjusting the drill guide on the pocket hole jig couldn't be easier! There's a simple spring-loaded pin and markings on the side of the drill guide to adjust it to your material thickness by raising or lowering the drill guide.
Step 3. Set up stop collar on drill bit.
The stop collar attaches to the drill bit and stops the drill bit at a specific spot based on your screw length (not be confused with your material thickness).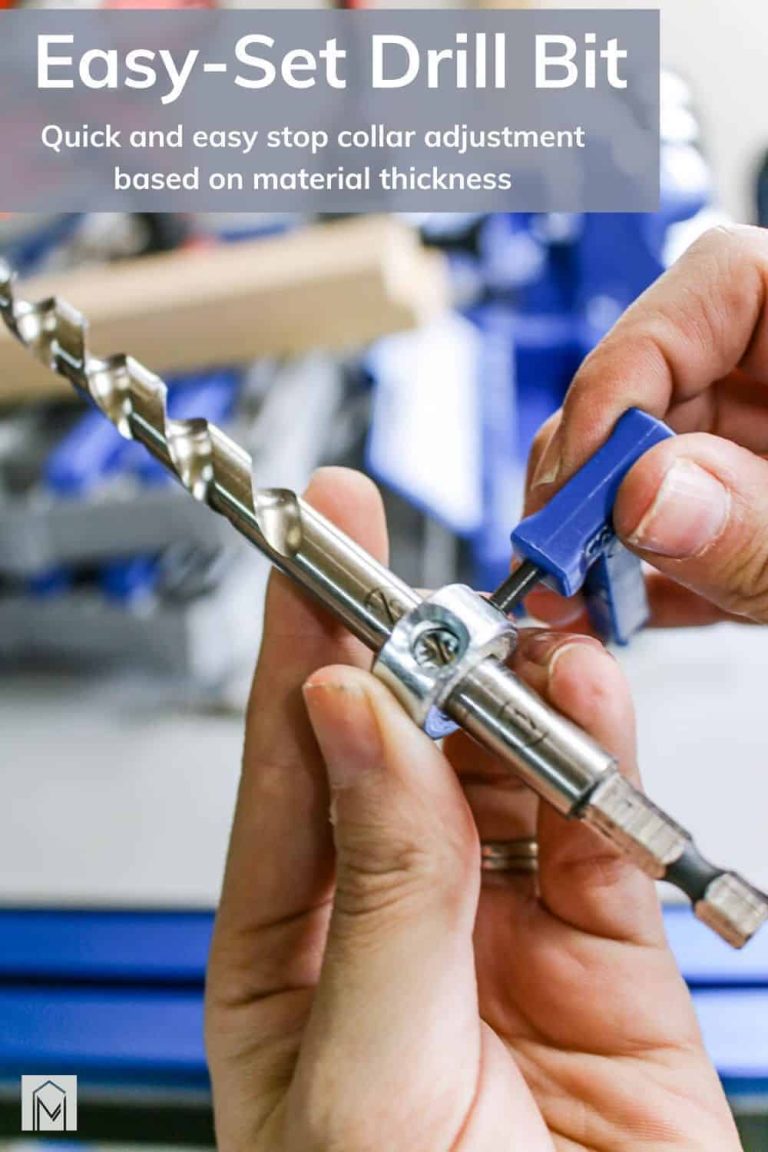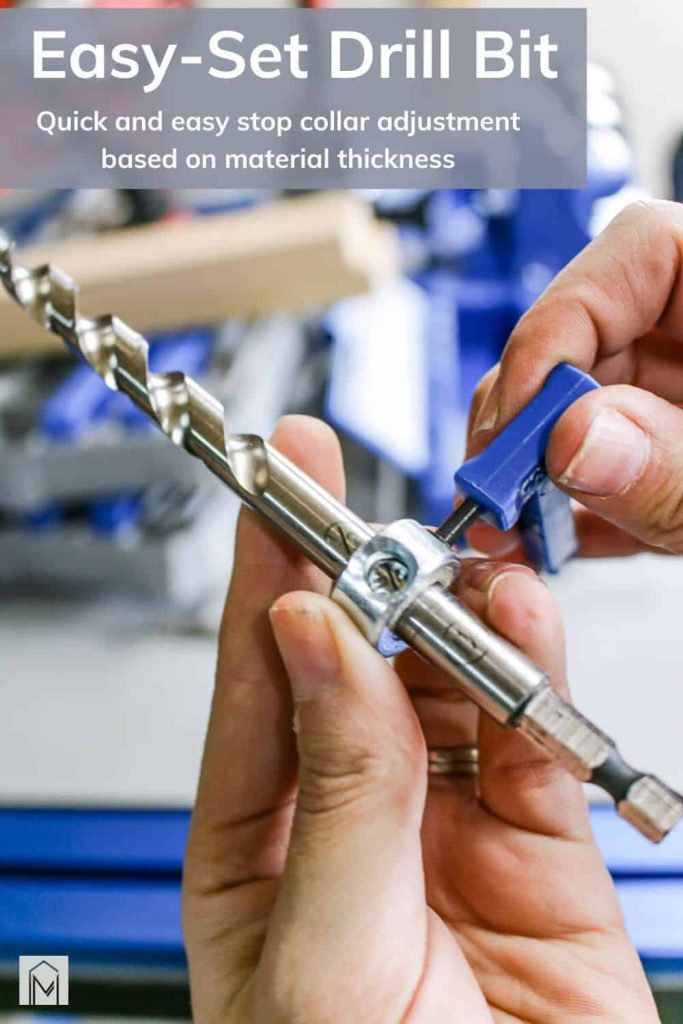 Option 1. Use the Easy-Set drill bit to adjust your stop collar
Now I will say that if you're going to buy ANY extra accessory to go with your pocket hole jig, it should be this easy-set drill bit! It is freakin' AWESOME because it has guide marks that you line the stop collar up with, which makes this part a breeze.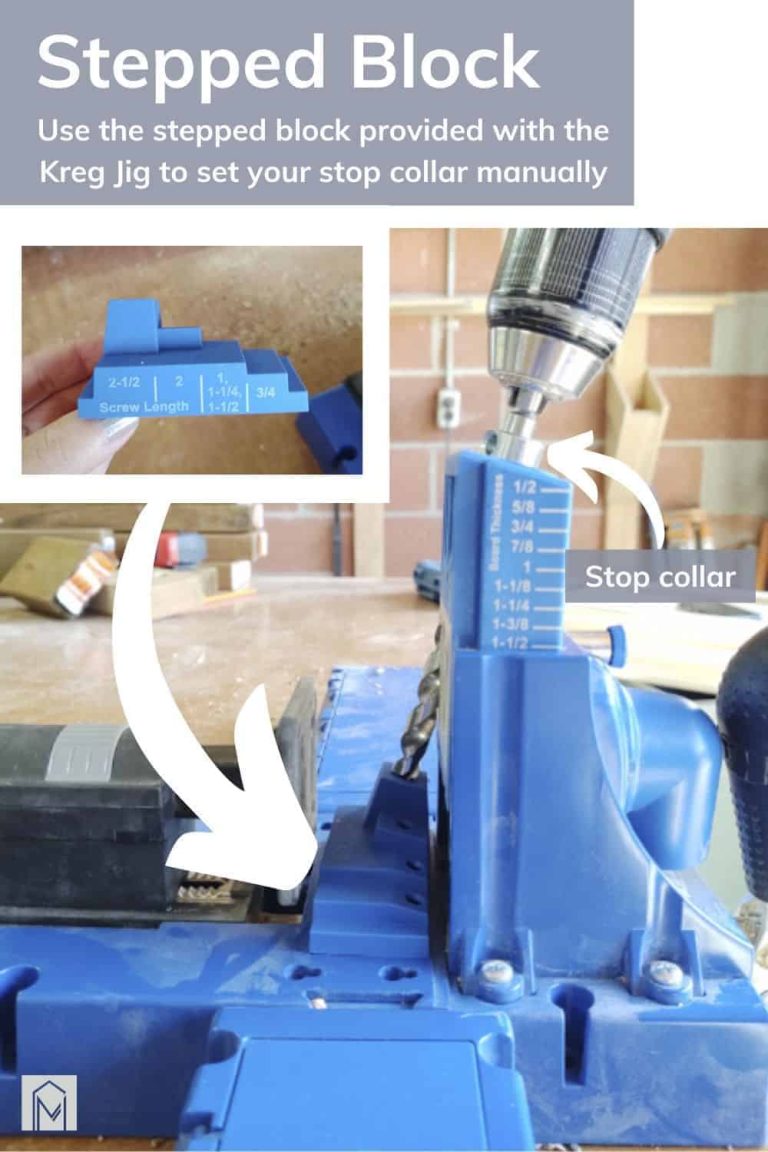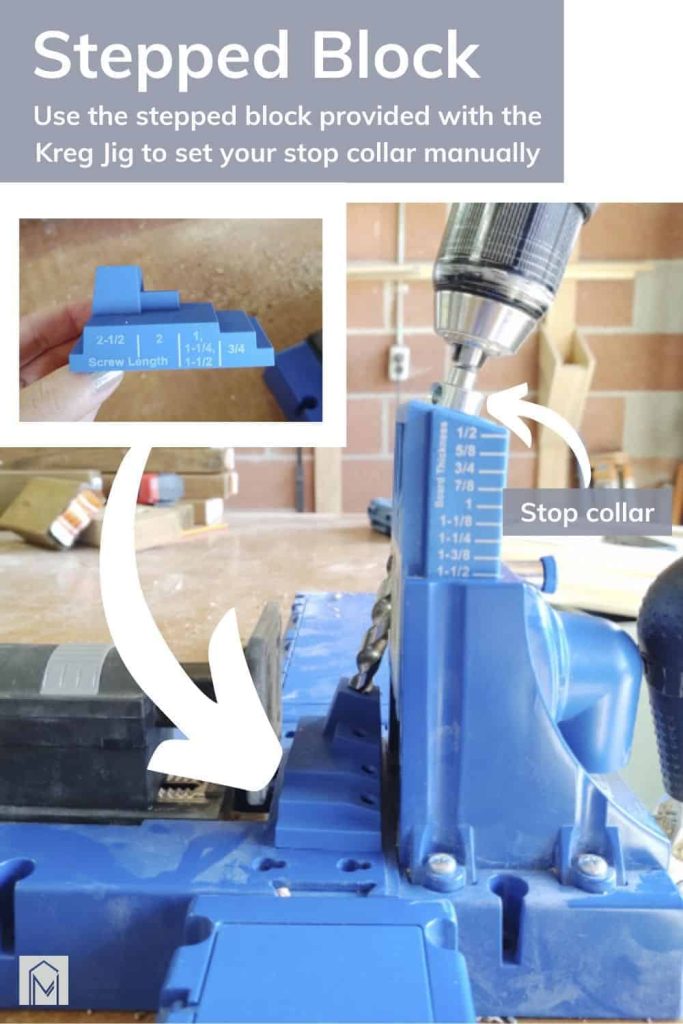 Option 2. Use the stepped block to adjust your stop collar
If you don't have the easy set drill bit, here's the process to manually adjust your stop collar on the drill bit. There is a block with steps and markings that comes with your pocket hole system.
Simply place the block at the base (in front of the drill guide) and drop the drill bit into a drill guide hole that lines up with the step that corresponds to the length of your screw. Next slide the stop collar on your drill bit and tighten with the hex wrench.
Note: Always do a test on some scrap wood of the same thickness after you make adjustments to your pocket hole jig.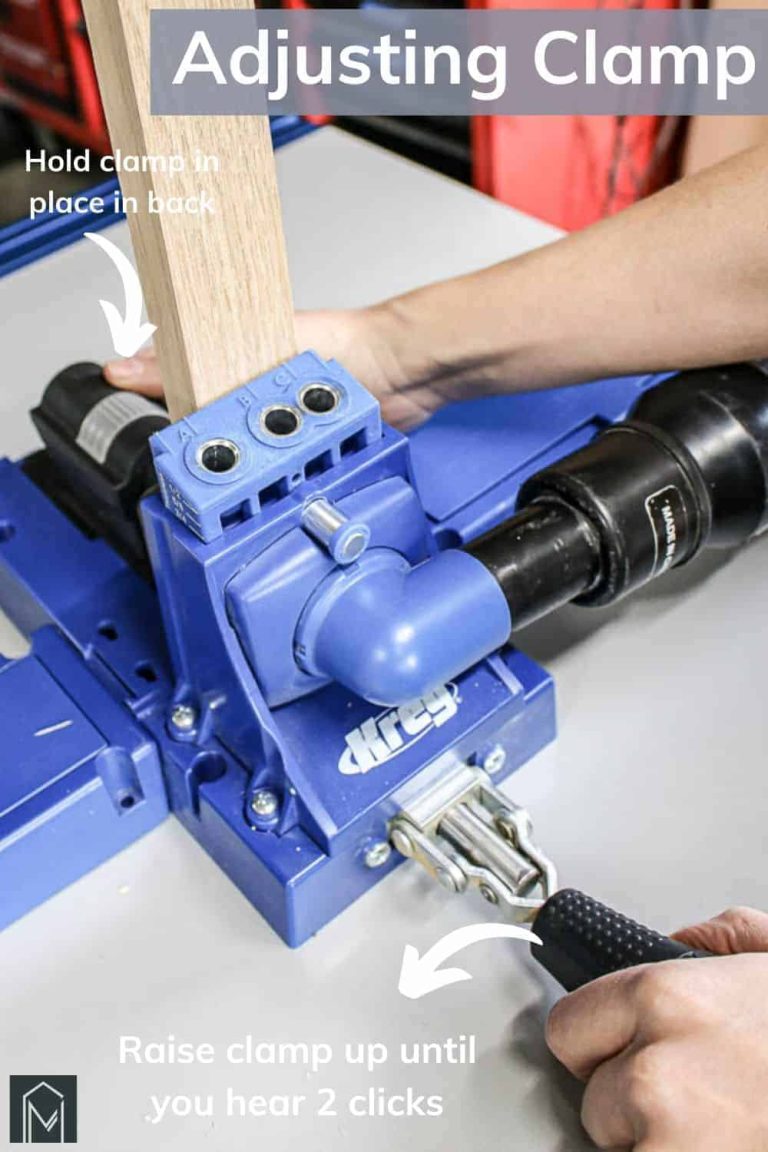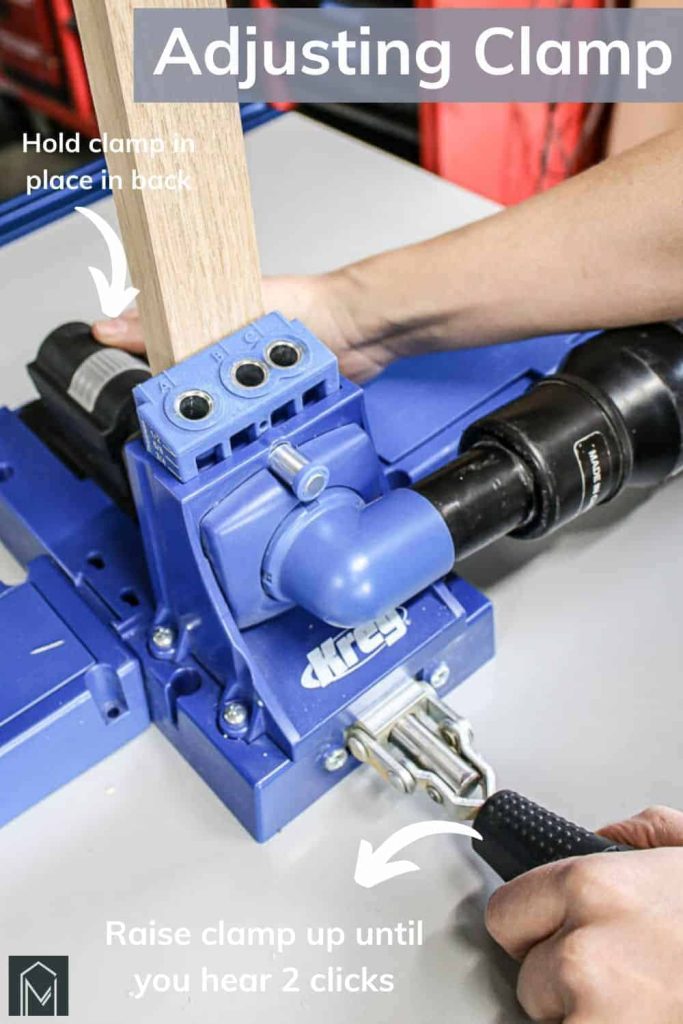 Step 4. Adjust clamp.
One great feature of the Kreg jig K5 system is the awesome clamping mechanism, which you can quickly adjust with match your wood thickness every time.
Simply push the clamp assembly all the way back (push the gray button on top to move it)
Put the wood in
Push the clamp handle (in front) down
Now you can adjust the clamp assembly forward until it makes contact with the wood (you'll hear it clicking as you move it).
Next, while holding the clamp assembly in place with your spare hand, you can raise the clamp handle back up until you hear the adjustment mechanism click two times.
Once this is set, you'll be able to move the clamp handle up and down to replace the wood and have the clamp push right back into the right position for the wood thickness when you clamp down.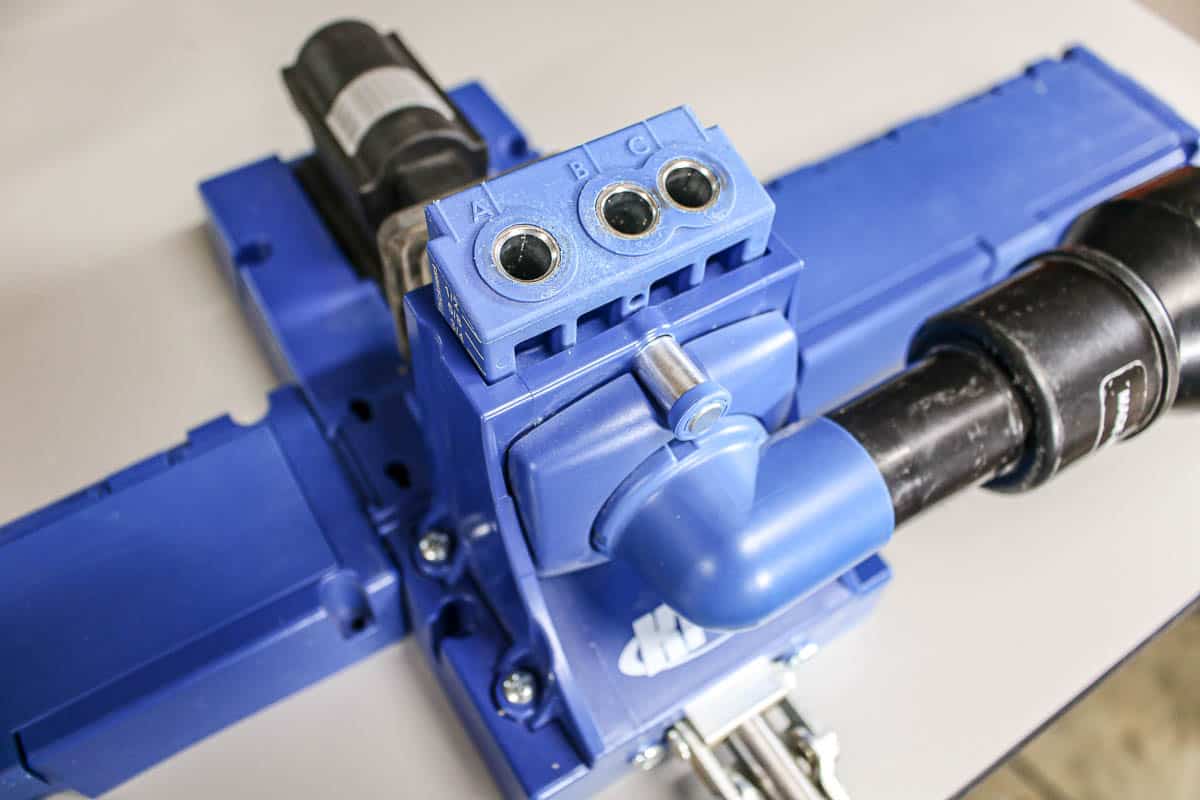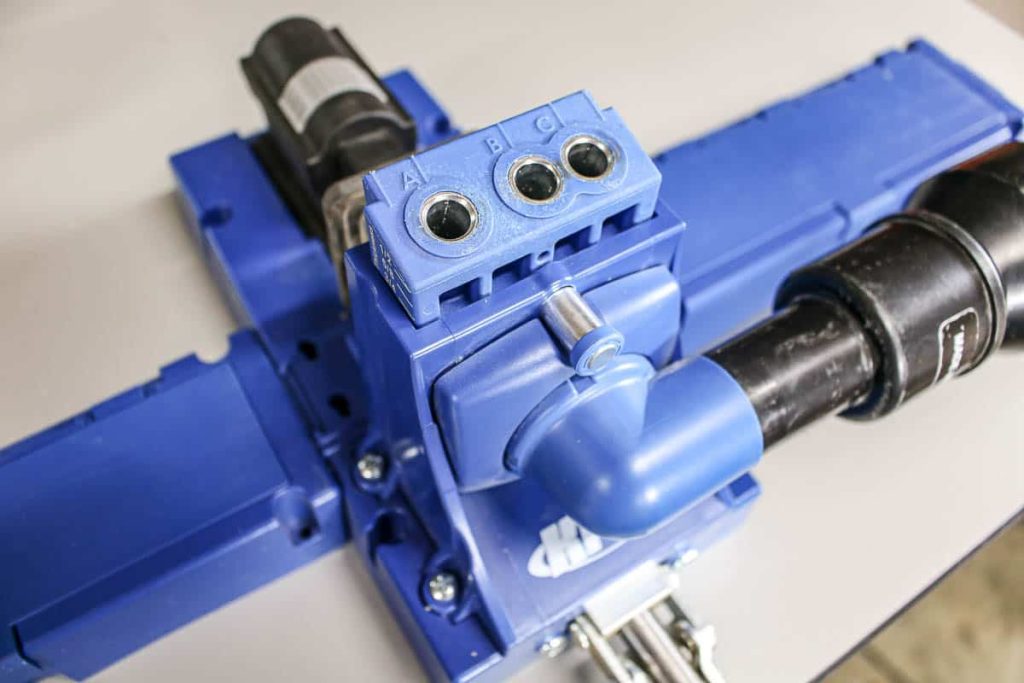 Step 5. Drill pocket holes.
Now that your Kreg jig K5 system is all set up for your project, it's time to drill your pocket holes!
Pocket hole placement
Before you start drilling, keep in mind the the spacing of your pocket holes is important as well!
There are three holes (aka drill guides) on the pocket hole jig labeled A, B and C.
B and C holes are 9/16" apart, A and B are 7/8" apart, and A and C are 1 7/16" apart.
| | |
| --- | --- |
| 1″ – 2″ wide material | Holes B & C |
| 2″ – 3″ wide material | Holes A & B |
| 3″ – 4″ wide material | Holes A & C |
| Panel joints | Space out 6-8 inches |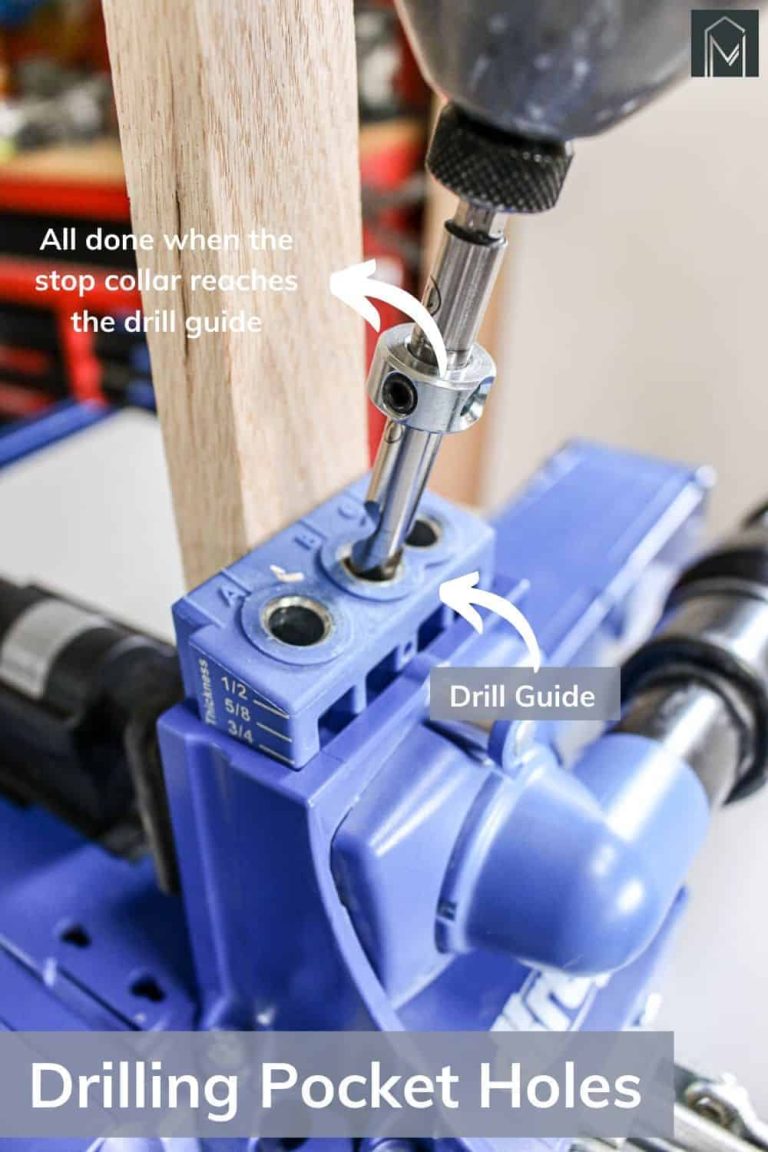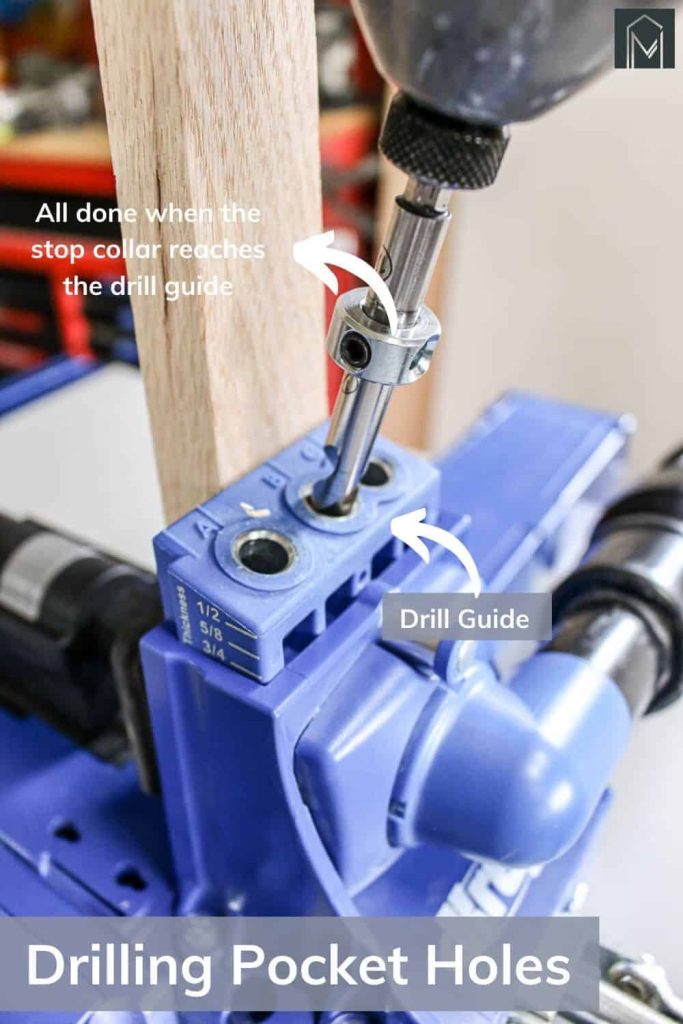 Drilling pocket holes
Now this is seriously the easiest part, I promise! Slide the drill bit into the drill guide hole, turn on the drill to full speed and slightly push the drill into the wood. You can stop drilling with the stop collar reaches the drill guide. Wait until the drill stops and then remove. Simple as that, friends!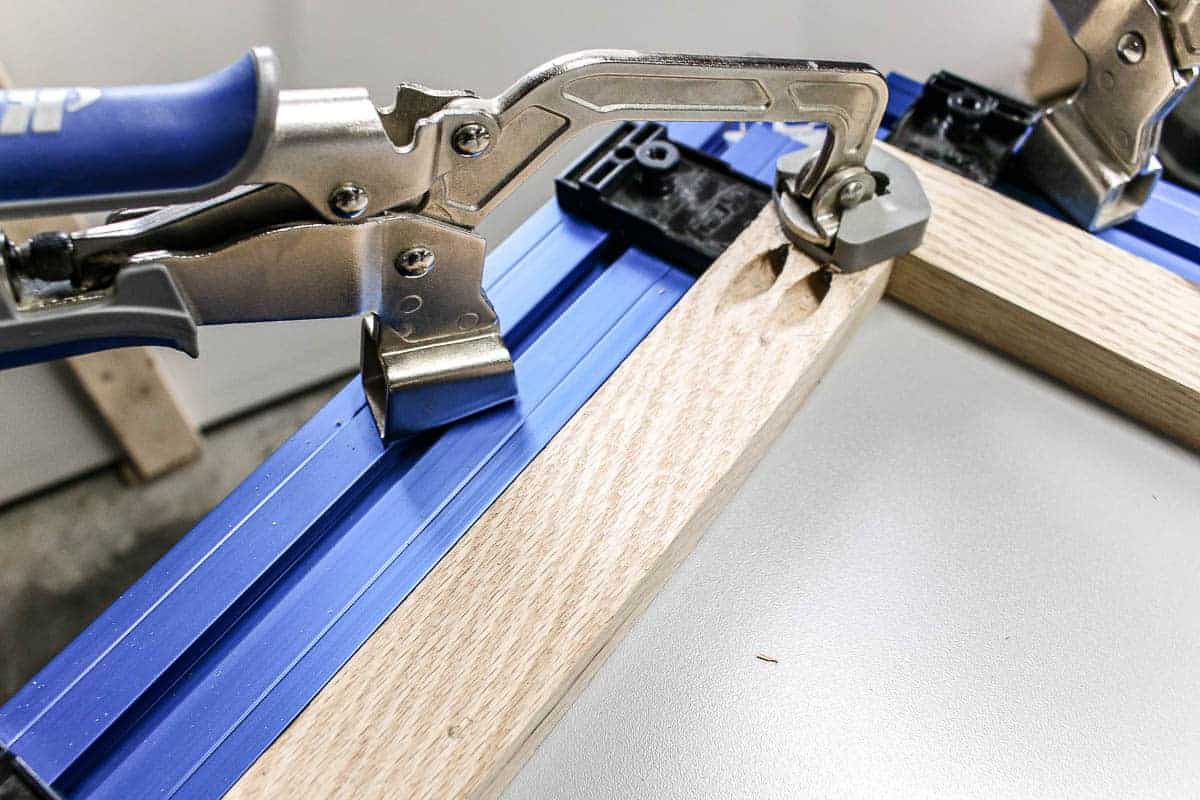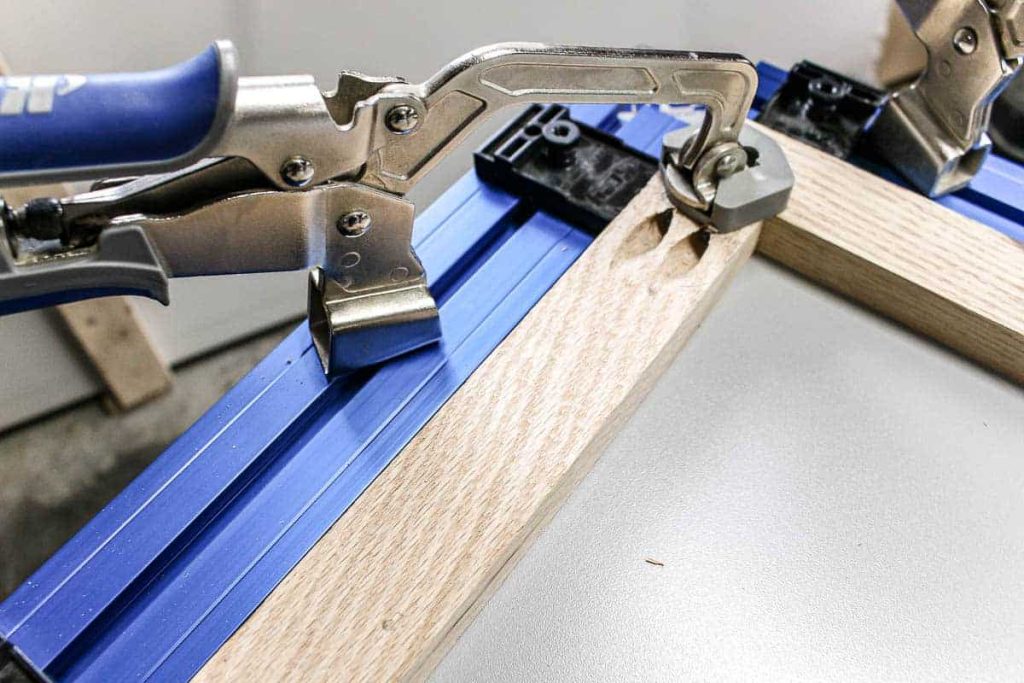 Step 6. Joining wood pieces with pocket holes.
Once your pocket holes are drilled, you can assemble! Grab the screws and align with your wood pieces and clamp.
For flat pieces, you can use a Kreg clamp on the edge of a work bench or you can invest in the clamping table & stand that we have (and LOVE!)
For corner assemblies, you can use 90 degree clamps or bar clamps to hold the pieces in place.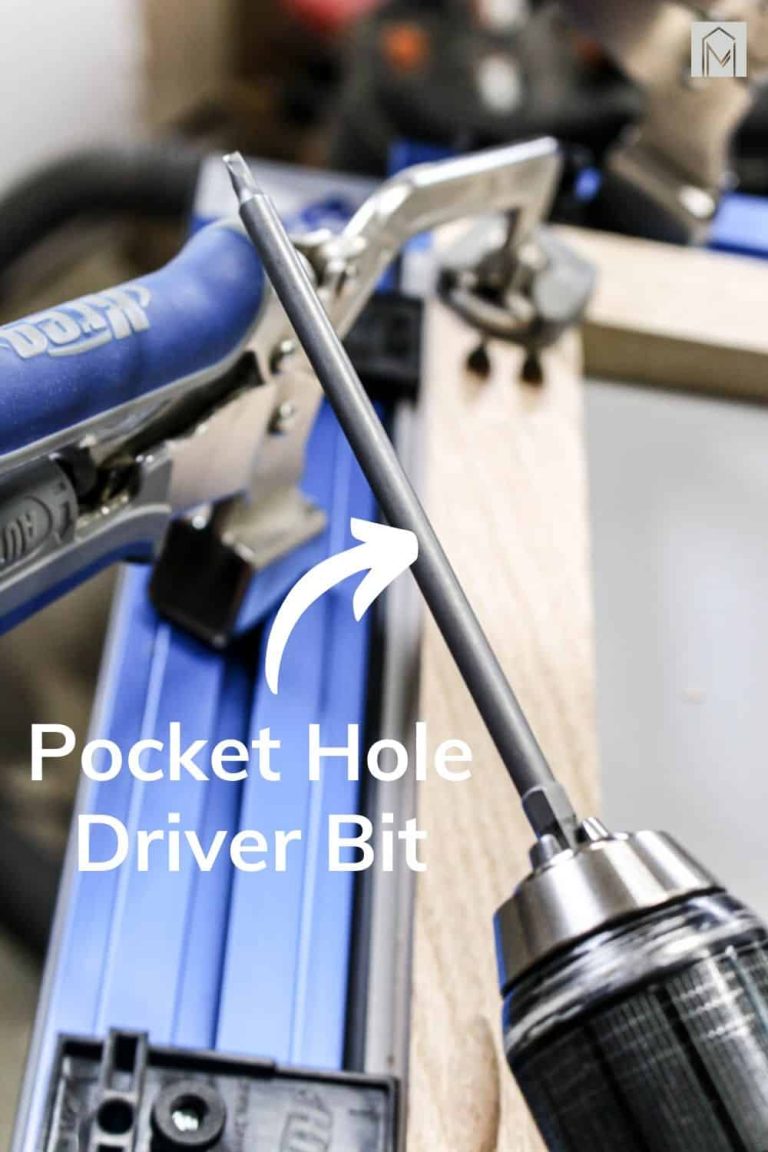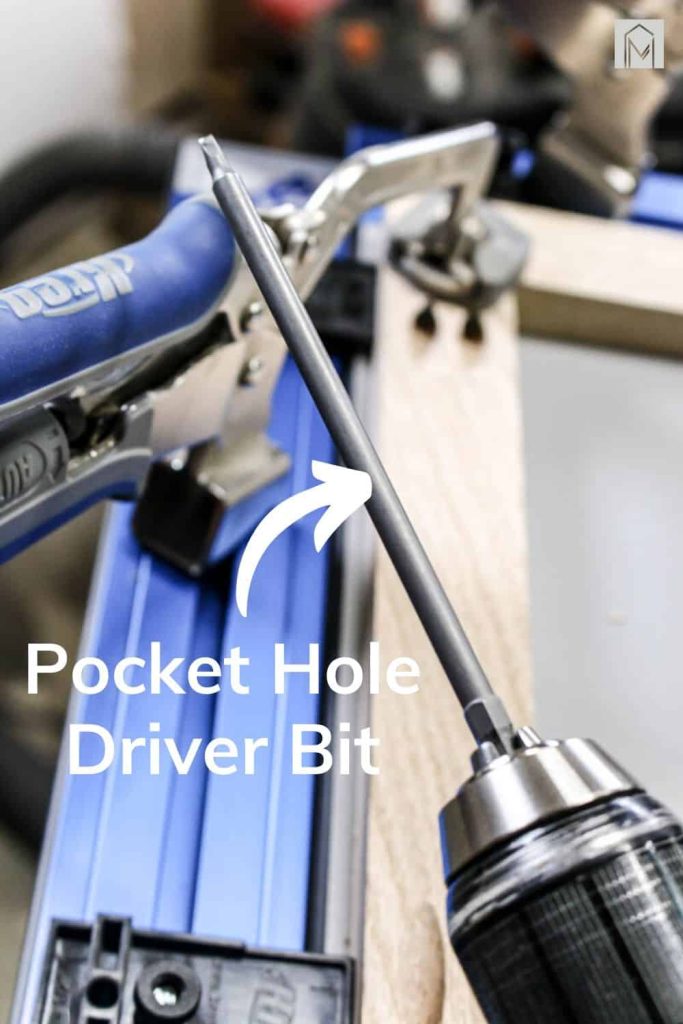 Then using the driver bit included with the Kreg jig, drive the screws into the holes.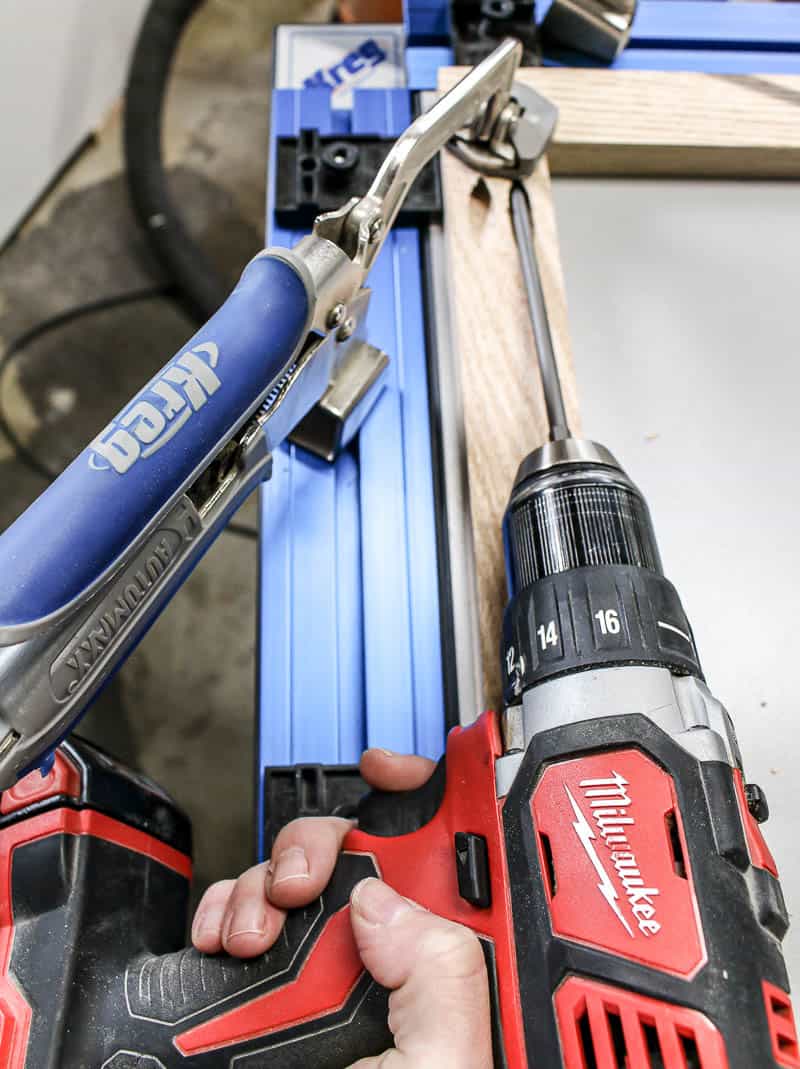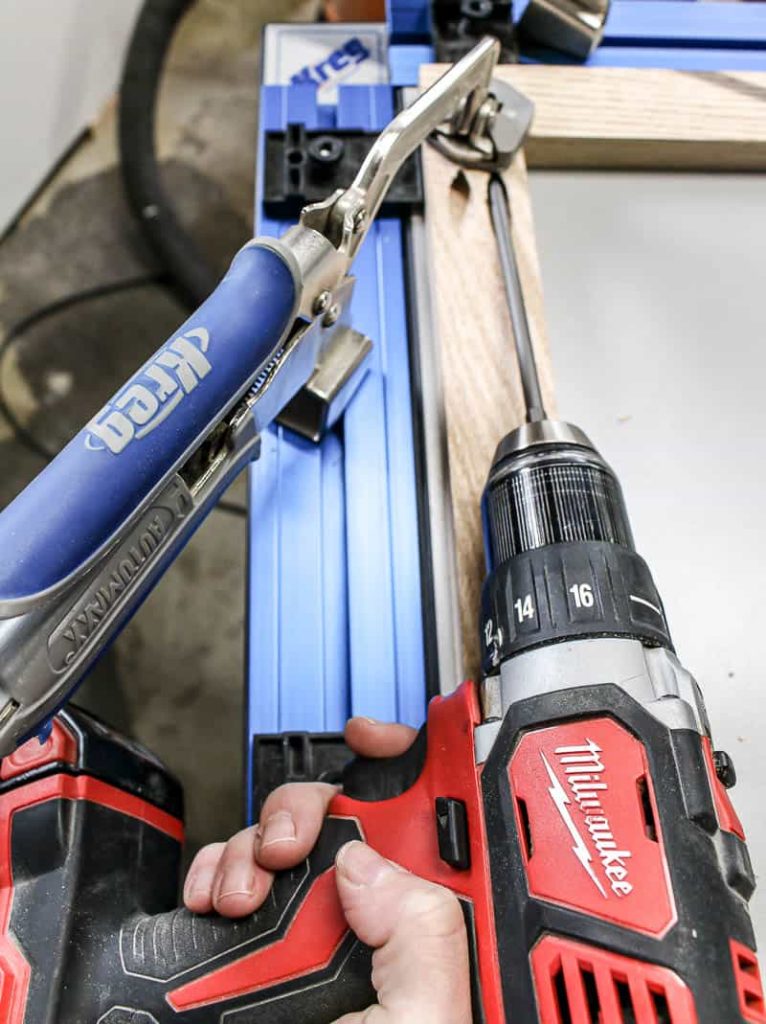 Remove clamps and that's it folks!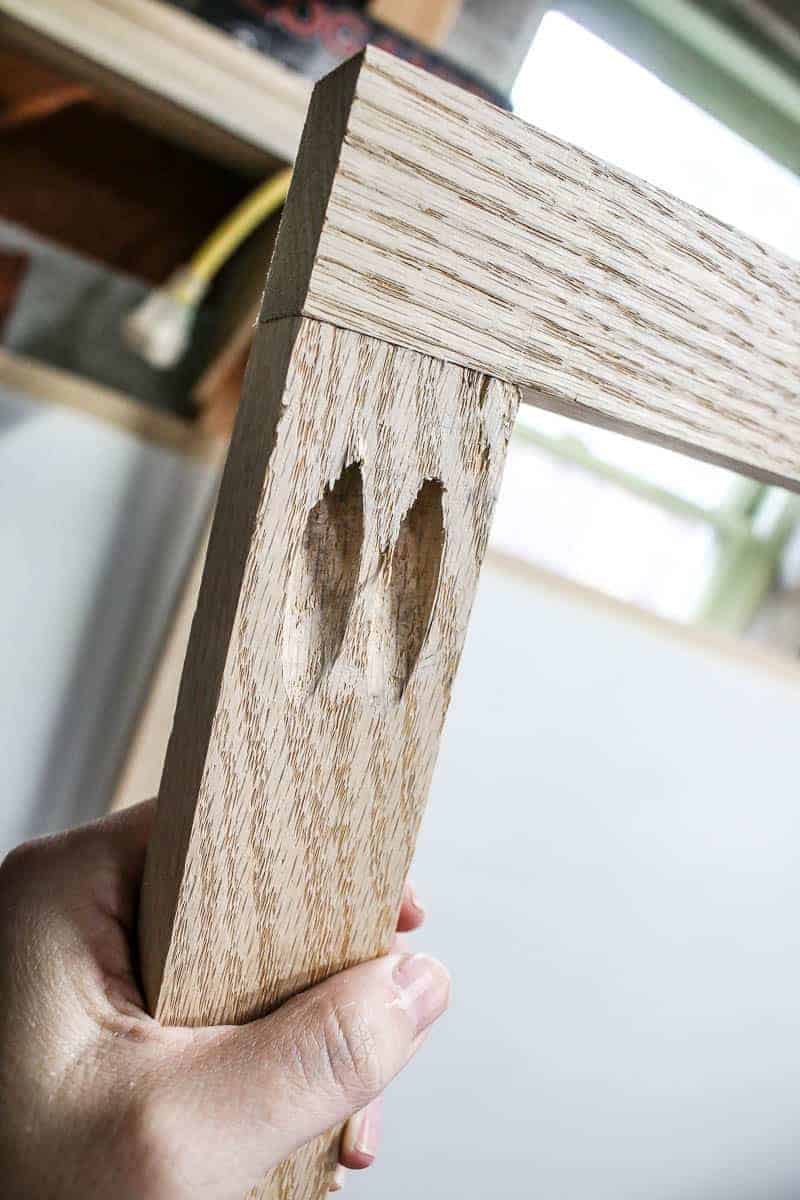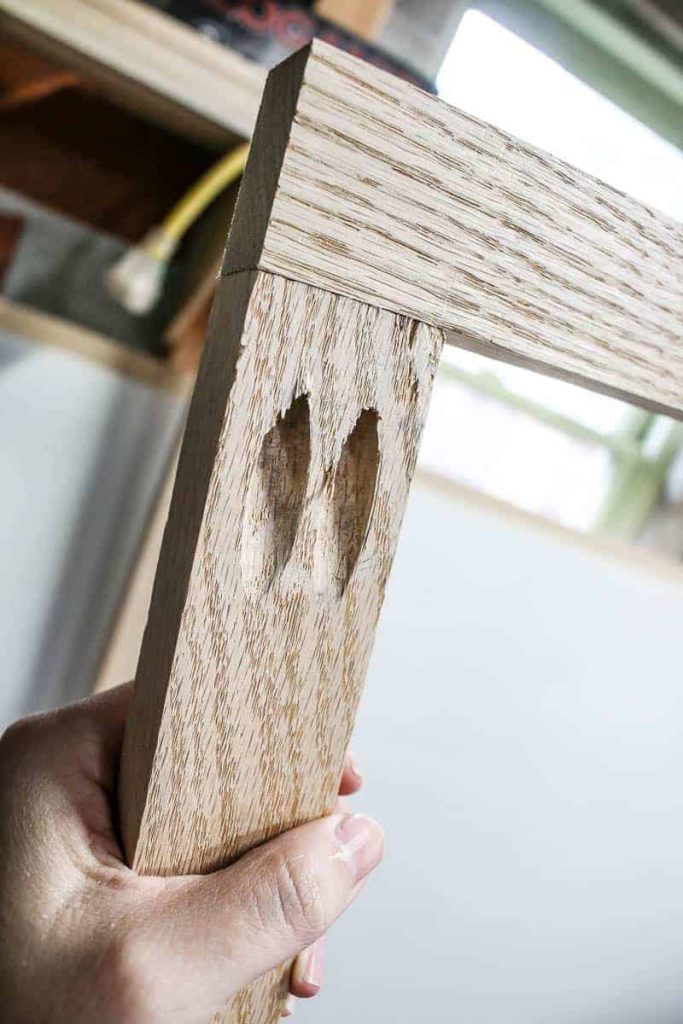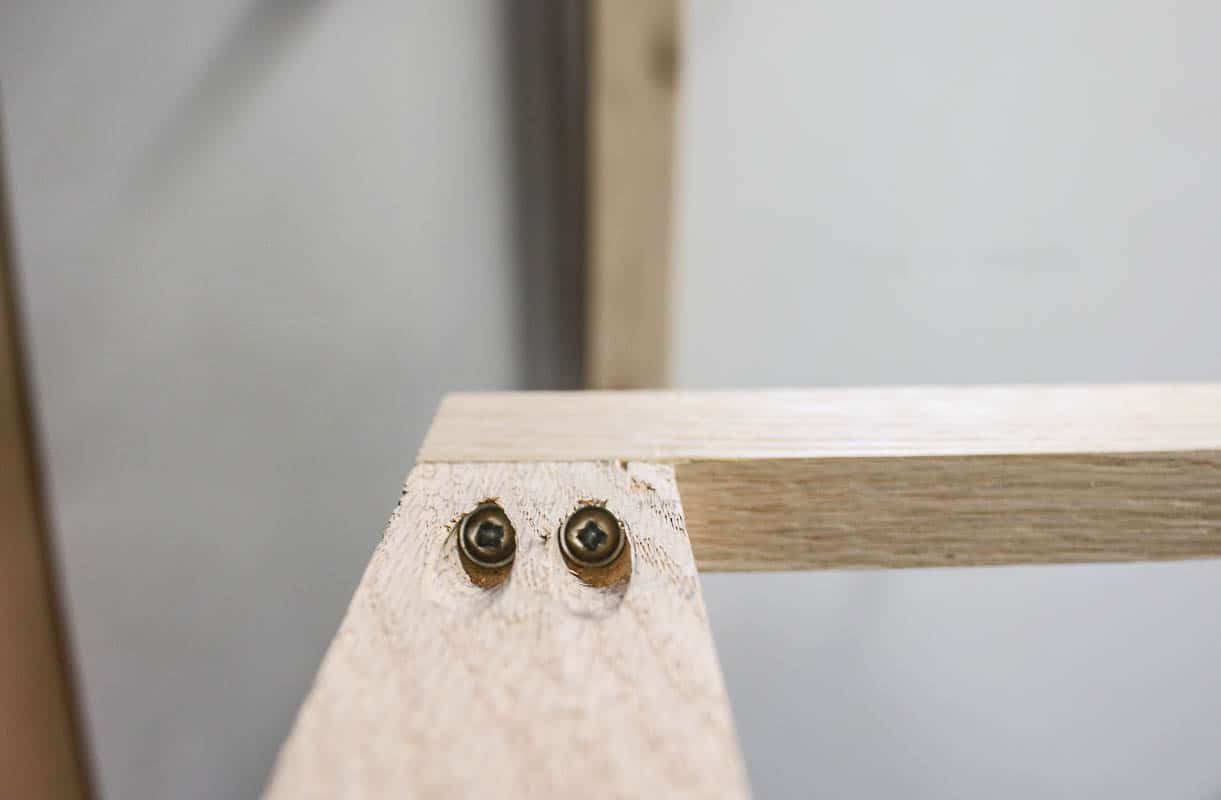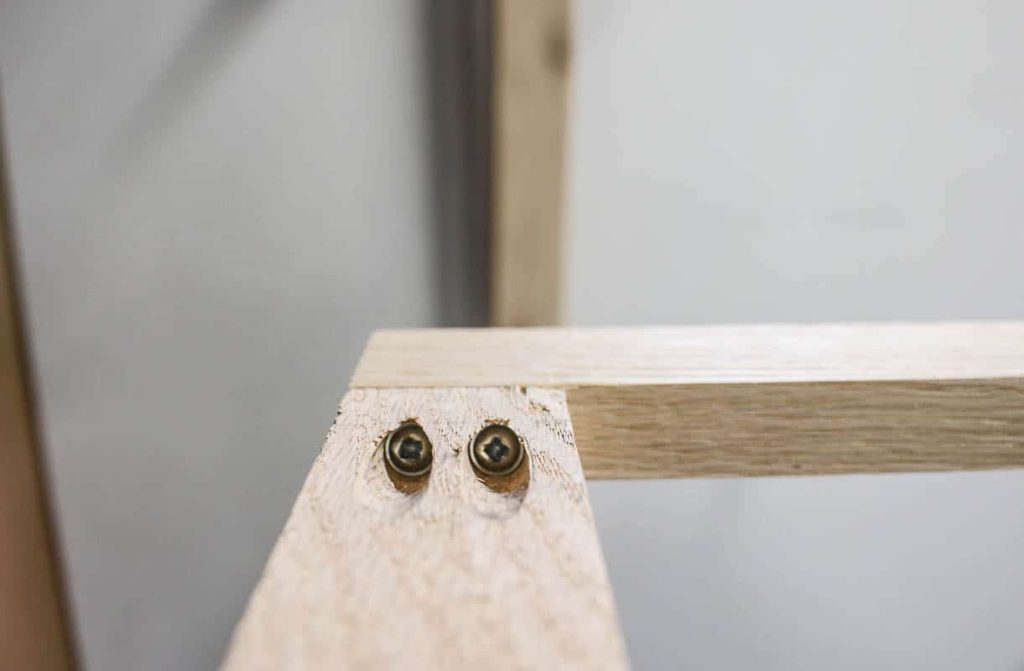 It is SERIOUSLY that easy, guys!!!
The Kreg Pocket Hole Jigs are super helpful tools for woodworking projects! We hope you enjoyed this detailed guide filled with FAQs and a tutorial on how to use these awesome tools!
Do you have any other questions about the Kreg Jig K5 system or anything else about pocket holes?
Just let us now in the comments below!