Looking for DIY tilt out trash bin plans? Follow along with our step-by-step tutorial and download the free woodworking plans to build your own wooden trash can cabinet with a drawer for your kitchen.
Thank you to Kreg for sponsoring this DIY tilt out trash can! All opinions are entirely my own. This post also contains affiliate links, but nothing that I wouldn't recommend wholeheartedly. Read my full disclosure here.
If you're struggling with how to make your trash can look more attractive in your kitchen or your dogs are getting into your trash can, you're going to love today's DIY woodworking project.
Trash Can: Before (The Problem)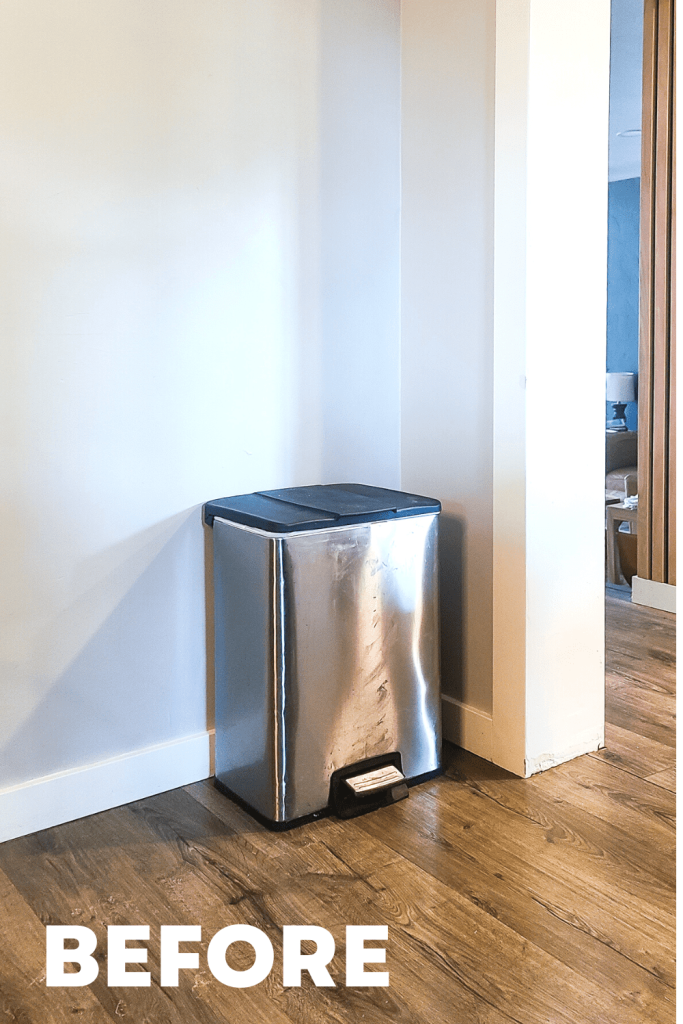 We've had an issue in our kitchen for a couple of years now. Every time he's left unattended our dog gets into the trash can and makes a huge mess.
We've gotten pretty used to it. We always took out the trash before we left. We also started keeping a big container of laundry detergent on top of the trash can so he couldn't lift it up. Attractive, I know.
But earlier this year we got a puppy. And he's started to pick up on some of the older dog's bad habits… like getting into the trash can.
It started getting worse when the dogs started working together to figure out how to open the trash can.
Finally, it was too much and we determined we need to figure out a different solution.
Unfortunately, there is no good cabinet for a pull-out trash bin. We've had those in other houses and absolutely loved the, but we needed to think of something else this time.
Enter the DIY tilt out trash bin!
Kreg 720PRO Pocket Hole Jig
If you've been following Making Manzanita for a bit, you know that we are big fans of the Kreg pocket hole system.
We built tons of projects using our original K5 Pocket Hole Jig, we even have a super detailed guide and video about how to use it that you can check out here.
In 2021, Kreg released brand new pocket hole systems that replaced the K4 and K5, and the upgrades are pretty awesome.
The new 720PRO (which we were using for this DIY trash bin) and the 520PRO (which replaced the smaller K4 system) were improved a ton, the most noticeable change being that they are easier to set up and use – score.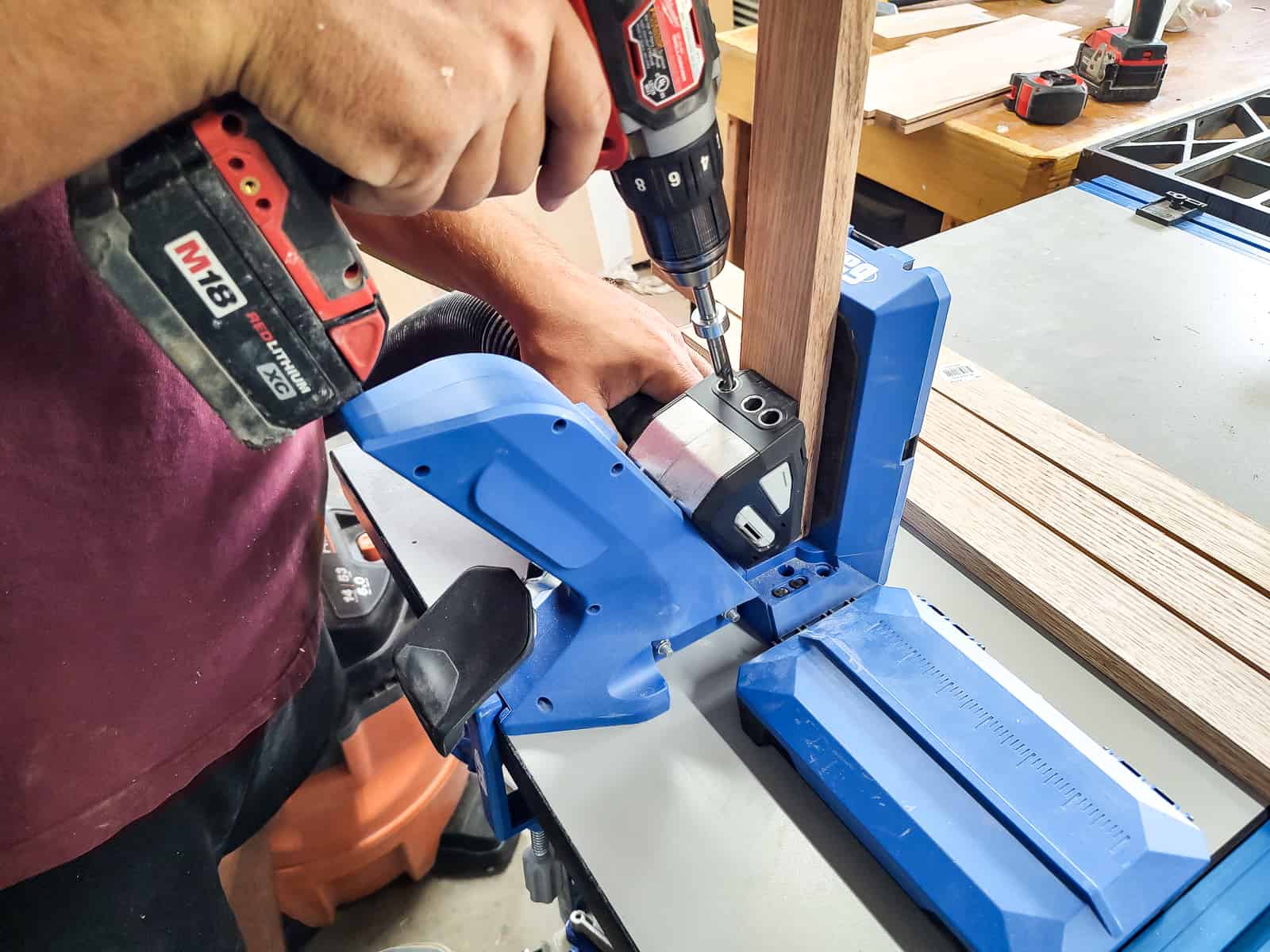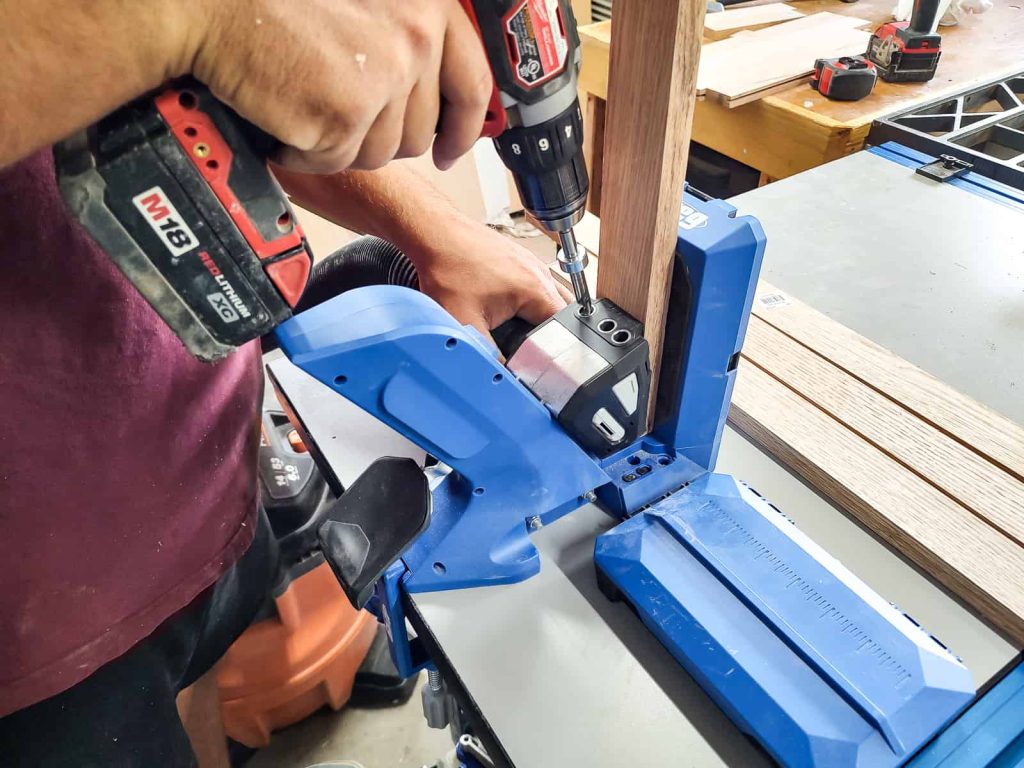 My favorite new feature of 720PRO and 520PRO is the clamp that you don't have to adjust anymore. You just clamp it down and it automatically adjusts to match the thickness of your wood, so cool, right?
Pocket hole joinery is definitely one of the easiest ways to join wood in woodworking projects. It's our favorite hidden weapon for beginning woodworkers!
Want to learn more? I wrote a super detailed guide & created a video all about how to set up your Kreg 720PRO Pocket Hole and use it, so be sure to check that out too!
We teamed up with our friends Kreg again for these DIY trash can plans and are sharing them online for free, now available on KregTool.com!
Kreg's website is chocked full of so many easy-to-follow FREE woodworking plans! I promise that you are going to find so much inspiration while you're there! It is a goldmine!
Related – Projects that use a pocket hole jig
DIY Trash Bin: Video Tutorial
If you love DIY videos, don't forget to subscribe to our YouTube channel!
Ready to see the finished DIY trash can??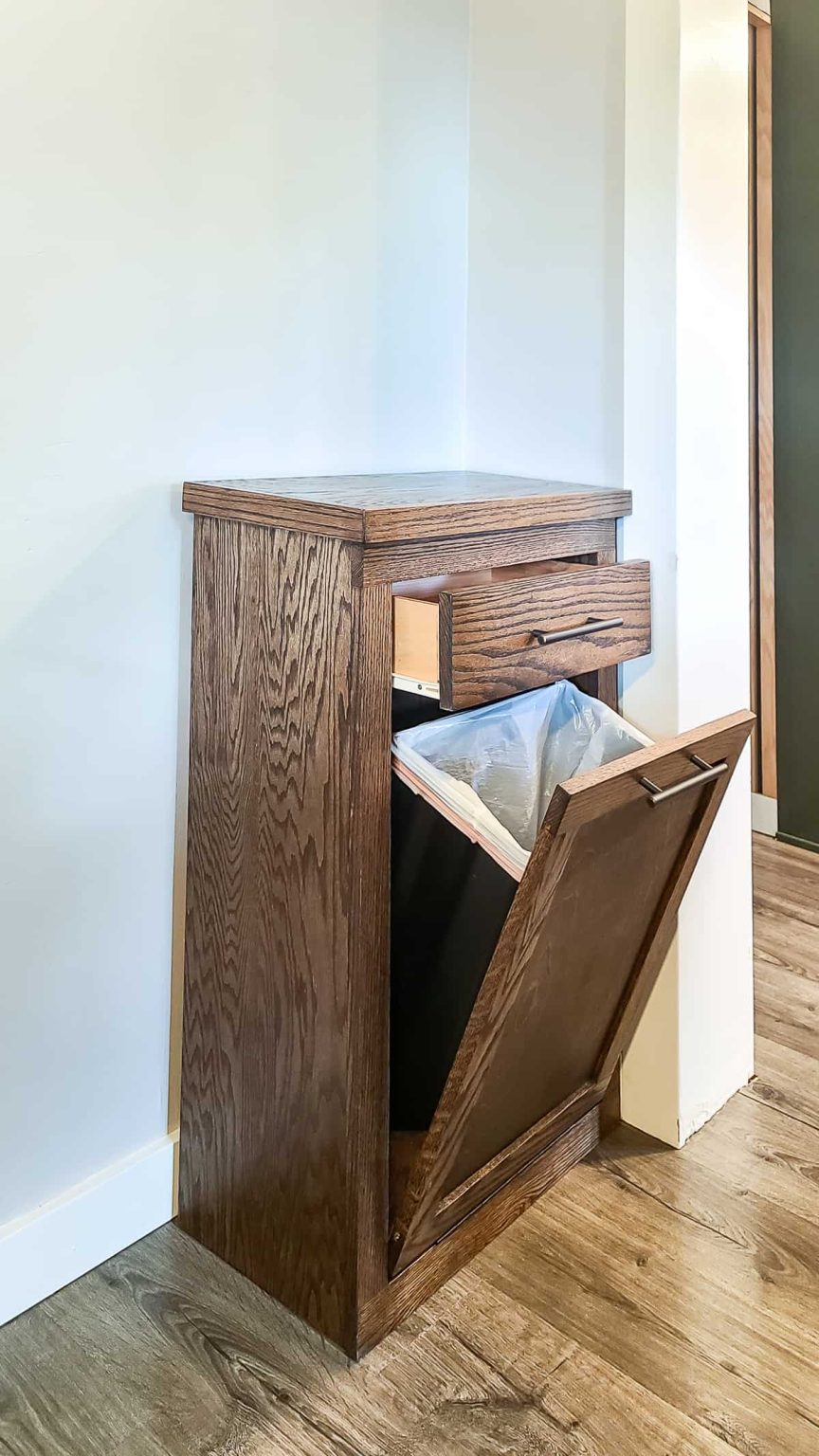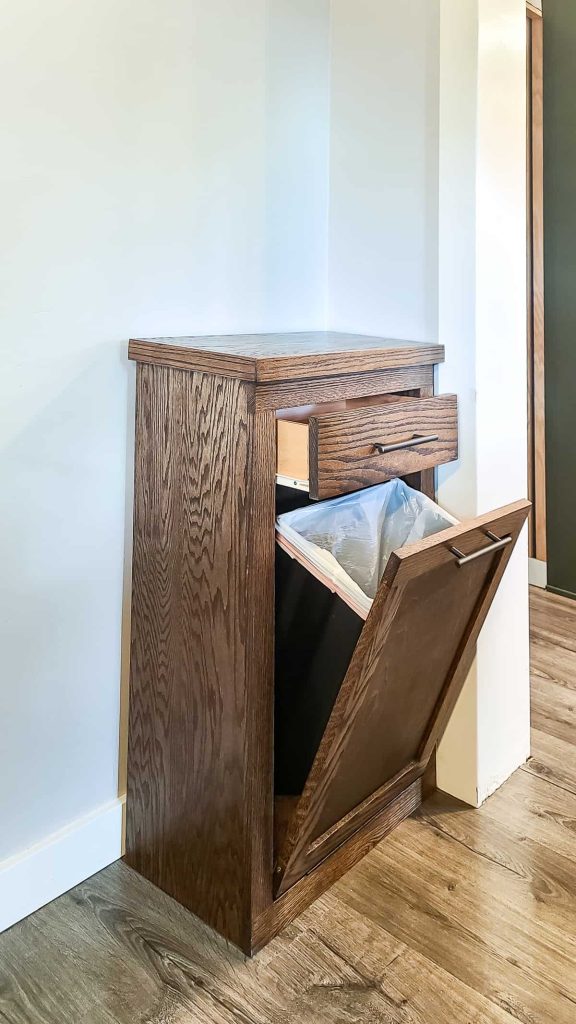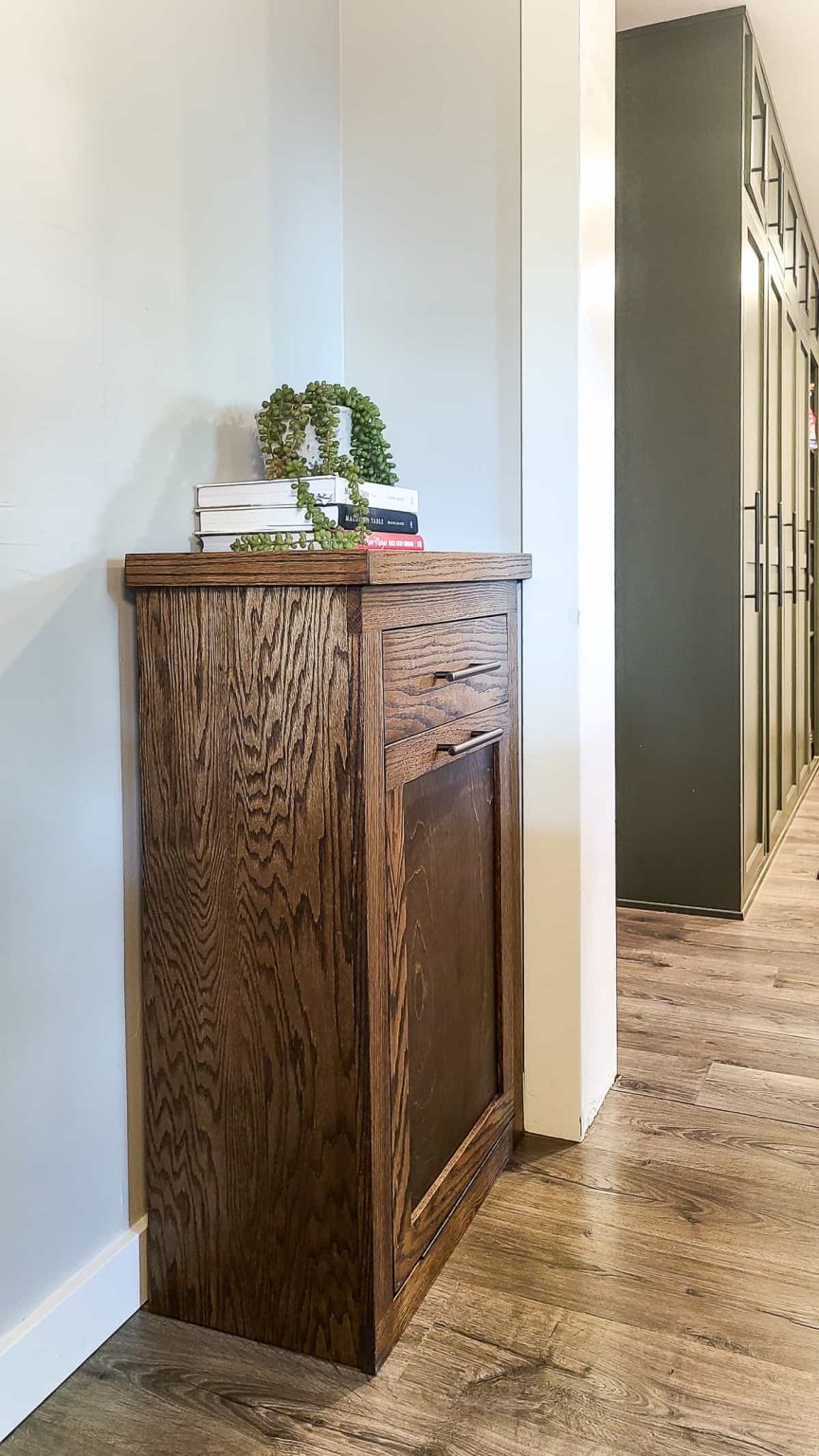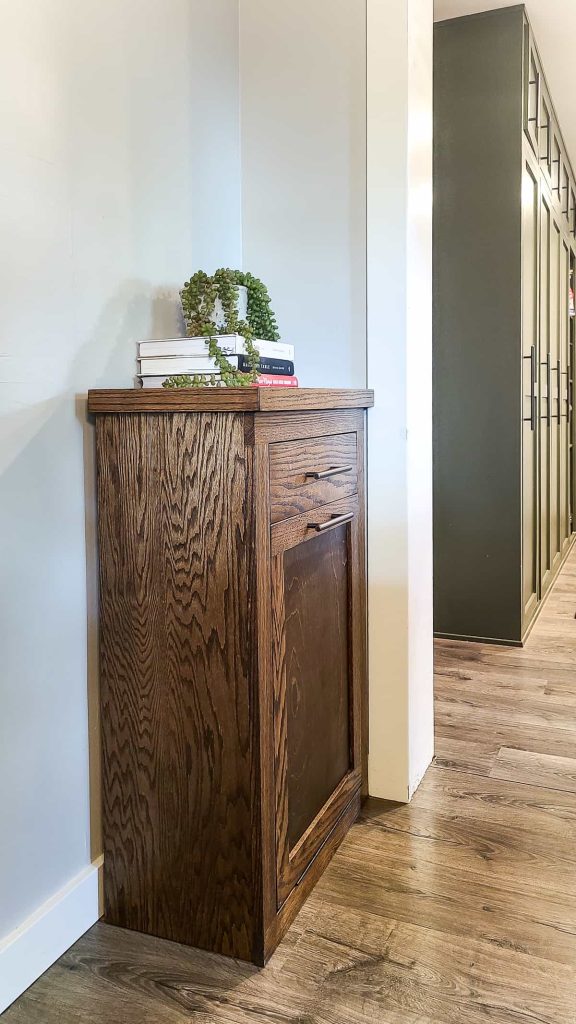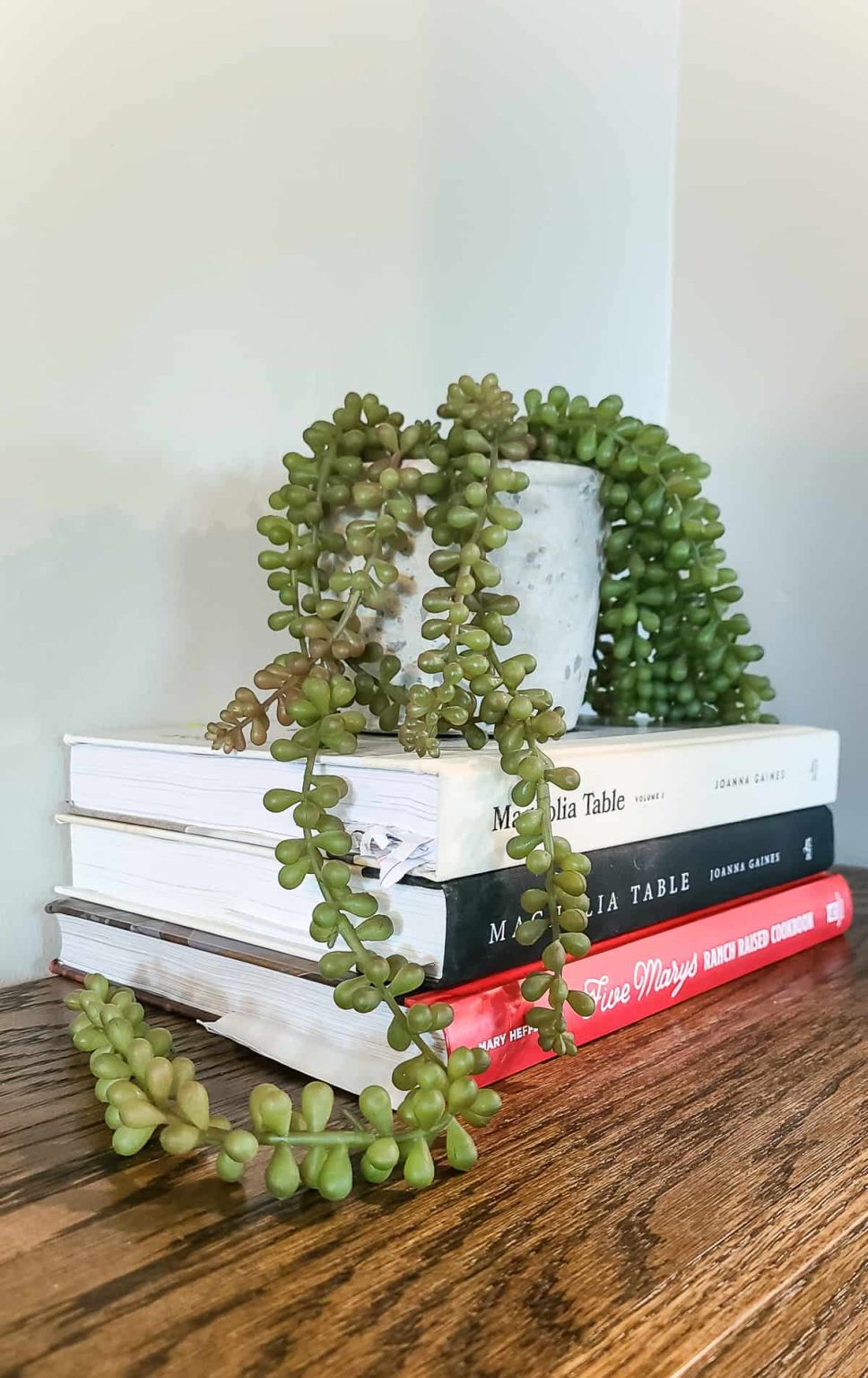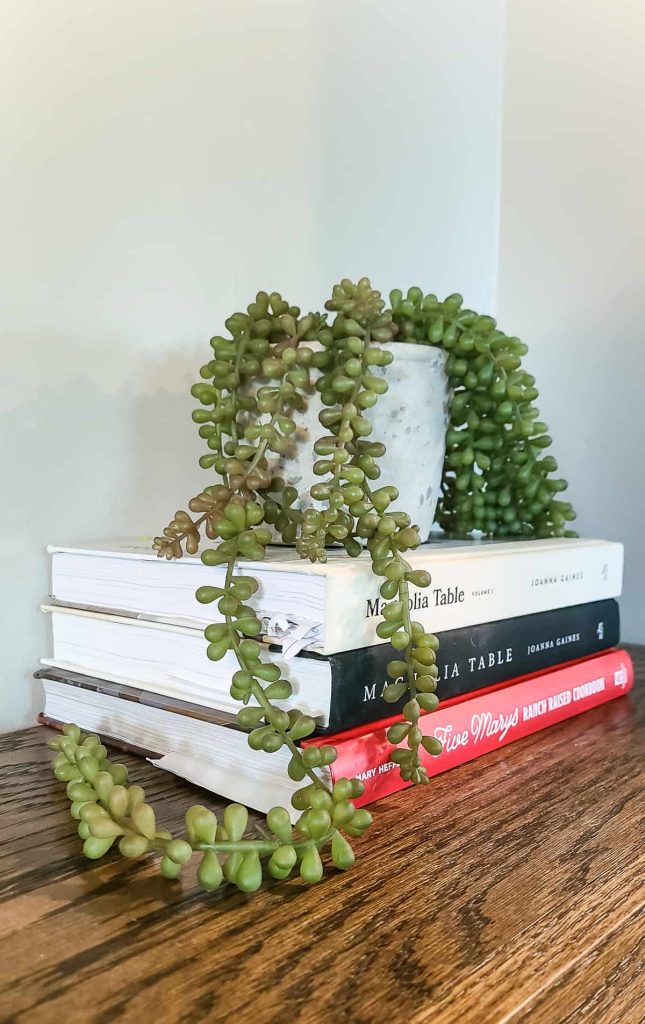 What did we make this DIY trash can out of?
We made our DIY tilt-out trash can out of oak hardwood trim boards and 3/4″ oak veneer plywood. Oak is a pretty expensive type of wood to buy, but it looks gorgeous when stained and is very durable and sturdy.
To paint or stain the trash bin: that is the question!
I really wanted to have our trash bin stained, rather than painted. My thoughts were that it would be easier to clean if it was stained and lacquer vs painted. I also wanted it to match our dark wood kitchen cabinets.
If you'd rather have a painted trash bin, good news for you because you can make it a lot cheaper. If we would have painted it instead, we would have used sanded plywood with poplar trim. That would have cut a lot of the costs down.
Even if you decide to paint yours, but building process is relatively the same so you can still use our free woodworking plans for the DIY trash bin.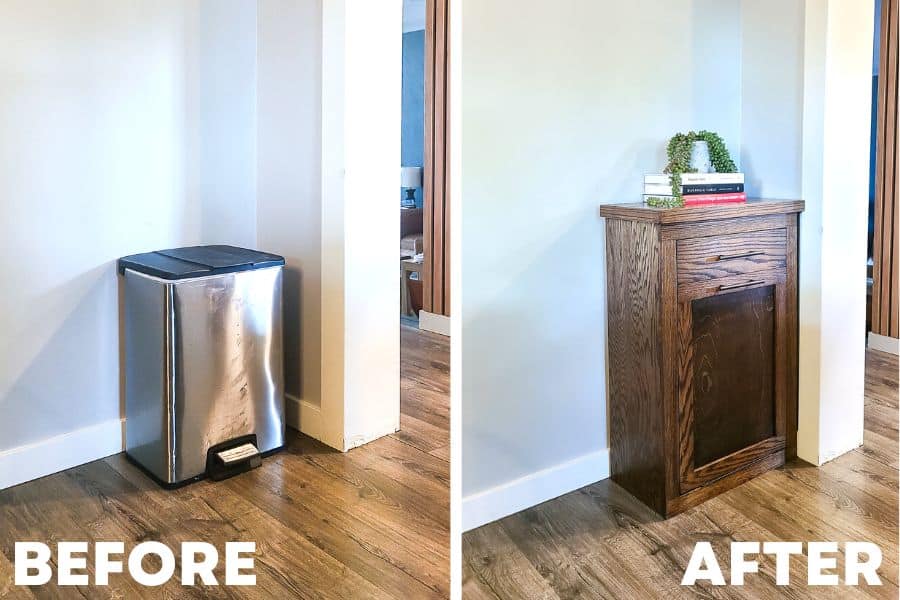 If you want to build this wooden tilt out trash can, we've done all the hard work for you! All you need to do is hop over to Kreg's website and check out the full tutorial.
At the bottom of the tutorial on Kreg's website, you'll also see a link to download the woodworking plans (for free) to get all of the detailed measurements and a cut list!
Would you use a tilt out trash can like this in your house?
Let us know in the comments below!