Need to buy a housewarming gift for new homeowners? Consider making a gift basket and get creative with a themed basket! Check out these housewarming basket ideas.
Housewarming gifts are typically given when an individual moves into a new home. After the hustle and bustle of a big move, a housewarming gift is definitely appreciated!
There are a lot of different reasons why you might be looking for housewarming gift ideas. Are you a real estate agent looking to bring your clients a new homeowner's gift?
Did someone just move into your neighborhood and you want to give them a warm welcome? Maybe you're attending a housewarming party and you want to bring something to gift!
Whatever the reason is, a housewarming basket is always a good idea. The fun thing about a new house gift basket is that there are so many different themes that you can go with!
Today we're sharing some great housewarming basket ideas to get you inspired!
Table Of Contents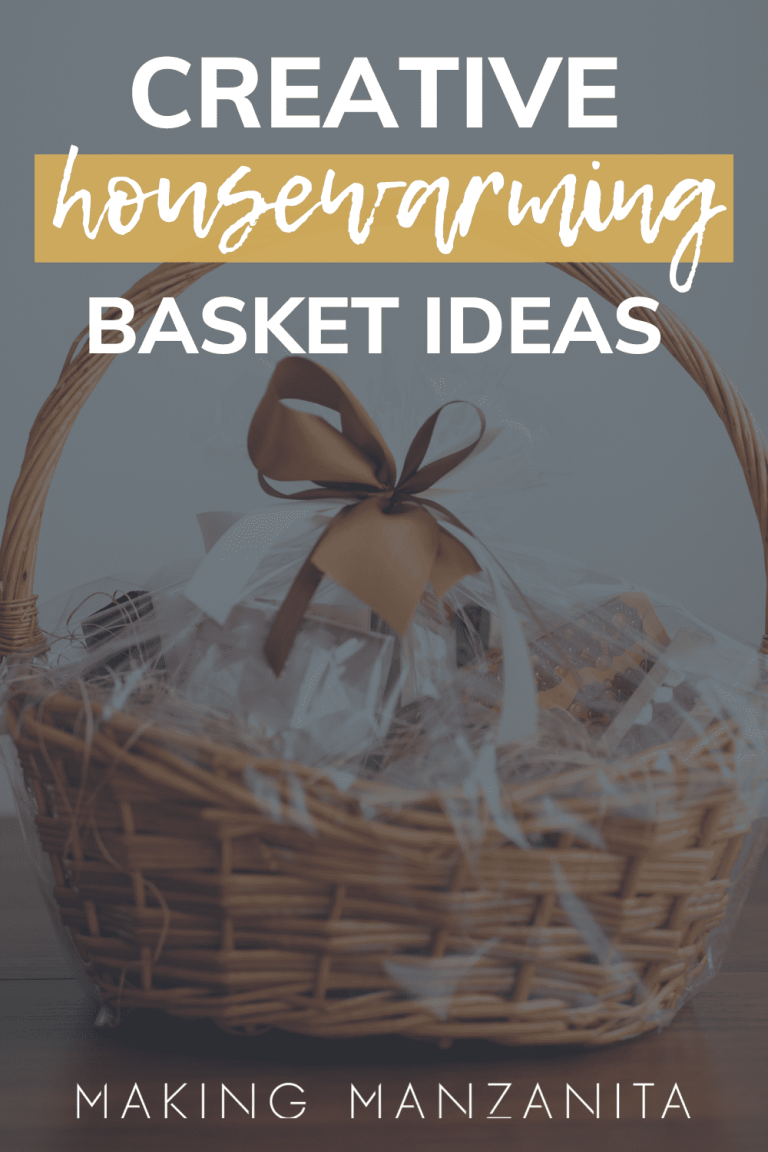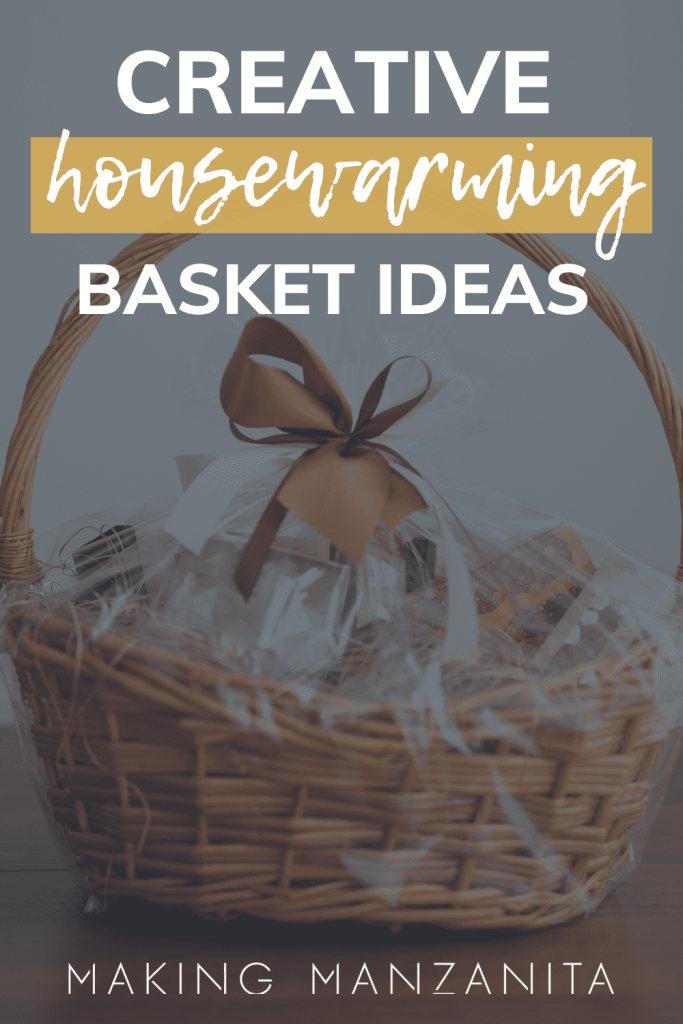 Related Reading – Any of these practical housewarming gifts would also be a good addition to any of these housewarming basket ideas!
This roundup of housewarming basket ideas contains affiliate links, but nothing that I wouldn't recommend wholeheartedly. Read my full disclosure here.
Gift Basket Ideas For New Home
First Dinner In A New Kitchen
When a person moves, she might not have time to make dinner for herself or search through her boxes to find the fixings for dinner. Create a thoughtful gift basket that offers an easy way to make dinner on the first night in the new home.
Easy Spaghetti Dinner Basket: Grab a box of spaghetti noodles, a jar of your favorite marinara sauce, and a container of parmesan cheese. Add a bag of Ceasar salad and a baguette of garlic from the deli section and call it a day! This is an easy dinner to whip up! (Bonus: Put everything in a strainer or pan to gift it and throw in some kitchen towels, oven mitts, and a kitchen spoon as a nice touch!)
Steak or Burgers Gift Basket: Fill your basket with aluminum foil, a spatula, steak seasoning, small containers of salad or cold side dishes, and a main dish, such as steak or burgers. If you're worried about the meat going bad, keep it in your refrigerator until you give it to the person. This is a great one for summertime!
Dinner Gift Certificate Gift Basket: A gift certificate for a free dinner from a restaurant, preferably one that delivers, will always be appreciated! This is a great option if you don't know if the person has dinner plans or not because they can get dinner whenever they want. Put the paper gift certificate with tabletop decorations, like a new tablecloth, linen napkins, candles, and a fun centerpiece. Include a handwritten note that you hope they enjoy their first romantic dinner date in their new home.
The Staples Food Gift Basket
A staples basket is an appropriate choice for those who recently moved and haven't yet unpacked or stocked their kitchen. Include the basic items an individual or family might need, such as sliced bread, milk, eggs, olive oil, butter, salt and pepper, and cheese. Add paper plates and plastic utensils to make cleaning up easier.
If the family has small children, add peanut butter and jelly and some boxes of Mac and Cheese to the housewarming basket.
Or make a new home gift basket of breakfast staples that includes dry cereal, muffins or bagels, granola bars, cereal bowls, and spoons.
Cleaning Supplies Gift Basket
Create a great housewarming gift basket of cleaning supplies for a new homeowner, who may not know where his cleaning supplies are in the packed boxes.
Start with a wicker laundry basket or cleaning bucket, and fill it with cleaning gloves, laundry detergent, dish-washing soap, hand soap, window cleaner, glass cleaner, and a toilet cleaner, as well as a toilet brush. Round out the basket with kitchen sponges, cleaning towels, and a few rolls of paper towels.
Creative Fireplace Gift Basket
Make a creative gift basket for the family based on the layout of the home or specific features they are most looking forward to. The couple may have explained the luxuries of the home, such as a wood-burning fireplace.
Make a gift basket that is strictly for the use of the fireplace. Purchase a brass log holder to use as the basket. Place a piece of cloth over the brass log holder to protect it from scratches while holding the gifts in place.
Choose accessories the couple will need for the fireplace such as firewood, firestarters, brushes, match holders, child safety gates (if the couple has children), shovels, pokers, and other items.
Add a blanket or pack of popcorn in the basket, for the nights when the couple cozy up in front of the fireplace. Buy these items from retail stores that sell items for the home or snag everything you need online!
Put One Item For Every Room Of The House (or Choose A Room)
One fun way to do a housewarming gift box is to put in one item for every room in the house. You could also choose one room to focus on for your gift basket. Each item could be as big or small as you wanted to fit whatever budget you have.
Here are some ideas to get you started:
Dining room: salt and pepper shakers, tasty treat, table runner or table cloth, centerpiece, table candles, napkin rings, linen napkins, serving ware
Kitchen: cookbook holder, dish towels, kitchen utensils, personalized cutting board, mixing bowls, measuring cups, bakeware, coffee mugs
Bathroom: bath bombs, shower gel, lavender soap, hand towels, room spray, towels, vanity tray
Bedroom: candle, throw pillow or blanket, eye mask, slippers
Living room: coasters, coffee table tray, diffuser for essential oils
Of course, you do not need to put in something for every room of the house. You could put a little label on each to show where it would go.
This can be a fun cool gift, but just be careful about getting them something that they would use instead of just more clutter. You can be as creative as you like with each particular lovely gift.
Practical Household Items Gift Basket
One good way would be to make a gift basket filled with only practical household items. You could fill it with things like picture hanging strips, dish soap, matches or lighter, magnets for the fridge, laundry detergent, post-it notes, notepads, pens, extension cords, surge protector, a candle, a smart speaker, light bulbs, coasters, cutting boards, trash bags, Ziploc bags, and all sorts of things that they will use. Even a package of toilet paper can be helpful when you're in the middle of a move!
You can try to find out the brands of the different things that they use so that you know they will use them.
Sports Team Gift Baskets
If they are moving to a new town and are into sports, then you could get them a gift basket filled with things for the new sports teams.
It can have team apparel, hats, and even a couple of tickets to a game if it is the season. This can be a very fun thoughtful housewarming gift for any sports fan.
Fun Foods Gift Basket Is The Perfect Housewarming Gift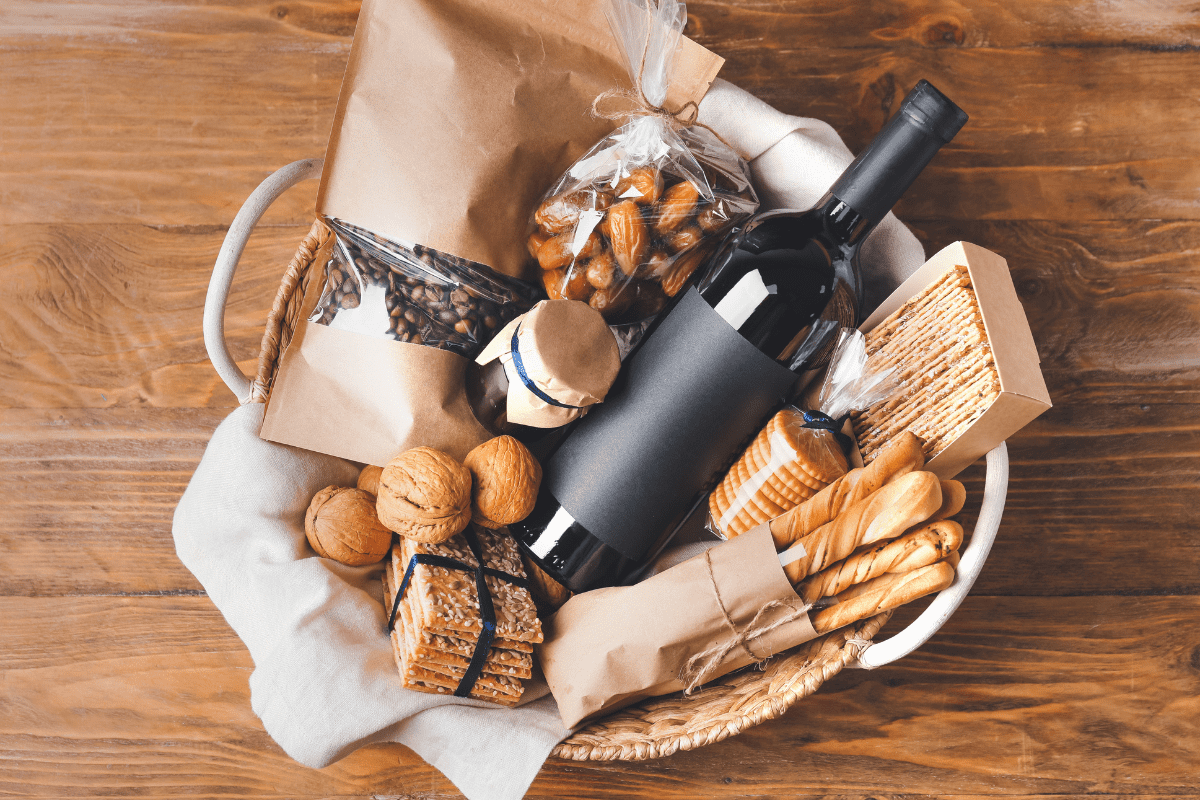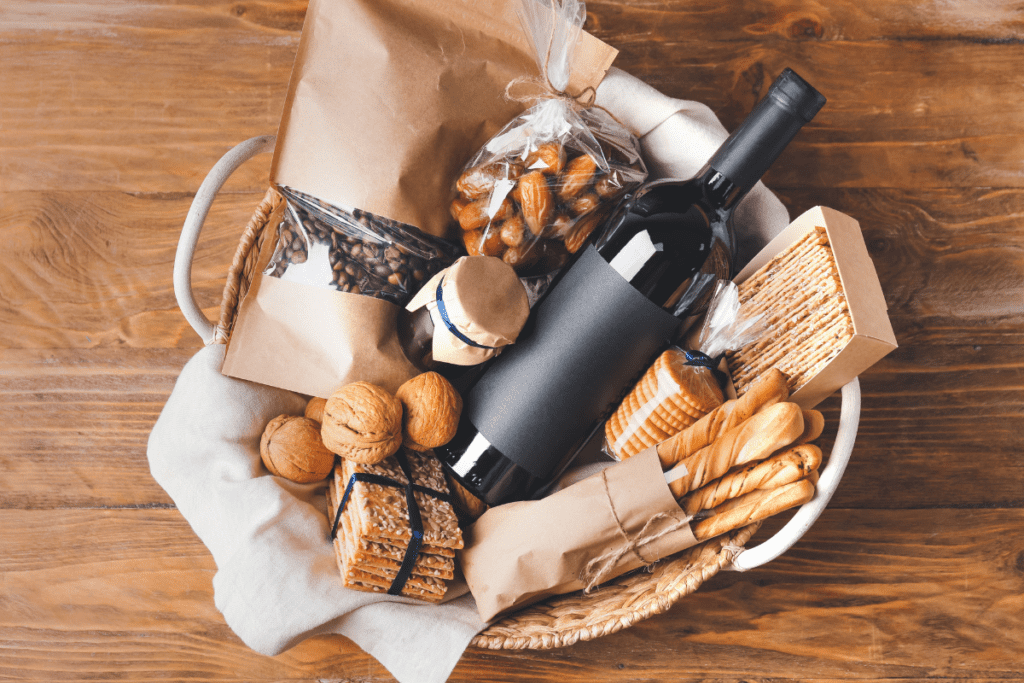 You can go to the store and pick out a bunch of fun foods. Get the fun things that people normally do not splurge on for themselves.
Another alternative would be to get a sweet housewarming perfect gift basket. You could fill it with candies and cakes to let them enjoy the sweetness of their new home.
Local Items from Small Businesses
One great way to welcome someone to the neighborhood is by rounding up local items from small businesses in your town.
This may require a bit of shopping around and research on your part, but this is a gift basket they are sure to remember forever. The contents totally depend on what sort of local small businesses you have in your town.
Here are some ideas to get you started:
Coffee beans, coffee cup, or gift card from the local coffee shop
Candle from a local candlemaker
6-pack of beer from a brewery or bottle of wine from a winery
Cookies or another goody from a bakery
Locally-made snacks like nuts, smoked meats, jelly, chocolates
Personalized Gift Basket for New Home
There's nothing better than receiving a gift that has been customized just for you, right? Including personalized products in your housewarming gift basket is a great extra touch.
Here are some creative ideas for housewarming gifts with personalized products:
Personalized cutting board with family's last name paired with cutting board cleaner, cheese knives, kitchen towels, dish scrubber, hand soaps, and oven mitt
Address sign with a welcome doormat with a layering mat slightly larger than the doormat (read more about layering doormats here), a new wreath for the front door, wreath hanger for the door
New home personalized candle with tray for coffee table, coasters, a new plant in a cute planter
Customized bathrobes or towels with spa items, like bath salts, bath trays, candles, and face masks
What sort of things do you include in a housewarming gift basket?
Choosing a theme is generally the best way to go when buying your supplies. That's why we've included so many creative housewarming basket ideas in our article.
If you're still stuck, take one room of the house (like the kitchen, bathroom, and living room), and buy items for that part of the home.
Sometimes the new homeowner sets up a registry at the retail store of her choice. You better be safe and get items on her list so that you stay within the decor theme she has in mind.
How do you make a handmade gift basket?
Homemade gift basket ideas are often cheaper than purchasing a ready-made basket, but it is a very personal gesture. By making the gift basket yourself, you'll know exactly what is going on in the basics, unlike those that you purchase already arranged for you.
Start by buying a basket of your choice, such as a wicker laundry-style basic from a retail or craft store. Match your basket to the theme of your basket if possible. For example, use a strainer or pan for a spaghetti dinner gift basket, use a laundry basket or cleaning bucket for a cleaning supplies basket,
Cover the inside of the basket with a towel, blanket, or tissue paper. Fill the basket with the supplies you have purchased.
What's the best way to give a gift basket?
Put all of your themed contents in the basket first, arranging them so you can see each item if possible. Wrap the basket in cellophane and tie it shut with a ribbon, which keeps the items from falling out of the basket but allows the homeowner to see the items inside. Top it off with a handwritten note or tag!
Can you buy a pre-made gift basket for new homeowners?
Don't have the time or energy to put the gift basket together yourself? No worries, there are retailers and merchants who sell pre-arranged give baskets to customers. You may be able to find several local businesses that make gift baskets that you can buy from.
Otherwise, you can also go online to find ready-to-go pre-made housewarming gift baskets. I've rounded up some of my favorite ideas below:
In conclusion
Buy your family members or friends a gift for their new home to show how happy for and proud of them you are. Choose a gift that complements their personalities. What you would buy for your home is not necessarily right for others.
Gift baskets full of household supplies could come in handy. Put the necessities (cleaning supplies, dishes, food, and other items) into the gift basket of your choice. Including personalized items for the home is a creative idea to also consider.
A housewarming gift basket is a lovely gesture. There are many unique ways you can make such a basket, which can make a special gift that can be both practical and fun.
Which of these housewarming basket ideas is your favorite?
Let us know in the comments!