Want a quick and easy DIY project idea? Make a DIY footed tray using a ceramic plate and wooden knobs for feet. It is so versatile! You can use it as a DIY coffee table tray in the living room, a vanity tray in the bathroom, or a pedestal tray in the kitchen!
Thank you to DAP for sponsoring this DIY footed tray tutorial! All opinions are entirely my own. This post also contains affiliate links, but nothing that I wouldn't recommend wholeheartedly. Read my full disclosure here.
Last year, we completely renovated our living room from top to bottom. In the midst of all the projects, I had a brilliant idea while perusing the aisles of Target. I stumbled across this pretty ceramic plate and thought…Hey, I could glue some wooden feet to the bottom of this and turn it into a pedestal tray for the coffee table.
So I grabbed the plate and then found some wooden knobs at another store that were perfect. And then…. the supplies somehow made their way into the garage in the midst of the renovations. We finished the living room and I never got around to making that DIY footed tray come to life.
Now that things have settled down a little around here and I magically found the supplies in the garage, I decided it was time to make this tray happen…finally… six months later.
DIY Tray Video Tutorial
If you love DIY videos, be sure to subscribe to our YouTube channel!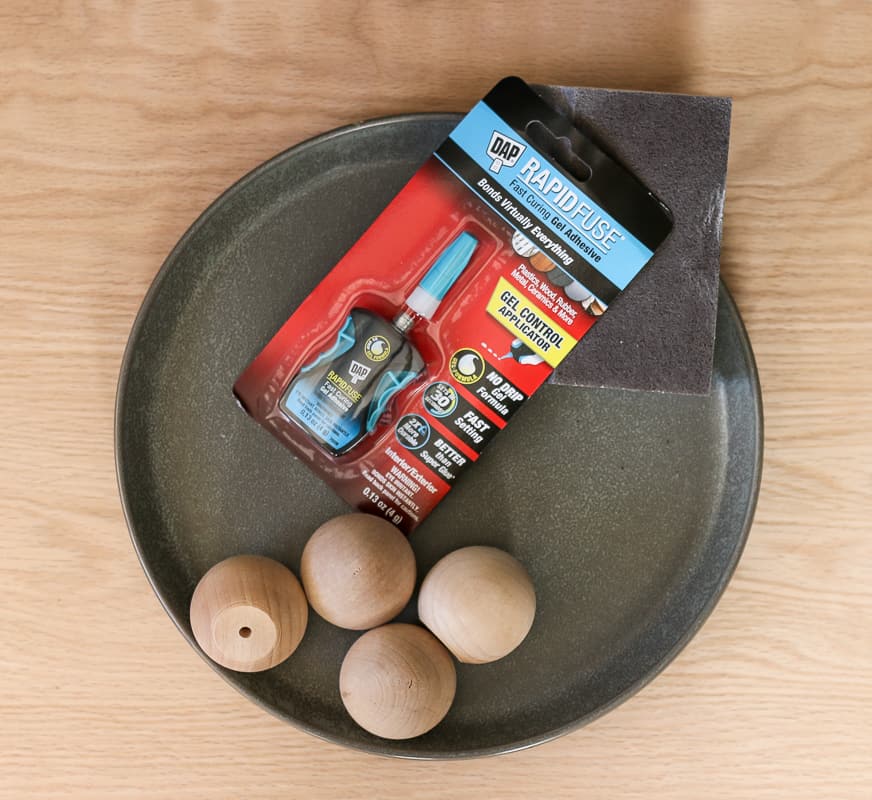 What you'll need for a DIY footed tray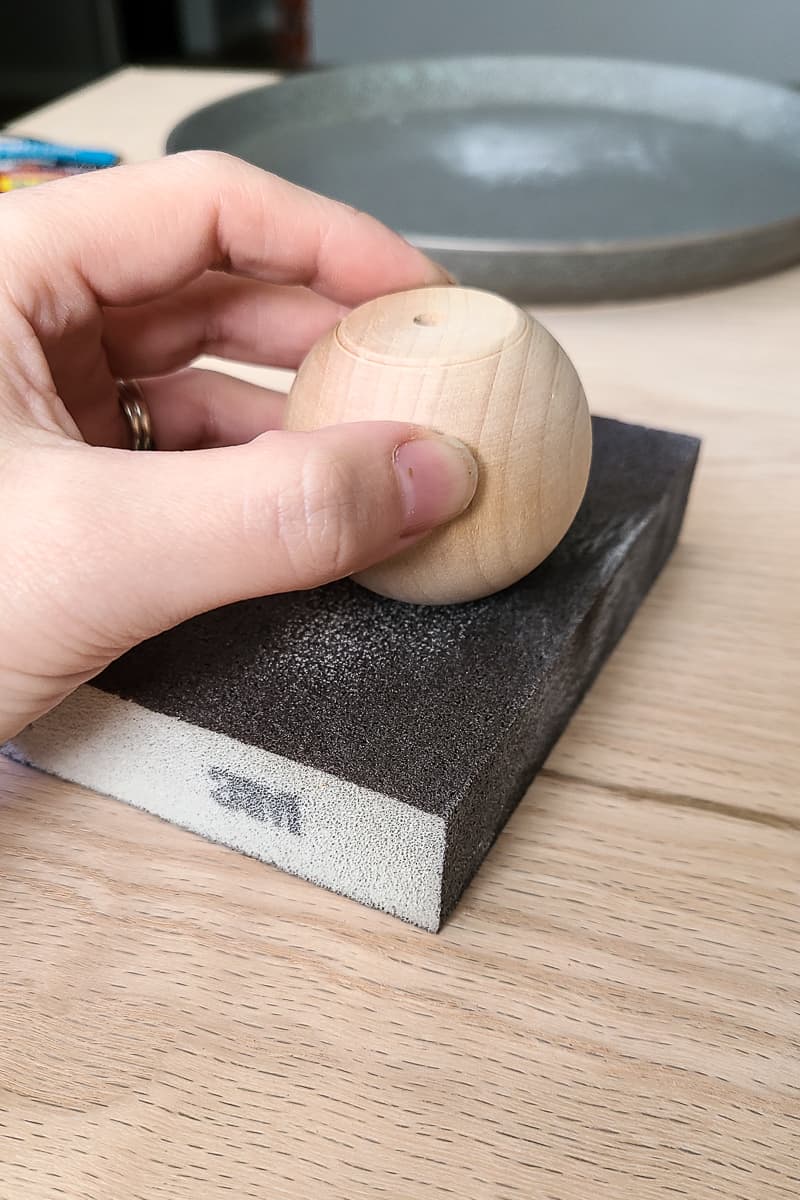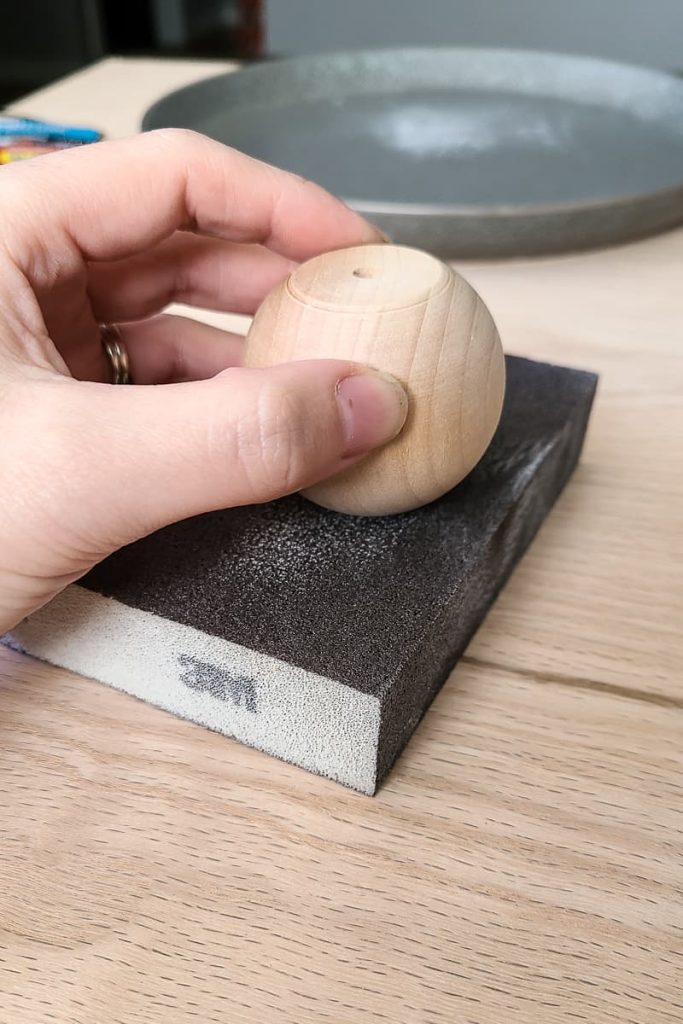 Step 1. Sand bottoms of wooden knobs
The 2″ wood knobs that we found were flat on one side, but round on the other. My goal was to slightly flatten the round side slightly, so they didn't roll around.
I'm not sure how necessary this was, but I figured if they were slightly flattened they would be stronger when used as feet on the bottom of the tray because there would be less pressure shifting the feet from side to side.
To flatten the wooden knobs on one side, I simply rubbed them against a sanding block for about 30 seconds or so. I only sanded them until they were able to sit flat on the tabletop and not roll.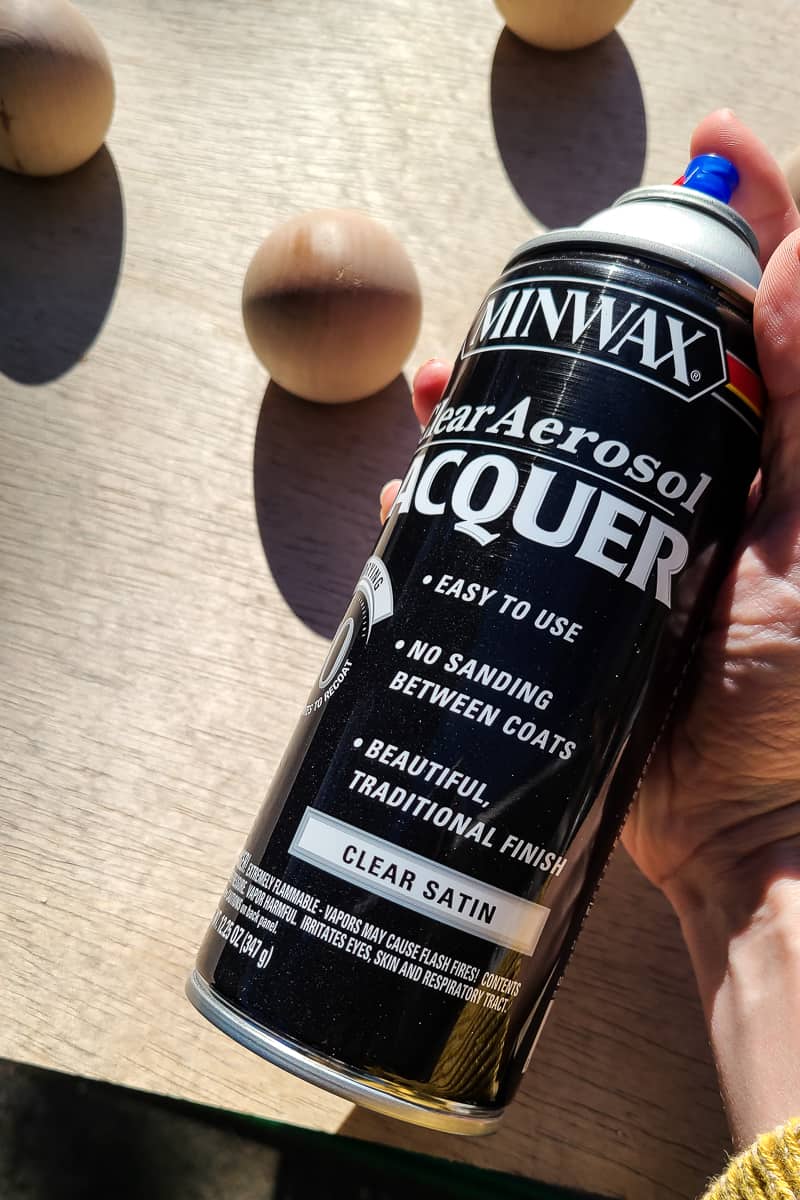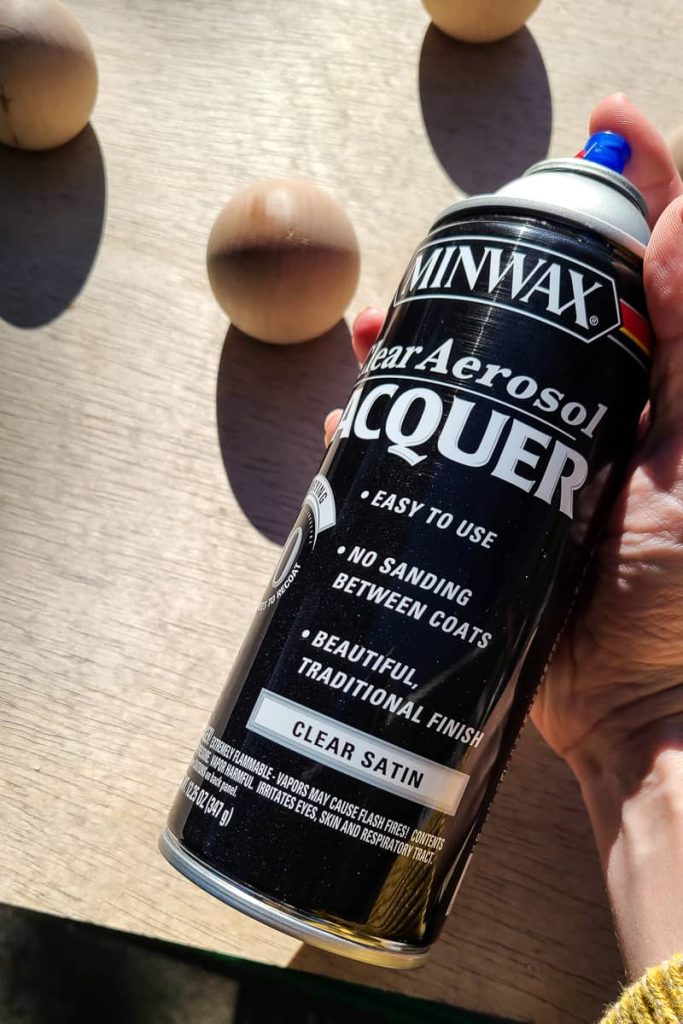 Step 2. Seal wooden feet
I debated not sealing the wooden feet, but ultimately decided it was worth the extra time and expense.
Since we plan on putting our DIY footed tray probably in the bathroom as a vanity tray or in the living room as a coffee table tray, there's a chance something could get spilled next to the tray from time to time because #momlife.
Remember the wood is a porous material so when it is left unsealed, it can get easily stained or ruined when it gets wet. I was envisioning coffee getting spilled next to the tray and bam… wooden feet wood would be stained forever.
To prevent this I sealed the wooden feet with clear spray lacquer. It is really easy to apply. Simply spray 3 light coats on the feet in a well-ventilated area and let dry for 24 hours.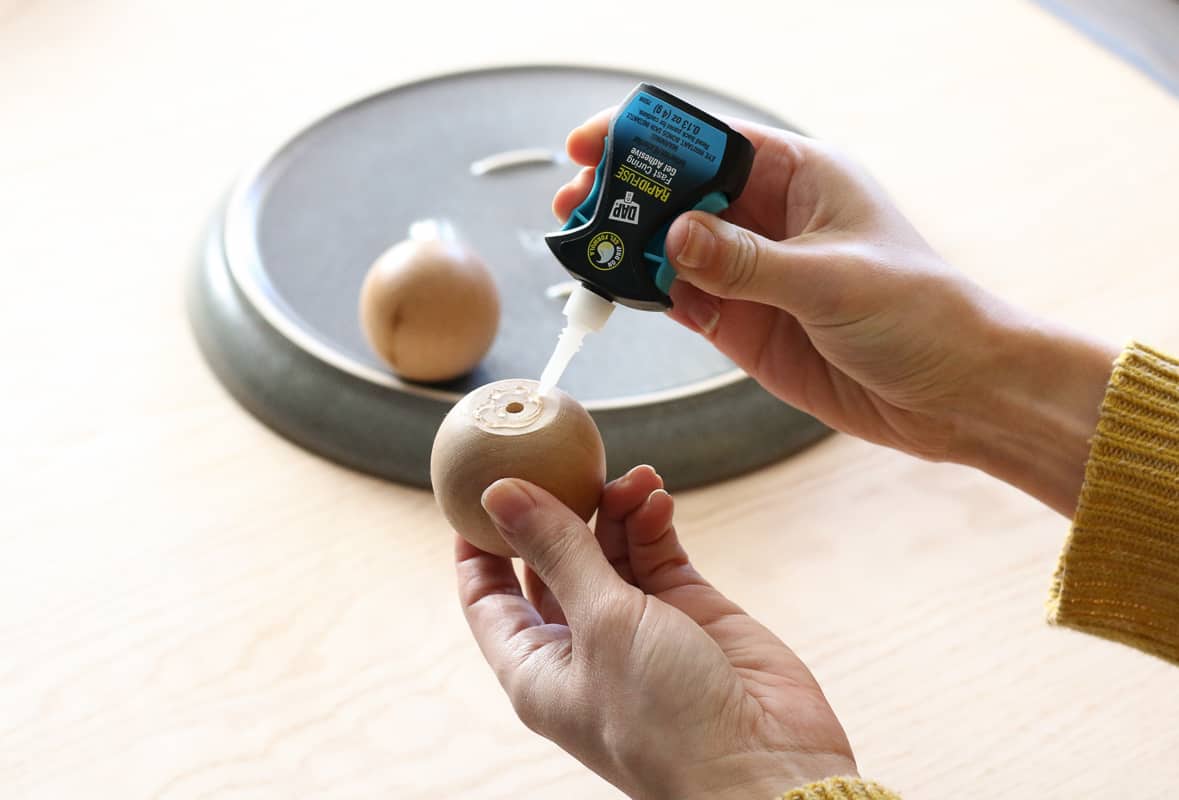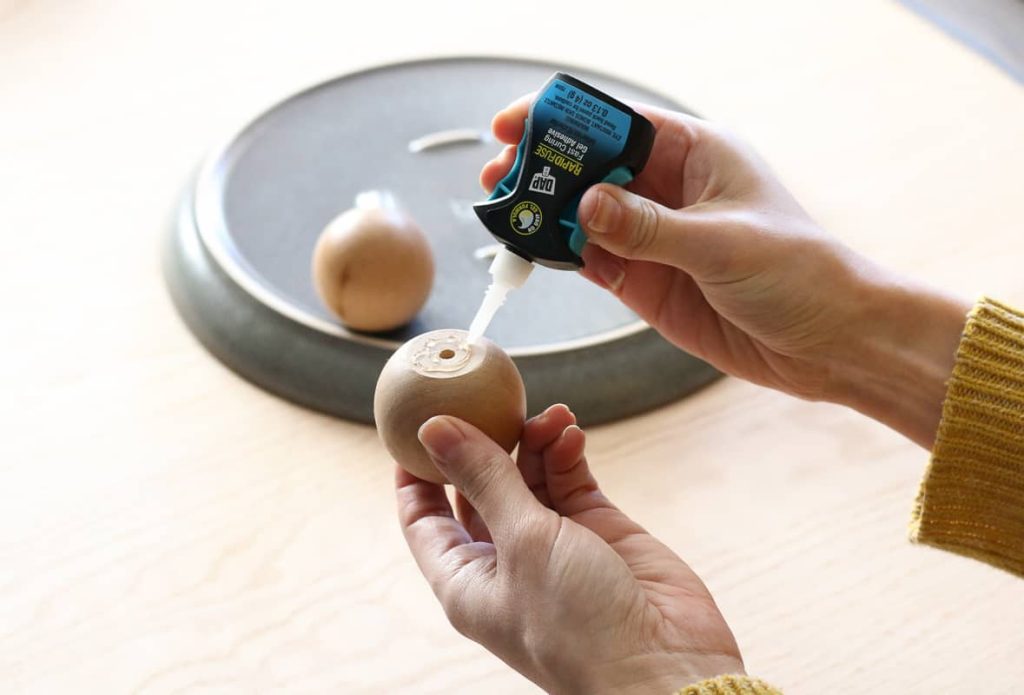 Step 3. Glue wooden feet to plate
After the wooden knobs were sealed and had a chance to dry, it was time to attach them to the bottom of the plate. I snagged this ceramic plate at Target last year with plans to make a DIY footed tray and then never got around to it!
You can really use any type of ceramic plate, so feel free to use an extra one from around the house, pick up a new one at the store or find something unique at a thrift store or garage sale!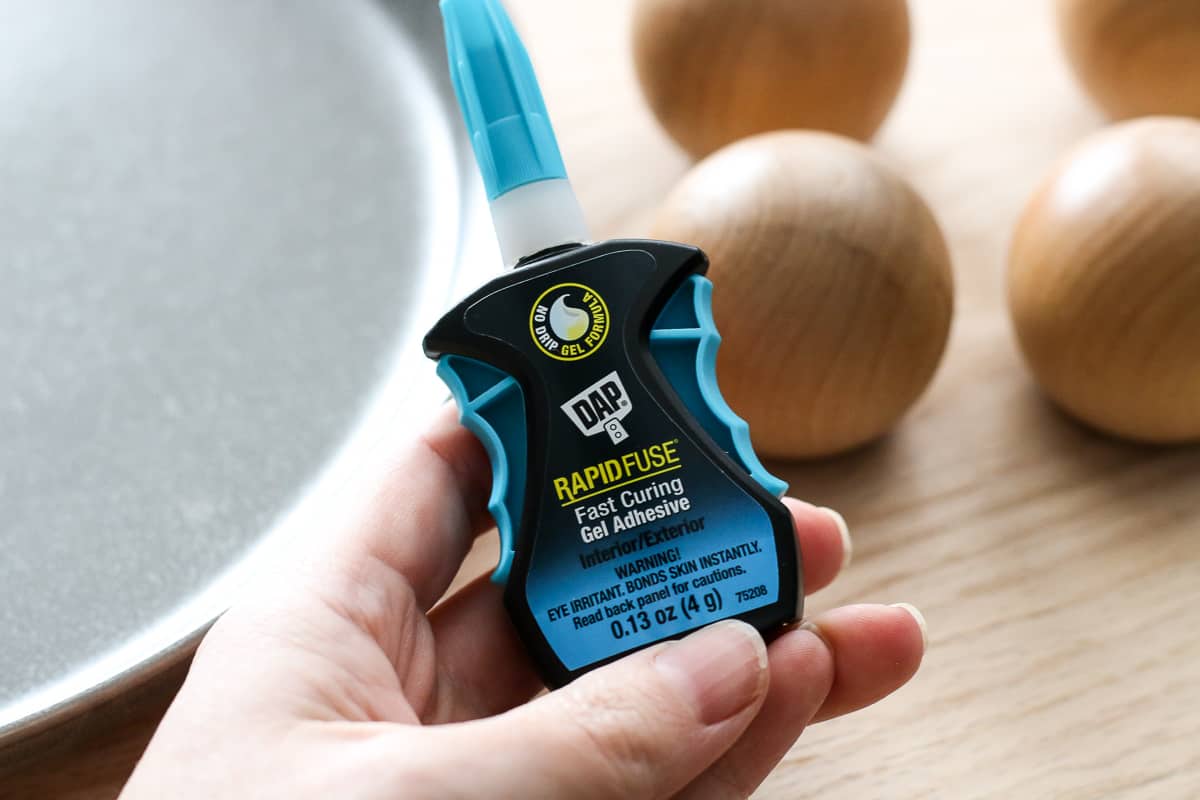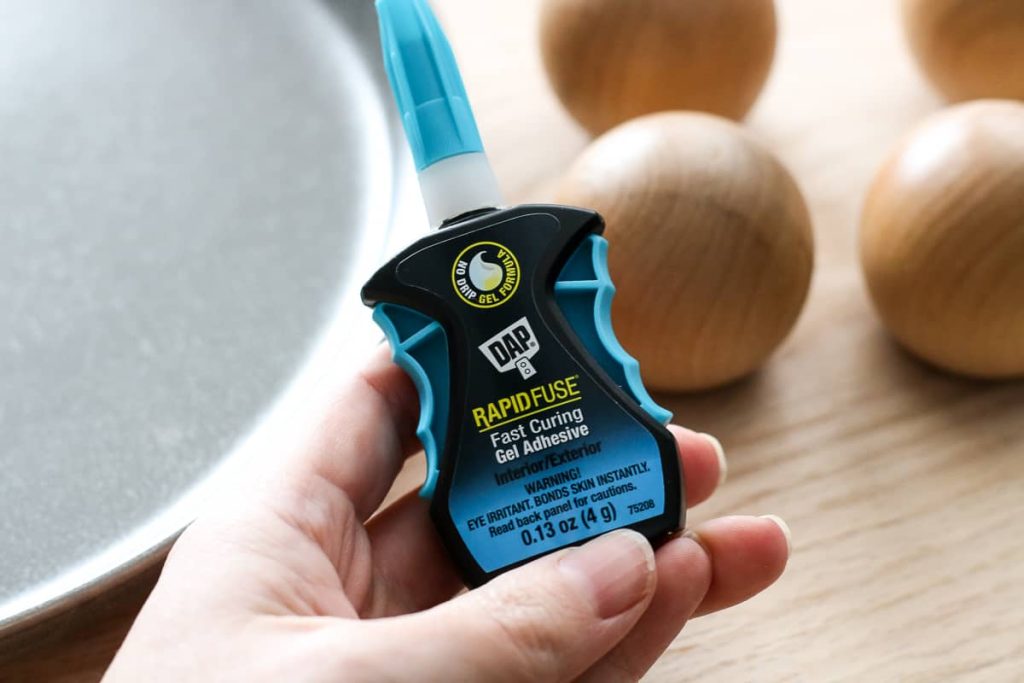 Use DAP RapidFuse Fast Curing Gel with Gel Control Applicator to attach feet to plate
Now if you've been around a while you guys know that DAP's Rapid Fuse All Purpose Adhesive is one of my favorite tricks for fixing things around the house! I also love using it for fun craft projects like this pedestal tray.
Here are some other crafts that I've used Rapid Fuse for:
This time I used the semi-new "Gel Control" version of RapidFuse. The RapidFuse Fast Curing Gel with Gel Control Applicator is a little thicker than the traditional RapidFuse, so it is less likely to squeeze out the edges where it is applied and definitely won't drip or run.
But it has the same fast-setting characteristics of the RapidFuse that you may be familiar with. It sets in just 30 seconds and then fully cures in 30 minutes.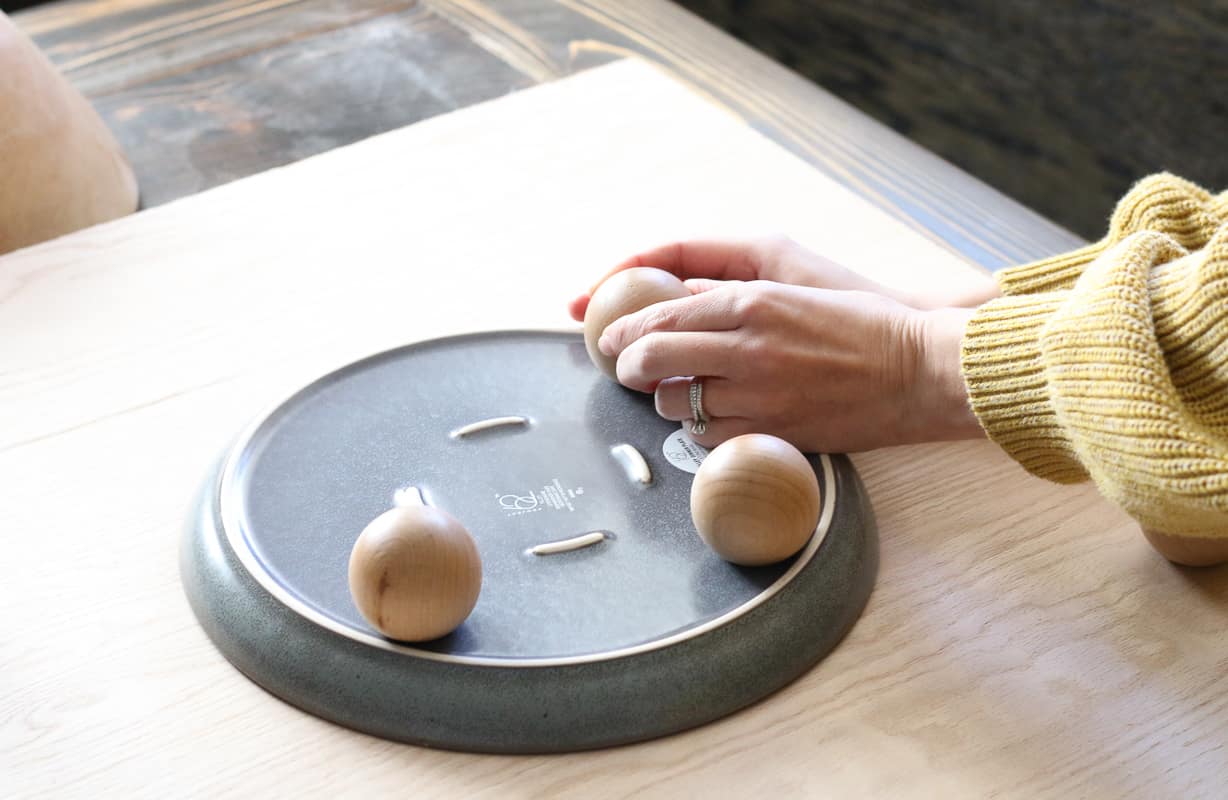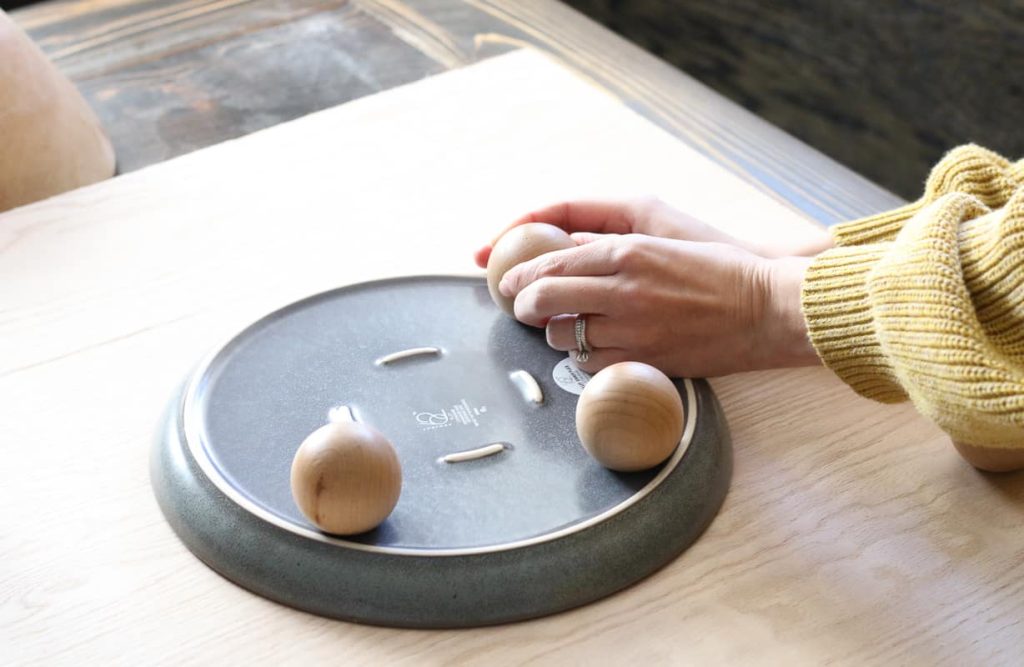 To attach the wooden feet to the bottom of your plate tray, simply squeeze a small amount of glue to the flat side of the wood knob and press it into place on the bottom of the plate for 30 seconds.
I used 4 wood knobs for my DIY pedestal tray, so I added a knob to each of the 4 corners of the bottom of the plate to form a square.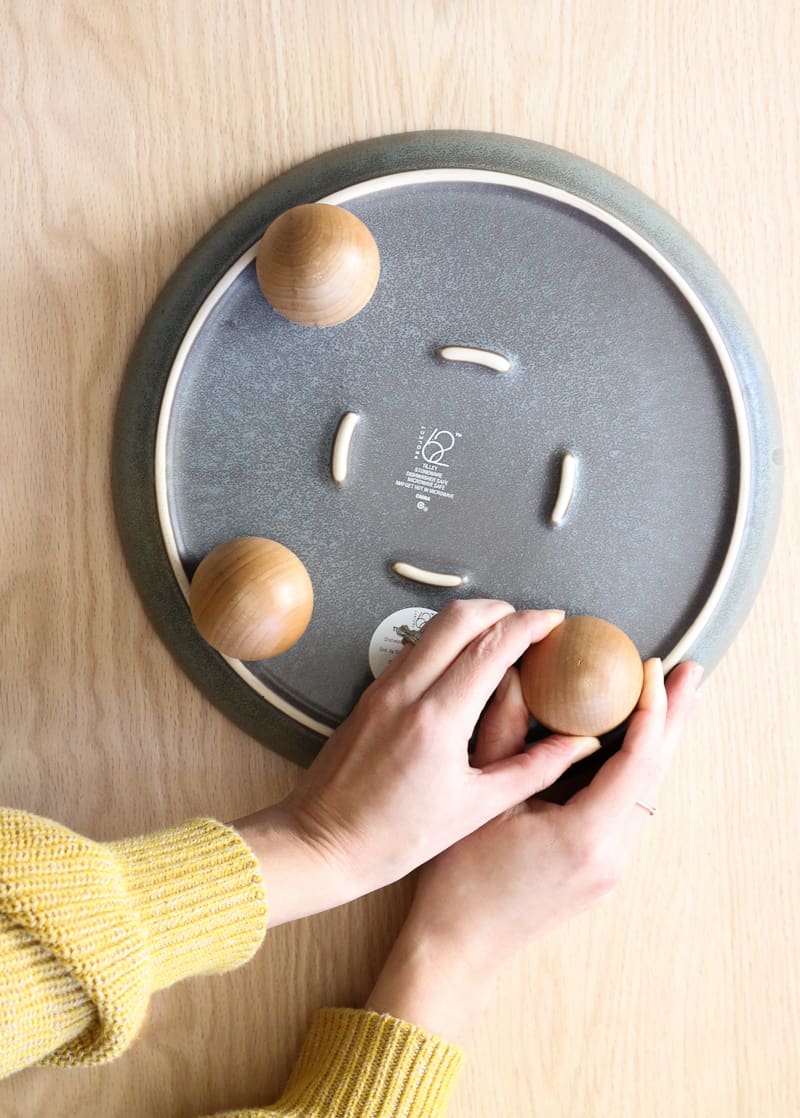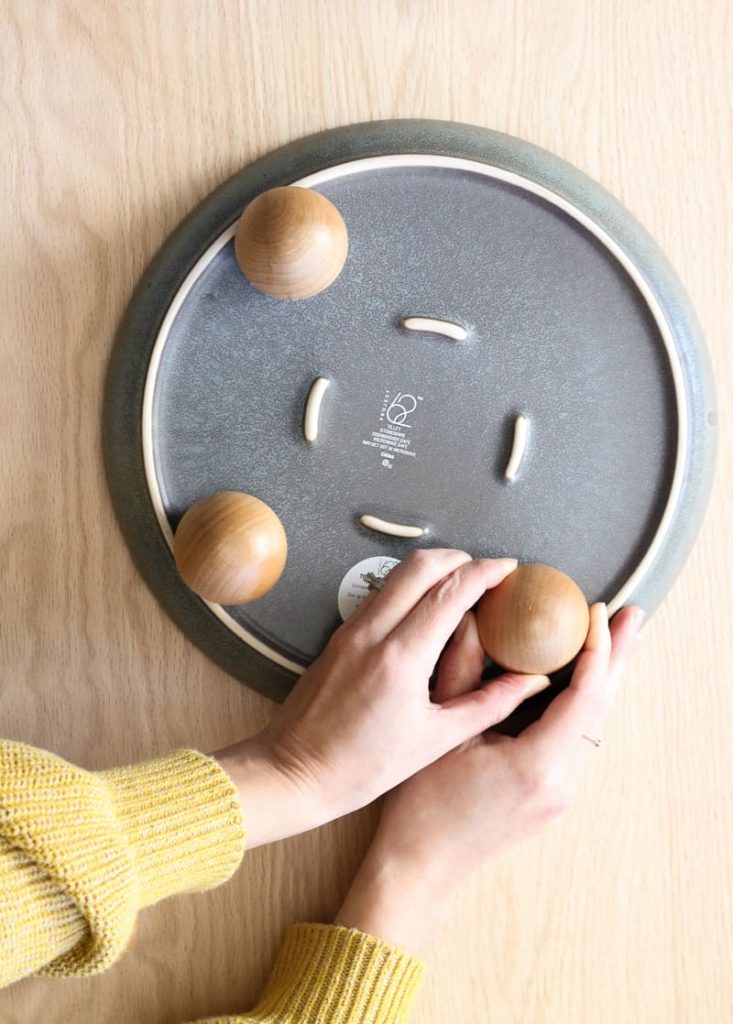 Once all 4 feet are added to the tray, step aside and don't mess with it for 30 minutes to give the glue a chance to cure.
Step 4. Decorate with your DIY footed tray
Now, this is the fun part! You can decorate with your DIY footed tray. To give you inspiration, I tried out the pedestal tray in a few different places in the house! It is SO versatile, you can put it just about anywhere.
Use it as a DIY coffee table tray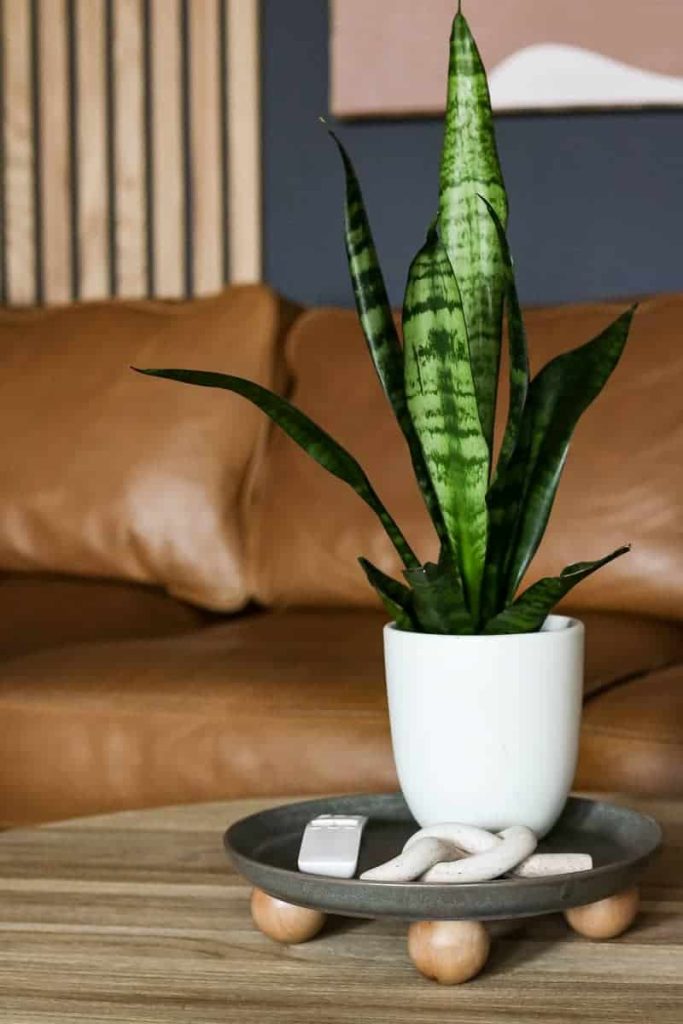 When the tray is used in the living room, it's the perfect place to corral items on the coffee table. I used a potted plant, a decorative clay knot, and our Samsung Frame TV remote.
But, you could put other living room essentials in your DIY coffee table tray like a stack of coasters (like wooden coasters or marble coasters), a candle, a vase of flowers, wood bead garland, and more!
Put it in the bathroom as a vanity tray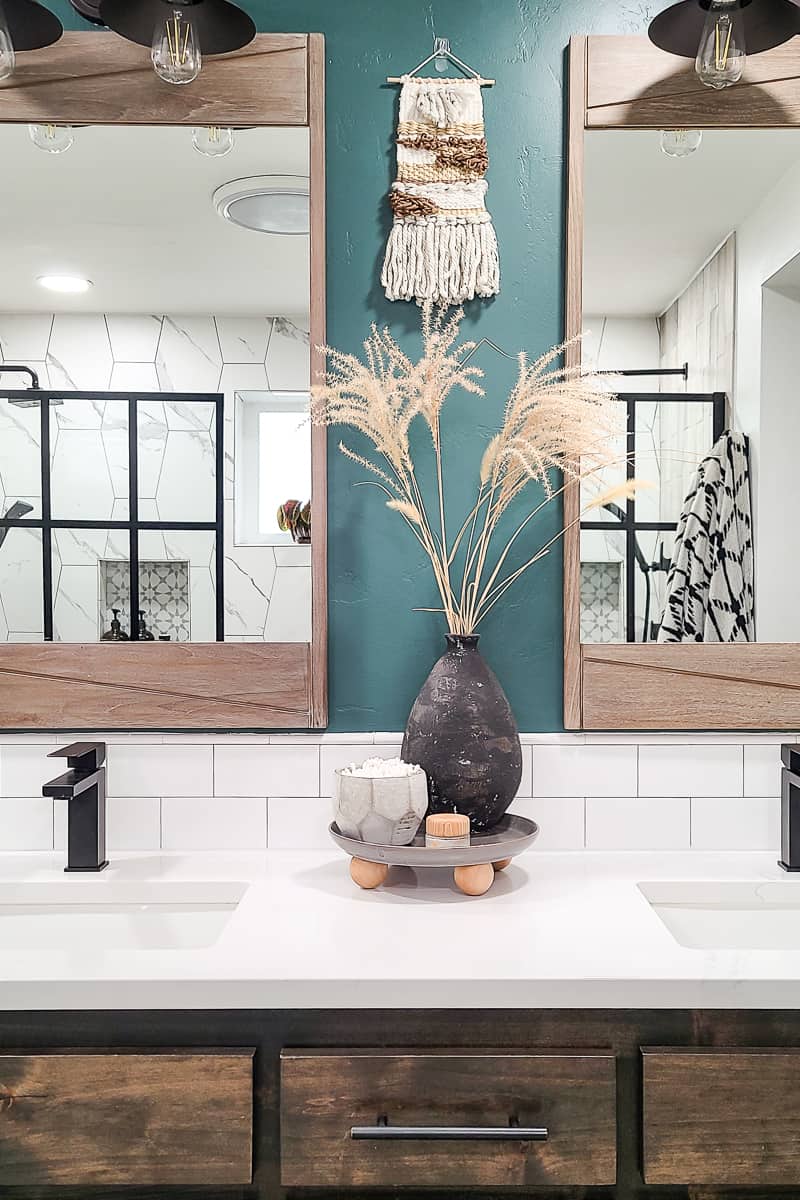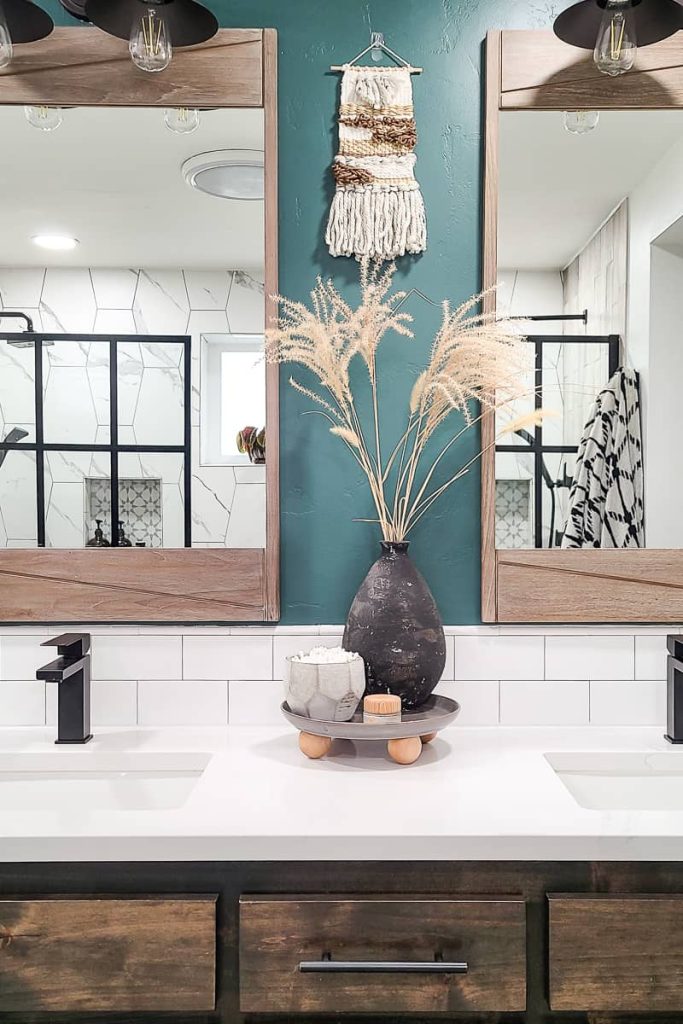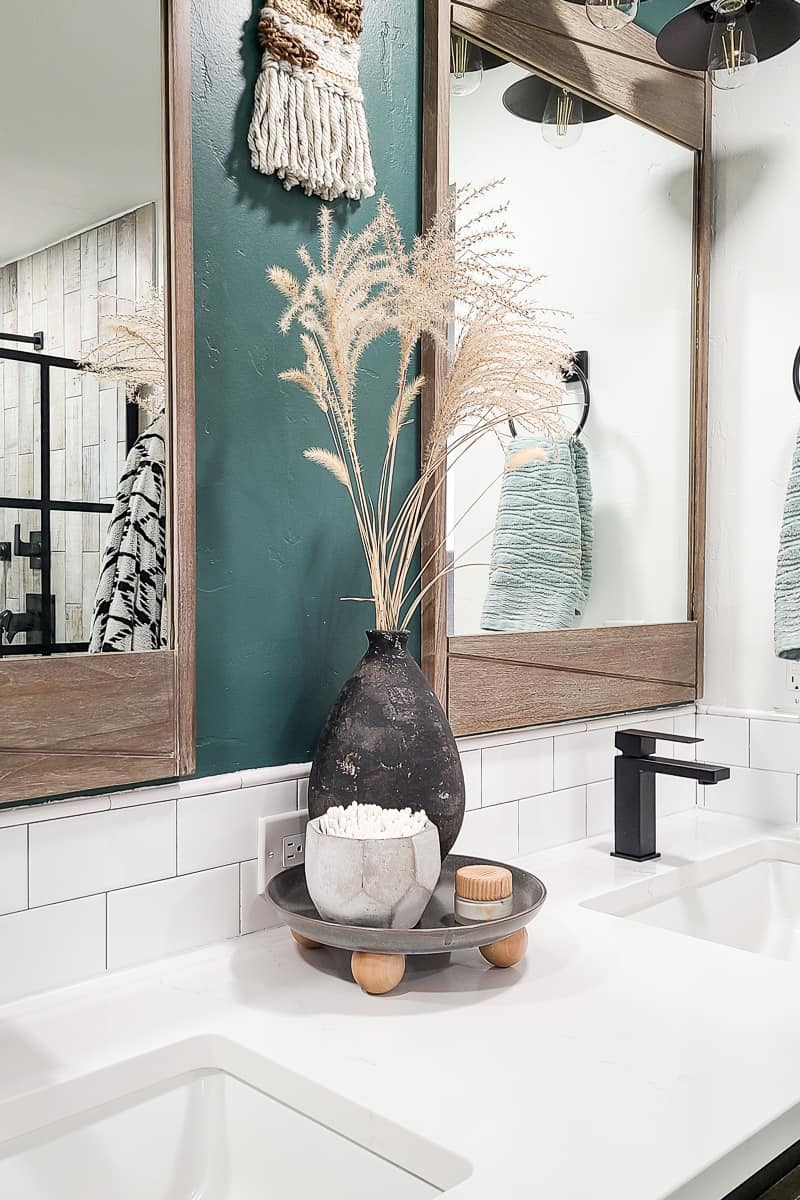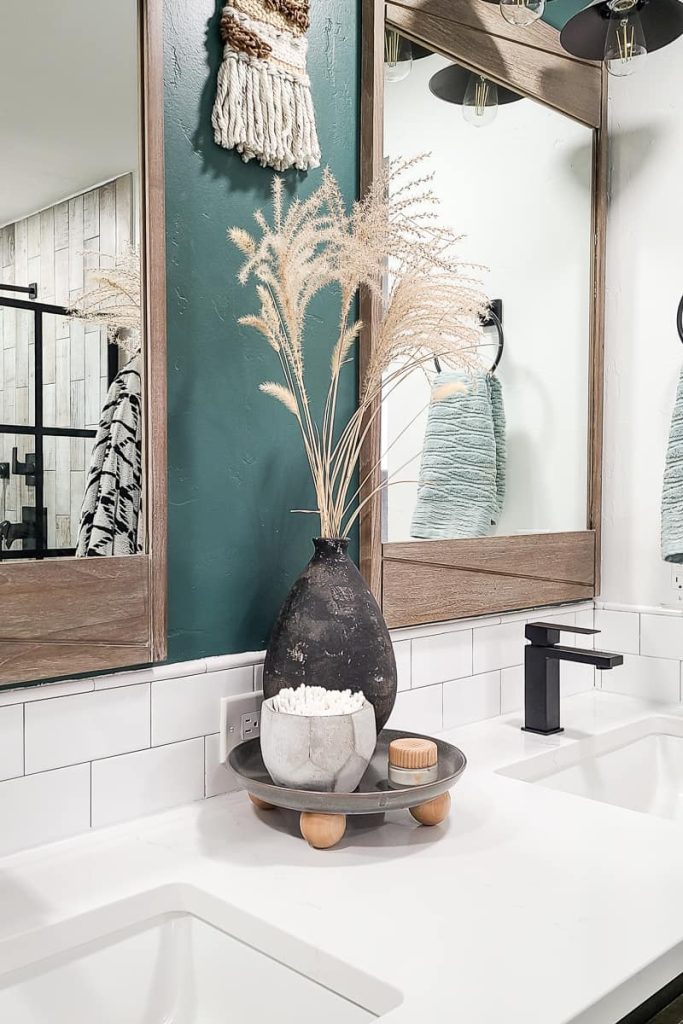 Using the DIY footed tray on the bathroom counter is a great idea as well! You can round up bathroom essentials in a vanity tray, like a bowl of Q-tips, face cream, lotion, perfume, vitamins, jewelry, makeup brushes, a small bathroom storage jar with cotton balls, and DIY vintage pottery with pampas grass for decor!
Use the footed tray to hold essentials in the kitchen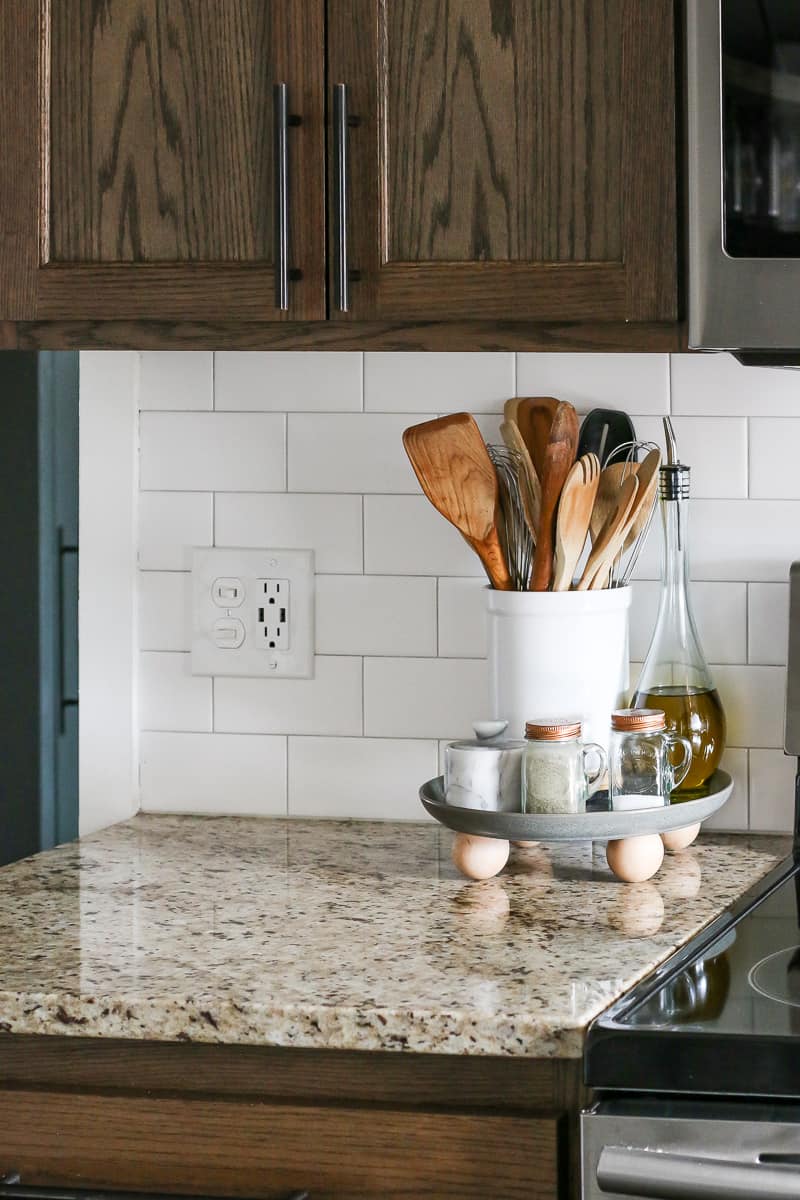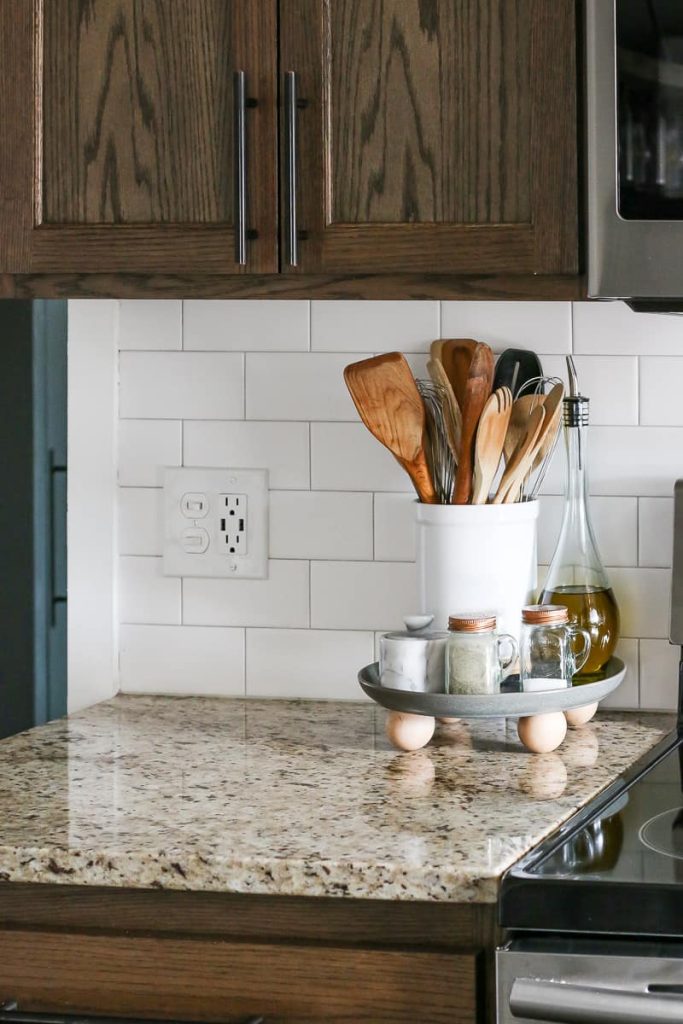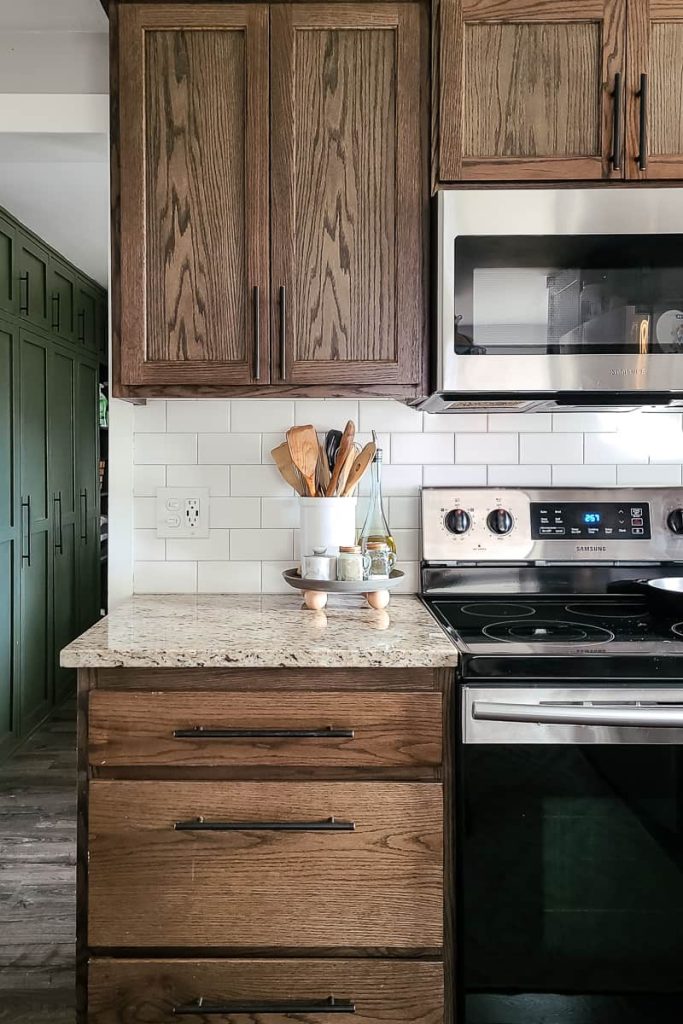 Last, but not least, I tried the small plate tray in our kitchen next to the oven. You always need to have a few essentials within reach while cooking.
I styled the tray with a canister full of our kitchen utensils, an olive oil dispenser, salt and pepper shakers, and a small marble salt cellar with a lid.
If you wanted to use a tray in your kitchen, you could also add a paper towel holder, a candle, and sauces that you use frequently while cooking.
Alternatively, you could put the footed tray next to your sink instead and have it hold your soap dispensers, hand lotion, and dish scrubbers. Keep in mind that because the tray has wooden feet it is not dishwasher safe and you would need to be careful when cleaning.
Whether you choose to use the DIY footed tray as a coffee table tray in the living room, a vanity tray in the bathroom, or a pedestal tray in the kitchen – the choice is yours!
The process of creating this tray is as easy as can be!
This cheap and easy DIY tray is the perfect project for anyone that is wanting a quick win around their home! You can grab a new plate at the thrift store or find a new one.
Where would you use the DIY footed tray in your home?
Let us know in the comments below!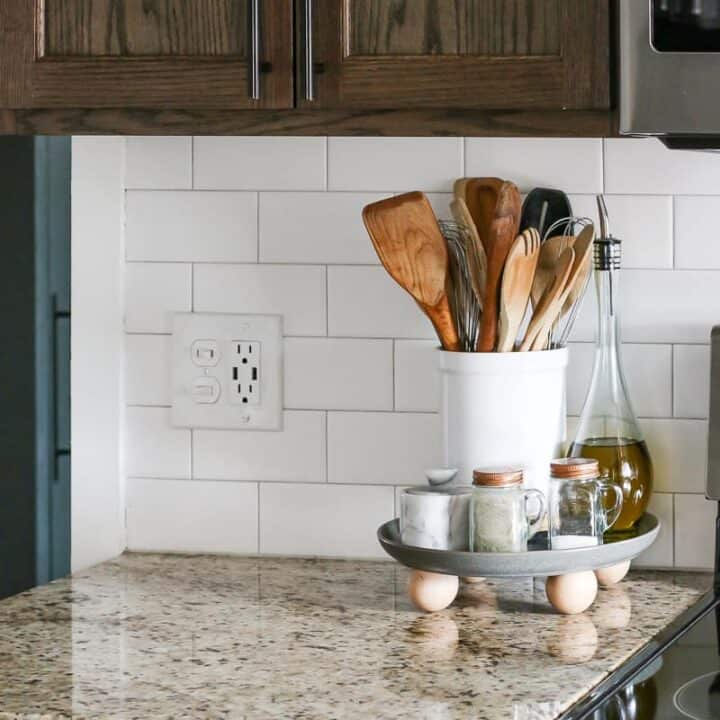 Easy DIY Footed Tray
Make a DIY footed tray using a ceramic plate and wooden knobs for feet. It is so versatile!