If you're looking for a really easy DIY frame for printables, you're going to love this tutorial! Learn how to make a DIY poster frame that is cheap and simple! Also, you can download these free farmhouse bathroom printables to put in the frames!
I love printables…love making them and sharing them with you guys…love downloading them…love using them in our home.
They are one of the best ways to decorate an area of your home quickly and CHEAP! There are so many free printables out there!
The issue I was having is how to display printables after you download them. Just short of putting them in a boring old frame, I was at a loss.
I wanted a way to display printables on my wall, easily switch them out when I find new ones….not to mention, I wanted it to look good.
Enter the easy DIY poster frame.
I've made a version of a DIY frame with supplies that I already had on hand + some super cheap poplar hobby boards from Home Depot…seriously, they are less than $3 each and you only need 2 for each frame.
You can really customize your frame by staining or painting the wood whatever color you want and you can make these in different sizes if you have, say, a poster you wanted to hang versus a small printable.
This easy DIY poster frame tutorial contains affiliate links, but nothing that I wouldn't wholeheartedly recommend anyway! Read my full disclosure here.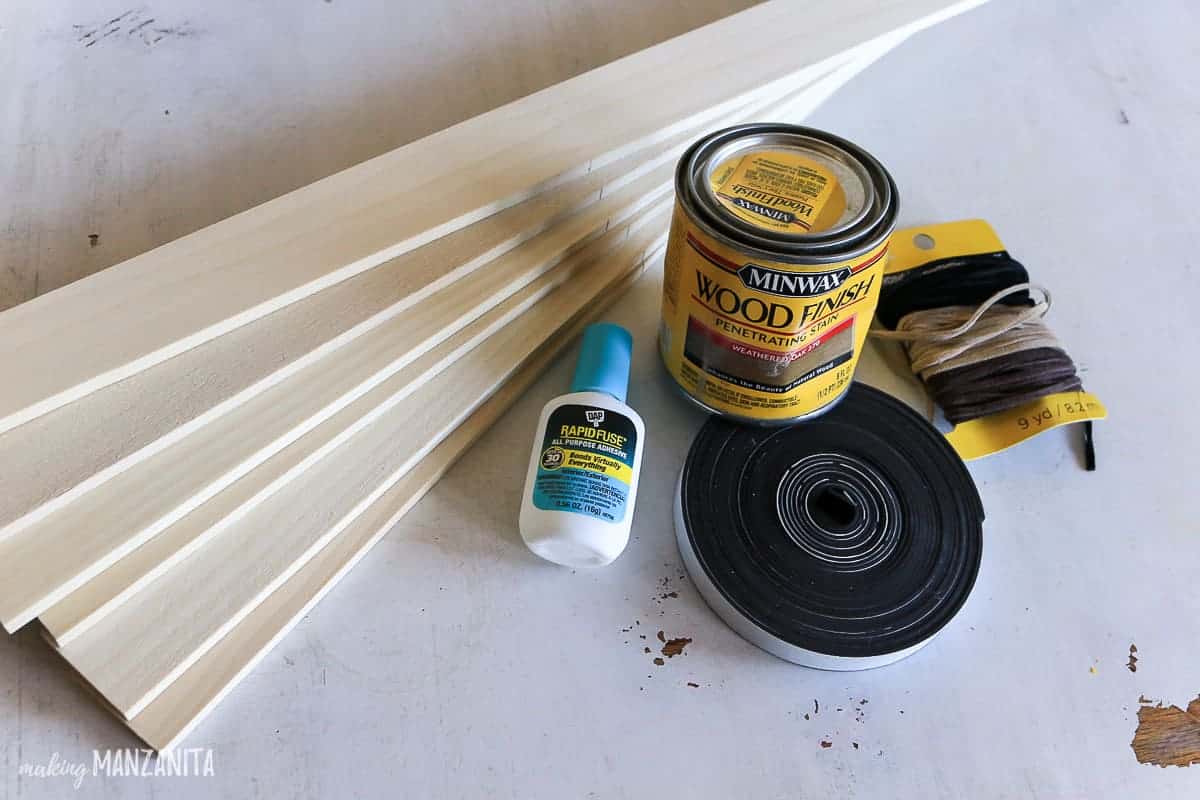 What you'll need to make a DIY poster frame for printables:
Poplar hobby boards – you'll need two for each frame you want to make
Staining rag
Fine grit sandpaper
Printables – subscribe below to grab your free farmhouse bathroom printables that I used
I summed up this tutorial in a short video for ya!
How to make DIY frames for printables – video tutorial!
If you love DIY videos, be sure to subscribe to my YouTube channel so you don't miss one!
Step 1: Cut wood down to size
Start by marking and cutting the wood boards down to size with a miter saw. We cut ours down to 9 1/2″ because I was framing a letter-sized printable, which is 8 1/2″ wide, so I added an inch to allow for overhang on each side of the printable.
Step 2: Sand and stain wood boards
Next, you'll lightly sand the boards with fine-grit sandpaper.
Then you can apply wood stain directly to the poplar hobby boards with a stain rag. We used Minwax Weathered Oak. Stain all sides of the boards.
Step 3: Attach magnetic tape
Then you can attach the magnetic tape to the back of the wood boards. The tape does have a sticky side, but I found that it wasn't strong enough to really adhere to the wood, so we added Rapid Fuse glue, which you know is my go-to!
Hold the tape in place after you glue it for about 30 seconds and then clamp it down until the glue has cured, which is 30 minutes if you are also using Rapid Fuse.
If you've been a while, you know that we are big fans of the RapidFuse glue! It's great for fixing things around the house and even works great for simple craft projects like this DIY footed tray, DIY wood wall art with wood shims, DIY key holder, plant pot cover, marble coasters, and Christmas tassel tree.
Step 4: Prepare poster or printables
Next, you can print your printables out and cut them down to size if needed. If you're using a poster for your DIY frame, simply unroll it and you should be good to go!
Put the poster or piece of paper between the pieces of wood along with the magnetic tape and put two boards together. The magnets will do their job and hold the paper or poster in place!
Step 5. Attach cording hanger
Lastly, you can tie the suede cording around the back piece of wood on the top and knot it into place.
Then just hang the frame up on the wall!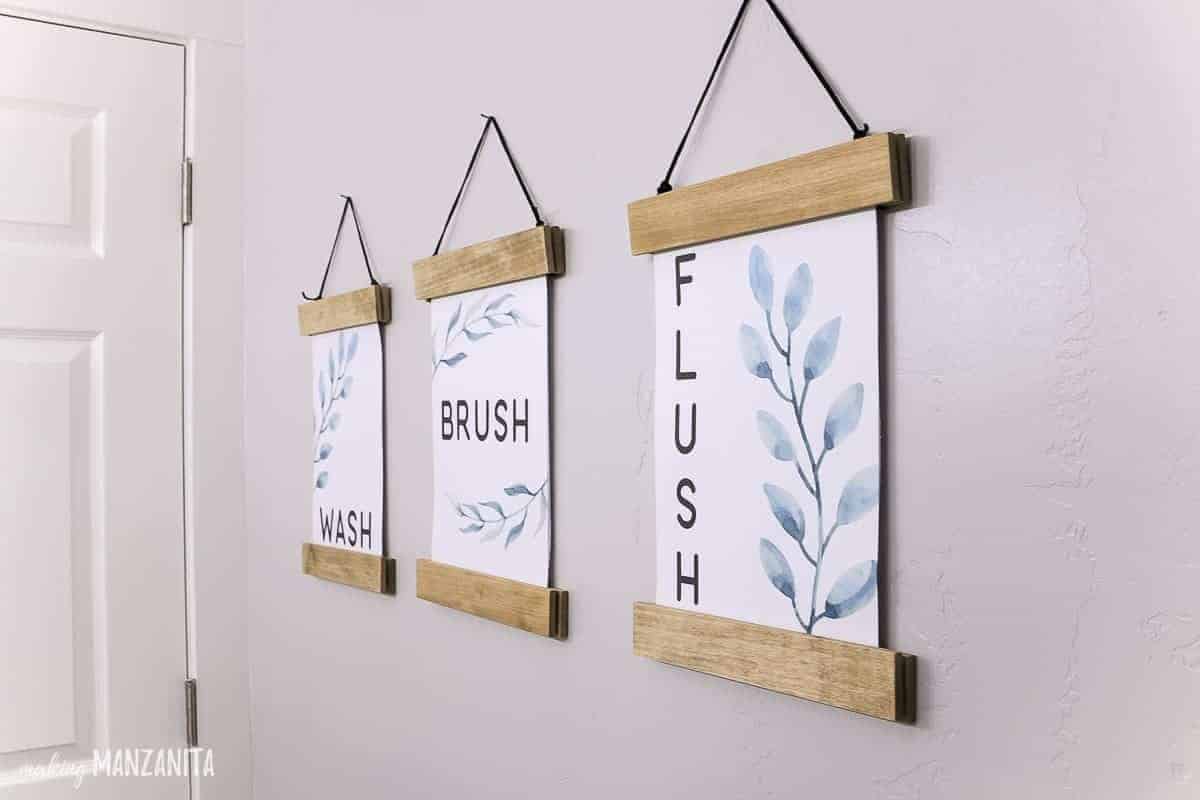 Aren't these DIY poster frames such a fun and easy way to display printables in your house?
Download free farmhouse bathroom printables
Now if you're wondering how to get these free farmhouse bathroom printables, you can grab them below.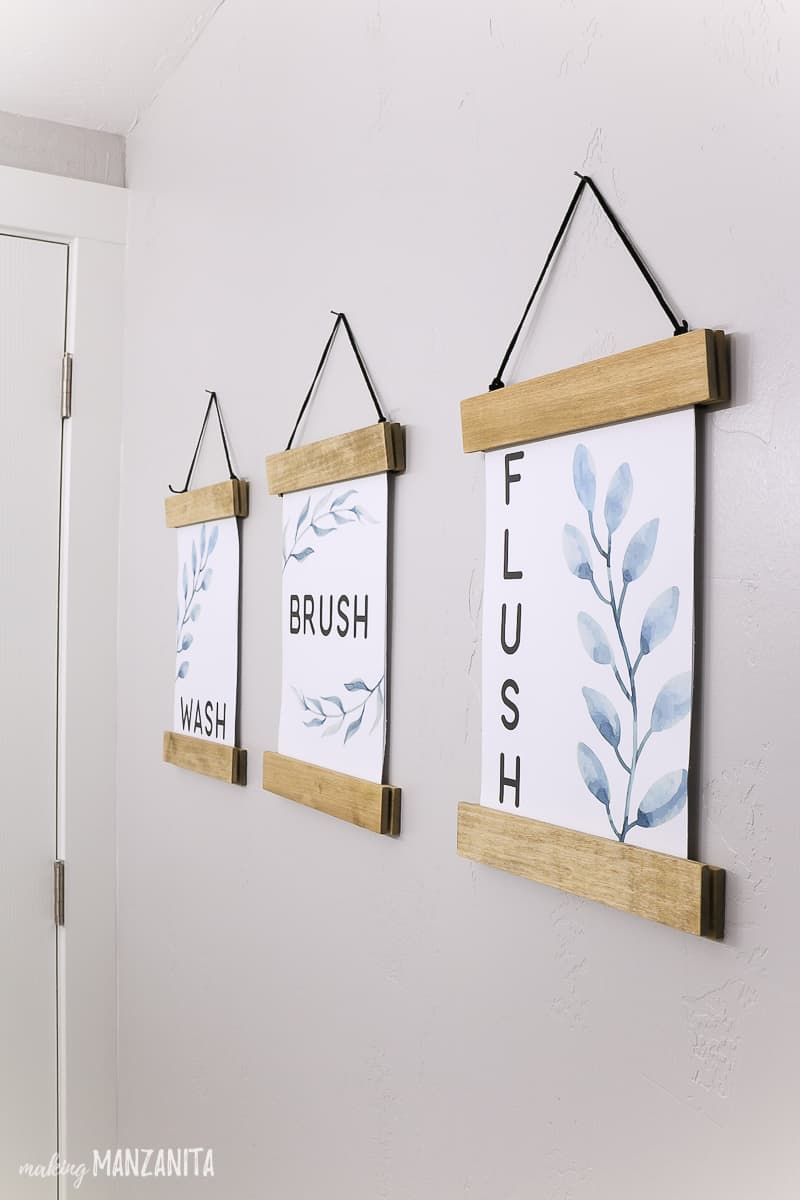 I was so excited to make and share these free farmhouse bathroom printables with you, so be sure to show me how you use them in your bathrooms.
You can share photos in the comments below or tag me at @MakingManzanita on social media!
Where would you put a DIY wood printables frame in your home??
Let me know in the comments below!!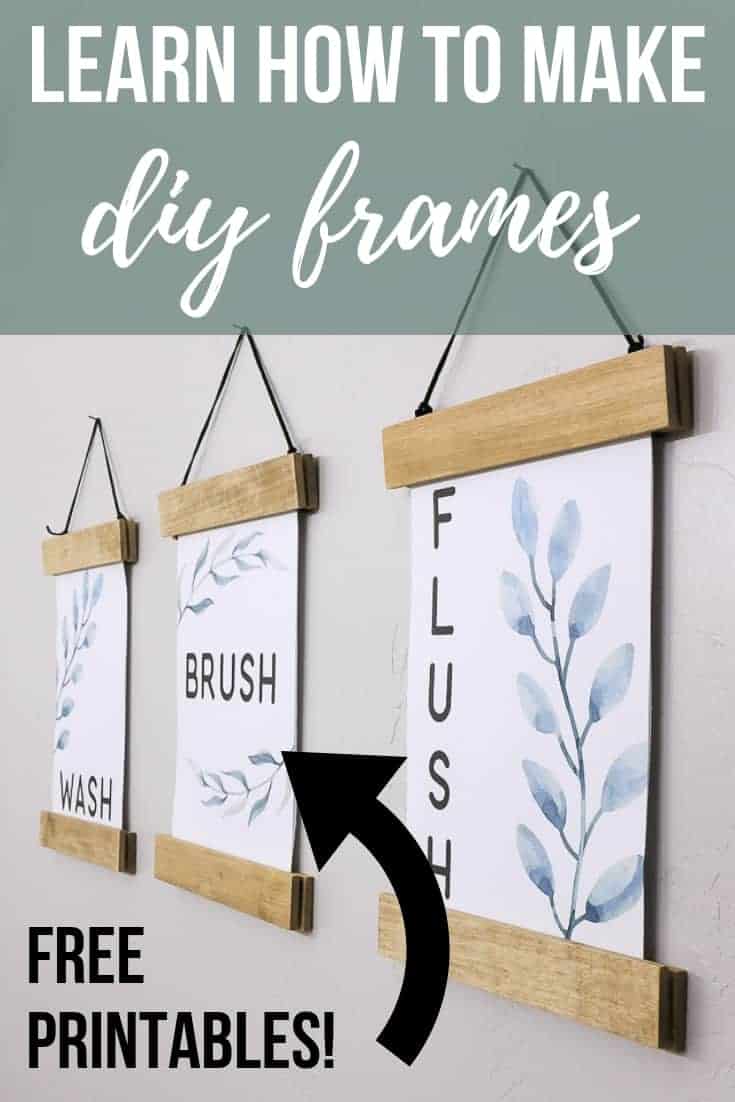 ---
Want to see more of our modern farmhouse bathroom?
---
Do you love printables and want to see more!?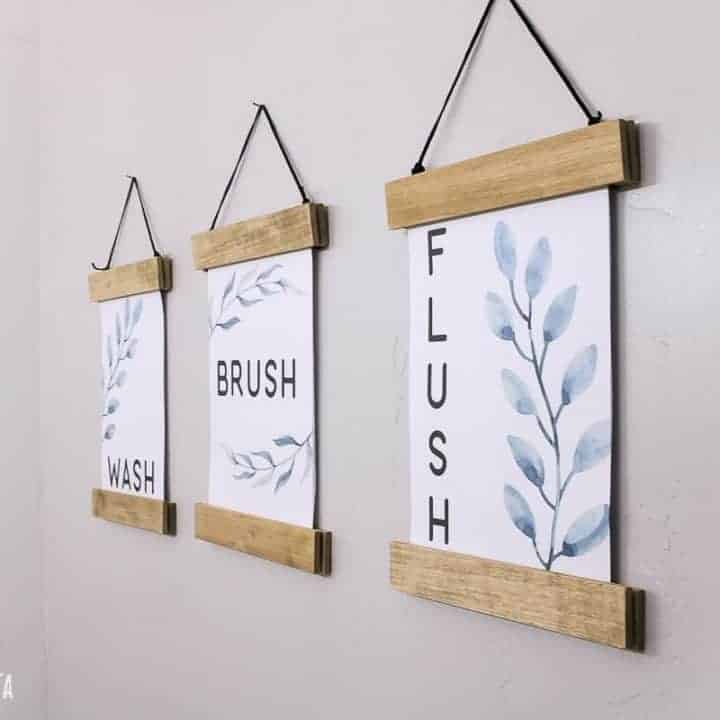 How To Make An Easy DIY Poster Frame For Printables
If you're looking for a really easy DIY frame for printables, you're going to love this tutorial! An easy way to hang printables of just about any size, anywhere in your home!
Materials
Tools
Staining rag
Fine grit sandpaper
Miter saw 
Instructions
Cut boards down to size with miter saw.
Lightly sand boards with fine grit sandpaper.
Stain boards.
Attach magnetic tape with Rapid Fuse glue. (Clamp while drying).
Print your printables.
Put printables in between magnetic pieces of wood.
Tie on suede cording on top board.
Hang on wall.