If coffee is your life blood, it deserves a special spot in your home. Here's how to create a DIY coffee station at home.
This home coffee station at home post is a sponsored conversation written by me on behalf of The J.M. Smucker Company. The opinions and text are all mine. @Folgers @Walmart
If you know me, you know that I literally don't function in the morning without my coffee. It's a miracle that I made it 9 months without coffee twice during my pregnancies. Since I'm a coffee junkie, I knew that my kitchen needed a dedicated area just for coffee.
When we moved into our fixer upper with a tiny kitchen, the coffee station was not only something I just wanted. It was something I needed.
Since we were limited on counter space, there was simply no room for the coffee maker in the kitchen. Creating a home coffee station was the perfect solution!
Simple decorating projects like putting together the DIY coffee station at home is heaven for me. It's my quiet time. It's my "me time". Decorating my home is that hobby that I can't live without. It's vital to my well-being because you know how I feel about making time for yourself, mamas. Another thing that is vital to my well-being is that coffee in hand.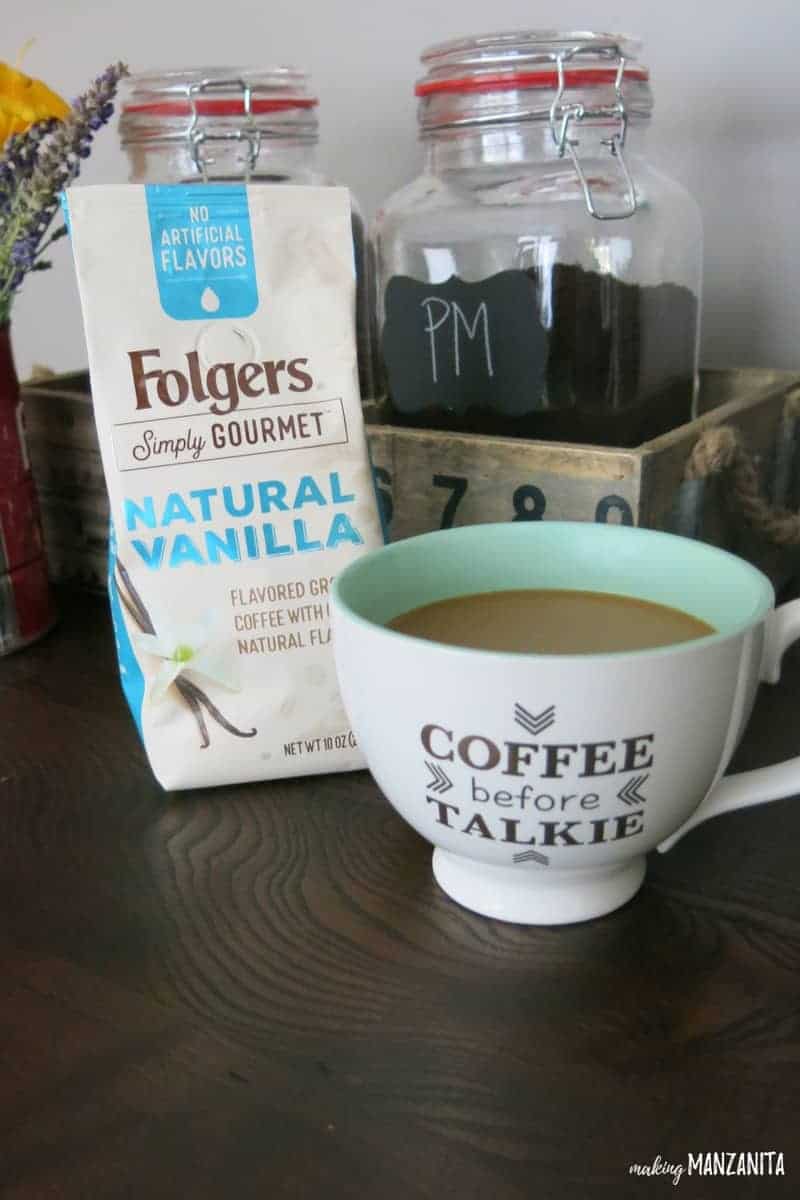 I was thrilled to try the NEW Folgers Simply Gourmet coffee recently. I loved the Natural Vanilla flavor, it's the perfect complement to my time spent decorating. The other natural flavors available are: Chocolate, Caramel and Cinnamon. You can find the coffee at your local Walmart in the coffee aisle. Which flavor would you try?
Now grab your cup of Joe! Here's how to create a DIY coffee station at home.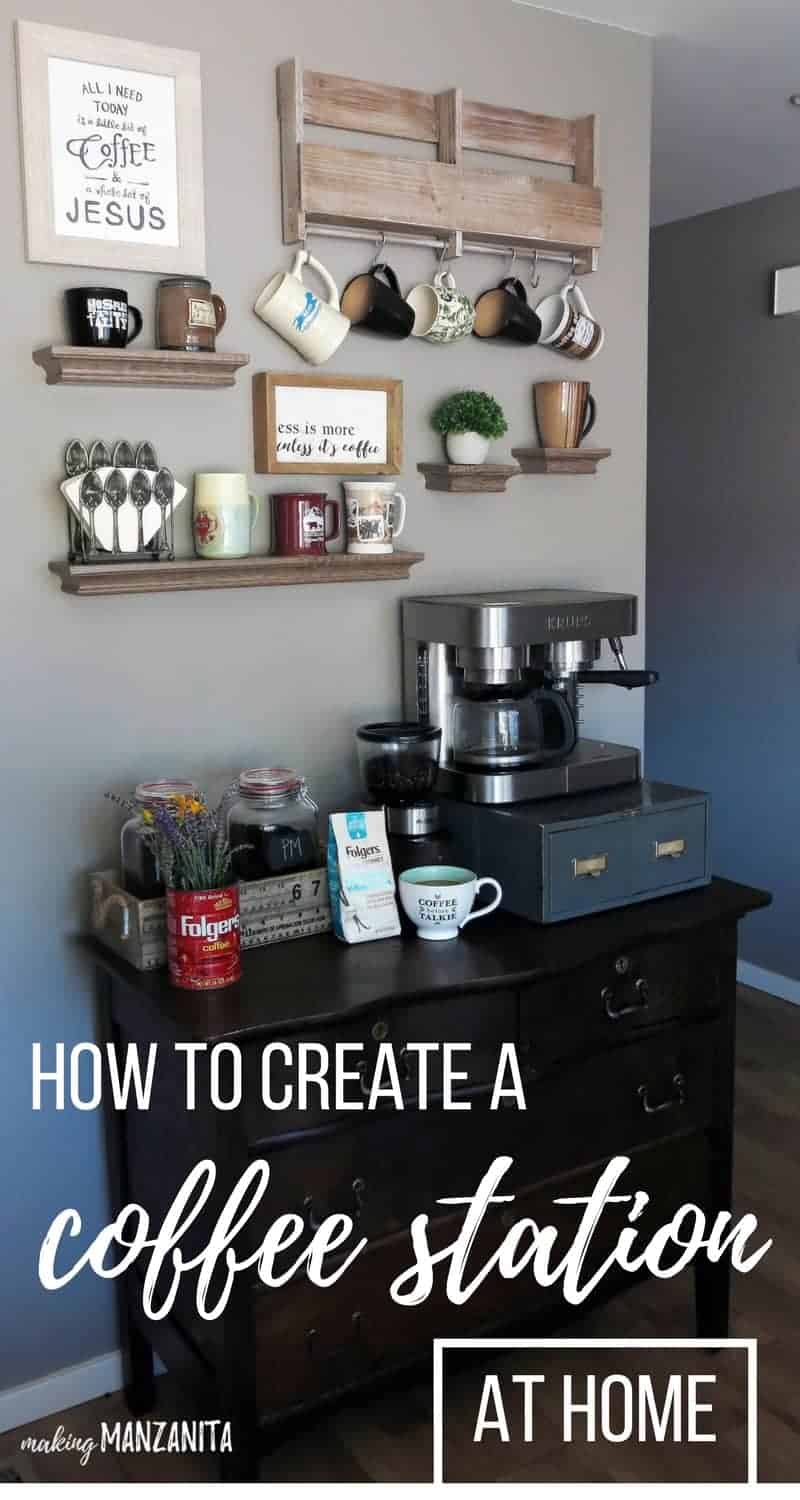 5 Essentials For A Home Coffee Station
There are a few essentials you need for your DIY coffee station at home to make it well-stocked, functional and cute.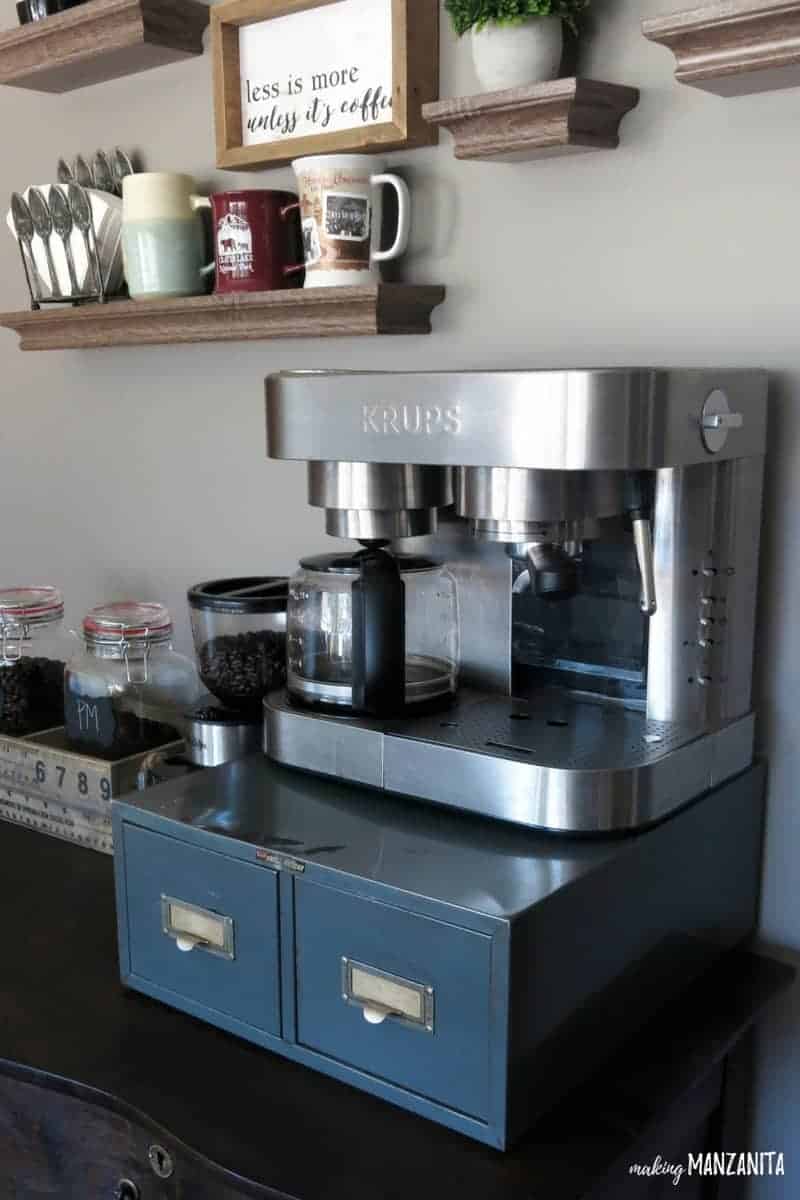 1. Coffee maker
Duh. You can't have a home coffee station without a coffee maker.
We put a vintage card catalog underneath our coffee maker for some extra storage. We keep our tea supplies in there! Find your own vintage card catalog here!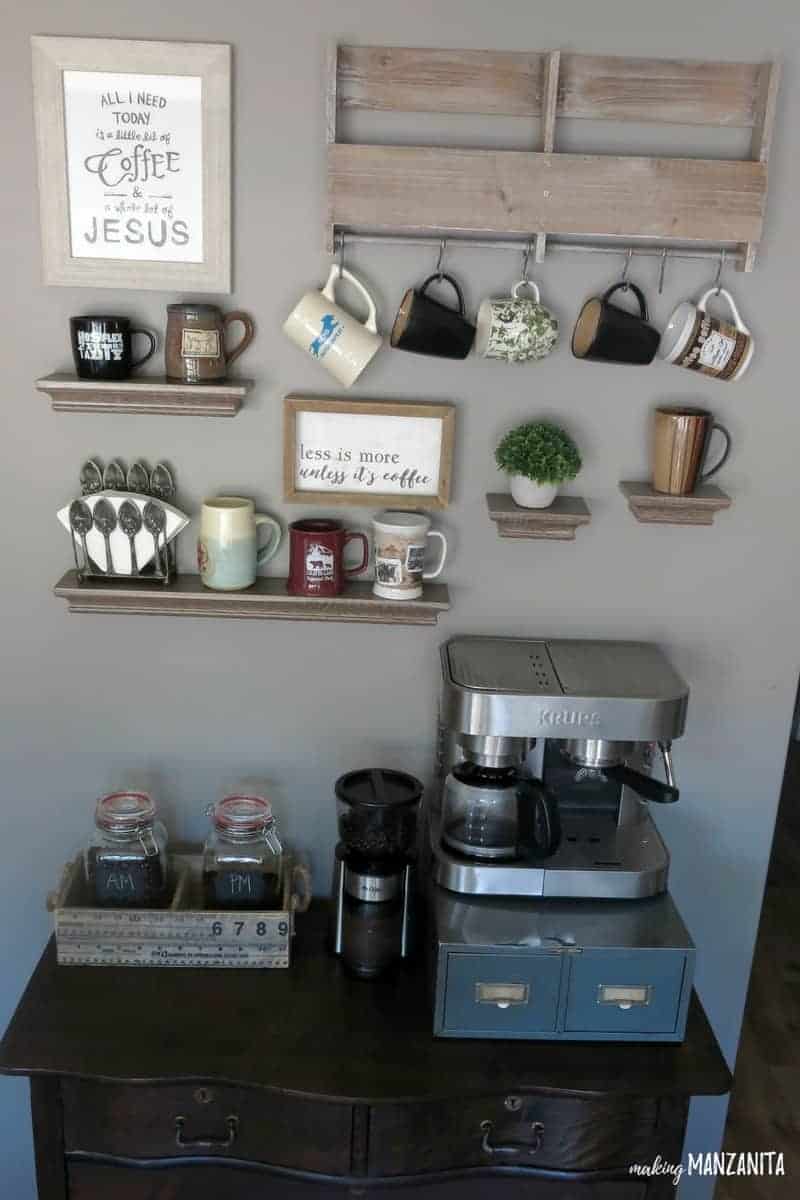 2. Countertop for coffee maker
Since we didn't have any extra counter top space in our small kitchen (we didn't have a pantry either, check out what we did about that!), we needed to create a countertop for the coffee maker.
We did this by bringing in a vintage dresser. We snatched this gem for $20 on Craigslist. It was in pretty bad shape, but my amazing hubby completely refinished it. Isn't it beautiful!?
The reason a dresser is a great solution for your DIY coffee station is all the amazing storage with the drawers below…which brings me to my next essential item for your coffee bar….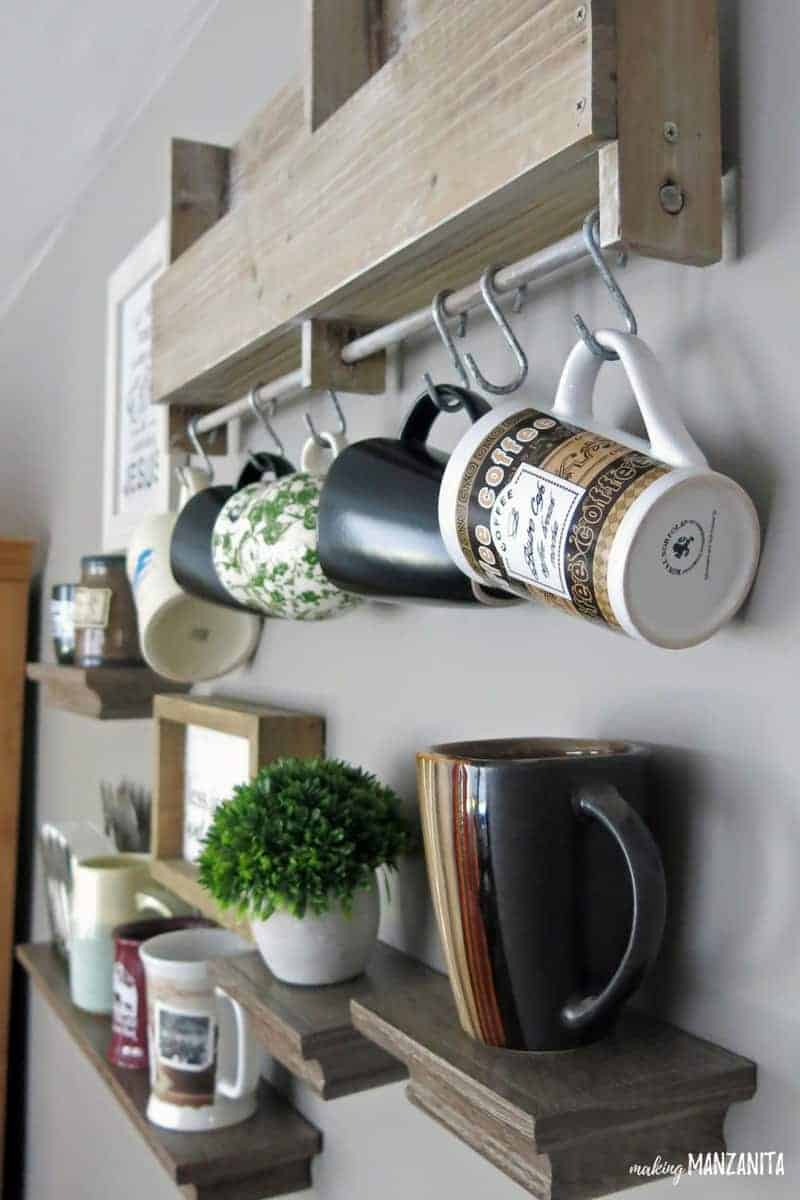 3. Storage for mugs
You definitely need storage for mugs in your coffee station at home. We've got a bit a mug collection…haha and that's kind of an understatement. We love collecting mugs in all the different place we travel to. We store the mugs in the drawers of the vintage dresser.
Also, we have mugs displayed on floating shelves and hooks on the wall above the dresser. This adds character and charm to our home coffee station. I loved arranging the shelves, hook shelf and the coffee themed signs in a gallery wall above the coffee station.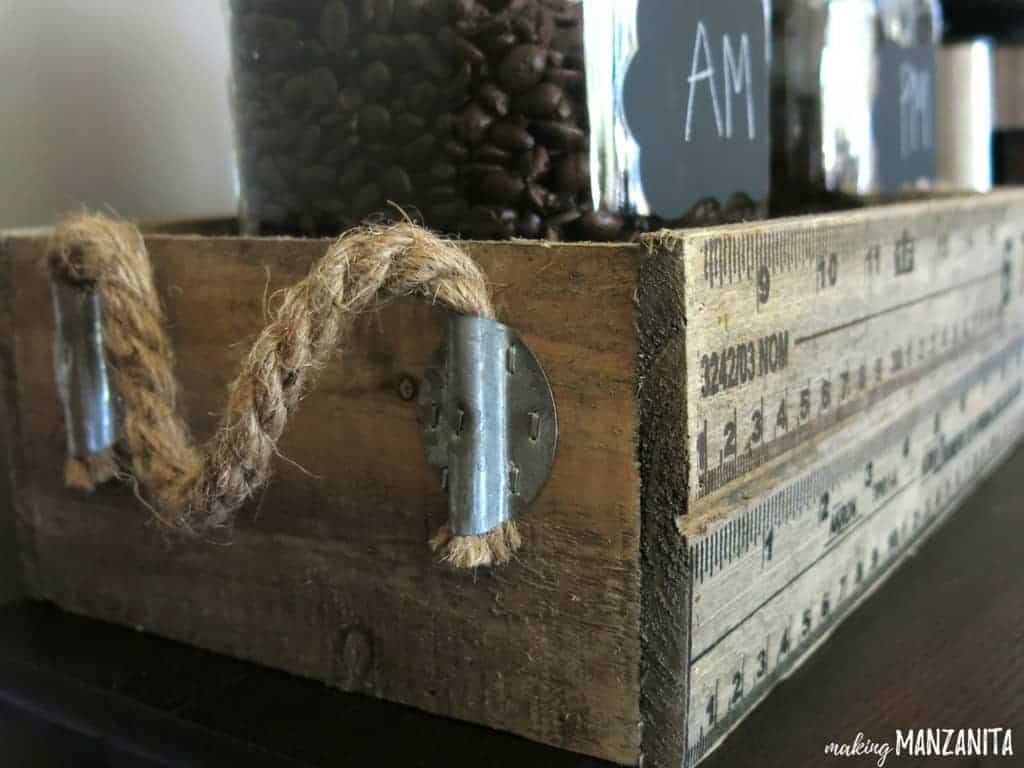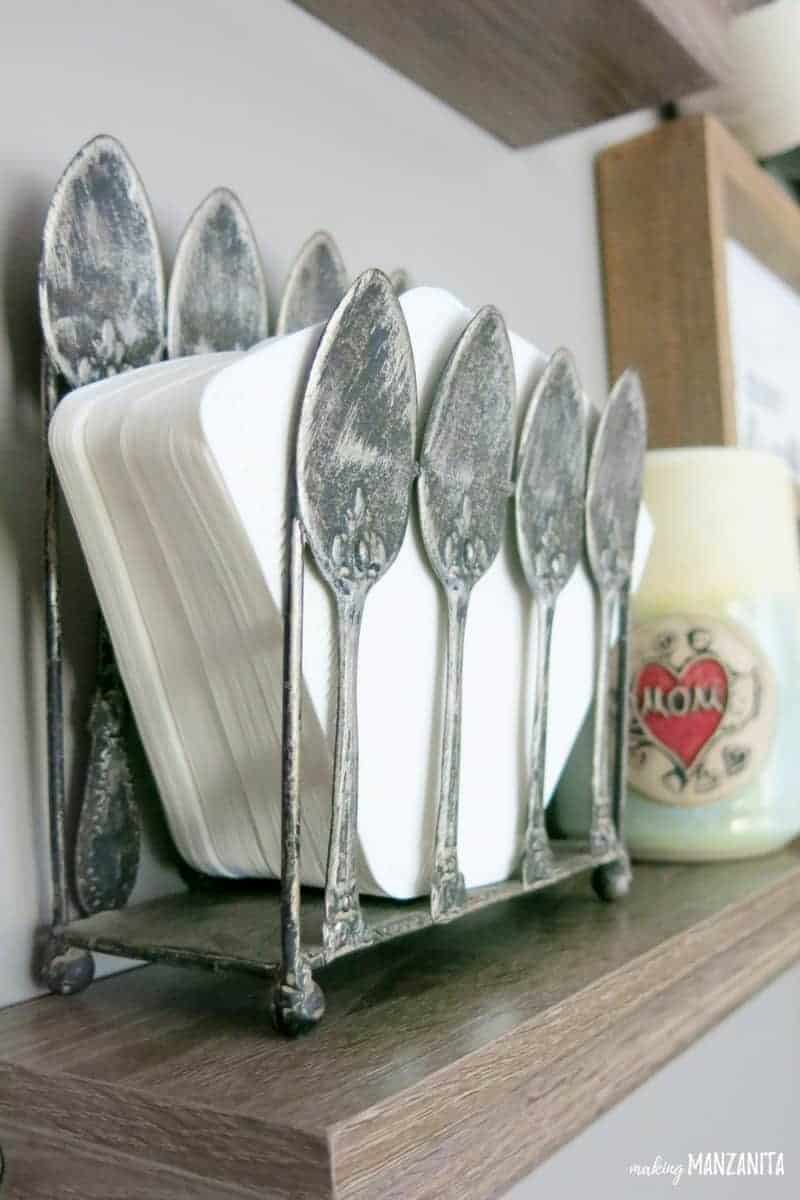 4. Easy access to coffee beans & filters
One of the most important things to make your coffee bar functional is easy access to coffee beans & filters.
We grind our coffee every morning before brewing, so we also keep the coffee grinder right next to the coffee maker.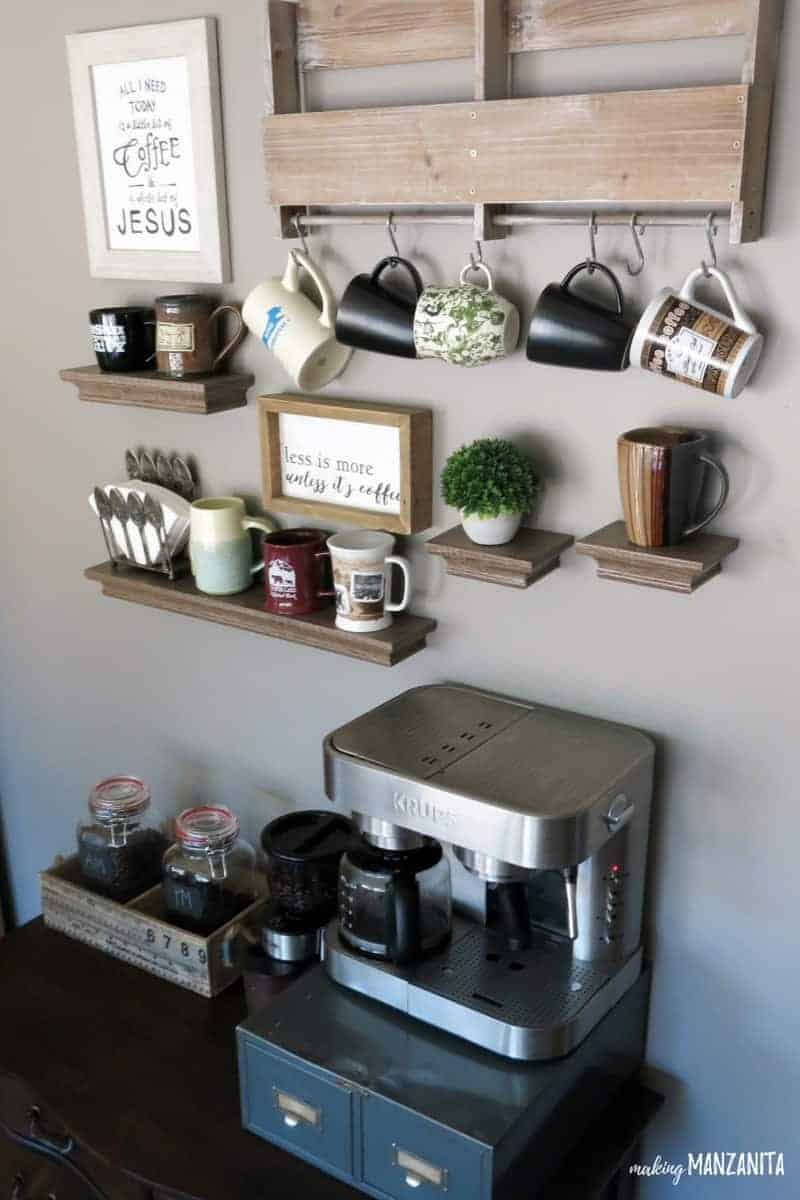 5. Close proximity to trash can & sink
Wherever you put your DIY coffee station at your house, be sure you are only a few steps away from a trash can & sink.
You'll need to dump out the old coffee grinds in the filter and fill up the water to make your coffee. You don't want to be going down the hall and around the corner just to make the coffee. We put our coffee bar just on the edge of our kitchen near our dining room.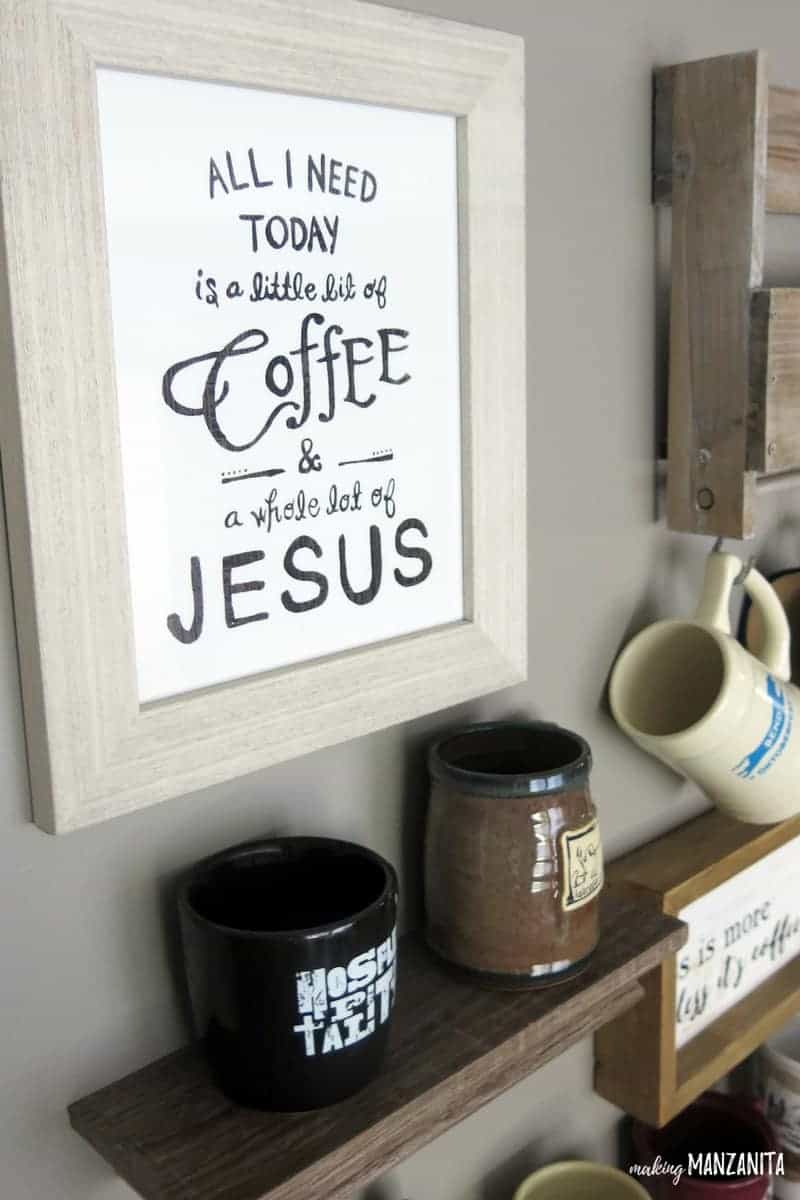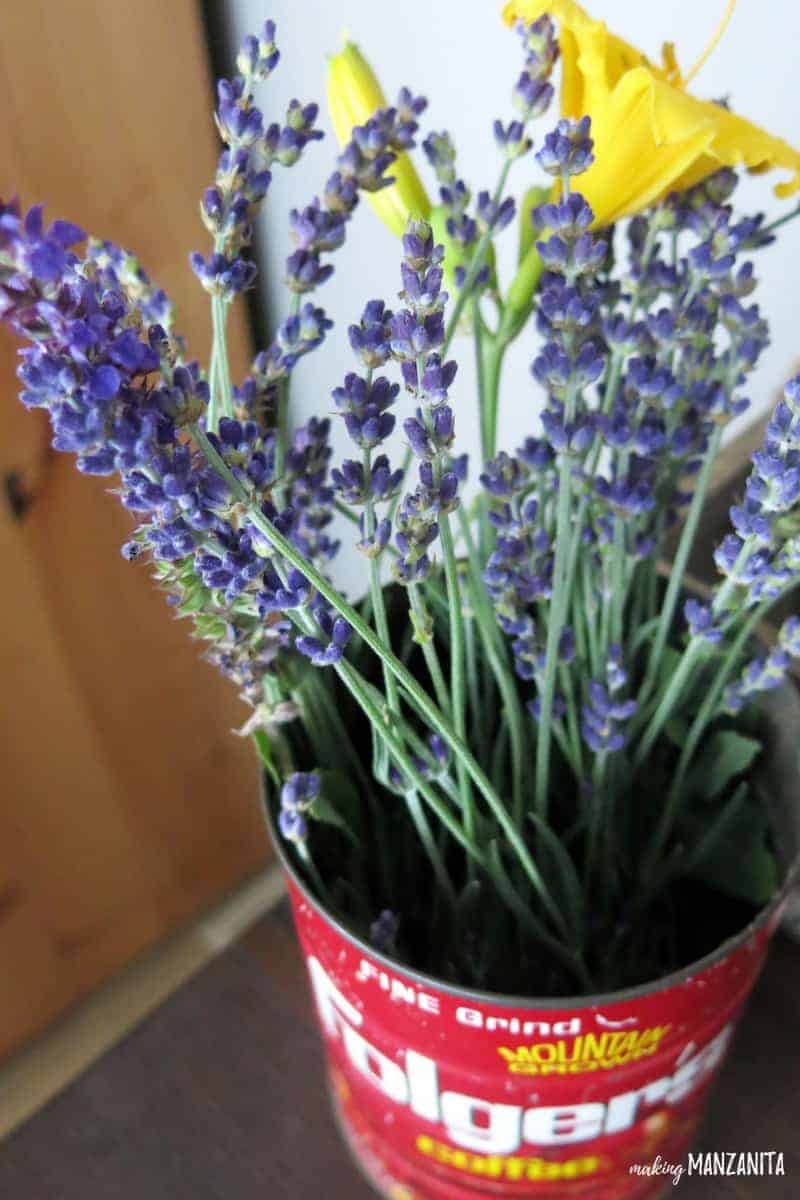 I love character that this vintage Folgers coffee tin adds to our coffee station. I found this at a ReStore thrift store full of old nails. Haha, I think they thought I was crazy when I said I wanted to buy the tin. I snagged it for 50 cents!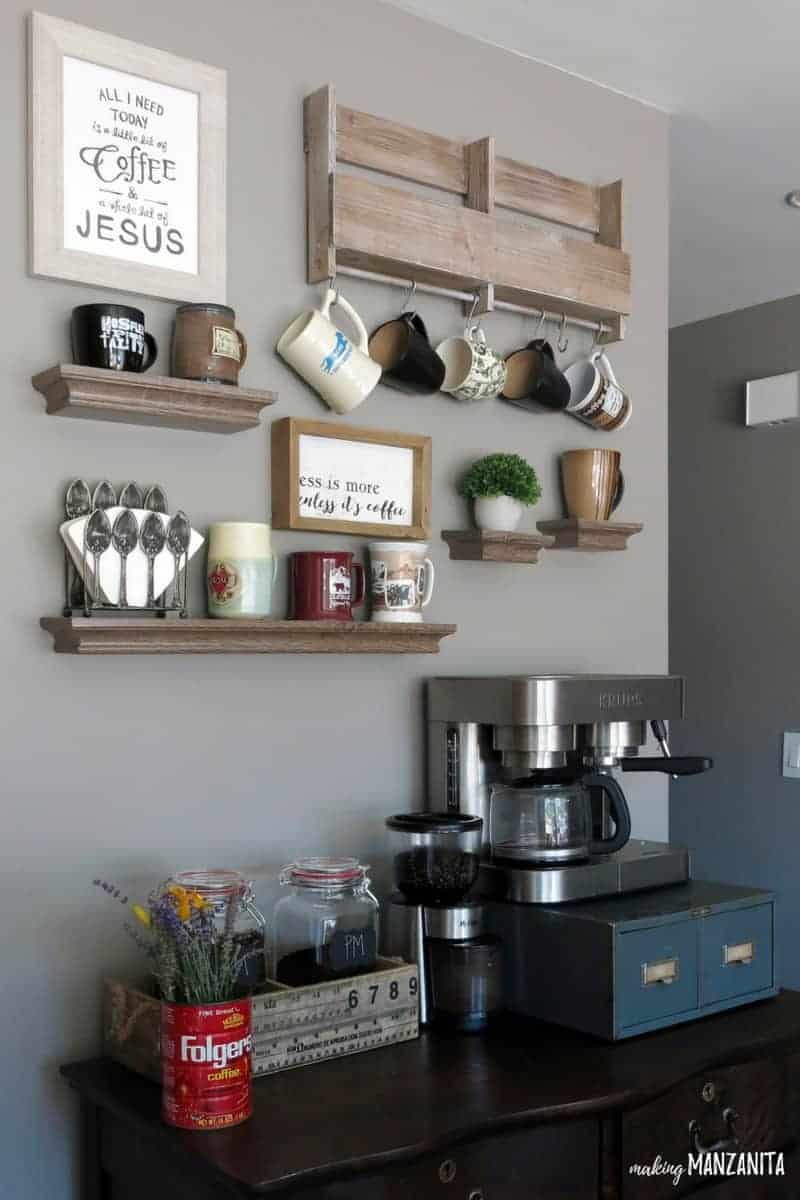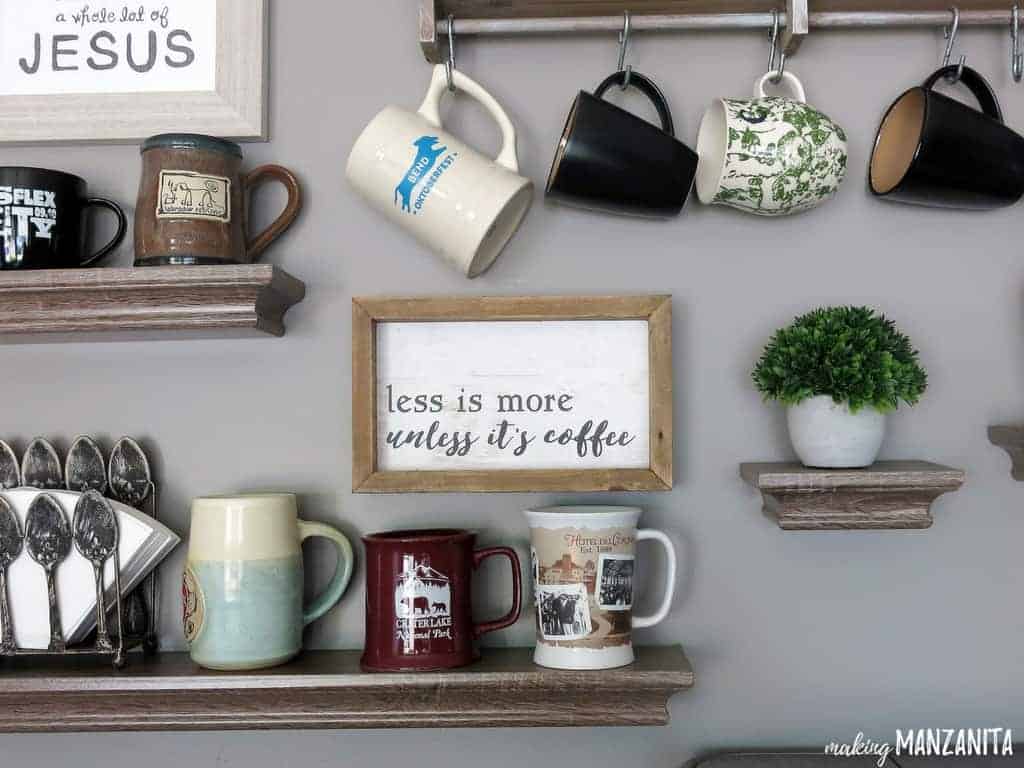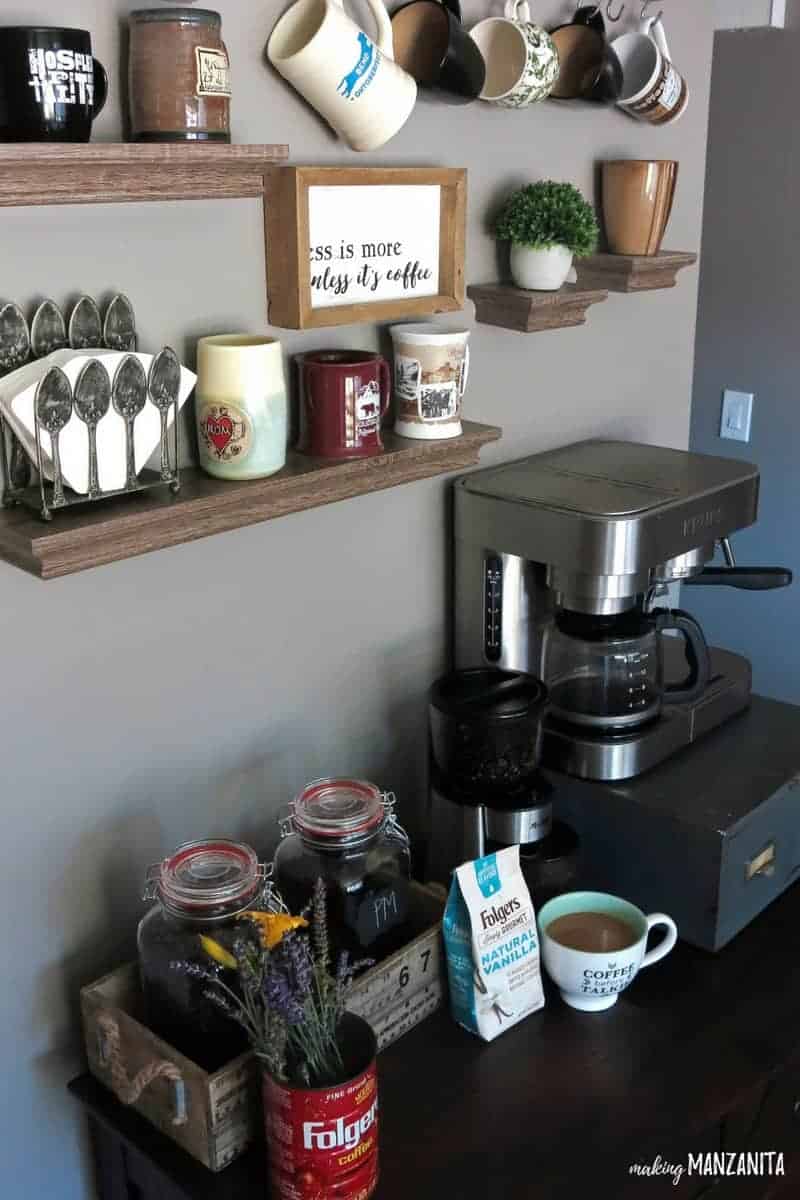 If you're anything like me and coffee is your lifeblood, you seriously need a home coffee station. Even if you don't have extra countertop space to spare, consider bringing in furniture items like a dresser, hutch or buffet to create a coffee bar.
Just be sure you have the 5 essentials like a a coffee maker, countertop for your coffee maker, storage for mugs, easy access to coffee beans, filters, trash can & a sink.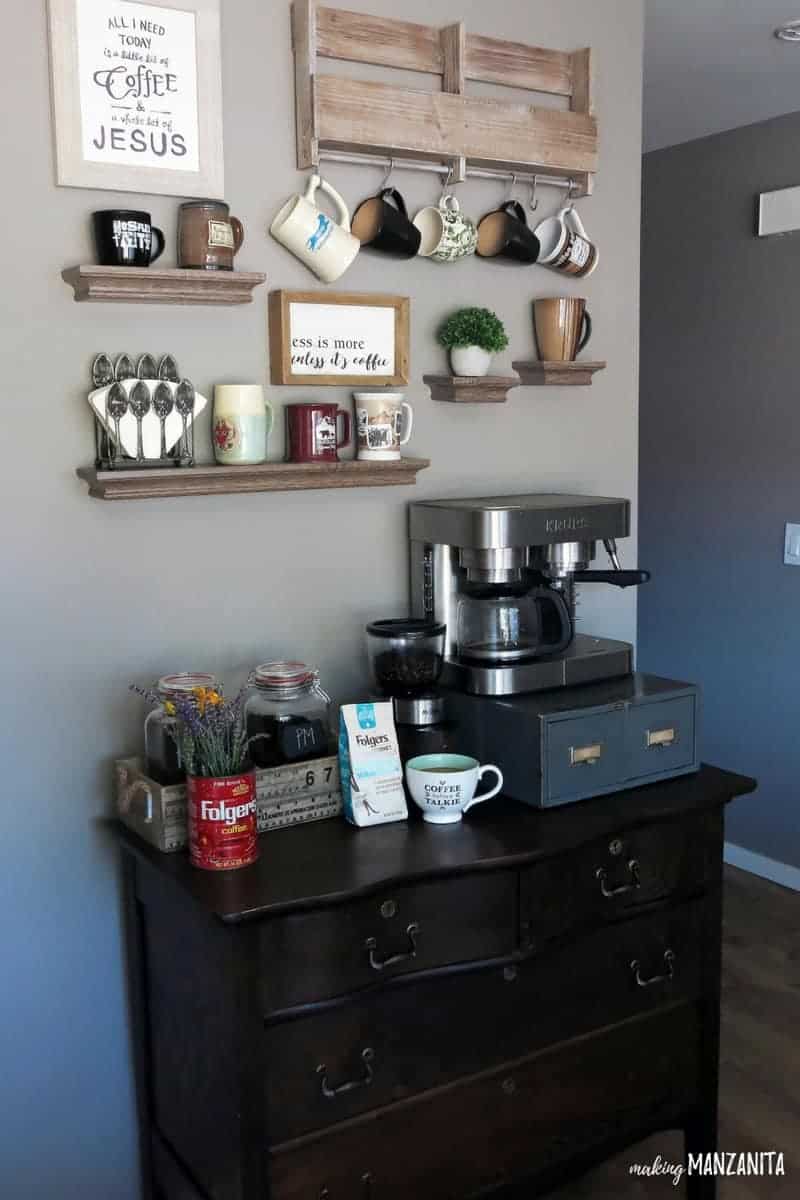 Do you have a home coffee station?
Let me know in the comments!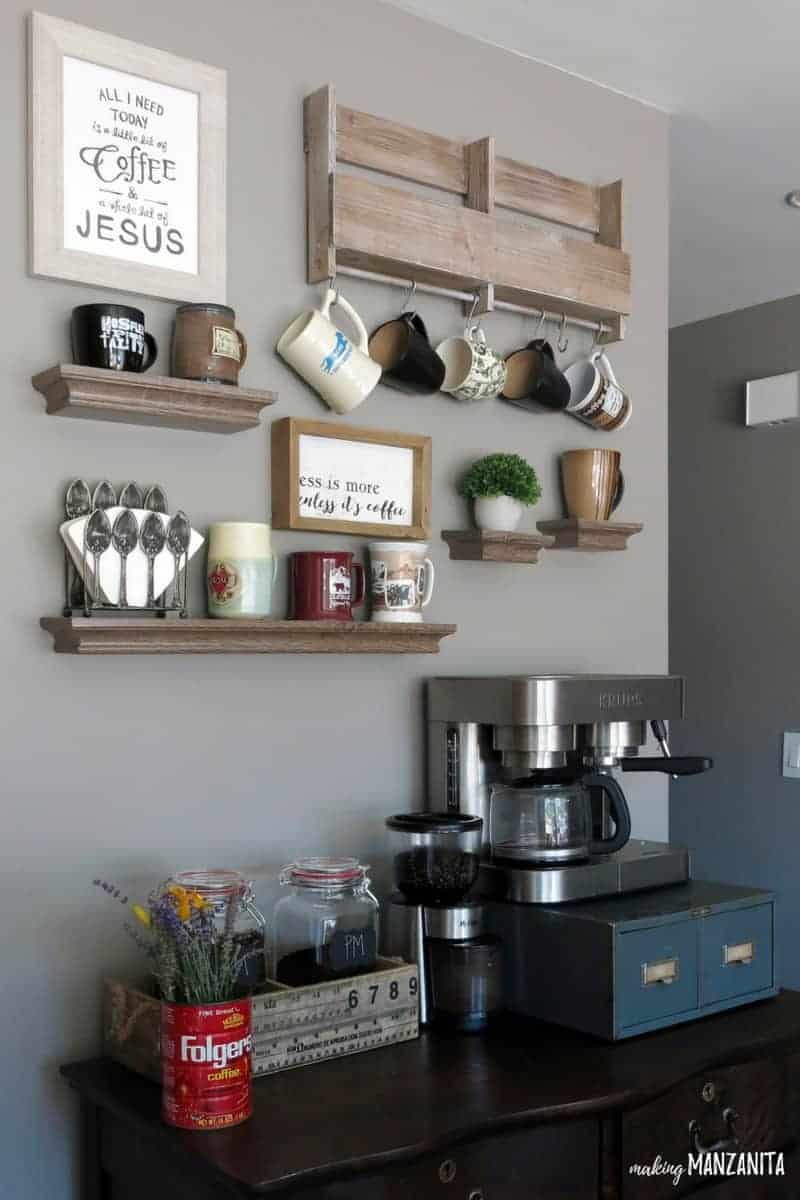 ---
Bonus: Here's a few extra tips for your home coffee station at home –