Learn how to make your own DIY grill utensil holder. Keep all of the BBQ tools in one place for outdoor cooking with this wood outdoor barbeque tool holder. Great to give as a gift for Father's Day or any other gift-giving occasion!
Thank you to Kreg for this DIY grill utensil holder project! All opinions are entirely my own. This post also contains affiliate links, but nothing that I wouldn't recommend wholeheartedly. Read my full disclosure here.
Did you know that Father's Day is right around the corner?? Yes, that's right! It's officially time to start thinking about what to make for a DIY gift for him this year!
Today we are sharing an idea that is perfect for Father's Day (or really anyone that loves to grill and needs a good spot to store the BBQ tools). It's an outdoor wall-mounted DIY grill utensil holder!
We used cedar wood, which is a great type of wood for outdoor projects because it is naturally pretty moisture resistant.
The build is fairly simple so it works great for beginners and the best part is that we're teaming up with our friends over at Kreg Tools to bring you the woodworking plans for FREE!
Table of Contents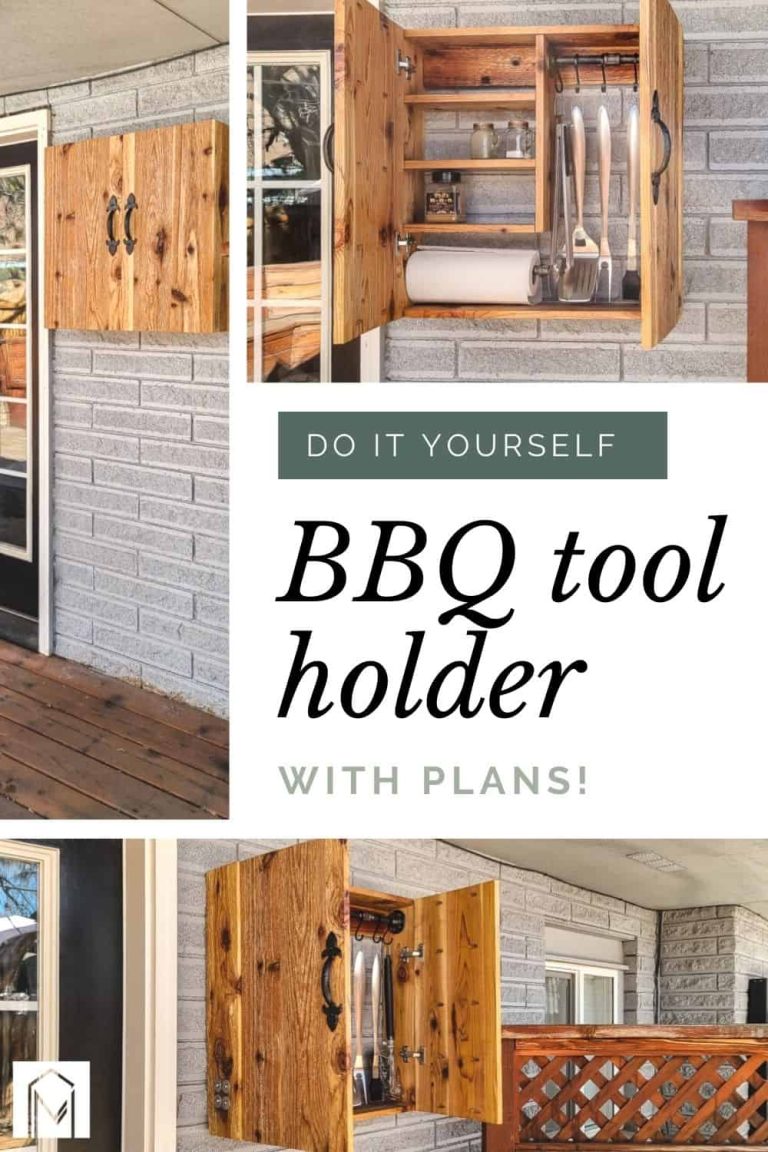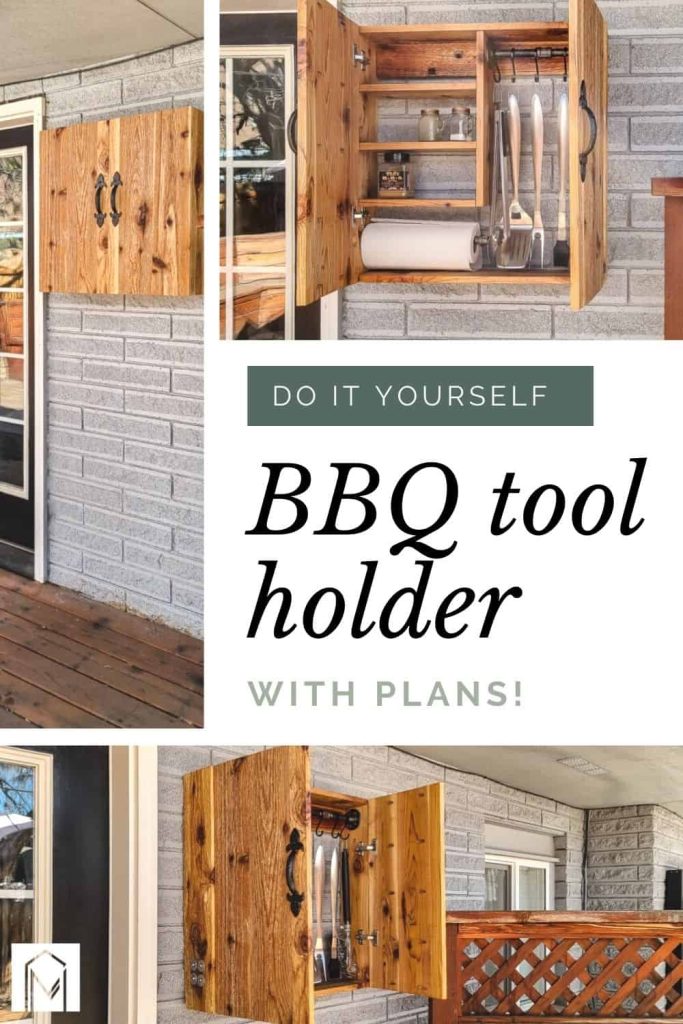 Kreg 720PRO Pocket Hole Jig
If you've been following Making Manzanita for a bit, you know that we are big fans of the Kreg pocket hole system. We built tons of projects using our original K5 Pocket Hole Jig, we even have a super detailed guide and video about how to use it that you can check out here.
In 2021, Kreg released brand new pocket hole systems that replaced the K4 and K5, and the upgrades are pretty freakin' awesome.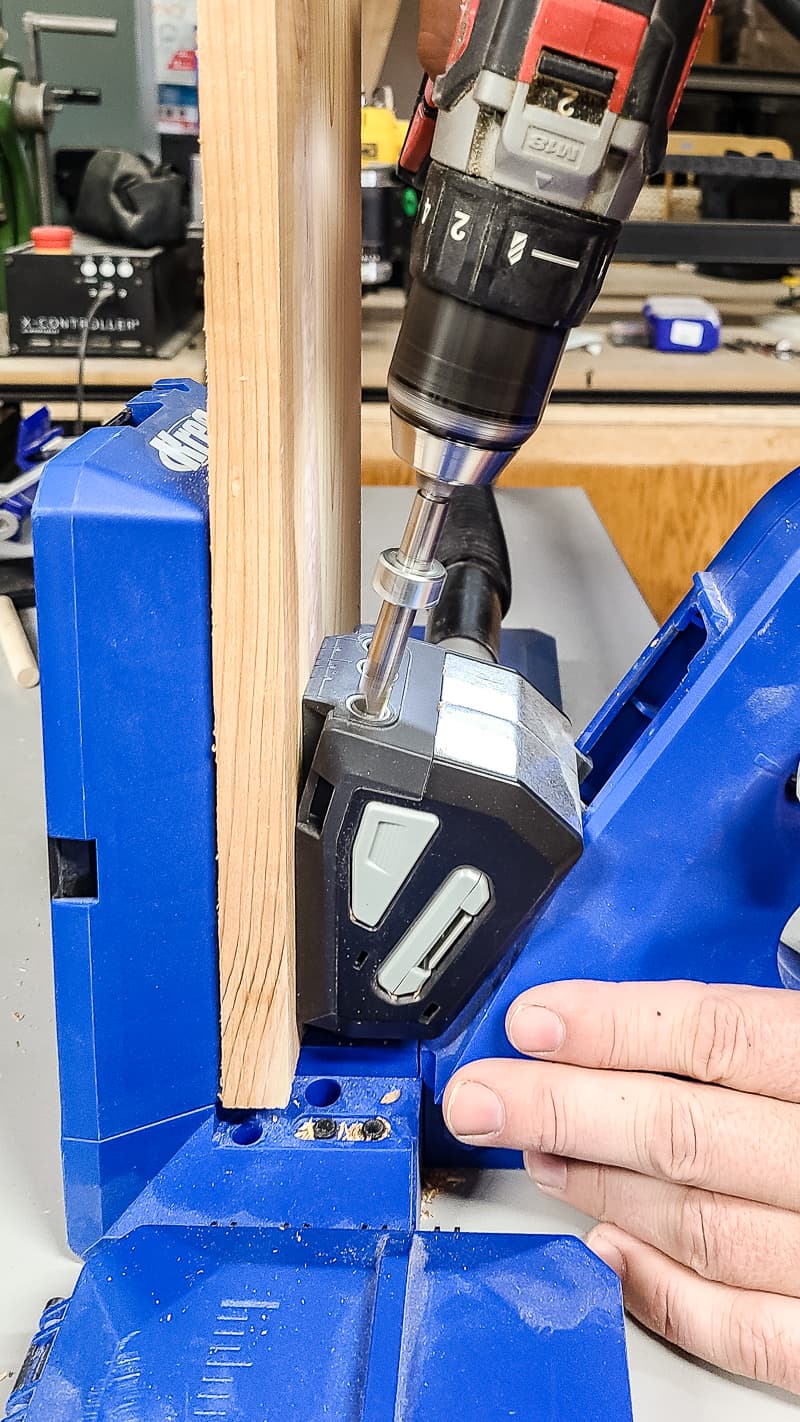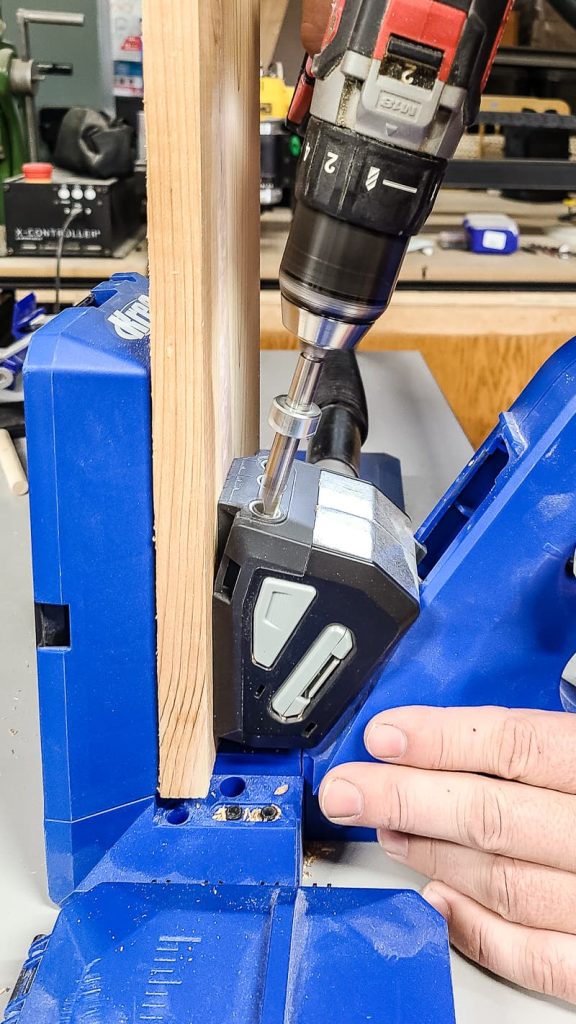 The new 720PRO (which we were using for this DIY BBQ utensil holder) and the 520PRO (which replaced the smaller K4 system) were improved a ton, the most noticeable change being that they are easier to set up and use – score.
My favorite new feature of 720PRO and 520PRO is the clamp that you don't have to adjust anymore. You should clamp it down and it automatically adjusts to match the thickness of your wood, so cool, right?
Pocket hole joinery is definitely one of the easiest ways to join wood in woodworking projects. It's our favorite hidden weapon for beginning woodworkers!
Want to learn more? I wrote a super detailed guide & created a video all about how to set up your Kreg 720PRO Pocket Hole and use it, so be sure to check that out too!
We teamed up with our friends Kreg again for these grill tool holder woodworking plans and we are sharing them online for free, which are now available on KregTool.com!
Kreg's website is chocked full of so many easy-to-follow FREE woodworking plans! I promise that you are going to find so much inspiration while you're there! It is a goldmine!
Related – Projects that use a pocket hole jig
DIY Grill Utensil Holder: video tutorial
If you love DIY videos, be sure to subscribe to our YouTube channel!
Ready to see how the DIY grill utensil holder turned out?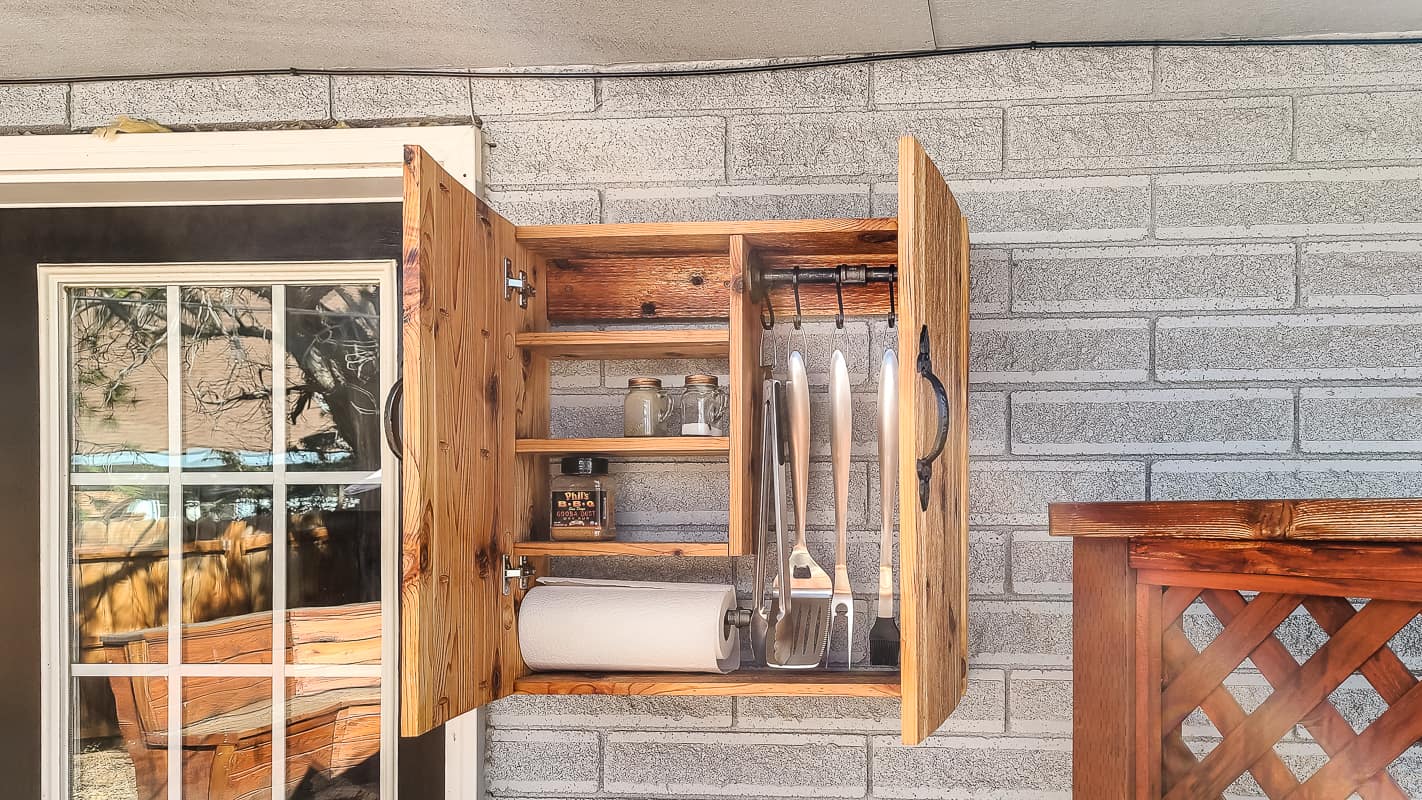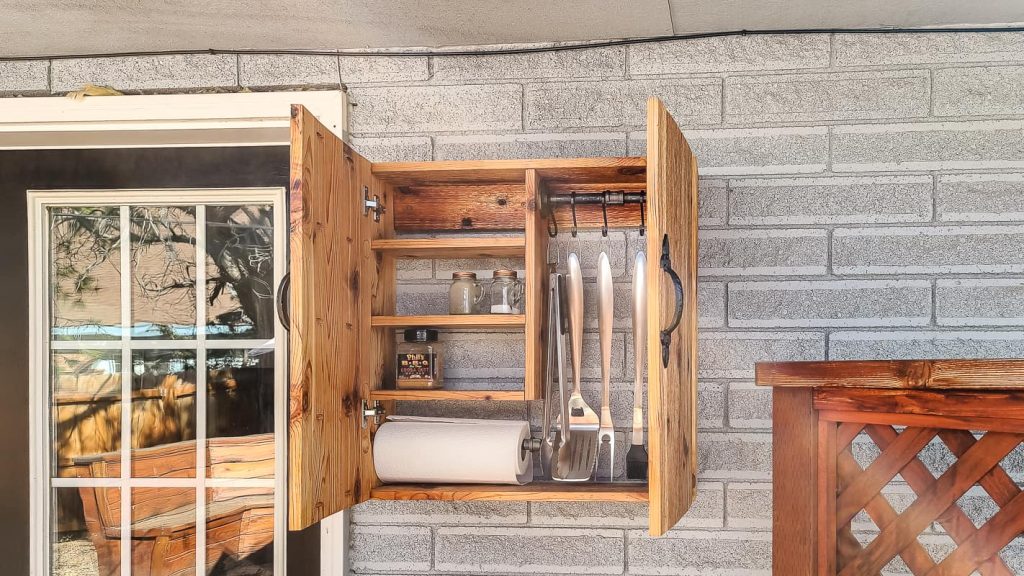 I absolutely love how it turned out! It's so convenient to have easy access to everything we need to use while we are grilling. The doors stay closed when it is not in use so everything stays nice and clean.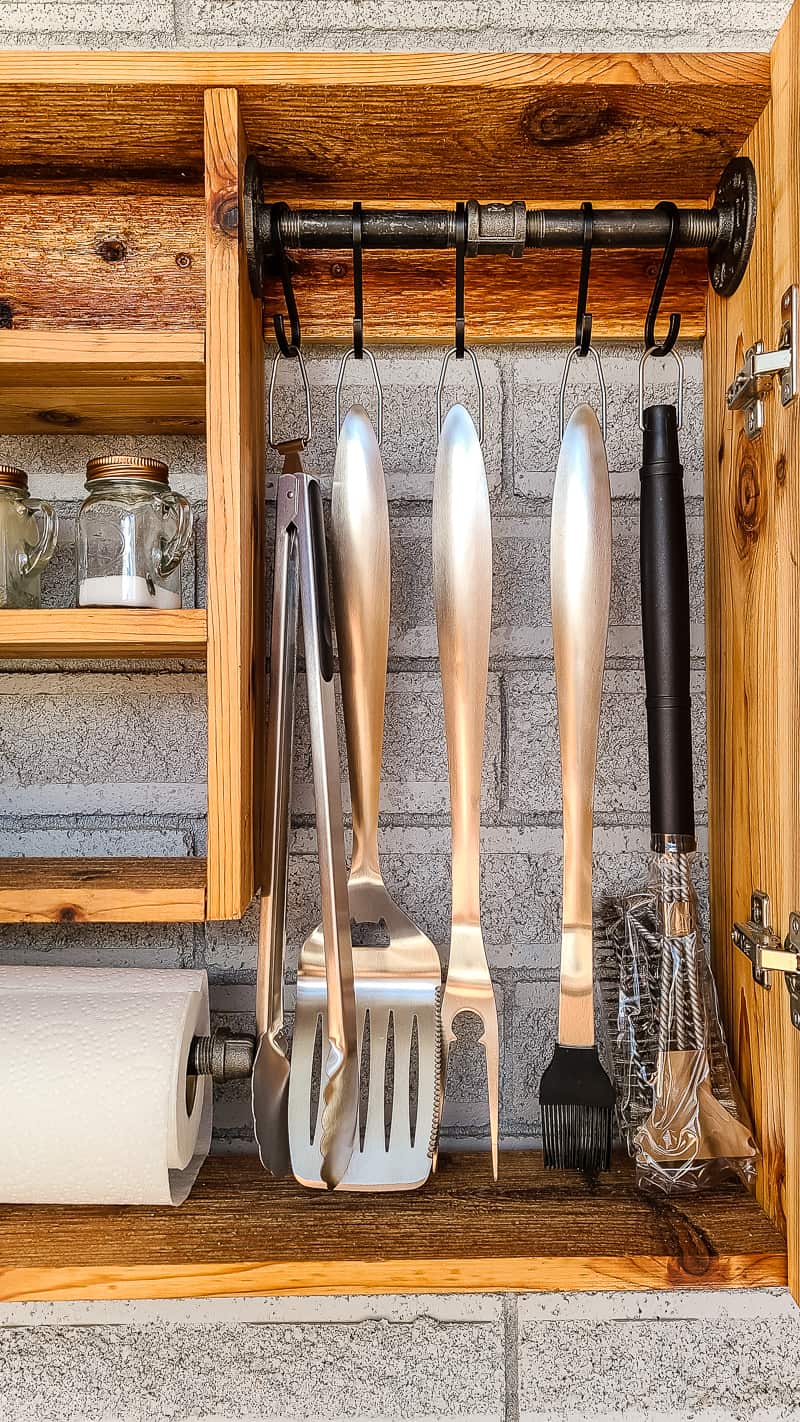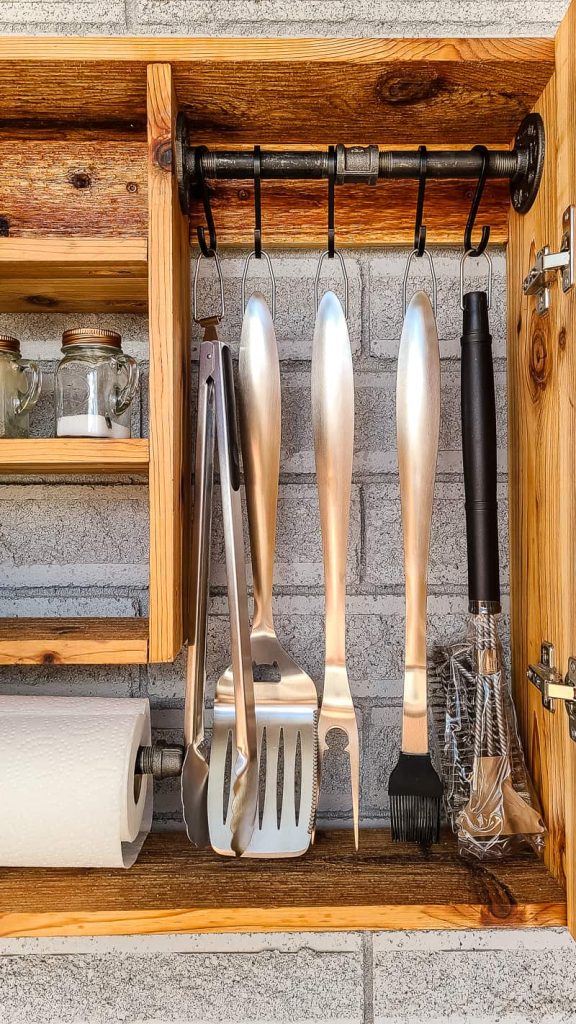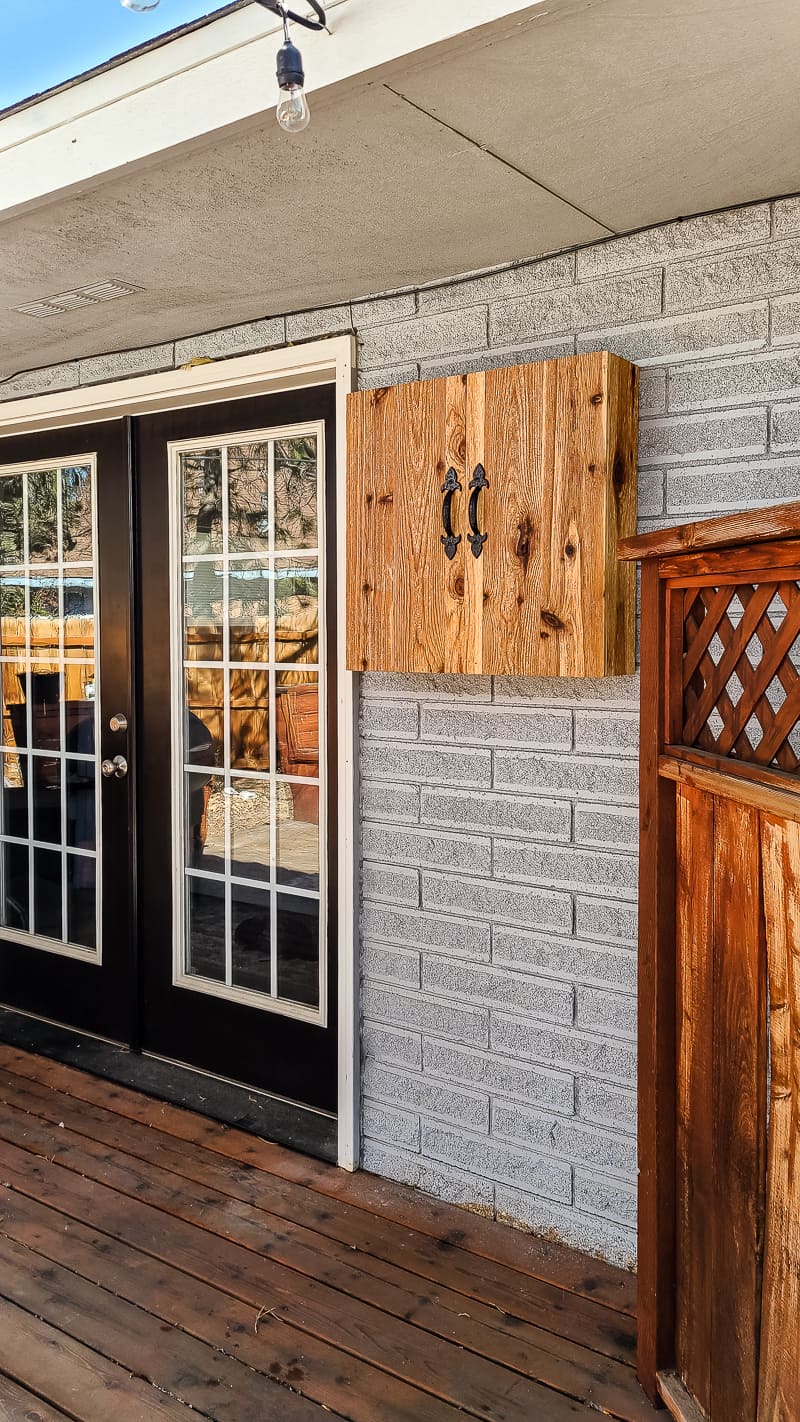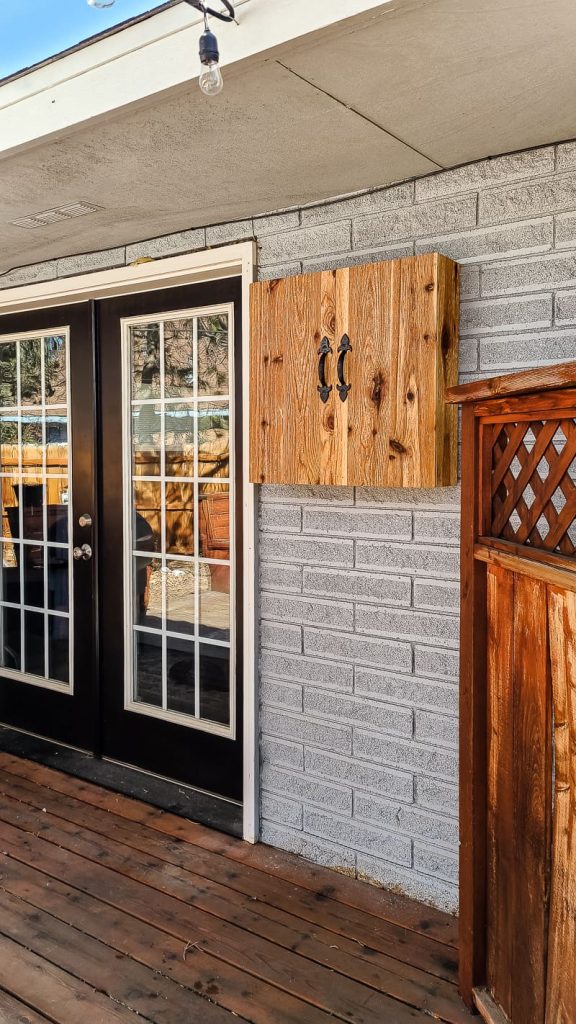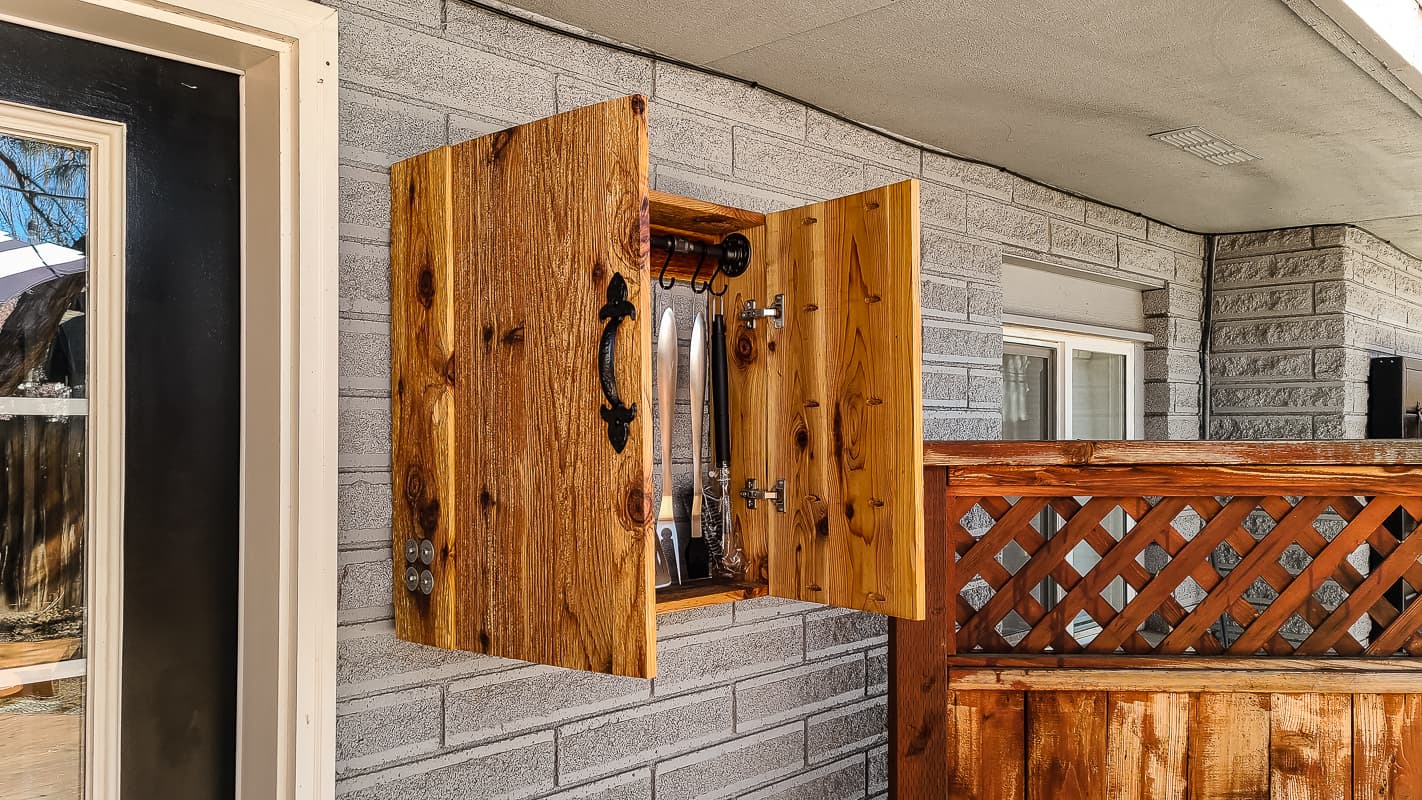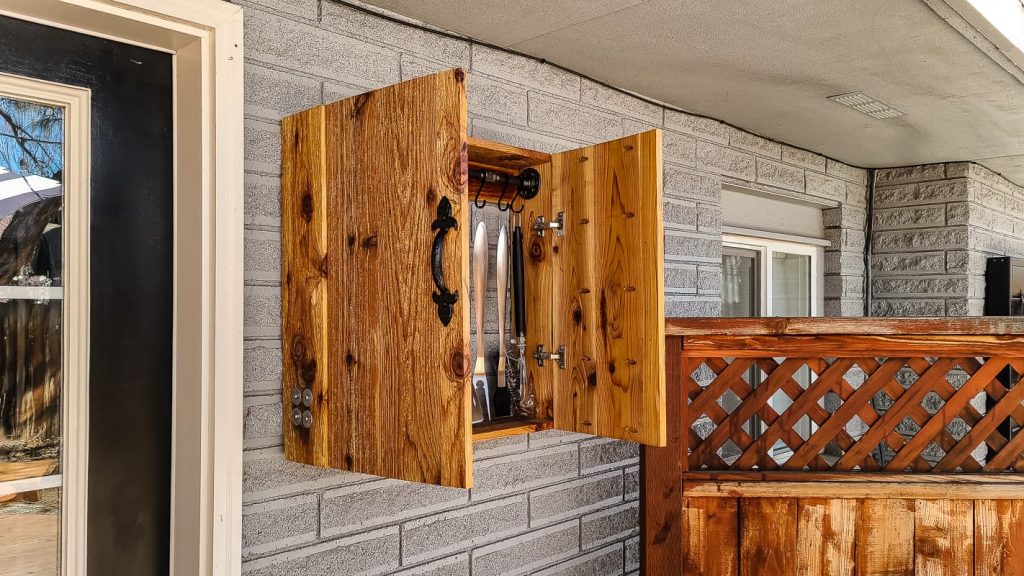 One of my favorite things that we added to the barbeque tool holder was the holder for the paper towels. How many times do you have to bring the whole roll of paper towels out while you're cooking meat on the BBQ? SO annoying, right? Now we have easy access to paper towels as needed!
If you want to build this easy DIY BBQ utensil storage rack, we've done all the hard work for you! All you need to do is hop over Kreg's website and check out the full tutorial.
At the bottom of the tutorial on Kreg's website, you'll also see a link to download the woodworking plans (for free) to get all of the detailed measurements and a cut list!
Who do you know that would love a DIY grill tools holder like this?
Let us know in the comments below!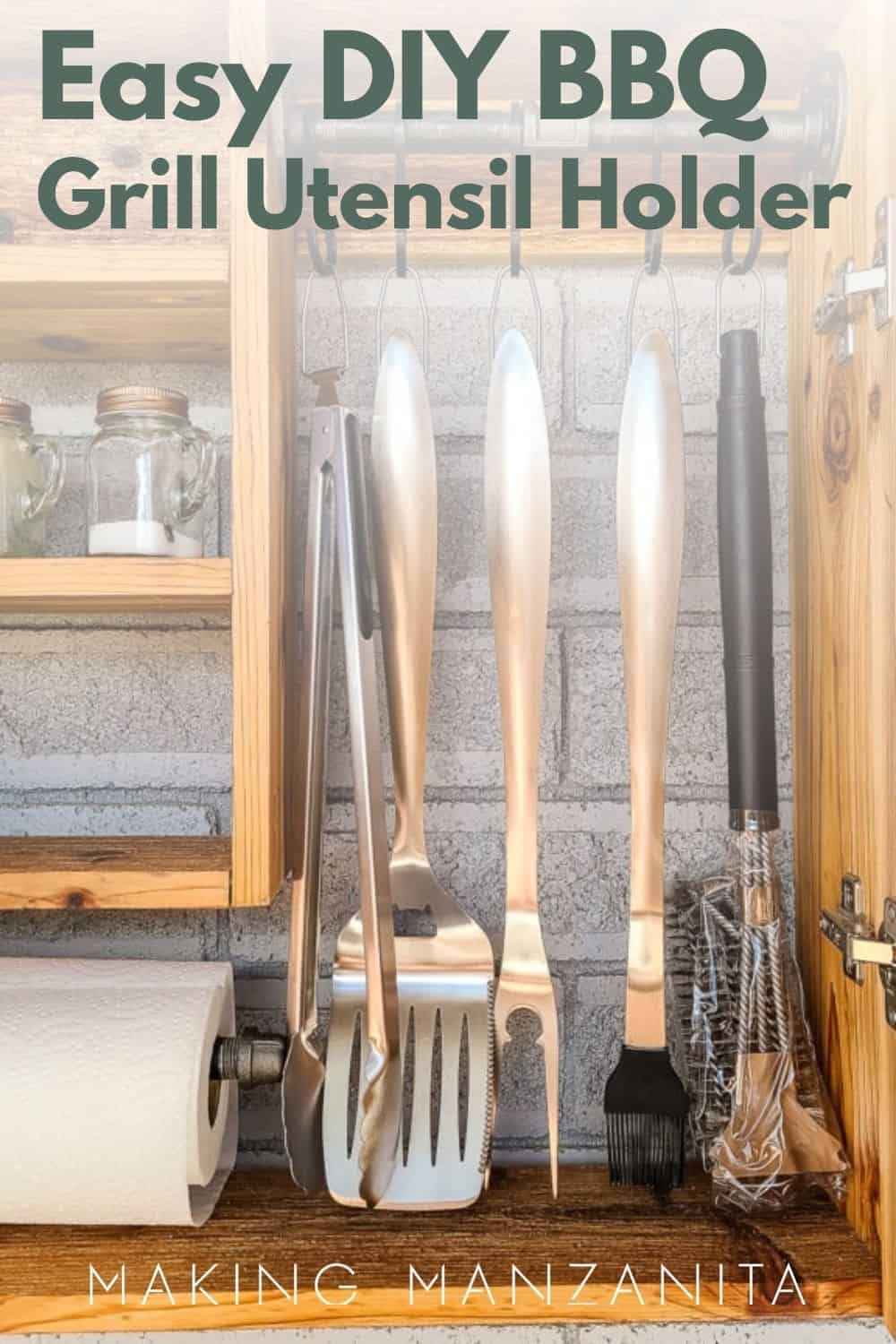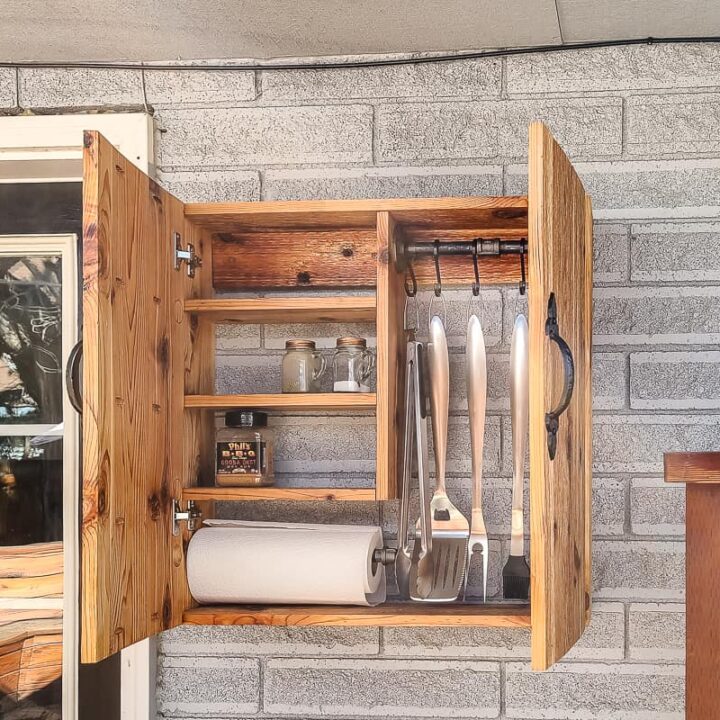 Easy DIY Grill Utensil Holder
Yield:
1 grill utensil holder
Materials
Cedar , ¾" X 6" X 8'
Hardware & Supplies
1 ¼" Kreg Pocket Hole Screws
150 Grit Sandpaper
12" Long ½" Black Iron Pipe
Cap For ½" Black Iron Pipe
25" Long ½" Black Iron Pipe
½" Black Iron Pipe Coupling
½" Black Iron Pipe Flange
1" Drywall Screws (To Attach Flanges)
M10 Machine Screws 35mm Long
M10 Washers
M10 Lock Nuts
Boiled Linseed Oil
Paintbrush
Frameless Cabinet Hinges
Door Handles
Anchors
2 ½" Deck Screw
1 ½" Finish Nails
Tools
Kreg Pocket-Hole Jig® 720PRO
90° Corner Clamp
Clamp Table
Miter Saw
Table Saw
Tape Measure
Drill
Impact Driver
Orbital Sander
Crescent wrench
Level
Finish nail gun
Dremel Or Hack Saw
Instructions
Cut wood according to the visual cut list in the woodworking plans with a miter saw for the lengths.
Drill pocket holes as shown in the woodworking plans.
Using clamps, start putting the interior shelves together by attaching each shelf to the inside panel with the pocket holes.
Assemble the box by attaching the top and bottom to the side panels using the pocket holes drilled in each corner.
Start with the bottom shelf and attach the middle panel to the top of the box using the already drilled pocket holes. Do the other shelves after.
Lightly sand the entire structure and the door slats with an orbital sander and 150 grit sandpaper.
Lay the door panels on a flat surface and connect two door slats together for each door and then add one slimmer door end slat to each door to get to the correct width.
Take your template for cabinet hinges, or follow your hinge instructions, and make a mark where to drill.
Because this is cedar and it is going outdoors, seal using boiled linseed oil.
Attach your handles, paper towel holder, and rack for hanging your BBQ utensils.
Finally, mount your BBQ Utensil Holder in your desired location.
Notes