Thank you to Kreg for this DIY behind the couch table project! All opinions are entirely my own. This post also contains affiliate links, but nothing that I wouldn't recommend wholeheartedly. Read my full disclosure here.
So here's what happens almost every single night. We put the kiddos to get and then Logan and I head to the couch for some relaxing TV time before heading off to bed ourselves.
Inevitably, I usually grab a big glass of ice water behind I never drink enough water during the day and I grab my laptop for some fun Pinterest scrolling or some late-night blog work.
I take my usual spot in the corner of our sectional in our modern boho living room, get cozied up with a soft blanket, and open up my laptop.
At some point pretty quickly after I get all cozy, two things usually happen…
I get thirsty and want a big gulp of that ice water but it seems like it is miles away on the coffee table and I can't reach it without getting out from under the warm blanket and moving my laptop.
My laptop starts to die and I need to plug it in, which requires running the cord under the couch and over Logan and around myself to the left side of my laptop.
These two things, while seemingly small…very first-world problems, frustrate me every night. There's got to be a better way.
So we got to work brainstorming and came up with building a small and skinny table to go behind the couch along the wall that has an outlet for charging devices.
Genius, right?!
Kreg's 720PRO Pocket Hole Jig
If you've been around awhile, you know that we are big fans of the Kreg pocket hole system. We've built so many projects using our original K5 Pocket Hole Jig, we even have a super detailed guide and video about how to use it that you can check out here.
But in 2021 Kreg released brand new pocket hole systems that are replacing the K4 and K5, and the upgrades are pretty freakin' awesome.
The new 720PRO (which we were using for this DIY behind the couch table) and the 520PRO (which replaced the smaller K4 system) were improved a ton, the most noticeable change being that they are easier to set up and use – score.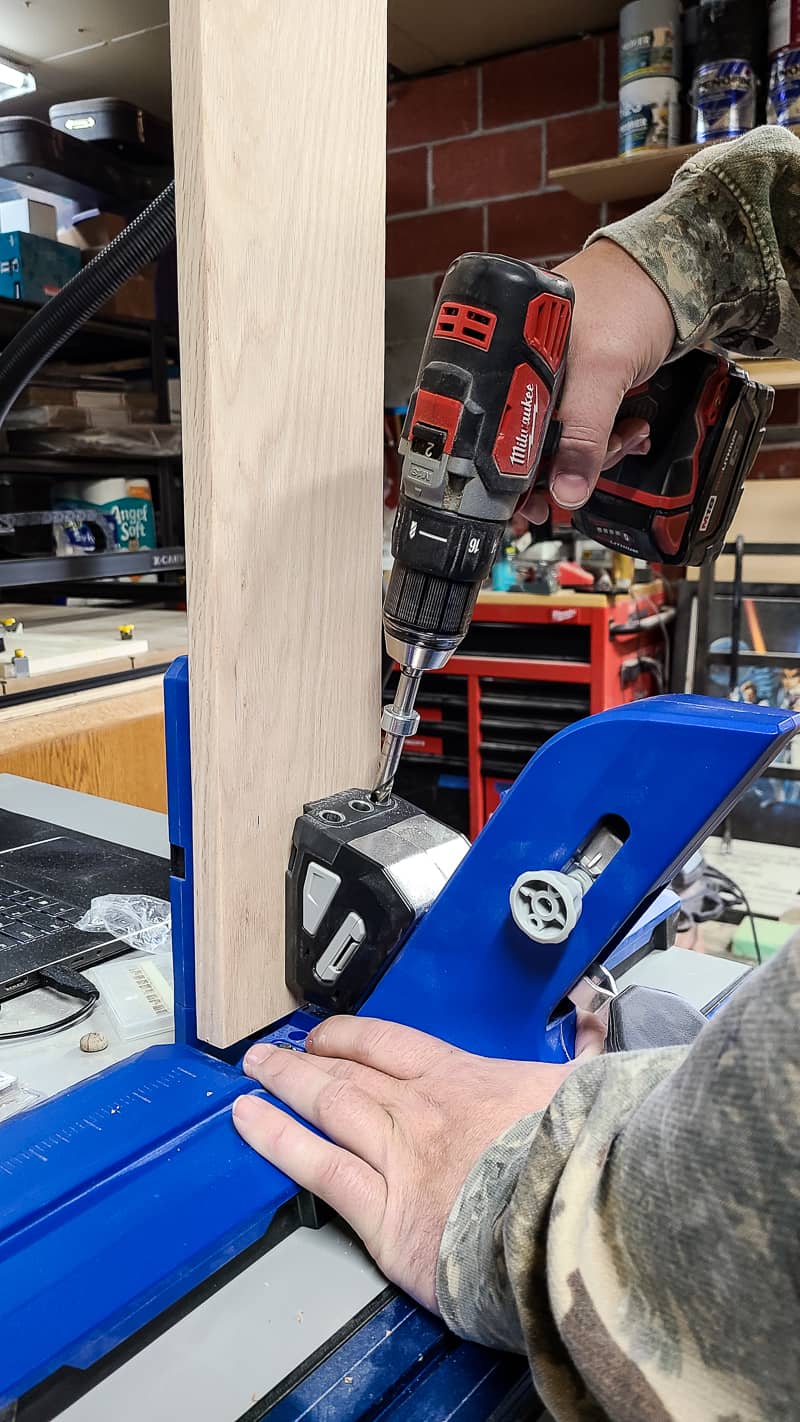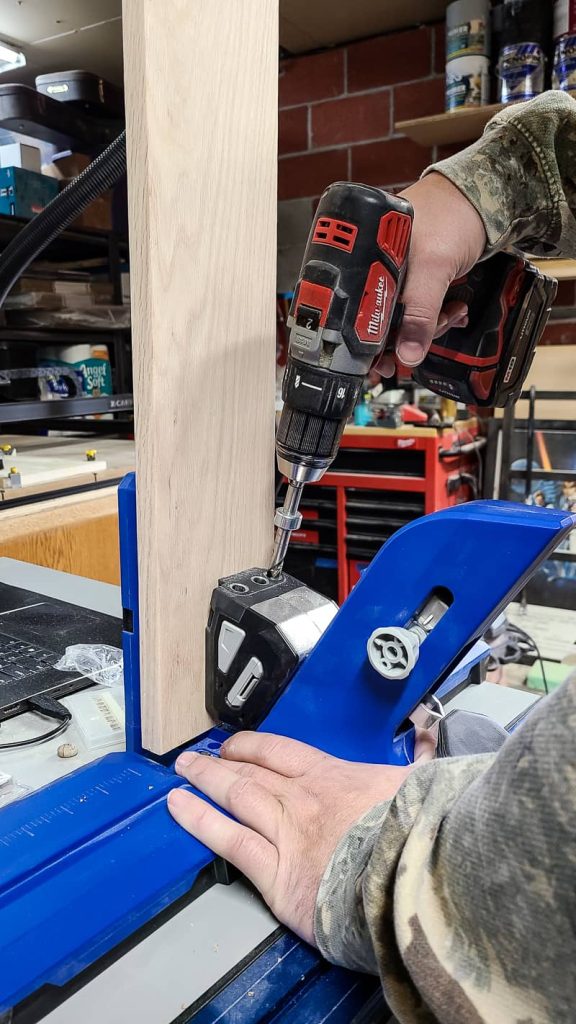 My favorite new feature of 720PRO and 520PRO is the clamp that you don't have to adjust anymore. You should clamp it down and it automatically adjusts to match the thickness of your wood, so cool, right?
Pocket hole joinery is definitely one of the easiest ways to join wood in woodworking projects. It's our favorite hidden weapon for beginning woodworkers!
Want to learn more? I wrote a super detailed guide & created a video all about how to set up your Kreg 720PRO Pocket Hole and use it, so be sure to check that out too!
We teamed up with our friends Kreg again for these skinny sofa table plans and we are sharing them online for free, which are now available on KregTool.com!
Kreg's website is chocked full of so many easy-to-follow FREE woodworking plans! I promise that you are going to find so much inspiration while you're there! It is a goldmine!
Related – Projects that use a pocket hole jig
Ready to see how the behind the couch table turned out?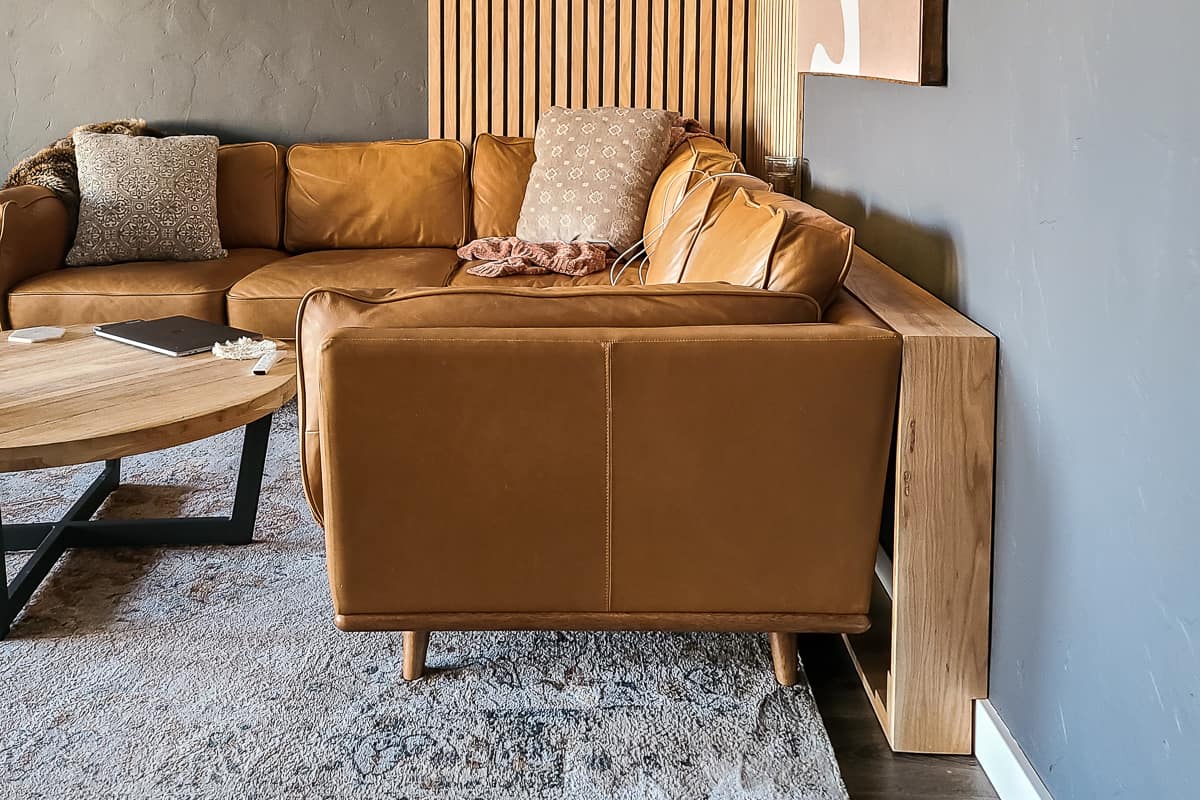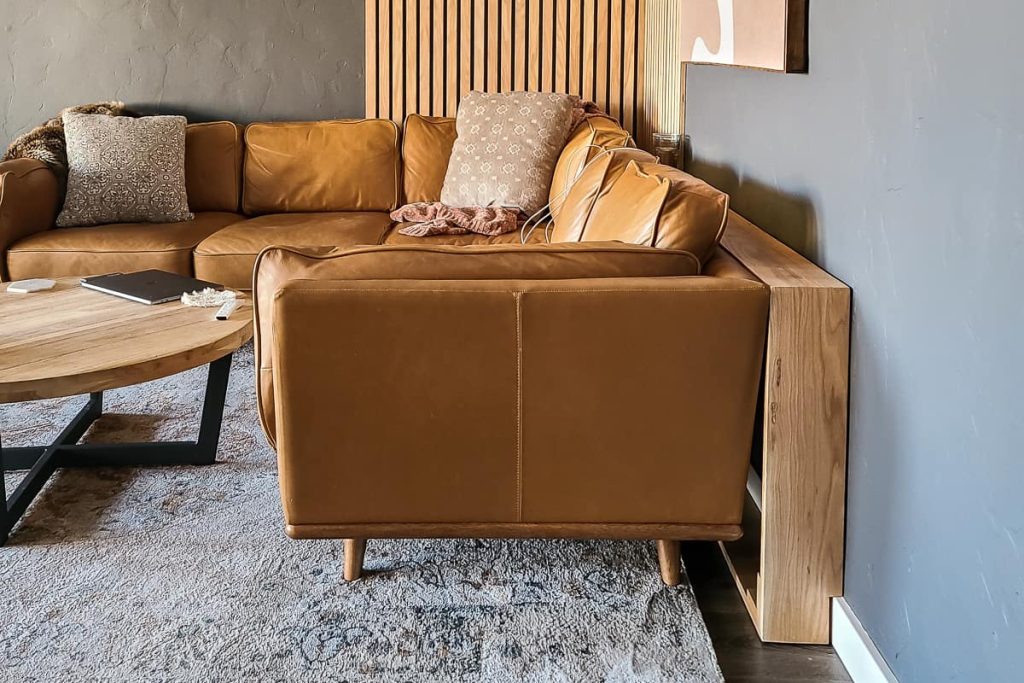 Isn't it just perfect?! I love the way it fits right around our baseboards and DIY slat wall so that it can be flush to the wall. Otherwise, we would constantly have small things fall behind the table, don't you agree?
DIY Sofa Table with Power: Video
If you love DIY videos, be sure to subscribe to our YouTube channel!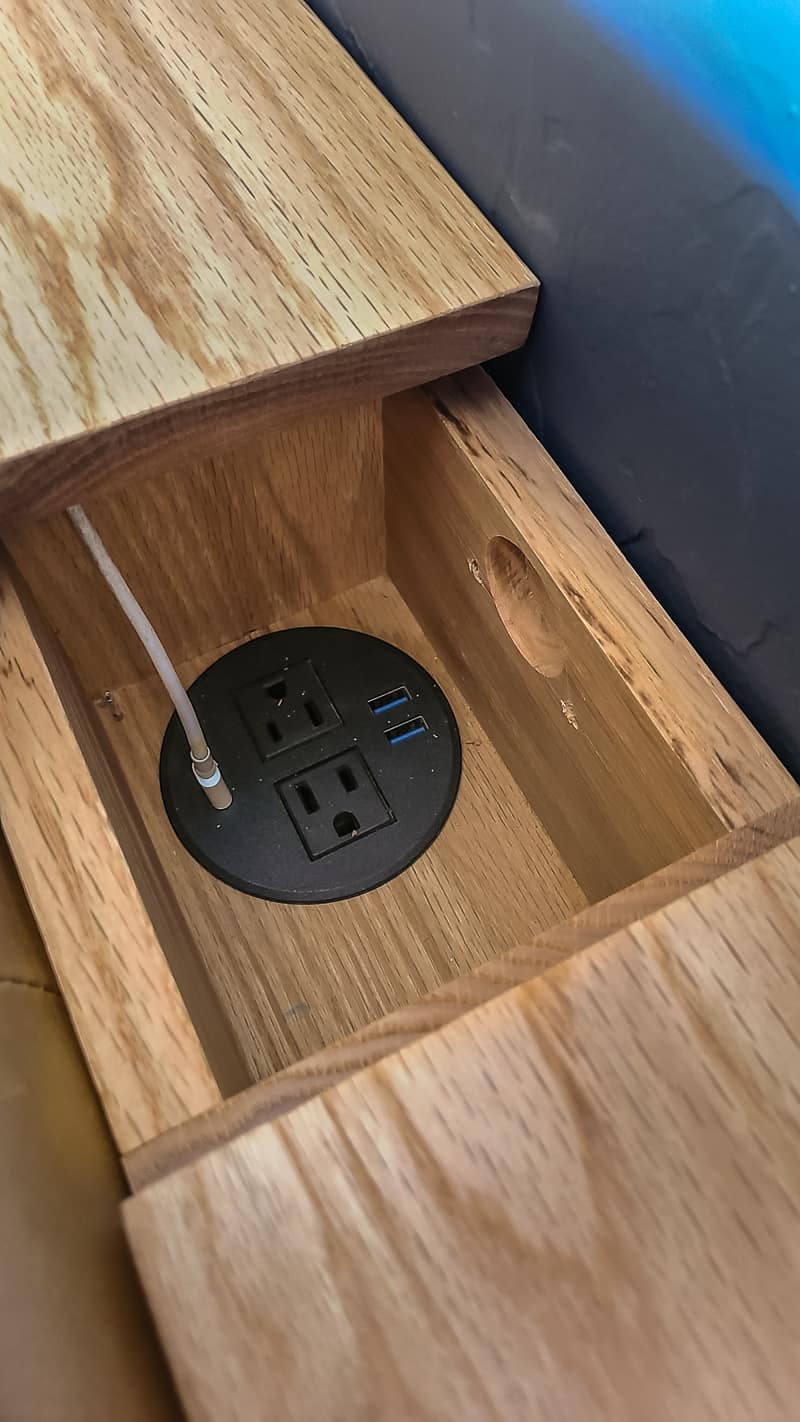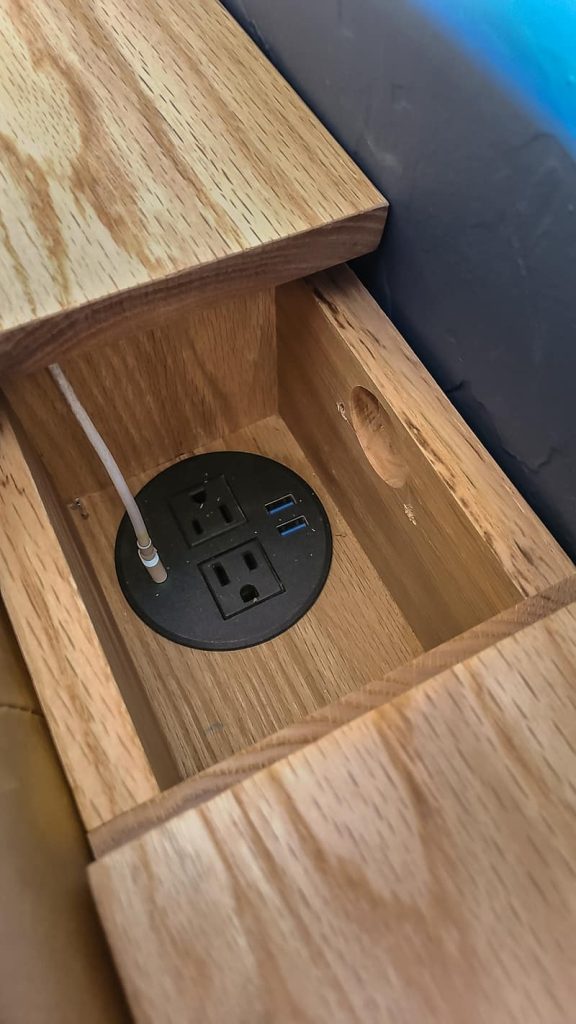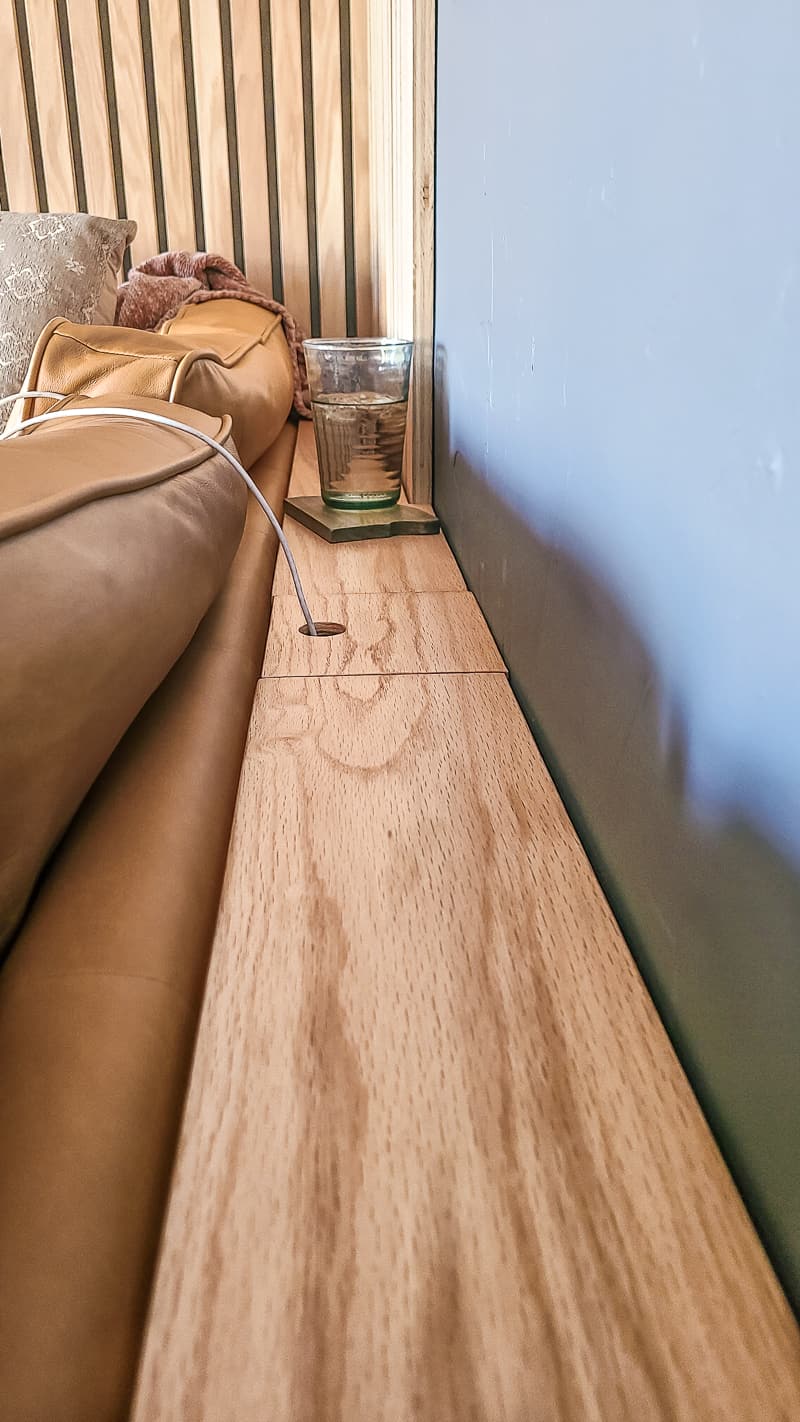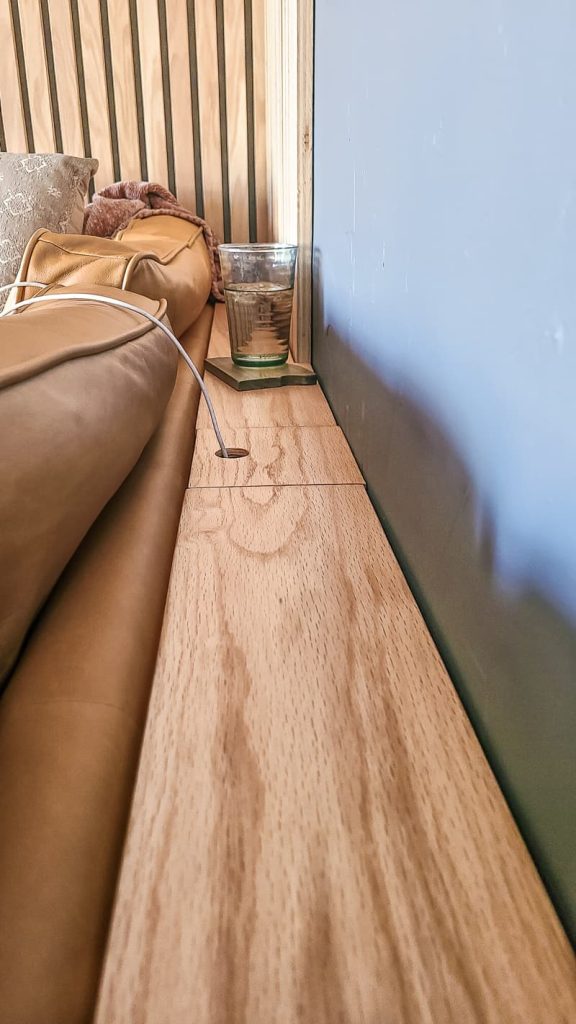 Definitely, the coolest part about the behind the sofa table is the small hidden box with the recessed outlet. Now I can easily sit in the corner of the sectional and still have my laptop or other devices charging while I relax. No more running the cords under the couch in a surge protector and over Logan just to charge my laptop!
Not only am I able to charge my devices, but now I have a convenient place to put my water cups and coffee mugs while I'm sitting on the couch. The coffee table is great, but not close enough to where I can stay cozy under my blanket and grab my cup to take a sip.
The cups on the coffee table, also, inevitably end up getting knocked over from the kids playing or the dog's wagging tail – so this keeps the cups away from the chaos!
If you're wondering how much it cost to build this sofa table, say no more. I've broken it all down for you. Even with the rising cost of lumber and the fact that we used real hardwood (Oak to be specific on the type of wood), it was a fairly affordable DIY project.
If we would have purchased a skinny sofa table new (like this one), it would have been a little cheaper, of course.
However, it would have been made from cheap materials, not be as sturdy, and definitely wouldn't have been custom made to fit our wall and baseboards (providing a flush table with the wall).
DIY Behind the Couch Table Cost Breakdown
Note: these costs are, of course, subject to change and may be different in your region.
Wood Products Needed
Materials Needed
**Already on hand: 80 & 150 grit sandpaper, 1 1/2″ finish nails, 1 1/4″ pocket hole screws, and all tools required, like the Kreg Pocket-Hole Jig 720Pro **
Total Cost of Behind Sofa Table – $236.59
We are SO happy with how our couch table turned out and it solves a pain point for me that bugged me almost every day – so that's a WIN for sure.
Would you build this behind the couch table for your living room?
Let us know in the comments below!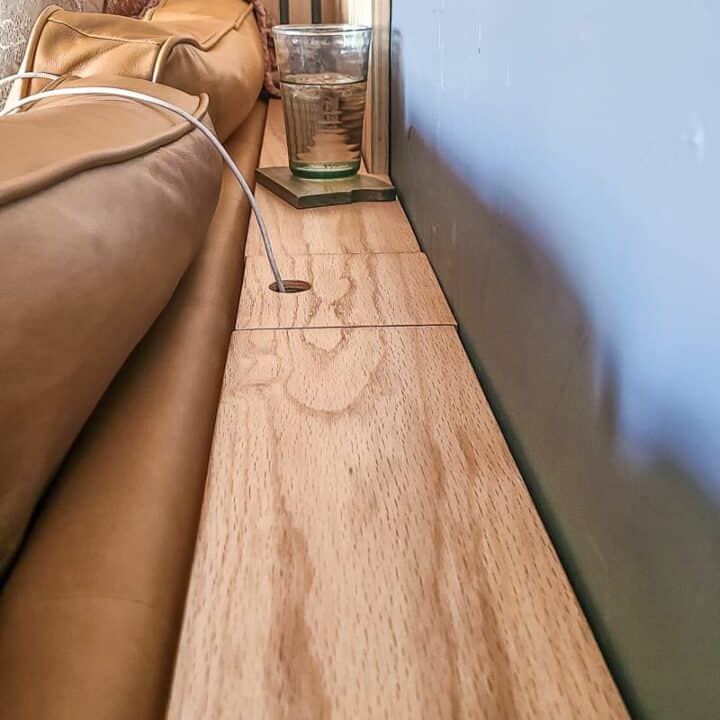 Behind the Couch Table with Outlet
How to build a behind the couch table with an outlet.
Materials
Stainable wood filler
Spray polyurethane
Box Of 1 ¼" Kreg Pocket Hole Screws (See Tools List)
80 Grit Sandpaper
150 Grit Sandpaper
Spray Polyurethane
Recessed Power Outlet
Wood Filler
Box Of 1 ½" Finish Nails
Wood Glue
Tools
Bevel Miter Saw
Circular saw
Table saw
Tape measure
Drill
Orbital sander
Clamps
3 1/4" Hole Saw
Instructions
Cut the wood according to the cut list in the plans.
Assemble the 4 corner supports with a little bit of wood glue and 1 ½" finish nails.
Drill pocket holes as shown in the woodworking plans.
Assemble small box with pocket hole joinery.
Assemble the sofa table with the pocket holes and 1 ¼" inch pocket hole screws.
Fill all nail holes with stainable wood filler, let dry, then sand smooth.
Using 1 ¼" hole saw make a hole in the lid for the box.
Seal with stain/finish or paint of your choice.
Add outlet into the hole in the bottom of the box and thread on the ring on the bottom to secure.
Recommended Products
As an Amazon Associate and member of other affiliate programs, I earn from qualifying purchases.