Need a good gift idea for little ones? Build this DIY step stool for toddler! Follow our step-by-step tutorial and download the free child step stool plans to start building today.
Thank you to Kreg for sponsoring this DIY step stool for toddlers! All opinions are entirely my own. This post also contains affiliate links, but nothing that I wouldn't recommend wholeheartedly. Read my full disclosure here.
We are doing our best to raise independent little ones. Part of that is making sure your home is set up some that it is accessible to our kids.
If they need to brush their teeth or wash their hands, can they reach the sink without yelling for Mom or Dad? Can they step up and help you prepare dinner at the kitchen counter?
This DIY step stool for toddlers is the perfect solution for instilling that independence and confidence into your children!
Table of Contents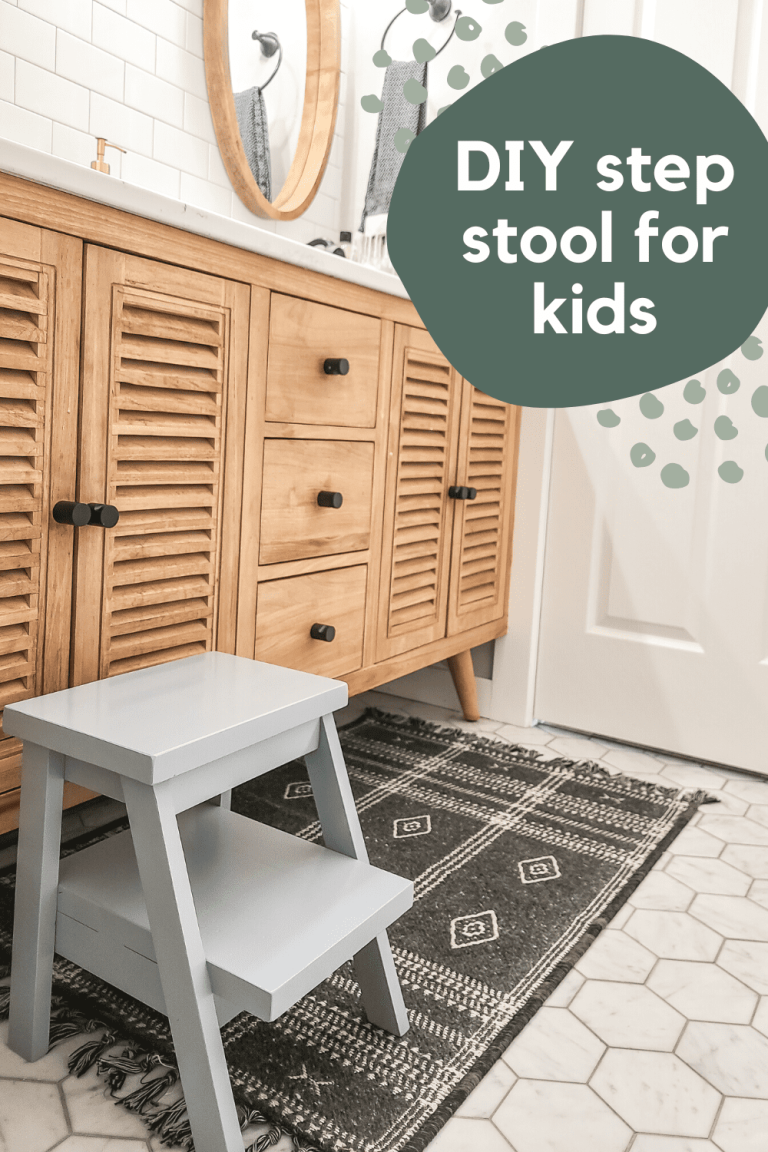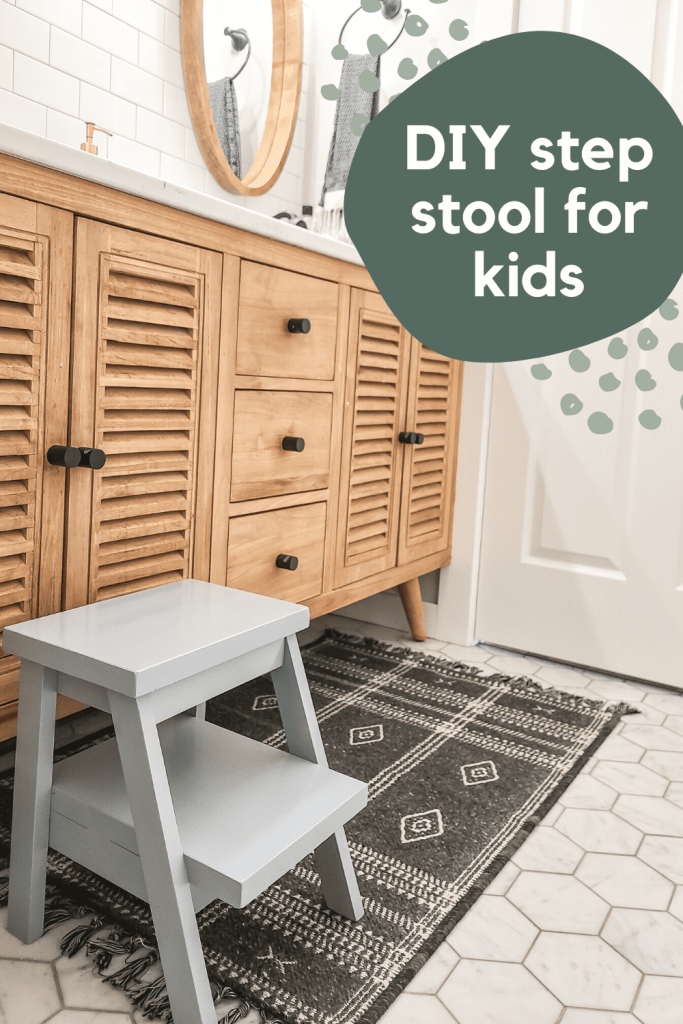 We designed the children's step stool plans with beginner woodworkers in mind. It uses easy joinery, like pocket holes.
There are a few angled cuts, which makes it one step more difficult than most beginner woodworking plans. But once you know how to change the angle of your miter saw, you're good to go!
Kreg 720PRO Pocket Hole Jig
If you've been following Making Manzanita for a bit, you know that we are big fans of the Kreg pocket hole system.
We built tons of projects using our original K5 Pocket Hole Jig, we even have a super detailed guide and video about how to use it that you can check out here.
In 2021, Kreg released brand new pocket hole systems that replaced the K4 and K5, and the upgrades are pretty awesome.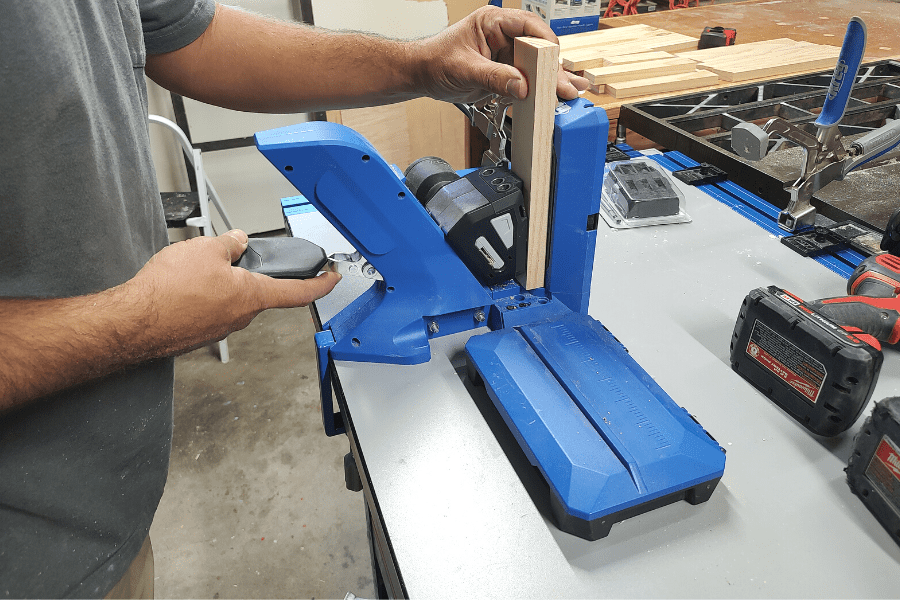 The new 720PRO (which we were using for this DIY step stool) and the 520PRO (which replaced the smaller K4 system) were improved a ton, the most noticeable change being that they are easier to set up and use – score.
My favorite new feature of 720PRO and 520PRO is the clamp that you don't have to adjust anymore. You should clamp it down and it automatically adjusts to match the thickness of your wood, so cool, right?
Pocket hole joinery is definitely one of the easiest ways to join wood in woodworking projects. It's our favorite hidden weapon for beginning woodworkers!
Want to learn more? I wrote a super detailed guide & created a video all about how to set up your Kreg 720PRO Pocket Hole and use it, so be sure to check that out too!
We teamed up with our friends Kreg again for these children's step stool plans and are sharing them online for free, now available on KregTool.com!
Kreg's website is chocked full of so many easy-to-follow FREE woodworking plans! I promise that you are going to find so much inspiration while you're there! It is a goldmine!
Related – Projects that use a pocket hole jig
DIY Step Stool for Toddler: Video Tutorial
If you love DIY videos, don't forget to subscribe to our YouTube channel!
Ready to see how the child's step stool turned out?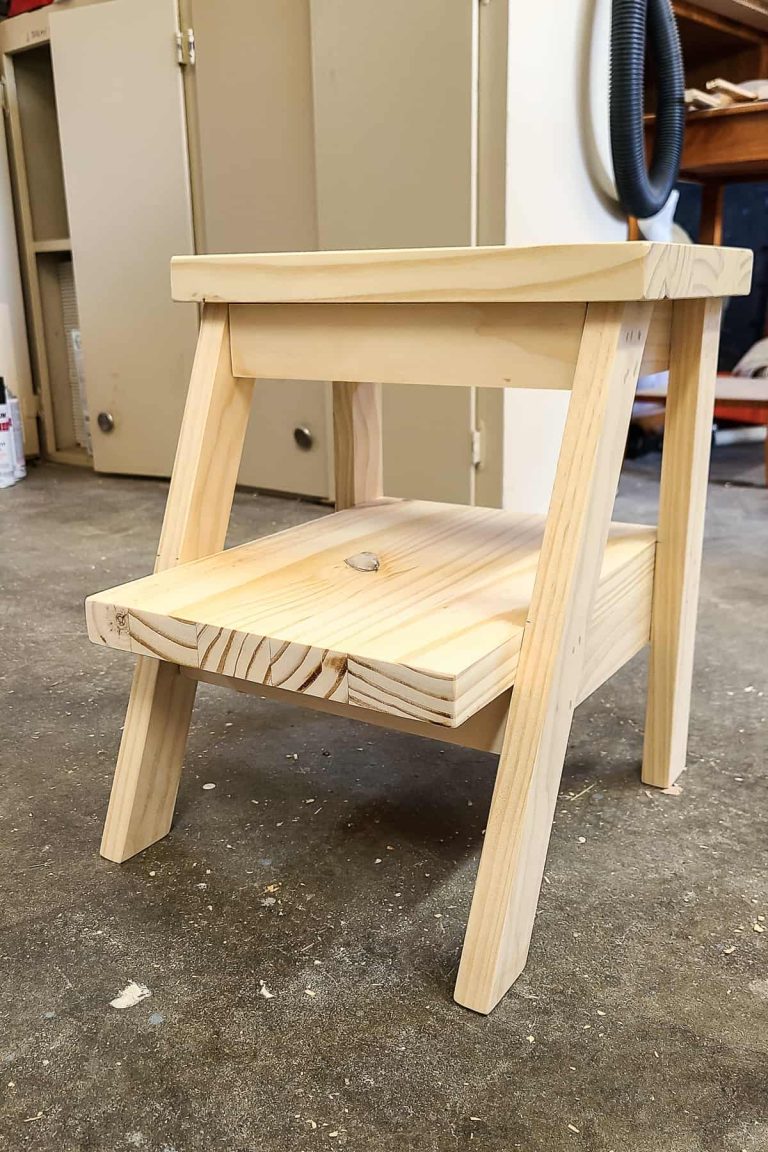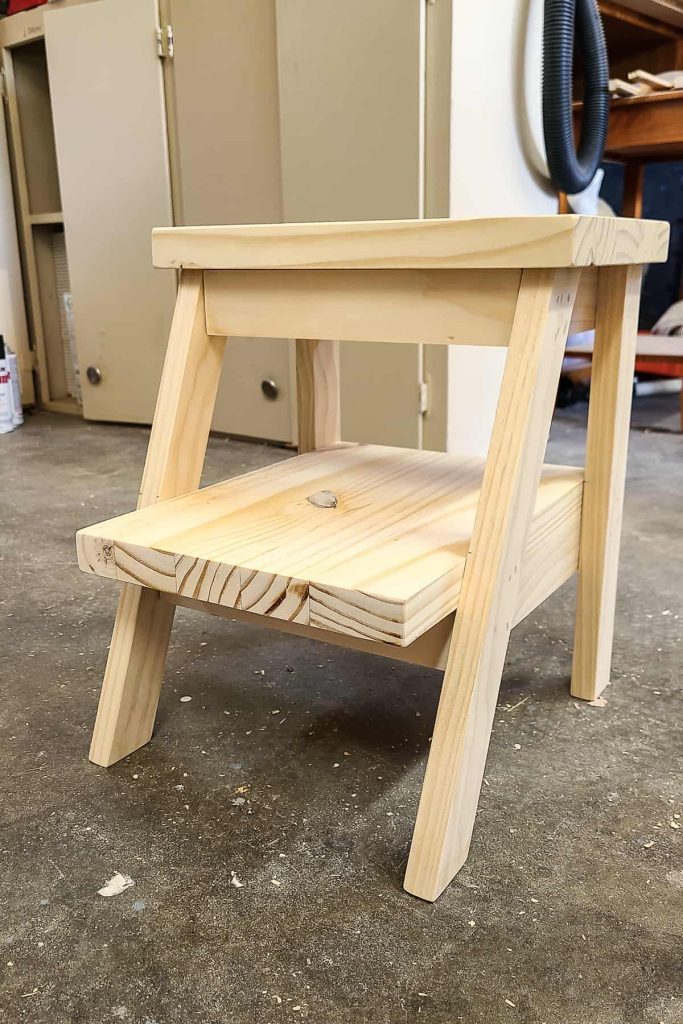 Here's how the children's step stool turned out before we painted it. We opted for inexpensive pine wood because we were planning to paint the project.
Pine is a type of wood that is notoriously hard to stain, so we usually avoid it unless we're planning on painting.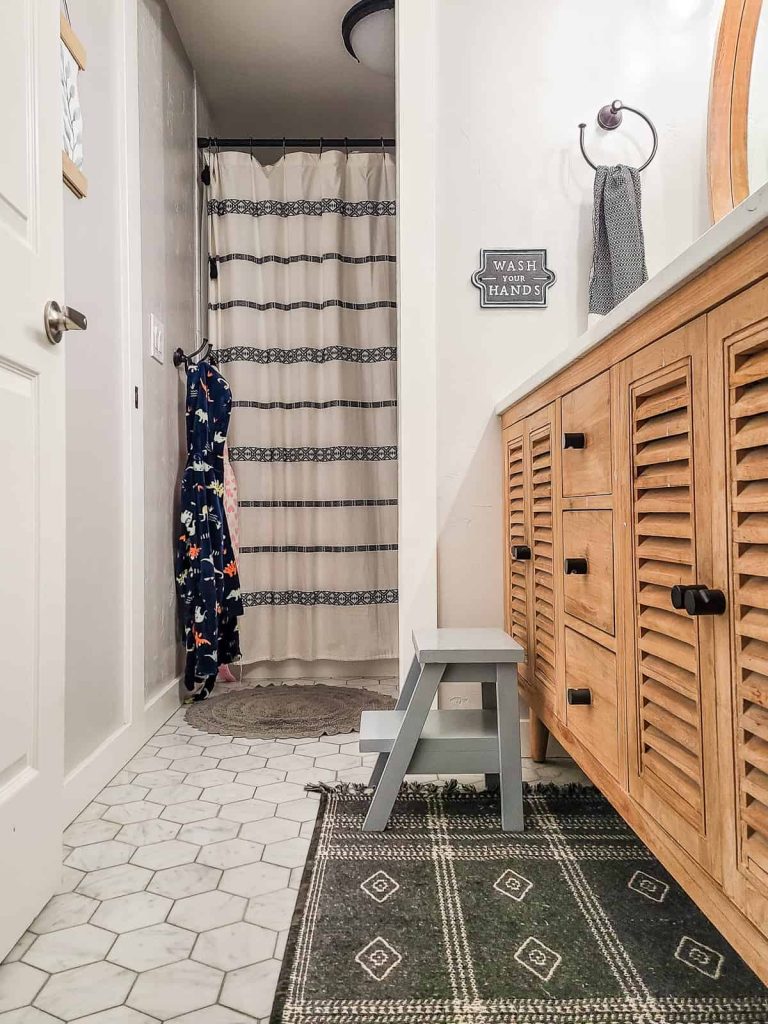 If you wanted to stain your DIY step stool for toddlers, you could easily swap out the wood in the plans with something like oak. But the cost will go up, so keep that in mind.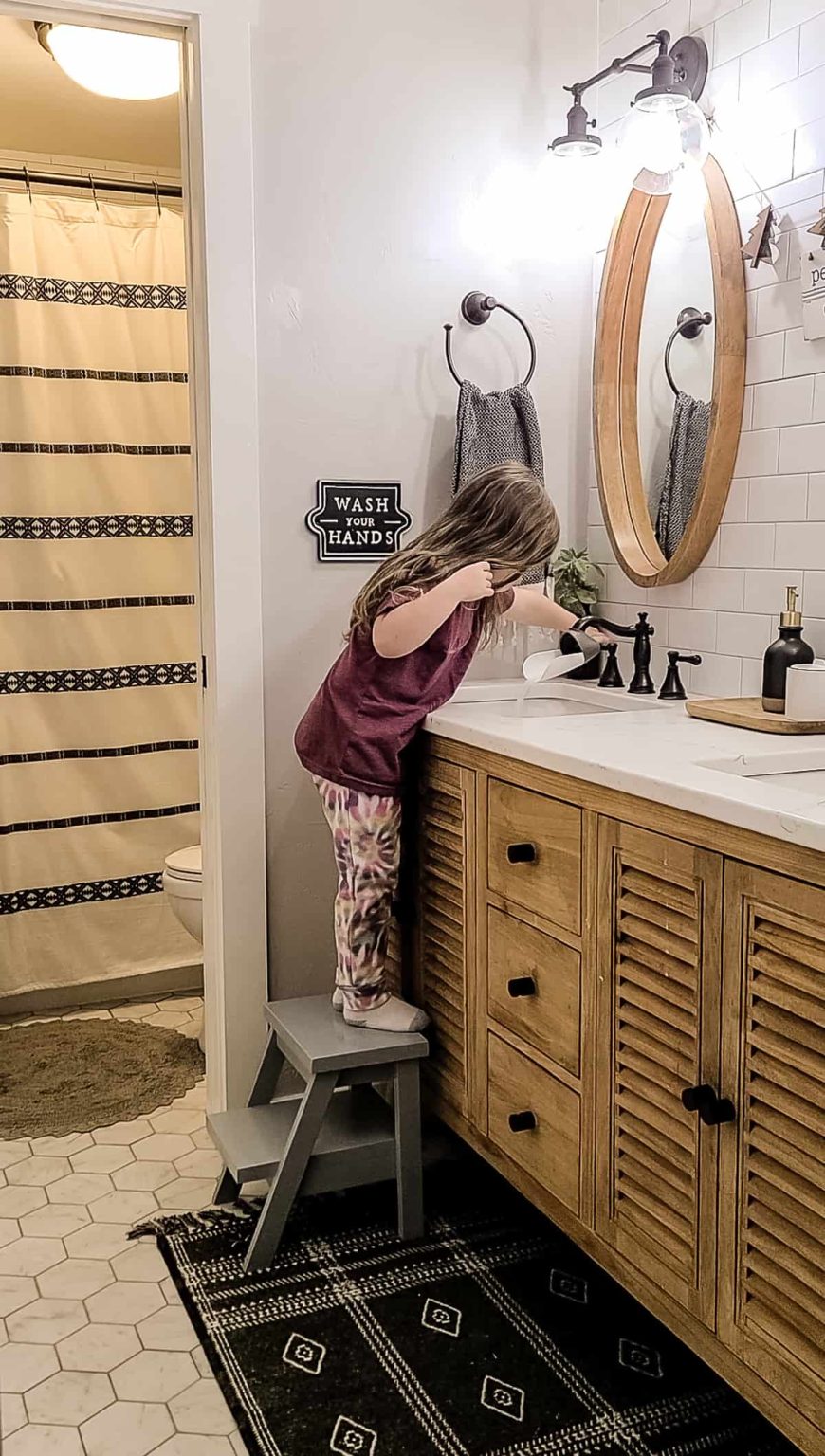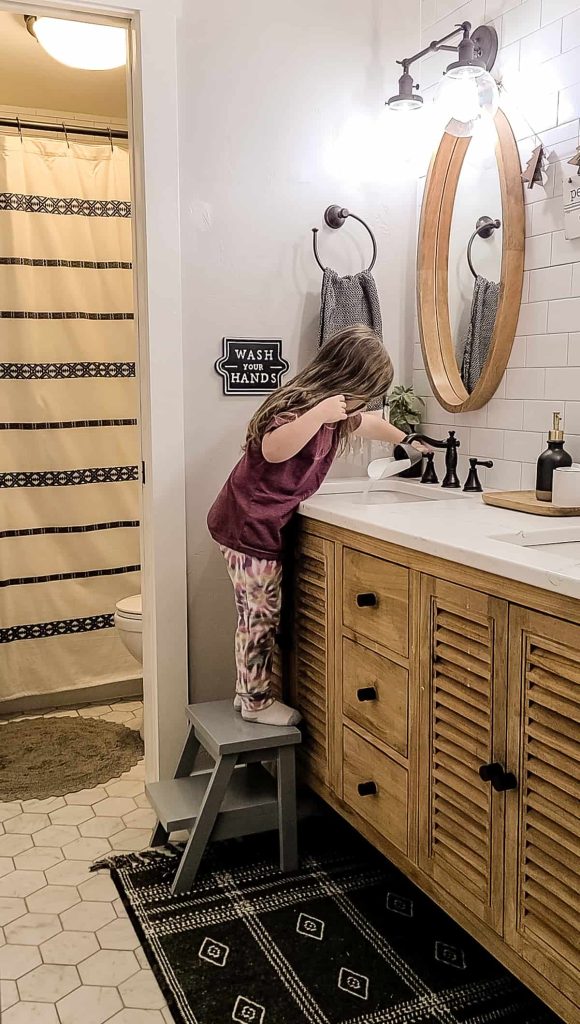 The stool is perfect in front of the bathroom vanity so toddlers and little ones can reach the sink with ease. No more yelling for Mom or Dad to help them wash their hands or brush their teeth!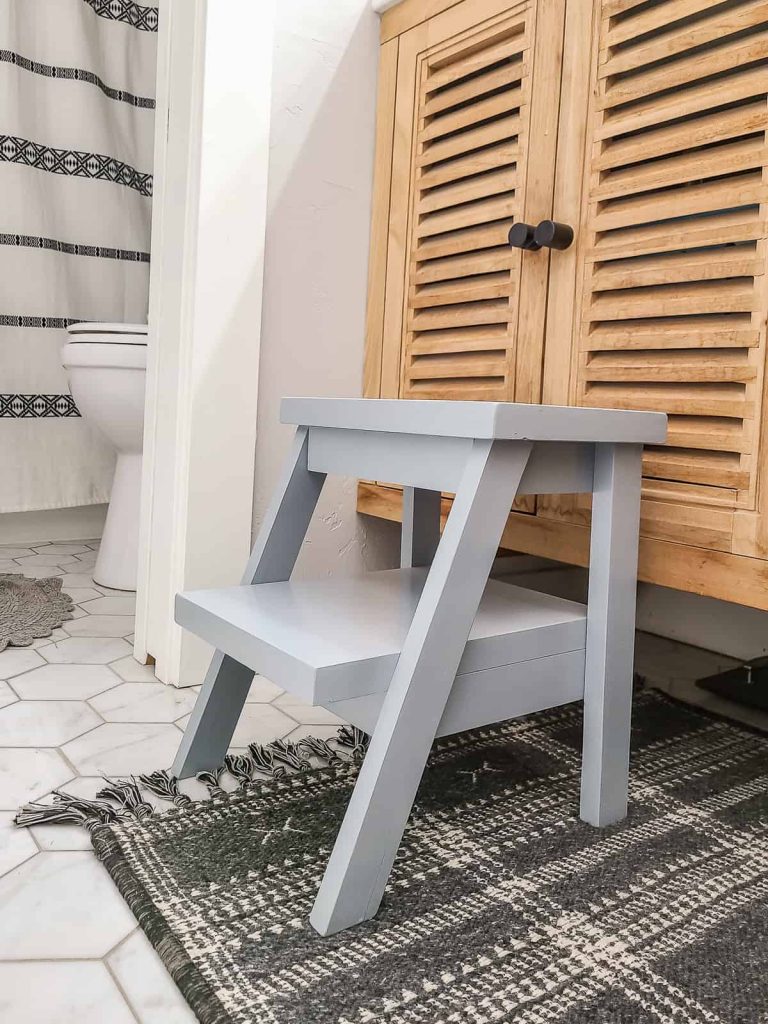 The stool is lightweight and easy for kids to pick up and carry around the house wherever they need it.
For instance, they can very easily move it into the kitchen and stand up to help prepare food. My kids love helping in this kitchen, so this will definitely come in handy!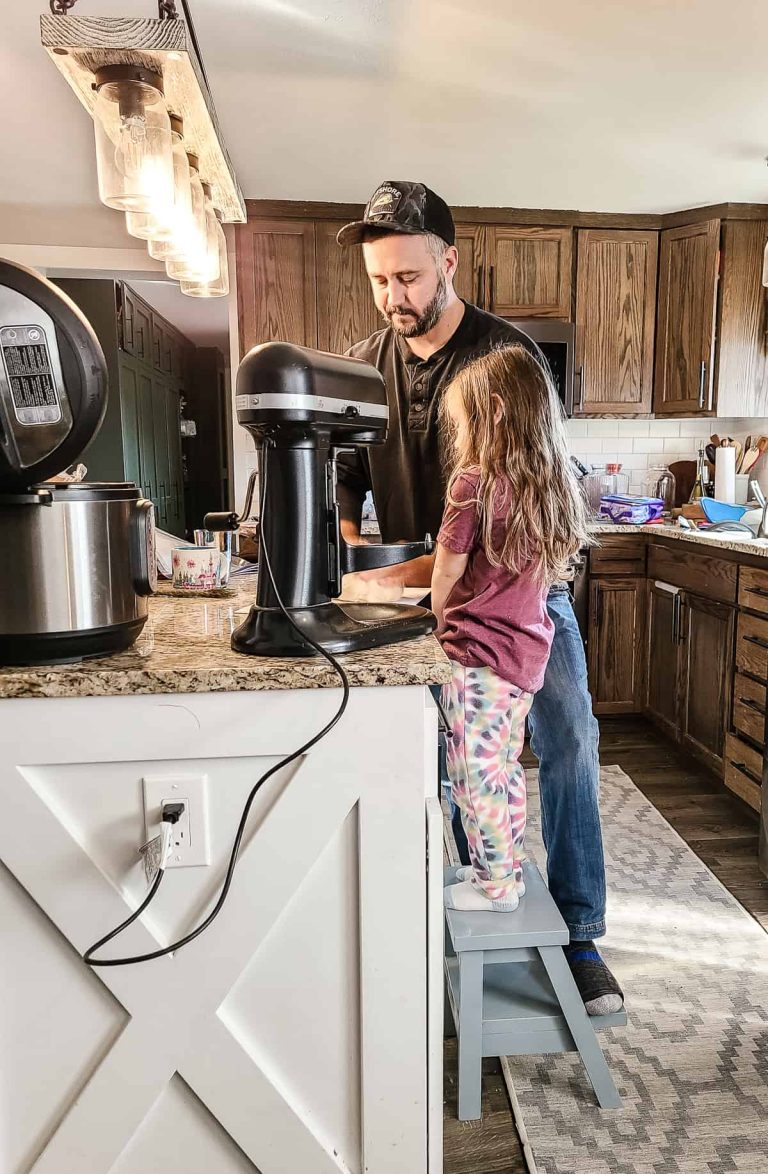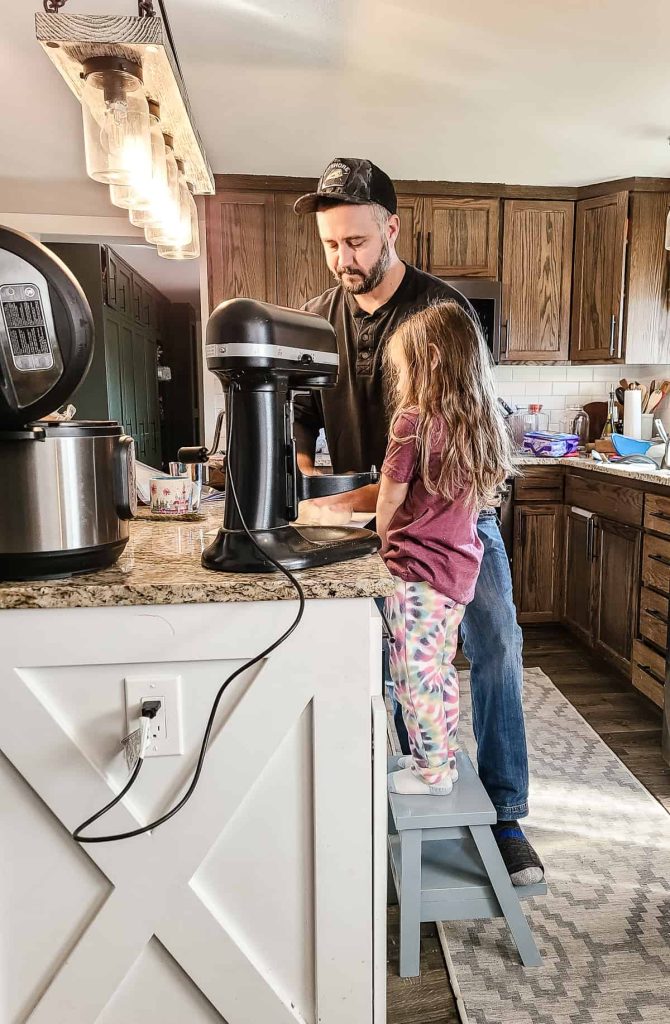 If you want to build this easy DIY step stool for toddlers, we've done all the hard work for you! All you need to do is hop over to Kreg's website and check out the full tutorial.
At the bottom of the tutorial on Kreg's website, you'll also see a link to download the child step stool woodworking plans (for free) to get all of the detailed measurements and a cut list!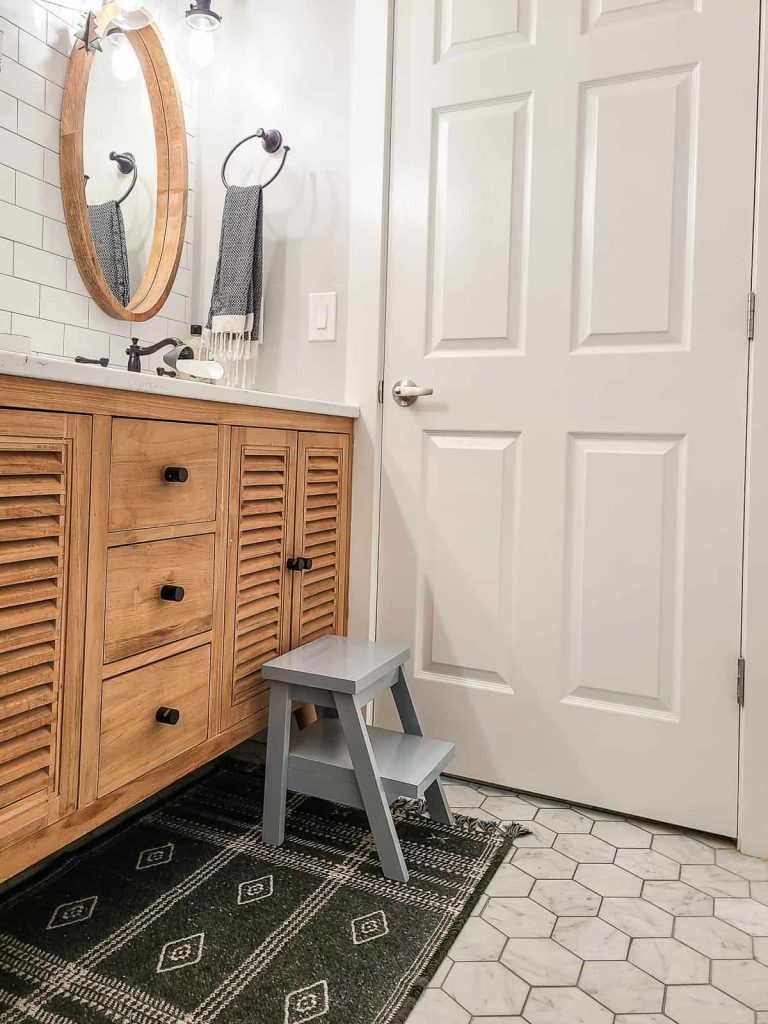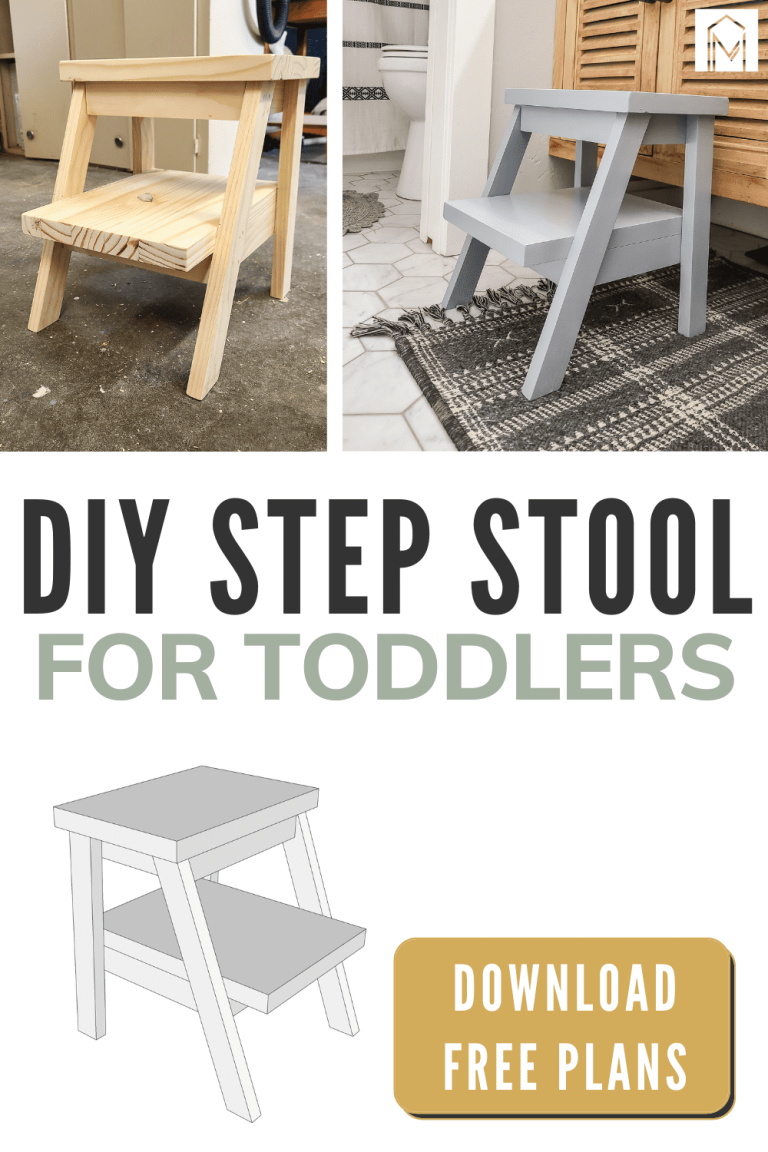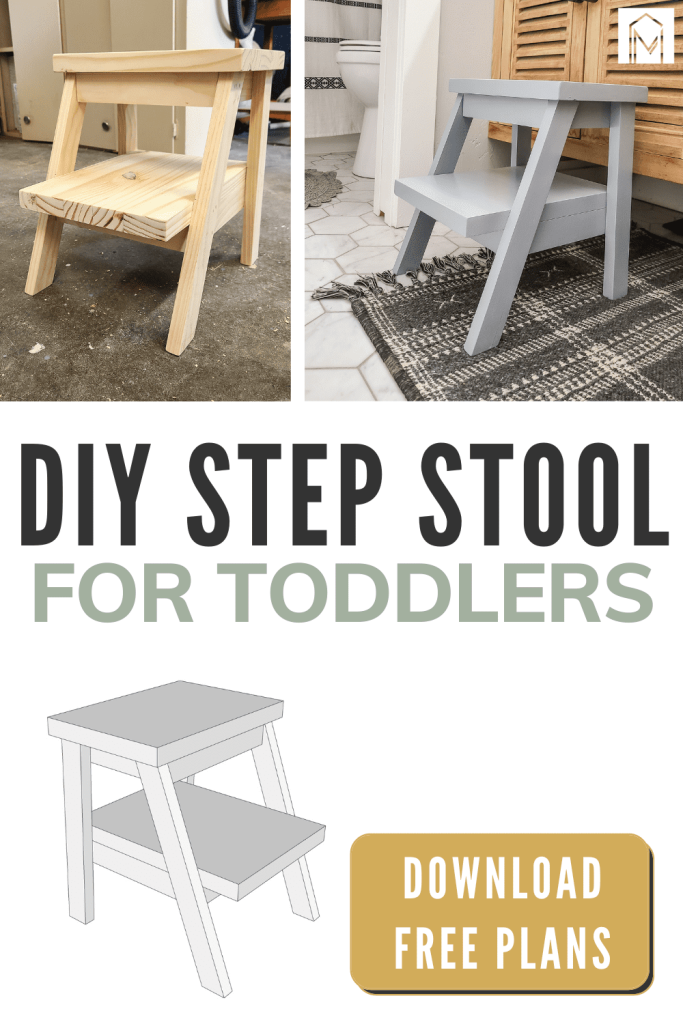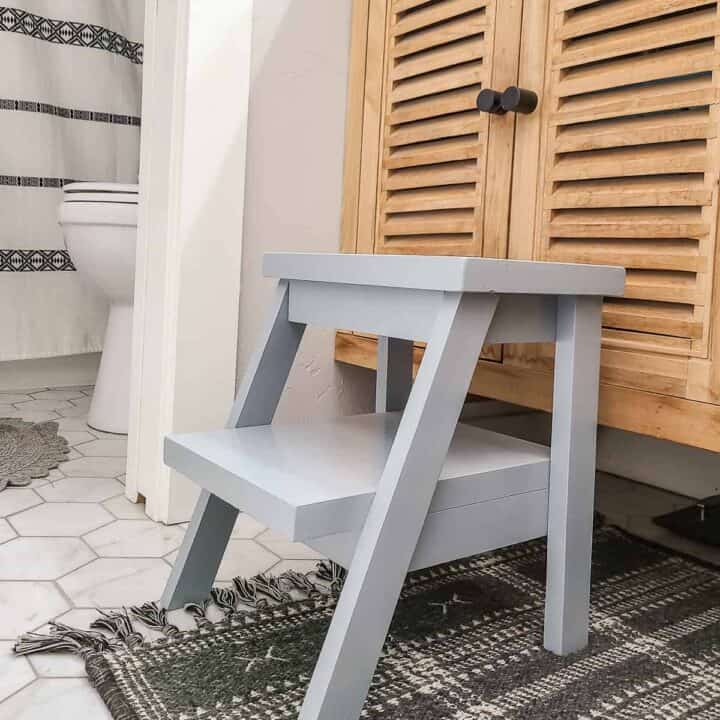 How To Make A DIY Step Stool for Toddler
This easy-to-build wooden step stool is perfect for your little ones. It is great in the kitchen to help or in the bathroom to reach the sink. 
Materials
2 pieces of Select Pine , 1" X 3" X 8'
Unfinished Pine Stair Tread , 1" X 11 1/4" X 48"
1 ¼" Kreg Pocket Hole Softwood Screws
2 ¼" Finish Nails
2" Finish Nails
80 And 150 Sandpaper
Wood Glue
Spray Primer
Spray Paint
Tools
Tape Measure
Level or Straight Edge
Kreg 720Pro Pocket Hole Jig
90-degree Pocket Hole Driver
Clamp Table
Table Saw
Miter Saw
Drill
Impact Driver
Clamps
Orbital Sander
Instructions
Cut wood according to the woodworking plans. You can download the free plans here.
Drill pocket holes.
Assemble box frames for each step.
Attach the stair tread to the box frames.
Add legs to the top step.
Add the bottom step to the legs.
Fill nails holes and sand.
Prime and paint the stool.
Notes
You can find more details about the tutorial and free woodworking plans here: https://learn.kregtool.com/plans/kids-stepping-stool/