Looking for some farmhouse kitchen essentials that to add some of the farmhouse charm to your kitchen? In this post, you'll find some great finds that you can add to your kitchen – everything from kitchen towels to the perfect farmhouse style chair at your kitchen table!
The kitchen is the heart of the home, right?
Whether you like it or not, the truth is that you spend A LOT of time in the kitchen.
So, it should really be a place you LOVE. if you're looking for some farmhouse kitchen ideas, you're in luck. Today I rounded up tons of farmhouse kitchen essentials just for you.
I thought this would be perfect timing because this month it's going to be ALL about our kitchen projects. First up, starting next week we're going to start sharing the tutorials for our kitchen backsplash redo. Any ideas for what kind of kitchen backsplash we're adding?…..You got it. White subway tile, of course.
Then I'm going to be sharing the full step by step tutorial for how we completely rebuilt our kitchen island to house our dishwasher and gave our kitchen some major farmhouse style.
So, let's kick off this month of farmhouse kitchen ideas with some inspirations for essentials and decor ok?!
This post contains affiliate links, but nothing that I wouldn't wholeheartedly recommend anyway! Read my full disclosure here.
Are you ready to see these farmhouse kitchen essentials ??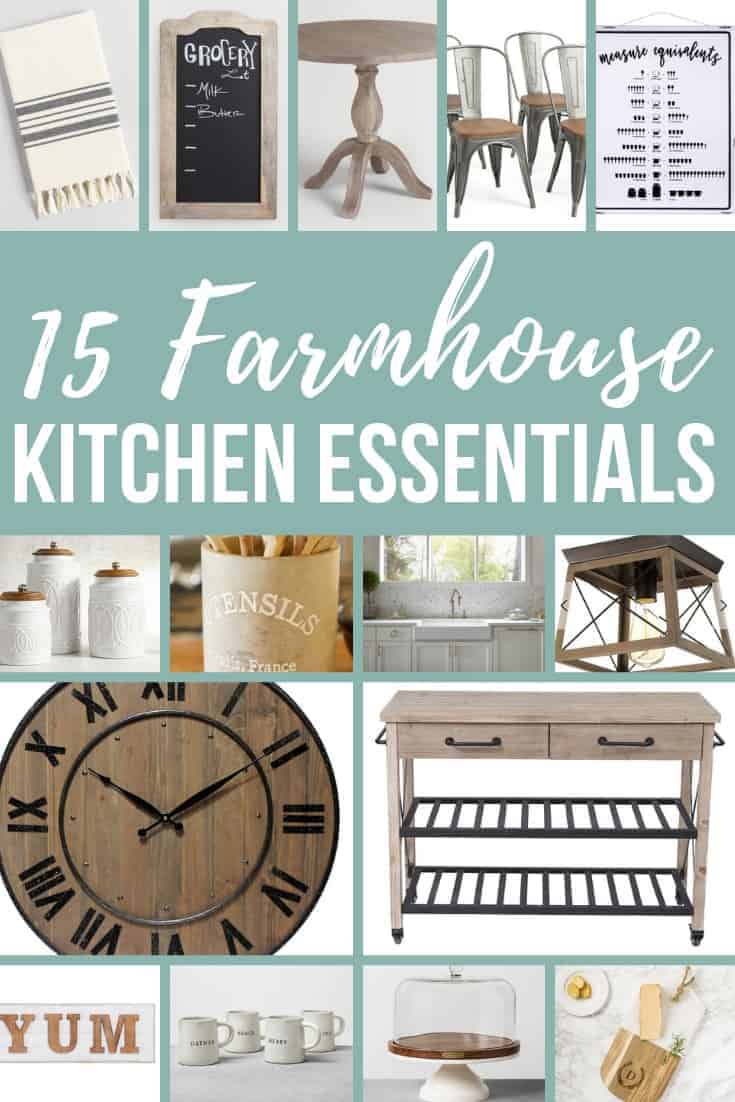 Made with 100 % cotton with a woven black stripe design towel, this kitchen towel is an affordable essential. Perfect for daily use in a farm kitchen. You can give it as a gift too.
How cute would this little farmhouse chalkboard be in your kitchen as a little menu board. You could also use it to keep track of your to-do's, recipe notes and reminders. I just love this arched shape and whitewash farmhouse chalkboard!
This farmhouse kitchen table is a space-saving solution in small kitchen eating areas. You can fold down one or both leaves for a compact console table. I love weathered finish, don't you?
When I was looking for farmhouse kitchen essentials, I stumbled upon this really cool dining chair set. They are made from rustic steels with wooden seats, which is perfect so your bums don't get cold on the metal!
Hang this adorable kitchen wall sign anywhere that can easily be seen. It will definitely be handy when you're not sure about the measurement equivalent of something when you're cooking.
Be sure to get one of these intricately carved ivory canisters with mango wood handled lid. Place them on a countertop to hold essentials like sugar, flour and coffee.
Every kitchen needs a good place to store utensils. This wide and sturdy utensil crock can hold your utensils with style. It looks great and easily compliments other farmhouse kitchen decor.
Watch out for this show stopping Elkay farmhouse sink that has a streamlined and versatile farmhouse style. Not to mention, it would look GORGEOUS in a farmhouse kitchen, right?
Lighting is an easy way to add more style to your farmhouse kitchen. There are so many fun farmhouse style kitchen lights, but I really love this one that we have above our kitchen island!
Hanging a big wall clock in your kitchen not only add some style to your walls, but also provides function by displaying the time – which always comes in handy in the kitchen where you spend so much time. This stunning wall clock made from wine barrel with steel numbers would look so great hanging up on your kitchen walls.
If you're looking for farmhouse kitchen decor, look no further. This 'YUM' wall hanging is just adorable! This sign will has a subtle hint to make you really savour that food.
Need more storage in your kitchen? What about this two drawer rustic cart! It is stylish and can save you a lot of space and storage. It has wheels too, so you can move it around.
This perfect for parties and special events and would double as decor up on your shelves! This classy and elegant cake stand has a wooden base with glass cover.
Love coffee? I mean…who doesn't? Check out these amazing stoneware mugs. Love the simple ribbing on each mug!
If you want a real elegant kitchen essential with a farmhouse touch, this marble and acacia serving board is a must-have. Made of half marble and fine acacia wood, it comes with a rustic tie so you can hang it up if you want too! You can use it for serving cheese and wine.
Now that all of these kitchen ideas are fresh in your mind, go scan your kitchen and check out where you can add a farmhouse kitchen essential or two! Maybe it is adding in a kitchen towel or some farmhouse kitchen decor, like the wall art ideas or clock. Or it could be something more dramatic like swapping out your table and chairs!
Which of these farmhouse kitchen essentials are your favorite?
Let me know in the comments below!