We built this farmhouse sink cabinet for our laundry room and incorporated a folding counter to go over the washer & dryer. It's so functional AND pretty! The best part is that we're giving you the full woodworking plans for free!
Thank you to Kreg for sponsoring this farmhouse sink cabinet build! All opinions are entirely my own. This post also contains affiliate links, but nothing that I wouldn't recommend wholeheartedly. Read my full disclosure here.
Last year we did a Phase 1 renovation in our laundry room. It really came a LONGGGG way with a few simple projects like this faux brick wall & industrial pipe shelves.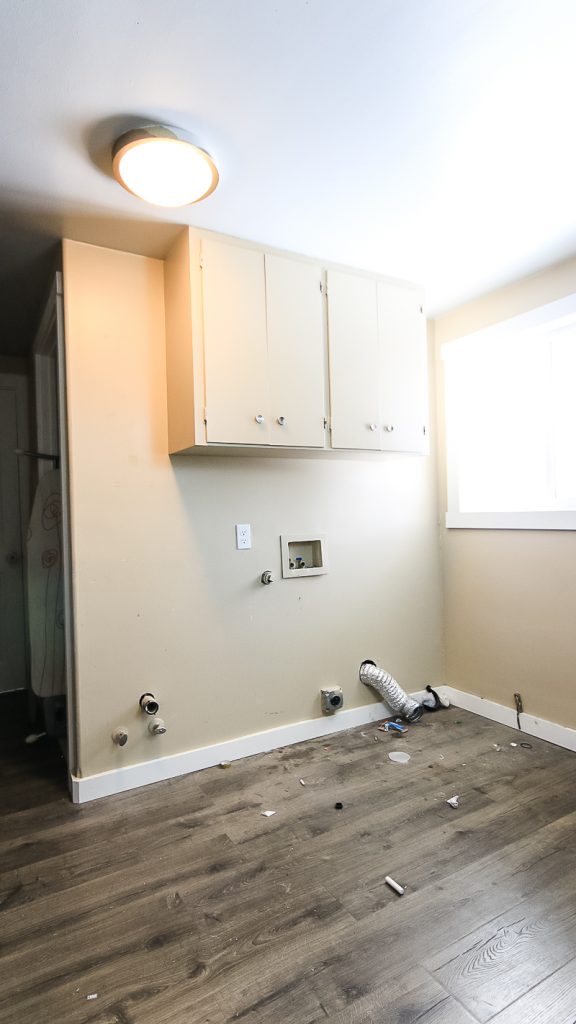 Well, for anyone that has done a "Phase 1" in any room – you know that when you're done, you are left dreaming of that Phase 2. Usually, you have a plan in place already!
Before we even started Phase 1 in the laundry room, we had big plans for Phase 2, which included building a farmhouse sink cabinet and folding counter over the washer and dryer! You can read more about our laundry room plans here!
Well friends, the day has finally come to start Phase 2 in our laundry room!
So we built a base cabinet for a farmhouse sink and folding counter!
For this fun DIY woodworking project we've teamed up with Kreg to create the plans and share them online for free!
If you're wondering, Kreg Tools is full of easy-to-follow woodworking plans that are all available for free! I'm sure you are going to find so much inspiration while you are there.
We went back to our handy Kreg K5 pocket hole for this one, which is a tool that we LOVE! Learn all about how to use a pocket hole jig here!
UPDATE: In 2021 Kreg replaced the K5 Pocket Hole system with the Kreg 720 Pro. Check out our guide all about the new Kreg 720Pro to learn more.
For this build, we used our new Kreg Clamp Table & Steel Stand Combo to assemble the face frame and it was SO handy. The table comps with tracks holding two bench clamps that hold your pieces in place while you screw in the pocket holes when assembling.
Here's the clamp table in action!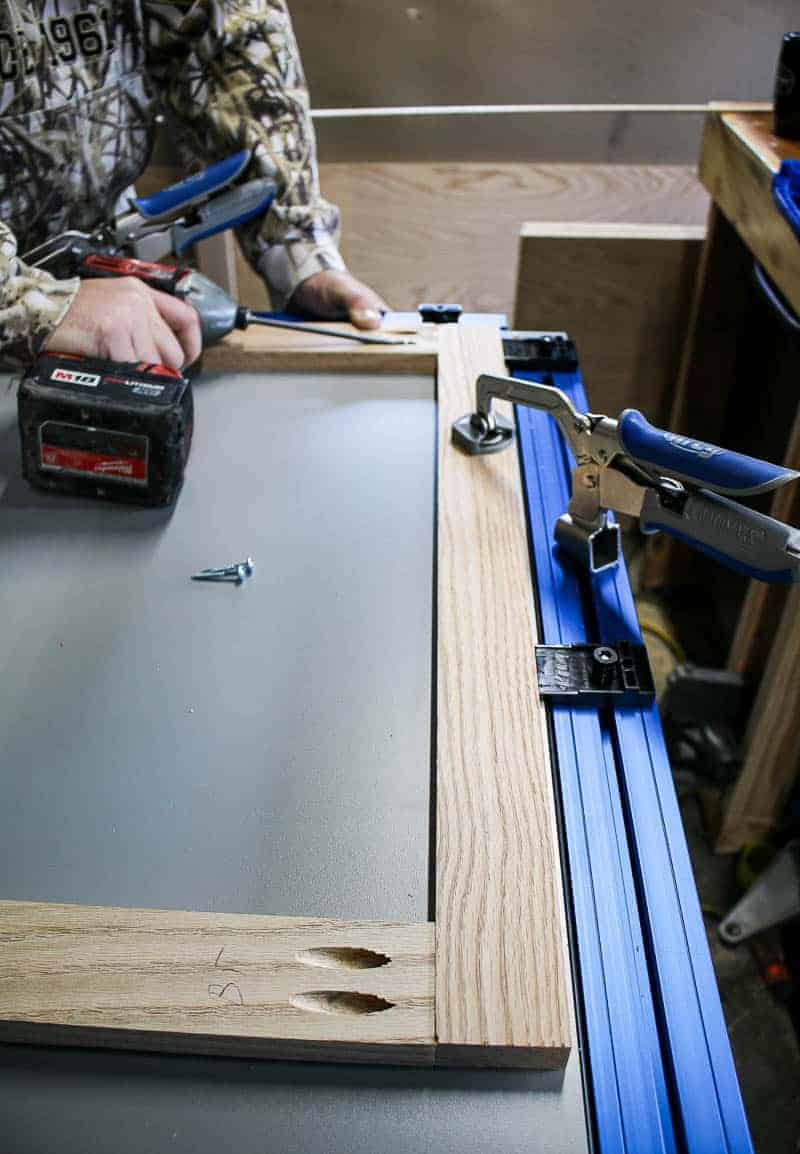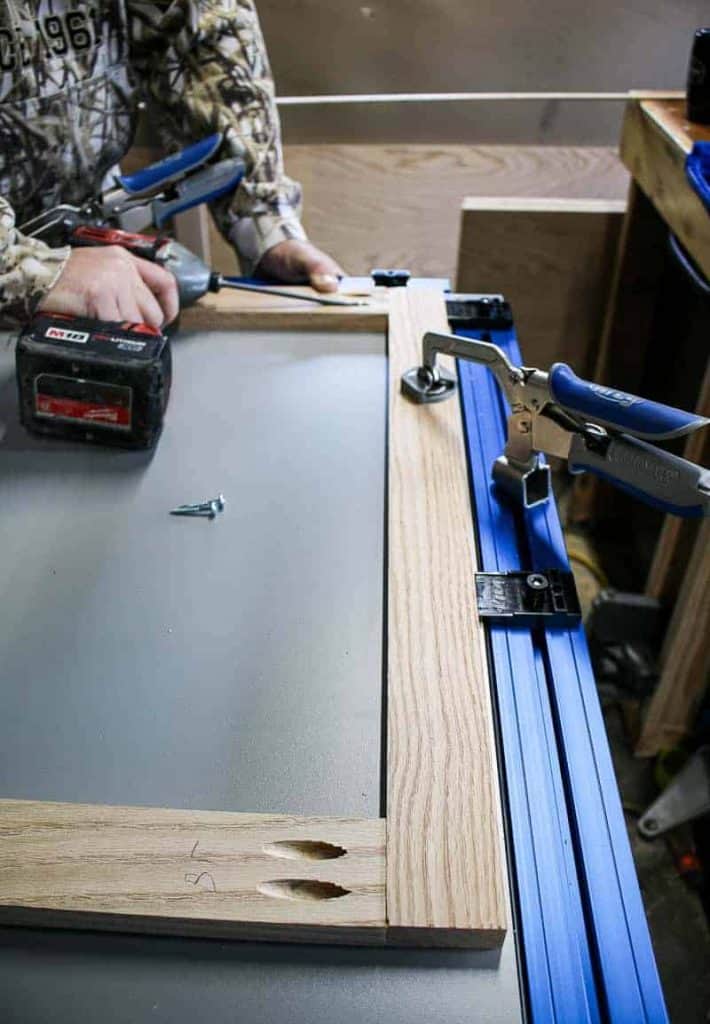 The Final Results: A Stunning Farmhouse Laundry Room Sink & Folding Table!
We are SO happy to finally have a sink in our laundry room – a farmhouse sink no less! I've wanted a farmhouse sink for basically ever. And even though it's not in our kitchen – I've finally got one!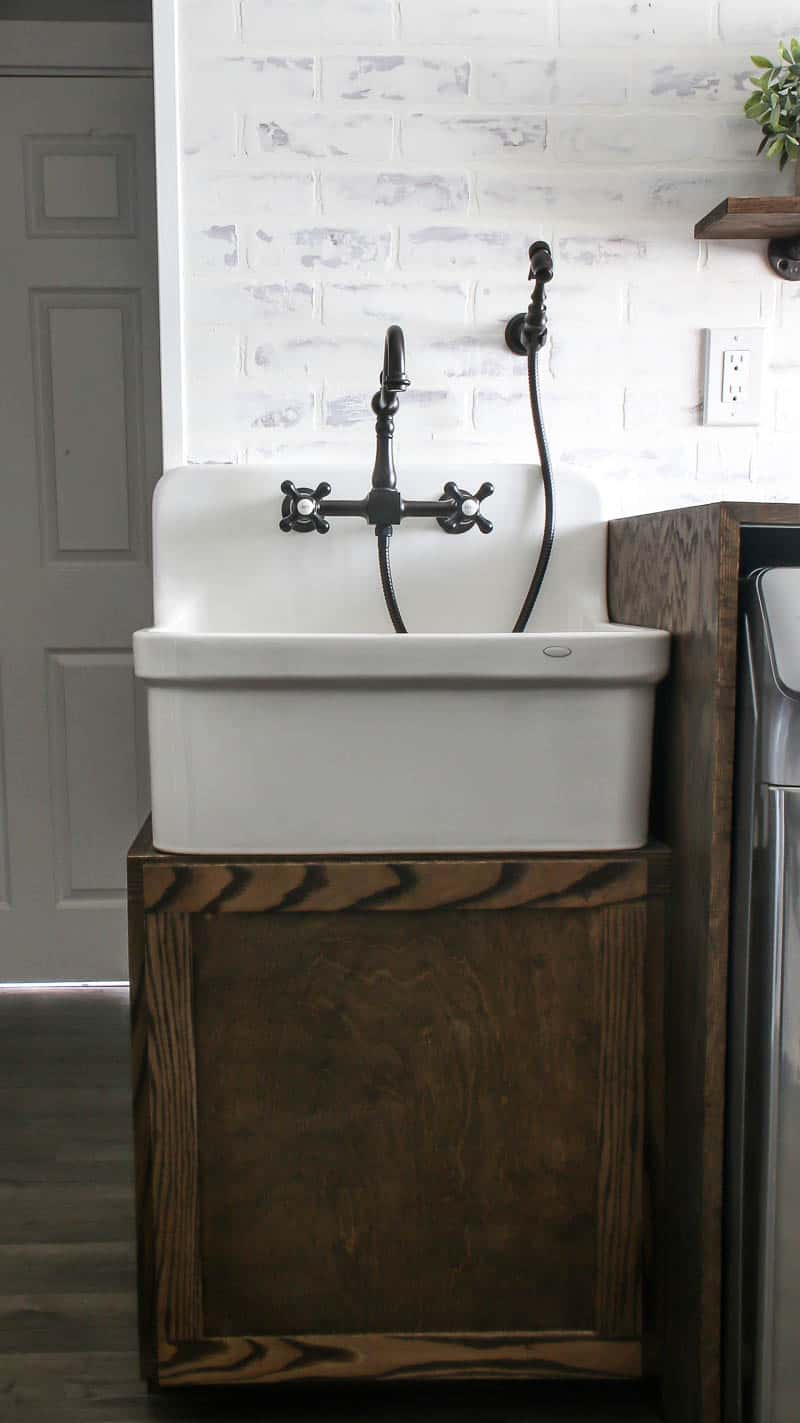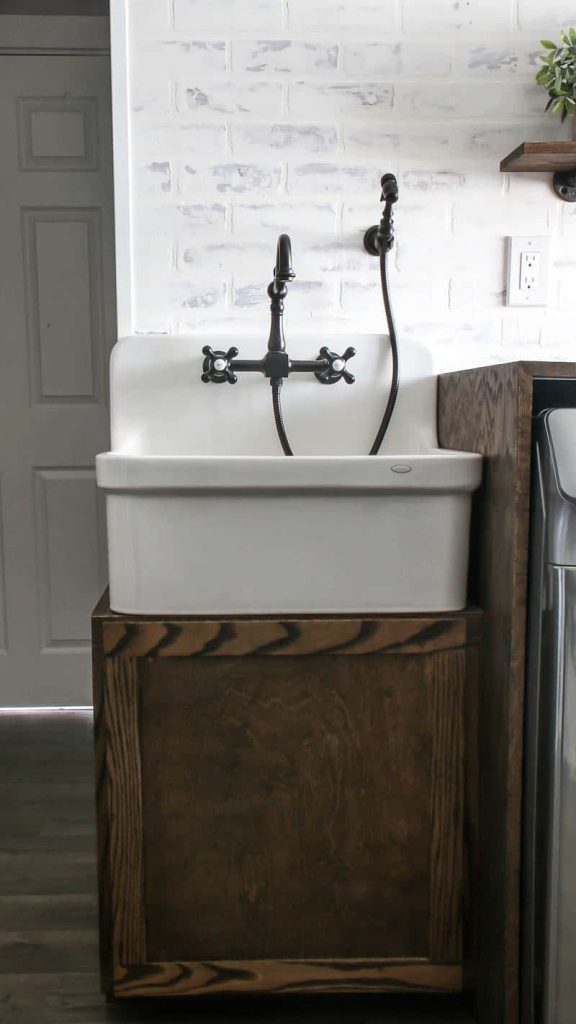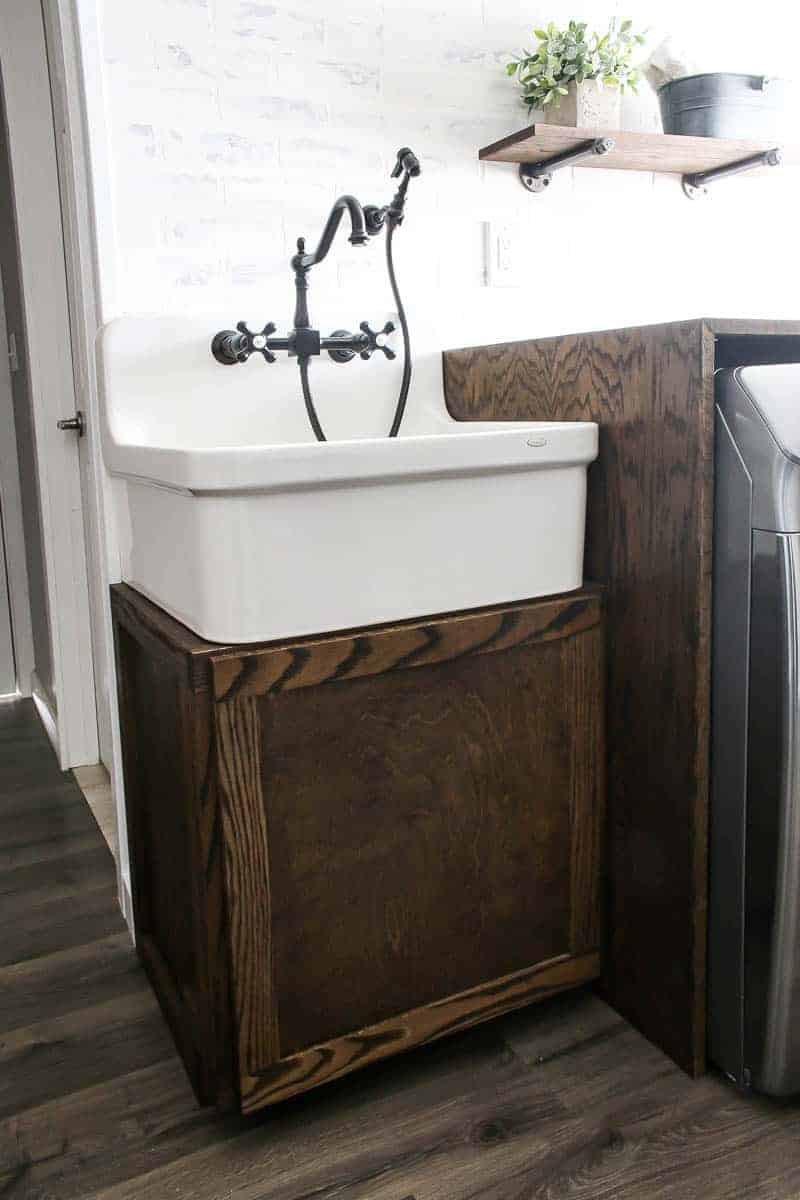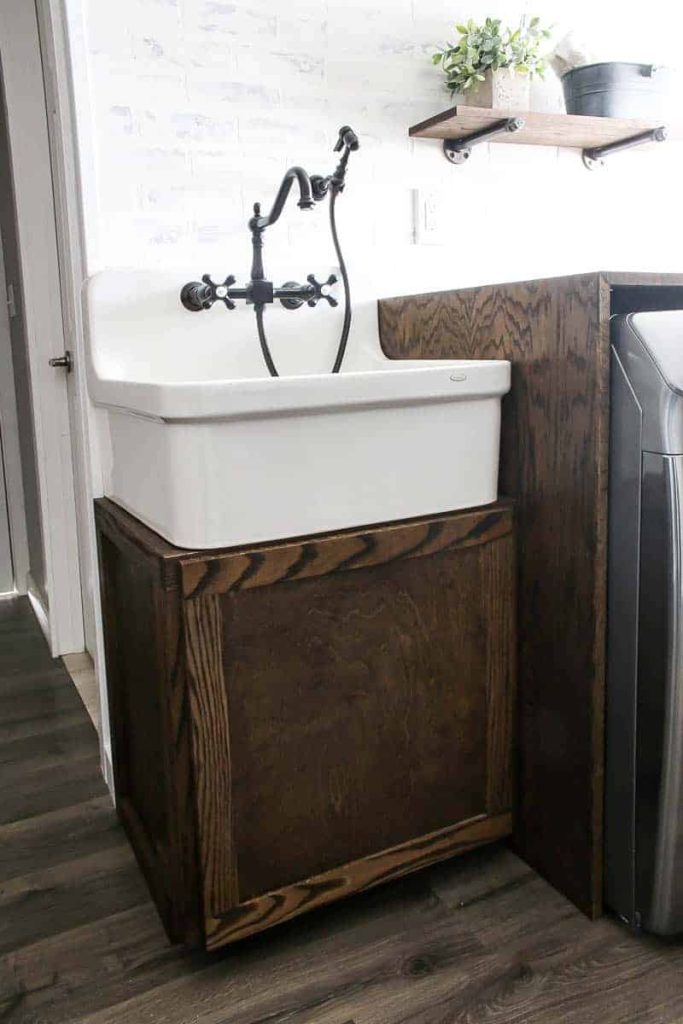 Speaking of this sink, Logan's dad found it 2 years ago right when we moved into this house at a ReStore for only $70. This sink literally retails for OVER $1,500!!!! It's in nearly perfect shape and I think it was brand new. Always pays to keep an eye out at ReStore for materials like this!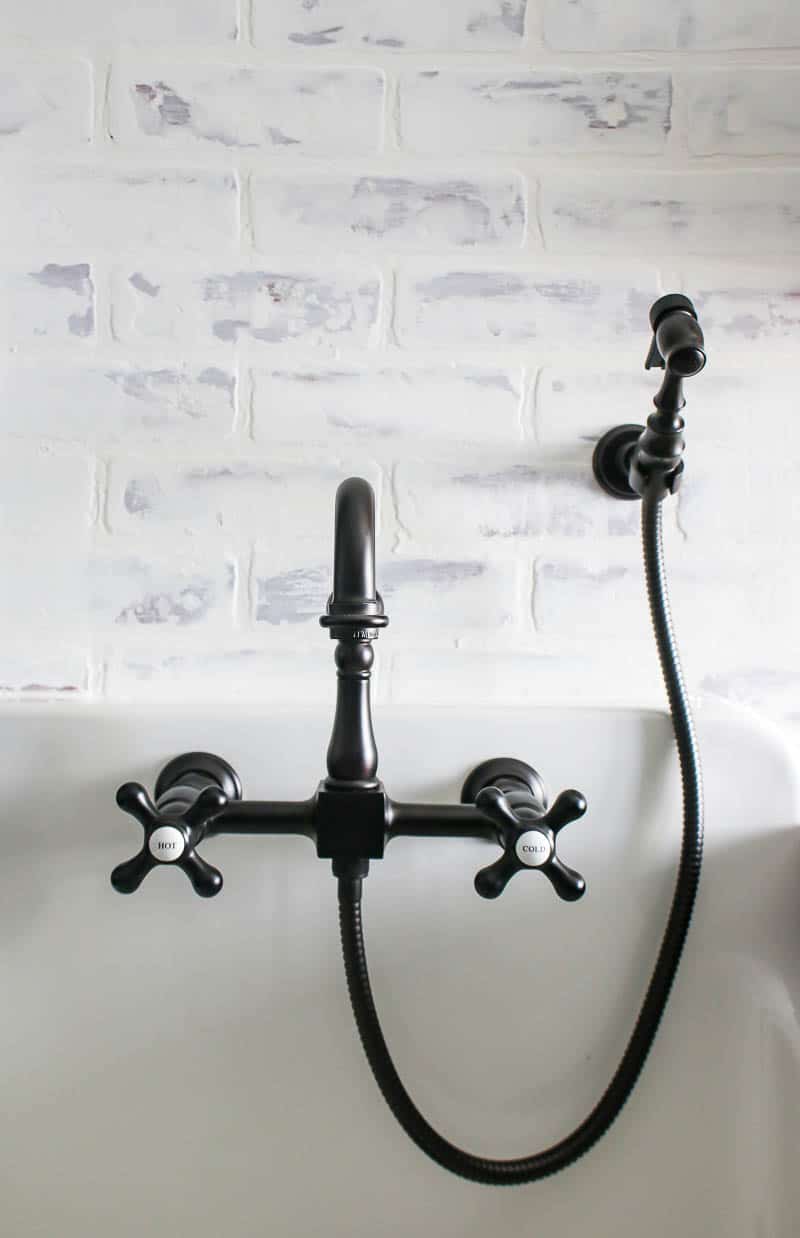 The faucet is the perfect amount of vintage and modern. I LOVE that we were able to include a sprayer as well, which will definitely come in handy!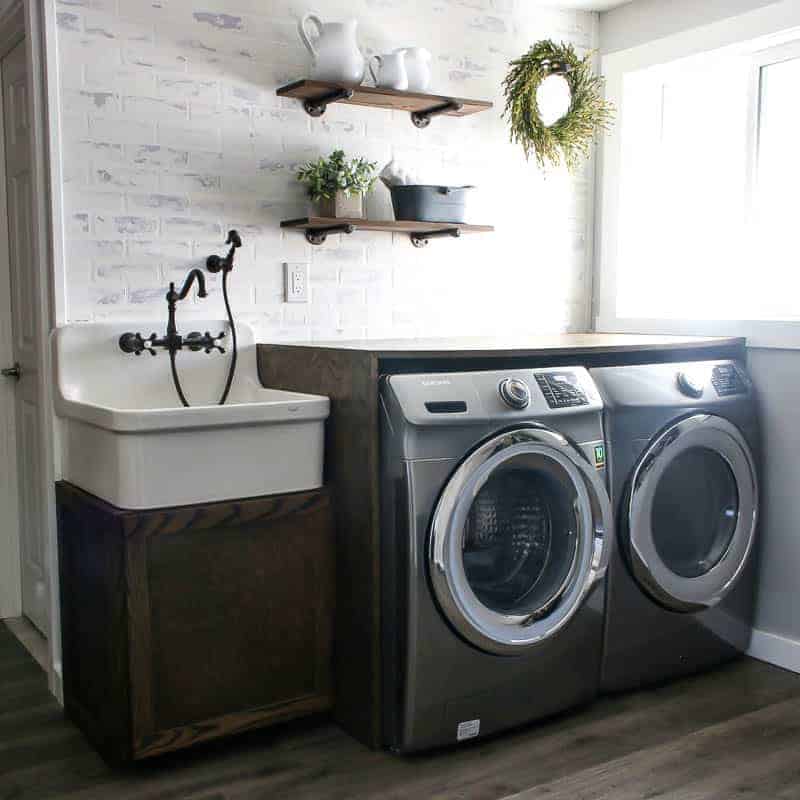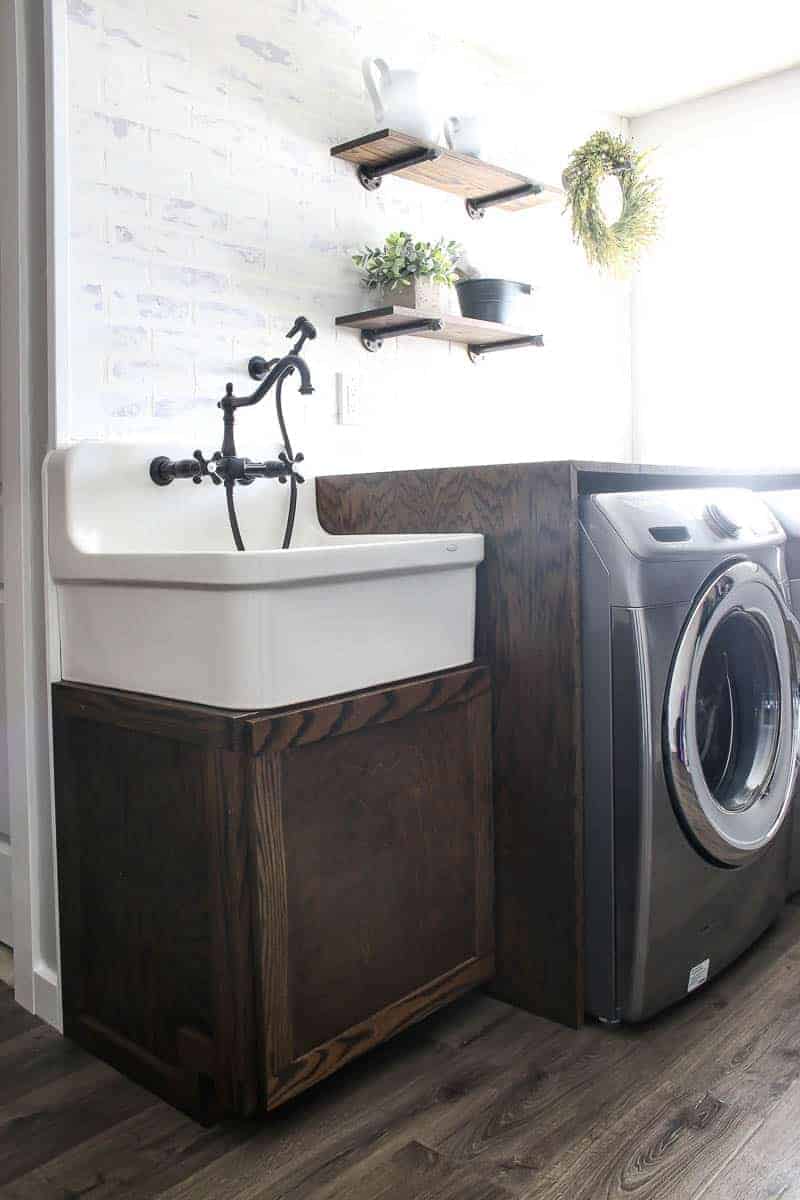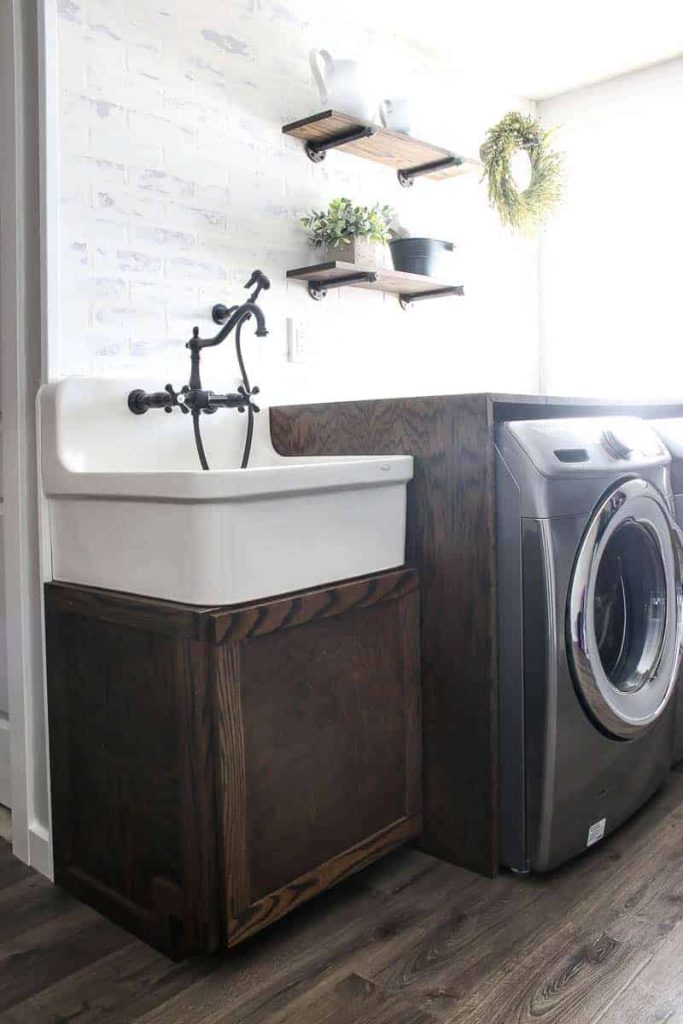 I'm actually EXCITED to do laundry in here!! We are in love with our new sink & custom cabinet with folding counter.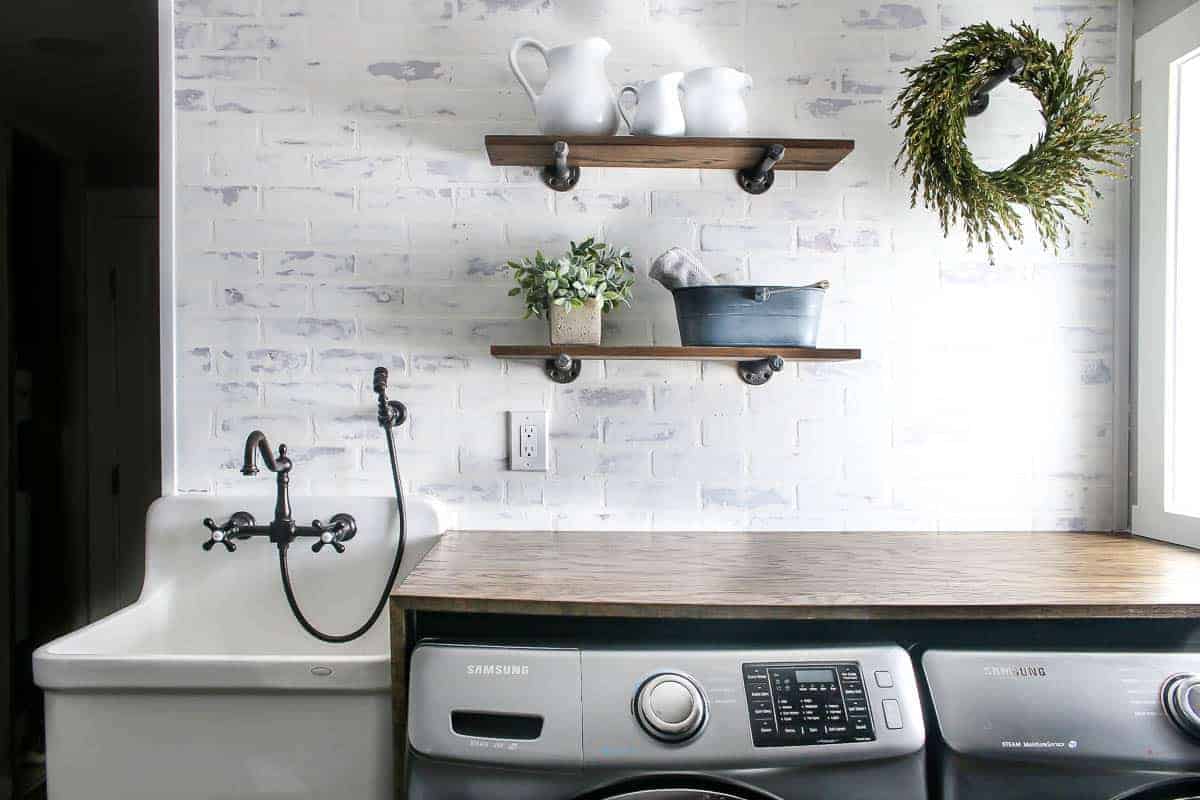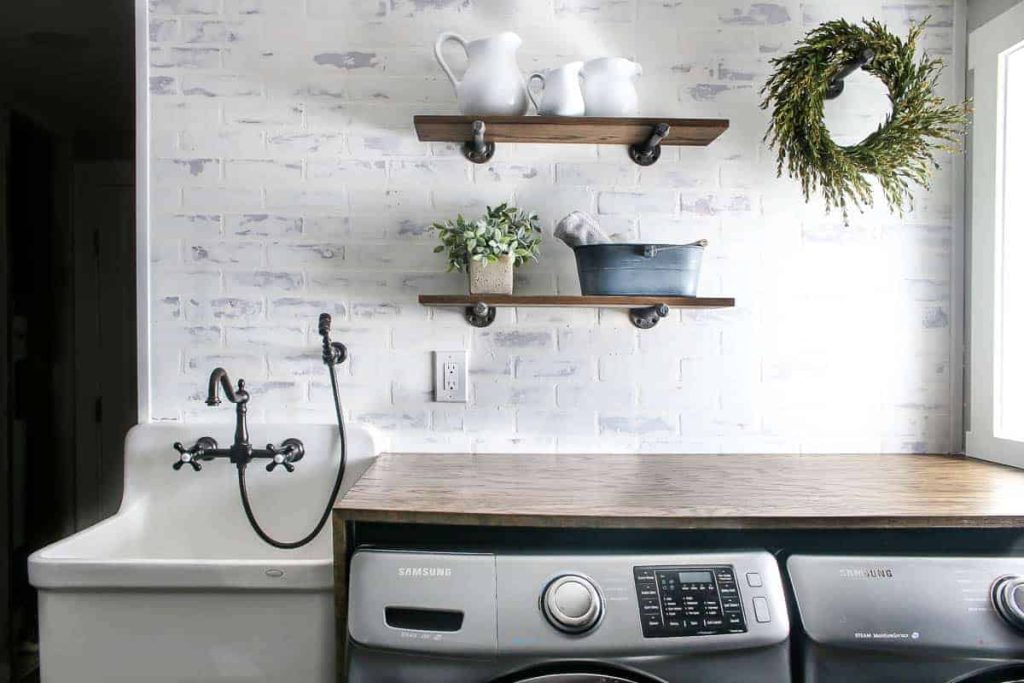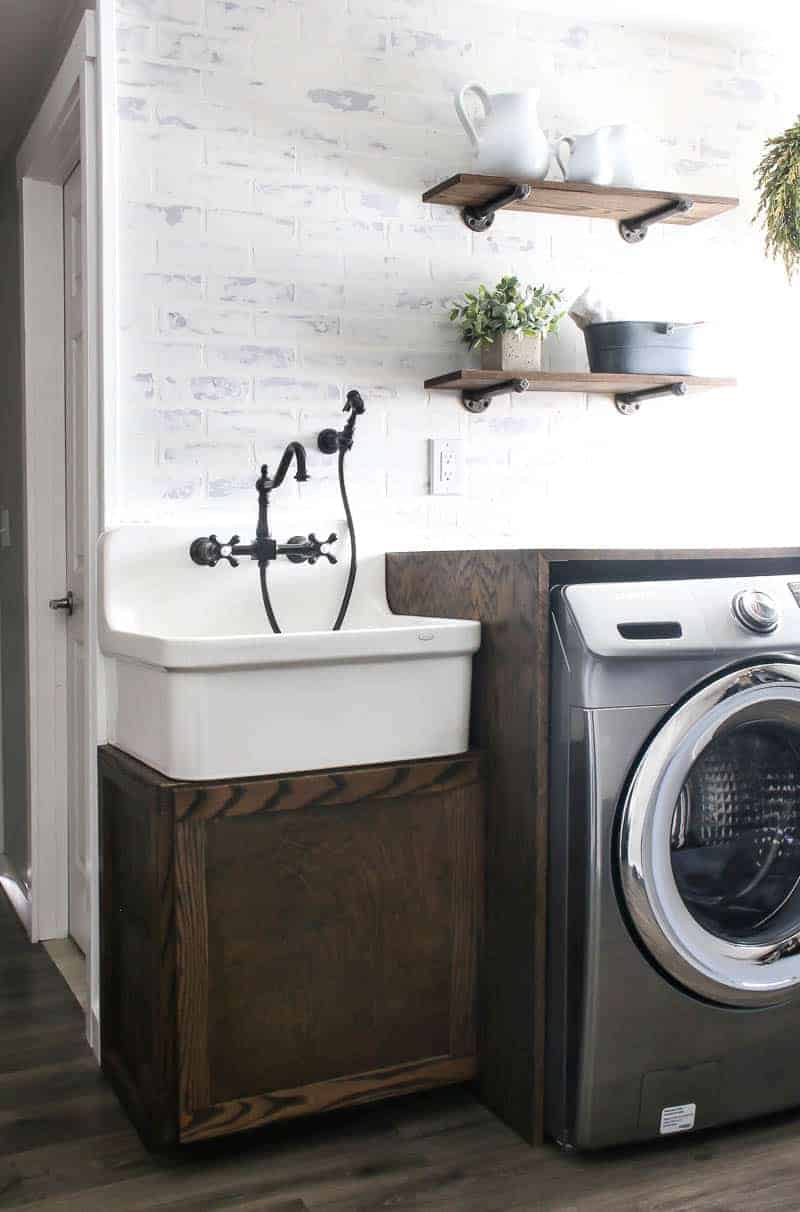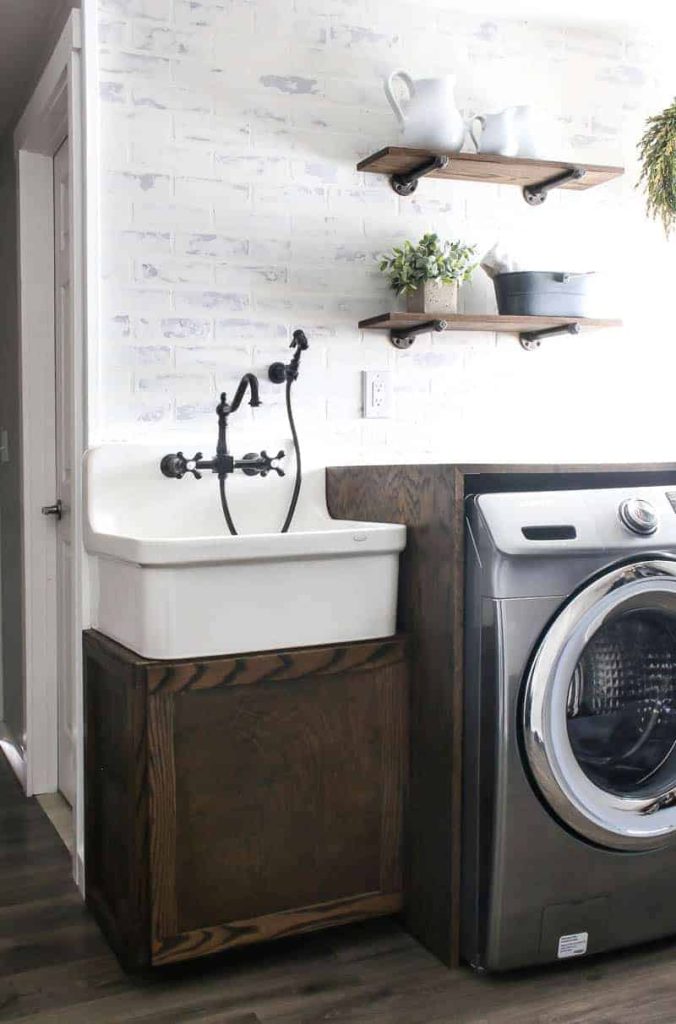 We're going to keep the laundry room fun going with our next project! Get ready, we're building a full wall of mud room style cubbies and it's going to be AWESOME! (UPDATE: Here's how the mud room lockers turned out!)
Don't forget to hop over to Kreg Tool and check the full farmhouse sink cabinet tutorial and download the free woodworking plans.
Would you put a farmhouse sink cabinet in your laundry room?
Let us know in the comments below!
Related – Projects that use a pocket hole jig