Do you need a homeschool desk or a desk for working from home? Build this simple wood crate desk! This easy DIY desk is cheap to build and has storage for school supplies and books.
Seriously… have you tried looking for an affordable desk lately? They are SO hard to find right now with almost everyone in the world working from home and now with the school year started, it's even worse! Most kids are either homeschooling this year or doing virtual learning of some sort. The desk shortage is real, friends.
Luckily for you, I've got a quick and easy solution if you're in a bind and need an easy homeschool or work from home desk. Enter the WOOD CRATE DESK!
This DIY desk option is perfect for even those of you that don't have any woodworking experience. By using wood crates for the base of this easy DIY desk, all you need to really worry about creating is the desktop…which we'll show you how to do.
I've been on a bit of a wood crate kick. If you remember last week I shared this easy crate bookshelf that I installed over at my cousins' new house. This DIY was also created for them. One of them is at home with a full college course load, so she was obviously in need of a desk area.
We created this wood crate desk for her and it worked out perfectly!
Before Picture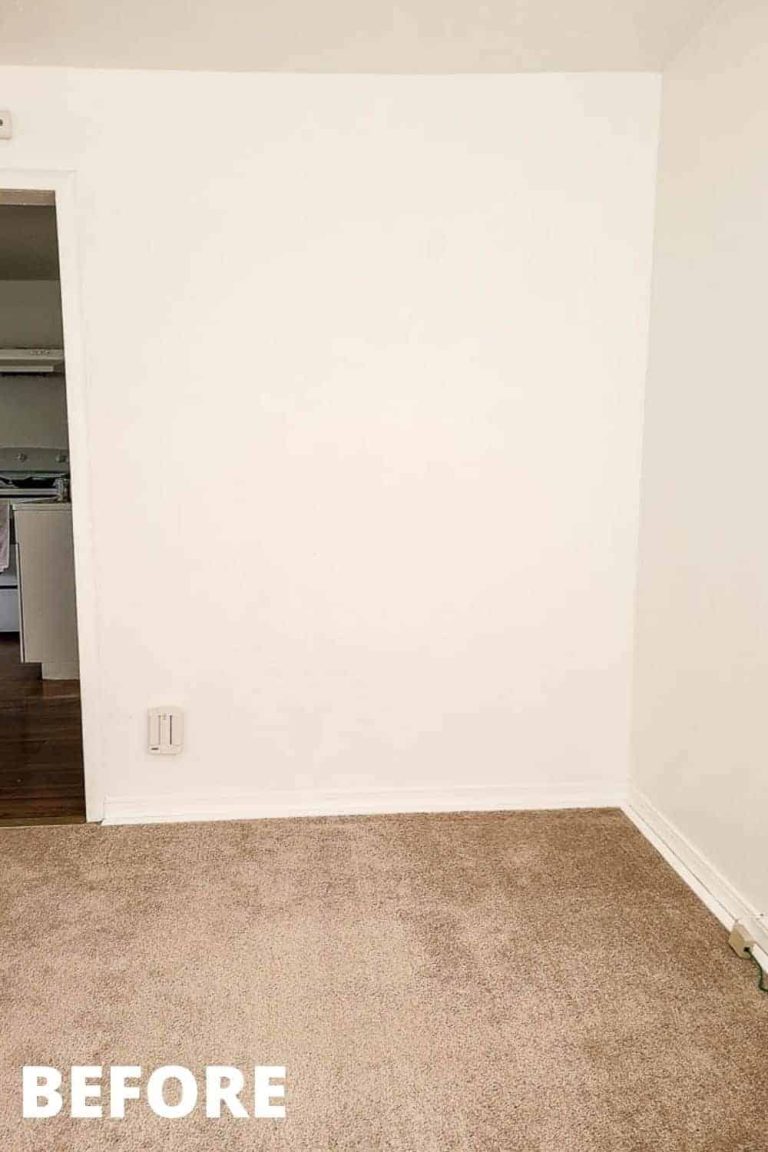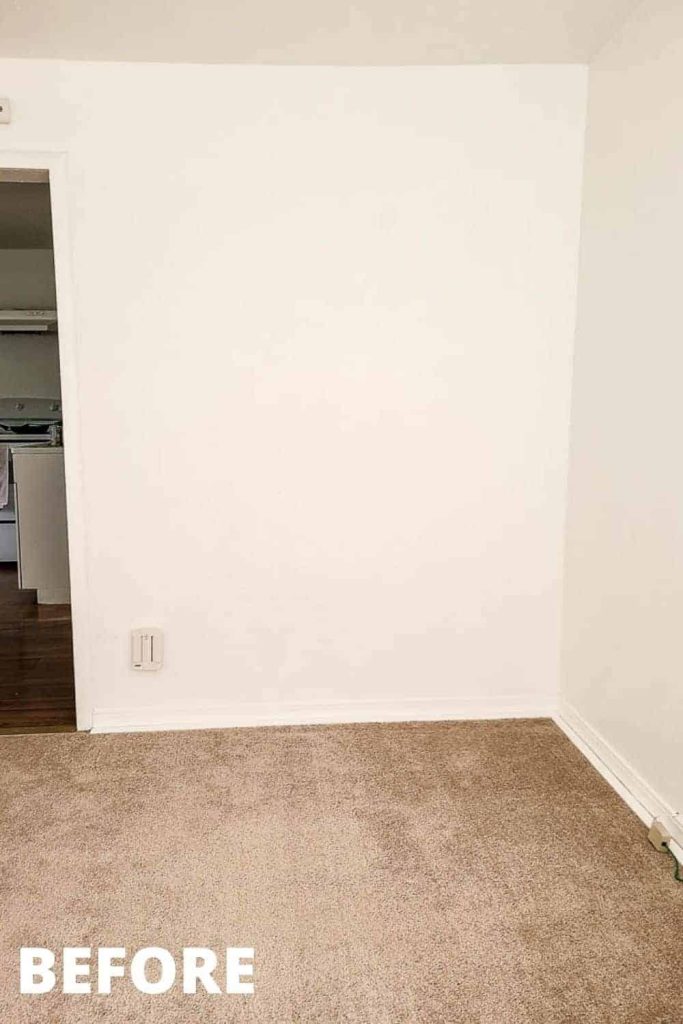 Here's what the space looked like before! It was just a simple little corner of the small studio apartment.
This DIY wood crate desk tutorial contains affiliate links, but nothing that I wouldn't recommend wholeheartedly. Read my full disclosure here.
Step 1. Cut down plywood.
Start by cutting your plywood down to size with a table saw. We left ours at the 4-foot width and cut a piece 30″ deep, so the total size of the plywood sheet is 30″ x 48″. (See note below why I'd recommend that you cut it down to 31″ instead).
**Note: You'll see later down in this tutorial that we trimmed out the edges of the plywood after this with 1×2 furring strips.
If you make your plywood a little bit bigger, like 31″ deep instead, the wood trim will be able to overhang over the wood crates (which will be about 30.5″) rather than sitting on top of them on the edge as ours did.
I'd recommend cutting the plywood to 31″ inches instead for this reason.
Step 2. Attach framing & trim.
We were using some leftover plywood from a pegboard we also made to go above her desk, which was 1/2″ thick plywood. If you were making this DIY desk yourself, you could opt for thicker plywood (like 3/4″) which would be stronger and may not need the extra framing around the edges and on the bottom.
We cut some 1×2 furring strips down to size with the miter saw and attach slats to the bottom of the plywood and trimmed it out on the edges. On the corners, we used angled mitered cuts for a nice, professional look.
To attach the trim to the edges, use wood glue and nail it into place with 1.5″ finish nails.
Step 3. Fill nail holes & sand.
Fill all nail holes on trim with wood putty. Once the putty has dried, sand to smooth and while you're at it – give everything a nice light sanding.
Step 4. Seal.
Apply 3-4 coats of polyurethane to seal with a staining rag. Lightly sand in between coats with 220 grit sandpaper. Let it dry throughout before handling.
If you're trying to decide whether to use polyurethane vs polycrylic for your project, check out this article with an overview of each.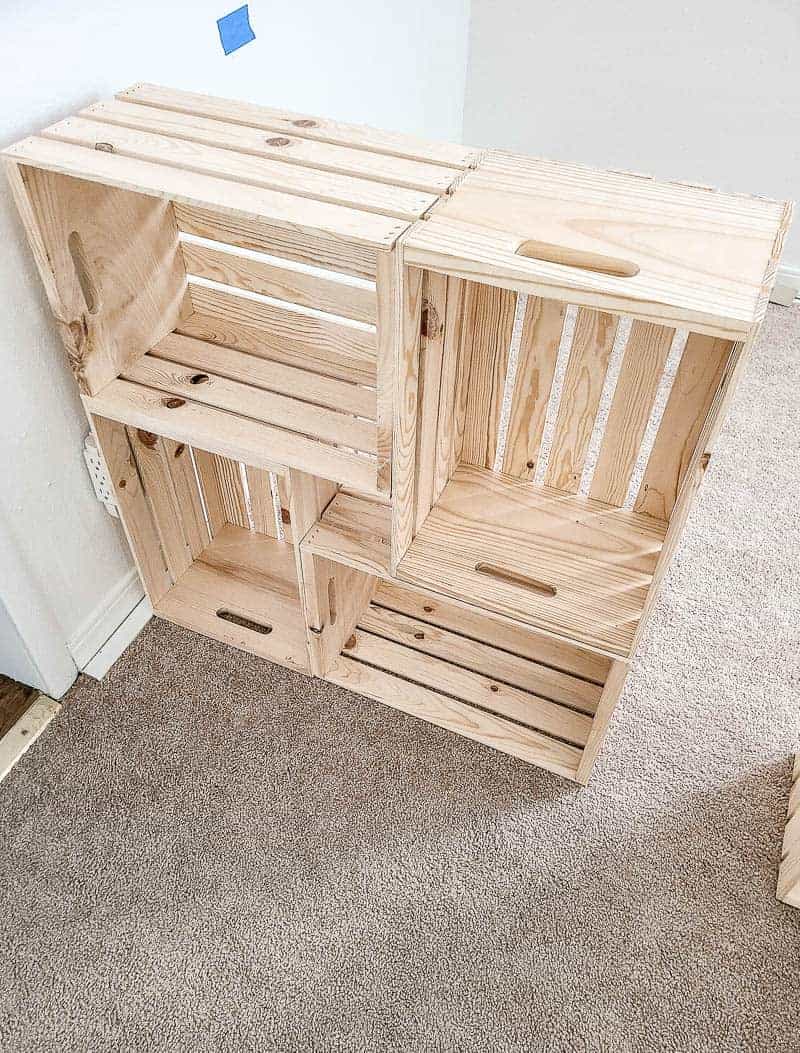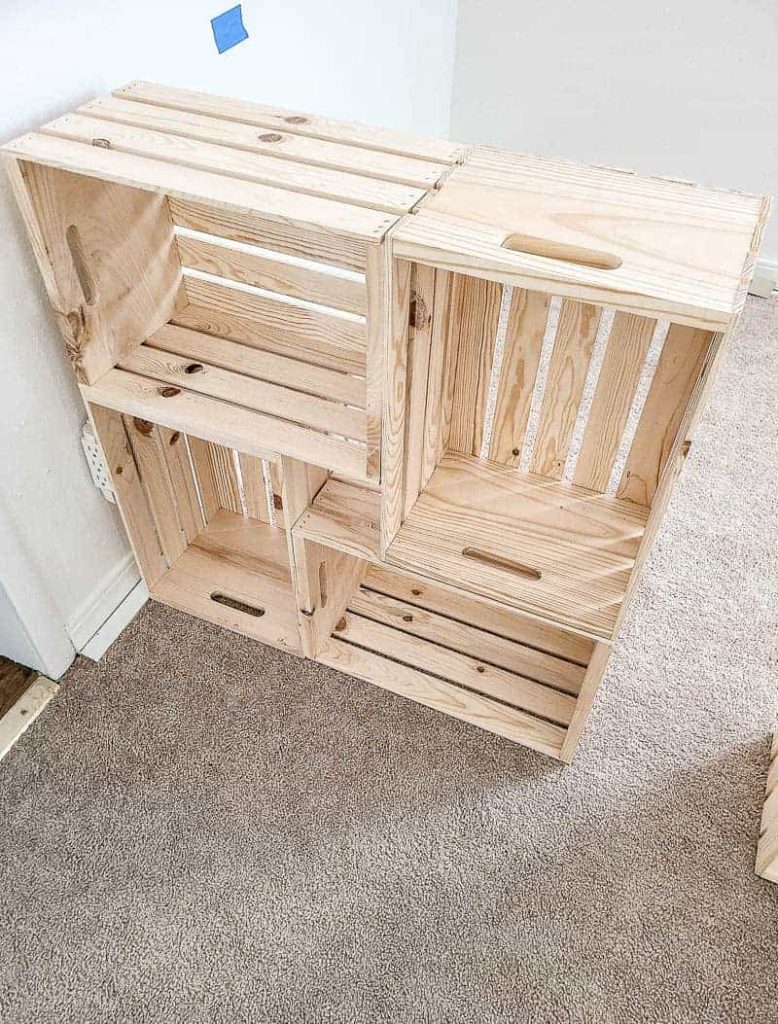 Step 5. Attach 4 wood crates together.
The average desk height is 28″ – 30″. We opted for the higher side and arranged 4 wooden crates in a square shape to get to a roughly 30.5″ height.
Arrange the crates and hold flush while using a brad nailer with 1-inch nails to secure the crates at the end.
Be sure to only nail the crates on the ends because that wood is thicker (3/4″) and the slats of the crates are 1/4″ thick. Together that is an inch and we're using 1-inch nails.
To avoid the nails blowing out on one side and poking through, angle the nail gun slightly when you're adding the nails.
If you have two people working on the crate desk have one person hold the crates flush and lined up and one person nail them together.
As another option to make the crate desk more secure, you can add wood glue between the crates when you nail them together.
Step 6. Place desk top on.
Simply lay the desktop on top of the crates and make sure they are centered.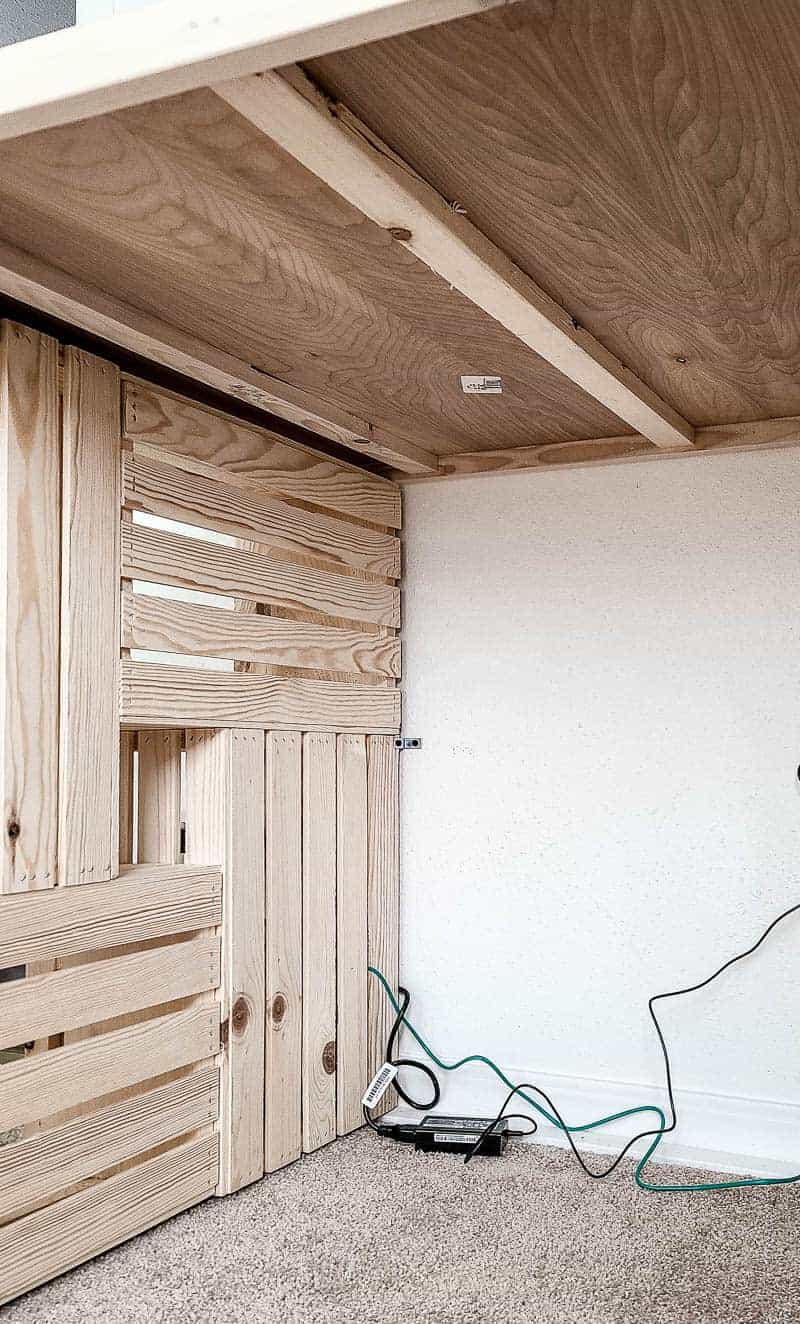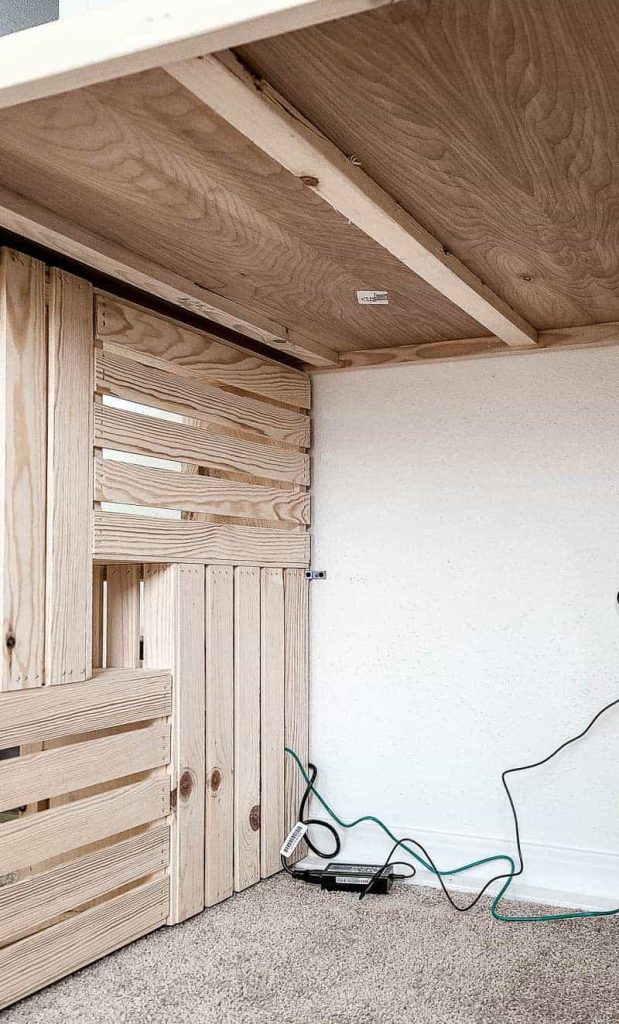 Step 7. Secure crate desk to wall.
Using corner brackets, secure the crates and/or the desktop to the wall.
Because of the larger than normal baseboards on the floor in this house, we were only able to secure the crates because we couldn't get the desktop close enough to work with the brackets we had on hand.
However, I'd recommend also securing the desktop to the wall from underneath as well at the location of studs in the wall if possible.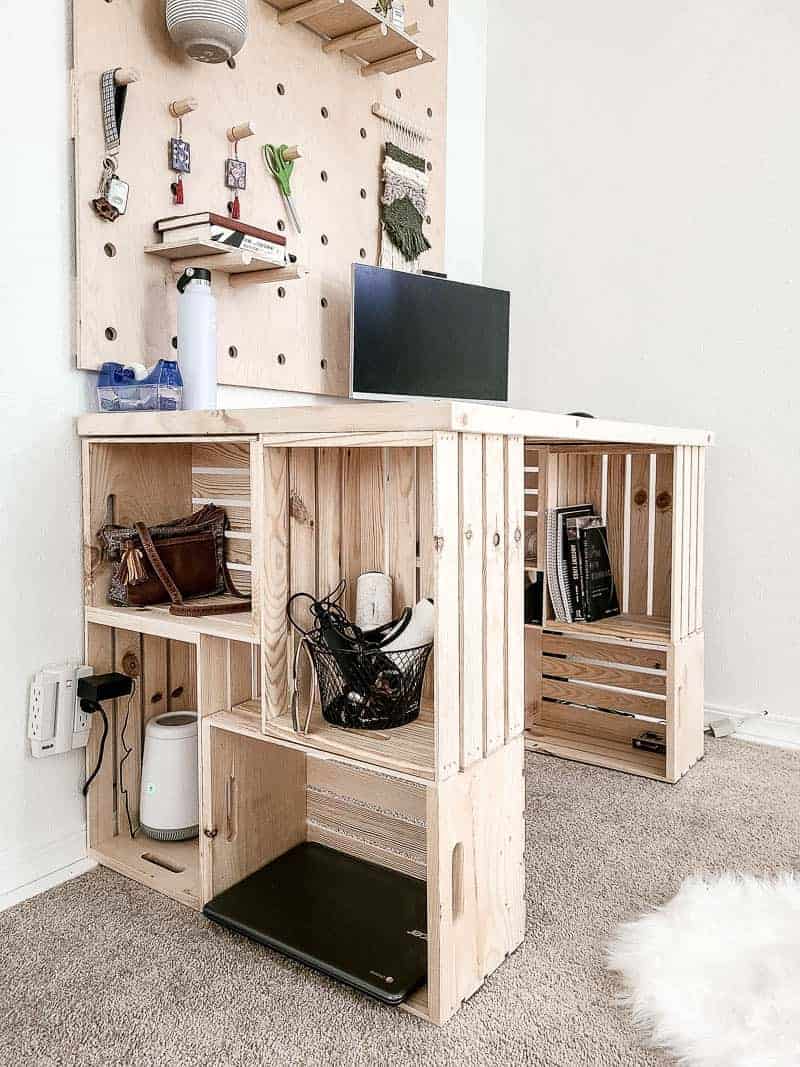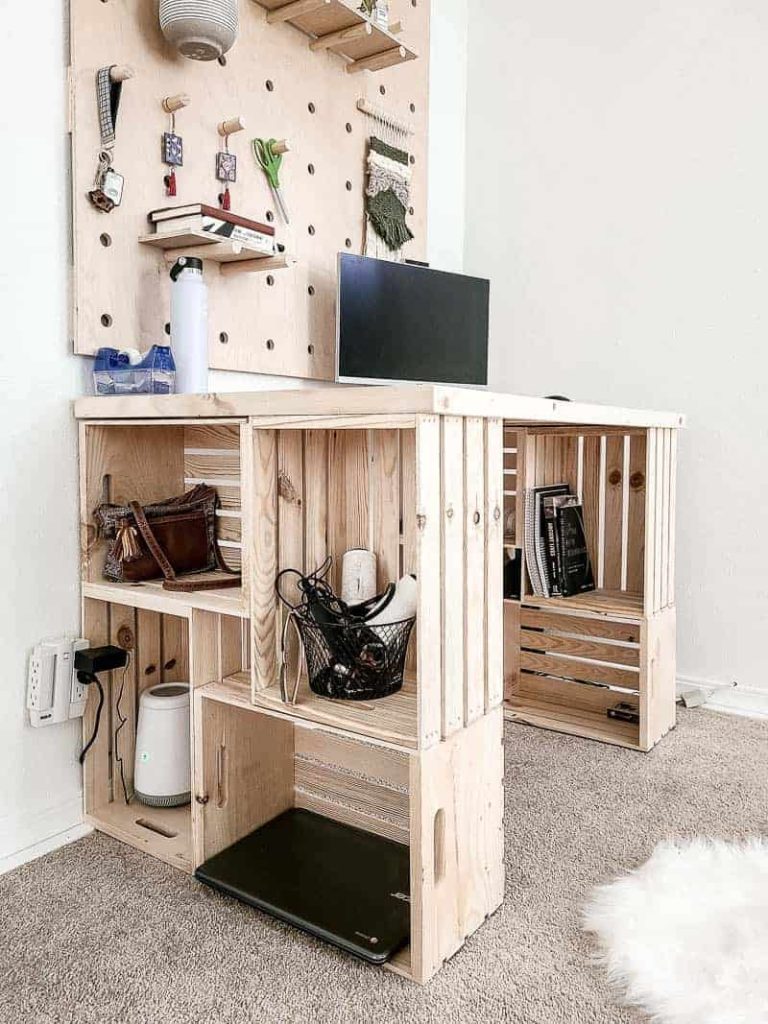 So there you have it! An easy DIY desk made out of wood crates, plywood, and some trim pieces and that's IT! So simple, right?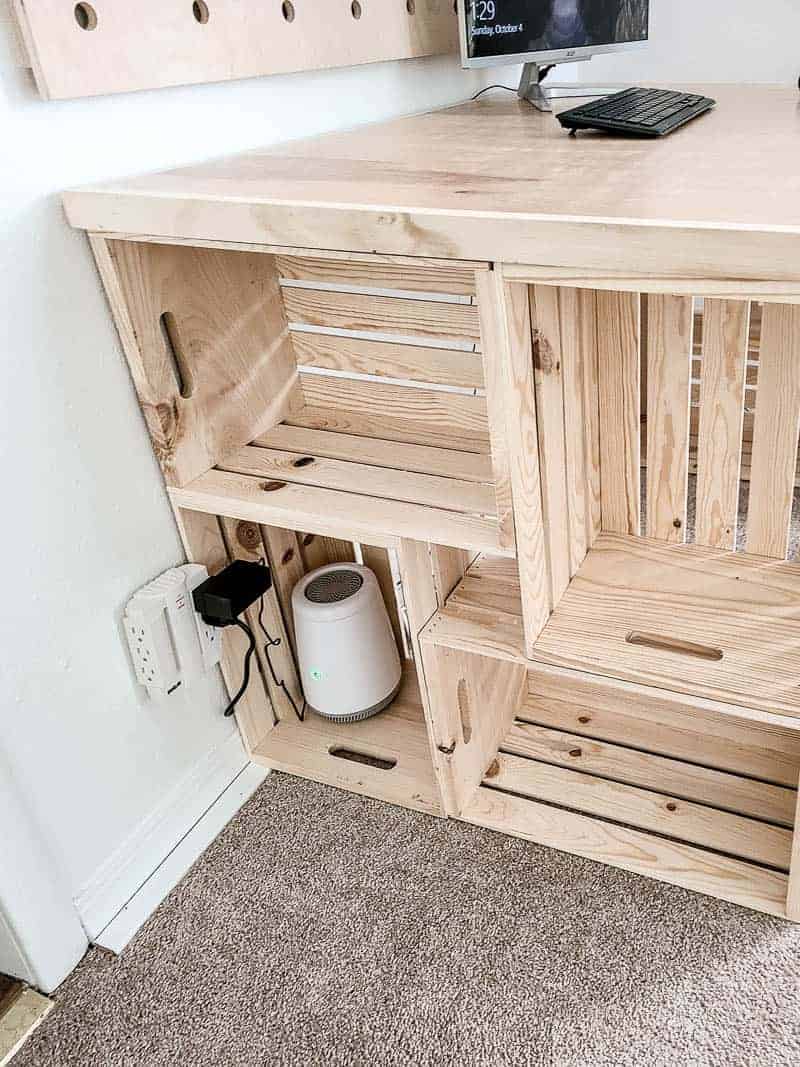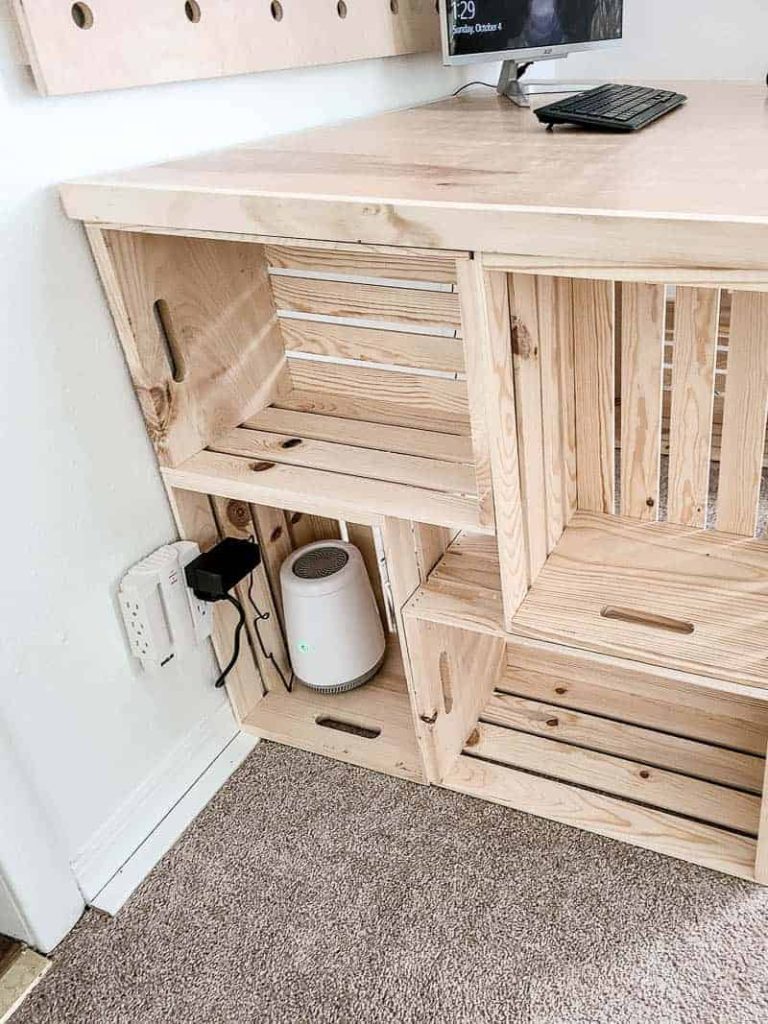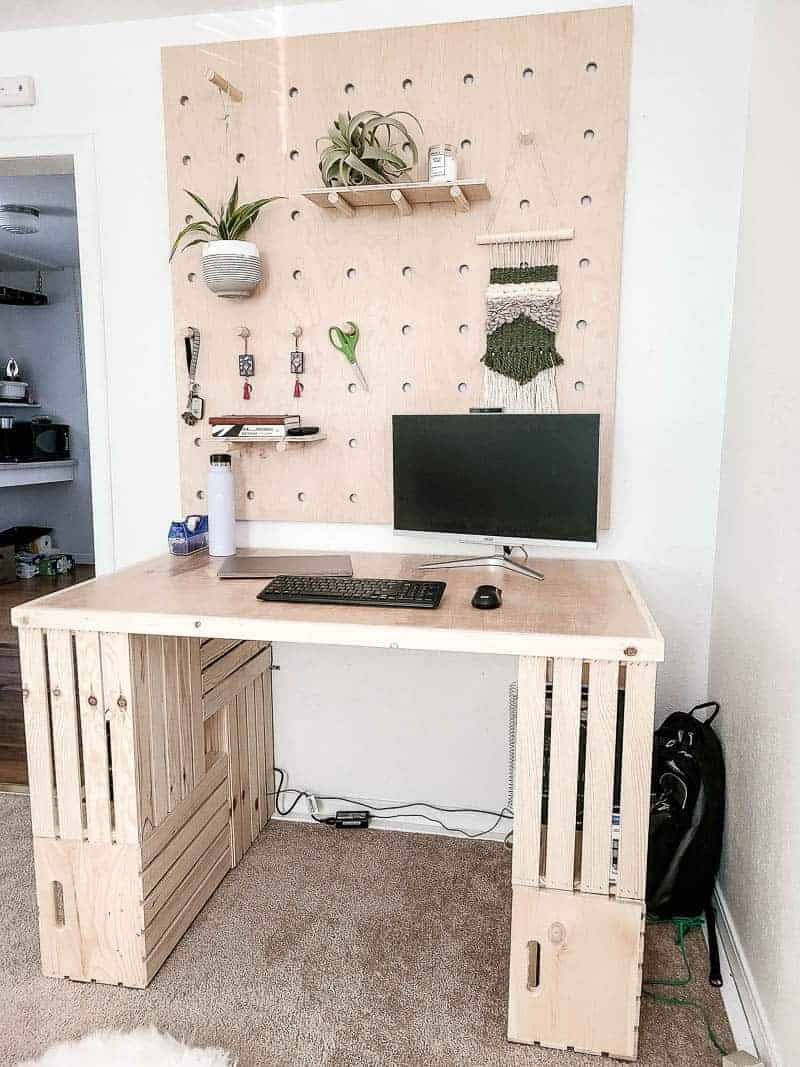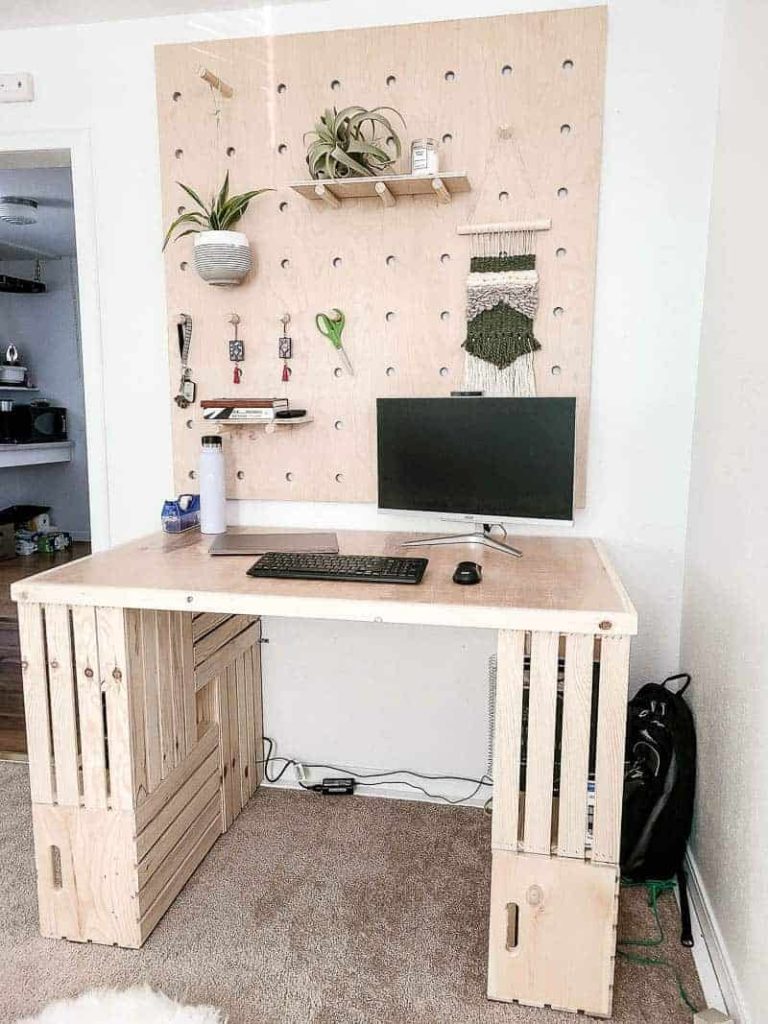 If you are needing a budget-friendly homeschool desk or work-from-home desk, this easy wood crate desk is perfect!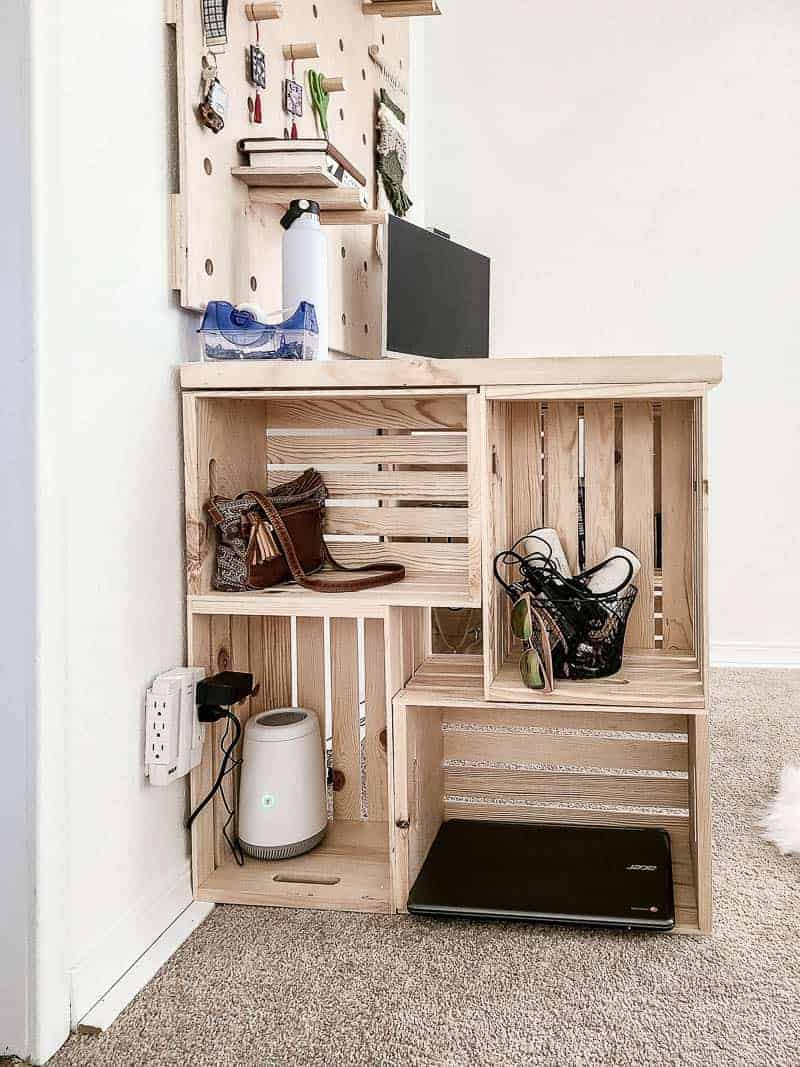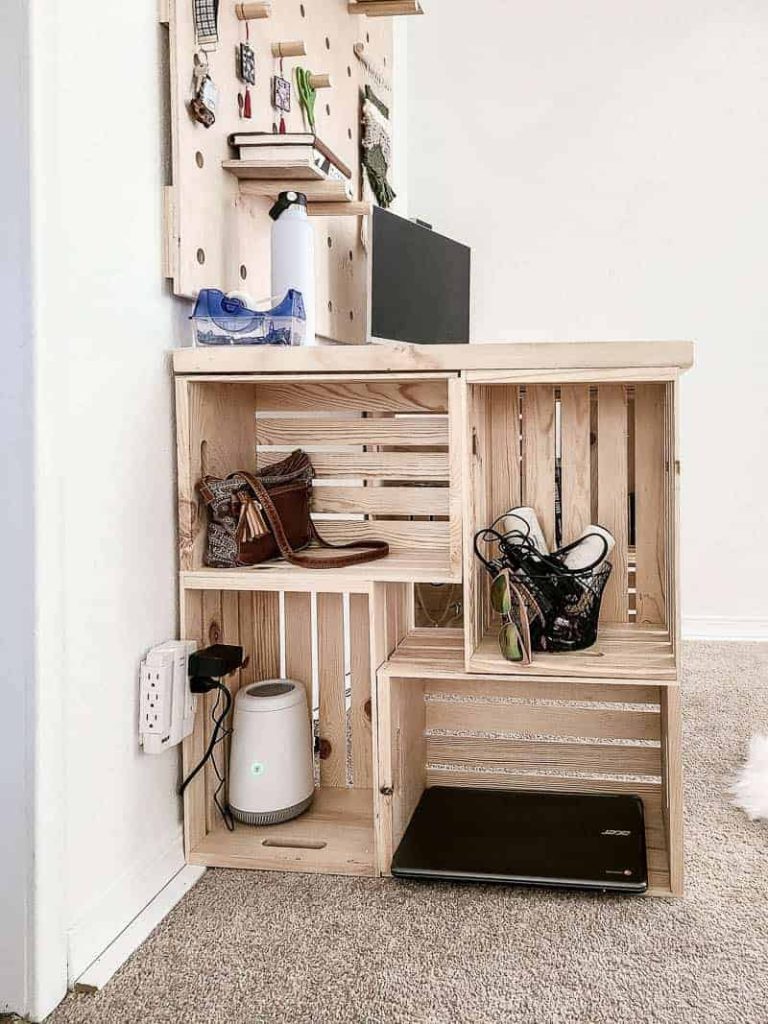 The crates are perfect for storing office & school supplies, books, and more.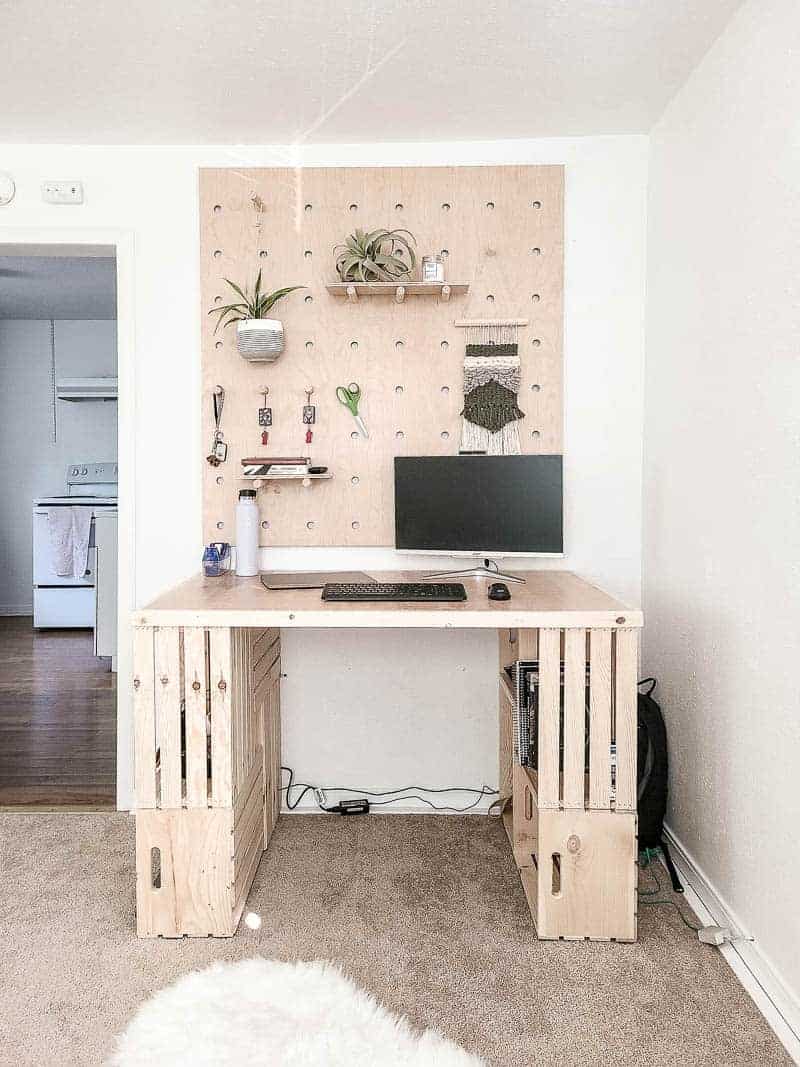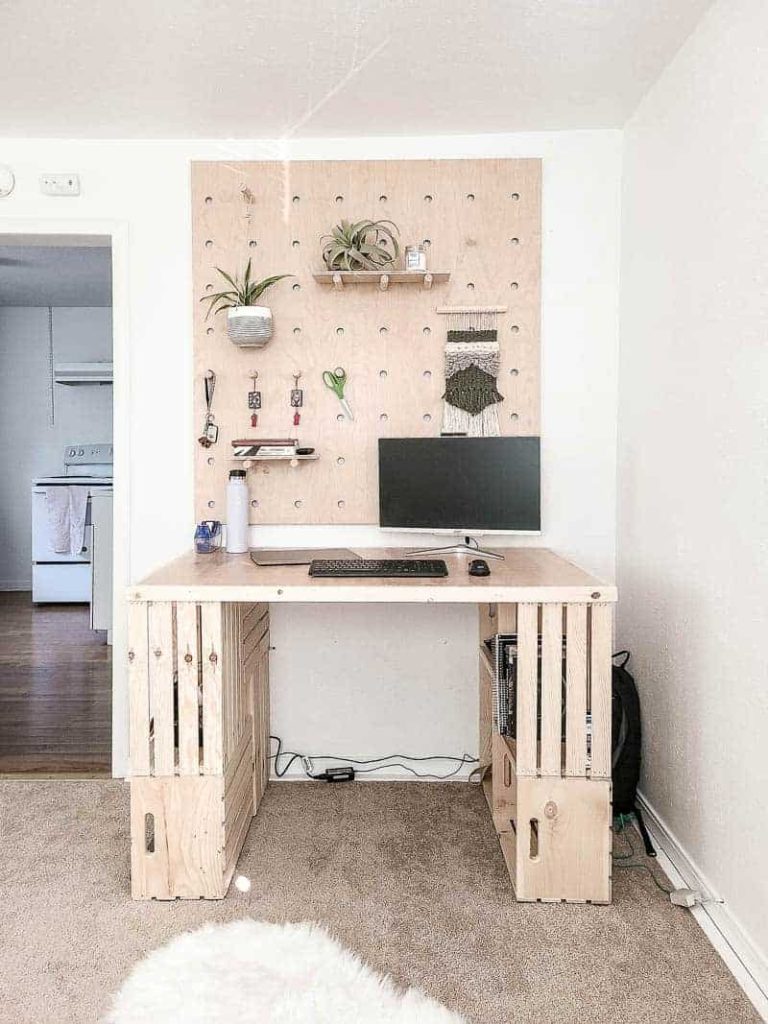 Simply stack the crates up and build a plywood top and voila! You've got yourself a desk!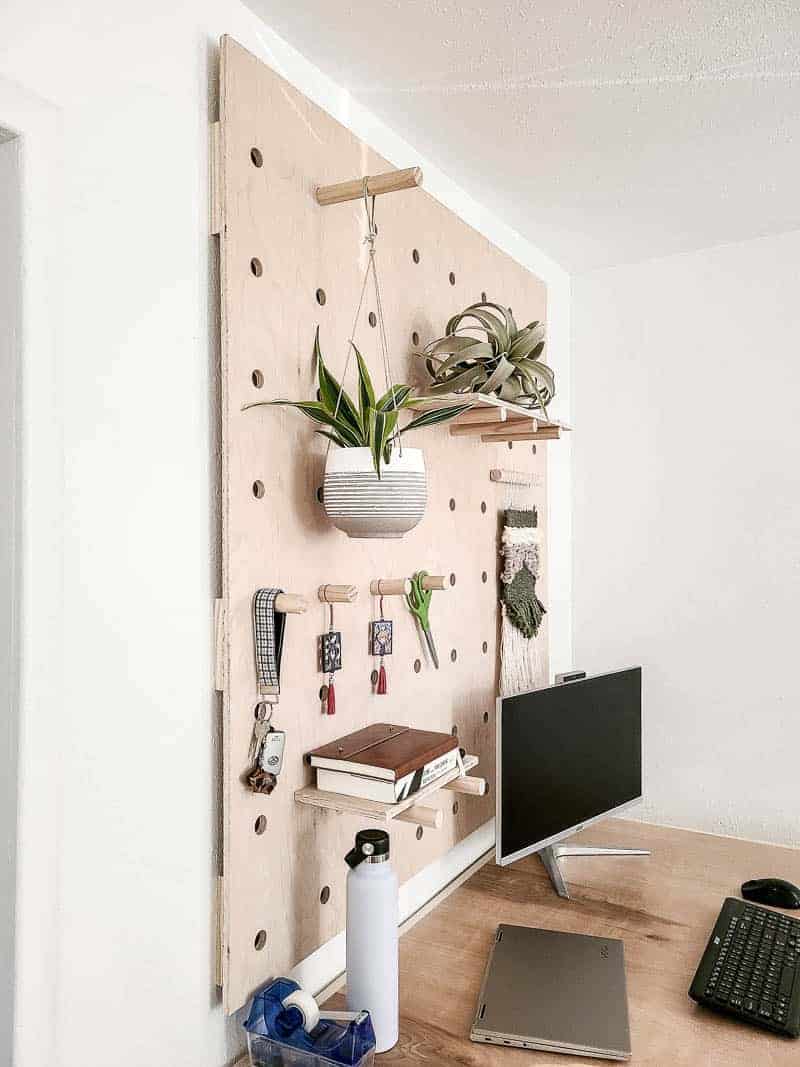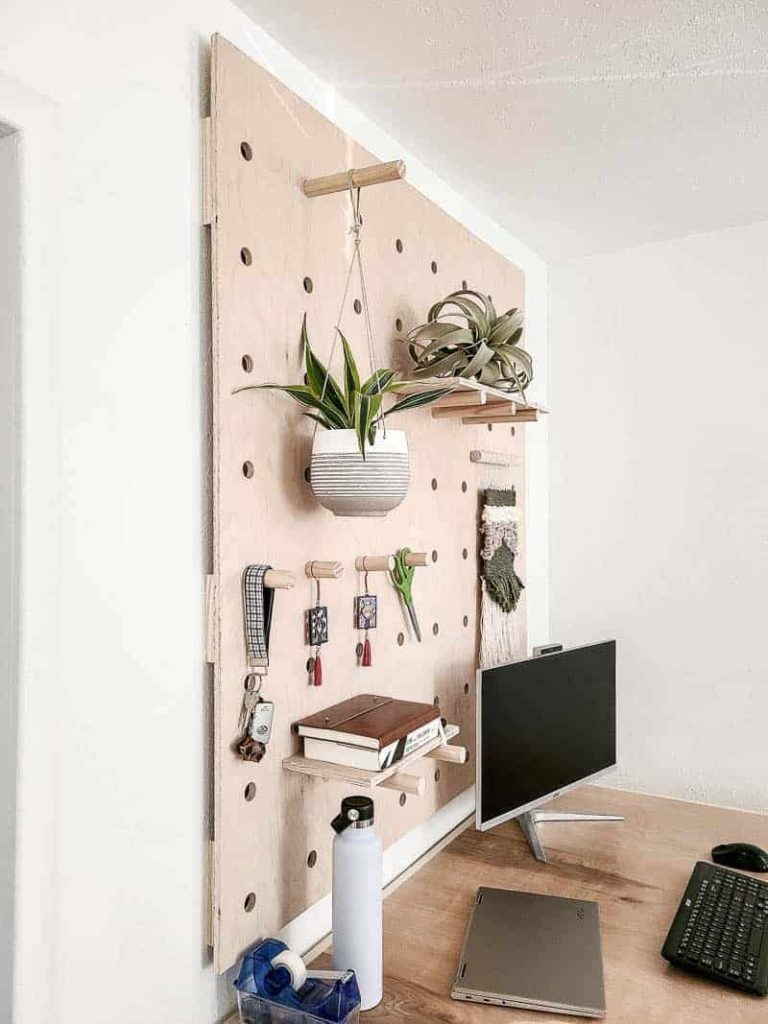 If you love this giant pegboard, stay tuned because I'll be sharing more about that soon.
I've got a fun twist on it that we are working on in our home right now and we'll of course be sharing the full details on how you can make it too! (UPDATE: Check out our giant pegboard in our office and see how to make it).
Would you build a wood crate desk for your home?
Let us know in the comments below!