Do you have dress up clothes all over the place in your kid's spaces? Make this easy DIY dress up storage rack for kids using our free woodworking plans and tutorial. Your little ones will love this DIY dress up closet!
Thank you to Kreg for sponsoring this DIY dress up storage project! All opinions are entirely my own. This post also contains affiliate links, but nothing that I wouldn't recommend wholeheartedly. Read my full disclosure here.
I don't know about you, but there are dress up clothes all over the place in our kid's spaces. Our little girl got a whole loot of cute dress up clothes for Christmas this year and we were looking for a good way to keep them organized.
We decided to build an adorable little DIY dress up closet to go in her room with a large box on the bottom to hold all of the random headbands, little plastic heels, necklaces, and the abundance of butterfly wings we have!
Kreg's NEW 720PRO Pocket Hole Jig
If you've been around awhile, you know that we are big fans of the Kreg pocket hole system. We've built so many projects using our K5 Pocket Hole Jig, we even have a super detailed guide and video about how to use it that you can check out here.
But last month Kreg released brand new pocket hole systems that are replacing the K4 and K5, so this is the first time we were using the new system. I'll definitely have more detailed information out soon about how to use it, but let me first say that the improvements they made are amazing.
The new 720PRO (which we were using for this DIY dress up storage) and the 520PRO (which replaced the smaller K4 system) were improved a ton, the most noticeable change being that they are easier to set up and use – score.
Pocket hole joinery is definitely one of the easiest ways to join wood in woodworking projects. It's our favorite hidden weapon for beginning woodworkers!
Want to learn more? I wrote a super detailed guide & created a video all about how to set up your Kreg K5 Pocket Hole and use it, so be sure to check that out too!
For this DIY dress up storage, we teamed up with our friends Kreg again to create the plans and share them online for free, which are now available on KregTool.com!
Kreg Tool that is chocked full of so many easy to follow FREE woodworking plans! I promise that you are going to be find so much inspiration while you're there!
DIY dress up storage – video tutorial
If you love DIY videos, don't forget to subscribe to our YouTube channel!
Ready to see how the super adorable DIY dress up storage turned out?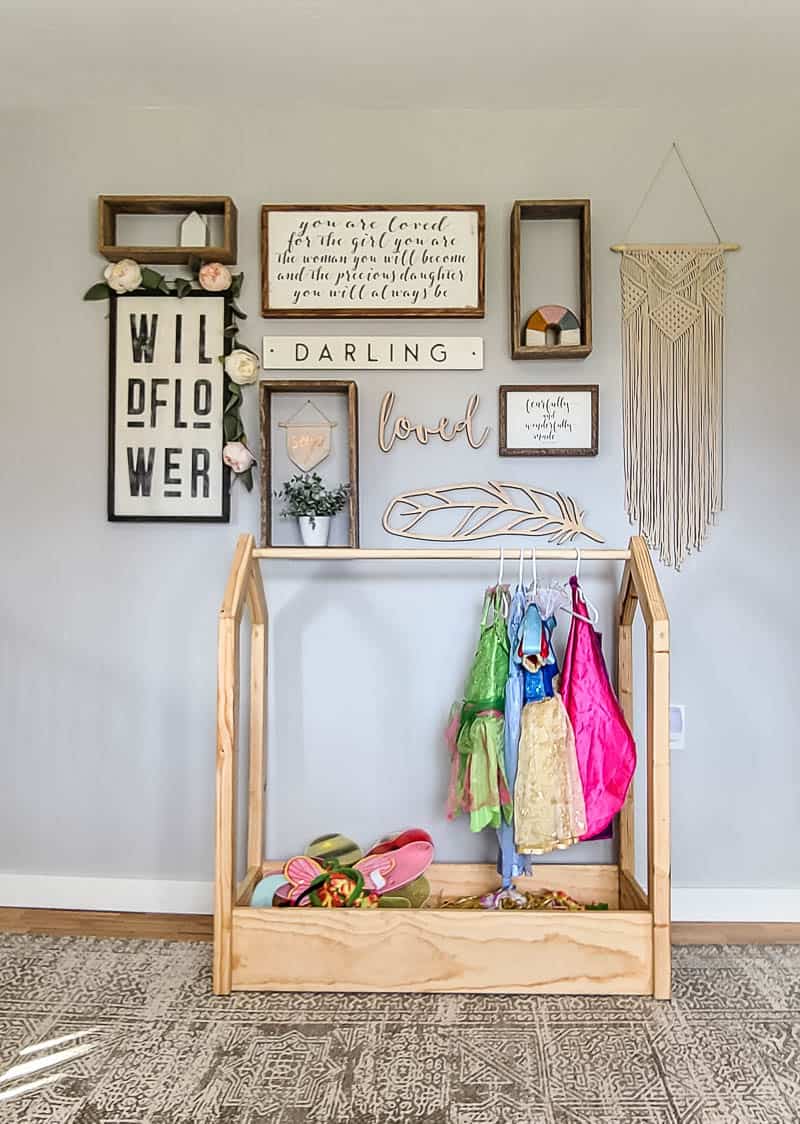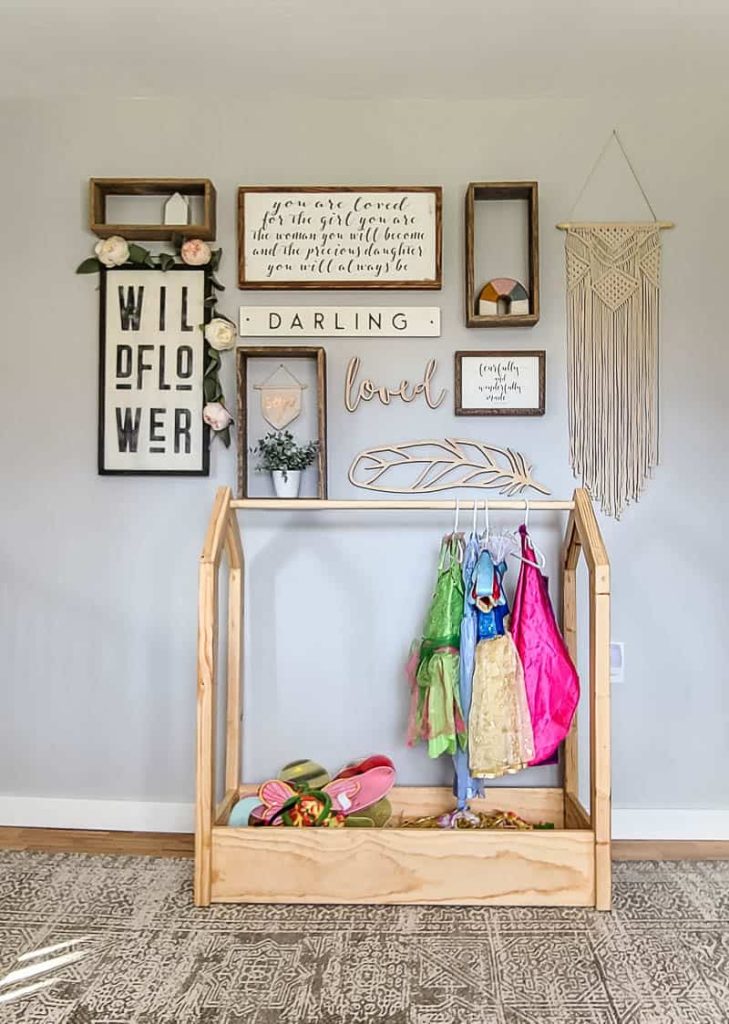 So stinkin' cute, right?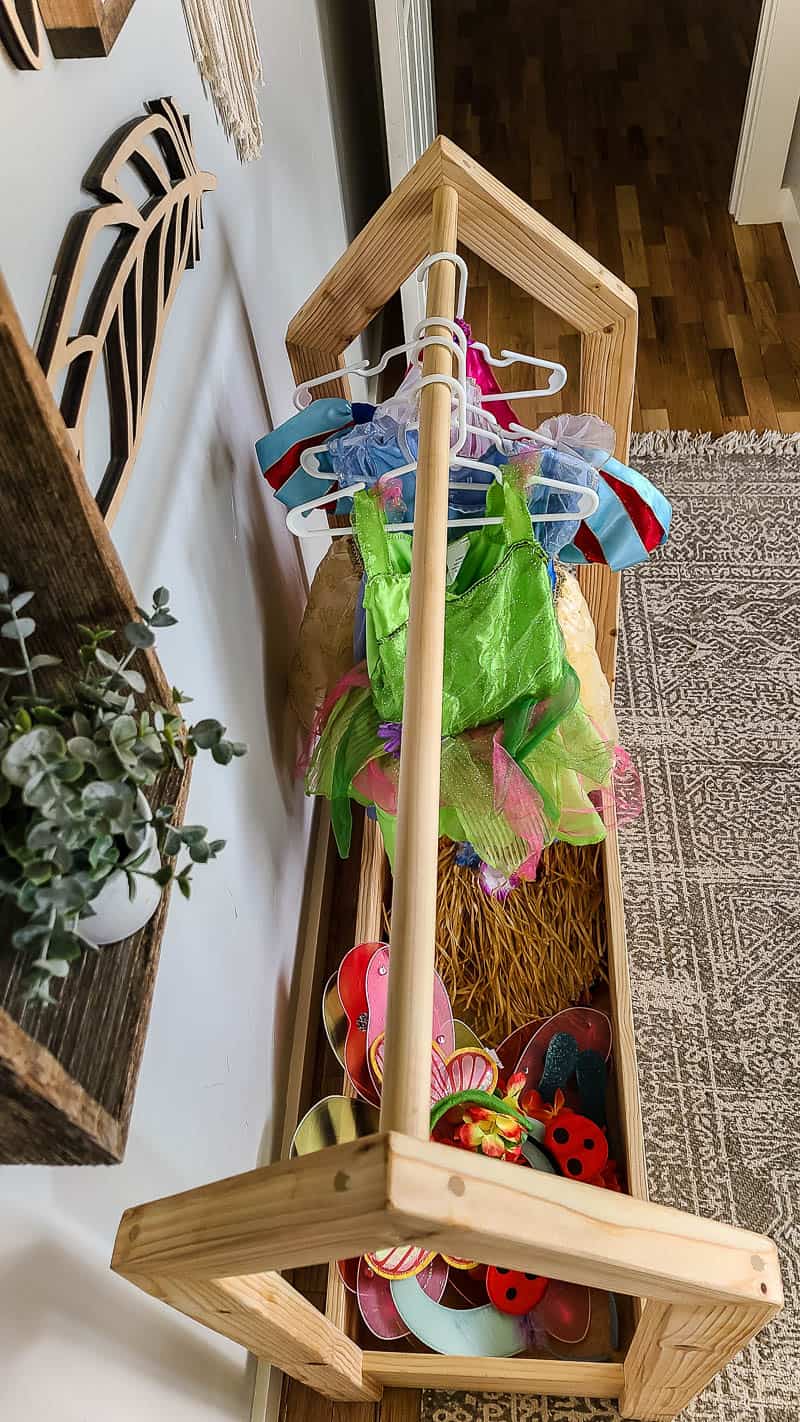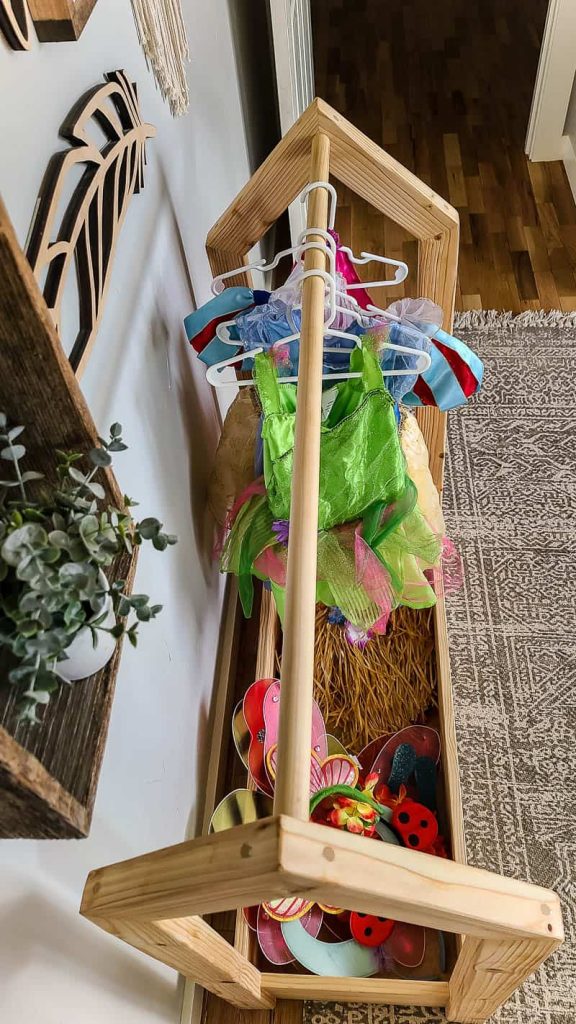 I love that it is easy to see everything – no more throwing everything out of the box to find that one little thing at the bottom.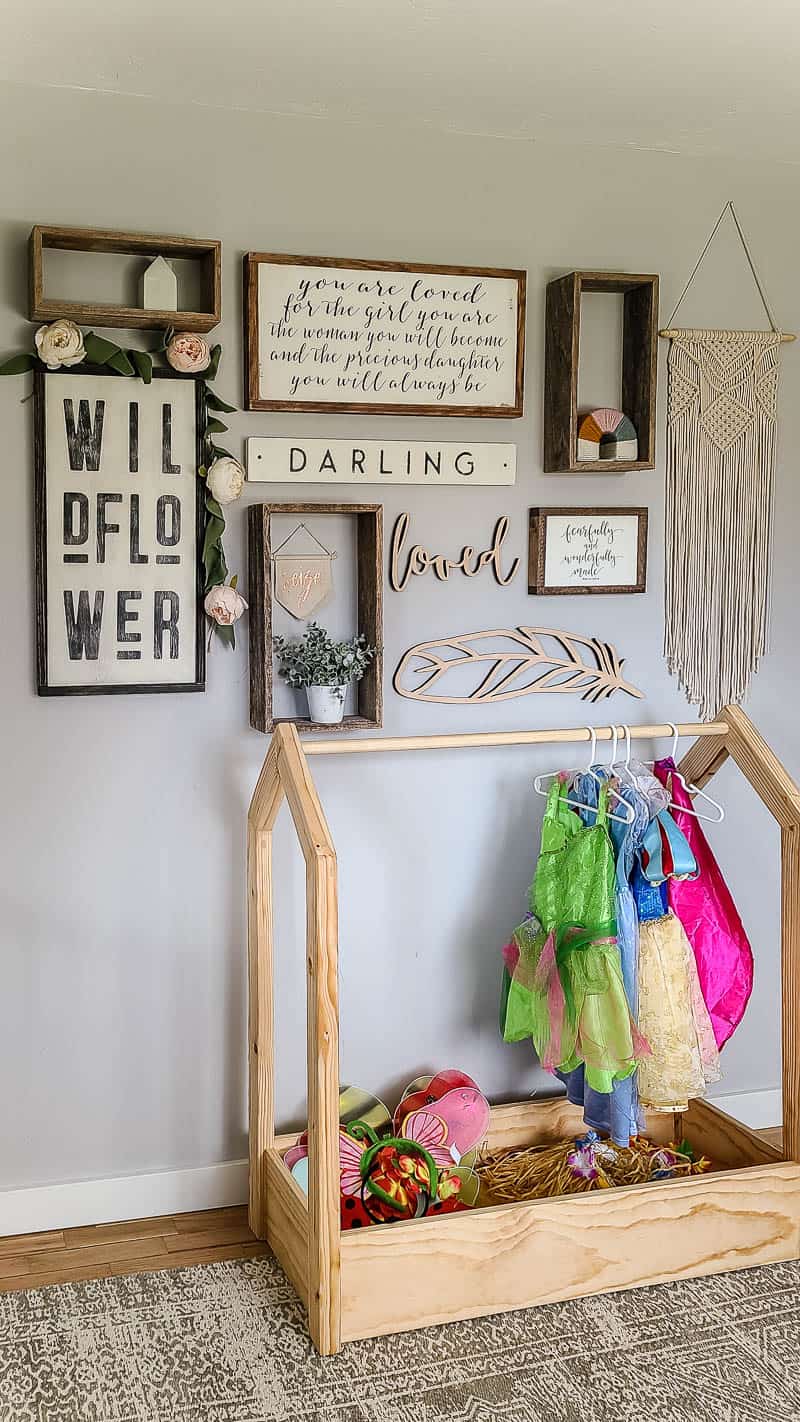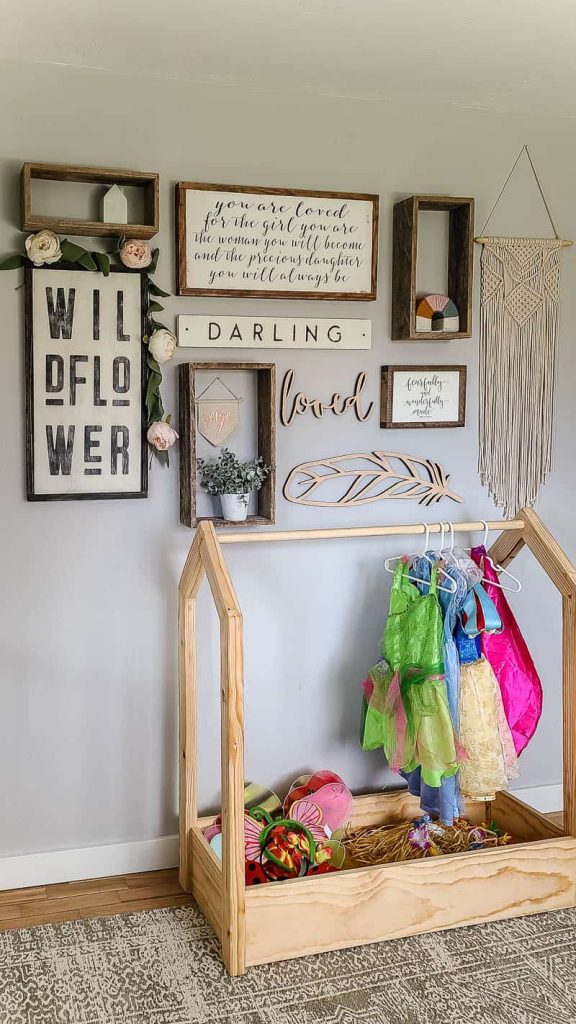 It's always very easy to quickly clean up after she's done playing dress up. And there is a lot of room for her to add more clothes and dresses, which I know will happen!
After we got the DIY dress-up storage rack finished and in her bedroom, I realized that it really could be used for a regular closet for kid's clothes too! It would make a great Montessori-style clothing rack.
At over 3 feet wide, there's plenty of hanging room for shirts and dresses and the bottom could hold baskets for shoes, pants, and more.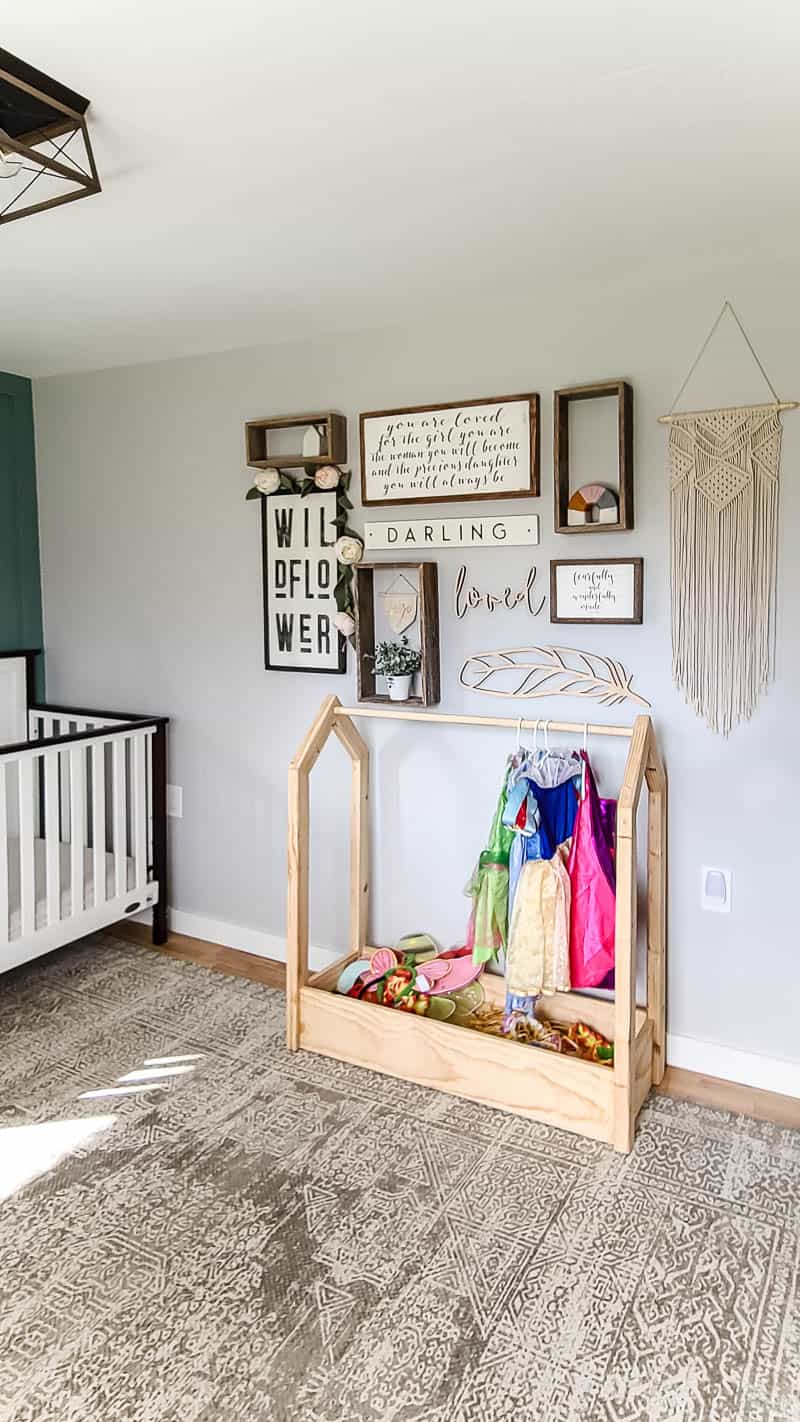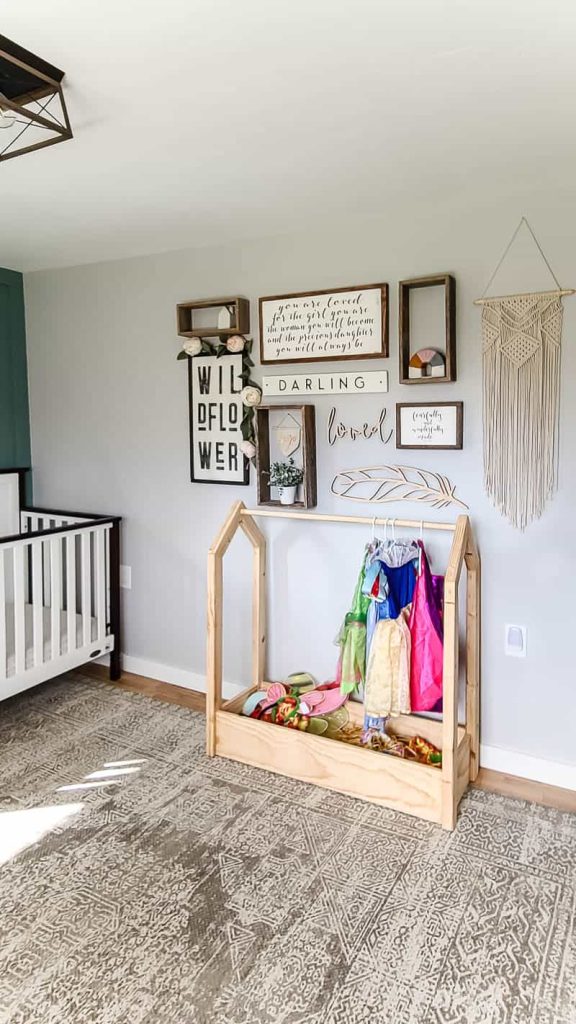 Supplies to build DIY dress up storage
We had so much fun working with our friends over at Kreg to bring you the tutorial and free woodworking plans for this cute project for our little girl's room.
I hope you feel inspired and motivated to tackle this easy DIY project now for your kid's dress up clothes.
Don't forget to go grab the free woodworking plans and check out the full tutorial at KregTool.com.