If you are going to be installing a bathtub, you need to check out this step-by-step guide. Instead of getting overwhelmed, follow along with this tutorial to learn how to install a bathtub during your next bathroom renovation.
Installing a bathtub during your bathroom renovation seems like a daunting and very complicated task, but, like most things, once it is broken down you realize it is just a bunch of simple tasks that look complicated together.
Instead of getting overwhelmed, follow along with this step-by-step guide on how to install a bathtub in your bathroom.
Table of Contents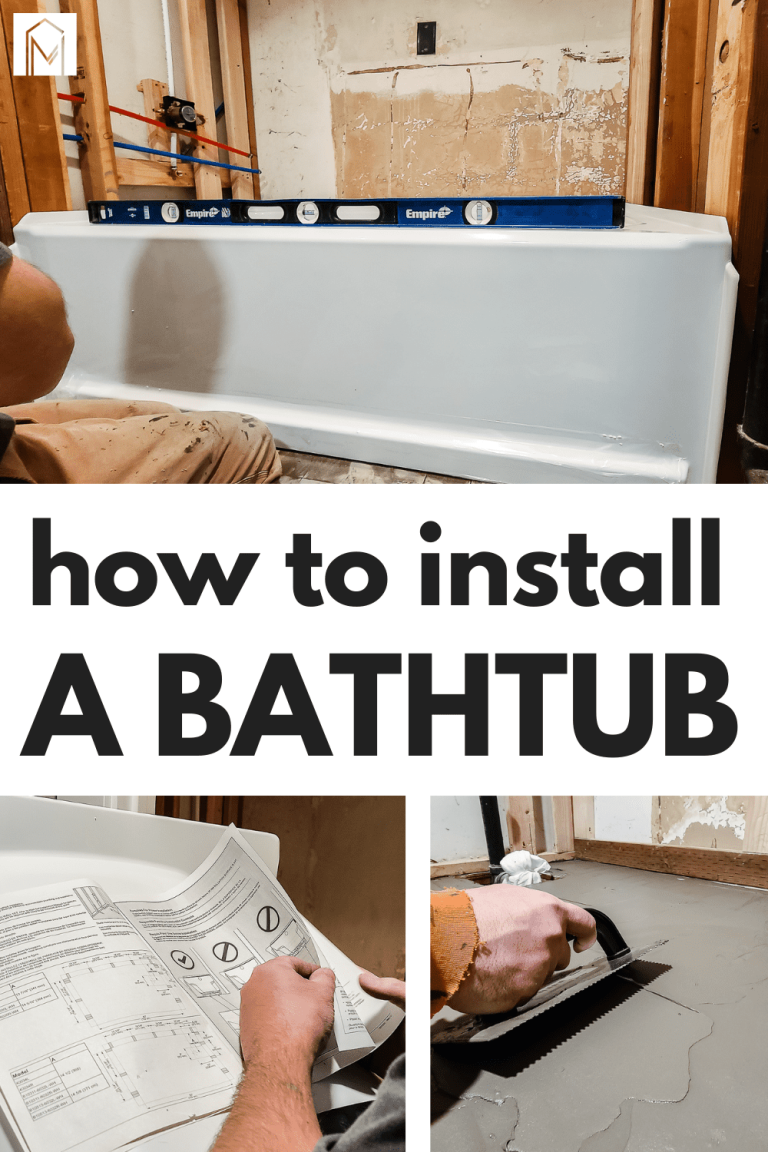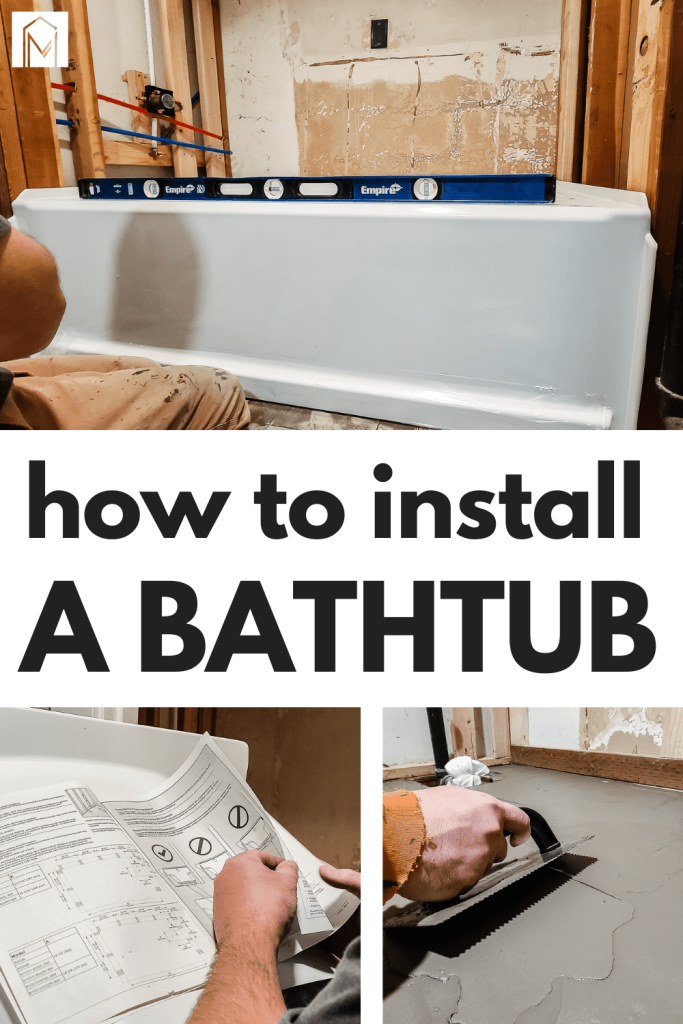 We recently started a bathroom renovation in this small guest bathroom in our home. We had given it a little budget-friendly makeover a couple of years ago, but what it really needed now was a full "gut" and redo.
Part of those renovation plans and our bathroom mood board called for a new bathtub to be installed because the old one was clunky, discolored, and damaged.
This how to install a bathtub tutorial contains affiliate links, but nothing that I wouldn't recommend wholeheartedly. Read my full disclosure here.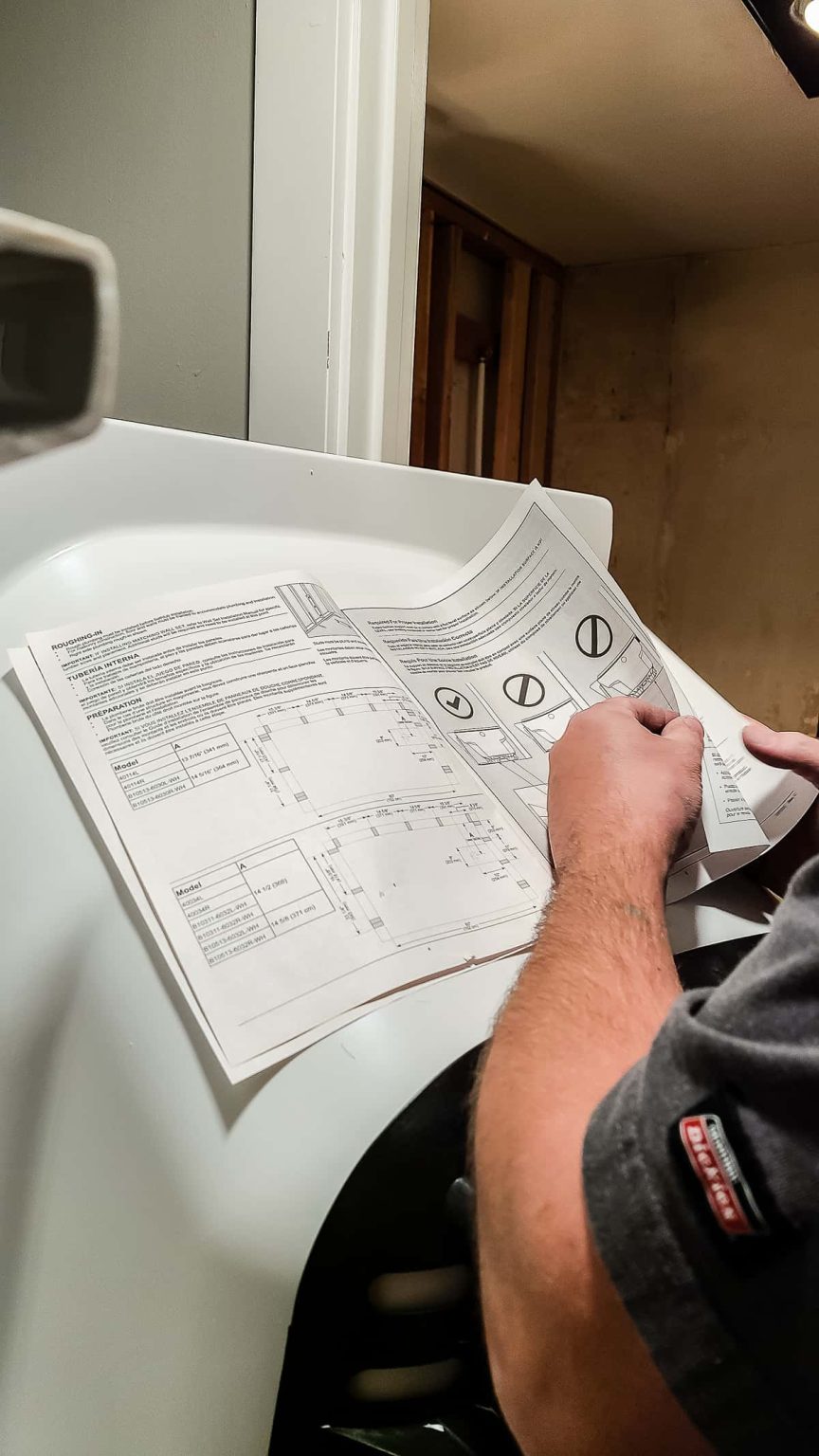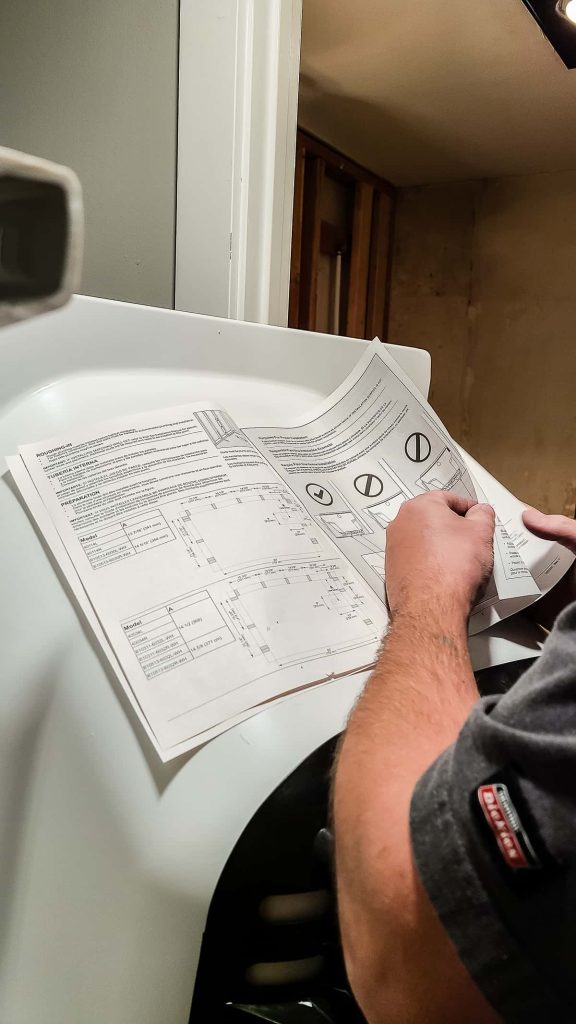 The Single Most Important Bathtub Installation Tip!
We can't write a whole article about how to install a bathtub without mentioning the single most important bathtub installation tip and that is this:
Always always always read and understand the manufacturer's instructions when installing a bathtub (or doing any major renovation, like this!)
Even though we have successfully installed a bathtub a handful of times, we both took the time to read through the included manufacturer's instructions that came with our bathtub.
So even though we are providing detailed step-by-step instructions below for how to install a bathtub, every single bathtub is a bit different so please do yourself a favor and read the instructions before you begin!
Delta Classic 400 60-inch Rectangular Bathtub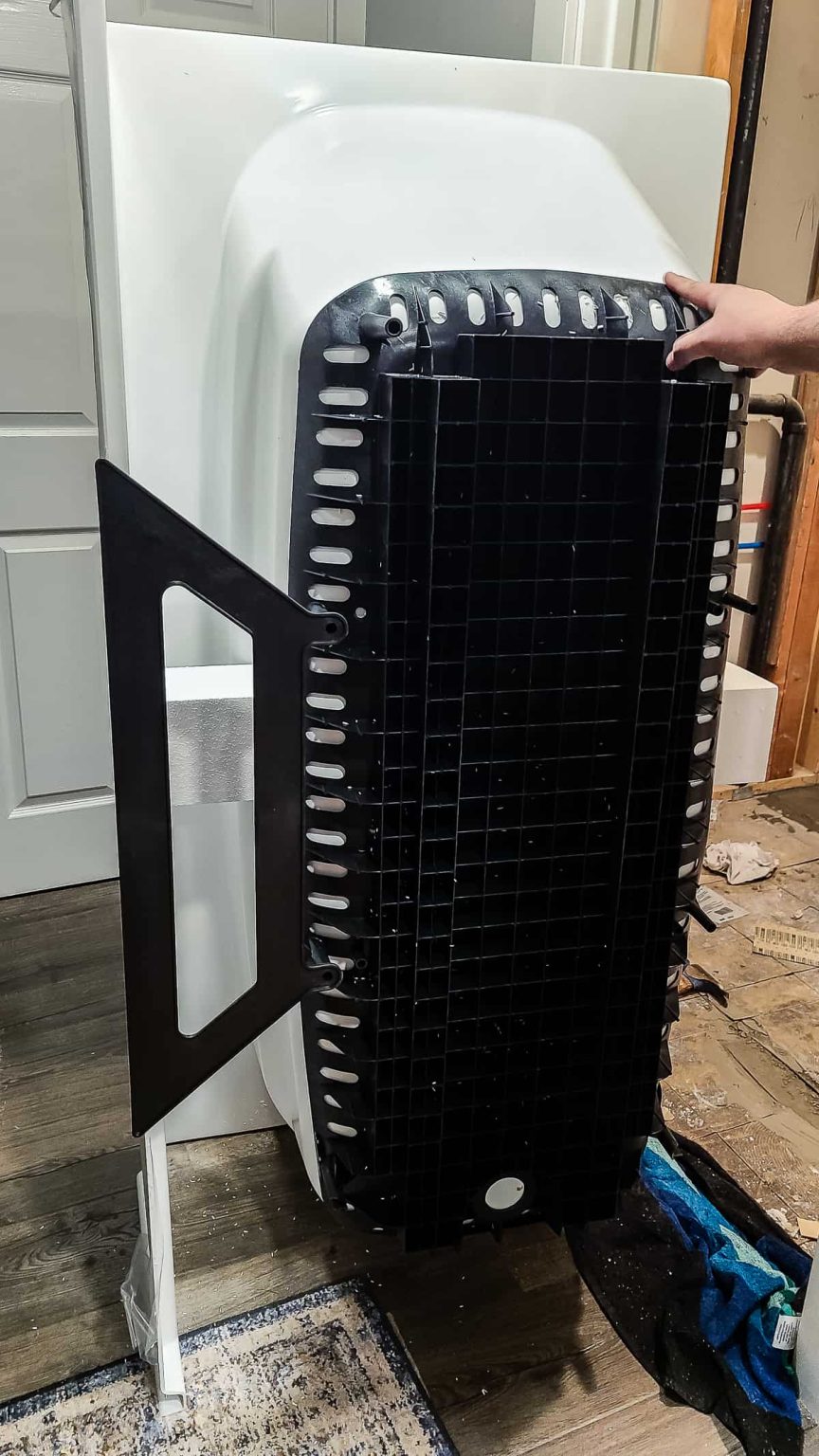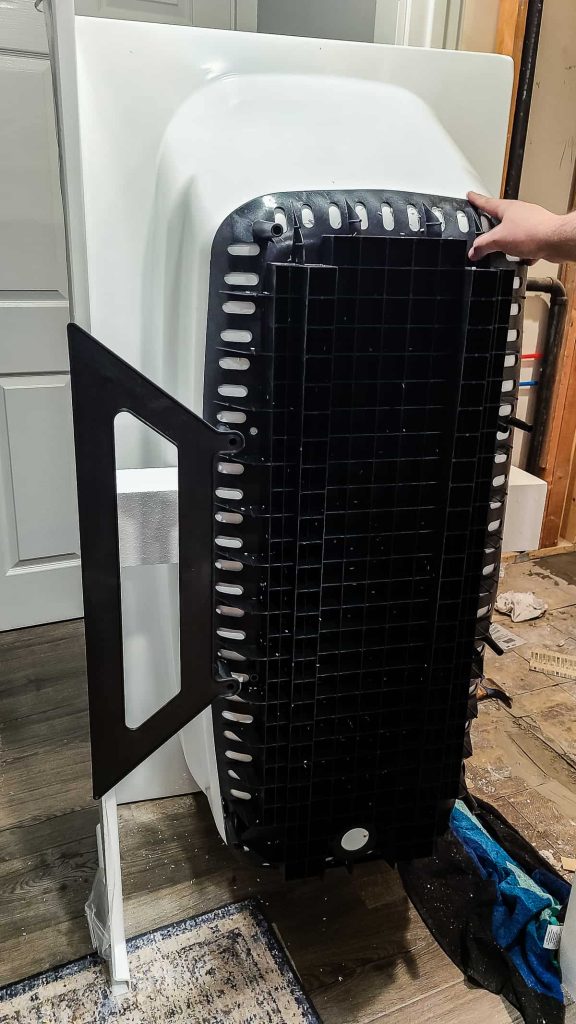 I thought I would include this picture that I snapped while Logan was putting the new tub into the bathroom because it was so interesting! If you are curious, this is what the underside of the bathtub looked like. I had no idea!
We went with the Delta Classic 400 60-inch Rectangular Alcove Bathtub with a Left Drain in High Gloss White. This product is made from something called "ProCrylic", which is a non-porous durable, high-gloss acrylic that "provides all of the benefits of acrylic without the need for the rough, abrasive fiberglass backing".
It offers direct-to-stud installation and has a built-in flange for nailing into the studs. I love that this bathtub requires no mortar bed. As seen in the photo above, there is a built-in bathtub support system (the black stuff in the picture), which makes it easier to install and more durable.
A Quick Note About Bathtub Materials
Bathtubs are typically either made of Porcelain (with a Steel Base or Cast Iron), Acrylic, Fiberglass, or Marble. Learn more about the different pros and cons of each bathtub material here.
The bathtub we chose was Acrylic and this was the first time we have installed an Acrylic bathtub. In the past, we've always gone with Porcelain-Enameled Steel (like this one), which we installed in our kid's farmhouse style bathroom.
Although a bit more expensive, we now have determined that we prefer the Porcelain-Enameled Steel tubs. They are a little easier to install and seem to be easier to clean and a little more durable. The Steel ones just feel more sturdy and as a result, we think they will likely last longer.
How To Install A Bathtub: Step-by-Step Tutorial
Supplies needed for installing a bathtub:
Screwdriver
Allen wrench (possibly)
Level
Floor patch (if needed)
Bucket
Trowel
2×4
Wood shims
Drill/driver
Coated exterior construction screws (1 5/8″ & 2″)
Step 1: Turn off the water
Before you do any work in a bathroom, you should always start by turning off the water at the main line.
Once it is off, you can turn the faucet in the shower/tub on to drain out any water that is in the lines still.
Step 2: Remove the old bathtub
Removing the old bathtub and/or shower is next!
Start by removing the shower head, tub spout, handle and drain cover. You'll probably need a screwdriver to unscrew it from the water lines. You may also need an Allen wrench to remove some of the pieces.
If you plan on reusing the faucet or any accessories, be sure to handle them with care when you removing.
Also, it is helpful to put all of the parts in a bag or box so everything is together and doesn't get lost during your renovation.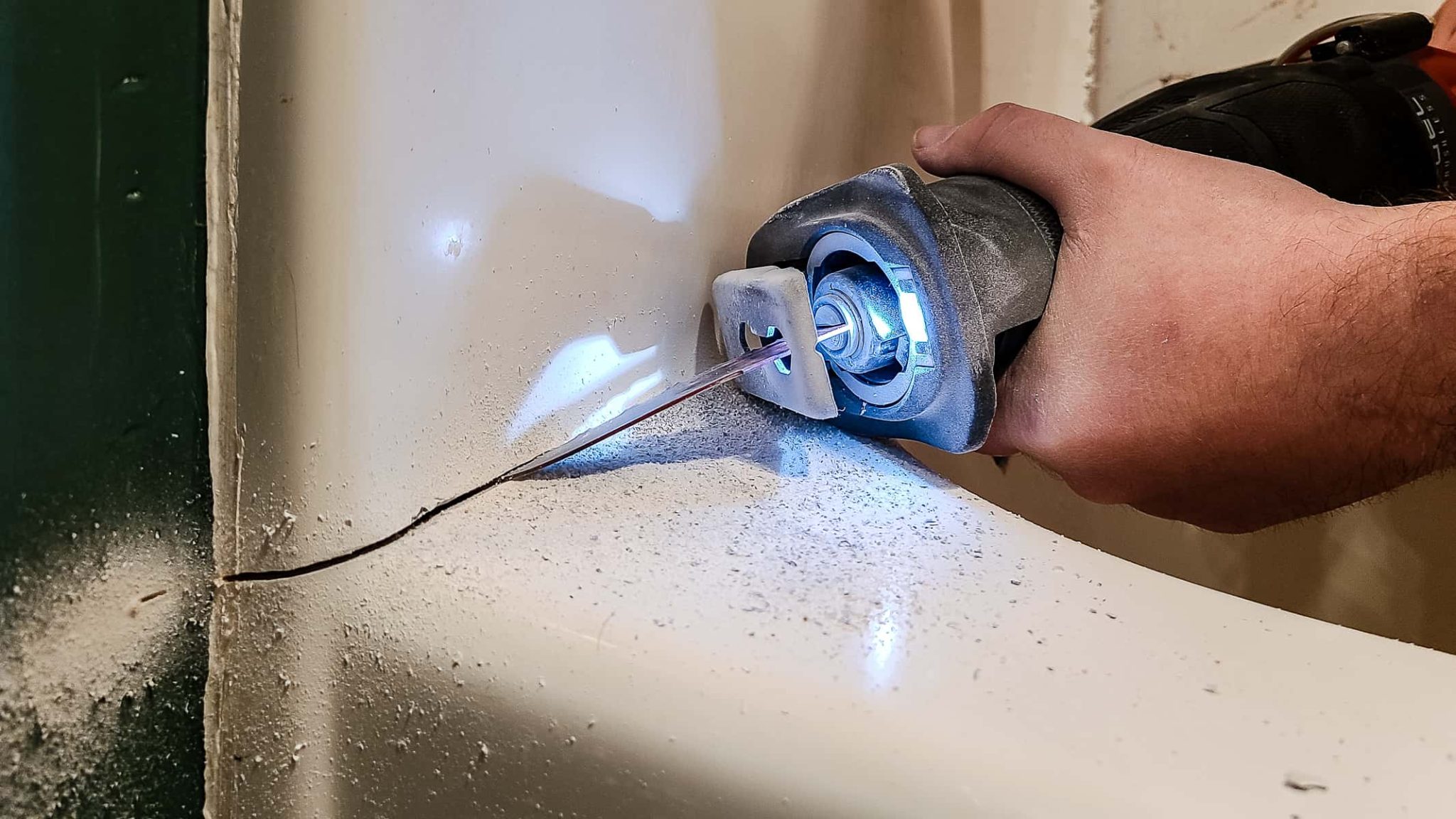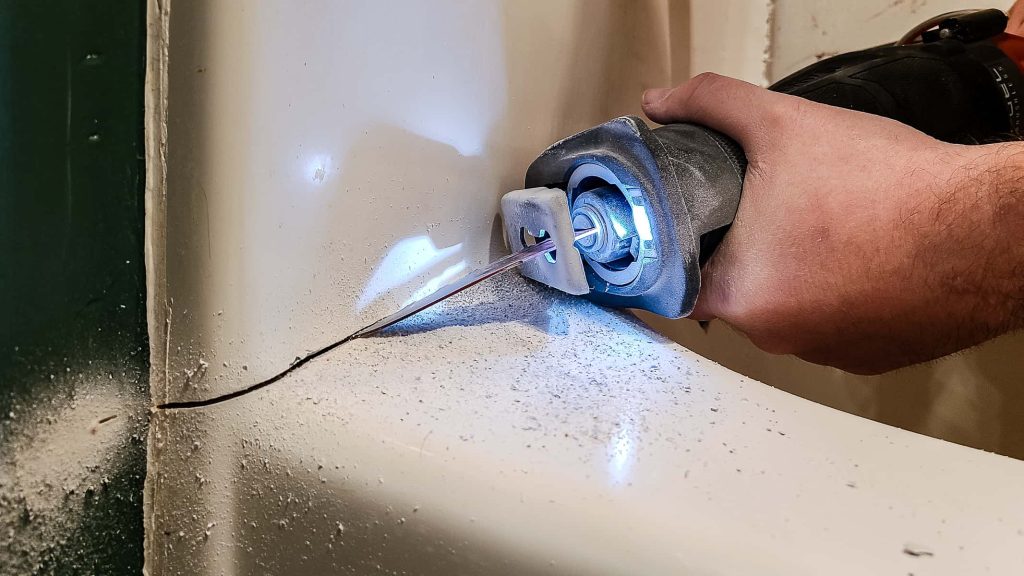 If you are removing an old acrylic bathtub/shower combo, like we were, we found that it was easiest to use a reciprocating saw to make cuts at the corners. Then you have something to grab onto to rip each piece off.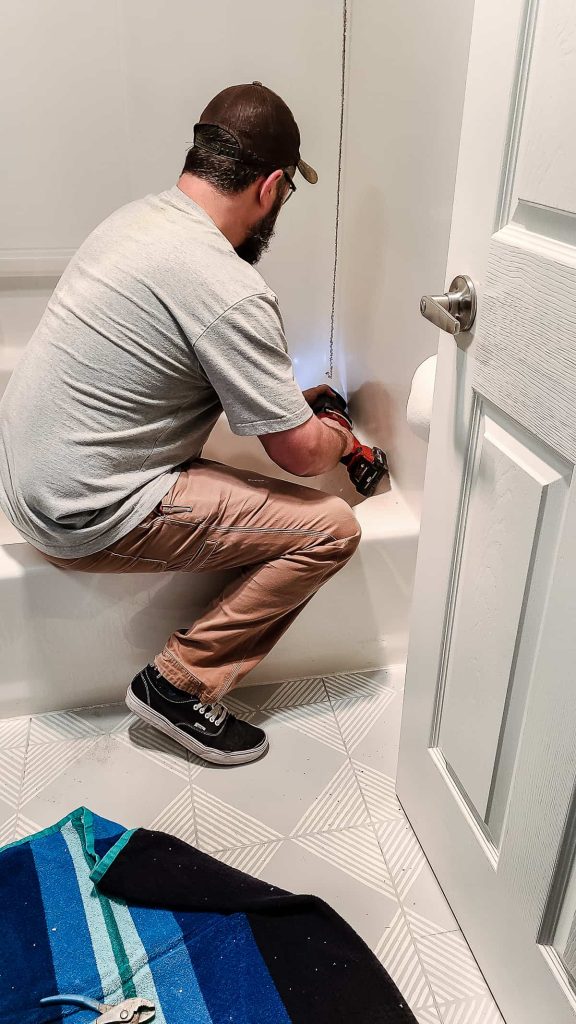 However, be careful not to use the saw near any water lines. The last thing you want to do is be forced to replace a water line in addition to your new bathtub.
If you are removing a bathtub that has a tiled shower surround, you'll need to remove the all of shower tile and backer board because it can't be reused with a new bathtub.
Step 3. Prep floor for a new bathtub
With the old tub removed, now you need to figure out if your bathtub needs a mortar bed or not. If you haven't purchased your new bathtub yet, we definitely recommend buying a bathtub that does not require a mortar bed.
The bathtub installation process is a whole lot simpler if you don't need to do a mortar bed!
However, even if your new bathtub doesn't require a mortar bed, you still need a level surface underneath, so check your floor to see if there is any leveling or patching needed.
If you need to level the flooring, you can apply a floor patch like this. We needed to do this for our bathroom!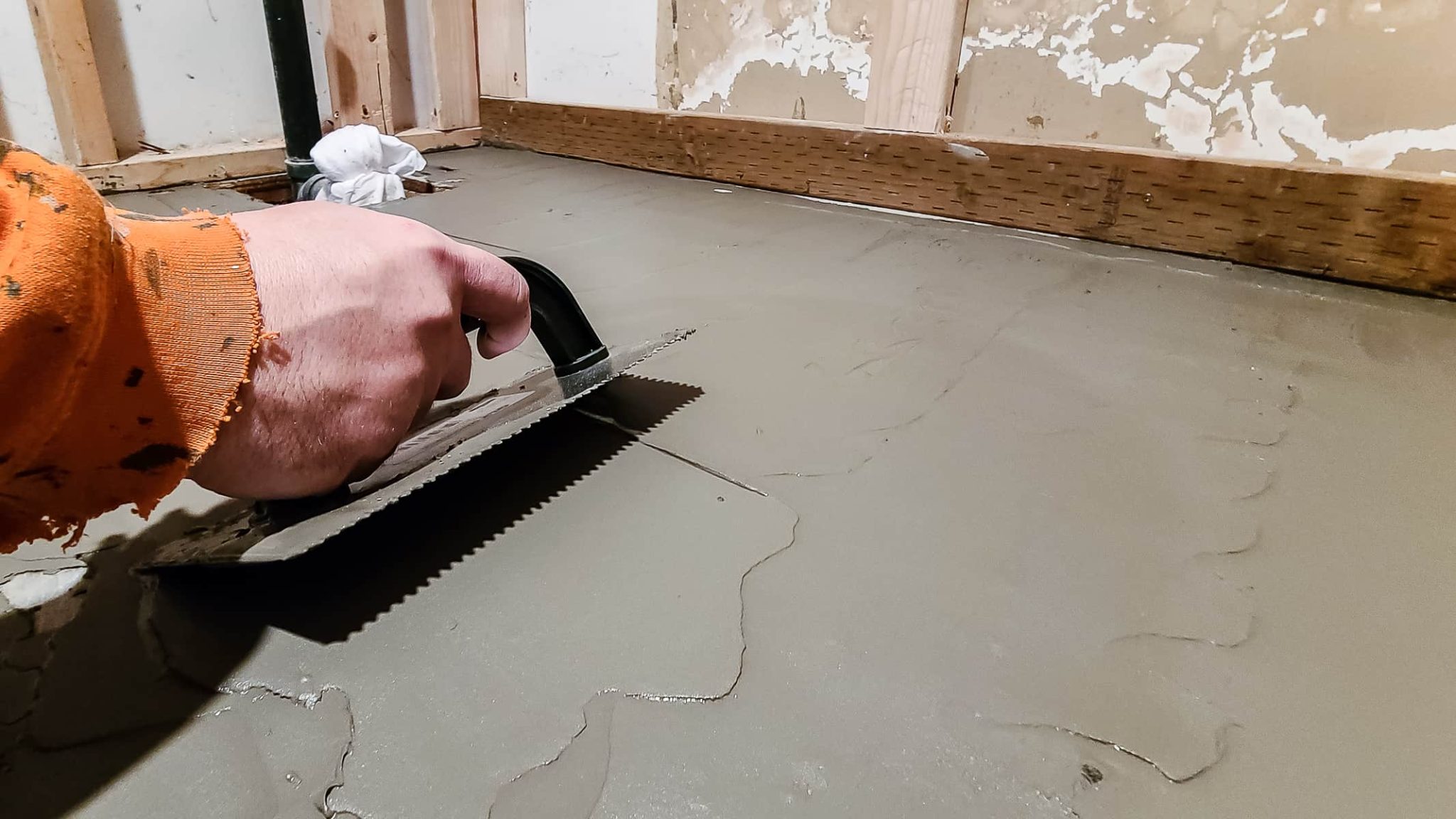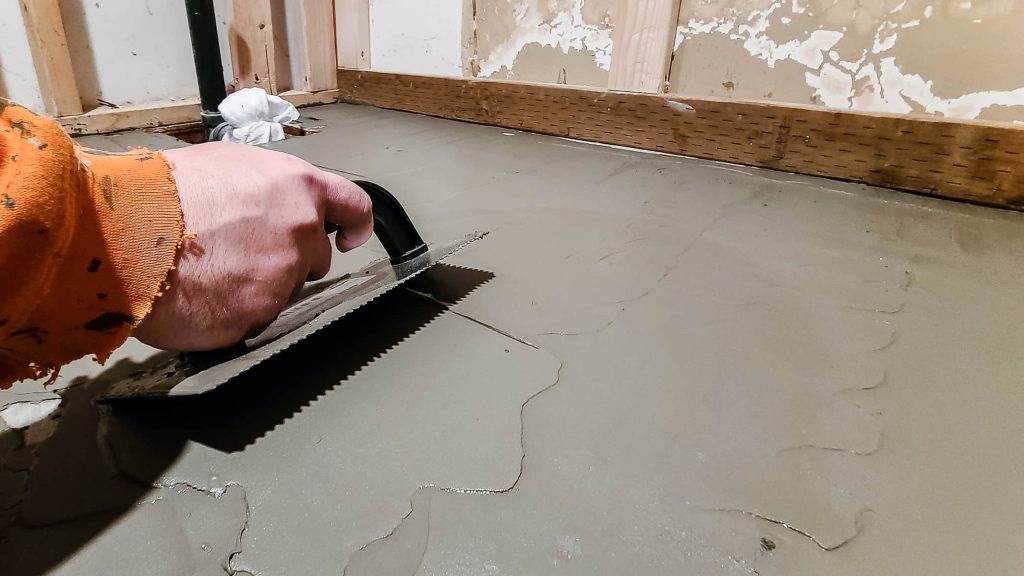 Once your floor patch is dry, set your bathtub down and check for level. If you need to patch more, do it. This is one step that you want to get right before moving on.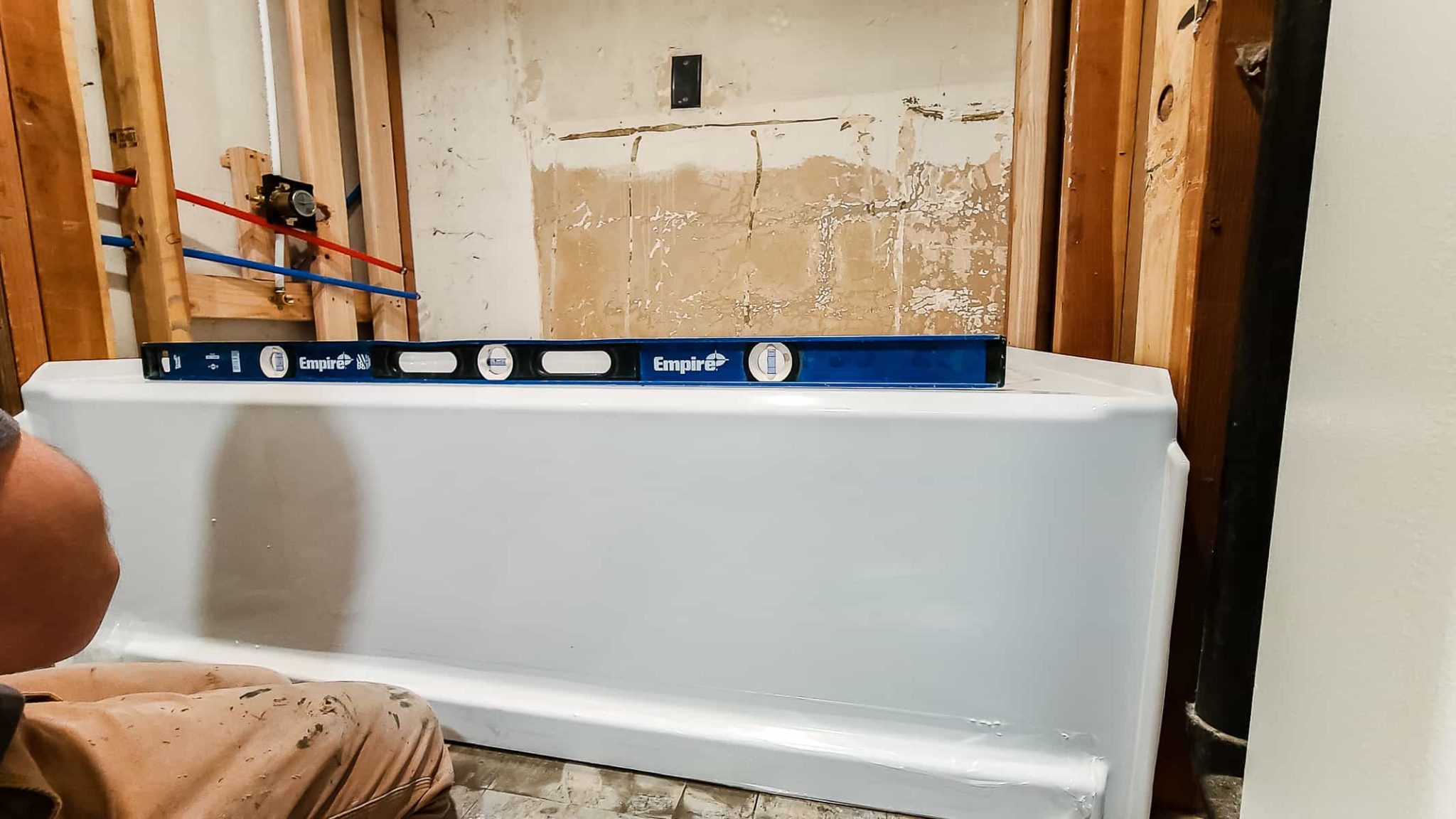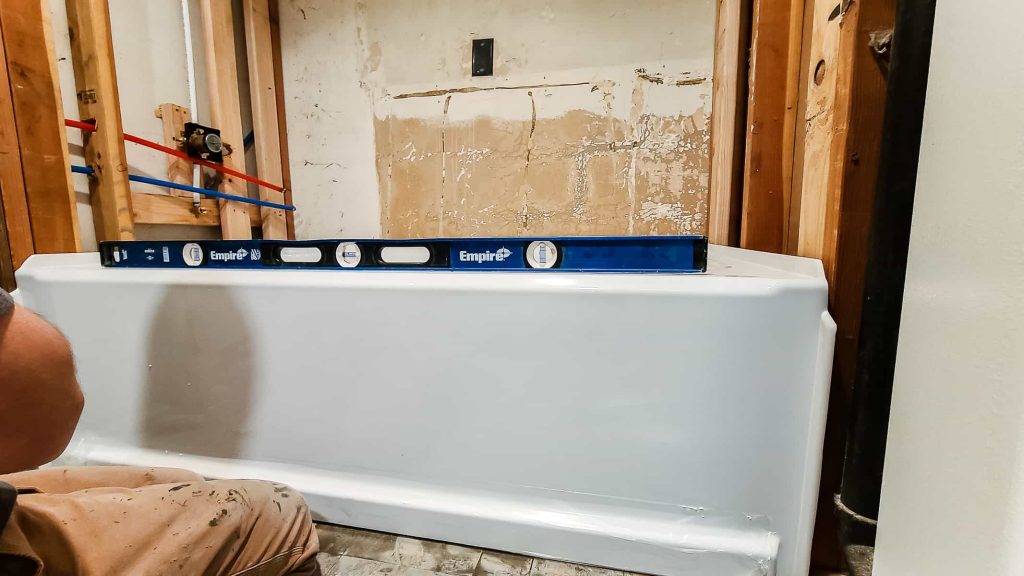 If your bathtub is level, you can make a mark on the back wall at the top of the tub flange (lip). This mark will be used in the next step to add the stringer board for the bathtub.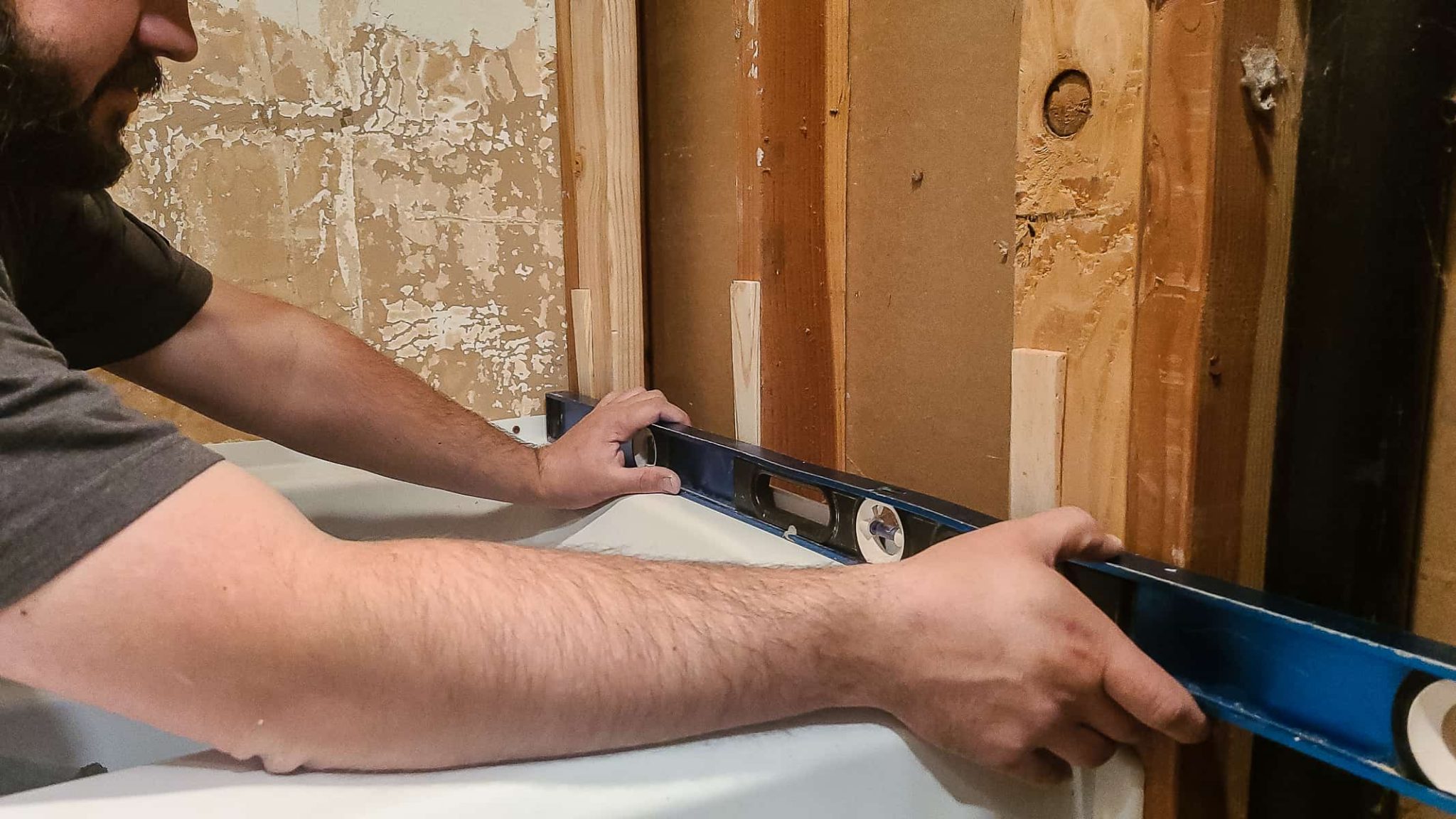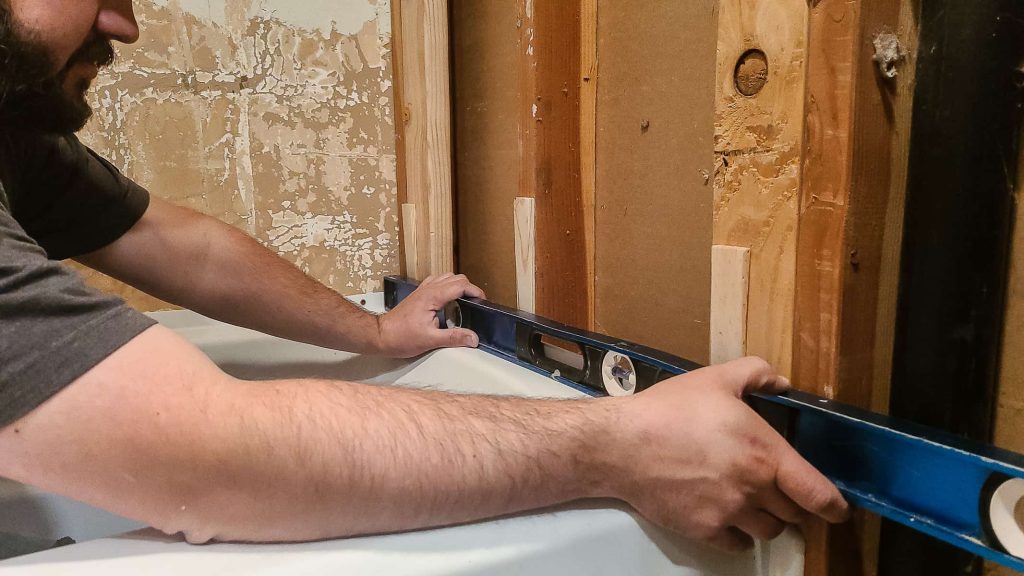 Step 4: Frame the walls to prep for the bathtub.
Measure the width of the back wall where the tub will be installed. Cut down a 2×4 to fit on the back wall. This will be a stringer board (also known as a ledger board) that will support the bathtub and helps it move less.
Every bathtub is a bit different, so take a look back at your manufacturer's instructions to see if there's a specific distance to account for on the ledge where the stringer board is installed.
Using the mark you made in the previous step (and whatever distance you need to account for your bathtub), install the stringer board using 2″ coated exterior construction screws through the stringer board and into the wall studs.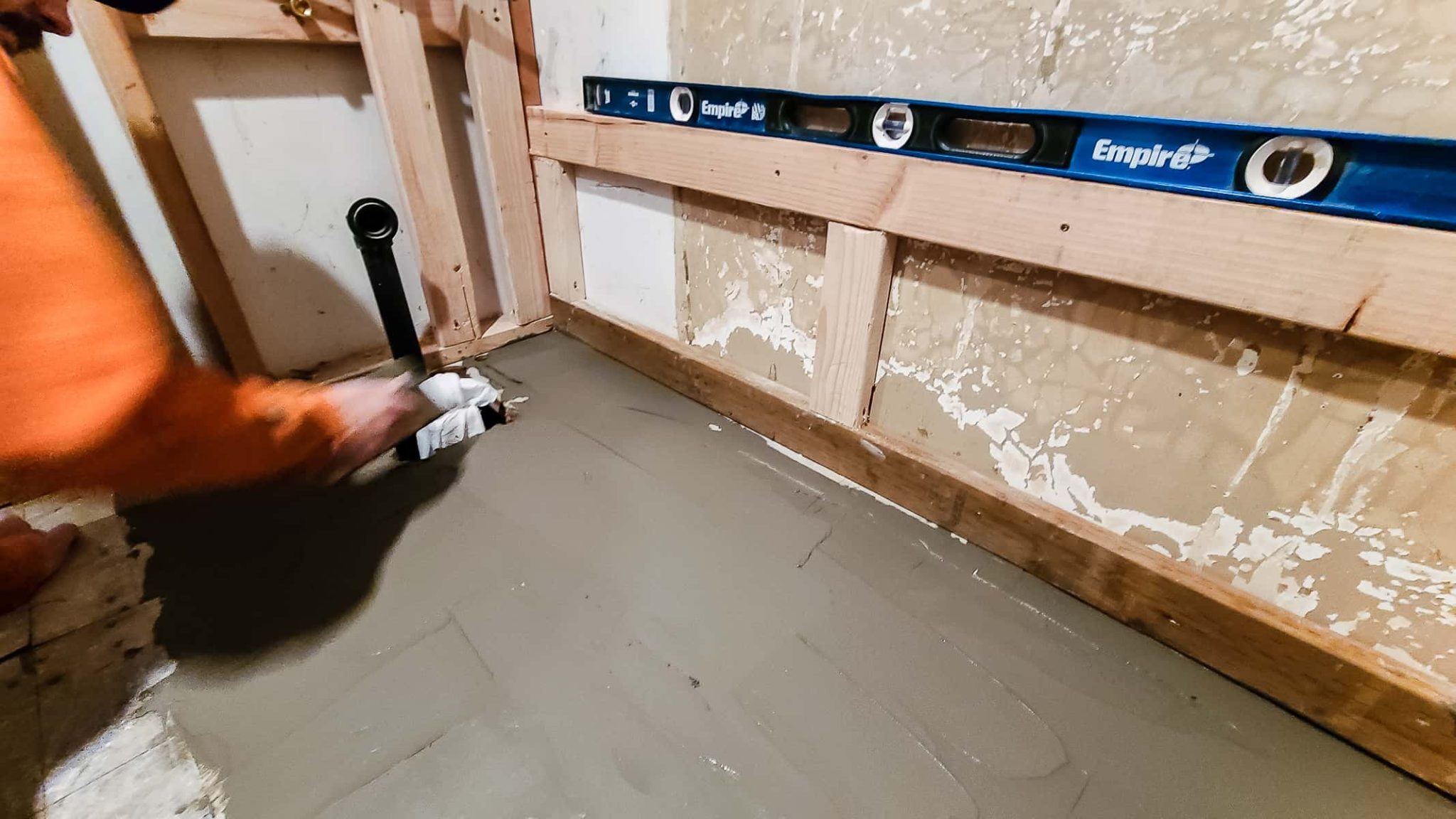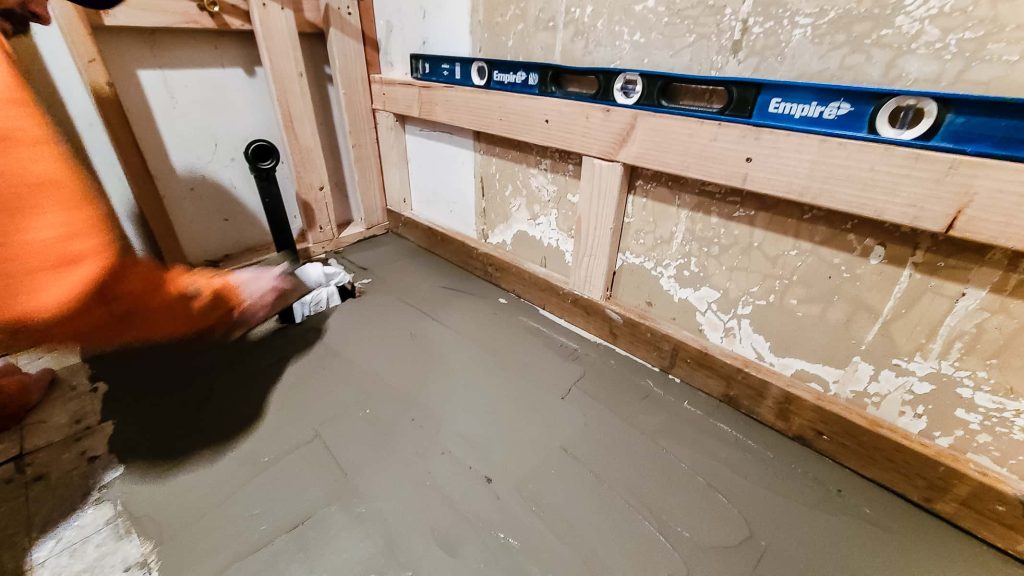 Note: in our bathroom, we were on a concrete wall, not a wood stud wall. So we also added some vertical 2x4s and an additional pressure-treated horizontal 2×4 at the base under the stringer board for some extra support since we weren't able to attach the stringer to a stud.
Step 5: Attach the bathtub drain plumbing.
This step really depends on the project and how much access you have to your plumbing. If you have easy access to your plumbing, you can attach the bathtub drain assembly now.
In our case, the crawl space isn't very accessible so we had to use the old bathtub drain. which makes attaching the drain assembly quite a bit harder.
Step 6: Secure the tub to the framing.
This step is really simple. Follow the manufacturer's instructions and attach the tub to the wall studs.
Some tubs let you drill through the flange, others want you to attach large head screws above the flange to secure the tub. Check your bathtub's instructions for the best solution for yours.
Once you know how to attach your bathtub to the studs, after referring to your instructions, put the tub in place and level it out.
If your tub requires a mortar bed then put the mortar bed down first before you install the tub.
Once the tub is level, add construction wood shims where needed. Then drill through the bathtub flange and wood shims to secure it to the studs.
If you need to use a mortar bed, you'll need to stay off of it for 24 hours to let the bed harden up.
Step 7: Protect your tub.
Most boxes that bathtubs are shipped in have a cardboard cut out for you to place in the bottom of the tub. We recommend using this along with a couple of old towels to really protect the bottom of the tub.
If you are more of a clumsy person, take some more precautions to protect the other areas too.
We can all get pretty tired installing a bathroom, later cement board, and eventually tiling. There are a ton of opportunities to damage your tub once it's in so be sure to protect it now!
If you're going to be installing a bathtub during your next bathroom renovation, we hope this guide has been helpful!
Again, the most important thing to remember is to read the manufacturer's instructions for your bathtub because they may differ slightly from what we did here. Each bathtub is different and may require different installation steps.
Do you have any other questions about installing a bathtub?
Let us know in the comments below!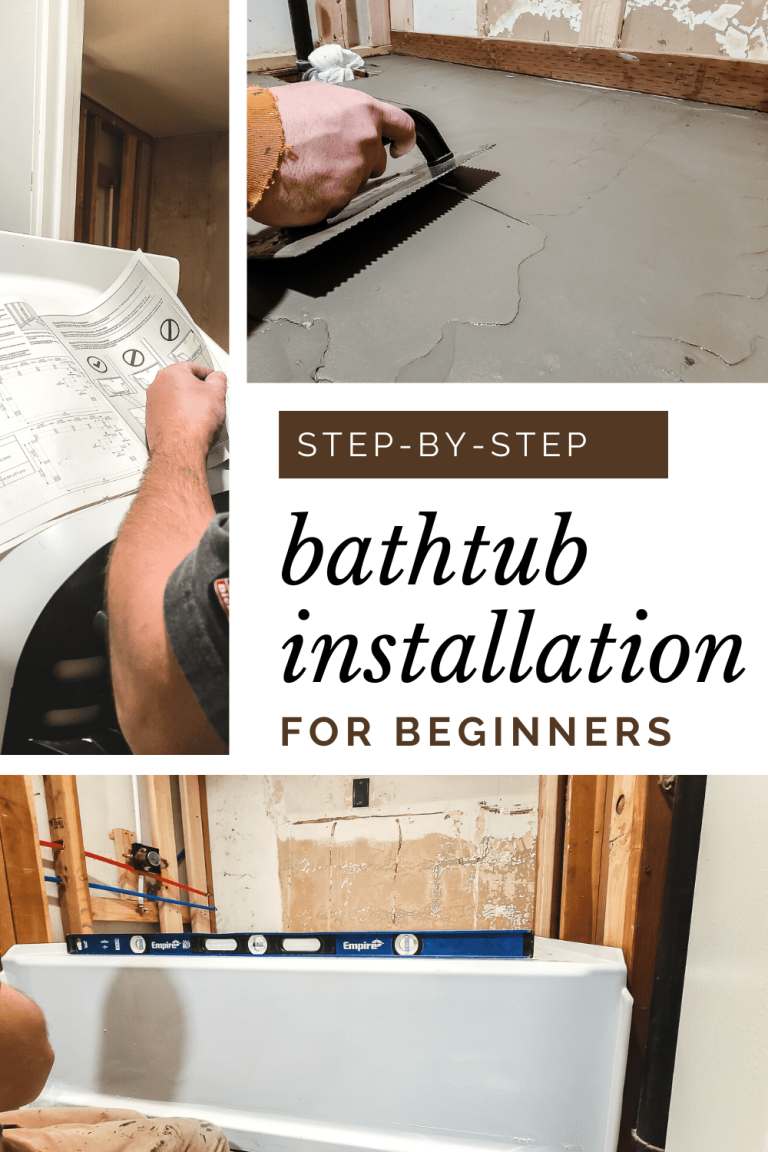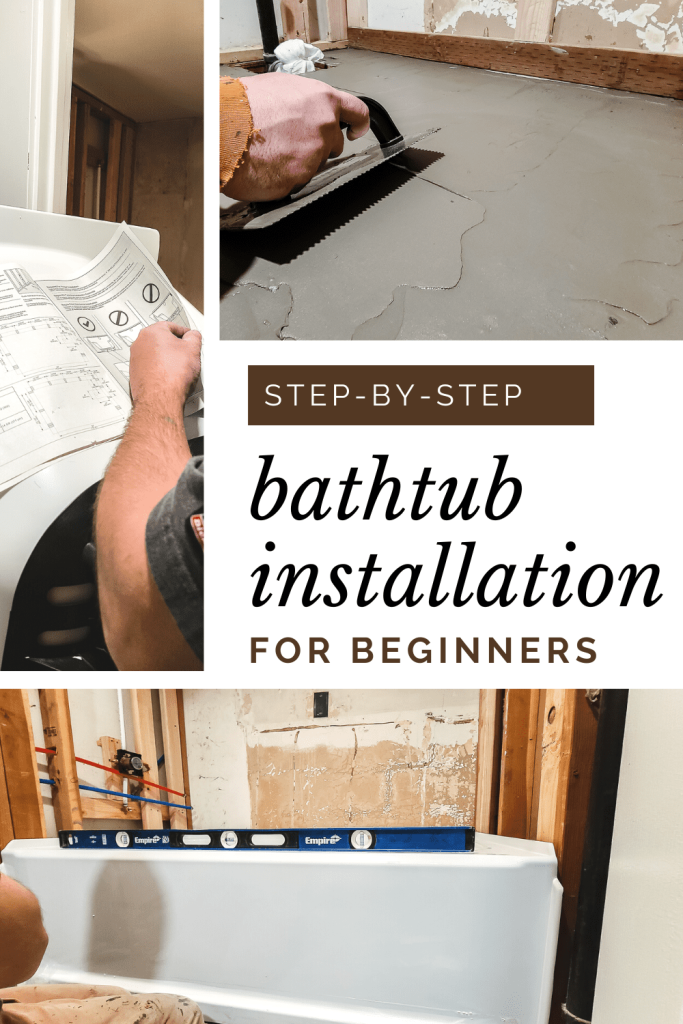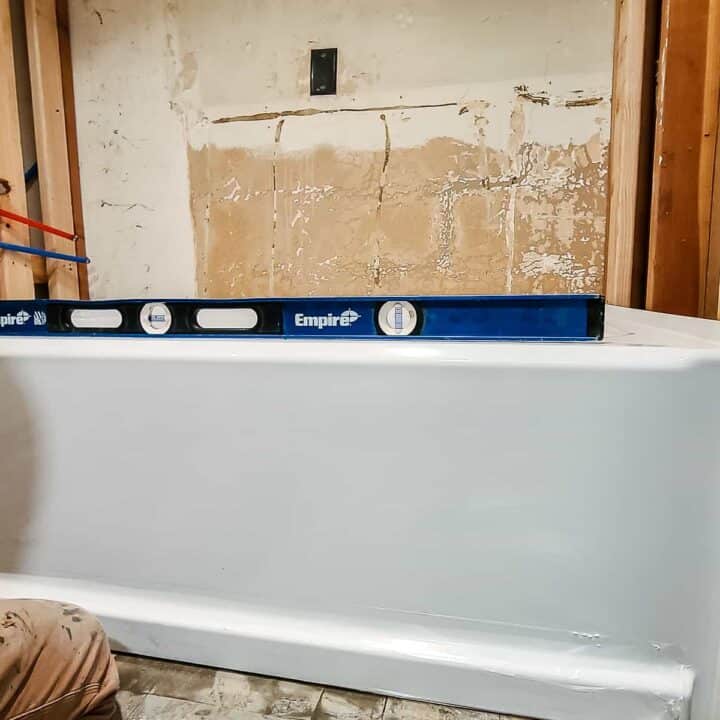 How to Install a Bathtub for Beginners
Don't get overwhelmed at the thought of installing a bathtub. It's easier than you think to do it yourself!
Materials
Screwdriver
Allen wrench (possibly)
Level
Bucket
Trowel
2x4
Wood shims
Drill/driver
Coated exterior construction screws (1 5/8" & 2")
Notes
Before you do any work, turn off the water then turn on the bathtub faucet and allow water in the lines to drain.
Remove the old tub. Be sure to handle the faucet and accessories with care if you plan to reuse them.
You need a level surface for the new tub to sit on so level the floor using floor patch if needed. Dry fit the tub to make sure it is level.
Frame the walls to prep for the bathtub.
Attach the bathtub drain plumbing.
Secure the tub to the framing per the manufacturers instructions.
Protect the bottom of the tub if you have further renovation to complete.