Looking for ideas for your homeschool space? Come take a little tour of our homeschool room and home office.
Well if you can't tell by the title of this blog post, we're homeschooling this year!
Actually, a lot of things have changed in our house over the past few months…Logan got a full-time job in residential construction working with our brother-in-law. I stepped away from my "day job", a 13-year career in commercial real estate. And lastly, we decided to step into homeschooling with our two kids at the start of the new school year.
I've spent the last couple of months getting our home turned around, specifically setting up an extra space for our homeschool supplies. You may recognize the room, which we renovated a few years ago.
It was originally our home office and had two his & her desk spaces because we worked from home full-time. Since we both won't be working from home anymore, we decided to go down to just one desk in the office and share it.
Let's jump right in and take a little tour of our entire homeschool room!
This homeschool room tour contains affiliate links, but nothing that I wouldn't recommend wholeheartedly. Read my full disclosure here.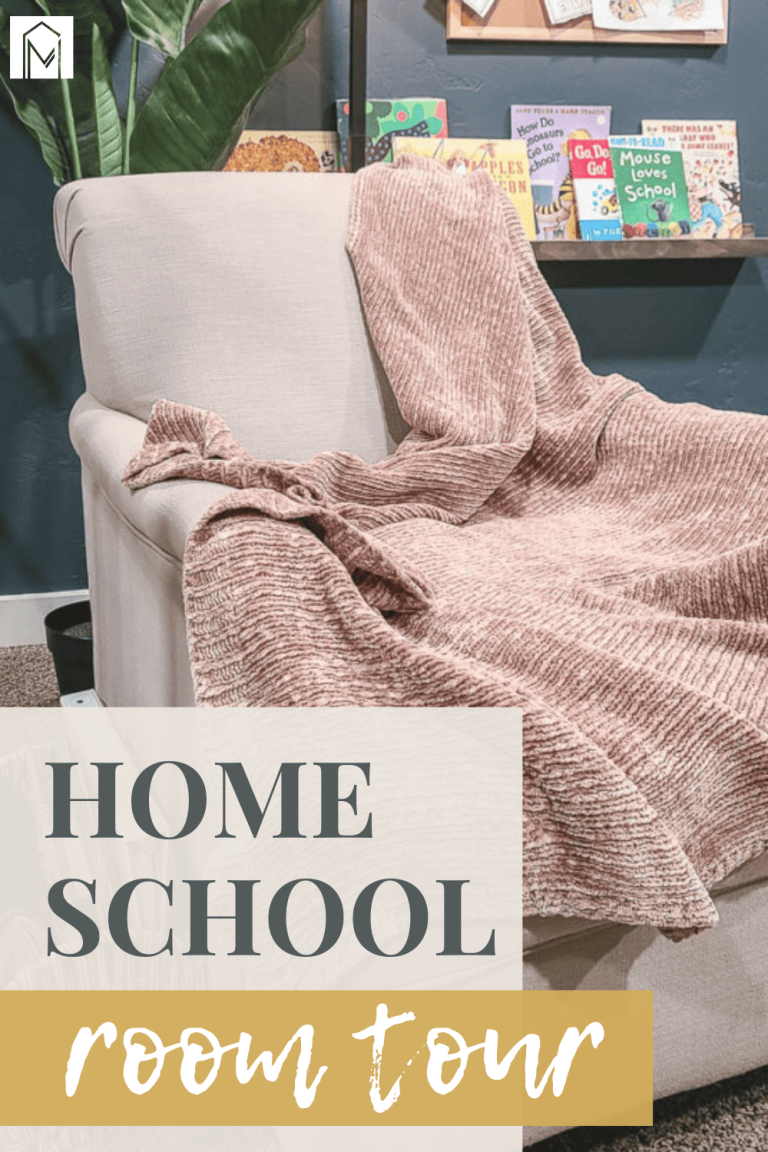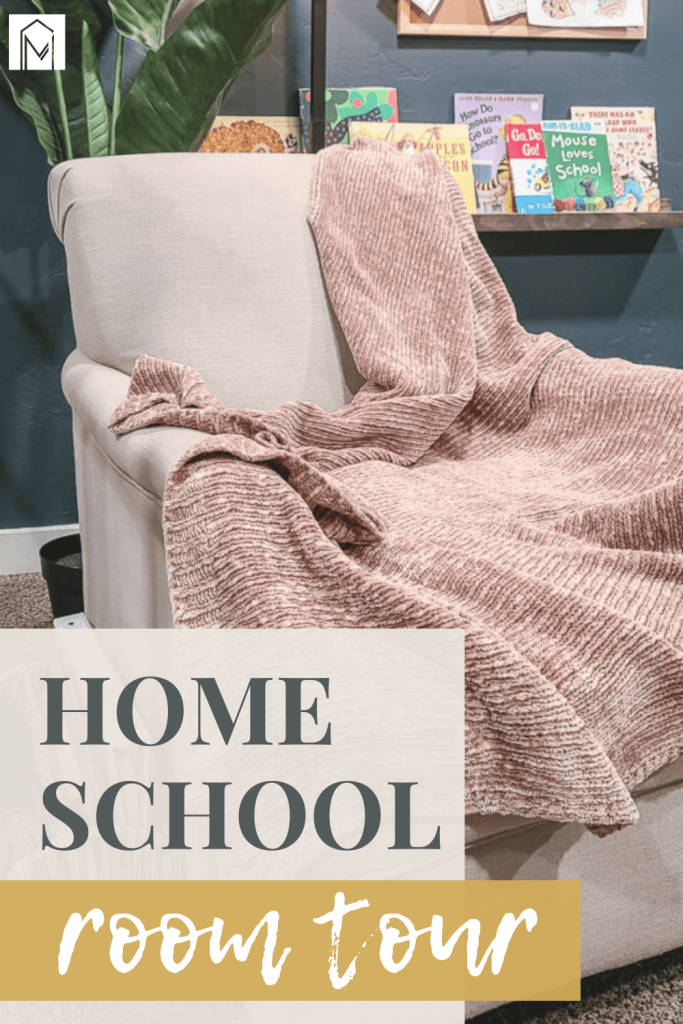 Watch the Video Tour of Homeschool Room
If you love DIY videos, don't forget to subscribe to our YouTube channel!
Homeschool Table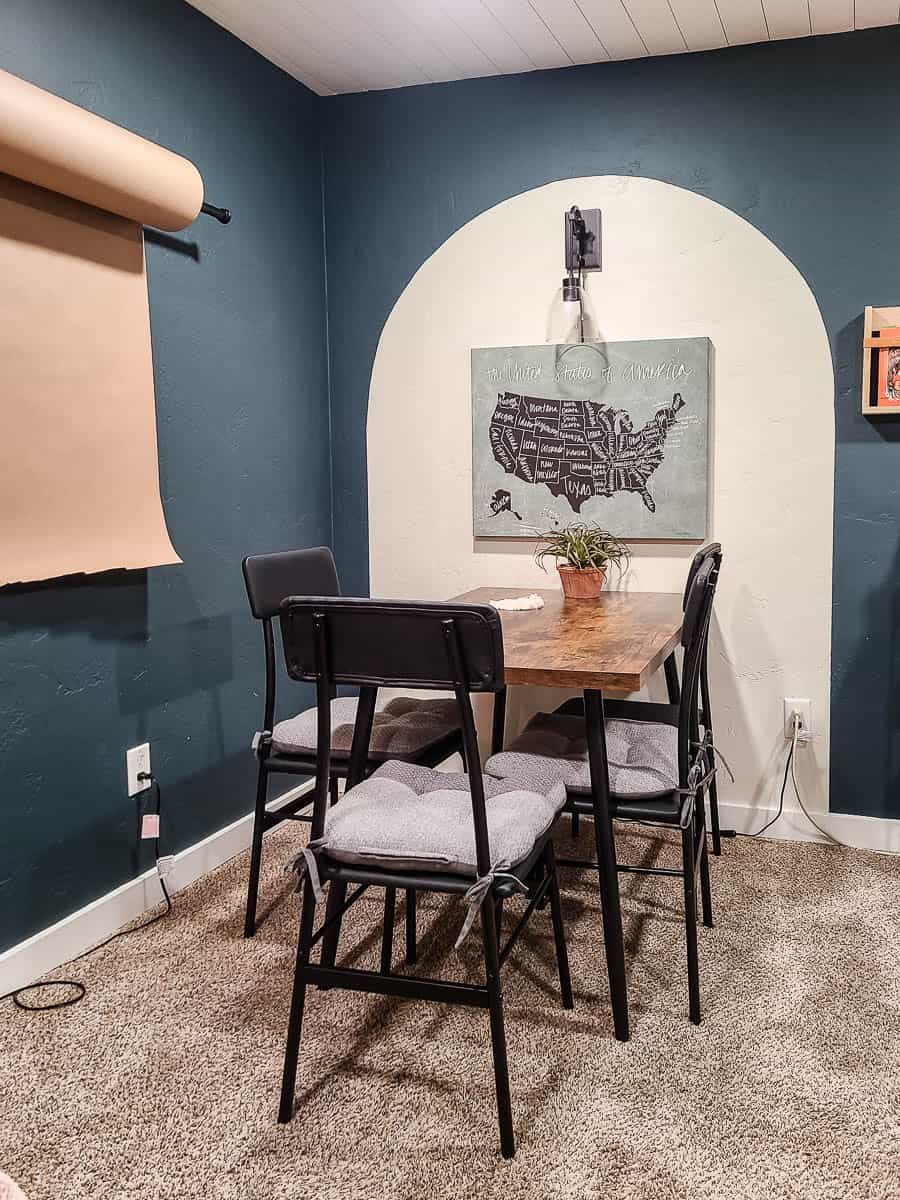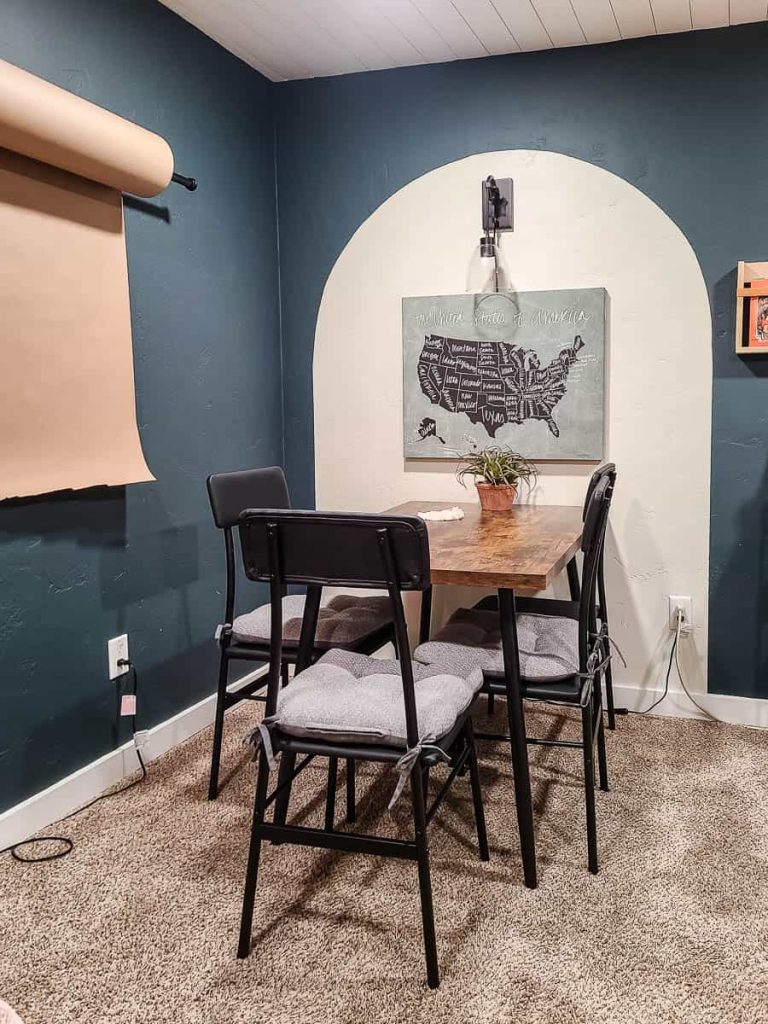 In the space where the other desk was (in front of the painted arch wall), we replaced it with a homeschool table. It is really just a small dining table and it works perfectly for the three of us.
When we're doing lessons at the table, I usually sit at the end of the table and have one kiddo on each side. I did a lot of research and shopping looking for a dining room table that was small enough to fit comfortably in the space without feeling too large and overpowering. This one is 45″ by 30″ and is plenty of space for us.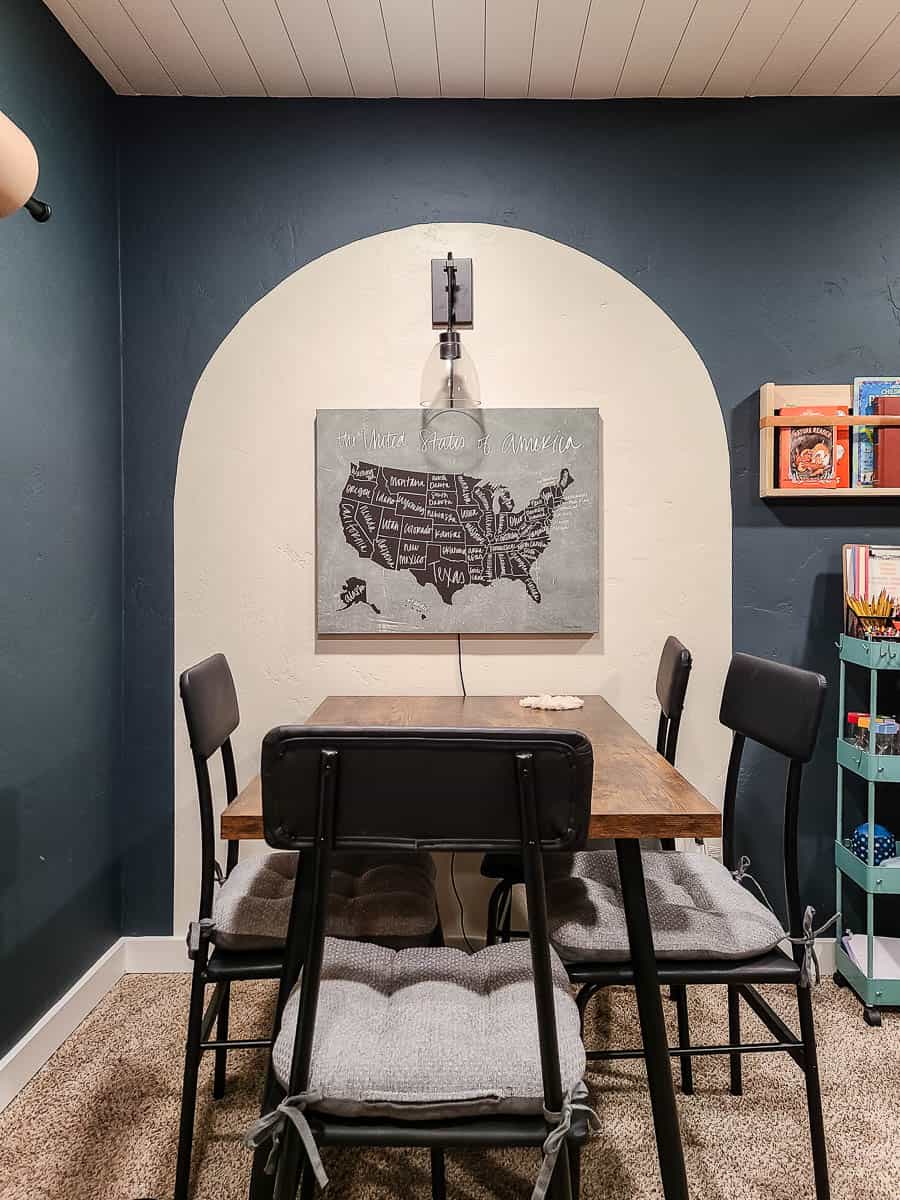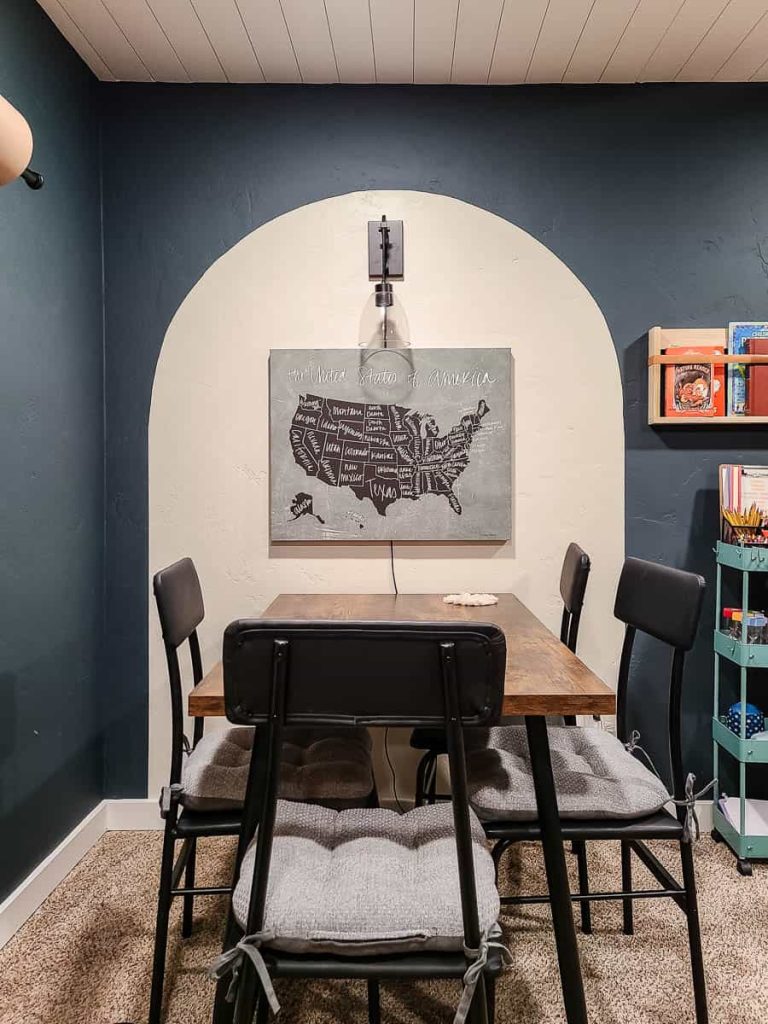 We added some nice memory foam seat cushions to the chairs so they are cozy and comfortable.
On the wall under the sconce light, I added this United States of America artwork that I found on sale at Hobby Lobby (similar version here). It's a great reference tool for the kids to learn the names and locations of the states, but also gives us some decor in the homeschool area. Gotta love the dual-purpose wall decor in a homeschooling room!
Homeschool Cart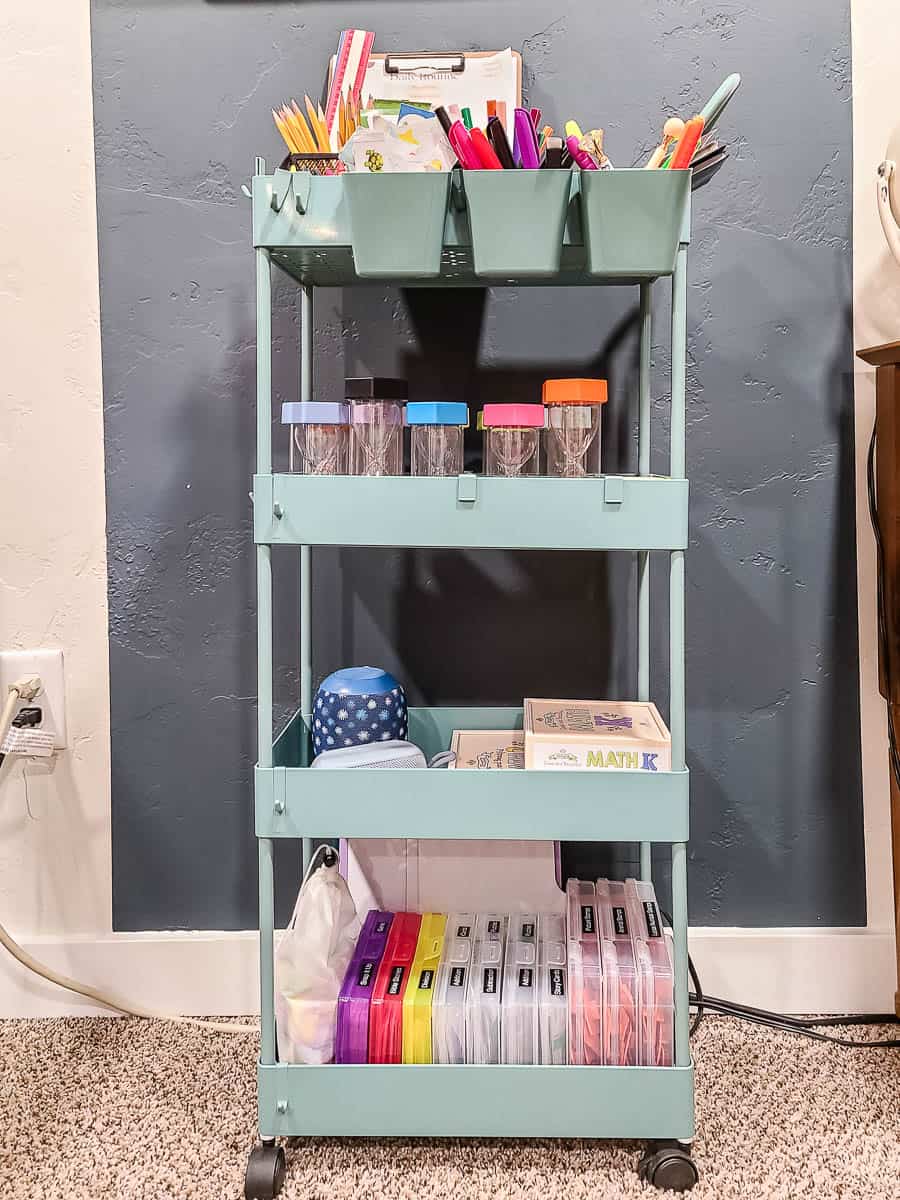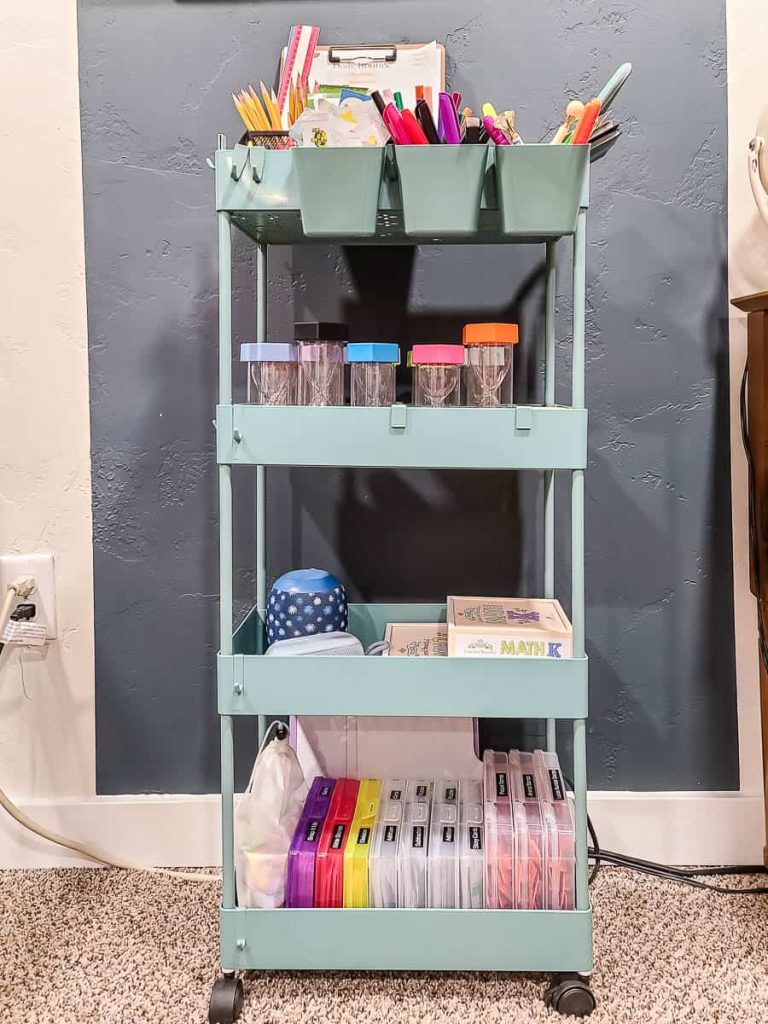 There are a few homeschool materials that we use nearly every day, so I found a rolling cart to hold our most often-used supplies. I love it!
I'll go into more detail about exactly what we keep in the homeschool cart and how we use it on another day. But for a quick explanation, there are writing and coloring tools at the top, hourglass timers, Bluetooth speakers, boxes of math manipulatives, and plastic containers with stamps, flashcards, and games.
Book and Magazine Rack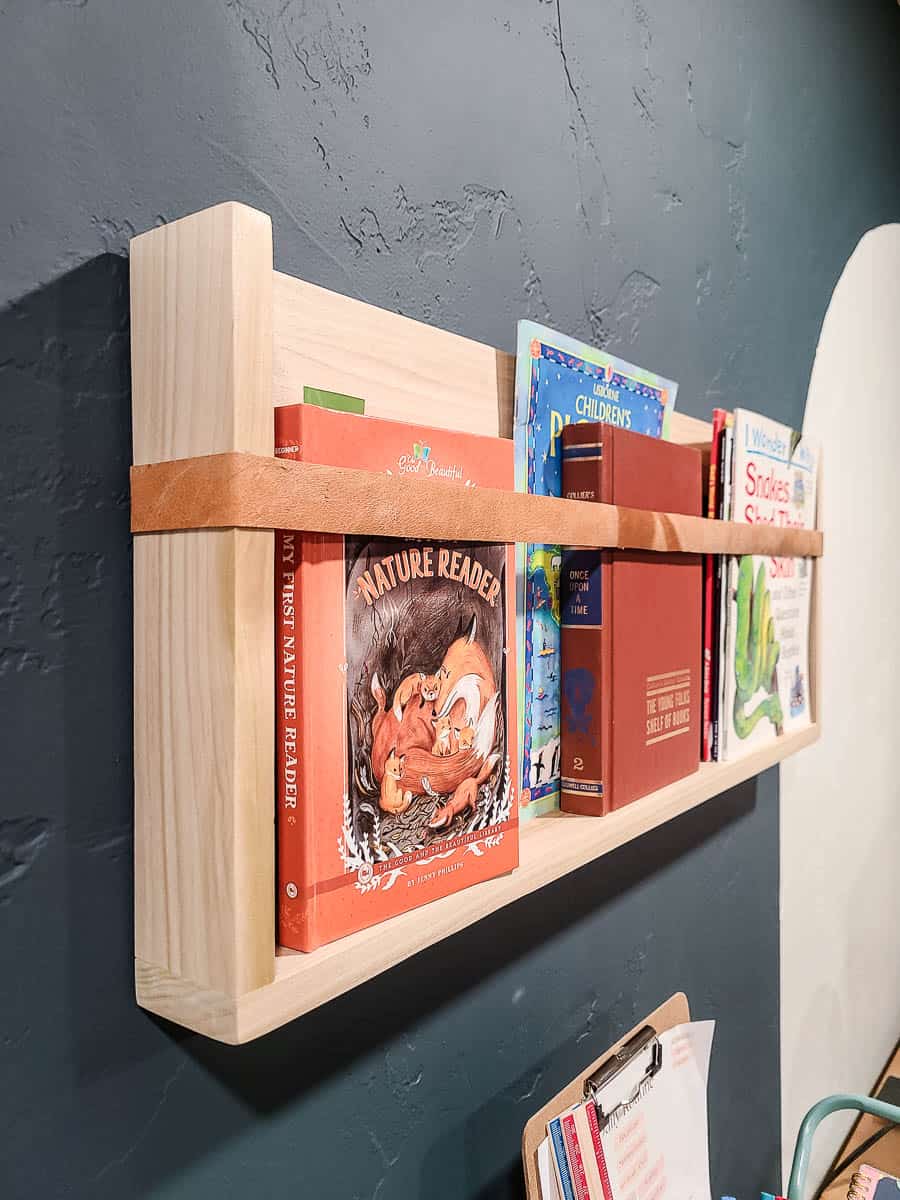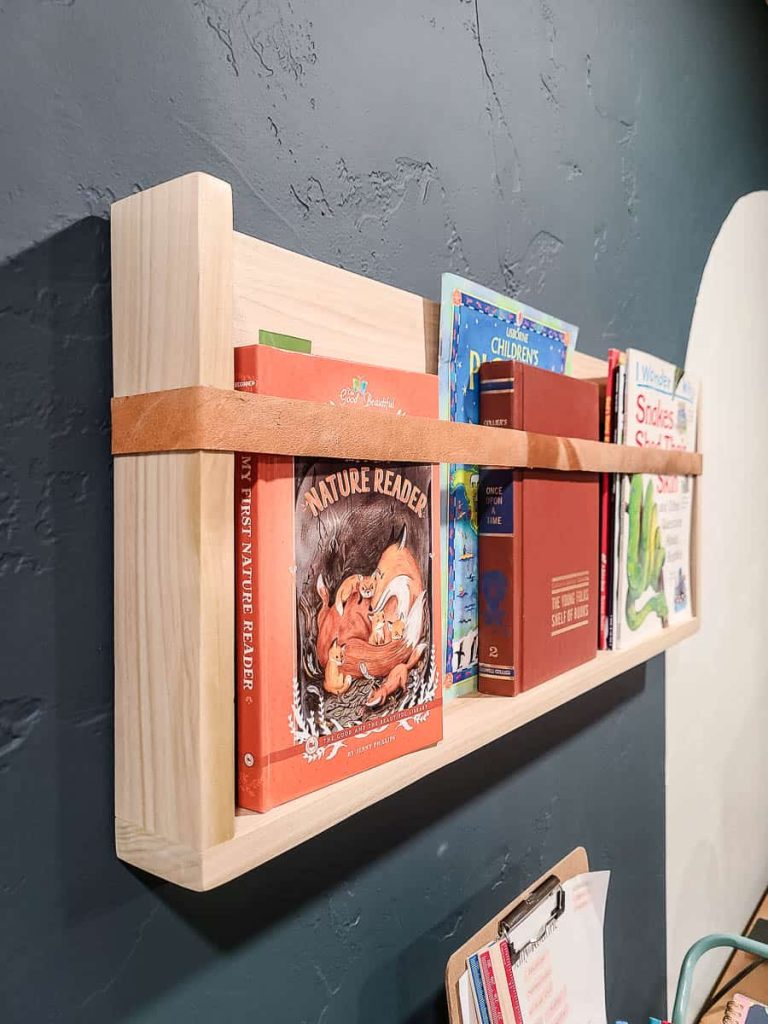 Above the homeschool supply cart, I built a magazine rack for the wall. But we're using it for books in this room. It's another great spot to store and display some fun reference books (like an Atlas) and books that interest the kids. By displaying the covers, the kids are immediately more drawn to the books.
Learn how to build this wall-mounted bookshelf and download the free woodworking plans here!
Home Office Area: Desk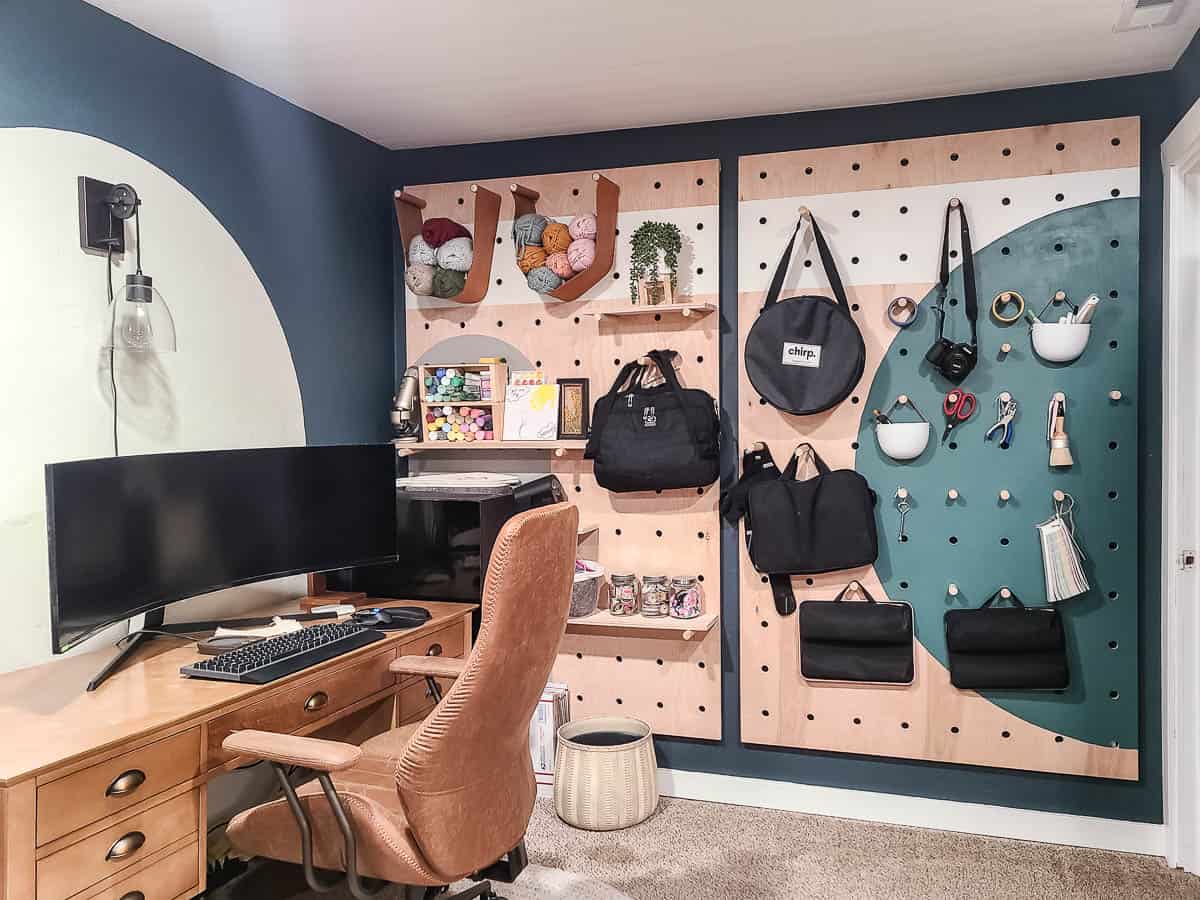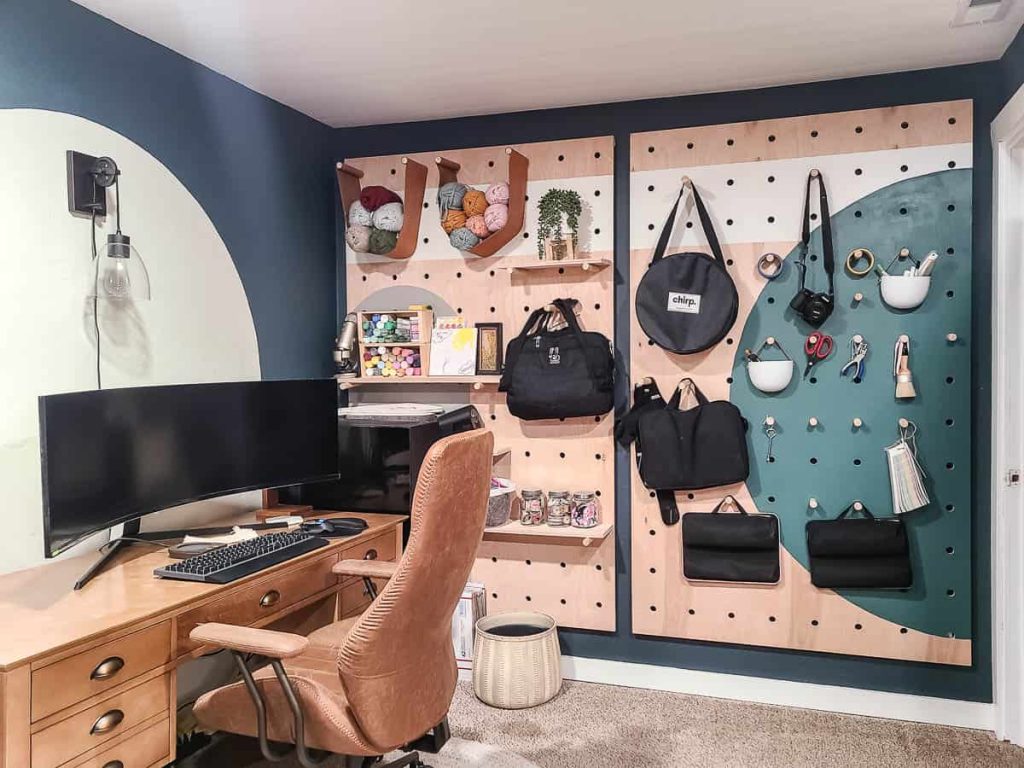 Since I'm still, obviously, spending a lot of time working on the blog (usually REALLY early mornings right now) and Logan works from home some days, we still needed to have a small office area.
We decided to go down to just one desk space and share it because we will rarely be working at the same time. We have a desktop computer hooked up at this desk with a large curved monitor and then we both have laptops that we can work with anywhere in the home.
We switched out the old wired keyboard with something wireless so we can easily move it out of the way and the desk can also be used as a space for the kids to work on their laptops in the middle of the day.
I still love this desk that was new but looks vintage. I can't tell you how nice it is to have a large desk with a lot of storage space in the drawers too. We definitely every last bit of it since we're sharing the desk now.
Pegboard Wall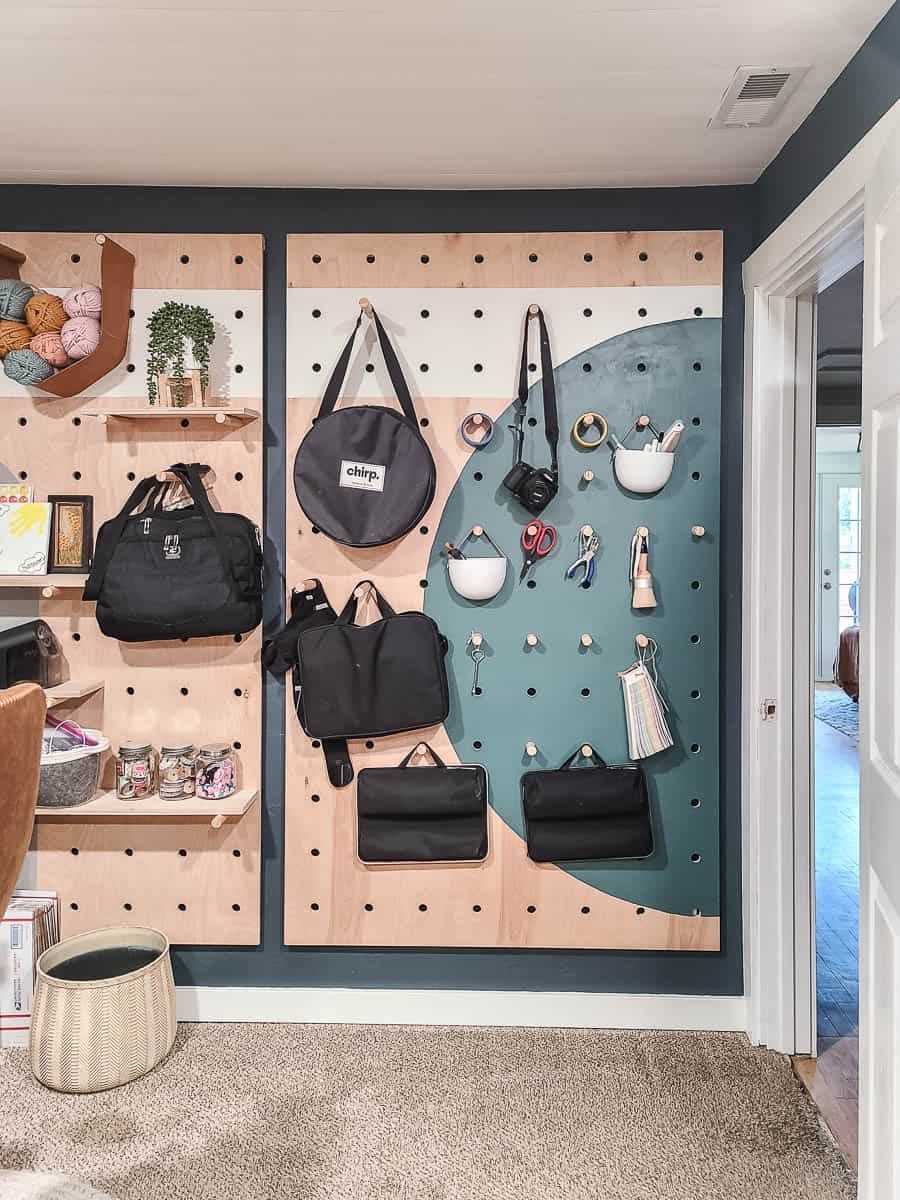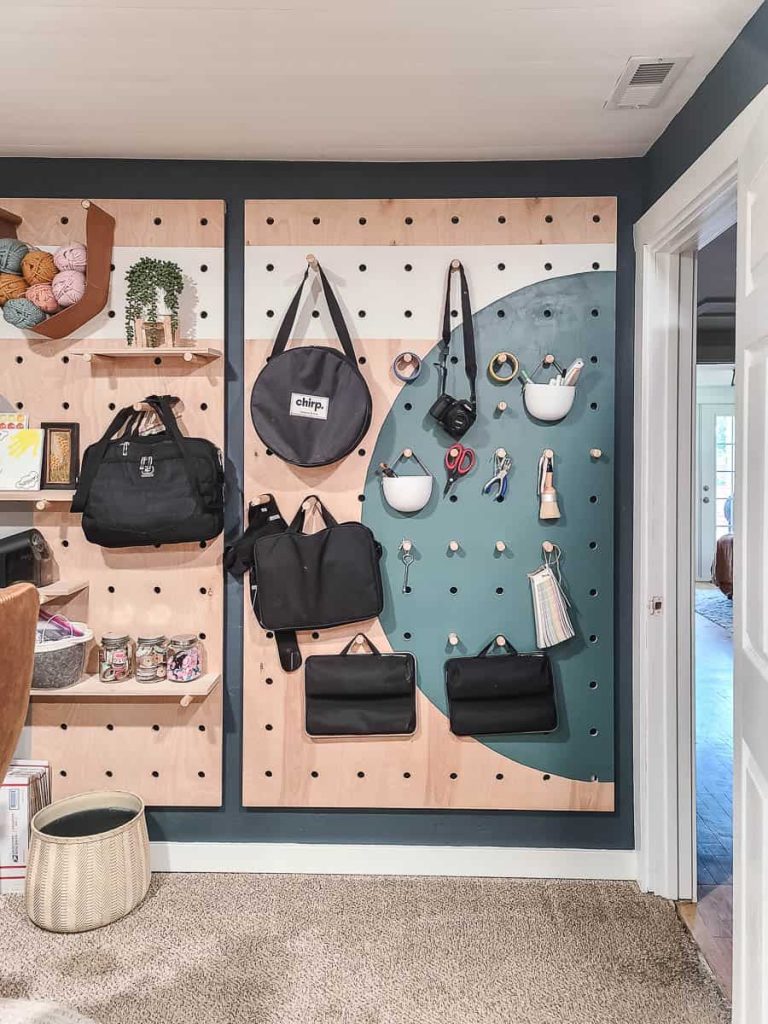 Of course, we couldn't get rid of the pegboard wall. It was super functional when this space was a home office and now it is still incredibly helpful in the homeschool room.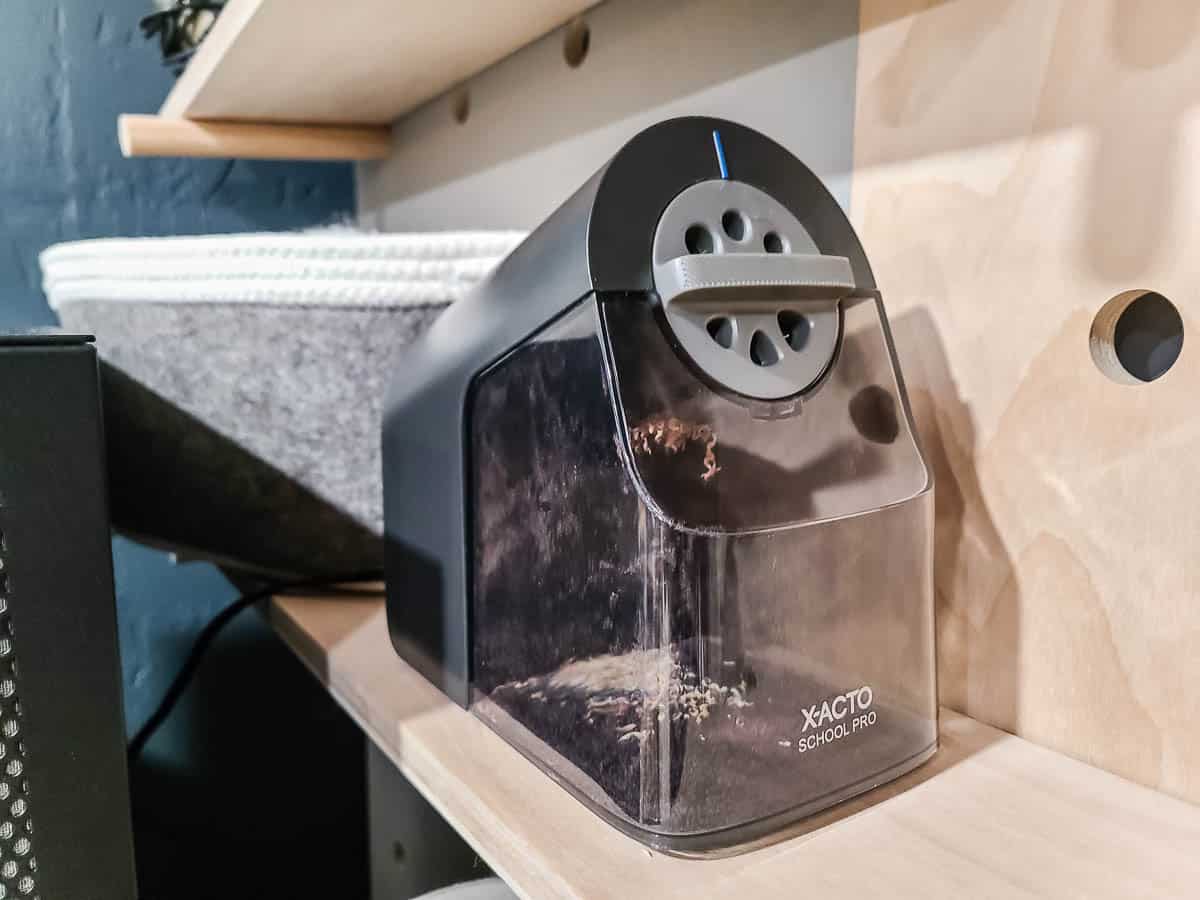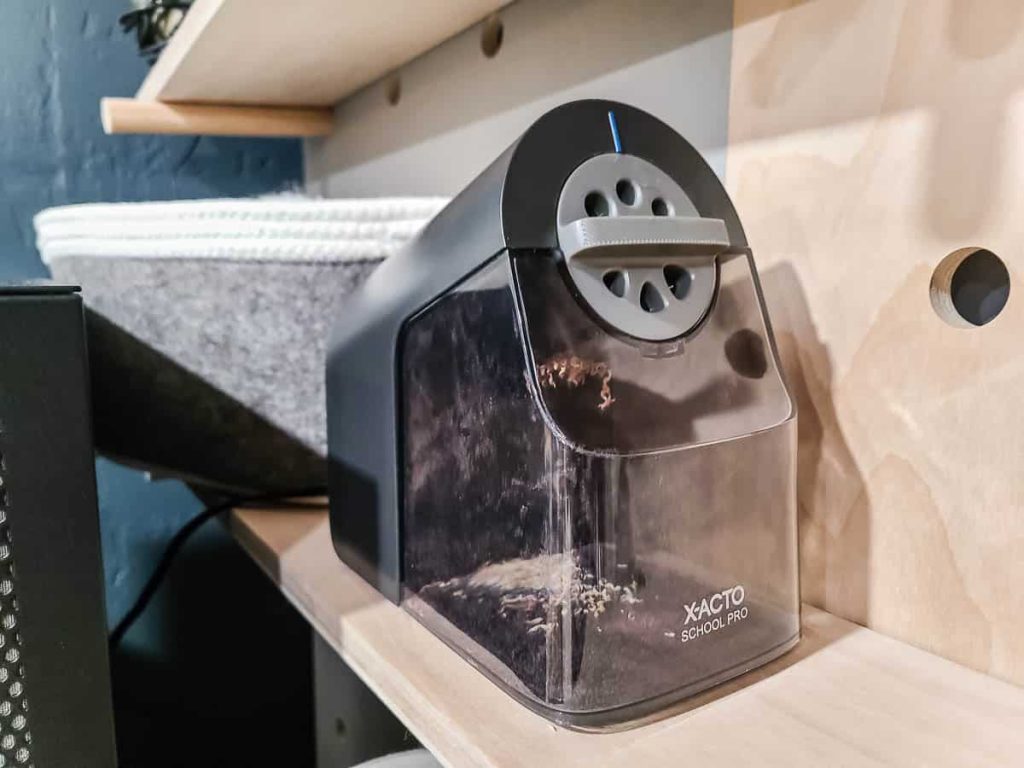 I kept a lot of the craft supplies on the pegboard wall in the same spots. However, we made a few adjustments to the things on the wall. Like adding this pencil sharpener to one of the shelves.
We're also using a few of the pegs to hold the kid's laptop bags and one to hold Logan's laptop bag. I love having dedicated spots for those things. The key to keeping things organized is having a "home" where everything belongs.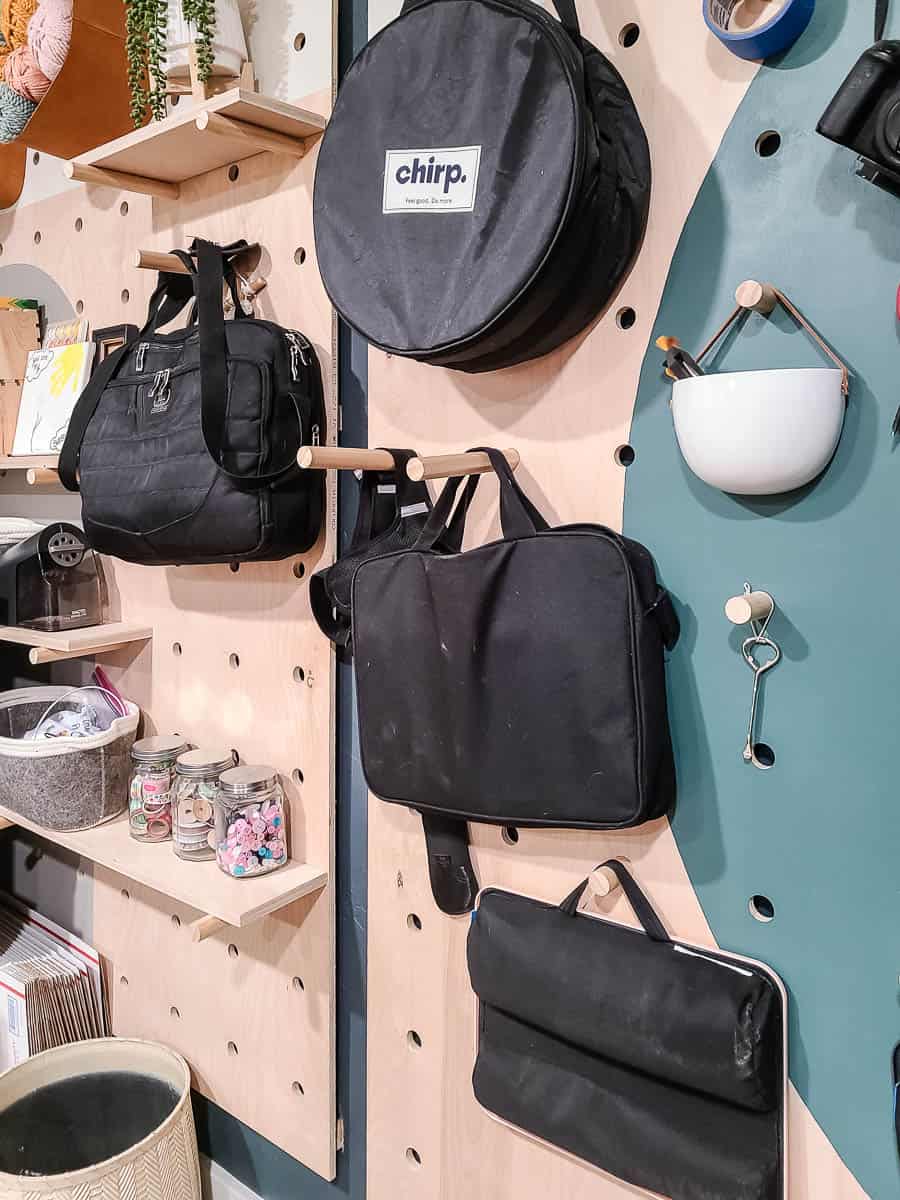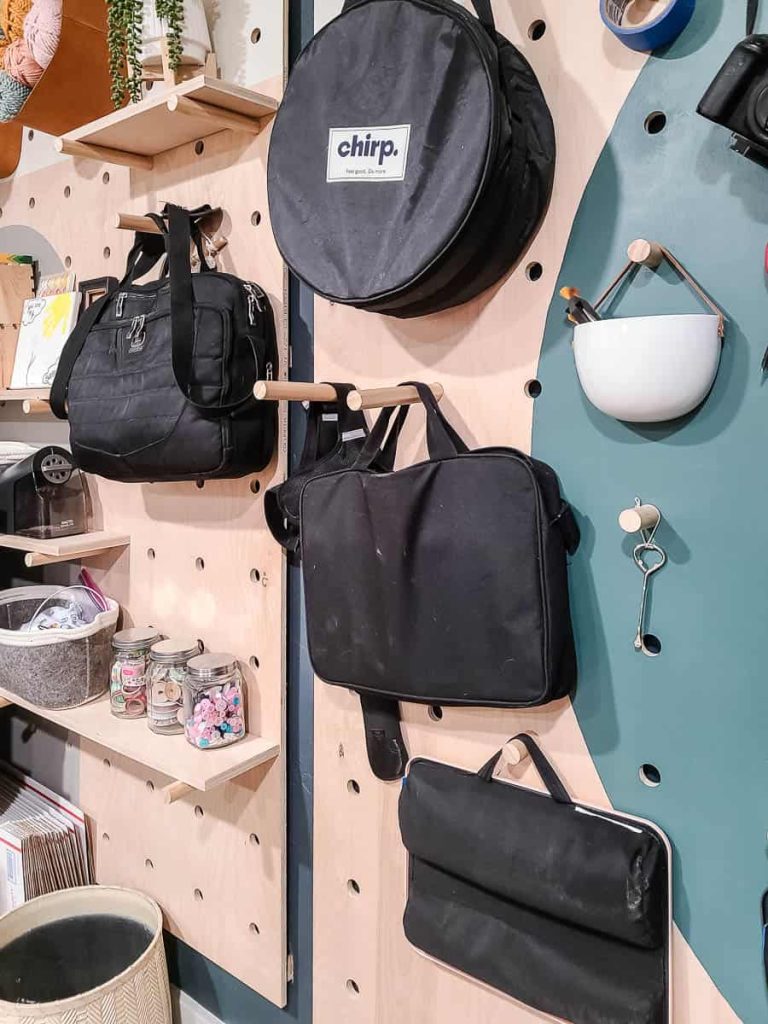 One thing that I got before we started homeschooling was these small lap desks and they are great! If the kids want to do something on the floor or a chair, they can grab their lap desk and instantly have a hard surface. Those hang on the pegboard wall when not being used.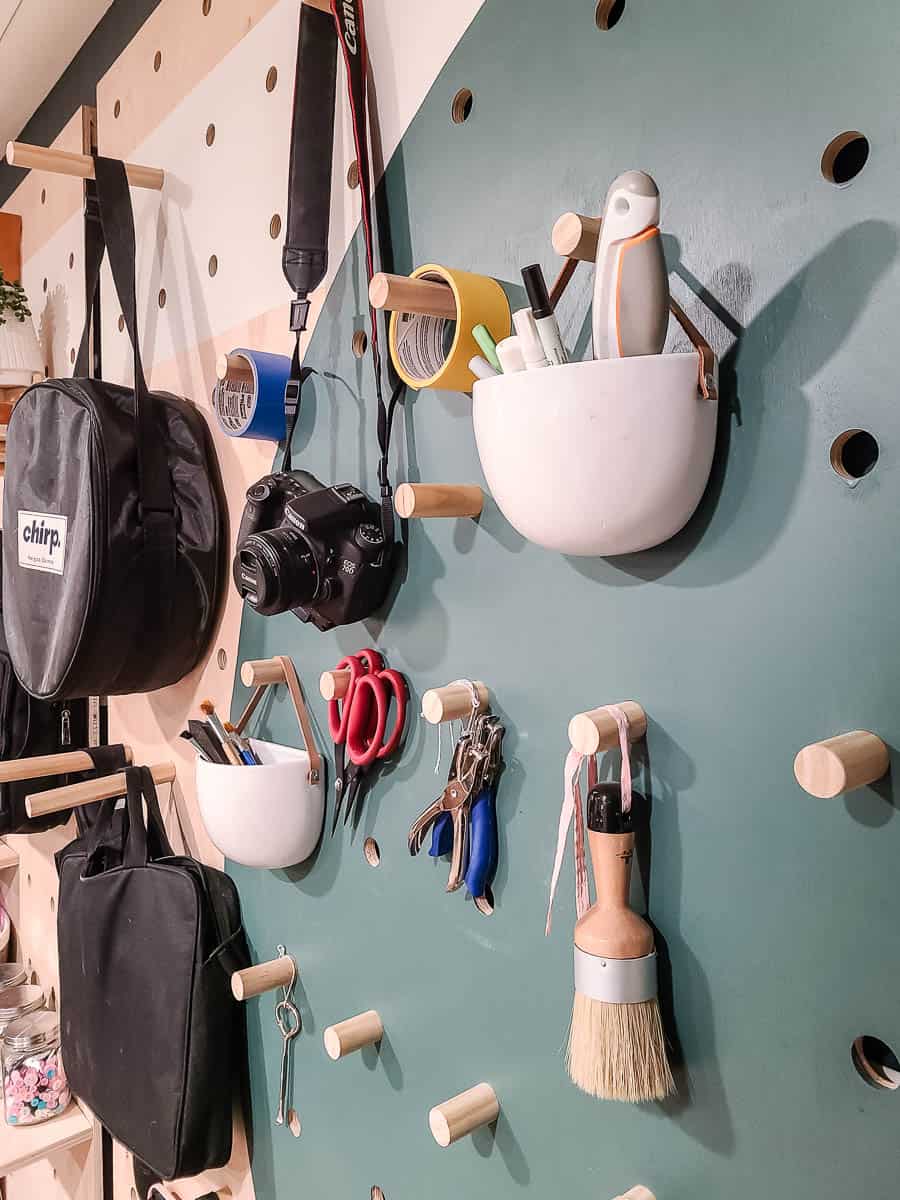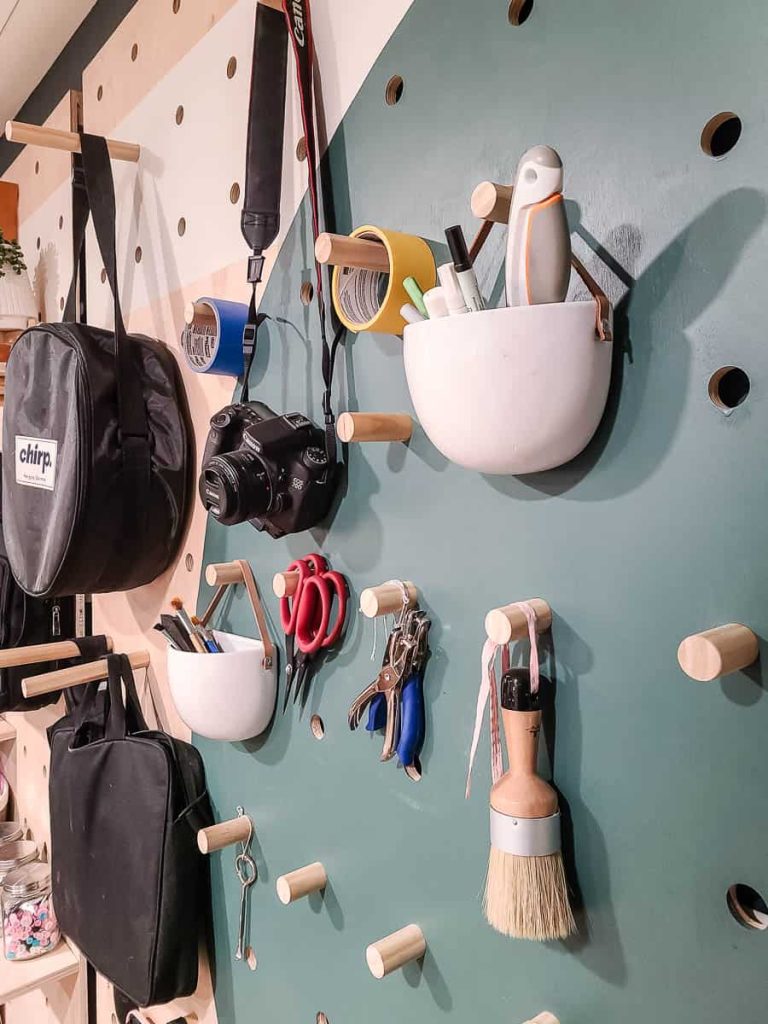 Another great thing about the pegboard wall is that I can put stuff higher up don't the pegs that the kids can't reach they aren't supposed to have access to – like the yarn, my nice camera, or my acrylic paints (#notwashable). This is a must when you're working with young children.
But on the flip side, things that they do have access to are put down at their level so they can access them easily. Like the jars of washi tape and buttons, which they love playing with.
Learn how to make this giant pegboard wall!
Bookcase Storage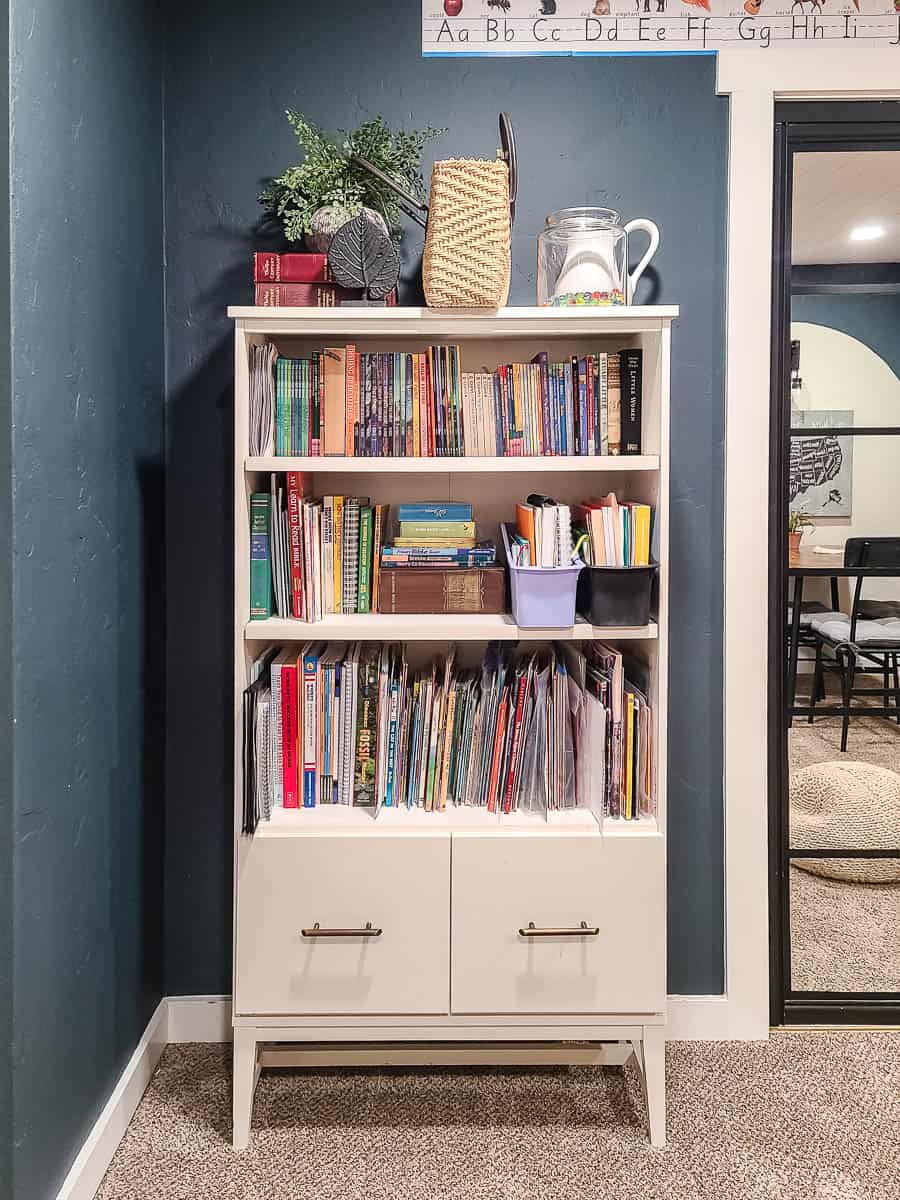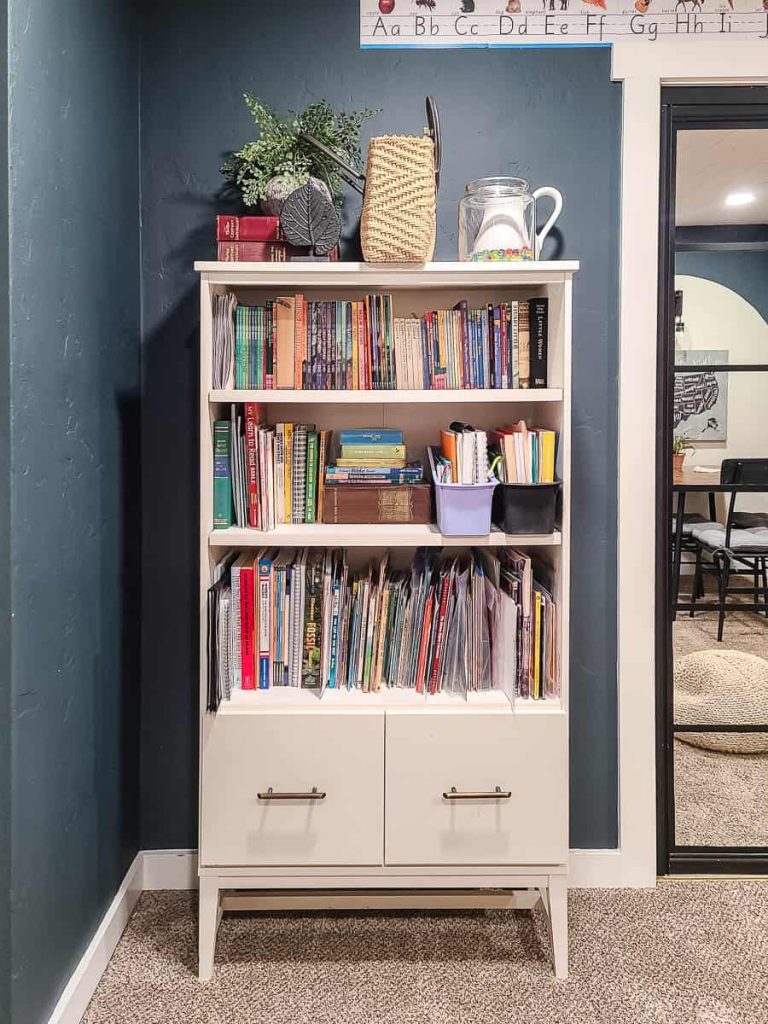 The bookcase that used to be styled pretty with decor and books is now filled to the brim with all sorts of kid's books and homeschool curriculum.
If you can't tell, books are a HUGE part of our day and learning. From morning basket picture books to read-aloud chapter books and several times throughout the day, we're reading books. It is the best way for kids this age (and, heck, even older kids) to learn and grow a love of reading.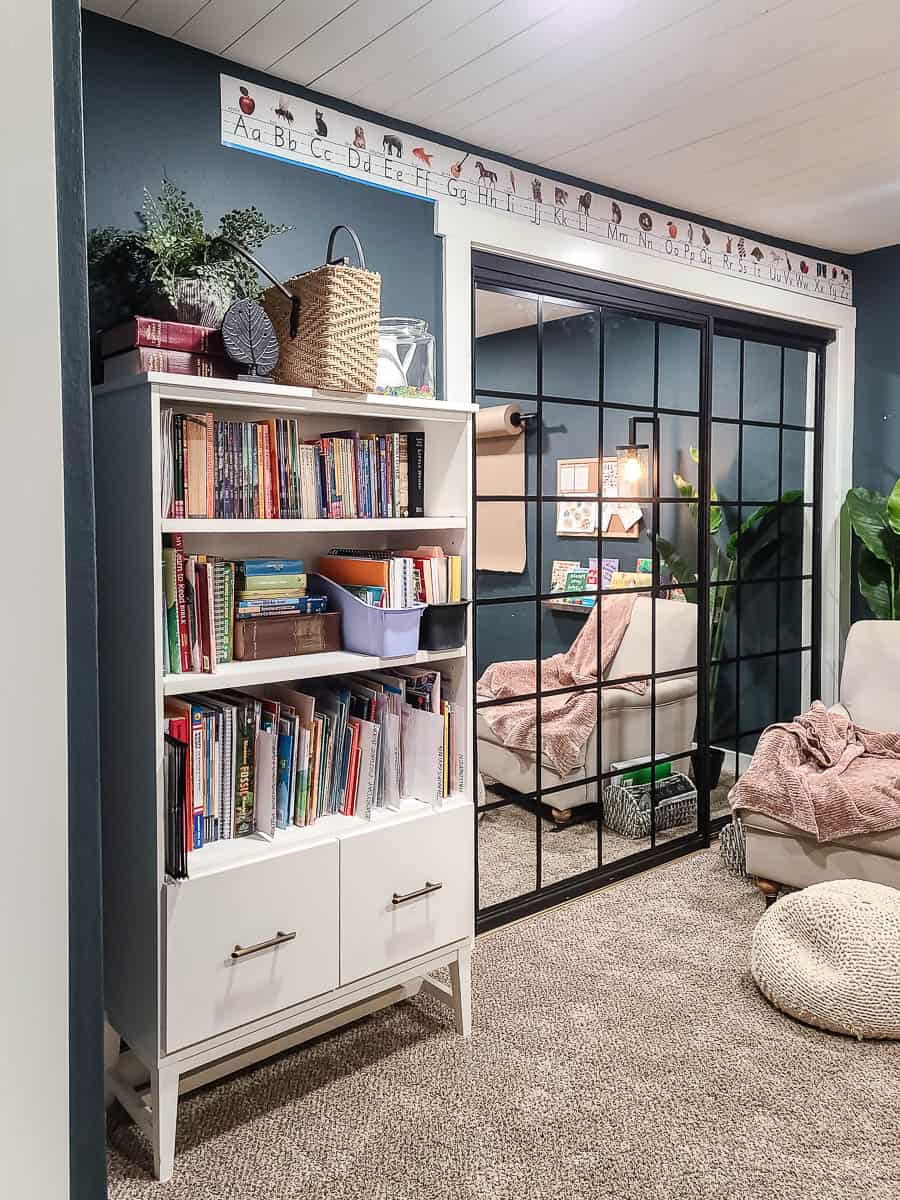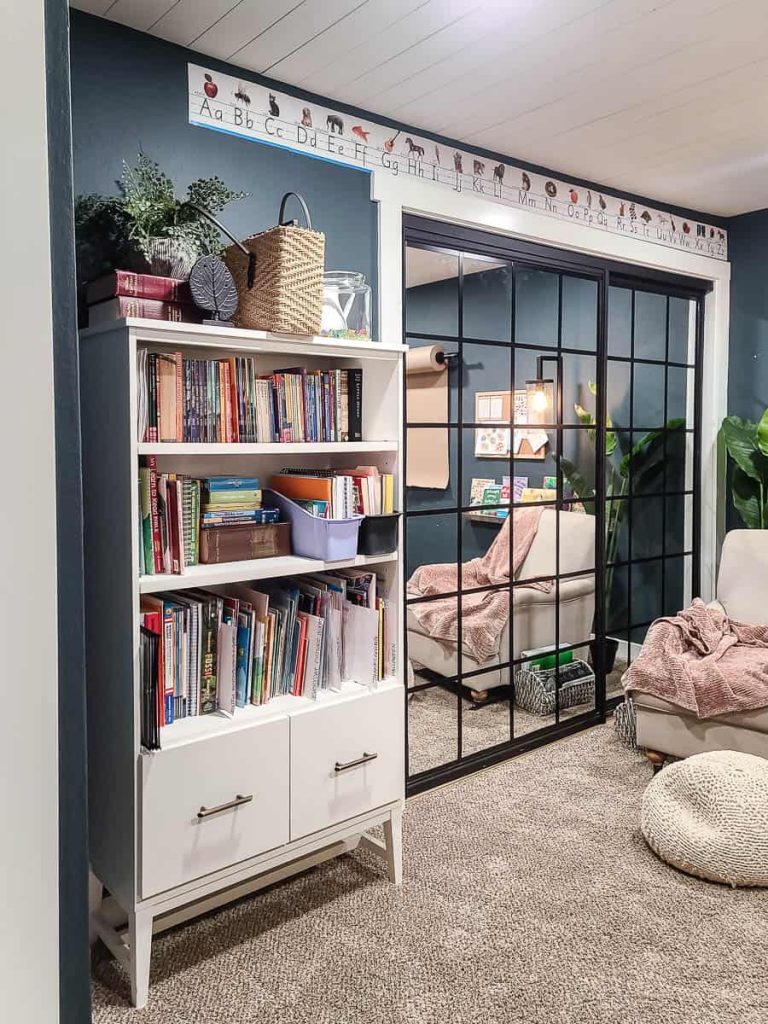 The bottom shelf is used for picture books. I have them organized by seasonal vs. everyday picture books and a separate space for extra workbooks and curriculum.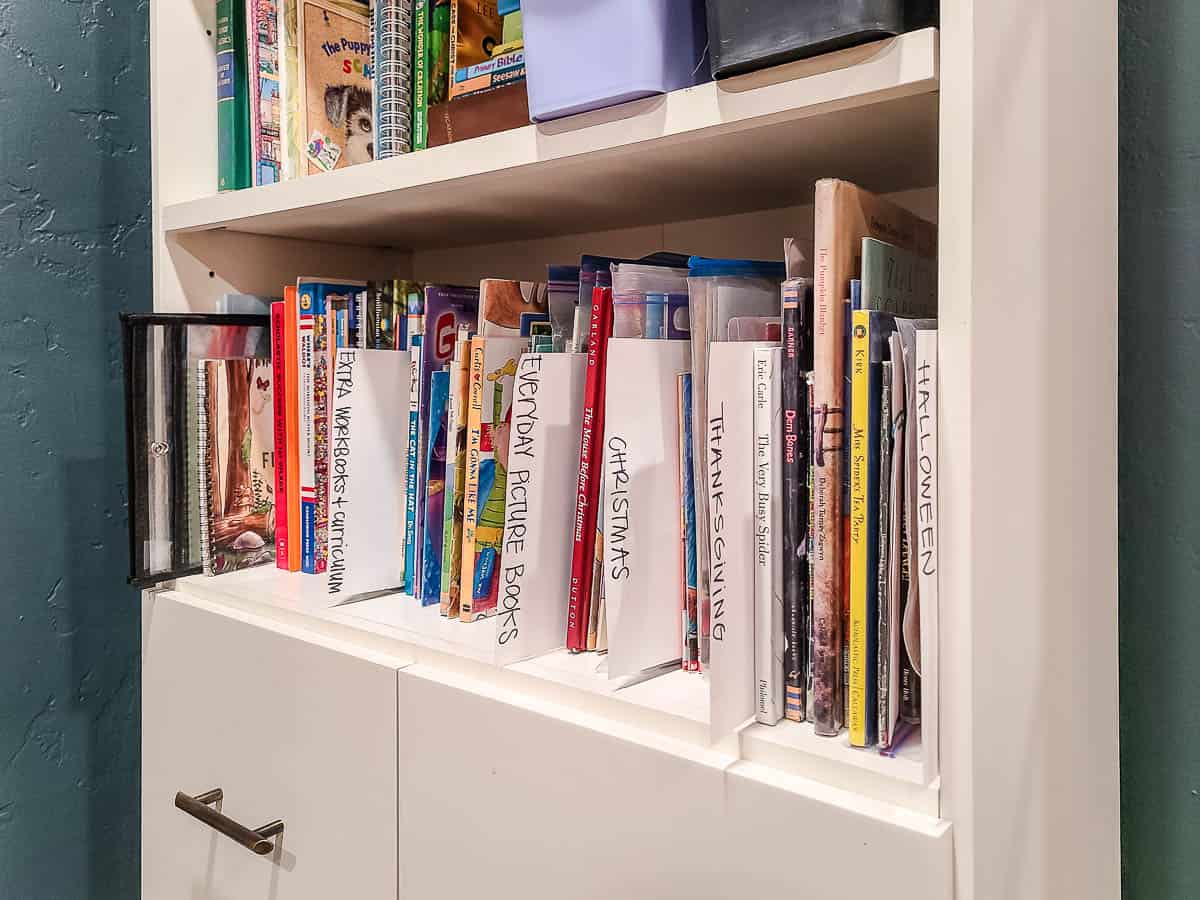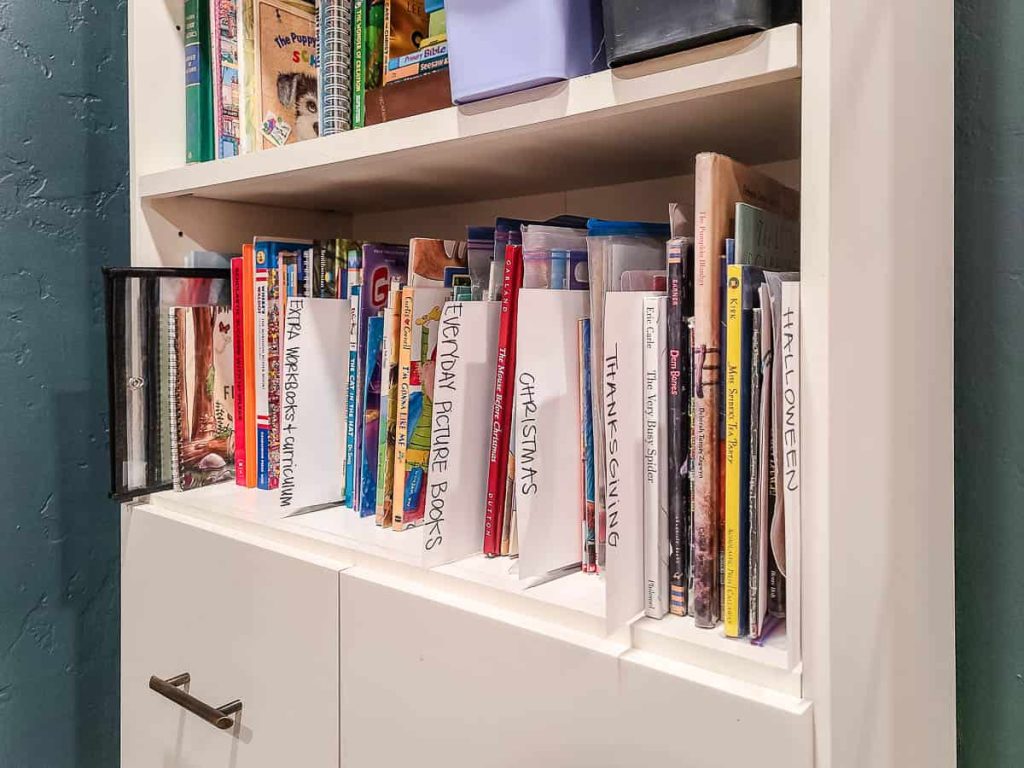 I made simple and easy dividers with sheets of cardstock and a Sharpie. I am only keeping out our Fall and Winter seasonal books and I have the others backed up in the garage. After Christmas, I'll swap them out with Spring books and fresh picture books to keep things interesting.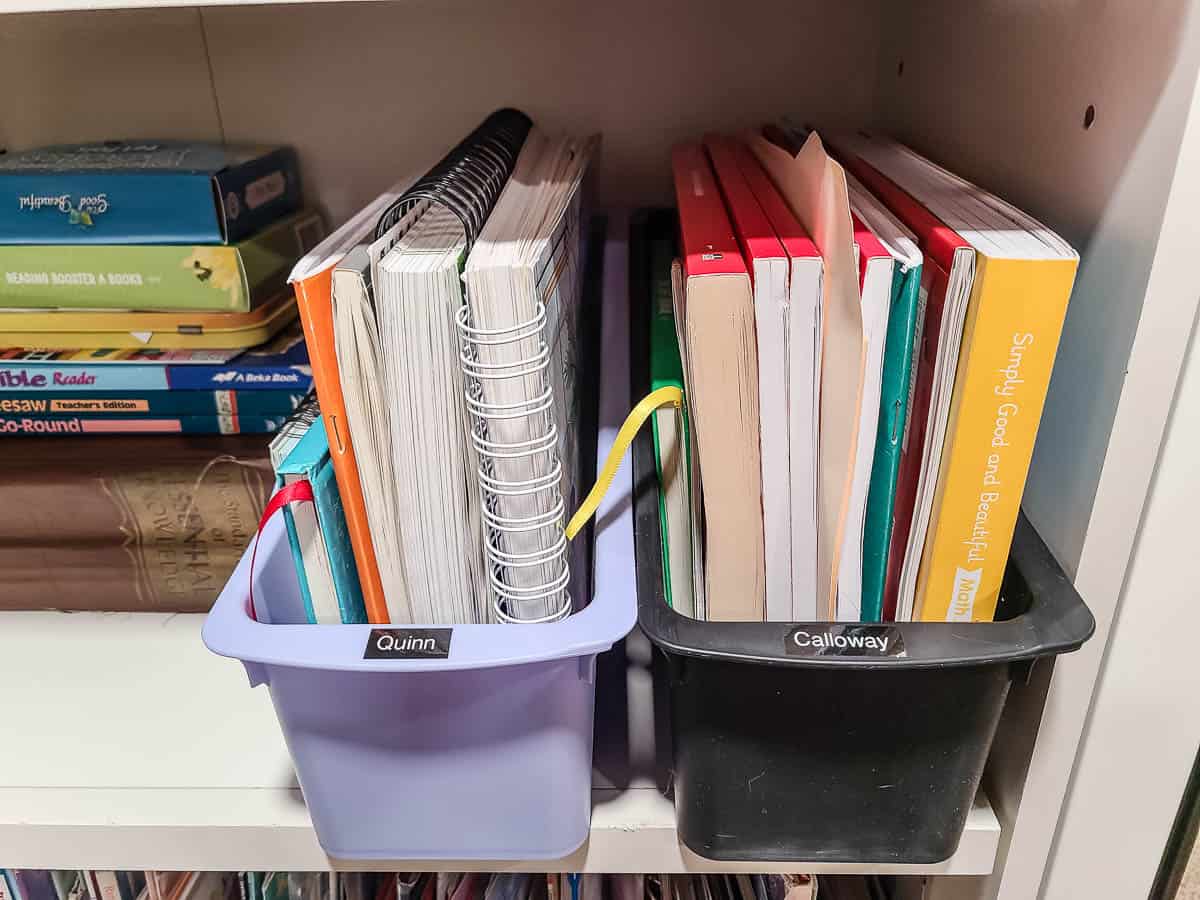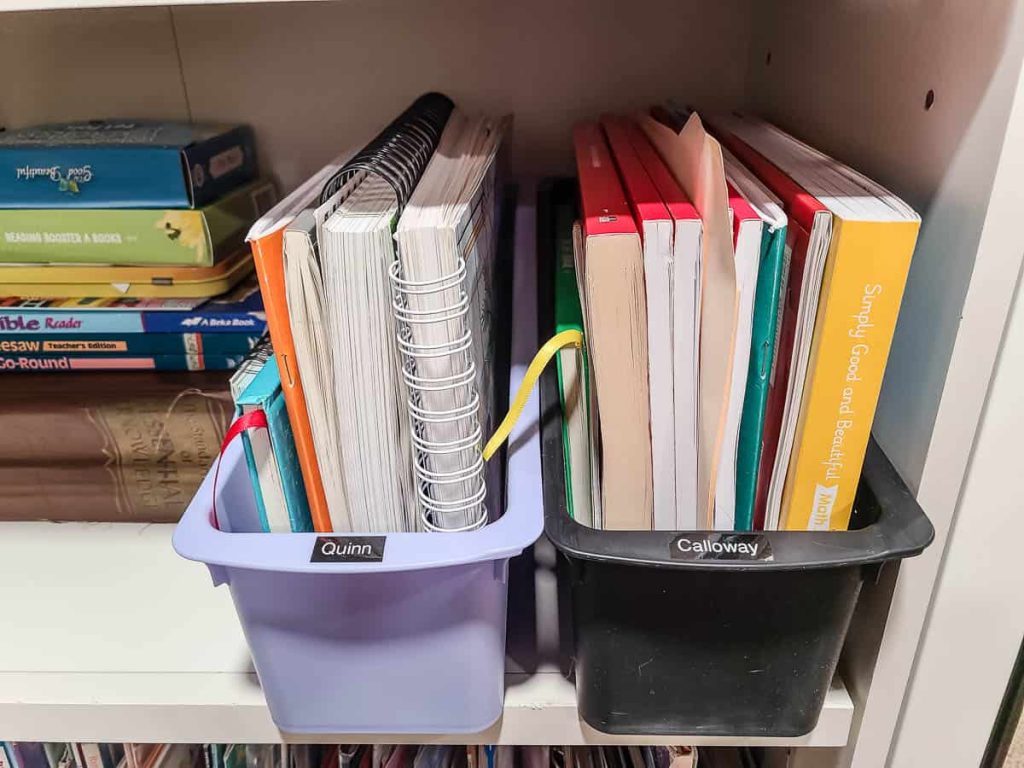 On the middle shelf, I have a book bin for each kid that holds their curriculum, which I can into more detail about in another blog post.
Also on the middle shelf, I have a few things set aside to be part of upcoming morning baskets. Things like future bible devotions, poetry books, and reference books that would be fun to explore together. Mixing things up often is one of the best ways I've found to keep them engaged and interested.
And lastly, my favorite spot in the whole homeschool room is the top shelf of the bookcase where I have my collection of chapter books that we'll use for future read-alouds.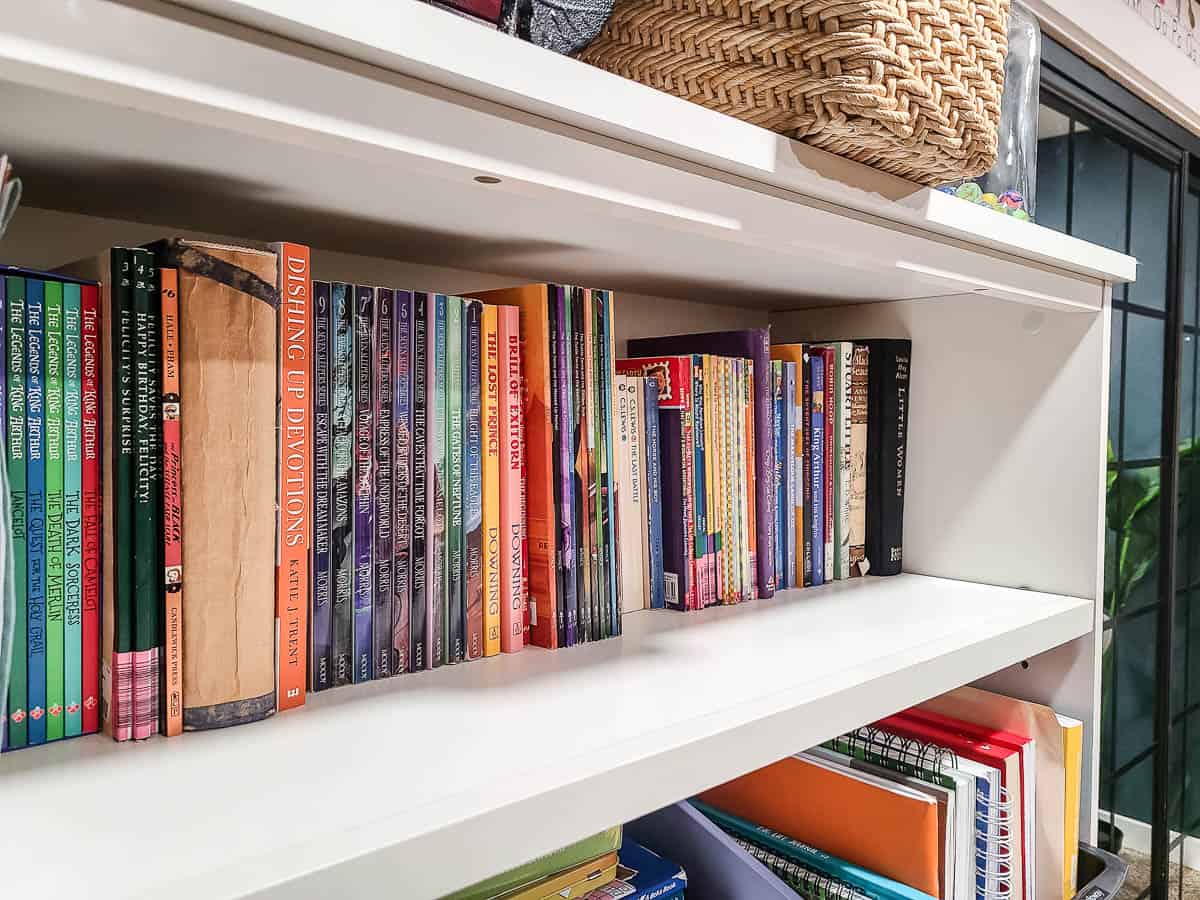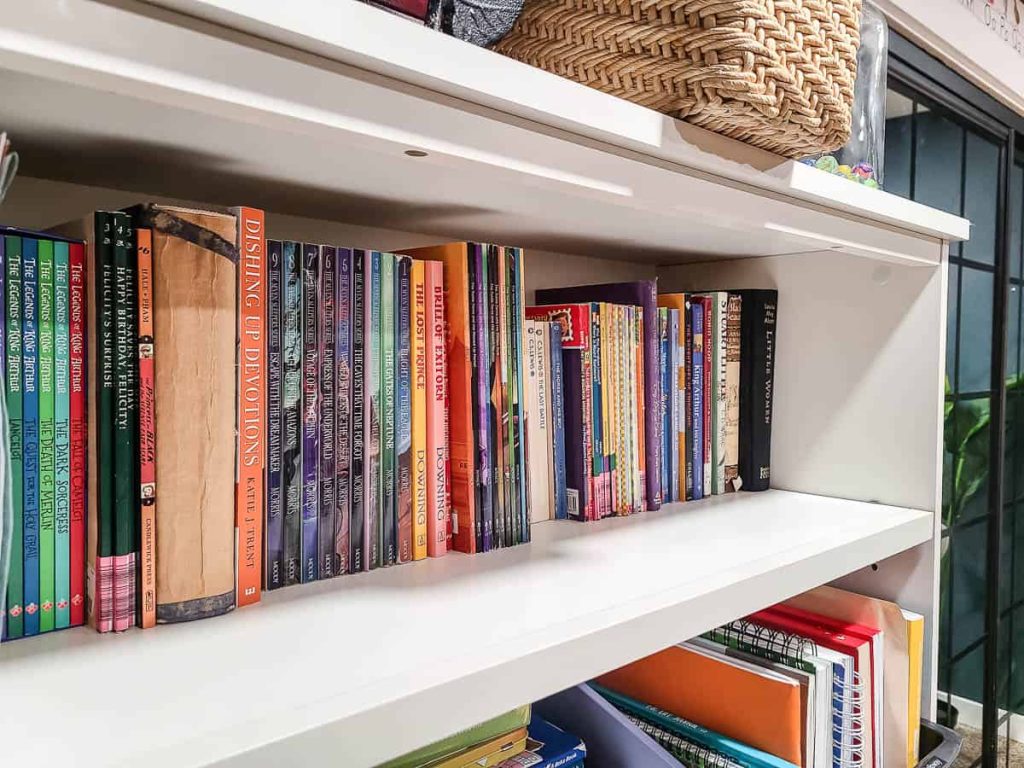 As soon as we decided that we were going to homeschool, I started collecting my chapter books at thrift stores. From classics like Little Women and Charlotte's Web to series like The Chronicles of Narnia (which is what we started the year with and the kids are LOVING it!) and Magic Tree House books (my kids are obsessed with Jack and Annie's adventures).
This shelf brings me so much hope and excitement when I look at it. Reading aloud and jumping into these fun stories with my kids is the highlight of this entire experience for me.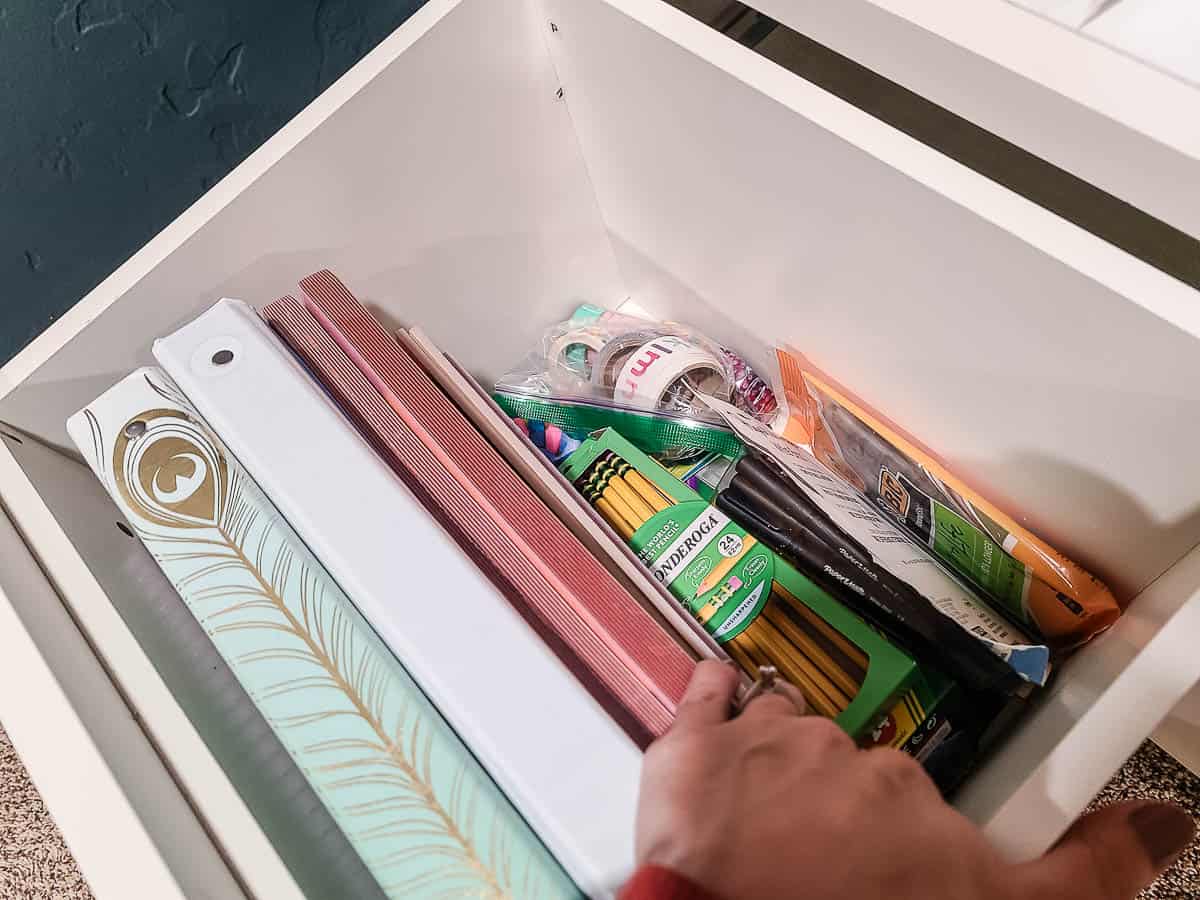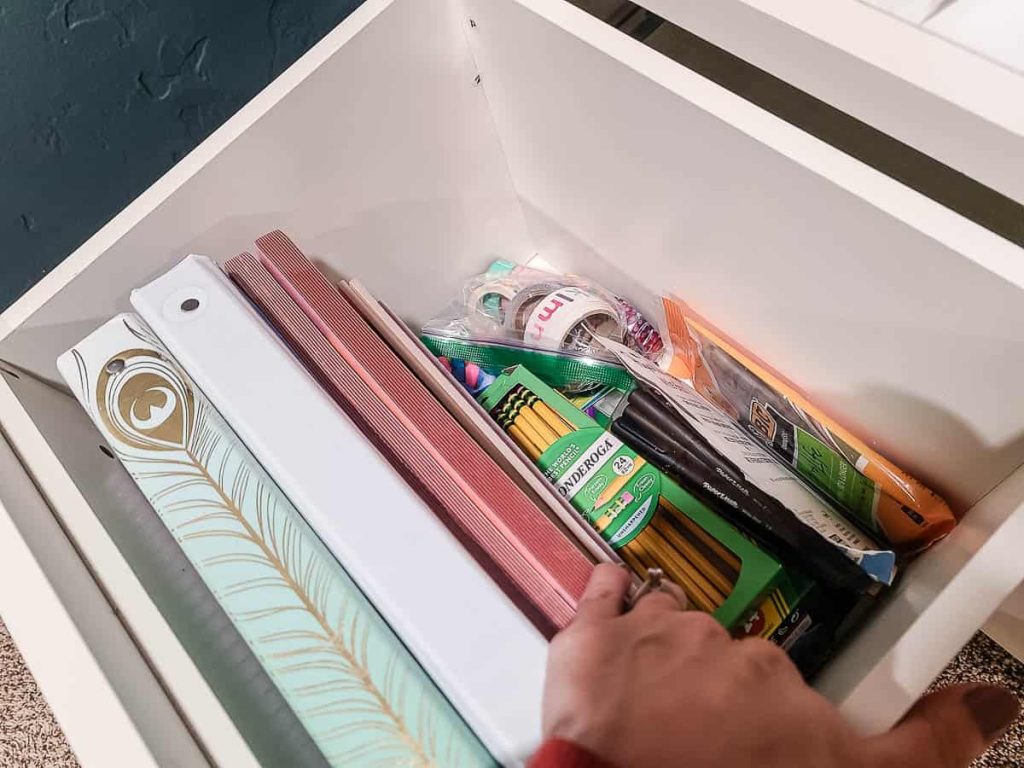 In the bottom two drawers of the bookcase, I have paper files and extra school supplies tucked away because it is worth it to get extra when they are on sale during Back-To-School season!
On top of the bookcase, we keep our morning basket and marble jar. The marble jar is a great reward system. Every time we finish a lesson or a task, we get a marble. When the jar is filled, we get to choose a fun reward together!
Closet with Art Supplies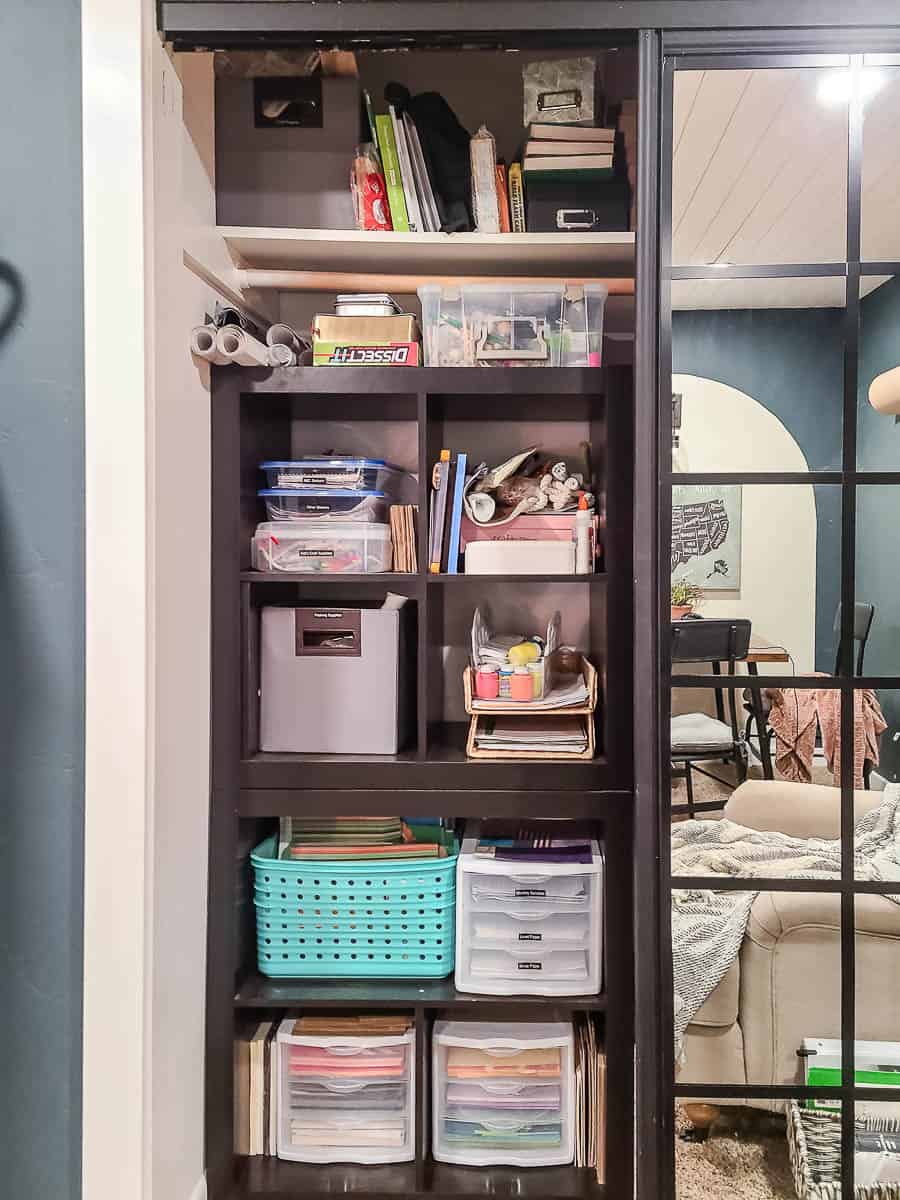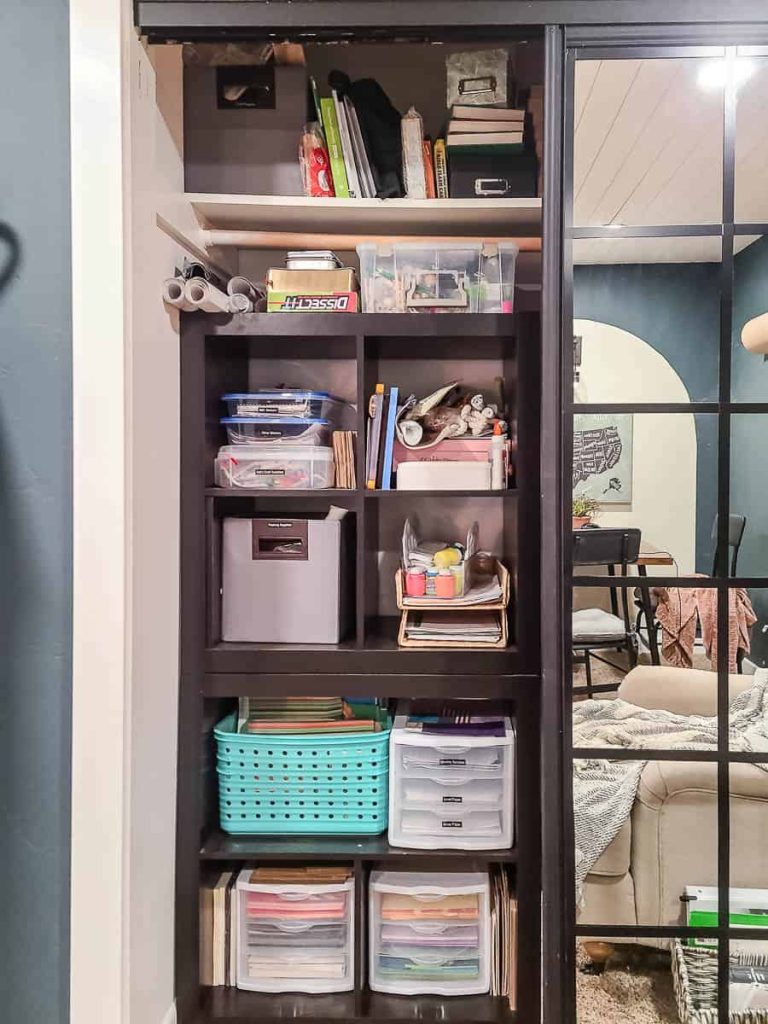 In the closet with the sliding mirror doors, we have most of our art supplies stored. Inside the closet, I'm using budget-friendly cube storage racks as shelving.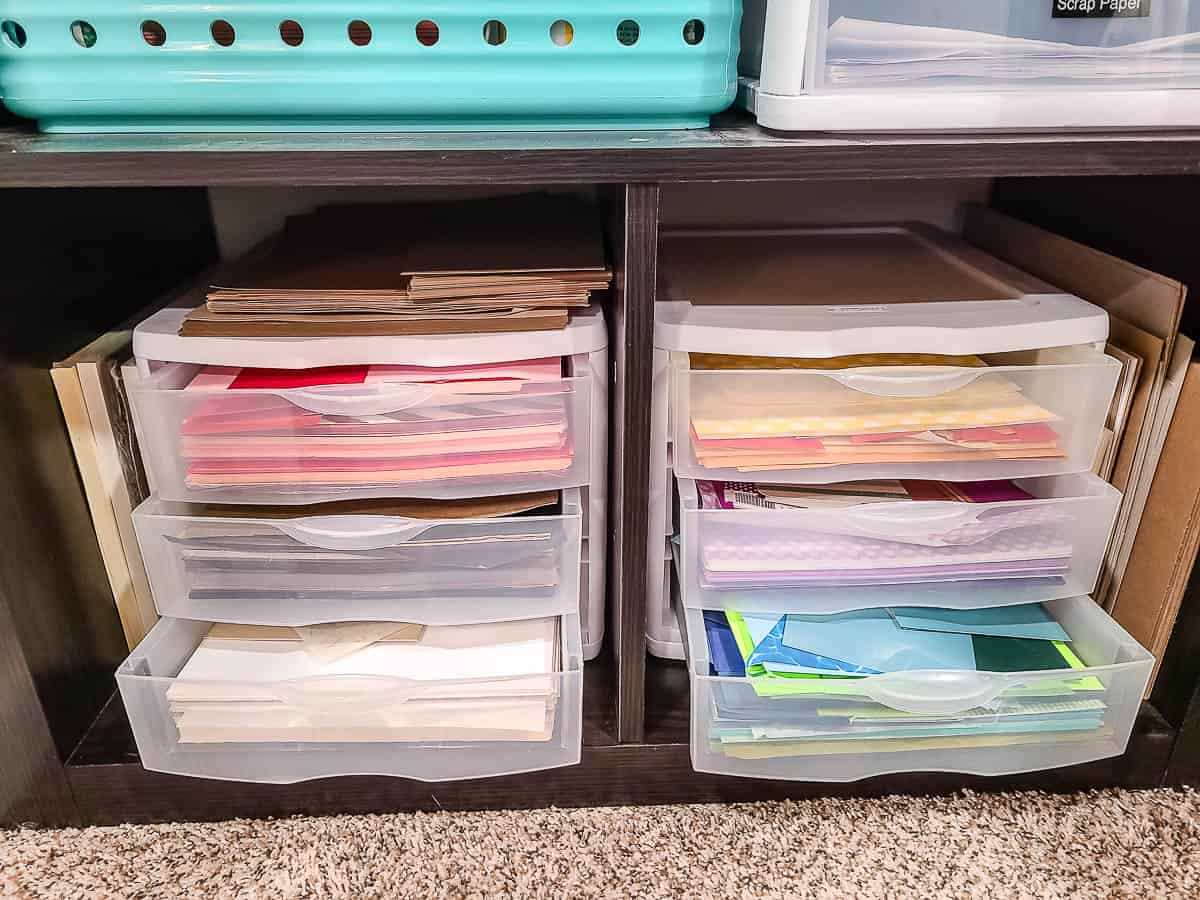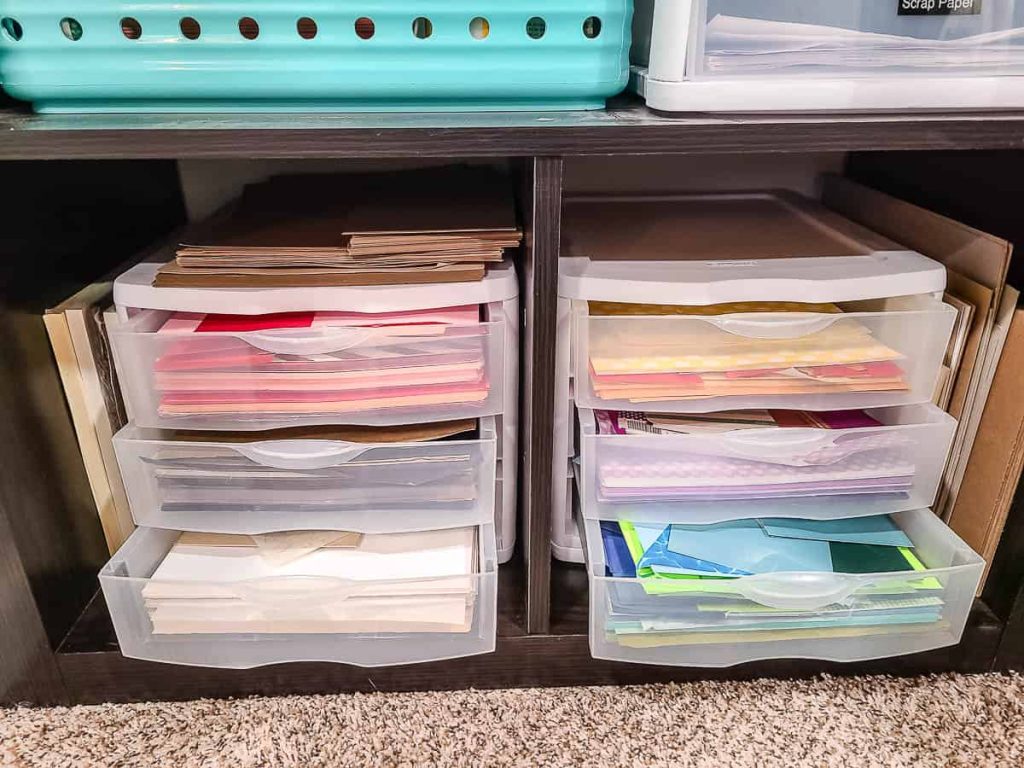 Starting from the bottom, we have colored paper and paper scraps organized by color, which can be easily seen through the transparent drawer fronts. These paper storage bins from Walmart are perfect for organizing papers and containing small paper scraps.
On the next shelf up, the large blue bin is full of 12×12 patterned scrapbook paper. The kids love looking through the paper and choosing different patterns for art projects.
Next to the patterned paper, I have one more paper drawer storage bin. This one has labeled drawers and holds scrap paper (printed on one side), lined paper, and monthly work samples (that we turn into their charter school).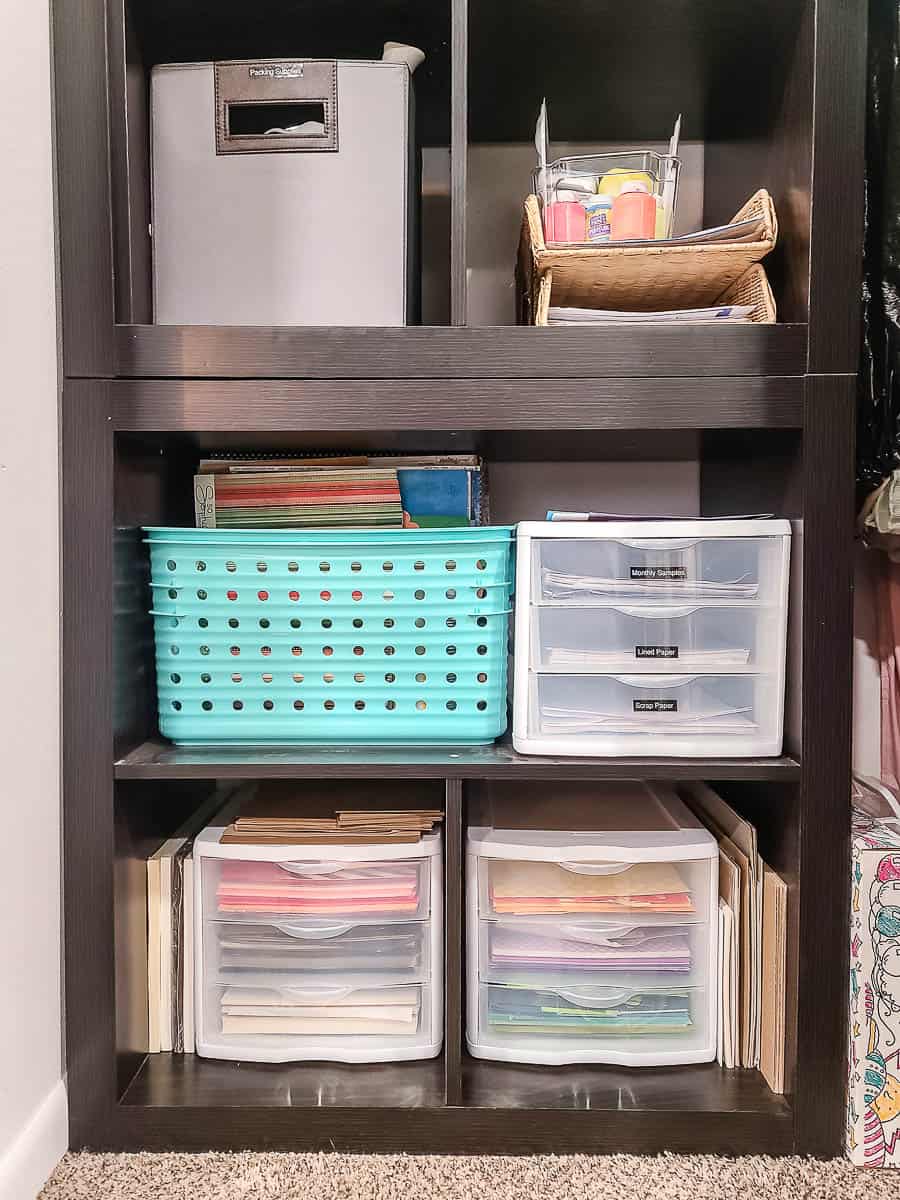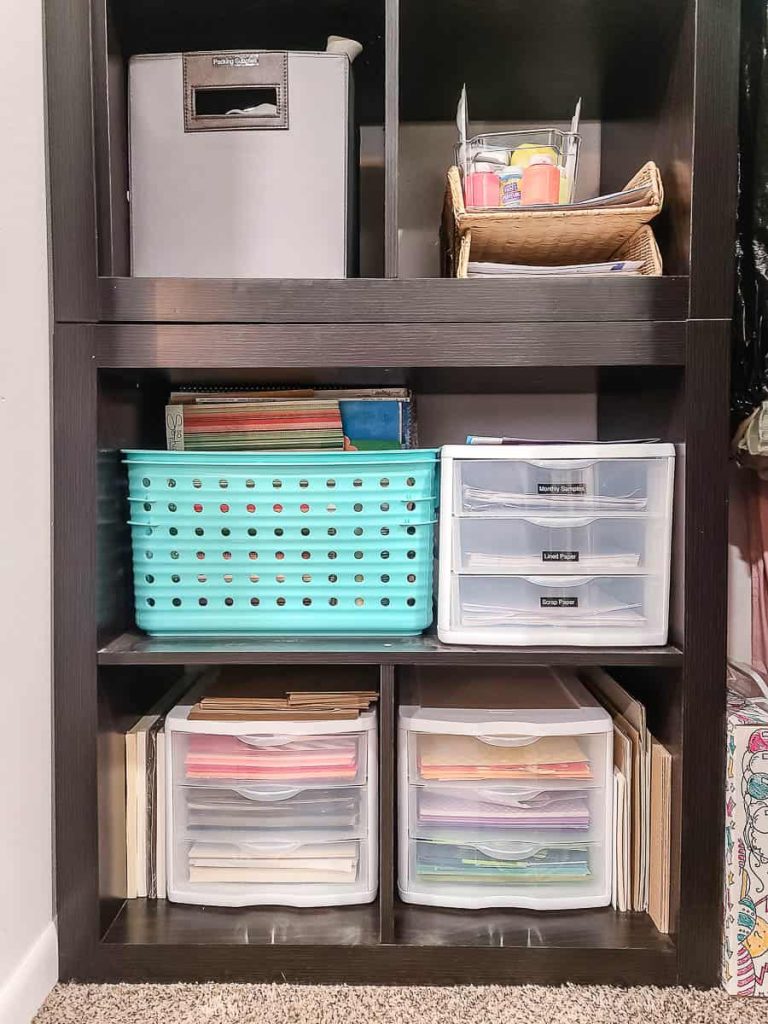 To label everything in the homeschool room, I used my trusty label maker that I am in LOVE with!
On the higher shelves in the closet, there's a bin with packing supplies (for my Etsy shop), painting supplies, a paper organizer for extra worksheets and coloring sheets and papers/bills/etc. that need to be filed, bins with kid's craft supplies, stickers, and other miscellaneous adult craft supplies.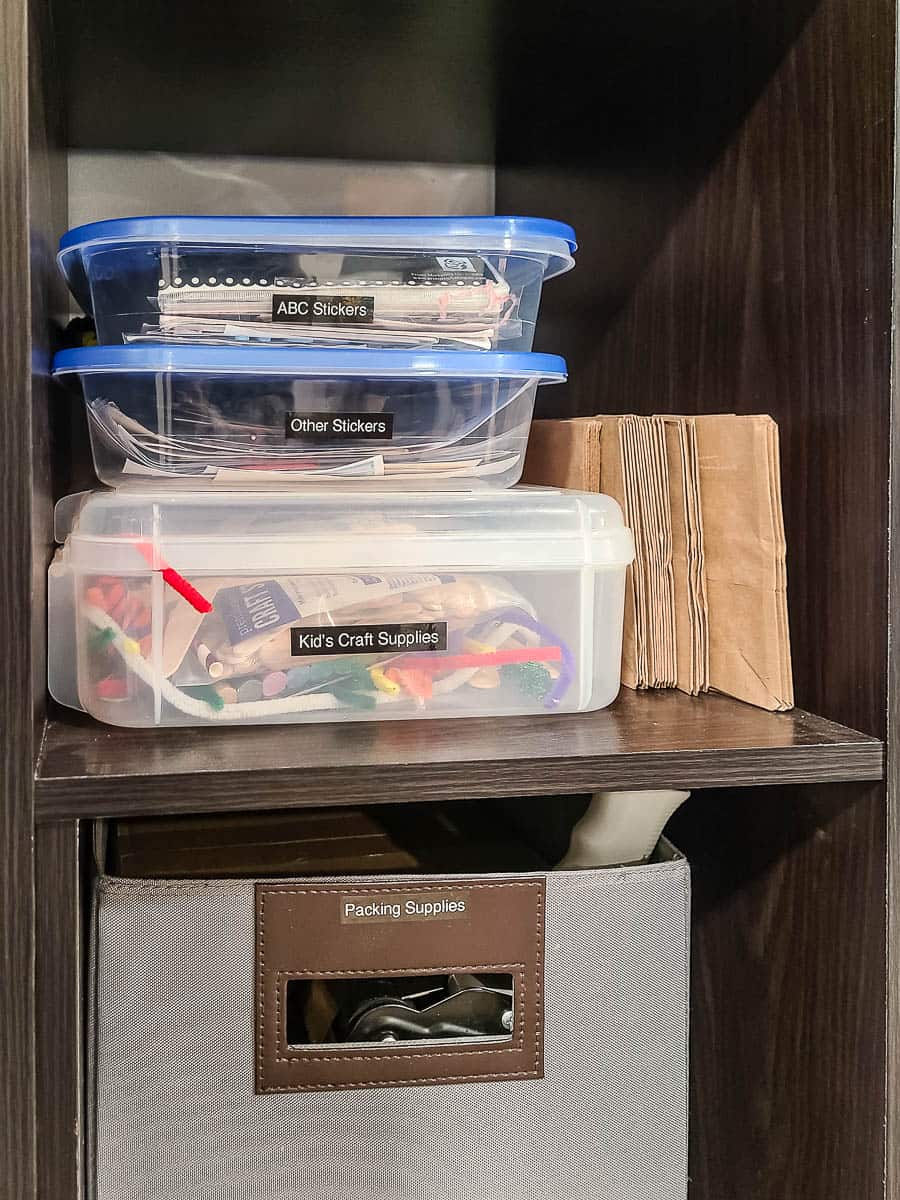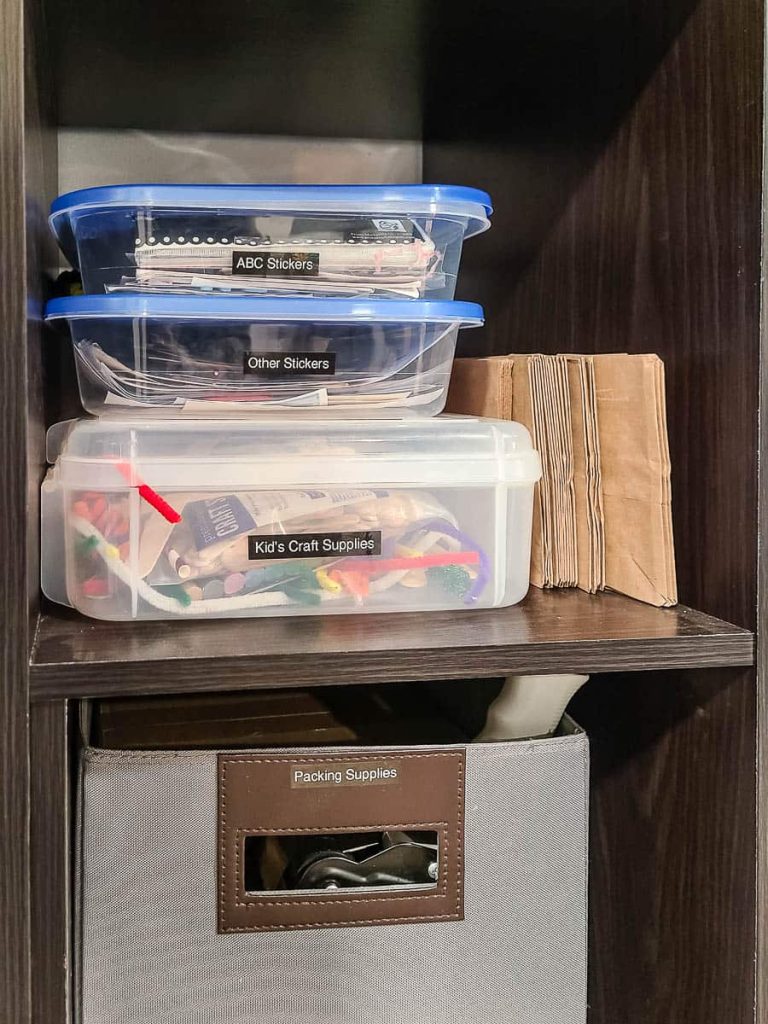 The key here for the closet with art supplies is that the lower shelves are things that they can get into independently and the higher shelves are things that I don't want them playing with without my supervision. We're still moving things around a bit here and there as I figure things out as a homeschool mom. However, for the most part, things are working out for us.
Above the closet, I added an alphabet chart to the top of the wall. Each letter has a picture above it to help with phonics and is written in lined handwriting lines.
Reading Chair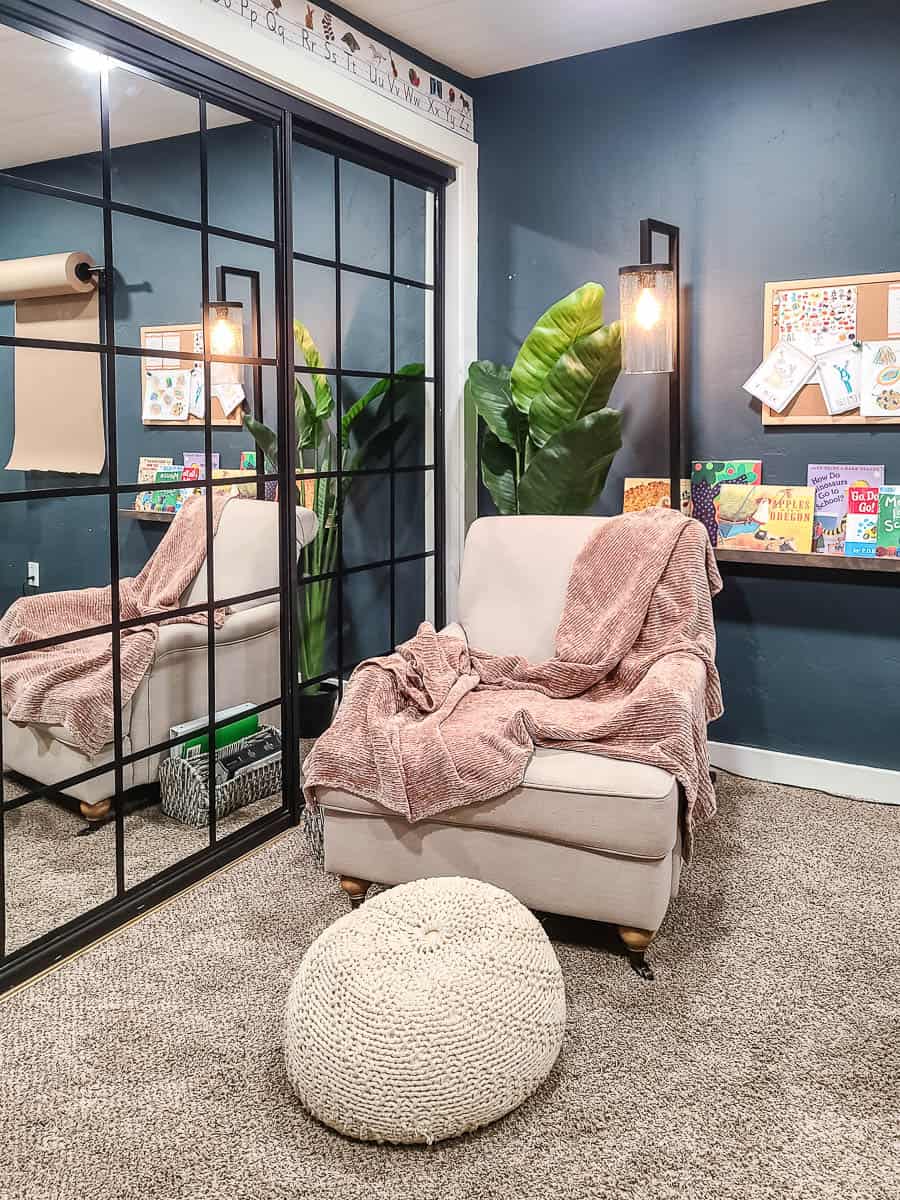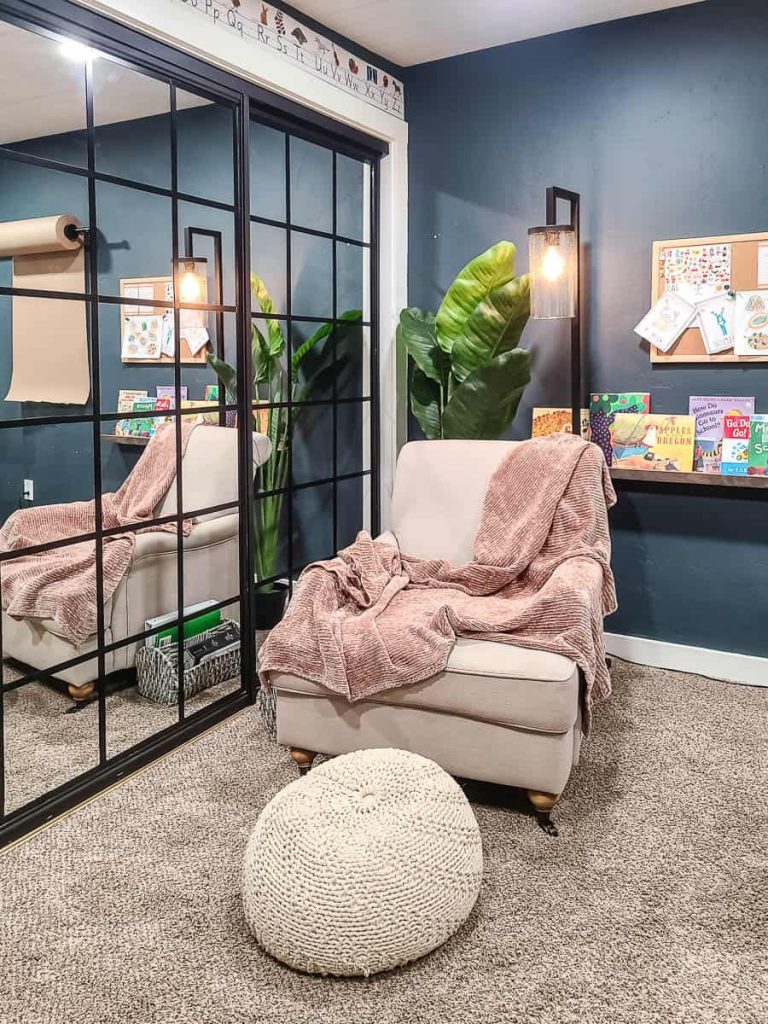 I keep the linen armchair in the corner of the room near the closet as a little reading nook complete with a cozy throw blanket. I still use this chair every morning for my morning quiet time before everyone else in the house gets up.
We got rid of the small side table that was next to the chair because the homeschool table takes up more room in the small space, so we didn't want the entire room to feel too crowded.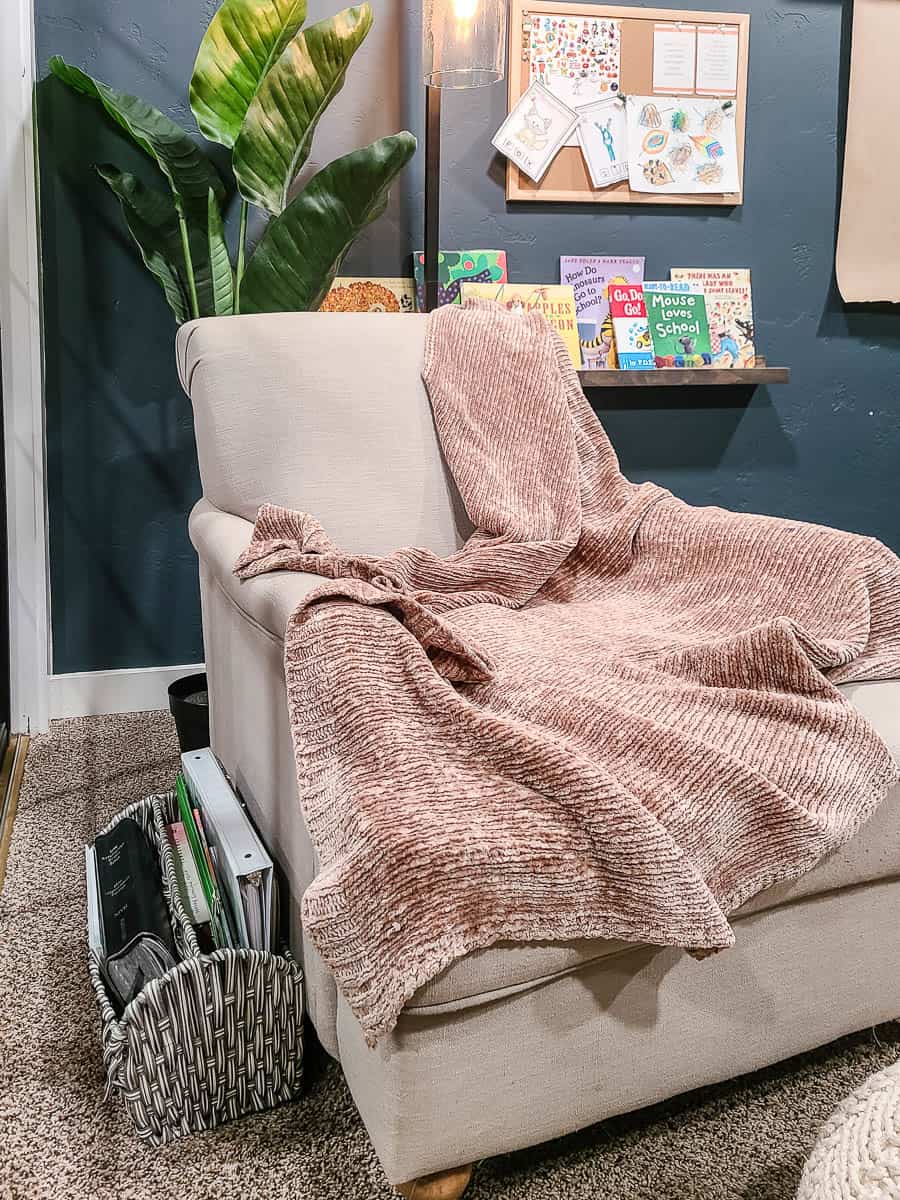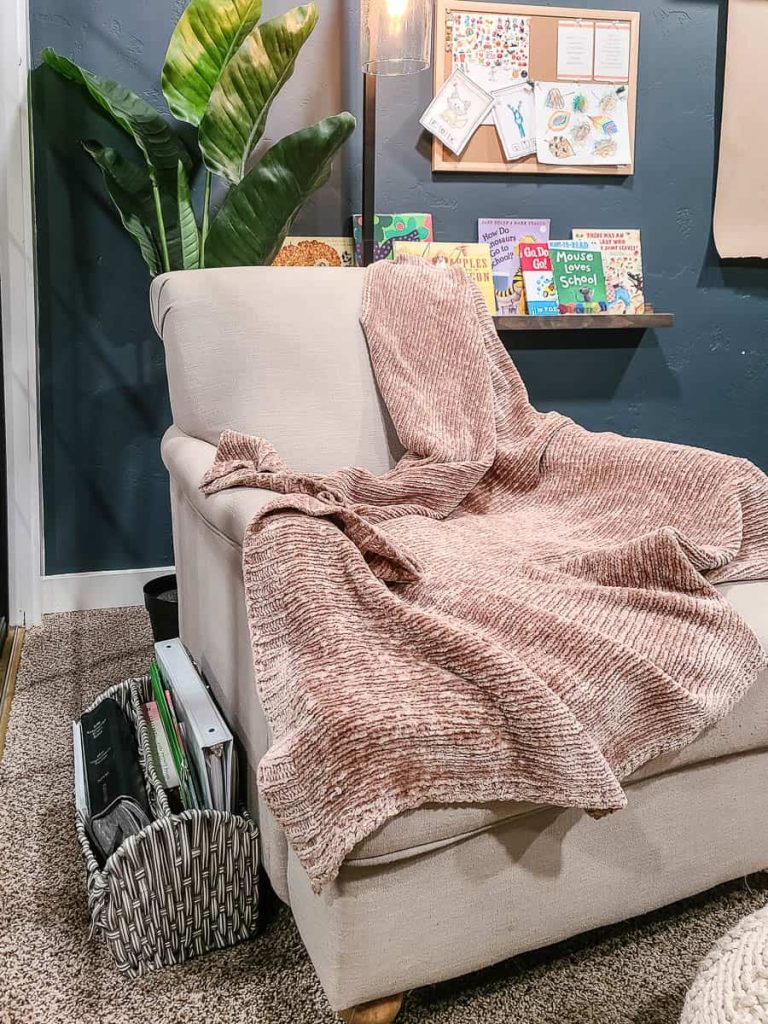 Since I don't have the side table with the magazine rack to hold my bible and bible studies next to the chair, I put a small basket on the floor to corral all of those things. There's not a lot of room to get into the closet, but the side of the closet that is behind the chair is rarely accessed.
The kids love using the reading chair when they are reading or doing computer work as another place to sit. It also is just big enough for one kiddo to cuddle with Mom while we do reading together.
Book Ledge Shelf & Bulletin Board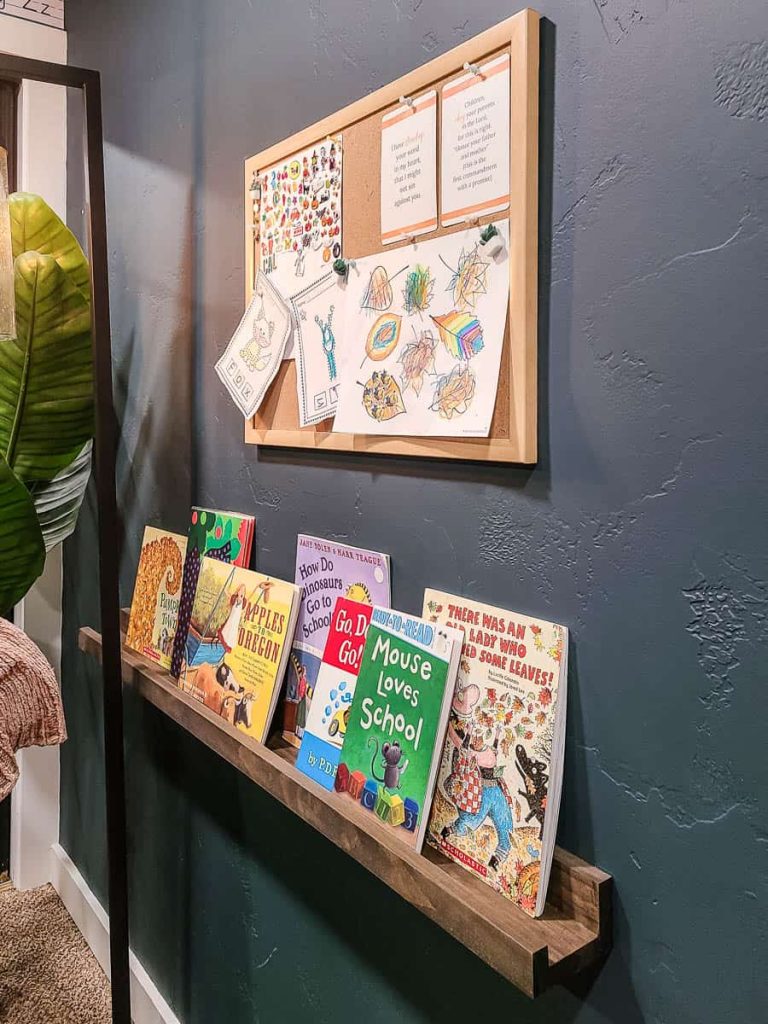 Behind the reading chair, I left the ledge shelf that was originally on the wall. It used to have an arch mirror on it (that I love). I moved the mirror out to the hallway cabinet because I just couldn't get rid of it.
Even though I love the arch mirror, I felt like I wanted the ledge shelf to become more functional in our learning space. So we turned it into a book ledge shelf instead!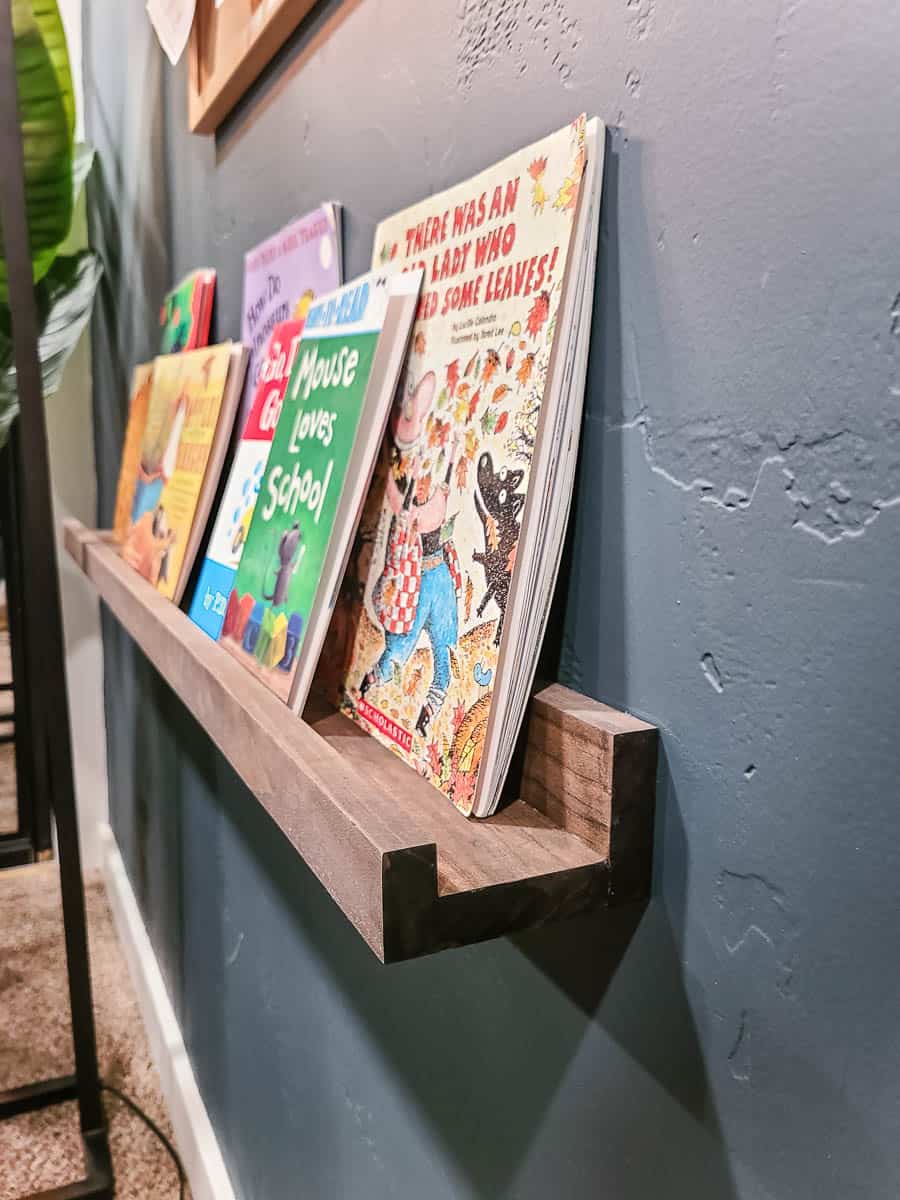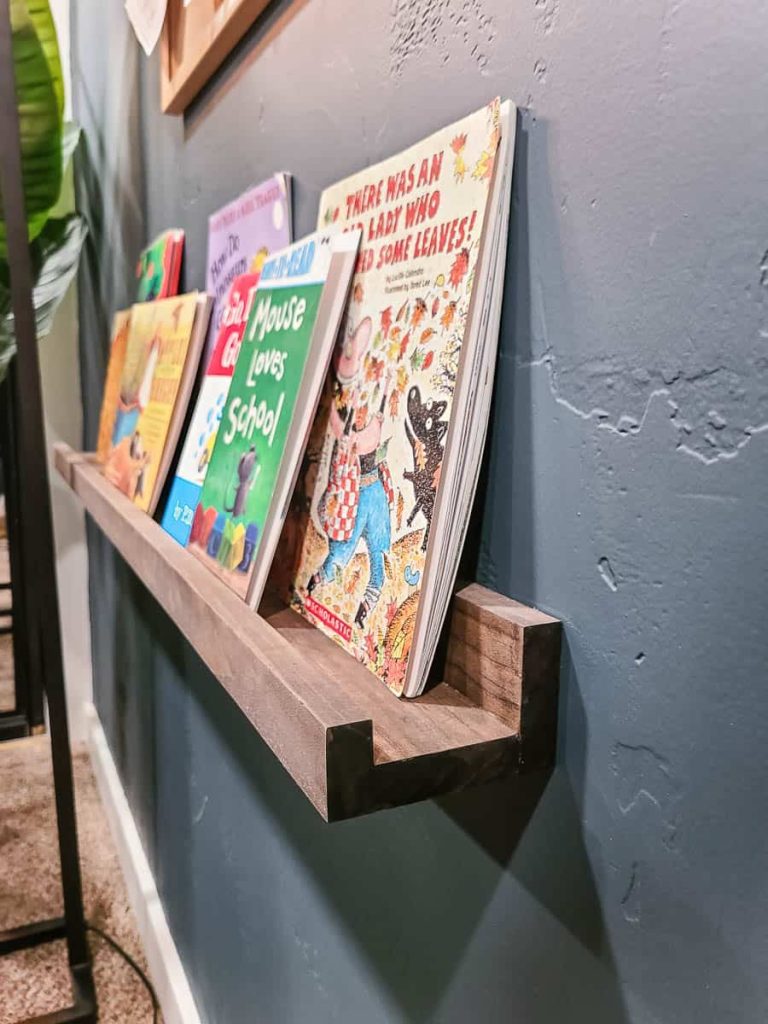 We built this ledge shelf at the same time as the picture ledge shelves out in our hallway, which I love.
Learn how to build the ledge shelves (which includes the free woodworking plans) and how to style ledge shelves for decor.
It is a great spot to display some fun books that match our season or that we're going to read soon. Having the covers shown encourages the kiddos to pick them up and flip through them independently. Since I switched over the shelf to display books, I've noticed the kids grabbing the books (even outside of our normal "school time") and wanting to read them.
On the wall above the book ledge shelf, I added a small bulletin board for the kids to display some fun items that they've worked on. We also put up some of our memory verse cards for our current devotional.
Kraft Paper Roll Holder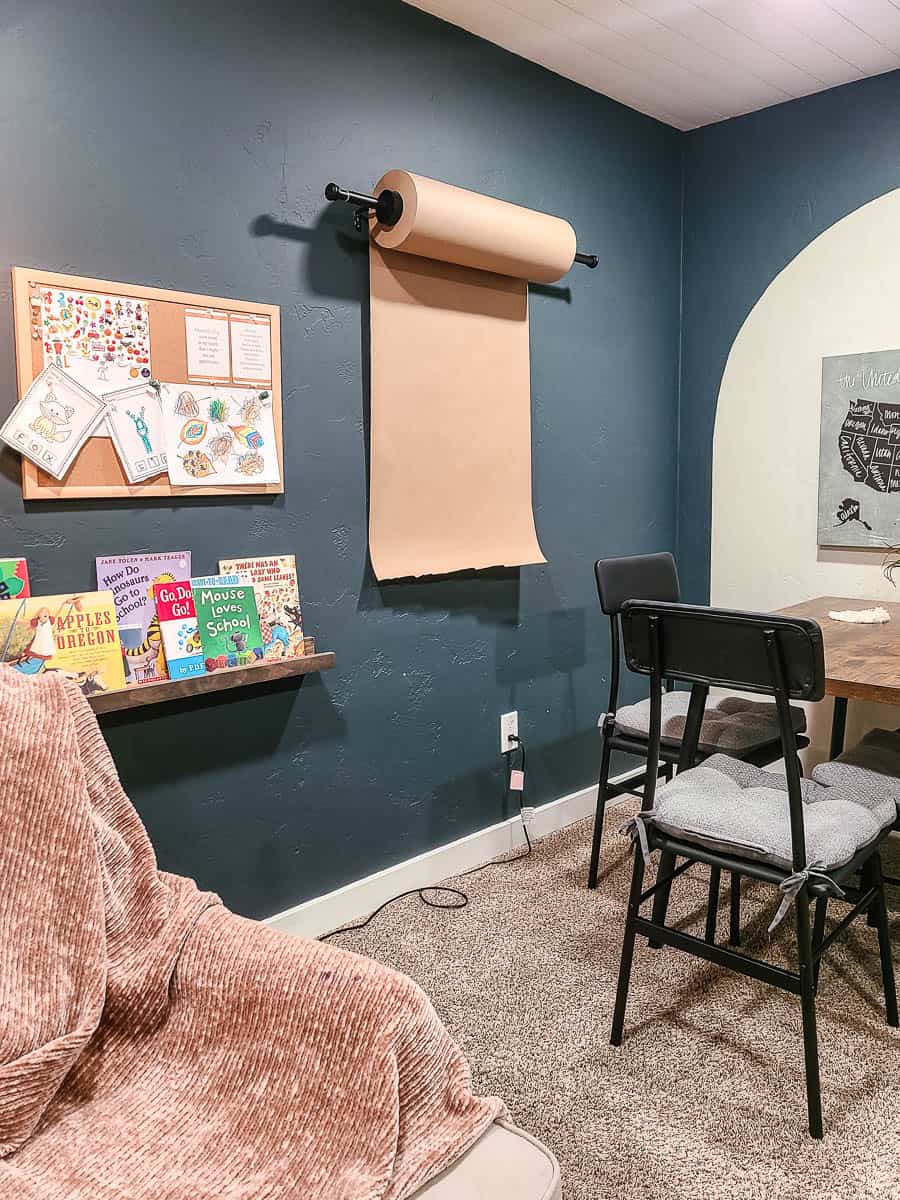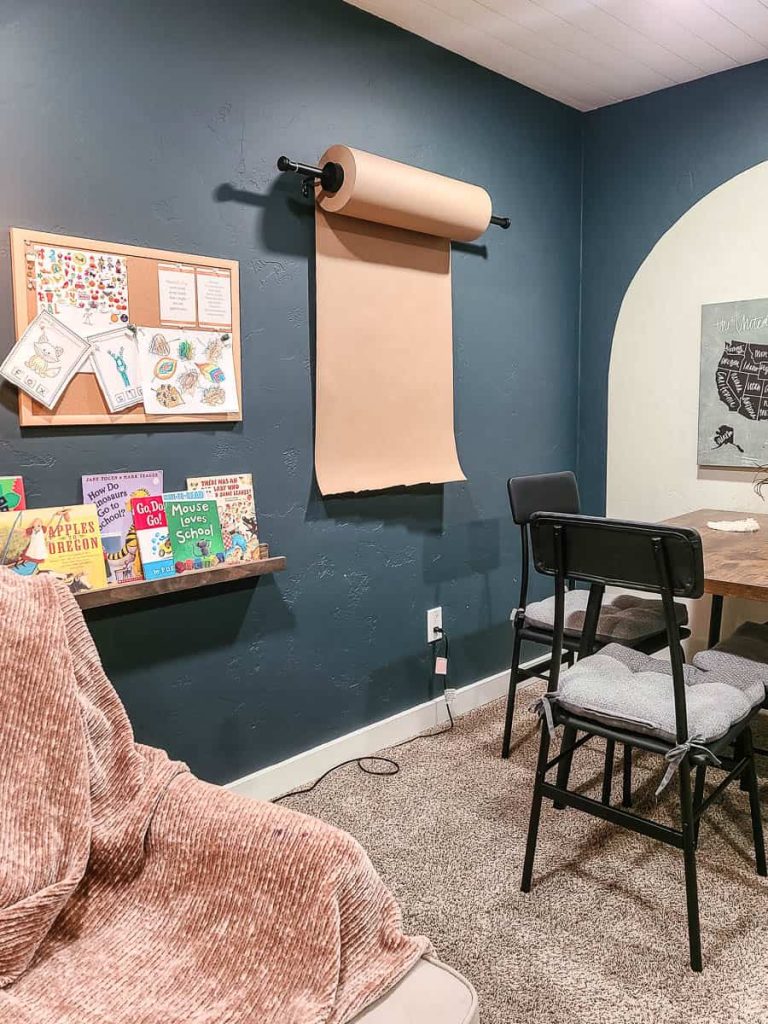 We left the kraft paper roll holder on the wall as well, which has definitely come in handy. It is great for quickly using it as a place to write a concept up for the kiddos, much like a chalkboard or whiteboard.
I also use it a lot for grabbing a large sheet of paper to put down on the table when we're doing craft or art projects or in the kitchen on the island when we're doing science experiments.
Learn how to make this kraft paper roll holder here!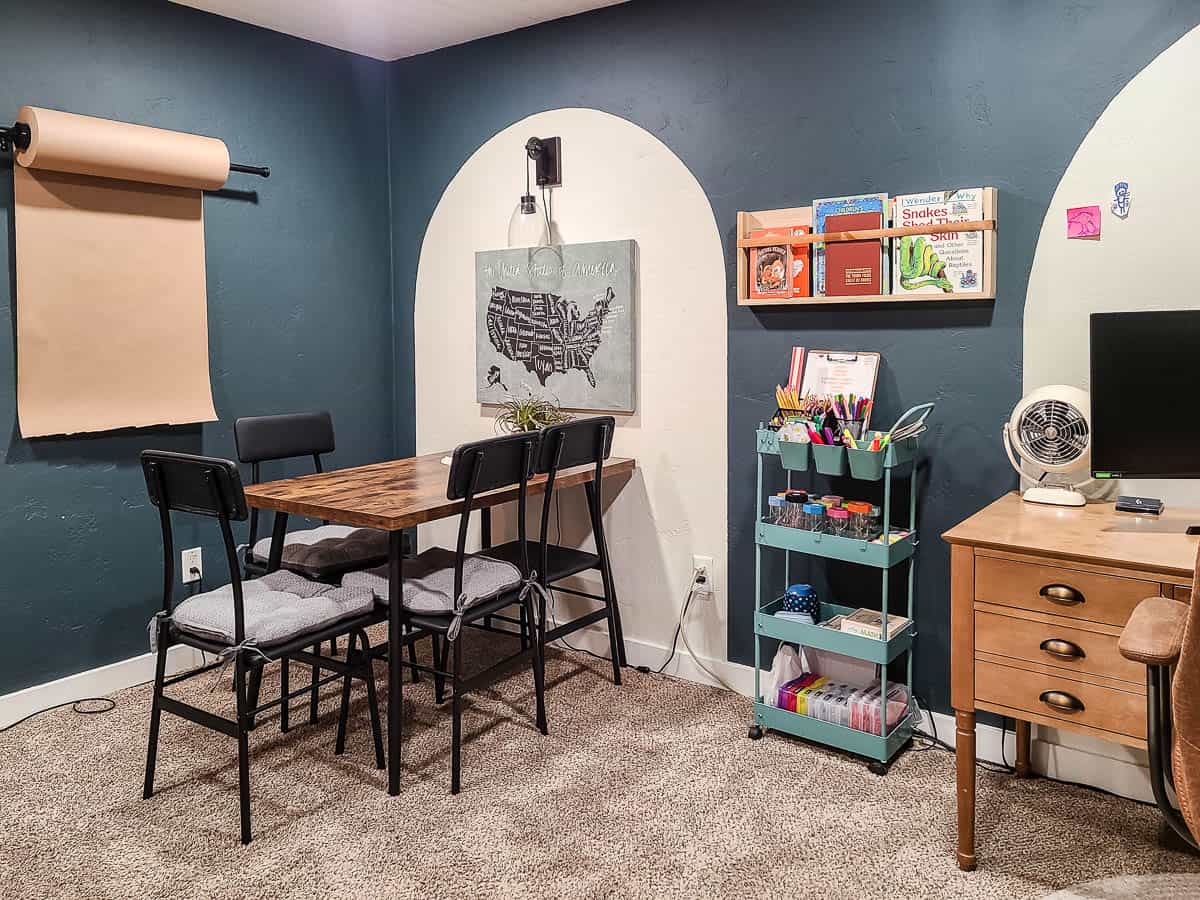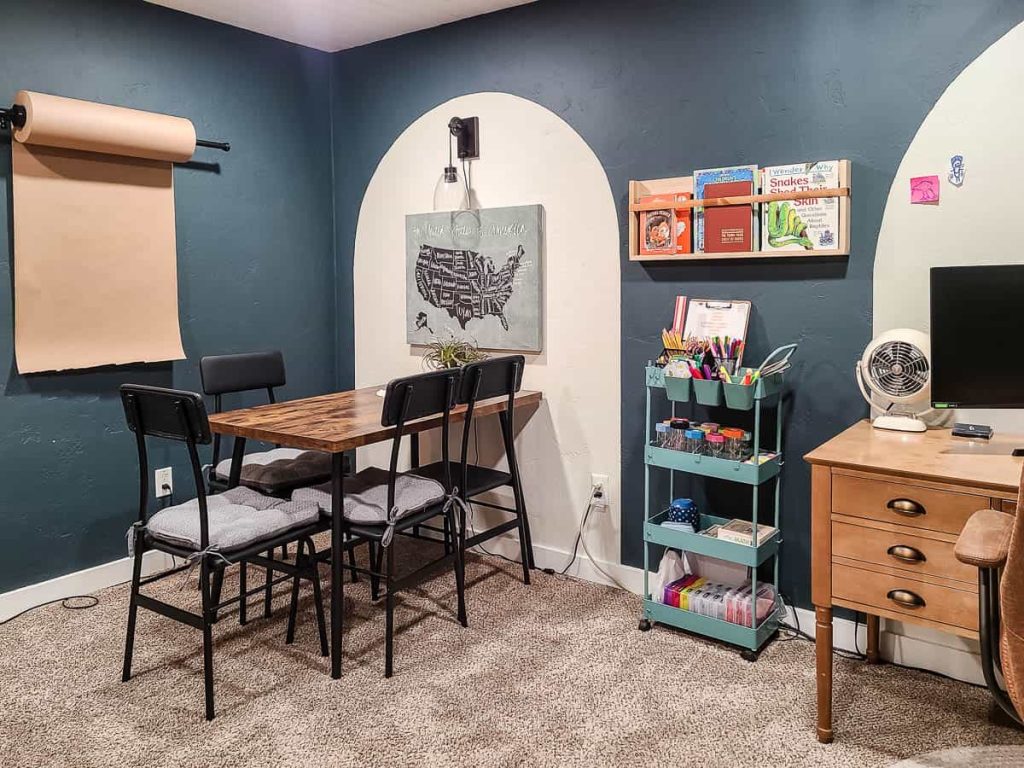 Do you need to have a dedicated space for homeschooling?
Here's the deal. You totally do not need to have an extra room in your home if you are homeschooling. Truth be told, we only spend a small portion of our days actually in the homeschool room.
However, it does help to have an area of your home that is dedicated to containing your supplies. This can be an extra bedroom, a small corner of your family room, a cabinet next to your kitchen table, or an entirely separate homeschool room.
One thing that I've learned about homeschooling so far is that it helps to have several spots around the house to move around throughout your day.
We do lessons at the homeschool table, in the reading chair, on the floor in the homeschooling space, in the kitchen at the island and at the kitchen table, in the living room cuddled up on the couch and sitting on the floor at the coffee table, in the backyard, on the front porch, and even sometimes at the park! The change of scenery does everyone good!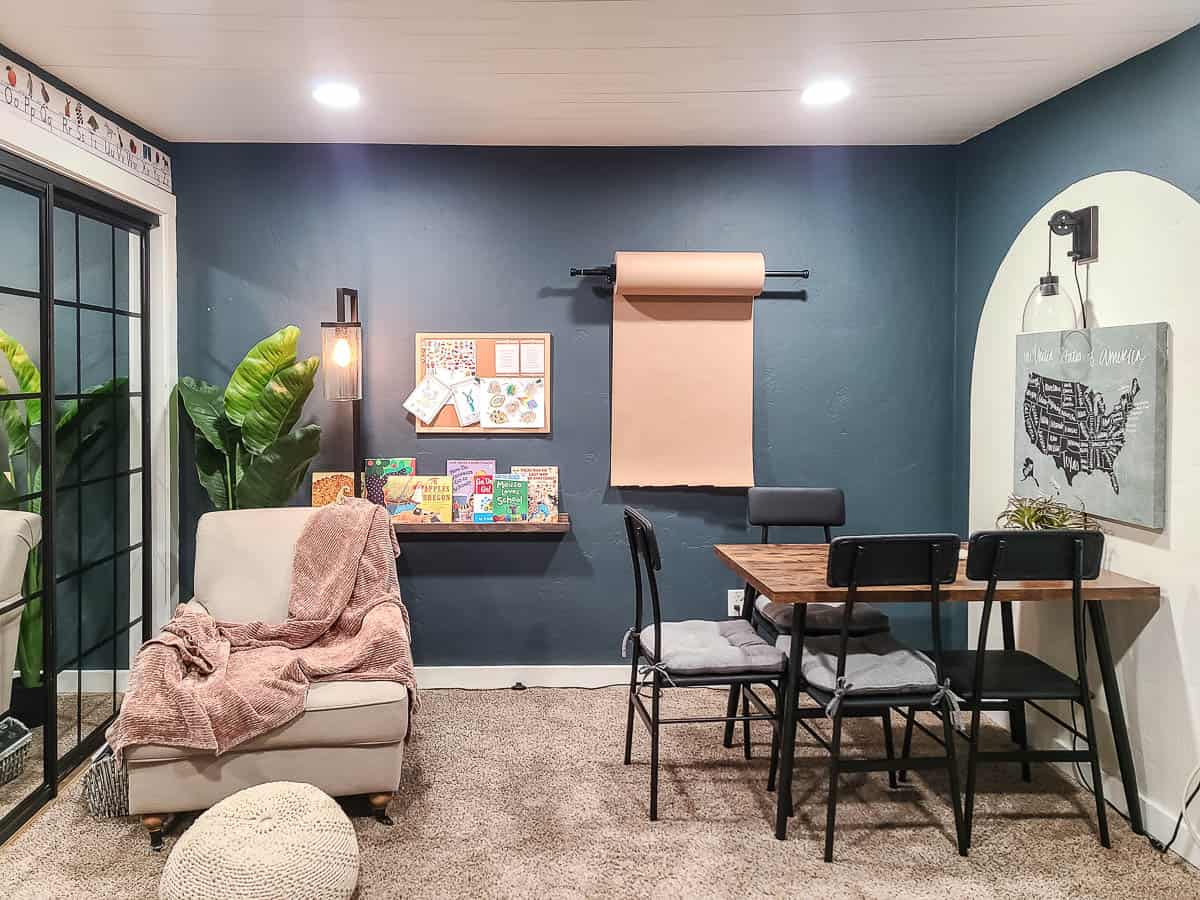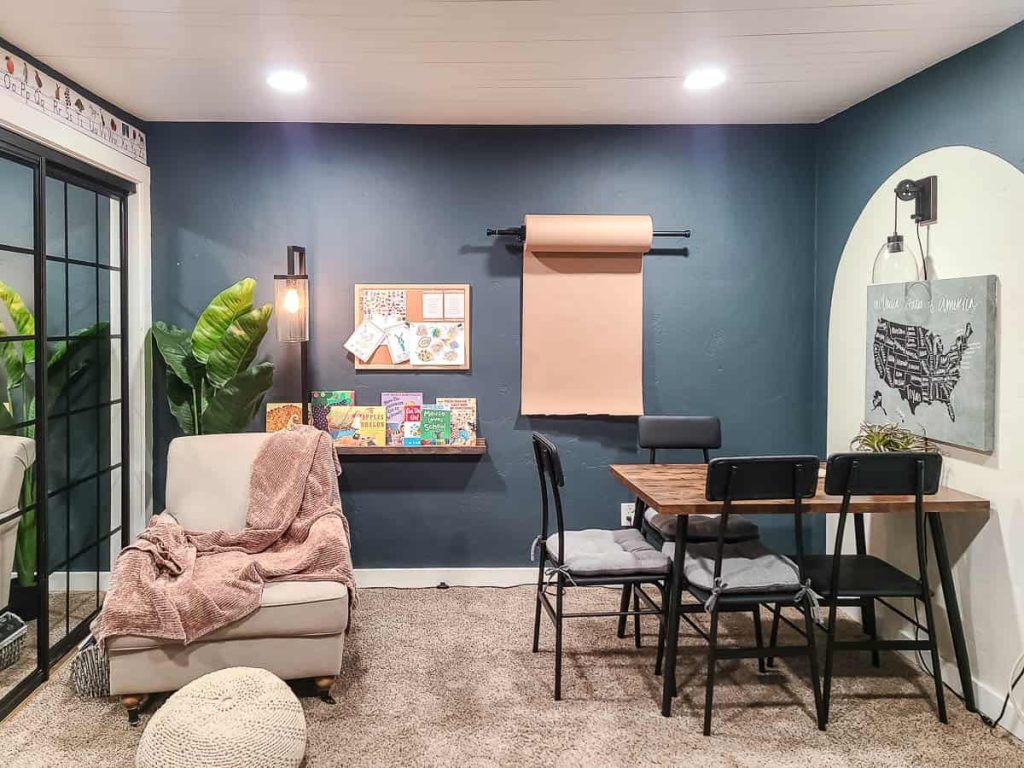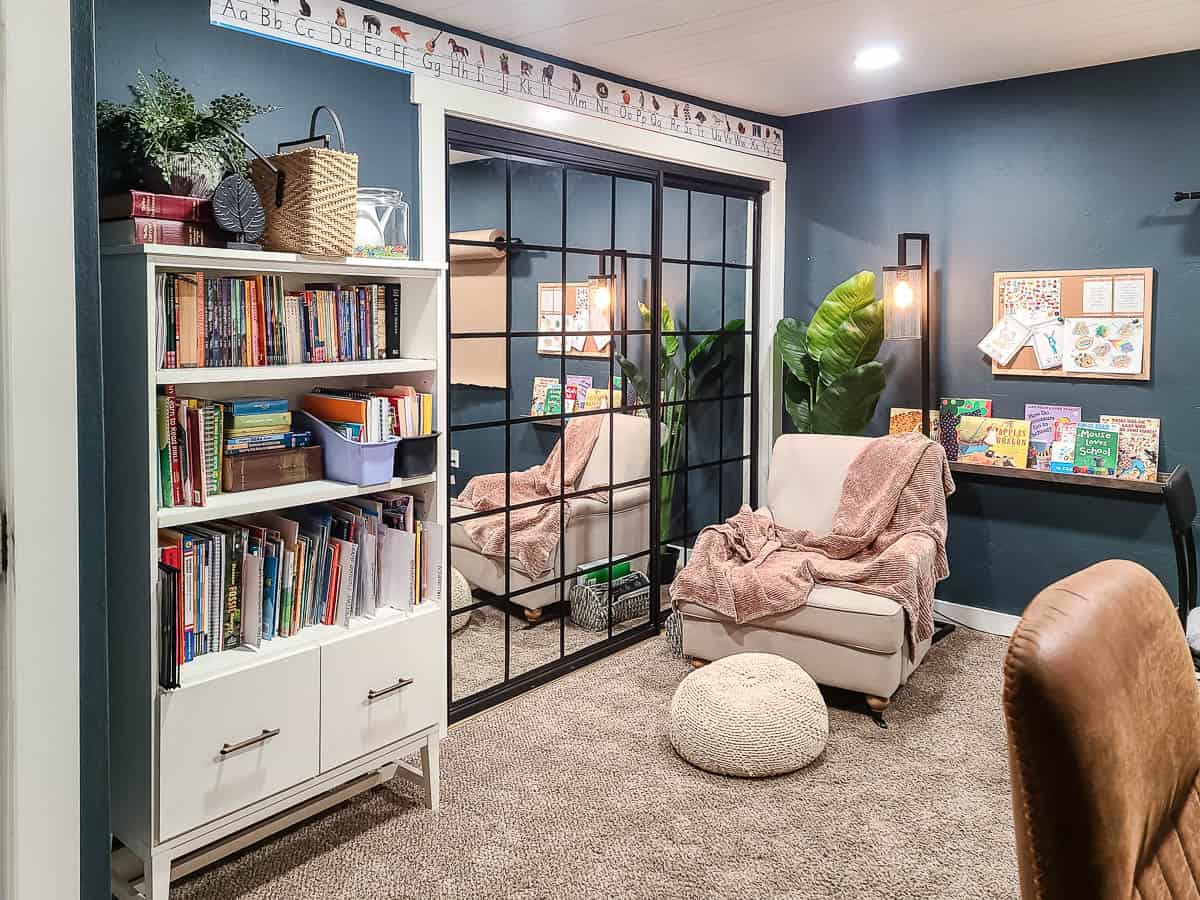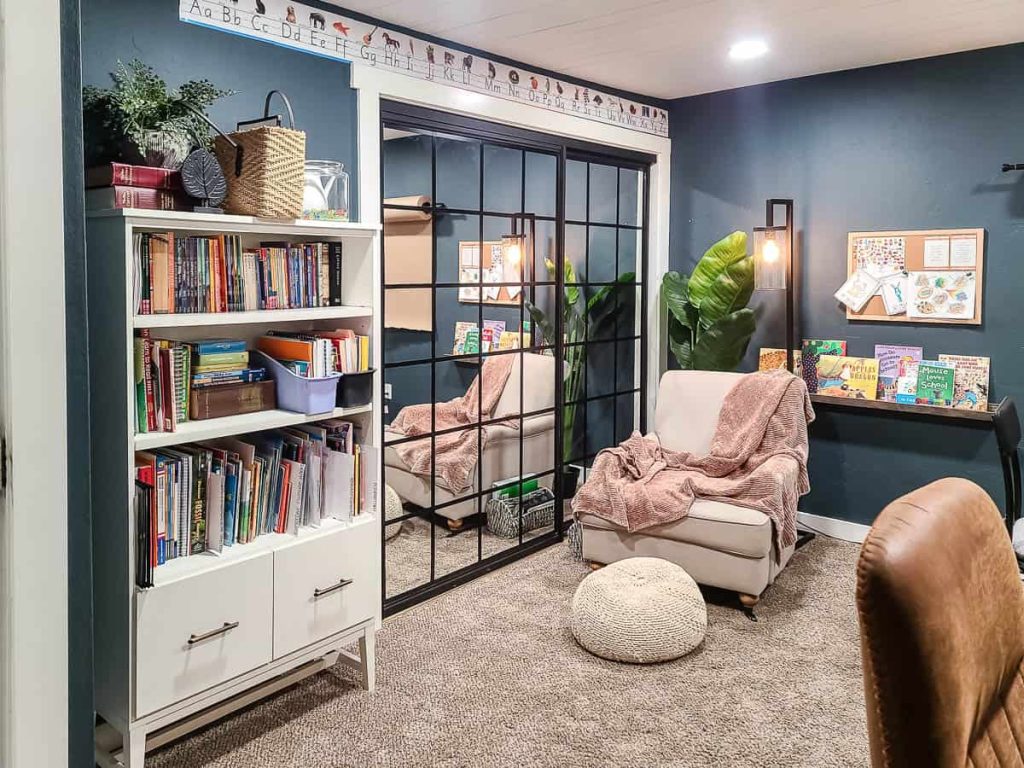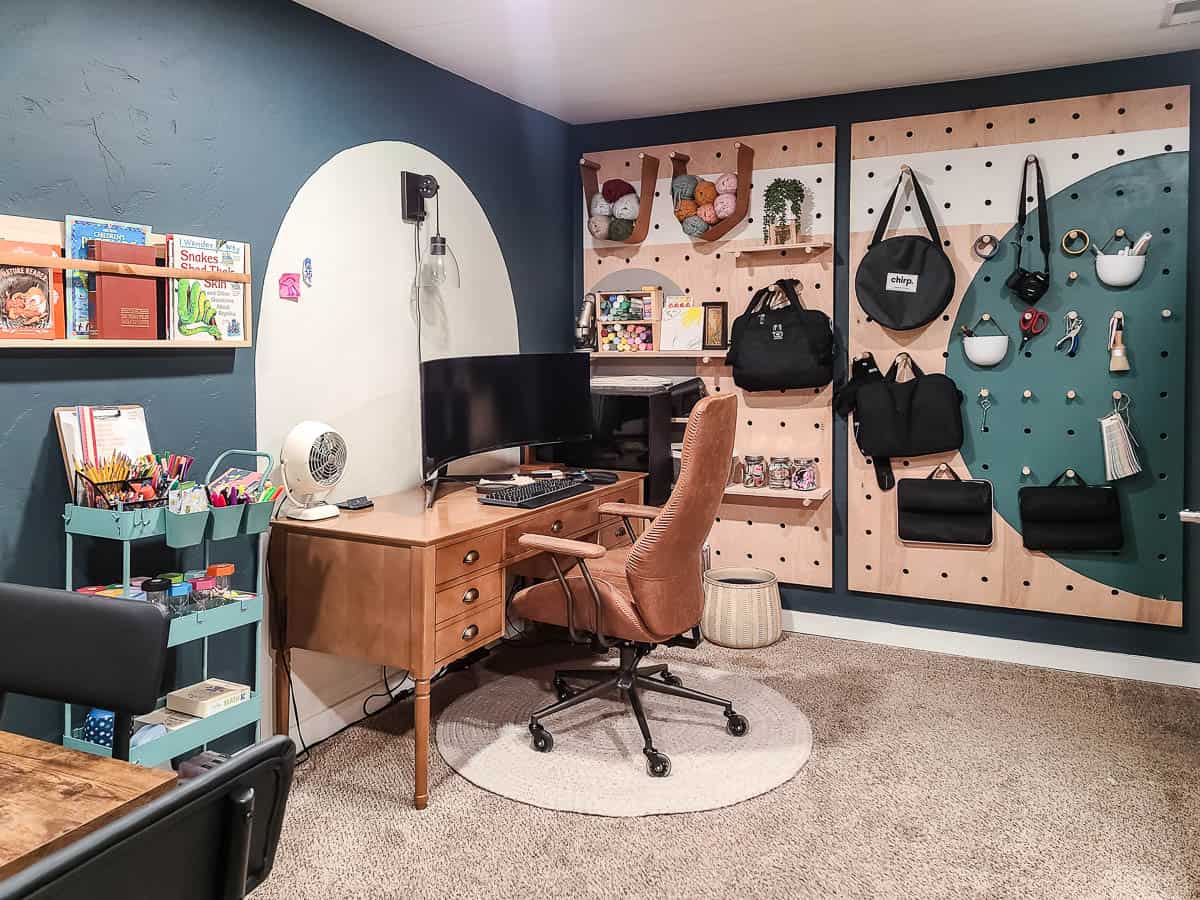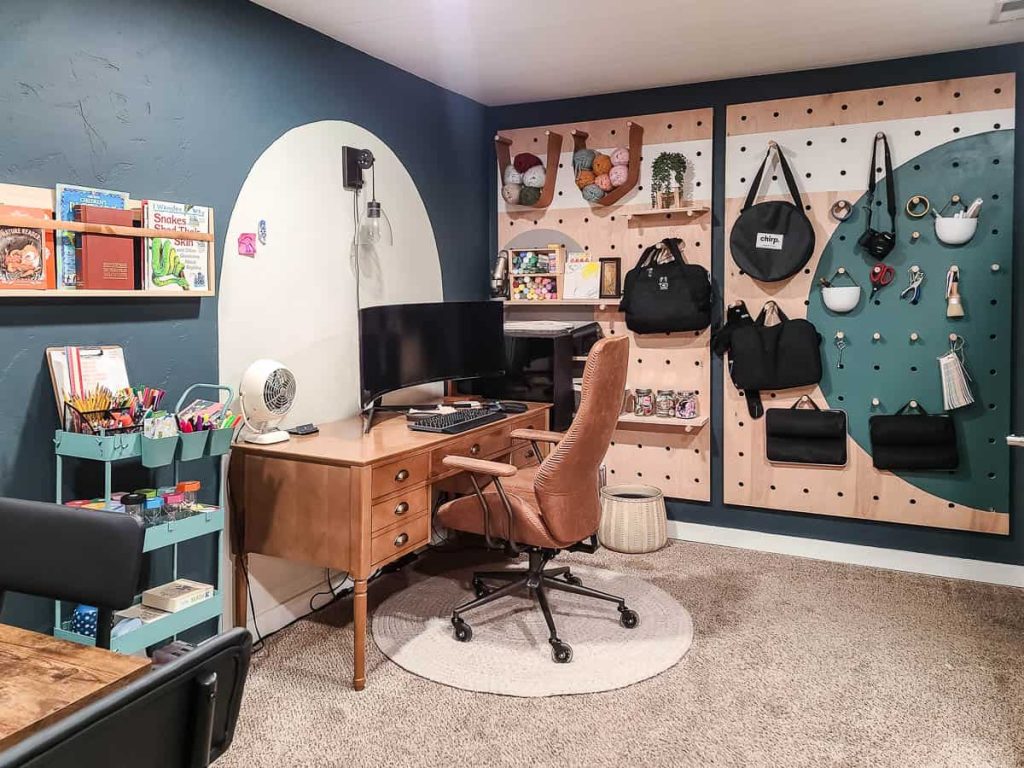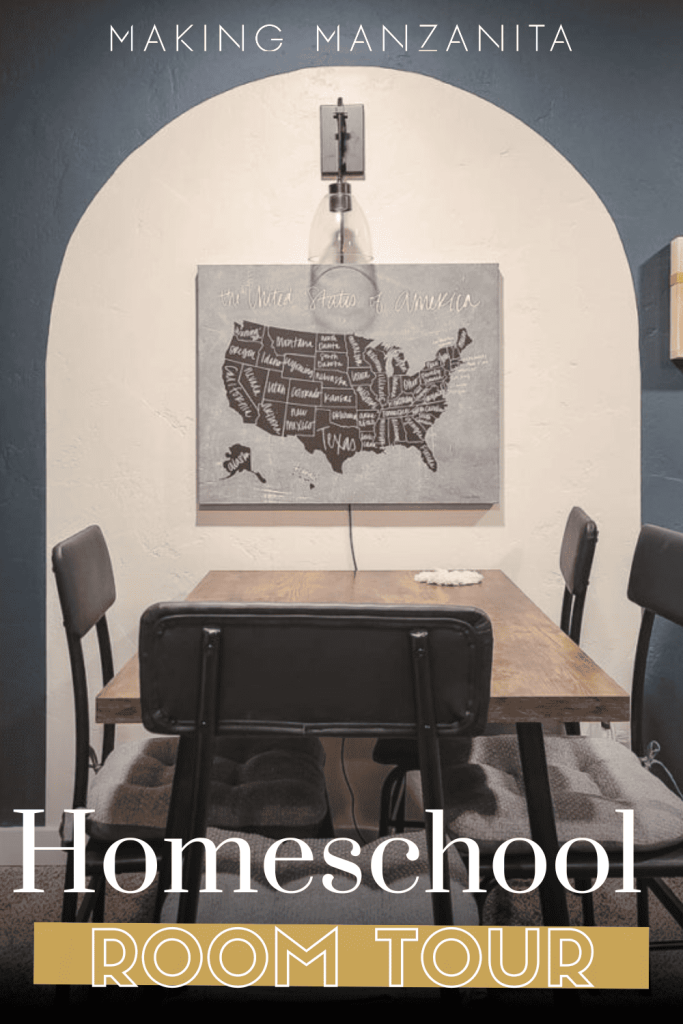 Whether you have a small home or a huge home with tons of extra square footage, there are so many different ways to make homeschool work in your home. Even if you don't have a dedicated homeschool room, hopefully, you picked up a great idea or two from our homeschool room tour to use in your own space.
Do you have any other questions about our homeschool room?
Let us know in the comments below!