Do you have heavily textured or popcorn ceilings and you don't want the hassle of removing it? Learn how to install shiplap on your ceiling!
In this easy tutorial, we take you step-by-step through the process using premade, primed, shiplap planks to create a beautiful, bright, finished look to any room.
The 70s called and they want their popcorn ceiling back! No one knows exactly why textured ceilings were ever really a thing, but they were. Anyone who has a popcorn ceiling knows they are excellent cobweb collectors and begin to take on a funky yellow tint as they age. Yuck!
We knew this room needed an update, but we both cringed at the idea of scraping the ceilings or skim coating it. Plus, there's the risk of stirring up asbestos if your home was built before 1990 – even more reason to skip the scraping!
Before Pictures
Enter: Shiplap ceilings!
Installing shiplap is a great way to give a room a little boost. After we completed this project, we marveled at how much brighter and bigger the room seemed!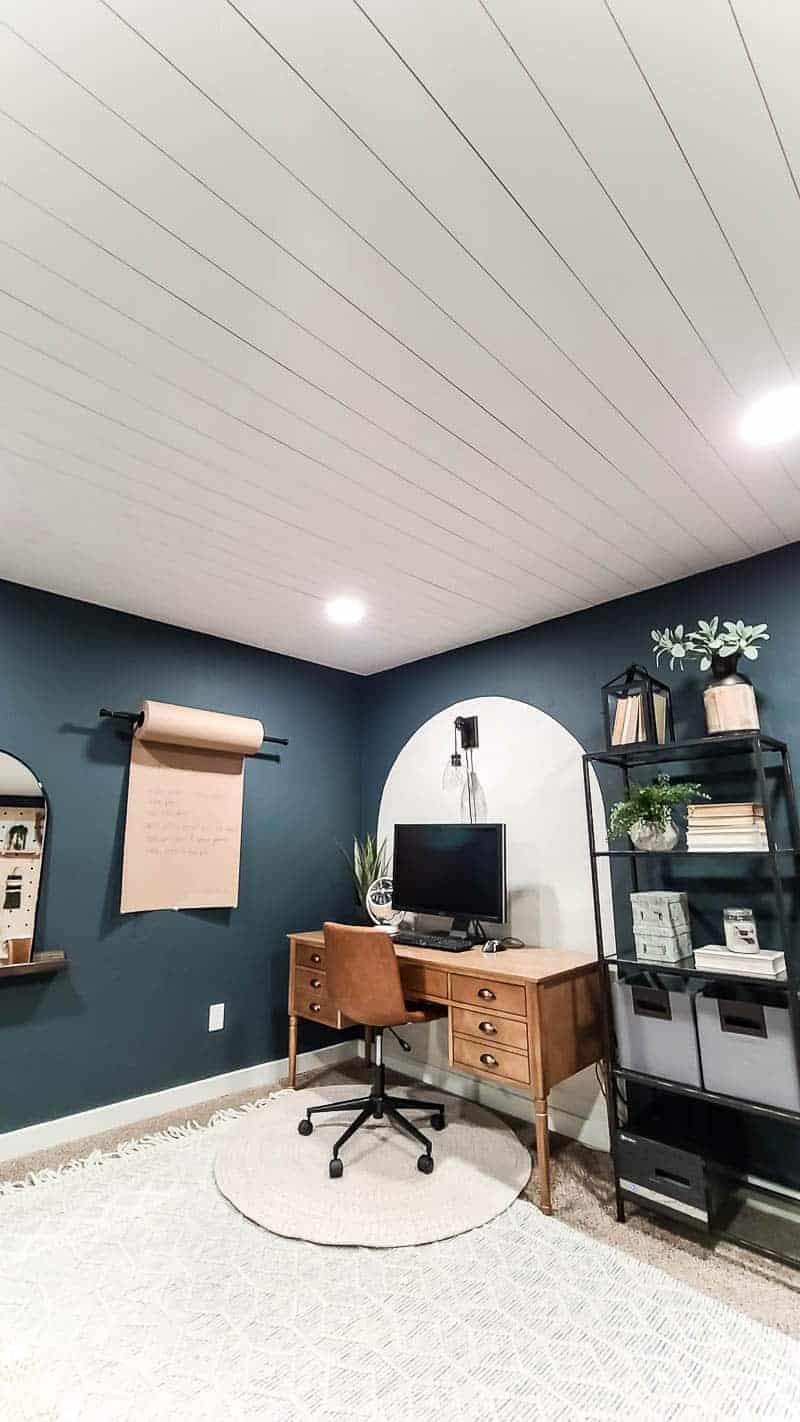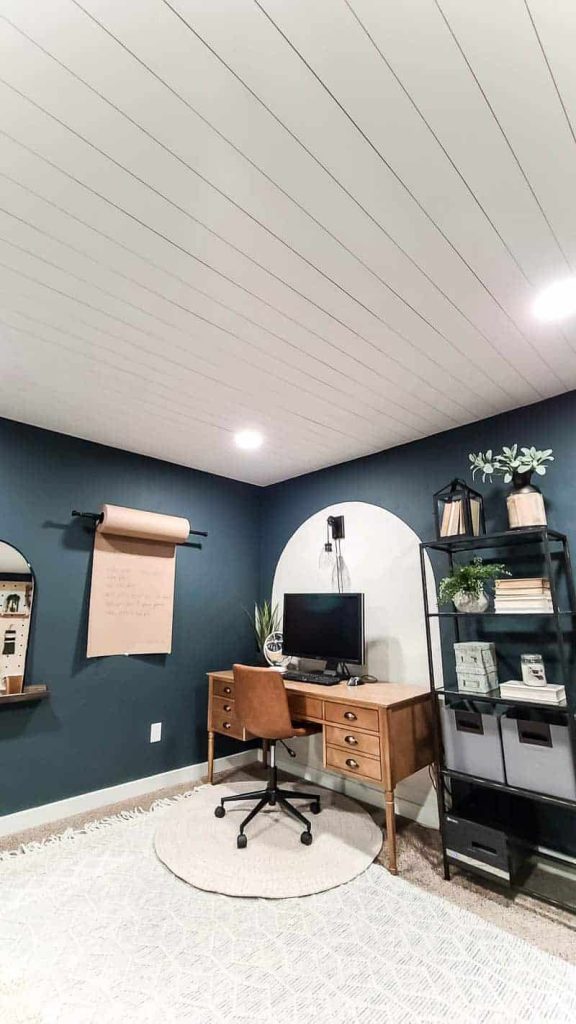 If you want to make your own plywood shiplap, feel free to take on that extra project, but we found a shortcut with premade, primed shiplap planks. The premade version was a little extra cash, but it was well worth it in the time that we saved!
If you aren't quite ready to permanently install shiplap, we get it. It's a commitment. And much like popcorn ceilings, you don't want to be stuck with something you aren't crazy about.
So, if you need to slowly introduce yourself (or husband) to the idea, test a few shiplap decor projects or do a faux shiplap wall to be sure it's your speed.
Shiplap Ceiling Tutorial
If love DIY videos, be sure to subscribe to our YouTube channel so you don't miss the next one!
We summed the whole process up in a video tutorial as well as a written out step by step tutorial!
This shiplap ceiling tutorial also contains affiliate links, but nothing that I wouldn't recommend wholeheartedly. Read my full disclosure here.
Supplies & tools needed shiplap ceiling:
Measuring tape
Putty knife
Sanding block
Paint tray
Paint roller
Paint roller cover
Step 1. Remove everything from the ceiling.
Start by removing fixtures from your ceiling, including lights, chandeliers, air vents, and anything else that is attached to your ceiling.
Later in the video, we walk you through how to work around these areas using a few basic tools.
Step 2. Locate the ceiling joists.
Before you begin nailing, find the ceiling joists with a stud finder.
Curious what ceiling joists are? The main job of joists is to connect the outside walls together and provide support to the ceiling materials in the room below.
Ceiling joists are an important player in this project, because they support your roof from the inside and will act as the "mount" for your shiplap planks.
Joists connect to the rafters, which is the load bearing support for your roof, and basically hold the frame of your roof together. Unless you have a flat roof, you have rafters and joists above your popcorn ceiling.
Skipping this step could really damage your ceiling and ruin the project.
How much weight can I hang from a ceiling joist?
There are different sizes of joists depending on when your home was built and the room you are working in.
Regardless, shiplap planks should not max out any weight loads, but be aware of any attic storage above the room you are working in.
Step 3. Attach the shiplap planks.
Instead of joists, we had sheets of plywood right above our ceiling, so we were able to nail right into the plywood which worked perfectly. Ideally, the joists and planks should run perpendicular to each other.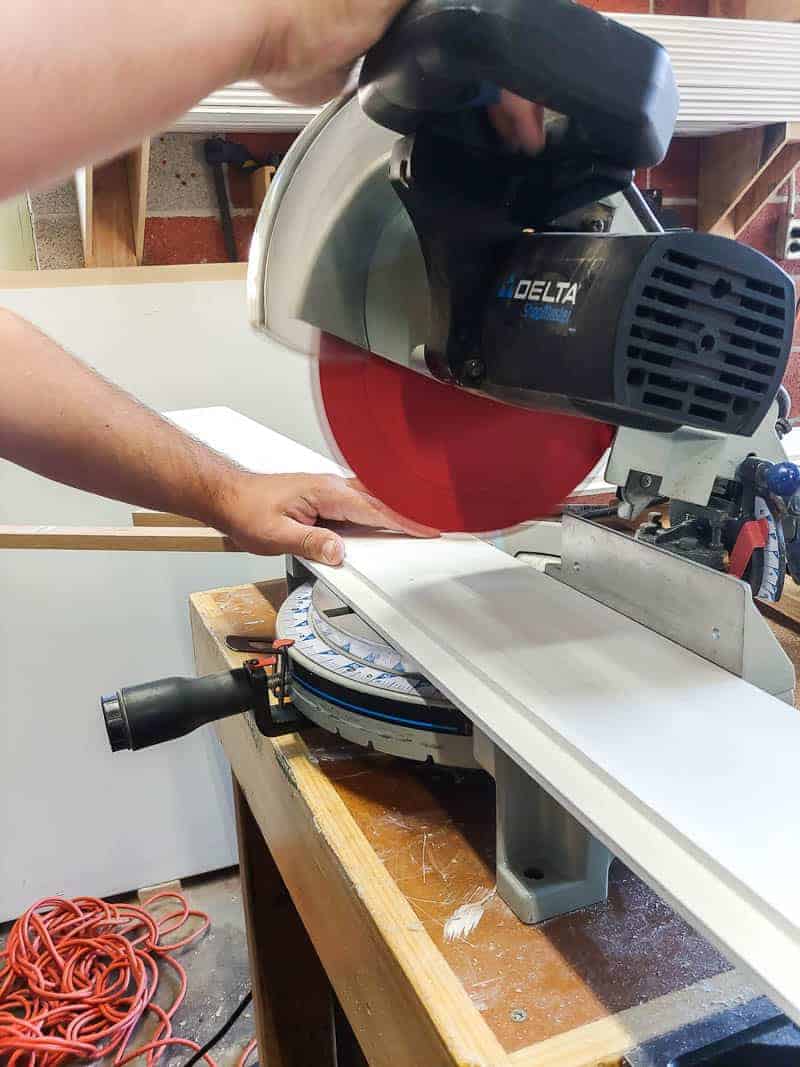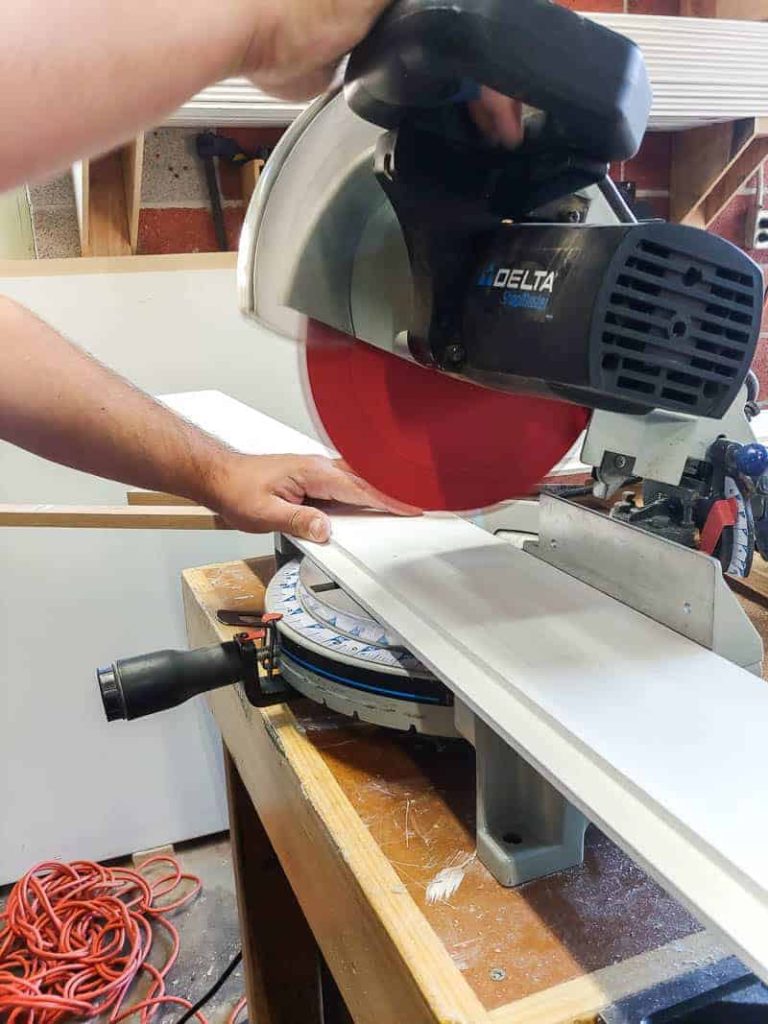 If you find the joists are running the same direction as your shiplap, attach furring strips to the ceiling before the shiplap planks to minimize the weight bearing on the joists.
After attaching the furring strips into the joists, you can nail the planks directly into the furring strips.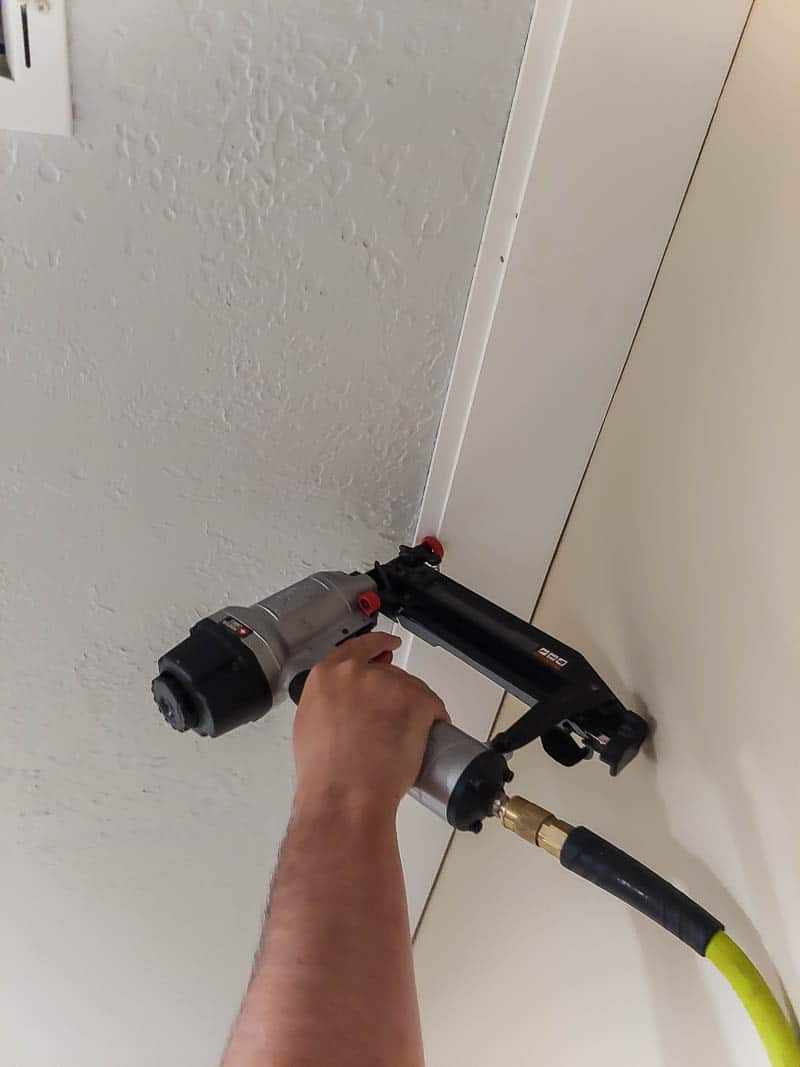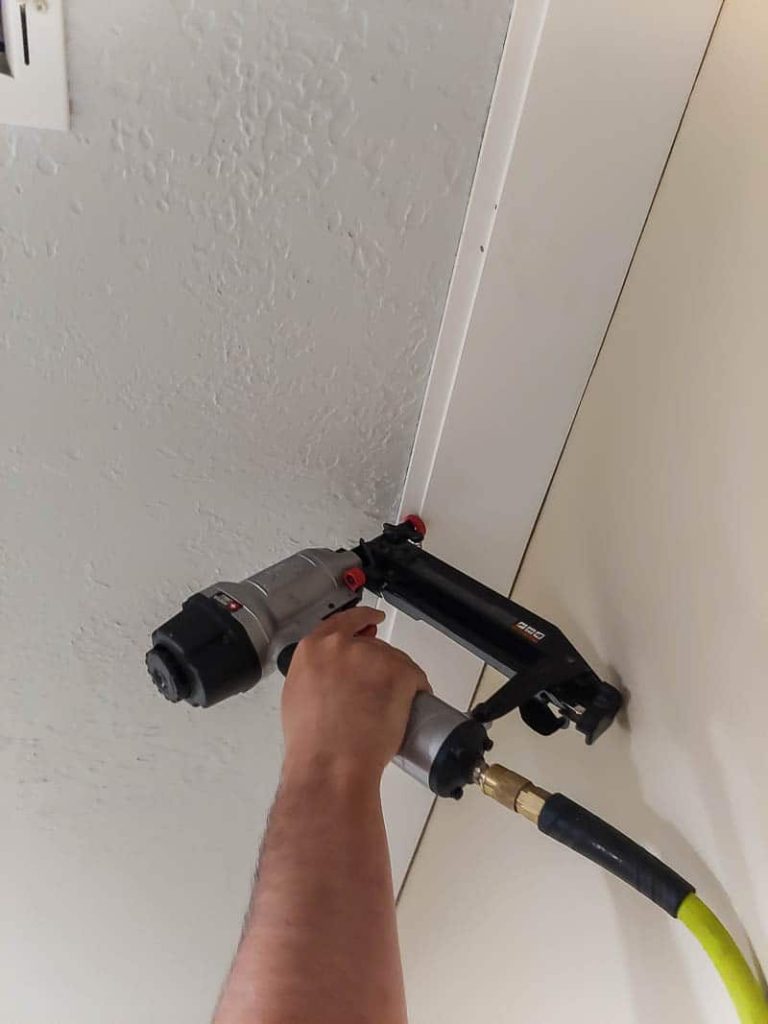 As you begin nailing, make sure you are holding your nail gun at a 45 degree angle. This will prevent the planks from shifting against the other boards and straining the enforcements above.
In this room, we had several air vents and light fixtures we needed to make room for. To make room for these fixtures, we attached a plank to the ceiling close to the fixture's hole, then made markings where space was needed.
Using a hole cutter for the circular cuts and a multi-tool for the straight cuts, we cut along the markings so we could easily reattach our fixtures and vents over the shiplap ceiling.
Step 4. Sew things up with caulk and spackle.
Now that your shiplap planks are in place, it's time to caulk and spackle.
Caulking and spackling really seal the deal on the aesthetic of a project. We've got a few caulking tips if you need them. It's tedious, but you'll be glad you did this part.
First, apply caulk in a small bead, along the edges of the room. Then, smooth with your finger to create a seal between the walls and ceiling planks.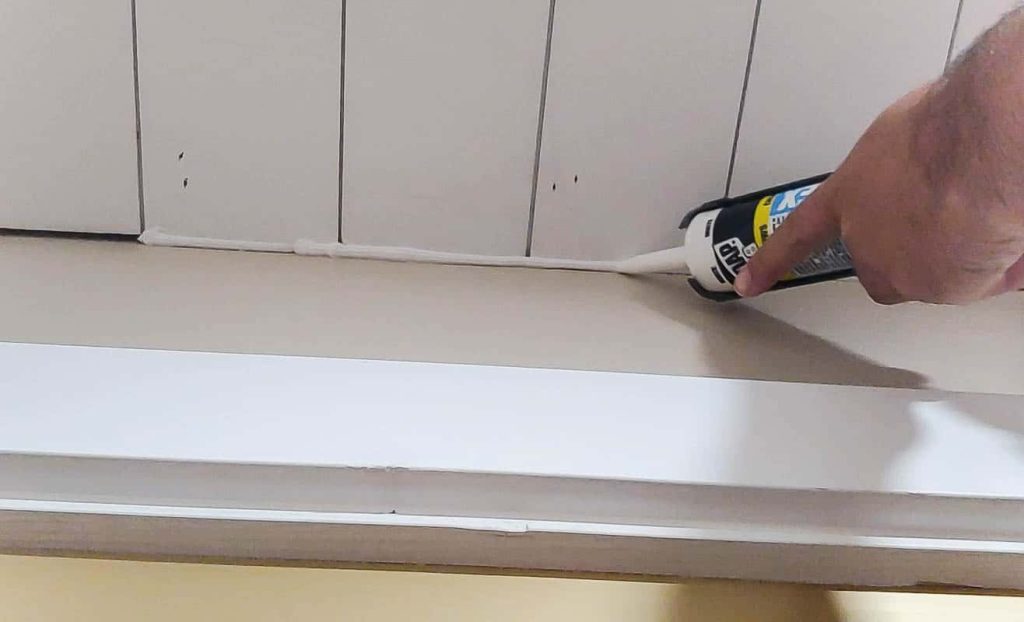 Keep in mind that paint touch ups along the wall may be necessary after caulking. For this project, we planned on painting the entire room, so the messy caulk smears weren't a major concern for us.
If you wanted to make sure your lines were clean, you could apply painter's tape to the wall first and then remove the tape after you're done caulking.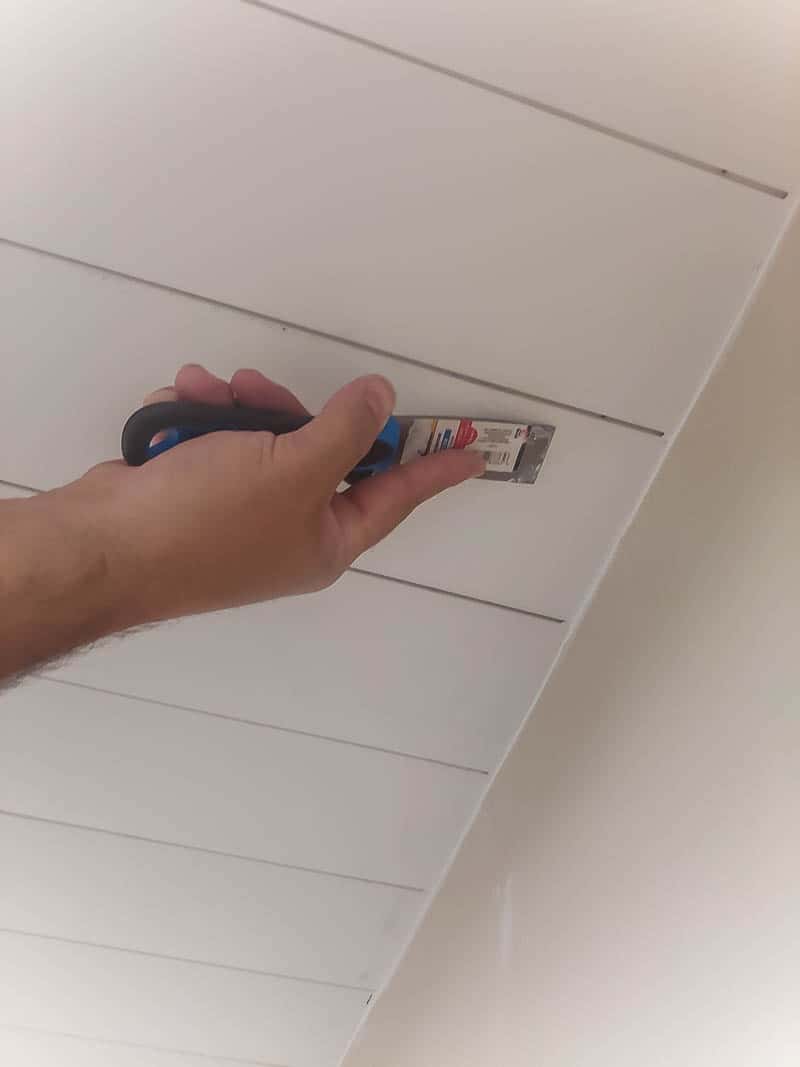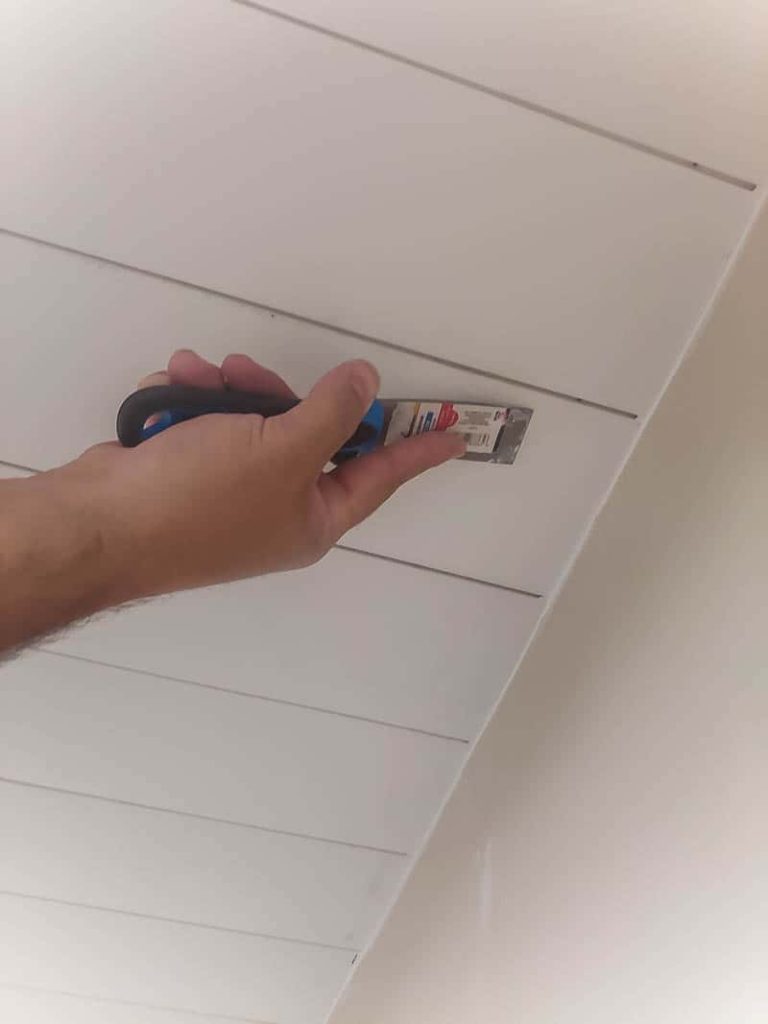 Spackle the nail holes using a putty knife, sand to smooth, and then you are ready to paint.
5. Complete the project
For all of our ceilings, we use Behr's Flat White ceiling paint, but you can use any color of your choice. Roll on the paint in the directions of the planks.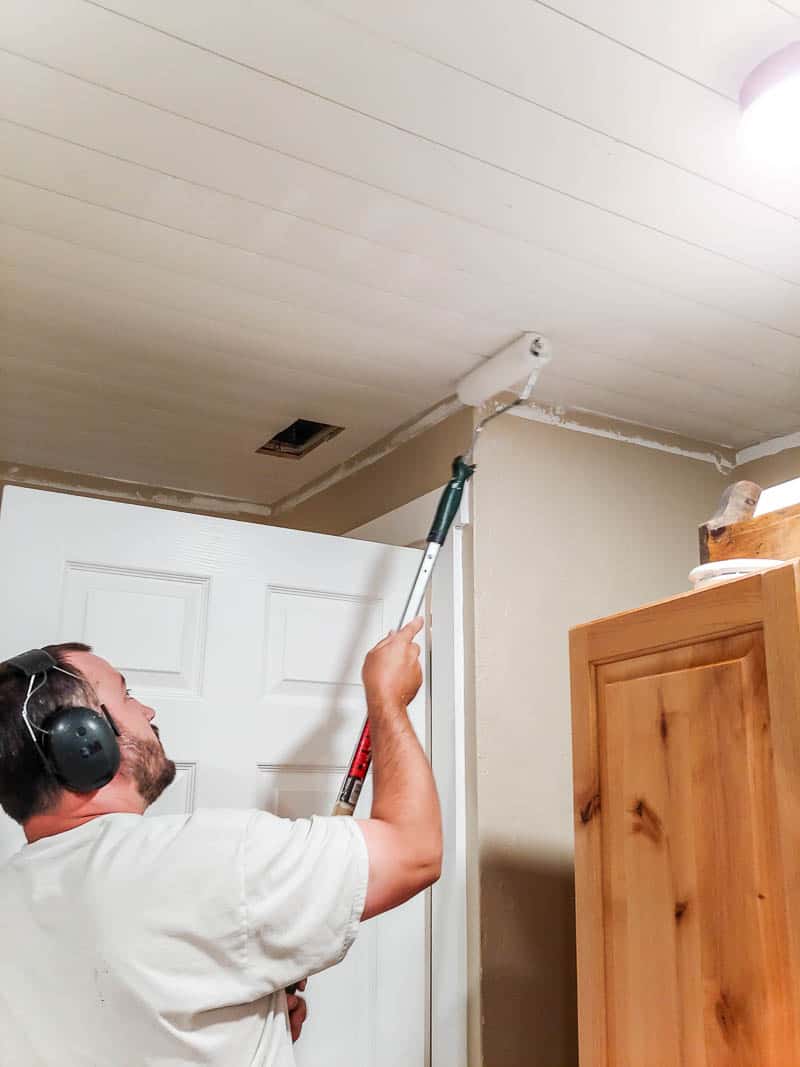 If you find the paint is running between the shiplap planks, run a screwdriver along edges between the planks while the paint is still wet.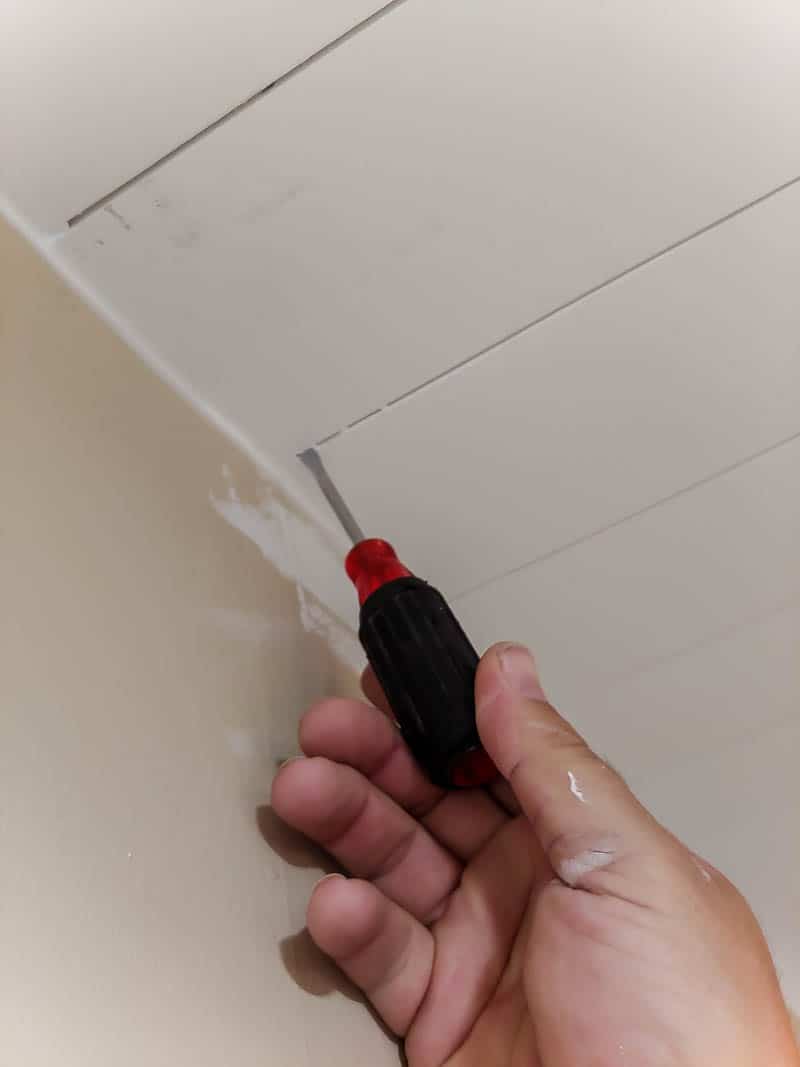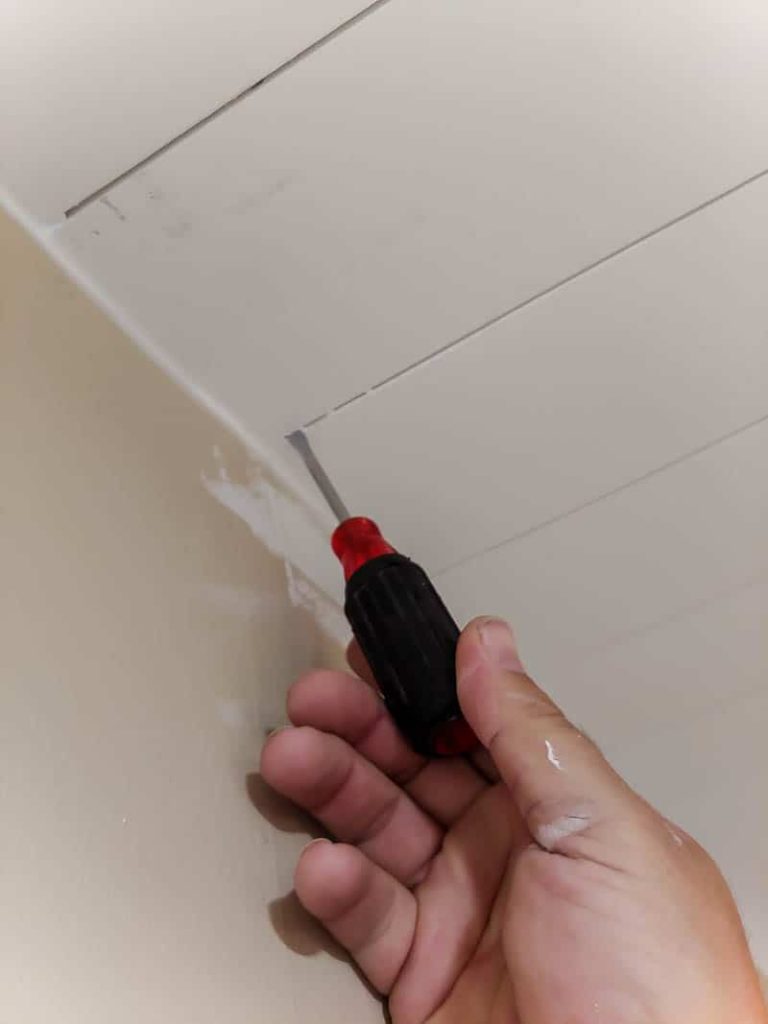 As you are painting, be mindful of "bumping" the walls with your roller. For this reason, it's a good idea to "cut" into the ceiling with a paint brush, painting about an inch or two into the ceiling planks and away from the walls. We use an angeled paint brush for this.
If you are painting the entire walls like we did, you don't have to be as careful.
After the ceiling is painted and dried, replace your light fixtures and vent covers, and enjoy a beautiful and bright new look!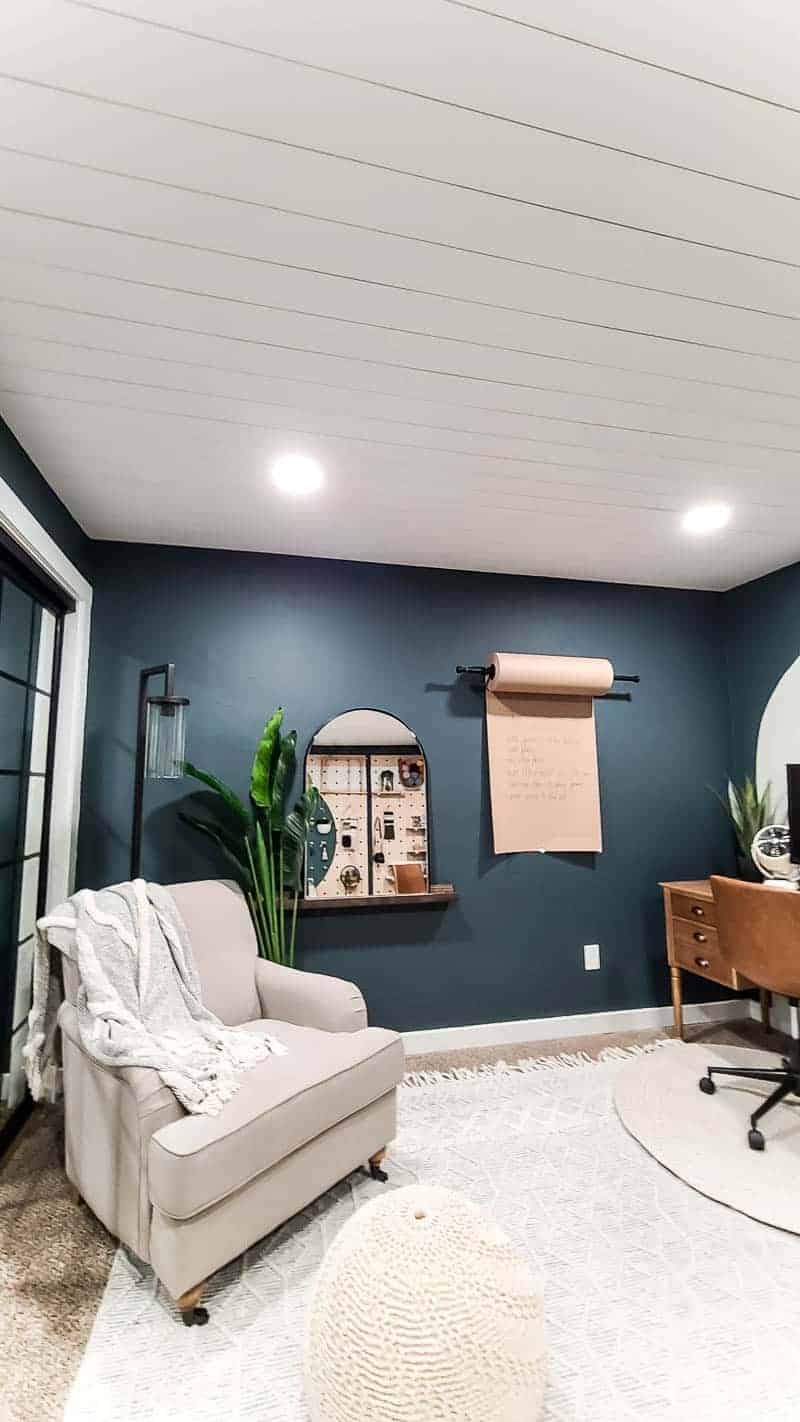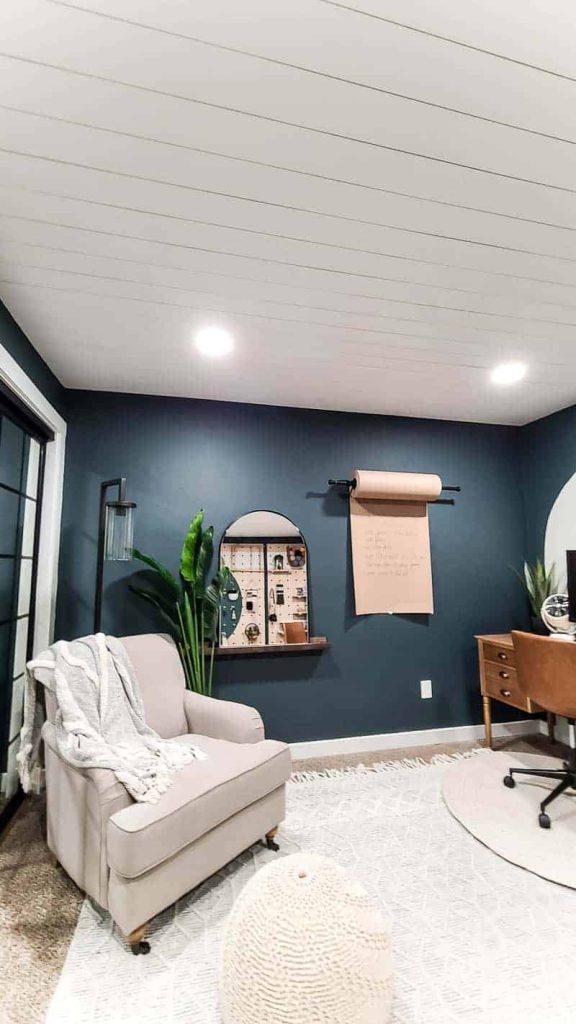 Updating aging ceilings doesn't have to break the bank! Installing shiplap over textured ceilings is a great way to skip scraping and will give your home an updated look that you can be proud of.
Would you install a shiplap ceiling in your home?
Let us know in the comment below!