Do you have heavily textured or popcorn ceilings you want to cover? In this guide, we will outline how to cover popcorn ceiling and the cheapest way to do it. No scraping is required!
Popcorn ceilings probably give you flashbacks to the 80s and 90s. These textured ceilings had great intentions to make finishing a ceiling much easier and less time-consuming, but now they just look outdated, dusty, and discolored.
Believe it or not, popcorn ceilings had a purpose: to hide imperfections caused during construction. Now, there are so many better ways to hide those imperfections!
If you have a popcorn-textured ceiling that's raining on your renovation parade, there are ways to work around it without all the scraping and mess.
This how to cover popcorn ceiling overview post contains affiliate links, but nothing that I wouldn't wholeheartedly recommend anyway! Read my full disclosure here.
What is popcorn ceiling?
If you know anything about renovating a house you know that finishing a dry-walled ceiling is a challenge… matching seams, papering with fiberglass tape, and adding a joint compound.
Once it's all dry, sanding is required to get that perfectly smooth finish. It's a lot of work!
All of this taping and mudding on the ceiling can result in uneven spots, sagging seams, and visible imperfections. Spraying on a heavily textured finish, like popcorn ceilings, is a pretty cheap and easy way to hide all of those imperfections.
Plus, popcorn ceilings cut down on sound! That makes it a great option for high-traffic hallways, entryways, and higher ceilings that tend to echo.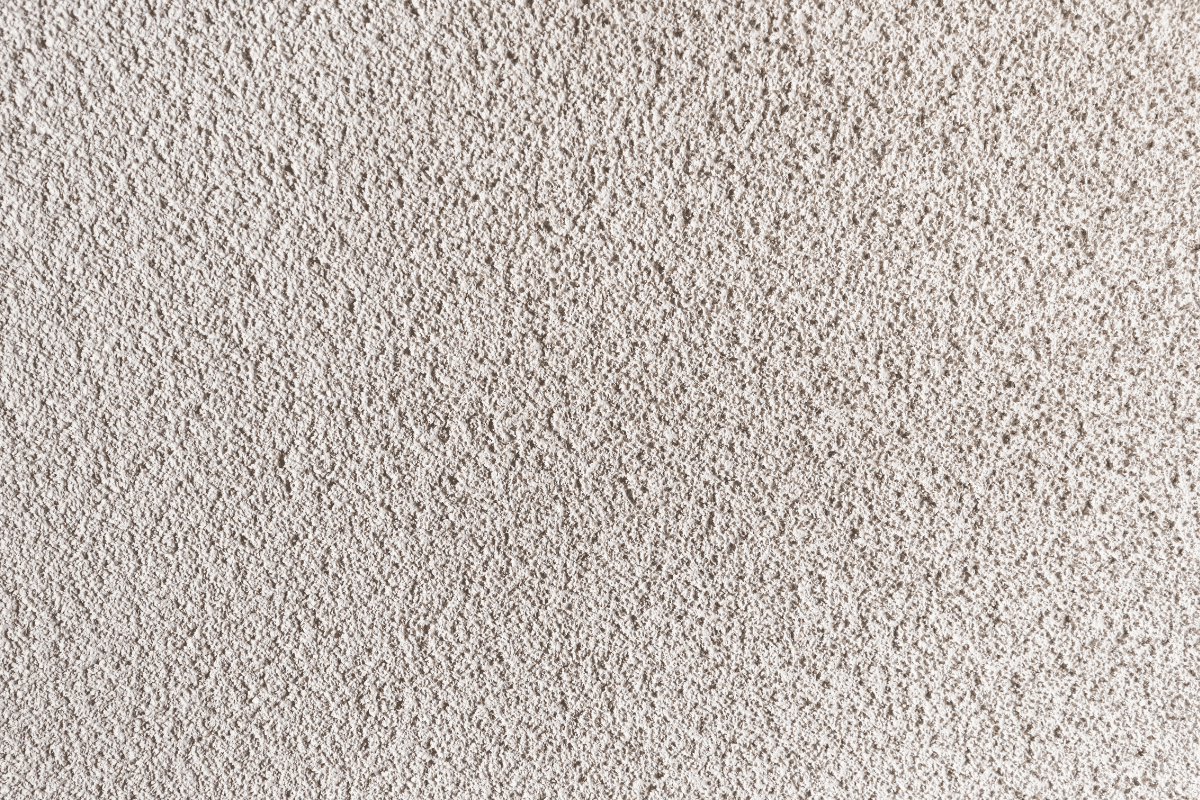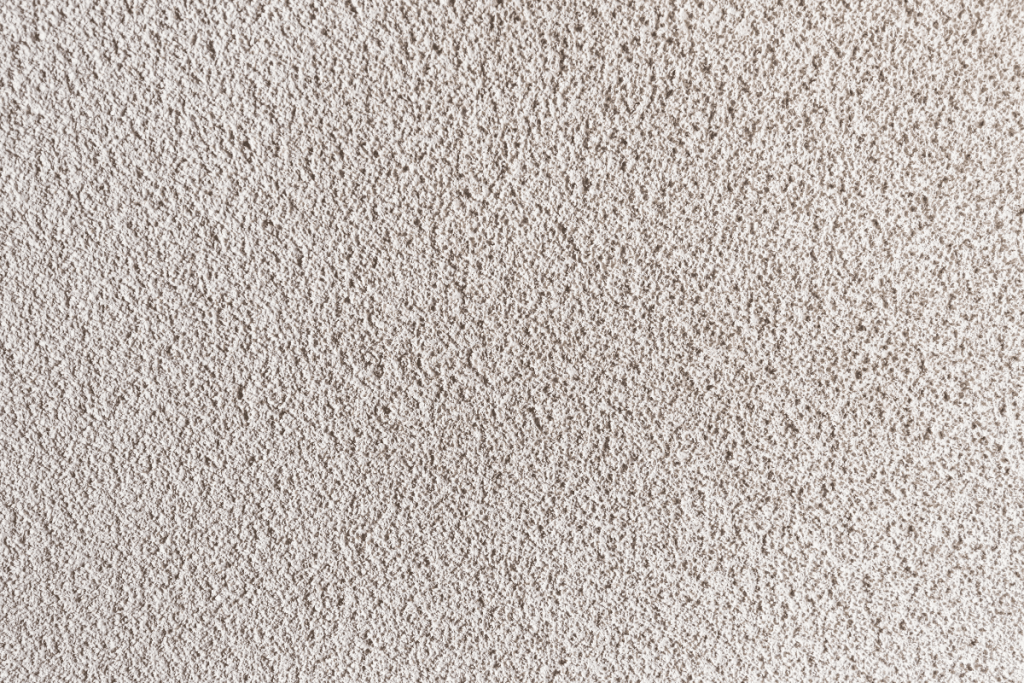 Why is it called popcorn ceiling?
Well, have ever seen a popcorn ceiling? It literally looks like someone took handfuls of popcorn and threw them at the ceiling and then painted it white!
Are popcorn ceilings a problem?
Aside from the yellowing and cobweb collection and the dated look, the biggest concern around popcorn ceilings is asbestos.
Until around the 1980s or so, asbestos was used in a lot of building materials, including cement, insulation, sealants, tiles, other construction materials, and fireproofing products.
Asbestos is heat and chemical-resistant, as well as a super strong additive, so it's no wonder the "why" behind this material.
However, once the dangers of exposure were widely recognized, production and asbestos mining gradually decreased.
Do all popcorn ceilings contain asbestos?
After 1978, paper-based and styrofoam materials were used in place of asbestos. If you live in a newer home with a popcorn ceiling, it's unlikely that it contains asbestos.
However, if your home was built before 1978 and you have a popcorn ceiling, chances are that it contains asbestos. But you can also test it, which is explain how to do so below, so keep reading!
The EPA advises against removing asbestos-bearing ceilings. As long as the material isn't damaged or disturbed, it's unlikely to pose a health risk. If it's in good condition, leave it alone.
The risk of asbestos is most prevalent when products containing asbestos are disturbed, in drilling, blasting, demo-ing, and other activities during a remodel or renovation.
When the material is disturbed, tiny fibers and toxins are released and can be inhaled and in your lungs, causing illnesses like mesothelioma and other cancers.
How to test your popcorn ceiling for asbestos
Unfortunately, you can't tell whether or not the ceiling materials contain asbestos by visually examining it yourself.
As mentioned above, if you're ceiling was constructed before 1980, there's a good chance the ceiling contains asbestos.
The best (and safest) way to confirm if asbestos is present is to hire a professional to test the materials.
Another way to test if your popcorn ceiling has asbestos is with an at-home testing kit, like this. All you have to do is follow their direction for collecting a sample and then sent it away to be tested. They will let you know once the sample has been tested.
Keep in mind that, even if your ceiling contains asbestos, as long as it is in good condition, isn't damaged, and is left undisturbed, it is unlikely to pose a health risk.
If you do find that your ceiling contains asbestos, consider covering the popcorn ceiling instead of removing altogether.
Covering popcorn ceilings vs removing
Covering the popcorn ceiling is a much simpler solution than removing it entirely.
The ceiling removal process is long, labor-intensive, and quite daunting as you look over a whole room's worth of popcorn ceiling!
You risk losing time you could dedicate to another project and leaving you with a huge mess to clean up. Plus, you risk stirring up asbestos as you scrape away the spiky bits.
In the long run, covering a popcorn ceiling instead of removing it is the cheapest and easiest way to get rid of it for good!
8 Creative Ways to Cover Popcorn Ceilings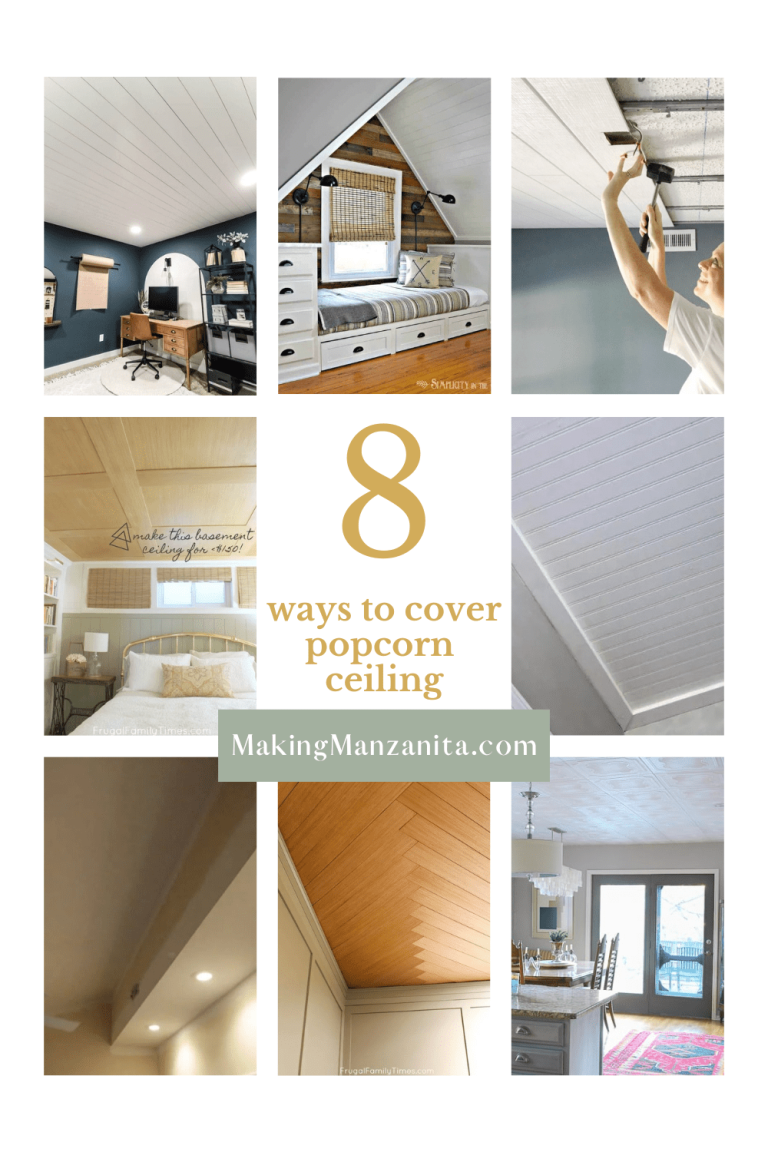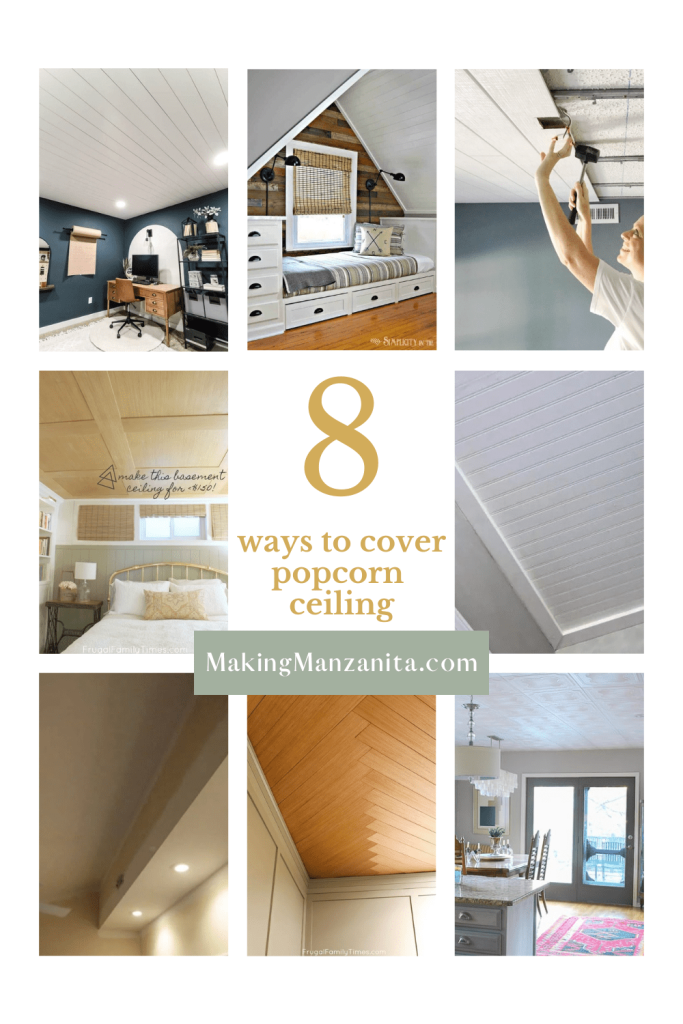 #1: Shiplap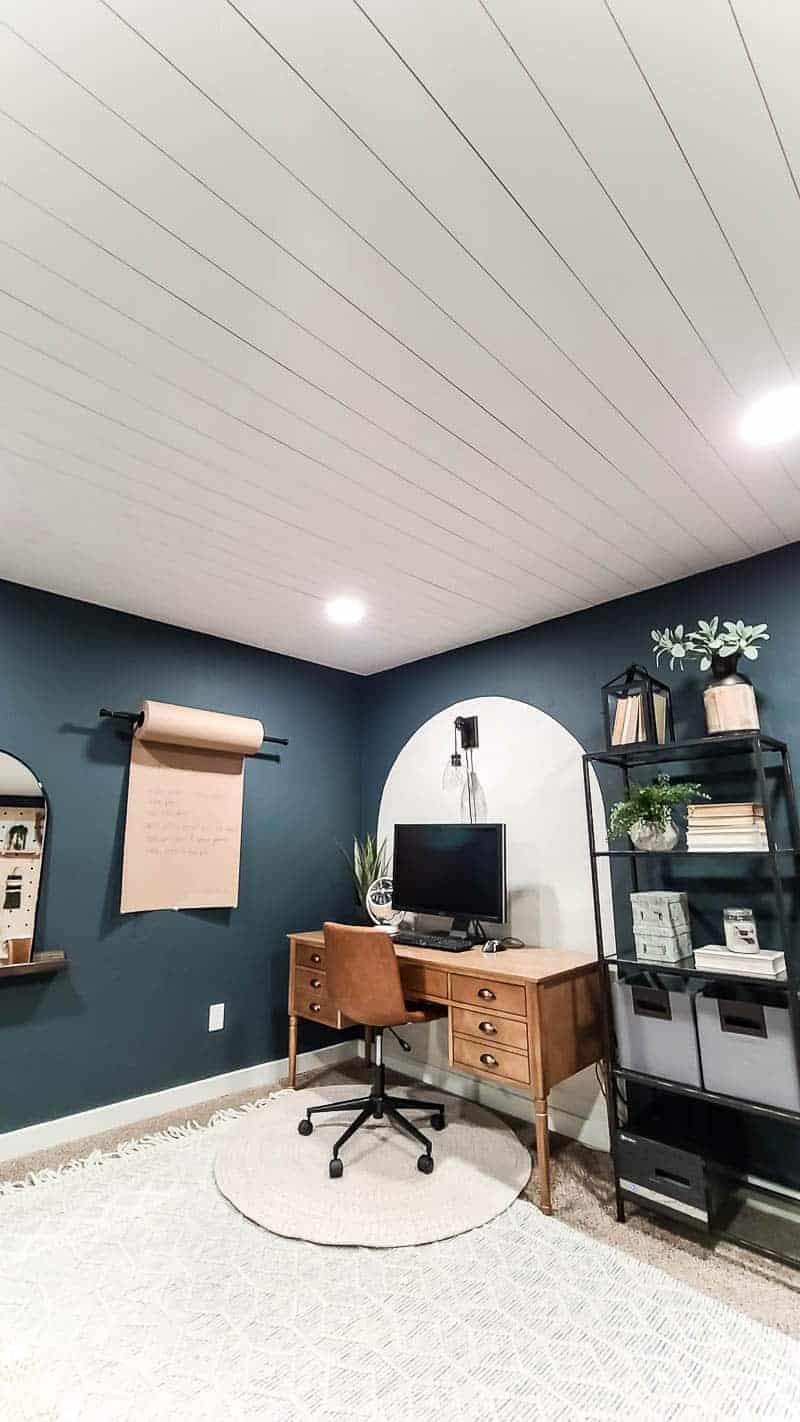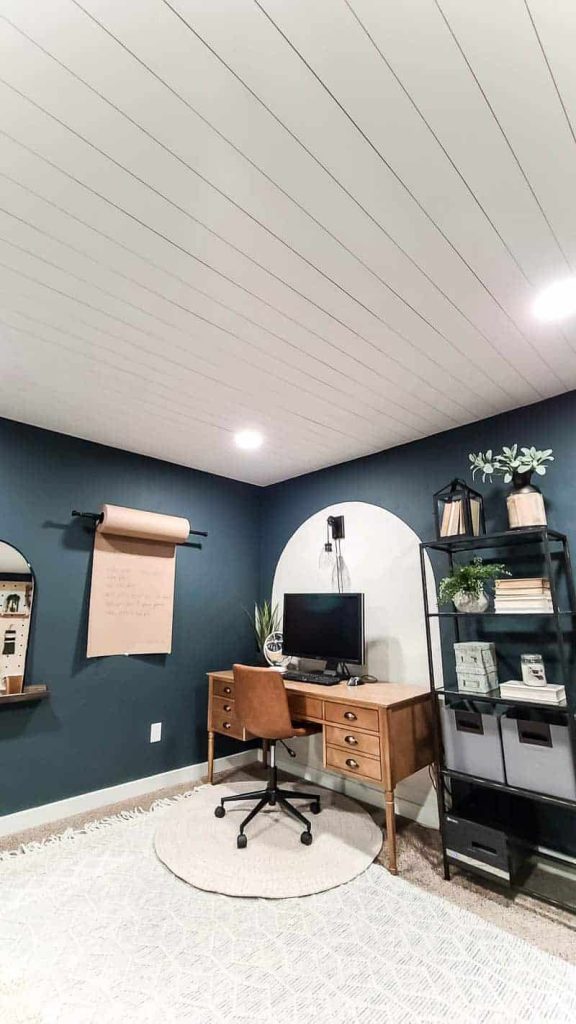 We used shiplap planks (not plywood) to cover the textured ceilings in our home office.
Installing shiplap is a great way to give a room a little boost and cover an unsightly ceiling. After we completed this shiplap project, we marveled at how much brighter and bigger the room seemed!
The shiplap planks were cut down to size and attached to the ceiling joists with a nail gun. Then, we spackled and caulked as needed and finished the job with paint!
We summed the whole process of installing our new shiplap ceiling in a video tutorial as well as a written out step-by-step tutorial.
Related: Want to see more shiplap ceilings? Here are 9 gorgeous shiplap ceiling ideas!
#2: V-Groove Planks
Tricia from Simplicity in the South shows off a different version of shiplap on the ceiling with v-groove planks.
Using planks, she was able to cover up the popcorn ceiling, add interest to the room, and work with an angled ceiling!
She used reversible v-groove planks, measured, cut the planks, and nailed them to the rafters. She painted them with semi-gloss paint to lighten up the room and make it seem larger.
#3: Planks with Tracks
Home Stories A to Z used planks with tracks to cover their popcorn ceilings.
The tracks are screwed into the ceiling joists, then the tongue and groove pieces are clipped into place.
The whole process is managed by a mathematical formula that comes with the Armstrong Woodhaven Planks.
#4: Beadboard
Instead of installing individual planks, Morgan and Sean from Charleston Crafted used sheets of beadboard to cover popcorn ceilings.
They used a combination of construction adhesive and nails to attach each "sheet" to the ceiling and then framed it out on the edges with trim. After caulking and sealing the seams, the beadboard was painted.
#5: Drywall
Morgan and Sean also hired contractors to drywall over the popcorn ceilings on their bottom floor. After estimating about 5 weekends of DIYing the drywall project, they opted to hire a professional.
The contractors attached drywall over the popcorn ceilings, mudded, sanded, then painted the ceilings. It was like new and looks fabulous!
Morgan stands by this method and says it is her favorite. It is more costly than doing it yourself, but it also saves so much labor, energy, and time.
They were able to pinch pennies elsewhere by opting to paint the room and crown molding themselves.
#6: Plywood
Robin and Ed from Frugal Family Times used plywood to cover the popcorn ceilings in their home.
I love the designs they created – the raised sections made to look like panels were a genius idea. The design reminded me of DIY wainscoting, except on a ceiling.
The big draw to plywood was the uniformly smooth surface. Plus, the colors and grains are the same from board to board.
Because this method uses larger sheets of plywood, it took a lot of extra hands (two adults and two teenagers), so know that this will be a challenge for just one or two people.
The plywood was cut per the ceiling measurements. They glued and nailed it to the wall, then stained the plywood.
I was seriously impressed with this project. It did not look cheap in the least and the raised planks elevated the room's look and feel – all on a budget!
#7: Herringbone Pattern
Robin and Ed did it again with this herringbone patterned ceiling. The whole project cost $250 for a large room.
This project also uses plywood planks that are cut down to size. They worked their way across the room, installing each plank to a joist. However, they did note that this could easily be installed over the top of an existing ceiling.
After the installation, they finished the planks with Tung oil. The result is stunning!
#8: Ceiling Tiles
I'm not talking about the classroom ceiling tiles, but beautiful, designer-style styrofoam ceiling tiles! These are a great solution to covering up damage or popcorn ceilings.
Plus, the designs elevate the whole room!
Dana over at Bella Tucker remodeled her entire kitchen. But, when it came to the damaged popcorn ceiling, she wanted something with style.
Using styrofoam ceiling tiles, she was able to install the whole kitchen ceiling for less than $500.
These "tiles" are lightweight styrofoam that can be cut down to size and adhered to an existing ceiling.
Five years later, Dana says there have been zero failures. No adhesion failure, damage, or discoloration.
This is a simple, easy, and budget-friendly solution to covering popcorn ceilings.
What is the cheapest way to cover a popcorn ceiling?
Skim coating is likely the cheapest option for covering popcorn ceilings. A skim coat acts like a primer to give the ceiling a fresh, smooth surface for a new coat of paint. This is an easy, inexpensive DIY solution that doesn't require a professional or any scraping. But it is pretty labor heavy and hard to get it to look good.
Of the 8 creative ways listed above, installing beadboard or plywood would likely be the cheapest way to cover a popcorn ceiling. Thin plywood and beadboard sheets are fairly inexpensive and not many other materials would be needed.
How To Remove Popcorn Ceiling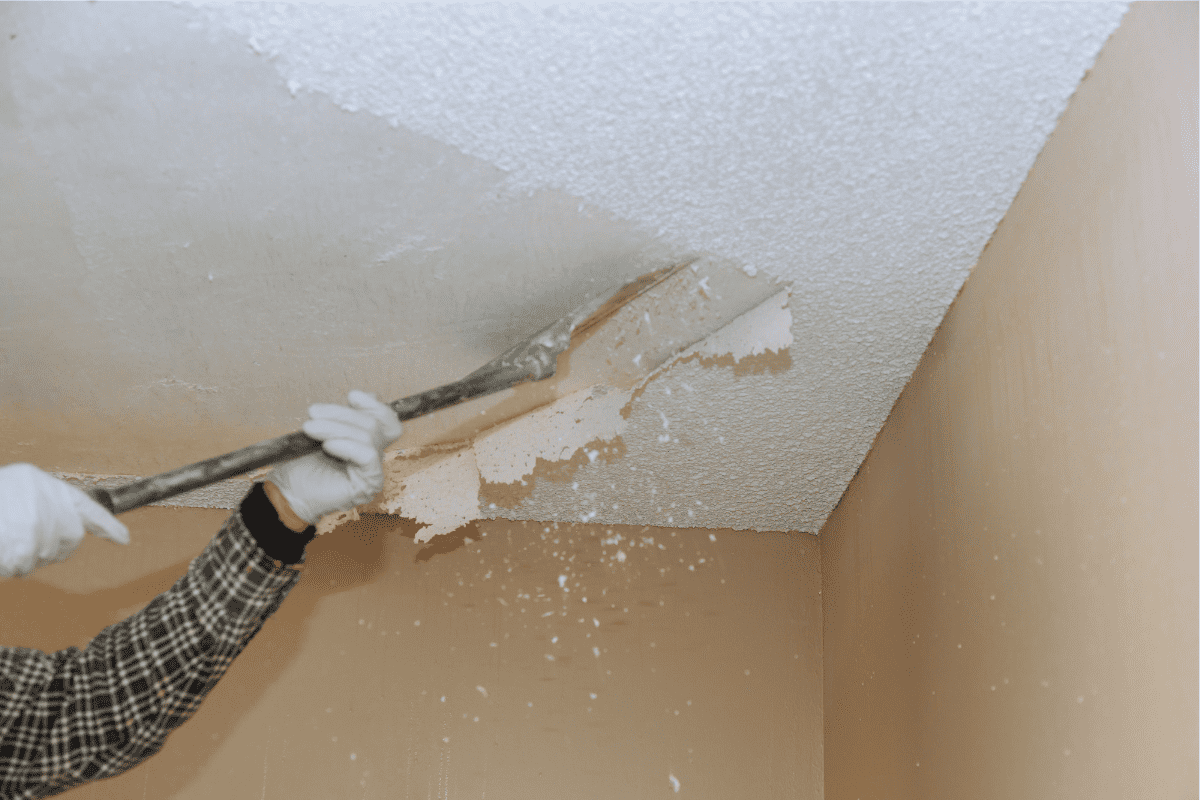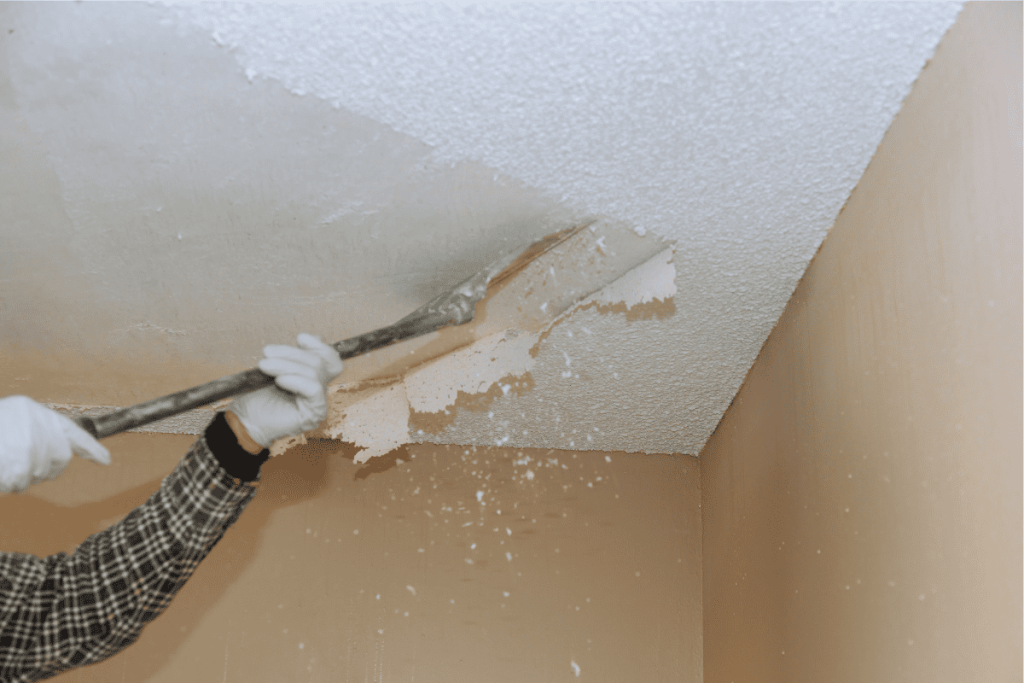 If you aren't interested in covering the popcorn ceiling, removal is your next option.
Kimberly from A Wonderful Thought outlined two ways to remove popcorn ceilings when they were updating their home. You can see the full process on her website, but I also outlined a summary below.
I strongly recommend having your ceiling tested for asbestos before starting this project. As mentioned above, asbestos is not a health risk in ceilings unless it is disturbed or damaged.
Regardless of the method you choose, please wear a breathing mask to avoid inhaling dust that is stirred up during the scraping process.
For an ultra-smooth ceiling
Spraying and scraping a wet ceiling is the most traditional method and will leave you with a smooth ceiling without any texture remaining.
I need to warn you: it's a time-consuming process that will take a lot of elbow grease and sore muscles the next day.
In this method, the ceiling is sprayed with water, scraped with a putty knife, then sanded down with a drywall sander.
After scraping and sanding, you'll want to wipe down the ceiling with a rag, then prime and paint.
For a lightly textured ceiling
Scraping a dry ceiling is a great method for those who want most of the popcorn ceiling gone but are ok with a semi-textured ceiling.
This method is much faster and easier than the first and will leave you with an orange-peel textured ceiling.
Use a putty knife to scrape off the spiky parts of the ceiling, then follow up with a drywall sander.
After scraping and sanding, the ceiling is ready for primer and paint.
This method was the easiest and took the least about of time (about 30 minutes, excluding the painting of the ceiling).
If you have heavily textured or popcorn ceilings, try covering them instead of removing them! You'll have an updated look you can be proud of.
Which of these 8 ways for how to cover popcorn ceiling was your favorite?
Let us know in the comments below!