See how this awkward alcove is transformed into a farmhouse style DIY reading nook with storage!! This shiplap wrapped nook with seating will make you want to cozy up and read a good book.
We've always been at a loss on what to do with this weird and awkward alcove in our living room. Turns out it was originally a fireplace, but at some point in the post the fireplace was removed (along with the chimney and everything else that went along with it). We talked about putting in a new fireplace someday, but needed to wait until we could budget for it because it's a pretty expensive thing to add.
So the weird alcove in our living room room sat there and held a shelf. It didn't look great, but it didn't look bad either. So it is one of the projects that got overlooked. When we were getting ready to move out of our house and into our new fixer upper (see the full tour here), we knew we needed to fix this alcove.
Years ago when I saw this cozy farmhouse reading nook on my friend's blog, Little Vintage Nest, I knew something like this would be the perfect solution for our weird alcove in the living room. We were going to be renting the house out and what better perk for renter than to add more storage!
Related – If you love the farmhouse style, you definitely want to check out these posts:
I envisioned a cute farmhouse style reading nook with a seat that lifted up to provide extra storage for blankets…or extra throw pillows…or DVDs…really anything that belonged in the living room. I knew the shiplap wall feature would be the perfect complement to fit right in with our newly finished shiplap accent wall with plywood in our living room.
Here's how the alcove space started before we began building our farmhouse reading nook. The reason we have the concrete backing is because we originally put it up long ago when we were still planning on someday putting back in a fireplace. It is not an necessary part of this tutorial. You can build this reading nook directly on top of your existing drywall.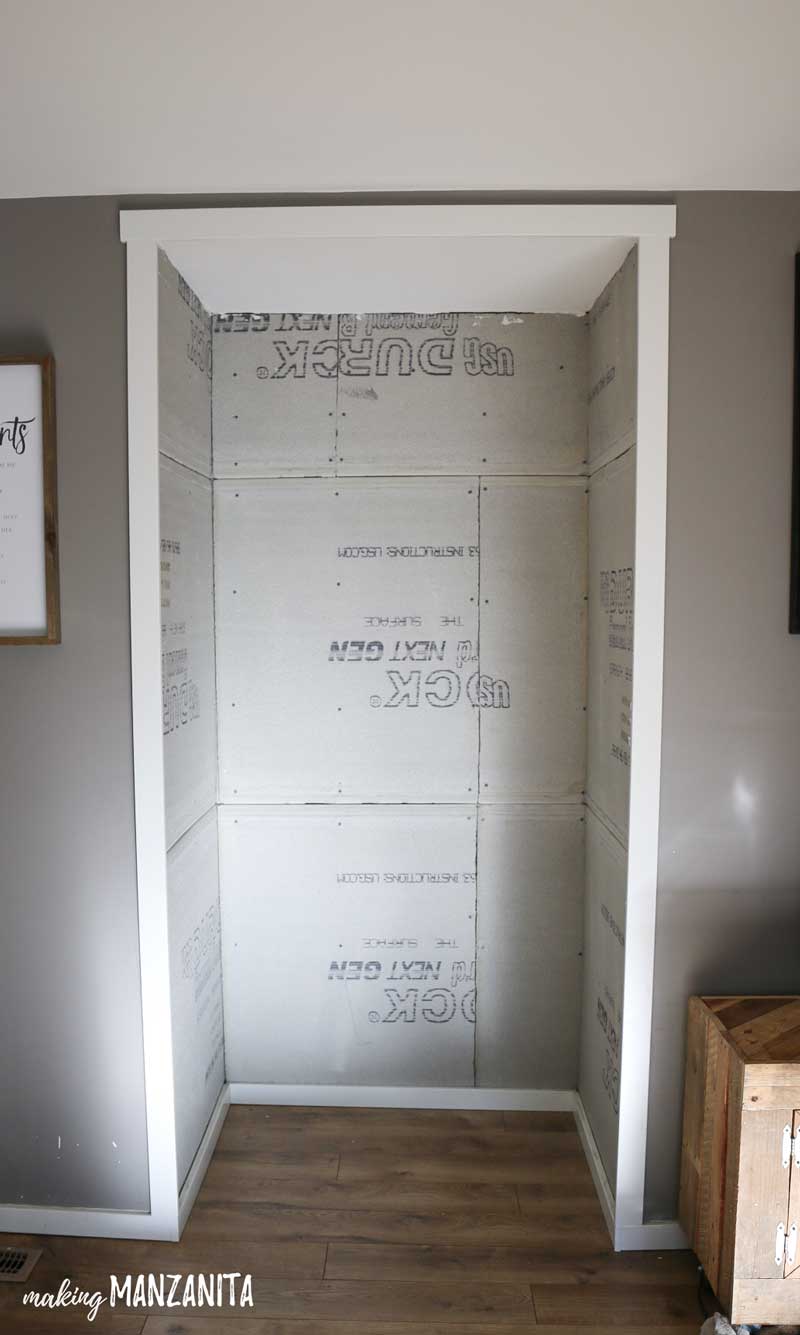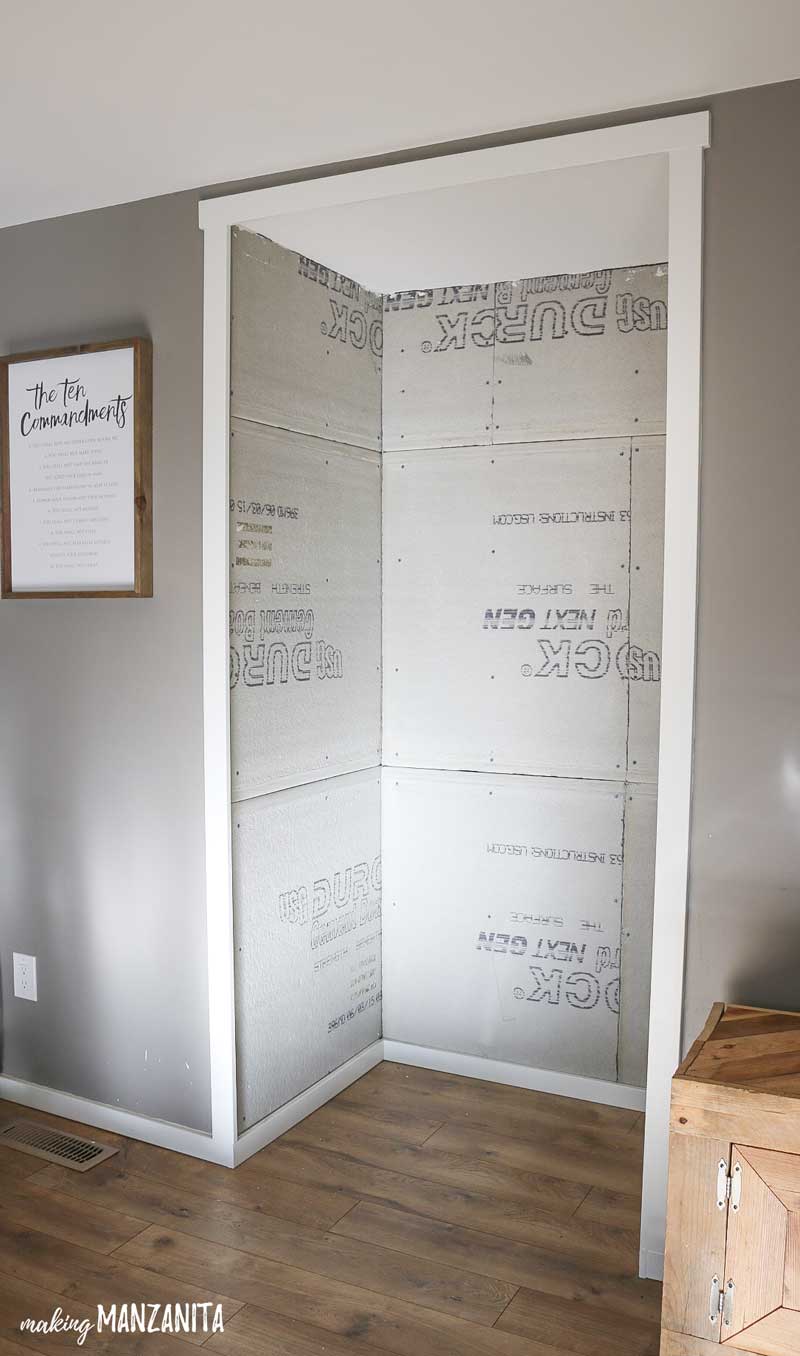 This reading nook post contains affiliate links, but nothing that I wouldn't wholeheartedly recommend anyway! Read my full disclosure here.
Supplies for farmhouse style DIY reading nook with storage:
Step 1: Decide how high you want your DIY reading nook.
19" is the approximate height of a standard couch, which is what we used. If you want to add a seat cushion to your reading nook,  subtract the cushion height.
Step 2: Mark wall for seat height.
Measure and mark your wall for the height of your desired seat. Now, measure the balance, the height from your first mark to the ceiling. Divide height to ceiling by width of your shiplap board (remember we made our own shiplap with plywood, you can check out the full tutorial). This is how many rows of shiplap you will need to cover the inside of your reading nook.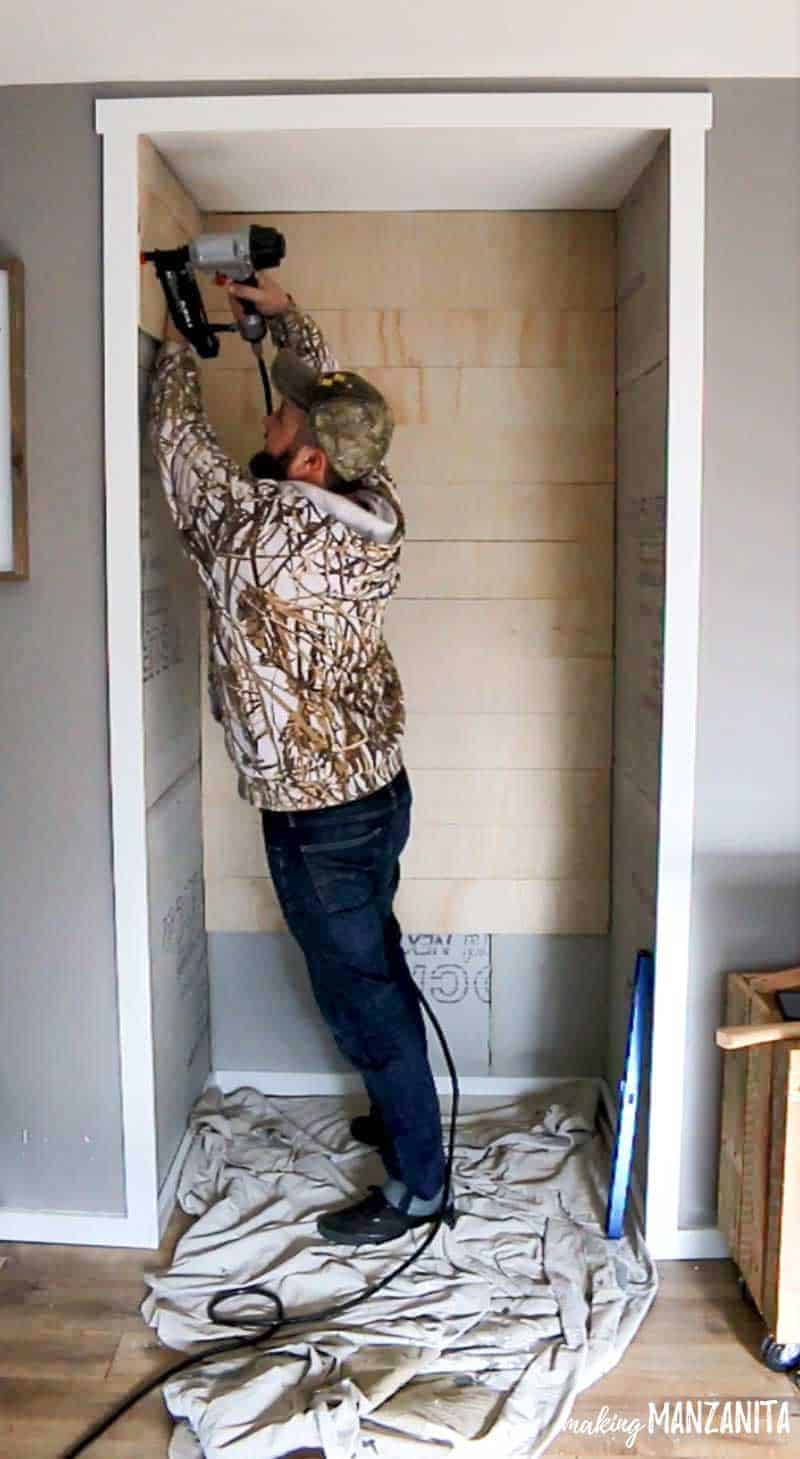 Step 3: Start hanging shiplap on wall.
We started at the top of the wall because we had done the math on how many rows we needed and knew exactly how wide the top row needed to be. Alternatively, you could also start on the bottom where your mark is on the wall where the seating will be.
Use a level for the first row. Then check periodically to make sure everything is level as you hang the rest of your shiplap boards.
If needed, rip final row to the proper gap width for your last row to make it flush with the ceiling (if you started at the bottom) or flush with your mark for the seating (if you started at the top).
Step 4: Start building box storage opening.
Measure your alcove width.  Cut the back panel of your box first. We used plywood for this. We wanted the inside of the box to be finished. Alternatively, you could use 2×4's to building the box seat if you wanted.
To cut the larger pieces of plywood, we used a circular saw and clamped down a large level for a guide to make sure things are straight.
Step 5: Build side panels of storage box.
Measure your side panels of your alcove against the wall. Subtract 1.5 inches to account for plywood width on the back and trim width.
Cut out the side panels from the plywood.
Attach the side panels to the back of the box. Use a little bit of wood glue and then nail corner joints together with finish nailer. Be sure to use a square to make sure the box is square. You should have a "U" shaped box now.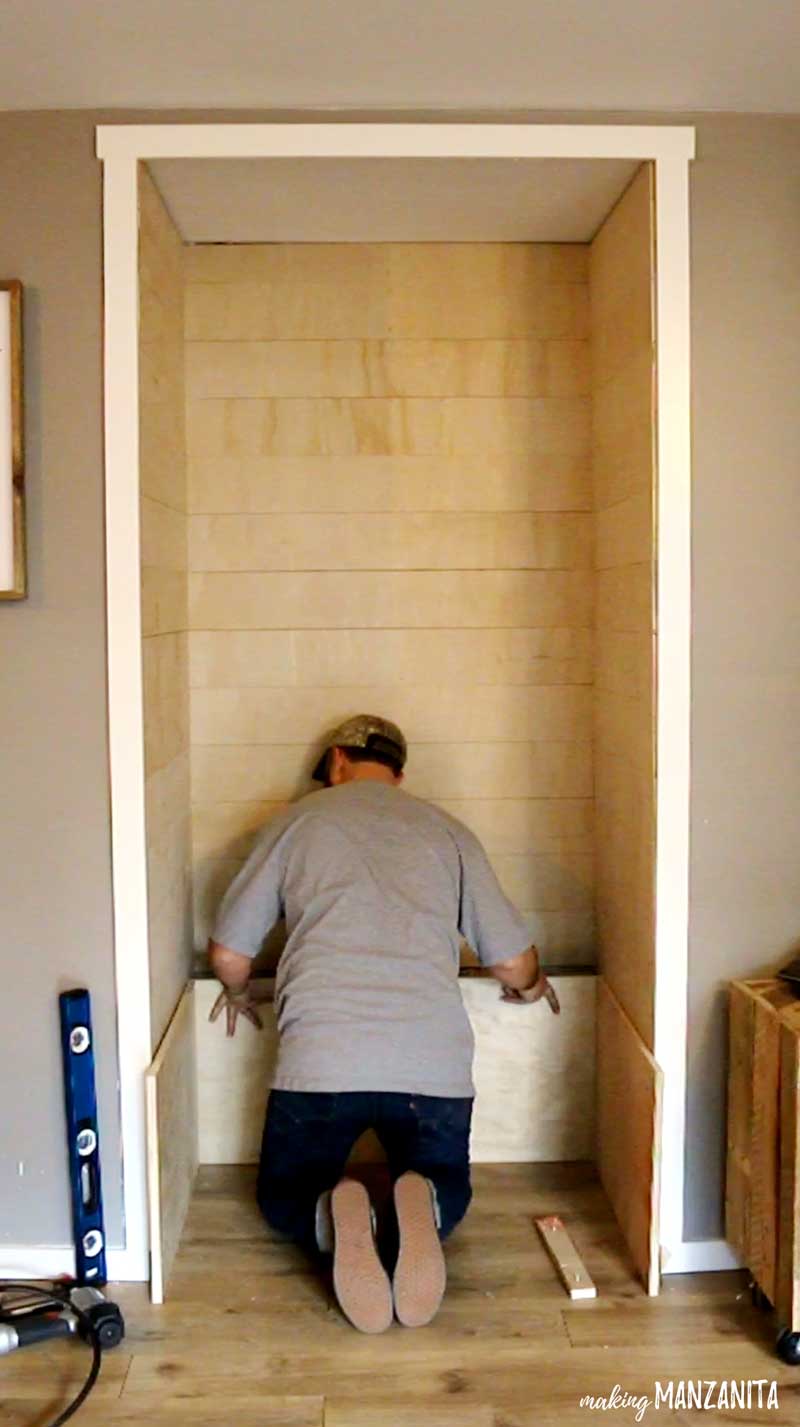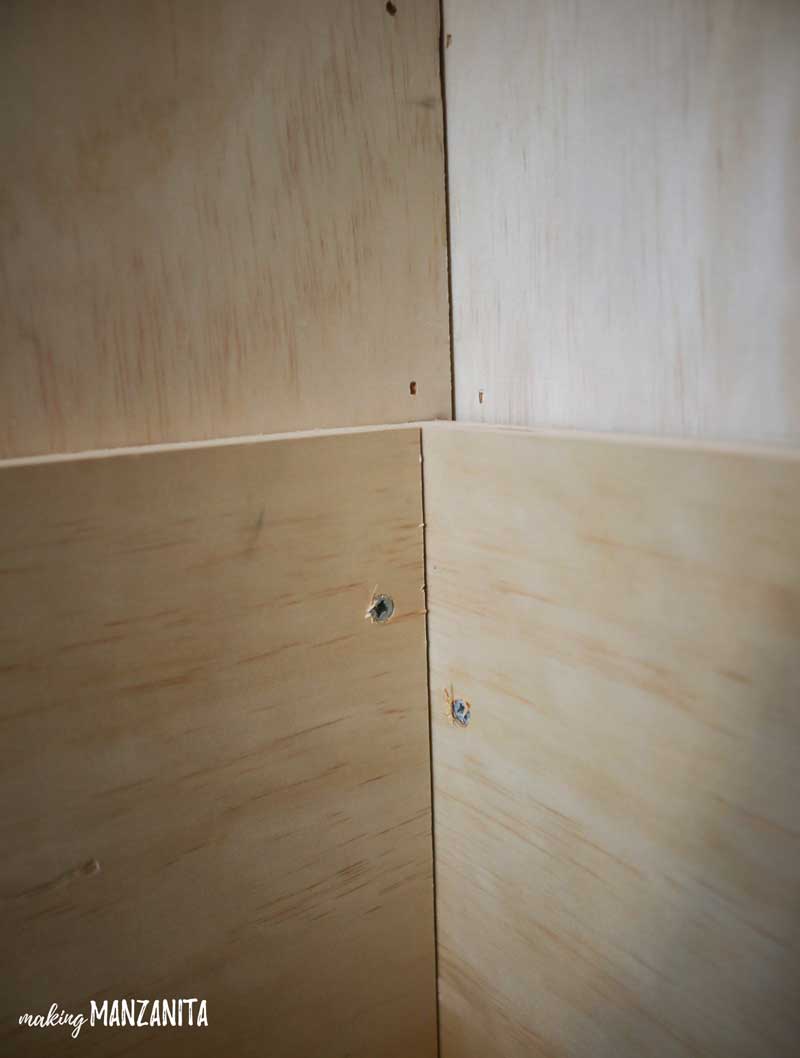 Step 6: Hang U shaped box inside reading nook.
Gently slide your U shaped box into the reading nook.  Use plywood scrap to create spacers to use on the wall behind your plywood box and underneath your shiplap wall if needed. Check for level on all sides of the box while you hang.
Find and mark where the studs are in your wall. We used wood screws and drilled them into the wall through the plywood where there were studs.
Note: we left the floor exposed in the box. If you wanted that to be finished off with plywood as well you'd want to put that down before hanging the box.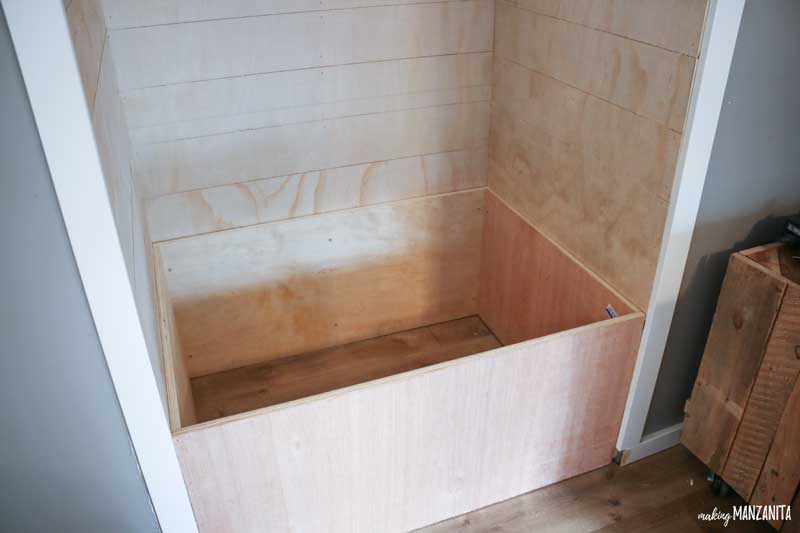 Step 7: Measure and cut the front panel.
Measure the area on the front of the reading nook and cut plywood for the front panel. Using a finish nailer on the edges, hang the panel while checking to make sure everything is nice and level.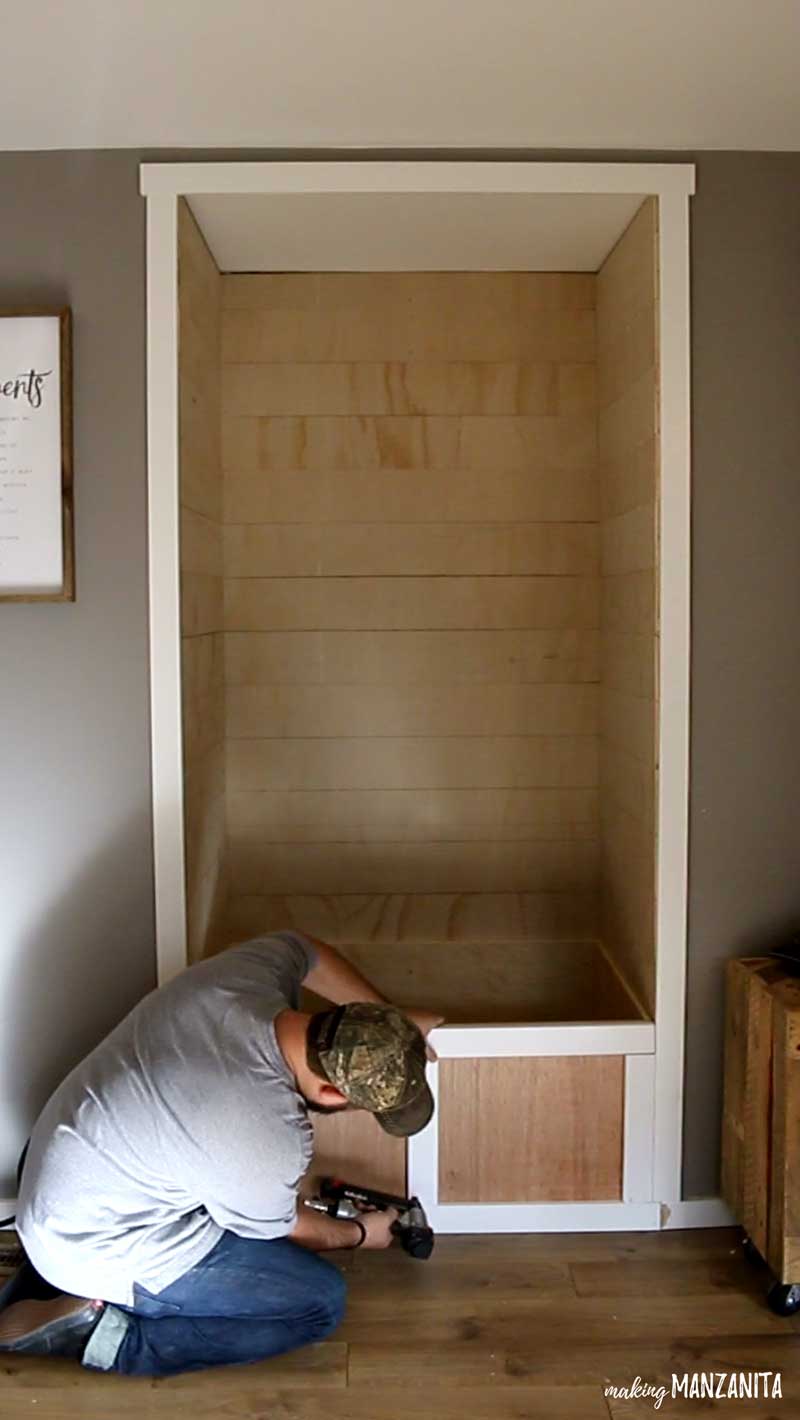 Step 8: Add trim.
We wanted to add trim to the front of the storage box on the reading nook to give it a little more farmhouse charm. We used  3 inch primed trim board for the trim.
Measure and cut your trim pieces. Install with brad nailer and 1 1/4" nails.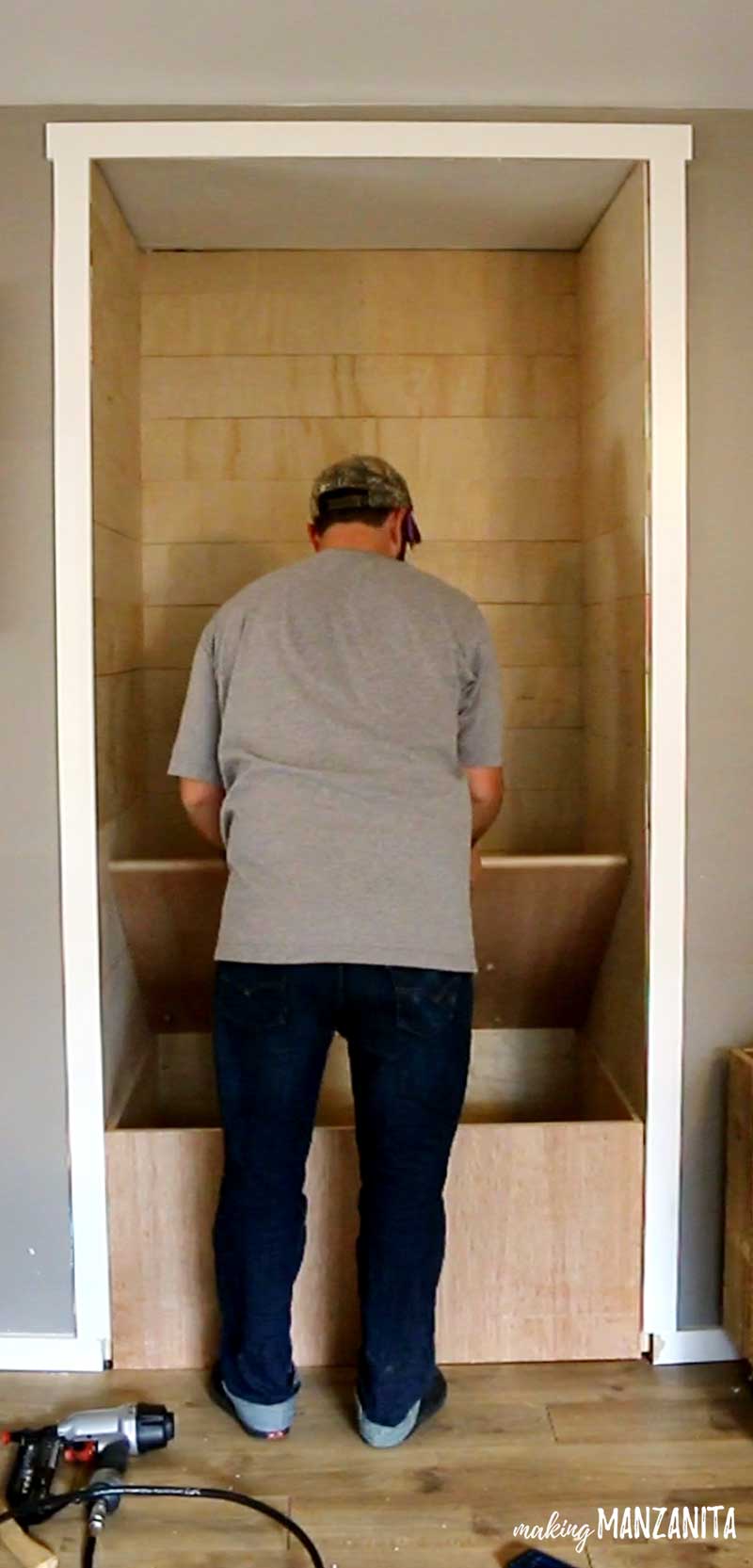 Step 9: Make storage box lid/seat.
Measure your lid to fit on the top of your box. We made our lid about 1/2" deeper than the seat so there is a little lip on the front. This makes it easier to open.
Cut the plywood down to size and set on top of the box. Slide the lid up to make sure it will open all the way and fit between the shiplap walls. Your walls may not be completely straight or flat, so just be sure to double check this.
Shave lid down to fit opening if necessary.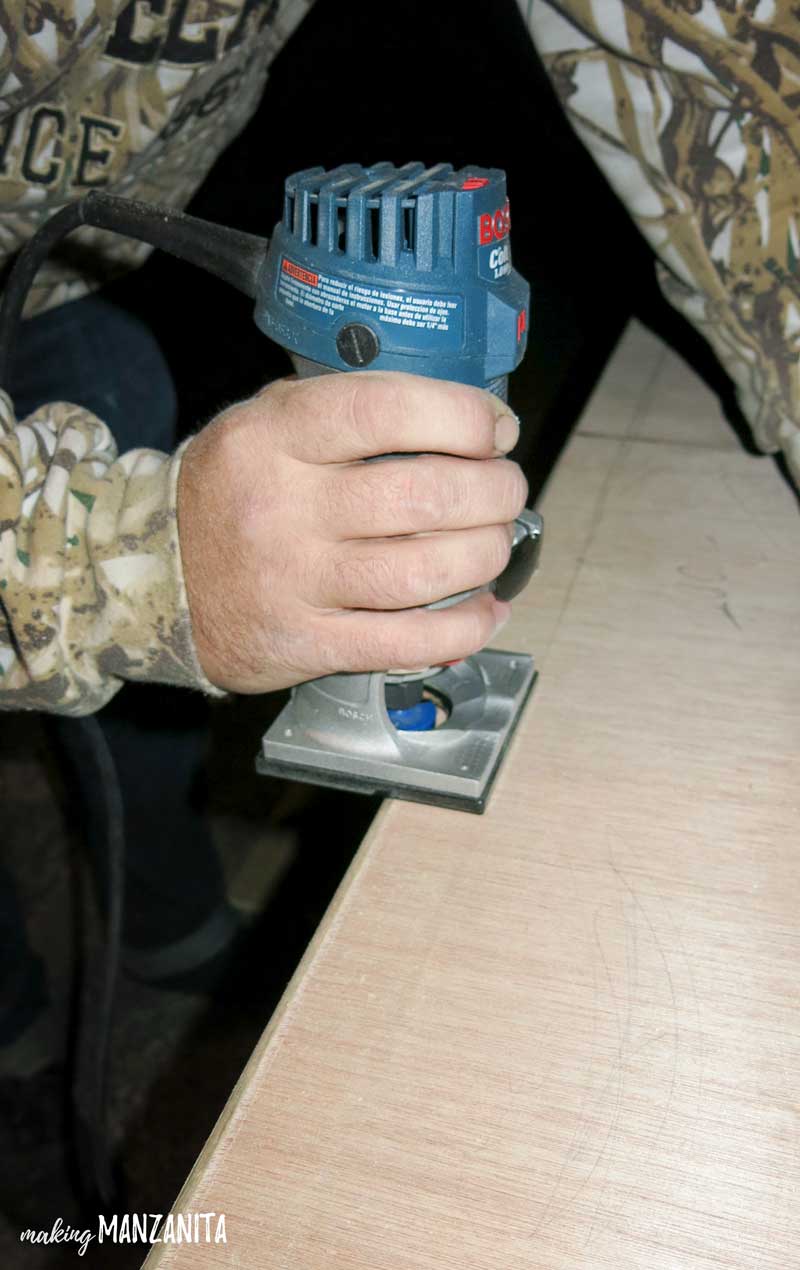 Step 10. Router front of lid.
We used a palm router to round the front of the lid to make it look more finished.
Step 11. Fill holes and marks made from nailers.
Your shiplap or box may have gotten bumped or damaged during the install.  Use wood putty to file any holes or marks.
We decided to leave our nails holes on the shiplap. It gives the shiplap wall a more rustic wood, like the other shiplap accent wall we have in this room. You could fill all the nail holes if you wanted.
Sand any areas of wood putty for a smooth finish before you start painting.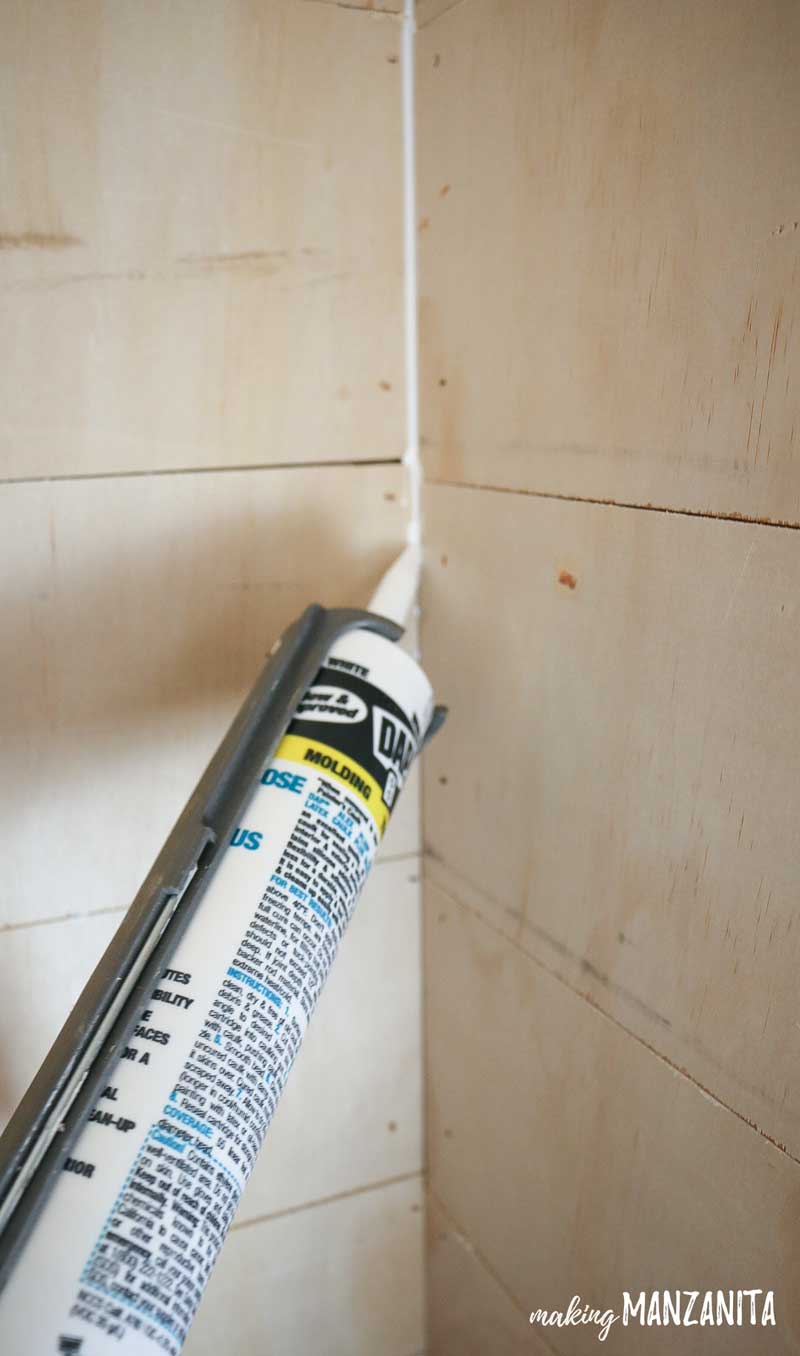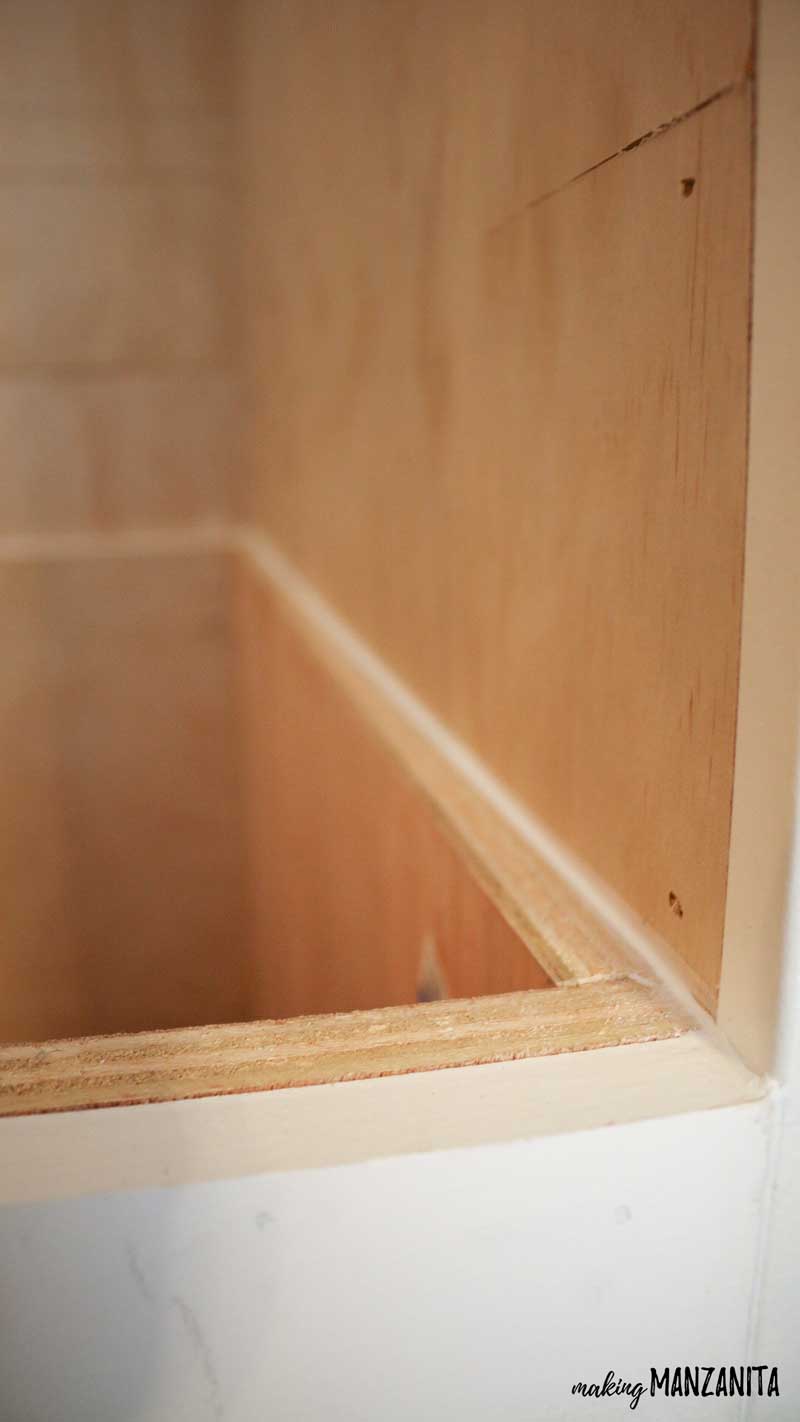 Step 12: Caulk shiplap wall corners, edges and ceiling.
Run a thin bead of caulk in the corners of the reading nook, where the shiplap meets the ceiling and where the shiplap meet the front trim of the alcove. Also you can add caulk to the inside edges of the trim pieces and where the bench side panels meet the shiplap.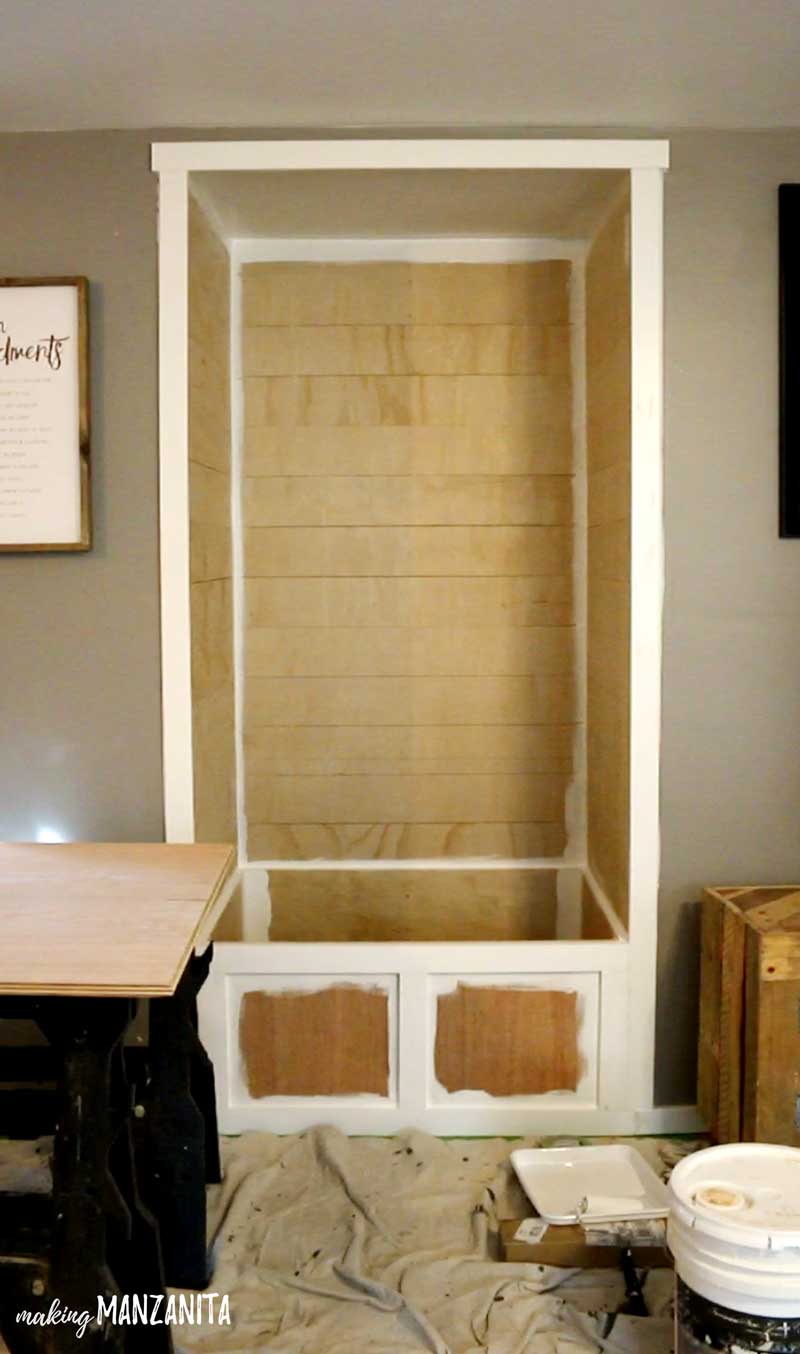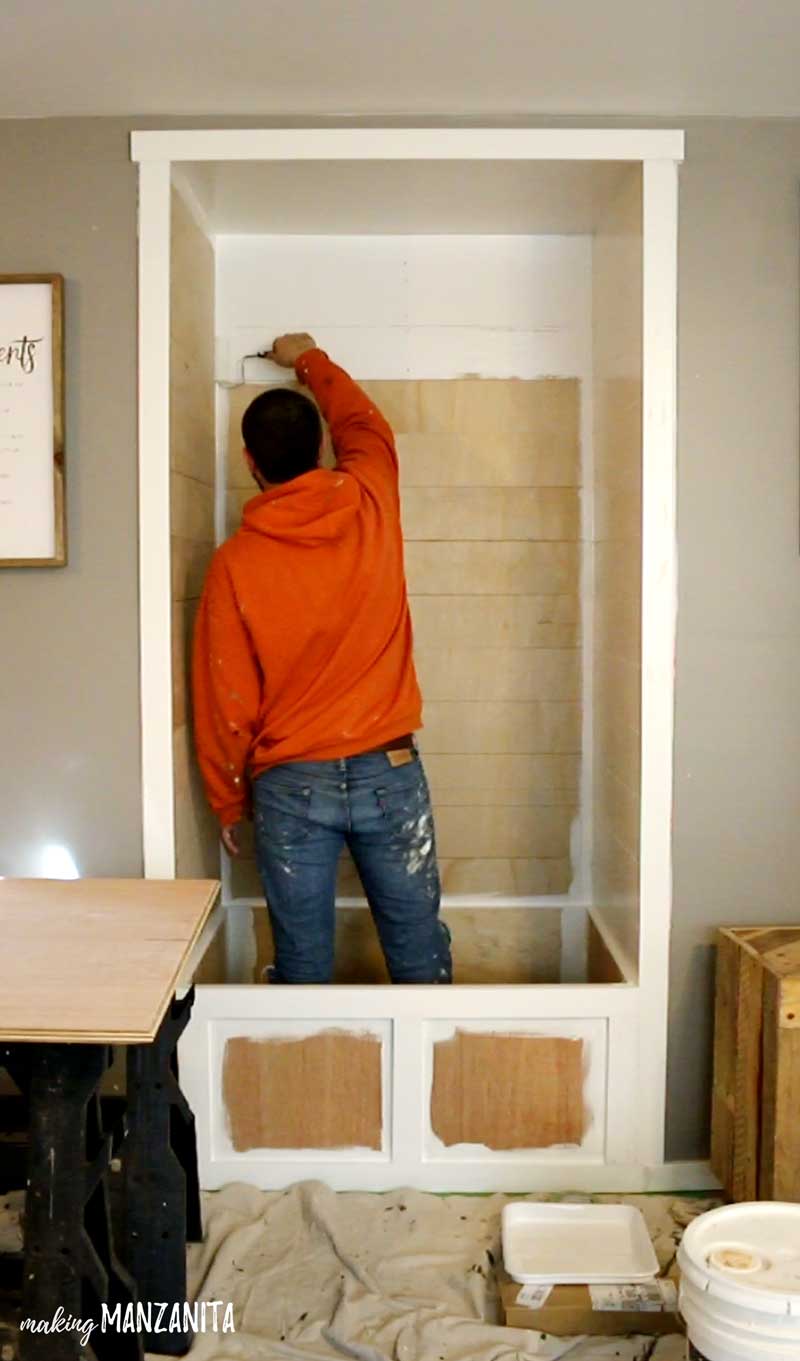 Step 12: Paint farmhouse style reading nook.
We used Snowy Pine by Behr for our reading nook color, which is what the trim color is in our entire home. Alternatively, you could paint the shiplap before you install if you wanted as well. Don't forget to paint the inside of your storage box too!
Be sure to tape off your floors and use a drop cloth while painting. We painted the trim and edges and corners with a brush and then used a 4 inch roller for the rest.
Also paint both sides of the lid (not yet attached).
Let everything dry 24 hours before moving on.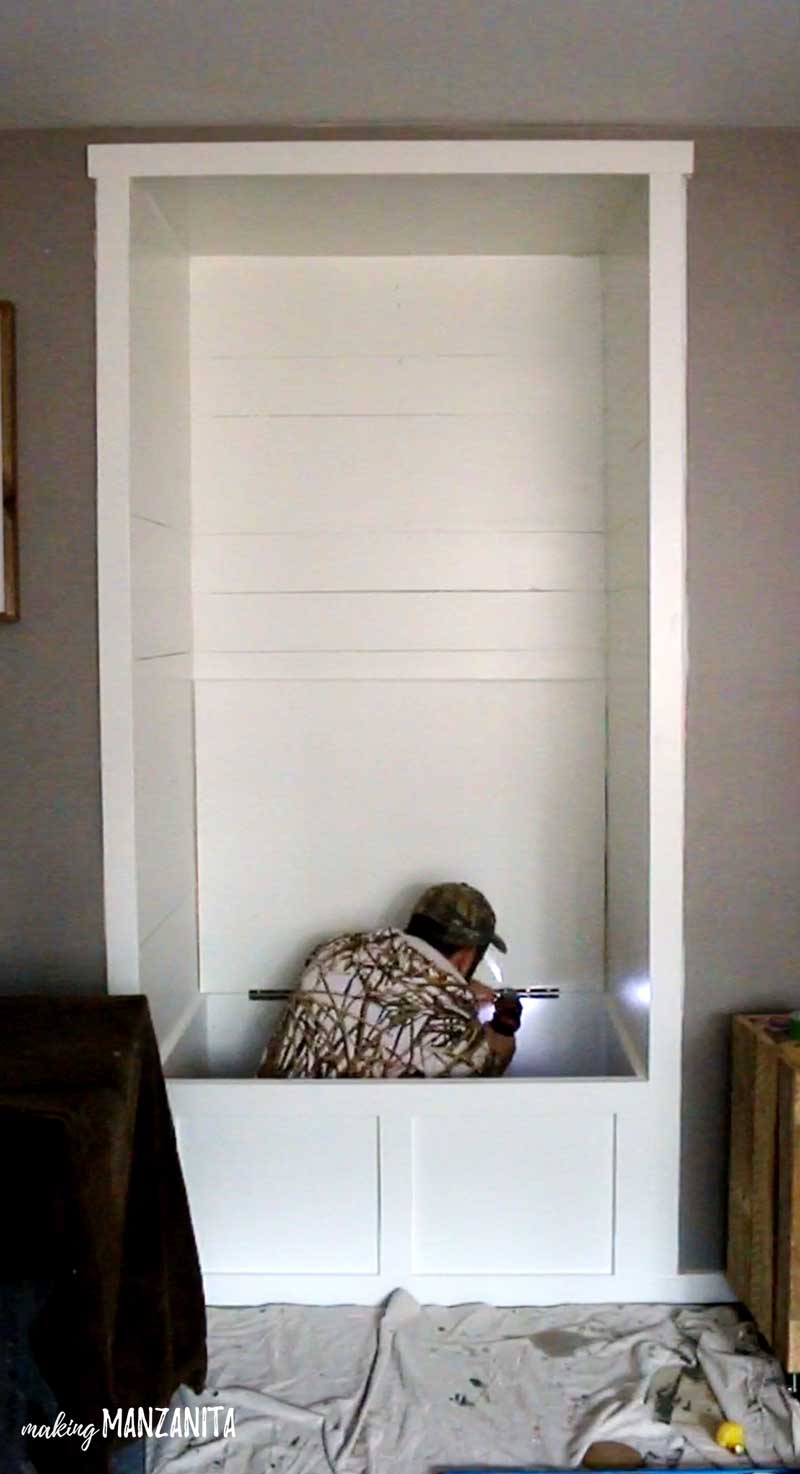 Step 13. Attach lid to storage box.
Attach the lid to the box with piano hinge or hardware you purchased. This will allow the seat the be lifted so you can use your box for extra storage.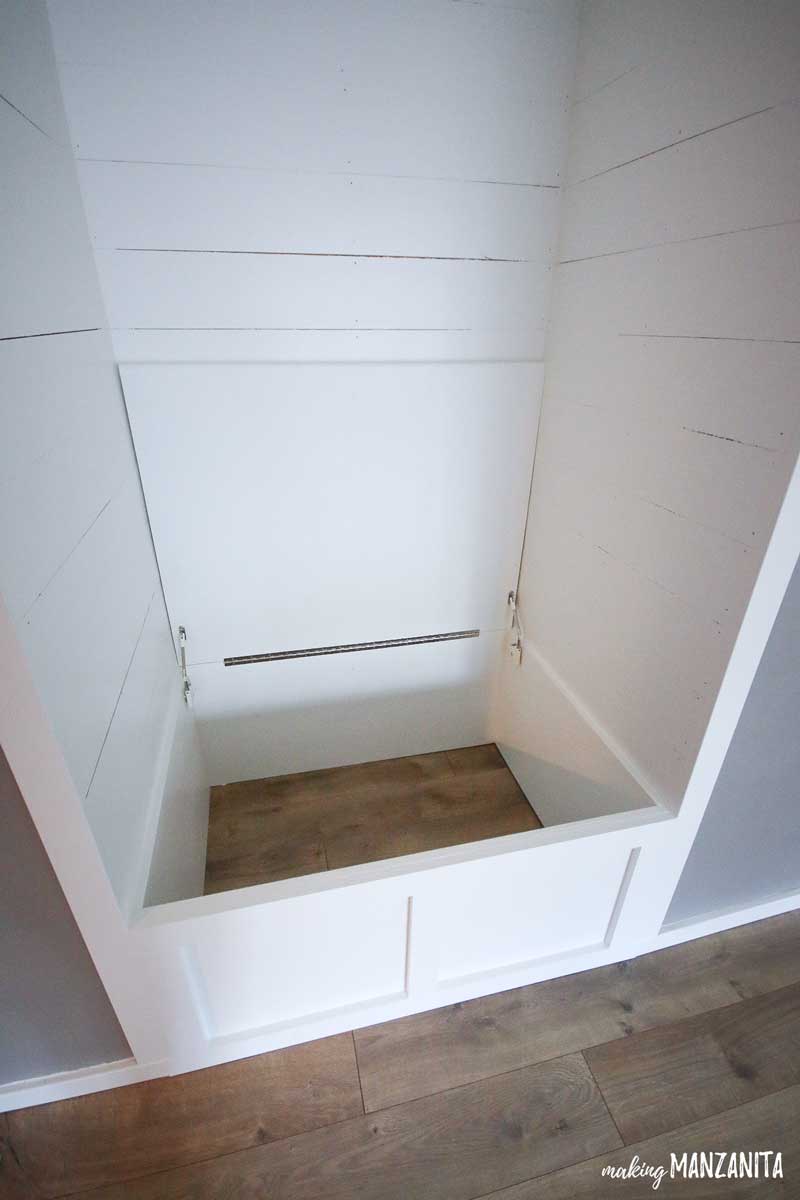 Step 14: Install soft close hardware (optional).
We purchased this soft close hardware. This helps the seat close slowly and not slam shut. If you decided to use these, install one on each corner of the lid inside of the storage box.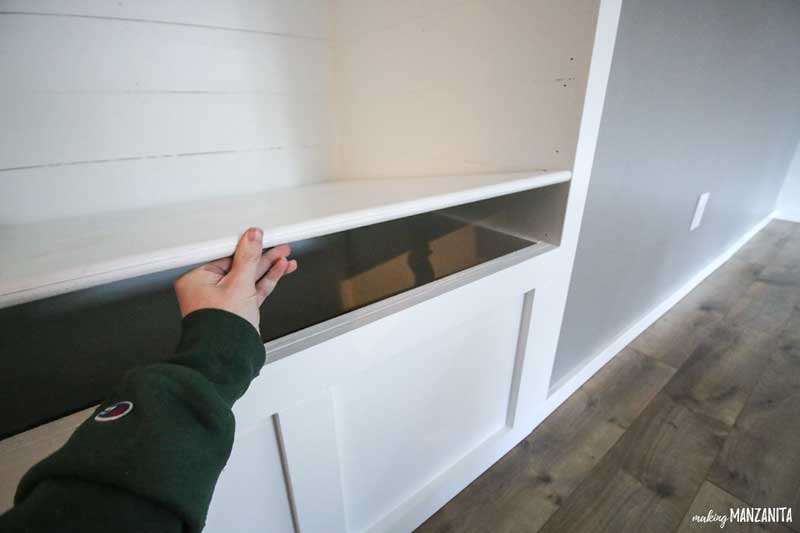 Do you want a seat cushion for the farmhouse style reading nook?
You could check out this Etsy store, they make bench seat cushions in custom sizes.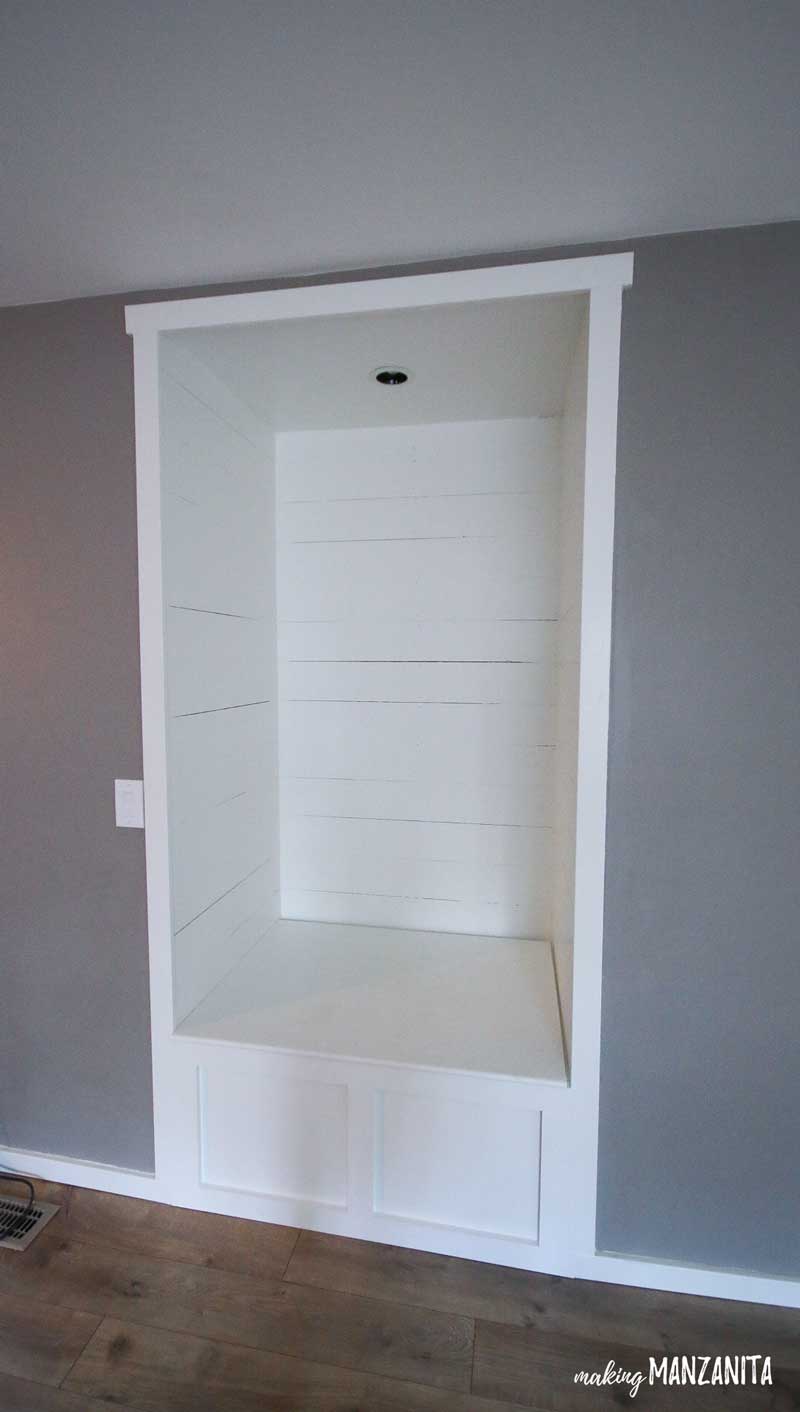 It was easy to transform this alcove into a farmhouse style reading nook. Our tutorial for how to create a shiplap wall with plywood will give you the foundation you need to save you some money on the shiplap component. The seat portion of the alcove was simply built with plywood and some extra trim pieces for added farmhouse character. The piano hinge allows the seat to be lifted easily and I just love the soft close hinges that help the seat not to slam shut (I kept imagining fingers getting slammed shut in the seat…ouch!!).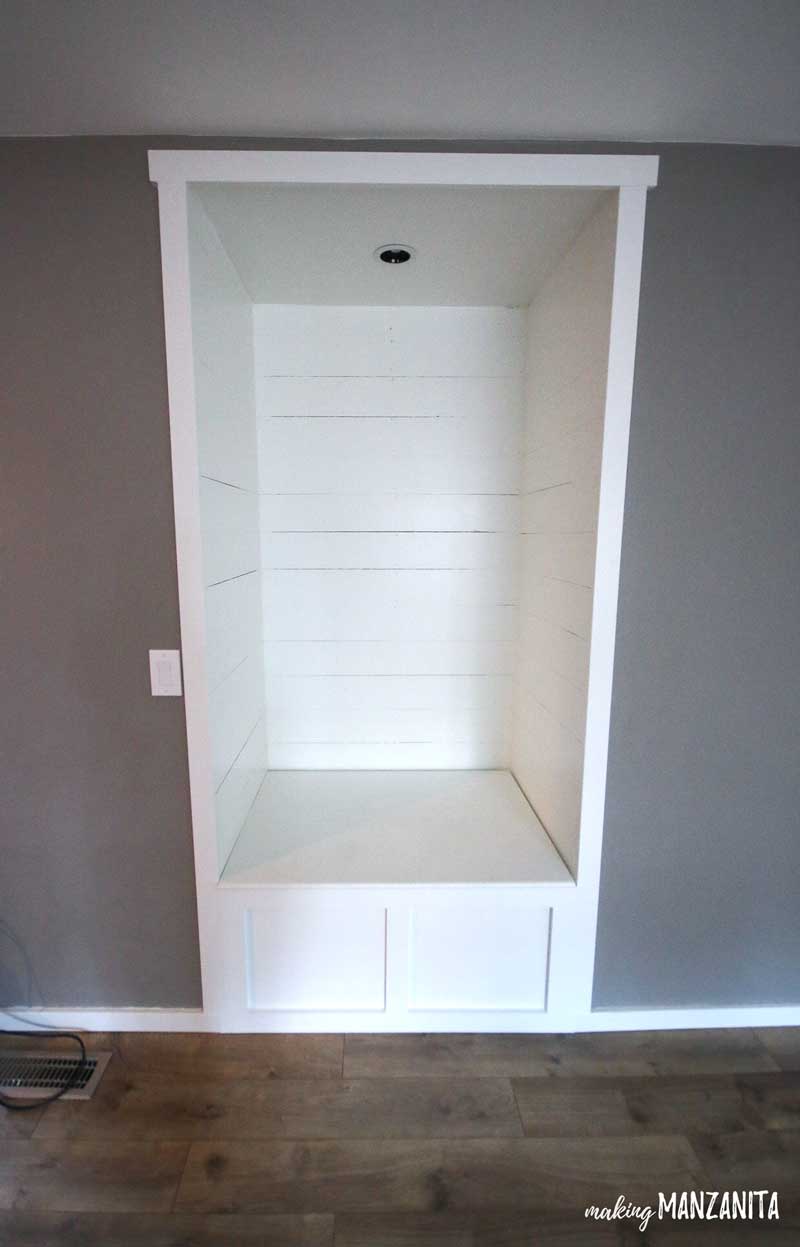 It was so fun to watch this farmhouse style reading nook come to life! The extra storage is surely appreciated by the renters and I can see this space getting used a lot in the winter months with a warm cup of coffee and a blanket. I love the farmhouse charm that this reading nook added to our home. It really made a weird and awkward little alcove turn into something that useful and looks like it belongs with the rest of the home.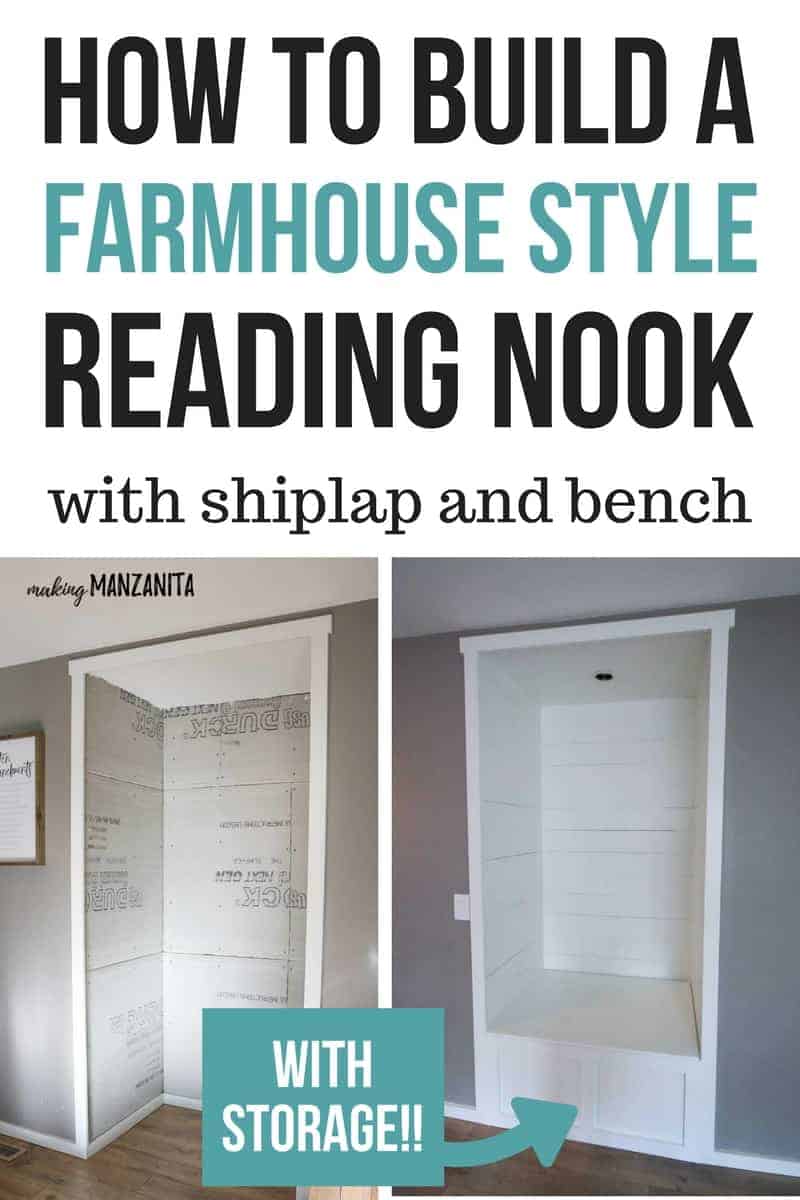 What book would you want to read in a farmhouse style reading nook like this??
Let me know in the comments below!!