Are you searching for an upholstered bed for your bedroom? This post is full of some considerations to think about when you're shopping for a new bed and lots of inspiration for gray fabric beds!
This article contains affiliate links, but nothing that I wouldn't wholeheartedly recommend anyway! Read my full disclosure here.
Every time I share a picture of our master bedroom, I always get questions about the source our gray upholstered bed….which I absolutely love, by the way.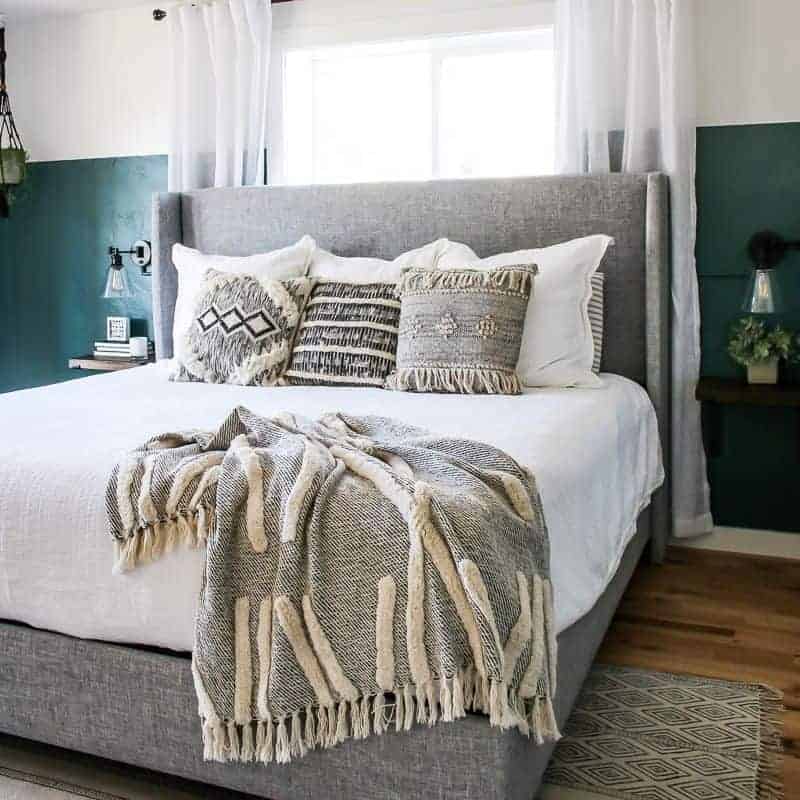 Want to catch up on our master bedroom renovation??
With all the questions I get, something tells me that you guys are also interested in finding a high-quality gray fabric bed for your master bedroom. Are you considering buying an upholstered bed too??
Before we jump into sharing all of the awesome fabric beds that I found, let's talk a little more about upholstered beds in general.
What is an upholstered bed?
Although it seems self explanatory, an upholstered bed is one where the bed frame material is fabric (rather than wood or iron).
3 reasons we were looking for gray fabric beds
When we were working on our master bedroom renovation, one big change we wanted to incorporate was increasing the size of our bed from a Queen to a King.
We finally have a bedroom that allows for the larger size, which is something that we have wanted for a while now. It was finally time for an upgrade!
Upholstered beds are comfy to sit in to watch TV and read in bed at night. We recently added a TV to our bedroom and I know some people hate this, but it's been such a cozy addition to our room. It's nice to be able to get comfy in bed and wind down at the end of the night. Tip: If you're wanting to be able to sit comfortably in your bed, be sure the headboard is nice and tall.
Fabric beds bring an added warmth and texture to your bedroom. There's something about them that makes a room instantly feel more cozy, don't you think?
Upholstered beds give you an opportunity to add more or alternative colors to your bedroom design. We weren't necessarily looking to add a bright or vibrant color, but we were instead wanting to another neutral color to our room that was different than our wall paint colors. Gray is always my go-to neutral because it works well with our home's general color palette and it's an easier surface to keep clean when compared to white.
What types of fabric choices are there for upholstered beds?
Purchasing a fabric bed is one thing, but your choice of fabric really determines the look and the feel of your bed! Here are some popular options:
Linen
Velvet
Faux leather
Vinyl
Are you ready to see the gray fabric beds?

SO SO SO many fun options, right?? I tried to find a big range of styles, price points, colors, and materials for these bed ideas.
I love that there's a big range of gray colors (everything from really light to really dark). I also love that some of them incorporate wood into the bed design!
Which gray fabric bed do like the best?
Let us know in the comments below!