Do you love the timeless look of white subway tile in bathrooms? Get inspired with these 15 gorgeous bathrooms featuring this classic tile.
The mind-blowing popularity of a white subway tile in the bathroom can be easily understood. With their simplicity and versatility, these tiles add a sophisticated and contemporary touch to bathroom renovations. Given the huge array of subway tile options available today, making a decision can be challenging. So that's why I rounded up my favorite timeless ideas for white subway tile in bathrooms to inspire you!
When you think of white subway tile, you probably envision a traditional white subway tile in a 3″ x 6″ size with a smooth finish. And while that is definitely what you'll see most often, the really cool thing about subway tile is that nowadays they can offer a variety of textures, ranging from smooth and beveled or even something with a subtle texture to a handcrafted feel.
Another cool thing about subway tile, because it is so versatile, is that it comes in plenty of color options, so you can choose your favorite color that fits in perfectly with the rest of the room.
But, here's one thing I think we'll all agree on…there's something so classic about specifically white subway tile – so that's why we're focusing on it today. The bright appearance of white subway tiles in a bathroom creates an appealing contrast with various color schemes, making them adaptable to different interior design styles.
Whether you're ready to embrace the traditional allure of your home or you're wanting to go more modern and revitalize your bathroom and shower with vibrant colors, captivating patterns, and unique tile combinations, these white subway tile ideas for bathrooms will get your wheels spinning.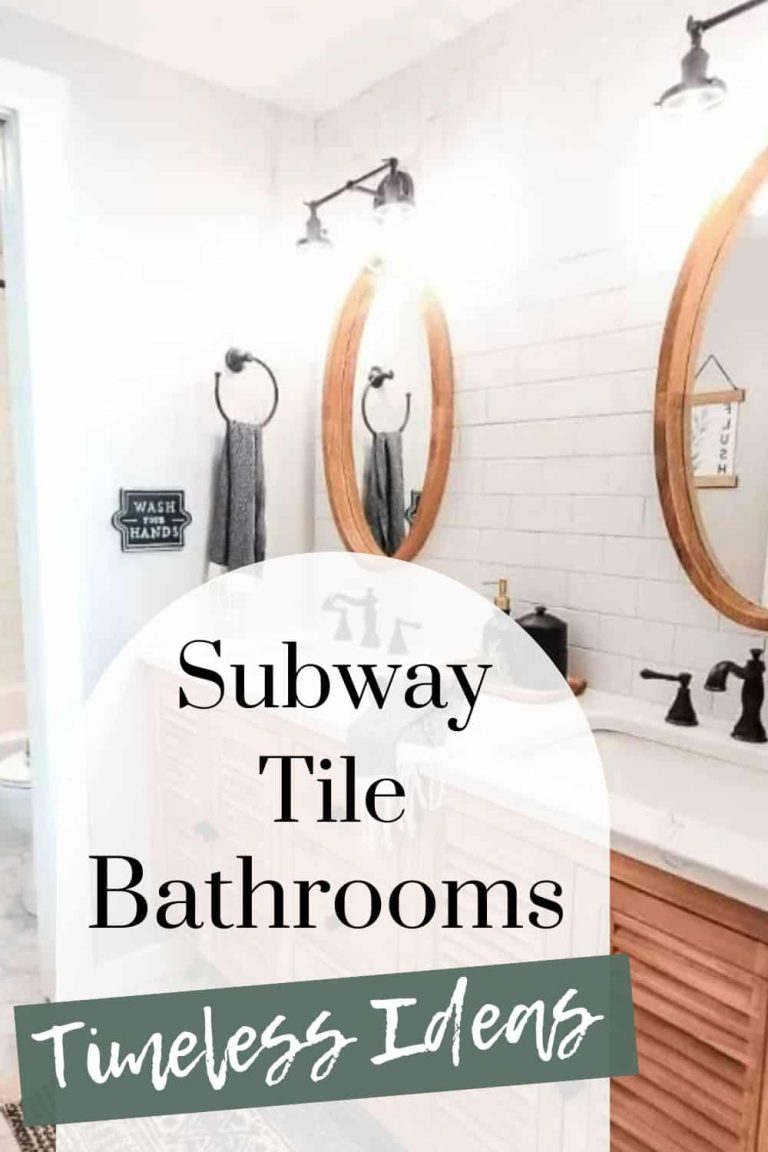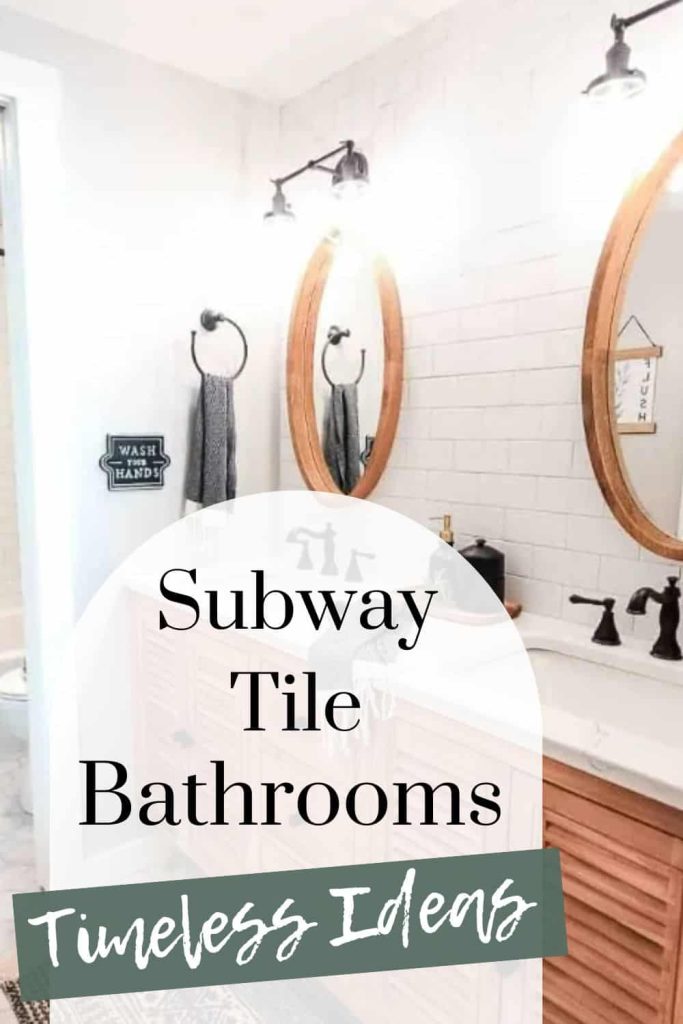 What are subway tiles?
First of all, let's start with the basics. What are subway tiles anyway?
If you want to get technical, subway tiles are any rectangular tile that is twice as long as it is tall – so 3×6 (which is the typical size), 4×8, 5×10, etc. They are typically laid in a 50% offset pattern (also called brick pattern or running-bond pattern) but there are a lot of different ways to install them, which you'll see below.
However over the course of time, the term "subway tile" has gotten a little loose and can sometimes include square tiles or even extra wide (2×8, 4×12, 4×16, etc).
Why are they called subway tiles?
They are called subway tiles because they were first used in the New York subway system in the early 20th century. They were created because the designers of the subways needed something that was easy to clean and brightened up the underground stations.
Subway tiles work in any room
Subway tiles, initially designed for New York City subway station, have totally revolutionized home decor. While commonly used in a modern kitchen (I love my white subway tile backsplash), they are not limited to just one room.
These versatile tiles can be incorporated into almost any area of your home, adding texture and depth in unique ways. Subway tiles are durable but also timeless and cost-effective, making them an excellent choice for home renovations.
Benefits of white subway tile:
Timeless appeal: The classic look of subway tiles is timeless and seriously never goes out of style. They have been used for decades and are still a popular choice for homeowners. This is one of the main reasons I turn to them when designing our bathrooms and kitchens. You don't have to worry about the room being out of date in a couple of years!
Visual interest: Subway tiles can create visual interest in a room by adding texture and dimension. The repetitive pattern of the tiles creates a sense of rhythm and can make a space feel more dynamic and engaging.
Bright and light: Specifically white subway tiles will help lighten up a room because they will bounce light around the room, making it appear brighter and more spacious. This is especially beneficial for smaller rooms or areas with limited natural light, like small bathrooms with no windows.
Easy to clean: Subway tiles are extremely easy to maintain and clean, making them a practical choice for high-traffic areas such as kitchens and bathrooms. The smooth surface of the tiles is resistant to stains and can be easily wiped down, keeping your room looking fresh and clean.
Variety of materials: Subway tile materials come in many varieties—such as glass, marble, and ceramic subway tile.
Cost-effective: Subway tiles are almost always the most affordable option, compared to other tile options, making them a budget-friendly choice for home renovations. You can achieve a stylish and sophisticated look without breaking the bank.
The tiles have been a staple of interior design since the early 1900s and it's easy to see why. There are endless ways they can be used. Let's jump in and check out these ideas for using white subway tiles in bathrooms.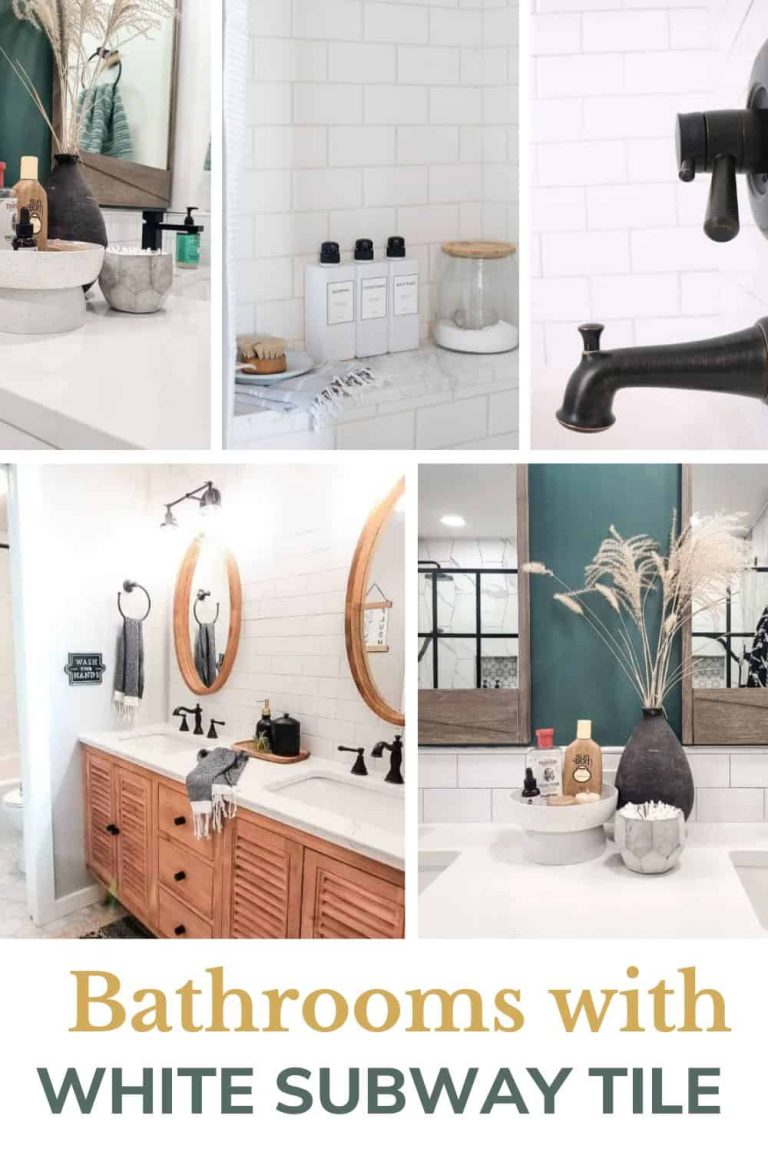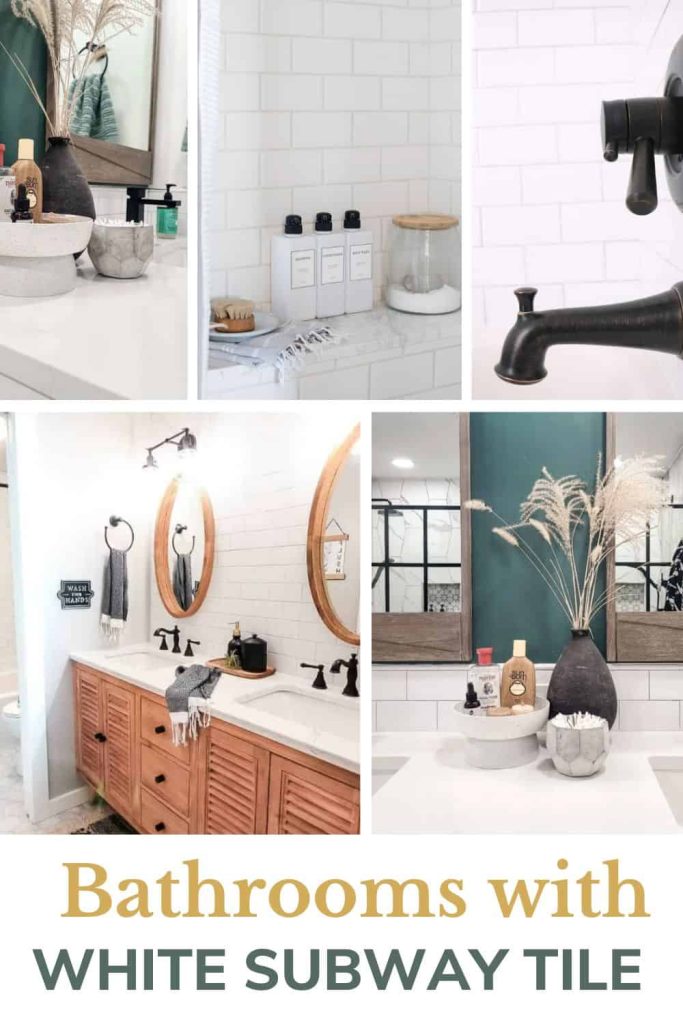 15 White Subway Tile in Bathroom Ideas
Subway tile is a classic option for any home. It's durable, versatile, and affordable making it the perfect choice for your next DIY bathroom project.
White subway tile in bathroom design continues to be a popular choice due to its versatility and timeless appeal.
Whether you opt for a classic all-white look or experiment with contrasting grout lines, patterns, or mixed materials, white subway tiles provide a solid foundation for creating a stylish and inviting bathroom space. Upgrade your bathroom with these ideas as inspiration to transform your bathroom!
Which of these bathrooms was your favorite?