Wonder how to make a room cozy? You're in for a treat because today I'm sharing 12 different ways you can make any room cozier and giving you a tour of our cozy living room.
Cozy.
When you look it up in the dictionary, you'll find "adjective: giving a feeling of comfort, warmth and relaxation"
No matter what your home decor style is, something that we are all striving for in our homes is that cozy feeling. You want to walk in the door after a long day and feel comfort, warmth, and relaxation, right?
When I talked about how to make your house a home you love, I mentioned that home is the ultimate place of comfort.
ut perhaps you've got everything else decorated and you're still struggling with how to decorate to create that cozy feeling. Today's post is just what you need. I'm going to break it down and share 12 elements of how to create a cozy room.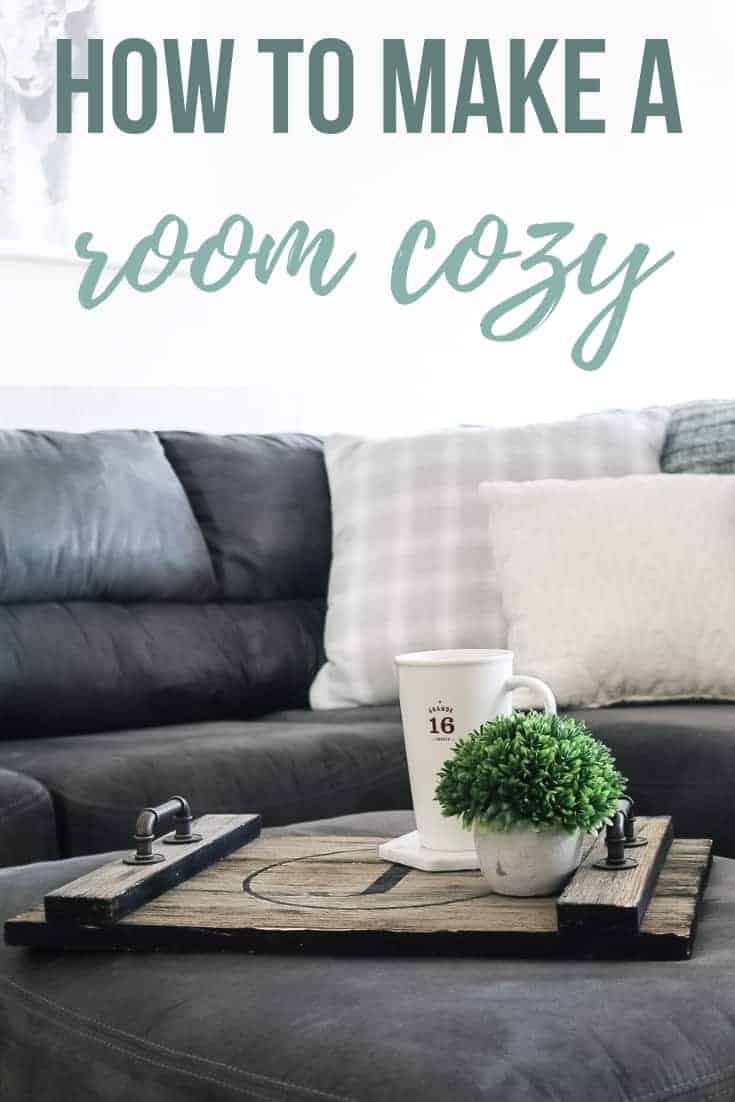 Even though I'm sharing pictures of our cozy living room here, these 12 cozy room ideas can really be applied to any room in your house – except maybe throw pillows in the bathroom. That would just be weird.
This cozy living room guide contains affiliate links, but nothing that I wouldn't recommend wholeheartedly. Read my full disclosure here.
How To Make A Room More Cozy: 12 Ways
1)Use a cozy scent in your living room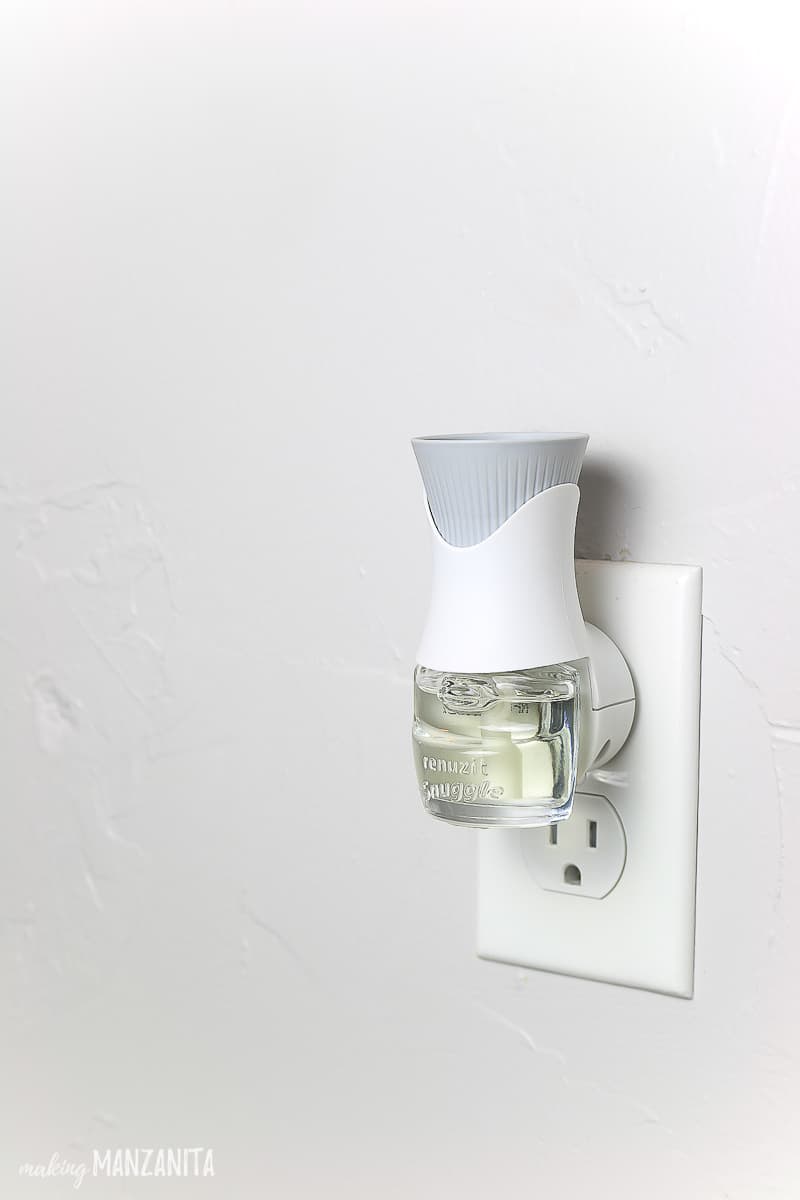 There are so many aspects of making a cozy living room, but the scent is something that doesn't get enough credit, am I right? It's true that scent is closely linked to parts of the brain that process emotion, mood, and memory.
This means that if you're looking for how to make a room cozy, you better not forget about how the room smells!
Whether you use a plug-in oil jar, a candle, or a diffuser with essential oils, making sure your living room smells good is a great way to make it feel more cozy.
2) Big, Comfy Sofa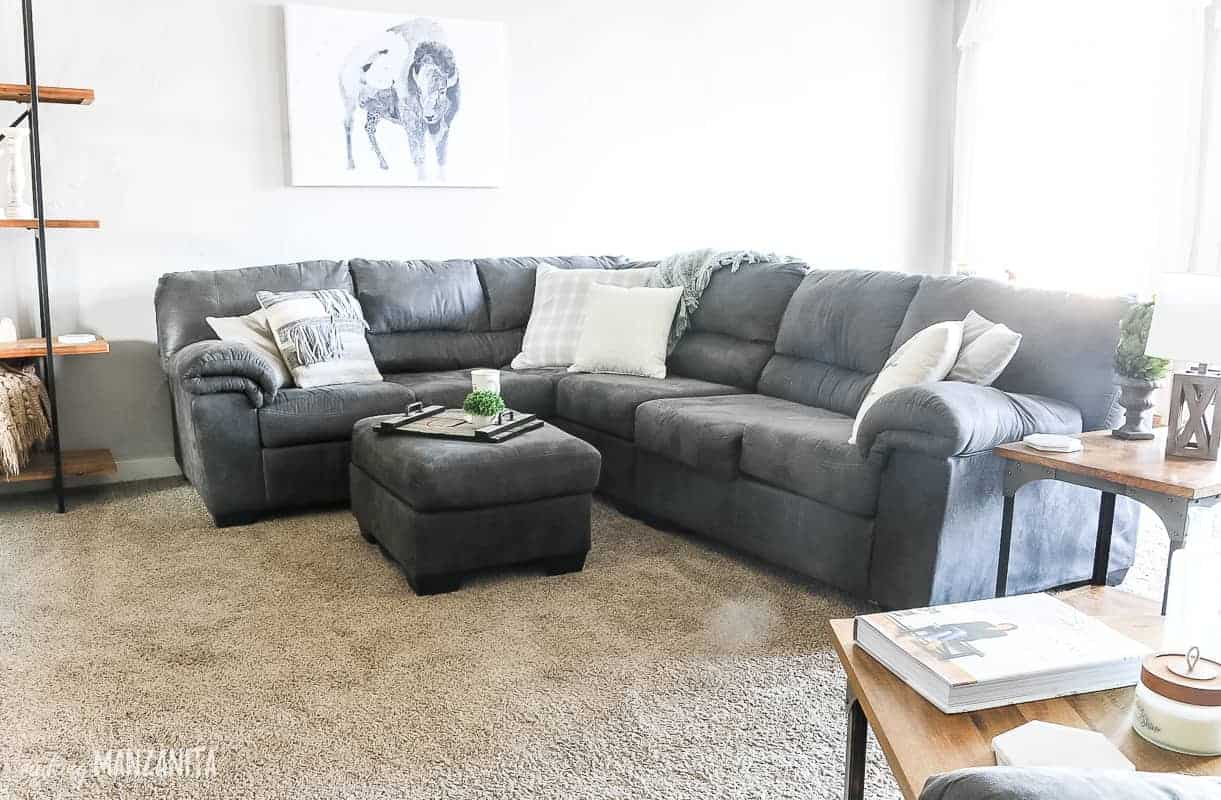 Nothing says "come on in and get cozy" like a big, comfy couch, right? We got this gray sectional about a year and a half ago and I'm still so in love with it!
It's big….really big, which was important to us. Nothing better than being able to get the whole fam on the couch for a movie night.
Even if you have a smaller living room and can't fit a big sectional sofa like this, whatever you do, make sure your seating area is comfortable!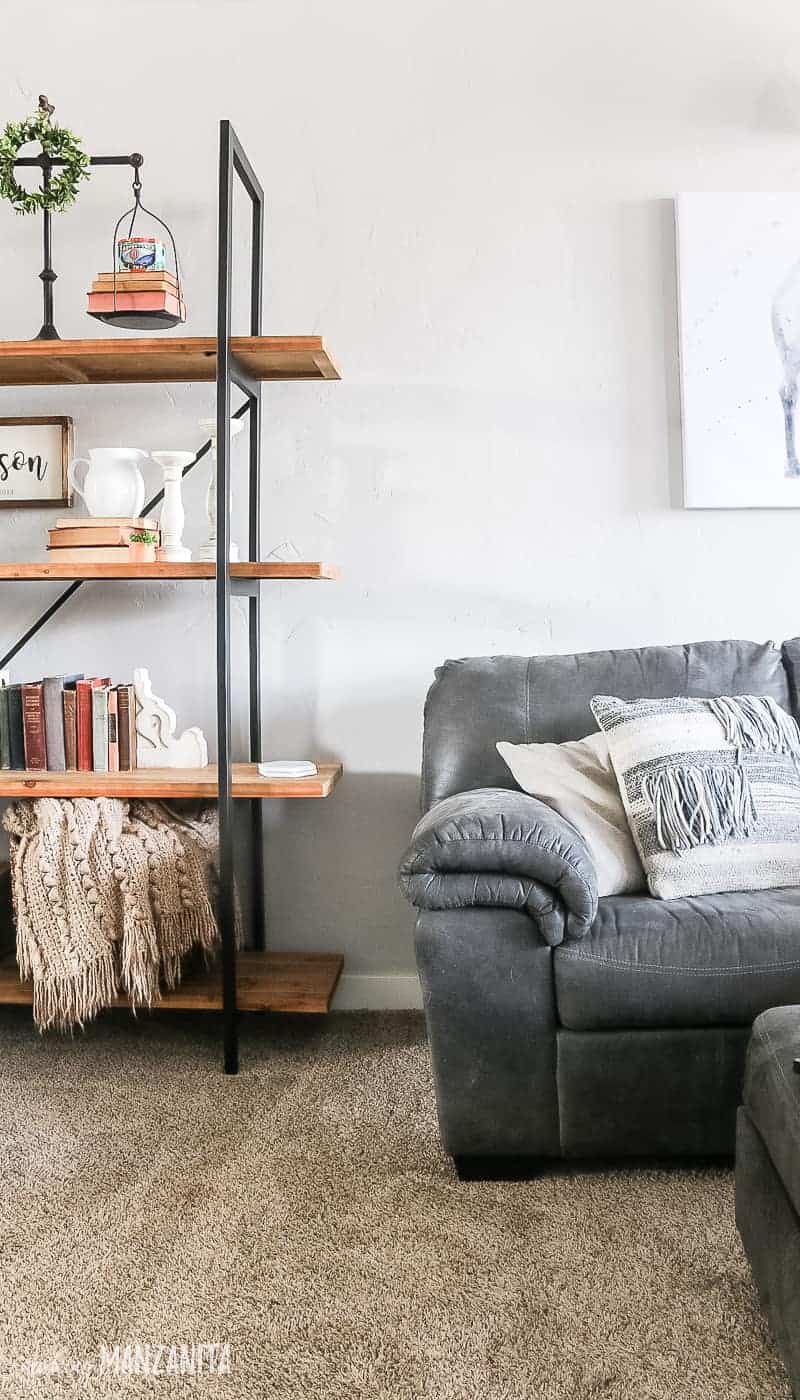 Another thing that I'm really glad I stuck to my gut on when we were shopping for the sectional is the cushioned arms! There were a lot of pretty couches that we looked at that didn't have nice cushioned arms. These ones are perfect because you can lay on them and it's like a pillow under your head.
3) Light The Fire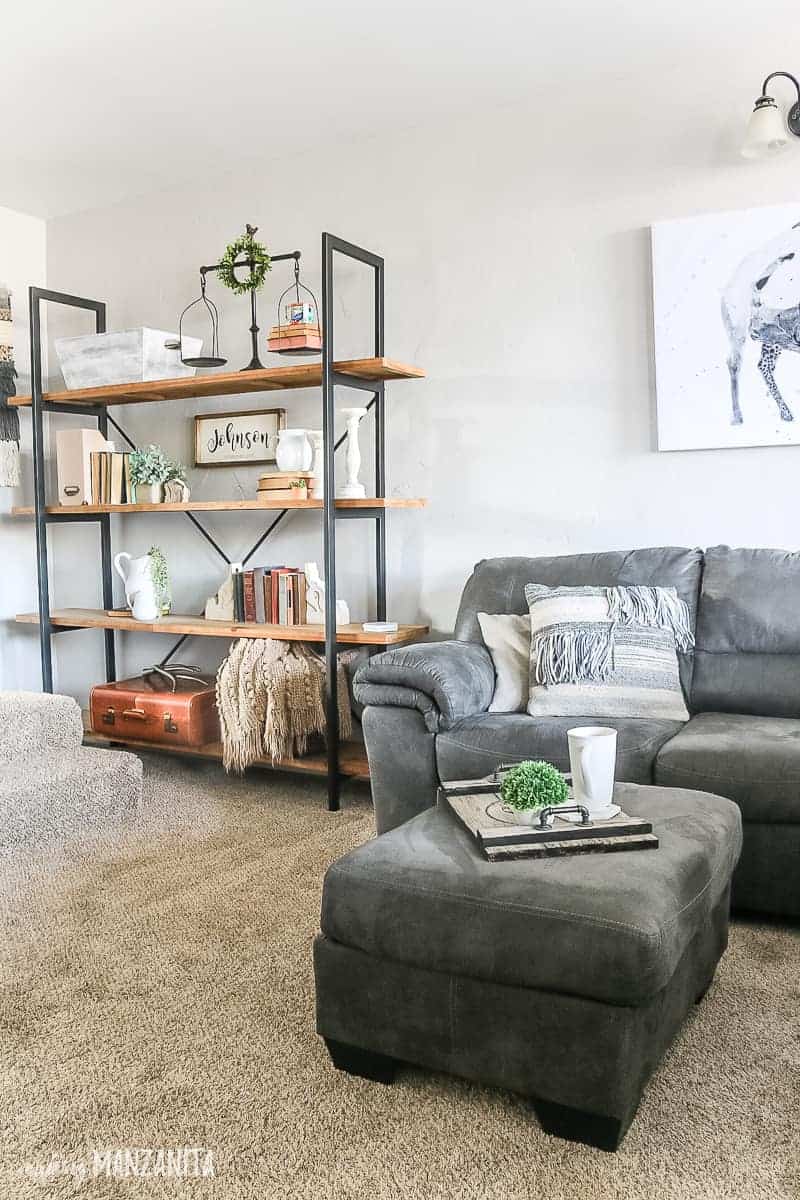 Fire and coziness go hand in hand! If you don't have a fireplace in your living room, maybe you could make room for a small electric fireplace for a cozy vibe. They even have some that can be wall-mounted!
4) Decorate With Character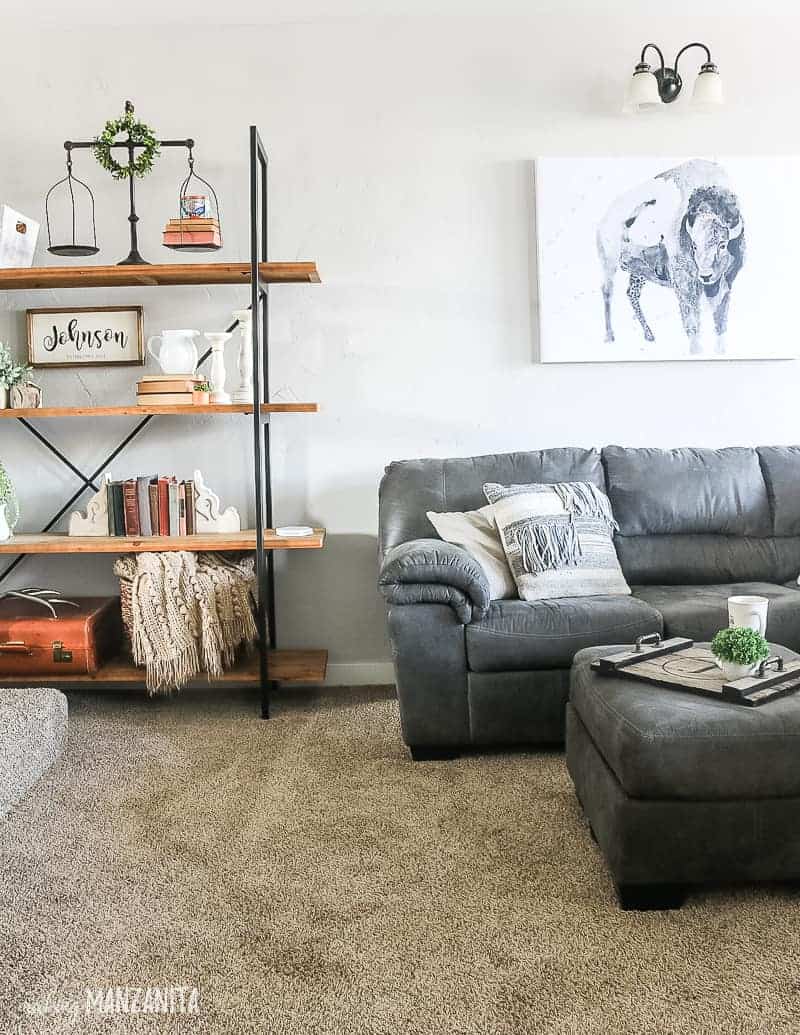 A room doesn't feel cozy to me until it's decorated in a way that really feels like me, which is incorporating farmhouse decor with vintage vibes.
I love pieces that look like they have a story to tell. The real, lived-in look of my decor is one of the ways we make a cozy living room.​
5) Ambient and Dimmable Lighting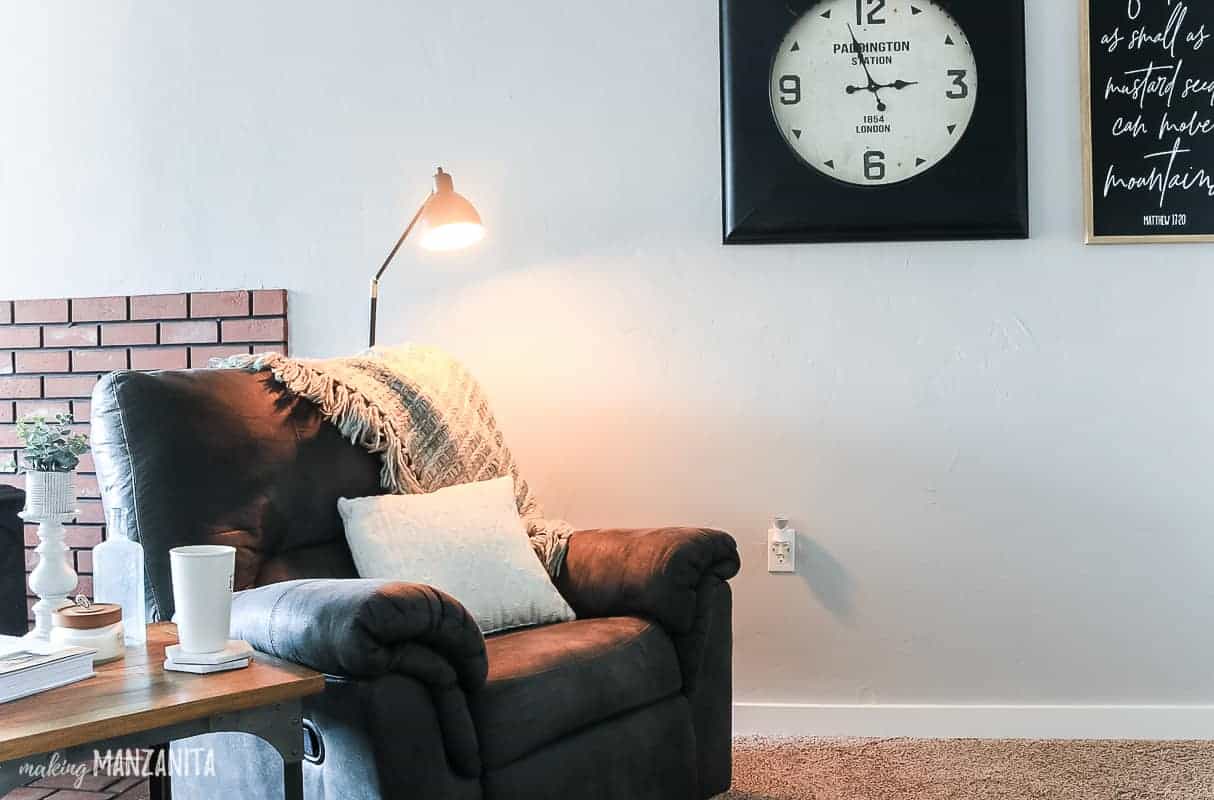 Having a secondary source of lighting for your room (like modern farmhouse floor lamps and table lamps) definitely plays a big role in how to make a room cozy. You'll be shocked at how cozier a large living room feels when you use lamps for ambient lighting instead of the overhead light.
Another thing that I highly recommend for your living room (and bedroom) is dimmable lighting. We added a dimmer switch when we renovated our living room and have since added them to both of our kid's bedrooms. It is so much nicer to use a lower level light on the dimmer, especially at night time when bright lights can make it harder to fall asleep.
6) Wood Tones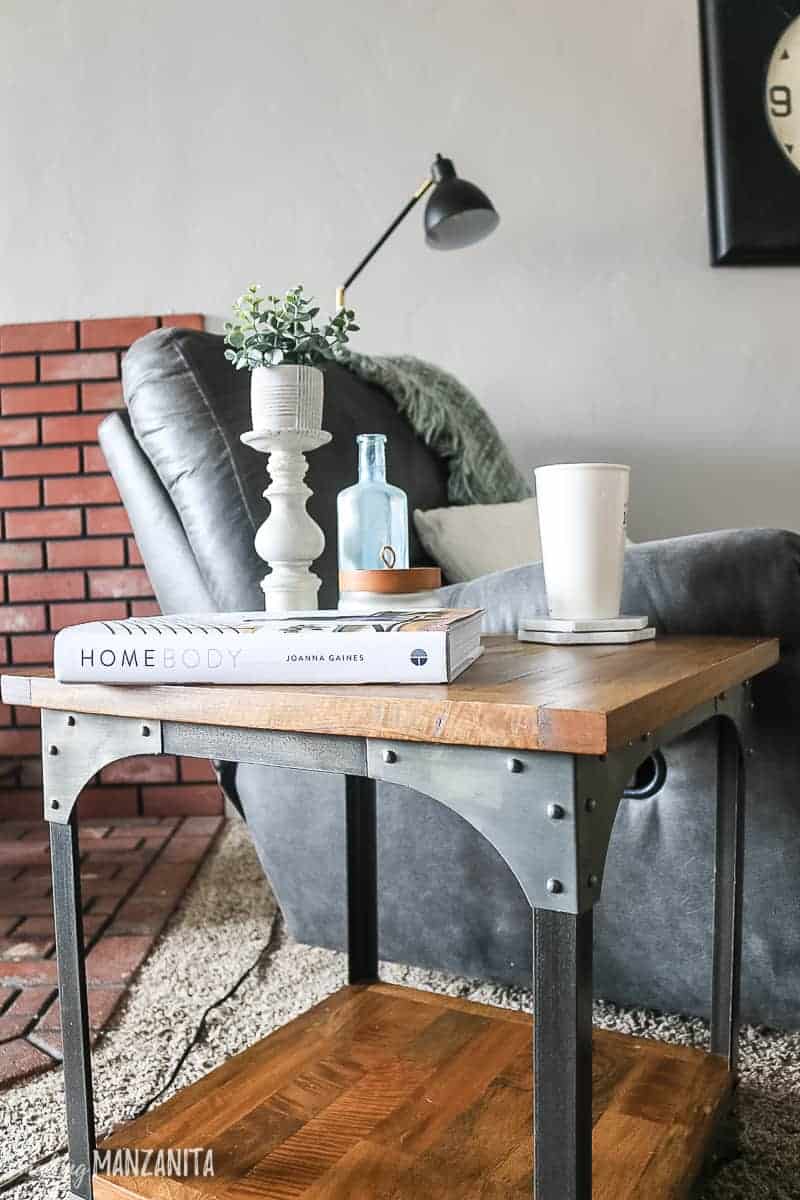 Wood furniture and finishes are great additions to your living room because they bring in warm colors that really make the space feel cozy. I love the rustic wood on our shelving unit and side tables.
7) Place To Lift Your Feet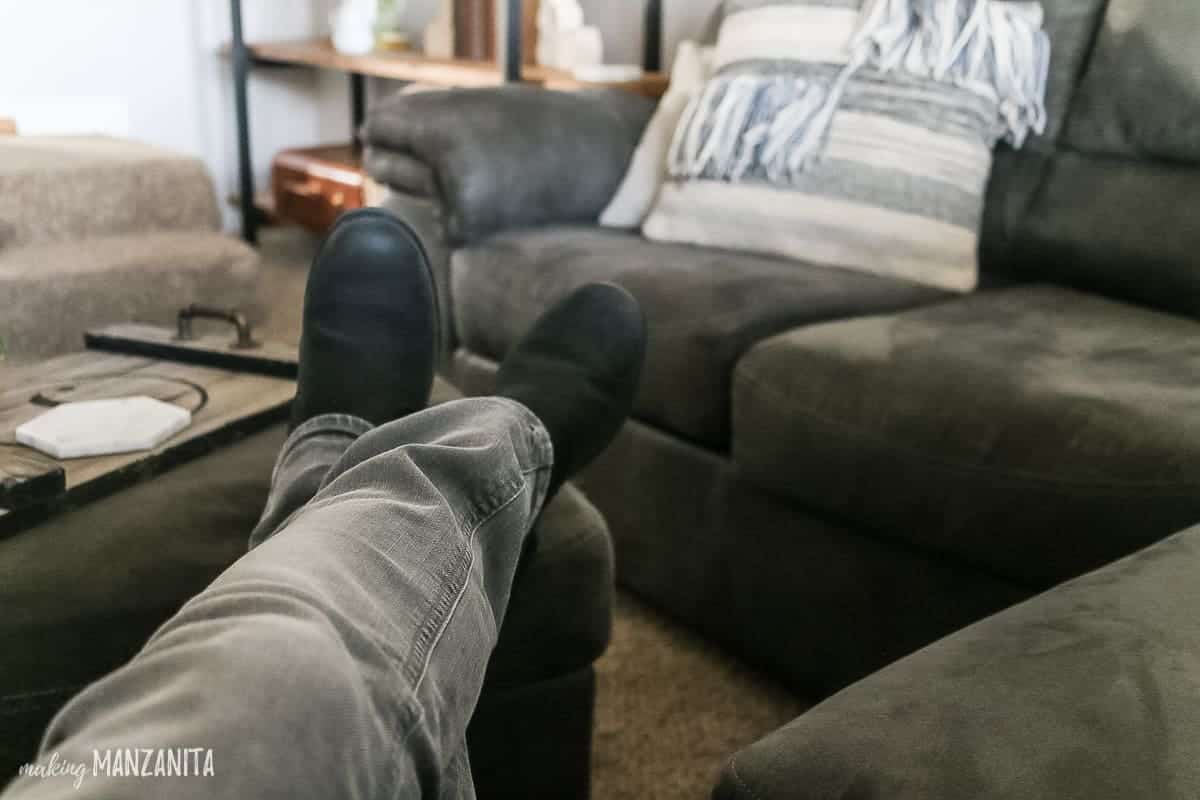 If there's a place to comfortably lift your feet, you're bound to have a cozy living room! When we first purchased the sectional, we held off on ordering the matching ottoman. We weren't sure if we wanted to do a large coffee table vs the ottoman.
We eventually decided to go with the ottoman, which I think brings another element of coziness to the room. It is definitely inviting for guests to take a load off and lift up their feet.
Not to mention, it makes a great launching pad for our toddler who LOVES to jump from the ottoman to the couch.
Even if you go with a coffee table for your living room, you can add a floor pouf or small plush ottoman to still have that place to lift up your feet.
8) Place To Put Your Drink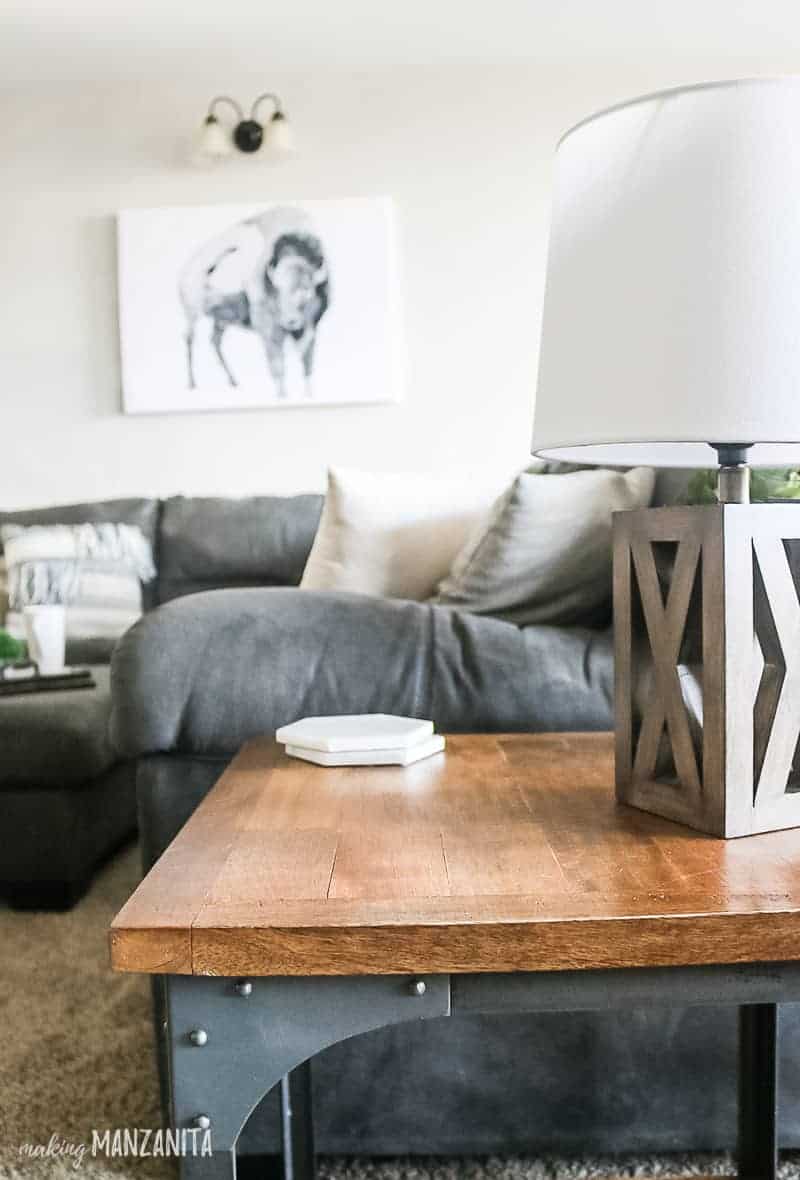 If you're learning how to make a room cozy, you definitely want to put yourself in the shoes of your guests.
If you sat down on this couch for the very first time with a big cup of coffee, would you have somewhere to put it? This is even more important to think about if you don't have a traditional coffee table like us.
We placed side tables on the ends of the couch and by the recliner. The shelving unit ends up being in the perfect spot for an extra place to set a drink on the other side of the couch.
Be sure to keep lots of coasters around too, so your guests (or your husband) never have to look for those! We love these cool marble coasters that we made with leftover tile and these wooden coasters that we made with scrap wood.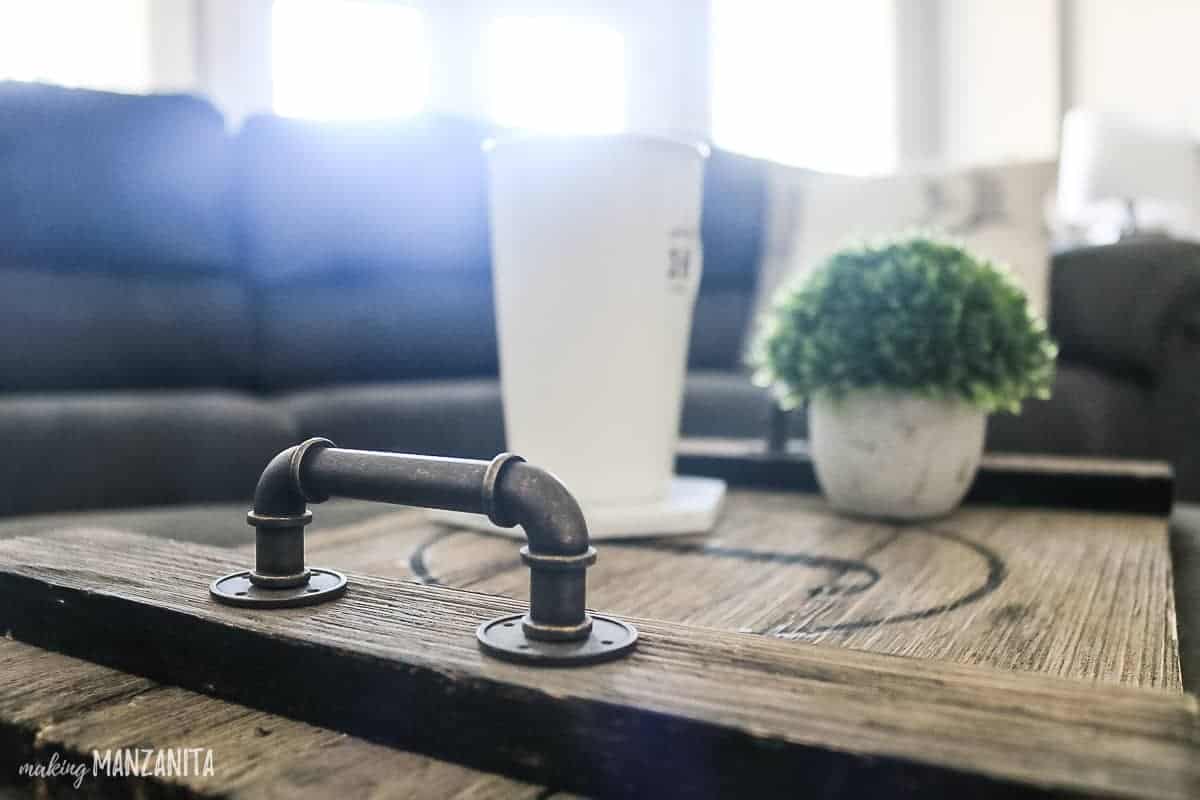 If you have a cushioned ottoman, add a tray to the top so there's a surface for drinks.
You could also make a behind-the-couch table, like this, to go between the sectional and the wall for a great place to put drinks.
9) Curtains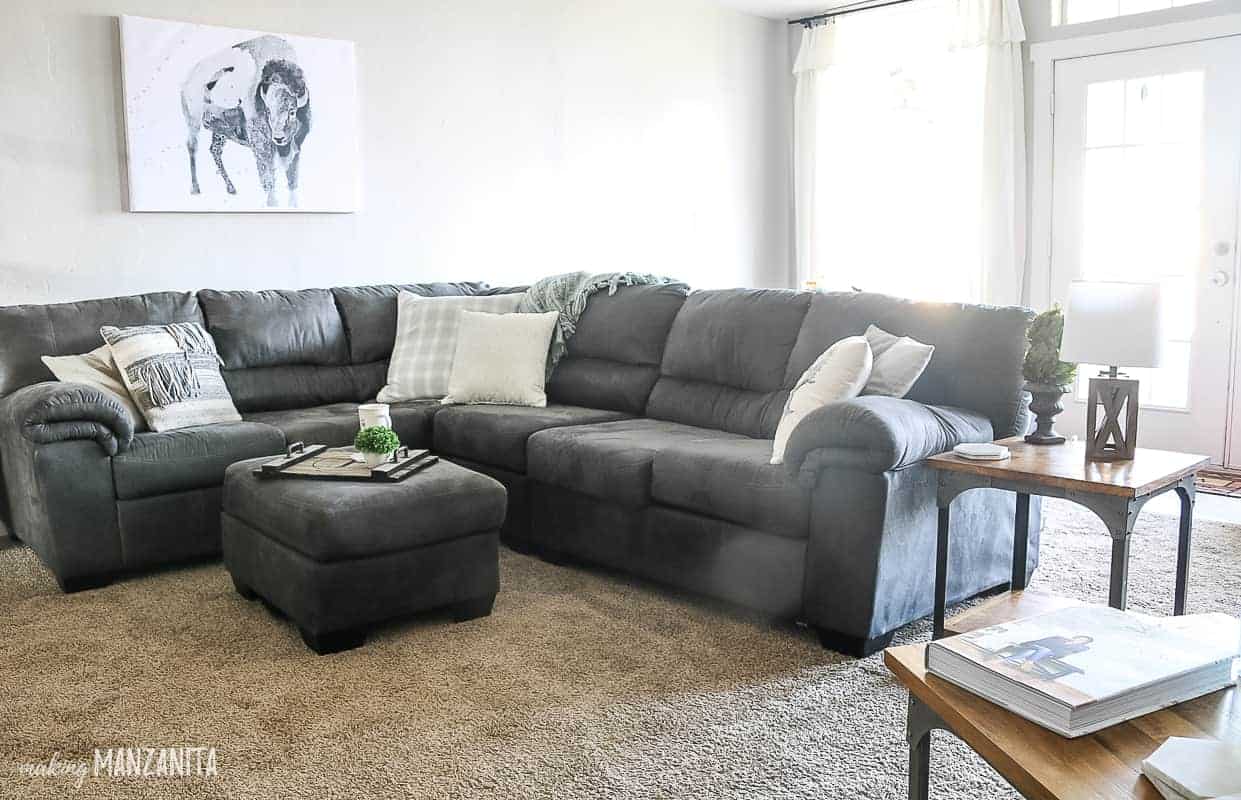 To be honest, until recently I haven't been adding curtains to most rooms in our house. I thought it was something that I could get away with and save some extra money.
In our old house, we had cellular shades in every room, so we didn't have to worry about blocking light. However, now I'm totally jumping on the curtain bandwagon even if you have another form of window treatments – like blinds.
Curtains really do add extra texture to your room to make it feel more homey and cozy! We're loving these simple white curtains (which are also affordable) we put up recently. Curtains definitely give any room a cozy feel.
10) Throw Pillows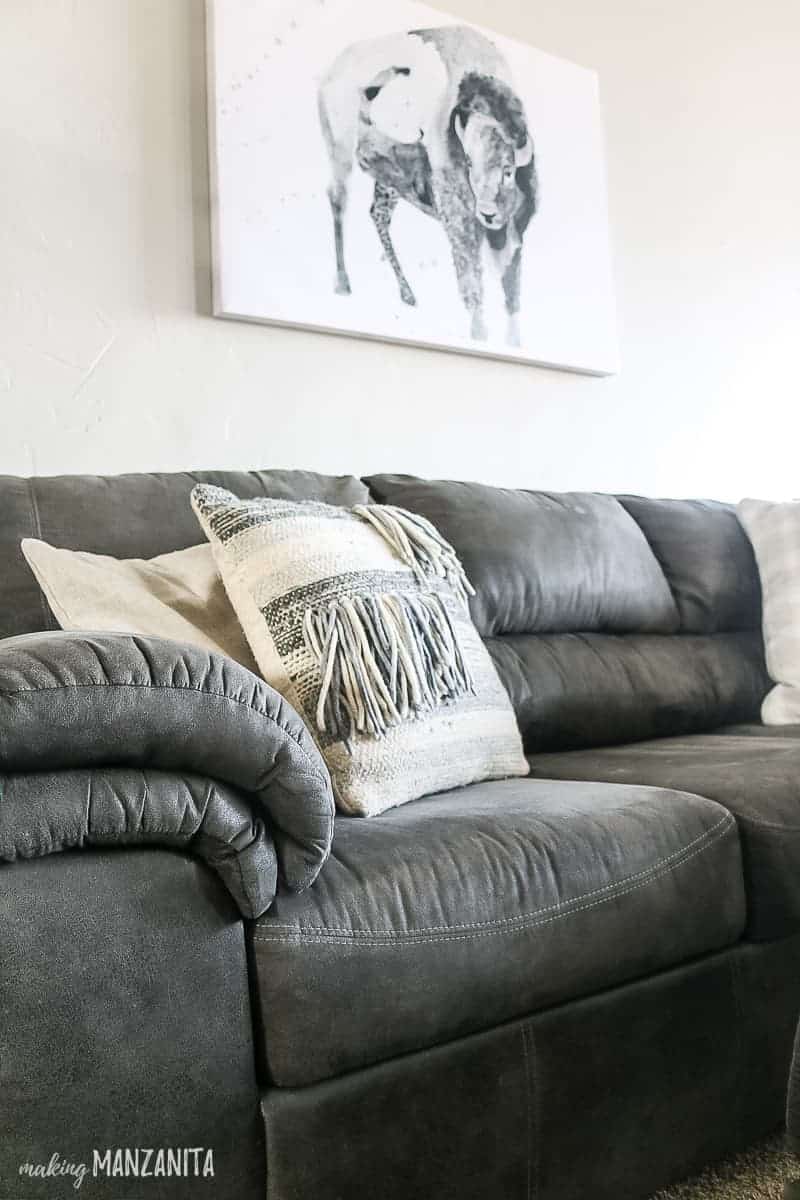 I've said it before, but throw pillows are probably one of the easiest ways to instantly add more character to a living room.
Adding throw pillows to your couch also makes it more cozy and comfy. If someone wants soft pillows behind their back or they want to lie down, it's like built-in comfort.
11) Furniture Arrangement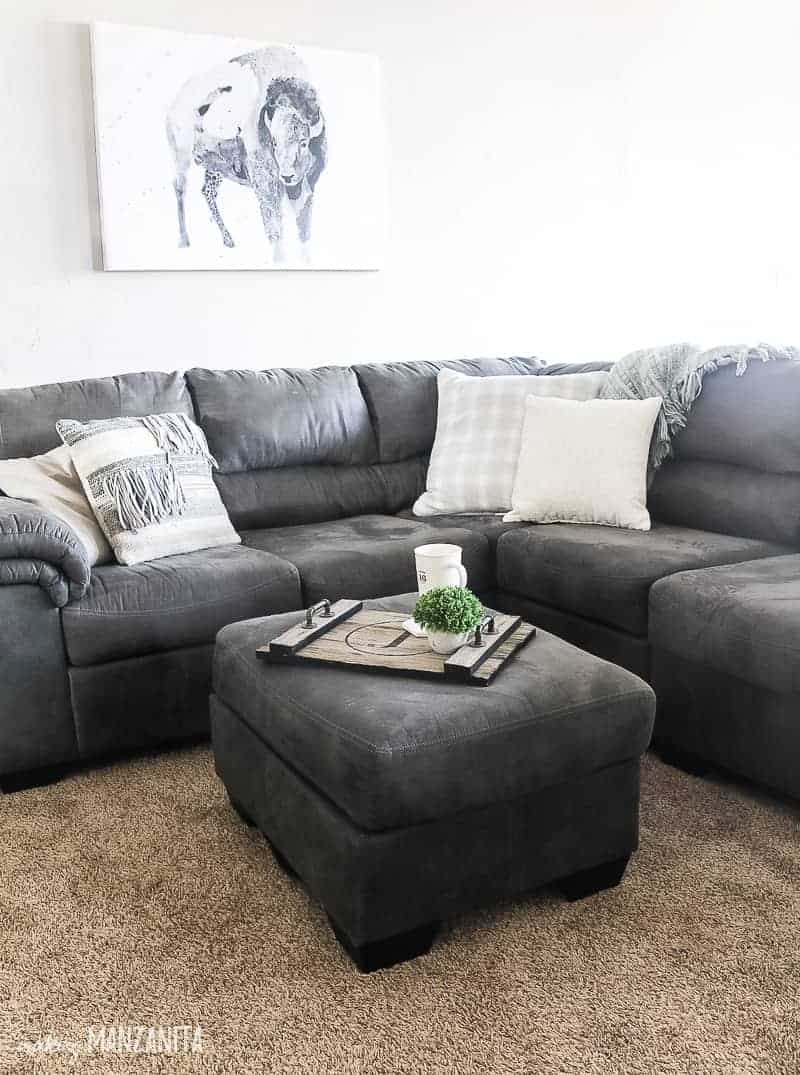 The way you arrange your furniture is a huge element of how to make a room cozy! What you really want to focus on in a cozy living room is creating spaces that are designed for conversation.
This is one of the main reasons we decided to go with an L-shaped sectional. No matter how the furniture is arranged, you can easily chat with someone or watch a movie.
You may also decide on a different layout for your room with a focal point of a fireplace or maybe a window with the furniture all facing each other. These spaces for conversation are definitely key to making a room cozy.
12) Blankets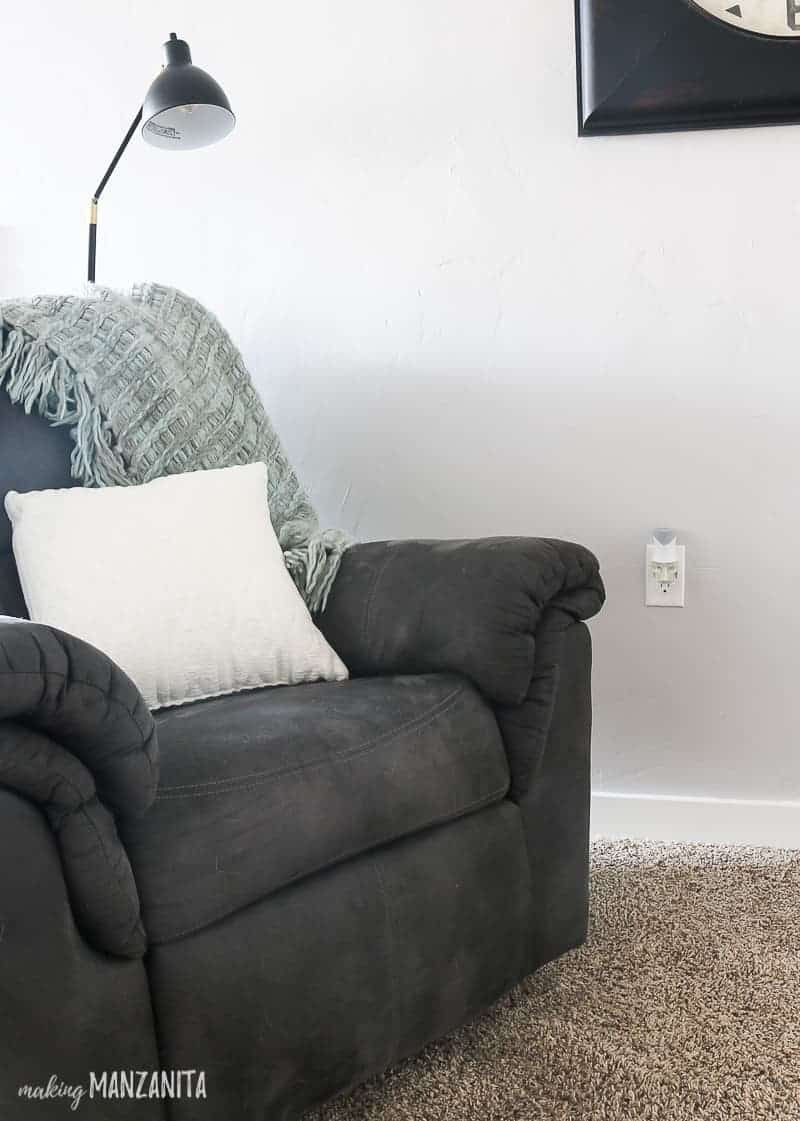 Blankets draped over the back of the couch or the recliner are definitely an easy way to make a room cozier instantly. There's something about that added texture that really adds a lot to the room!
Aside from a blanket or two on the back of the couch, it's always a good idea to keep a storage basket or a blanket ladder like this nearby with extra blankets.
That way, everyone can have their own blanket to snuggle without searching hard for it. Check out this guide all about how to store blankets for tons more ideas!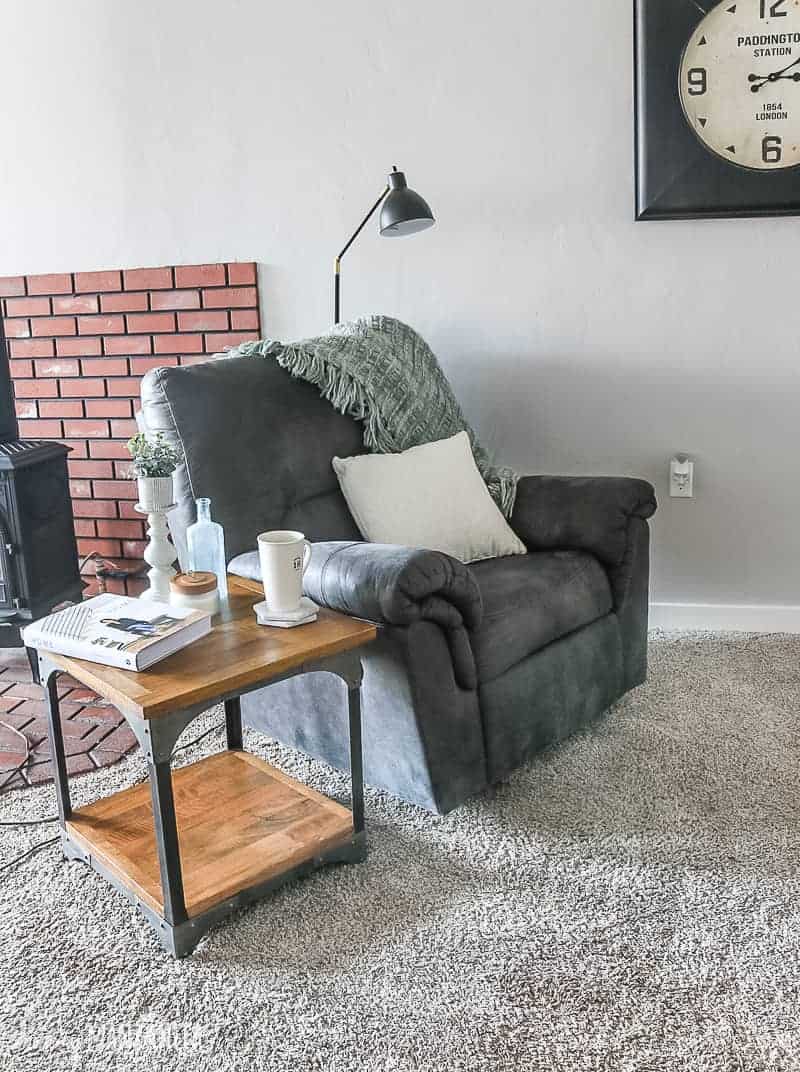 See? Now, that's not too hard, right? If your room isn't feeling as cozy as you'd like, you're in luck because it isn't hard to make a room cozier.
Even 1 of these 12 different ways would be a step in the right direction!
I think the key when you're learning how to make a room cozier is to really put yourself in the shoes of a guest. This helps give you a different perspective because sometimes we're too close to notice these simple things that we can change to make the room cozier.
You can walk through these simple steps…
When my guest walks into the room, how does it smell?
Where will they sit? Is it comfy?
Can they put their feet up?
Where do they put their cup of coffee?
Can we face each other and chat easily?
Is there a pillow and blanket nearby so they can cozy up in it?
Does the decor in the living room have character and tell a story?
Are there other sources of light and wood furniture or accents to bring warm tones?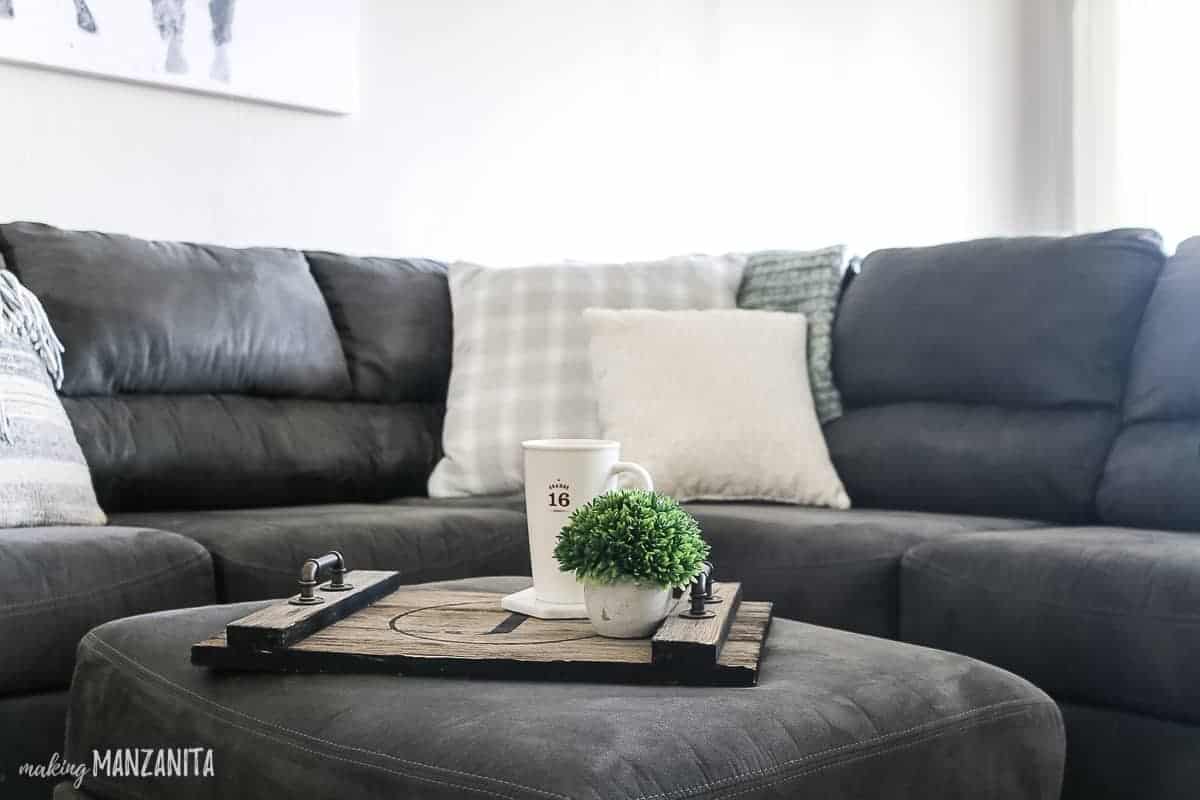 How do you make your living room cozy?
Let me know in the comments below!!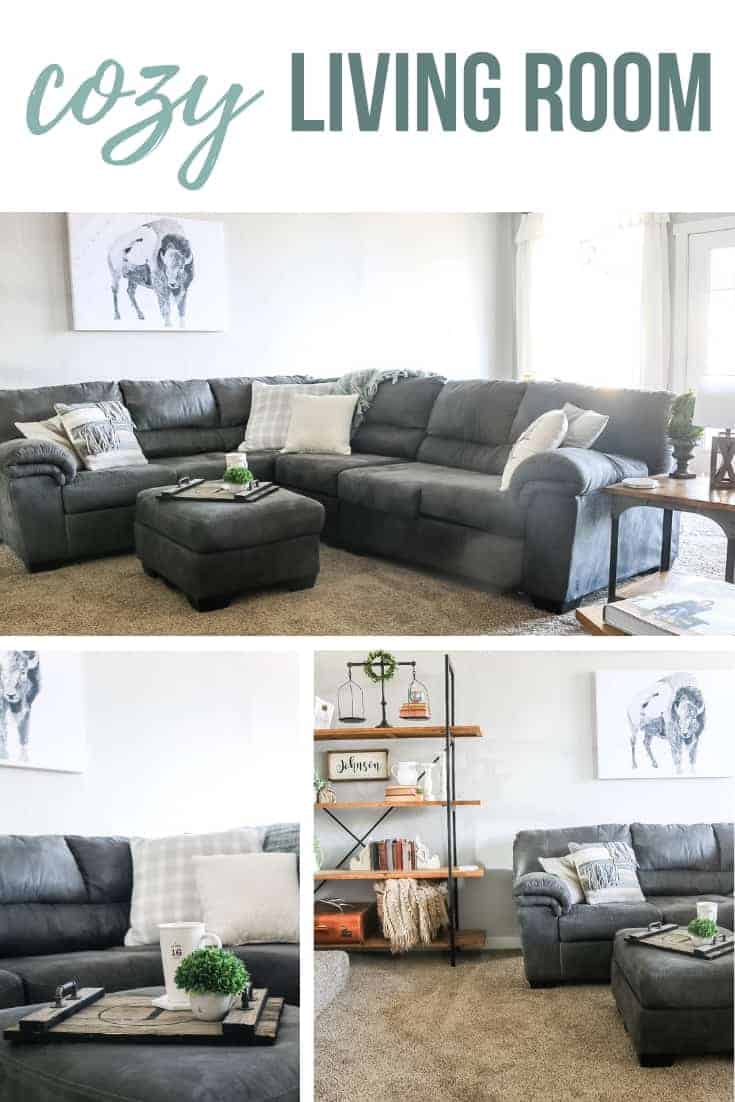 Cozy Living Room Sources:
MORE Cozy Living Room Ideas