Do you love the character of vintage decor, but are stumped on ways to incorporate vintage decor into your home? Get ready, because here is 30+ ways to inspire you!
If you are anything like me, you love spending a Saturday morning with a big cup of coffee in hand, driving around hopping from yard sales to estate sales to thrift stores and flea markets. You're searching for the next vintage decor piece that calls to you. The next piece that is just perfect for your home. You're on a quest for vintage decor that looks like it has lived a good life and has a story to tell. If you're anything like me, you love vintage decor.
It is something about the chipped paint, rusted metal, rustic wood or just a style that you don't see very often anymore. Vintage decor gives your home layers of character.
Hunting and gathering vintage decor may be fun on Saturday mornings, but when it comes to actually bringing those vintage pieces into your home, you may be stuck. Sometimes I get enamored by the beauty of a piece in a store. Bringing it home and figuring how to incorporate vintage decor is a whole 'nother story.
It can sometimes be tough figuring how ways to use or reuse vintage decor, so I decided to bring together TONS of different ideas to inspire you. In this post you'll see over 30 ways to use vintage decor in your home. Some of these are my home and others are blogging friends of mine. Be sure to click over to each post for lots more details and inspiration from each and every one of these ladies.
This post contains affiliate links, but nothing that I wouldn't wholeheartedly recommend anyway! Read my full disclosure here.
Are you ready to see all of these awesome ways to incorporate vintage pieces into your home??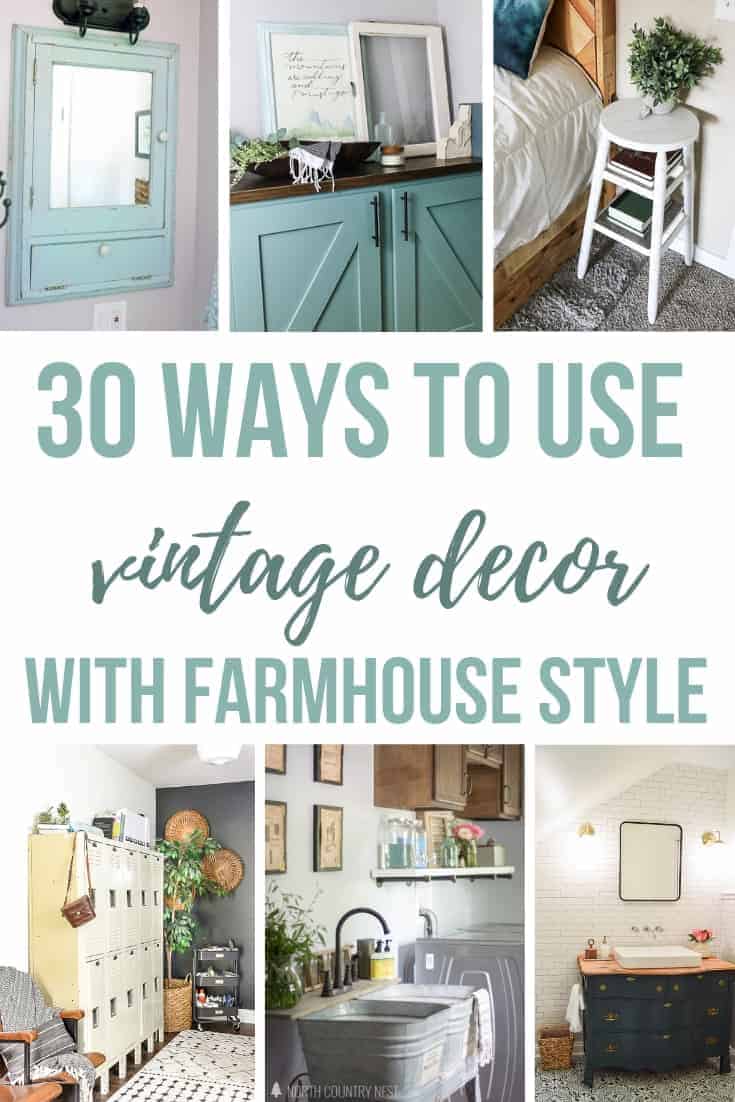 Find a vintage bread box and give it a chalk paint makeover
Upcycle tacky pitchers into white farmhouse pitchers to decorate your shelves!

Learn how to paint vintage furniture so the options are endless! This is a great beginner's guide to painting furniture!
Add some simple paint to vintage furniture (the beds, nightstand, wall shelves, clocks and desk are ALL vintage finds that she painted!)
See what I mean about getting some major inspirations for ways you can incorporate vintage decor into your home?! The options are endless for different ways you can decorate with vintage pieces or upcycle them to find a new use! Each of these ideas brought in so much character to the rooms!
Which of these ways to add vintage items to your home do you like the most??
Let me know in the comments below!