If you're looking for the perfect vintage farmhouse decor for your home, you should check out these best vintage Etsy shops for farmhouse decor. So many great finds you will love!
I love incorporating vintage decor into my home….but sometimes the good stuff can be hard to find! Besides looking at thrift stores and yard sales locally, you can also find some GREAT vintage farmhouse decor on Etsy.
I've rounded up some of the best vintage Etsy shops with farmhouse decor for you today. They all have vintage home items that fit right in with the farmhouse style.
If you're looking for a place where you can get the vintage farmhouse decor, you're going to love all of these vintage shops! There is everything from washboards, antique suitcases, and a vintage metal street sign too!
Related – If you love the farmhouse style, you'll also love these posts:
This vintage Etsy shops roundup decor post contains affiliate links, but nothing that I wouldn't wholeheartedly recommend anyway! Read my full disclosure here.
Are you ready to see the best vintage Etsy shops for farmhouse decor?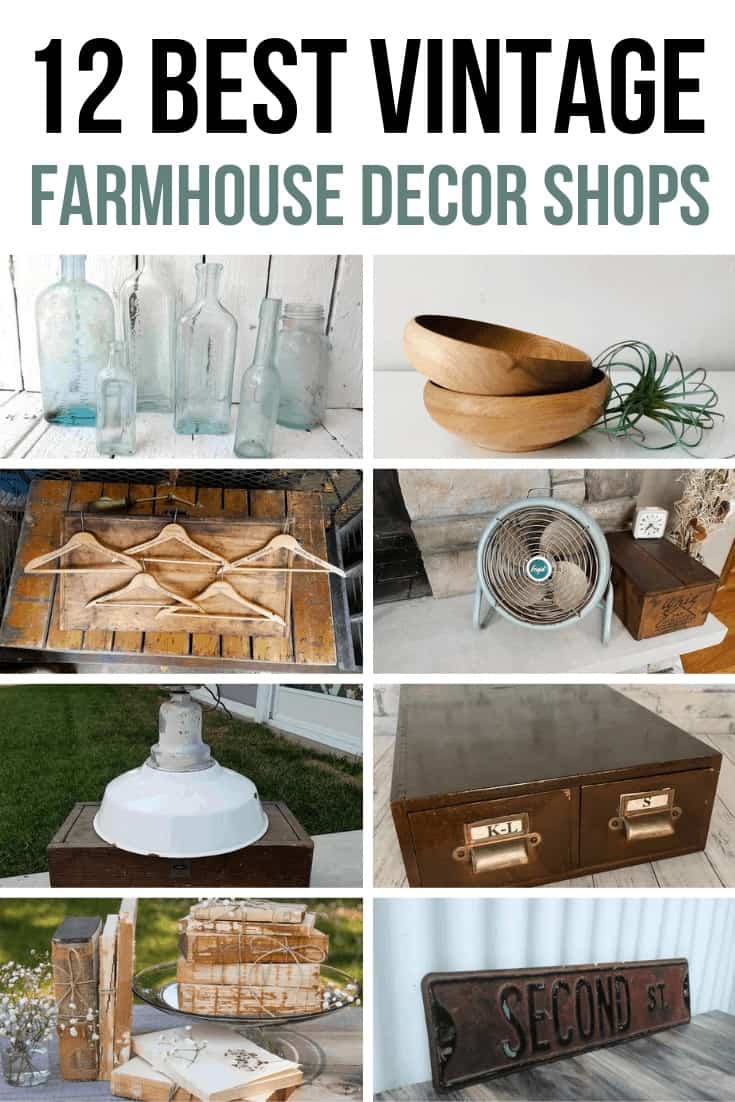 If you are into vintage and funky finds, this shop has a lot of that. Would you believe, you can purchase a rustic metal street sign and even an old metal grain scoop? The vintage Etsy shop has a farm or barn theme and the items are perfect for vintage decorators.
---
Timeworn vintage home decor is what this beautiful vintage Etsy shop offers. You can find salvaged items, garden furniture, linens, and ironstone, which are all perfect accents to any farmhouse.
---
Books are classic vintage home decor items that are perfect for that farmhouse style. Learn how to decorate with books in this article. The vintage books are just one of the many things this Etsy shop offers. Get a bundle of mixed modern and old books, they look great on shelves and tables. (Recognize the name? Yep, that's my shop!)

---
This vintage Etsy shop has chic and colorful vintage home decor items for real vintage lovers. From classic antiques to unique decor, you can find them here. There are old suitcases, a vintage card catalog and so much more!
---
You're going to love the curated vintage decor and gifts here. The shop has useful things that are truly-well loved.
---
Haseley Son Antiques have hand-picked antiques and vintage collectibles. I love the iron and metal things that they sell like the antique iron cast and the vintage washboard.
---
I just love the country and vintage farmhouse decor from The Heirloom Shoppe. This vintage Etsy shop features wonderful heirlooms and every piece they have on Etsy is gorgeous!
---
I love going to see what new things Hogg Barn Antiques has in on a regular basis. She also makes so handmade items, like the fearfully and wonderfully made sign in our baby girl nursery. You can find great vintage home decor items in this shop, with a lot of vintage wood signs too.
---
If you love sustainable vintage goods, this shop is perfect for you. You'll find vintage decor with a modern look, textiles, fashion, handmade pillows that will add a true modern farmhouse vibe to your home.
---
Noble Vintage shop is a vintage home and lifestyle shop. I love their amazing pieces of cute classic pieces of jewelry, old stylish bottles, baskets and there's too much to see and buy in this shop.
---
This shop offers modern and vintage home decor pieces that have a Shabby Chic vibe. They have vintage, shabby pieces plus their pillows are really beautiful!

---
Getting vintage farmhouse home decor can really add so much character to the look and feel of your home style. Etsy is a great place to look if you are on the hunt for great antique and farmhouse shops. I could never get tired of looking at all of the amazing stuff available. Now, I'm dying to know…
… which of the vintage Etsy shops do you think will perfectly fit the farmhouse vibe of your home?
Let me know in the comments below!