Bohemian style, or "boho", has been around for decades and has evolved into a design style that is all about creating a comfortable and inviting space that reflects your personal style. Modern boho interior design is an eclectic mix of textures, colors, and patterns that are inspired by natural elements and cultures from around the world.
If you've been around for any length of time, you know I love this design style! It's relaxed yet stylish and works well with children and pets in the home.
It's also a versatile style that's easy to mix and match with modern pieces and funky, eclectic pieces. It gives me the freedom to use the best of both styles that I love the most!
We've used this modern boho style in many areas of our home — most notably our master bedroom and master bathroom.
In this post, we will explore the ever-evolving modern bohemian style, and how to achieve it in your home with some of the key elements that make this design style so popular. We'll also share some of our favorite places to shop for cheap boho decor and furniture so you can get this look!
This modern bohemian interior design guide contains affiliate links, but nothing that I wouldn't recommend wholeheartedly. Read my full disclosure here.
What is Boho Style?
Boho style originates from the bohemian lifestyle of hippies, artists, and free spirits of the 1960s and 1970s. The word "bohemian" comes from the people from Bohemia, which is a region in the Czech Republic.
Over time, the word has evolved to refer to someone with an artistic lifestyle that rejects mainstream. Bohemian has since evolved into a fashion and interior design style.
Boho style is all about mixing and matching different elements to create a relaxed and natural look. The style is characterized by an eclectic mix of patterns, textures, and bright colors, often inspired by nature and various cultures from around the world.
This style is perfect for those who enjoy traveling and collecting unique pieces from local artisans in different countries and cultures.
The boho vibe often uses bold colors, like jewel tones and earthy tones, and incorporates vintage pieces, like rattan chairs and wall hangings. The only rule is that there are no rules. This lack of structure gives the spaces a carefree vibe.
Modern Boho Style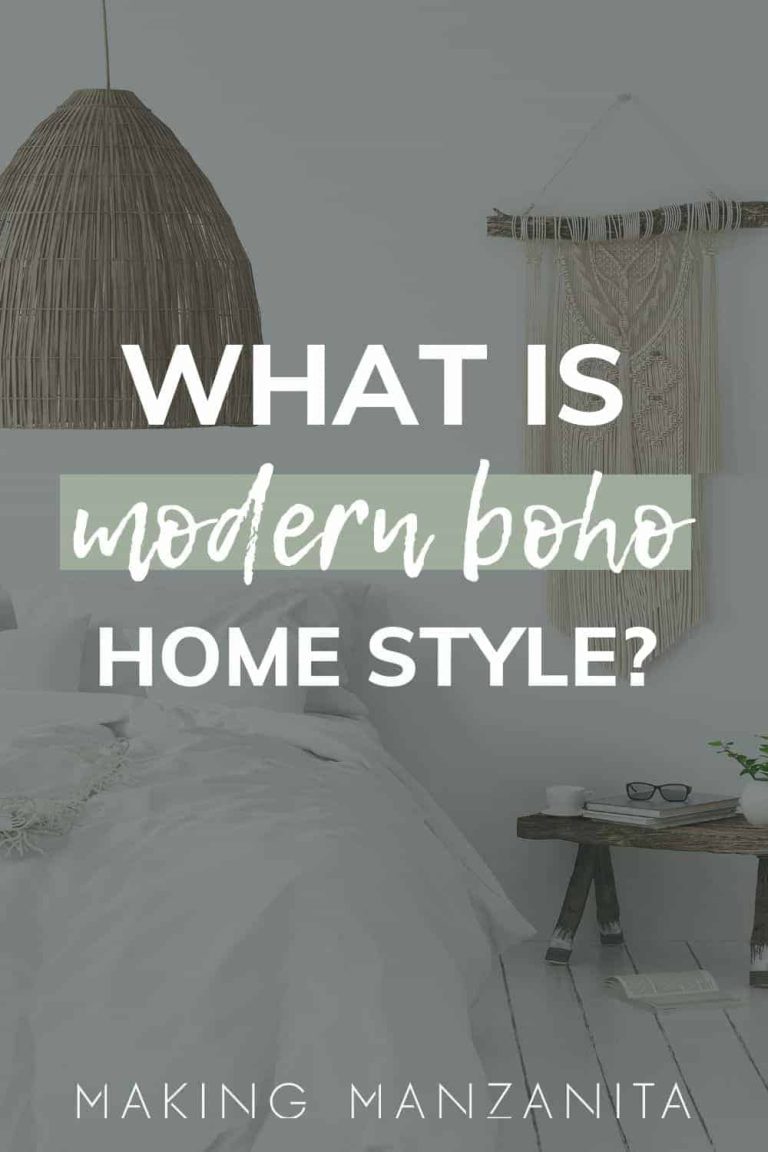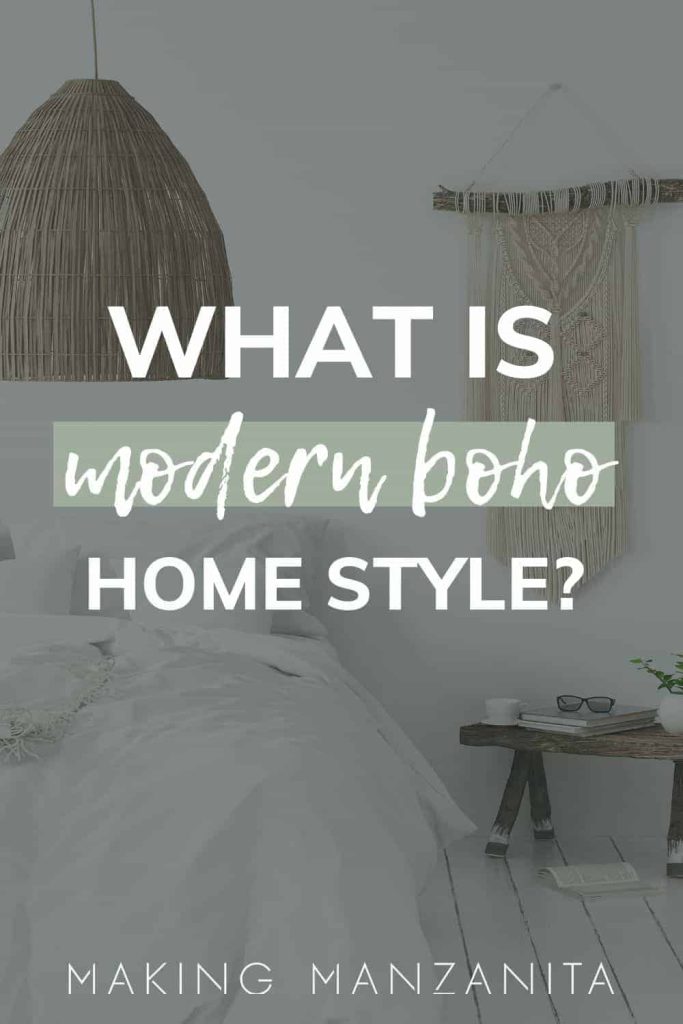 Today's version of the boho style has been updated to one that is more refined and curated, while still maintaining its carefree and unconventional roots from original bohemians.
Modern boho style takes the traditional bohemian style and updates it with a contemporary twist. You still get the laid-back feel of the boho look, but it is toned down to mix with a modern style.
Modern boho style, also referred to as boho chic, urban boho, or boho luxe, uses clean lines, simple shapes, and neutral colors to create a more polished and modern look.
While it still incorporates elements of nature and layered looks, the modern boho aesthetic also includes modern elements like metallic accents and sleek furniture.
One of the key features of the modern boho chic look is the use of natural materials like wood, rattan, macrame, and woven textures. These materials bring a warm and inviting feel to the space while also adding texture and interest.
Natural fibers, like linen and cotton, are also commonly used in modern boho styles to add a cozy and comfortable feel to the space.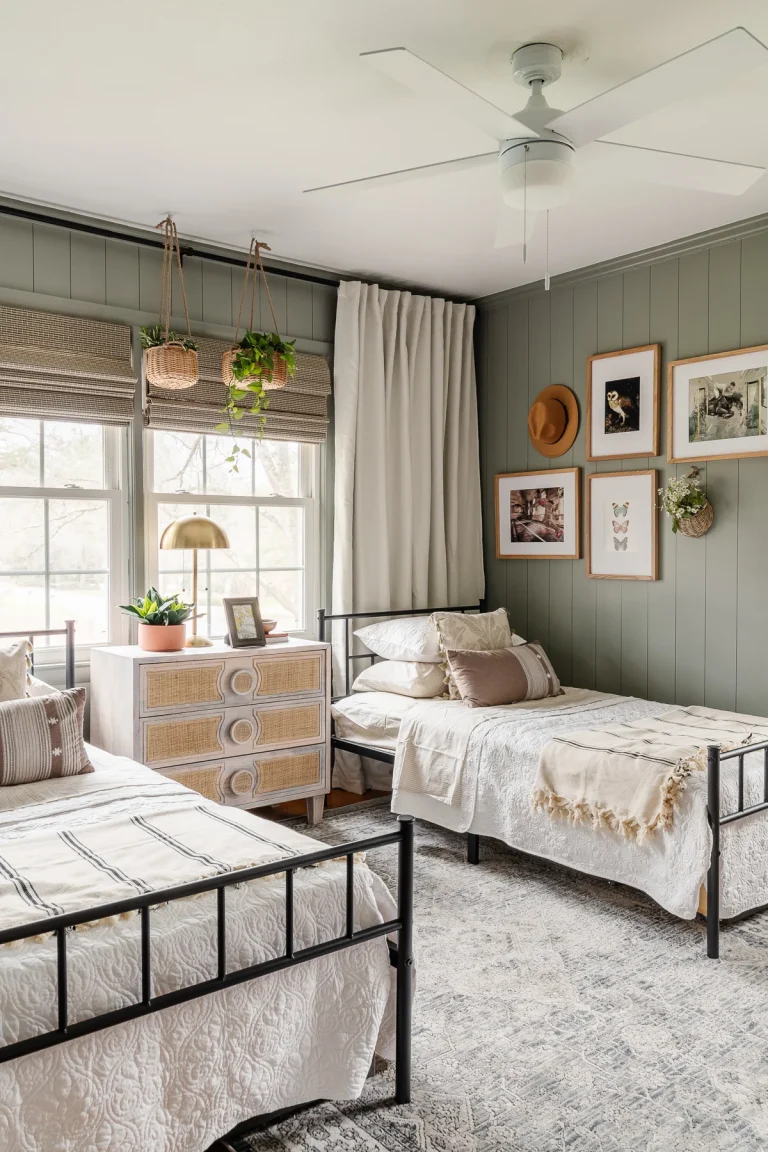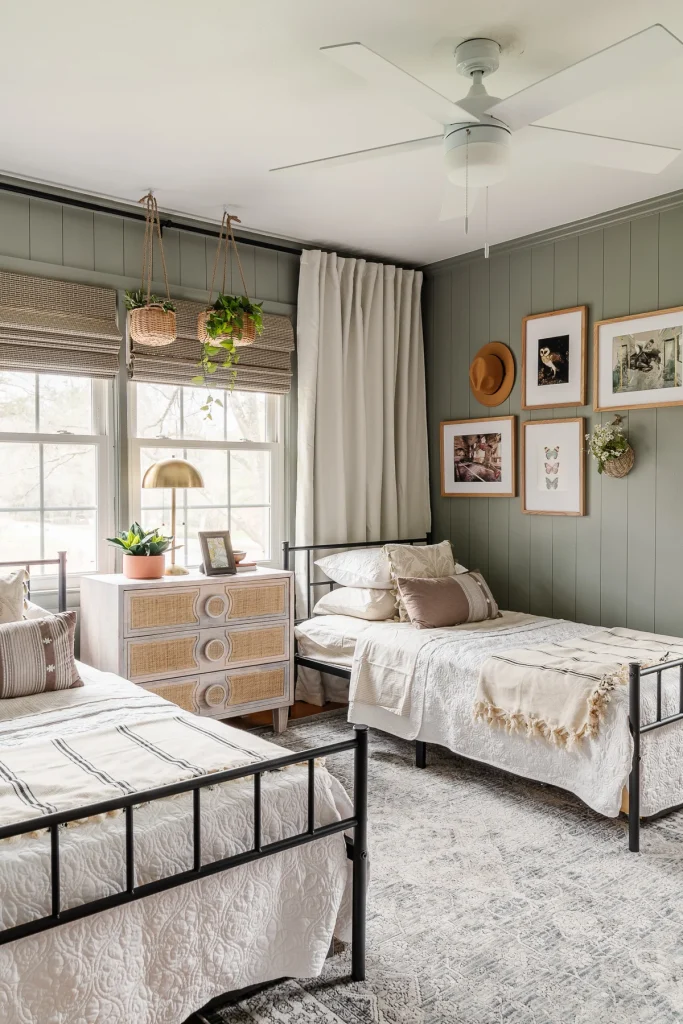 How to Achieve a Modern Boho Look in Your Home: 13 Tips
Achieving a modern boho look in your home is all about creating a space that is relaxed, comfortable, and reflects your personal style. There are several key elements of the modern boho style that help to create a cohesive and inviting space.
If you are wanting to add some modern bohemian design to your space, start by checking these elements off of your list.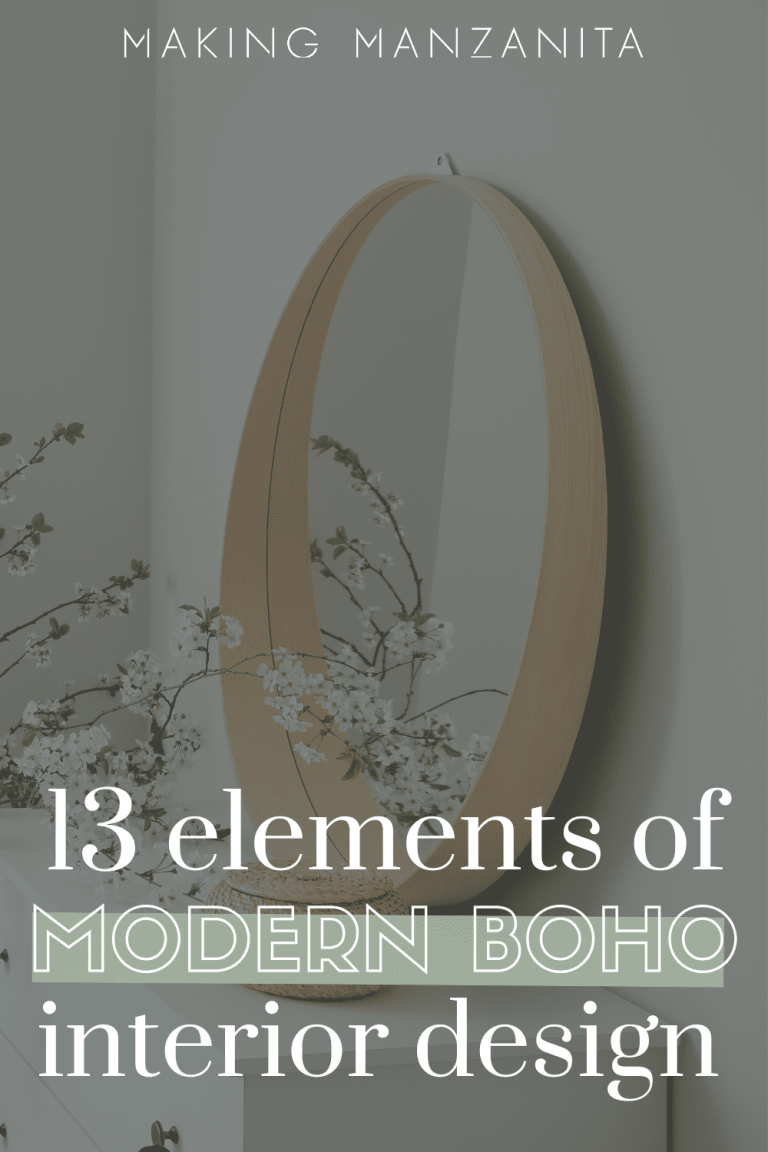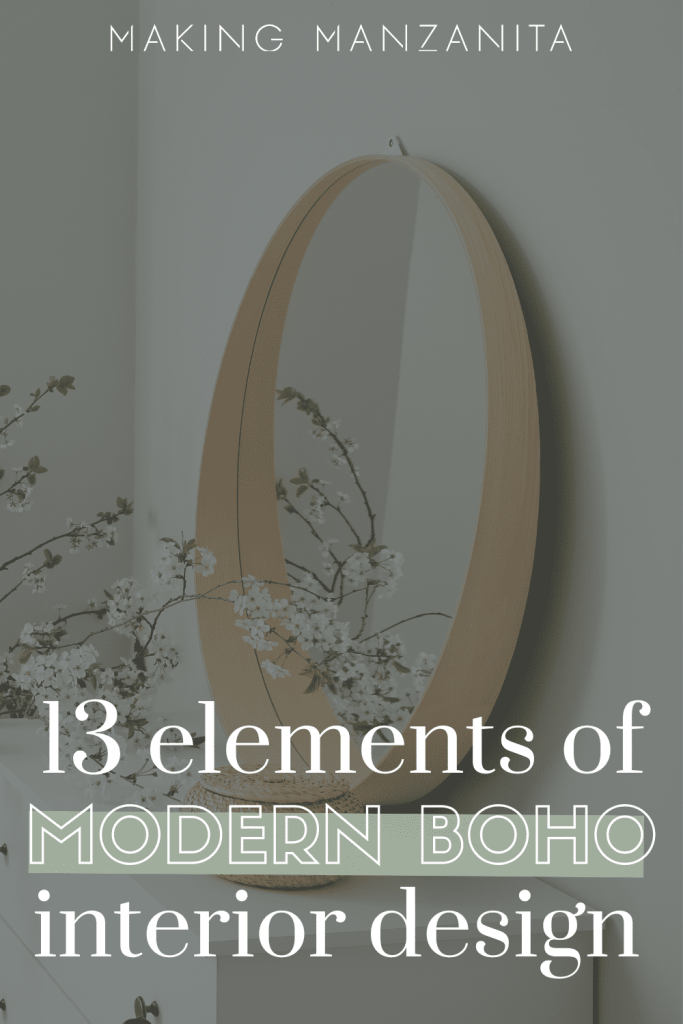 Here are some tips for achieving a modern boho look in your home:
#1: Embrace natural materials
Use natural materials like wood, cane, leather, and woven textures to create a warm and inviting feel in your space. These materials add texture and interest while also bringing a touch of nature into your home. Natural materials add warmth and texture to your space while also bringing a touch of nature into your home.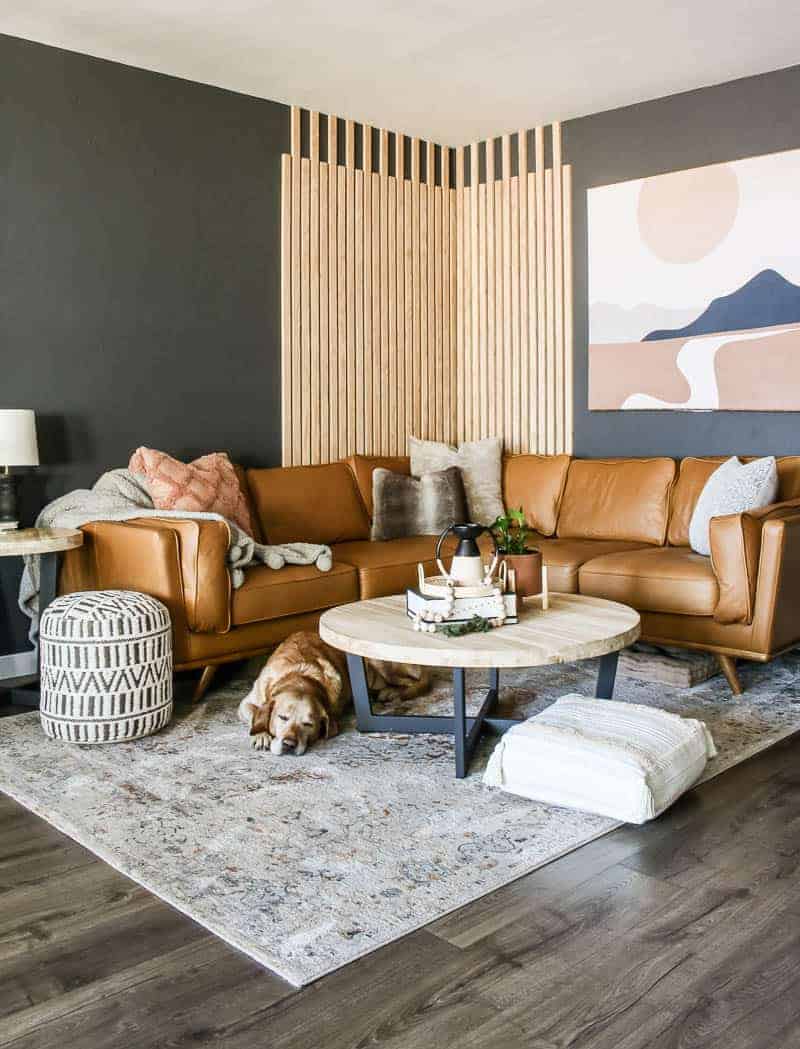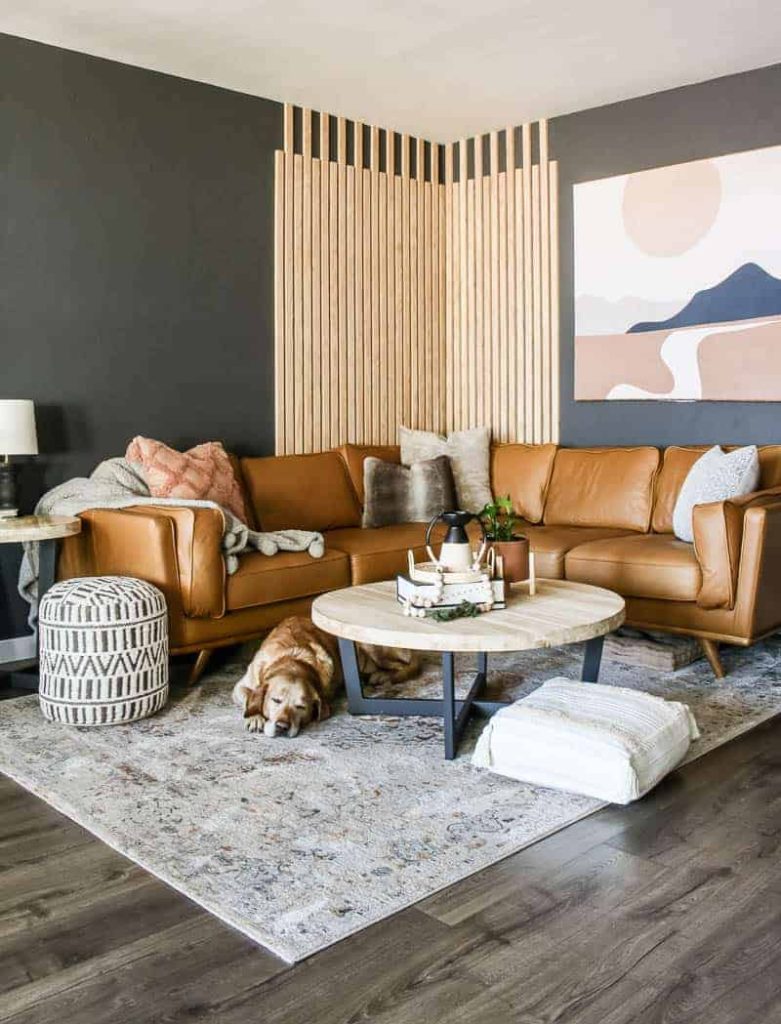 We brought in wood tones into our modern bohemian living room with a slat wall in the corner. It really warmed up the overall look of the space.
Throw some leather poufs into your room paired with rattan accent chairs and you're golden.
#2: Mix and match patterns and textures
Boho chic style is all about mixing and matching different patterns and textures to create an eclectic look. Don't be afraid to mix bold prints, like florals and geometrics, with more subtle textures, like linen and cotton.
Even having a little "extra" with tassels or fringe on your blankets, pillows, or rugs helps add texture to a bohemian space.
#3: Bring in bold patterns
Bold patterns like florals, geometric, Aztec or southwestern, and tribal prints are commonly used in the modern boho style.
Use these patterns on bedding, floor cushions, wall art, throw pillows, area rugs, and curtains to add visual interest and create a playful look. You can also choose to add bold patterns with wallpaper or murals.
#4: Layer it up
Modern boho style is all about layering different textures to create a cozy and inviting feel. Use multiple throw pillows, cozy blankets, and area rugs to create a layered look that adds depth and interest to your space.
Yes, that is right you can use not one, but two, rugs in your space. Layer rugs on top of each other to get that boho feel.
#5: Reel in your colors
In the traditional boho style, it was all the colors all of the time. But this more modern version tones down the color palette a bit.
You may want to trade in the bright and colorful patterns that are found in the traditional boho style for more neutral tones or just a pop of color here and there.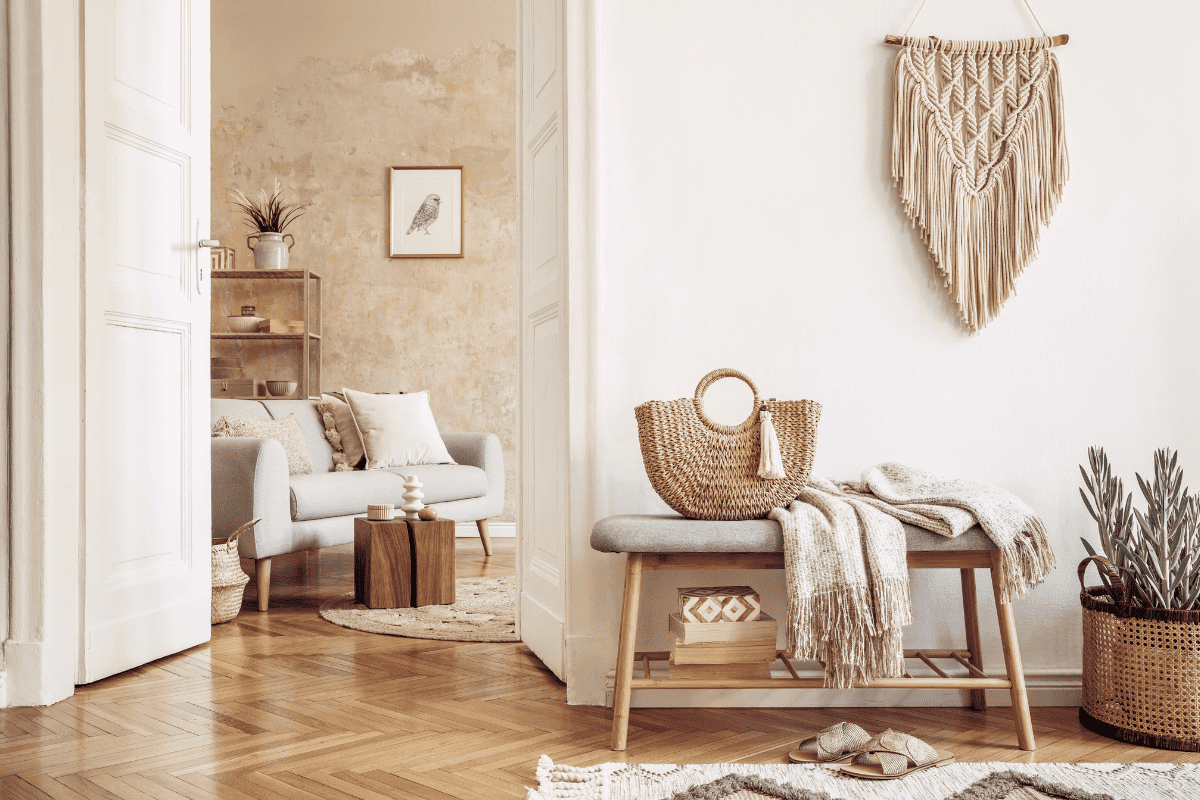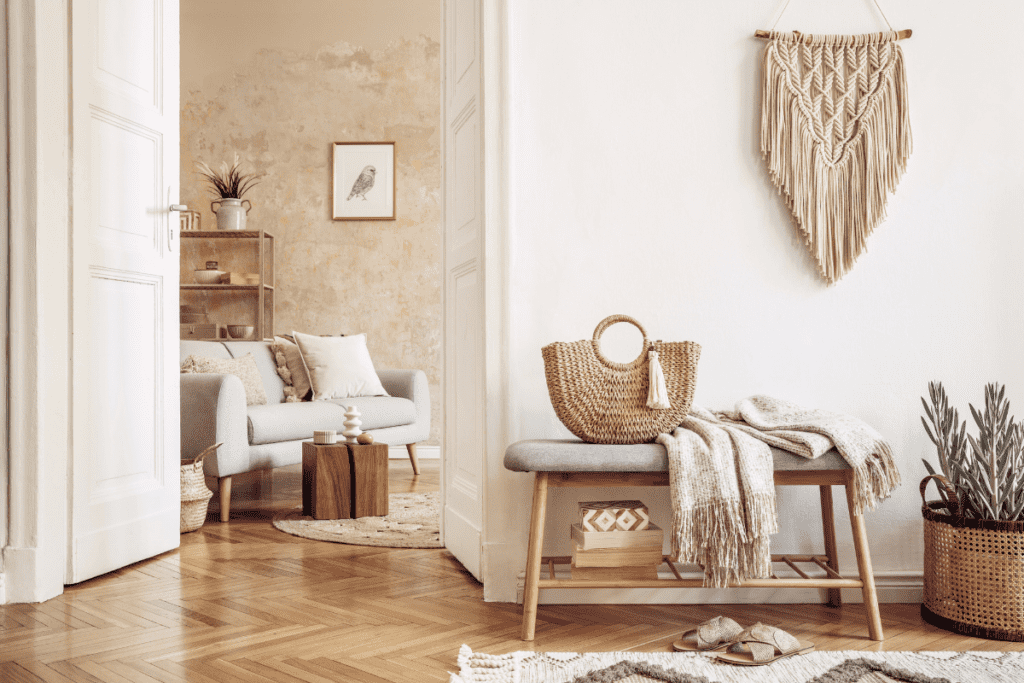 You can use white walls as your base color and then add subdue or even vibrant colors in moderation.
It can be helpful to create a color palette to follow in your whole house so it feels cohesive. Check out our whole house color scheme here.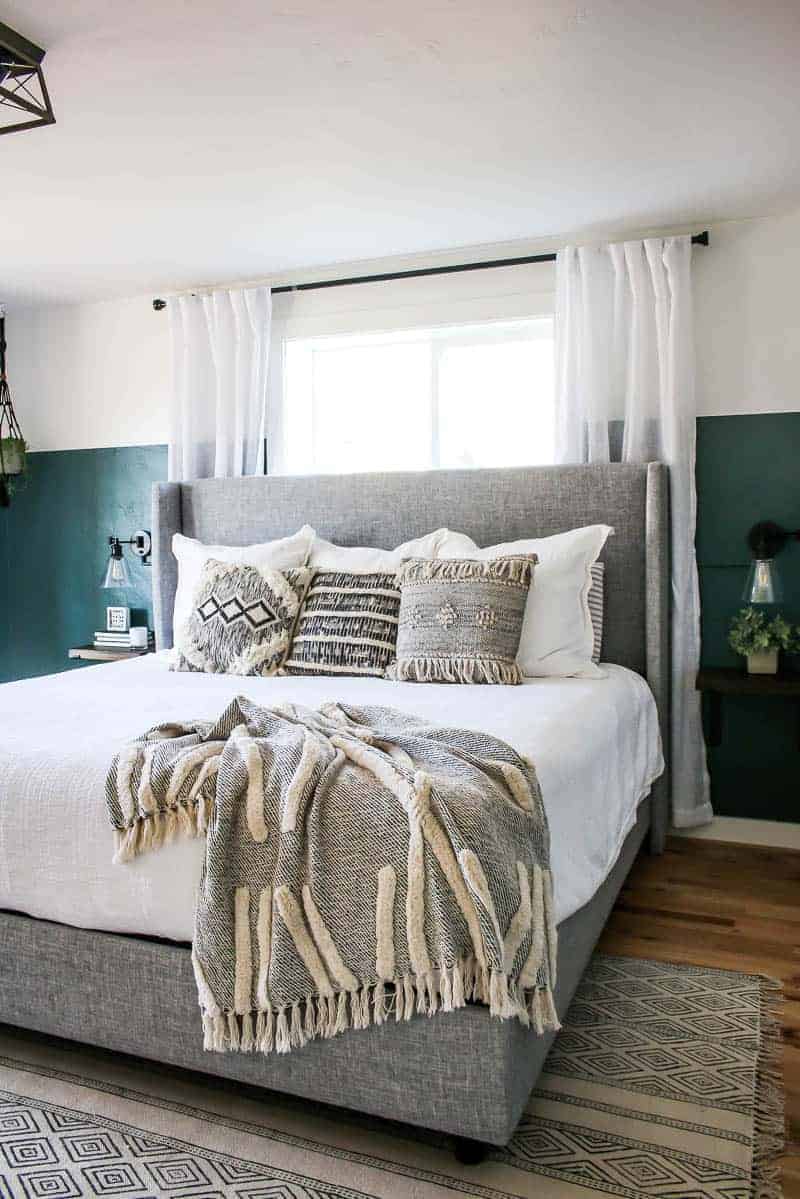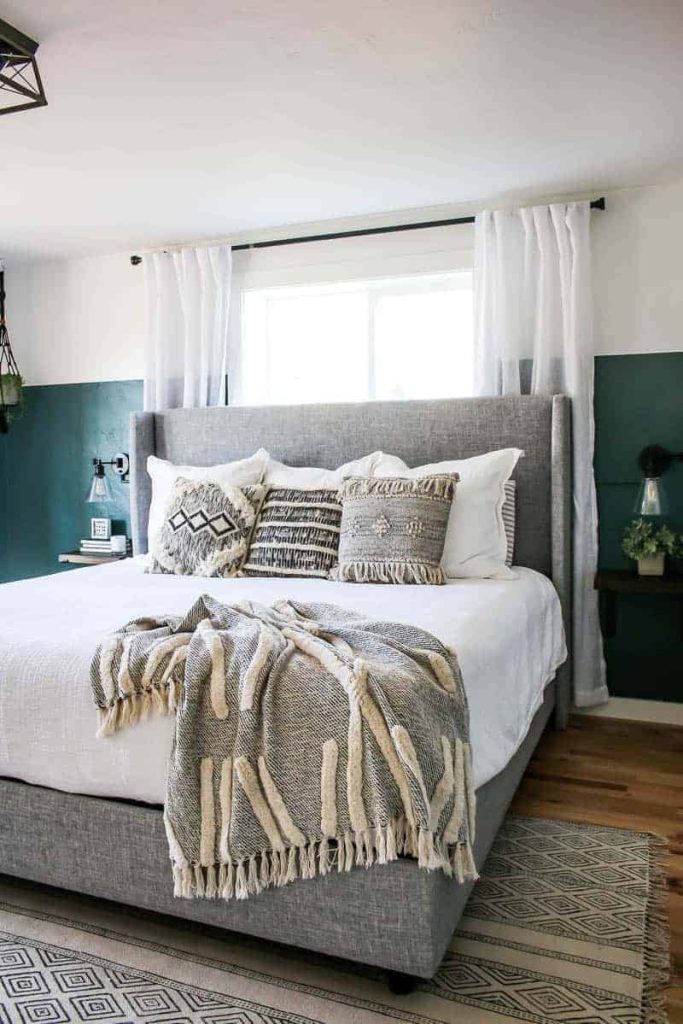 Using a neutral color scheme with a high contrast of black is one of the best ways to get the modern boho look quickly in your own home.
#6: Go modern with furniture
While it is easy to bring in the bohemian interior design style with textiles and accents, you can quickly make a room feel more modern with furniture.
Opt for a modern coffee table with clean lines to blend in with the more laid-back elements in the rest of the room.
#7: Try abstract and organic shapes
Abstract and organic shapes are perfect for the modern bohemian interior design style. Wall murals or large wall art are great places to bring in abstract shapes.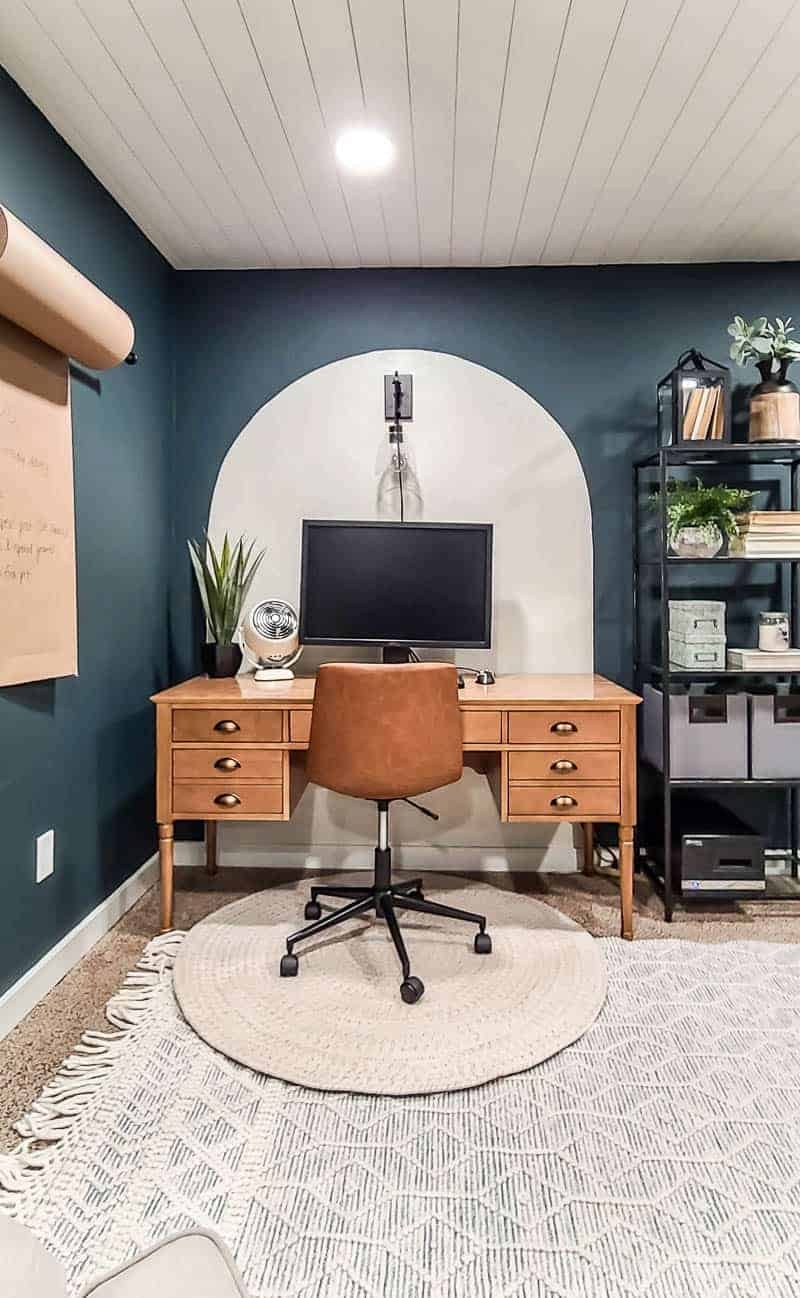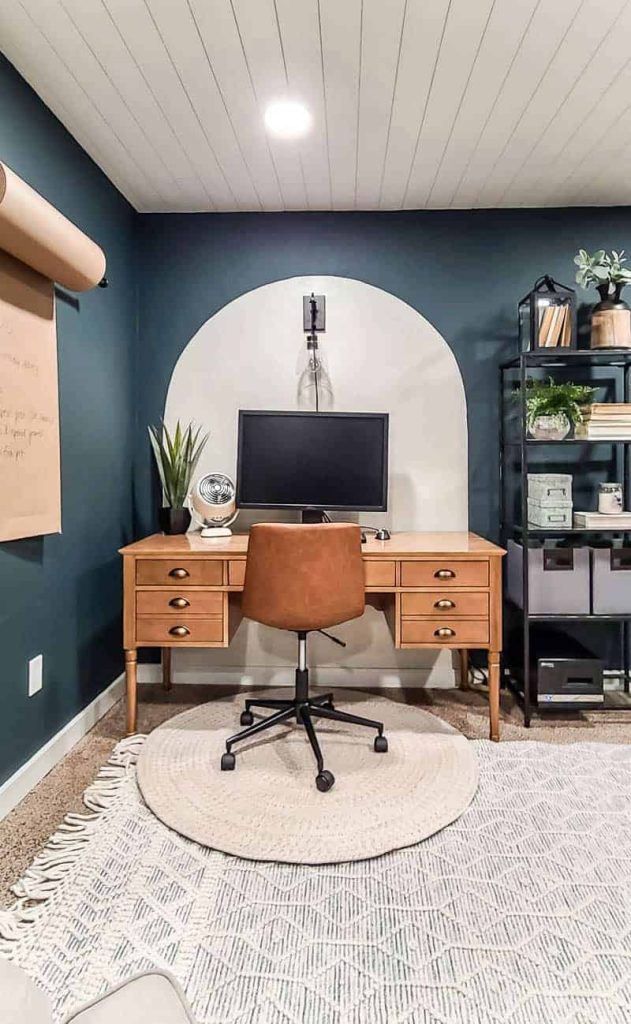 You can also try the trend of painting arches on walls. We did this in our modern boho home office behind the desks and I absolutely LOVE IT!
Curvy furniture is also having a MAJOR moment right now in interior design. These are all great examples of incorporating organic and abstract shapes into your home style.
#8: Incorporate plants
Plants are still staples of the modern boho style and add a natural element to your space. Plants are a staple of the boho style and add a natural element to your space. Incorporate both faux and real plants of different sizes and shapes to create visual interest and bring life to your space.
Here are some quick ways to incorporate indoor plants into your rooms:
Even dried plants, like pampas grass or dried lavender, fit in with boho decor. Throw them in a DIY aged vase with texture for a quick and easy solution to your surfaces that are missing a little something, like floating shelves, coffee tables, or sofa tables.
#9: Always add vintage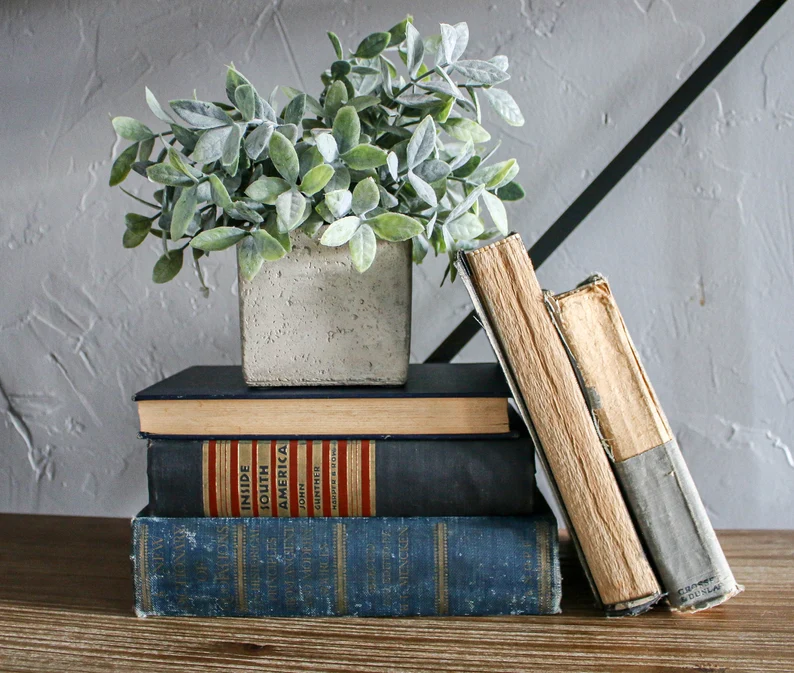 It has been said that every room needs an element of vintage and I agree. Using antique pieces throughout your home gives it a storied, lived-in look. I usually gravitate towards antique art, furniture, or accents (like vintage books) as my touch of vintage.
#10: Use soft lighting
Soft lighting is essential in creating a cozy and inviting space. Use table lamps, pendant lighting, floor lamps, and string lights to create a warm and relaxing ambiance.
A basket light, like this, is a great addition to a boho-styled room, bringing in both ambient lighting and the texture of the basket.
#11: Display your collections
Display your collections of unique items from around the world to add a personal touch to your space. These curated finds can include art, family heirlooms, pottery, books, textiles, and other accent pieces that reflect your personal style.
A great way to show off your decorative items without making them look cluttered is to use shelves or create a gallery wall.
#12: Remember the art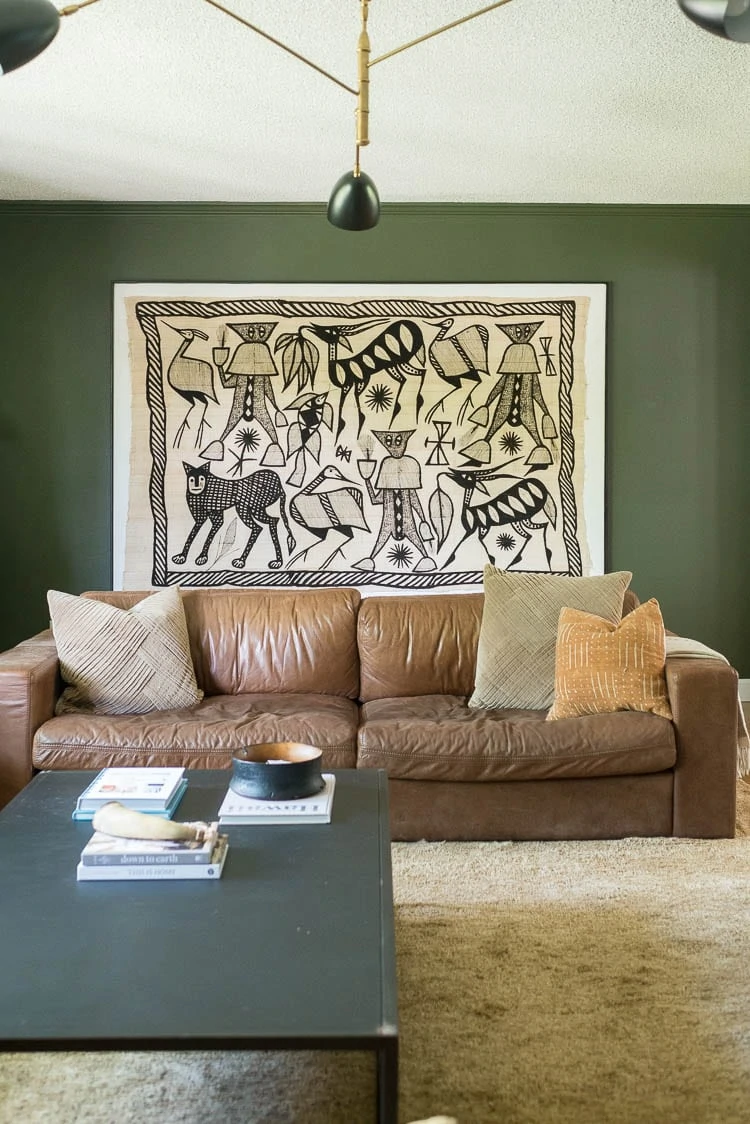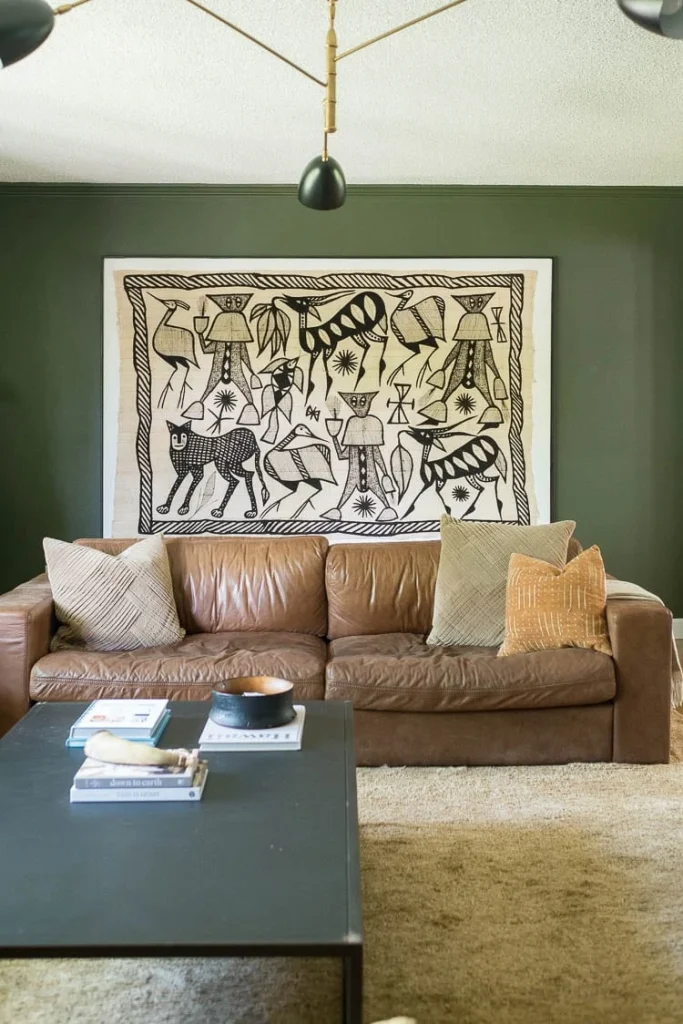 Don't forget that the whole bohemian trend started with people that were passionate about art and culture. Don't forget to spend time curating art for the room.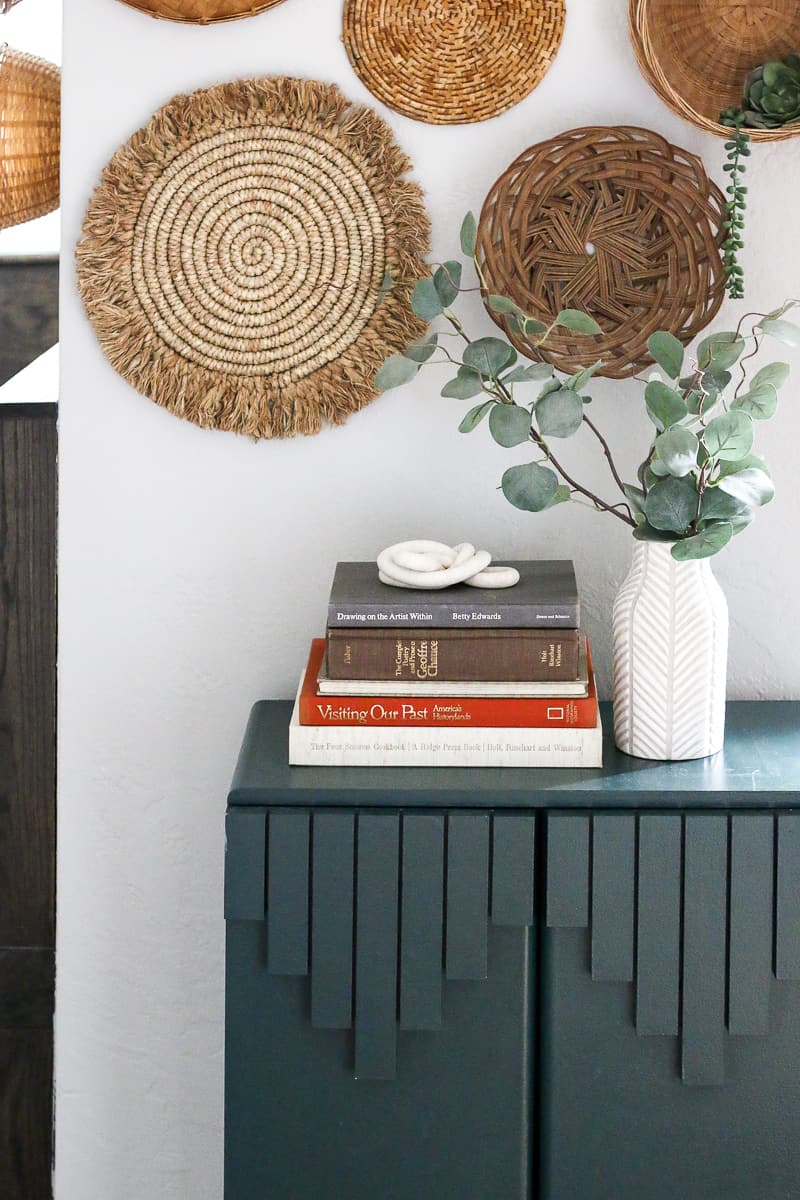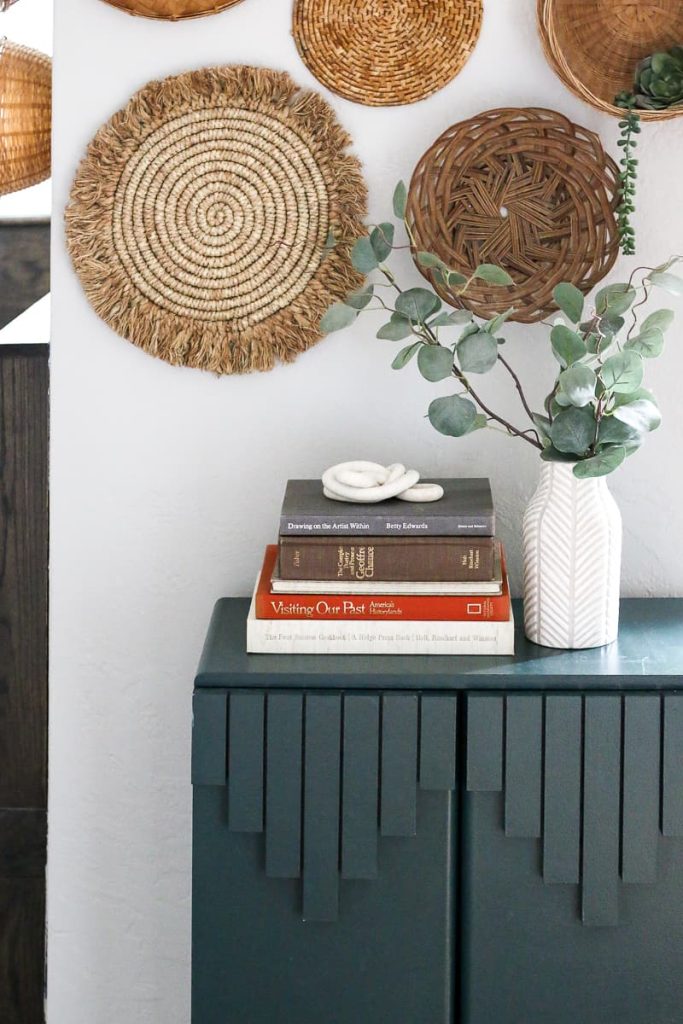 You can also bring in the use of books as decor as a nod to the literary bohemian.
#13: Add metallic accents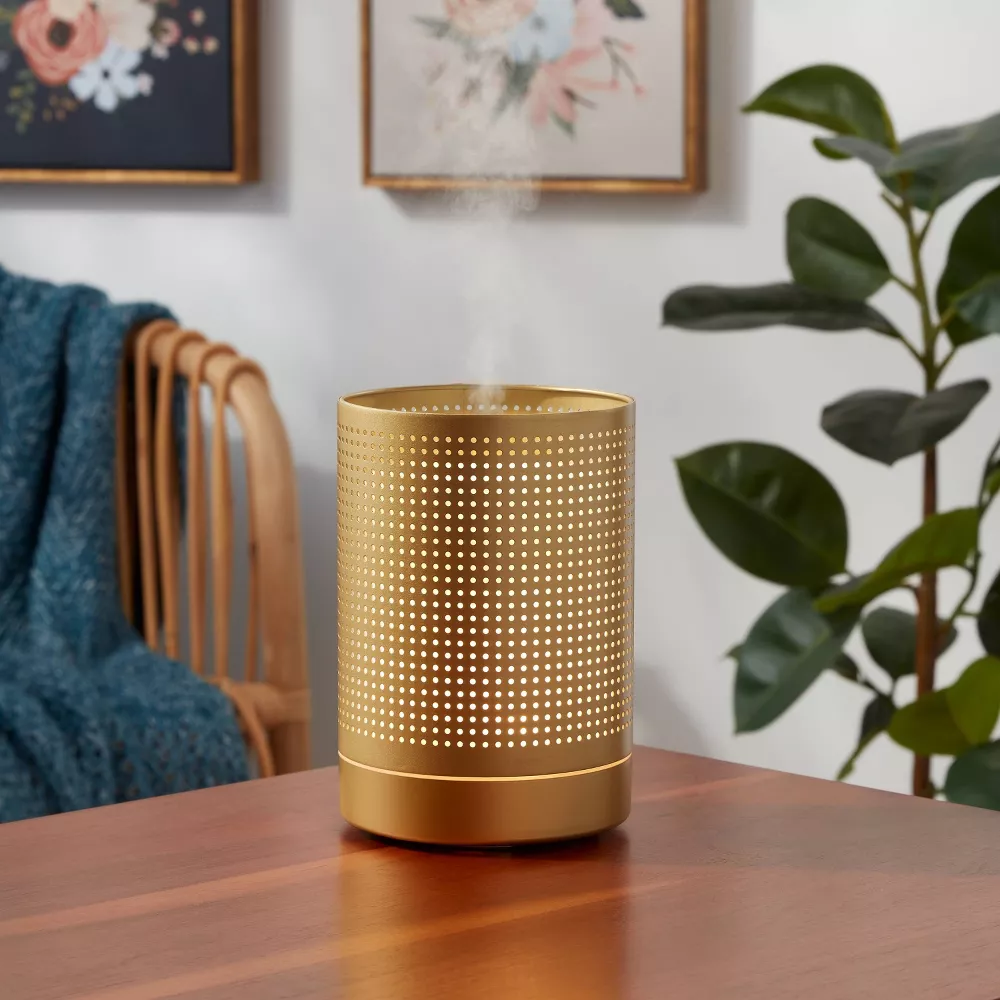 Modern boho style often incorporates metallic accents like brass and gold to add a touch of glamour to the space. These accents can be used in light fixtures, hardware, decor items, and furniture.
Where to Buy Boho Decor and Furniture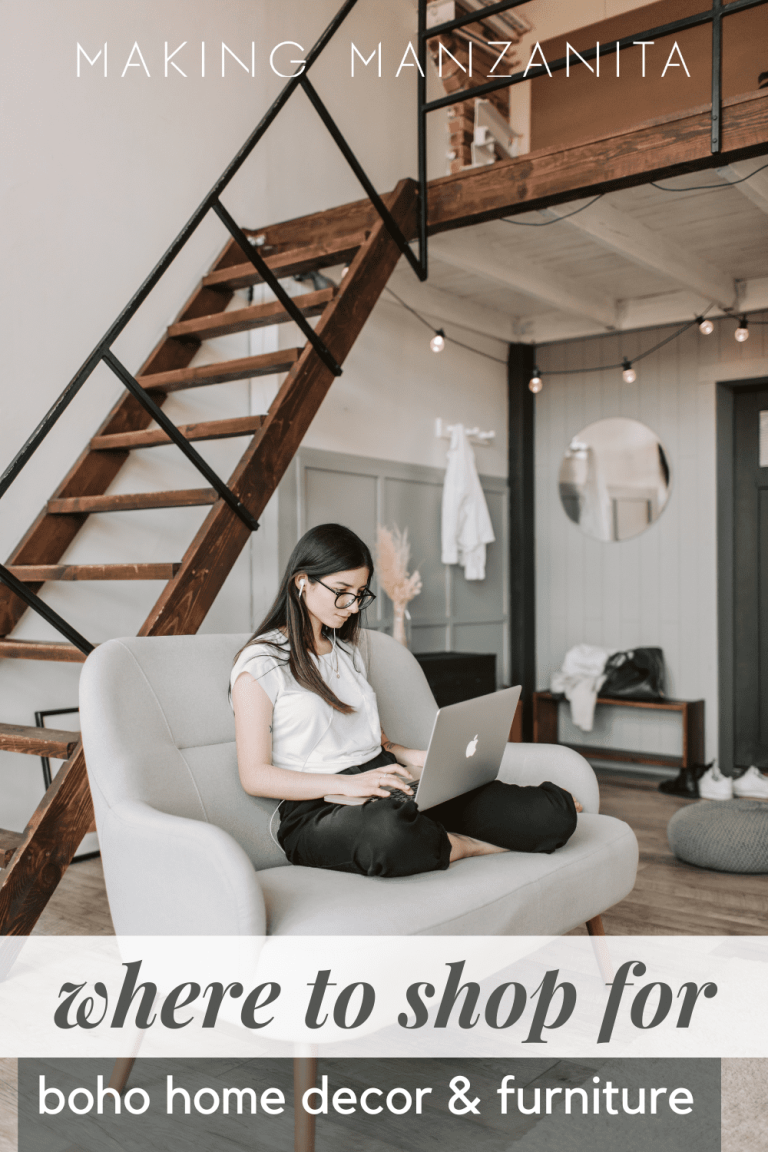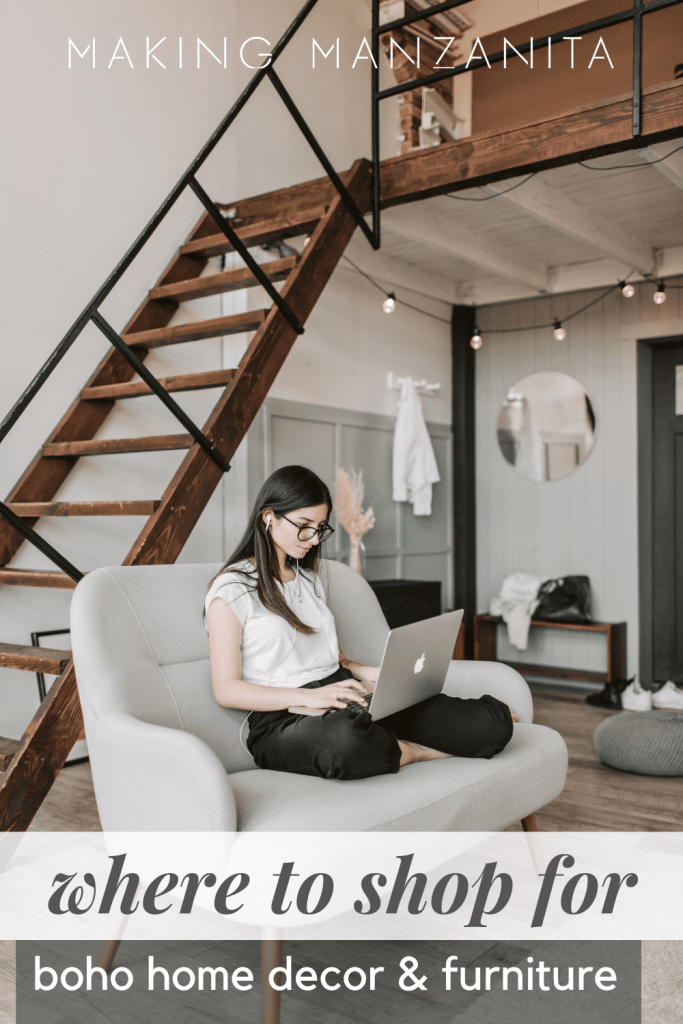 There are a lot of places you get furniture and decor that fits in with the modern bohemian interior design style.
Here are some of my favorite places to shop for modern bohemian interior design items:
Thrift stores, yard sales, flea markets, and estate sales are single-handedly the best place to find authentic decor that fits in with the boho style.
Etsy provides instant access to thousands of artists and makers all over the world. Need I say more?
Target is a great place to look for those trending modern boho home decor pieces. You can narrow your search by checking out some of my favorite exclusive lines at Target:
H&M Home: Always budget-friendly with a slightly more modern look.
World Market: It really seems like basically everything they sell fits right into this style, so it's a great place to go for inspiration and ideas. They also have an artisan collection called Craft, which features handcrafted furniture and decor and supports artisan communities all over the world to get that global style.
Amazon: Well, I'm sure you know that you can find pretty much anything under the sun on Amazon and affordable modern boho home decorations are no exception. One of my favorite Amazon exclusive lines that specialize in boho home items is Main + Mesa.
The Home Depot: Did you even know that they sold home decor? A lot of people don't realize it because they don't sell it in stores. We have a ton of furniture and decor in our home that is from The Home Depot and it totally fits in with the modern boho style.
Joss & Main: They have a huge selection of furniture, lighting, decor, rugs, and more.
Walmart: You may not really think to look at Walmart for home decor that is actually cute, but they have some awesome selections and I love how budget-friendly it is.
Anthropologie: The OG shop when it comes to boho home items, but it can be pretty pricy. Great for finding inspiration, checking out clearance items, or if you're ready to get an investment piece.
Urban Outfitters: Always has a fun selection of unique trending items at a budget-friendly price.
West Elm: Known for its more contemporary aesthetic, it is a great place to find durable and well-made furniture.
Modern bohemian interior design is all about creating a space that is comfortable, eclectic, and reflects your personal style.
By embracing natural materials, mixing and matching patterns and textures, and incorporating plants and metallic accents, you can achieve a modern boho look in your home.
What do you think? Do you love modern bohemian interior design as much as I do?