Decorating shelves doesn't have to be so overwhelming. With these simple tips and tricks on how to decorate shelves, you'll be styling shelves like a pro in no time!
This post contains affiliate links, but nothing that I wouldn't wholeheartedly recommend anyway! Read my full disclosure here.
All of the sources for the items shown in the photos are linked at the very bottom of the post for your convenience!
If I don't have anything to do on a Saturday night, you can usually find me cozied up on the couch with a blanket and my laptop scrolling through Pinterest, checking out some of my favorite blogs or thumbing through the latest copy of Magnolia Journal. Usually I'm looking for one thing….inspiration.
Inspiration comes in all shapes and sizes, sometimes inspiration can strike with a breath of fresh air on a walk. Other times, inspiration comes in the more obvious form…through other designer's rooms on Pinterest or blogs.
One thing that I absolutely love looking at is how other people decorate shelves. For a couple of years now, I've been admiring perfectly decorated shelves all while filling up my inspiration jar – hoping that someday, I too, would have some pretty shelves in my house to decorate. Does anyone else out there dream about having shelves too?
So, this year when Logan asked me what I wanted for Christmas, instead using my typical answer "oh, I don't need anything honey…", I replied "I would like a shelving unit, here's the link to the one I want.". He was a little shocked in my decisiveness, which is totally uncommon. Please tell me I'm not the only one that never knows what to ask for at Christmastime.
I had waited long enough. I was going to finally get my shelves!
That night…and the nights that followed, I was stuck to my laptop dreaming and scheming…looking for that inspiration again! But this time I was zeroed in – how to decorate shelves!
Now, this isn't the first time I've decorated shelves – in our old house, we built bathroom floating shelves and decorated them up for our farmhouse master bathroom reveal. I also put some floating shelves up above the toilet again in our recent modern farmhouse bathroom renovation. But, this was the first time that I had a massive shelving unit that was all mine to decorate to my heart's content. Needless to say, I was pretty excited.
When it came time to get my shelving unit decorated, let's just say my inspiration jar was FULL. I was bursting with ideas. I had so much fun getting my shelves unit decorated and I learned so much along the way.
Hopefully if you've stumbled up on this post today, you are staring at an empty shelving unit wondering how in the heck you can decorate shelves without it looking like you just threw stuff up on the shelves with no rhyme or reason.
I'm going really break things down today to make it really easy to understand how to decorate shelves. Even if you are typically lost when it comes to decorating, have no fear. With these shelf decorating tips and tricks, you'll be ready to get those shelves looking good in no time!
Are you ready to learn how to decorate shelves??
Gather all decor options
Much like a super popular Konmari method of decluttering, let's start by gathering up all possible decoration ideas and put them all together. It helps to be able to see everything you're working with before you get started.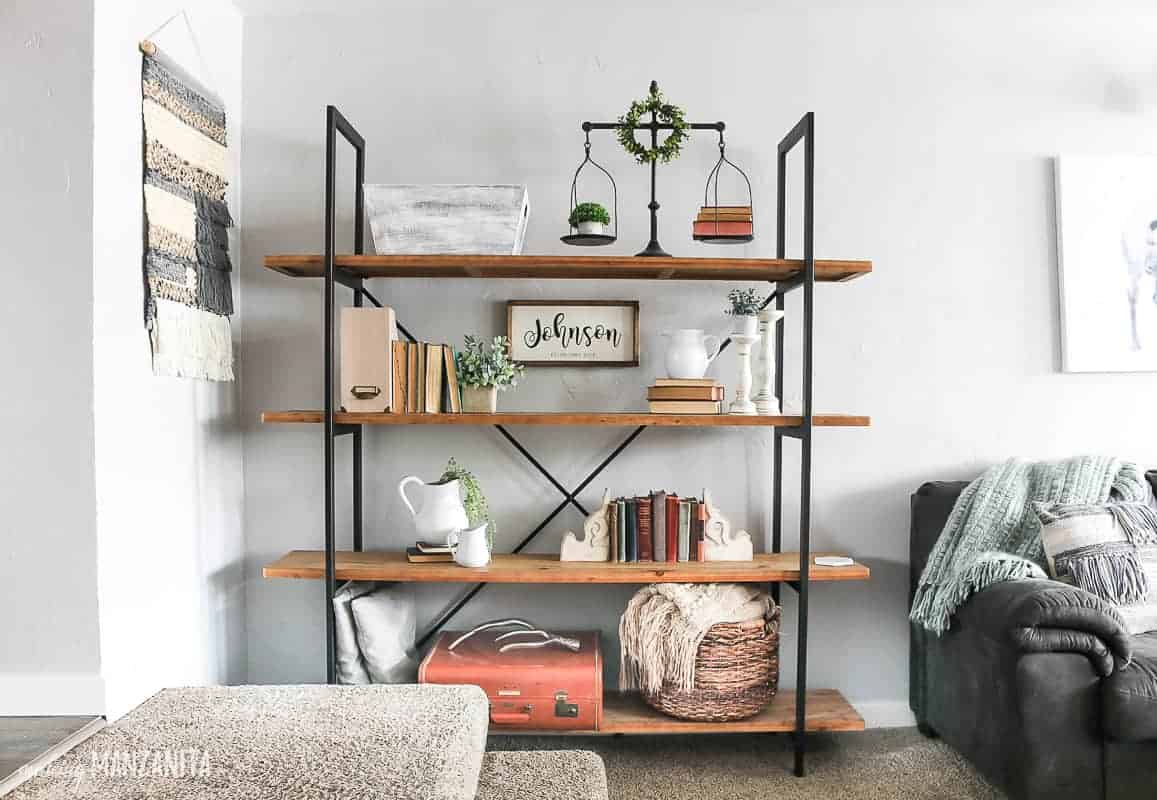 Look for repetition of texture, pattern or colors
While you stare your big pile of decor options (let's just call it our inspiration pile, that sounds better, right?), start pulling out items that have similar texture, pattern or colors. When you are decorating shelves, it is easy to throw everything up on the shelves and call it a day. But, chances are that the shelves would look like a hodge podge mess if you didn't have some sort of repetition. Aim to repeat something at least 3+ times.
You'll see on my shelves I repeated:
Color white (box on top & white farmhouse pitchers)
Faux greenery
Warm neutrals (tan magazine holder, pages facing out on vintage books, tan blanket in basket, cream colored corbels)
This simple repetition helps tie all of the decor on the shelves together so things look more cohesive. When you are placing your repetitive items, be sure you are spreading them out throughout the shelves. This helps your eye bounce around a bit.
Can I tell you a secret? When I was decorating these shelves….I was struggling pulling in some more repetition of the pure white color after I added my cute farmhouse pitchers (which are totally spray painted BTW, read all about it here). The box you see up on the top shelf was originally a rustic wood shade….I quickly dry brushed some white acrylic paint on there and BOOM….the decorated shelves instantly looked better with the subtle repetition of color.
Incorporate creative storage
Well, chances are you want to actually STORE things on your shelves. There are plenty of ways you can store the not-so-pretty things when you are styling shelves.
In the white box on the top shelf, I'm hiding workout equipment like resistance bands and workout DVDs
In the tan box on the left, I'm storing my favorite magazines – mostly old copies of Magnolia Journal & Better Homes And Gardens
In the vintage suitcase on the bottom, I've stuffed in a spare pillow for visitors that are crashing on the couch
In the basket on the bottom, I'm storing extra blankets for the living room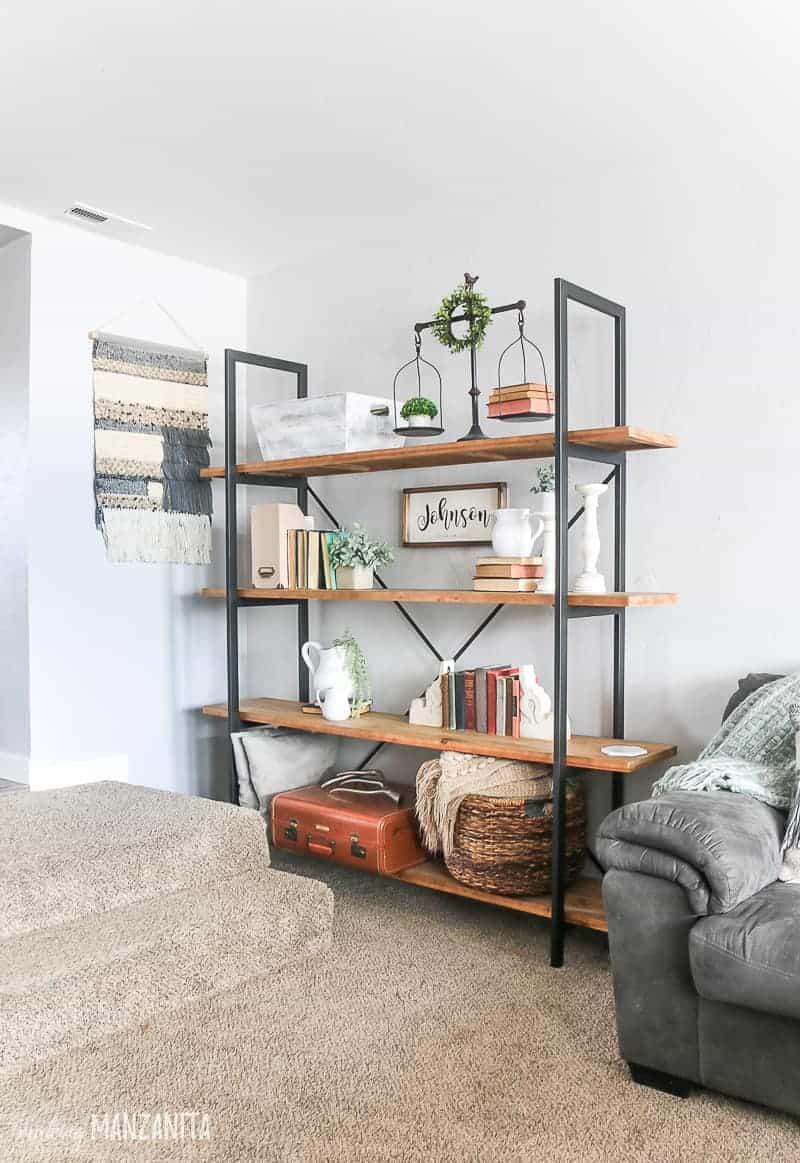 Don't forget about the wall behind
When we're learning how to decorate shelves, it's easy to get stuck on what to actually put on the shelves – right? But don't forget that you can also decorate the wall behind your shelves!
You can lean framed art on the back of shelves
Add color to the back of your shelves with wallpaper or paint
Hang a sign on the wall behind your shelves (this is what I did)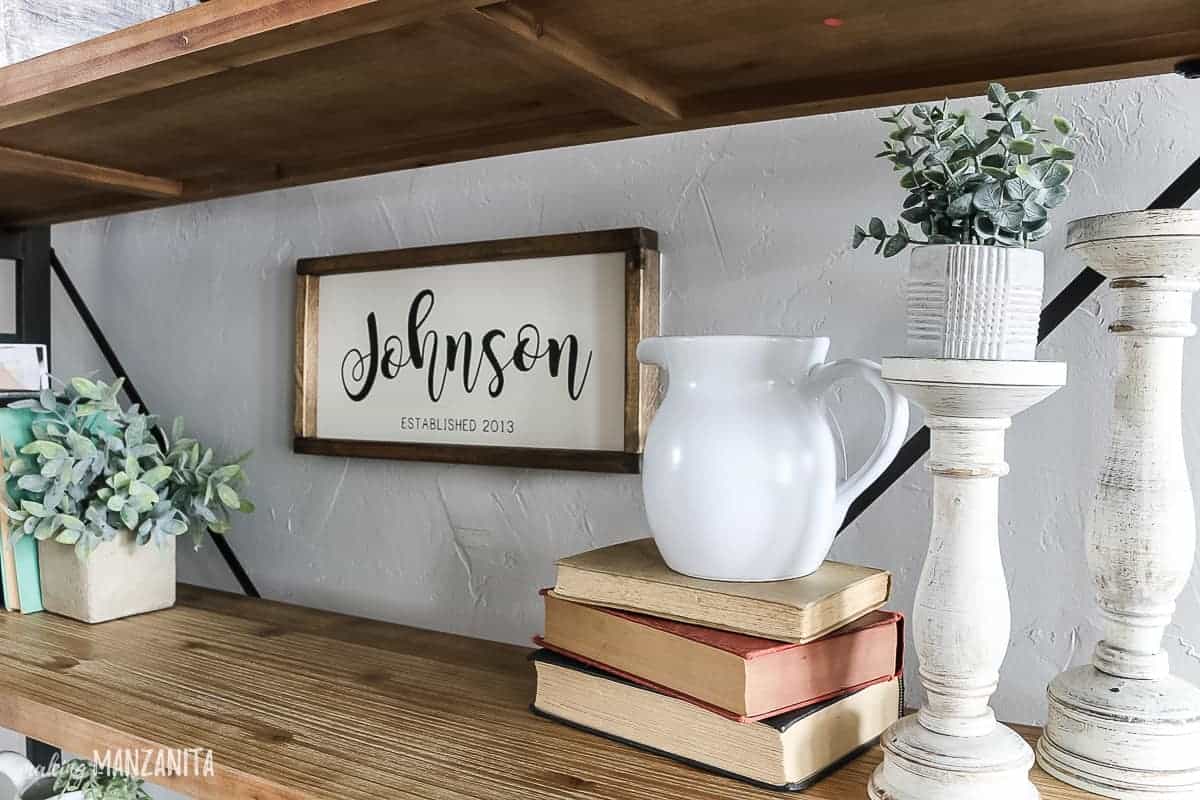 Vary heights
Much like spreading out repetitive items helps your eye bounce around the shelving unit, arranging the items in varying heights is more appealing to the eye.
You'll notice on my shelves that stacks of books are great ways to vary heights!
There's something about the shape of a triangle that also looks great when you are decorating shelves…it probably has something to do with the magic of three…which brings me to the next point…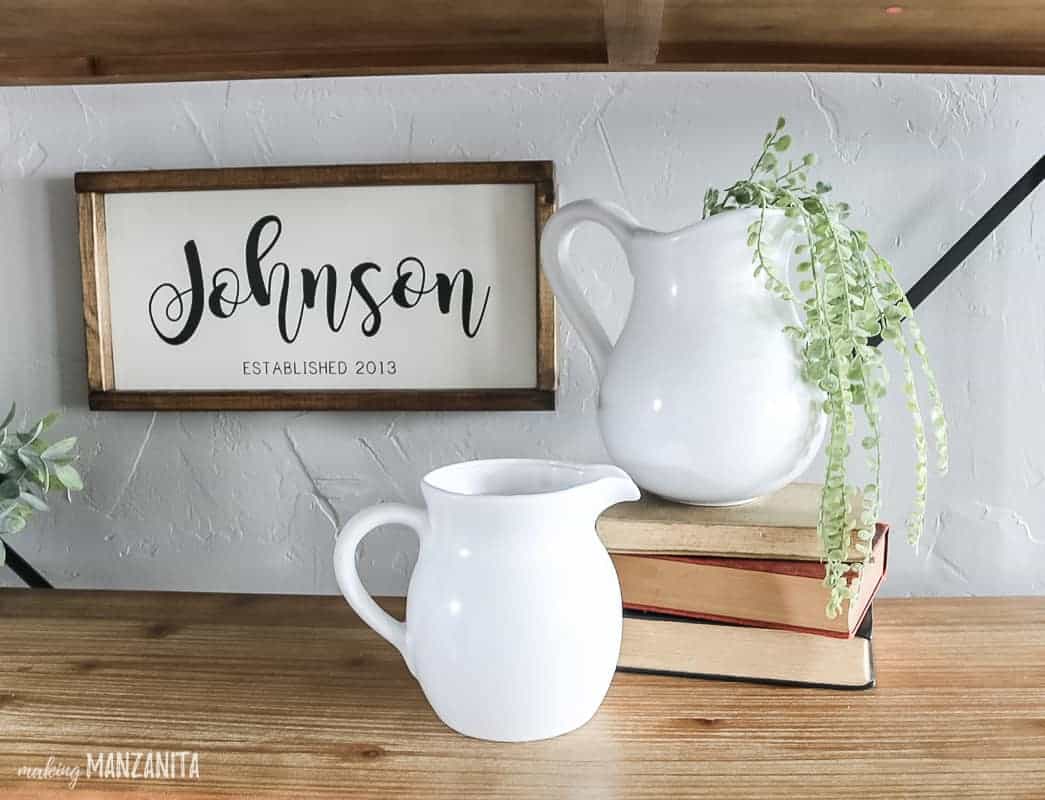 Group items in odd numbers (3 is the magic number)
Have you ever heard of "the rule of three"? It's true that things grouped in odd numbers (specifically three things together) are more visually appealing. There are definitely plenty of instances were I pulled this concept into our shelves:
Three ares of repetitive for the color white (spread out in a general shape of a triangle, too)
Stack of three vintage books on the scale & under the white pitcher
Three things added to the scale (vintage books, faux plant and mini wreath)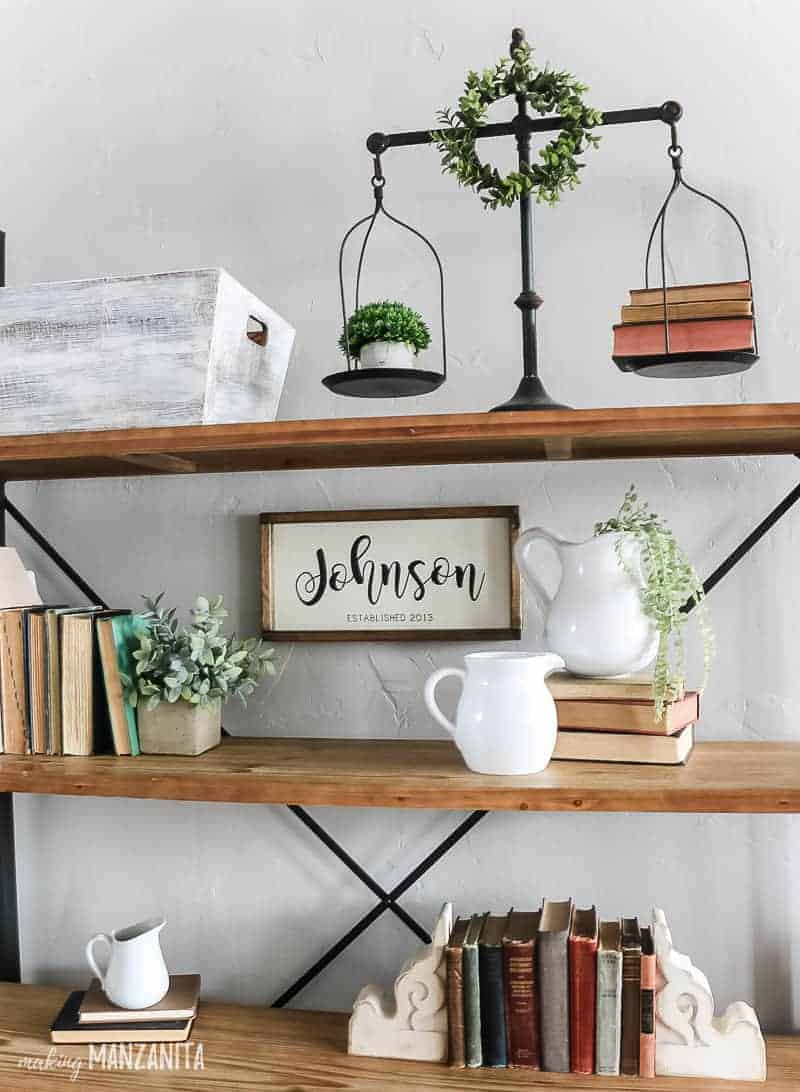 Don't get too comfortable
Even though I absolutely love the way my shelves are decorated right now, one of the fun parts about having a shelving unit like this is that you can change things up whenever you want! If you want to flex your designer muscles, decorating a whole shelving unit like this is a workout – 10 points for the corny joke.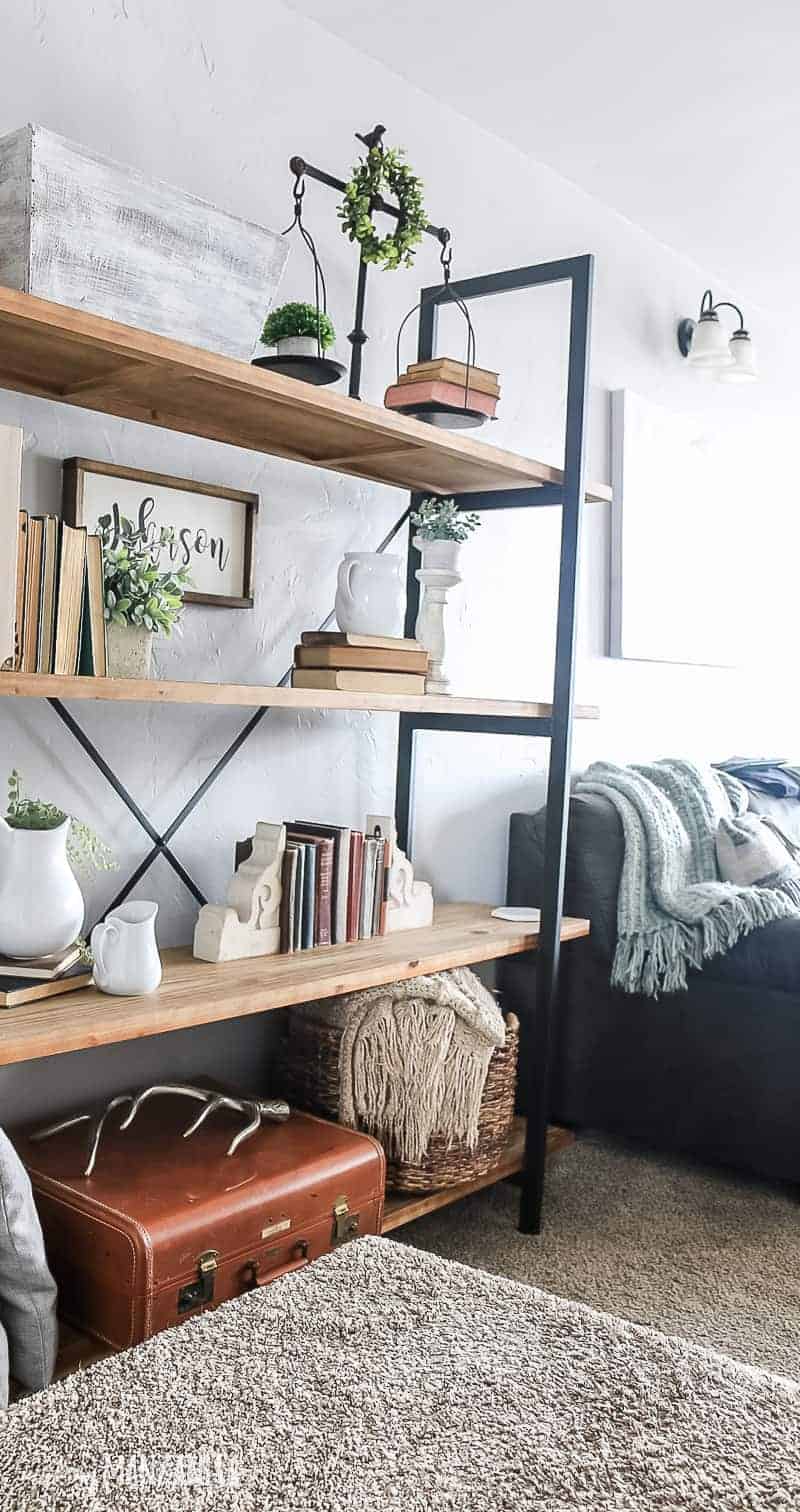 Decorating shelves doesn't has to be so overwhelming. If you're reading this and you're stuck and frustrated, try this (or if you just scrolled to the bottom and want the cliff notes version):
Take everything off the shelves…yes, everything
Gather all possible decor into a pile – this is our inspiration pile
Store the not-so-pretty things in pretty containers and baskets
Look for your repetitive items …remember color, texture, pattern

Spread these items throughout the shelves

Try grabbing three things from your inspiration pile and place them on your shelf in a group together that creates variation of height

Give the "triangle method" a try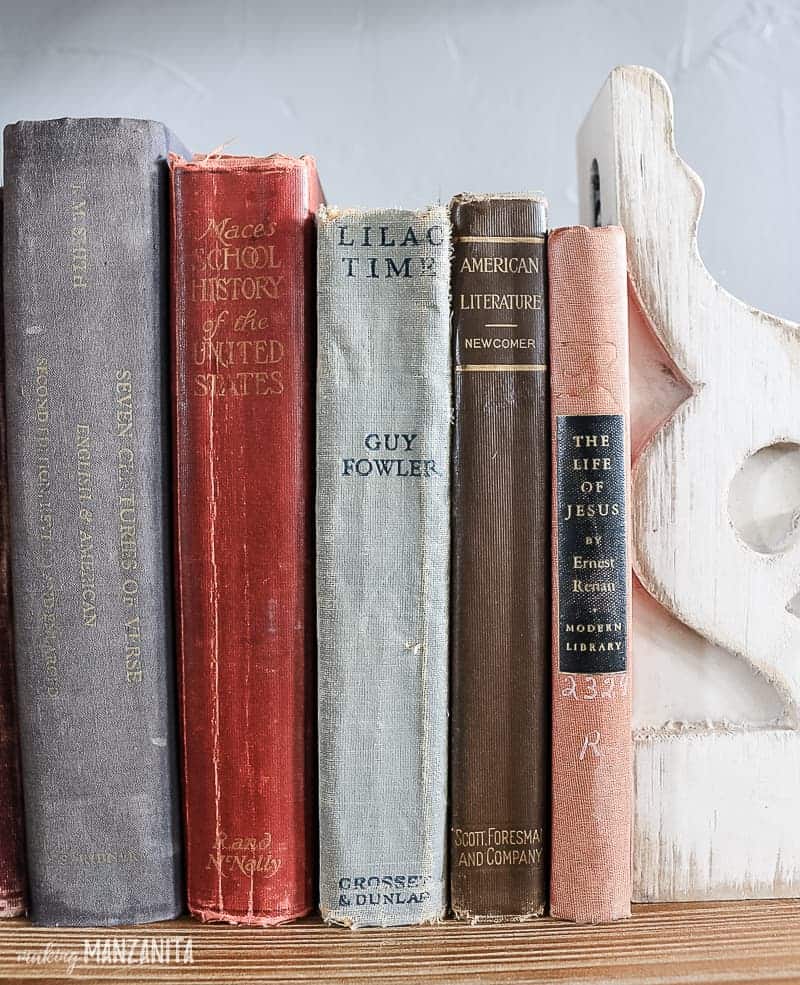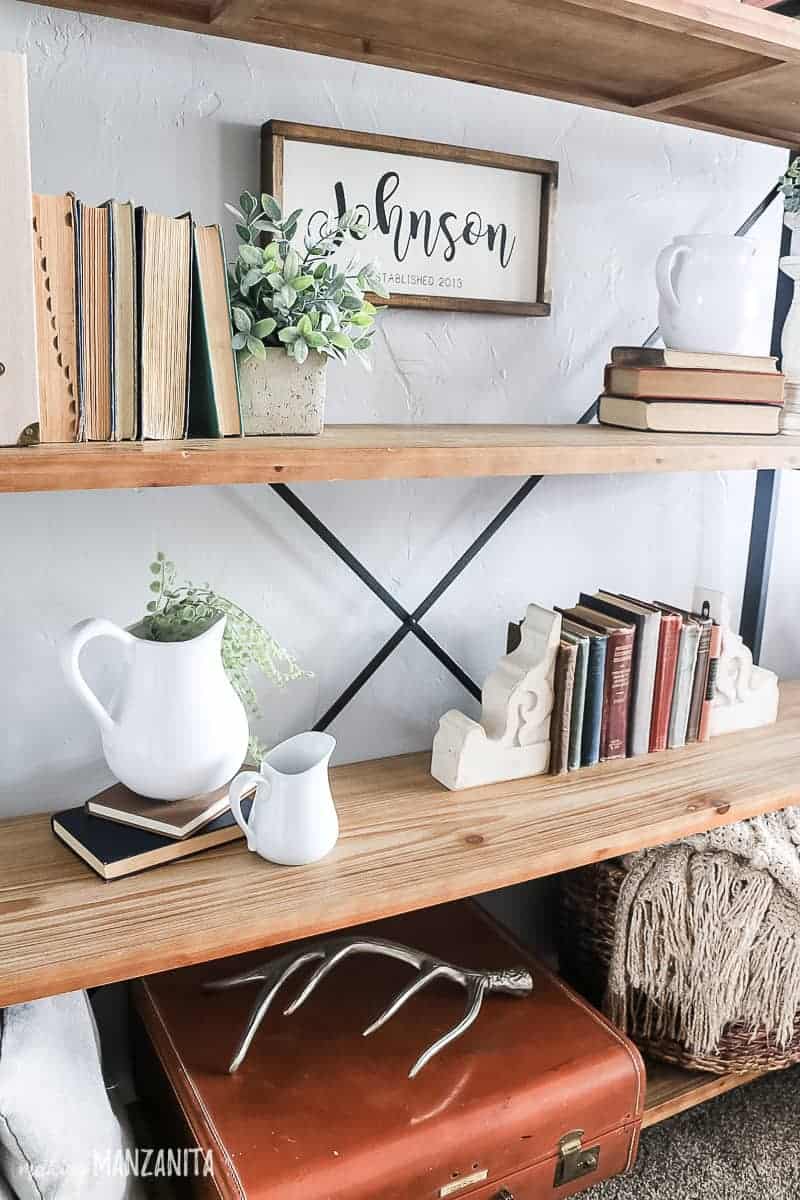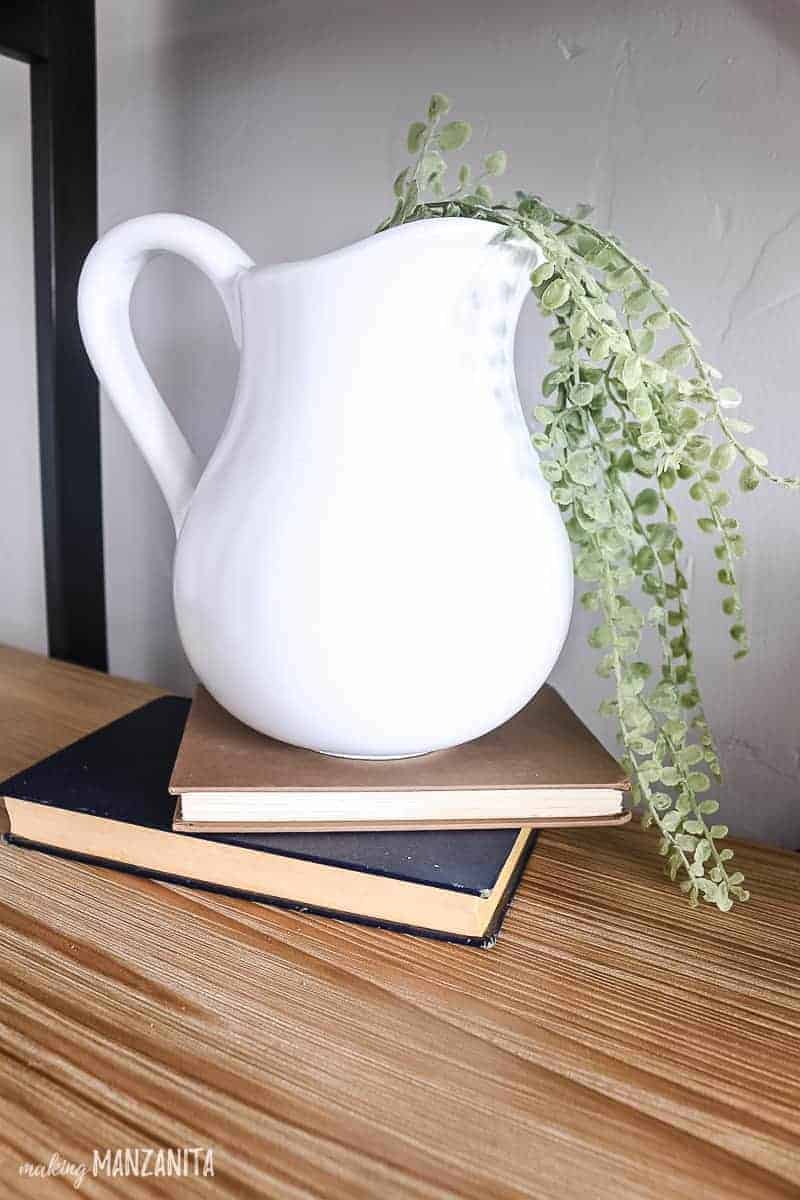 Using these tips and tricks for how to decorate shelves, you'll be able to go from frustrated and overwhelmed to confidently decorating your shelves just like a pro. I can't wait to see what you come up with. Be sure to tag me @MakingManzanita with your decorated shelves!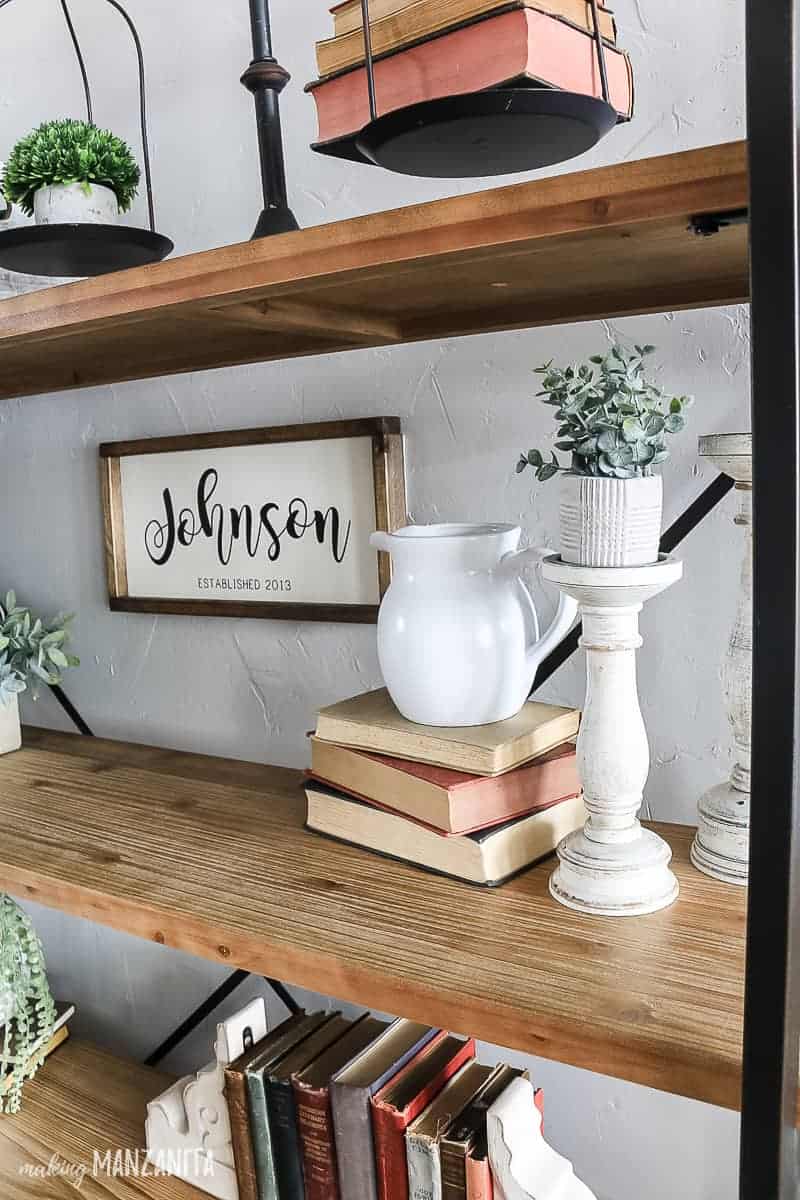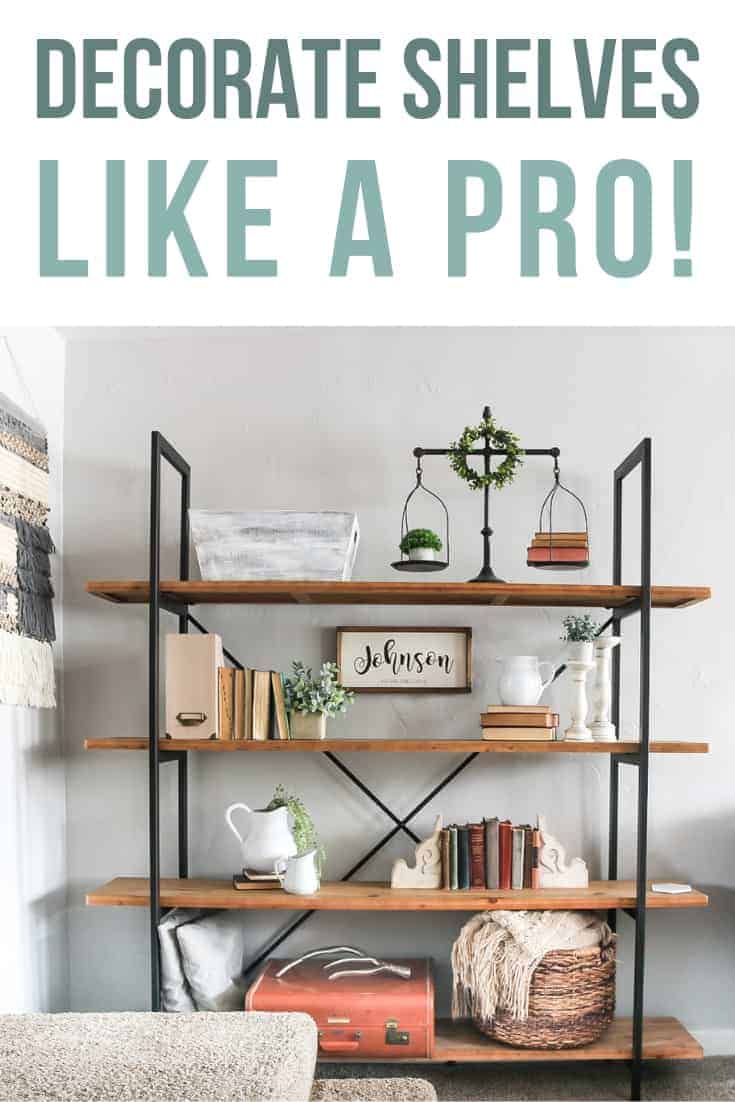 Looking for more ideas on how to decorate shelves?
I'm obsessed with these little floating shelves above our toilet in our newly renovated farmhouse bathroom!
I had originally got on the whole bathroom shelves bandwagon because I fell in love with these shelves we built in our master farmhouse bathroom at our old house. (Floating shelves tutorial here)
Speaking of shelves in bathrooms, I love how Emily from Small Stuff Counts has decorated that cute little shelf in her bathroom!
And why we're on the topic of bathroom shelves, here's how you can drill into tile to add DIY bathroom shelves. Love this look from Lindi at Love Create Celebrate.
Liz Marie has some awesome tips in this post all about shelf styling!
Love how Amanda at Love & Renovations has styled her living room shelves. This post also has a step by step tutorial for how to build DIY floating shelves!
Even small shelves (and picture ledges) can be difficult to style sometimes. I love Sarah from Sarah Joy Blog's tips in this post about styling the smallest shelf ever.
Did you learn something new from these tips on how to decorate shelves?
Let me know in the comments below!!
---
Farmhouse Living Room Shelf Sources: