Large-scale art is impressive, but it is so expensive to buy! Make your own by creating a DIY tapestry frame using 1×2 lumber.
Thank you to Arrow Fastener for sponsoring this DIY tapestry frame project! All opinions are entirely my own. This post also contains affiliate links, but nothing that I wouldn't recommend wholeheartedly. Read my full disclosure here.
When I was planning our modern bohemian living room design, I knew I wanted to incorporate some sort of large-scale wall art – but the prices on large-scale art give me serious sticker shock.
So I did what I normally – figure out how to DIY it for cheaper, of course!
Want to see more of our living room renovation?
Now, I love a good gallery wall…don't get me wrong. Gallery walls (like this grid gallery wall) or picture ledge shelves are great ways to showcase collections and pull together a whole vibe with a mix of themed prints and other decorations.
But there is just something special about the extravagant-ness of large scale art, am I right? It really helps to anchor the room and serve as a focal point.
So if you're looking for a cheap DIY solution for large-scale art – you're going to love today's tutorial! We are creating a DIY tapestry frame. The fabric wall art seriously turns out SO cool!
DIY tapestry frame – video tutorial
If you love DIY videos, be sure to subscribe to our YouTube channel!
How to build a tapestry frame – step by step guide
Supplies for tapestry frame:
Tape measure
1 1/2″ wide strips of wood – could make your own by ripping down plywood with a table saw or use 1×2 lumber
Miter saw
1 1/2″ brad nails
Corner clamps or square
Iron
5/8″ staples
Orbital sander with 220 grit sandpaper
Polyurethane
Stain rag
5/8″ brad nails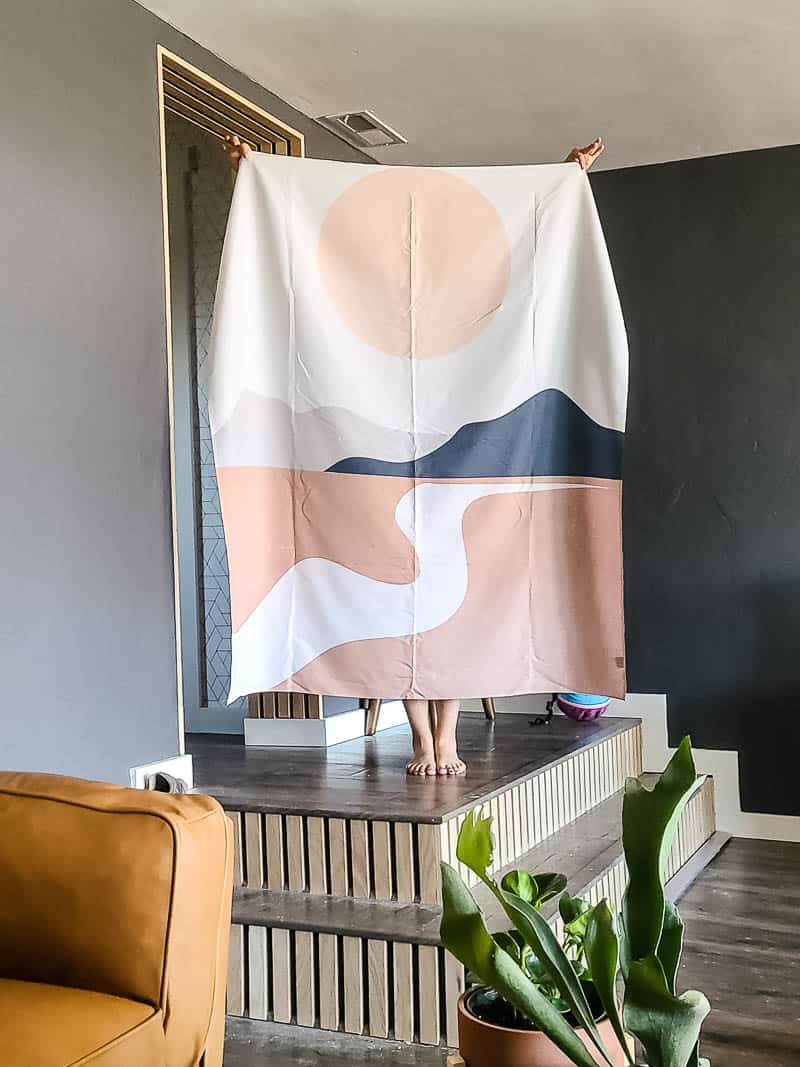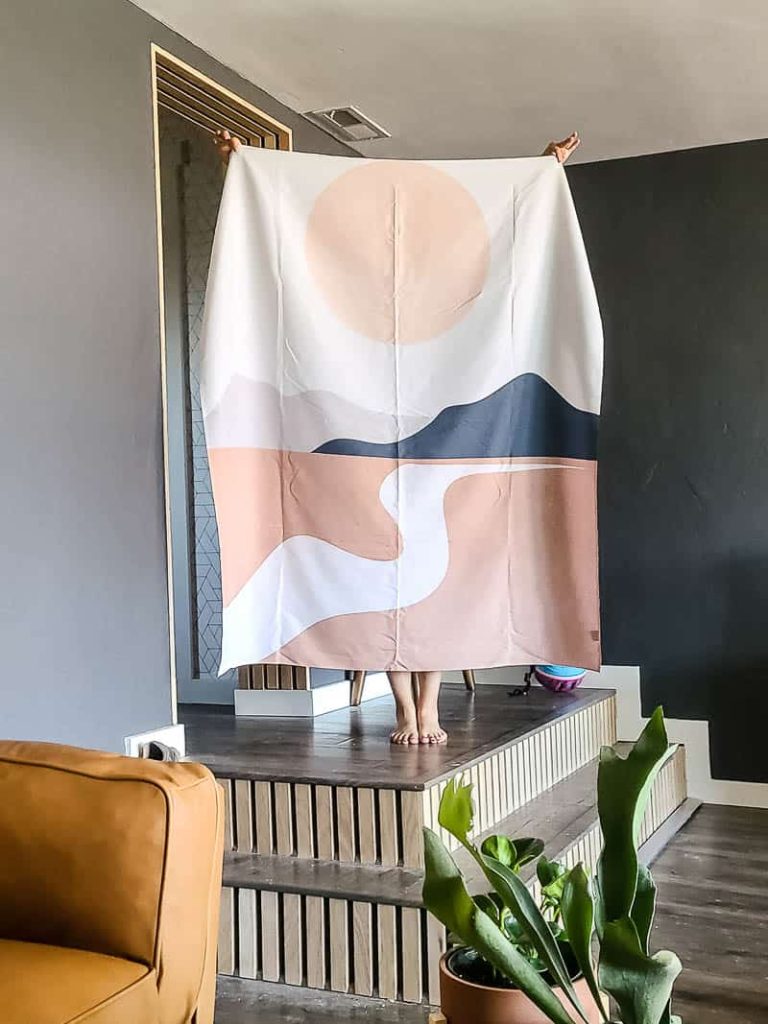 Step 1. Get tapestry
In order to make a tapestry frame, you need to start with a tapestry of course! If you can't find a good tapestry you like, you could totally do the same thing using a fun patterned fabric or even a shower curtain!
There are several places you can find affordable large scale tapestries online: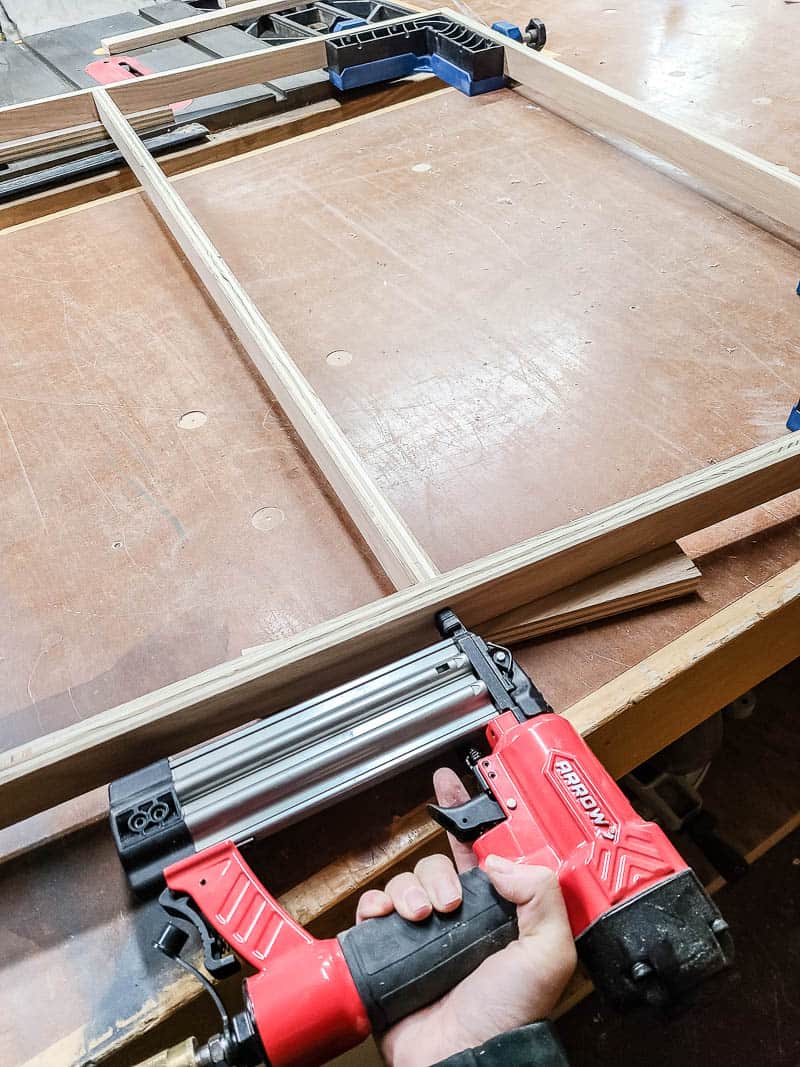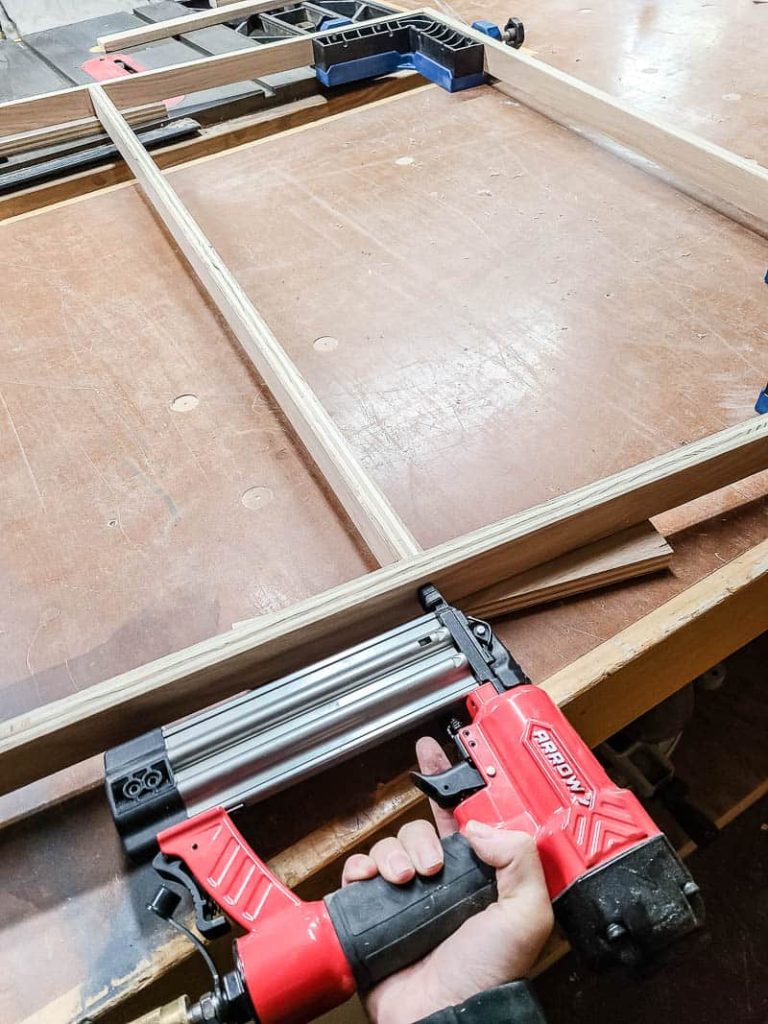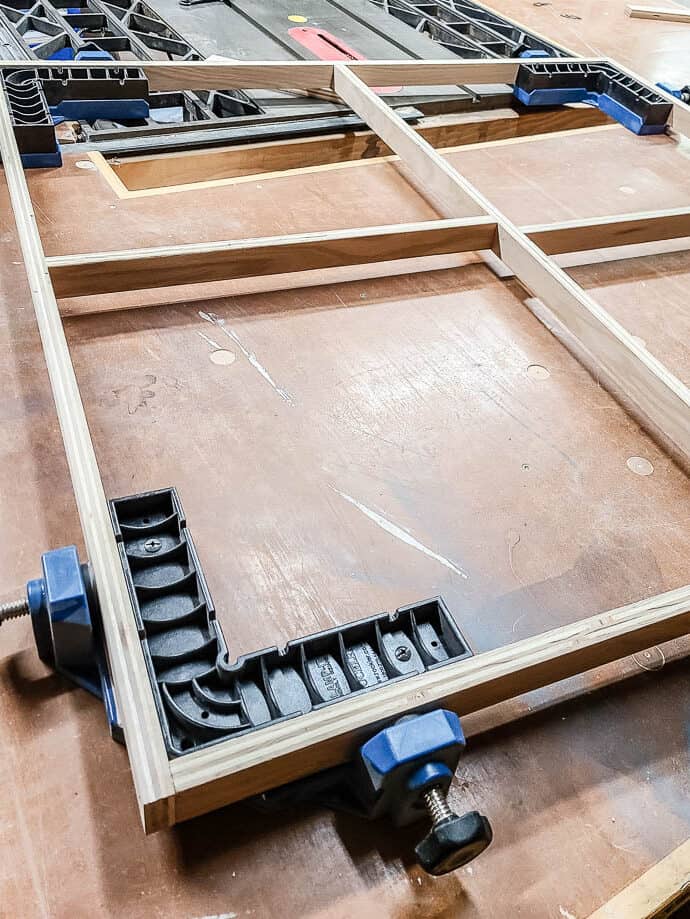 Step 2. Cut wood and assemble structure
For the wood on the structure, you want to use something about 1 1/2″ inches wide. We used leftover wood slats from our DIY slat wall that we just finished, but if you need to buy this – you could use 1×2 stock lumber.
Start by cutting your wood down to size for your structure. I built the structure for our tapestry to measurement approximately 45″ by 45″. I also added some center supports to the middle of the structure.
Holding everything in place with corner clamps makes the whole process go easier. But if you don't have corner clamps, you would just want a 2nd person to help you hold everything square while you nail the structure together for the tapestry.
Use a little bit of wood glue at the joints and secure with 1 1/2″ brad nails using Arrow's brad nail gun. It made this step quick and easy.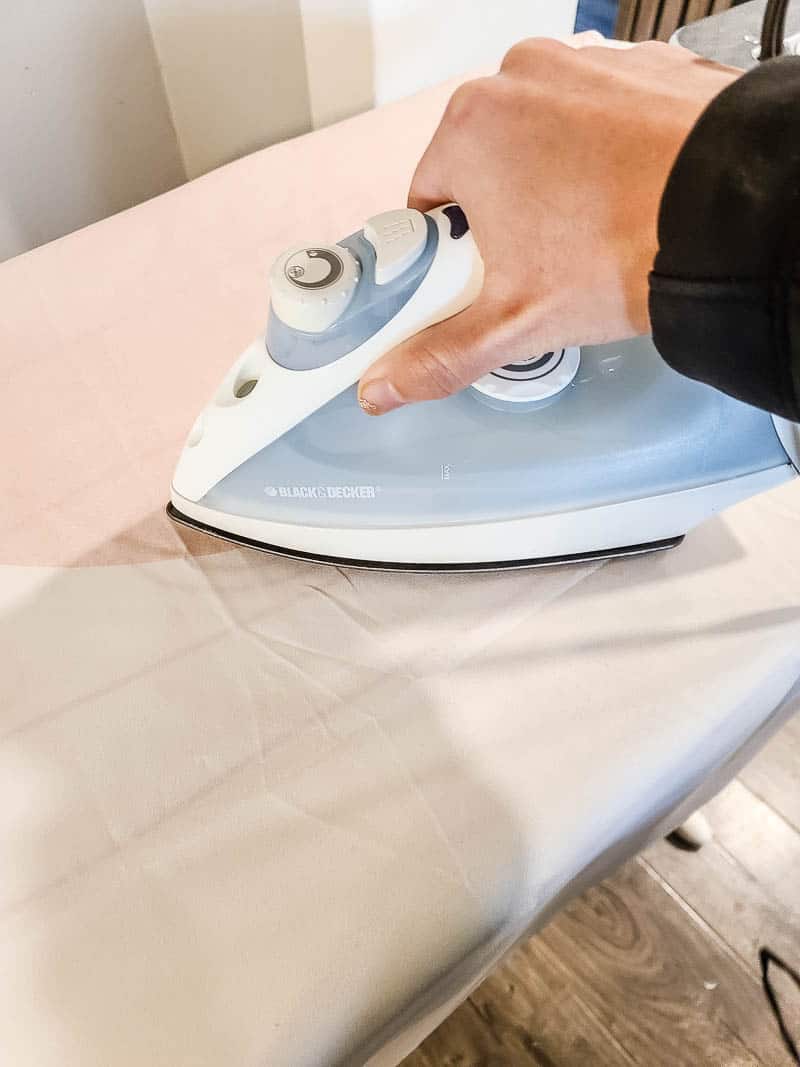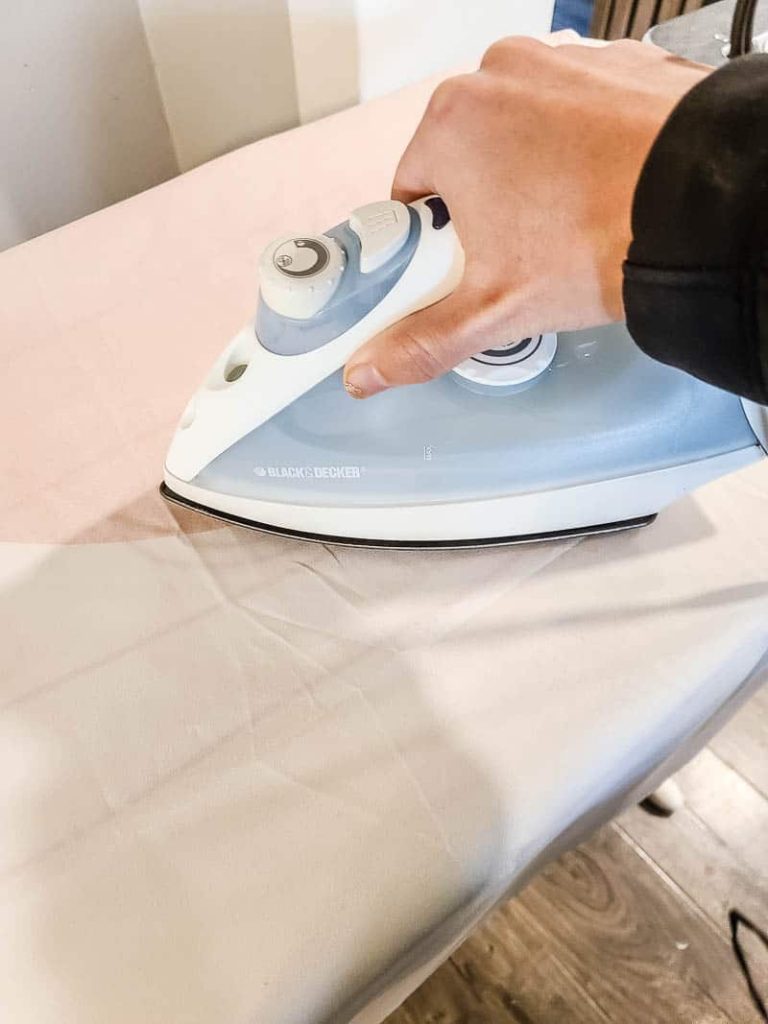 Step 3. Press tapestry
Next, you want to get your tapestry nice and flat. I pressed ours with an iron to get all the wrinkles out from shipping.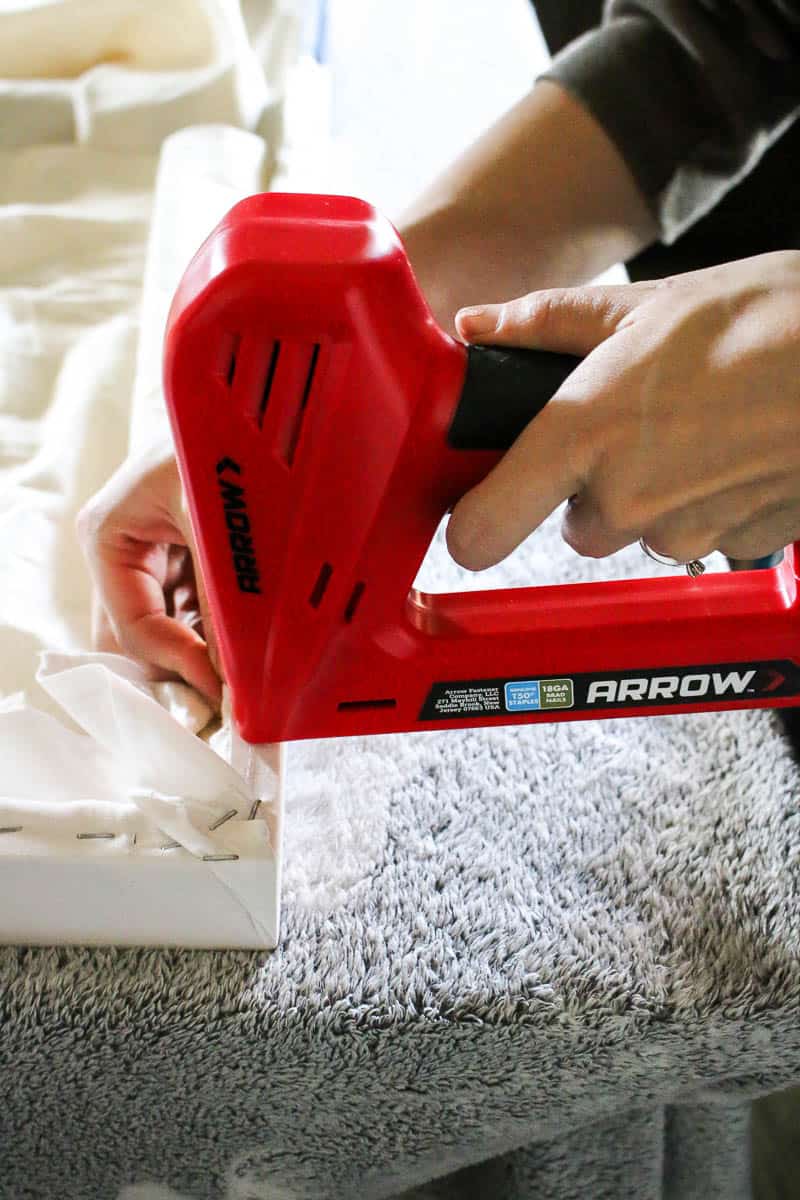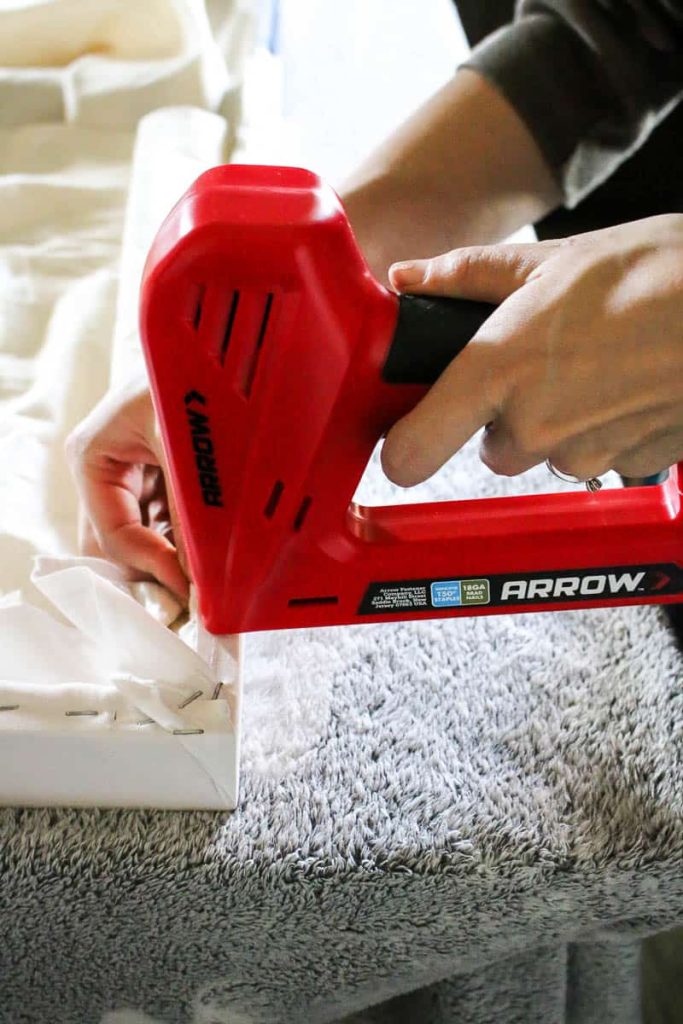 Step 4. Staple tapestry to structure
We found that our tapestry was a little see-through and you could see the wood through it. So we added a layer of plain white muslin fabric to the structure first. Repeat the same steps to add the tapestry to the structure after you get the white fabric added.
Using Arrow's electrical stapler and 5/8″ staples, pull the fabric tight around the structure and staple on the back. We added staples every couple of inches and held it really tight while stapling.
It helps to have two people of this step. One to hold nice and taut and one to add the staples.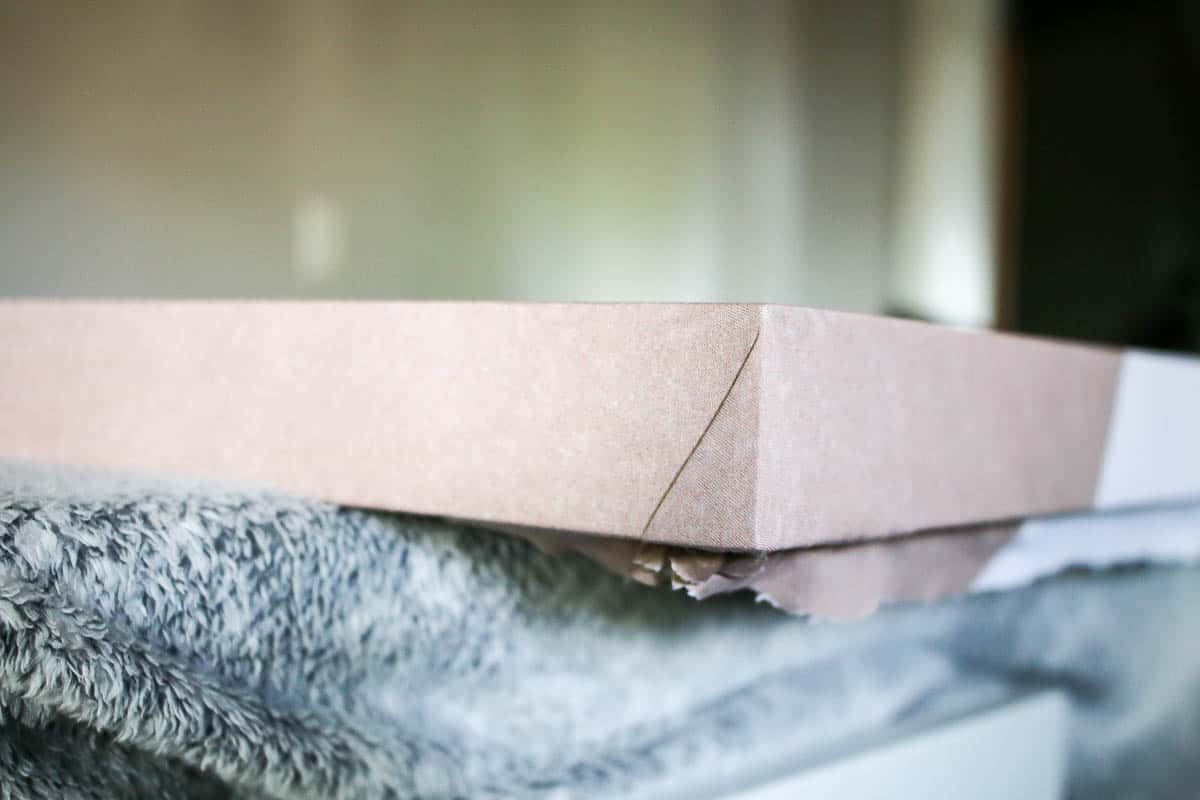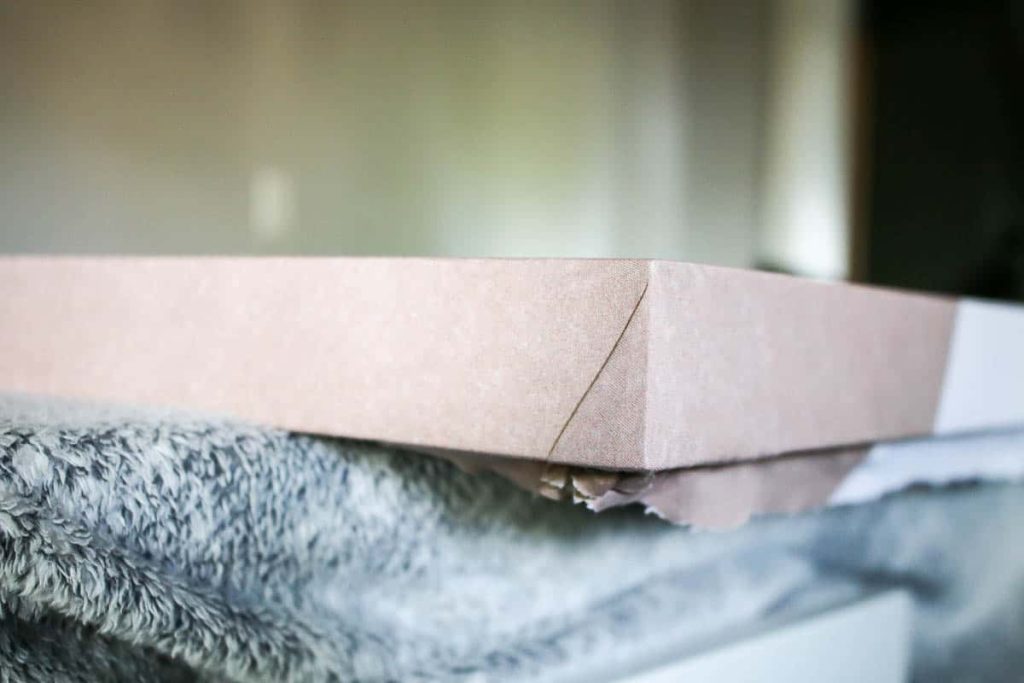 On the corners of the tapestry, take your time to get the tapestry folded nicely so it lays as flat as possible. Hold tight and add several staples to the back at the corners to hold the fold into place.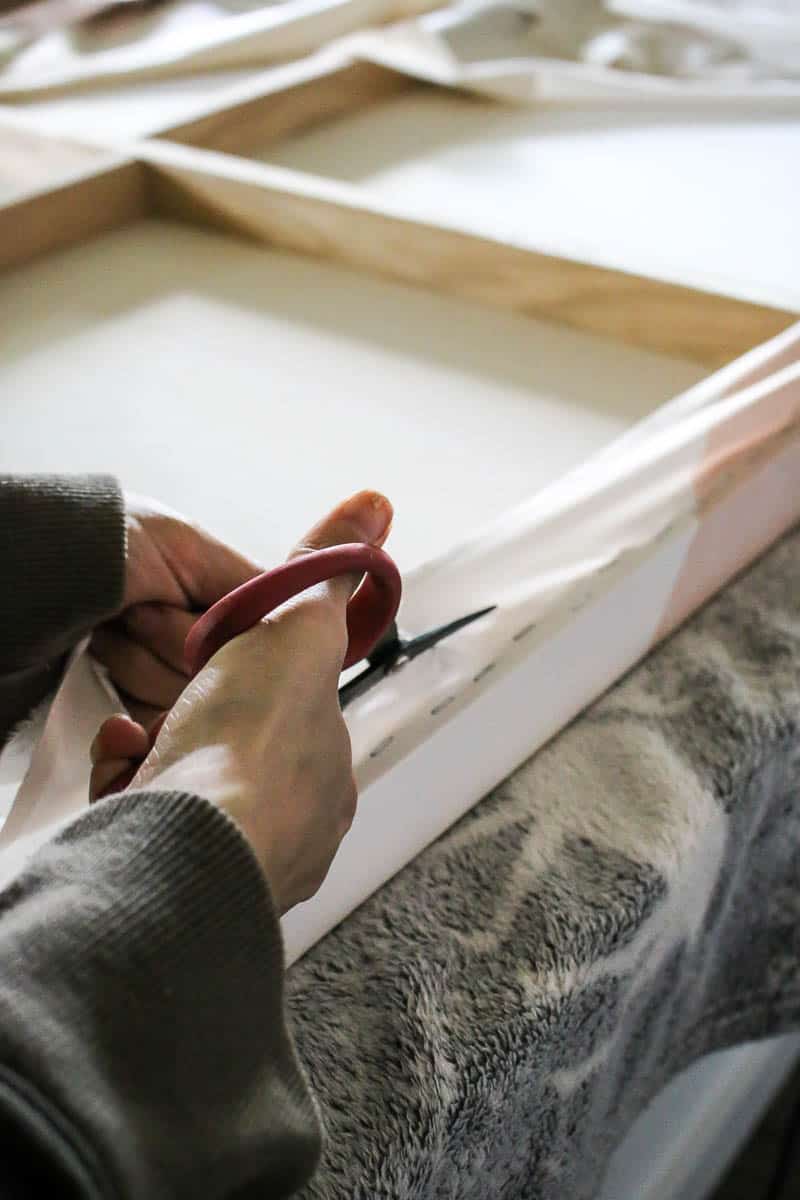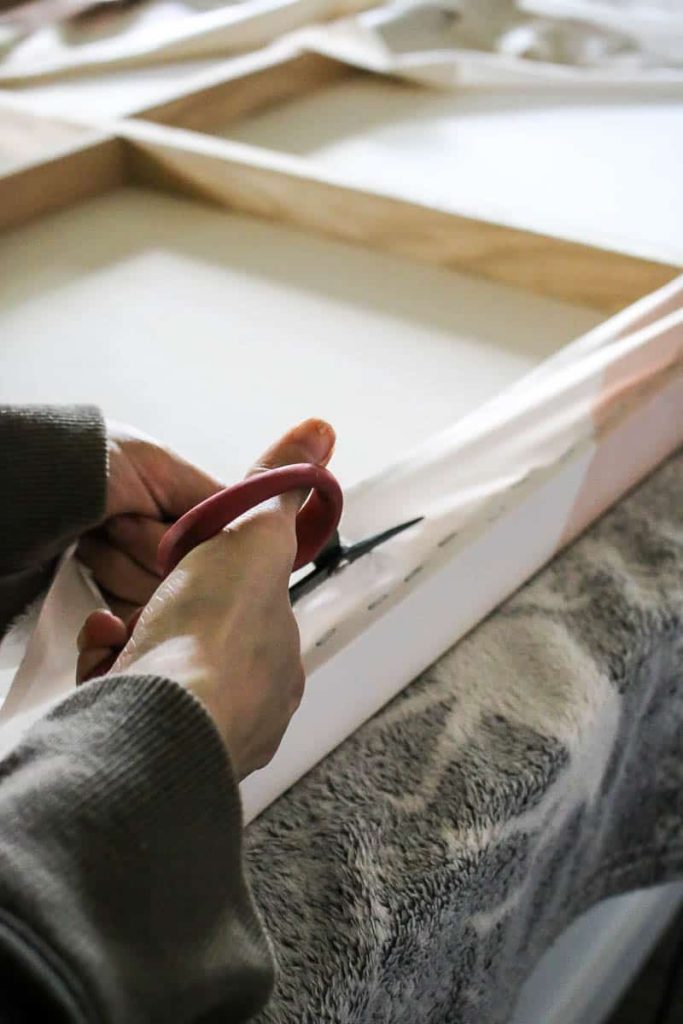 Cut off the excess tapestry on the back with scissors.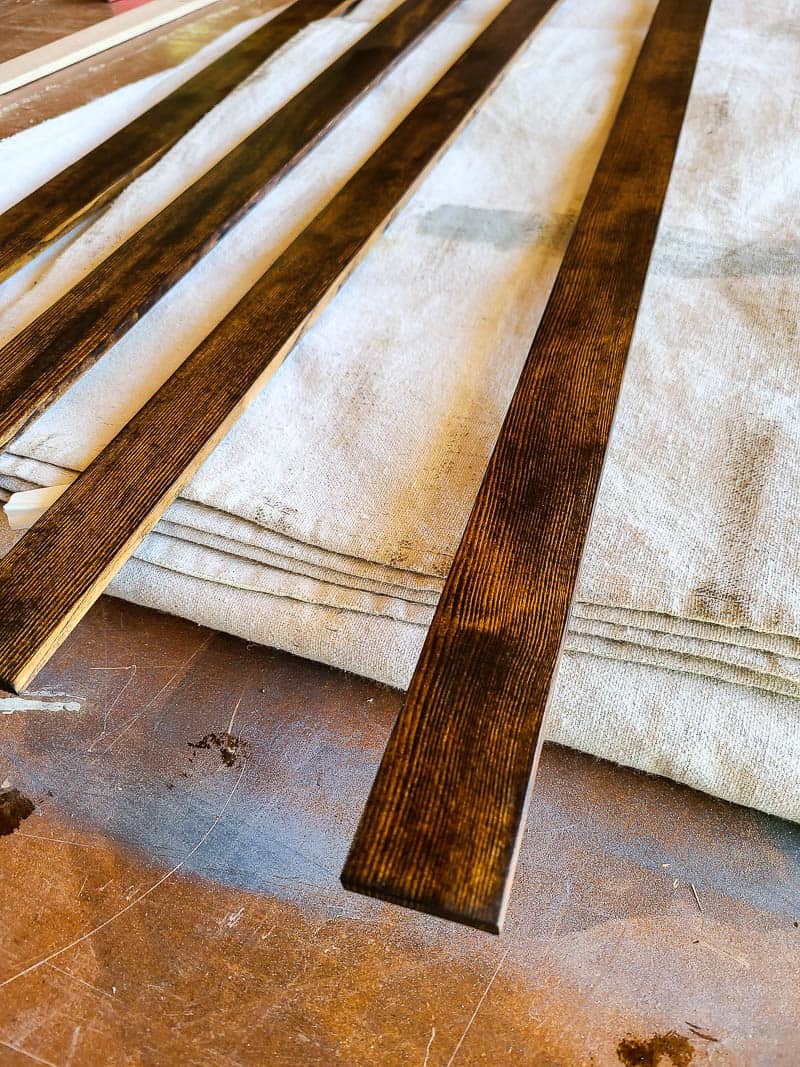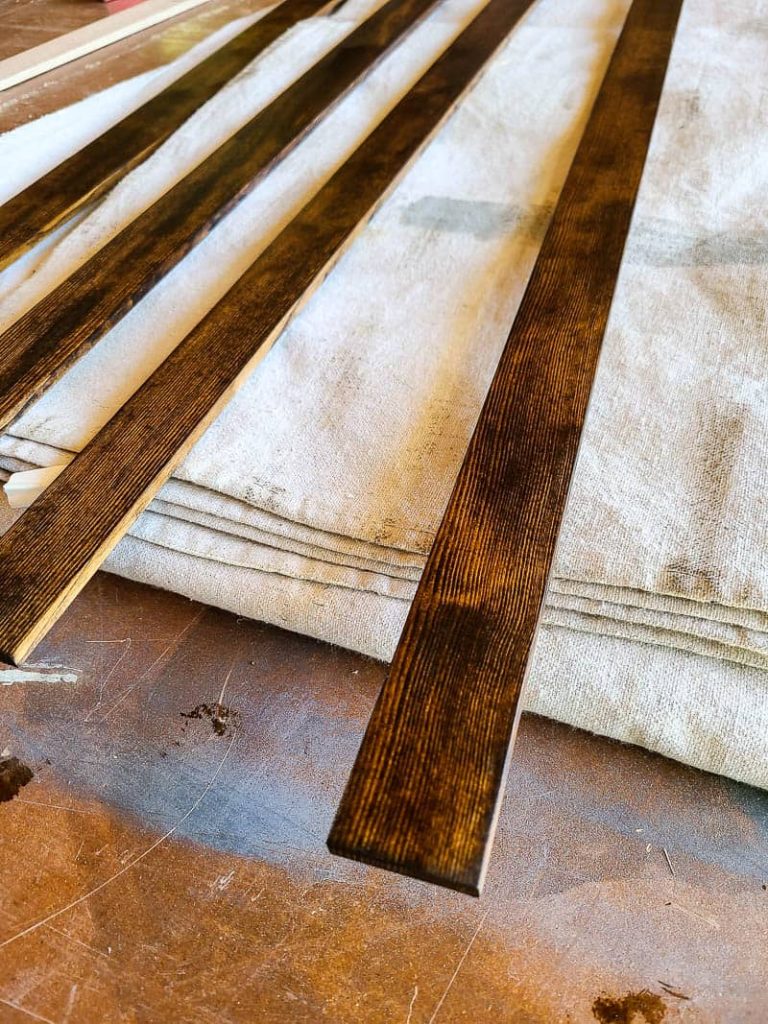 Step 5. Create wood frame pieces
You could totally stop here if you just wanted a tapestry that looks like a canvas, but I wanted to add a wood frame to the edges!
We used inexpensive and lightweight lattice wood strips to make the frame. They are approximately 1.5″ wide, so they were roughly the same size as my 1×2 tapestry structure. They were actually slightly smaller, but I liked having that little edge of the tapestry around the frame.
Once the wood frame pieces are cut, lightly sand the pieces so they are smooth. Finish by applying wood stain and sealing with Polyurethane. Let dry.
If you're trying to decide whether to use polyurethane vs polycrylic for your project, check out this article with an overview of each.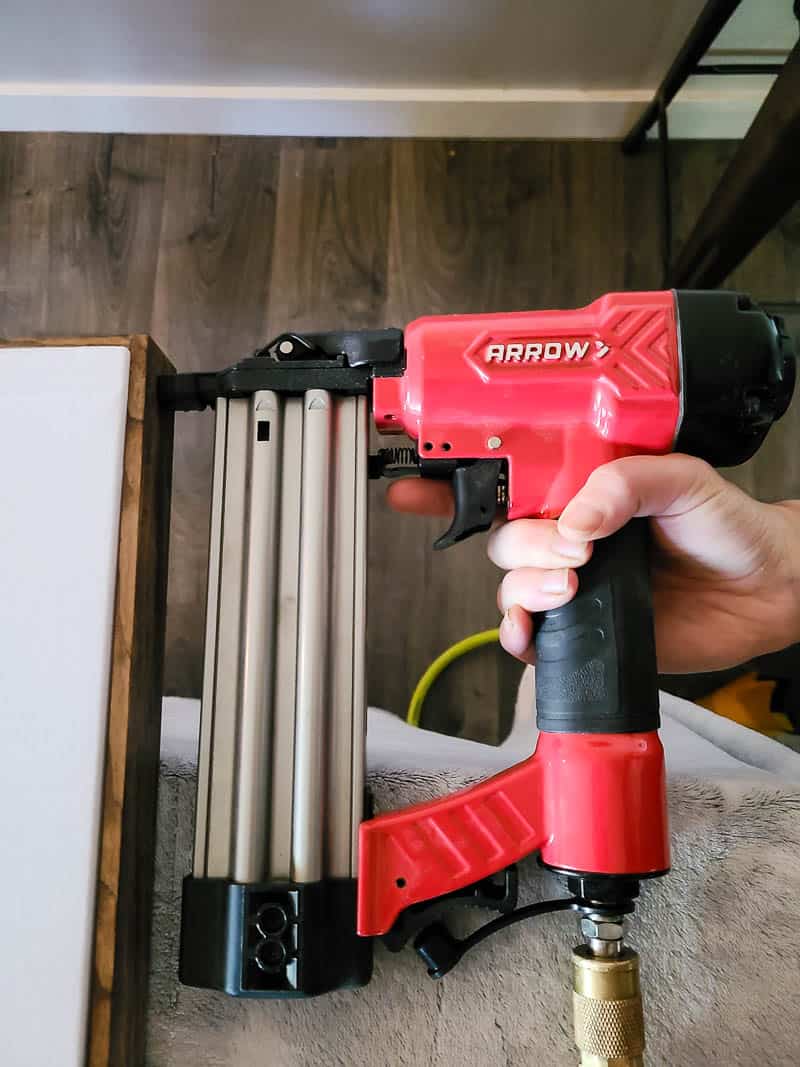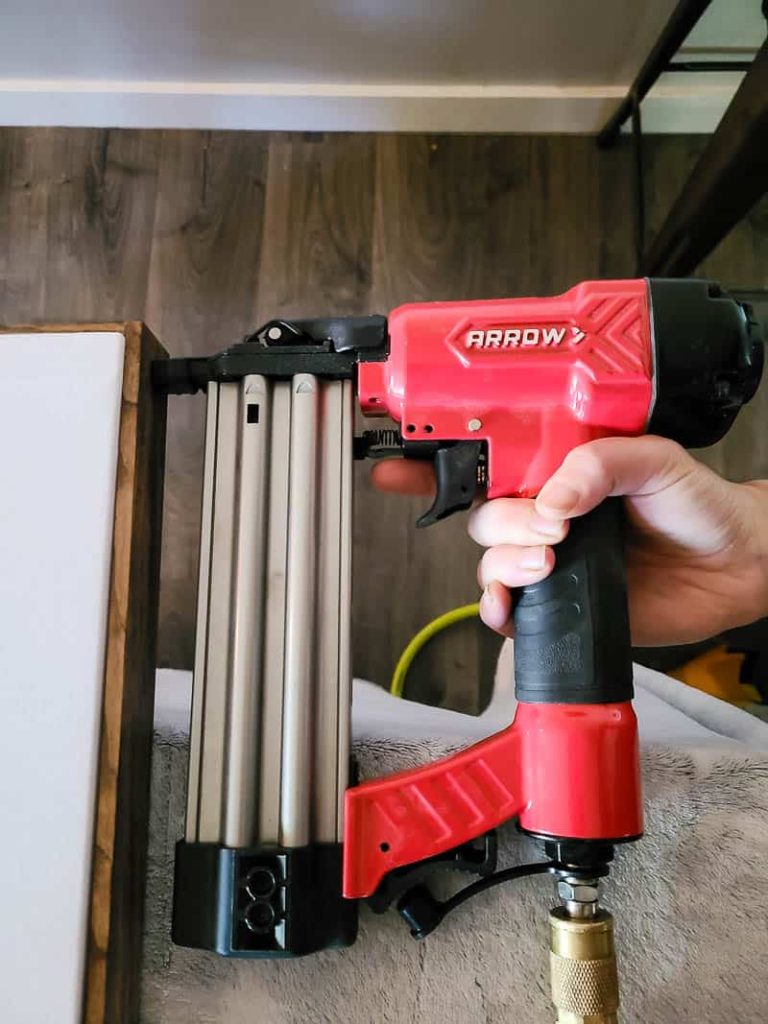 Step 6. Wrap edges with wood strips to frame it out
Hold the wood strips up to the edge of the tapestry structure and nail into place using Arrow's brad nail gun with 5/8″ brad nails. Add a nail every 8 inches or so along the edge of the tapestry frame.
DIY Tapestry Frame: After pictures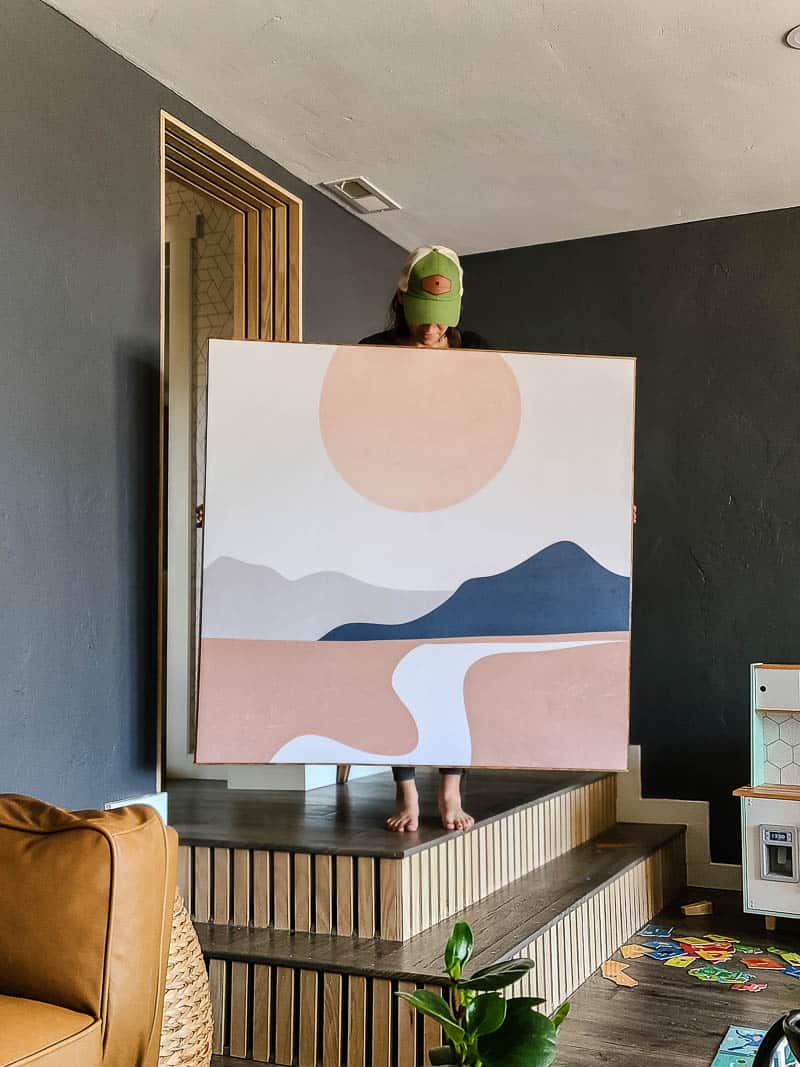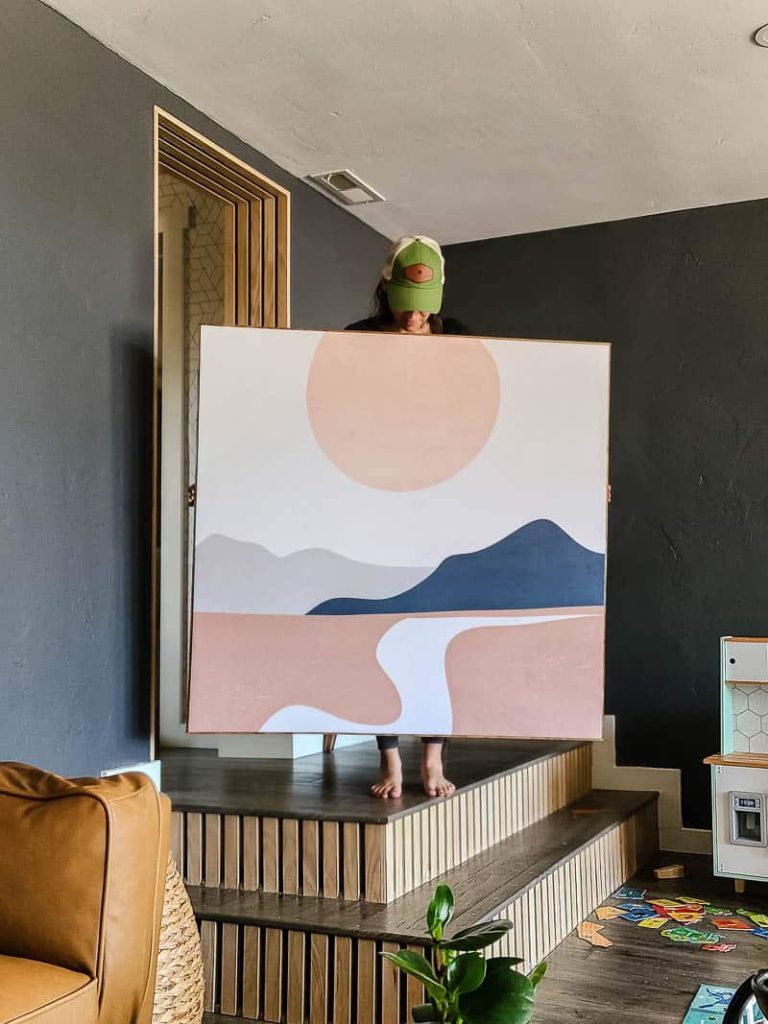 Ta DA! Large-scale art like this costs a pretty penny, so I'm so glad we were able to find a way to DIY it for much cheaper!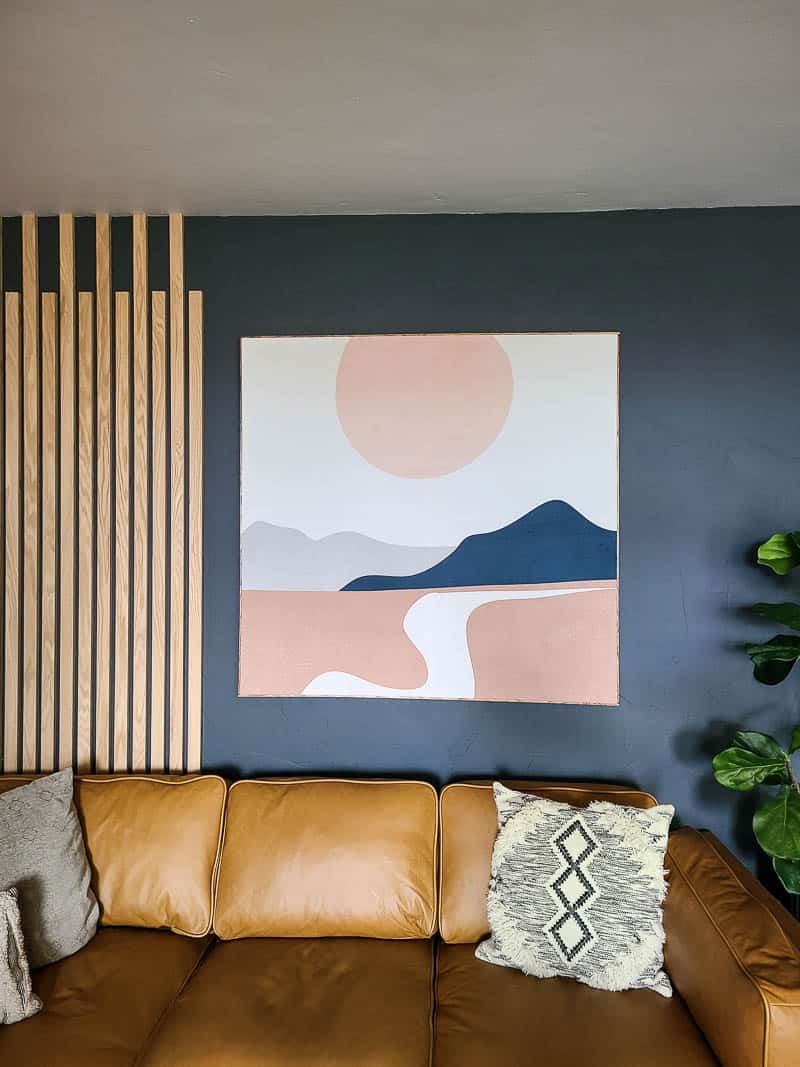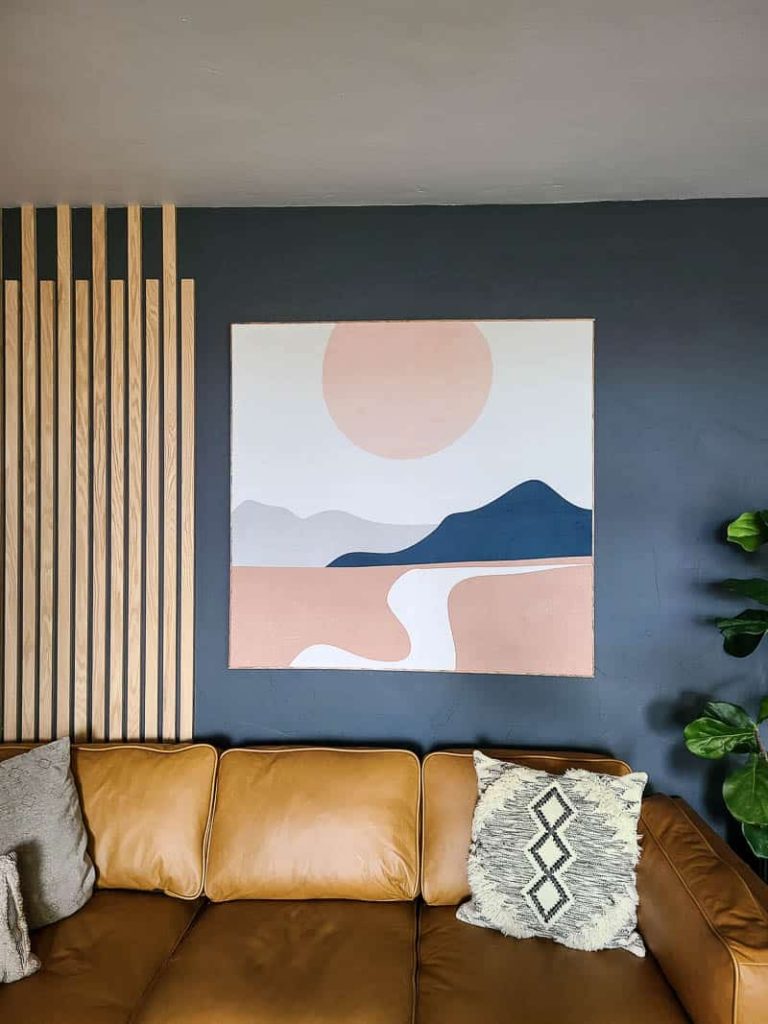 I love the simple touch that the thin pieces of wood added to the edges of the tapestry frame – it really frames things out well and makes it feel expensive.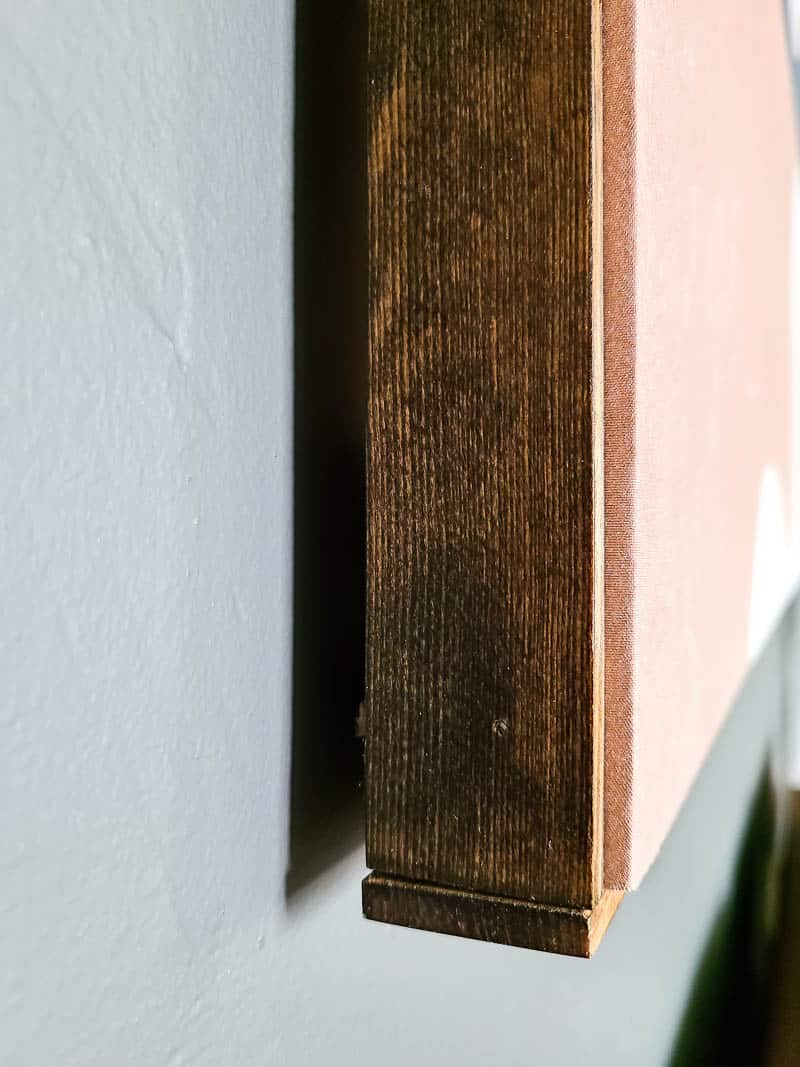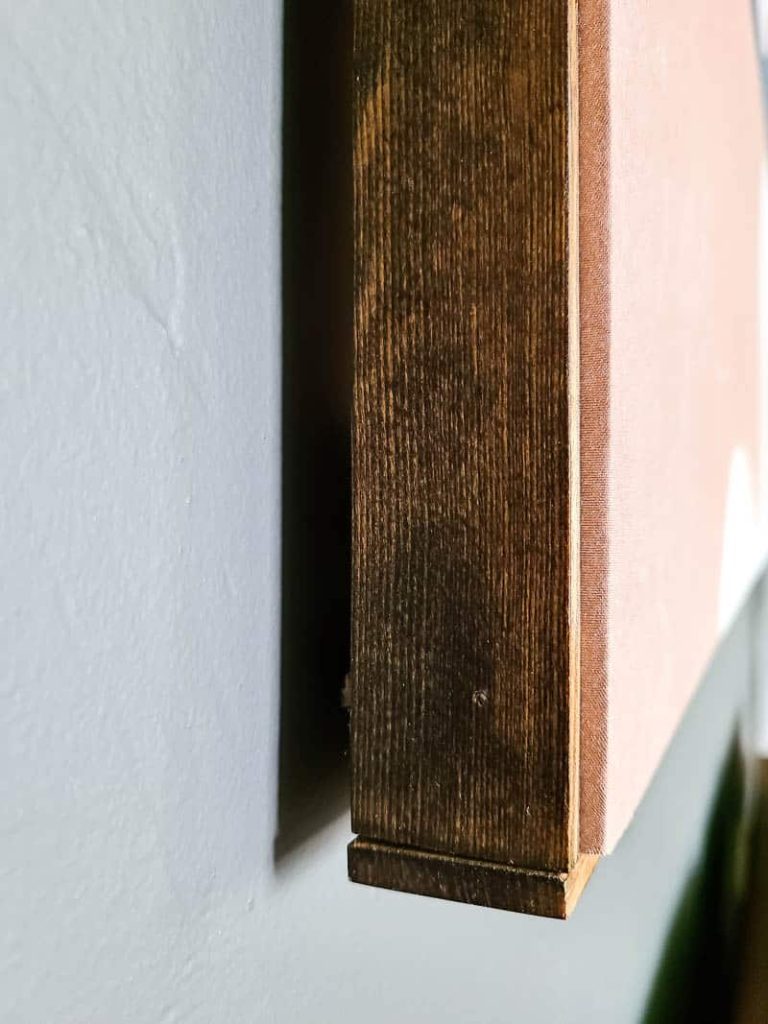 The holes from the 18 gauge brad nailer are pretty dang small, we didn't even bother to fill them because you can barely see them!
I put it on this wall above our sectional couch because it's now the first thing you see when you walk into the room (and our front door)!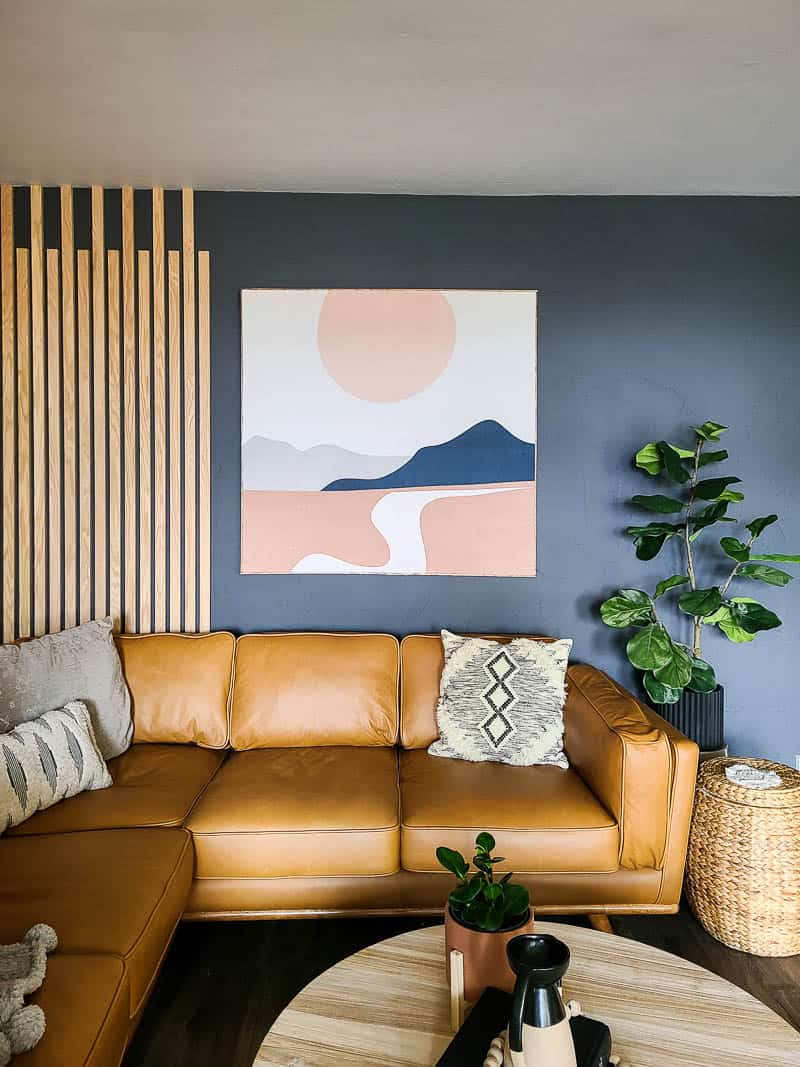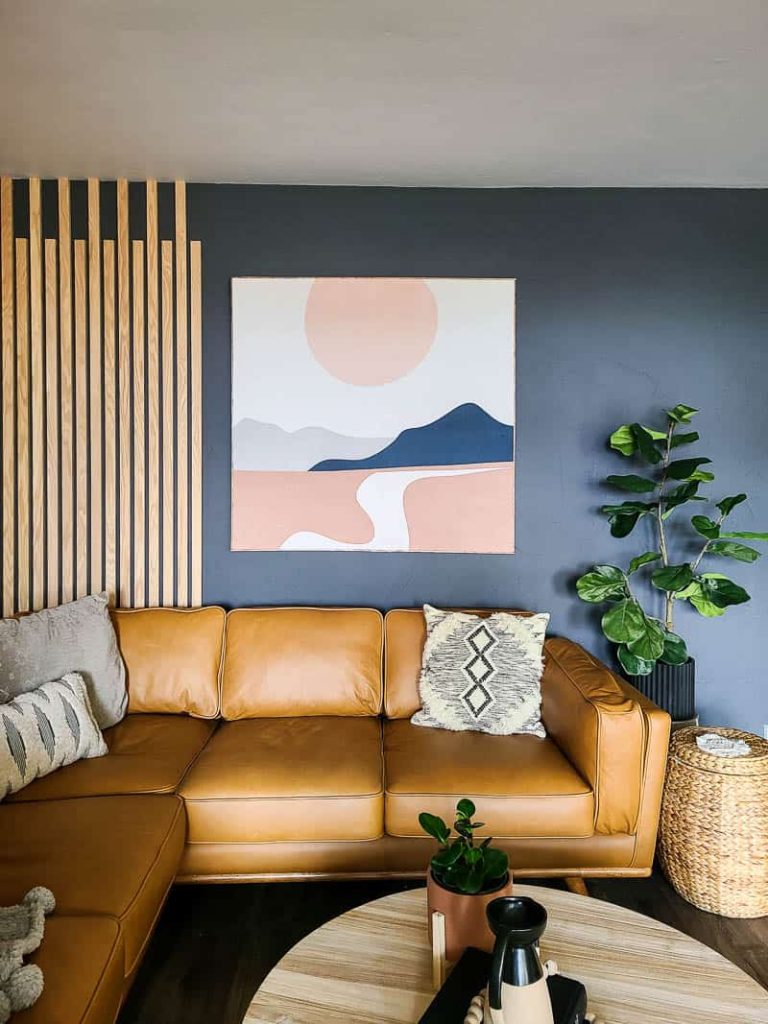 I love the splash of color that the framed tapestry art adds to the walls and it totally looks like expensive art, don't you think?
Our living room makeover is seriously comin' together now, don't you think!? We've got the furniture in and decor starting to go on the walls. We are also almost ready to reveal the whole space to you! Stay tuned for the big reveal! (UPDATE: Check out how the finished modern boho living room turned out here.)
What tapestry would you use for your fabric wall art?
Let us know in the comments below!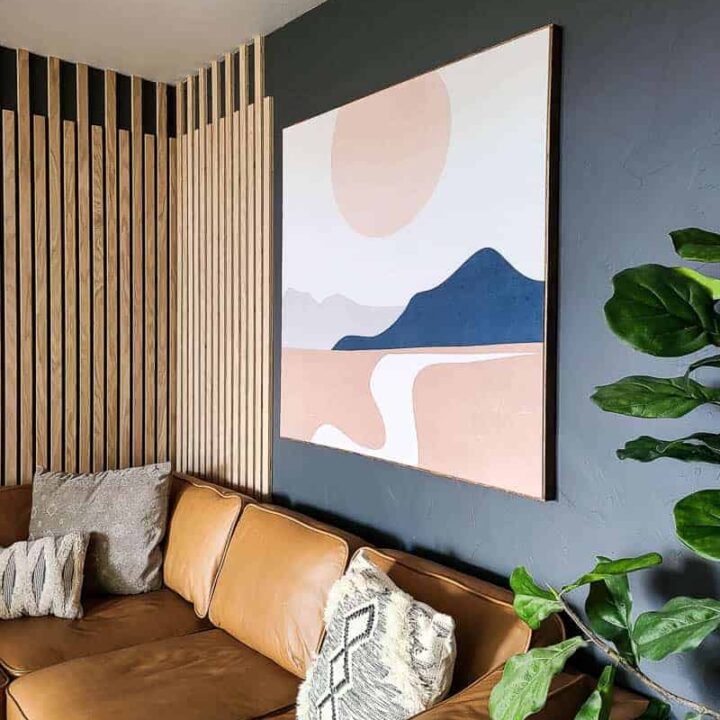 How To Make A Easy DIY Tapestry Frame
Large scale art is impressive, but it is so expensive to buy! Make your own by creating a DIY tapestry frame using 1x2 lumber.
Materials
1 1/2" brad nails
5/8" staples
220 grid sandpaper
Polyurethane
5/8" brad nails
Tools
Tape measure
Miter saw
Iron
Orbital sander
Stain rags
Instructions
Get tapestry. You could also use a shower curtain!
Cut wood and assemble structure. Use a little wood glue at the joints and secure with 1 1/2" brad nails using Arrow's brand nail gun.
Press tapestry.
Staple tapestry to structure with Arrow's electrical stapler.
Create wood frame pieces.
Wrap edges with wood strips to frame it out.
Notes
There are several places you can find affordable large scale tapestries online: