This DIY farmhouse three tier stand was so easy to make! I love the extra bathroom countertop storage the tray adds. Not to mention, it's a super cute place to decorate now!
Please tell me I'm not the only one with THOUSANDS of ideas sitting on my Pinterest boards just waiting to be made.
Ever since we moved to our new fixer upper, I've been a bit at a loss of what to do with all of this countertop space in our main bathroom!
This was definitely NOT a problem we had in our last bathroom with literally the smallest bathroom vanity ever.
I was thinking it would be cute to put something in the corner of the countertop to add a little farmhouse charm to the room. This house is definitely lacking in the farmhouse department and our bathroom is no exception.
The finishes are more modern and I'm not sure what (if anything) we're going to change in here. (UPDATE: We ended up completely changing the bathroom with the full gut remodel a few years later. Check out the new modern bathroom here)
We've got TONS of other renovation plans for the rest of the house to keep us busy for a long while. You can check out our full renovation plans for this fixer upper here.
Related – If you love the farmhouse style, you definitely want to check out these posts:
Even though I wanted to add some farmhouse charm to our bathroom, I wanted it to be functional too.
When I saw this adorable three tier stand that the amazing Liz Marie featured on her blog, I knew it would be perfect for a little extra bathroom countertop storage.
Here's is my Pinterest Challenge inspiration:
This post contains affiliate links, but nothing that I wouldn't wholeheartedly recommend anyway! Read my full disclosure here.
How to Make a DIY Three Tier Stand Step-by-Step
Supplies for three tier stand:
Jig Saw
Drill
Spindles (or candlesticks) about 6 inches tall
Foam Paint Brush
Step 1. Make spindles.
Logan has been honing a new hobby, woodturning. I saw this three tier tray and knew it would be a fun project for Logan to work with me on.
If you don't have a wood turnin' hubby like me, have no fear! You can totally buy spindles like these at Home Depot.
First, Logan made two spindles about 6 inches tall out of some old juniper branches in our backyard. I love how unique the handmade spindles are. There are no two shapes the same!
Step 2. Cut wood rounds.
Next, he cut out 3 wood rounds from a sheet of 3/4" sanded plywood using a circle saw guide. He cut out the wood rounds at 8, 10, and 12-inch diameters.
Of course, he was so excited once he finished the spindles and cutting out the wood rounds, he put it together right away so I don't have any before pics (I thought I had taught him better than that!).
It also would have been way easier to paint everything BEFORE it is put together. So if I were to do this again, I'd definitely tell him to hold up so I could paint everything.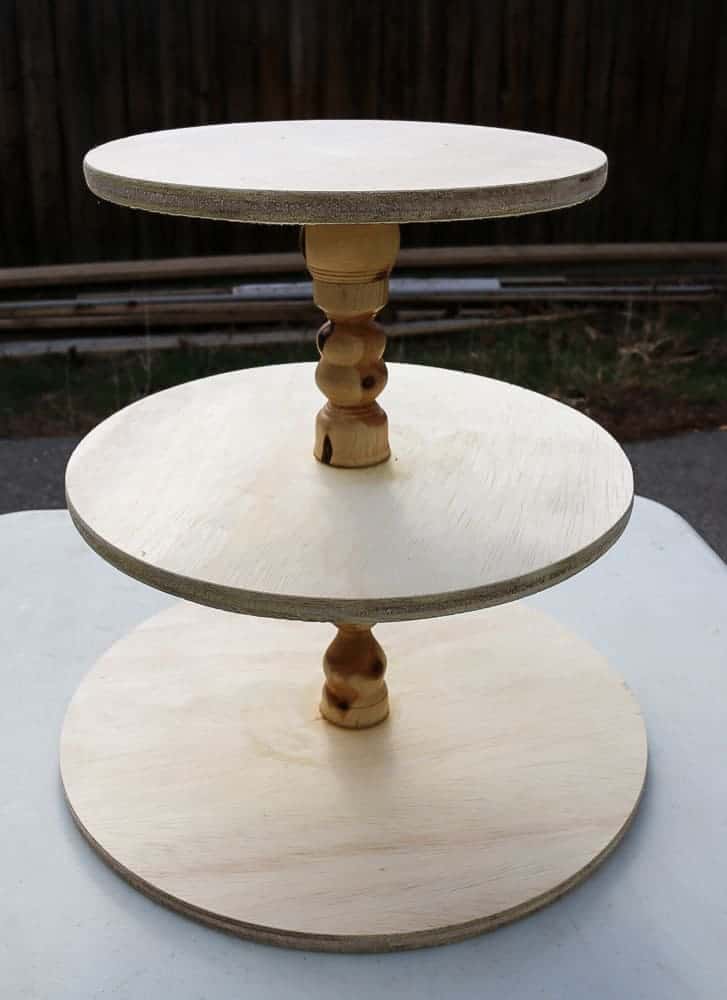 Step 3. Assemble the three tier stand.
His assembly process for the three tier stand was pretty simple…
He attached the middle spindle to the middle of the wood rounds by using a 3/8" wooden dowel pins and a bit of wood glue.
He drilled a hole through the middle of the 10" plywood circle (middle tray) and the top and bottom of the spindles.
The bottom tray was attached to the spindle not by a dowel pin, but with a screw for some extra support.
The top tray was attached to the spindle with just wood glue (we didn't want there to be a hole or screw shown on top).
Let the wood glue dry overnight before handling the tray.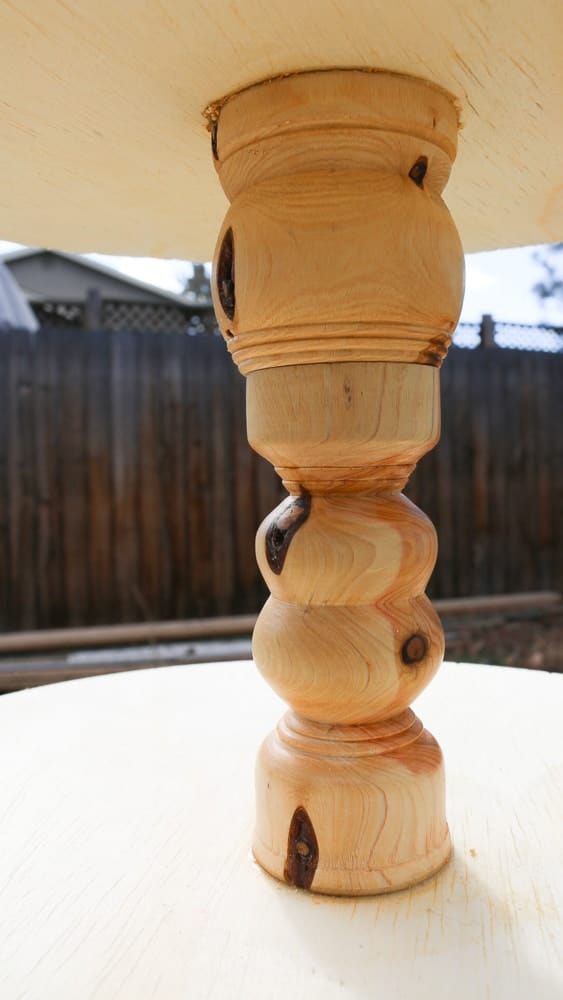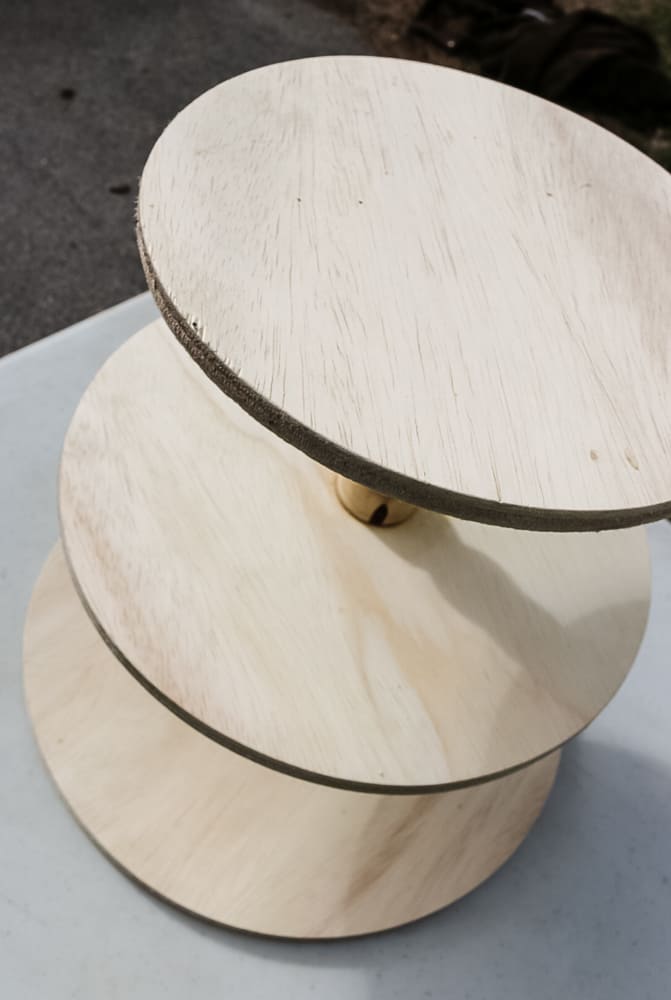 Step 4. Paint & distress stand.
After the three tier stand was all put together, I got to painting! I used this white chalk paint and a foam brush.
I was super anxious to get to painting that I sort of forgot to sand down the edges of the plywood before painting, which would have been a little easier (and not torn up 2 foam brushes in the process).
But, that's why I always use those foam brushes. They are so inexpensive, it's not a big deal when they get a little torn up and you have to toss 'em.
I started by painting the bottom of the tray and then painted everything else. I did two coats of chalk paint.
The three tier stand really started to get that classic farmhouse look when I started distressing. I used 220 grit sandpaper.
To seal the three tier stand I used this spray sealer.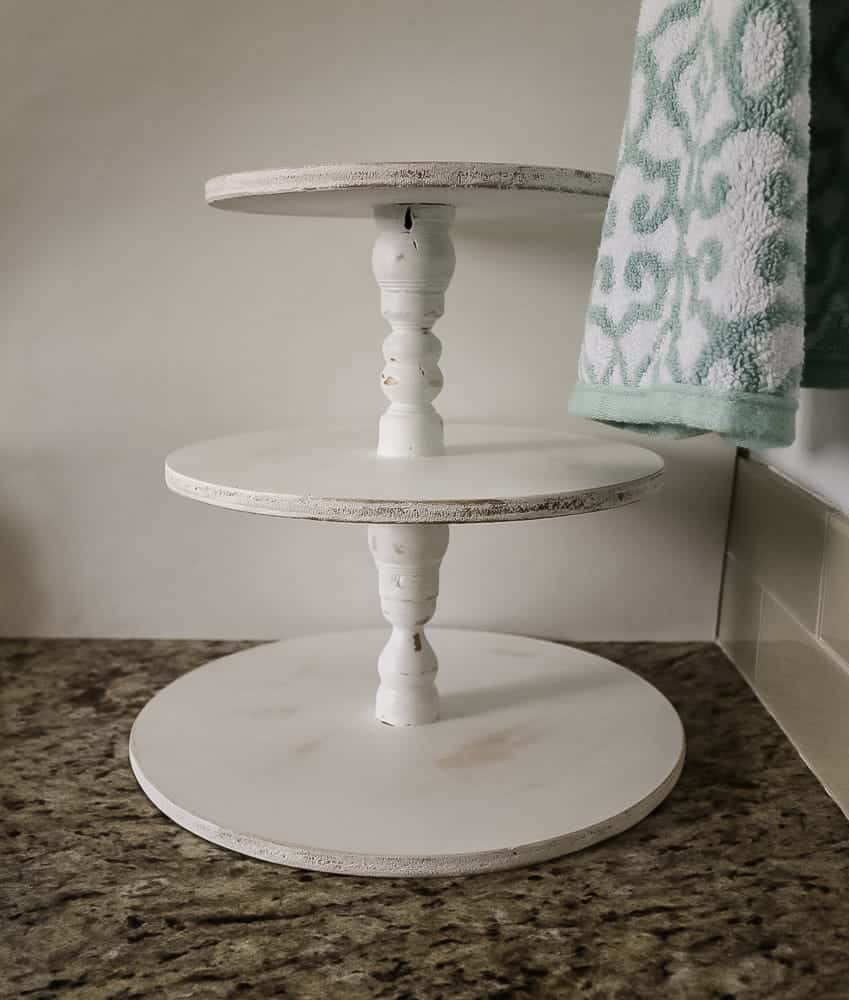 We didn't end up adding the feet as Liz Marie had in our inspiration tray, but I'm thinking that I'll probably go back and add them later. I think they will add a lot! What do you think??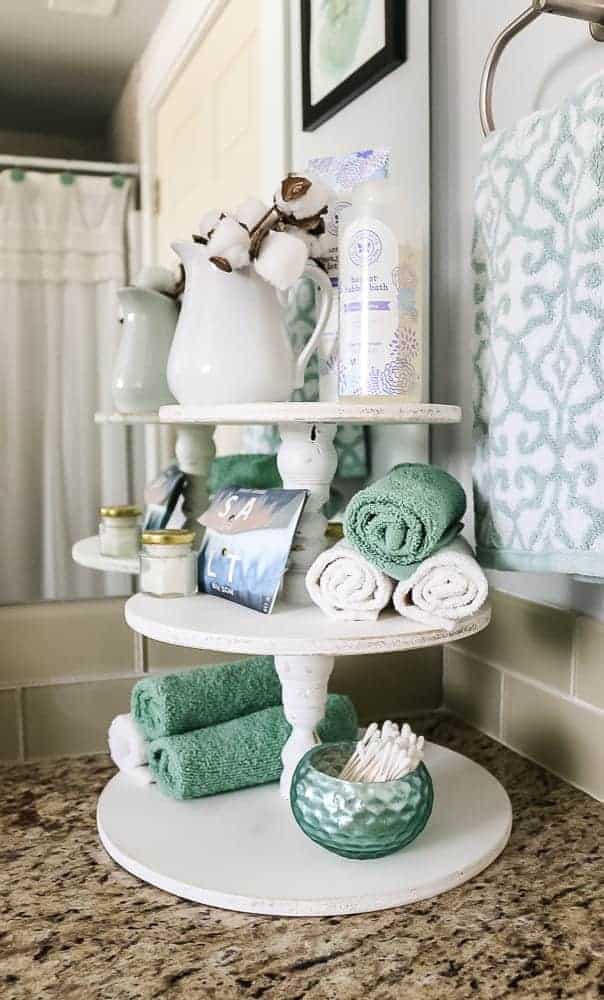 I love how it looks styled on our bathroom countertop. It adds a lot of extra space for storage and places to decorate, of course!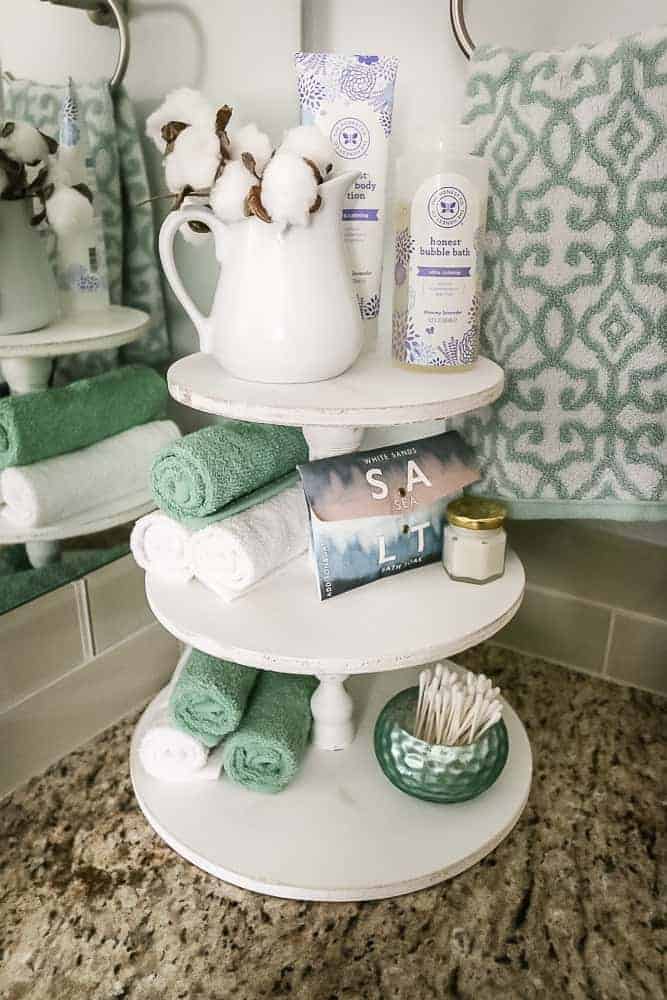 I added some lotion and bubble bath to the top tray (along with a simple white pitcher and my $2 DIY cotton stems).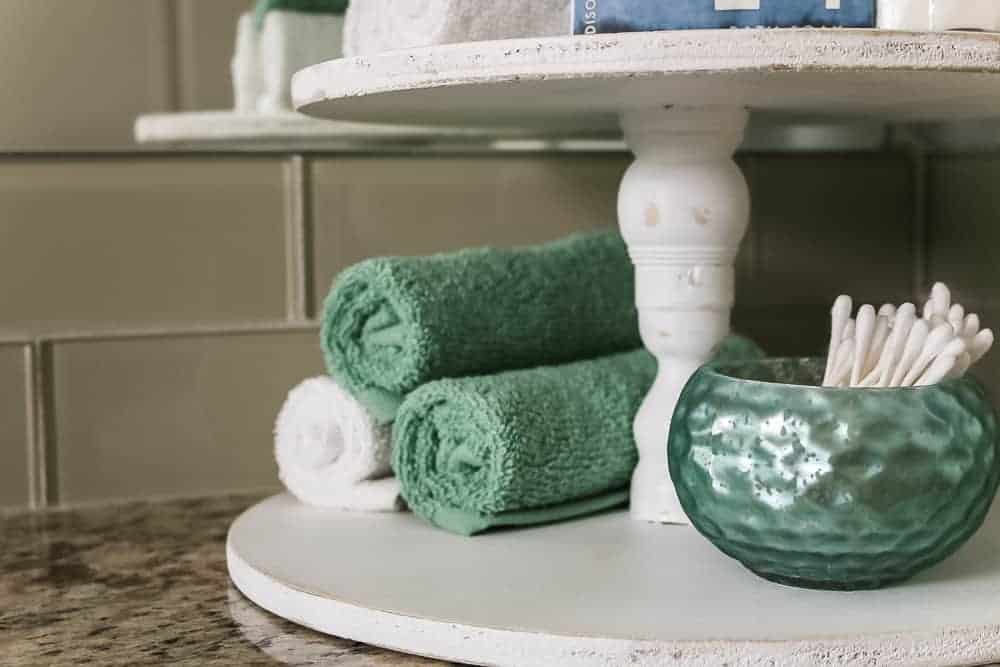 The bottom trays on the three tier stand are styled with rolled-up washcloths, my DIY lip scrub, this amazing bath salt, and some Q-tips.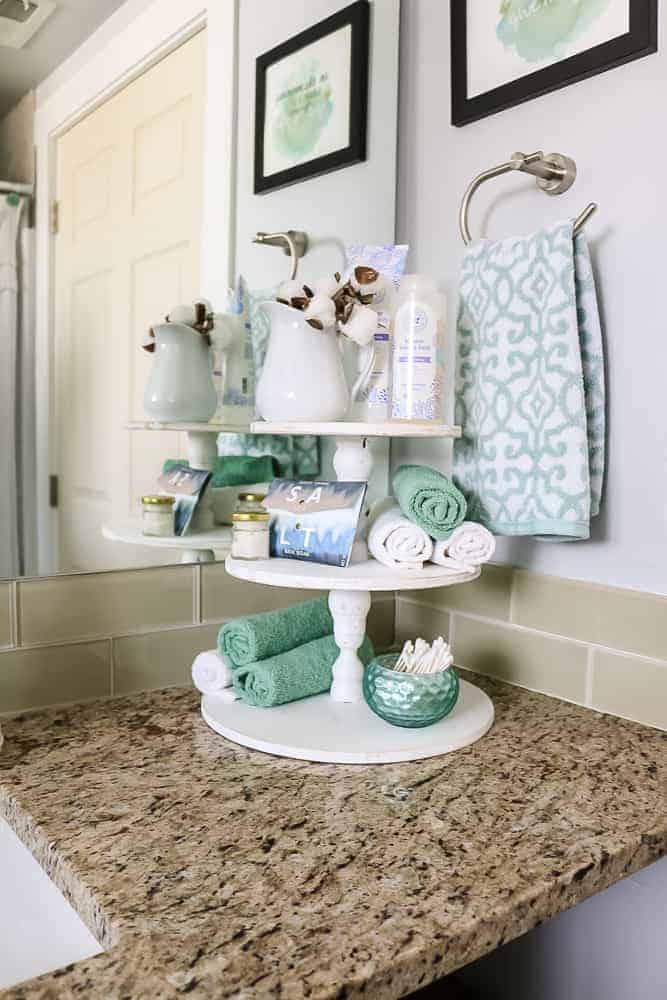 You wanna know the BEST part about this farmhouse style three tier stand?? We made it entirely with supplies we already had on hand….free craft projects are the best projects, right?!
Even if you don't have the space for a tree tier stand on your bathroom countertop, it would look so cute on a kitchen counter, coffee bar, dining table…you name it!
Hopefully, this little project inspires you to go check out your Pinterest boards and make it happen! Quit pinning and start doing, girl!
If you are looking for a vanity tray and don't want to do this three-tier stand, you could also try this DIY footed tray!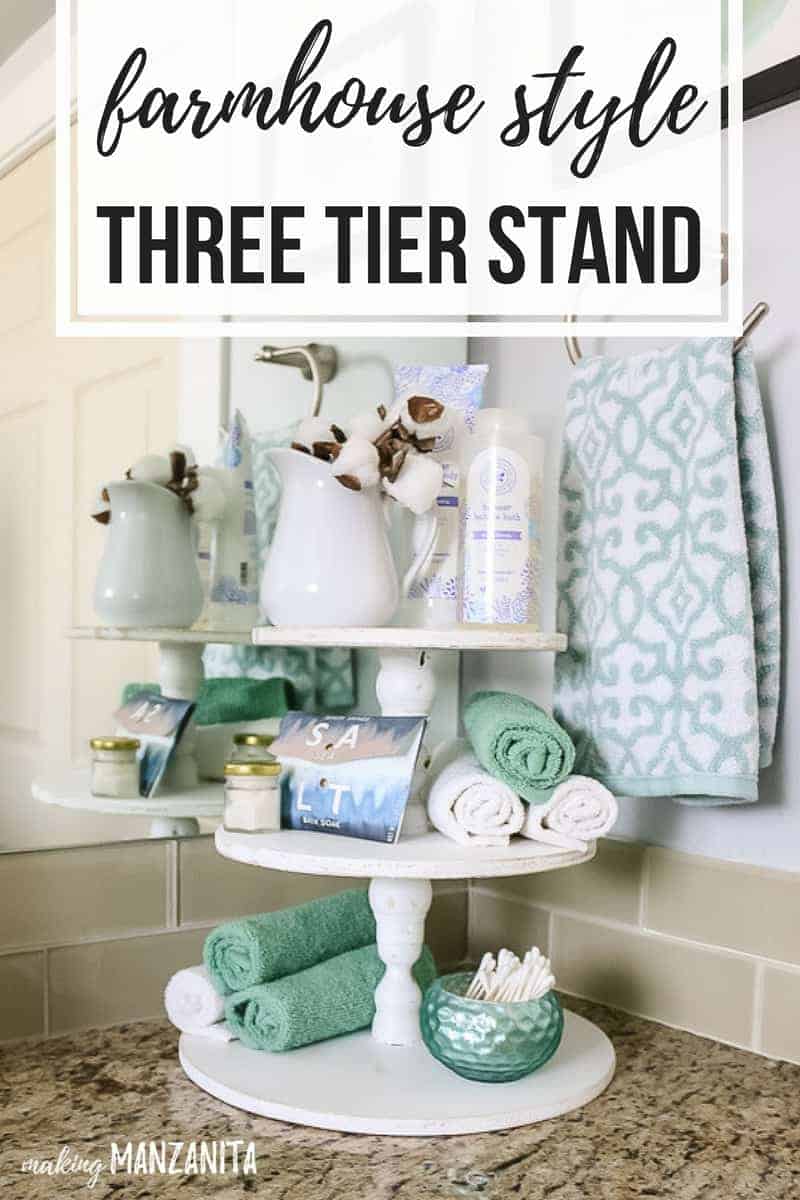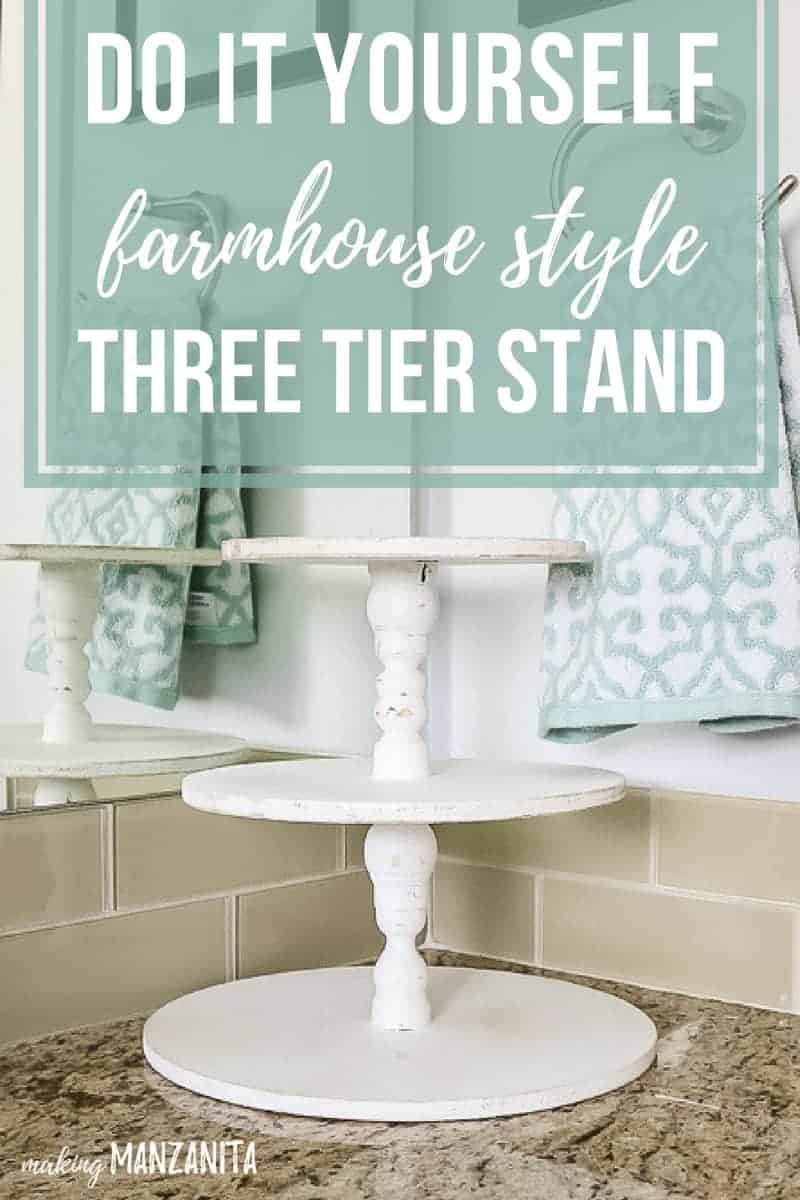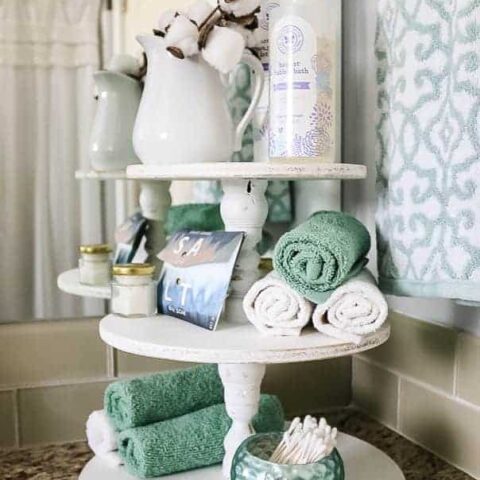 How to Make DIY Farmhouse Three Tier Stand
Everyone has use for a three tier stand! Here's how I made a vintage farmhouse style three tier stand for bathroom countertop storage. A super easy, stylish DIY!
Materials
Spindles (or candlesticks) about 6 inches tall
Tools
Jig Saw
Drill
Foam Paint Brush
Instructions
Create two spindles.
Cut 3 wood rounds.
Attach the spindles to the wood rounds.
Paint with chalk paint.
Distressed.
Seal.