Want to change up the pillows on your couch in the living room, but don't know where to start? Discover how to mix and match pillows on a sofa with 10 expert tips. Create a cohesive pillow arrangement with confidence!
Much to Logan's dismay, I love adding throw pillows to every couch, seat, or surface. Just like any man, he's always wondering "Why in the world do we have so many pillows?"
It has, also, been a bit of a battle over the past year with the puppy and he's destroyed more than his fair share of the throw pillows in this house. Regardless of what Logan (and the puppy) think of my love for throw pillows, I'll never stop putting pillows on the sofa.
One of the keys to making sure the pillows look cozy, cohesive, and intentional, but not like a model home void of personality… You've got to mix and match your throw pillows.
Over the years of buying and rebuying pillows for my addiction, I mean… collection, I've also collected a few tips for just how to master the art of how to mix and match pillows on a sofa.
But I know what you're thinking: "How do I mix and match pillows without it looking like a hot mess?" Well, fear not, my friend, because, in this blog post, I'm going to share with you my top tips on how to mix and match pillows on your sofa like a pro.
So sit back, relax, and get ready to transform your living room with just a few simple pillow swaps!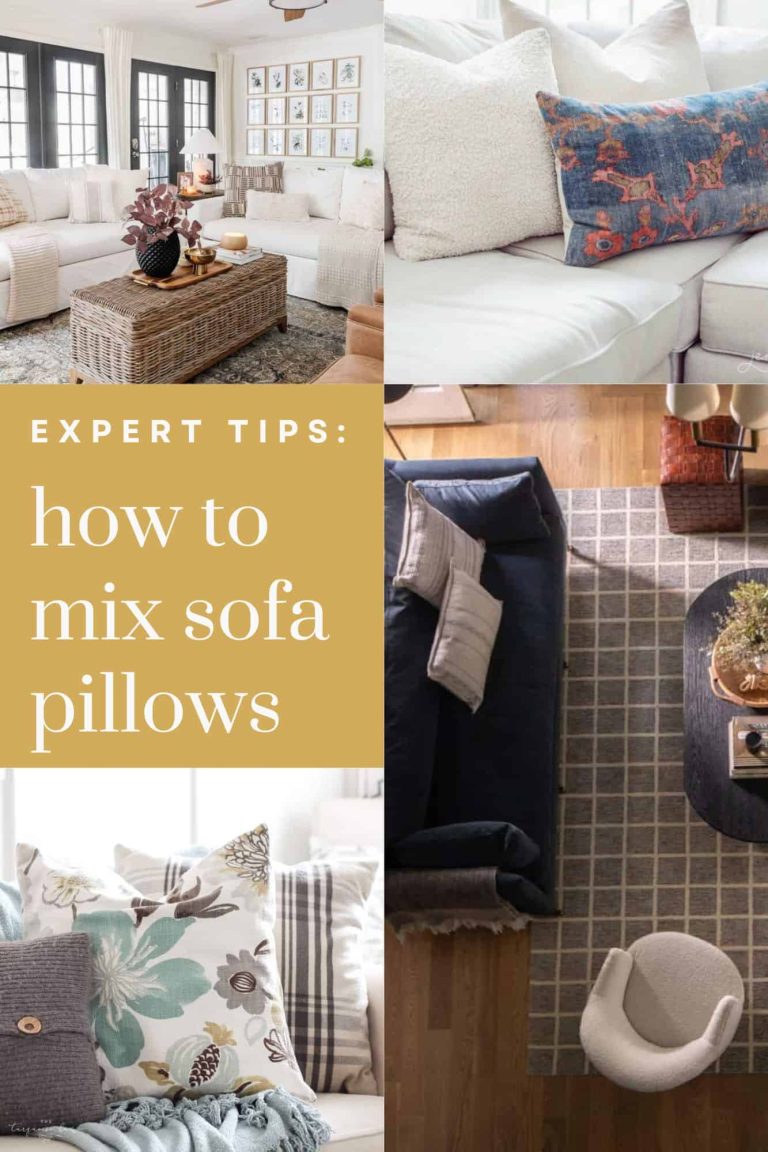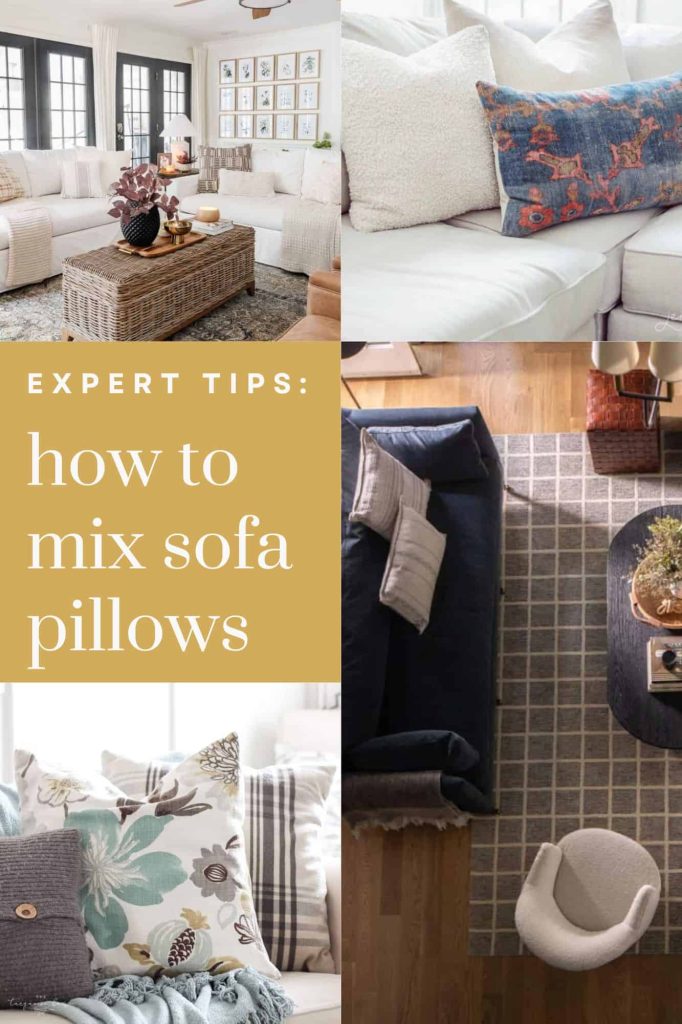 Why add pillows to a sofa anyway?
Pillows are like the icing on the cake when it comes to decorating your sofa. They have the magical ability to transform a plain and ordinary seating area into a cozy and comfy space that doesn't look like a poor college student's bachelor pad.
Here are a few benefits of adding decorative pillows in your family room:
Style and Personality: Pillows are a great way to inject your personal design style and personality into your living room. They act as design accessories that reflect your tastes and preferences. Whether you prefer a modern, minimalist vibe or a bohemian, eclectic feel (or mixing those styles together for a modern bohemian style), the right pillows can instantly convey the desired atmosphere.
Color and Contrast: Pillows allow you to add pops of color or create a cohesive color scheme on your sofa. They can tie together the color palette of the room by incorporating hues that complement or contrast with other elements, such as the wall color, curtains, or rug.
Comfort: Pillows offer more than just for looks — they also contribute to the overall comfort of your sofa. Sometimes you need just a little extra cushion behind your lower back to get comfy. Pillows can help make your couch a cozy spot to relax and unwind.
Layering and Depth: By layering pillows of different sizes, shapes, colors, and patterns, you can create visual depth and dimension on your sofa.
Versatility and Flexibility: Pillows offer incredible versatility and flexibility when it comes to interior styling. They are relatively affordable compared to other furniture items, making them an easy way to update the look of your sofa without breaking the bank. You can change the pillows seasonally or whenever you feel like refreshing your space, allowing you to stay on-trend and experiment with different design trends.
With the right combination of pillows, you can turn your sofa into a cohesive and cozy space that not only enhances the look of the room but also makes it a comfortable and inviting spot to enjoy moments of relaxation and fun times with friends and family.
Understanding Your Sofa Style
Before you head to the store ready to shop for pillows, start by assessing the overall style of your sofa to guide your pillow selection. For modern sofas, choose contemporary designs, while traditional sofas can benefit from elegant details and patterns on the pillows.
Next, narrow down the color scheme and patterns of your sofa. You can complement neutral tones with coordinating colors or create a statement with contrasting hues. You may let the pillow pattern or other decor or furniture in the room dictate your color scheme. A popular idea is to pull colors from the pattern on your area rug to determine the colors that you'll want to repeat on the throw pillows.
Lastly, determine the desired mood and theme for your space. You can create a cozy atmosphere with warm textures and earthy tones, or infuse energy with bold colors and vibrant patterns. It may seem like overkill, but your throw pillows actually help set the tone for your living room.
By understanding your sofa style, considering the color scheme and patterns, and determining the desired mood and theme, you are on your way to confidently mixing and matching pillows on your sofa like a pro!
10 Expert Tips for How To Mix and Match Pillows On A Sofa (Like A Boss)
As you begin the process of shopping for pillows to arrange on your couch, here are my 10 favorite tips to help you!
Tip 1: Use Different Sizes of Pillows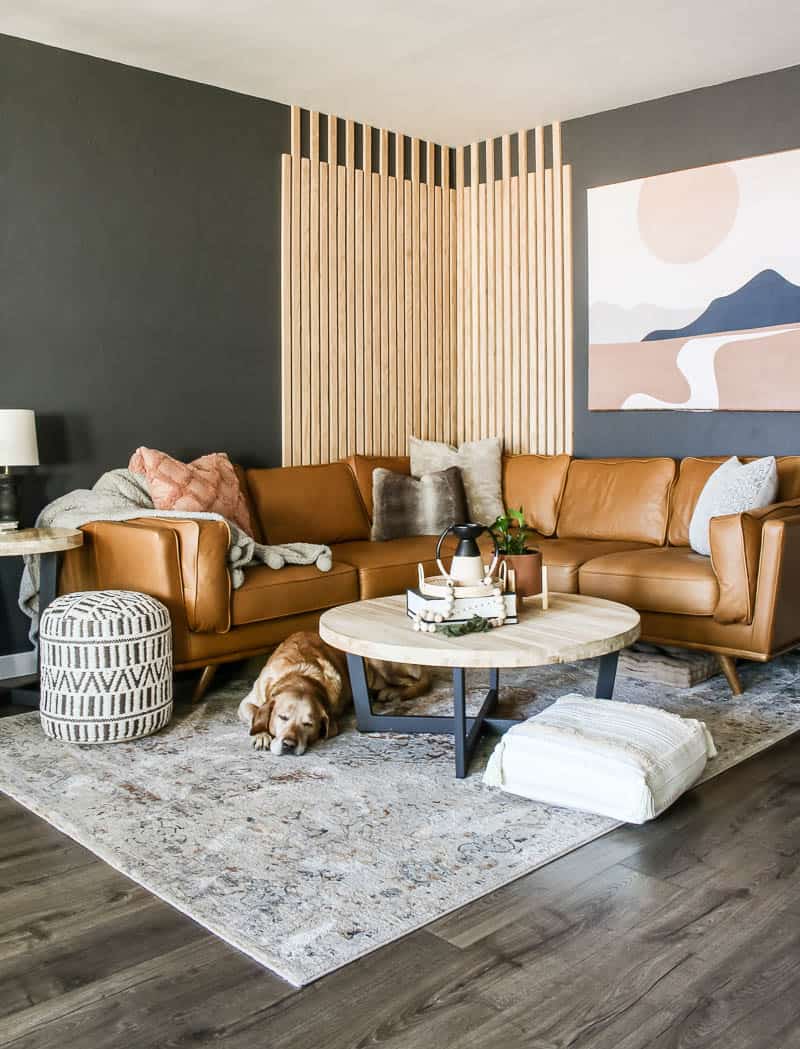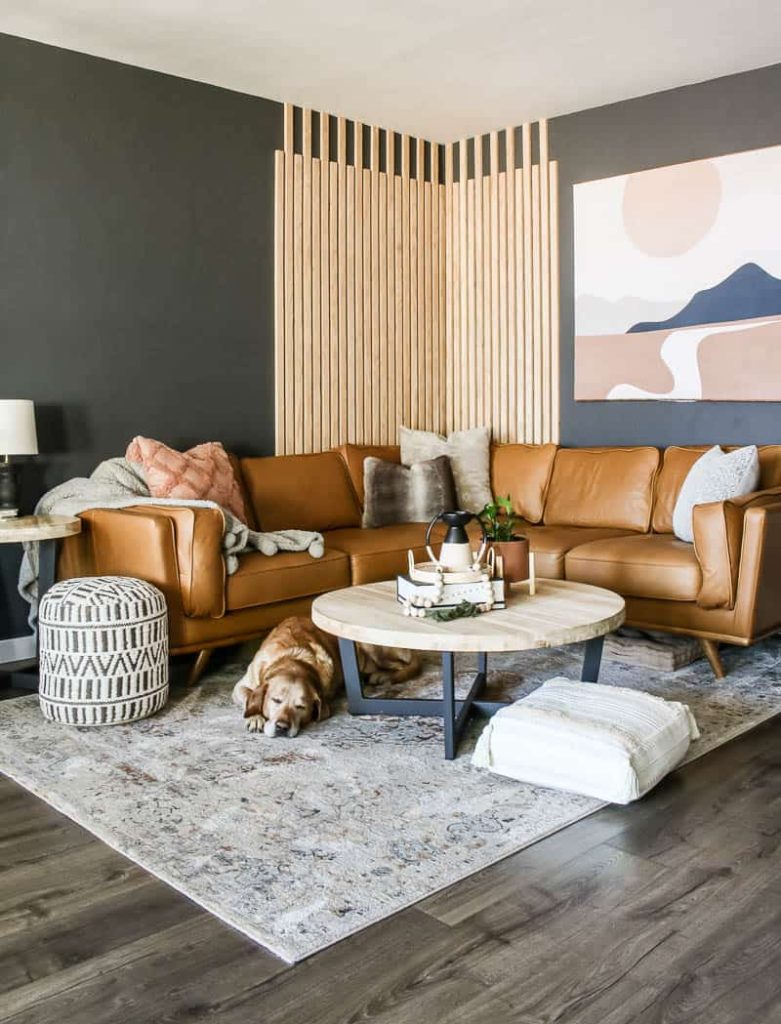 One of the tried and true tips for mixing and matching throw pillows on your couch is to choose various pillow sizes and different shapes for a layered and dynamic look. Try mixing together square pillows with rectangular ones. You could even mix in round pillows for a fun look!
When I was planning the pillow combo for our new leather sectional that we added when we renovated our living room, I tried a few different pillow combinations before settling on what we had.
The coral square pillow with tassels in each corner is 20×20.
The faux fur pillow is 18×18.
The large gray pillow (behind the fur one) is 22×22.
The blue patterned pillow is 20×20.
I added the 20×20 pillows to each far corner of the sectional for some symmetry and then layered together the largest pillow (22×22) and 18×18 in the middle corner.
I also have a lumbar pillow (which is rectangular in shape at 12×20) on the gray chair opposite the couch and sometimes it makes its way over to the sofa.
When you're on the hunt for pillows to mix and match for your sofa, be sure you're purchasing pillows of different sizes and shapes for a dynamic look.
Tip 2: Mix Different Patterns in the Same Color Palette
Another tip that interior designers use for mixing pillows is to incorporate multiple patterns that share a cohesive color scheme.
By sticking your patterned pillows into a cohesive color palette, you can have a little more flexibility to play with different patterns while still making sure things feel and look connected.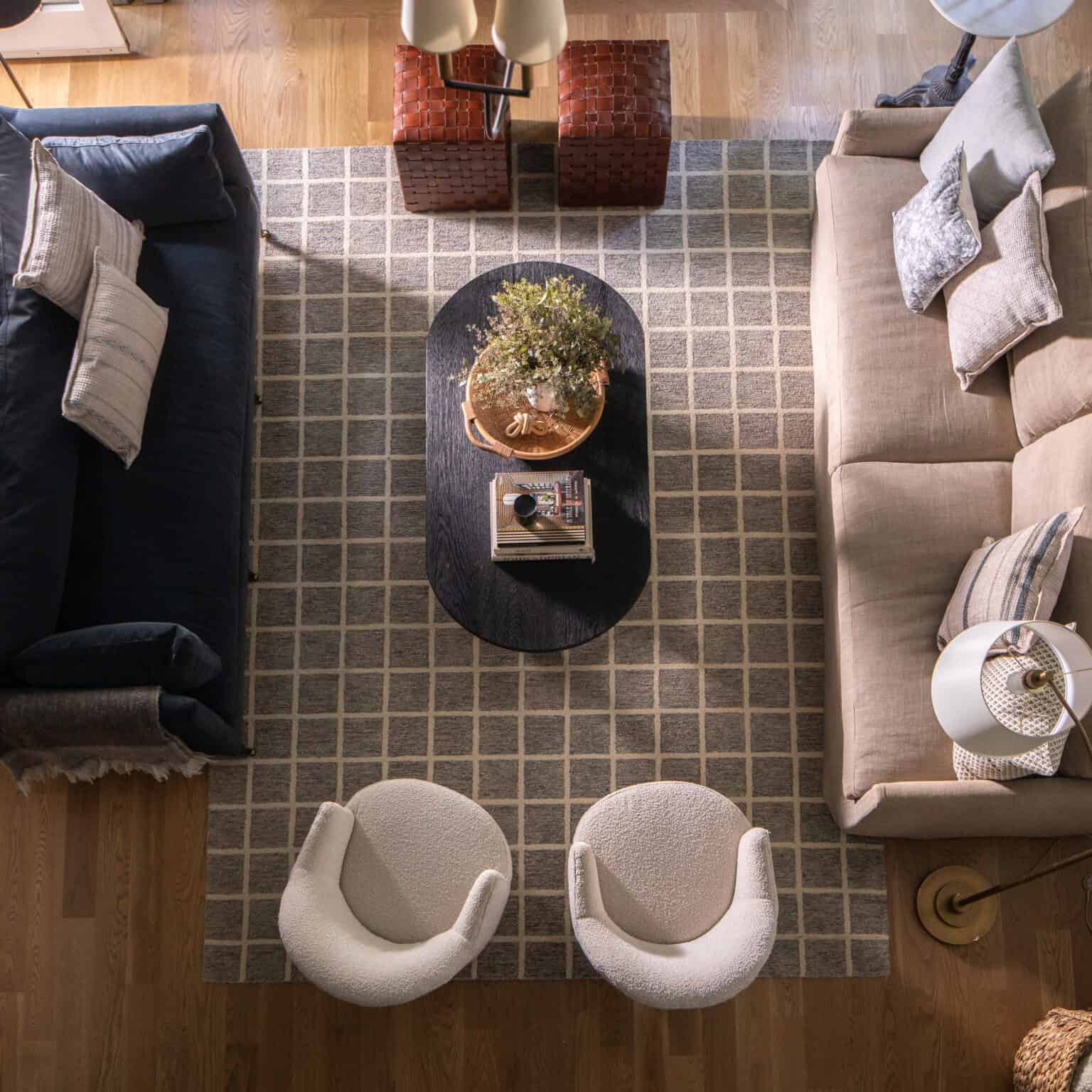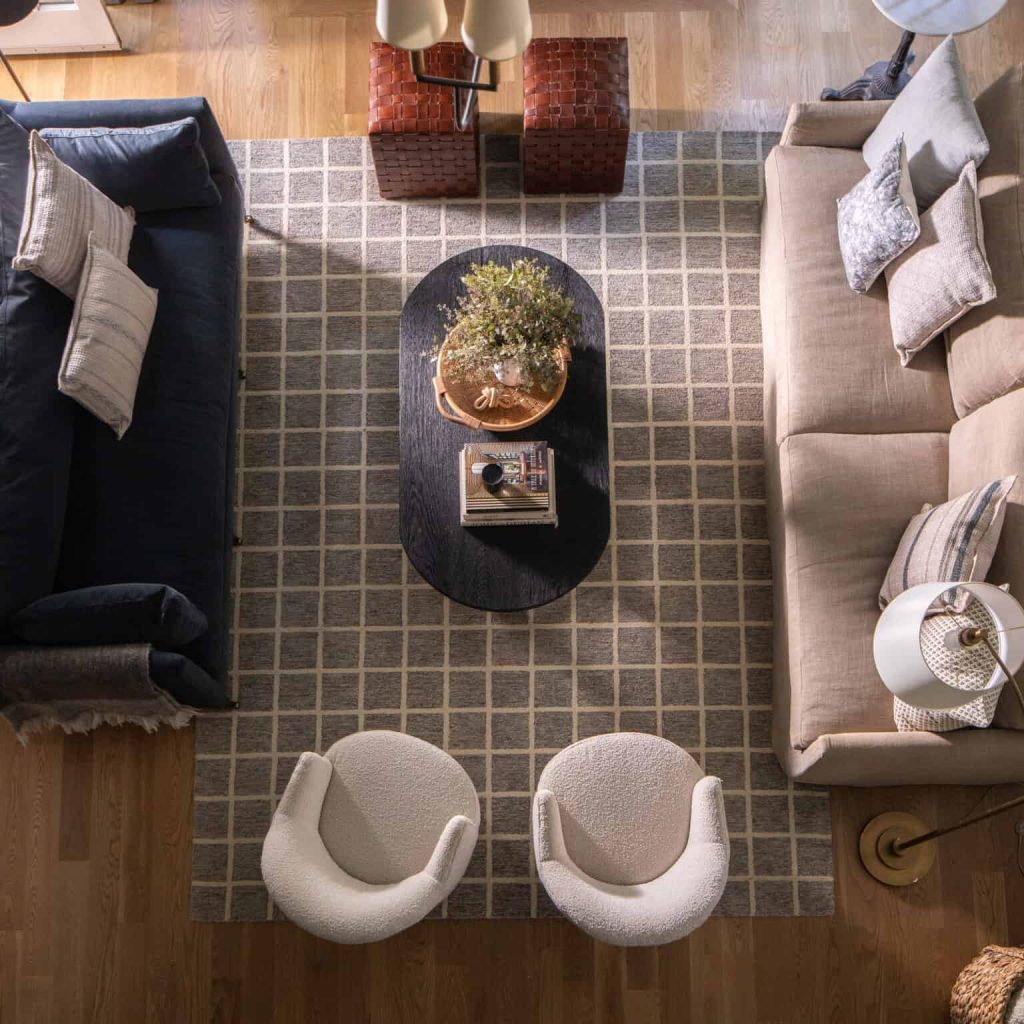 Chris Loves Julia mixes together several different patterns in their gorgeous living room, but they all share a common color scheme with tan, beige, and various shades of blues.
They mix together floral prints, stripes in both directions, a diamond pattern, and solid colors. You could even mix in a plaid pillow here as long as it was in the same color palette.
The different pillows they are using here are from a collection that they designed themselves with Loloi, which is another great tip that you can use. Choose the pillows from a collection that was already designed together to feel cohesive.
Tip 3: Play Around with the Scale of the Patterns on the Pillows
You may feel completely overwhelmed at the thought of mixing different patterns, but don't let the concept scare you off.
Here's a quick rule of thumb that may help. Mix together different scales of patterns. Yes, that's right. You want to include both small and large-scale patterns.
Stepping back from the pillow you'll be able to tell quickly if the pillow has a small-scale or large-scale pattern. While there are no hard and fast rules about mixing and matching patterns, having too many small patterns or large patterns can quickly overwhelm the look of the pillow combination or room.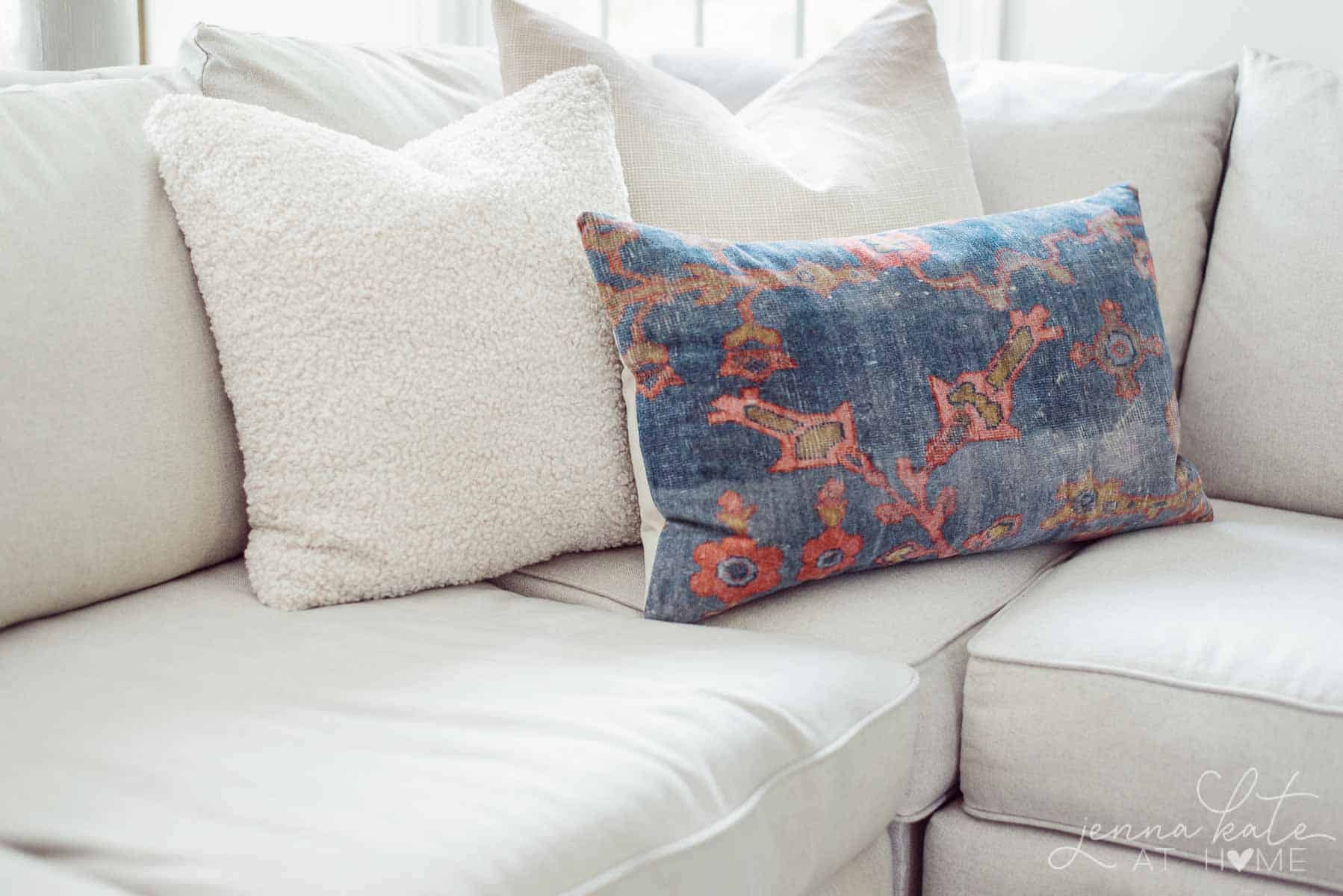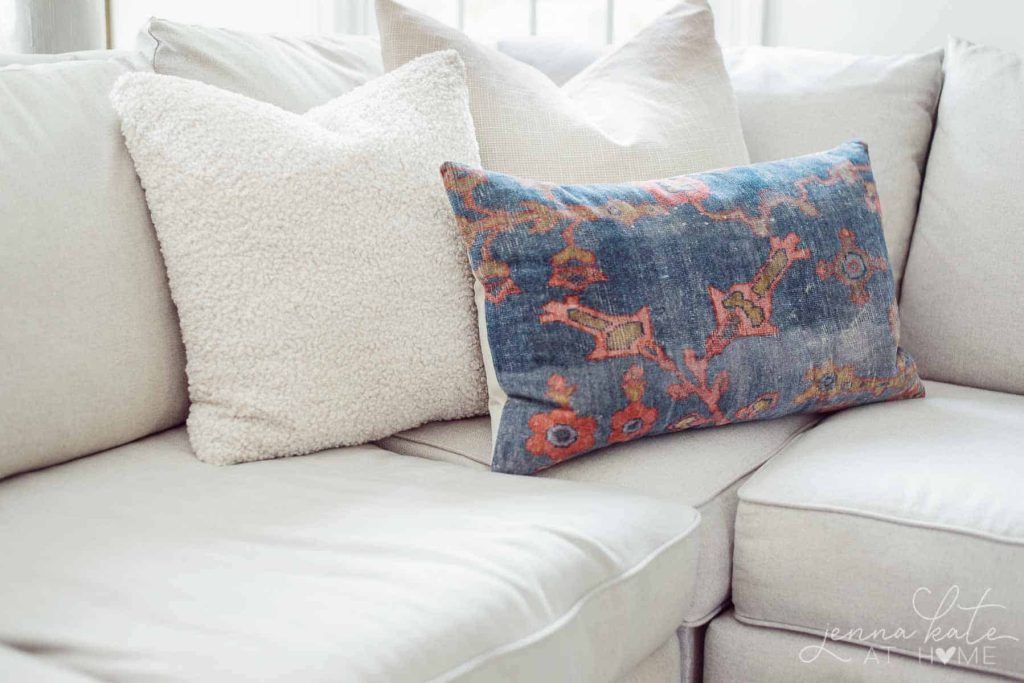 Jenna Kate has a great eye for style and pairs together three different pillows in the corner of her sectional here. The lumbar pillow has a large-scale pattern with a pop of color, while the sherpa-looking pillow has a texture that mimics a small-scale pattern.
A textured pillow is a great way to bring in that small-scale pattern if you're struggling to find one that looks cohesive. The largest pillow in the back is a solid color that fits in with the color scheme.
Tip 4: Use Pillows with Different Features
If you're struggling with how to pull together different pillows on your sofa, try experimenting with pillows that are adorned with tassels, fringe, textures, and patterns. Having a variety of types of pillows will add visual interest and depth.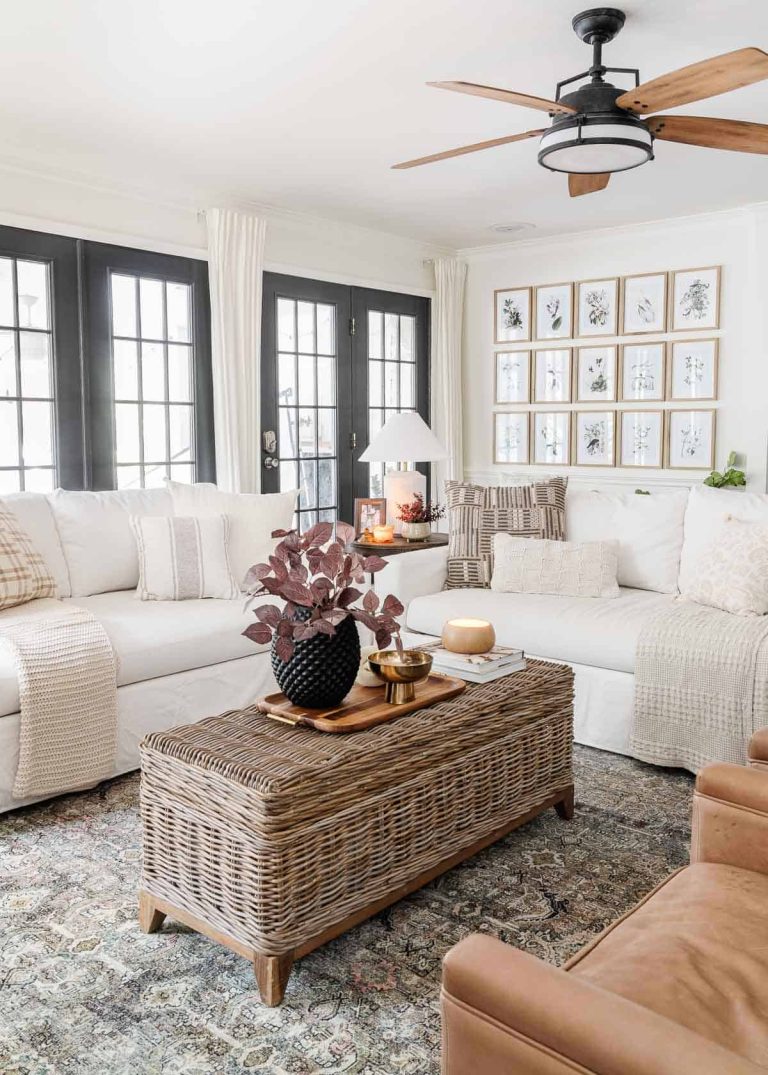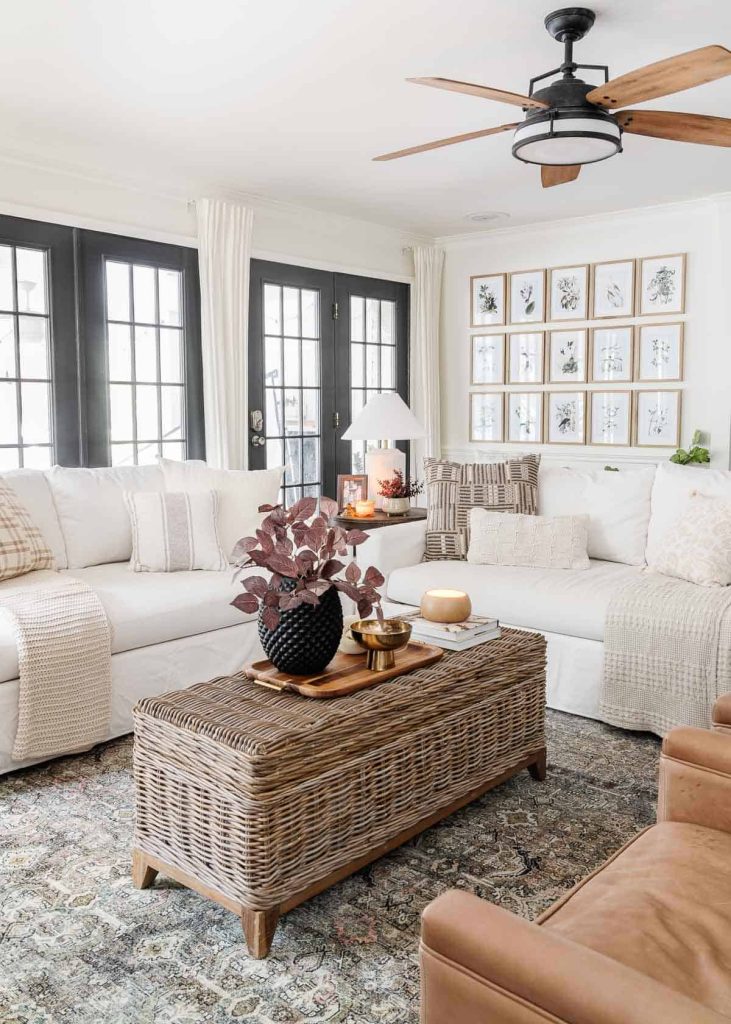 Lauren seamlessly mixes different pillows in her living space – each with different and unique features, but all in a neutral color scheme.
There is a soft floral pillow with tassels in each corner, a cream pillow with fringe on the edges, a woven pillow with a waffle-like texture, a beige pillow with a sherpa texture, a knit lumbar pillow with a patchwork pattern and heavy texture, and a tribal pattern pillow with darker contrasting colors.
Each pillow brings bring different things to the table here, but when you put the variety of pillows together, they look great.
Tip 5: Use Pillows to Introduce a Repeated Color
It can be helpful to pull one or two colors out of a patterned throw pillow and repeat them elsewhere in the room – whether it is a solid color pillow, curtains, area rug, throw blanket draped over the back of the couch, or a color that is repeated in decorations, like wall art or on a vase.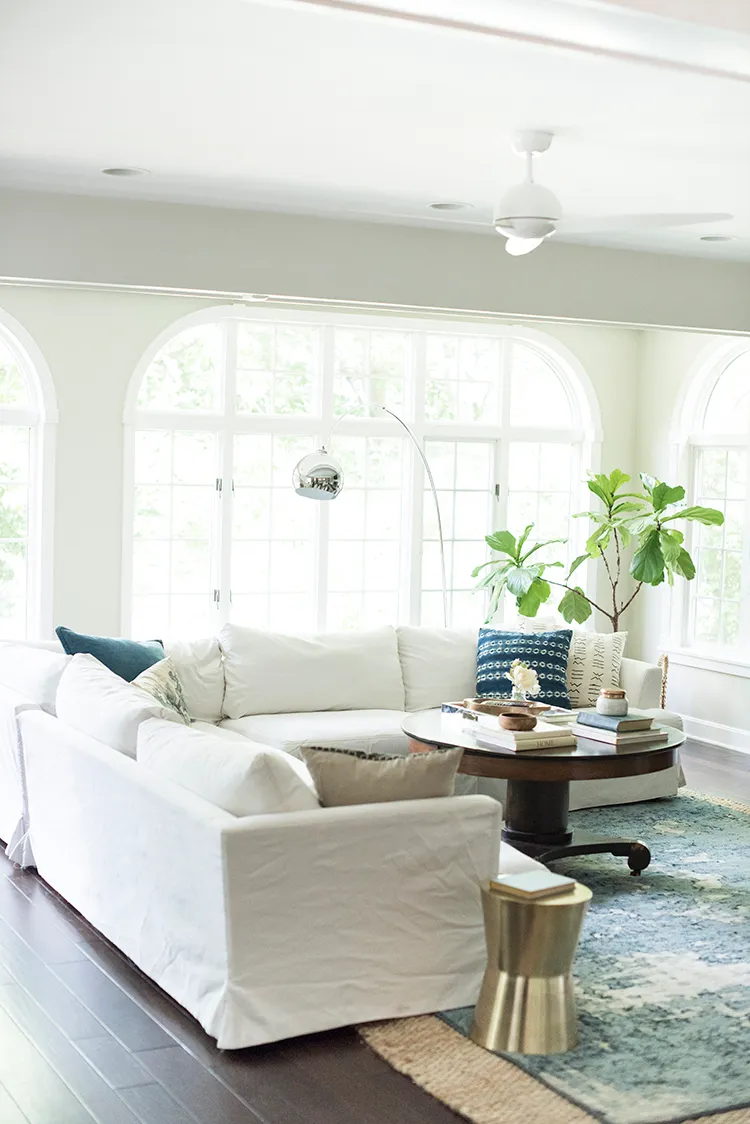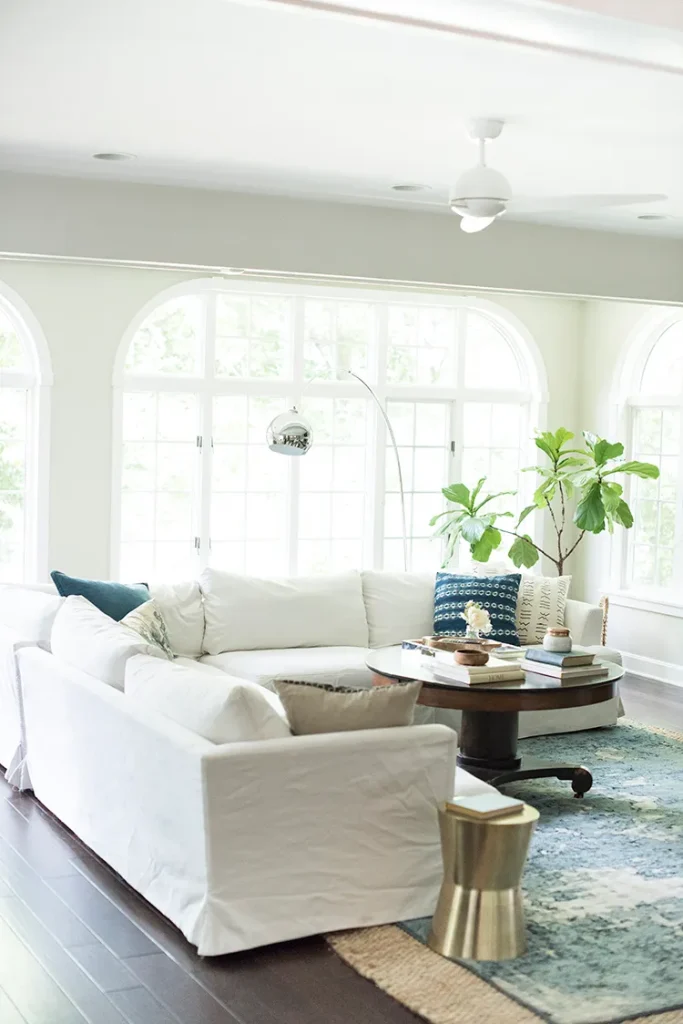 Sarah styles this beautiful boho living room with mainly a neutral color scheme. However, she brings in her accent color (blue) through the use of throw pillows, accessories, and the area rug.
This creates an interesting color story in the room. When adding accent colors to your room, make sure you can repeat the color at least one other place in the room to create a cohesive and coordinated color scheme.
It is also interesting to note that all of the pillow covers she uses are vintage, indigo, and mud cloth patterns, which helps make everything look like it fits together for a stylish look.
Tip 6: Mix Pillows with Different Textures
If your pillow combinations are feeling a little flat and uninspired, try incorporating pillows with various textures such as velvet, embroidered, linen, cotton, woven, knotted, pom poms edging, leather, corduroy, macrame, and faux fur.
There is an entire world of possibilities when it comes to textures on pillows. The mix of both smooth and rough textures will also create a tactile experience and visual contrast.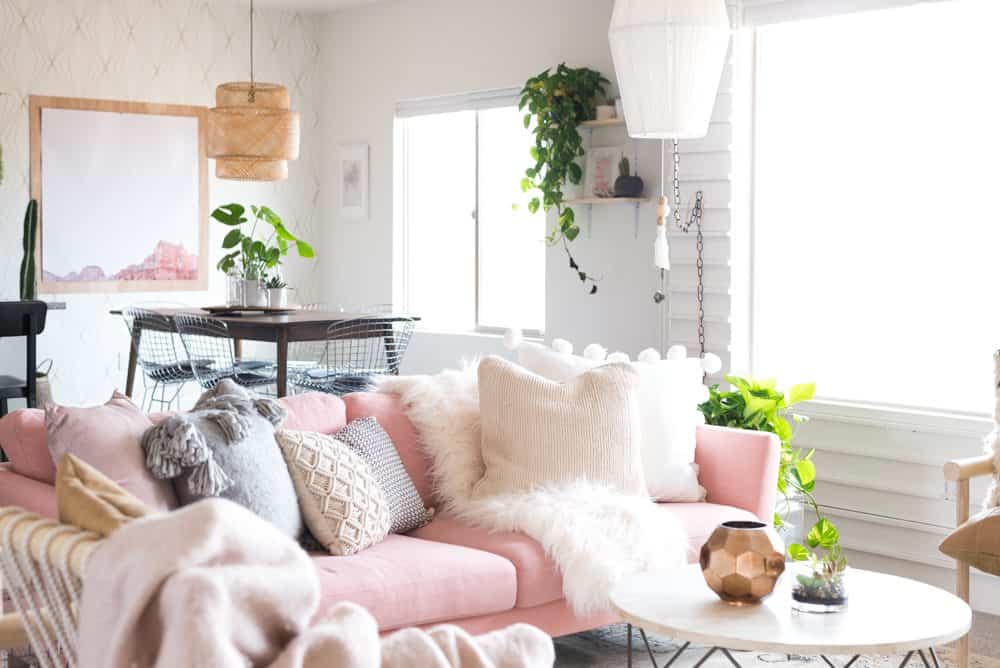 Mandi hits the mark perfectly in this living room. She brings together several different pillows with a variety of textures – from soft velvet or large yarn tassels. Even the fur throw draped over the pink couch adds more texture.
Tip 7: Try a Monochrome Color Palette
If you want to go for more a modern look to your pillows, you can explore the elegance and simplicity of a single color palette. Try mixing together different shades and tones of the same color for a sophisticated look.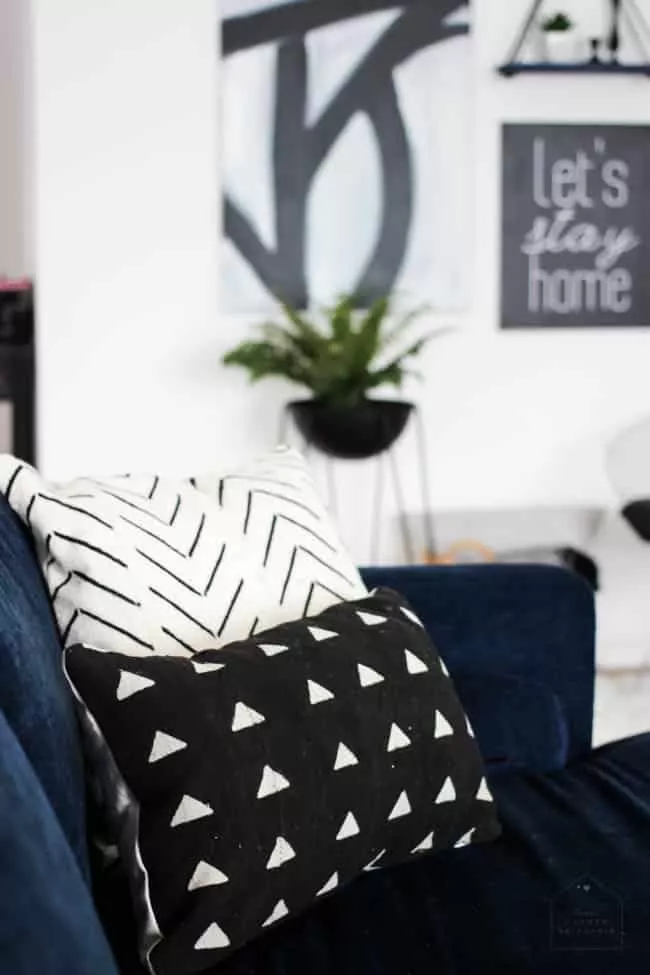 Lindi goes with a classic black-and-white neutral color scheme with her beautiful pillows, which is a welcomed contrast to the rich and bold color of her navy blue velvet sofa.
Tip 8: Use Pillow Covers
If you are constantly craving change in your home decor, you definitely need to try pillow covers. Covers are easy to store and take up way less space than an actual pillow.
You can change out your pillows very easily and on a budget with the use of pillow covers. You can mix and match different combinations all year long.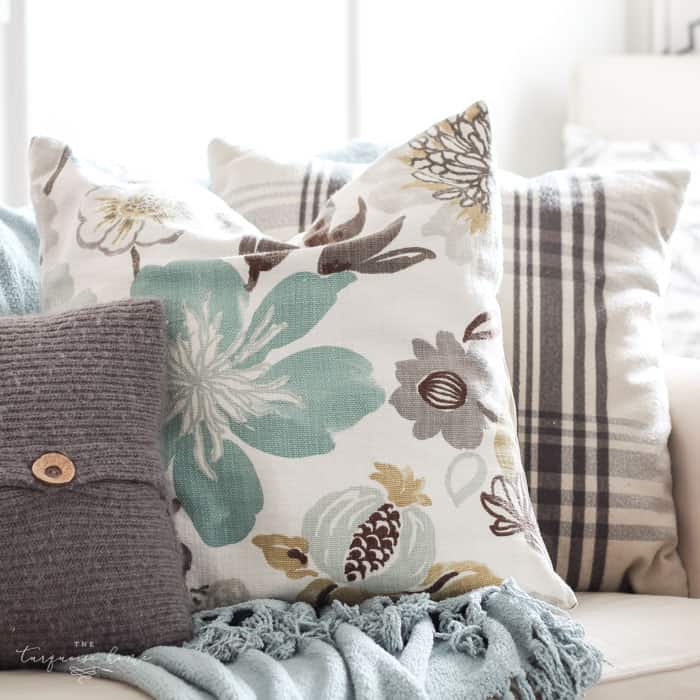 If you have a sewing machine and sew a straight line, you can also make your own throw pillow covers! Laura has summed up the entire process in her envelope pillow tutorial so that it is totally beginner friendly!
Insider Tip: When figuring out what size pillow covers and inserts to buy, go a little larger with the insert than the cover for a nice full look. For example, when buying (or making) a 20×20 pillow cover, get a 22×22 pillow insert.
Tip 9: When In Doubt, Use Odd Number of Pillows
Here's the deal. This is not a strict rule that I stand by every single time I style my throw pillows (see Tip 1 when I totally break this rule in our living room, I'm a rebel…). But it could help you out if you struggling with your pillow combinations. Go for an odd number of pillows.
Not too sure why, but odd numbers are often considered better in interior design because they create there is a system of asymmetry. When breaking away from a predictable and completely symmetrical arrangement, your eye bounces around a bit more making it more dynamic.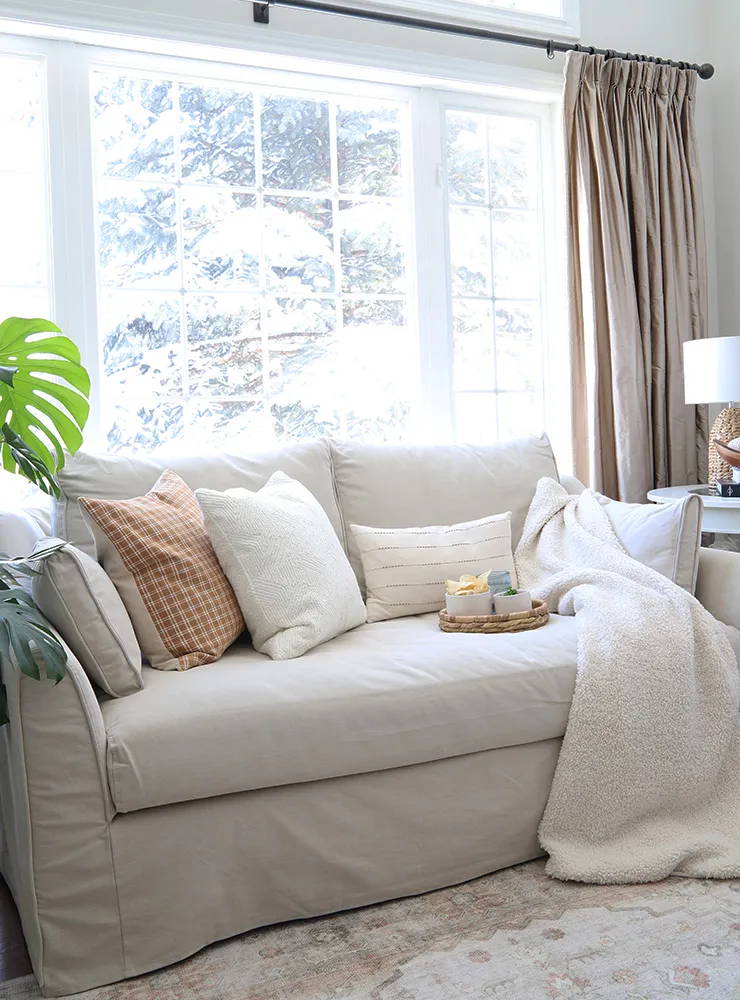 Shawna gets the perfect look by bringing together 3 pillows here on her IKEA Farlov Sofa. Simply by adding a third pillow, like lumbar pillows, to the front of a pair of square pillows, you get a visually pleasing look.
Tip 10: Know When it is Enough
I think your husband will thank me for this one. When adding decorative throw pillows to your couch you definitely need to know when enough is enough.
The whole point of pillows on your couch is to add comfort and add to the overall look of the space, right? When the pillows are in the way and become a nuisance to move when you want to sit down – that's when it is too much.
This will definitely depend on the size of your sofa and how you use it, but for us and our leather sectional, we can't handle more than 5 pillows. If it was a standard-size sofa (not sectional), I think 3 would probably be the max for me.
You may totally see other bloggers and interior designers with way more pillows on their sofa and that's fine too. You do you, girl.
If you do want to have more pillows styled when you're not using the couch, you can also plan ahead by designating a place to put the pillows (like an open basket next to the couch). That way your pretty throw pillows won't end up all over the floor.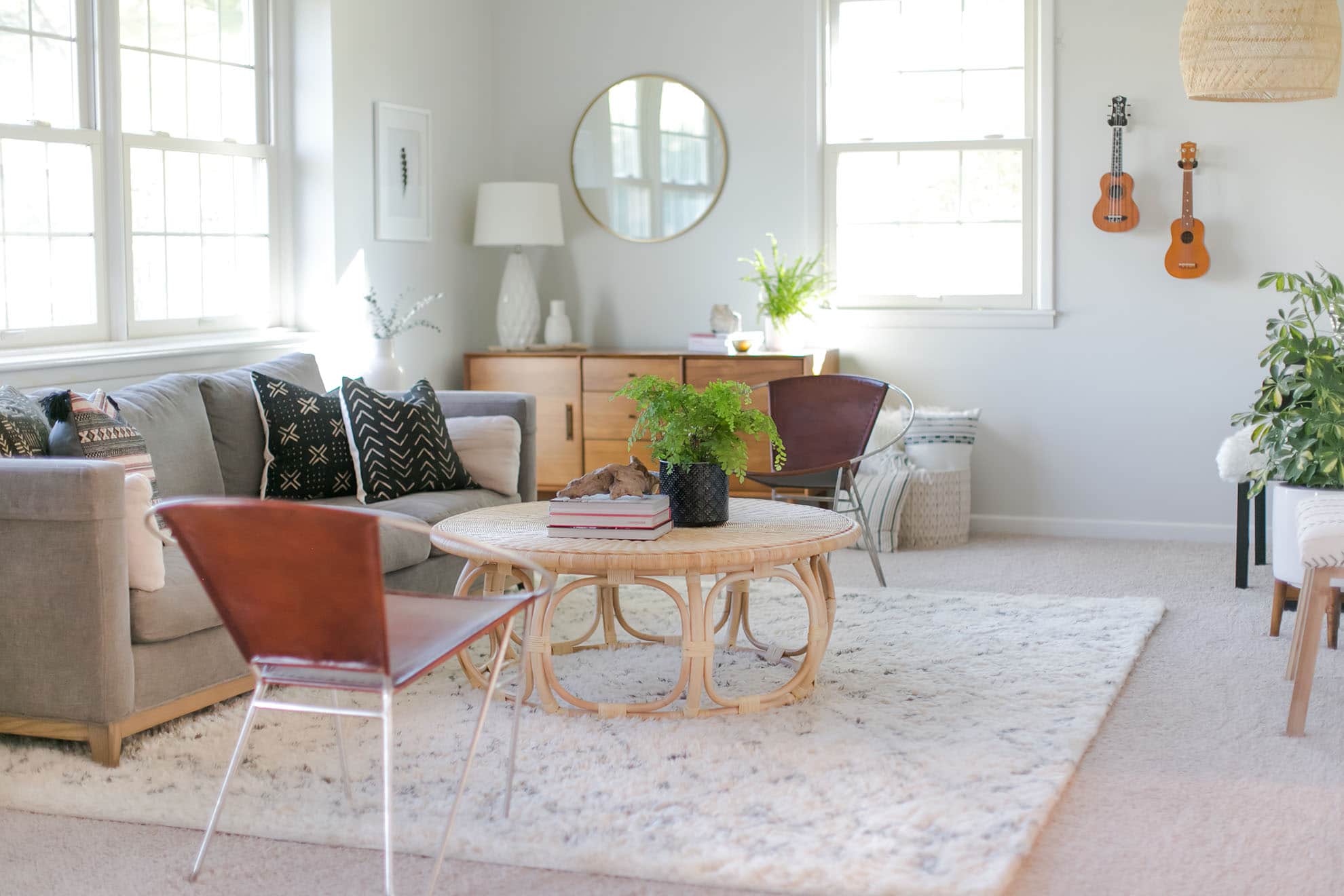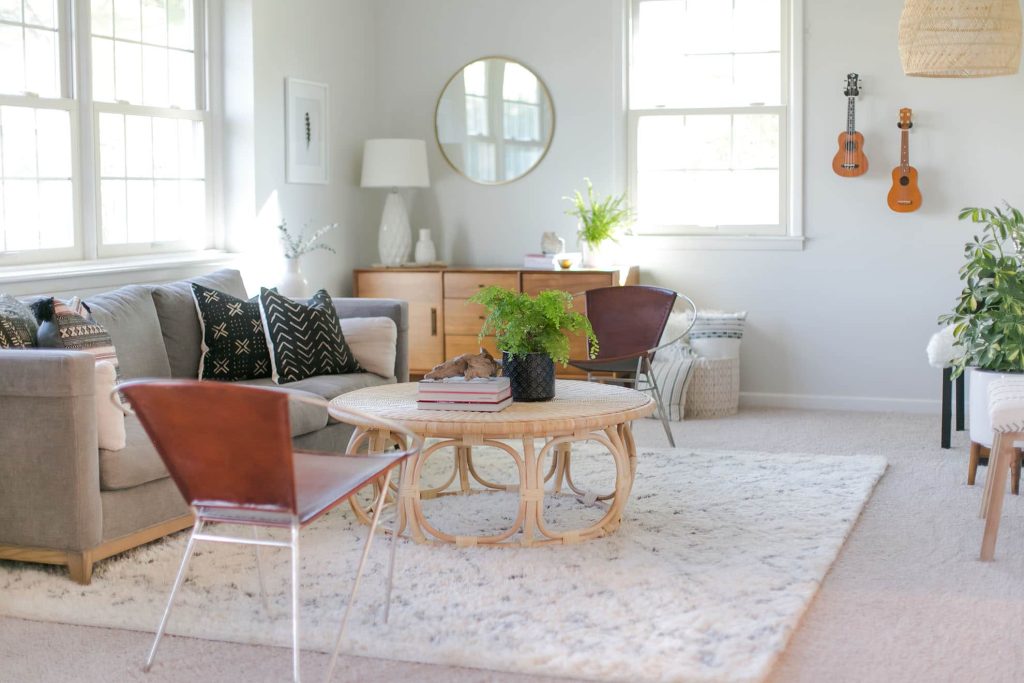 Sarah and Melissa have a perfect amount of throw pillows on their sofa in this living room. They have a designated basket over by the sideboard cabinet that holds any extra throw pillows and store blankets. This is a great solution!
Conclusion
There you have it, 10 tips to use when you are struggling with how to mix and match pillows on a sofa! The art of combining different pillows is something that may take you a bit of trial and error and that is a-ok!
Give yourself the freedom to get creative and truly make your sofa unique. When you find yourself stuff to mix different pillows into a cohesive look, you can fall back on these principles:
Tip 1: Use Different Sizes of Pillows
Tip 2: Mix Different Patterns in the Same Color Palette
Tip 3: Play Around with the Scale of the Patterns on the Pillows
Tip 4: Use Pillows with Different Features
Tip 5: Use Pillows to Introduce a Repeated Color
Tip 6: Mix Pillows with Different Textures
Tip 7: Try a Monochrome Color Palette
Tip 8: Use Pillow Covers
Tip 9: When In Doubt, Use Odd Number of Pillows
Tip 10: Know When it is Enough
Embrace your creativity, experiment with various pillow combinations, and let your personality shine through in your living room.
With these tips in mind, your sofa will become a focal point that reflects your unique taste! So go ahead, unleash your inner designer, and have fun transforming your sofa with a mix of pillows!
Did you learn something new in this article about how to mix and match pillows on a sofa? Let us know in the comments!